A large newly built cottage located in the forest at the foot of Mount Orford in the Eastern Townships. During winter, it's great for skiing and winter sports. In summer, it's a 5 minute ride to the fabulous Memphremagog lake: beach, water sports, etc. Mount Orford provides several restaurants and dining options, as well as family-friendly activities.. You'll love the location, the ambiance, and the outdoors space. The place is good for couples and families (with kids).
The host canceled this reservation the day before arrival. This is an automated posting.
N
2017-01-05T00:00:00Z
Tipo de habitación
Casa/apto. entero
---
Tipo de propiedad
Cabaña
---
Capacidad
4
---
Dormitorios
Orford, Québec, Canadá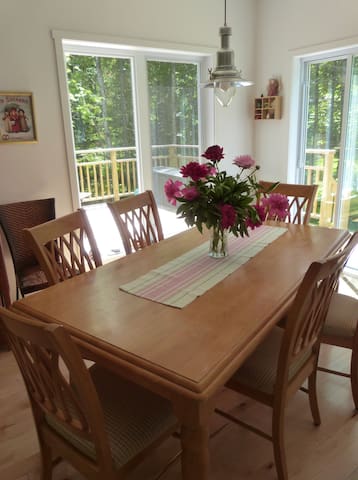 Summer:lake/swim Fall:colours/read Winter:ski/fireplace Spring:hike/kayak Fantastic all season cottage, pictures say it all!! Golf, Ski, Horseback and So much more nearby. We will gladly answer all you queries.
The cottage is modern and luxurious, with a fully equipped kitchen facing the lake, 2 nice bathrooms and 2 wide-screen TV's, so there won't be any conflict for either bathroom or entertainment. A large terrace with a gaz BBQ and sitting area. The perfect sound proofing between the 2 floors makes sharing the house a dream. It's an oasis of peace and quiet, with the surrounding trees providing shade and intimacy. It's a little piece of heaven that will provide you with solace and serendipity, or simply enjoy an evening by the fireplace. All bed linen and towels (bring your beach towels) are included in the rental price. Internet access, cable service and basic phone line are also included, additional charges could be added for long distance calls.
Mont Orford is the highest summit in the Eastern Townships, it is enjoyable in winter and summer. The lake is clean, motor boats are not allowed. Charming Magog is 7 minutes away, with a wide choice of trendy and local restaurants; shopping in the exclusive boutiques is a discovery of hidden treasures.
Nous avons passé un agréable séjour en famille dans cet adorable chalet bien équipé et confortable. De belles promenades enneigées en raquettes ou à pieds, vue superbe du lac. Belle nature calme. Ski et patinage proches.
PHILIPPE
2017-01-08T00:00:00Z
Tipo de habitación
Casa/apto. entero
---
Tipo de propiedad
Cabaña
---
Capacidad
6
---
Dormitorios
Orford, Québec, Canadá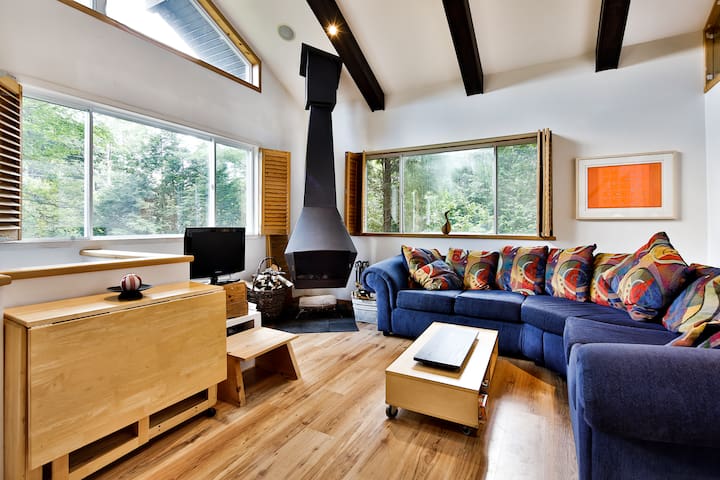 Located on Lake Trout in the heart of Orford. Offers several summer and winter activities just nearby. 5 minutes from the slopes and hiking trails. Breathtaking view from an impressive terrace and private backyard. Non-naviguable Lake. Sleeps 8.
Tipo de habitación
Casa/apto. entero
---
Tipo de propiedad
Cabaña
---
Capacidad
8
---
Dormitorios
Orford, Québec, Canadá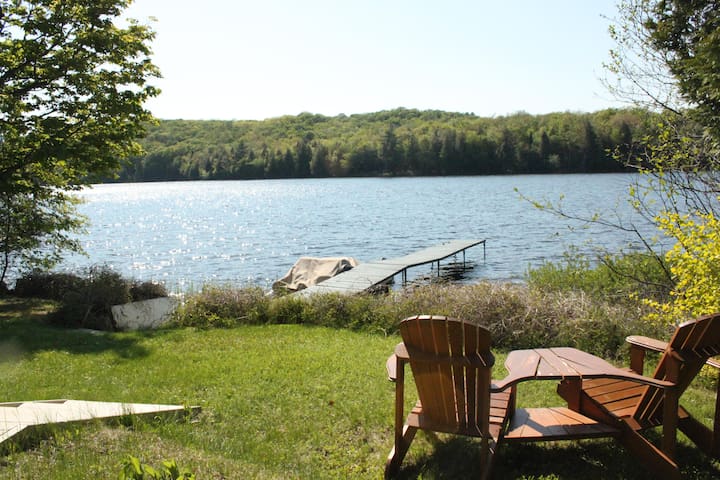 Ma place est proche de l'art et de la culture, ski aria Mont Orford , Les parcs, le centre-ville, le golf du Mont Orford. Vous allez adorer ma place à cause des hauts plafonds, les points de vue, l'emplacement, et l'ambiance. Ma place est bonne pour les couples, les aventuriers solo, les voyageurs d'affaires, les familles (avec des enfants), grands groupes et amis à fourrure (animaux de compagnie).
Lovely house and really enjoyed the hot tub! The fact that there is only one bathroom is slightly inconvenient for larger groups, but we made do. A few things such as salt, pepper, olive oil, extra toilet paper would add to the ease of staying at the house, but overall it was great.
Julia
2017-03-09T00:00:00Z
Très beau chalet. Plus grand qu'on peut l'imaginer par les photos. Le fait que deux grandes chambres soient à l'écart des pièces communes permet de ne pas déranger et de ne pas l'être également. Bien pensé.
Jean-François
2017-03-01T00:00:00Z
Tipo de habitación
Casa/apto. entero
---
Tipo de propiedad
Cabaña
---
Capacidad
12
---
Dormitorios
Magog, Québec, Canadá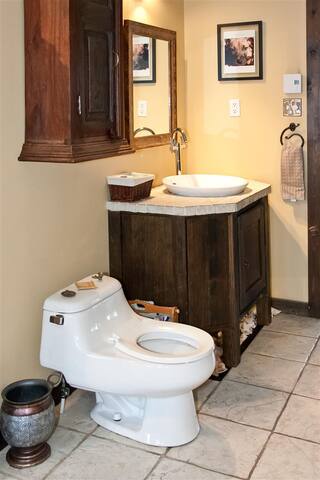 Cozy cottage for nature lovers. You want to escape the hectic pace of everyday life? My little cottage is the perfect place, as birds, deer, and smells of the forest. Feel the rhythm of nature, no electricity, no running water, old. Four propane, wood stove, happiness ...
Located in the forest, you will live to the rhythm of the sun. Several paths through the land with woods, hiking, skiing and snowshoeing in winter. This is definitely a homecoming. Take coffee, rocking chair on the porch, watching deer, pileated woodpeckers, red cardinal, wild turkeys or simply the story of a squirrel ...
Beautiful area in the Eastern Townships, highly sought, a little over 20 minutes of the show Foresta Lumina Coaticook, 30 minutes from Mont Orford, 5 minutes from Lake Massawippi and 10 in North Hatley, 20 minutes from Lake Memphremagog, 20 minutes from US Customs 15 minutes Comptonales, etc. It is perfectly located !!!!
L'endroit est vraiment superbe, la cabane est bien emménagée, bien équipée et propre, et Jacob a répondu très vite à nos messages. Malheureusement, c'était une fin de semaine d'hiver bien froide et nous avons eu de la difficulté à faire marcher le poêle efficacement. Nous n'en avions jamais utilisé auparavant. Nous sommes arrivés tard et avons dû dormir avec nos manteaux la première nuit. Nous avons réussi à réchauffer la cabane le lendemain, après un bon 2h de feu "rugissant" (et sans doute un coup de pouce du soleil). La seconde nuit, malgré qu'on se soit levé 3 fois pour aller remettre des bûches, on s'est tout de même réveillé congelés, et le feu éteint. Nous avons préféré partir rapido plutôt que d'attendre un autre 2h avant que ça se réchauffe. Bref, nous n'avons pas vraiment aimé notre expérience et avons trouvé ça cher payé, dans les circonstances, pour grelotter deux nuits de temps, mais c'est dû à notre inaptitude à utiliser le poêle, et non à un quelconque défaut de la cabane. Jacob a souligné que tous les autres locataires en hiver s'étaient chauffés rapidement sans difficulté. On doit être les deux seuls tatas.
Sophie
2017-03-05T00:00:00Z
This beautiful, off-grid cabin in the woods was just the romantic country getaway we were hoping for. Private and secluded, and very well-equipped - cooking utensils, propane stove, and plenty of candles for after dark. We were there on a cold winter weekend, but the wood stove kept us toasty warm, and you can watch the flames from the bed at night. Jacob was extremely helpful and responsive. There are forested trails and open fields to explore, and many deer. The cabin looks even better in person, and was generously equipped with firewood. Highly recommend! Merci, Jacob!
Rebecca
2017-03-12T00:00:00Z
So perfect. Exactly what we were looking for. Such a special spot.
Holly
2017-03-18T00:00:00Z
Place was great, exactly what we were expecting. Was well equipped with candles, and kitchen supplies. We arrived on a very cold winter night and the fire heated up the cabin quickly. We saw lots of deer, as advertised. Jacob was great when it came to communicating with us to ensure we found the place. Great time, would stay here again!
Michele
2016-12-11T00:00:00Z
Parfait pour tous ceux qui souhaitent s'arrêter un moment et se laisser bercer par le calme de la forêt! Un petit nid douillet pour les amoureux de la nature!
Mariane
2017-01-08T00:00:00Z
Très calme, magnifique endroit pour se reposer et se ressourcer. Comme signalé par Jacob la poêle à bois chauffe vraiment beaucoup si on charge. Jacob a répondu très vite à toute sollicitation.
Laurent
2017-01-22T00:00:00Z
Superbe endroit pour les habitués de la nature et des dodos en forêt. :) Les photos et la description sont fidèles à cet endroit chaleureux et rustique. Jacob fut disponible avant et pendant le séjour. Nous avons vraiment apprécié notre séjour. Merci de nous avoir partagé votre petit coin de paradis. Caroline et Étienne
Caroline
2016-12-28T00:00:00Z
great little place for a painting retreat. right in the middle of the woods and the place is well taken care of. i would definetely rent again! thanks jacob!
Lara
2017-02-27T00:00:00Z
Tipo de habitación
Casa/apto. entero
---
Tipo de propiedad
Cabaña
---
Capacidad
3
---
Dormitorios
Hatley, Quebec, Canadá
Notre gîte est situé juste à l'extérieur de Ayer Cliff, Qc. Lac Massawippi est à seulement 100 mètres, avec accès au lac. La marche et les pistes cyclables sont à 50m. Toutes les activités d'été et d'hiver sont à 20 Kms. Le gîte dispose d'un concept ouvert qui est excellent pour manger, se détendre et de bons moments. Bon pour les couples, les aventuriers en solo, les voyageurs d'affaires, les familles (avec enfants) et amis à fourrure (animaux de compagnie).
Great place! Clean, confortable, awesome house to stay!
Enya
2017-01-01T00:00:00Z
Beau séjour. Bien situé pour visiter Coaticook. Espaces adaptés à une famille avec jeunes enfants. Simple. L'automne le paysage est magnifique. Le feu de bois c'est chouette. Il manquait un économiseur, un bon couteau, des verres de plastique. Rien pour nuire à notre week-end.
catherine
2016-10-23T00:00:00Z
Séjour et environnement agréable.
Pierre
2017-01-06T00:00:00Z
Nous avons eu plusieurs échanges avec Denyse, toujours courtois et coopérative. La maison est grande et propre. Les lits sont très confortable. Tout était près à notre arrivée. Le bbq ainsi que le foyer extérieur, complète bien cette maison dans un endroit très tranquille. Le four ainsi que le petit four réchaud manque un peu d'amour et un bon nettoyage par contre. Je recommande cette maison pour la tranquillité des lieux ainsi que la proximité de plusieurs attraits de la région.
Yves
2016-10-10T00:00:00Z
Très belle maison pour passer du temps de qualité avec des amis
Francois
2016-12-23T00:00:00Z
Beau petit chalet dans un quartier tranquille à deux pas du lac massawippi. Très confortable. Nous y avons séjourné pour une fin de semaine en famille.
Marie-Eve
2016-09-25T00:00:00Z
Nice place in a nice location ! The beds are very confy, the living room is cosy with its stove and the kitchen well equiped. Cooking basics (oil, spices, ...), dishwasher detergent, sponges and paper napkins would have been welcome. We were able to do a camp fire oyrside wich was very nice. Barcecue was really appreciated ! I recommend this place.
Emilie
2016-09-18T00:00:00Z
Great house for a little group of friends. Near a lot of place to hike or simply hanging out for a weekend. We had a lot of fun staying there.
Hoang-Son
2016-08-29T00:00:00Z
Tipo de habitación
Casa/apto. entero
---
Tipo de propiedad
Cabaña
---
Capacidad
6
---
Dormitorios
Hatley, Québec, Canadá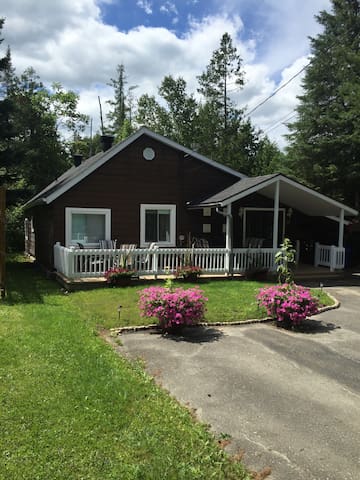 The secluded, lakeside cabin, built almost 100 years ago, exudes rustic charm. It offers country simplicity at its best. It's located in a beautiful wooded surrounding with access to a private beach. Rents by the week.
The cabin is located on a 7 acre piece of forested land which includes several other historic buildings, the oldest of which dates to the 1890s. The property is known collectively as Birch Bay and it was started by a New York Times reporter who, in the end of the 19th century, was inspired by Thoreau and Emerson to go back to the land. That was its original operating ethos, and that hasn't changed much in the ensuing 120 or so years. It is a very unique place. It is a place to disconnect from the stresses of modern life and fill your days with swimming, listening to the lapping waves on the shore, cooking nice meals, looking at birds and wildflowers and so on. I will stress once again that this is a rustic experience. It's about getting away from it all in country simplicity. It is a very beautiful, relaxing and comfortable environment, but the amenities are more country than they are luxury hotel. Many people are looking for this, and if you are one of them, this is the perfect place for you.
Birch Bay is on a beautiful, secluded, wooded cove on the banks of Lake Memphremagog. This area was one of the first parts of the lake to experience the building of holiday homes, in the latter part of the 19th century (it was previously primarily a farming community), and it still retains a lot of its old time charm. The property is a less than five minute drive from historic Georgeville, a fifteen minute drive from Magog and a thirty minute drive from the Vermont border. It is also directly across the lake from the St Benoit du Lac Abbey and you can hear the bells ringing throughout the day. Last, but certainly not least, because it is on the eastern side of the lake, visitors are treated to spectacular sunsets.
Absolutely fantastic! The cabin was great, the natural surroundings beautiful (and tranquil) and Elizabeth was a wonderful hostess. I highly recommend it.
Daniel
2016-08-14T00:00:00Z
This is one of the most beautiful place I have ever been to. The sunset view on the Abbey across the lake is stunning, and the historical log cabins feel like travelling back in time. It's perfect for getting away from the city life and regenerating energies.
Cécile
2016-05-17T00:00:00Z
Although it rained a lot during our stay, the cabin was cozy and welcoming. It was a rustic quiet getaway just as Elizabeth advertised. We loved the cabin, the lake, and the history. Elizabeth generously showed us her cabin and explained its origins. They were so friendly and welcoming. Thanks so much for the wonderful vacation. It was just what our family needed.
Amy
2016-08-21T00:00:00Z
Nous avons passé une semaine extrêmement agréable dans ce chalet rustique et charmant, idéalement situé face au Lac Memphrémagog. Chalet avec beaucoup de cachet, bien équipé. Hôtes attentionnés et très sympathiques. Une expérience que nous renouvellerons certainement! Merci merci !
Marc
2016-08-29T00:00:00Z
It was magical to stay at Elizabeth's loghouse at Birch Bay. Each night we were treated to the most exquisite sunsets over the lake. The view to the Saint Benoit Monastery was a very interesting twist in Canadian nature and made you think about medieval times. The house was rustic but very comfortable with a well-stocked kitchen and a good shower with superb water pressure. Elizabeth and Gerard were wonderful hosts. They were very responsive and open and willing to meet all our wishes. It was a particular treat to go for a walk with them over the property and be informed about the interesting history of Birch Bay and its former inhabitants. The cabin is well located for tourism in the Eastern Townships and there are lots of options for bicycling and hiking in the area. We miss falling a sleep with the sound of the waves of the lake and are already dreaming about coming back!
Halla
2016-08-07T00:00:00Z
Ce chalet sur le lac est fantastique. Le lieu est incroyable et nous sommes assez loin de la route. L'accueil est chaleureux. Les deux jours que nous y avons passé furent très agréable. Nous avons très hâte d'y retourner. Les villages avoisinants sont aussi très charmants. Pour une retraite hors de la ville réussie, c'est l'endroit où aller! Y'a même une petite plage pour se reposer et profiter du soleil.
Hervé
2016-05-30T00:00:00Z
Tipo de habitación
Casa/apto. entero
---
Tipo de propiedad
Cabaña
---
Capacidad
4
---
Dormitorios
Stanstead, Québec, Canadá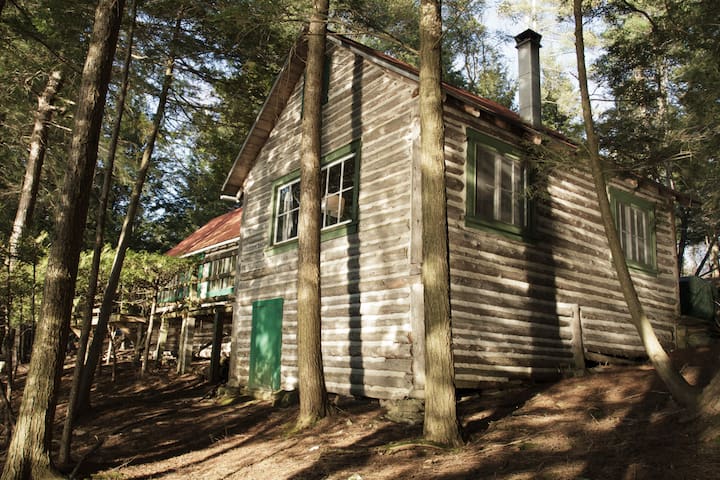 Cozy pine-walled cottage close to skiing. Wood stove with lots of firewood. All bed linen, dishes, etc. provided. Private road and driveway plowed. HD satellite TV..
The host canceled this reservation 54 days before arrival. This is an automated posting.
Michaela
2016-10-30T00:00:00Z
The cottage is very cozy and very well equipped, and it's very close to Owl's Head. Peter is so nice and reply to me very fast very time. Our kids love the large deck and the little valley at the back, especially with a lot snow. And the trail in the woods at the end of the road is also very good if you like to walk your dog or just take a walk. We had a perfect family getaway and will recommend it to everyone.
nan
2017-03-18T00:00:00Z
The cottage is located on a quiet street 10 minutes from great skiing and hiking at Owlshead and 30 minutes from Orford and Sutton. There is a couple of quaint stores about 10 minutes away to get bread, meat and cheese etc. The town of Magog is less than 30 minutes away for everything else needed. The area is beautiful and we were able to walk to the lake from the cottage. The cottage was very cozy and well equipped for a family vacation. All the rooms have nice views. The living room looks out to a forest, ravine and creek. We were pleasantly surprised to see quality frying pans as most cottages only have old scratched ones. Peter was always available to answer any questions and made sure we'd have everything we needed, including firewood! Looking forward to staying there again!
Dave
2017-01-03T00:00:00Z
Chaleureux petit chalet très bien situé pour les amateurs de skis alpin (entre les monts Orford et Howl's head et à 20 minutes de l'incomparable station de montagnes du Diable Vert. Le Chemin des Hirondelles est un petit lotissement très calme en flanc de colline et l'accès au lac Memphrémagog est accessible à 3 minutes de voiture ou 10 minutes à pieds. Services et magasins sont disponibles à Mansonville et à Vale Perkins. Les lits sont confortables et la grande pièce de vie (salon, salle à manger-cuisine) est coquette et chaleureuse. Aussi, une très grande terrasse donnant sur la forêt nous laisse entrevoir quelques reflets du lac caché par l'abondante végétation de la colline.
Suzanne
2017-02-27T00:00:00Z
Tipo de habitación
Casa/apto. entero
---
Tipo de propiedad
Cabaña
---
Capacidad
6
---
Dormitorios
Austin, Québec, Canadá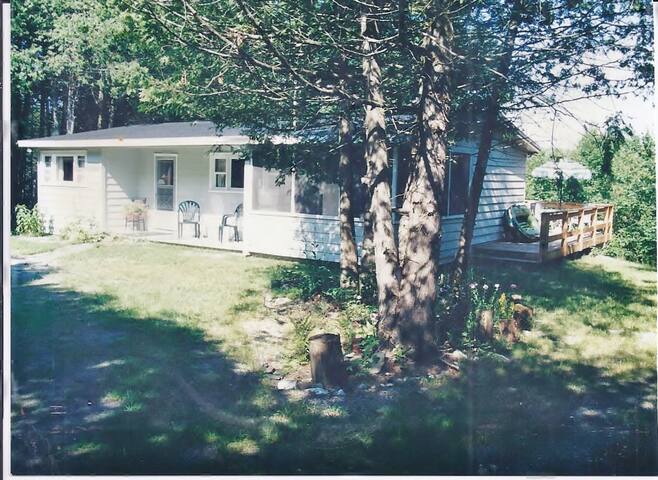 refugio ideal para descansar, caminar en el bosque y se deje llevar por el canto de los pájaros. Enteramente de madera, sin electricidad ni agua corriente, que está equipada con estufa, horno y un colchón doble en el entresuelo. Para un descanso inolvidable en especie.
Splendid pequeña cabaña en medio de un arbusto de azúcar. Iluminada por el sol o velas por la noche con un tanque de agua para los platos, este es un lugar perfecto para unas vacaciones relajantes en la madrugada cerca del fuego, a pie de canto de los pájaros y la cena romántica con velas forma a su día. Cabina luminosa, rústico está totalmente equipado y ofrece un plan abierto sala de estar con altillo (2 pers.). Tenga en cuenta, se proporcionan ropa de cama y refrigerador. Hasta 2 adultos y 1 niño.
Situado en un área de frutas y verduras orgánicas, la cabina se encuentra en el corazón de un gran bosque de arce y está a sólo 4 min. caminar por los otros edificios de la zona. Entre éstos a encontrar 7 cabañas 4 estaciones, una casa del siglo y un granero herencia. La finca se encuentra a 5 km de Lennoxville, Cookshire y Jonhville con tiendas de comestibles, SAQ, farmacias, restaurantes, panaderías, cafeterías y 1 micro-cervecería. A tan sólo 15 minutos de Sherbrooke, a 45 minutos de Magog, 1h30 de Montreal y 2h15 de Quebec. Tenga en cuenta la presencia de perros es un habitual en el campo.
Le lieu est idilylique , la région est très belle . Amelie géniale . Je reviendrais
Jennifer
2016-08-11T00:00:00Z
merveilleux petit chalet en forêt paix, tranquillité et intimité assuré, un bel environnement tout y est ... idéal pour deux ... on décroche, tout de suite , on s'y sent très bien ... merci Amélie de ton accueil chaleureux
Marie-Claude
2016-12-26T00:00:00Z
Le petit chalet était absolument charmant. Nous avons vraiment aimé la petite randonnée sur le domaine, c'était magnifique.
Vanessa
2016-11-20T00:00:00Z
Notre hôte a été très accueillante. Merci !
Andrée-Caroline
2016-03-13T00:00:00Z
nous avons adoré notre séjour, nous étions au milieu des arbres au calme, on a découvert la vie a l'ancienne, chauffé au poêle a bois et sans électricité. sa fait réfléchir. a refaire sans modération.
Dam's
2017-03-06T00:00:00Z
Nous avons adoré l'expérience au chalet. Pour une envie spontanée de séjour en nature sans trop d'organisation mais en restant modestes ce refuge est parfait ! Juste le nécessaire sur le plan matériel et toute la chaleur, l'harmonie et le calme sont là dans l'atmosphère.
Louise
2017-01-05T00:00:00Z
C'est rustique et super tranquille. Amélie nous a très bien accueillie.
Sarah
2017-02-26T00:00:00Z
Nous avons adoré notre séjour dans ce petit havre de paix. Les alentours sont sympathiques, Amélie aussi. Nous avons profité pour refaire le plain d'énergie, se coucher tôt, lire et profiter du silence de la forêt. Nous avons marché tout autour de la ferme, avons profité d'une belle soirée à l'Observatoire du Mont-Mégantic et sommes allés nous promener dans l'écoparc forestier de Johnville avec ses tourbières dépaysantes. Merci encore, nous serons de retour...pour une plus longue période :)
Soraya
2016-10-16T00:00:00Z
Tipo de habitación
Casa/apto. entero
---
Tipo de propiedad
Cabaña
---
Capacidad
2
---
Dormitorios
Cookshire-Eaton, Québec, Canadá
Cozy A-frame cabin in a private setting. Stunning views of Jay Peak which is only 4 miles away. Just off the VAST snowmobile trails in the heart of the Northeast Kingdom. Perfect base camp for skiing, hiking, mountain biking, fishing and snowmobiling.
Custom woodwork details, sunny skylights, queen bed, outdoor decks. Fully equipped kitchen.
Close to Jay Peak ski area and waterpark. Close to Jay village country store, restaurants.
The host canceled this reservation 3 days before arrival. This is an automated posting.
Joe
2017-04-05T00:00:00Z
Tipo de habitación
Casa/apto. entero
---
Tipo de propiedad
Cabaña
---
Capacidad
2
---
Dormitorios
Jay, Vermont, Estados Unidos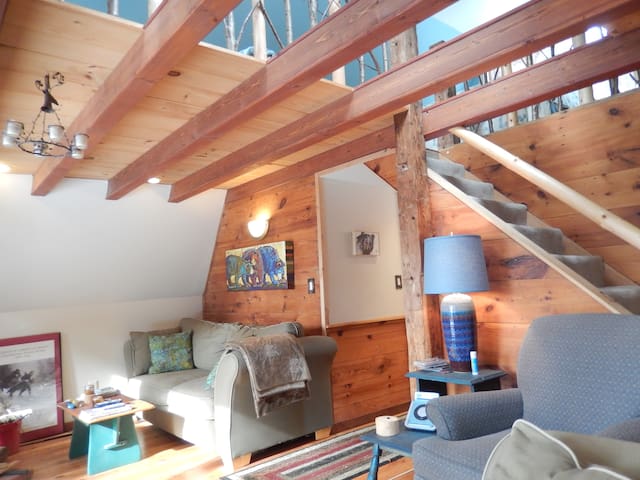 This cabin is a total paradise, especially for couples looking for tranquility... It's absolutely adorable, it has been built by Carol and her boyfriend with a perfect mix of new and old furniture, it's really simple and beautiful but at the same time there are many things for you to explore. Carol provides everything you need and is a great person to meet! The cabin is in her property but is away from the home so that you are completely alone in the woods. We had so many things planned but at the end we jsut wanted to stay home and enjoy....We completely fell in love with the place, we wanted to stay longer...can't wait to go back!
Clemence
2017-03-26T00:00:00Z
Exactement ce dont nous avions besoin. Calme et chaleureux. Nos hôtes, discrets et attentionnés aux besoins. Belle marche en forêt pour aboutir à une petite rivière qui serpente la terre. Un petit paradis. Merci encore!
Gabye
2017-01-27T00:00:00Z
Beau chalet, superbement décoré. Parfait pour ceux qui veulent faire du coconning et relaxer. Pour les amateurs de nature, il est possible de se rendre facilement au Parc du Mont-Mégantic. Merci Carol pour l'accueil!
Marianne
2017-03-19T00:00:00Z
Tipo de habitación
Casa/apto. entero
---
Tipo de propiedad
Cabaña
---
Capacidad
2
---
Dormitorios
Bury, Québec, Canadá
My place is close to parks and art and culture. You'll love my place because of the high ceilings, the views, the location, and the ambiance. My place is good for couples, solo adventurers, business travellers, families (with kids), big groups, and furry friends (pets).
Tipo de habitación
Casa/apto. entero
---
Tipo de propiedad
Cabaña
---
Capacidad
12
---
Dormitorios
Stanstead, Québec, Canadá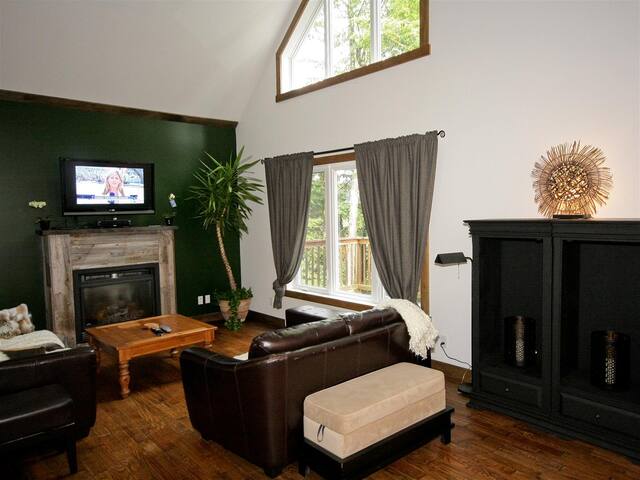 I am renting the spare room in our beautiful cottage. Our place is close to a lake, great views, parks, the beach. Always wanted to stay near a lake? There is it!. This is a great spot for couples and solo adventurers.
Everybody around are super respectful of each other, we do hope that our guests will do the same to keep the peace around our beautiful little paradise
Bel accueil chaleureux, discret et sympathique! Bel environnement propre et relaxant Merci :)
Marie-Pier
2016-07-27T00:00:00Z
Tipo de habitación
Habitación privada
---
Tipo de propiedad
Cabaña
---
Capacidad
2
---
Dormitorios
Saint-Denis-de-Brompton, Québec, Canadá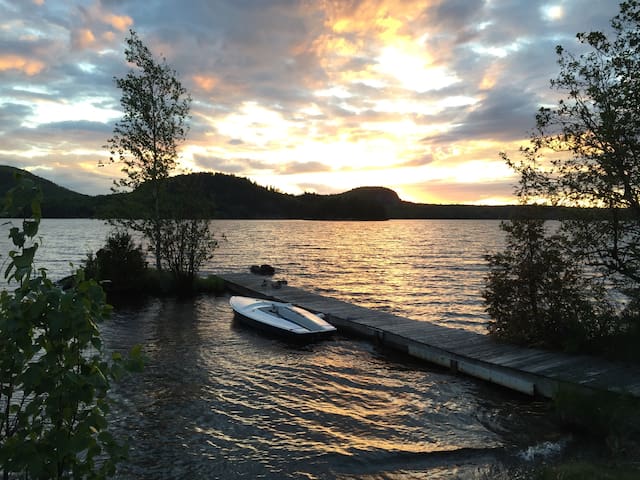 My place is good for couples, families (with kids), and furry friends (pets).
The property was built in the late 1940's but has grown over the years. The current owner is only the third owner and has had the privilege of this beautiful location since 1978. This is truly a place to make memories. The tranquil setting of the lake, with the water at your doorstep is sure to relax and rejuvenate the soul. Lake Mempremagog is still a pristine, clean lake and our location has a clean gravel lake bottom. We have no seaweed. Extending 32 miles from Magog Quebec to Newport, Vermont, this is a freshwater, glacial lake. Ideal for the enjoyment of water sports, the property is equipped with many water and boating accessories. The character and ambiance of the house has been preserved with the original wide pine wall paneling in the kitchen and small living room. The house has the feel of a summer cottage with modern amenities. The kitchen has beautiful granite counters and brand new stainless steel appliances. The recently renovated Master suite includes a new bathroom with deep soaker tub, custom glass shower enclosure and a flat screen television. The Master bedroom also has a wood stove. The house also has a collection of National Geographic magazines and books about nature. You never know when you might find a flower being pressed between the pages of an old book; waiting for a child to come and re-discover her preserved treasure. There is a rock collection sitting in an old ice cream container that is now into its second generation of "life". Our granddaughter has begun to add her discoveries to the collection started by her mother. Swimming, snorkeling, fishing, paddle boating, sailing, canoeing, tubing, and water skiing are all activities possible at this property, but perhaps the most pleasant is watching the sunset while sitting on the dock. The winter seasons gives us a chance to enjoy three of the best ski hills in the east. Just 15 minutes away from Owl's Head Ski Resort, a wonderful family focused ski hill. With great downhill elevations, but also extensive slopes for children, Owl's Head is where three generations of our family have learned to ski. On the edge of Lake Memphremagog, Owl's Head offers spectacular views. In the opposite direction, 15 minutes away is Orford Ski Resort. Part of a Quebec provincial park this resort offers great downhill as well as cross country and snow showing. A beautiful tranquil setting, Orford has a great chalet so you can extend your ski day into the evening. If you are inclined to travel just a bit farther; 40 minutes you can cross the border into Vermont and enjoy the incessant snow of Jay Peak. With the biggest vertical drop in the Northeast and the luxury of its location in some bizarre 'it is always snowing' at Jay this ski hill is sure to have challenges for the most expert skiers. This ski hill has the most natural snow in the entire Northeast which allows for one of the longest ski seasons available.
We are located on Sergeants Bay on Lake Memphremagog. We have a southern exposure so we have sun all day long. Our view is down the bay with Owl's Head. Even though our location is tranquil and secluded we have a very good convenience store just up the road at the town of Austin. This is very useful if you just need some milk or beer ;)
Tipo de habitación
Casa/apto. entero
---
Tipo de propiedad
Cabaña
---
Capacidad
6
---
Dormitorios
Austin, Quebec, Canadá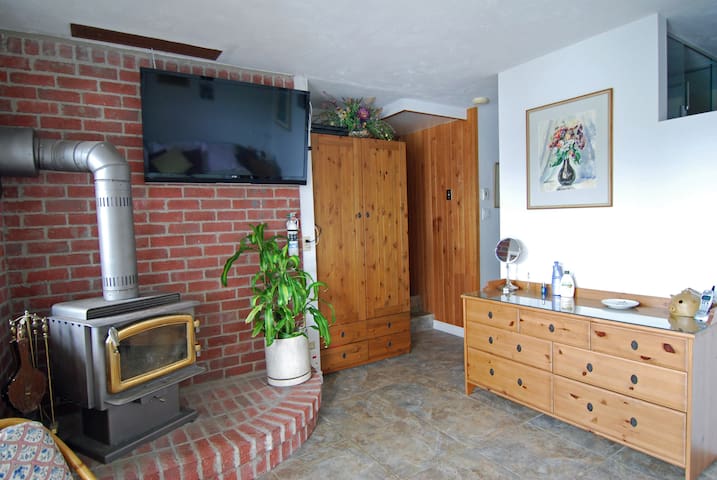 Willoughby Haven is the ideal place to relax and unwind. It sits on 4 private acres including a large lawn leading up to 400 feet of private beach with amazing views. Lake Willoughby is very peaceful and relaxing. Jet skis and wave runners are not allowed and there are not many boats. There are seven cabins but we only rent out five (one is a game room and we use one for our family). Willoughby Haven is great for couples and families with kids to have fun and relax!
You will have access to kayaks and canoes and there is a picnic table and charcoal grille behind each cabin. Willoughby Haven is 3.5 hours from Boston and is 6 hours from New York City.
The Willoughby Lake Country Store is right across the street. They have groceries, ice, beer, wine, sandwiches and pizza and Jim and Sandy who own it are fantastic.
Tipo de habitación
Casa/apto. entero
---
Tipo de propiedad
Cabaña
---
Capacidad
6
---
Dormitorios
Westmore, Vermont, Estados Unidos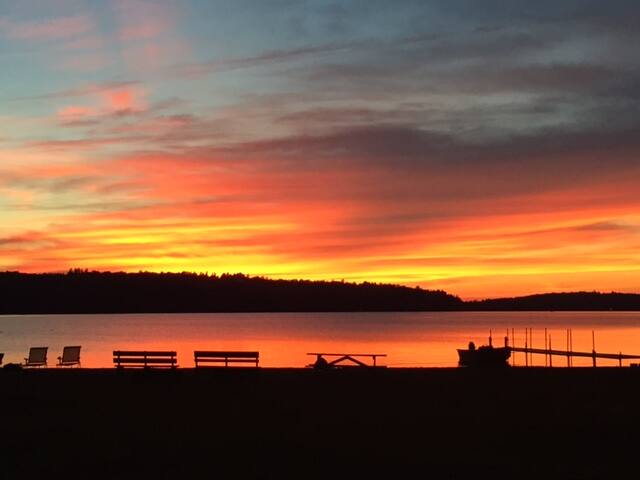 Sugar Hill est un vrai Log Cabin situé sur 24 acres de champs et de bois. Profitez de votre temps et se promener la campagne. De Jay Peak au Canada et au-delà. Détendez-vous sur le temps NEK. Sugar Hill est bon pour les couples, les aventuriers en solo, les voyageurs d'affaires, les familles (avec enfants) et amis à fourrure (animaux de compagnie).
John's place far exceeded expectations. The house was way bigger than the pictures suggested, and everything you need to cook, have a fire, and relax is supplied. Very secluded and quiet piece of property, however, town is a 10 minute drive away in-case you want to grab grocers or dinner at one of the many great restaurants.
Brian
2017-04-02T00:00:00Z
My boyfriend and I spent a few days at. The log cabin and we loved it! The cabin has a rustic feel, but all modern amenities--full bathroom, kitchen, wifi, etc. It was raining most of our stay, but we just relaxed by the fireplace and enjoyed our surroundings. The cabin was also about 5-10 minutes from downtown Newport, which has some small shops, an organic market (with great options!) and restaurants. We definitely look forward to heading up to the cabin in the future!
Meg
2017-04-08T00:00:00Z
Loved this cozy cabin! We skied Jay Peak and found the location to be convenient and easy to find. If visiting in the winter months I would suggest an all wheel drive vehicle as the drive way is fairly steep. I would highly recommend staying here. Perfect place to get away and hunker down by the fire with a book!
Amanda
2017-03-12T00:00:00Z
Great cabin with all essential amenities and close to jay peak. Very serene location!
Angelo
2017-02-25T00:00:00Z
What a hidden gem! I look forward to coming back!
laurel
2017-02-28T00:00:00Z
It has everything you could need. Easy to deal with the owner. Beautiful setting with views of the mountains, and plenty of fields to walk around and explore. It is bigger then the pictures suggest. Would recommend it to anyone.
jacob
2017-03-19T00:00:00Z
Tipo de habitación
Casa/apto. entero
---
Tipo de propiedad
Cabaña
---
Capacidad
4
---
Dormitorios
Newport, Vermont, Estados Unidos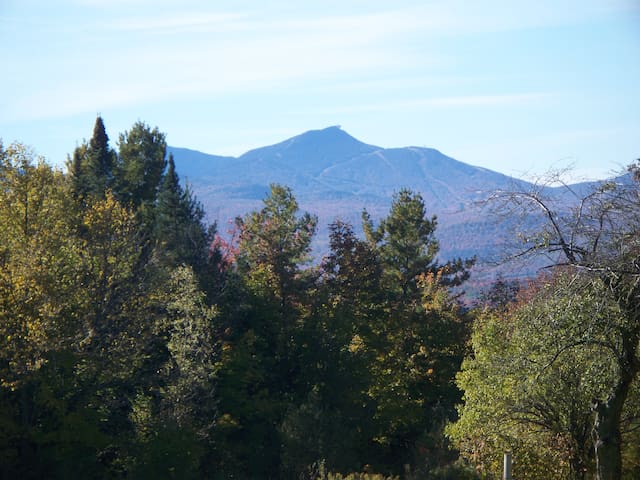 Toad Cottage is on the West side of the lake which offers magnificent sunrises. The lake also offers a constant breeze coming which help stay cool during the hot summer days. The house is also surrounded by trees and there is a lawn to the East for children to play as well as a fire pit for evening events.
There is sufficient parking for 3 cars, just leave your car on the shoulder. The gravel path leading to the cottage is rather steep (approx. 125 feet) and may require several trips for food and luggage.
Toad Cottage is on a private road which makes things nice and quiet. Vessels on the lake include both motorized and sail boats as well as canoes. Jewett's General store has those last minutes items you may have forgotten, including a meat counter, wine & beer.
Tipo de habitación
Casa/apto. entero
---
Tipo de propiedad
Cabaña
---
Capacidad
6
---
Dormitorios
Mansonville, Québec, Canadá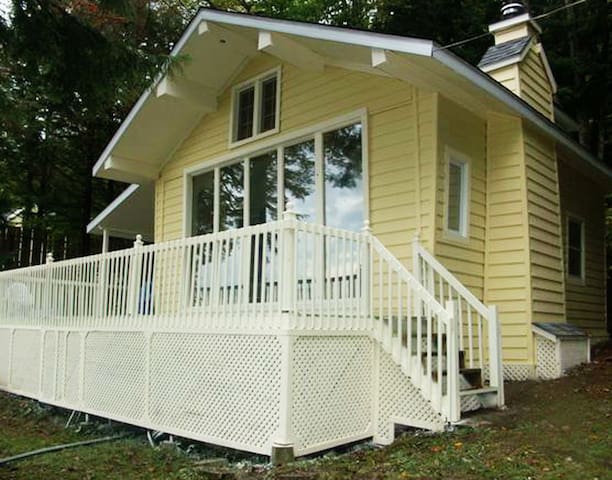 We offer a spacious cabins that are designed to fit anyone's budget and taste. We also offer free high speed Wi-Fi and Satellite TV to keep you connected. Trailside is located on a private 5 acre setting, the cabin is updated and our onsite parking is plentiful. One of the most valued features of our cabins is that they are centrally located in "The Burg". Direct snowmobile and ATV trail access is a must and we have it. Check in 3 PM & Check out is 10 Am NH Meals & Rentals Tax License No. 061671
There are 8 beds total (1 Twin, 2 queens, 5 doubles ) - if you're sleeping as couples it could sleep 14. Note: 2 Bedrooms Downstairs & 1 Giant Loft Bedroom upstairs (there is a dividing wall in loft).
Great communication and stay!
Dean
2017-01-05T00:00:00Z
the pictures online do not begin to describe how beautiful and spacious the cabin is. love the decor and having two bathrooms was a plus when getting ready in the morning the cabin was extremely clean and has everything provided for a comfortable stay
John
2017-01-22T00:00:00Z
Everything was perfect can't wait to stay there again
Brian
2017-03-19T00:00:00Z
Great place to stay. Easy access and very clean.
Tim
2017-02-26T00:00:00Z
This place is easy to find and is very close to the snowmobile trail. It is also close to the restaurants yet secluded. Can only see one neighbor when your at the cabin and it is very quiet. Great place to relax and unwind.
Walter
2017-02-12T00:00:00Z
Tipo de habitación
Casa/apto. entero
---
Tipo de propiedad
Cabaña
---
Capacidad
8
---
Dormitorios
Pittsburg, New Hampshire, Estados Unidos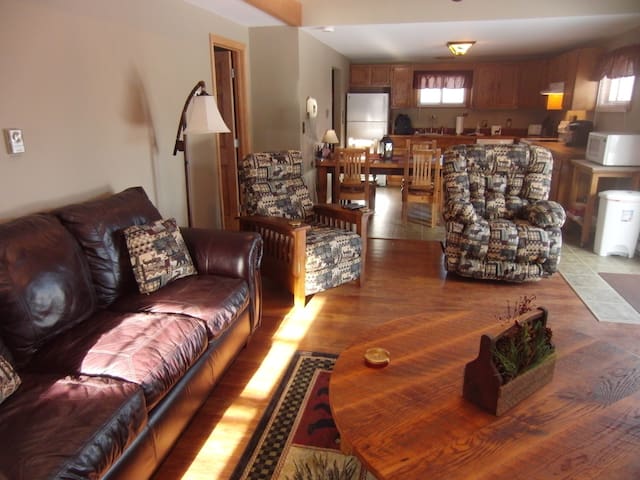 North Hatley - Airbnb
:
Una media de

4.7

estrellas de un total de

5

de

123

evaluaciones de huéspedes
1

–

18

de

63 Alquileres de Cabañas
Introduce las fechas para ver el precio total. Ten en cuenta que se aplicarán tarifas adicionales y es posible que se añadan impuestos.