Our brand new Villa is located right in the heart of Orford. Close to the beach, shops and cafes, it is ideal for couples and single adventurers. A 10% discount is offered on return trips to Maria Island in Summer. Ferry is free during the Winter months.
Villa Green is situated in our lovely garden. Completely separate with all the comforts of home, it is perfect for couples or single travellers on their way to Freycinet Peninsula and all the attractions that make the East Coast of Tasmania so special, such as world class wineries, secluded beaches and spectacular scenery. There is a bedroom with queen size bed and tv, kitchenette with microwave, fridge, kettle and toaster, bathroom and spacious living area with doors opening to a sundeck. There is an additional queen bedroom with ensuite (available on request). Whilst being part of the main house it has its own entrance and is quite private.
We love being at Orford and enjoy the beautiful beaches and the many lovely walks in the surrounding area. It's very relaxed, everyone is friendly and we hope our guests will be just as impressed.
Beth's place was really nice, clean and spacious and had everything we needed. The place was easy to find and Beth was very welcoming. However it might be a bit hard to get phone reception in the area but I would definitely recommend others to stay.
Thea
2016-11-30T00:00:00Z
Villa Green was such a lovely spot to stay! A very private cottage surrounded by gardens and trees. The Villa was so neat and tidy and very comfortable with everything needed for a great stay, including yummy breakfast treats. Beth was a very warm and welcoming host and accomodating with check-in. David had some great tips regarding where to go and what to see. Shelly Beach is just down the road and the water was crystal clear! A very relaxing place to be and I look forward to my next trip to Orford staying at this lovely Airbnb.
Bree
2017-02-12T00:00:00Z
Beth & David are very friendly hosts & we had a fun evening with them. The villa is delightful & it was lovely just relaxing on the deck and in their gorgeous garden. We were able to enjoy the herbs & berries from the garden. Several nice beaches are nearby. This is our favourite airbnb so far!
Jill
2017-01-09T00:00:00Z
Beth's place was perfect for our 1 night stay. It was clean, comfortable and inviting. We didn't get a chance to meet Beth personally but the check in procedure was very easy and Beth even left us with some goodies for breakfast. The only small downside is that the place didn't have wifi and we didn't have much reception but this was only a minor issue. Would definitely stay here again!
Fiona
2016-12-24T00:00:00Z
This was an absolutely wonderful stopover. We were greeted like old friends and the apartment was perfect. At the bottom of Beth and David's well kept garden, it is very private, spacious and spotless clean. The kitchen facilities were comprehensive. Beth had generously provided enough groceries for a lovely continental breakfast. There were many little details, too numerous to mention, that made the stay feel, like being at home. Highly recommended.
Maggie
2017-01-23T00:00:00Z
Lovely garden setting in a quiet town with nearby beaches for walks and close access to the ferry over to Maria Island National Park
Margaret
2017-03-07T00:00:00Z
Dave and Beth were wonderful host. The garden cottage was beautiful and clean. Dave picked some fruits from his peach, apple and nectarine trees for me to take for my trip and wrote up an itinerary for me as well! I'd definitely come back here again. The walk to Spring Beach is a must!
Kyo
2017-02-15T00:00:00Z
David and Beth are lovely hosts. The garden, flat and surrounding area is beautiful, comfortable and felt so peaceful. The breakfast goods were also lovely, and David wrote us a great itinerary for our way to Freycinet. Highly recommend!
Jennifer
2017-01-04T00:00:00Z
Tipo de habitación
Casa/apto. entero
---
Tipo de propiedad
Villa
---
Capacidad
2
---
Dormitorios
Orford, Tasmania, Australia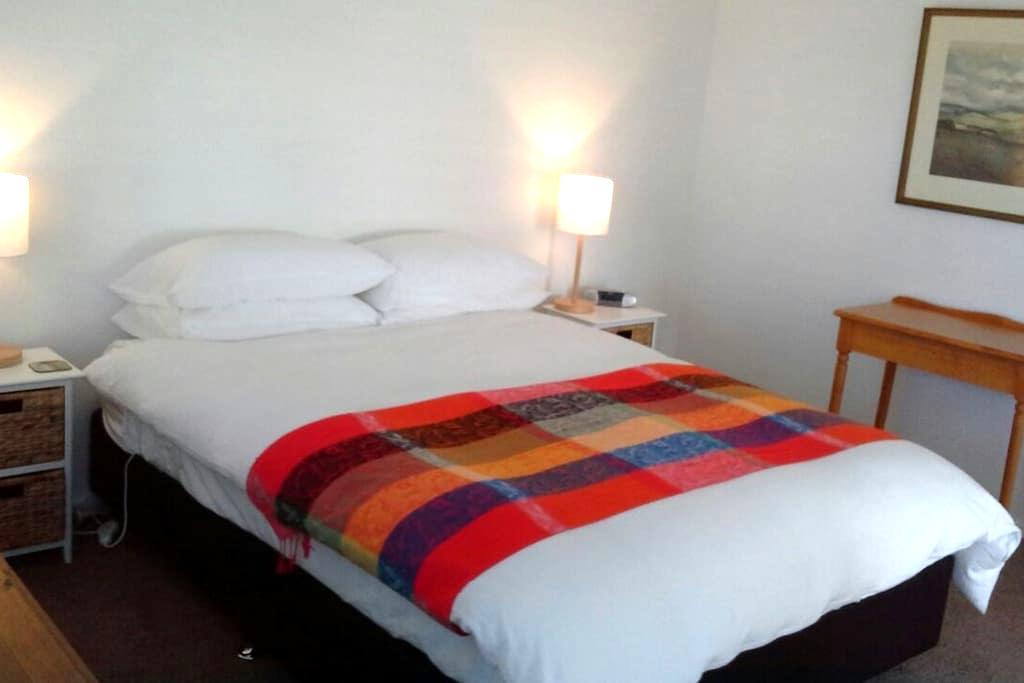 Our recent stay at Spring Beach Villa was filled with surprises, but not the unwelcome kind. The accommodation was exactly as stated, superb views to Maria Island, overlooking the beach and falling asleep to the sound of the waves was just what the doctor ordered before the onset of another busy year. Spring Beach Villa is clean, bright and comfortable, with absolute privacy, yet capturing that coastal beach vibe, and quiet, just the birds and the surf to tune out to and with.
susan
2016-01-31T00:00:00Z
Spring beach villa is a lovely place to stay. We had a wonderful 5 days there. The views are superb, with the beach a stone's throw away, and Maria Island in the distance. Despite being away at the time, Caroline ensured that everything was set up satisfactorily for our stay.
Martin
2016-02-26T00:00:00Z
The location was great. We were so close to the beach. During our stay we saw dolphins, sea eagles and a Navy ship. Great walks nearby.
Delia
2016-08-17T00:00:00Z
Would highly recommend this place. It's very close to the beach and has a lovely view. Caroline went out of her was to make sure we felt welcome. The wine and sweets left for us on arrival were a particularly welcome surprise. I cooked a meal for three one night, and found the kitchen to be well stocked. The apartment had everything we needed.
Aaron
2016-02-15T00:00:00Z
We had two amazing nights at Spring Beach Villa. The views to Maria Island and (what feels like your own private beach) are astonishing. Caroline's holiday home has everything you need to relax. The rooms are all warm with plenty of light and there are ample outdoor areas to enjoy the sunshine. The decor is tasteful and everything you need is there so you can be self sufficient. The IGA is only 5 minutes drive away but you feel wonderfully isolated. Rainwater tastes amazing! This is a perfect spot to return to after a day driving up the north east coast and perfect for a short getaway. We also discovered Orford's 'retro library' on the roadside, which was fantastic for us to borrow some books for our young daughter, and to contribute a book of our own that we no longer needed. Caroline is a great communicator, and though we didn't get to meet her she seemed lovely.
Jasmine
2015-11-27T00:00:00Z
We had an amazing stay! Stunning location with everything we needed for a comfortable and relaxing stay - highly recommended!
Hannah & Dave
2016-06-27T00:00:00Z
Caroline's place is clean and comfortable with great views over the sea to Maria Island, peaceful bushland setting and a beach just a minute's walk away. Great for spending a relaxing and peaceful time.
Ron
2016-12-02T00:00:00Z
Take breakfast & coffee out to the balcony - it's magic!
Amy
2017-04-01T00:00:00Z
Tipo de habitación
Casa/apto. entero
---
Tipo de propiedad
Villa
---
Capacidad
4
---
Dormitorios
Spring Beach, Tasmania, Australia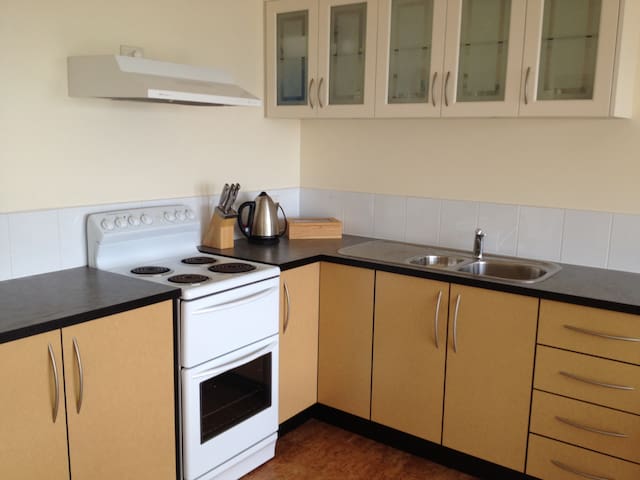 It is hard to go back home once you have stayed here! Paul and Chris are very thoughtful hosts and made our stay very comfortable. Cheese platter on arrival, breakfast items for our first day, free bicycles to name a few.
Maryam
2016-12-31T00:00:00Z
Brilliant stay in a beautiful villa! With a wonderful view
Nimi
2016-12-29T00:00:00Z
Highly recommend staying here, beautiful countryside, amazingly designed house, nestled in olive trees, delicious food... what more can you ask for!
Caroline
2017-01-02T00:00:00Z
Tipo de habitación
Casa/apto. entero
---
Tipo de propiedad
Villa
---
Capacidad
5
---
Dormitorios
Kellevie, Tasmania, Australia
Merlinny Lea is a self contained villa located 20mins from Hobart airport in a rural area 5km from the tranquil Dodges Ferry beach where you'll find local shops, a butcher, hairdresser, pharmacy, doctor, cafe, bakery, fast food outlet, boat ramp and parks.
The villa is clean and comfortable, light and spacious with a separate bedroom and ensuite bathroom.
In our neighborhood you'll see rolling pastures, farm animals and an abundance of native wildlife. Beaches are 5mins away and we're only a 40 min drive to the heart of Hobart.
comfortable clean and well equipped but a very remote location a long way from facilites
rosalie
2017-01-29T00:00:00Z
Marty and Lindy were every traveller's dream hosts. Communicative, professional, friendly and available. They maintain this beautiful little apartment to impeccable standard. I didn't want for anything during my 2-night stay, and felt comfortable and at home the second I stepped into the clean and well-appointed property. Being just ten minutes away from a main town (Sorrel), all amenities were within easy reach, and yet the apartment itself is in a tranquil rural setting away from the noise of suburbia. Highly Recommended!
Naomi
2017-03-04T00:00:00Z
Extremely well set up and well stocked for cooking at the villa, very quiet, clean and good value, highly recommended.
Rob
2017-03-16T00:00:00Z
Magic place highly recommend it home away from home so comfortable
Max
2017-03-08T00:00:00Z
We very much enjoyed our 7 day stay at Lindy's place. The location, the cleanliness and and all aspects of the Villa are just perfect. The hosts provided all you would need for your stay. Lindy and her husband are charming, friendly and very helpful. My husband and I both thought staying there was the best part of our holiday. We highly recommend Lindy's Villa to AirBNB guests Margaret and Bill
Margaret
2017-02-28T00:00:00Z
Lindy's place is clean and has everything you need for a comfortable stay. She is a great host with excellent communication and everything was well prepared. She wasn't home when we checked in but we really did appreciate her and her husband coming by to introduce themselves. Definitely recommended!
Arun
2017-03-14T00:00:00Z
Our stay was wonderful. House was very clean and had everything we needed, am looking forward to staying here again
Corey
2017-03-14T00:00:00Z
A wonderful little cabin in the bush, with all the comforts of home. My partner and I enjoyed our time there in the fresh air and scenic walks. Recommended for anyone that wants to do some sight seeing and is happy with the drive.
Matthew
2017-02-17T00:00:00Z
Tipo de habitación
Casa/apto. entero
---
Tipo de propiedad
Villa
---
Capacidad
2
---
Dormitorios
Forcett, Tasmania, Australia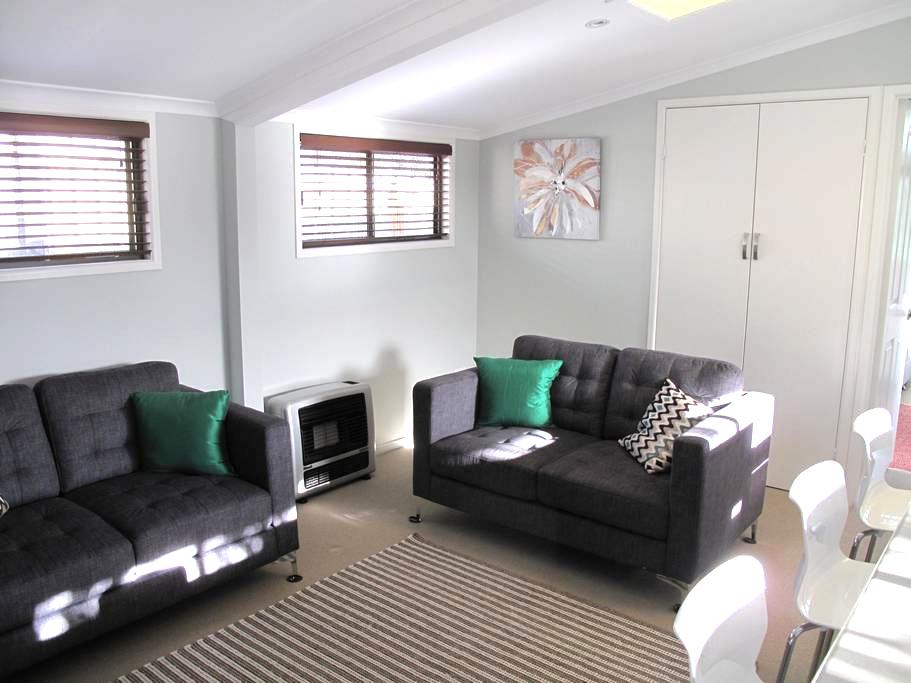 This was a stunning brand new first class, five star property. A private and scenic location that provided amazing comfort and spectacular views. Terrific and helpful hosts. Would definitely stay there again when we visit Tasmania - highly recommended!
Maree
2017-03-28T00:00:00Z
Peters place is gorgeous - it sits right on the point, there are water views from every room, it's spotlessly clean (everything is brand new and good quality) and it is fully equipped with everything you'll need for your stay (2 bedrooms with ensuites, bath, full kitchen, BBQ, large TV, washer and drier, sun-drenched decks, etc). It feels very private and secluded. Peter is lovely and a great communicator so checking in was easy. This is a place we would definitely visit again. Next time for much longer!
Crina
2017-04-02T00:00:00Z
Thanks for a wonderful stay, stunning views & peaceful getaway. We will definitely return! Loved the cabin layout, framing the view of Primrose Sands Beach and Frederick Henry Bay. We literally felt like we were tottering above the sea. We found everything we needed to allow for a warm and comfortable few days. Tasteful furnishings, easy close beach access & equipped with the essential amenities. We also found the cabin to be the perfect base for exploring the Tasman Peninsula. Drove to Bangor and enjoyed local wine & fresh seafood. Experienced breathtaking views of coastline & dolerite cliffs over a day walk at Cape Raoul. This is a seaside escape treasure, we will look back fondly on our memorable stay and look forward to our next!
Jamie
2017-02-24T00:00:00Z
Fantastic! Petes place was brand new with a modern stylish design and second to none views. It's was private and relaxing and very comfortable. Open one of the many doors and let the gentle sounds of water lapping at the shore calm you whilst you drift away
James
2017-04-09T00:00:00Z
Tipo de habitación
Casa/apto. entero
---
Tipo de propiedad
Villa
---
Capacidad
4
---
Dormitorios
Primrose Sands, Tasmania, Australia