La casa cuenta con algunos servicios adicionales. Contamos con estacionamiento privado. Desde hace algún pago adicional se puede utilizar el jacuzzi y / o hamam sauna y nos puede servir un desayuno con huevos, zumo de naranja, croissants, entre otros. (Lista de precios está disponible) Hablamos holandés, Inglés, alemán y francés
Puede reservadas a una habitación individual o habitación doble para un máximo de 2 personas. Todas las habitaciones con TV y Wi-Fi.
barrio en silencio 5 minutos a pie del centro comercial de la ciudad. 30 minutos del aeropuerto de Ámsterdam, a 20 minutos de la playa y los bosques. muchos buenos restaurantes alrededor de 5 a 10 minutos caminando
Nice Place! Kind Host! Great extra-services (Breakfast, Lunch, Taxi,...) (Ask for list with extraa fees) Good offer if it doesn't matter to share the house with the host. Be aware of eventual faulty Description: We rented this home as "Entire Home/Appartement" but only get a "Private Room" For allergic peoples: Dog is living in Home.
Gregory
2017-01-07T00:00:00Z
Good value for money
Jan
2017-01-17T00:00:00Z
The house was very spacious. Best shower I have used probably ever. The journey to amsterdam is 30 min by car. Very good host putting his guests before his business. The breakfast has a lot of variety. pancakes, salmon, baguette, jams and Nutella.
Garrick
2017-01-12T00:00:00Z
Tipo de habitación
Casa/apto. entero
---
Tipo de propiedad
Casa
---
Capacidad
2
---
Dormitorios
Heerhugowaard, Noord-Holland, Países Bajos
Gran habitación amueblada. Incluyendo el uso común de la planta principal. 10 minutos de la estación de tren. Visitar las bellas ciudades de Alkmaar (5 minutos), Ámsterdam (40 minutos) o pasar un rato en la playa. Tenemos dos bicicletas gratuitas para explorar los alrededores. Le deseamos una agradable estancia en nuestra casa.
Provista de una cama de dos personas boxspring (200 x 180 cm), armario de ropa, escritorio, televisión en color. Bonita vista sobre el patio soleado.
Se trata de una nueva zona residencial tranquila situada en un pueblo de Florencia. En el barrio se puede caminar a un supermercado, restaurante, farmacia, peluquería, salón de belleza, así como la estación de autobuses. Usted puede hacer un montón de deportes como correr, montar en bicicleta, caminar, skeeleren, o unirse a la escuela de deporte!
Son una familia encantadora, me gustó la limpieza y cama cómoda. Te dan cena y desayuno si quieres, bueno bueno!! Fue mi última noche en Holanda con esta familia, estaba cansado tras cruzar Francia en 7 días y Holanda en otros 7 días, me acogieron como un amigo. Siéntete como en casa y vive como un vecino más con Hans y Cris. I Sorry for my bad English Gracias por todo chicos!!!
Ivan
2016-07-05T00:00:00Z
Son unas increíbles personas! La habitación es sumamente cómoda, sobre todo la cama! No tuve ningún problema de comunicación; me ayudaron en todo. La ubicación está un poco alejada de Amsterdam, pero puedes llegar fácilmente por tren. Les recomiendo salir en la bici que les ofrecen y conocer la villa, es muy bonita. Fue una de mis mejores estancias. Thank you!! so much!! I wrote it in spanish to let other people now about it, in spanish. =) see you soon!!
Alan
2016-08-07T00:00:00Z
Zekwr de moeite waard
Maurice
2017-02-17T00:00:00Z
Hans and Christine are very friendly and hospitable. We didn't get to talk much since we were in a rush. Hans picked us up from Heerhugoward station and dropped us in the morning again, and their house is BIG. Very spacious and well maintained. I would recommend this to anyone traveling around Netherlands.
Ashna
2016-07-03T00:00:00Z
Zeer vriendelijke hosts en een mooie, nette en schone kamer. alles prima in orde, kom hier graag weer eens!
Bart
2016-09-25T00:00:00Z
Their place is very nice and cleanliness is to a very high standard, reasonably fast internet (50Mbps). Good shower water flow, pleasant surroundings, where the town planning included many artificial canals reminiscent of Amsterdam's, which is not often found elsewhere in the world, making it somewhat more special than other airBNB places.
Chi
2016-09-19T00:00:00Z
Merci à Christine pour son accueil chaleureux . Chambre spacieuse , lumineuse et donc agréable pour une escapade .
Armelle
2016-07-22T00:00:00Z
Hans,Chistine are so nice...they pick me up the train station, and when.i leave also.,so kindly, they give me a bike for 4 days so I can go the place i want to , thats so convinient.wa...wonferful travel. by bike..windpower, solar, mills, nice...they even prepare food for me just like the families, let me just like the resident not the tourist any more in Nersthland, we talk and have the beer together when night, Ilove their house so much.. really hope ican live here more one week.but i need to go the other countries soon. ...whatever, iwill be back. will missing all of them so much..
bruce
2016-06-20T00:00:00Z
Tipo de habitación
Habitación privada
---
Tipo de propiedad
Casa
---
Capacidad
2
---
Dormitorios
Heerhugowaard, Noord-Holland, Países Bajos
In the tourist district of Heerhugowaard, this spacious common room on the water. The 5 bedrooms all have private bathrooms and a spacious common room equipped kitchen. Centrally located 40 meters from a bus station.
Right in the tourist area of Heerhugowaard. Nice hiking and biking. The space on the ground floor which makes it very suitable for wheelchair users. The five bedrooms furnished for 2 persons are equipped with a private bathroom. In consultation can cots or extra people staying over.
By bus running at less than 100 meters from the property leaves you with is 10 minutes in one of the largest indoor shopping centers in North Holland. When the bus in the other direction takes you about 10 minutes in the bustling center of the city of Alkmaar and 15 minutes at the central station of Alkmaar. A supermarket, hairdresser, snack bar and restaurant is located within walking distance. The property is situated in the tourist area of Heerhugowaard where several cycling and walking routes are available.
After some trouble locating the house, we were warmly welcomed by Herman's wife who helped us feel right at home. Our group of nine loved having comfortable beds after many hours of travel and a well-equipped kitchen to prepare some meals when a steady rain made us want to stay inside rather than go out to eat. We were really grateful that on the last day we were allowed to remain a few extra hours before departing for the airport. Thanks for a wonderful stay!!
Carolyn
2016-06-24T00:00:00Z
Large, comfortable house. The hosts were excellent! They were very patient in answering my questions and always responded very quickly to emails. Would definitely recommend!
Ashlie
2016-11-13T00:00:00Z
Wij hebben een heerlijk weekend gehad in het huis van Herman. In het echt is de woning veel ruimer dan op de foto's! Goede apparatuur, erg schoon, goede nieuwe douches. Uitzicht vanuit het huis is mooi, kan je niet voorstellen dat je in stad bent. Er stond een leuk welkomspakketje klaar bij aankomst. Zeker voor herhaling vatbaar!
Margy
2016-01-31T00:00:00Z
We hebben een heerlijk weekend gehad. Zeer hartelijk ontvangen, alles helemaal in orde. Pluspunten: prima slaapkamers met elk een prima badkamer, zeer grote woonkamer en prima keuken. Veel privacy.
Tim
2015-10-04T00:00:00Z
We stayed here with two families for Christmas and I have to say that it has been the best Airbnb experience I have had yet. It was like staying in a hotel but better. All the double rooms are en-suite and they all had tea making facilities and a hairdryer which I thought was a nice touch. The pictures are very accurate. The kitchen had everything we could need and there was plenty of space to accommodate a big group. Herman and his wife were very welcoming and helped us with any questions we had during our stay. The location is very beautiful and the bus stop is pretty much right outside the door and was very convenient for getting into Alkmmaar. All in all we all had a great stay.
Deborah
2015-12-28T00:00:00Z
We hebben een heerlijk weekend gehad in Heerhugowaard. Herman heette ons welkom en er stond een welkomstpakketje klaar. We voelden ons gelijk thuis, vooral toen we uitgenodigd werden voor zijn verjaardag! We zijn daarom langs geweest om ons verjaardagsrepertoire ten gehore te brengen. Het huis is super! Heerlijk ruim, mooie slaapkamers, ieder een eigen badkamer, handdoeken lagen klaar, bedden waren opgemaakt. Alles was aanwezig voor een perfect weekend! Bij ons zat het weer niet echt mee, maar anders kun je ook heerlijk buiten zitten, met een prachtig uitzicht over het meer. Zeker een aanrader!
Maaike
2016-04-17T00:00:00Z
Erg genoten van ons weekend! Met een gezelschap van 9 op vrijdagavond aangekomen en hartelijk ontvangen! Het huis was heerlijk voor ons gezelschap. Lekker aan het water, ruime slaapkamers en elke kamer voorzien van een aparte badkamer. Allemaal erg netjes en schoon. Ondanks dat het huis zich in een mooie omgeving bevindt hoef je hier niet uit huis om jezelf te vermaken. Het huis is voorzien van genoeg vermaak; van een pooltafel tot uitgebreid aantal spellen en van een platenspeler tot karaoke set! Het huis ligt aan een groot meer waar je heerlijk rondom kan hardlopen en waar in de zomer gewatersport kan worden. Heerlijk voor gezelschappen van alle leeftijden!!
Lotte
2016-02-28T00:00:00Z
Herman heeft ons hartelijk ontvangen. Zowel voor, gedurende als na ons verblijf hebben Herman en zijn vrouw ons ontzettend welkom laten voelen. Alles was tot in de puntjes geregeld, een vroege incheck was geen probleem en er lag zelfs een welkomstcadeautje voor ons klaar. Het is een van mijn beste airbnb ervaringen geweest tot nu toe, vooral de vriendelijkheid en flexibiliteit hebben het voor iedereen tot een heerlijk verblijf gemaakt. Elke twee-persoonskamer heeft een eigen badkamer, er is een grote luxe keuken en het terras ligt heerlijk aan het water, wat goed te vertoeven is met mooi weer! We hebben het zo naar ons zin gehad dat we al een nieuw reisje aan het organiseren zijn om terug te komen in dit heerlijke huis!
Mieke
2015-07-12T00:00:00Z
Tipo de habitación
Casa/apto. entero
---
Tipo de propiedad
Casa
---
Capacidad
10
---
Dormitorios
Heerhugowaard, Noord-Holland, Países Bajos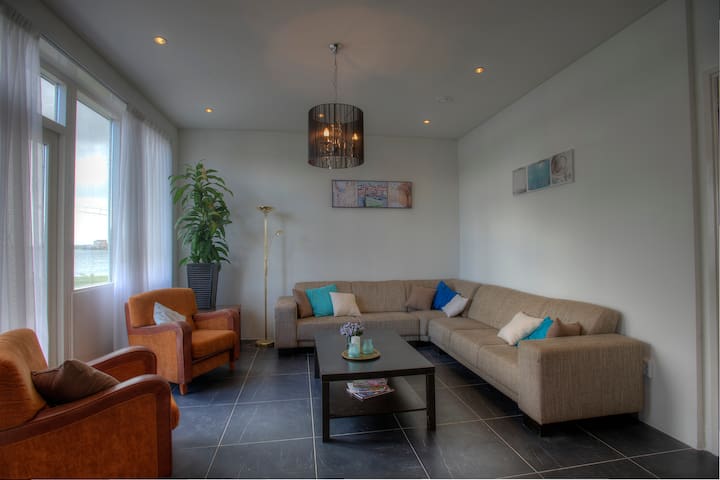 Nuestra hermosa casa se encuentra en una zona tranquila, barrio moderno, cerca del centro de la ciudad de Alkmaar. La playa (Egmond aan Zee) es a sólo 14 kilómetros de distancia y Ámsterdam, a sólo 30 minutos en coche. En nuestro barrio a encontrar varias zonas de juegos para niños. En la planta baja se encuentra la cocina y el comedor con puertas correderas para el patio trasero. Arriba hay dos dormitorios con una cama doble. Es posible colocar un babybed en una de las habitaciones. El baño tiene una gran ducha y un lavabo doble.
En el patio trasero tenemos un pequeño cobertizo donde se puede colocar sus bicicletas. También hay una barbacoa y una parrilla que se puede utilizar en las noches cálidas. Hay una tienda de comestibles a 1 km y una panadería a 300 metros de la casa.
Nuestro barrio es muy bonito y tranquilo.
We was the first guest from Stefanie and Sem in there house and we would repeat this anytime again. The location of the house is very quit in an residential area from Alkmaar. The connection to the public transfer well as to the beltway from Alkmaar is great. So a visit to Amsterdam or the beaches of Egmoond or Bergen is easily and quickly possible. The house itself has everything you need for a carefree holiday and the hosts has helped us with many information about sights in the nearby area as well with good restaurants. We just can thank again our hosts for the nice and relaxing stay in the house.
Markus
2016-08-14T00:00:00Z
Tipo de habitación
Casa/apto. entero
---
Tipo de propiedad
Casa
---
Capacidad
4
---
Dormitorios
Alkmaar, Noord-Holland, Países Bajos
Enjoy this lovely characteristic, typical Dutch home. What do you think about a drink at the fireplace or relaxing on the sunny terrace? A cosy home anno 1924, located in a beautiful street of Sint Pancras. You will feel at home and on holiday at the same time. Near beach and city Alkmaar. Kom genieten in dit heerlijke karakteristieke huis. Wat dacht u van een drankje bij de openhaard of relaxen op het zonnige terras? Met de auto 7 min. naar centrum Alkmaar en 15-20 min. van het strand!
Enjoy this lovely characteristic, typical Dutch home. What do you think about a drink at the fireplace or relaxing on the sunny terrace? A cosy home anno 1924, located in the most beautiful street of Sint Pancras. You will feel at home and on holiday at the same time! Do you love the beach? If you decide to go to the beach of Egmond aan Zee, you will get daily a free parking place in Egmond aan Zee (15 minutes walk from the parking place to beach), and on the beach a free cabin, free windshield and free sunbeds (in summer). Your holiday can start! The house: Semi detached home (85 m2). Suitable for 2 adults and 1 or 2 (young) children. Ground floor: Livingroom. Fully ecuipped kitchen with combi oven/magnetron and dishwasher. Toilet. Garden: partly located on the sunny south (sunside). First floor: Beside the adult room there is one very small child room (about 2x2m) There is place for 1 stretcher bed (guest bed) in the child room. (okt 2016: We bought new matrasses for the stretcher beds, so we hope it sleeps good now, see review august 2016).There is one more stretcher bed wich kan be placed in the livingroom or also in the child room, but notice the room is only 2x 2 meter. Bathroom: 1 st floor. simple, a bit dated, with shower, second toilet and bath. A commode, highchair and toys for young children are available. Parking: Free parking in the street. Bed linen: Bed linen you will get one time by arrivel. If gou want to change your bed more than once, you have to bring extra linen by your own. There are 8 towels. If you need more, you have to bring by your own. Your stay: The whole house is for yourself during your stay. We will give you the key by ourself or when we are on holiday we will ask or neighbors or family to give you the keys. We are always available for questions by phone or mail. We expect you will leave or home clean. We don't ask a fee for cleening and hope you will leave or home as you want your home will be left behind. Location: Central located and a lot of interesting places in the area (beach, dunes, wood and city's). Sint Pancras is a cosy village next to the hystoric city Alkmaar. With the rest of a village and nearby a very nice city were you can find a lot of shops, restaurants, terraces and the cheesemarket in the historic center. There is a supermarket nearby: in 5 minutes you can walk to the supermarket. By car in 15/ 20 minutes to the beautiful beach Egmond aan Zee and sanddunes. It's a 7 minutes drive to center of city Alkmaar. In 45 minutes to the beautiful city's Amsterdam and Haarlem. Within 5 minutes by car you can visit a big recreation lake. But also Bergen, Schoorl, Schagen, Volendam, island Texel, Zaanse Schans, Utrecht and Leiden are worth a visit and you can reach it within 30 minutes/ a hour. You can reach our home by train and bus. The bus stop around the corner. By train from Alkmaar Noord in 30 minutes to Haarlem and 43 minutes to Amsterdam. ............... ............. .............. Dutch: Een heerlijk sfeervol huis anno 1924, gelegen in het mooiste straatje van Sint Pancras. U voelt zich hier thuis én op vakantie tegelijk! Bijkomend voordeel: mocht u besluiten naar het prachtige strand van Egmond aan Zee te gaan kunt u dagelijks gratis gebruik maken van een strandcabine, ligstoelen, windscherm en parasol. U kunt gebruik maken van een gratis parkeerplek (15 minuten lopen naar strand) in Egmond aan Zee! Uw vakantie kan beginnen! De woning: Betreft een half vrijstaande woning (85 m2). Geschikt voor 2 volwassenen en 1 of 2 (kleine) kinderen. Begane grond: Woonkamer en keuken met vaatwasser en combi magnetron. Toilet. Tuin: gedeeltelijk gelegen op het zuiden, dus 's middags altijd zon! Eerste verdieping: Naast de ouderslaapkamer is er 1 heel kleine (2x2 m) slaapkamer met logeerbed voor een kind. Nog een logeerbed kan eventueel ook extra geplaatst worden voor een volwassene/ kind in de woonkamer of ook in de kinderslaapkamer. (okt 2016: we hebben nieuwe matrassen gekocht voor de logeerbedden op de kinderkamer en we hopen dat dit nu goed slaapt, zie review aug 2016) Kinderstoel, speelgoed en een commode is aanwezig. Simpele, iets verouderde badkamer met douche, tweede toilet, wastafel en bad aanwezig. Gratis parkeren. Beddengoed is aanwezig (wordt bij aankomst van uw verblijf verstrekt). Als u het bed wilt verschonen tijdens uw verblijf dient u zelf extra beddengoed mee te nemen. Er zijn 8 handdoeken aanwezig. Als u behoefte heeft aan meer handdoeken tijdens uw verblijf, graag zelf extra meenemen. De omgeving: Sint Pancras is een fijn groen dorp dat grenst aan het gezellige Alkmaar. U heeft de rust van een dorp en bent toch dichtbij de stad (7 min auto). Op 5 minuten lopen is een supermarkt aanwezig. Op 5 minuten met de auto van recreatiegebied Geestmerambacht. Strand en duinen slechts 15/ 20 minuten met de auto. Met de trein bent u vanaf station Alkmaar Noord in 43 min. in Amsterdam en in 30 minuten in Haarlem.
Wir haben uns wohlgefühlt. Ein sehr schönes Haus und sehr nette Gastgeber. Das Haus ist mit allem ausgestattet was man braucht. Die Siedlung ist sehr schön und ruhig. Optimale Ausgangslage um Ausflüge zu machen z.b. nach Alkmaar ( lohnenswert!) und Egmond aan zee. Wir waren auch in Bergen und Julianadorp. Auch in Amsterdam wäre man in 30 Minuten. Wir kommen gerne mal wieder . Ein kleiner Minuspunkt: Das Kinderzimmer ist recht klein und unsere Tochter konnte auf dem Klappbett nicht gut schlafen. Ansonsten war alles prima!
Diana
2016-08-01T00:00:00Z
Angela als Gastgeberin konnte leider persönlich weder bei der An- noch der Abreise anwesend sein, ein Verwandter hat uns jedoch kurz die Unterkunft gezeigt und die Schlüssel ausgehändigt. Das Haus ist sehr hübsch und es lässt sich hier sehr gut einige Tage wohnen. Für den Norden Hollands eine sehr gute Location! Sehr ruhige Wohngegend! Die Gästebetten im Kinderzimmer sind etwas hart. Alles in allem sehr angenehm! Stefan
Stefan
2016-08-12T00:00:00Z
Wir wurden empfangen mit kleinen Aufmerksamkeiten unter dem Weihnachtsbaum. Die Kinder waren sofort begeistert und wir ehrlich überrascht.
Rabea
2017-01-02T00:00:00Z
The house of Angela is small but cozy. There was no problems, Angela ´s neighbor are nice and friendly. I can recommend it. It was a realy perfect holiday.
Barbora
2016-08-08T00:00:00Z
Mein Freund und ich haben eine Woche in dem wunderschönen Haus von Angela und Richard (URL HIDDEN) war einfach perfekt!! Angela und Richard sind ein sehr süßes Paar,sie haben uns Willkommen geheißen und und alles gezeigt. Die wichtigsten Infos lagen in einem Ordner bereit. Es war für alles gesorgt,Handtücher und Bettwäsche und ein paar Kleinigkeiten im Kühlschrank. Es war alles super lieb hergerichtet und wir haben uns sehr Willkommen gefühlt! Die Woche war einfach perfekt,wir brauchten ca 15-20 min zum Meer,der Strand in Eegmond ist sehr schön! Eigentlich war man überall in weniger als einer Stunde,ob Amsterdam,Den Haag,Hoorn,Volendam....der perfekte Ausgangspunkt für tolle Tagesausflüge! Und Alkmaar muss man auch mal entdecken:) Wir würden jederzeit sofort wiederkommen!!!
Julia
2016-07-28T00:00:00Z
Tipo de habitación
Casa/apto. entero
---
Tipo de propiedad
Casa
---
Capacidad
4
---
Dormitorios
Sint Pancras, Noord-Holland, Países Bajos
sala de engañoso de estar, 4 dormitorios, precioso jardín con mucho sol. El barrio es muy tranquilo y la ciudad de Alkmaar es de 10 minutos en bicicleta de distancia. Las playas más populares Egmond y Bergen aan Zee están a 15 min. en auto accesible. Ámsterdam 30/40 min.
La casa tiene una habitación especiosa de estar, 4 dormitorios, un baño y un aseo en la planta baja. Una cocina abierta, totalmente equipada. Un bonito jardín, también para los niños, donde puede sentarse, comer y jugar.
El barrio es muy tranquilo, la hermosa ciudad de Alkmaar está a sólo 10 min. de distancia en bicicleta. Las playas más populares y bellas se encuentran a 20 en la unidad. Amsterdam 30 min. Es una gran rodea para montar en bicicleta y caminar en los polders agradables.
Very nice comfortable house, normally used by the owners family (not a holiday location). Furnished with taste and equipped with everything you need. Spacious kitchen and living room. Small, sunny garden, very nice to sit and relax. We felt like home and could well have stayed longer. Very quiet street (not a touristic area but original "dutch living"). City centre, train station etc all in cycling distance. Communication and assistance by host/neighbour very nice and reliable. Tourist information material was provided by host. We very much enjoyed our stay. THANK YOU VERY MUCH !!
Bettina
2015-08-09T00:00:00Z
We had a great time in Saskia's house. The location is very good : alkmaar city is very pleasant. The house itself is very nice: everything is very convenient including a beautiful bathroom and a large kitchen. We could use the bikes and we enjoyed visiting the area. We warmly recommend.
Jean-Christophe
2016-08-08T00:00:00Z
Sehr schön eingerichtetes Haus. Wir haben uns bei Saskia sehr wohl gefühlt und können es uneingeschränkt weiterempfehlen.
Michael
2015-07-20T00:00:00Z
Nice house, very friendly contact, good holidyas
Ch
2016-08-01T00:00:00Z
Tipo de habitación
Casa/apto. entero
---
Tipo de propiedad
Casa
---
Capacidad
5
---
Dormitorios
Oudorp, Noord-Holland, Países Bajos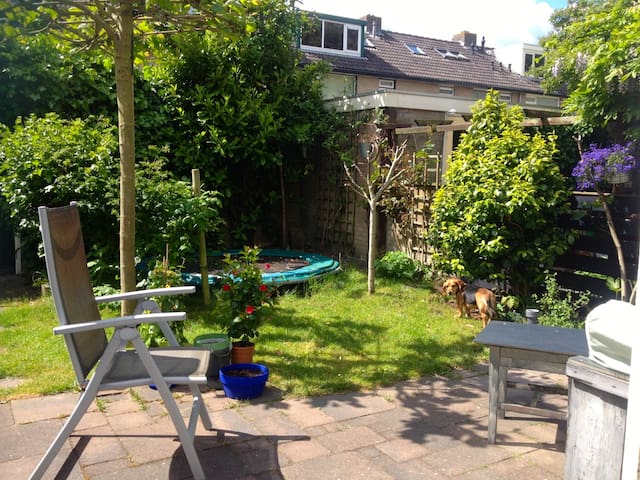 Mein Platz ist zum Stadtzentrum von Alkmaar (NICHT Amsterdam), ca. 10 Minuten zu Fuß zu schließen. Es gibt ein Einkaufszentrum in der Nähe. Es gibt mehrere Bushaltestellen in der Nähe, maximal 1 Minute zu Fuß. Private Parkplätze für Ihr Auto. Sie werden meinen Platz wegen Privatsphäre lieben. Mein Platz ist gut für Paare und Familien (mit Kindern). Alkmaar ist ca. 40 km von Amsterdam und es dauert 30 bis 40 Minuten mit dem Zug.
Es una habitación privada con acceso directo desde el exterior. La habitación es de unos 55 metros cuadrados, lo que hace que sea muy amplio. Hay un baño privado, cocina ducha. Hay un escritorio de oficina y sillas.
Alkmaar es famoso por el mercado del queso. El centro de Alkmaar hay una gran cantidad de bares y restaurantes en un entorno histórico. También está cerca de varias playas.
Great place
Kaleem
2017-04-07T00:00:00Z
Es war super das Zimmer ist klasse , ich werde auf jeden fall wieder kommen. Danke für den super Aufenthalt LG
John
2017-04-09T00:00:00Z
A nice little studio with everything you need. Leo is a great host and provides good value. Alkmaar is a charming town. The studio is within walking distance of the city centre, train station, and grocery stores.
Hrafnhildur
2017-03-26T00:00:00Z
The host canceled this reservation 73 days before arrival. This is an automated posting.
Johan
2017-03-04T00:00:00Z
Leo was very nice and helpful. However, if you are looking to stay near Amsterdam this isn't very close at all. It is about a two hour train ride from Amsterdam
Chloe
2017-04-03T00:00:00Z
This place is incredible for the price! Your own private apartment and kitchen for under 50euro and it's a lovely little mile walk to the center of Alkmaar! Leo & Ries are so accommodating and kind. What cool guys and what a great stay! Comfy comfy bed too!!!
Michele
2017-04-04T00:00:00Z
Tipo de habitación
Habitación privada
---
Tipo de propiedad
Casa
---
Capacidad
3
---
Dormitorios
Alkmaar, Noord-Holland, Países Bajos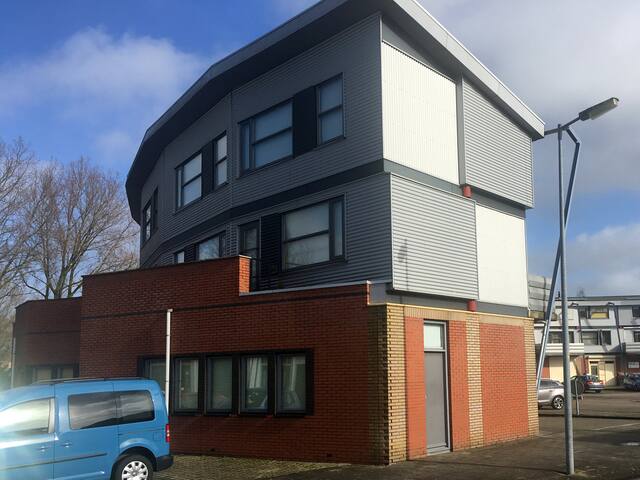 Es una casa unifamiliar confortable en el agua en un bello entorno cerca de bosques, dunas, playa y mar. Aparcamiento en la puerta. Broek op Langedijk es un pueblo tranquilo y acogedor. La ciudad de Alkmaar, famosa por su mercado de queso, está cerca (10 km) y tiene un bonito centro de la ciudad. El Museo de velo Broeker vale la pena una visita y ofrece una Boottour througt el viejo escenario de "1000" islas de todo el pueblo. Una estancia de una semana es: 350 euros por 3 semanas 3x 300 euros.
We spent a good weekend. The house is confortable and well equipped. Communication with Nynke was good.
Nicolas
2017-03-26T00:00:00Z
Tipo de habitación
Casa/apto. entero
---
Tipo de propiedad
Casa
---
Capacidad
4
---
Dormitorios
Broek op Langedijk, Noord-Holland, Países Bajos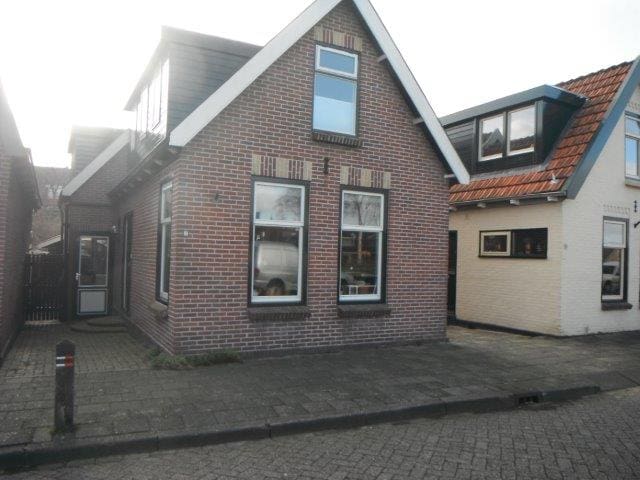 In dit prachtige, kleine dorp, valt deze pas verbouwde woning op door zijn mooie raampartijen. Met uitzicht op de sterren en een heerlijke tuin kun je ontspannen en genieten en in alle rust uitstapjes plannen om het mooie Noord-Holland te verkennen! In this beautiful, little village, this newly renovated property is notable for its beautiful windows and wooden facade. View the stars and relax in the garden while making plans to explore the beautiful North-Holland!
Veel lichtinval. Het betreft een woning die deels verbouwd is. De woning is bedoeld voor mensen die dicht bij het strand willen zijn of in de buurt van Amsterdam, maar die rekening houden dat er nog een paar kleine dingen afgewerkt dient te worden. Ons droomhuis is bijna af..... Come at our house if you don't mind it's not completely finished yet. This is the place near Amsterdam and the beaches of North-Holland.
Het is een heerlijke rustige plek. Toch ben je ook zo op de snelweg richting het stadsleven of lekker op de fiets naar het strand of recreatiemeer Geestmerambacht op 5 minuten. De supermarkt is om de hoek (5 minuten lopen). Zwembad de Bever is ook 3 minuten bij ons vandaan. It's a lovely, quiet place. Hop on the bike to go to city Alkmaar or the beach. There's a lake at 5 minutes. (Geestmerambacht) or a swimming pool 3 minutes away. The supermarket is around the corner.
Wij hebben enorm genoten van de gezellige en huiselijke sfeer! Samen met al onze kindjes hebben we heerlijk buiten gezeten en gespeeld, ideaal voor (kleine) kinderen!
Romi
2015-09-21T00:00:00Z
Jan & Wendy were the perfect host for our weekend, they were very responsive to every request and quite available and accommodating ! They answered every question very quickly and they left everything we need at our disposal .The house was also perfect : spacious, liminous, with handmade wood design that leaves speechless. Everything was built with taste and talent. The pieces are different and suit for each family member. The outdoor area and garden invite to relaxation. We felt that the house was the house of a kind and generous family. The neighborhood is also charming, filled with small dollhouses ! There was even kittens to accommodate us at our arrival ! We could not pass a bad weekend with this house. My good intuition seeing this house in Air B n B was confirmed ! :) I just wish I had met Jen & Wendy who looked really lovely ! I would definitely come back if there was the opportunity.
Aline
2015-09-27T00:00:00Z
We had a very nice stay at Jan and Wendy's family house. The place is very comfortable and has a warm and cosy atmosphere. We loved sitting at the couch quietly looking out over the garden. In bed we looked at the stars through the large roof windows. We visited the city of Alkmaar with it's beautiful historic centre and took a nice long walk at the beach of Egmond. We only stayed for one night but we felt immediately at home. Jan and Wendy are great hosts it really felt as if we've been friends for years.
Ruud
2016-06-29T00:00:00Z
The home was exactly as pictured and it was great! It was extremely comfortable for our group of 5. Jan and Wendy were also extremely helpful with information on going to and from the train station with the buses. I would highly recommend the home.
Gabriel
2015-09-13T00:00:00Z
Wonderful place with the wood design touches of Jan. We have really enjoyed the place! Eva
Eva
2015-08-11T00:00:00Z
One of the best house that l stayed. Especially Jan is an amazing host! Very special area. Very clean house. You have to be there.
Adem
2015-08-16T00:00:00Z
Het huis van Jan en Wendy heeft veel inspirerende en creatieve elementen van hout. We keken echt onze ogen uit. Het huis is bovendien lekker ruim en licht. De houtkachel heeft een meerwaarde. Het contact en de communicatie met Jan en Wendy verliep plezierig. Ze zijn flexibel en relaxed. We merkten dat ze bereid waren om mee te denken en ons een prettig verblijf te geven.
Avikal & Jurianne
2015-10-26T00:00:00Z
Very nice and spaceful house in a peaceful neighbourhood. Jan is a wonderful host. He welcomed us and explained all the features in the house and garden. We are a young family with a one year old son and felt from the beginning like home. Everything you could need is at its place, like lots of child's play, a nice fire place, good equipped kitchen, nice garden and so on. Sint Pancras is a quite good spot if you are heading to travel through North Holland. The North Sea is just 20 min drive by car, Amsterdam around 40 min. And don't miss the city Center of Alkmaar with the cheese market. Hope to come again!
Saim
2015-08-21T00:00:00Z
Tipo de habitación
Casa/apto. entero
---
Tipo de propiedad
Casa
---
Capacidad
8
---
Dormitorios
Sint Pancras, Holanda Septentrional, Países Bajos
A private room in a beautiful, green Dutch neighbourhood and property. Friendly family atmosphere. Scenic area by bike. *** IMPORTANT NOTE**** Airbnb has been having technical difficulties, so if I am not receiving your requests or bookings, please contact me directly via teleph(PHONE NUMBER HIDDEN)) or email (EMAIL HIDDEN) or find (EMAIL HIDDEN)
There are two houses on the property, this room is located in the house in the back where my parents live. It is on the top floor so from the living room there is a relaxing view of our green backyard and canal. The room is small but comfortable and clean with two windows. Because the room is located in the house in the yard, it is very quiet. You will have a shelf in the refrigerator and a cupboard to use yourself in the kitchen. There is a microwave, fresh ground coffee maker, sink, stove, fridge and freezer.
We are in a beautiful, lush Dutch village. It's friendly and quiet. You will love all of the big houses with their perfectly manicured gardens and all the green!
What a great experience, Nice cosy room, it is a true escape! Sevannah and her family are very nice, great stories. When you come in there is sweets and fruit waiting for you!
Martin
2015-09-17T00:00:00Z
Dear Savannah; I am glad to met with You and Your family . It was the perfect experience to spent my weekend at Alkmaar . I hesitate at first to come because it was maybe could far but when I come there I didnt feel it is far and there was every time train for going Amsterdam and Alkmaar and Your family was so nice . I am happy to be Your family member and I hope we Will meet again. Thanks for very nice host and for everything .
Mustafa
2015-09-22T00:00:00Z
Une famille adorable, on se sent vite proche, toujours prêt à nous aider. De plus la ville est charmante, des rues pavées, à proximité d'Alkmaar et de la mer; géniale pour les balades en vélo. J'y suis resté 2 mois pour un stage, ce fut une expérience inoubliable, les Pays-Bas est un pays magnifique, par ses paysages, sa culture, les personnes. Bref, vous adorerez un séjour en leur compagnie (surtout si vous aimez les animaux), c'est une famille unique ;)
Ryan
2016-07-02T00:00:00Z
Staying with Savannah and her family was an amazing experience. Everyone was very welcoming, made sure i was comfortable and went above and beyond to help me get around and access the neighborhood which was an amazing contribution to enjoying my stay in the Netherlands. Savannah, her family, and friends, not only provided accommodation that felt like home but it was due to their efforts that the purpose of my trip was successful. I met a lot of people i can now call friends and really enjoyed my stay. They treated me like a member of the family, making sure i had everything that i needed. I loved listening to the stories of their travels, and having relaxing and quiet evenings in. In addition their home was absolutely lovely, with plenty of amenities within the home (including pets which was a cute perk to staying with them) and the surrounding area . Their dog is sweet as can be, and other animals maintained very well looked after that they simply compliment your stay if you choose to be around them. Id like to thank the whole family for welcoming me into their lives and introducing me to the Netherlands. Would absolutely love to return and stay with them again. Their other properties in the area gives me the opportunity to choose my accommodation based on the size of your my traveling company. Ill certainly be booking with their other properties as well when i travel with friends and require more room. Thanks again! See you guys again soon!
Alice
2016-03-21T00:00:00Z
Suppose to have normal room, but I found a wonderful family, Savannah, Branden, Kees and Magi. Their hospitality was great, they have a lot of traveling stories all around the worlds, Savannah is a unique young books writer, she published two great books which I advise to have them, And I was so lucky to have an awesome barbecue party, thanks Mario for the great foods (especially the ribs ;) ) For the room was very clean and has lovely welcoming snacks I felt I'm in my real home I'm happy to have a new family for me which I will keep visit them Thanks a lot all of you.
Fayez
2015-09-07T00:00:00Z
Everything is exactly as advertised, interesting world traveling parents: check! lots of pets: check! Clean and cozy bedroom on the quiet corner of the house: check! There was even a nice desk for me to work at while I was there. Even though Savannah and Magi where super busy all the time, the family still found time to make it a comfortable and unforgettable stay.
Michiel
2016-10-21T00:00:00Z
Tipo de habitación
Habitación privada
---
Tipo de propiedad
Casa
---
Capacidad
1
---
Dormitorios
Sint Pancras, NH, Países Bajos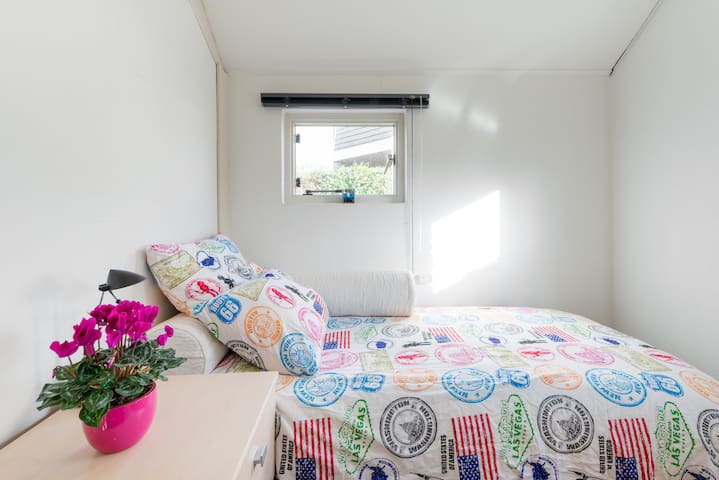 Casa moderna en Alkmaar, a poca distancia de la estación de tren y en bicicleta la distancia al centro de la ciudad y Bergen aan Zee. Casa totalmente equipada para una familia con niños. Dos cuartos. Cocina completa y wifi.
De reciente construcción en la ubicación muy conveniente, cerca de las autopistas, transporte público y centro de la ciudad. A sólo 30 minutos de Amsterdam o Afsluitdijk, y en bicicleta la distancia de los puntos de playa y naturaleza.
Siendo 3 km del centro de la ciudad ya 2 minutos a pie de la estación de tren le dará toda la libertad que necesita para moverse en la ciudad o en el exterior (Amsterdam está a sólo 35 minutos en tren). combinaciones de tren a las principales ciudades de los Países Bajos disponibles a corta distancia.
Sensacional!!! La estancia en casa de David fuera maravillosa, es un grandísimo anfitrión. Nos ayudo en todo lo del viaje, información, facilidades, consejos sobre nuestra estancia en Holanda y qué visitar. La casa es muy bonita y con muchos detalles. Muy bien acondicionada y equipada y su jardín Zen es fantástico. A unos metros de la estación de tren y con un supermecado muy cerca. Alkmaar es una ciudad preciosa y llena de encanto. Si vaís a visitarla, os recomenadomos la casa de David, si volvemos a visitar la ciudad repetiremos :)
Roberto
2015-06-14T00:00:00Z
L appartamento di David è molto bello e completo di tutto.comodissimo alla stazione ferroviaria di alkmaar Nord da qui è facilissimo raggiungere tutte le varie destinazioni. David ci ha accolto prima del orario previsto agevolandoci molto visto che diluviava. Super consigliato !
simona
2015-09-09T00:00:00Z
Mooie woning met ruim voldoende ruimte. Het contact met David was zeer soepel en erg vriendelijk. Gastvrij ontvangen en tijdens de verhuur periode ook.
klaas
2015-11-02T00:00:00Z
Daves house is lokated in a quite neighborhood within a very short walk to the trainstation leading to Amsterdam. The house was clean and had everything we needed for our short stay.
Michaela
2016-04-01T00:00:00Z
Liked it
JONATHAN
2016-09-27T00:00:00Z
The host canceled this reservation 18 days before arrival. This is an automated posting.
Evgeny
2016-09-30T00:00:00Z
Fantastic stay
Kim
2016-06-17T00:00:00Z
David's house was a perfect location for our visit to Alkmaar. Its a 3 min walk to the Alkmaar Noord station and Alkmaar station is one stop away by train. A nice cafe with a nice decor is located next to train station. A small town centre is a convenient few bus stops away (1.7km) with Albert Heijn, HEMA, etc. The house is located in a quiet neighbourhood. The decor is relaxing and the lounge room opens up to a generous size timber deck that has a pond, sound of water flowing (zen!) and deck chairs to relax in. We were greeted by David and he left the house with a scent candle burning adding to the zen atmosphere! David has an excellent coffee machine.
Mohd Razif
2015-06-29T00:00:00Z
Tipo de habitación
Casa/apto. entero
---
Tipo de propiedad
Casa
---
Capacidad
4
---
Dormitorios
Alkmaar, Noord-Holland, Países Bajos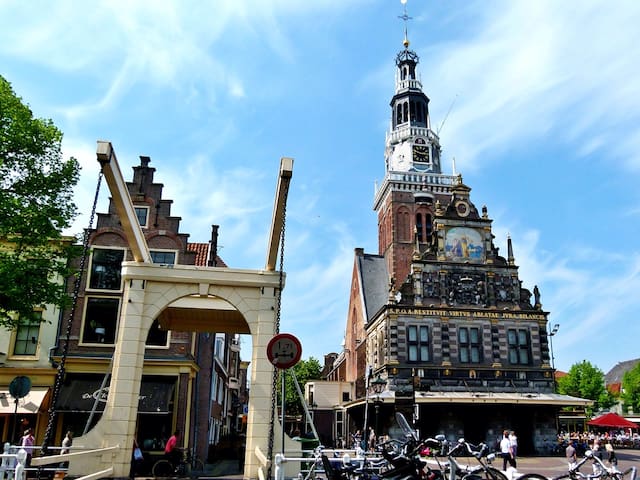 Verspielte, geräumig und hell Haus im historischen Zentrum der typisch holländischen Markt der Stadt Alkmaar, 30-40 Minuten vom Zentrum von Amsterdam, noch näher an die Nordseestrände, Dünen und Wälder, und unter den typischen holländischen 'Polder' mit Windmühlen und Kanäle . Gute Basis für einen wunderbaren Urlaub oder weekendbreak!
Unser Haus liegt im historischen Zentrum von Alkmaar, einem eher kleiner Markt Stadt nördlich von Amsterdam. Unsere Straße ist eine ruhige Seitenstraße eines Alkmaars Kanäle im Herzen der Stadt. Sie haben die Möglichkeit, in unserem großen und schönen Haus zu bleiben. Voll große Wohnküche, Wohnzimmer, fünf Schlafzimmer, zwei mit einem Doppelbett und drei mit einem Einzelbett. Ersatz Matratze (n) und / oder Reisebett für ein Baby oder Kleinkind sind auf Anfrage erhältlich. Das Haus verfügt über einen kleinen privaten Garten, aber einen größeren Gemeinschaftsgarten. Wir teilen diesen Garten mit unserer schönen Nachbarn. Das Haus ist ideal für größere Familien wie unsere eigene! Sie werden das Haus selbst haben, wie es bei unserem eigenen Urlaub zur Verfügung steht. Weil es unser eigenes Zuhause ist, das Haus ist komplett ausgestattet. Extras für Familien hinzugefügt; es gibt viele Bücher (Niederländisch und Englisch), viele von Spielen und Spielzeug. Alkmaar hat ein historisches Zentrum mit Kanälen, Brücken und die charakteristischen niederländischen Häusern. Viele Dinge in und um Alkmaar zu tun: Freitags im Frühjahr und Sommer (April bis Oktober) gibt es eine Demonstration von alten Käse Handel auf dem Hauptplatz. Sie können ein Boot oder Kanu mieten und Alkmaar Kanäle oder die umliegenden Polder (Land) von Ihrem Selbst, oder springen auf einem Kanal Boot für eine Bootstour erkunden. Mit dem Fahrrad können Sie die Polder Tour durch die Windmühlen, oder die Tulpenfelder im Frühjahr zu sehen, auf den Strand oder in den Dünen. Schiphol und Amsterdam sind in der Nähe mit dem Auto und eine gute und häufige (2-4 mal pro Stunde) Zugverbindungen. Es gibt direkte Zugverbindungen zu den berühmten Zaanse Schans (Windmühlen, 25 Min) Amsterdam, Utrecht (1 Stunde) Haarlem (30 Minuten), Den Haag (1 Stunde) Maastricht, (2,5 Stunden) Mit dem Auto, oder wenn Sie Tagesausflüge auf dem Fahrrad mögen, können Sie Noord Holland zu besuchen nahe gelegenen Städte Haarlem, Hoorn, Enkhuizen, Medemblik oder die kleineren historischen Fischerdörfer Volendam und Marken zu erkunden. Tulpenfelder, Windmühlen, schöne Radtouren. Wir zeigen Ihnen, was zu gehen und zu sehen.
Alkmaar hat ein historisches Zentrum mit Kanälen, Brücken und die charakteristischen niederländischen Häusern. Viele Dinge in und um Alkmaar zu tun: Freitags im Frühjahr und Sommer (April bis Oktober) gibt es eine Demonstration von alten Käse Handel auf dem Hauptplatz. Sie können ein Boot oder Kanu mieten und Alkmaar Kanäle oder die umliegenden Polder (Land) von sich selbst, oder springen auf einem Kanal Boot für eine Bootstour erkunden. Mit dem Fahrrad können Sie die Polder Tour durch die Windmühlen, oder die Tulpenfelder im Frühjahr zu sehen, auf den Strand oder in den Dünen. Schiphol und Amsterdam sind in der Nähe mit dem Auto und eine gute und häufige (2-4 mal pro Stunde) Zugverbindungen. Es gibt direkte Zugverbindungen zu den berühmten Zaanse Schans (Windmühlen, 25 Min) Amsterdam, Utrecht (1 Stunde) Haarlem (30 Minuten), Den Haag (1 Stunde) Maastricht, (2,5 Stunden) Mit dem Auto, oder wenn Sie Tagesausflüge auf dem Fahrrad mögen, können Sie Noord Holland zu besuchen nahe gelegenen Städte Haarlem, Hoorn, Enkhuizen, Medemblik oder die kleineren historischen Fischerdörfer Volendam und Marken zu erkunden. Tulpenfelder, Windmühlen, schöne Radtouren. Wir zeigen Ihnen, was zu gehen und zu sehen.
We did not meet Jeremy and Madelon as they were travelling themselves when we visited their home in Alkmaar. The house was very big and comfortable for our company of 7 people. For us it was pretty unusual accommodation as it was on four levels. Firstly we were wandering up and down the stairs looking for the room we need :) but on the second day got used to it. Nowadays house looks a little different than on the pictures on airbnb, but overall impression is the same. It is spacious and clean. It seems that now there is more furniture in the house than on the pictures. House is well equipped and also is children friendly (many toys, football table, lot of place for games). We were travelling by cars and were glad that there are free parking places in the courtyard. The house is located close to the center of Alkmaar which itself is worth a good walk.
Yury
2014-05-08T00:00:00Z
Eigenlijk kon de woning van Jez alleen voor een week verhuurd worden, maar mijn zoontje was jarig en hij wilde zijn 10e verjaardag graag in dat 'oranje huis' vieren. Wij hadden nog geen vakantie, dus ik heb gevraagd of we ook alleen een weekend gebruik konden maken van zijn huis en dat kon. Ik kreeg een heel vriendelijke mail, dat zij zelf op vakantie waren dat weekend, maar dat het geregeld werd dat we de sleutel kregen. Echt super! Het huis heeft heel veel kamers, genoeg voor een groep van 7 mensen. En we hebben heerlijk geslapen! Ik had een fijn bed met een lekker matras [het tweepersoonsbed] en werd uitgerust wakker. Een vers ontbijt is ook zo gehaald, want een supermarkt zit meteen om de hoek. Kun je naartoe wandelen. Mijn zoon vond de 3 katten erg gezellig. Hij gaf ze elke dag trouw te eten en drinken [de katten waren ook blij met hem]. Het huis is van alle gemakken voorzien. Fijne woonkeuken met piano en een heel gezellige gezamenlijke tuin [met leuke buren!] De woning ligt centraal in Alkmaar en het is heerlijk om op de fiets langs de grachten te rijden. De fietsen [ook voor kinderen] zijn gewoon te gebruiken, ideaal! Erg kindvriendelijk huis, met een stoere jongenskamer met drumstel en veel speelgoed wat je mag gebruiken. Als je muzikaal bent, kun je ook je hart ophalen [piano/gitaar en drumstel]. Verder zijn er veel boeken, een tv met spelcomputer, een bad en Wifi. Wij hebben het erg naar onze zin gehad en zijn vanuit Alkmaar een dagje naar Wijk aan Zee gegaan, naar Schoorl én hebben een heerlijke dag op het strand van Bergen aan Zee gehad. Het is een prachtige omgeving en Alkmaar is een ontzettend mooie stad met kleine straatjes en leuke winkeltjes + eettentjes. Jez en familie, dankjewel voor jullie gastvrijheid en wie weet tot een volgende keer!
Fem
2016-07-17T00:00:00Z
Wir hatten einen wunderschönen Aufenthalt in Alkmaar. Das Haus war sehr geräumig und extrem gut gelegen. Nur 5min Fußweg von der Fußgängerzone entfernt. Die Parksituation vor dem Haus ist etwas kompliziert, aber man bekommt eine Parkkarte von Jez und Madelon, mit der man dort parken darf. Es sind 3 Katzen im Haus, die mit versorgt werden - da wir selbst eine Katze haben, war das kein Problem. Vielen Dank!
Tatjana
2016-07-24T00:00:00Z
Jez & Madlon's house is very nice place to stay for families, a real paradise for children, even on rainy days, with a lot of various and high quality playing fourniture and a nice little cat. As a special attraction we were lucky and happy to take care on four kittens born three weeks before we arrived. With its five cosily decorated bedrooms on the 3 upper floors, everyone found his and her personal space of well-being. Also great kitchen & living space with a piano & guitar! Quiet and very well situated, it was easy to reach all facilities and attractions by a 5 minutes walk. Nice, quick and helpful communication with Jez, and extremely friendly neighbours. Immediately we felt at home and really enjoyed our 2 weeks stay.
Isabelle
2015-07-25T00:00:00Z
this place is very well situated in a pituresque little town which is lovely to walk through and has good restaurants. the apartment is very big and we were provided everything we needed including maps and tips.
anne
2014-04-22T00:00:00Z
A family of eight and this house was perfect for us! Plenty of space, loads of games for the kids and nicely located in a charming Dutch town. We thought we would explore more (we did go to Amsterdam, Haarlem and The Hague!), but the town of Alkmaar provided us with plenty to do (bike riding, boat rides, a cheese market, playgrounds and swimming) and exploring it was an absolute pleasure. The neighbours were friendly and helpful and the locals approachable and kind. We HIGHLY recommend this property!
Beth
2014-07-29T00:00:00Z
Es war ein sehr schöner Urlaub mit unseren Freunden im Herzen von Alkmaar. Jez und Madelon waren sehr nett und die Übergabe der Whg problemlos. Vor Ort waren auch freundliche Nachbarn und eine süße Katze. Das Haus mit seinen 6 Schlafzimmern bot viel Platz und war durch das reichliche Spielzeug ein Paradies für unsere kleinen Kinder. Als kleines Manko wären die durchgelegenen Matratzen zu nennen. Dennoch würden wir diese Unterkunft für Familienurlaube mit kleinen Kindern weiterempfehlen.
Judith
2015-01-02T00:00:00Z
Alkmaar is a nice town to see, to relax and spend time if you are tired of amsterdam's fast city life. Jez and Madelon were nice hosts to us and their house was very warm. It was very close to the city centre and 15 minutes if walk I the train station where you can take a direct train to Amsterdam Centraal in 40 minutes.
Birant
2013-10-22T00:00:00Z
Tipo de habitación
Casa/apto. entero
---
Tipo de propiedad
Casa
---
Capacidad
9
---
Dormitorios
Alkmaar, Holanda Septentrional, Países Bajos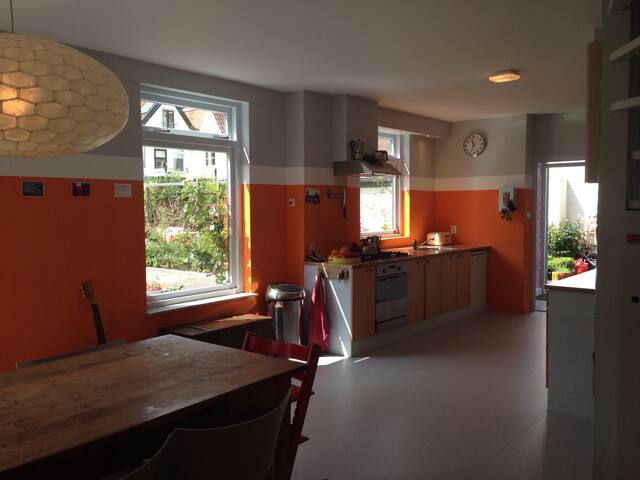 Bienvenido a nuestra espaciosa casa cerca del centro de Alkmaar!
Los espacios que se incluyen son: - 1er piso con cocina, sala de estar y aseo. - 2ª planta con dormitorio principal, 2 dormitorios más pequeños y un baño. (Con aseo) - Si se prefiere, las camas individuales se pueden combinar para hacer 1 o 2 camas dúo. - Un espacio abierto de la planta baja de 28m2 en la parte delantera de la casa, para aparcar un coche o dejar que los niños jueguen. (La calle también es más bien tranquilo y adecuado para que los niños jueguen) El jardín trasero en un principio no incluido, pero las excepciones se pueden organizar para la ocasión.
barrio tranquilo, pero cerca de centro de la ciudad, la costa y Amsterdam!
Tipo de habitación
Casa/apto. entero
---
Tipo de propiedad
Casa
---
Capacidad
6
---
Dormitorios
Alkmaar, Noord-Holland, Países Bajos
My room is nearby mall Heerhugowaard. Alkmaar, Bergen, 30 minutes from Bergen to sea and 40 minutes from Amsterdam. . My room is suitable for couples and families (with children).
A cute and cozy house,far from amsterdam 30 min by train. House is clean and tidy,quiet place. :)
simone
2017-01-03T00:00:00Z
A bright and peaceful house in a rural setting. It has a beautiful view over the meadow from the living room window and the sunset is incredible. No telly or internet but there is 3G coverage. A new frying pan and some proper knives would bring the kitchen up to speed and then you could really spend a relaxing time there. The village is quiet but Bar Veronica is friendlier than it looks :)
Alex
2017-03-27T00:00:00Z
Tipo de habitación
Casa/apto. entero
---
Tipo de propiedad
Casa
---
Capacidad
4
---
Dormitorios
Oterleek, Noord-Holland, Países Bajos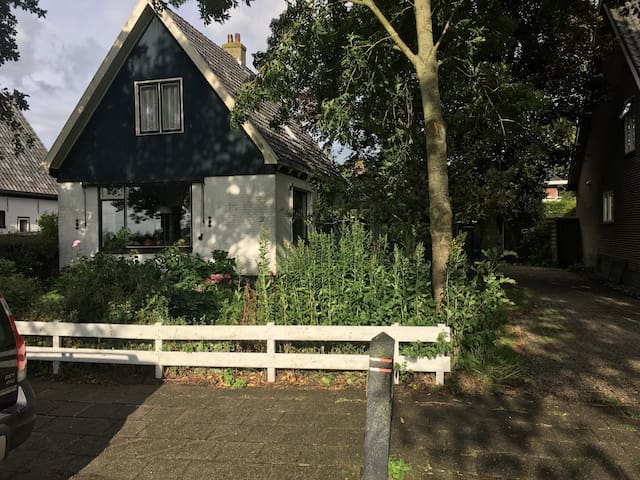 Ruim, gerenoveerd en licht huis in Alkmaar, Oudorp. 30-40 minuten van het centrum van Amsterdam, in de buurt van de Noordzee stranden, duinen en bossen, en tussen de typisch Nederlandse polders met windmolens.
Ruim, gerenoveerd en licht huis in Alkmaar, Oudorp, (PHONE NUMBER HIDDEN) minuten van het centrum van Amsterdam, vlakbij de Polder Schermer, Eilandspolder en Beemster met windmolens, de Noordzee stranden en duinen. Het modern ingerichte huis heeft drie slaapkamers. Een met een tweepersoonsbed op de eerste verdieping, een met een bed op de eerste verdieping en één op de tweede verdieping. De stijlvolle badkamer op de eerste verdieping heeft een aparte douche, bad en een toilet. Beddengoed en handdoeken zijn aanwezig. De open keuken beschikt over alle Moders faciliteiten, met een mooie koffiezetapparaat. Het heeft een oven, koelkast (en vriezer) en alle benodigde keukengerei. De grote woonkamer is naast de eetkamer en keuken en heeft een bank, een bank, een digitale flatscreen televisie met kabel, dvd-speler. Het huis is voorzien van centrale verwarming en wifi. De houten vloeren en de open haard geeft het huis een huiselijke gevoel. We hebben een grote, eigen tuin aan de achterzijde. Het huis en de tuin is ideaal voor gezinnen. De stranden zijn geweldig, ook de omgeving met de zandduinen zijn zeer geschikt voor wandel- en fietstochten (fietsen kunnen eenvoudig worden gehuurd).
Ons huis is gelegen tussen het centrum van Alkmaar en de Schermer. Onze locatie combineert de rust en stilte van het huis, de tuin en het gebied en de levendigheid van de stad.
Übergabe unproblematisch und freundschaftlich durch eine Freundin von Marianne. Sie hat uns freundlicherweise zusätzlich zu den 2 hauseigenen Fahrrädern noch Ihr eigenes Rad geliehen. Alle Infos zum Haus und zur Nutzung schriftlich umfassend und präzise. Das Haus liegt in einer ruhigen Seitenstraße eines gepflegten Vorortes in kurzer Fahrradnähe zum Centrum von Alkmaar. Einkaufsmöglichkeit für Lebensmittel in Fußnähe. Gute Parkmöglichkeit direkt vor dem Haus. Das Haus ist aufwendig und äußerst geschmackvoll neu renoviert mit vielen liebevollen Ausstattungsdetails. Die Sonnenterasse mit dem klar strukturierten Garten verstärkt den insgesamt weitläufigen und großzügigen Charakter der Innenräume.
manfred
2014-08-10T00:00:00Z
We've spent one week this summer at Mariannes house, which is really beautiful and lovingly restored. The garden is inviting for having breakfast and barbecue or just hanging out and relax. The house is located in a quiet neighbourhood, the garden is not visible from the outside and the next supermarket is within walking distance. It is the perfect starting point for trips to Alkmaar (reachable in a few minutes by bike or car) or to the beach (i.e. Bergen aan Zee, 20 minutes by car). Despite our last minute booking, everything was perfect, our contact to Marianne was always nice and our questions were answered very quickly. Thanks a lot for everything!
Frank
2014-07-26T00:00:00Z
Ein wunderschönes Haus, toll eingerichtet, gemütlich, schick und kinderfreundlich. Wir haben uns alle sehr wohl gefühlt. Marianne hat uns ein herzliches Willkommen vorbereitet und uns mit einem Info-Zettel zum Haus und zur Umgebung einen guten Start ermöglicht. Von Freunden aus der Nachbarschaft bekamen wir den Schlüssel - warmherzige Menschen, an die wir uns jederzeit wenden konnten. Die Kinder haben den Aufenthalt in tollen Kinderzimmern (echte Kinderbetten, alternativ gab es auch Matratzen in Erwachsenengröße) mit herrlichem Spielzeug genossen. Auch der Garten hat uns und den Kindern Freude gemacht. Alkmaar ist ein bezauberndes Städtchen mit guten Anbindungen ins Umland. Ein Supermarkt und einzelne Gastronomien sind fußläufig zu erreichen. Wir kommen gerne wieder! Danke Marianne!!
Daniela
2016-08-13T00:00:00Z
Une superbe maison a la decoration contemporaine Un bel accueil et une situation ideale pour visiter Amsterdam.Alkmaar ou (URL HIDDEN) plus les superbes plages de Bergen ou d Egmon zee sont a 15 mm.. la maison est vraiment tres agreable et jardin est parfait pour les enfants et les parents .. le quartier est tres calme et a 10 mm a velo du centre ville .. Encore un grand merci a Marianne Une maison a ne pas rater !!!!?
Yann
2014-08-03T00:00:00Z
Mariannes Haus ist ein sehr schönes Siedlungshaus, mit Liebe zum Detail renoviert, mit einem netten Garten. Die Schlüsselübergabe war unkompliziert bei einer Freundin von Marianne, die gleich um die Ecke wohnte. Das Haus ist super ausgestattet, auch sehr gut für Kinder - mir hat besonders die Espressomaschine gefallen.
wasco
2015-08-09T00:00:00Z
We have enjoyed a lot Marianne 's house , everything was clean and well organised. A cosy house extremely well-kept and optimal for families with kids . The garden has been an amazing surprise for all the family ! The location is strategic to visit Amsterdam and north Holland .
maria
2015-08-14T00:00:00Z
Nice and quite and we'll equipped. Correspondence quick. Beds only for small children. So you might get problems with 2 14-16year old teenagers.
Ben
2015-08-05T00:00:00Z
Tipo de habitación
Casa/apto. entero
---
Tipo de propiedad
Casa
---
Capacidad
4
---
Dormitorios
Oudorp, Holanda Septentrional, Países Bajos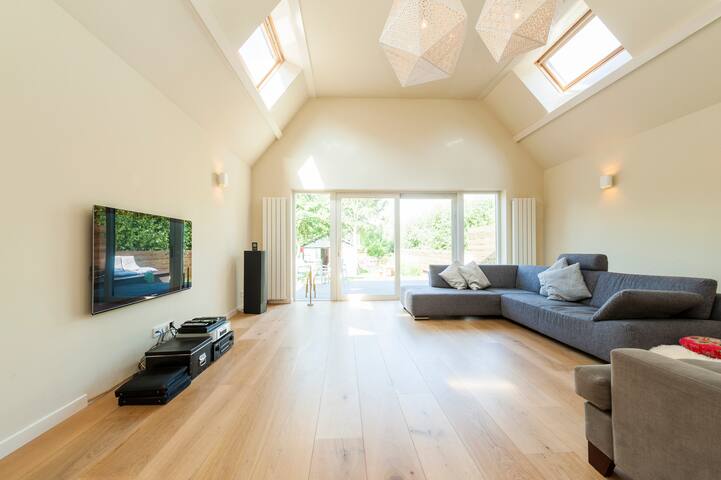 Tipo de habitación
Habitación privada
---
Tipo de propiedad
Casa
---
Capacidad
1
---
Dormitorios
Oudorp, NH, Países Bajos
Casa para 4 pers. Cerca del centro de Alkmaar
Steven hat eine schöne, große und zentral gelegene Unterkunft. Wir haben uns sehr wohl gefühlt. Die Schlüsselübergabe ist unkompliziert. Ebenso die Check -in bzw. -out Zeiten. Wir würden immer wieder kommen.
Marion
2016-09-24T00:00:00Z
That's a very happy time in the house!! The host is very kindly and handsome! Everything alredy be set and prepared, like food, fruit, wash machine, heater, cooker, whoooo, the kitchen is very lovely, my wife love the kitchen very much! It is a quite palce during the sleep time. So we can enjoy the day time, and the view around of the house is also nice, we can walk to the central of Alkmaar in 15mun :) I'm very sorry that my son broken one chair, host forgeive me and didn't ask me to pay for that! And when we leave, we lose one box in the house, the host bring it to my new place, See, he is a very nice person. Thanks again!
Wei
2016-07-03T00:00:00Z
Das Haus war schön. alkmaar ist eine sehr schöne Stadt haben uns dort wohl gefühlt kann ich nur weiter empfehlen
Justine
2016-05-30T00:00:00Z
Super séjour chez Steven, la maison est très agréable dans un quartier calme. Alkmaar est une ville magnifique. Nous recommandons la maison de Steven pour passer de bonnes vacances.
Delphine
2016-07-11T00:00:00Z
We really enjoyed our time in Stevens well and nice located house and the city of Alkmaar. The kitchen was perfectly outfitted and he prepared some food in the fridge for the first breakfast. ´The communication was friendly and with no delay. Unfortunately we never met him. Hope to come back again!
Bernd
2016-08-07T00:00:00Z
Check-in en Check-out verliep simpel en flexibel. Alles wat direkt nood zakelijk is, is voor handen. In de ruime en met goede apparatuur uitgeruste keuken is koken / eten klaarmaken een genot. De ligging van de woning vlak bij Centrum Alkmaar met een echte heen & weet Veerpontje is zeer praktisch.
Erik
2016-10-18T00:00:00Z
We had a great time at Stevens house. He's a really nice guy and his girlfriend too. There was everything we need even breakfast. The house was cosy and clean. Anytime again!!! :)
Maximilian
2016-03-30T00:00:00Z
The host canceled this reservation 27 days before arrival. This is an automated posting.
Christian
2017-03-12T00:00:00Z
Tipo de habitación
Casa/apto. entero
---
Tipo de propiedad
Casa
---
Capacidad
4
---
Dormitorios
Alkmaar, Noord-Holland, Países Bajos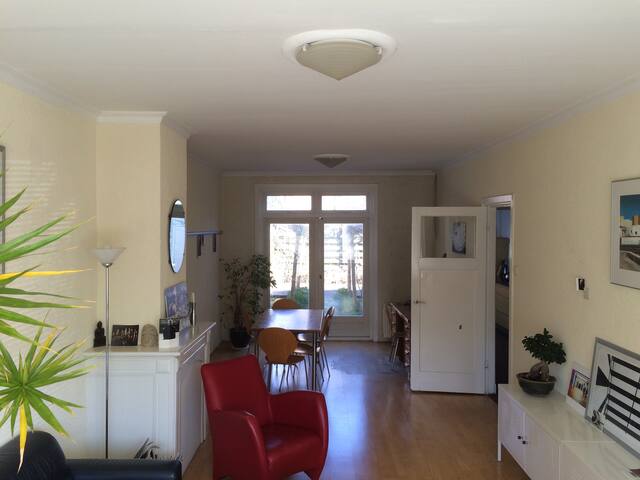 Este apartamento con baño privado es el lugar ideal para explorar Holanda del Norte. En tren y la estación de autobuses y dos minutos a pie se llega Texel Hoorn, Haarlem y Amsterdam dentro de los tres minutos. Egmont, Bergen, Schoorl y otros lugares agradables alrededor de Alkmaar se puede llegar fácilmente en bicicleta o en autobús.
A través de su propia puerta que tiene acceso a su propia cocina, baño y aseo en la planta baja. La luminosa sala de estar es en el primer piso. A través de la cocina se tiene acceso a un gran jardín soleado con estanque, pozo de fuego, 'tomar el sol' a una tasa adicional del uso de la sauna
Nettes und ruhiges Zimmer/Apartment. Gerard und Inge waren sehr nett und haben uns bei allem direkt geholfen. Das Haus liegt unweit der Bahnstation. Für eine Tagestour nach Amsterdam mehr als perfekt. Bergen und Alkmaar selbst sind ebenfalls eine Besichtung wert.
Tschersich
2017-02-27T00:00:00Z
Gerard and Inge was amazing host and cares a lot for their guests. The place is great, it's close to the train and bus station, but also really close to the inner city of Alkmaar. It's clean, it has a great kitchen and everything you would ever need! Would recommend to anyone staying in Alkmaar!
Melker
2017-02-14T00:00:00Z
Very friendly and welcoming, like home away from home. Gerard and Inge were perfect hosts! Very comfortable bed, which was perfect after long days sightseeing. I would recommend this if you don't mind a short commute into the city.
Carlie
2017-04-08T00:00:00Z
This is the second time I stayed here in as many weeks, please see my review below. Great place to stay, definitely recommend it! Cheers.
Timothy
2017-02-03T00:00:00Z
Another great stay (my 3rd time here), nothing to add... clean, quiet, and located in between Alkmaar city center and the train/bus station. Recommended!
Timothy
2017-02-10T00:00:00Z
Alkmaar - We loved our stay at this adorable place in the quiet streets of Alkmaar. The hosts are so friendly & helpful in provided everything we needed to make the stay comfortable. The beautiful loft bedroom was nice and cosy and looked out to the street. There is a good size courtyard to have breakfast and relax. It was an easy walk into town and so close to the train station. Gerard gave us many recommendations on where to go and checked in on us to make sure we were happy. We would love to visit again.
Ty
2017-04-05T00:00:00Z
Charmant verblijf met alle (URL HIDDEN) buiten de drukte van het stadscentrum. Alles op wandelafstand ( station, binnenstad met gezellige bars en restaurantjes). 10 minuten met de auto naar zee. Gerard en Inge zijn erg behulpzaam en heel gastvrij. Fantastisch weekend gehad, wij komen zeker nog terug!
bieke
2017-02-05T00:00:00Z
This is the 3rd or 4th time I stayed here, the location is perfect, 1min walk to the train station can't be beat! Gerard is very welcoming and friendly. Very much recommended!
Timothy
2017-02-24T00:00:00Z
Tipo de habitación
Casa/apto. entero
---
Tipo de propiedad
Casa
---
Capacidad
2
---
Dormitorios
Alkmaar, Noord-Holland, Países Bajos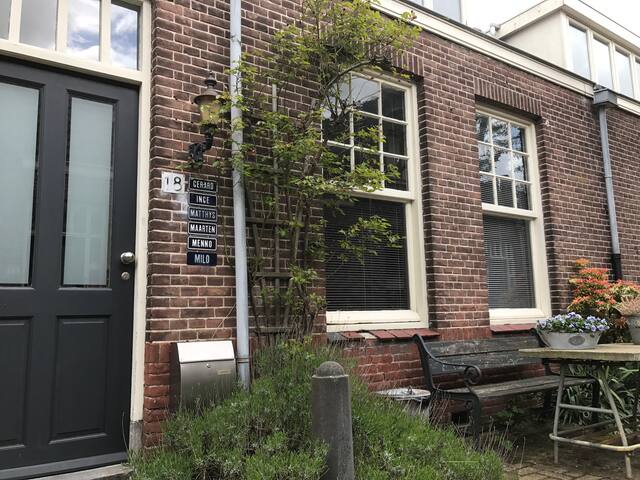 1

–

18

de

244 Alquileres de Casas
Introduce las fechas para ver el precio total. Ten en cuenta que se aplicarán tarifas adicionales y es posible que se añadan impuestos.