Accoglienza calorosa, mi sono sentito a casa, Margaret è una donna incredibile, con energie inimmaginabili.
Vincenzo
2016-08-14T00:00:00Z
Meg is a fair host, she welcomes you smilig and showing you her house, a sort of cute wooden labyrinth full of life, at the top of which, like on a little tower, lies your room. You'll be at the same floor of a smart and discrete boy, thought your privacy will be totally guaranteed by a stairway and another room. Your place is going to be as little as pretty, there will be all the needed space for whoever is travelling. I appreciated that there was no TV in the room..instead, a big amout of books is left there for you. The window is actually very nice, I wouldn't exchange it with a couple of extra sq.m ;) All the details will be explained (or just remenbered) precisely and very clear by Margret at the moment of your arrive. She made everything she could to help me when I had need. If you're asking yourself: can she have 4 children and anyway treat a guest in a decent a satisfiyng way, the answer, for my expereance,is yes.
David
2016-09-06T00:00:00Z
Alles hat super geklappt.
Paul
2016-06-29T00:00:00Z
Since I read that Margret wrote about me, without me not being able to see her comment (what a silly system) I have to reply. Anyway, I wanted to contact Airbnb about this, cause this is unbelievable, a disgrace. You can't believe there's no control system forbidding this. Yes, Margret was polite. She let me in and introduced me to the many children running around. She immediately took me up to the room. High under the roof. Using stairs on which a fat person wouldn't even be able to pass. She showed me the room. Well, room isn't the word. The closet. One can't breath there. I only ended up there, cause Chris Martin decided to sing in Berlin and every possible hotelroom seemed booked. The same went for most of the Airbnb rooms. I should have known there was a reason why this one was still available. The room is not even 5 square meters. You better be a dwarf if you want to move in it. The bed is so small my nek was on the bookshelf at the end of the bed, between The Bible and some masterwork about horses. Children were shouting, crying. It was impossible to breath. So I opened the window. But the house is in the neighbourhood of an airport and has planes flying over every 2 minutes, quite low in the sky . When the planes aren't making any noise, there's a tram in the street. And birds. Yes. Birds. Lots on them. Yes, you're in the nature. hahaha. Birds are waking you up . And bees. I had to fight a queen bee to get out of the little room. And at 6.30. the phone rings to wake the many children up. The room is dirty. There was a film of dust on the bookshelves behind me. Behind the bed you see all kinds of dirt, of which you don't want to know the origin. I was afraid to discover dead people there. O, I could go on and on. At night she said : you want a key? Then, you'll have to give me deposit. I decided I did not want a key. Be back before ten, she told me, cause then I go to sleep. I was back before and had to ring 5 minutes to get in. In this tiny, dirty room, the electricity cables are running everywhere. Wifi is a dream, but certainly no reality. Funny enough the password for the WIFI that doesn't work is MoreMoreMore. No More, it should be. What a joke. I didn't sleep for a minute. The bathroom (or the closet in which you wash yourself) is dangerous (electricity) and in the morning she and the children are shouting and would wake you up if at least you would sleep.... A disgrace that this is on the list of airbnb. In the morning I run off when she presented me with a form to sign, otherwise I'd have to pay touristtax
Kurt
2016-07-01T00:00:00Z
It was an awesome and wonderful stay at Margret's house. Margret was really wecoming and helpful for every aspect. Her English is really good, so we were well communicated. She provided nice breakfasts (per 5 euro) and good amenities. I stayed her daughter (Sylvia)'s room. It was lovely and adorable. I could feel Margret's love and efforts at every single detail in the room. The house seems to be a gallery. Because there were many good paintings drawn by herself. She is almost an artist. (Actually She is a bioligist) Pankow is really peaceful and safe district. And transportation is also good. Tram stop is very close (2 min by walk). And I could get train at S2 Pankow-Heinerdorf station. If I had a child, I would like to visit here. Because there are a lot of things that is good for children playing. Now I think Margret as a good freind.
Minju
2015-06-10T00:00:00Z
The room offered by Margret is small but nice and located in pleasant neighbourhood that has a good connection to Prenzlauer Berg as well as the city centre. Margret was very polite and friendly. I really enjoyed the stay:).
Jan
2016-07-16T00:00:00Z
Tipo de habitación
Habitación privada
---
Tipo de propiedad
Casa
---
Capacidad
1
---
Dormitorios
Berlín, Berlín, Alemania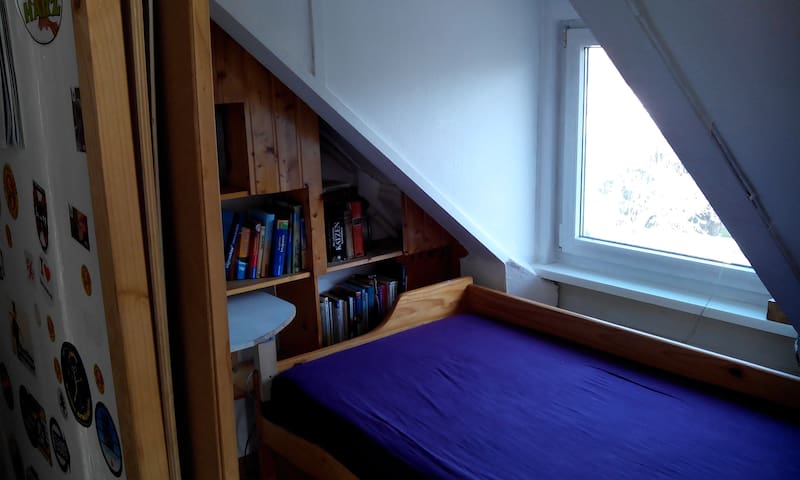 Hey willkommen in Berlin! Nizza 23qm Zimmer (Teil 3Zimmer apparment) mit kleiner Terrasse im Herzen von P-berg, 10 Min zu Mauerpark (Direkt U2, Ringbahn Schönhauser Allee, M1, M13,50) perfekte Anbindung an das Stadtzentrum. In unmittelbarer Nähe finden Sie schöne Restaurants, Cafés und nette Bars ... alles, was Sie brauchen, um ein paar Tage in dieser faszinierenden Stadt zu verbringen =)
The host canceled this reservation 6 days before arrival. This is an automated posting.
hugo
2017-04-05T00:00:00Z
Tipo de habitación
Habitación privada
---
Tipo de propiedad
Casa
---
Capacidad
3
---
Dormitorios
Berlín, Berlín, Alemania