A villa decorated with love, ideal for relaxation and unforgettable memories during your holiday. Only 4km to the beach of Kremasti, 800m from the center of the village "Pastida", 15 min (by car) to Rhodes city center and 15 min (by car) to the airport.
Tipo de habitación
Casa/apto. entero
---
Tipo de propiedad
Casa
---
Capacidad
5
---
Dormitorios
Pastida, Grecia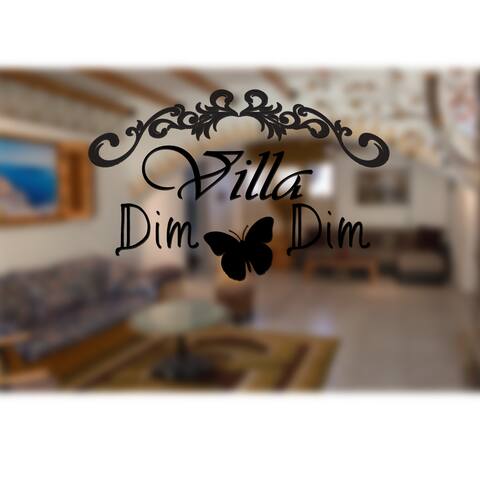 A beautiful detached house in the heart of Pastida, a village next to a forest and in the best area for easy access to the greatest delights of the island of Rhodes. It is very close to the international airport and very accessible to all its famously beautiful beaches as well as it's archeological sites.
It provides the best space for an ideal family or couple holiday, starting their day in a beautiful big bedroom with a spectacular view. There is also a second single room for an adult or child in which it is offered to add a crib, if need be, for a baby. Available for use are also the common kitchen, living room, dining hall and the sofa space with a fireplace (traditional way of Rhodian relaxation). The outdoor fenced spaces of the residence are decorated with many plants and fruitful trees as well as with a pergola with a swing for wonderful and tranquil moments of rest with a view of the forest in the mountain of Filerimos.
Tipo de habitación
Habitación privada
---
Tipo de propiedad
Casa
---
Capacidad
3
---
Dormitorios
Pastida, Grecia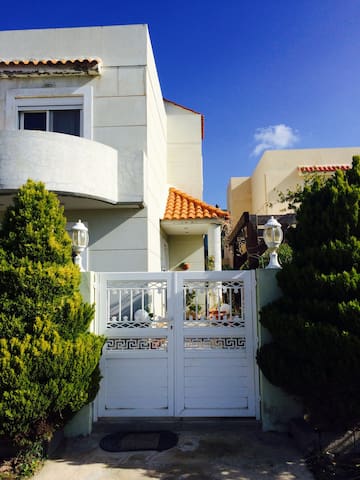 MY RESIDENCE IS ON THE BOTTOM OF MOUNTAIN FILERIMOS WITH A FANTASTIC SEA VIEW. ITS THE IDEAL HOUSE FOR PEOPLE SEAKING QUIET AND PRIVACY AND SAFETY FOR THEM AND THEIR CHILDREN. 12KLM FROM RODOS CENTER AND LESS THAN 10 MINUTES FROM THE AIRPORT.
THE HOUSE HAVE BIG SPACES AND ROOMS. ON THE MAIN FLOOR, A BIG LIVING ROOM WITH FIREPLACE AND TV. A DINNING ROOM FOR OVER 10 PEOPLE. FULLY FUCTIONED AND EQUIPED KITCHEN THAT INCLUDES ALSO OVEN,GRILL,REFRIGERATOR,MICROWAVE OVEN,DISHWASHER.ON THE FIRST FLOOR THERE ARE 3 BEDROOMS ,2 TOILETS ,WARDROBE CLOSET ROOM AND A FULLY EQUIPED ROOM FOR WASHING AND IRONING CLOTHES
Tipo de habitación
Casa/apto. entero
---
Tipo de propiedad
Casa
---
Capacidad
4
---
Dormitorios
Pastida, Egeo, Grecia
The house is located in the centre of Ialysos. It has been restored in 2015. Is only 20 minutes walk from the sea and 10 minutes walk from the nearest super market. Taxi and bus station is 10 minutes walk.
L'appartamento di Smaro è veramente delizioso pulito e con aria condizionata a soli 10' dalla fermata del bus e dagli altri servizi. Smaro è stata molto disponibile venendoci a prendere alla fermata nonostante fosse ormai mezzanotte con una graditissima sorpresa...un piatto di spaghetti buonissimo e graditissimo!Molto consigliato anche il ristorante gestito da Smaro "Cactus" dove abbiamo assaggiato alcune specialità veramente buone.
Valerio
2016-08-05T00:00:00Z
We had a great holiday at Rhodos and that's also because of Smaro! The apartment was like on the pictures, just big enough for us 2 with our baby. There is outside space at the front and back, so there is always a nice place to sit and play. Smaro is a great host, very helpful, we could ask her anything and she also arranged our pickup from and drop off at the airport. And her daughter is also very kind and helpful, she even arranged baby furniture and toys for us. And her car rental has a very good service and prices. The apartment had airco and that's very nice in the summer! There is not so much to do in Ialysos but the beach is nice and it is very easy to go by car to other places. The supermarket and places to get bread, coffee or ice cream are close by. It is a good place to stay to discover the whole island. So we definitely recommend this apartment!
Martin
2016-07-07T00:00:00Z
Smaro's house is a great place to stay - convenient location in terms of Airport, seaside & exploring the Rhodos. It has all you need for feeling yourself like at summer home :) Smaro herself and her family are all very kind & hospitable. We felt ourselves welcomed and taken care. Thank you!
Eva
2016-08-03T00:00:00Z
Smaro a envoyé quelqu'un nous chercher à l'aéroport. Cette personne nous a attendus alors que l'avion avait énormément de retard, et que nous ne pouvions la (URL HIDDEN) nous a laissé ensuite devant le restaurant de Smaro, qui nous a accueillis avec une bouteille d'eau fraîche et a laissé son service en cours pour nous amener au logement, qu'elle nous a présenté comme "notre maison". Smaro a prévu des jouets et un lit parapluie pour notre fille de trois ans.Elle nous a présenté les lieux, d'une propreté impeccable, et est repartie travailler. plus tard, elle est venu me demander si tout allait bien , et nous a souvent dit de ne pas hésiter à lui demander si nous avions besoin de quoique ce soit. Nous nous sommes sentis comme chez nous. J'ai des allergies et il m'est difficile d'aller au restaurant. En général nous partions toute la journée, et le soir, nous pouvions cuisiner rapidement des repas simples et frais. Smaro est une hôte vraiment très serviable. Un jour, mon conjoint a laissé son sac avec nos papiers, argent etc sur la chaise d'un restaurant, proche du logement, alors que nous attendions un bus. arrivés a destination, nous nous en sommes rendus compte et j'ai appelé Smaro depuis une petite buvette. Elle est aussitôt partie récupérer le sac, et nous l'a rendu quand je suis rentrée. Sans son aide précieuse, nos vacances seraient tombée à l'eau. le quartier est très calme, loin des bars bruyants de Rhodes , et c'est ce que nous cherchions. le voisinage et les enfants du quartier sont très sympatiques. il y a un supermarché à 8mn a pied, et touts les commerces dont nous avions besoin à moins de 10mn. Le restaurant de Smaro est très accueillant et des jeux sont à disposition pour les enfants. Sa fille a une agence de location de voitures, elle nous a fait de bons prix, et nous a très bien conseillés. La plage est à 30mn à pied ( avec un bambin et une poussette). c'est une plage de galets, et on trouve aussi à Krésmati, une petite ville à trois stations de bus, une plage plus grande avec du sable. Les stations de bus sont à 10mn à pied. l'île est très bien desservie au niveau des transports en commun. Smaro a envoyé quelqu'un pour nous ramener à l'aéroport le jour du départ. Nous étions vraiment triste de partir, et c'est avec joie que nous reviendrons.
Katia
2016-09-02T00:00:00Z
A fleeting but memorable experience that set a solid opening scene for a week on Rhodes. Latish evening arrival at Rhodes airport as a single guy. Caught the #40 bus from the station to Lalysos (Benetton stop, c10mins) and awaited Smaro who'd arranged through Airbnb to pick me up from the stop. The experience was brief but left a lasting positive memory of how kind and sincere interactions in new and unfamiliar surroundings can turn apprehension into total calm. From the hastily devoured (delicious!) souvlaki from the small local grill adjacent to the picturesque town church; the midnight ice-cream and pastries up the sleepy alley from the square (to note all pointed out by Smaro on the 3 minute ride to apartment when I made a passing comment of not having yet eaten); the yoghurt, fruit and walnuts left out as an evening snack; to the London earl grey from Smaro's own kitchen - it was a pleasure and will serve future guests as a means of immersing themselves into Rhodes life almost as soon as leaving the doors of the airport. The apartment was spacious and clean. The host warm and kind. Get it booked.
John
2016-04-06T00:00:00Z
Smaro is an amazing woman! She is our yiayia from Greece. She is very generous, kind and caring person. She is an inspiring entrepreneur who has owned a fantastic restaurant for 36 years, thanks to her great recipes and perfect service and care for her customers. The listing description was accurate. It actually takes less time than mentioned on the listing to reach the mentioned destinations. The balcony and second room was a nice surprise. The neighbourhood feels very local and it's awesome. People around seemed friendly. It's very easy to reach the beach, restaurants, super markets and the bus station. If you plan to visit Rhodes island, do yourself a favour, go and meet Smaro and her family! I recommend 100%.
Danny
2015-09-07T00:00:00Z
Smaro est une hôte très accueillante et arrangeante. Par ailleurs, Smaro et sa famille vous fourniront de bons conseils sur l'île. Je recommande ce logement! Smaro is a nice host and her apartment is spacious.
Manon
2016-08-12T00:00:00Z
Fantastic week-end in Rhodos with a fantistic lady as our host! The apartament was clean and spacious and Smaro was very very kind and helpful. She also invited us in her tradicional greek restaurant with amazing food and very cheap price. Thank you very much Smaro! By Federico and Camilla!
Federico
2016-07-12T00:00:00Z
Tipo de habitación
Casa/apto. entero
---
Tipo de propiedad
Casa
---
Capacidad
3
---
Dormitorios
Rodas, Dodekanisa, Grecia
Super happy stonebuilt old renovated village house in the midst of traditional, picturesque old village of Koskinou, 10 min. from Rhodes. An ABSOLUTE KIDS FAVORITE!! It has 2 roof terraces, for dining, lounging and sun bathing. AND AN OUTSIDE SHOWER. The house is actually more of a 3 bedroom house, because it has separate sleeping areas in the living room, apart from the 2 separate bedrooms.
Gremos house is an amazingly happy house. It has colors, has a lot of hidden corners and niches, and is an absolute favorite under young people. Not suitable for elder and immobile people. It is a totally original house, where we have changed as little as possible to nothing on the structure of the house. We just pimped it up all over and added 2 roof terraces to the property and put railings all over the terraces for your safety. The property has a shower on one terrace, lounges, dining outside, a bbq, and sun loungers. It has 2 double beds, a single bed and a bunk bed, and can sleep plenty people if you are not too fuzzy in general. I look forward to welcoming you to the house.
The neighborhood is a residential area, with neighbors that love seeing guests arriving the house. When they see it is appreciated, they will come up for a small talk and chat. Right in front of the house there is a field and the children can freely run over there. There are no cars in front of the house, so it's very safe for children.
Our host Gudrun made us feel very welcome. There were plates with cold cuts and fruit waiting for us in the fridge and a tray with sweets for the children. Also coffee and bread were provided. The house was exactly as shown on the pictures, absolutely lovely!
Samantha
2015-05-25T00:00:00Z
Een warm welkom met flesje wijn en wat hapjes, lampjes aan en muziek op. Erg fijn binnenkomen in de avond. Gudrun heeft het goed begrepen. Het huis is zoals op de foto's. Netjes, schoon en fris. Wij komen graag nog eens terug in een van de huizen van Gudrun.
erik
2016-10-24T00:00:00Z
We had a warm welcome from Gudrun and Micah. The brought us greek apero plate and some cold white wine. Perfect to start our holidays. Koskinou is a nice town, we also went to the old town of Rhodos, equiped with some excellent tips from our host. Thank you very much Gudrun, we really liked your hospitality, your beautiful house, your sense for decoration and the shaby chic look, the amazing roof top with great sunsets and of course the island of Rhodos itself.
Stephan
2016-10-14T00:00:00Z
This house is amazing, it's colourful and has everything needed with a big terrasse and we even had some baby kittens around the house and felt home. The neighbourhood is lovely, everyone is very kind. Just as Gudrun, she was the perfect host. She even organized a moto for us and had the best recommondations for restaurants. We even extended our stay in rhodes because we liked it that much!! Thank you!:-)
Michelle
2015-10-08T00:00:00Z
The Gremos House was just wonderful! Beautifully decorated, very lovely and special atmosphere. The whole process of renting the house, getting there etc. was very easy thanks to Gudruns perfect description. We were welcomed with some special treats: tasteful greek food, fresh fruits and a special something (because it was our honeymoon). THANK YOU for that. We felt very happy...spending our time there was a perfect choice. I can recommend it to anybody! Also Gudrun and her family visited a few days after arrival and gave us some tips regarding restaurants. Thank you for everything, Gudrun! We will come back - maybe visiting another of your great houses on Rhodes. All the best to you and your family! Max & Lara
Maximilian
2015-09-03T00:00:00Z
We had a great time in Gudrun's house. It is even more beautiful than on the pictures and really made us feel like home immediately. The place is in a sweet neighbourhood and really quiet, a great home base for discovering Rhodes. Gudrun was incredibly forthcoming and flexible, we can only recommend the house and her as a host.
Felix
2015-10-27T00:00:00Z
We spent a lovely nine days in late September with our two- and four-year olds and their grandmother. Gremos is a quaint traditional greek house in a quiet old village. Gudrun was very attentive and helpful, ensuring we had a pleasant stay.
Oskari
2016-09-27T00:00:00Z
Amazing experience and amazing house! Gudrun is a very kind person! I recommend it!
margherita
2016-08-06T00:00:00Z
Tipo de habitación
Casa/apto. entero
---
Tipo de propiedad
Casa
---
Capacidad
7
---
Dormitorios
rhodes, dodekanisos, Grecia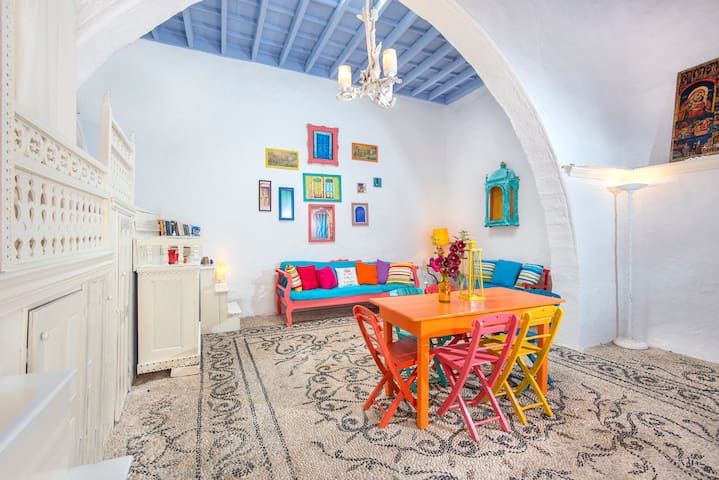 Self catering Beautiful stonebuilt village house 86 sqm situated in koskinou village. the village is the closest to the city of Rhodes island.2 km from beach and 6km from old town buses are available very often and taxi station 2 min walking from the house. all the information needed are prohibited by the owner with maps and infos. anything you will need can be given to the renters 24 hours a day. you have the opportunity to live an alternative way of life close to the locals, free wifi-a/c
The house is fully equiped and you will find anything that you will need for your staying here.dont worry if you are coming in the night,sunday or in public holidays.24/7 assistance FREE FREE WI/FI AND A/C.The atmosphaire and the wind that always blows from the north windows never make you feel hot!! 5 persons live comfortable even there are beds for 6 persons. Ideal place for relaxing and having fun at the same time. Rent the house for LONG TIME and GET BETTER PRICE! ASK FOR CAR PRICES
Relax in the antique bed thats provided while you are watching the beautiful sunset. You can walk on the very small streets of the village and talkwith locals who are sitting outside their doorhouse. On your walk maybe you can see some goats walking!! visit the local tavernas around the house and try our local recipes in very good prices.
We spent 3 nights in Despoina traditional house in Kosknou village. Both were so cool that it' s hard even to describe them.Just come and see it. The house was very comfortable - traditional pictoresque living room, small courtyard, nice well-equipped kitchen, comfy beds, very good Internet connection and the good air conditioning. The breakfast we had was the real one. The local shops provided us super quality feta, fruits and veges. We also enjoyed the local food in the small cozy tavernas and cafeterias. We had no car but we still reached the beach with no problem ( one way by foot and back by taxi for 10 euros ). Our host Alexandros greeted us as the best friends by arrival and took care of us during all our stay. We had all needed information beforehand, during and even after our stay. Eestlased! Sellest võiks saada meie Rodose pesa: siin näeb veel ehedal kujul kohalikku kultuuri ja ollakse teadlikud ka meie maast ja rahvast. Jätkakem traditsiooni.
Merike
2015-08-30T00:00:00Z
One of the best Airbnb places I've stayed (and I've stayed in a lot) with one of the best hosts! Awesome traditional Greek house with everything you need, walking distance (5mins or less) to lots of great tavernas and easy driving distance to Rhodes town and beaches. Nothing was too much trouble for Aleksandros and he made us feel so welcome - and was really lovely with my 1yr old son. Don't stay in one of those big impersonal resorts - stay here! Thanks Aleksandros, you are awesome :)
Kim
2015-09-23T00:00:00Z
This house was absolutly FANTASTIC! Everything you need is in the house and even more. Rooms and everything was clean and nice. House situated in very nice and quiet area, some shops and travernas are very close nad you can get everything you need only few steps from house. Alenos was very helpful, friendly and nice man, Im sure that he is the best host in whole Rhodes. I have no enough words to say how fantastic and how much our family liked to stay there. I will go back to same place every time, there is no better place, Im 100%sure. Thank you a lot for evrything and hope you to see again in Estonia :) I keep my sauna warm to you :) Indrek, Silver and Anu.
Indrek
2014-07-18T00:00:00Z
Aleksandros is a perfect host, welcoming in every way. He went out of his way to help, starting with picking us up from the airport on arrival and continuing throughout our week's stay with numerous useful hints, calls on our behalf and generally ensuring that we made the most of a short visit. Despoina is as perfect a small Greek house as it's possible to find, not just in its traditional furnishings but also in its ambiance. So much better than staying in the hustle and bustle of the Old Town. We loved it – and the little lanes, alleyways and tavernas of Old Koskinou – and will have no hesitation in staying again on a return visit to Rhodes. Thank you once again dear Alekos!
Sarah
2016-05-19T00:00:00Z
Aleksandros is a super host! He really made our stay absolutely wonderful. He welcomed us in the airport and drove to the house. The house is charming and very well described and pictured at Airbnb. Aleksandros prepared everything for our arrival, including food for our first dinner and breakfast. From the first minute we felt very much at home in the traditional house with its century old history and all modern facilities. The village Koskinou is picturesque and the people here are friendly. Several supermarkets and tavernas are within walking distance. We rented a car and could easily drive to any place on the island. Parking is no problem at all. The city of Rodos is only 10 -15 minutes drive. Alexandros really took a good care of us and regularly inquired whether we were all right. On the last day of our trip we had lunch in the restaurant where he works and he wanted us to taste all the best things of Greek cuisine. We parted very warmly at the end and started missing Aleko already on the next day. He is a warm and considerate person and hospitality is in his veins. We wish Aleksandros a lot of success and happiness and strongly recommend Despoina as the place to stay when you travel to Rhodes.
Elena
2016-10-07T00:00:00Z
This is THE place to stay in Rhodes island... if you really want to discover Greece and its people ! If I have to come back to Rhodes island, I will probably stay there again ! Here you can avoid the overcrowded streets and beaches of Lindos and Rhodes town to have a peaceful stay in Koskinou village. The house is unique and incredibly charming. It's an authentic house, full of history but still in the 21st century, something you cannot find in a hotel ! The village is absolutely charming, with its colorful streets and old houses. The place is extremely clean, there's a new A/C in the main bedroom, and the kitchen is fully equipped. The bathroom is entirely renovated. Aleksandros is a wonderful host, who is completely dedicated to his guests. He can answer at anytime to your requests, and makes a point that you have a perfect stay. And we did ! Having a car is certainly a plus, but we didn't have one and we still could explore the area around the village, we even went to the beach. If you want to run away from the tourist industry, this is where you need to stay !
Louisiane
2016-09-14T00:00:00Z
We have stayed in Alexandros' house for almost one month in October. And it was gorgeous! The whole thing is as if you were at the house of XIX century but equipped with everything you may need for everyday life. There were no any single issue to worry about. The house is situated in the old authentic part of small town up on the hill. Several nice tavernas are in 3 minutes by foot. Coast can be reached in 5 minutes in case if you rent a car. Alexandros is extra friendly and super helpful host! P.S. Street is inhabited by several cats which will be very glad to make friends with you in case if you don't forget to feed them a little :)
Aleksey
2014-11-07T00:00:00Z
Beautiful house in the heart of a quiet, old village. Marvellous traditional black and white pebble Floor, furniture and pictures On the wall from long lost times, that offers a quaint and charming atmosphere to the house. There is enough room for a family of 3, even 4 people, with two double and one single bed. The Kitchen next to the main room has all the basic equipment. Although we didn't meet the host Alexandros, communication with him was very fluid and precise. He was very helpful and was so kind to provide coffee, oil, milk etcetera, in short all the basic stuff one needs during a short stay. There is no WiFi, but Alexandros provider a broad band stick, which didn't help us - but this was probably due to the lack of our technical knowledge. Anyway, we were On Holiday, so we couldn't care less. Highly recommanded for anyone who wants to escape the packed resorts along the coastline.
mieke
2014-07-02T00:00:00Z
Tipo de habitación
Casa/apto. entero
---
Tipo de propiedad
Casa
---
Capacidad
5
---
Dormitorios
Rodas, Egeo, Grecia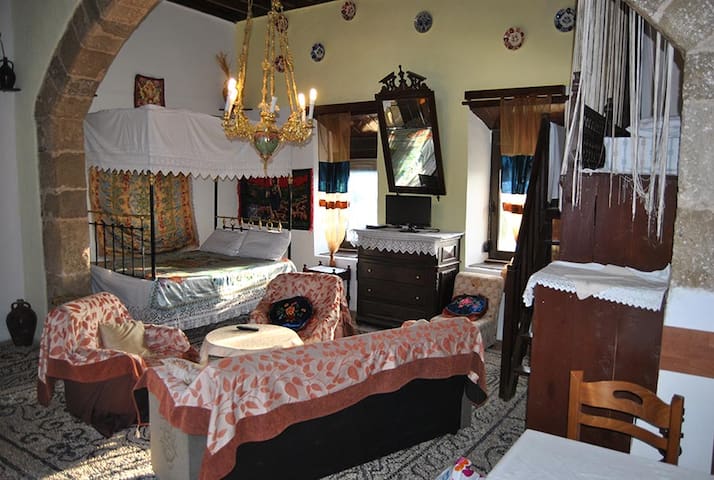 A new built apartment, which is part of our family residence. Fully isolated, for our guests to enjoy their vacation in privacy. Located in Rhodes City, A FEW MINUTES AWAY FROM THE CITY CENTER & THE BEACH. Ideal for couples and families who visit our island to enjoy the sea, the sand and the traditional greek hospitality... The comforts we provide will make you feel unique, the garden view will amaze you but our sense of hospitality will not let you say goodbye! ROOM FOR 2+2 GUESTS!
Bedroom with a double size bed, wardrobe, armchairs and table, as well as gardenview Bathroom with shower, the extras include hairdryer, shower gel, shampoo, bubble bath, soap, towels. Living room with a fully equipped kitchen, sofa bed (CAPABLE OF ACCOMODATING 2 MORE GUESTS), sofa, TV, video, table and chairs and sideboard with a huge mirror. Every room is fully air conditioned and capable of wifi access. Parking spots and big garden available.
Calm neighborhood, ideal for relaxation.
Tipo de habitación
Casa/apto. entero
---
Tipo de propiedad
Casa
---
Capacidad
4
---
Dormitorios
Rodas, Egeo, Grecia
17th Century, Stone build, preserved village house more information visit owners web: rhodestr(URL HIDDEN) - Antique furniture and handcrafted wooden structures preserved.(photos) - Picturesque courtyard overlooking cliff with beautiful sunsets. Sunsets can also be enjoyed from the cliff view at top veranda. - Traditional Lime painting methods have been applied throughout the villa, creating a healthy, anti bacteria, anti allergic enviroment - INSECT FREE. Due to traditional-ecological building structure/practices, property is virtually free of mosquitoes, flies, cockroaches. Rooms and amenities (Sleeps 8+1 persons) Main salla: spacious, 45m² (484 ft²), has wooden staircase leading to upstairs sleeping area (2 double beds and a spacious bathroom) Courtyard:Cozy and private open space for relaxing or dining. Direct access to spare bedroom, main salla, small toilet and stairs that lead to upstairs bedroom and veranda Bedroom(URL HIDDEN):Spacious sleeping 1st floor area within the main salla, offers 2 separated double beds (bathroom1 on same level) Bedroom 3:Spacious double bedroom separated from main salla by the courtyard (easy to be transformed into office) Bedroom 4:Double bedroom situated on top of bedroom1. Reachable by courtyard staircase Kitchen:Open kitchen to the main salla and courtyard (Fully equipped) Bathroom1:Main bathroom, basin, shower, WC, washing machine (no dryer) Bathroom2:Bathroom, basin, shower, WC, located on 1st floor sleeping area Bathroom3:Extra small bathroom, small basin, shower, WC located in the courtyard area Internet:Cable & Wireless (Available optionally) Sattelite TV:Available optionally Air Condition:Due to constant breeze (natural cool air) the house does not need air condition. Seldom breeze-less days can be accommodated with fans. Heating at winter:Electric and fireplace Mediterranean Cooking :Available optionally Greek cuisine lesson day. Starts with getting the ingredients while touring the open market of Rodos (Wednesday/Thursday/Saturday). Return to the house and participate in preparing some Greek dishes. Getting accustomed to the principles of Mediterranean Greek cuisine. Within walking distance (1-3 minutes) Easy walk to: 4 local eating places, 3 mini markets, bakery, butcher, tailor and 2 Souvlaki places. All 3 properties are within 2 minutes walking distance (Villa Gremos & Villa Castro only separated by wall).
Timoleon is a very welcoming and interesting host, who provided us with useful information about the island. He renovated the beautiful old house with a lot of taste and love for detail, and it is a gem. We didn't find the house all that insect-free, and the constant breeze mentioned in the description turned out to be a rather strong wind, which made ventilation a bit tricky. The internet was down for half of the stay, but Timoleon worked hard and fixed it. The house is so beautiful a lot of tourists stop by to take pictures or rest in front of the house to take in the fantastic view, which is probably the best proof of its beauty! And Koskinou turned out to be a great place to stay if you do not prefer to be located right at the beach. The village is very charming and friendly, and the old town looks just like stereotypical images of Greek villages and tavernas. Without any tourist buzz. We visited a wonderful Sirtaki festival in the village, which was such a joy. Villa Gremos is an impressive place to spend your vacation on Rhodos!
Anna
2016-08-17T00:00:00Z
Tipo de habitación
Casa/apto. entero
---
Tipo de propiedad
Casa
---
Capacidad
8
---
Dormitorios
RHODES, Dodekanese, Grecia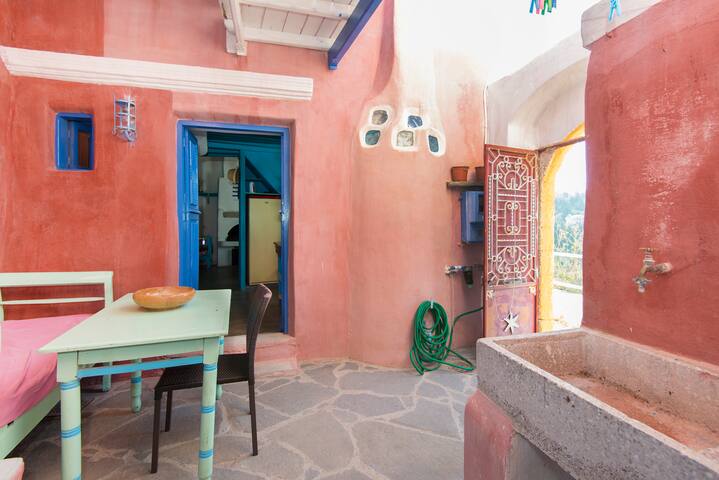 Prestigious Private property, three master bedroom suites and Private Pool.
Our renovated, luxury vacation villa in Rhodes indulge guests in the amenities and personal attention one would usually expect from a 5-star hotel, including daily housekeeping and personalized concierge. We offer a magnificent location overlooking the Aegean Sea and the serene Kallithea, just 8 minutes from the Medieval Town of Rhodes. This Luxury Eco Villa is ideally located in Rhodes Town, amidst of a beautiful ancient botanical garden area of the Italian era called "Fytorio Rodou". It is full of olive groves, orchards and plants, one of the most beautiful and inspiring places of Rhodes Island. The Grande Dame Villa measures 450 m² and resides in a vast property of 4000 m² offering a luxurious holiday experience for families and groups of friends. This prestigious private residence was built and furnished by a renowned Greek architect, which makes it a masterpiece, combining the modern style, the delicate luxury, and respecting the architecture of the Mediterranean
ΤΟΠΟΘΕΣΙΑ: Βίλα Το Grande Damme βρίσκεται στην περιοχή '' ΦΥΤΩΡΙΟ Ρόδου '' της Ρόδου Βοτανικός Κήπος (RBG) βασίζεται σε μια προϋπάρχουσα παλιό ιταλικό Δημόσιο Κήπο με την πλούσια πολιτιστική κληρονομιά. Η βίλα ενισχύει μια ιδανική τοποθεσία, προσφέροντας πλήρη προστασία της ιδιωτικής ζωής. -Απόσταση Από τη μεσαιωνική πόλη της Ρόδου 5,7km (9 λεπτά με το αυτοκίνητο) -Απόσταση Από το κέντρο της πόλης της Ρόδου 5,7km (9 λεπτά με το αυτοκίνητο) -Απόσταση Από το λιμάνι της Ρόδου και της μαρίνας 5,7km (9 λεπτά με το αυτοκίνητο) -Nearest Παραλία: Paradise αμμώδη παραλία 2,2km (6 λεπτά με το αυτοκίνητο) -Απόσταση Από την παραλία στο Φαληράκι και Φαληράκι κέντρο 7,1km (10 λεπτά με το αυτοκίνητο) -Απόσταση Από την παραλία του γκολφ και Αφάντου 18 χιλιόμετρα (18 λεπτά με το αυτοκίνητο) -Απόσταση Από το Super Market Carrefour και Lidl 1,3km (4 λεπτά το αυτοκίνητο) Σε μικρή απόσταση με τα πόδια από το Villa, υπάρχουν ξενοδοχεία όλων των κατηγοριών, εστιατόρια, καταστήματα, παραλίες και αξιοθέατα, όπως τα ελατήρια Καλλιθέα και το παραδοσιακό χωριό Κοσκινού.
Stelios was very accommodating to our party's needs. He offered a vast array of services to us during our stay including making reservations at clubs and restaurants in the area. He greeted us at the door when we arrived, and met each one of the party members individually. The location was more than we could have expected from the listing. it was just a 5-10 minute drive to Rhodes Town, and 20-25 minutes to Lindos Beach. The property was very well kept, with a housekeeper, gardener, and Stelios himself cleaning the pool each morning. There are also supermarkets within walking distance of the Villa. Very spacious bedrooms and pool house, great kitchen and living area, and a spacious outdoor area with a charcoal BBQ, dining area, and large pool. Our whole party had a great time at the Villa, and would recommend to anybody who is visiting Rhodes. Would love to return some day.
Aaron
2016-04-06T00:00:00Z
wow!!! ill just say that anyone looking for a perfect vacation villa in rhodes- this is the place ! We will B back stelios !
Liron
2016-06-18T00:00:00Z
Stelios has been an amazing host! The house was great, we all wished we could have stayed longer... It's a perfect location, 10 min away from Rhodes by car (you need a car) We were 10 of us and had a blast with the pool, the barbecue, the garden! Thanks a lot to Maria, Tsambikos and Stelios for their help.
Emmanuelle
2015-06-21T00:00:00Z
отличная локация, вилла прекрасна, реально хозяева вложили душу в этот дом. Все чисто комфортно, супер. Стериос очень доброжелательный и старается сделать пребывание в доме гостей по максимуму комфортным.
Сергей
2016-03-28T00:00:00Z
"Grande Dame" is a wonderful, stylish, spacious and elegant villa. It has a lovely out-door area - a beautiful garden, a nice swimmingpool and ample seating. We had a delightful week in this house. The villa was very clean and the gardener and the maid did their very best making our stay comfortable. Stelios was very welcoming and met us at the villa very early in the morning so we could have "early check-in". We ordered homemade moussaka via Stelios - a delicious meal. A car is required. I really recommend this villa! We would very happily have stayed longer. Trond
Trond
2015-07-19T00:00:00Z
We stayed at this property in August and had a phenomenal experience. The house is very nice, clean and spaceous. Our party consisted of 5 adults and 5 kids, and we could have easily accomodated another family. Stelios was very helpful, and he, and his staff, helped make our stay at the Villa very comfortable. While the Villa is not on the beach, it has an amazing sea view, and it's a short drive from beautiful beaches (Kalithea Springs is just 10-15 minutes away), numerous shops, tavernas, and super markets. I highly recommend Villa Grande Dame for families and large parties. We will certainly book the villa again.
Boris
2014-08-15T00:00:00Z
Lovely villa, very well kept and clean, and very well organized. Beautiful surroundings and views, very peaceful. Stelios was a great host, very helpful and responded right away. I look forward to visiting Rodos and staying at Villa Grande Dame again.
Linda
2017-04-05T00:00:00Z
Tipo de habitación
Casa/apto. entero
---
Tipo de propiedad
Casa
---
Capacidad
10
---
Dormitorios
Rodas, Egeo, Grecia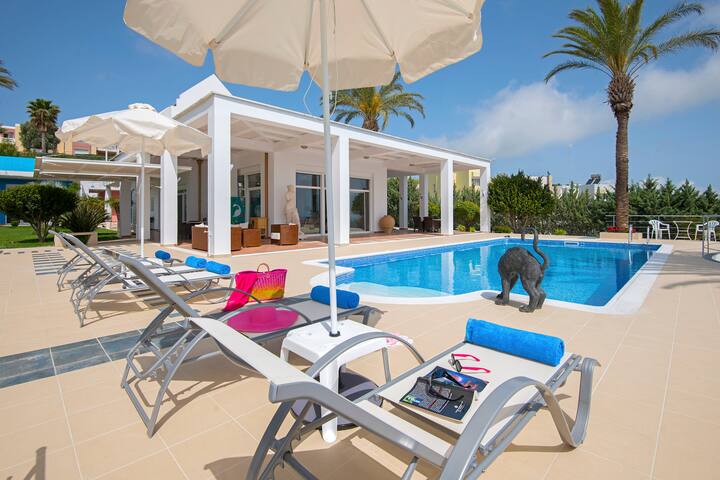 Traditional house made originally on 1887, fully refurbished, excellent condition, inside the 'Koskinou' settlement. Close to shops,restaurants & public transportation. Suitable for couples, families, singles, activities. Παραδοσιακό σπίτι του 1887, πλήρως ανακαινισμένο σε άριστη κατάσταση, μέσα στον οικισμό 'Κοσκινού'. Είναι κοντά σε κέντρο και δημόσια συγκοινωνία. Ο χώρος μου είναι κατάλληλος για ζευγάρια, δραστηριότητες για ένα άτομο, επαγγελματίες ταξιδιώτες και οικογένειες (με παιδιά).
House is in the traditional settlement of Koskinou with lots of other traditional house, shops, tavernas, cafes
This is a wonderful house! The surrounding town of Koskinou is delightful and the people are warm and welcoming, as were our hosts. The house is done up in a traditional manner but does not feel dated. The kitchen is all new and there is a beautiful courtyard. Along with the courtyard there is balcony and spacious rooftop with views all the way to water. I will be recommending this house to anyone even thinking of going to Greece!
Ewan
2016-08-26T00:00:00Z
Tipo de habitación
Casa/apto. entero
---
Tipo de propiedad
Casa
---
Capacidad
4
---
Dormitorios
Rodas, Egeo, Grecia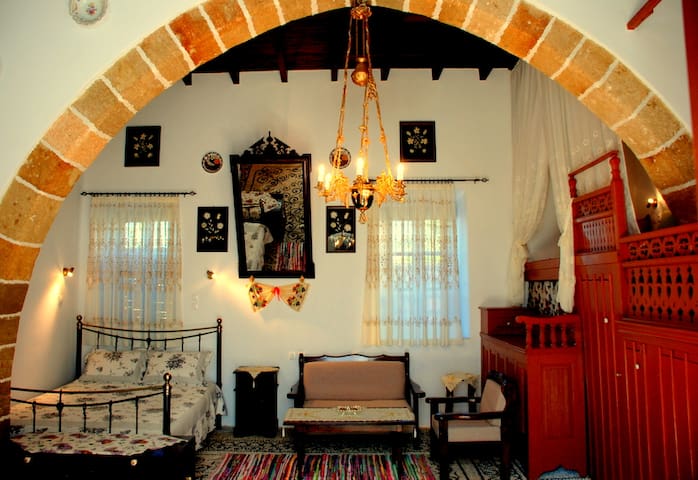 The house is situated in the beautiful town of Ialisos,10 minutes from Diagoras airport, 10 minutes from the city of Rhodes and only 5 minutes from the beach of Ialisos. Just a few minutes away on foot one can visit the shopping centre of Ialisos which has 2 large supermarkets, shops and many restaurants and fast food restaurants. Furthermore, it is also very near the ancient site of Filerimos, close to the Old Town of Rhodes and a short drive to Butterfly Valley. It is surrounded by greenery, far away from the large hotel complexes allowing for complete privacy and peace and quiet necessary for holidaymakers. More specifically, the house is comprised of 230 m2 total living space and is built inside a large 600 m2 private plot. It consists of two floors and an attic. On the ground floor there is a living and dining area with fully-fitted kitchen (including refrigerator, electric cooker, dishwasher and small appliances) as well as WC. On the first floor there are 3 bedrooms with four single beds and one double bed and the main bathroom with bath. In the attic there is an extra bed and bathroom complete with shower. All the rooms in the house have air conditioning. There are also 2 televisions and an internet connection. Finally, the owner, who is a tour guide and speaks 3 languages - English, Italian and German - lives a few metres away and is always available for the guests for whatever they need.
The house was as described. It was perfect to stay there for our whole family including two children and toddler. I would stress that this place is close to all facilities in Ialisos but definietly one needs a car to get there with comfort. The place is very quiet. There is no road noise or strangers going by. As someone mentioned here - only some cock or cocks from neighborhood crying in the morning. But sleeping with closed windows and airconditioner one won't notice it.
Andrey
2014-09-05T00:00:00Z
Siamo stati nella favolosa villa di Katerina la settimana dopo ferragosto, lei è stata gentilissima, ci è venuta a prendere in aereoporto e ci ha portato nella sua favolosa villa, non molto distante dal centro di ialisos. La casa è molto confortevole, ben arredata e con tutti i confort del caso. Ogni giorno ci ha offerto qualcosa di gustoso, dall'Ouzo ai prodotti locali; tutto perfetto, in ogni minimo dettaglio. Siamo stati in 6 persone(3 coppie) e abbiamo soggiornato magnificamente in questa casa, l'unica nota negativa...è il gallo del vicino che alle 7.00 comincia a cantare, per il resto sembra di essere a casa propria, con Rodi a 10 minuti di macchina (o 20 minuti di autobus). Ringrazio Katerina siamo stati divinamente.
Claudio
2014-08-28T00:00:00Z
It's been wonderful month we spent in Katerina's house. The house itself was absolutely prepared for us, with all what we may need , kitchen had all necessary things and even more, air condition, equipped bathrooms, even piano so kids could play . Quite and safe area - but 15 mins walk to center with all shops, beaches, restaurants. Katerina was living in next house and it was really helpful. Big thank to Katerina and her family for being here every time we needed anything or had any question. Moreover , we visited so many places around Rhodes ( beaches, monasteries , churches, ancient therms , museums and all possible sightseeings) because Katerina informed us about all these points , I am not sure we could see all these places without her. All her tips were really useful and interesting facts made our trip so saturated. Also , as it was high season , we hardly could find the car according our requests, and Katerina provided me very good rental company with really warm attitude. Thank you ! We would definitely return to this place !
Lilia
2016-08-21T00:00:00Z
Katerina was a perfect host! She and her family are very friendly and helpful. House was actually even better than we expected and we had a perfect two week holiday. We had a little chihuahua with us who made friends with Katerina's dog Rudi. Yard was perfect for our dog to play around. We can definitely recommend Katerina's house for small or big families! Thank you, Efcharisto!
Eija
2015-07-22T00:00:00Z
Stay in Katerina's house was perfect!!! Highly recommended! When we arrived, Katerina welcomed us, provided info about points of our interest (suggested local restaurants, fish market location, sailing boat trip, etc), helped with car rental etc. House is brilliant - clean and spacious for our familly of 7 people ... and what was also important- fully air conditioned! We are demanding guests and Katerina's house fully met our requirements! Thank you, Katerina for hosting us! Janis & family from Latvia
Jānis
2016-07-16T00:00:00Z
Tipo de habitación
Casa/apto. entero
---
Tipo de propiedad
Casa
---
Capacidad
6
---
Dormitorios
Rodas, Egeo, Grecia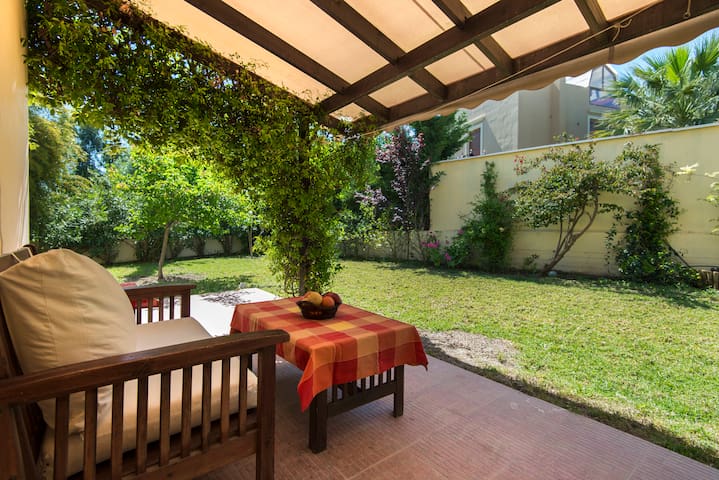 The home is 5 kilometers from airport. Lux home with 2 big rooms and kitchen .big bathroom .big satellite tv .hot water every time,easy kitchen for cooking !bus stasion is 20 meters out from home.big super market acros from road and farmacy shop for some madycine people nead! Costomers have everythin around!!i will happy to see you!☺☺
very quite plays for relax,, the bus stasion is out from door 20 meters !!!!!the beach is acros from home 5 minutes !!!!new home and everything inside!!!75 meters lux home big satellite tv 50 iches .big supper market acros from home and farmacy shop.big parking and garden
Tipo de habitación
Casa/apto. entero
---
Tipo de propiedad
Casa
---
Capacidad
4
---
Dormitorios
Ialysos, Egeo, Grecia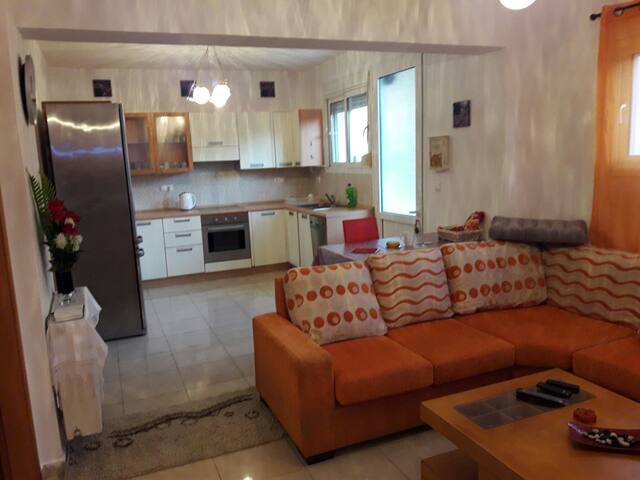 A comfortable spacious and cozy village house in super cute car free street. Levanda house is located in a street rich of flowers and sweet neighbors. It's harbored in one of the hidden streets in the center of the old and beautiful authentic Koskinou with it's stone houses and narrow alleys.
The space is truly spacious with it's 4 meters high walls and living room of 7,5 x 7,5 meters. you also have a courtyard for outide dining and bbq as well as a good kitchen.
Koskinou is an amazing place. The old village in which the house is located is a labyrinth of narrow streets lined with colourful houses and home to friendly local people.
L'accoglienza dell'host è stata meravigliosa. Purtroppo siamo arrivate in un orario un pò particolare di prima mattina, ma in modo molto confidenziale abbiamo trovato le chiavi e dentro ci aspettava una colazione mediterranea preparata in precedenza dall'host. In casa abbiamo trovato tutto quello che ci serviva per sopravvivere almeno un paio di giorni. La nostra paura era che la casa non fosse come nelle fotografie e che andassimo incontro a brutte sorprese. Invece, non so se è possibile ma la casa era ancora più bella di tutte le aspettative che avevamo. Ci siamo sentite subito a nostro agio e non smettevamo mai di meravigliarci di ogni piccola cosa che trovavamo. Il paese di Koskinou è stupendo e con il passare dei giorni abbiamo scoperto vari negozi e ristorantini incantevoli gestiti da persone molto disponibili e ospitali. Ci sono stati d'aiuto a trovare la casa e ad indicarci un luogo per il noleggio degli scooter necessari agli spostamenti. Vacanza spettacolare.
Giulia
2015-07-29T00:00:00Z
Evrything was made easy for us. We have received very clear instructions how to reach the house and 15 minutes later we were inside of this fantastic Greek house. Here we found full plate of Greek goodies, which was a very pleasant surprise. We had everything we needed inside of the house and in the outdoor area. House ia located in the middle of true Greek village, with great taverns and shops just walking distance away. Walks in this village were great experience, but house ia also located close to beaches and other important sights in Rhodes. We traveled a lot, but every night our family had great bbq dinner in the little yard in front of the house. Our little girl also loved stay in this house, she was simply stunt by magnificent living room with little bedrooms (sleeping areas).
Mykolas
2015-08-21T00:00:00Z
The place was very clean and quaint and definitely quiet. The location required a rental car to get everywhere on the island but Gudrun was more than accommodating in getting us rental cars. This is a great place if you are looking for a peaceful getaway where you won't be bothered.
Marissa
2017-03-25T00:00:00Z
The house was very cozy and located in a calm village without tourists, but 5-10 kms away from amazing beaches. The pebble floor is astonishing. Gudrun was really nice and attentive. It was a great Greek experience!
Paco
2016-07-01T00:00:00Z
Огромное спасибо Гудрун и Майклу за удивительный дом и теплый прием! Мы уже в третий раз отдыхали на острове Родос, но до этого останавливались в отелях. В этот раз нам захотелось пожить в настоящем греческом доме. И наша мечта сбылась! Дом именно такой, как на фотографиях, очень красивый и уютный. Деревня Коскину очень живописная. Так как мы прилетели ночью, Майкл нас встретил и проводил до дома. Гудрун приготовила приветственный ужин. Все каникулы хозяева были с нами на связи, помогли с арендой автомобиля, посоветовали местные рынки, пляжи, бары. В доме есть все самое необходимое - посуда, постельное белье, бытовая техника, барбекю, интернет. Еще раз - спасибо.
Tatiana
2016-09-28T00:00:00Z
Tipo de habitación
Casa/apto. entero
---
Tipo de propiedad
Casa
---
Capacidad
7
---
Dormitorios
rhodes, dodekanese, Grecia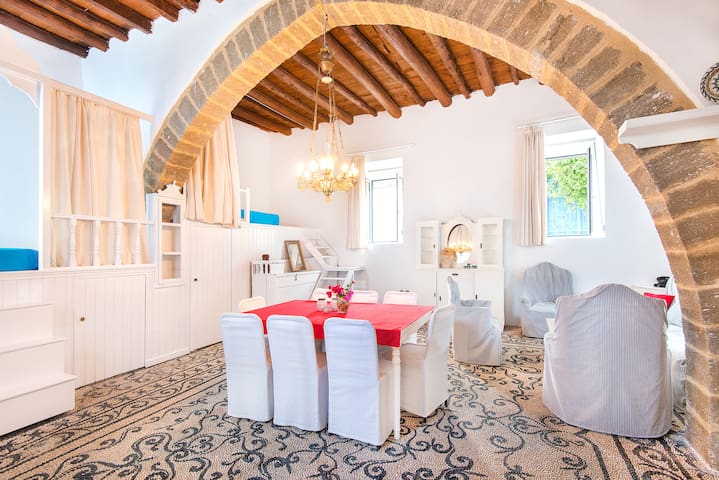 Contemporary 2 story high ceiling , spacious open floor plan bright villa in Faliraki area within 2 minute drive of beach . Sleeps 6 to 8 Location is everything for holidays : it is ideal to explore the island and its many popular sites like Lindos and Old Town and Kalithea Springs . Many beaches like Anthony Quinn or Ladiko and Tsambika beach all less than 20 minutes away .For the carefree , the nudist beach is also with in 5 minutes .Combine culture, sights and nightlife .
Villa Andrealexia, sleeps 6 can accommodate up 8 ιnvites you to explore Rhodes . It is ideally located overlooking the blue horizon of Faliraki. This sunny , contemporay home with 2 story high ceiling instantly welcomes you with its warm and friendly atmosphere. Its spacious open main floor area with two living rooms, marble fireplace and a dining room as well as a kitchen with an island for food preparation makes it ideal for large groups. The kitchen is fully equipped with all the amenities a home could need.The central island is especially handy for those chefs who enjoy cooking while still feeling a part of the group. .The ground floor also has a tv room with a sofa bed which can easily turn into a 4th bedroom if needed. A bathroom with a shower is found one the ground floor. Spiral wooden staircase leads to bedrooms with parquet floors. The master bedroom has ensuite and an extra single bed . It enjoys both the sea view and the pool . The mountain view bedroom has a queen size bed as well a sofa bed . The sea view bedroom , the purple one , has a double bed while also enjoying the pool view and pretty evening lights from the area. All bedrooms have large balconies .A bathroom with a shower is also found on the second floor . The house has WIFI and there is also a lap top area for those who need to combine work and pleasure with a printer . USB stereo available on main floor . If relaxation is all that is needed, the home has a BBQ near the pool area . Laze around the pool, enjoy the traditional cold greek frappe and breathtaking view. At night , pour some wine and enjoy the night lights from the area in the very romantic atmosphere which the home has .. .... (URL HIDDEN)
It is in a lovely quiet neighbourhood , ideally located within 3 minute drive to beach . Plenty of shops and restaurants at the nearby resort of Faliraki . Water park , Anthony Quinn Bay and golf course all near as well as Kalithea Springs . 25 minutes from Lindos . The home can be the starting point to explore the island
Tipo de habitación
Casa/apto. entero
---
Tipo de propiedad
Casa
---
Capacidad
8
---
Dormitorios
Rodas, Egeo, Grecia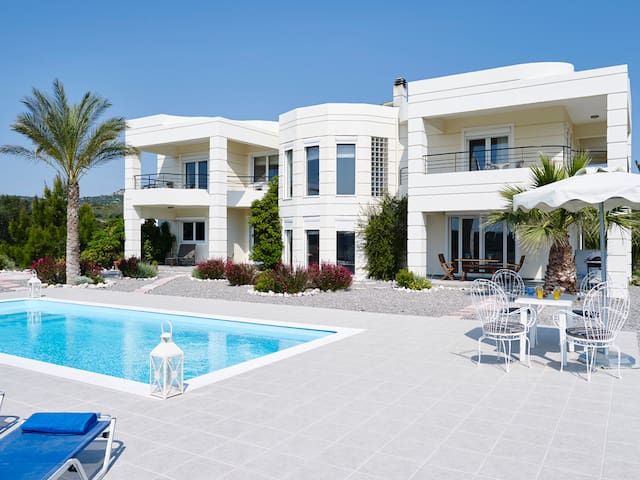 This amazingly renovated stone built house, that stands in one of the most friendly streets of Koskinou, is a true gem, hidden behind huge walls that give an safe privacy in the midst of a friendly Greek, non tourist neighborhood. ~For a true holiday
The Sea Salt is a very special place where we spent wonderful and most enjoyable 3 weeks - one of our best holidays ever. The hosts are just perfect and try everything to make you feel welcome; they helped with recommendations which matched with our ideas very well. The house itself is just great, lovely and even better than depicted on the photos. We will certainly come back and can strongly recommend this accomodation! Many thanks to Gudrun, Micah, Martina and Yiorgos!
Carsten
2016-07-15T00:00:00Z
Tipo de habitación
Casa/apto. entero
---
Tipo de propiedad
Casa
---
Capacidad
8
---
Dormitorios
Rodas, dodekanese, Grecia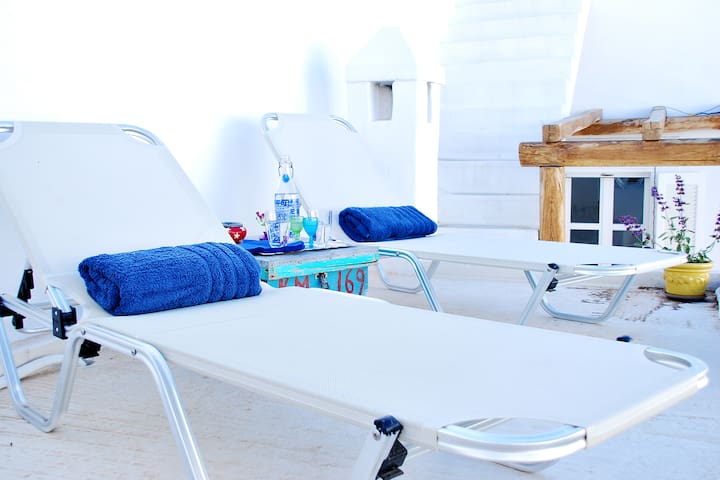 A very beautiful house sitting in the village of Koskinou. It has a courtyard with a mandarin tree, couches and dining area. It is recently renovated using traditional methods and styles. There are two terraces, one private and one with panoramic views. The terrace has a superb hanging bed and the top terrace has sunloungers for privacy sun bathing. The third bedroom that is mentioned is on top of the bathroom in the living room. There is a stairs leading to it, but it is kind of an open plan.
Finding a property such as this for your holiday is a real treasure. Step through the gate into the courtyard and you step into a private living area that will make you feel at home. The courtyard is home to beautiful Mandarin tree and has an outside shower. There is a mobile bbq for your use as well as couches and a dining table. The house benefits from two terraces and a roof garden. One of the terraces has a beautiful hanging double bed. From the highest point you will experience a beautiful and panoramic view of the village and beyond. You will be able to see the mountains and surrounding areas and even Turkey. The top terrace is private so should you wish to sunbathe you will do so with no one looking at you on one of the 2 matresses/beds. As you enter the property from the courtyard you walk into a beautiful and bright living space. The floor is traditional and made from pebbles arranged in a beautiful and complex mosaic pattern. This is a very expensive method and only found in houses that were owned by people who could afford such a luxury. There is a high raised sleeping area accessed from the living space which has a double bed and is accessible using solid wooden steps. There is an open fire place in the living area for use on a colder evening. There are two further bedrooms and each of these has a double bed. The ground floor double room has enough space to accommodate a bunk bed or maybe two cots. This room also benefits from having a wood burning stove. There are two bathrooms, one on the ground floor with a bath tub and a second bathroom is en suite to the upper double bedroom. The house has modern amenities such as wifi, TV, DVD and satellite. The kitchen is fully equipped and there is air-conditioning in both bedrooms. The house is a mix of artsy, minimalist, traditional and baroque styling and furnished using old and traditional pieces.
The neighbourhood is what makes this property so great. You will feel so privileged to be living in such an amazing house and located in such a lovely unspoiled village. The house is situated in the end of a street so you have no passers by and the houses each side are not used. You will be able to explore the narrow streets, the local cafes, bars and shops. A butcher, grocer and bakers shop are all local to you. A car will allow you to explore further and discover the surrounding areas and maybe the whole island. A secluded beach and beautiful scenery is never far away. This is what will make your holiday and time on Rhodes so memorable.
Gudrun a été très disponible pour répondre à nos demandes avant et pendant notre séjour. Le quartier est calme, non touristique, les voisins sont charmants. Dans le village on trouve facilement des petits magasins et petites restaurations non touristiques. La villa était très agréable, parfaitement équipée et fonctionnelle, l'environnement est très calme, une très bonne expérience.
Adeline
2016-08-01T00:00:00Z
Mandarin House is a dream. Perfect for both families and couples. Real treat for people who enjoy traditional authenticity yet comforts of modern living. Perfect spot for exploring the island, but also a place where soon you feel at home. Gudrun was a perfect host, always available and very helpful. Her suggestions and tips are truely insightful and customized to yours personal preferences and needs. Looking forward to spend some future holidays in one of Gudrun's houses.
Aleksandra
2015-09-12T00:00:00Z
Gudrun was very welcoming to the beautiful Villa Mandarin, it was exactly as described and very spacious in the old part of town. Gunrun gave us several recommendations for restaurants on the island, we only had time to try two of them and they were excellent.
Joan
2016-05-31T00:00:00Z
We had a warm welcome from Gudrun and Micah. The brought us greek apero plate and some cold white wine. Perfect to start our holidays. Koskinou is a nice town, we also went to the old town of Rhodos, equiped with some excellent tips from our host. Thank you very much Gudrun, we really liked your hospitality, your beautiful house, your sense for decoration and the shaby chic look, the amazing roof top with great sunsets and of course the island of Rhodos itself.
Stephan
2016-10-14T00:00:00Z
Nous avons adorer la maison de Gudrun où nous venons de passer une semaine en famille. Nous l'avions choisie pour le charme que dégage les photos sur le site, et elle a été à la hauteur de nos espérances. Elle a un charme fou, décorée avec un goût parfait et le quartier où elle est située est adorable. Après un voyage fatigant et plein de péripéties nous sommes arrivés de nuit sans avoir prévu de repas et nous avons eu la très bonne surprise de trouver une bouteille de vin local au frais et un plateau de spécialité qui nous a largement réconforté. Gudrun, bien que l'on ne se soit vu, à fait preuve d'une disponibilité très appréciable. Merci encore à toi pour avoir contribué à ces vacances mémorables. Je recommande vivement cette maison de rêve, et j'y retournerais avec grand plaisir.
Aurélie
2015-10-29T00:00:00Z
We spent a week of September at the Mandarin house and we wish we had stayed for much longer! The listing description was accurate, but the posted pictures really can't do justice to this little gem. Traditionally and very tastefully decorated, but without missing on any modern day amenities, this fantastic house is situated between Kallithea Springs and the town of Rhodes, in a beautiful and laid-back village. The location was excellent and easy to find with the provided directions. The house is very close to Rhodes, but also provides an easy access to the beaches and Lindos via the nearby highway. Gudrun and Micah were ready to provide all sorts of assistance, directions, restaurant and beach recommendations, etc. via phone/email throughout our entire stay, replying to our every request at once. The house is very comfortable and spacious and the price was really reasonable. I am very glad we picked this as a romantic getaway and very sad we've already left...
Petros
2016-09-12T00:00:00Z
Liebe Gudrun, es war ein überwältigender Urlaub - das Haus ist ein absoluter Traum, und es hat an nichts, aber auch an gar nichts gefehlt: von Spülmaschinentabs bis zur Ersatzbettwäsche fürs Kinderbett. Danke für den liebevollen Rundumservice - und die wunderschöne Einrichtung. Es war ein Urlaub wie im Märchen und wir wollen unbedingt wieder kommen! Danke, danke und noch mal danke für alles!
Almut
2015-05-23T00:00:00Z
La casa del Mandarino è veramente deliziosa, perfetta per famiglie o gruppi di amici. Arredata ed equipaggiata con buon gusto e cura, silenziosa e tranquilla, fuori dal delirio turistico ma al contempo comoda sia per le spiagge sia per la città di Rodi. Davvero consigliatissima. Gudrun è un'ospite molto discreta ma presente: l'ideale.
Roberta
2015-08-12T00:00:00Z
Tipo de habitación
Casa/apto. entero
---
Tipo de propiedad
Casa
---
Capacidad
6
---
Dormitorios
rhodes, dodekanese, Grecia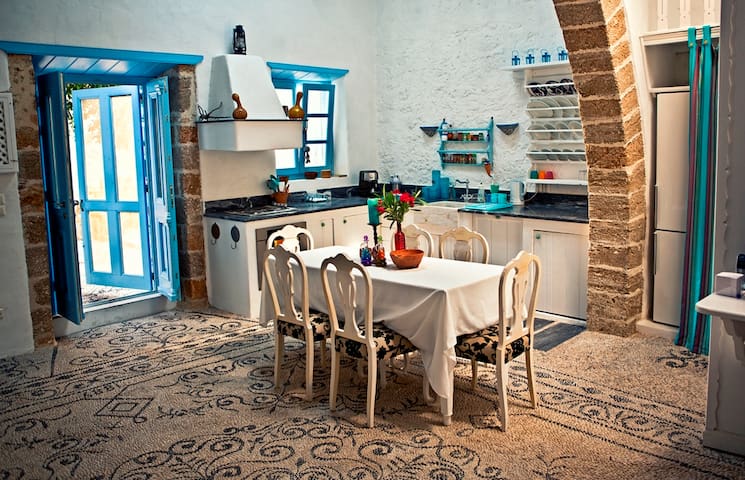 the back windows(bedrooms etc) have mountain view.very quiet and good for a family.Easy parking and close to the beach.
Tipo de habitación
Casa/apto. entero
---
Tipo de propiedad
Casa
---
Capacidad
8
---
Dormitorios
Ialysos, Egeo/Dodekanhsa, Grecia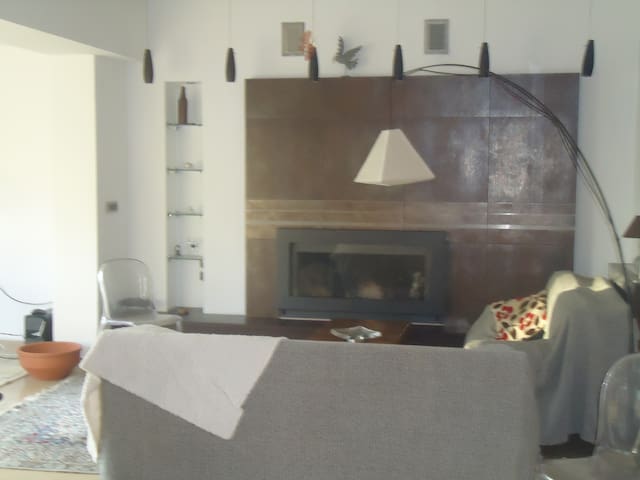 A colorful, sweet little room in a big, cozy house with a sunny , beautiful terrace, perfect for solo adventurers who love music (as all my family plays music we have a large collection of musical instruments) and sunny beaches. Situated 50 meters from the beach, 7 km from Rhodes center and 8 km from the airport, you may have everything at hand, sandy beaches, watersports, shops, restaurants, museums and other cultural places, but most important a family that will embrace you!
We are 50 meters from the beach,in a full of life neighbourhood, with lots of restaurants, shops, bars, coffee shops and Filerimos hill with the ancient acropolis of Ialisos, one of the three ancient cities of the island. 7 km from Rhodes center and 8 km from the airport!
Larisa and her daughter picked me up from the airport and immediately made me feel welcome and part of the family. The home itself is very beautiful & the bedroom space although tiny, was very comfortable, with a lovely terrace complete with hammock. Victor took me around on the first day, showed me the stadium & my mother's old house and introduced me to people who could help me reconnect to my roots. Larisa took me to Kalithea & included me in various outings. Their children are very talented musically and I'm only sad that I didn't get more if a chance to play with them. The fish from her favourite shop is very fresh, well grilled and excellent. Larisa also gives one of the best massages I've ever had & I recommend that you book one with her if you have the chance! The pebbly beach is about 5 minutes walk away past "The Cakebox" which does excellent coffee. The only downside for me is that this area is close to the approach path of the airport & so there is aircraft noise and the quiet time is only between midnight and 6am. In summary, Larisa, Victor & family are great hosts who make you feel part of the family in their beautiful home. All the family do their very best to help you in any way they can.
Paul
2016-09-17T00:00:00Z
This was my first airbnb experience and it went better than expected. I was picked up on the airport and brought to the house which is located 10 minutes from all three windsurfing centers in Ialyssos which was perfect for me. The room was great and I was especially surprised with how big the terrace for my use is (there is a hammock as well). The host family is great as they go out of their way to make you feel as good as possible. All my requests were attendant to and much more. They gave me a ride to Rhodes City on multiple occasions and gave me an insight into Rhodes history and the music sphere evolving there. I would recommend this place to everybody that like hearth warming hosts and to all windsurfers as you can find everything you need nearby the house.
Luka
2016-08-30T00:00:00Z
Hi, if u need just a little room to sleep in or do not have any luxurious ambitions this is a perfect fit. The room itself is basically like a cabin on a cruise ship plus a spacious terrace with a hammock.. Beach is a walk away and the best cafe´ just on the next corner.. Larisa, Victor and the whole family & friends are very very friendly and nice people. I felt very at home and welcomed there and can recommend a stay at their place wholeheartedly.
Markus
2016-09-27T00:00:00Z
Larisa and Viktor were excellent host. Their children are so well mannered, smiling and very intelligent and talented. I had my birthday during the stay there and they made me dinner and cake and celebrated with me. If you feel to interact with them - you can do that - if you need some solitude - you also have that. They are very flexible nice open people. The description of the room is exactly like that and the bathroom is on the second floor. Just get used quickly to the airplanes trespassing very frequently upon the room and you will be fine :-) The host were very generous and they helped with every my question - also they have picked me from the airport and back and to the Valley of the Butterflies and to the Rhodes centre. Lovely kind relaxed people who are spontaneously playing music. Would like to come back again.
Ivana Nina
2016-09-04T00:00:00Z
My stay at Larisa's house was great and very relaxing. very good communication via (SENSITIVE CONTENTS HIDDEN), and she did her very best to make me feel right at home. with lots of tips of the surrounding area it was easy to get around. the room is small but fine, there's eventing you need. I spent most of the time in the house on the rooftop terrace, with a nice view, hammock, rocking chair etc. living around the family with two kids and Victor was fun as well, really interesting, musical people.
Michiel
2016-09-11T00:00:00Z
My stay by Larisa and her family was absolutely amazing. They are such a beautiful family and really make you feel welcome. Lovely, caring people who make sure that you have a wonderful experience. I arrived early and was collected without a problem which was great as arriving in a foreign country on your own early hours of the morning can be a little daunting. The location is perfect and such a wonderful area to stay. You would have no regrets if you stayed here and definitely wouldn't want to leave as well:)
Ashleigh
2016-08-08T00:00:00Z
Larisa e tutta la sua famiglia sono persone eccezionali! Sin dall'arrivo in aereoporto si sono preoccupati per me come fossi parte della famiglia. Amabili e cordiali, Larisa e Victor sono degli eccellenti padroni di casa, cosa che altrettanto si può dire dei loro figli, i quali sono simpaticissimi ed estremamente educati. Abbiamo condiviso molto tempo tutti insieme, cucinando piatti tipici, suonando, cantando e, grazie all'infinita pazienza di Victor, visitando tutta l'isola! é stato un viaggio perfetto sia per l'ospitalità di Larisa e Victor che per il luogo incantevole..Ialyssos ha un clima ventoso piacevolissimo, delle spiagge di ciottoli meravigliose e un mare dalle mille tonalità di blu.. tutto a 50 metri dalla casa! è sicuramente un'esperienza da rifare! Grazie di tutto!
TIZIANA
2016-08-02T00:00:00Z
Larisa, her husband and kids are lovely hosts - they picked me up from the airport and made me very welcome in the comfortable loft room in their house. I was treated like one of the family and after falling off a scooter on my second day they helped and supported me through a difficult week of hospital visits and recovery from my injuries. If you are travelling solo, you will have a great time staying with them. I can't think of a better place to stay with such nice people.
Douglas
2016-07-22T00:00:00Z
Tipo de habitación
Habitación privada
---
Tipo de propiedad
Casa
---
Capacidad
1
---
Dormitorios
Ialisos, Grecia