This a 800 square foot, fully furnished one bedroom guest house with full kitchen, bath, full sized laundry room, back patio with table and grill, front porch with mountain views. The living room is large and spacious with a TV and internet. The living room has a comfortable sofa and club chair with hassock. The dining area seats 6. The kitchen has a Kuerig, gas stove, full sized refrigerator, microwave and food preparation island. The washer and dryer are full size. The bedroom has a very comfortable and sturdy queen sized bed with closet space and clothing storage. The bath room has shower and bath tub with fluffy fresh towels and a hair dryer (so you don't have to pack one). Most importantly, this place is very, very clean and comfortable. (Airbed for additional guests over 2 and Crib on request) These accommodations are very private, located on the main property but 150 feet from the main house with a workshop and small garden/orchard in between. This is a pet friendly place and has a fenced yard if you have a canine(s)/ feline who is coming along. We have lots of trees and wildlife that frequent our yard. Hummingbirds are normal every day of the week in our flower gardens and around our trees. The neighbor hood consists of single family homes on 1 - 2 acre lots with a view of the Huachucas to the west, the Mule mountains of Bisbee to the south and the Dragoons and Tombstone Hills to the east. There are no street lights here which makes star gazing at night fabulous. Ramsey Canyon and Huachuca Mountains are within biking and hiking distance. The Ramsey Canyon Preserve (Hummingbird Capital of the World) is located 3 miles from this location. The Huachuca Mountains are unique in being one of the Sky Islands of Southern Arizona that host the 2nd highest diversity of mammals in the world! It is common to see bears, deer, racoons, skunks, coti-mundi, ring-tailed cats and of course more than 14 species of hummingbirds! The Ramsey Canyon Preserve says "The native plant gardens and feeders at this Nature Conservancy sanctuary have attracted 14 species of hummingbirds, including the Magnificent, Berylline, and White-eared. Most birders can double or triple their hummer life list without ever moving from one of the preserve's benches!" We see much the same in and around our own yard. Last spring a set of Red Tailed hawks nested in our Pine Trees. Tombstone, Bisbee, Douglas, The Coronado National Monument and The Chiricahua National Monument are within scant drives. Easy day trips to Sonoita and Patagonia vineyards are also in reach. We will provide cold breakfast items, coffee, tea, cereal and small breakfast foods. You will have a full sized refrigerator (with ice maker), and completely utensil stocked kitchen with dishes, and anything else you may need to prepare your own meals. This place is very quiet and a great place to be alone, in fact a great place for privacy and intimacy. This is a great place to stay a month, week or a night as it has all the comforts of home away from home. We are flexible about check in and check out and anything else you might need.
We had a wonderful week in Joann and Stuart's well-equipped and comfortable cottage. We loved breakfast on the front porch, enjoying Joann's homemade sourdough bread while a roadrunner zoomed by in the yard and the horse next door ambled around. The cottage is conveniently located near Ramsey Canyon and other great birding spots. After a long day hiking in the canyons or down by the San Pedro River -- and seeing so many gorgeous hummingbirds, a trogon, bridled titmouse and painted redstarts -- we were happy to relax and enjoy making dinner for ourselves back at the cottage. The orange cat became a frequent and welcome visitor, cuddling up with us. All in all, a great place to make a home base for explorations of the amazing outdoor world of Southeastern Arizona.The view of the Huachuca Mountains is awesome! Joann and Stuart were excellent hosts, offering help and guidance if desired, but respecting our privacy. We hope to return some day!
Lois
2013-05-12T00:00:00Z
I've had a wonderful stay at Arizona Sky! My hosts made me feel so welcome, it's been like visiting good friends. The accommodation is very private, and the neighborhood is quiet, although everyone I met took the time to say hello. There is a beautiful mountain range to the west, and I've had some lovely walks in the area.
Gretchen
2015-07-20T00:00:00Z
Wonderful Stay in Sierra Vista. The cabin was truly home away from home. It was very close to Ramsey Canyon for great hiking and a visit to the Arizona Folklore Preserve. Joann and Stuart were wonderful hosts. The refrigerator was stocked for making full breakfast to start our day. We highly recommend their cabin for a night, week or even a month.
Ann
2016-07-05T00:00:00Z
My stay at their well made home was quiet yet full of birdsong, stunning views of the valley & mountains, and the breakfast selection & snacks were perfect.I even made cookies for the grandkids & most items were on hand... Best of all was finding out that Stuart works with my son-in-law, at the end of the stay. Both Joann & Stuart were the ultimate hosts and made me feel quite at home, and I will surely return with my husband next time. It is a serene, base for local hikes/walks with a small nature reserve minutes away. Recommend highly.....
Patricia
2013-05-03T00:00:00Z
They are so wonderful!!!! Flexible on arrival and departure time, beautiful clean home, great proximity to Ramsey Canyon, and they even got us breakfast foods. My boyfriend and I went to Sonoita and Patagonia before coming to this home for the night. It was perfect for making dinner at home and staying in together before hiking Ramsey in the morning. 100% would recommend again.
Kaila
2016-05-05T00:00:00Z
Great hosts, extremely comfortable and quiet accommodations, genuinely friendly community atmosphere, fantastic SE AZ weather and five (5) weeks away from snow, ice and sub-zero cold in the mid-Atlantic - PRICELESS. We have rented vacation homes throughout the US and in western Europe over the past 10 years; Stuart's and Joann's cabin ranks among the very best for its amenities and their attention to detail in every aspect of our stay is unmatched. Stuart and Joann set a very high bar for other proprietors to attempt to reach. We are looking forward to a return to the Sky Island Retreat.
John
2014-02-19T00:00:00Z
We stayed in the casita for six weeks from mid Jan to end of Feb. Everything in the hosts' description is accurate. Beyond that, you could not ask for friendlier, more helpful and responsive hosts. The casita was excellent in all respects: for example, cleanliness, lighting, decor, supplies, kitchen appliances, furnishings, heating, water pressure, neighborhood, and scenic view. The hosts went above and beyond expectations. For example, not one but two coffee makers were supplied--drip and one cup at a time. The 40-inch flat-screen TV was hooked to Direct TV with the capability of scheduling programs to record. We were usually able to stream Netflix, etc. via the supplied wifi. My wife and I have stayed at numerous condos and rentals and have never had such a well-equipped, well-supplied, and creatively furnished and decorated place.
William (Bill)
2017-03-02T00:00:00Z
We thoroughly enjoyed our month long stay in the guest house. It is neat, clean, and bright, with a particularly nice kitchen. It's also very private set way off the street behind the main house and shop. Both Joann and Stuart met us when we arrived and gave us a thorough walk through of the place. The fenced in yard was perfect for our dog to chase balls. Joann and Stuart are very dog friendly and have a cat and a dog who would come visiting occasionally. The neighborhood is very quiet with little traffic on most of the streets and was great for walking our dog and for views of the mountains. There are lots of hiking trails in the foothills and beyond suitable for casual to much more strenuous hiking if you like. Gambels and Scaled quail as well as doves and other birds are daily visitors to the yard. Overall it is a wonderful place and we couldn't have been more pleased with our stay.
Paul
2016-02-12T00:00:00Z
Tipo de habitación
Casa/apto. entero
---
Tipo de propiedad
Cabaña
---
Capacidad
4
---
Dormitorios
Sierra Vista, Arizona 85650, Estados Unidos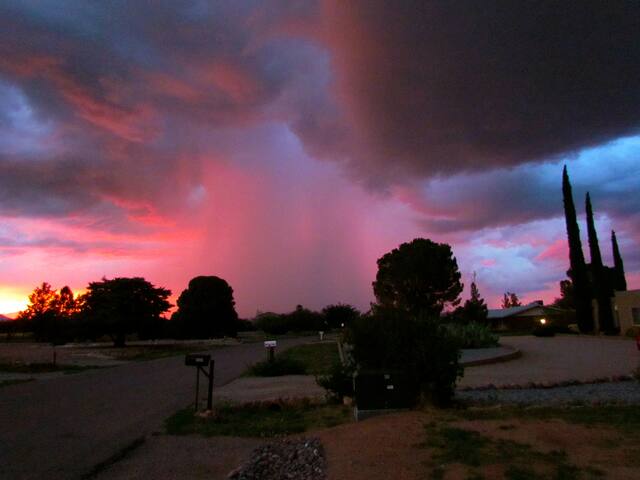 This cozy 1 bedroom house with fireplace, separate studio and pool, is nestled in a private 13 acre mesquite bosque, walking distance to the artsy village of Tubac. This horse-friendly property also has diverse bird species seen throughout the year.
Private, personal, 13 acre getaway with hundreds of mesquite trees, breathtaking mountain views, and 60' lap pool. Horses, dogs, and cats are welcome. A birder's paradise for sure!
Unique, private space within close proximity to Tubac's shops, restaurants, and galleries. Beautiful views and ability to experience the natural mesquite setting and the wildlife contained therein.
Anna's property was simply amazing. We arrived to open doors, the smell of mesquite, and a bottle of wine in the kitchen. The experience couldn't have been more perfect. Everything was in working order and the house, trees, and land are more beautiful than pictures can show. The views from the property of the low mesquite bosque and the summit of Mt. Wrightson really topped off the experience. Anna was always a phone call away and very attentive to any needs we may have had. She even gave us some tips on where to eat in Tubac. Finding the property was so easy...just follow Anna's directions and check out (SENSITIVE CONTENTS HIDDEN) Maps. You can't miss the awesome fence and gate that surround the front of the property. Overall. Perfect experience. Will be going back ASAP.
Cole
2015-01-27T00:00:00Z
I loved staying at Anna's place in the menquite grove. I found the trees enchanting. The place is cozy and well appointed in a southwestern style. It was convenient to the town of Tubac, less than 1/2 hr. walk or 10 minute bike ride along a Az back country road. It was very secluded and private which again is exactly what I was looking for. The lack of tv, radio and internet made it a kind of retreat for me, which again is what I intended. The pool was seasonably cold, but well cared for and inviting none the less. Anna was very attentive to anything I needed. I recommend the place to anyone looking for an authentic back country south western experience.
Ed
2016-03-26T00:00:00Z
I wanted to take a vacation where I could swim all day long. My boyfriend wanted a vacation where we could be in nature. Lo and behold - Anna's beautiful home was a perfect match! Anna was in prompt communication throughout the entire experience. The listing was 100% accurate - the pool was absolutely beautiful (and it was perfect swimming weather), the house was adorable, very clean, and the perfect size to relax in. The property is just lovely. Though it is located in a fairly remote location, the very charming town of Tubac is literally minutes away so you have a perfect mix of feeling private and secluded but also out and about if you choose! There are restaurants, great stores to shop in, and several markets. It was great being able to save money by cooking at the house but we saw a lot of restaurants that we would have loved to try if our budget allowed it. We arrived in early July at the end of a monsoon storm. It was very humid the first day because of the storm, and very buggy (you are pretty much in nature, after all) - but the next days were perfect, not very many bugs at all, and wonderful swimming weather. We spent hours in the pool over the three days we were there. Besides the clean house, comfortable bed, and wonderful pool you can visit Nogales (30 minutes away), the town of Tubac (5 minutes away), and you must visit the Tumacacori mission (10 minutes away). We visited during the week so the town was pretty dead, which we appreciated because it seemed like a big tourist destination because it is so adorable, but not having to deal with crowds and still having most every store open was awesome. It is difficult to find at first (it is in a remote location!) so do go during the day. Anna's instructions to find the house and to enter the home were clear and easy. We checked with Anna and brought all the cooking supplies we would need - she supplied pans, silverware, cups, etc. She also supplied towels. Would love to visit again and would definitely recommend Anna's home to anyone. This spot was a terrific place to vacation and I am so thankful Anna shared her home.
Chelsea
2015-07-12T00:00:00Z
Anna was an excellent host. she was easy to reach by phone and we enjoyed talking to her. the casits was such a happy surprise and looks even better than the pictures. There was s wonderful feeling of peace and tranquility and it was a delightful place to return to after a day or wine tasting.
Deborah
2015-02-02T00:00:00Z
Anna was a lovely long distance host and resource for the home. All questions were answered and I would stay again at any opportunity. The casita was close to Tubac but removed enough for the privacy and quiet I was seeking. All in all wonderful.
Lhasa
2016-11-12T00:00:00Z
We (and our two dogs) really enjoyed Anna's place! The property is beautiful, private, and just a short drive from Tubac's galleries, restaurants and historic sites. The house is very clean, comfortable, and easy to find by following her clear directions. Finally, in response to a recent review that stated there is no working shower, the shower worked fine during our stay. Thanks for having us!
Nicholas
2016-11-24T00:00:00Z
After a cross country drive from New York City to Arizona, we were so ready for a comfortable wilderness retreat. This beautiful Mesquite Bosque did not disappoint. We were totally relaxed and refreshed after our week stay. A daily dip in the perfectly cool pool was awesome. The house was more than adequate for all our needs (especially the ice maker in the summer.) It was a large property and we had totally privacy the whole time. As bird photographers, we were very happy to find a variety of bird species on site. We look forward to returning. Anna was not in Arizona during our stay. Anna had a local person for us to contact though we did not find it necessary. We had direct contact with Anna for any questions at any time. There is no wifi but my Verizon 4GTE worked very well and when necessary I could use my Samsung 5G to create a hotspot for my laptop. Do NOT use the (SENSITIVE CONTENTS HIDDEN) GPS directions for this location and others in the area - get them from Anna. You can use this GPS when leaving to another location. We were no more 10 minutes from the highway and the town of Tubac.
Laura
2015-08-12T00:00:00Z
The place was enchanting. It was the most private, quiet place we have been. It was minutes to the town of Tubac yet totally isolated from everything. We really hated to leave.
linnda
2015-03-01T00:00:00Z
Tipo de habitación
Casa/apto. entero
---
Tipo de propiedad
Cabaña
---
Capacidad
2
---
Dormitorios
Tubac, Arizona 85646, Estados Unidos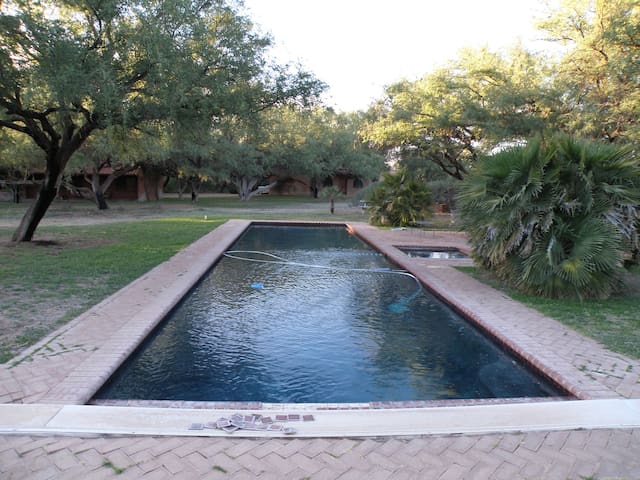 1

–

2

de

2 Alquileres de Cabañas
Introduce las fechas para ver el precio total. Ten en cuenta que se aplicarán tarifas adicionales y es posible que se añadan impuestos.