This a 800 square foot, fully furnished one bedroom guest house with full kitchen, bath, full sized laundry room, back patio with table and grill, front porch with mountain views. The living room is large and spacious with a TV and internet. The living room has a comfortable sofa and club chair with hassock. The dining area seats 6. The kitchen has a Kuerig, gas stove, full sized refrigerator, microwave and food preparation island. The washer and dryer are full size. The bedroom has a very comfortable and sturdy queen sized bed with closet space and clothing storage. The bath room has shower and bath tub with fluffy fresh towels and a hair dryer (so you don't have to pack one). Most importantly, this place is very, very clean and comfortable. (Airbed for additional guests over 2 and Crib on request) These accommodations are very private, located on the main property but 150 feet from the main house with a workshop and small garden/orchard in between. This is a pet friendly place and has a fenced yard if you have a canine(s)/ feline who is coming along. We have lots of trees and wildlife that frequent our yard. Hummingbirds are normal every day of the week in our flower gardens and around our trees. The neighbor hood consists of single family homes on 1 - 2 acre lots with a view of the Huachucas to the west, the Mule mountains of Bisbee to the south and the Dragoons and Tombstone Hills to the east. There are no street lights here which makes star gazing at night fabulous. Ramsey Canyon and Huachuca Mountains are within biking and hiking distance. The Ramsey Canyon Preserve (Hummingbird Capital of the World) is located 3 miles from this location. The Huachuca Mountains are unique in being one of the Sky Islands of Southern Arizona that host the 2nd highest diversity of mammals in the world! It is common to see bears, deer, racoons, skunks, coti-mundi, ring-tailed cats and of course more than 14 species of hummingbirds! The Ramsey Canyon Preserve says "The native plant gardens and feeders at this Nature Conservancy sanctuary have attracted 14 species of hummingbirds, including the Magnificent, Berylline, and White-eared. Most birders can double or triple their hummer life list without ever moving from one of the preserve's benches!" We see much the same in and around our own yard. Last spring a set of Red Tailed hawks nested in our Pine Trees. Tombstone, Bisbee, Douglas, The Coronado National Monument and The Chiricahua National Monument are within scant drives. Easy day trips to Sonoita and Patagonia vineyards are also in reach. We will provide cold breakfast items, coffee, tea, cereal and small breakfast foods. You will have a full sized refrigerator (with ice maker), and completely utensil stocked kitchen with dishes, and anything else you may need to prepare your own meals. This place is very quiet and a great place to be alone, in fact a great place for privacy and intimacy. This is a great place to stay a month, week or a night as it has all the comforts of home away from home. We are flexible about check in and check out and anything else you might need.
Joanne and Stuart are great hosts. They have even stayed in the cottage just to personally check that everything is working well. From the start, they were clear on the best way to reach them if we had questions or a problems - but we really couldn't have been happier. The little house has many wonderful touches like a real laundry room, a selection of DVDs, kitchen appliances/utensils, attractive bedding, extra towels/blankets, field guides, back patio, grill...There are basic kitchen supplies and condiments, too, plus all the equipment I needed to bake. The neighborhood is quiet so you can hear the birds singing. We loved riding our road bikes up Ramsey Canyon and into town. If you are there on a Thursday, check out the Farmers' Market. To conclude this rave review: Joanne's sourdough bread is as amazing as everyone says. And we very much appreciated Stuart's sense of humor and his willingness to share his knowledge about growing trees in the high desert.
Judy
2013-12-17T00:00:00Z
We had a wonderful week in Joann and Stuart's well-equipped and comfortable cottage. We loved breakfast on the front porch, enjoying Joann's homemade sourdough bread while a roadrunner zoomed by in the yard and the horse next door ambled around. The cottage is conveniently located near Ramsey Canyon and other great birding spots. After a long day hiking in the canyons or down by the San Pedro River -- and seeing so many gorgeous hummingbirds, a trogon, bridled titmouse and painted redstarts -- we were happy to relax and enjoy making dinner for ourselves back at the cottage. The orange cat became a frequent and welcome visitor, cuddling up with us. All in all, a great place to make a home base for explorations of the amazing outdoor world of Southeastern Arizona.The view of the Huachuca Mountains is awesome! Joann and Stuart were excellent hosts, offering help and guidance if desired, but respecting our privacy. We hope to return some day!
Lois
2013-05-12T00:00:00Z
The house we stayed in was very comfortable and very clean, had all accessories that one has at his/her own house, all the little things. Very quiet, peaceful and totally safe. Canyons were right behind the area, within a couple of miles. It's just like having mountains in your own backyard. For flat-landers like us, it was REALLY great! Short drives to local restaurants and super market. It was a great base for us to see local sights: Bisbee, Tombstone, Fort Huachuca, etc. For us serious cyclists, it was a wonderful place to visit. The whole trip was wonderful. Thank you, Joann & Stu!
Kae
2014-03-23T00:00:00Z
Everything about this house was perfect. We were given thorough directions and information about the house and were able to feel at home immediately, thanks to the hosts' warmth and thoughtfulness in providing for our stay. These included Christmas decorations, homemade plum jam, great DVDs to choose from, quality decor, cleanliness, a comfortable bed, numerous quail and two Great Horned owls roosting in the yard, and quiet canyons to walk in every day. We were in heaven!
Paul
2015-12-27T00:00:00Z
This place is great! Joann was super helpful and at the same time made sure we had our privacy in the back house. The location is perfect for birders, hikers and those staying in the Sierra Vista area. The house is a very nice 1 bedroom guesthouse that has everything you will need for a short or long stay, all the way down to ziplocks and spices if you cook. Super clean, super comfortable, 2 great porches, nice views, oh, and bacon, eggs, milk, juice water and yogurt in the fridge when we got there. We will be back.
John
2015-08-09T00:00:00Z
We absolutely love everything about this little retreat! Joann and Stuart are the most thoughtful hosts and have included every homey touch anyone could want: stylish decor, full kitchen, secure internet, DirecTV and location, location, location. We loved star gazing on perfectly still nights and petting their huskies and cats. We heartily recommend a visit to SE Arizona, especially if you stay at this perfect oasis.
Ana & Dan
2013-03-09T00:00:00Z
Our hosts were friendly and available to meet our needs. We were given a thorough tour of the property when we arrived. The listing description was accurate as far as the space was concerned. Of note, was the spectactular mountain views which had to be seen to be believed. The neighborhood was very nice. We will definitely be back. Karon and Stan Rzad (12/23/14-1/1/15.
Stanley
2015-01-02T00:00:00Z
My stay at their well made home was quiet yet full of birdsong, stunning views of the valley & mountains, and the breakfast selection & snacks were perfect.I even made cookies for the grandkids & most items were on hand... Best of all was finding out that Stuart works with my son-in-law, at the end of the stay. Both Joann & Stuart were the ultimate hosts and made me feel quite at home, and I will surely return with my husband next time. It is a serene, base for local hikes/walks with a small nature reserve minutes away. Recommend highly.....
Patricia
2013-04-23T00:00:00Z
Tipo de habitación
Casa/apto. entero
---
Tipo de propiedad
Cabaña
---
Capacidad
4
---
Dormitorios
Sierra Vista, Arizona, Estados Unidos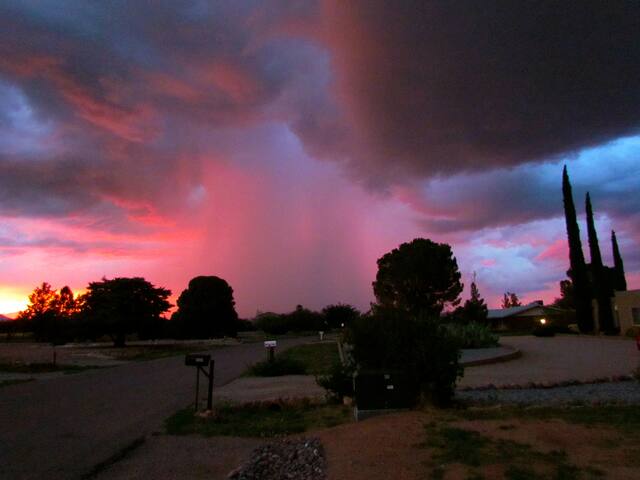 1

–

1

de

1 Alquiler de una Cabaña
Introduce las fechas para ver el precio total. Ten en cuenta que se aplicarán tarifas adicionales y es posible que se añadan impuestos.