Private use of entire 1800 square foot all natural wood barn loft. This space is private and romantic. Located in the high desert foothills of the Santa Rita mountains with spectacular 360 degree views. Great for couples, fun for groups or families.
Every person who has seen this loft for the first time always says "WOW". Once you're here, you won't want to leave. We are located on eight remote acres at 4000 feet elevation; yet close to Tubac, AZ. This is a loft so it is 12 feet in the "air" above the terrain and provides incredible 360 views of the interesting and varied terrain. The loft is surrounded by 1000's of acres of open space and spectacular, really phenomenal views of the southern side of Wrightson and Hopkins in the Santa Rita Mountains. Horseback riding, mountain biking and hiking right out the door. This is a working barn and your horses are welcome. Trailer hookup with electrical, sewer and pad included. The all-wood loft has a comfortable bed for two and accommodates up to 6. Our loft is self-contained with a kitchenette, large porch, a bathroom that includes an antique claw-foot soaking bathtub, also entertainment and office areas with free wireless. The large east porch has unobstructed 180 degree of the sky. and the numerous walkouts and porches in every direction are great for astronomical viewing. We are just a few miles and sit in the shadow of the Smithsonian MMT 16th largest telescope in the world. Kitt Peak is viewable from the Loft and huge telescope at Mt. Graham is a short drive. Athletes would benefit from the 4000 foot elevation that quickly ascends to 9500 in 9 miles. Many 10 to 20% grades make an excellent training, environment, no traffic,great weather and our athlete support make this an excellent training camp. We're just 5 miles off the road to Mexico. The Loft is a great place to stay before you cross the border. Regina and I are experienced Mexican travlers. Romance, artists, writers, readers, photographers, astronomers, athletes in training would all find our Loft perfect, inspiring and amazing The loft sits atop the barn and offers incredible views from the many windows and walks outs. The natural light at day is perfect, the clear dark skies are awesome for stargazing while sitting on the large barn porch.
Isolated on 8 beautiful acres at 4000 feet elevation. 15 minutes from Tubac or Nogales. A perfect get away as a romantic weekend, an artist retreat or for business being done anywhere in southern Arizona.
The space is absolutely breathtaking! It is well designed and decorated indoors with gorgeous views outdoors. Food and activities are slim pickings nearby, but that is part of the beauty. I highly recommend bringing food to prepare, as the kitchen is fantastic and there will not be a restaurant as beautiful as the back deck. George and Regina are fantastic hosts, with frequent contact before arrival, and friendly and helpful check ins afterward. The loft is stocked with games, movies, books, and musical instruments, which kept us quite occupied.
Mariah
2016-02-13T00:00:00Z
Staying at the Loft in Tubac is everything the website says and more! Regina is a special hostess who went far beyond expectations providing a well stocked kitchen and anticipating our every need during our stay. Taking a trail ride with Morning Star Ranch wrangler, Dan, dining with Regina, crossing over to Nogales, Mexico and sketching the Santa Rita Mountains from the Loft Deck were just some of our highlights during our three day stay. We will need to return as our stay was way too brief.
Gretchen
2017-01-11T00:00:00Z
You will love staying at this rustic, elegant barn. It is an experience that everyone should get to encounter. We loved it!! The views are incredible. The atmosphere in the barn is so comfortable. Cool bathroom! Beautiful scenery.
Brenda
2017-01-16T00:00:00Z
We loved staying at this beautiful spot! Thank you!
Emily
2017-01-03T00:00:00Z
The magic of the loft over Christmas was elevated by waking to snow on Christmas Day morning! We enjoyed unwinding with music, boardgames and dominoes and cooking a roast in the fabulous kitchen. There are great views of the mountains and we enjoyed spotting roadrunners and jack rabbits through the large windows and hearing the coyotes yapping in the morning. We enjoyed meeting Regina over a glass of wine and we wished we could have stayed longer.
Naomi
2016-12-26T00:00:00Z
My boyfriend and I spent our anniversary in George and Regina's beautiful loft style guest house this weekend. I thought the listing photos made the space look beautiful, but I can say the photos do not do it justice.The loft was absolutely gorgeous. We were running from balcony to balcony (360 views of the mountains!) watching the sunset all around us. The space is thoughtfully designed with obvious care put into the layout, materials and furniture. Regina was even kind enough to give me a tour and explain the history behind some of the antiques. Regina and George were excellent hosts. They shared a glass of wine with us when we arrived and were very fun to hang out with. They also left many thoughtful touches around the space for our visit including a card wishing us a happy anniversary. We were so sad to leave the next morning and are already planning to come back in a couple of months and spend a few more days with Regina and George.
Carina
2015-10-12T00:00:00Z
George and Regina were fantastic, and our stay at the Loft was everything we could have wished for. They were both very communicative before we arrived to make sure that we had everything we needed, and were able to easily navigate up into the beautiful foothills. When we arrived, George showed us around, and shared a glass of champagne to celebrate our honeymoon. Throughout our stay, George was easy to communicate with, but respected our privacy. They gave recommendations for places to eat and visit, all of which were spot on. The loft itself is beautiful and secluded, and we loved our time there. The kitchen is nicely updated, and has everything we needed to cook for a night in. The decorations are lovely, and the whole place has a unique feeling - George and Regina's personality definitely shows. We had a lovely time, and we hope to be back soon.
Christian
2016-11-10T00:00:00Z
My wife and I had a wonderful time staying in George and Regina's loft for our wedding anniversary. The setup of the loft was lovely and intentional with excellent amenities. We had everything we needed. The location is gorgeous and peaceful, and amazing for watching both sunrises and sunsets. But what made the place was how welcoming and open George and Regina were. They made us feel very at home and were really enjoyable to spend time with. They struck a great balance of being present and friendly and also giving us our own space and time. We have stayed in many places on Airbnb, but this was definitely a favorite!
Jacob
2016-06-20T00:00:00Z
Tipo de habitación
Casa/apto. entero
---
Tipo de propiedad
Loft
---
Capacidad
6
---
Dormitorios
Rio rico, Arizona, Estados Unidos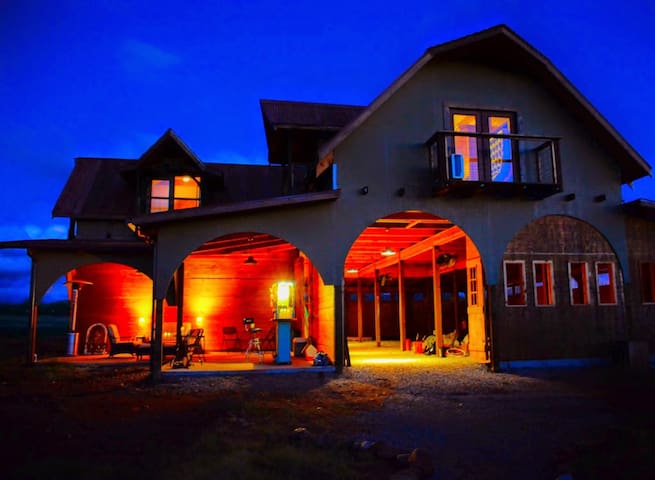 Introduce las fechas para ver el precio total. Ten en cuenta que se aplicarán tarifas adicionales y es posible que se añadan impuestos.