This coach houseis located in the heart of Leslieville, minutes from downtown via transit/HWYs. It's impossible not to fall in love with all the cafes, restaurants and shops you can stroll to from your own private oasis in the middle of the city. You'll feel like you've escaped to the cottage when you walk through the beautiful gardens to a secluded court yard off the beaten path. This tiny home has everything you'd find in a big home. I guarantee you'll never want to leave.
This space is so special even HGTV featured it! You can watch it on youtube! Just search: A small rustic city cabin
Leslieville is like a little village in the city. It's quaint and has its own identity. Within a few blocks of the house you will find bakeries, world class coffee shops and restaurants. Great boutique shopping. A cheese shop, butcher, organic veg shop, fish shop... The list goes on and on. It's convenience to downtown is probably the most desirable aspect of the area. Walk downtown in 20 minutes, streetcar in 10, drive in a 3-4! You also have access to both major highways at the end of the block via lakeshore Blvd. it really doesn't get any better... You'll see;)
Everything about our stay was perfect. Though we had trouble getting into town and arrived late, Brett was very accomadating. When we arrived we found that the pictures, descriptions, and reviews did not do the place justice. It's bigger and cozier than pictures lead on. The place is designed thoughtfully. No detail, small or large, was missed. It's truly a fantastic stay. I've been an airbnb guest numerous times and I would say this has been by far the best stay. To top it off, at the price it is offered, you cant possibly beat it.
Joshua
2016-09-17T00:00:00Z
Brett's cottage was even more beautiful than on the pictures. It was very clean, cozy and had everything one could need and more. Brett was very kind and welcoming when I arrived. All in all I would say that this is probably the best Airbnb I ever stayed in, it was perfect!
Marianne
2016-08-02T00:00:00Z
Our time at the cottage was amazing! Brett was the perfect host, he met us, showed us around and made us feel welcome. We felt like we were truly on holiday and away from it all. The cottage was super private and peaceful and the attention to detail inside was unbelievable. I would totally recommend this (URL HIDDEN) super unique and charming.
Kadie
2016-07-09T00:00:00Z
If we could give Brett's City Cottage more than 5 stars on everything, we would! Brett's City Cottage was exactly what we needed (and more than what we thought we would get) for our wedding week-end. The carefully tended to garden provided us with the perfect location for our wedding photos, not only with just the right mix of sun and shade through the canopy of a towering maple, but also with many interesting focus points including a hammock, tile mosaic table set, couches under a pergola made from whole logs, and lush green gardens and corners. The cottage itself is beautifully designed, furnished and decorated - rustic, quaint yet regal all at the same time. When you walk in, you are greeted with earthy calming aromas of evergreens, and sage (in bundle form used for smudging). In one corner is a wooden stove with ready cut and dried logs. The kitchen is well equipped with excellent knives, a dishwasher and a very pretty collection of blue and white English porcelain. We felt spoiled by the details and beauty of our living space. The Leslieville neighbourhood is hip and full of life. There was a community festival that week-end we were there in front of the community centre. Within a 500m radius are the most raved about brunch places (Bonjour Brioche and Lady Marmalade). For groceries, you can lose yourself at the Leslieville Cheese market, and the Brick Street Bakery for fresh bread. Brett is a super host. He is friendly, thoughtful and understanding. We unfortunately were running a bit late for check in, but he was really understanding. He welcomed us and chatted with us before and after our stay, sharing with us his experience building the cottage. Finally, for our wedding, he had left us a cute card in the fridge with compliment strawberries and bubbly for our wedding night which we greatly appreciated. This AirBnB is inspiring, relaxing, refreshing, and worth all your while!
Anna and Pierre-Luc
2016-07-12T00:00:00Z
This place was absolutely beautiful, much nicer than any hotel. The accommodations were comfortable. Brett was a wonderful host. He made sure that my first AirBnb experience was awesome and it was!!!! I highly recommend!
Charlene
2016-09-26T00:00:00Z
OMG! The countryside in eastern Toronto (Leslieville neighborhood). Brett, the genius behind this gem (don't be shy to ask him a few questions about the place) has a knack for welcoming and putting you at ease, answering your questions and giving awesome suggestions (restaurants, parks, etc...). You will feel rejuvenated once your stay is over. If the pictures, video and feedbacks don't peek your curiosity, then you are truly hopeless!!!
Tania
2016-09-11T00:00:00Z
My stay at Brett's Coach house was amazing from start to finish. The hospitality that Brett offered was incredible. Brett met me at the house and was very understanding and accommodating to running a bit late to meet with him. He was extremely kind and gracious in giving me a tour of the place and giving me sufficient information that was needed. He is a dream host, very open and honest and had an open line of communication at all times. The house - indescribable. It's a getaway in the middle of the city. The design and general aesthetic is incredible. Compact but had everything that was needed for my stay. All amenities included, clean space and quiet neighbourhood. Bars, coffee shops and neat stores all in walking distance. Transit was nearby to venture into the core of downtown. Overall, I had the most enjoyable stay. It was a slice of heaven and I look forward to going back. Brett and his home are amazing. It was quite a pleasure staying at the house. If you're thinking about booking, I highly recommend it!!!
Jabine
2016-07-05T00:00:00Z
*Possibly the best stay we've ever had* Brett was there to greet us and show us around, had no idea how cool the place was until we got there. Anything we needed was in the cottage which was a major thumbs up and he kept us up to date with things that were going on in the area. Couldn't have been a more perfect location as everything we wanted was just footsteps away... Even an Irish bar lol
Kev
2016-08-05T00:00:00Z
Tipo de habitación
Casa/apto. entero
---
Tipo de propiedad
Cabaña
---
Capacidad
2
---
Dormitorios
Toronto, Ontario, Canadá
Bienvenido a nuestra casa / estudio reformado en el barrio Leslieville de Toronto, es tranquilo y privado. Cuando la familia / amigos no se quedan con nosotros, estamos abriendo este maravilloso espacio para los viajeros. Diseñado para aquellos que amamos, por lo que sabemos que les encantará también! El uso del aparcamiento está disponible por una pequeña tarifa adicional.
Este estudio reformado (2015) está separada de la casa principal y completamente privado, rodeado de un jardín pintoresco. La ubicación es en Leslieville un barrio muy tranquilo y caminar cerca del transporte público, QEW y las carreteras DVP, minutos hasta el centro de la ciudad. Hay una cama doble, así que un segundo invitado es posible. El estudio tiene un piso de ladrillo incluyendo piedra arenisca de la escarpa de Niagara y calefacción por suelo radiante. Otras características incluyen aire acondicionado, techo abovedado, vigas de madera, claraboyas, bloques de vidrio y ventanas de cristal esmerilado que proporcionan a los huéspedes una experiencia única de alojamiento. Una cocina compacta - nevera, estufa 2 quemadores y horno de microondas también está disponible. En la primavera, verano y otoño de invitados son capaces de disfrutar de una característica estanque de peces y del agua en el patio trasero. Solo se permite fumar en el patio trasero.
Leslieville es una comunidad vibrante con mucho que ofrecer y todos a poca distancia. El barrio es muy tranquilo por la noche. Gerrard Street y Queen Street han experimentado un renacimiento en el último número de años que incluye una amplia gama de tiendas vintage y de moda y una rica mezcla de restaurantes y cafés. Convenientemente situado es un pequeño centro comercial Mall-Gerrard Square (ganadores, Home Depot, tienda de ultramarinos) y el licor / tienda de cerveza. Está a 1 minutos a pie hasta la calle Gerrard ya 7 minutos a pie de calle de la reina.
This little backyard cottage in Leslieville is a nice oasis from the city, but also very close to street cars running along Dundas. It's great if you need to forget you're 20 minutes from the middle of downtown Toronto, if you're looking to sleep through a lazy morning in a glamping cabin feel, or want quiet time to recharge between events during a busy visit. I booked this studio *very* last-minute during a wedding weekend trip to Toronto, and Brian was a very friendly and laid-back host who was also flexible and hospitable; respectful of privacy, but also solid with suggestions of places to eat or in giving directions. The bed was comfortable and there was also a very nice Bluetooth Sound System to play music. The Wi-Fi worked well too. The studio is all contained within one room with high ceilings and good light - the bathroom does has a fan, so it's good for a couple. A good shower as well. Heated brick floor throughout, which was nice. I was there much too early in the spring for us to fully appreciate the garden, but it was still a relaxed setting and a calm neighbourhood feeling. It's a cool, diverse area. Thanks !
Glenn
2016-04-11T00:00:00Z
This is such a gorgeous, cozy, intentionally designed space, and Brian and Rene are fantastic hosts! We were in Toronto for a little under a week and wanted a space that felt like a retreat - this was perfect! They have a gorgeous garden, Leslieville is a very cute, friendly, safe-feeling neighborhood, and there are great coffeeshops and the trolley line just a couple walkable blocks away- walks through quiet streets lined with gorgeous gardens, I should mention. Brian and Rene were so friendly and warm. We were looking for a personal retreat, so they made sure that we were comfortable and then gave us our private space. When we did have a question, they were very approachable. Moreover, they were always quick and thorough communicators, which makes a world of difference when you're traveling internationally. We would highly recommend this place!
Esteban
2015-06-07T00:00:00Z
Brian made sure that we knew exactly how to find the place and was there to meet us and provide a key when we arrived. The studio is a garage that has been converted into a backyard cottage. It is tiny, but complete. Everything is beautifully decorated in a style that I would describe as elegantly rustic. The lush garden and goldfish pond make it seem like you're no longer in the city. Only the sound of the streetcar in the distance gives the secret away. This place is suitable for a couple, but on the small side for a longer stay. We were there for 6 days. A single person looking for a retreat in a great part of the city would find this absolutely ideal.
Tamara
2015-07-01T00:00:00Z
Brian's suite is a unique and cozy hideaway in the middle of Toronto's most liveable neighbourhoods. As a host, Brian strikes the perfect balance of being attentive to your needs and respectful of your privacy. Would repeat.
Jeremy
2016-03-01T00:00:00Z
A well kept & beautiful spot in a quiet neighborhood. Brian & Rene where great about helping out with any questions of the area. Everything you could need is a short walk away. couldn't ask for a better host|location|experience.
paul
2016-01-04T00:00:00Z
Brian + Rene were both very welcoming and kind. The studio is located in a very quiet and nicely landscaped backyard. It was very clean and well kept and would be great for a short or long term stay.
Chris
2015-10-19T00:00:00Z
Friendly. Attentive. Clean. Great place!
Todd
2016-09-17T00:00:00Z
We had a really great time staying at this place. Brian and Rene are great and super-friendly hosts. The accommodation is very comfortable, surrounded by a beautiful and lush garden. Parking was provided by hosts for a very reasonable charge. The studio itself is very cute and has all the stuff one can possible need for a short stay. It is compact, but very well organized. I have been travelling with my husband and our 2 pugs and everyone had enough space. The neighbourhood is very nice, safe and very green. As far as I understand Leslieville is rapidly gentrifying, so it has a small shopping area, some local coffee shops, some restaurants and a pub, a couple of bank outlets as well if you happen to need cash. In a very close proximity to the Beaches. Approximately 5-10 minutes by car, 15-20 on bike or 45 mins walking. Very easy commute to the downtown and all the central/touristy neighbourhoods of Toronto via tram or bus. Although we mainly used our own car or Uber, which is obviously very available at any time of day. Ride to the downtown Toronto is about $12-15 CAD (if not surging). Really recommended for everyone who wants a nice, relaxing stay in a place off the beaten path, but simultaneously very close to all the entertainment Toronto has to offer.
Vladyslav
2016-07-05T00:00:00Z
Tipo de habitación
Casa/apto. entero
---
Tipo de propiedad
Cabaña
---
Capacidad
2
---
Dormitorios
Toronto, Ontario, Canadá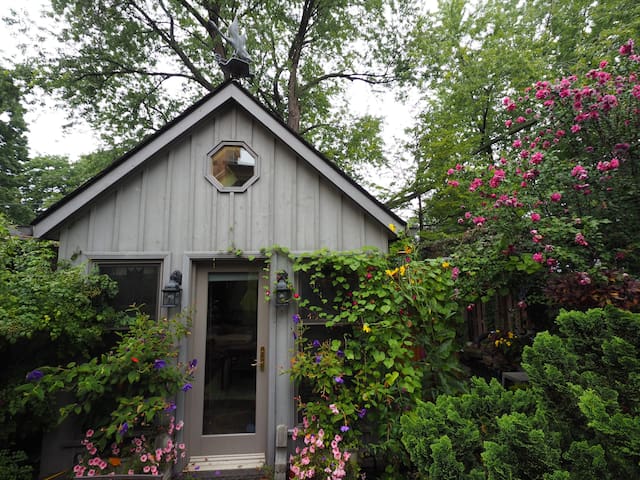 3 bedrooms: 1 - queen 1 - double with 2 pc ensuite 1 - double Walking distance to Rouge Park, a designated Provincial park, featuring a sandy beach, forests and rolling hills where you can hike, swim, canoe and fish. Close to UTSC and Seneca campus. Escape to an oasis - large gazebo in the backyard that backs into a ravine. Good for couples, solo adventurers, small family and business travellers
A quaint unassuming cottage from the outside but live large inside. Clean, spacious, tastefully decorated. Non-smoking, pet-free accommodation.
Walking trails and bike trails along the provincial park and Lake Ontario
Loved the place. Very clean and comfortable. Host was very sweet, accommodating and informative on all the good spots to visit in the neighborhood. First experience on Airbnb and it was everything we could've hoped for
Malaika
2016-08-21T00:00:00Z
Les and Arlina are amazing ! The place was good and correspond perfectly to the photos . The house isn't far to downtown . They made us a fruit plate and prepare us the essential for the breakfast . I think it's the best experience since I'm using Airbnb . This house is my reference if you want to go to Toronto !
Grace
2016-08-10T00:00:00Z
Beautiful home. Had a very comfortable and pleasant stay. Loved our hosts.
Isabel
2016-09-25T00:00:00Z
This was a great place. Clean, comfortable and quiet. Thank you!
Jennifer
2017-03-04T00:00:00Z
The host canceled this reservation 10 days before arrival. This is an automated posting.
Mathu
2016-08-16T00:00:00Z
Les et Arlina sont des hôtes très agréables. Ils nous ont acceuillis avec grande sympathie et ont pris le temps de nous faire visiter chaque pièces de leur magnifique maison. Les pièces sont grandes et bien décorées et les lits confortables. Ils ont été très généreux. Ils nous ont même préparés le petit déjeuner. Nous nous sommes même fait un barbecue. Si vous passez par Toronto, n'hésitez pas à passer chez Les et Arlina. vous ne serez pas déçus!
Antoine
2016-09-10T00:00:00Z
Falling short of words to describe our stay ,we loved the place , the owners ,the neighbourhood ,everything was beyond our expectations. Will love to book again when visiting Toronto.Folks looking to book here should do it without any doubts, this place deserves 10 /10….
Vaibhav
2016-08-07T00:00:00Z
This was my first airbnb stay and it was perfect. My friends and I really enjoyed the stay. Pictures don't do the house justice! Very spacious, bright, and clean. The hosts were very accommodating even though I was late to check in. Thank you so much Les and Arlina for helping to make my birthday everything I wanted. You guys are awesome
Savannah
2016-10-02T00:00:00Z
Tipo de habitación
Casa/apto. entero
---
Tipo de propiedad
Cabaña
---
Capacidad
6
---
Dormitorios
Toronto, Ontario, Canadá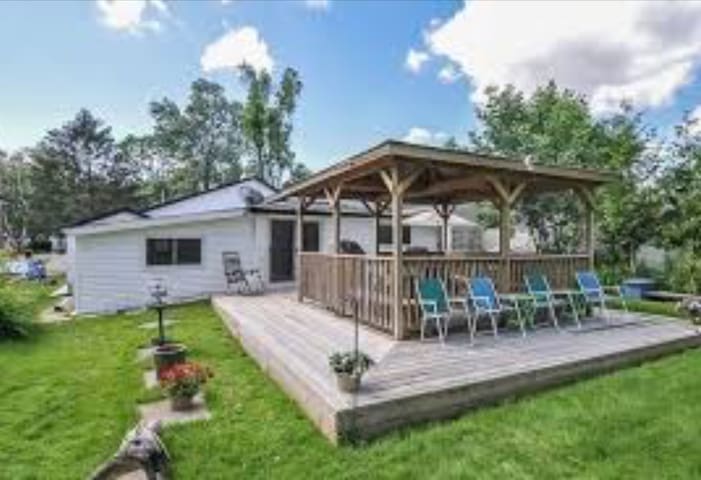 Nuestra peculiar, acogedora casa de campo finca de madera cuenta con una estufa de leña, claraboyas, el acceso a un balcón tinysunset quema, y un espacio de yoga en casa con el swing de yoga. Todos los pasos de Kensington Market, Universidad de Toronto, la pequeña Italia y de la estación Sbwy Bathurst.
se trata de una casa-histórica que increíblemente acogedor era un homee cama caliente para los trabajadores que trabajaron para construir las grandes estructuras de ladrillo en la campana. se siente como un hogar de toda la madera costa oeste color y ligera como algo fuera de un jardín hobbit. calle Croft tiene una historia interesante, pero me encanta contar la historia a mí mismo ... mis clientes son bienvenidos a unirse a mis clases de yoga, si las cosas son maravilloso o reservar una sesión privada -spaaaaaaa Bicis de Bixi son una gran manera de moverse por la ciudad
todo .... veréis! estelar celular para fijaciones Teck, la biblioteca Smith Lillian, aum niño vudú de yoga para el café y el almuerzo, la poesía en Kensington para el jazz impresionante no hay aparcamiento en la casa, pero Croft 20 St. Andrews es un buen estacionamiento p verde no hay aparcamiento en la calle en la zona, pero sólo está libre de 07 a.m.-12 p.m. a continuación, los coches deben ser movidos a Bathurst pt de la 12-7am o puede ir a (URL ocultos) para obtener un permiso de aparcamiento en la calle en línea. Croft Cottage se puede encontrar por ir al metro Bathurst y tomar el tranvía al sur de Ulster, al este de Ulster y al sur en Croft st.
I really liked my stay at Kaya's place! Her place was very cozy and quite close to nice restaurants, streetcar/bus stops. Although I only stayed for a night in her house, she made my stay really comfortable. I especially want to thank her as I was a bit sick when I arrived to her place, but Kaya offered me warm tea and breakfast, which definitely helped with the cough :-) I found Kaya as a warm and friendly person. I loved getting to know her and sharing stories with her. I will definitely recommend this listing to others!
Asmita
2015-08-05T00:00:00Z
Kaya is a wonderful hostess, both genuine and helpful. The locale of the "Cozy Cottage" is second to none if you want to explore the bohemian 'hood of Kensington Market and all the funkiness that Queen West has to offer. Close to museums, great restos, cool shops, and interesting neighbourhoods.
Jason
2015-09-28T00:00:00Z
Everything was super easy. Easy to find, easy and very simple house rules, easy and pleasant communicating with Kaya who was super helpful. Very cozy and comfortable while being super affordable
Jordan-Gabriel
2016-10-02T00:00:00Z
Me and my friend had the most warm-hearted stay at Kaya's cozy little place in Toronto! Good location near College st. and Kensington Market.
Risto
2014-10-24T00:00:00Z
My boyfriend and I are very glad that we chose to stay with Kaya on our recent trip to Toronto. She gave us a huge list of things to see and do in the city and made the most delicious kale salad we'd ever eaten. Kaya is a gracious host who made us feel at ease in her home. We'd recommend her to anyone looking for a relaxing place to stay in downtown Toronto.
Bryn
2014-08-08T00:00:00Z
Kaya was great to respond quickly and help us out with some special requests. She also allowed us to check out late since there was nobody staying the following day. Overall, good stay!
Konrad
2016-10-29T00:00:00Z
Pictures and expectations were perfect. Kaya is kind and accurate. Great location.
Christopher
2016-10-06T00:00:00Z
Kaya was welcoming and helpful getting us situated and oriented. The neighborhood is conveniently located for transportation and walking. We had a favorite café and a nice restaurant within a couple blocks.
joe
2016-07-20T00:00:00Z
Tipo de habitación
Habitación compartida
---
Tipo de propiedad
Cabaña
---
Capacidad
3
---
Dormitorios
Toronto, Ontario, Canadá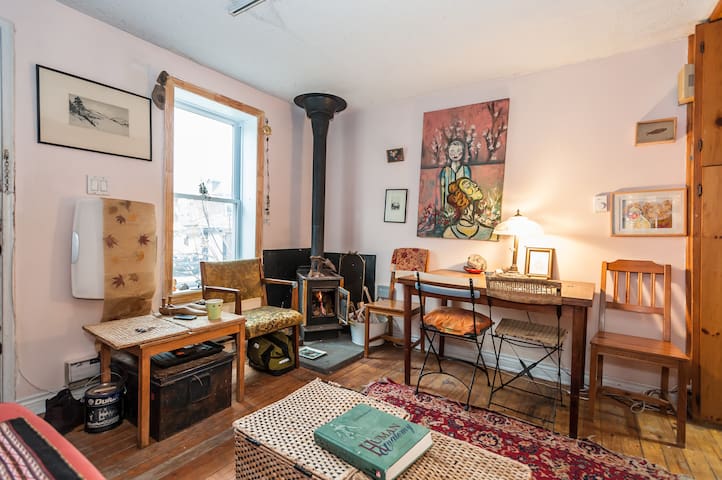 If you're looking to experience the Toronto Island from a local's perspective, this cozy cottage could be your home base. Small, well equipped the space can spaciously accommodate two+ people. In off season there is one local resto but the home is equipped with BBQ and basics for at home dining. It's a 2 minute walk from the Ward's Island ferry dock--enjoy strolls thru the expansive parkland or in just a 12 min ferry ride you will be in the heart of Toronto's entertainment district.
I really enjoyed my stay here. Kathryn communicated well and had everything set-up for us to enjoy our stay. I really love this little island, and finding her place is exactly what we were looking for. I will definitely be booking here again.
Rosa
2016-09-18T00:00:00Z
Kathryn is an awesome host and her place is the best kept secret on wards Island ! Great location . Can't wait to go back! I would recommend this place to my friends .
Hassan
2016-10-02T00:00:00Z
We rented this beautiful cottage for our family that was visiting from Nova Scotia. Kathryn was wonderful to deal with and the cottage was perfect! Our granddaughters absolutely loved sleeping in the loft and playing in the park out front. The location could not have been better! Within sight of the ferry dock and Island Cafe and a very short walk to Ward's Island Beach. You can expect another booking from us next summer!
Tammy
2016-08-06T00:00:00Z
Kathryn was a wonderful host. Her home on Ward's Island is very charming and quaint. Toronto Islands have much to offer as a summer tradition for day trips but living on Ward's Island, one of Toronto's best kept secrets, was a decadent and unique experience.
Patricia
2016-08-22T00:00:00Z
This was our second weekend getaway within five weeks at the Toronto Island Paradise Pad and it was just as quaint, cozy and comfortable as our visit last month! Island life is decadent, the skyline views/sunsets were lovely, and biking around the island was relaxing and energizing. There is a great deal of history to be discovered and Kathryn's home is a wonderful place to try island life!
Patricia
2016-09-25T00:00:00Z
Kathryn was a great, accommodating and thoughtful host. She communicated promptly and everything was as described. Her house was perfect for our family of four. Our kids loved being able to walk out the door into a park and to stroll down to the beach. We've always dreamed of staying on Toronto Island and our stay at Kathryn's place made that a reality. I'd highly recommend her and her wonderful spot on Ward's Island for anyone looking to enjoy this special part of Toronto.
Dawna
2016-09-06T00:00:00Z
This truly was a little piece of paradise. Beautifully situated on the island and convenient to reach, it was much more accessible than we had imagined. We also hadn't imagined how much extra room there would be with the loft bed. The pictures didn't do it justice. Plus Kathryn was the warmest and most generous of hosts. It was my first time staying at an Air B&B and she has set quite the precedent. She was kind and extremely responsive throughout! We felt honoured that she so graciously shared her paradise pad! Thanks Kathryn for helping to make our summer a fantastic one!
Marsha
2016-07-23T00:00:00Z
Kathryn's place is exactly as described. It is a cozy cottage, close to the Wards Island ferry. Kathryn was very helpful in giving us tips before our trip, and although we visited in the off-season, the Islands were a beautiful place to spend a long weekend.
Elizabeth
2017-02-20T00:00:00Z
Tipo de habitación
Casa/apto. entero
---
Tipo de propiedad
Cabaña
---
Capacidad
4
---
Dormitorios
Toronto, Ontario, Canadá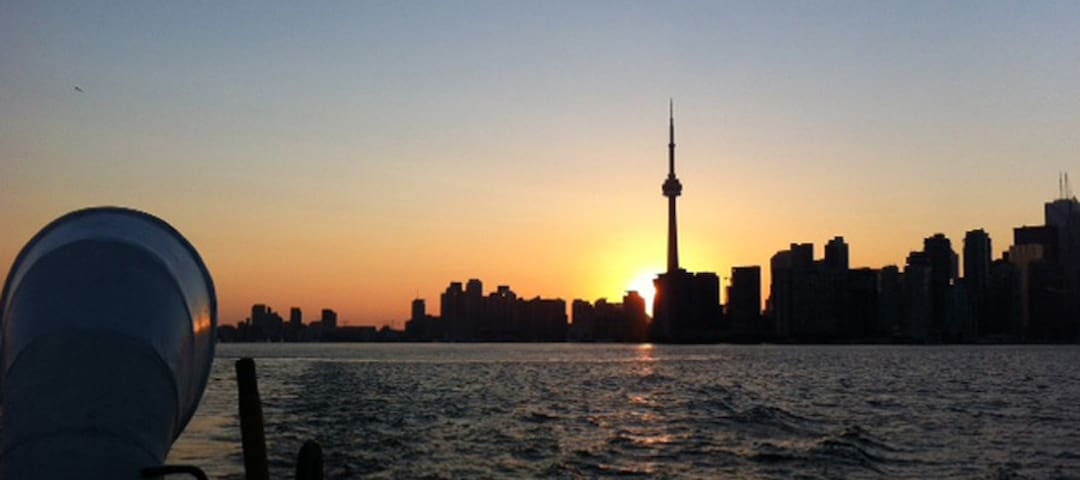 Quiet and cozy ,our hobbit house boasts wood burning stove ,tons of light ,secret garden with BBQ, golden pine and no parallel lines . Close to Bathurst subway ,Kensington market china town,little Italy and u of T on famous mural filled croft street.
Wacky Wooden cottage nearly100 years old Very quiet ,has a lovely vibe and lots of light Comfy beds ,delightful nooks and crannies loft space , Truly unique
Wonderful restaurants and little parks, Fabulousness eclectic market full of Fruit and veg shops and fish and meat and vegan joints and music spots and health food shops and drum stores and coffee shops China town and the art gallery and little Italy and kite flying ,tobogganing tennis playing skating trinity bellewoods park Little otaku and the royal cinema Honest eds and the bloor cinema book stores and ice cream and the jcc Churches and synagogs and u of t and rob arts library Bixi bikes and zip cars Oh so much good
This experience was my best so far! Kaya was a great communicator, she even called me while she was having a personal day to make sure I was arriving safely. Everything about the house is gorgeous, exactly as described. There were other guests staying at the same time as me and they were very clean and respectful as well. I can't say enough nice things about Kaya. She is very personable and though I am leaving soon and have not met her yet, she is extremely sweet. Would stay again!
lindsay
2016-09-17T00:00:00Z
We drove from Washington, DC to Toronto over night. We were worried that getting to Toronto too early with our bags would be cumbersome. However, Kaya was easy to communicate with and accommodated us. We picked up our key easily and dropped off our luggage. It was a bit confusing since she was not there to point us in the right direction of our rooms and the layout of the apartment, however other guests showed us to our room. It was small and a bit cramped, but the nice little patio proved to be a plus, especially since the weather cooled down a bit. All in all, our stay was just a place to sleep and relax while we watched films at TIFF. It was in a great location near UT and even downtown (we went cheap and walked everywhere). There are a number of great restaurants and bars and easy to get to our parking lot in Kensington Market. We had a great stay at Kaya's; you can't really beat the price unless you want to go to a hostel. Shoutout to our Irish friends, we had a great time talking about cinema and more. Cheers.
Eric
2016-09-14T00:00:00Z
Kaya was the best host you can possibly imagine. We are glad that we had the chance to get to know her and highly recommend her house to the air bnb community. Her place is neat and cozy. The bathroom was clean and WiFi worked well. Even though our stay was spontaneous, Kaya was always accommodating and easy to communicate with. Thanks Kaya :-)
Carina
2016-10-08T00:00:00Z
My stay at kaya's home was pleasant! We stay in a little beautiful room on a great neighborhood with a back yard. This is perfect if you want to visit downtown Toronto !!
Léa
2014-07-03T00:00:00Z
Kaya is a wonderful host and gives useful advice on many things. I had a good 2-week stay in this cute warm place. The neighborhood is quiet, friendly, and safe. It's quite interesting that I also had great communication with other guests. Very nice experience, just embrace the liberal and friendly culture of this place!
Celia
2015-09-06T00:00:00Z
Dear Kaya, many thanks for everything. You have been a great host. Will definitely stay at your place again should i be back in Toronto. Keep Care Patrick
Patrick
2016-10-30T00:00:00Z
The reservation was canceled the day before arrival. This is an automated posting.
Charley
2014-12-19T00:00:00Z
My host made me feel very welcome. I felt that I made a new friend.
Anita
2016-10-12T00:00:00Z
Tipo de habitación
Habitación privada
---
Tipo de propiedad
Cabaña
---
Capacidad
2
---
Dormitorios
Toronto, Ontario, Canadá
Pickering - Airbnb
:
Una media de

4.71

estrellas de un total de

5

de

259

evaluaciones de huéspedes