En la suite de chill-out, es posible vivir con hasta cuatro personas. Es espacioso, en la zona de dormitorio (con cama doble) y sala de estar (sofá cama) dividido. La suite está equipada con Internet, TV, nevera, hervidor y cafetera.
Para sentirse bien en este soleadas habitaciones ideales para familias, en un ambiente agradable con un montón de espacio.
Aparte de nuestra hermosa Abensberg con su casco romántica en medio de Hallertau lúpulo, donde se elabora cerveza de trigo. Cuando el Kuchelbauerturm de fama mundial es una casa de cervecería y el arte, la hermosa Altmühltal con sus hermosas en bicicleta y rutas de senderismo a pocos kilómetros de distancia. También Kelheim es un envío del Danubio a Weltenburg (con un precioso jardín de la cerveza) un punto culminante que no debe perderse. La histórica ciudad de Ratisbona y romántica ciudad y sus calles sueño donde tirar los populares pubs, bares, restaurantes y la iglesia, tan sólo 30 kilómetros de distancia.
Hemos pasado un fin de semana buenísimo en Abensberg. La chill-out suite es muy cómoda, tiene un living privado al que se accede desde el dormitorio y es como se ve en las fotos. Ingrid es muy simpática y generosa, siempre dispuesta a ayudar. La estadía incluye el desayuno y fue muy flexible con los horarios.
Gisela
2015-09-26T00:00:00Z
Die Gastgeberin ist sehr sehr nett. Die Wohnung ist sehr sauber und gemütlich. Ich bin sehr zufrieden!
Hua
2016-12-18T00:00:00Z
Beste Ingrid en André, reuze bedankt voor een aangenaam verblijf! De kamers waren heel netjes, comfortabel en schoon. Ingrid, je was een fijne host! Erg gastvrij en je gaf ons veel informatie. Ons doel was Regensburg bezoeken - wat heel goed te doen was vanuit Abensberg - en de tentoonstelling van Hundertwasser was een aangename verrassing! Onze hond heeft ook genoten van de wandelingen die je makkelijk direct achter jullie huis kunt maken. Van harte welkom wanneer jullie in Utrecht willen verblijven.
Barbara
2016-08-02T00:00:00Z
Die 3 Mädels aus Dänemark waren begeistert ! Alles ist im Top Zustand und sehr gemütlich . Ingrid hat die Mädels sehr herzlich begrüßt. Obwohl die Mädels kaum deutsch sprechen ,war das kein Hindernis da Ingrid auch englisch spricht . Abensberg ist eine schöne und gemütliche kleine Stadt . Von Hundertwasser waren die Mädels besonders angetan. einen lieben Gruß von ....Camilla , Sarah und Maja mit den Worten : Tusind tak for et dejligt ophold ☺
dorte
2016-07-29T00:00:00Z
En dejlig oplevelse med en behagelig familie. Dejlige værelser og badeværelse. Super service og meget hjælpsom. Det er dog en stor fordel, hvis man er glade for hunde. Der er rent, men de fylder meget i huset.
Lars
2016-07-26T00:00:00Z
不錯哦
Harrison
2017-01-15T00:00:00Z
Nette Menschen und alles wunderbar
Achim
2017-03-07T00:00:00Z
Super Zimmer, sehr nette/offene Gastgeberin!! Dieses Zimmer hat Alles was das Herz begehrt, ich kann Ingrid und ihr Heim nur weiterempfehlen!! Wenn ihr hundelieb seid (so wie ich) MÜSST ihr allein nur deshalb zu ihr :P
Andi
2017-02-18T00:00:00Z
Tipo de habitación
Habitación privada
---
Tipo de propiedad
Bed & Breakfast
---
Capacidad
4
---
Dormitorios
Abensberg, Bayern, Alemania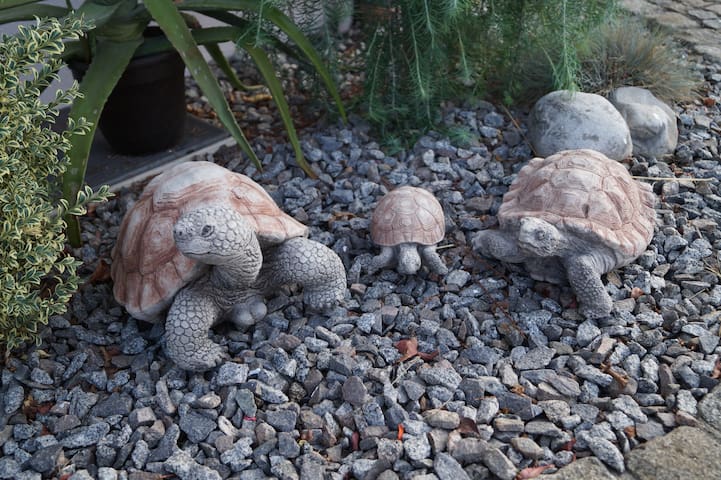 Tipo de habitación
Casa/apto. entero
---
Tipo de propiedad
Bed & Breakfast
---
Capacidad
2
---
Dormitorios
Passau, BY, Alemania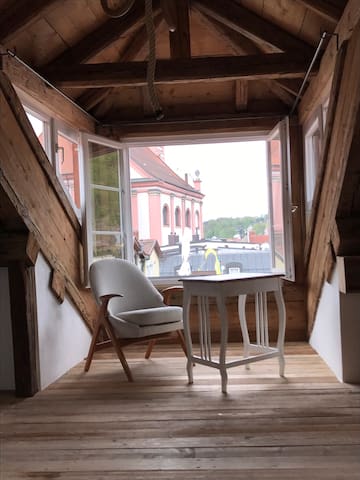 En una acogedora habitación (para 1 o 2 personas) con yeso de arcilla, suelo de madera y un techo abierto para olvidar el estrés y la vida cotidiana. El centro sin tener que renunciar a la exclusividad en la naturaleza. experimentar la agricultura ecológica de primera mano. Un desayuno completo con productos orgánicos en su mayoría propios está incluido en el precio.
Bonita habitación con baño privado en una granja Rottal landmarked renovado con yeso de arcilla y materiales de construcción antiguos. Gran cuarto de baño con bidé. Ducha en Tadelaktausführung, suelos de arcilla y yeso en el baño. Para los individuos y las parejas granja orgánica activo con antiguas razas de animales domésticos, cerdos en rango libre, ganado Aubrac, pollos sulmtaler. La carne orgánica de nuestros propios animales, vegetales orgánicos y ensalada del jardín de la cabaña, fruta orgánica a partir de sus propios árboles y arbustos. Situado en medio de la naturaleza, rodeada de campos en un hermoso paisaje montañoso. rico desayuno con productos orgánicos propios. barbacoa por la noche en el patio o con los vecinos en el marco del Hoflinde una copa de vino. Las posibilidades de una visita al spa en Bad Birnbach (12 km). El más grande de golf en Europa en Bad Grießbach está a sólo 15 km, a unos 40 km de Passau, Salzburgo 100 km, distancia Múnich de 150 km. Todo dentro de un día de viaje.
Staying with Anton and Gudrun was one memorable experience. The house is 300 years old, in a charming Bavarian countryside, and has so much style and atmosphere it is hard to put into words. Anton greeted us despite us arriving at almost 11 pm. Next morning the breakfast was to die for - we were served fresh farm eggs and bacon made at a local monastery from meat grown at the hosts' farm. We absolutely wish we could stay longer and would recommend our hosts to anyone who ever travels in the area. Many, many thanks !!!
Olga
2015-07-08T00:00:00Z
What an absolutely fantastic stay. Anton and Gudrun were very accommodating, provided a delicious breakfast and have an amazing house. Despite a thick layer of snow outside, the traditional farmhouse was warm throughout and in the morning we took the dog on a walk in the nearby woods and then met their various farm animals. Our night in Bavaria was only supposed to be a stop off on our drive back to the UK, but turned into one of the highlights of the holiday.
Tom
2015-01-02T00:00:00Z
Wir haben uns sehr Wohl bei Anton und Gudrun gefühlt. Wir haben dort Silvester verbracht und sogar ein wenig zusammen im familiären Rahmen das neue Jahr begangen . Die ganze Familie war sehr höflich, herzlich und nett. Alles war sehr sauber. Einchecken, Organisation und Kommunikation waren hervorragend. Das Zimmer und das Bad waren sehr gemütlich und komfortabel. Die Gastgeber waren sehr freundlich und umsichtig. Das Frühstück war hervorragend und vielseitig mit guten Biozutaten, teilweise vom hauseigenen Hof und ist sehr zu empfehlen. Unserem Hund würde sogar Reis gekocht. Wir bekamen hilfreiche Tipps für Ausflüge und Unternehmungen inklusive Karten, Flyern und Prospekten und eine Taschenlampe für eine Nachtwanderung. Uns fehlte es an nichts. Wir kommen gerne wieder.
Susanne
2017-01-02T00:00:00Z
Superschön gemacht und ausgesprochen freundliche und zuvorkommende Gastgeber! Hätte kaum besser sein können.
Alex
2016-07-04T00:00:00Z
Wir haben einen viertägigen Kurzurlaub auf dem Hausberghof verbracht. Die Unterkunft ist sehr schön und rustikal gestaltet. Besonders hervorheben möchten wir die große offene Dusche. Gudrun und Anton sind sehr aufmerksame Gastgeber und haben uns bei einer Hof-Führung Wissenwertes zu den einzelnen, teilweise seltenen Nutztier-Rassen mitgeteilt. Das Frühstück war immer sehr reichhaltig. Besonders gut haben uns die hauseigenen Produkte (z.B. Leberwurst, Speck vom Turopolje-Schwein) geschmeckt. Die Gespräche mit Gudrun und Anton über den Bio-Hof, Kunst und Musik waren sehr interessant und inspirierend. Wir empfehlen diese Unterkunft uneingeschränkt weiter.
Tino
2015-10-15T00:00:00Z
Wir wurden auf das Herzlichste empfangen - "unser" Zimmer, das ganze Haus, insbesondere der Raum auch, in dem wir frühstückten (liebevoll und reich an verschiedenen Köstlichkeien!) erfüllten alle erhofften Wünsche. Ein gemeinsamer Spaziergang zu den gehaltenen Tieren war, da sie nicht konventionell im Stall gehalten werden, sehr interessant. Der faire Umgang mit ihnen erklärt dann auch den guten Geschmack der Produkte. Wir waren nicht nur von der schönen Umgebung, sondern von diesem Konzept begeistert. Eine tolle Adresse zum Erholen und zum Nachdenken anregend, welche alternativen Wege man beim Fleischeinkauf gehen kann.
Petra
2014-08-27T00:00:00Z
Nous avons passé un séjour agréable à la ferme bio. Nous avons fait connaissance avec les hôtes mais aussi les cochons, les vaches, les chiens et la basse cour. Anton et Gudrun nous ont préparé, à notre demande, un repas le soir de notre arrivée bien que cela n'était pas prévu, merci! Gudrun est une vraie artiste qui propose des cours de piano et a décoré la maison avec goût (elle peint également). Tout est propice à déconnecter de la vie en ville.
Ln
2014-08-06T00:00:00Z
The host canceled this reservation 40 days before arrival. This is an automated posting.
Luc
2015-06-16T00:00:00Z
Tipo de habitación
Habitación privada
---
Tipo de propiedad
Bed & Breakfast
---
Capacidad
2
---
Dormitorios
Egglham, Baviera, Alemania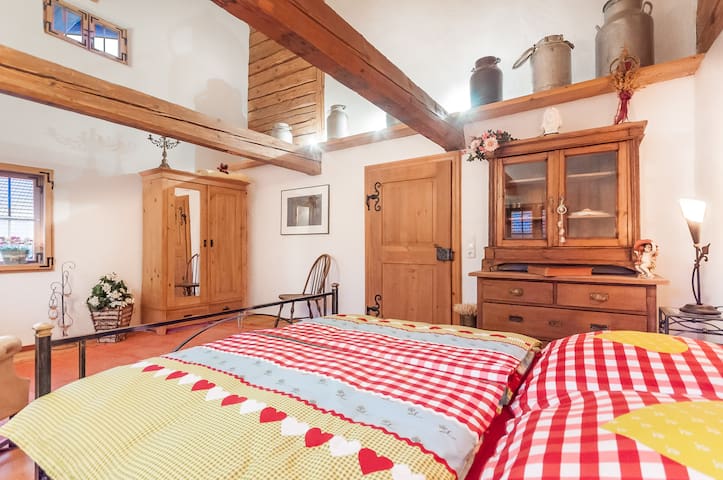 ruhe lage im bayer. wald - 1000 quadratmeter garten - terrasse - frühstück auf wunsch - fahrradverleih - badeseen - skigebiet, Wandern..
Mein Einfamilienhaus liegt am WALDRAND, 5 Minuten zum Bahnhof Hohenwarth ( nicht Campingplatz aussteigen). Es ist eine ruhige Wohngegend mit 1000 qm Garten. Direkte Sportplatznähe!
Ruhige Wohngegend
Katharina ist sehr Nett und bei ihr zu Wohnen war absolut Problemlos, wir durften alles mitbenutzen und kommen und gehen wie wir wollten.
Komang
2016-08-01T00:00:00Z
Katharina is the perfect host. The communication before and during my stay worked perfectly. Katharinas house is located in a nice little Bavarian village and you can start hiking tours through the Bavarian forest right from the house. As a local Katharina knows the area very well and she can give you a lot of tips. Theres a coffee machine in the room and some coffee pads as well. The wifi worked fast and without interruption. I highly recommend Katharina as a host.
Ferdinand
2016-06-09T00:00:00Z
Schönes Zimmer mit einem Doppelbett und hoher Holzdecke im ruhigen Hohenwarth. Freundliche Gastgeberin mit tollem Frühstück.
Christian
2016-01-13T00:00:00Z
Katharina is a very warm and generous host I was made very welcome in her home and shared an afternoon snack and drinks soon after arriving My room was spacious and comfortable and the house is large and well equiped Recommended
Rob
2016-09-16T00:00:00Z
Sehr nette Gastgeberin und schöne Unterkunft. Wir kommen gerne wieder :-)
Stefan
2016-08-14T00:00:00Z
Katharina war sofort da, um ich ankommen zu lassen. Sie hat genau das Gespür, wenn es einem zu weng und zu viel ist in Sachen Kommunikation. Sie hat aber stets einen ipp parat, ist unglaublich freundlich und sorgt für nette Überraschungen, wie eiskaltes Wasser für einen raderschöpftem Körper oder knallrote, leider leicht säeuerliche Äpfel ihres über 100 Jahre altem Baumbestand. Lohnt sich auf alle Fälle hierher zu kommen, wenn man den bayerischen Wald in seiner Urtümlichkeit genießen möchte, aber vorsicht: wenn es dumm läuft, gibt es abends nur noch Wurst- und Käsebrote im Ort.
Frank
2016-08-20T00:00:00Z
Wir haben uns in der familiären Atmosphäre sehr wohlgefühlt. Katharina ist sehr nett und hilfsbereit. Die Zimmer bieten alles was man braucht, schönes und sauberes Bad , sogar mit Wanne.
Rouven Rameshwar
2017-03-05T00:00:00Z
Sehr nette Gastgeberin, die uns freundlich in Ihrem Heim willkommen geheißen hat.
Eileen
2016-08-20T00:00:00Z
Tipo de habitación
Habitación privada
---
Tipo de propiedad
Bed & Breakfast
---
Capacidad
5
---
Dormitorios
93480 Hohenwarth, Bayern, Alemania
luminosa habitación preciosa con dos camas individuales, una mesa y una silla y televisión. Una gran ventana en el sur. Una vista relajante por la mañana en el jardín idílico.
Hay dos camas individuales, 1 mesa y 1 silla en la habitación. Está equipado con acceso a Internet y televisión.
Abensberg es una pequeña ciudad maravillosamente vibrante, con su casco histórico. Nuestro punto de mira Herzogkasten, Kuchelbauerturm, las paredes de la ciudad con el arte millas, sólo para nombrar unos pocos. La ciudad de Kelheim es de sólo 15 km. Un Danubio, con magníficos puntos de vista y Donaudurchbruch, el término Weltenburg es siempre vale la pena una visita! La deliciosa cerveza oscura en el jardín de la cerveza monasterio es el punto culminante para muchos visitantes. Experimentar el tren de Ratisbona y una visita guiada por el precioso casco antiguo, con su catedral y Schloss Thurn und Taxis. En coche se encuentran en 30 minutos en Regensburg. Los carriles bici a lo largo del Danubio hasta el Bosque de Baviera son sólo un tiro de piedra de nosotros.
Ich wurde wärmstens Empfangen von Ingrid und hatte einen sehr schönen Aufenthalt in den 2 Wochen. Die Zimmer sind Top und das Bad ist sehr schön eingerichtet. Falls mich jemand fragen würde, wo man in Abensberg Wohnen kann, würde ich die Ingrid empfehlen :) Danke nochmal und liebe Grüße
René
2017-02-25T00:00:00Z
Danke für die schöne Unterkunft!!! Genau wie in der Beschreibung war das Zimmer. Super schön & super sauber. Der Empfang sehr nett und unkompliziert. Ich würde gern wiederkommen
Burkhard
2016-02-17T00:00:00Z
Ingrids herzliche und freundliche Art sorgt dafür, dass man sich sofort bei ihr wohl und wie zuhause fühlt. Sie ist sehr hilfsbereit und sehr fürsorglich. Die beiden Hunde sind genauso lieb und freundlich. Das Zimmer entsprach genau meinen Vorstellungen und das große Bad hat meine Erwartungen sogar positiv übertroffen. Ich habe absolut nichts zu beanstanden und kann diese ruhig-gelegene Unterkunft nur wärmstens empfehlen.
Arne
2016-04-08T00:00:00Z
Was een hartelijk welkom sympathieke bijzondere vrouw. Goed geslapen in een schone kamer met zicht op n gezellige tuin. Zeker de moeite waard om te bezoeken is het Kunsthaus en toren van de kunstenaar Hundertwasser. Je verkeerd even in n sprookjesachtige wereld en er is veel te zien. T is tevens n bijzondere start van de vakantie. Kortom overnacht in Abensberg bij Ingrid. Jan Olav en Yvonne
Jan Olav
2016-07-13T00:00:00Z
Dies war der erste Aufenthalt über Airbnb und wir wurden positiv überrascht ; phantastische Gastgeber; Zimmer spitzenmäßig; super Bad; superleckeres Frühstück! Wir können Ingrid als sehr nette Gastgeberin und ihre Zimmer jederzeit weiterempfehlen!!!
Anette
2016-05-19T00:00:00Z
Ingrid was very kind and welcoming. She has a beautiful house. The room was spacious and clean. Abensberg is also a beautiful and charming little town. I recommand you Ingrid.
Elton
2016-07-13T00:00:00Z
Unfortunately Ingrid was away while we stayed at her place; would have liked to meet her. However, she arranged for her daughter to get us situated, and was very helpful answering questions before we arrived. We arrived later than expected due to a delay in our flight, but we were able to communicate with her via the Airbnb app on our phones to make adjustments. The home itself it nicely situated on the outskirts of Abensberg, which is a very nice small town. Walking into town was an easy 15 - 20 walk. This stay was an excellent stopover for us on our way to Karlovy Vary (Carlsbad), only 70 minutes from the Munich airport and gave us a chance to get oriented in a comfortable environment.
James
2016-09-10T00:00:00Z
Ingrid ist eine sehr herzliche und hilfsbereite Gastgeberin - mein Mann hat sich bei ihr sehr wohl gefühlt ! Alles war super sauber und schön (URL HIDDEN) könnte gar nicht besser sein. Tolles Frühstück und zentral gelegen im schönen Abensberg.....wirklich jederzeit wärmstens zu empfehlen !!! Vielen lieben Dank an Ingrid !!!
Astrid
2016-11-28T00:00:00Z
Tipo de habitación
Habitación privada
---
Tipo de propiedad
Bed & Breakfast
---
Capacidad
2
---
Dormitorios
Abensberg, Bayern, Alemania
Unsere Wohnung liegt in Ergolding, 5 Gehminuten von 2 möglichen Stadtbussen entfernt. Wir wohnen in einer ruhigen Nachbarschaft mit einem italienischen Lokal 5 Gehminuten entfernt.
Das Zimmer das wir zur Verfügung stellen können ist ca 15 m2 gross. Auf der ausziehbaren Couch können 2 Personen gut schlafen. Wir haben einen kleinen Sohn der im Juni 2 Monate sein wird. Darauf sollte man sich einstellen. Ohrstöpsel stellen wir zur Verfügung :-) Frühstück, Kaffee und Tee sind im Preis inbegriffen.
Tipo de habitación
Habitación privada
---
Tipo de propiedad
Bed & Breakfast
---
Capacidad
2
---
Dormitorios
Ergolding, Bayern, Alemania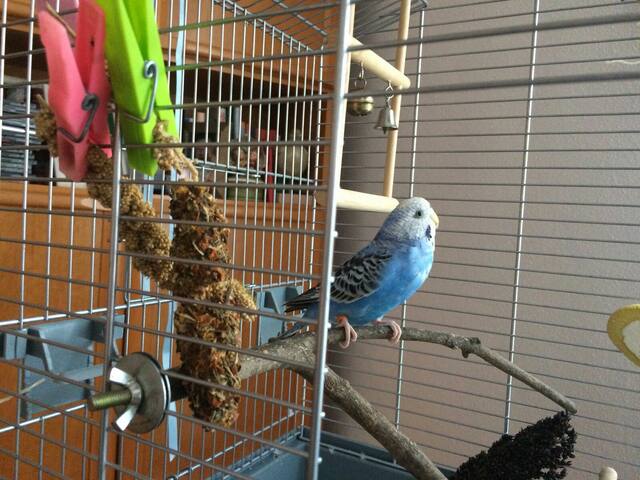 La característica especial de nuestra cama y desayuno es la zona bonita, que es un excelente punto de partida para muchas opciones activas en cada estación del año. Ideal para familias o amigos que deseen explorar conjuntamente el Bosque de Baviera
La característica especial de nuestra cama y desayuno es la belleza excepcional ubicación. Este es un excelente punto de partida para muchas opciones activas en cada estación del año. Ideal para familias o amigos que se reúnen para descubrir las peculiaridades del Bosque de Baviera y la experiencia.
La casa está rodeada por el parque natural del Bosque de Baviera, en las afueras del Parque Nacional Bosque de Baviera.
We stayed at Haus am Waldesrand for only one night as a stopover. We arrived late in the evening but this was not a problem at all. We felt very welcome, after a long ride there even were some cold beers to enjoy. The house is located in a beautiful area, completely quiet. The house itself has all the necessary facilities and good beds, don't expect luxury but given the scenery, not needed anyway. Very nice breakfast in the morning, with plenty of choice and again the owners are very welcoming and accommodating. Overall, I would sincerely recommend staying here for a stopover or if you want to enjoy the rustique life.
Nanne
2015-08-11T00:00:00Z
We werden hartelijk ontvangen met fris en bier. De foto geeft een goede indruk van de locatie in de werkelijk prachtige omgeving. Prima slaapgelegenheid in een erg mooi huis (het rechter huis op de foto). De volgende morgen een heerlijk ontbijt in de gezellige eetkamer. De kinderen wilden meteen voor volgend jaar hier hun vakantiebestemming van maken. Warm aanbevolen!
Jacques
2015-08-17T00:00:00Z
Monika and her husband Carsten were amazing hosts - from when we arrived (with beer on arrival) till the day we left (walk through the forest), everything was incredible. By far our best Airbnb stay so far!
Arnav
2016-06-20T00:00:00Z
Haus Am Waldesrand ligt in net buiten het kleine dorpje Schweinhuet tussen Regen en Zwiesel. Je bereikt het via een onverharde weg. Vanaf het terras heb je een prachtig uitzicht. Tijdens ons verblijf hadden we de hele woning gehuurd (wordt normaliter per 2 persoons kamer verhuurd). Monika is erg veelzijdig. Naast architect en kunstenares is ze een hele goede gastvrouw. Ze zorgde elke ochtend voor een heerlijk, uitgebreid ontbijt, en gaf informatie over uitstapjes en bezienswaardigheden. Ook nam ze ons mee voor een boswandeling om paddestoelen te zoeken (en deze klaar te maken op de houtkachel). In de bakoven buiten maakten Monika en Karsten heerlijke flammkuchen voor ons klaar en trakteerden ons op schweinebraten met knoedel en zuurkool. Heerlijk. We hebben een geweldige week gehad. Dit adres is perfect voor mensen die voor rust en/of natuur en/of sportieve activiteiten naar het Beierse Woud gaan.
Evalien
2016-08-15T00:00:00Z
Liebe Monika, lieber Karsten. Für mich seid ihr Botschafter der Wärme und der Menschlichkeit. Menschen wie ihr bereichern unsere Welt. Ein ganz großes Dankeschön. Ich komme sehr gerne wieder und eine Empfehlung für euch ist mir eine große Freude. Kommunikation, Wegbeschreibung etc. waren einfach unbeschreiblich gut!!! Liebe Grüße Volker
Volker
2017-03-22T00:00:00Z
I stayed at Anna's for 5 nights and I only have wonderful things to say about the hospitality I received. Anna's daughter (Monika) and her husband (Carsten) were wonderful from start to finish. I had arrived after a missed train and Monika picked me from the station. I had experienced a loss in my family at the time and couldn't go home, Monika and Carsten went above and beyond on making me feel at home and relaxed. Above all, the beautiful and idyllic cottage felt warm and was clean throughout. Oh and the Breakfast was a treat!! This place is a must and I will surely be returning! I only wish I could have stayed longer!! There's more I could say about this lovely charming place and its owners but I'll leave you find out for yourself :)
Wini
2016-07-13T00:00:00Z
Unsere erste Airbnb-Buchung und ein Toptreffer :-) So herzlich und offen - vielen Dank für die wunderschönen Tage bei Euch!
Julia
2017-02-28T00:00:00Z
Sehr schön gelegene Unterkunft - super-klasse Frühstück und ein herzlichen Empfang haben die Zeit im Bayerischen Wald zu ein paar sehr erholsamen Tagen werden lassen.
Christian
2017-01-21T00:00:00Z
Tipo de habitación
Casa/apto. entero
---
Tipo de propiedad
Bed & Breakfast
---
Capacidad
8
---
Dormitorios
Regen, Bayern, Alemania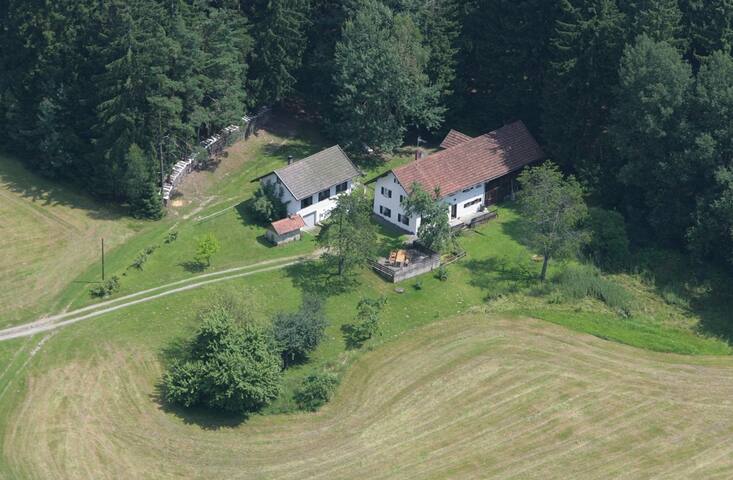 Unsere Unterkunft ist besonders geeignet zur Kurzzeit-Miete, als Übergangslösung, oder um gut für einen Neustart in Regensburg anzukommen. Herzlich Willkommen!
Dear Regensburg-visiters, our house is abut 20 minutes walk and 10 minutes by bike from the historic center of Regensburg. The busstop is very close. We live close to the Regen River, wich has very good water quality. In the summer you can swim there and enjoy different locations by the riverside. There is even a little romantic sandy beach nearby. Our house is about 200 jears old, so not everything is new or perfect, but it is very quiet and cosy. There is a nice garden with shady and sunny places, where you can relax after your excursions. You also find a ping-pong table, a wendy house and a little paddling-pool for the summertime. The Reinhausen district is quiet and placid and it is characterized by the Regen River. Around the corner there is a traditional inn with a beer garden in the shadow of chestnut trees. Shopping can be easily done within the district. In our house we offer you nice wine, olive oil, herbes and other food at cost price. Enjoy a wonderful time in Regensburg, we are looking forward to your visit, Margrit and Georg
Margrit and her family are very welcoming and they make you feel as if you were at home. The house is amazing and I really had an awesome time staying there. It was also a pleasure being able to listen different members of the family playing different instruments.
Aida
2015-08-31T00:00:00Z
Margrit und ihre Familie sind sehr sehr nette Leute. Sie sind offenherzig, lustig und tolerant, ich habe mich sehr wohl gefühlt. Man wird nicht aufgenommen wie ein Gast, sondern wie ein alter Freund eine unglaublich tolle Eigenschaft der Familie, die sie sich auf alle Fälle bewahren soll. Danke für die angenehme Zeit.
Julia
2014-08-30T00:00:00Z
It was a real pleasure for us to stay in this house. It was home from home. The owners were away on vacation but a very nice Hungarian girl looked after us and didn't mind when I took over the kitche(URL HIDDEN)would definitely recommend this house to anyone looking for a relaxed atmosphere in a beautiful German town.
Tonia
2013-08-18T00:00:00Z
I stayed a whole month at Margrit's and Georg's place and I would definitely do it again. Go there! Enjoy the wonderful garden (hammock under the cherry tree, couch under the great apple tree!), the beautiful room with the very comfy bed with star view, the walks or bicycle rides along the very close river, the short distance to the center of the old town of Regensburg (20minutes walk, 10minutes by bike, bus just a few steps away) and last but not least: the very friendly, amicable, open, homy and helpful atmosphere. Margrit and Georg are amazing hosts, great cooks and bakers, always open for a chat or one of their many funny board games (However, be prepared not to win too often, they are really good! ;-)) and very interested and interesting conversation partners on everything that moves the world. THANK YOU VERY MUCH!
Melanie
2014-08-01T00:00:00Z
Margrit und Georg sind zwei ganz liebe und offene Menschen. Es war eine tolle Erfahrung bei ihnen zu wohnen und hat mich auch persönlich weitergebracht. Die Atmosphäre war entspannt und einfach richtig schön. Georgs Kochkünste sind einfach famos, er zaubert binnen Minuten ein tolles Essen für das ganze Haus. Besonders auch seine Kuchen werde ich vermissen. Zum Glück wohne ich nun nicht weit entfernt und werde sicherlich den ein oder anderen Besuch abstatten. Ich kann es jedem uneingeschränkt empfehlen ein Zimmer bei den beiden zu buchen.
Dominik
2016-02-06T00:00:00Z
Everthing was excellent.Thank you Margrit,George and Tim
ozgul
2016-04-02T00:00:00Z
I had really great time in Regensburg. The accommodation were super. The house is few minutes from the centre, cosy room, and the family is absolutely wonderful. I met with really nice, funny people. Hope to see them again. I just can recommended to everyone. Thanks for everything.
Beata
2013-06-29T00:00:00Z
Here's a real very wonderful and unforgettable experience. Thanks the host Margrit ,Georg and their son Tim provide us like the comforts of home. I and my son yao-wen like living here very much. In addition to the quiet and beautiful place outside,there are also beautiful flute and violin music can listen. Very recommend this house.
秀榕
2015-12-18T00:00:00Z
Tipo de habitación
Habitación privada
---
Tipo de propiedad
Bed & Breakfast
---
Capacidad
4
---
Dormitorios
Ratisbona, Baviera, Alemania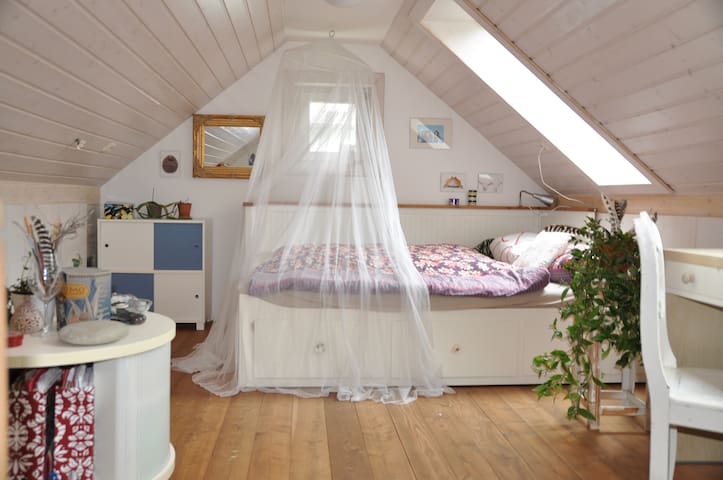 Small but very comfortable,quiet room in private appartment.Private bathroom next to the (URL HIDDEN),toilet,shower. TV,tape and CD player in the room. The room is ideal for a single Person. In the kitchen everything can be used to make yourself a snack or coffee(Microvave,Stove,waterboiler..) For your notice- there are 2 dogs living in the appartment as well.If you are allergic,you shouldn`t book in.You also may bring your own dog along.(5,00€/day) W-Lan is available when you bring your own laptop. Booking can be made for 1 to 5 nights.For longer stays we will offer a spcial (URL HIDDEN) case you would like to book in for a whole month,the price will be 385,00€ and is only available for 1 person. Landshut city is a 5min drive away.Bus stop is 50m away.There you will find lots of pubs,restaurants,shops and interesting culture spots. Munich,as well as Regensburg are a 45min drive away.Public transport is also available. Munich airport you will reach in about 30min. Pick up service can be arranged.(20,00€) Mail me for more information and availability! We are looking forward to hearing from you!
Unsere Nachbarschaft ist sehr ruhig. Die Nähe zur Natur lädt ein zu Spaziergängen oder Joggen.
Das Zimmer bei Annette ist sehr gemütlich und der Zugang zum eigenen Bad sehr angenehm. Ich konnte die Küche gut nutzen und wurde herzlich empfangen. Ich kann das Zimmer und Annette als Vermieterin nur weiterempfehlen.
Ute
2016-12-13T00:00:00Z
Annette was excellent host, accommodating and helpful. And dogs are just adorable, cuddly and smart. We loved our stay, big and clean apartment, nice little room and wonderful Landshut - beautiful old Bavarian town. Thanks a lot Annette!
Dean
2012-10-07T00:00:00Z
Ich habe den Aufenthalt sehr genossen. Das Zimmer ist zwar klein, aber super gemütlich, sehr schön geschnitten, liebevoll eingerichtet und das eigene Bad echter Luxus. Insgesamt war es ein sehr nettes Miteinander. Auch die 2 total lieben Hunde habe ich ins Herz geschlossen - jedes Mal ein einzigartiges Herzlich Willkommen an der Tür :) spätestens dann ist jeder Alltagsstress weg. Nur zu empfehlen!
Steffi
2016-07-03T00:00:00Z
Mit viel Liebe eingerichtet Wohnung und die beiden Tölen ;) liebten mich vom ersten Tag an. Annette ist eine gute Gastgeberin, die auch schnell mal Platz räumt und einen hilft sich hier zurecht zu finden.
Kai
2013-02-01T00:00:00Z
Hallo, ich durfte vom 01.05.-31.05.2013 bei Annette wohnen. Diese Zeit bei ihr war super schön und gemütlich. Mit ihr leben dort auch zwei superliebe Hunde, Julie und Mister Pepper, von mir auch gern "Dr. Pepper" genannt. Die Wohnung von Annette ist sehr sauber und sehr liebevoll eingerichtet! Annette ist eine sehr zuvorkommende und liebe Gastgeberin, mit der es Spass macht gemütliche Abende zu verbringen. Danke für alles, Liebe Grüsse Andy
Andy
2013-06-01T00:00:00Z
Klein aber fein. Stimmte zu 100%. Meine Tochter und ich waren total zufrieden. Mal was anderes wie Jugendherberge. Mit dem Wetter hatten wir absolutes Glück. Die Dachterrasse konnten wir so morgens zum Frühstück benutzen und abends zum Chillout bei Kerzenschein. Die gesamte Wohnung war wunderschön und liebevoll eingerichtet, ausgestattet mit vielen Accessoires und Details, die man so nicht in Worte fassen kann. Wir kommen gerne wieder, wenn wir wieder in der Nähe sind. Danke, Annette!!!
Günther
2013-08-05T00:00:00Z
Annette was wonderful. Her place is lovely and not far from Old Town Landshut. I walked, but there is a bus very close. Annette's friend Hulya was also fantastic. She picked me up from the station, which was above and beyond what I would have expected, then showed me around since Annette wasn't there my first night. Annette was kind, generous and warm. I really enjoyed staying there.
Halina
2016-09-20T00:00:00Z
Alles war sehr in Ordnung
thomas
2016-09-07T00:00:00Z
Tipo de habitación
Habitación privada
---
Tipo de propiedad
Bed & Breakfast
---
Capacidad
1
---
Dormitorios
Landshut, Baviera, Alemania
Aktueller Anlass: Wir vermieten hier KEINE FEWO sondern Gästezimmer. Die Küche ist auf derselben Etage (1. Stock) und steht allen Gästen zur Verfügung. FKK ist in den Gemeinschaftsbereichen VERBOTEN! Wir führen eine seriöse Pension. Das Zimmer (1. Stock) ist mit Balkon, SAT-TV, Kühlschrank, Bad/WC ausgestattet. Die Unterkunft ist in der Nähe von Nationalpark Bayerischer Wald, Parks, tolle Aussicht, Badeanstalt, Ortszentrum. Passau ist ca. 38km entfernt. Sprachen: Deutsch, Tagalog, Englisch
Die Ortsmitte mit Geschäften, Restaurants, Bars und Geldautomaten ist sehr gut zu Fuß zu erreichen. In unmittelbarer Nähe befindet sich der Skilift, Loipe und der Naturhochseilkletterpark mit dem 32m hohen Aussichtsturm. Das Einzelzimmer hat keinen Balkon. Alle Zimmer sind mit eigenem Kühlschrank u. LCD-TV ausgestattet. Ferner können Sie die Gemeinschaftsküche benutzen. So haben Sie die Möglichkeit kleine und große Speisen selbst zu kochen. Kalte und warme Getränke sowie kleine Speisen bekommen Sie auch bei uns im Haus gegen Bezahlung. Wäscherei Service gegen Gebühr. Gerne holen wir Sie kostenlos vom HBF Passau ab. Hol- und Bringservice zum Airport Munich für 100 Euro. Wir sprechen Deutsch, English und Tagalog. Wir freuen uns auf Ihren Besuch und stehen Ihnen während ihres Aufenthalts mit Rat und Tat zur Verfügung.
Ruhige Nachbarschaft
Tipo de habitación
Habitación privada
---
Tipo de propiedad
Bed & Breakfast
---
Capacidad
1
---
Dormitorios
Schönberg, Bayern, Alemania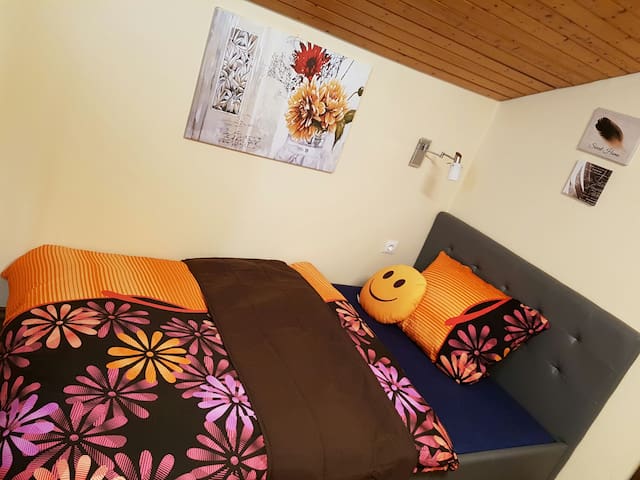 Das ist unser Haus mit großem Garten. Viele Blumen, Gemüsegarten, Trockensteinmauern und viel Sonne, da Südhanglage. Hinterm Haus beginnt der Wald, vor uns liegen offene Wiesen. Das Grundstück bietet viel Platz zum Spielen, Tischtennis, Kicker, eine große Scheune, Lagerfeuerplatz sind vorhanden.
Unser Haus liegt in Spiegelau, dem Tor zum Nationalpark Bayerischer Wald. Unsere Gäste erhalten einen Guti Fahrschein und können damit unsere "Igel-Busse" am Nationalpark sowie die Waldbahn kostenlos nutzen. Wir wohnen seit 28 Jahren im Bayerischen Wald und die endlosen Hügelketten haben uns nicht mehr losgelassen.
Unsere Nachbarn sind der Wald und die Wiesen und ein paar wenige Häuser, in denen nette menschliche Nachbarn wohnen.
Traumhaft... Ein herzlich-liebevoller Empfang, man wohnt gemütlich, die Landschaft ist der Knaller... Lecker Frühstück, tolle Gespräche...habe mich mehr als Freund gefühlt als ein Gast...herzlichen Dank, schade, dass es nur so kurz war
Katalin
2017-02-16T00:00:00Z
Tipo de habitación
Habitación privada
---
Tipo de propiedad
Bed & Breakfast
---
Capacidad
6
---
Dormitorios
Spiegelau, Bayern, Alemania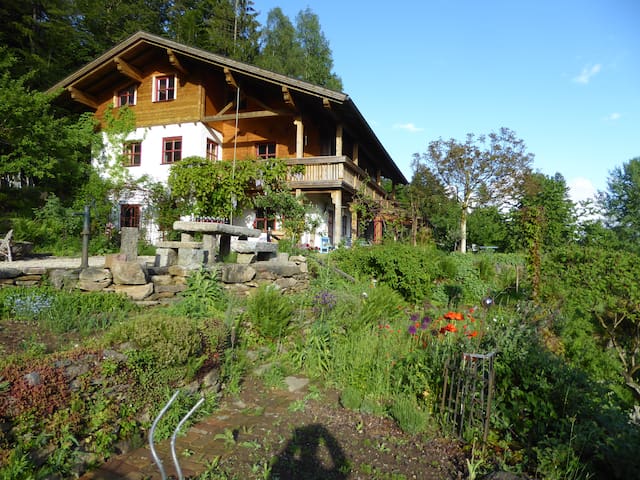 La no fumadores habitación individual tiene TV de alta definición, Wi-Fi, secador de pelo y radio despertador CD reloj. En nuestra casa, que ofrece especialidades de cocina regional, bien Crepería y harina de caballero medieval. La práctica de métodos de curación energéticos y el asesoramiento espiritual.
Nuestro hotel enérgica le ofrece la posibilidad de tratamientos para cuerpo, mente y alma. Además de las tres habitaciones privadas, una práctica de métodos de curación energéticos y el restaurante medieval con Crepería que todavía tienen una tienda de hogar donde se puede encontrar todo tipo de bella, enérgica y saludable.
Además de un montón de descanso del Parque Nacional del Bosque bávaro lleva a cabo numerosas excursiones en las inmediaciones para usted. Por ejemplo, visite camino más largo del mundo copas de los árboles, los recintos de los animales o de las fuentes sagradas y lugares místicos de los celtas. delicias gastronómicas y la cultura pueden estar en la ciudad más antigua del Bosque de Baviera, Grafenau (centro de salud reconocido y agradable ciudad en Alemania lt. Knigge 2013), la experiencia.
Bilder entsprechen der Realität. Wiederholungsfaktor 100% Gastgeber sehr freundlich.
DIRK
2015-07-26T00:00:00Z
Birgit war sehr nett und zuvorkommend. Frühstück war sehr gut. Der Aufenthalt hat mir gut gefallen (1 Nacht).
Dietmar
2015-09-23T00:00:00Z
Wonderful house, lovely owners, great surrounding (Bayerischer wald Tiergehege Lusen nearby!). I'll be back!
Hugh
2016-09-15T00:00:00Z
I had a great stay at Birgit's place. It was a great base to explore Bayerische Wald NP. The breakfast was also very nice. Definitely recommended.
Rudmer
2016-02-28T00:00:00Z
Tipo de habitación
Habitación privada
---
Tipo de propiedad
Bed & Breakfast
---
Capacidad
1
---
Dormitorios
Sankt Oswald-Riedlhütte, Bayern, Alemania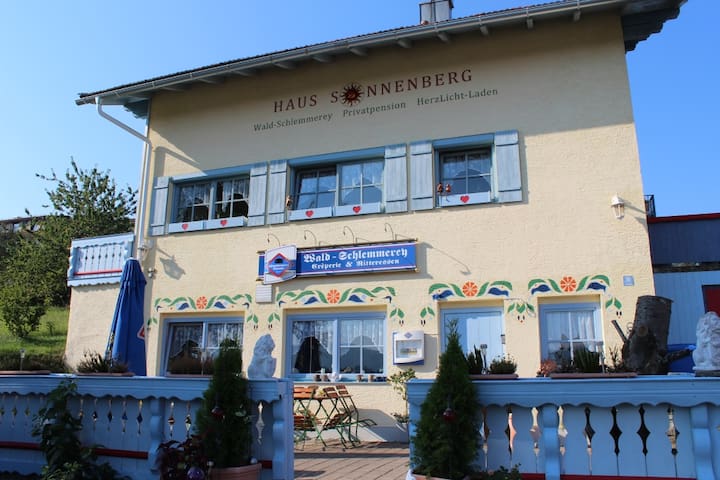 Ortrun´s home was nice and clean ,quite area . She offers breakfast but for 10 euro is a little too much money. She was nice to talk with .
Tracy
2016-07-08T00:00:00Z
Nach einer tollen Begrüssung konnten wir das Paradis, dem Wettergott sei Dank, in vollen Zügen geniessen. Nach dem erfrischenden Bad, gab es dann auch schon das voraus besprochene z'Nacht - wobei auch hier gesagt werden muss, die Erwartungen wurden mehr als nur erfüllt. Ortrun ist eine fantastische Köchin und Gastgeberin! Das Haus sehr originell, geräumig und gemütlich, gerne würde man da länger bleiben, doch leider sahen unsere Pläne etwas anderes vor. Nach einer erholsamen Nacht und einem erfrischenden Bad gab es dann noch ein feines Morgenessen bevor wir leider unsere "Zelte" im Paradies wieder abbrechen mussten. Rundherum empfehlenswert für alle die paradisische Zustände suchen und gerne gut bewirtet werden! Vielen Dank Ortrun - hoffentlich verschlägt es uns wieder mal in deine Gegend!!
Andi
2014-07-19T00:00:00Z
The reservation was canceled 7 days before arrival. This is an automated posting.
Mühle&Co
2015-01-17T00:00:00Z
Angekommen und sofort wie zu Hause gefühlt! Tatsächlich würde man solch einen schönen Platz mit großem Gartenteich zum Schwimmen nicht erwarten in einem Neubaugebiet eines Dorfes in Deutschland. Auf Niveau eines Meisters: Wenn Ortrud kocht! Sie macht leckere Vorschläge. Vielen Dank für alles!
Stefan
2014-05-24T00:00:00Z
Tipo de habitación
Habitación privada
---
Tipo de propiedad
Bed & Breakfast
---
Capacidad
5
---
Dormitorios
Niedertaufkirchen, Baviera, Alemania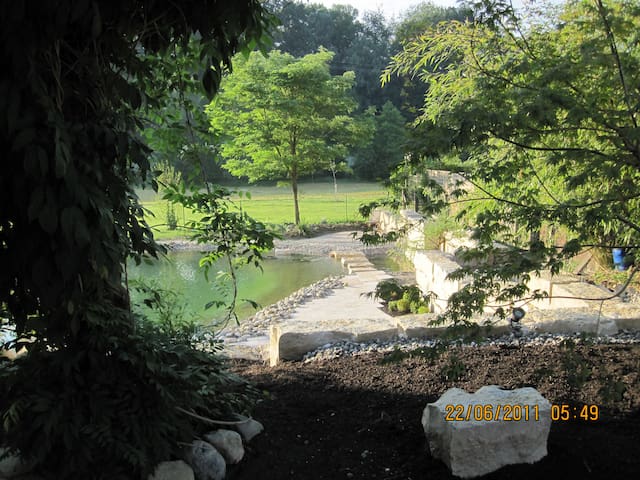 We welcome you to our opened in 2015, family-run guest house in Bad Abbach - directly opposite the Kaiser-Therme and just 10 minutes away from Regensburg. Ideal for cyclists, a city break or wellness tourists. > Price incl.
We welcome you to our opened in 2015, family-run guesthouse Turmblick in Bad Abbach. Our house is directly opposite the Kaiser-Therme with stunning view of the surroundings - and right on Jura Terminal and close to the Danube Cycle Path. The quiet location of our house offers an ideal starting point for your stay in Bad Abbach. In winter, the beautiful and romantic Christmas markets in our area are definitely worth a visit. Whether tourists or cyclists, a business traveler or a day guest, with us you are always welcome! Guests have free parking right at the house. For cyclists we offer a lockable bicycle storage room with E-bike charging ability.
The Kaiser Therme Bad Abbach is located directly opposite. Danube Bike Path and Jura climbing through Bad Abbach. After Regensburg is only 10 minutes by car. Kelheim with Donaudurchbruch, Befreiungshalle and Weltenburg and the Altmühltal can be reached in about 15 minutes.
Modernes, sehr sauberes Gästehaus in ruhiger Lage. Sehr freundliche Gastgeber und gutes Frühstück. Ich hatte einen angenehmen Aufenthalt.
Sebastian
2016-07-23T00:00:00Z
Very nice place, spacious room, all is new! Good breakfast
Martien Den
2016-03-08T00:00:00Z
Sehr nette Begrüßung, leckeres Frühstück und sehr zuvorkommend. Immer wieder gerne.
Christian
2016-03-11T00:00:00Z
Sandra Et Andrea se sont montrés très disponibles et aidants.
Anthony
2016-07-31T00:00:00Z
Gute Lage. Gutes Zimmer. Guter Style. Gutes Alles :-)
jens
2016-11-03T00:00:00Z
Tipo de habitación
Habitación privada
---
Tipo de propiedad
Bed & Breakfast
---
Capacidad
2
---
Dormitorios
Bad Abbach, Bayern, Alemania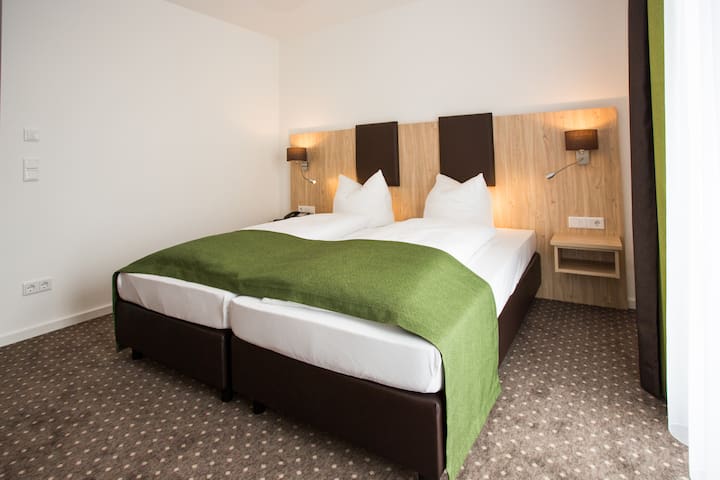 Widumer is an idyllic, former parsonage, which we have very elaborately renovated and converted into a horse farm. We offer 4 double rooms and 2 single bedrooms, each with separate shower, toilet and a training room and lounge with a small kitchen, if you want with breadfast. From us you can make trips to Regensburg, Nuremberg, Munich, Passau, Straubing, Bavarian Forest, Bavaria, and to all the attractions our region has to offer. Close by is a large recreational area with lake and water skiing and also the Bavaria Park is not far away. It is also possible to travel with your horse, there are 11 spacious guest boxes. Guided trail rides, lessons, horseback, etc. upon request. For questions and special requests are available and we are glad to be able to help you!
The reservation was canceled 3 days before arrival. This is an automated posting.
Asylke
2015-04-17T00:00:00Z
Sehr schönes Ambiente, sehr herzliche Gastgeber und eine wunderbare Linde unter dem man lauschige Abende verbringen kann! Sehr empfehlenswert!
Günther & Doris
2013-07-22T00:00:00Z
The host canceled this reservation 23 days before arrival. This is an automated posting.
Sebastian
2015-05-15T00:00:00Z
The reservation was canceled 4 days before arrival. This is an automated posting.
Carina
2014-08-05T00:00:00Z
This was a delightful place to stay for our visit to Bavaria. Andrea was a magnificent host, and the facilities are charming and comfortable. We were wakened each morning by the sounds of the horses, and that was better than any possible alarm. The room was extremely clean, as was the well-supplied kitchen. From Mengkofen we could take easy day trips to Munich, Nuremburg, and Regensburg. Even Salzburg would only have been about 2 1/2 hours away, and the countryside is so lovely we seriously considered it.
Brian
2014-07-15T00:00:00Z
If you like horses take it otherwise it is better to sleep in the car.
Gracjan
2016-11-17T00:00:00Z
Andrea was very welcoming and a pleasant hostess. She provided information on the area, including a great dinner recommendation nearby and a great day trip to Regensburg. The location was easy to find and somewhat near a local grocery store. The rooms were clean, but there was residual smoke in the common kitchen area, hallway, and some of the bedrooms. She did, however, arrange for the guest to smoke outside. Andrea provided fresh bread for breakfast and the kitchen was well equipped to cook our own meals. The horses were not available for riding during our stay. Our overall rating is based on the promise she would amend specific description details.
Eric
2016-04-17T00:00:00Z
Andrea was a perfect host. The area was nice and so peacefull. We only needed a place to sleep and we slept perfect. Beds were comfortabel and shower was good. Our kids enjoyed the horses. I would recommend a stay at Andrea for shure.
Clinton
2016-05-02T00:00:00Z
Tipo de habitación
Habitación privada
---
Tipo de propiedad
Bed & Breakfast
---
Capacidad
10
---
Dormitorios
Mengkofen, Baviera, Alemania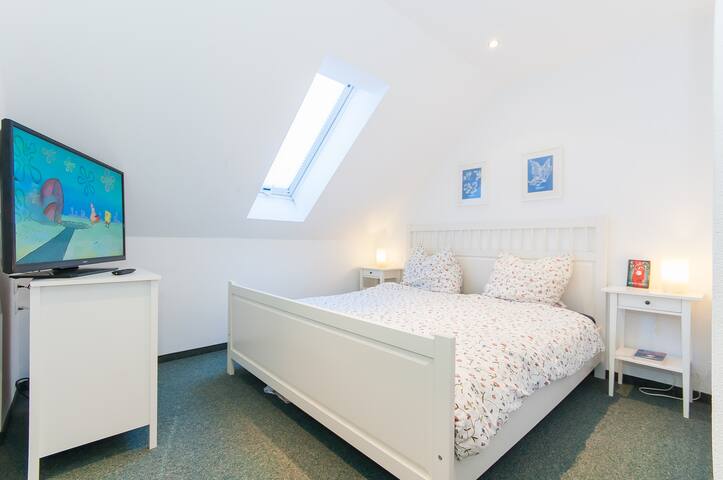 Das unkompliziert, familiär geführte Hotel bietet einen herrlichen Panoramablick auf den Fluss "Inn" und die oberösterreichische barocke Grenzstadt Schärding.
I was waiting for 1.5 hr at reception because no one was there. Once they come they had no idea what airbnb was and had not booked a room for me. Once they gave me a room there was no heater in there. Once they installed a electric heater it was making noise all through the night. They had no idea that I have paid in advance to airbnb and how airbnb will transfer money to them.
Nishant
2015-11-19T00:00:00Z
Es handelt sich hier nicht um eine Privatunterkunft sondern um ein kleines Hotel. Ist aber kein Nachteil, das Zimmer war einfach und sehr sauber, das Frühstuck sehr gut, besonders wenn man den Preis berücksichtigt.
Jürgen
2014-10-01T00:00:00Z
Tipo de habitación
Habitación privada
---
Tipo de propiedad
Bed & Breakfast
---
Capacidad
4
---
Dormitorios
Neuhaus am Inn, Baviera, Alemania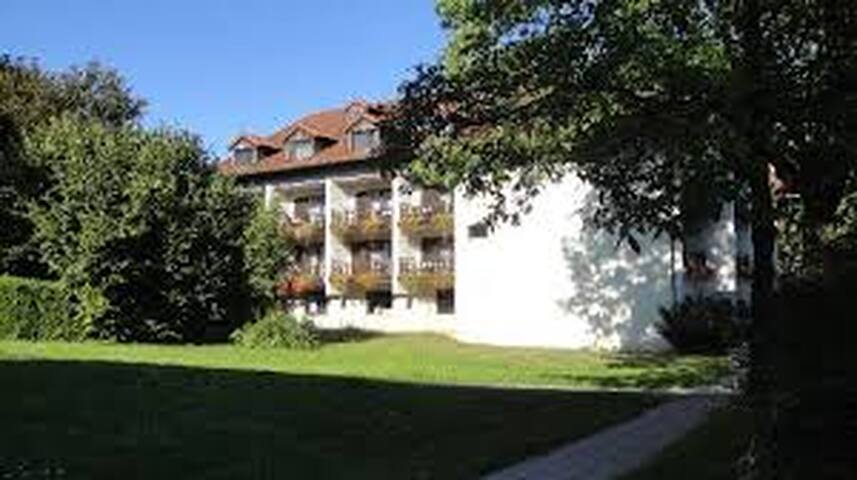 Mi casa está a 10 km del hermoso balneario de Bad Kötzting en una zona tranquila con jardín y el uso de la cocina - senderismo, esquí, natación lagos, esquí de fondo, raquetas de nieve, .....
pacífico
Campo de fútbol 100 metros
Sehr nette Gastgeberin, Zimmer wirklich Toll, sogar mit Frühstück,
Ralf
2015-08-09T00:00:00Z
Sehr schönes Zimmer, hatte auch einen Wasserkocher auf dem Zimmer. Schön war außerdem die Fußbodenheizung im Bad :). Katharina war sehr freundlich und hat dafür gesorgt, dass ich mich wohlfühle.
Kimberly
2016-03-24T00:00:00Z
Katharina was very warm and welcoming. She went above and beyond and helped us to settle after our long journey. Her home was very comfortable and we slept very well. We were able to do a small load of laundry and have a delicious breakfast with her. I really enjoyed our experience connecting with Katharina.
Subhana
2015-06-21T00:00:00Z
Wir wurden auch zu später Stunde superfreundlich empfangen. Zimmer und Bad waren sauber, haben uns wohl gefühlt. Gerne wieder. Super Preis-Leistung.
Oliver
2015-08-15T00:00:00Z
Katja ist eine sehr angenehme Gastgeberin. Das Zimmer hat alles, was man braucht, das Bad ist sehr sauber. Mit Katja kann man sich prima unterhalten. Und wenn man selber nett ist, gibt´s sogar eine Halbe zur Begrüßung. Mir hat es sehr gut gefallen, sehr empfehlenswert.
Thomas
2015-05-30T00:00:00Z
Katharina hat uns nachts (kurz vor 1 Uhr) noch freundlich empfangen und ist extra für uns wach geblieben. Die Unterkunft war wie beschrieben.
Daniel
2015-06-15T00:00:00Z
Ich hatte eine wirklich tolle Zeit be Katharina. Sie hat mich und meinen Hund herzlich in empfang genommen. Die Kommunikation war schnell und zuverlässig. Zimmer und Bett sind sehr gut, die Küche konnte ich mitbenutzen und mich so selber verpflegen. Die Lage ist sehr ruhig und fast schon idyllisch.
Daniel
2015-10-05T00:00:00Z
Gastgeberin war freundlich und hilfsbereit .Sie hat gute Tips zur Freizeitgestaltung gegeben.Zimmer war etwa klein,kein Tisch nur 1 Stuhl. Tisch stand nur im Wohnbereich zur verfühgung.Kein eigenes Bad und Toilette. Für 3 Übernachtungen war es zu akzeptieren.
Elke
2015-04-23T00:00:00Z
Tipo de habitación
Habitación privada
---
Tipo de propiedad
Bed & Breakfast
---
Capacidad
3
---
Dormitorios
Hohenwarth, Baviera, Alemania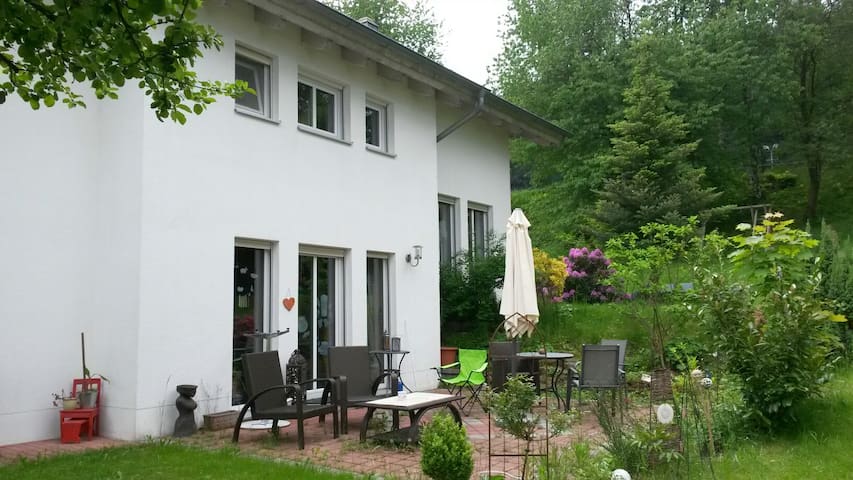 British owned B&B in heart of Bavarian Forest. Halfway between Munich & Prague. On edge of 2 Nationalparks. Close to ski slopes & x-country ski trails. Ideal situated to enjoy nature, local museums, hiking & cycling trails & close to historic cities.
Each of our bedrooms has a private shower room with washbasin and toilet, an LED flat-screen TV with integrated DVD player, radio alarm clock, hairdryer, chairs and coffee table, complimentary mineral water, tea and coffee and kettle. Each room also has internet access and a file of local tourist info.
The region is often referred to as the "green roof of Europe". The Sumava National park on the Czech side of the border and the Bavarian Forest National park on the German side are on our door step. There are numerous hiking and cycling trails in the vicinity. The Arber and Spicak ski resorts are less than 10 minutes by car. Historic cities such as Passau, Regensburg, Pilsen, Cesky Krumlov, Landshut are an easy day trip.
Our stay with Claire and Jerry was outstanding. We were welcomed with the most beautiful room, comfortable and very clean room and private bathroom. They directed us to a delicious Bavarian restaurant just a short walk into the heart of the village from their villa. The view is beath taking. We especially enjoyed our visit of the history and culture of this charming village with them. They are delightfull hosts. I only regret that we could not stay longer.
Mona
2016-06-03T00:00:00Z
Ein gemütlich eingerichtets Gästehaus mit einem offenen Kamin im Aufenthaltsraum. Alles war sehr sauber und ausreichend Ausgestattet. Parkplätze vorm Haus. Das Ehepaar Hollis war sehr freundlich und hat viel Information/Auskunft über den Ort sowie Reiseziele geben können. Wir haben uns sehr wohl gefühlt und kommen gerne wieder.
Nadin
2017-01-01T00:00:00Z
Thanks for Hosting, everything was fine :)!
Benjamin
2016-07-13T00:00:00Z
Tipo de habitación
Habitación privada
---
Tipo de propiedad
Bed & Breakfast
---
Capacidad
2
---
Dormitorios
Bayerisch Eisenstein, Bayern, Alemania
Pilsting - Airbnb
:
Una media de

4.83

estrellas de un total de

5

de

261

evaluaciones de huéspedes