Introduce las fechas para ver el precio total. Ten en cuenta que se aplicarán tarifas adicionales y es posible que se añadan impuestos.
We offer a self-contained sleeping and living area located within the Ring of Gullion. The Loft is a cosy hideaway and a great base from which to explore this Area of Outstanding Natural Beauty, with beautiful views over the City of Newry and the Mourne mountains.
The Flagstaff Loft is a relaxing and quiet self-contained space attached to a family home but has its own independent entrance ensuring your privacy. Overlooking the City of Newry with wonderful views of the Mourne mountains, upstairs in the Loft consists of a comfortable double bed (you'll get a good night's sleep after your travels & wake up feeling rested and refreshed) and living area where you can relax, read a book or plan your next day adventures. All towels and bed linen are provided. The Loft also has a hairdryer, iron & ironing board for your use. Downstairs you have a small modern bathroom with electric shower, as well as a kitchenette area. The kitchenette is equipped with a kettle, toaster, fridge, crockery, cutlery and glasses. A Nutri-bullet is also available on request. Complimentary tea and coffee is provided. * Please note there is no hot plate or other oven. You will also have access to a beautiful outdoor seating area, and an outside open fire, where you can relax in Adirondack chairs with a nice drink! The Loft has its own independent entrance and is your private space for you to enjoy for the duration of your stay. As much or as little as you like. Guests will be welcomed on arrival and made to feel at home. While the space is a self-contained unit, we live in the main part of the house and we are here to offer help with travel plans or share our local knowledge. Peter, the host, is a registered tour guide with Tourism Ireland and runs a bespoke tour company 'Twisted Briar Tours'.
Halfway between Belfast and Dublin, the Flagstaff Loft is located in the Ring of Gullion Area of Outstanding Natural Beauty, just a 5-minute drive from Newry City and is the perfect base from which to explore the local area including Slieve Gullion (offering views as far away as Antrim, Dublin Bay and Wicklow on a clear day), the Flagstaff viewpoint, the Cooley Peninsula and the picturesque village of Carlingford. It is also the ideal place to stay while travelling between Ireland's two main cities and is only a 1-hour drive from both Dublin and Belfast International Airports. The area has a number of great restaurants and pubs with regular traditional music sessions. At the summit of Slieve Gullion you will find the highest surviving passage grave in Ireland and for those interested in the rich history of South Armagh and the surrounding area, Peter can provide recommendations for local places of interest including dolmens, ancient standing stones and burial tombs, as well as information on our more recent history. Public transport is available locally; Buses - there is a local bus stop 5 minutes walk away which can take you into Newry City Centre or to the foothill of Slieve Gullion. There is also a bus station in Newry (3 miles away) with connections to the major cities in Ireland. Train - you are within 5 minutes drive of the Newry railway station, where the Enterprise train between Dublin and Belfast stops 8 times per day. Other - taxis are also readily available. Check in and check out is flexible, depending on if we have other guests before or after your stay.
Great spot. Lovely views and a cosy bed. Really handy for people travelling between Dublin and Belfast.
Tomaí
March 2016
We found Peter's loft overlooking Newry to be very cosy and incredibly relaxing after a long day of driving. In the morning Peter kindly cooked us a great breakfast while sharing some personal (URL HIDDEN) and local history. He then took us on a mini tour of the area, pointing out some interesting local landmarks and great views over Newry. Overall, it's easy to see why Peter is consistently rated as such as a fantastic host. Very easy recommendation to be sure.
James
January 2017
Peter was a lovely host and very welcoming. A nice stay in a beautiful and cozy loft apartment. Before our departure he provided us with some wonderful conversation and sightseeing recommendations.
Katherine
May 2016
Peter is a first class host. He picked us up from the train station, was very welcoming and very kind. We had a lovely breakfast cooked for us the next morning and got a mini tour of the local area. The accommodation was very clean and had all the amenities described in the listing. The room was very cosy with a great view over newry. We thoroughly enjoyed our stay and highly recommend this place.
Tayla
January 2017
Peter is an absolute gentleman and you can tell that he really enjoys receiving guests. The accommodation was in top order and Peter even had a welcome plate of fruit for us. We would certainly stay here again if we were exploring the Cooley Peninsula.
Ian
July 2016
My experience with Peter was great. He is extremely flexible and easy going. The loft is was as advertised and clean and although I was mainly there for a business trip, had no problems during my stay. You will likely need a car if planning to travel by train. I have no hesitation recommending Peter to anyone traveling to Newry.
Faisal
October 2016
Flagstaff Loft was a dream come true, the loft was comfy and relaxing with an idyllic view across Flagstaff and surrounding areas! Peter is such a pleasure, an excellent host with lots of tales and history knowledge of the area. I would highly recommend the Flagstaff Loft, the loft has accessible to both Belfast and Dublin airports... Perfect location with everything in easy reach. I have already made plans with Peter for a return visit! 10/10
Patrick
May 2016
Excellent host and property :)
louise
November 2016
Tipo de habitación
Casa/apto. entero
---
Tipo de propiedad
---
Capacidad
2
---
Dormitorios
1
Newry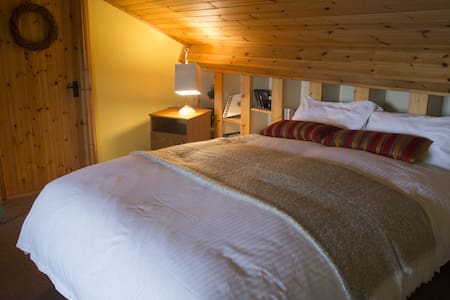 Large studio loft apartment, set in the surrounding South Belfast hillside, with fantastic views over the city and surrounding countryside. Set on secure private grounds, adjacent to the main house we can accommodate up to four guests. The loft is very well appointed, also with a pool table, fast Wi-Fi and desks, should you need to work. The loft is stocked with all the basics including shampoo, shower gel, toothpaste and soap; tea, coffee, milk and some snacks.
The loft comprises of a large studio space, shower room and kitchen. The studio area is well appointed with a double bed, sofa bed and separate sofa and chairs. There is also a dining table that can seat 6 people, a pool table and two desks with chairs. A double airbed & bedding is also available upon request. There is a television with Chromecast in the studio, along with excellent Wi-Fi. Guests have private access to the loft studio situated adjacent to the main house. There is plenty of space at the loft for parking and the property is secured with electric gates. Guests are welcome to enjoy use of the gardens. We're a friendly, easy going couple who would be delighted to welcome you with a glass of wine or a beer! We do however understand that when you're on a flying visit, sometimes you just need somewhere to lay down your head, so we respect your privacy and space. Being detached, the loft is ideal if you like your own space or don't wish to be disturbed. We live next to the loft but are often travelling for business, but can always be contacted easily.
The loft is located in the countryside to the south of Belfast, with views down into the city. Only 20 minutes from Belfast City Airport, and 35 from the International. Great location to explore the City and all the Northern Ireland has to offer Public transport is not available to the property. We have plenty of space for parking around the loft, which is very secure. A taxi from Belfast city centre will cost approx £12; from Belfast City Airport around £20 and £25 from Belfast International Airport.
John and Nichola have been great, thoughtful hosts. Their place is absolutely lovely, my husband and I liked it very much.
Annalisa
January 2017
What can I say! Beautiful place perfect for what we wanted. Close to both Lisburn and Belfast, yet peaceful and secluded. Place was more than expected, warm and comfortable with beautiful views. Looking forward to returning in the near future. Thanks Again for everything.
Gayle
January 2017
Tipo de habitación
Casa/apto. entero
---
Tipo de propiedad
---
Capacidad
4
---
Dormitorios
0
Drumbo
Newly refurbished, open-plan hideaway in beautiful rural County Down, conveniently close to A1, 30 mins from Belfast, 80 minutes from Dublin. Perfect base for exploring Ireland, walking in the Mourne Mountains, trips to the beach & local Irish pubs.
Please check in between 4pm to 9pm and check out before midday. Please contact us if you need to check in outside these times. No smoking. No parties. No pets unless by special agreement. Please park your car at the bottom of the drive in front of the house - it's right next to the barn. You will have your own front door, so please feel free to come and go as you please! Your friendly hosts, Matt & Katharine, will be on hand to answer questions or help resolve any problems. We are also a good source of advice on local amenities and activities. If you have any enquiries or comments you would like to ask us then please feel free to contact us.
Matt and Katharine spend much of their time in Abu Dhabi. In order that you can still enjoy the Prophet's Barn, Adam will be your host when they are away.
Cogimos la casa por el precio, pero merece la pena no solo por eso. La casa se encuentra en un hogar idílico para los que desean alejarse de la ciudad con todas las comodidades que puedas necesitar. Es un lugar para no olvidar. Los dueños fueron muy atentos , y nos dejaron a cargo de unos amigos de ellos, que se preocuparon al detalle de cualquier cosa que necesitáramos. We rent the house for the price, but worth it not only for that. The house is in an idyllic home for those who want to leave the city with all the amenities you need. It is a place to remember. The owners were very attentive, and let us by some friends of them , who cared to detail anything we needed .
Sara
September 2015
We had a lovely stay in a nice environment. Unfortunately we didn't get to meet the hosts, but there was some information about the 'barn' and things to do around, which was very helpful. The place was very nice, comfy and clean. We found everything we needed. Would defenitely recommend.
Joshua
July 2016
Were made to feel very welcome at Prophet's Barn, which is a beautiful, very peaceful place to stay.
Marion
August 2015
My wife and I enjoyed our stay at Prophets Barn. The facilities were clean and very comfortable.The facilities were very good and it certainly was value for money. Matt, Katherine and their son made us feel most welcome. Access to Belfast and surrounds was easy and there are many points of interest worth visiting within easy reach.
Richard
August 2016
The arrival process was very smooth. A very well appointed apartment with comfortable bed and nice shower, set in a lovely rural location with easy access to the Belfast area.
Helen and Darryl
September 2016
Nous avons passé deux nuits chez Matt et Katharine. Le logement est ravissant, très bien équipé (il y a même un lave-vaisselle), délicieusement décoré et extrêmement propre. Une excellente adresse pour visiter Belfast et les environs. Nous avons facilement trouvé avec les coordonnées GPS et les explications.
Aurélie
August 2016
Charment petit coin perdu, très cosy et chaleureux. Calme et reposant, je recommande vivement!
Eva
March 2016
Prophet's Barn is a well appointed, clean, modern space with good amenities. Excellent accommodation.
Heather
August 2016
Tipo de habitación
Casa/apto. entero
---
Tipo de propiedad
---
Capacidad
2
---
Dormitorios
1
Dromore
Wonderfully romantic, with its period style wooden beams and freestanding bath on the first floor (there is no shower). Highly functional kitchen and living room on the ground floor. We provide tea/coffee/milk/cereal. Parking. 2 Sofa beds. Hope you enjoy your stay.
Living room and kitchen on ground floor. Toilet and basin on ground floor. First floor bedroom, High ceiling, Stylish wooden beams. Freestanding bath on first floor, in the bedroom. Washbasin also on first floor which will be enamelled soon. If you have any problems with the room etc, then please tell us and we will do everything in our power to help out. Hope you enjoy the space. Guests are entitled to use all parts of the house. This includes the cooking oven, baths, garden, car parking (off road) and washing machine. Depending on the guest's preferences, we have an essential information pack for all you need to know about the area.
A leafy suburb with historic buildings in a conservation area, surrounded by walks, parks and cycle trails. Along with a 2 minute walk to Lisburn Road known for its shops, cafes and restaurants and a 10 minute walk to the University Quarter. 1 min walk to bus stop, that brings you straight into the city centre It takes 10 mins on the bus to town. 8b is £2. Beware of Sunday Bus times! 15/20 min walk to the Adelaide train station. Opposite the apartment, my partner's family own the main house. Her family Sophia/Mary/Annabel as help out with greeting guests and responding to your queries.
A little coach house about 40 mins walk from the city centre. The staff on site are sometimes difficult to contact and it not as clean as some other airbnb properties that I have stayed in, but the staff are very friendly and the place is charming, bright and fairly quiet.
Bex
June 2015
We stayed for four nights last week. It suited our needs wonderfully. We have been to Belfast multiple times and knew the area of the historic Montpelier house in the Queen's Quarter. It's a little hard to see the address but it's almost directly across Cadogan Park road. It's quiet and in a beautiful area not far from everything you need. It's also big enough if you want BTW have friends in for a visit. We are active walkers (60) and had no problem getting into the city. Visit the Ulster Museum for the history of Ulster.
Cynthia
June 2016
Lovely place. Friendly neighbours and hosts. Surrounding area very beautiful. Would recommend.
Patrick
December 2015
Great spot! I was only there for a night, but Sophia was very easy to get in contact with, very helpful and friendly. The flat itself is super cute and comfy - exactly as pictured. The house is in a great location near to some great bars and restaurants but on a leafy quiet street. Would definitely recommend!
Maggie
December 2015
We stayed here for 2 nights over new years eve and couldn't fault it. We were greeted by Annabelle and she gave us some really great tips on the city and how to get the most out of our stay. We ran into Sophia the next day and she was also very welcoming and helpful. The decor was beautiful and it was a really comfortable space to relax. The freestanding bath was an amazing feature! Perfect to come home to after a rainy day of sight seeing. The location was great and we were able to walk in and out of the city center in 20-30 minutes. It was especially convenient for Queens University and The Ulster Museum. We really enjoyed our stay and will definitely return on out next visit to Belfast.
Holly
January 2016
We loved our stay here in Belfast! The house was exactly as we expected. We felt at home and Anabelle had some good suggestions on where to eat. Anabelle and Arian were both friendly and welcoming. I would recommend this place to a friend.
Pat
September 2015
Cracking cozy spot. Secluded and full of character. Good value and top marks to our hostess Sophia. Free breskfast appreciated.
Brendan
October 2015
We had a great time. The house is about a 25 minutes walk to the city centre. Arian was a great host and very accommodating. The house is very nice and is something different.
Mark
November 2016
Tipo de habitación
Casa/apto. entero
---
Tipo de propiedad
---
Capacidad
4
---
Dormitorios
1
Belfast