We offer a self-contained sleeping and living area located within the Ring of Gullion. The Loft is a cosy hideaway and a great base from which to explore this Area of Outstanding Natural Beauty, with beautiful views over the City of Newry and the Mourne mountains.
The Flagstaff Loft is a relaxing and quiet self-contained space attached to a family home but has its own independent entrance ensuring your privacy. Overlooking the City of Newry with wonderful views of the Mourne mountains, upstairs in the Loft consists of a comfortable double bed (you'll get a good night's sleep after your travels & wake up feeling rested and refreshed) and living area where you can relax, read a book or plan your next day adventures. All towels and bed linen are provided. The Loft also has a hairdryer, iron & ironing board for your use. Downstairs you have a small modern bathroom with electric shower, as well as a kitchenette area. The kitchenette is equipped with a kettle, toaster, fridge, crockery, cutlery and glasses. A Nutri-bullet is also available on request. Complimentary tea and coffee is provided. * Please note there is no hot plate or other oven. You will also have access to a beautiful outdoor seating area, and an outside open fire, where you can relax in Adirondack chairs with a nice drink!
Halfway between Belfast and Dublin, the Flagstaff Loft is located in the Ring of Gullion Area of Outstanding Natural Beauty, just a 5-minute drive from Newry City and is the perfect base from which to explore the local area including Slieve Gullion (offering views as far away as Antrim, Dublin Bay and Wicklow on a clear day), the Flagstaff viewpoint, the Cooley Peninsula and the picturesque village of Carlingford. It is also the ideal place to stay while travelling between Ireland's two main cities and is only a 1-hour drive from both Dublin and Belfast International Airports. The area has a number of great restaurants and pubs with regular traditional music sessions. At the summit of Slieve Gullion you will find the highest surviving passage grave in Ireland and for those interested in the rich history of South Armagh and the surrounding area, Peter can provide recommendations for local places of interest including dolmens, ancient standing stones and burial tombs, as well as information on our more recent history.
It's a beautiful, well appointed and comfortable space in a truly welcoming home and although it was only meant to be a pitstop I found it a truly relaxing experience. The gardens are absolutely stunning and I'd love to return on a proper summers day to experience them in their true glory and avail of the outdoor fireplace! Peter, the host, was completely welcoming and gracious even though I arrived much later than I had hoped and even slept in for breakfast! Breakfast itself was perfect and I could have sat and chatted to Peter all day- a really interesting and inspiring person with a wealth of knowledge and insight on the locality and many other subjects. I will hopefully return someday without the pressures of work hanging over me! It's a real gem and I couldn't recommend highly enough.
Brian
2016-07-10T00:00:00Z
Flagstaff Loft was a dream come true, the loft was comfy and relaxing with an idyllic view across Flagstaff and surrounding areas! Peter is such a pleasure, an excellent host with lots of tales and history knowledge of the area. I would highly recommend the Flagstaff Loft, the loft has accessible to both Belfast and Dublin airports... Perfect location with everything in easy reach. I have already made plans with Peter for a return visit! 10/10
Patrick
2016-05-02T00:00:00Z
We had a great stay with Peter in Newry. He was very knowledgable and helpful with advice or where to walk, eat and even drove us on a wee tour. The house is lovely and the bedroom unit is very clean with a beautiful view. Would thoroughly recommend this
Tom
2016-07-23T00:00:00Z
Excellent host and property :)
louise
2016-11-13T00:00:00Z
I cannot recommend staying with Peter enough. Our stay was far and away the best air b'n'b experience we've ever had. The home is warm and inviting with your room having a lovely morning view down into Newry and Peter himself is a most gracious and knowledgable host.
Casey
2016-12-02T00:00:00Z
A lovely room in a very good location if you are travelling between Belfast and Dublin. Peter was a very gracious host, and the room is exactly as the listing shows.
Anna
2016-06-13T00:00:00Z
Great spot. Lovely views and a cosy bed. Really handy for people travelling between Dublin and Belfast.
Tomaí
2016-03-31T00:00:00Z
Peter is the most amazing host, so attentive and a true gentleman. I was greeted on arrival by Peter, he showed me the accommodation and we sat down and had a lovely cup of coffee. Peter is such an interesting person, his passion for local history and love of the beautiful area he lives in is very evident. The accommodation is fantastic, you have your own space to chill and the bedroom area was bigger than I expected, with a very comfy bed. Peter I will get back to you at some stage in the future and this time I will have time to see the local points of interest.
Gwen
2016-12-03T00:00:00Z
Tipo de habitación
Casa/apto. entero
---
Tipo de propiedad
Loft
---
Capacidad
2
---
Dormitorios
Newry , Co. Armagh, Reino Unido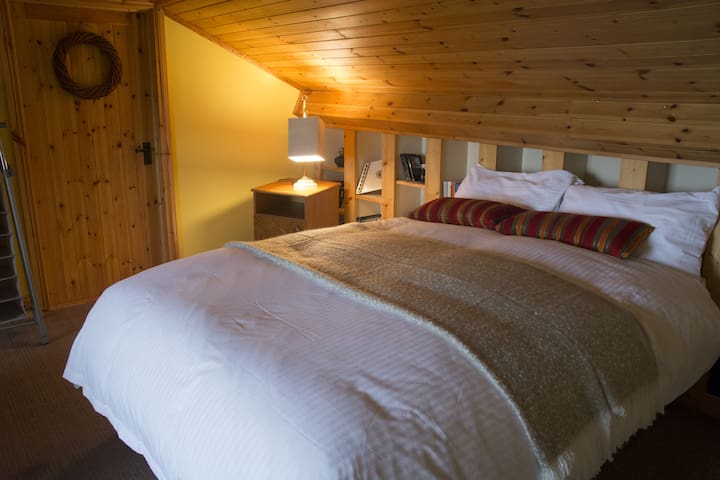 Amplio apartamento estudio loft, situado en la ladera sur de Belfast circundante, con fantásticas vistas de la ciudad y el campo circundante. Situado en un terreno privado y seguro, adyacente a la casa principal que puede acomodar hasta cuatro personas. El loft está muy bien equipada, también con una mesa de billar, rápido Wi-Fi y escritorio, en caso de que tenga que trabajar. El loft es abastecido con todos los elementos básicos como champú, gel de ducha, pasta de dientes y jabón; té, café, leche y aperitivos.
El loft consta de un gran espacio de estudio, cuarto de baño y cocina. El área de estudio está bien equipada con una cama doble, un sofá cama y un sofá y sillas por separado. También hay una mesa de comedor que tiene capacidad para 6 personas, una mesa de billar y dos mesas con sillas. Un doble cama de aire y ropa de cama también está disponible a petición. Hay una televisión con Chromecast en el estudio, junto con una excelente conexión Wi-Fi.
El loft se encuentra en el campo al sur de Belfast, con vistas hacia abajo en la ciudad. A sólo 20 minutos del Aeropuerto de Belfast, y 35 de la Internacional. Una ubicación ideal para explorar la ciudad y toda la Irlanda del Norte tiene que ofrecer
Fantastic property with great views of Belfast hills, the property is fairly secluded down some narrow roads so care must be taken, it is secure with locked key-fob controlled gates. The area is quiet with no traffic noise and minimal lighting, the smell from the nearby farm can be strong at times but this does not permeate through to the property itself, the property is warm without any heating on. The property is very clean and very well presented, there is a three piece suite at one end with two large desks and chairs, a TV, an american pool table with two cues, a dining table, a leather futon sofa, and a standard double bed. The cooking equipment in the kitchen area is a microwave that also works as a convection oven, we did not use it but imagine this would work for simple cooking. I would say this property is suitable to a couple or a friendly group (due to the open-planned studio layout). This is our first booking on AirBNB and has prompted us to consider using this site more often, a very enjoyable stay!
Callum
2017-02-19T00:00:00Z
Excellent place to stay highly recommended
Maureen
2017-02-11T00:00:00Z
Great value for the money and in a beautiful location. Was incredibly easy to check in. We arrived very late and there were no problems at all. Thanks John and Nichola!
Katie
2017-04-08T00:00:00Z
Everything was grand; nice clean and modern place! Pretty rural but wonderful environment! 15 minutes from the city center by taxi. Recommendable!
Klara
2017-02-26T00:00:00Z
What a great place if you want peace and quite
Anthony
2017-02-03T00:00:00Z
un loft bien placé car a 20mn de Belfast en voiture , possibilité d'arriver quand on souhaite , endroit calme à la campagne .
Jean francois
2017-04-10T00:00:00Z
Lovely peaceful location, yet not too far from Belfast. The studio is totally self-contained and very private. John and Nichola very helpful.
Robin
2017-02-13T00:00:00Z
Gorgeous location with amazing views. Perfect for a weekend break. The hosts are thoughtful and very considerate of privacy.
heather
2017-04-02T00:00:00Z
Tipo de habitación
Casa/apto. entero
---
Tipo de propiedad
Loft
---
Capacidad
4
---
Dormitorios
Drumbo, Northern Ireland, Reino Unido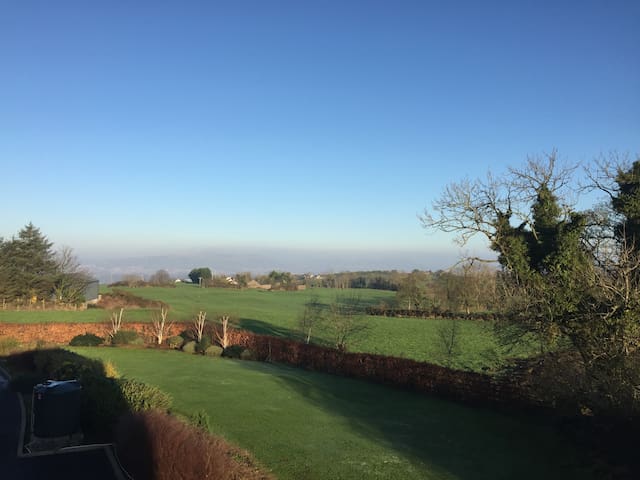 Recentemente remodelado, refúgio de plano aberto no belo rural County Down, convenientemente próximo da A1, a 30 minutos de Belfast, 80 minutos de Dublin. base perfeita para explorar a Irlanda, caminhando nas montanhas de Mourne, viagens para a praia e pubs irlandeses locais.
Por favor, check-in entre 16:00-21:00 e check-out antes do meio-dia. Entre em contato conosco se você precisar de fazer check-in fora deste horário. Proibido fumar. Nenhuma das partes. Nenhum animal de estimação não ser por acordo especial.
Cogimos la casa por el precio, pero merece la pena no solo por eso. La casa se encuentra en un hogar idílico para los que desean alejarse de la ciudad con todas las comodidades que puedas necesitar. Es un lugar para no olvidar. Los dueños fueron muy atentos , y nos dejaron a cargo de unos amigos de ellos, que se preocuparon al detalle de cualquier cosa que necesitáramos. We rent the house for the price, but worth it not only for that. The house is in an idyllic home for those who want to leave the city with all the amenities you need. It is a place to remember. The owners were very attentive, and let us by some friends of them , who cared to detail anything we needed .
Sara
2015-09-02T00:00:00Z
Michelle was really nice and told us everything we needed to know. The place was exactly as described and just what we wanted. Would come again...
Ross
2015-11-10T00:00:00Z
Really great place. Quiet new and clean. The location is near nice rolling hills and farms. Close to the highway. Good base for the mountains to the south. Also it's only 1.5 hours to The Giants Causeway in the north (the best area we visited). Easy drive to Belfast. Not walkable to any village. There was no wifi but if you have a notebook there were cables. The kitchen was superb as were the bathroom and couches. Just one bed but the fold out was alright. Very easy check in. Highly recommended!
Mark
2015-09-28T00:00:00Z
Prophet's Barn is a wonderful little place to stay. It's comfortable, private and incredibly quiet. My wife and I were able to catch up on jet lag and still make our way around Northern Ireland seeing a few attractions. Matt and Katharine communicated very well during our stay and were thankfully accommodating on the check in time when our car rental got delayed. Great hosts and would absolutely stay again!
Tyler
2015-10-13T00:00:00Z
This place is perfect for those looking for a quiet stay in the countryside. With it being close to both Dublin and Belfast you're in the hustle and bustle of city life and then can go back to a peaceful home at the end of the day. Everything in the barn is clean and new and it comes with all the amenities you'd need. My fiancée and I made a nice home cooked dinner the night before we left and it was like we were at our own apartment. I wish we had more time in Northern Ireland!
Olivia
2017-01-01T00:00:00Z
Prophet's Barn is a perfect place to stay in Northern Ireland. Matt & Katharine gave us some excellent advice about local places, including where to park in Belfast, what tours to do and where to eat in the local area. We really enjoyed the nearby village of Hillsborough and would have missed it totally if not for them.
Kathryn
2016-06-18T00:00:00Z
This is an easy review to write! Myself and my husband spent the weekend at Katharine and Matt's barn and had an amazing time there. This place feels like a sanctuary - somewhere quiet and cosy to unwind. The barn is very modern and clean and has all of the extras that you might need. There are also lots of thoughtful touches like huge bath towels and books about things to do in the area. We were lucky to meet Katharine and Matt and they gave us great tips on walks to do in the Mourne mountains. We're keen hikers and like to get off the beaten track. They also recommended cafés in Newcastle to get good coffee! The barn made the perfect base for outdoor exploring but we would have been equally happy to sit there reading books. We'd definitely love to stay here again. Thanks for the warm welcome!
Aisling
2016-04-17T00:00:00Z
Logement bien conçu, fonctionnel et bien équipé. Odile et Serge
Serge
2016-08-08T00:00:00Z
Tipo de habitación
Casa/apto. entero
---
Tipo de propiedad
Loft
---
Capacidad
2
---
Dormitorios
Dromore, Banbridge, Reino Unido
Maravillosamente romántico, con sus vigas de madera de época y baño independiente en el primer piso (no hay ducha). cocina y salón muy funcional habitación en la planta baja. Proporcionamos té / café / leche / cereales. Estacionamiento. 2 sofás camas. Esperamos que disfrute su estancia.
salón y cocina en la planta baja viven. Inodoro y lavabo en la planta baja. dormitorio del primer piso, con techos altos, vigas de madera con estilo. Baño independiente en el primer piso, en el dormitorio. Lavabo también en el primer piso que será esmaltada pronto. Si tiene algún problema con la habitación, etc., a continuación, por favor díganos y haremos todo lo posible para ayudar. Esperamos que disfrute del espacio.
Un barrio residencial de edificios históricos en una zona protegida, rodeada de paseos, parques y senderos para bicicletas. Junto con un 2 minutos a pie de Lisburn Road conocido por sus tiendas, cafeterías y restaurantes ya 10 minutos a pie de la zona universitaria.
Place was as described, great base for exploring Belfast and the rest of Northern Ireland! Thanks Sophia
Chris
2016-04-25T00:00:00Z
The host for our stay was very welcoming and friendly. Although we were mostly left to our own devices this arrangement was perfectly fine as I'm very familiar with Belfast anyway. Annabel did, however, give us lots of tips on the best places and eateries to visit. She was also very kind and sympathetic when one of our party received some extremely distressing news during our stay. The Coach House itself is really compact and comfortable. We couldn't have asked for a better place to hang out and made full use of the neat little kitchen/living area and the decent WiFi connection. The House is in a great location, surrounded by leafy suburbs and right on the bus route into town. For anyone thinking of visiting Belfast I would highly recommend The Coach House. For our stay, it really did feel like a home from home.
Patricia
2015-08-17T00:00:00Z
Mary greeted us as we drove up and gave us a tour of the place. It is a pretty setting, beautiful garden, walkable neighbourhood and easy access to groceries, shops, and the city centre. The hosts are nice people and very responsive to your needs so they get 5 out of 5 stars! As has been mentioned in previous write ups there is no shower so you need to use a bath and there are not enough blinds for windows [one window did not have a blind] and skylights in the bedroom.
Andrew
2016-07-26T00:00:00Z
I was made to feel very welcome by the host who met me on arrival. The flat was immaculately kept, just as described and absolutely gorgeous. The location is very convenient and just across the street from the bus which runs into the city centre (it's also along one of the bus routes that runs most frequently). The hosts left lots of literature so those who are unfamiliar with the city can quickly get an idea of some of the best places to go and things to do. As I'm from Belfast, I didn't need to use it but can vouch for how great their recommendations are. I really couldn't recommend this flat or host enough. So lovely and friendly!
Nik
2015-11-06T00:00:00Z
Great hosts that took care of every detail and were lightning fast with responses. They even helped me get in touch with other local services! Thanks for a great stay!!
Matt
2016-07-28T00:00:00Z
Great place highly recommended
Malcolm
2015-08-29T00:00:00Z
Great host, very welcoming.
Samuel
2016-07-18T00:00:00Z
Great hosts. This place was perfect and Sophia provided lots of info about the local area. It's a quiet neighbourhood and a short walk to nice parks, the Ulster museum, cafes and restaurants. Comfy bed and complete privacy. The rooms are beautiful, lots of original features, if a little cold, but there's an electric blanket so that didn't matter. Would definitely recommend.
Rebecca
2016-03-08T00:00:00Z
Tipo de habitación
Casa/apto. entero
---
Tipo de propiedad
Loft
---
Capacidad
4
---
Dormitorios
Belfast, Reino Unido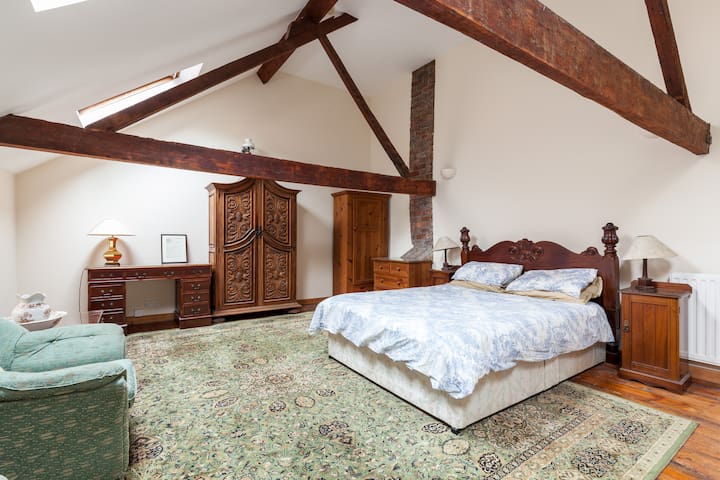 Portadown - Airbnb
:
Una media de

4.77

estrellas de un total de

5

de

302

evaluaciones de huéspedes
Introduce las fechas para ver el precio total. Ten en cuenta que se aplicarán tarifas adicionales y es posible que se añadan impuestos.