A completely self contained casita, part of an original 200y.o. finca. With private entrances and access to the entire garden. It is romantic with a fireplace and a four poster bed. The estate is unforgettable. Full of character with beautiful valley and ocean views.
Beautiful romantic little casita that has everything you need for a relaxing holiday. Fully equipped kitchen with gas stove (if you need anything else we are next door in the main House- I am a personal chef and have lots of little gadgets ;) ). Big walk through wardrobe. Direct access to the garden and close to the pool. Fireplace for the colder days and large skylight that provides beautiful light (if you prefer it darker and like to sleep in we can cover it up to your liking). Very quiet and private.
The are only 2 other houses on the hill, which cannot be seen from our place. We also share the hill with the friendliest cats on the island. There are beautiful walking tracks for all levels starting right from the house. They can take you all the way to Sant Juan or down to the beach at Cala Xarraca. Sant Juan is a beautiful town which has all the essentials but is best known for its hippy markets on Sunday, with live music, fresh produce, art, clothes, kids activities and some amazing humans! Cala Xarraca is a pleasant walk from the house in the cooler months(maybe a bit far in the heat of summer) and is great swimming and snorkeling with small rock islands a short swim from the shore. It is regarded for its crystal clear, turquoise water and beautiful cliff walks.... There is no sand here but there are still some nice spots to relax....
Wow what a special place! It really is incredible - the pictures don't do it justice. The casita is beautifully decorated and easily big enough for 2. We loved building a fire at night. The gardens and the views are amazing - so many lovely places to sit and read/eat/snooze - and when the sun sets over the sea it's so beautiful. And most importantly Vanessa and Oddy are such warm, welcoming and helpful hosts - they go above and beyond to make sure you have the perfect stay. Amazing!
Becky
2016-04-18T00:00:00Z
The place is incredible! It's perfect to unwind and relax! The owners are a really nice, welcoming couple who gave us wonderful advice on dinner options and which beaches to go to! We will definitely come back!
Patricia
2016-09-15T00:00:00Z
The listing was accurate, the pictures good and the place if anything even better than it looks in the pictures, it's very spacious and cool enough at night without A.C. We loved it, so calm and relaxing and surrounded by nature. We also enjoyed the nearby beaches and the local village St Joan which had some really nice cafes.
Sara
2016-07-17T00:00:00Z
During the two weeks spent in la casita we felt so much at home and so welcome that we definitely can recommend this beautiful place. Surrounded by silence and nature (and a lovely cat :-)) we felt totally relaxed. The casita is very spacious and charming, the bed perfect for a good night's rest. The island is beautiful, especially the North. The road to the house is a bit steep but once used to this no problem. Vanessa & Oddy gave us several good tips where to go and where to eat. They are a lovely couple with a big heart!
Carmen
2015-07-12T00:00:00Z
We have visited Ibiza several times but is was the first time we stayed in the northern part which in our opinion is the very best and also typical part of Ibiza. We stayed in the casita for one week with our teenage daughter. We really felt at home staying with Vanessa and the rest of the family. They made an extra comfy bed for our daughter and came to check if everything was according our requirements. Staying at the casita we also got to know more about the Australian (BBQ) habits as well :-). We can really recommend this charming casita to everyone who wants to be surrounded by the genuine Ibiza. Great view and beautiful nature.
Sandra
2016-05-03T00:00:00Z
My boyfriend and I had a wonderful stay and Vanessa's casita. The casita was beautifully decorated and very clean. The views from our seating area were just beautiful and we really enjoyed having our breakfast out there each morning which fresh Figs and almonds from the trees. Vanessa was very welcoming and friendly while respecting our privacy. It was a lovely place to relax and unwind.
Lauren
2016-09-07T00:00:00Z
We love you guys! You gave us such a great welcome in your awesome family, your open and warm house. Ibiza nature, authentic and charming place to stay, great playtime for the kids. It was so perfect! Thanks a lot! Love and light, Nicolas, Katrien and Aegon
Katrien
2015-09-12T00:00:00Z
Accueil sympa de Oddy , Vanessa et de leurs amis, le point fort de cette maison est le lieu qui domine , beau coucher de soleil , le jardín et ses espaces detentes , la piscine et sa vue, une atmosphere particulierement cool regne dans cette maison, calme total, paix et serenite assurees, la maison est tres joliment decoree style Adlib Ibiza, et elle est suffisament spacieuse pour 2 personnes, l equipement de la maison est un peu sommaire , nous avons passe de belles vacances et le petit village de sant joan est tres mignon :)
barbara
2015-09-15T00:00:00Z
Tipo de habitación
Casa/apto. entero
---
Tipo de propiedad
Casa
---
Capacidad
3
---
Dormitorios
Sant Joan de Labritja, Illes Balears, España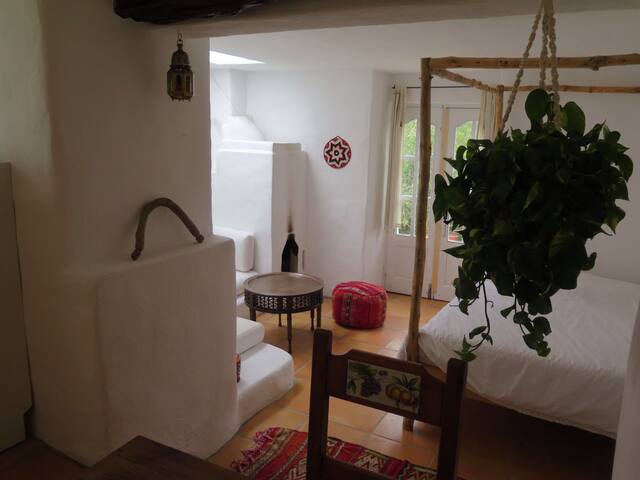 Incrito en el registro Insular de Empresas y actividades y establecimientos turisticos de Ibiza Pequeno Estudio integrado en una gran casa antigua Ibicenca. totalmente independiente Bano, Cocina , dormitorio y terraza
Estubimos muy a gusto en casa de Jose y Maria Antonia. El lugar era muy acogedor y hermoso: a tocar de un bosque y cerca del mar, en un rincón muy tranquilo de la isla. Su recibida fue cálida y acogedora, así que lo recomendaría para los que busquen un lugar hermosos en un entorno tranquilo.
Elena
2016-11-27T00:00:00Z
Bonito estudio en la Ibiza rural, ideal para pasar unos dias tranquilos rodeados de naturaleza. Todo en perfecto estado, la casa dispone de una zona de piscina preciosa. Cerca de playas muy bonitas y tranquilas. La familia de Jose muy amable. Muy recomendable!
noemí
2016-07-30T00:00:00Z
Estamos muy contentos haber pasado en esta bonita casa 5 días, en medio de la tranquilidad de Ibiza! Maria Antonia y Jose han sido muy atentos y nos han dado mucha información de la isla durante nuestra visita. El estudio es acogedor, limpio y tiene todo lo necesario. Hemos dormido muy bien. Nos ha dado mucha pena irnos, pero esperamos volver. Gracias!
Tess
2016-04-05T00:00:00Z
El estudio de Jose está situado en una localización preciosa y tiene mucho encanto. Es cómodo para una pareja por una temporada corta, tal vez para largas temporadas se haga un poco pequeño, sobre todo la cocina. Desde la puerta del estudio hay vistas preciosas con el mar de fondo, y si hay buen clima hay mesas y sombrillas para poder disfrutar este espacio. El único problema es que el clima durante el fin de semana fue bastante atípico e hizo frío, y el radiador era poco potente para el espacio, pero esto probablemente no sea un problema durante la mayoría del año. Recomendaría a quienes lo alquilan tener un coche ya si no moverse por la isla puede ser complicado. En general fue una muy buena experiencia y la repetiría!
Liliana
2016-02-29T00:00:00Z
Jose, se puso en contacto con nosotros días antes de nuestra llegada para explicarnos el camino y respondió con amabilidad mis preguntas. El estudio es tal como aparece en las fotos, perfecto para dos personas y dentro de una preciosa casa payesa. Tiene una terraza privada con una mesa donde poder comer con total tranquilidad. Y la cocina dispone de lo necesario para poder hacer comidas sencillas. La cama es confortable y debido a su situación se descansa, ya que no hay ningún ruido. Tienen un precioso jardín con una piscina estupenda donde refrescarte después de la playa y poder disfrutar de las vistas que son maravillosas. Es imprescindible coche para poder moverte con libertad. La ciudad de Ibiza se encuentra a unos 40 minutos de la casa. Sin duda la recomendamos 100%, es un lugar perfecto para descansar y disfrutar de la isla.
Carmen
2016-09-01T00:00:00Z
Experiencia inolvidable, Jose y Maria Antonia son unos anfitriones excepcionales que te hacen sentir como en casa. Nos dieron muchisima informaciòn sobre la isla y los lugares mas hermosos que visitar. El estudio es muy lindo y acogedor, el jardin es una maravilla y el entorno es precioso. Sin duda nuestra mejor experiencia hasta ahora en Airbnb. Si vamos a volver a la isla, seguramente volveremos a este lugar, hasta pronto en Ibiza!
Flavia
2016-04-13T00:00:00Z
Recibimos una cálida bienvenida por parte de María Antonia, quien estuvo atenta y hospitalaria durante toda nuestra estancia (3 noches). El estudio estaba impoluto y totalmente equipado, disponía de todo lo necesario. Sin lugar a dudas altamente recomendable para aquellos que quieran disfrutar de una bucólica experiencia en el norte de la isla.
Carlos
2016-10-22T00:00:00Z
El estudio tiene todo lo necesario para vivir una pareja, a la cocina no le faltaba detalle (ya dispone de aceite, café, jabón...) y al estudio tampoco, incluso teníamos fruta a nuestra llegada.. La casa de 10, la piscina entre la montaña sin escuchar un sólo coche no tiene precio. A 15 minutos andando desde la casa cala Xarraca y atardeceres indescriptibles! Pero sobretodo la amabilidad de toda la familia y del resto de huéspedes ha hecho que nos hayamos sentido como en casa y sin duda, repetiremos para nuestras escapadas en Ibiza. Jose, Maria Antonia y Sergio, un placer conoceros y gracias por todo!
María
2016-07-05T00:00:00Z
Tipo de habitación
Habitación privada
---
Tipo de propiedad
Casa
---
Capacidad
2
---
Dormitorios
Sant Joan de Labritja, Illes Balears, España
Very confortable room in a cozy house in front of the sea with a huge private terrace for chilling under the pines very quiet ,almost over the Ocean. It is a quiet place to relax. We have friendly dog and chickens. Non smoking room. No cooking fcilities. We offer car rental 35eu/day In the midst of nature, beautiful walks along the cost and cliffs, lighthouse. Possibility of kayak experience ,we do guided routes close to the shore and coast .Discover the caves into the sea close to our spot
Warm place , perfect for a couple , you can go swimming to the sea direct from the garden. We live with a friendly dog and many chickens around, we love animals and they can live outside the house free in the garden. In the morning you will hear the rooster crowing .. Hope you do not mind this sweet awakening. We offer our car for rent Mazda 323 F 4 doors 35 eur /day request for further info .Drop in off at the airport. BE AWARE some people are using my pics for rent their places , is a scam!! If you see similar pics and cheaper price distrust. check my reviews
The surroundings are plenty of nice hidden beaches and some bars and supermarket . Alse there are good restaurants in the harbour. You can go walking to many beaches near the house,
Estuvimos un fin de semana en casa de willy y pudimos aprovechar de esta preciosa vista que ofrece la terraza de la casa. La habitación muy agrable y los anfitriones también. Estatabamos en búsqueda de tranquilidad y fue un acierto.
Stephanie
2015-08-02T00:00:00Z
La ubicación de la casa es expectacular , la terraza de la foto es privativa para el dormitorio . La cala es precisosa y la casa esta encima de ella , la zona es relativamente tranquila y las calas de alrededor son muy bonitas , wily y Cristina son encantadores y te hacen la estancia muy agradable
charo
2016-08-17T00:00:00Z
HIGHLY RECOMMENDED ! Beautiful space right next to the sea and really great hosts ! We enjoyed every day listening to the waves while chilling on the terrace and even while sleeping. Willy & his wife make you feel welcome and share their home with you ! It was really a great time. Thanks so much !
Benjamin
2014-10-07T00:00:00Z
Our stay at Cristina & Willy's place was fantastic. Great hosts - lovely people, wonderful location, beautiful terrace over looking the sea. Perfect place to explore the quieter side of island. Wish we'd stayed longer! x
Otis
2016-09-15T00:00:00Z
Our stop at Cristina and Wily's was our last in Ibiza and that was amazing !! reality even better than pictures, almost above the sea, with nice lighthouse , sweet little Harbour, a crazy funny dog, some chicken and 2 hosts very nice. we rented a kayak fo a day to explore some very close calas and cave, this was awesome, We really encouirage you to stay there, you can't imagine how great it is:) can't wait to go back ..seriously ! see you soon Willy and Cristina and Nuik !! Laure and Pierre
Laure
2016-08-31T00:00:00Z
Willy and Cristina were great hosts, very friendly and relaxed. The pictures are accurate, believe it or not. The venue is impressive. Note you're sharing the space with them, which was not an issue for us and it was very comfortable when we all were in the house at the same time (not long), but may not work for everybody.
Koldo
2015-05-01T00:00:00Z
Willi and Cristina are delightful and made us very welcome. The room is functional and the balcony(which is shown in the main picture)is fabulous with wonderful sea views - a lovely place to sit and dream. We visited in October and the weather was changeable so that sitting outside wasn't always possible and the only place to sit indoors was on the bed. The plumbing is in need of urgent attention - let's hope it gets sorted soon! Access to the airbnb is through the hosts' main sitting room.
Diana
2016-10-14T00:00:00Z
Willy's place was beyond what I had expected. The bedroom and the bathroom were like in the pictures, basic, clean and comfortable. The terrace was terrific, wonderful view and great atmosphere. We spent there few days, but from the first morning it was like being at home. Loved the area, off the most beaten path, but still close to many of the most beautiful spots in Ibiza. By car you can easily reach all of them, but if you don't want to drive you've also beaches, supermarket, restaurants and bars at walking distance. Willy and Cristina were very friendly and helpful with providing us extra information regarding the island. Highly recommend!
Valentina
2014-08-30T00:00:00Z
Tipo de habitación
Habitación privada
---
Tipo de propiedad
Casa
---
Capacidad
2
---
Dormitorios
Sant Joan de Labritja, España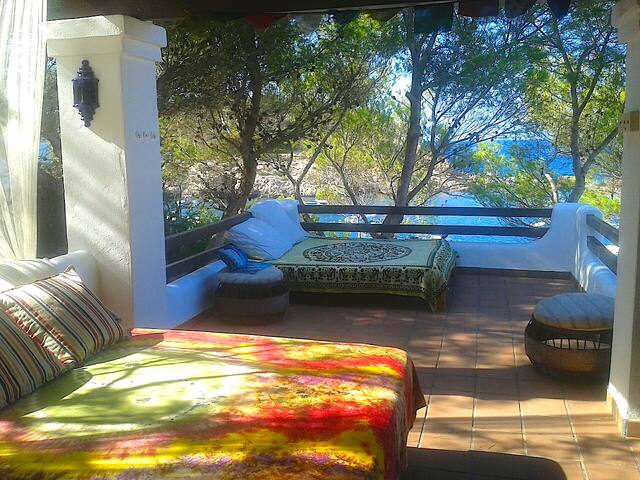 Recently constructed Ibicencan country house. Situated on the top of the mountain, with marvellous views to the sea, countryside and mountain, located in the Natural Park of 'Es Amunts', protected area of great value. An unrivalled setting, the perfect place to enjoy the nature and peace of the north part of the island. A few minutes away from beaches like Portinatx, Cala d'en Serra, Cala Xarraca, s'Illot d'es Renclí and 25 min from Ibiza city. The numerous paths to explore with idyllic views will make it so that you have an unforgettable stay. The area boasts many good restaurants and activities to do like outings, cycling, aquatic sports, navigation and many more. The house is situated in a property of 47 000 square meters, beautiful countryside with fruit trees. The country house has three double rooms, two bathrooms, kitchen, living room, dinning room and an exterior room with bathroom annexed to the house. It is possible to add a cot if it is necessary (on request), swimming pool with Jacuzzi and BBQ. Clarification: the road that passes in front of the house is exclusively for the people staying there, not a road for public use. The house to have two entries in the map may seem that there is a way sutado front of the house and it is not.
très bonne situation pour le repos et le calme
François
2016-11-12T00:00:00Z
Maria is a wonderful hoste, she met us at an easy location to follow to the house. Maria left us a lovely welcome basket for breakfast so we didn't need to worry. The house is in perfect condition and very clean. Each bedroom very lovely. The views are beautiful. The pool area is also wonderful but it was to cold for us to swim as it was the end of October on our visit.
Natasha
2015-11-01T00:00:00Z
Herrliches Haus in einer super schönen Lage. Einsam, das sollte man wissen! Begrüssung und Empfang sehr liebevoll mit Obst und Brot. Unkomplizierte Übergabe noch bei später Ankunft Toller Poolbereich, toller Chillbereich. Schöner Blick auf das Meer. Hier ist man der Natur sehr nah. Perfekt für 4 Paare oder 2 Familien mit Kindern, da ein Schlafbereich ganz separat liegt. die anderen Zimmer auch direkt mit schönen Bädern versehen sind. die Bäder sind modern und sehr sauber. Alle mit Fenster. Trotz der exponierten Lage fühlt man sich sehr sicher. Einzige "Makel" ist die Beleuchtung. Im Haus und aussen zu dunkel. das würde aber bald geändert, so wurde uns versprochen. wir kommen gern wieder.
Christiane
2015-10-11T00:00:00Z
Maria, How to describe our journey? Everything was so perfect! Your house is so fantastic and you are really a superhost (welcoming and well-organised). Our best stay with airbnb! So thank you so much and be sure we will come back ... Bruce
Bruce
2016-06-05T00:00:00Z
Thank you Maria for a wonderfull time in your house! It is really peacefull and quiet with a marvelous view. The house is adequately equiped and has everything you might need. The swimming pool is excellent and there is a garden with a lot of fruit and almond trees and lots of terraces and lounge sets. Maria is very welcoming and will pick you up to lead you the house when you arrive, because it is hard to find on your own for the first time. There was wine and soft drinks in the refrigerator and she supplied us with lots of lovely fruit. You will need a car to get around as the place is rather remote. But with a car it is easy to get around. Restaurants are to be found within about ten minutes drive and a well supplied supermarket is in Sant Joan de Labritja, also about ten minutes by car. We can recommend dinner at Es Pins on the main road to Ibiza. Meat lovers will love restaurant Balafia on the same road, opposite Can Pepeta. The grilled entrecote is delicious! It is a nice walk from the house to the beach of Cala Xaracca, about 3 kilometers walk. But beware of jellyfish at this beach :-( Another nice beach is Port de Benirras, where you have sun till later in the evening, plus drum sessions from about 18.00 pm. There are also a lot of restaurants there. I would definitely go back to Maria's house the next time. It is everything you expect and more!
Petra
2015-10-04T00:00:00Z
We had a wonderful time with 6 friends (3 couples) past week. Everything was perfectly arranged, Maria took care of a late check-in with even some groceries for breakfast! The house is situated in a nice and quiet environment, with a lot of privacy. Beaches are nearby, approx 20 minutes by car. We will definitely try to come back some day..
Manon
2016-06-19T00:00:00Z
The road to the house was a bit rough, but well worth the ride. Views are indeed marvellous, the house is beautiful and wel equipped, the swimming pool was just perfect. The communication with Maria was good, she was there if we had a question.
Willemijn
2016-09-11T00:00:00Z
Everything was how we hoped it would be! From the warm welcome from Maria to the marvelous (fully equipped!) house with great swimming pool and lounge area. Very clean as well. We definitely want to spend your vacation with our 5 kids here again!
Map
2016-08-21T00:00:00Z
Tipo de habitación
Casa/apto. entero
---
Tipo de propiedad
Casa
---
Capacidad
8
---
Dormitorios
Santt Joan de Labritja, Islas Baleares, España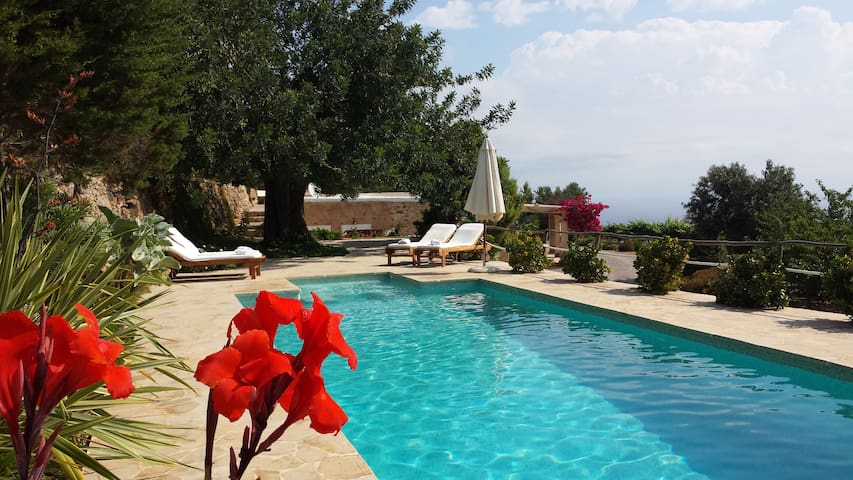 A cosy little house in the area of Portinatx, 5 minutes away from cala d'en serra beautifull wild beach in the island . Built following the style of the island, the casita is submerged in nature and pine forrest , bringing tranquility and serenity. Comodities restaurants , bar are 10 min by car .
Our place suits for all who want to experience a peaceful envoirement and sharing the good vibes of the northern's valley with its picturesque view . All the envoirement gives you the opportunity to relax , detox from the noise and the speed of cities . Have an escape in sa calma and Feel the soft , peacefull and powerfull energy of our paraiso . Lose yourself in our terraced gardens filled with lemon, Almond and olive trees, herb garden, organic veggies and flowers .Breath
The beautiful stretched sandy beach cala d'en serra is only a 5 minutes with car . We are not far away from the bay of portinatx and also only 10 minutes away from the most beautiful beaches and spots of the north of Ibiza : cala Xarraca , cala Xuclar ,s illot . We are near cala san vicent ,Sa Caletas, Aguas Blancas, Es figural and Beniras beach where every Sunday there is live drumming sessions.
Tipo de habitación
Casa/apto. entero
---
Tipo de propiedad
Casa
---
Capacidad
6
---
Dormitorios
Portinatx, Illes Balears, España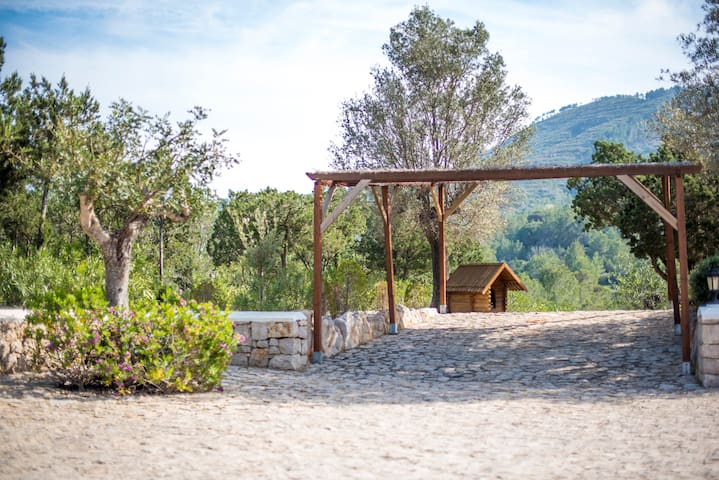 Apartamento independiente en Casa Rural. Una construcción muy antigua reformada, guardando escrupulosamente la estética original así como la utilización en dicha reforma, de materiales y elementos originales, techos de madera, en un entorno natural.
Bienvenidos a esta preciosa casa en medio de la naturaleza Nos encontramos al Norte de la Isla, a menos de 10 minutos en coche, de las calas y playas de arena de Portinatx. El inmueble alquilado se compone de dos unidades: Unidad 1. Apartamento, un dormitorio con cama doble, baño, sala de estar con sofá cama y cocina totalmente equipada abierta a la vida. Unidad 2. Habitación independiente con cama doble o dos camas individuales, si lo prefiere, un pequeño salón y baño (sin cocina). Las dos unidades se encuentran una junto a otra pero no se comunican interiormente. Hay piscina y una pequeña barbacoa, en la zona exterior de la casa además, nuestros huespedes pueden contar con un huerto donde puedes, durante el verano recolectar tomates sandías, entre otros productos de huerto. La finca tiene 71.000 m2 de terreno, tenemos algunas ovejas, conejos, gallinas, palomos y otros animales. Acceso independiente totalmente reservado, por lo que se contará con muchísima privacidad. Los techos son con madera autoctona que sólo se pueden ver en esta zona del país. Como anfitriones buscamos la excelencia en el trato y anticiparnos a las necesidades de nuestros huéspedes para así garantizar el éxito de la estancia y la continuidad de esta actividad. Les esperamos
Estamos en una zona especialmente protegida, por diversas figuras de Protección, LINC, ZEPA
Juan a chargé son fils de nous accueillir à Portinatx et de nous guider jusque chez lui. Il nous avait promis calme et sérénité et ce fut le cas! Un petit paradis tranquille dans la partie la plus belle de l'île.
Nathalie
2016-09-28T00:00:00Z
We had a lovely stay at Juan in Ibiza. We will definately go back, the house is on a hill, complete peace and nature around. The room is actually a one room appartment, groundfloor in the typical Ibiza style house : very good bed, very clean, nice bathroom with good functioning shower, all very clean, a very nice kitchen also very clean and all you need is there. Towels for bathroom and swimmingpool included. Great garden and swimmingpool, outdoor lounge beds etc.. realy nice people, you want to go back! You need a car to get there but it's only 2,5 km from shops & beach.
Heddie
2016-07-18T00:00:00Z
Wir haben es sehr genossen. Vielen Dank Juan und allen Familienmitgliedern.
Beat
2016-06-29T00:00:00Z
Nous avons profité d'un endroit exceptionnel et d'un hébergement excellent: Juan et Maria sont très à l'écoute et soignent vraiment leurs hôtes le tout avec une gentillesse et une discrétion absolues. La petite maison qui nous a été attribuée était très mignonne et impeccable. L'on peut donc séjourner chez Juan et Maria les yeux fermés et avec beaucoup de plaisir.
Hélène
2013-08-17T00:00:00Z
Juan e Maria sono persone fantastiche e disponibili a mettervi a proprio agio fin da (URL HIDDEN) posto è l'ideale se cercate di ritrovare il contatto con la natura e sconnettervi dalla frenesia quotidiana della (URL HIDDEN) location è da favola,curata in ogni dettaglio.
Paolo
2015-08-22T00:00:00Z
We totally loved our stay ❤️ and the hosting family. We made friends and were received in an way which I would describe as a warm bath. We will come back and hopefully they will visit us in holland!
Ingrid
2016-08-28T00:00:00Z
The host canceled this reservation 140 days before arrival. This is an automated posting.
Patrizia
2017-03-10T00:00:00Z
Juan est venu nous chercher à Portinatx pour nous montrer le chemin jusqu'à sa maison, ce qui est très élégant de sa part. Lui et sa femme ont été très charmants avec nous, leur sourire à illuminé notre semaine chez eux. Leur domaine est un vrai havre de paix: ont y trouve des lapins, des canards, des chèvres et nous avons même eu droit aux oeufs fraichement pondus! La maison est charmante et d'un très bon goût en matière de décoration: on se serait cru dans un magazine de décoration! Nous avions notre propre terrasse avec une grande vue dégagée et la piscine est très grande. Il est facile de se procurer du poisson fraichement pêché à proximité, ce qui est très pratique. Le séjour fut paradisiaque!
Lauren
2016-07-23T00:00:00Z
Tipo de habitación
Habitación privada
---
Tipo de propiedad
Casa
---
Capacidad
2
---
Dormitorios
Ibiza, , Islas Baleares, España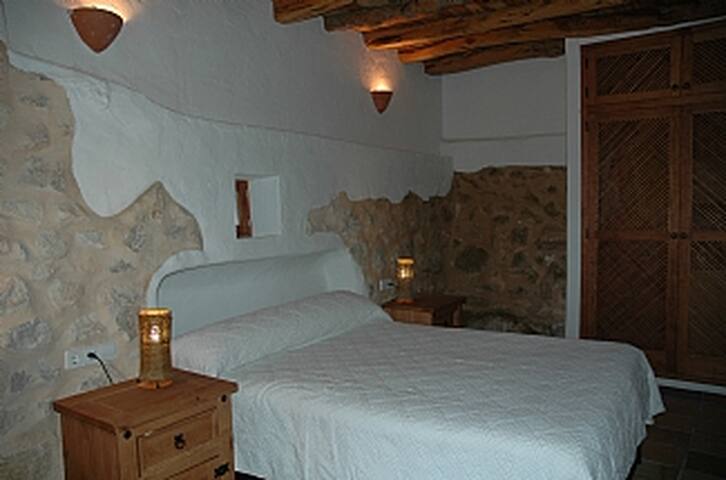 True to its name, Casa Floresta is surrounded by a lush green pine forest, overlooking the breathtaking bay. With exquisite sea view from every part of the house. This charming complex is comprised of 3 buildings. The main house includes 3 bedrooms, 2 bathrooms, a fully equipped kitchen a dining area and service room with a stretched terrace. A separate apartment with 2 additional bedrooms. An additional game room with bar and chill out zone.
True to its name, Casa Floresta is surrounded by a lush green pine forest, overlooking the breathtaking Cala Xuclar beach. With exquisite sea view from every part of the house, the beautiful venue has been meticulously restored and decorated with great attention to detail, bringing in authentic African art work and Rajasthany handmade fabrics, to complete relaxing ambiance so clearly unique to Casa Floresta. This charming little complex is comprised of three buildings, offering a variety of rooms and plenty of pampering living areas. The main house includes three bedrooms, two bathrooms, a fully equipped kitchen a dining area and service room with a spectacular stretched terrace. A separate apartment with two additional bedrooms, bathroom, kitchen and lounge with a private terrace. An additional game room with a bar and chill-out lounge, ensures everyone can find a quiet place to soak in the vibe of the island. A mere 3 minutes' walk from the famous Cala Xuclar beach, hot island summer days can also be spent in the pampering infinity pool surrounded by the beautifully groomed garden, offering complete tranquility. Ideally suited for eight guests.
The Portinax area is one the most beautiful parts of the island with an amazing little bays like cala xuclar, sillot, xarraca and much more.
We had a great time here at Casa Floresta. Pedro and Nara were truly wonderful hosts making our stay as easy and relaxed as possible. The villa was clean and comfortable. however we spent most of our time outside on the terrace and pool as it is the views that really make it. Good value for money, great beaches and restaurants nearby, would highly recommend coming here and hope to revisit again in the near future.
Tan
2016-10-03T00:00:00Z
It was a very pleasant stay! The house is beautiful and the view is perfect. Sometimes you have the drive far to get somewhere (a big supermarket), but it was nice to stay in the house with the big bbq. We will be back someday & thank you Pedro!
Merel
2016-10-11T00:00:00Z
We had a great time here. It is the perfect location for relaxing and as a base to explore the North of Ibiza (and easy enough to get down and explore the night life of the South too!) Pupik was very helpful both before and during the stay and did everything to make sure we had all that we needed. The pool, terrace and views were just what we needed!
Nikki
2016-08-08T00:00:00Z
Pedro is an amazing host. Pedro a été très accueillant, nous avons eu des indications très précises pour se rendre depuis l'aéroport jusqu'à la Casa Floresta. A l'arrivée tout était très propre et parfaitement conforme à la description. La vue est manifique et nous pouvions nous rendre la Cala Xucclar en quelques minutes à pied :magnifique petite crique peu prisée des touristes. Pedro nous a rendu visite deux fois, nous a donné des noms de restaurants très sympa, nous a aidé pour réserver un voilier....Très prévenant et faisant tout son possible pour faire de notre voyage un moment agréable et paisible. La maison est très agréable et confortable, nous en avions déjà réservée dans le Sud, mais le nord de l'ile est beaucoup calme et sauvage... Nous remercions également Nara qui est venue faire le ménage pendant la semaine et s'assurer que nous ne manquions de rien. Je ne peux que vous recommander de louer cet endroit, où une autre location de Pedro.
Guillaume & Yasmine
2016-08-30T00:00:00Z
We had an amazing time at villa floresta, the view from the terrace is stunning and we spent every evening watching the sunset from it. The location is just walking distance from cala xuclar which became our private paradise. all together it was more than we expected and We will definitely stay here again when we return to Island.
Eldad
2016-04-17T00:00:00Z
Pupik and Elke are real nice people, everything was smooth, accurate and clean. Pupik is a very flexible and helpful host, extraordinary and all reasonable things are possilbe - House was clean, and everything there what you need for a peaceful and nice retreat and stay in Ibiza - centre of the island - GREAT GARDEN !
juergen
2015-09-14T00:00:00Z
Pupik and Elke are very welcoming and attentive to our needs. The garden is very characteristic with lush plants and African statues, it is also equipped with hammocks and chairs to relax or take a bath in the pool. The house is very clean and extremely quiet with fully equipped kitchen, there is also an outdoor area with armchairs. It's a very good place to recommend.
barbara
2015-06-29T00:00:00Z
It was our second time at the Lighthouse.... this time we choose the apartment on the hill... it was so quit and romantic we had our own kitchen salon and bathroom with a very nice room full with light and the view is amazing...I highly recommend to watch the sunset from the garden ...the apartment is very nice clean and in perfect location. Nara and Pupik took care of everything we needed from cleaning the place to great tips about activities in the Island we had an amazing time and we highly recommend this Place!
Gilad
2014-08-16T00:00:00Z
Tipo de habitación
Casa/apto. entero
---
Tipo de propiedad
Casa
---
Capacidad
8
---
Dormitorios
Ibiza, Islas Baleares, España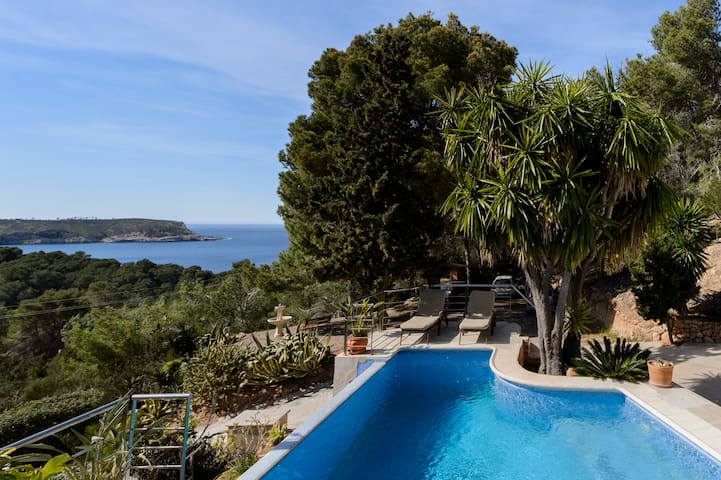 Part of an old Ibizan farmhouse our double independent room with terrace is cool and welcoming,near the great hidden northern beaches and within five minutes of the nearest village , has access to kitchen and outside shower and eco loo, also access to the big family bathroom , lovely seaviews x
This independent room has access to kitchen and has its own big terrace which is perfect for relaxing and getting away from everything, super cool and easy to get to the beaches from. Friendly funky space!xxx
Nos encantan las colinas del mar y la naturaleza salvaje aquí!
Justamente lo que buscábamos para nuestra estancia en Ibiza, un lugar que realmente te hiciera ver que estabas disfrutando realmente de lo que es la isla, mas haya de lo que se dice que es. Cierto es, que no podríamos habernos alojado aquí si previamente no hubiésemos alquilado una moto, ya que para moverse es imprescindible tener vehículo. Estas a 10 minutos de Portinax y a media hora de Ibiza ciudad. La casa es una típica casa payesa con enormes muros que te mantiene la habitación caliente cuando hace frió fuera o fresquita cuando el sol aprieta en el exterior. La decoración de toda la finca no deja de sorprenderte! Paseando alrededor de la casa puedes encontrar tesoros ocultos como una casa de niños, un columpio... Todo bien limpio y cuidado. Los desayunos o cervecitas antes de dormir en el porche no tenían precio. Belinda y Bob fueron unos grandes anfitriones, te ayudan con todas las dudas que tengas y se interesan siempre en que todo te vaya genial durante tus vacaciones. Un abrazo muy grande desde Madrid y en especial a nuestro fieles amigos Buddy y Boris!
Ainara
2016-07-18T00:00:00Z
I had an amazing time staying at Belinda's house. She's so generous and sweet. The room was my favorite Airbnb I've stayed so far. Magical quiet sunset, looking over the ocean and mountains. Everything was clean, well taken care off and Belinda has a lovely family. Highly recommend this place.
Laura
2016-06-06T00:00:00Z
We had a great time at Belinda's place. Her place is a real enchanting palace located in a peaceful environment surrounded by nature. The outside shower, hammock, cats and dogs, and lovely kitchen give the perfect touch. Belinda's place is perfect if you're looking for quietness and want to leave Ibiza's crowd behind. A car is recommended. There are many beautiful beaches to find on this part of the island which are not so crowded as the beaches on the West or South of Ibiza, so the location is also great. The communication with Belinda couldn't be better. She even picked us up when we arrived in the later evening and she guided us to her place. Belinda is such a warm, kind and interesting person. As well as her family. It is great to have a chat with her and if you ask she knows a lot of good spots. Belina keeps a perfect balance between communucation and your privacy. Anyway, Belinda is the best hostess you can wish and you can see she enjoys to have guests. Altogether we had a fantastic time at her place, we definitely come back. Highly recommended!
Mariken
2015-07-20T00:00:00Z
A beautiful setting! my boyfriend and I stayed here for 10 days and it was perfect and so peaceful. You are completely surrounded by nature. My favourite thing was having my lemon juice from the lemon tree every morning. The Hosts are incredibly welcoming and let you get on with what you want to do!
Charlotte
2015-07-03T00:00:00Z
this is old, authentic ibiza, far from the noise and crowds of the south. the hosts are super-friendly and relaxed and so are the cats and dogs. you wont hear much more than the wind in the trees. room is small but very cosy, and the terrace is facing west, lots of light and sunset. there is a lot of attention to detail and everything is super clean.
Andre
2016-05-25T00:00:00Z
Belinda has been so so great with my friend and I ! Lovely place in the nature & fantastique view ! I hardly recommend. Thank you so much for your welcome :)
Nora
2016-05-16T00:00:00Z
My partner and I enjoyed our stay with Belinda more than words can say! Her property is beyond stunning and the pictures almost don't do it justice; it has to be seen to feel the full effect! The peace and tranquility of her home was unlike anything you'll experience elsewhere on the island and provided us with the perfect base to explore the Northern side of Ibiza. Belinda was so accommodating; helpful, kind, generous, sweet, welcoming and a wealth of knowledge! She was our go-to guru when we had anything to ask about the village and gave us the most amazing recommendations. Her home is quirky, and full of life. And then there were her amazing animals; the dogs and kitties were so friendly and always there to wish us good morning and farewell! I honestly can't say enough about Belinda and this listing, except that we will certainly be back! xxxx
Joey
2016-07-27T00:00:00Z
Belinda is een geweldige gastvrouw! Samen met haar man en dochter doen ze er alles aan om er voor de gasten een geweldige week van te maken, en dat is bij ons zeker gelukt! Een prachtige locatie, met een schattige kamer op een heerlijk eiland! Thanks Belinda!
Bernadet
2015-08-21T00:00:00Z
Tipo de habitación
Habitación privada
---
Tipo de propiedad
Casa
---
Capacidad
2
---
Dormitorios
Sant Joan de Labritja, Illes Balears, España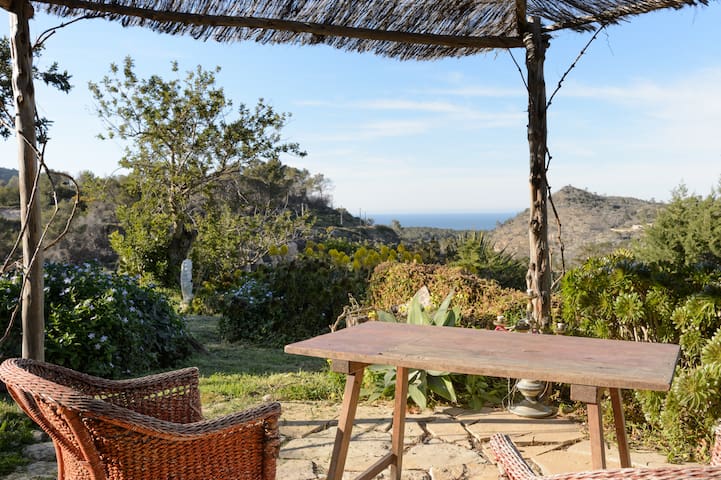 5 dormitorios, 3 BATROOMS, para 10 personas
Can Marquet ofrece el espacio perfecto para disfrutar de la vida y tomando el sol bajo el cielo abierto - con una piscina central camas de día confortables y una mesa de comedor al aire libre con capacidad para 10 personas - usted comenzará a preguntarse si hay cualquier punto de salir cuando en realidad ya tiene todo lo que es posible que alguna vez ha deseado la derecha en sus propios dedos. A pocos minutos del pueblo de San Juan y las impresionantes playas de la costa norte de la isla como Benirràs y Cala d'en Serra - ideal para escapar del bullicio de la ciudad. Esta finca "típico" ha sido renovado con delicadeza con una precisión meticulosa en los detalles. Los techos adornados con vigas de enebro y muebles contemporáneos prestan toda la casa de su estilo típico. Paredes en lugares casi un metro de espesor permiten temperaturas frescas de bienvenida en el verano y el calor acogedor en invierno. El diseño único de la Villa asegura que las habitaciones con aire acondicionado, conservan su propia intimidad y la privacidad también. Marquet puede establecer dentro del inmenso campo de San Juan, con increíbles vistas al mar es la última adición a una colección de refugios. Situado en el norte a 30 minutos en coche del aeropuerto de Ibiza 25 minutos en coche de la ciudad de Ibiza. Si usted es una familia grande o grupo de amigos este tiene que ser el destino de vacaciones perfecto para usted.
Envuelto por pino envuelto montañas magníficas playas doradas y el agua cristalinas de color turquesa del Mediterráneo. Bienvenido a Can Marquet una villa que realmente celebra 'la otra Ibiza'. En el municipio de San Juan Bautista o San Juan con un paisaje virgen y vistas impresionantes aquí es donde algunos de los restaurantes más exclusivos están cumpliendo una experiencia gastronómica única. SAN JUAN se ha convertido en popular como destino de vacaciones para aquellos que buscan la otra Ibiza. Muy silencioso y tranquilo, tanto en verano y de invierno - perfecto para hacer senderismo - esta parte de Ibiza es el hogar de algunas de las islas más bellas playas de sa S'Illa Pas, Cala des Moltons, Benirràs y Cala Sant Vicent, así como el Port de Sant Miquel.
Die Finca hat eine sehr schöne Aussicht aufs Meer mit Sonnenuntergang, was in Ibiza ja selten ist. Auch der Granatapfelbaum auf der Terrasse ist genial. Wir haben uns fast nur noch davon ernährt. In einer Skala von 1 bis 10 bekommt die Finca von uns 7 Punkte. Marc
Marc
2015-10-18T00:00:00Z
Excellent communication, hosting and a fun and authentic finca. Super.
Tom
2015-06-22T00:00:00Z
Varázslatos környék, gyönyörű panoráma, rálátás a tengerre, hangulatos ház, tisztasági problémák, rossz technikai eszközök.
zoltan
2016-07-24T00:00:00Z
We stayed for a week over New Year and the villa was perfect - very stylish inside and the views are incredible and it was warm enough (just!) to have breakfast n the lovely terrace every morning. There was always a sunny spot to sit and plenty of space for our whole party. The open fire and heating made the house nice and cozy at night. Lovely big comfy beds. We enjoyed day trips all over the island and particualrly loved the atmospheric village of San Joan near the house.
Rowan
2016-01-03T00:00:00Z
Bon séjour. Situation idéale
Frederique
2016-10-29T00:00:00Z
What a very special place in the world. The outdoor area is incredible. We practically lived out there! With views stretching across the beautiful Balearic seas, treating us to breath taking sunsets! The inside of the villa is immaculately clean, tastefully but subtlety decorated to show of the stunning quirks, shapes and history of the villa. Only minutes to a gorgeous sleepy but cosmopolitanism town with everything you need from local fresh groceries to cutting edge cocktails! Buzzing markets on Sunday. We were made to feel so welcomed and looked after. Our contact Ms G was unbelievable, so friendly helpful and on the end of the phone if we needed anything. On a personal note, our little girl was taken ill to hospital on the way up to the villa and our hosts were very supportive and on call if we needed anything I cant recommend this villa highly enough.
tava
2014-09-17T00:00:00Z
This was a lovely place to stay and we had a kind and warm welcome. It wasn't difficult to find and the nearby village had plenty to offer. 45 euros is all it cost us to get back from Ibiza town after clubbing with our children to celebrate of Ruby Wedding! The facilities were of a good standard which included a utility room. I loved the pomegranate tree. You do need a car to get around and the driveway into the property took some negotiating with a 7 seater car. The downside for someone like me are the low doorways in the villa. I am 6ft 4 ins. The mosquitoes were a problem we all got bitten.
Nigel
2015-09-26T00:00:00Z
Tipo de habitación
Casa/apto. entero
---
Tipo de propiedad
Casa
---
Capacidad
10
---
Dormitorios
Sant Joan de Labritja, Islas Baleares, España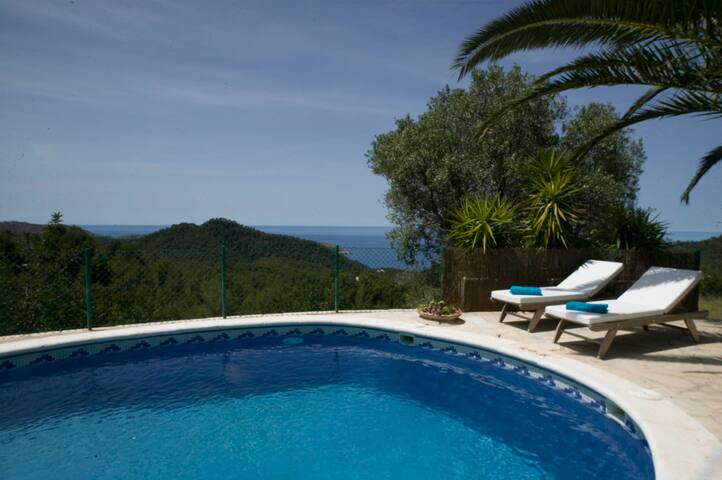 Beautiful double room in paradise Portinatx. Magnificent beaches, hiking, restaurants and more. It includes sheets, towels, wifi and everything you need to enjoy a wonderful holiday in a quiet and relaxed atmosphere.
We appreciated our stay. The place is exactly like on the pictures. Portinatx is a beautiful and relaxing place. We had easy contact with Marina but we didn't see her much. Chris, our hostess for our stay, was so nice and friendly with us. The room is very close to the main room (saloon) but very cosy and with access to an amazing terrace and sea view. Thank you so much.
Laura
2016-06-10T00:00:00Z
Tipo de habitación
Habitación privada
---
Tipo de propiedad
Casa
---
Capacidad
2
---
Dormitorios
Ibiza, Portinatx , Sant Joan de Labritja, Illes Balears, España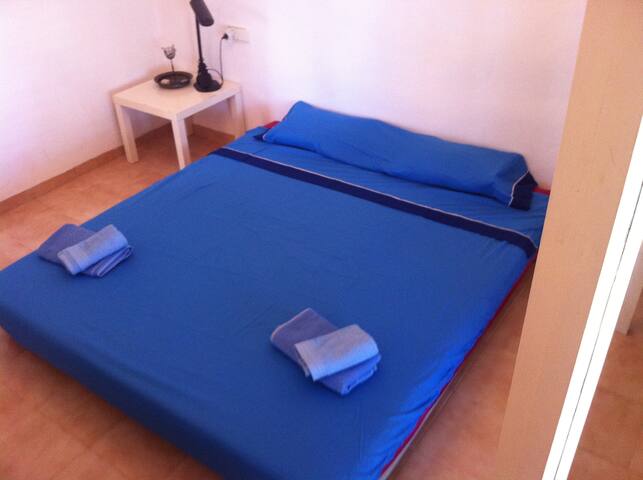 Gran casa rústica paggesa con piscina y finca Ibicenca, ideal para pasar tus vacaciones rodeada de naturaleza con las comodidades de tu casa de fin de semana. Ubicada en el corazón de la isla, lejos del ruido y a metros del acceso a la carretera.
Podran alojarse cómodamente 6 personas. Nuestra casa cuenta con 3 dormitorios, de los cuales 2 tienen cama doble y el tercero camas simples, con una cocina espaciosa y equipada para q no les falte nada, una sala de estar con sillones para disfrutar de la T.V plasma a cable, aire acondicionado, ventilador en sus ambientes, 2 baños y un lavadero. Una refrescante piscina con tumbonas que te invitan a relajarte dentro de la finca. Parking totalmente gratuito dentro del predio
Lo mejor de la zona es que es un lugar tranquilo, rodeado de vegetacion como palmeras, romero, arboleda frutal, flores y sombra de sus árboles. Podrán relajarse mientras toman un baño en la gran piscina
Tipo de habitación
Casa/apto. entero
---
Tipo de propiedad
Casa
---
Capacidad
6
---
Dormitorios
Sant Joan de Labritja, Illes Balears, España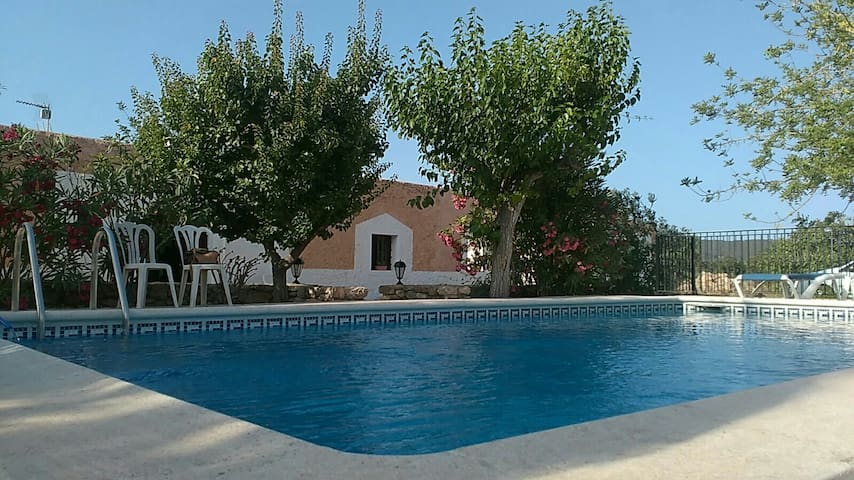 Can Seta, tucked away in the far end of our estate, has its own road. The cottage is situated on an incredible 20,000m2 estate in a timeless valley in North West Ibiza. The property is newly decorated in an ethnic bohemian style.
There are incredible views over Ibiza countryside and a plunge pool behind the cottage. The large living room area has several glass doors opening to outside chill out areas.
The North coast of Ibiza is inundated with stunning cove beaches, almost tropical in appearance and never blighted by crowds. Even in mid summer, they are wonderfully peaceful, with turquoise waters gently lapping the white sands. Cala Xarraca is within 20 mins reach by foot though a small path. Most other beaches along this coast line are within a 10 mins drive.
Ons verblijf in het huis van Silke was super comfortabel. Je hebt alle privacy en geen last van buren of lawaai. Verder waren we erg gecharmeerd van de huiskat die elke dag langs kwam om te knuffelen. We willen zeker nog eens terug komen hier, een heuse aanrader dus!
Kirsten
2015-09-21T00:00:00Z
Silke's cottage was absolutely wonderful. We had some trepidation about visiting with a toddler but I'd definitely say at its very family friendly! The decor was lovely and offered us the opportunity to relax in the sun during siesta time. Its the perfect place to relax and get away from it all. The location is spectacular, offering a feeling of tranquility but also being located very flow to San Joan and San Miquel. As a host Silke was extremely helpful, offering us lots of recommendations and even met us in San Joan to help us find the cottage. We'll definitely be looking to go back again.
Huw
2016-04-04T00:00:00Z
Silke's little cottage is the perfect place to experience the so special athmosphere and beauty of northern Ibiza. The house is perfect with lot of space for 4. there are différent areas for relaxing surroundings with the nature. Very good quality price. Monique was really helpful and warmly welcomed us with lot of "insider" tips in Ibiza !
Melinda
2016-08-31T00:00:00Z
Welkom was prima, goeie informatie, als er vragen waren konden we direct contact opnemen , auto heb je er wel nodig, een plek waar als je de drukte van Ibiza even wilde vergeten je heerlijk tot rust kon komen, voor ons was het de juiste plek, precies wat wij zochten.
milco
2016-08-24T00:00:00Z
The finca was exactly how we expected, very charming and beautiful. We really loved the little cat who leaved around the house. The place is really peaceful and comfortable. The location is ideal if, like us, you like the north of the island. We would definitely like to stay at Can Seta again.
Charlotte
2015-08-23T00:00:00Z
Tipo de habitación
Casa/apto. entero
---
Tipo de propiedad
Casa
---
Capacidad
4
---
Dormitorios
San Juan, Baleares, España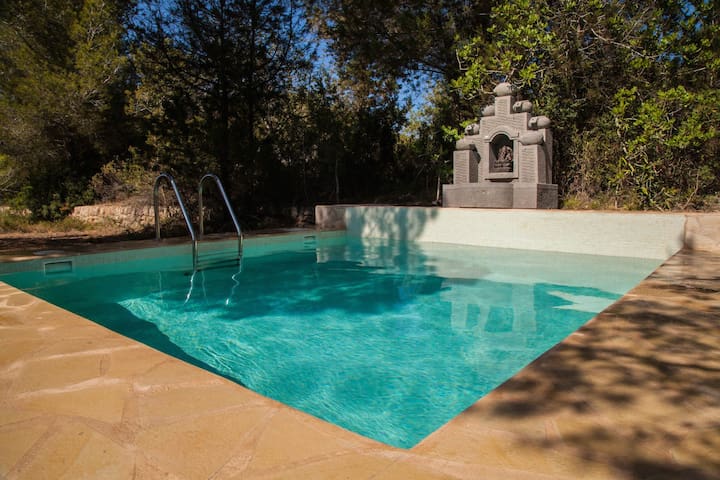 It is a charming authentic Spanish farm with stunning robust ibiciencan architecture ; The Space Simply a stylish farmhouse situated on the slopes of the magical island .The house is situated in the north of la isla blanca the most pure and wild part of the island . The house is sourronded by a beautiful pine valleys , a raw beauty .
Our place suits for all who want to experience a peaceful envoirement and sharing the good vibes of the northern's valley with its picturesque view . All the envoirement gives you the opportunity to relax , detox from the noise and the speed of cities . Have an escape in cas puig or can calma and Feel the soft , peacefull and powerfull energy of our paraiso . Lose yourself in our terraced gardens filled with lemon, Almond and olive trees, herb garden, organic veggies and flowers .Breathe freely the pure fresh sea air mixed with the smell of rosemary, lavender, thyme and pine.
The beautiful stretched sandy beach cala d'en serra is only a 5 minutes with car . We are not far away from the bay of portinatx and also only 10 minutes away from the most beautiful beaches and spots of the north of Ibiza : cala Xarraca , cala Xuclar ,s illot . We are near cala san vicent ,Sa Caletas, Aguas Blancas, Es figural and Beniras beach where every Sunday there is live drumming sessions.
Tipo de habitación
Habitación privada
---
Tipo de propiedad
Casa
---
Capacidad
2
---
Dormitorios
Sant Joan de Labritja, Illes Balears, España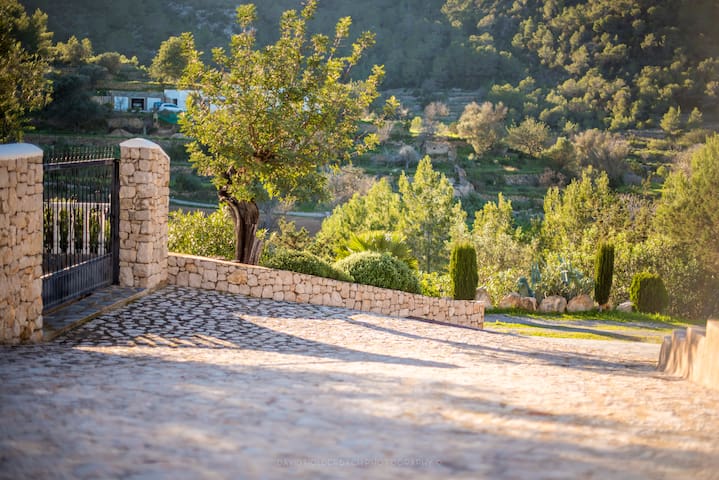 Incrito en el registro Insular de Empresas y actividades y establecimientos turisticos de Ibiza Casita junto a la pisicina, con capacidad para 4 personas, La habitacion principal dispone de Toilet y lavabo con una cama de matrimonio 2x2, En el Salon hay un sofa convertible en cama tambien para 2 personas. totalmente independiente, con cocina,
Casita con 1 habitacion principal 2 cuartos de bano uno de ellos con ducha. Habitacion principal 2 personas,, en el Salon hay un sofa convertible en cama para dos personas. Cocina, Terraza, una perfecta casa de vacaciones ideal para parejas o familias de 4 personas..
Can Joani, esta ubicada en el centro de Amunts, zona de proteguda de especial interes, rodeada de naturaleza por todas partes, a 10 minutos a pie de la playa de Cala Xarraca en el norte de la Isla de Ibiza
Mi esposo y yo estuvimos en la Casita para celebrar nuestro 1er aniversario de bodas, no me arrepiento haber escogido este lugar, es fantástico y lo digo sin exagerar. José y su esposa María Antonia nos recibieron muy amables, nos informaron de sitios para visitar y lo más importante fue que tuvimos la privacidad que buscábamos aún sabiendo que los dueños viven a unos pasos de nosotros. Definitivamente volveremos a ir. Gracias María Antonia y José por hacer esta 1era experiencia con Airbnb agradable.
SANDRA
2016-09-20T00:00:00Z
La casa es muy bonita, está muy cuidada y es muy acogedora. Las estancias amplias y muy limpias. Los anfitriones muy amables nos explicaron los lugares de interés, nos recomendaron restaurantes y estuvieron disponibles para cualquier duda o problema. Muy buena experiencia, altamente recomendables!!!
Pilar
2016-05-17T00:00:00Z
Great place. Beautiful quiet location only about 10 mins drive from the coast but the nearest bigger beach is about 20 mins. Jose was a great host. We would definitely rebook.
alex
2016-06-03T00:00:00Z
It was just brilliant to stay at jose's beautiful beach house. Everything was Thoughtfully made, clean, welcoming and better than expected. we would love to Be back one time! It feels its your own swimmingpool although you share with 4 other apartments. The roof terrace is perfect place for Yoga or Meditation. Under a huge fig tree is the table for breakfast. We were even allowed to harvest fresh apricots. You were amazingly nice hosts! Thank you very much.
Alexandra
2016-05-30T00:00:00Z
Eigenaar had van te voren geappt over het adres en over de bereikbaarheid van de locatie. Vriendelijke ontvangst met handige informatie over Ibiza. Prachtige locatie met fijn dakterras. Prima airco's in kamer en slaapkamer.
Annette
2016-09-16T00:00:00Z
Accueil chaleureux de José et maison très agréable au pied de la piscine. Nous avons tout particulièrement apprécié le rooftop absolument génial. Emplacement excellent si on veut faire aussi quelques footing le matin. En résumé, séjour très agréable... nous reviendrons avec plaisir. :)
Sebastien
2016-07-25T00:00:00Z
This place is absolutely stunning and is in one of the most beautiful and totally tranquil spots on the island. Its a 15 minute walk to Cala Xarraca and surrounded by pine trees and total silence. The casita is separate from the main house where Jose and his wife live. The main house is totally charming and classic Ibicencan style farm house. Saint Joan is nearby which is a really cute little village and the drive from Ibiza town is about 20 minutes. Just such a beautiful place with everything that you need for a totally chilled out and relaxing stay in Ibiza.
hannah
2016-10-01T00:00:00Z
A really nice long weekend at Jose and Maria's casita. They were excellent hosts, staying up for our 2am arrival. Thanks for the wine and fresh fruit too. The casita is very well decorated, spotlessly clean and with everything that you'd need, plus a lovely terrace for morning coffee or an evening drink and a nice pool outside too. 15 minutes walk to the beach with a good cafe and restaurant. Other beautiful coves a short drive away. All in all highly recommended, both the house and the hosts. We'd definitely stay here again.
izabela
2016-10-10T00:00:00Z
Tipo de habitación
Casa/apto. entero
---
Tipo de propiedad
Casa
---
Capacidad
4
---
Dormitorios
Sant Joan de Labritja, Islas Baleares, España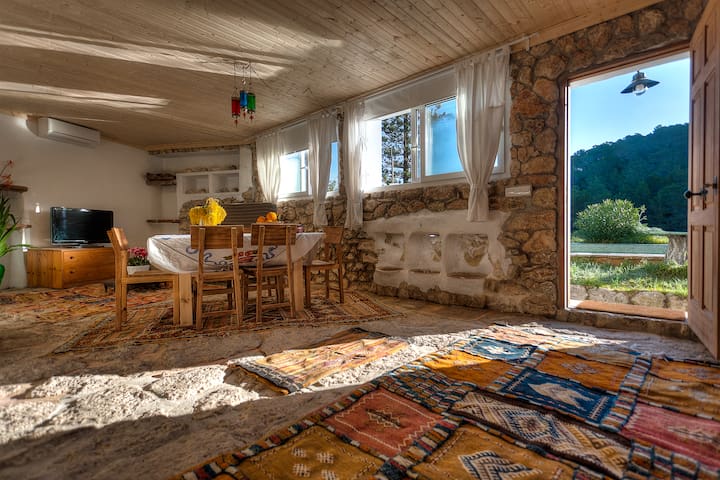 Lugares de interés: playas naturaleza campo vistas al mar vida nocturna mercadillos sol . Te va a encantar mi espacio por la gente, las zonas exteriores, la luz, y el ambiente. Mi alojamiento es bueno para parejas, aventureros, viajeros de negocios, familias (con hijos), y mascotas.
Tipo de habitación
Casa/apto. entero
---
Tipo de propiedad
Casa
---
Capacidad
4
---
Dormitorios
Sant Joan de Labritja, Illes Balears, España
RENT FOR HOLIDAYS Complete house in the countryside of Ibiza AREA; SAN JUAN, north of the island (Santa Eulalia at 20min) and nature reserve, sparsely populated Beautiful area. with a variety of beaches,and several places with quites coves ideal for enjoying the sea. The house is 5 minutes from 3 beaches; "Cala Xarraca", "Cala Sillot" and "Cala Xucla". Various routes of walks, through forests and cliffs. For lunch there are several restaurants on the seashore. For going out; we are 20 minutes from Ibiza and Santa Eulalia, rockin cities, markets and events for all tastes and ages. The town of San Juan is 2 km and has Bank, Pharmacy, Supermarket, fish, bars and restaurants. THE HOUSE; 120sqm built, is surrounded by countryside,with no neighbours only the owner who lives in a separate plot at 20 mt from the house, and separated by a fence.    The house has 3 bedrooms, 2 living rooms, kitchen, 1 bathroom and 2 terraces. Wifi, TV, and stereo, kitchen and bathroom. 1st room: double bed. 2nd room: 2 beds. 3rd room: 1 large bed. Place for 5 persons. Price: 80 € per day for the complete house.
El vecindario son fincas payesas, rodeadas de campos de almendros y algarrobos y montañas y un litoral de gran belleza.
La casa està en un sitio muy bonito, alejado del bullicio de Ibiza. Si buscas fiesta es un poco incómoda pero si buscas tranquilidad es un buen sitio donde disfrutar del silencio y unos buenísimos cielos estrellados. Checi es muy disponible .
alessandra
2013-08-14T00:00:00Z
We had a splendid time at Maria's place. The house is very nice, clean and has a good basic kitchen with a very good induction cooking plate if you wish to cook. Everything we needed was there. Maria was very welcoming and helped us with every question we had. The house is in a very peaceful area and you can see loads of stars at night. Also close to the beaches (but you still need a car). Supermarket is in the nearby town. We would definitely recommend this place for a quiet holiday away from the Ibiza madness.
Marie-Julie
2014-09-20T00:00:00Z
We had a really great experience at Maria's house. Maria is a very good host, we were thankful to her for being so flexible in our arrival time, since we arrived at 1 am. The house is very spacious, there is enough space for 5 people to stay. The rooms were simple but clean and there were closets to put our clothes in. The kitchen was well equipped and we were able to cook dinner. If you don't mind to stay in a house more north of Ibiza (it was quiet far from supermarkets/restaurants), we would recommend this place to everyone!
Kirsten
2016-09-25T00:00:00Z
no words can describe our experience. its was all amazing and very romantic. maria was very kind and a great host. we recommend the beautiful finca anytime! thank you maria
Camiolo
2013-08-29T00:00:00Z
The host canceled this reservation 105 days before arrival. This is an automated posting.
Mirjam
2016-04-07T00:00:00Z
The host canceled this reservation 133 days before arrival. This is an automated posting.
Judith
2016-04-07T00:00:00Z
Beautiful place to stay with 4 friends for a week. Comfortable beds, enough space for everyone. The veranda is a lovely place to eat, always windy and that's welcome during the summer. You absolutely need a car to discover the beautiful island. Maria is a lovely lady, very helpful and kind. We enjoyed our stay very much!!
Elfi
2015-06-29T00:00:00Z
Wonderful place to stay. We were with 5 friends and there was enough room for everyone. The place is clean and tidy. The garden is huge and provides that you can sit in the sun or the shadow (back or front). It is a very quiet place, no one else around except for the host Maria. The location is ideal, close to the beaches and to the town of San Juan. However, you do need a car to get around. Maria is a very friendly host. She gave us advise on places to visit and helped us with anything we needed. I will definately go back some day and would recommend this place to anyone.
Shelley
2015-09-19T00:00:00Z
Tipo de habitación
Casa/apto. entero
---
Tipo de propiedad
Casa
---
Capacidad
5
---
Dormitorios
Santt Joan de Labritja, España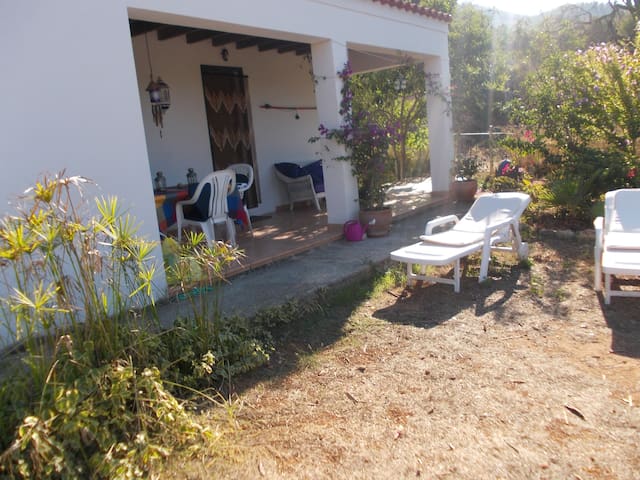 Este alojamiento es perfecto para conseguir unas vacaciones de relax y tranquilidad, visitar playas vírgenes, relajarse con paseos en un entorno idílico. La vivienda dispone de aire acondicionado, cocina completamente equipada(lavavajillas, microondas,placa, horno, frigorífico,lavadora) TV satélite, Wifi. Gran salón comedor, cocina y baño completo en la planta baja y en la planta superior tres habitaciones y un baño completo. En el exterior patio con barbacoa privada y jardín.
Aunque los propietarios viven anexos a la vivienda, hay entradas separadas por lo que la vivienda queda completamente privada con jardines, terraza y barbacoa.
La zona es completamente rural, a 10 minutos andando de la playa de Cala Xarraca, Playa S'Illot des Rencli está un buen restaurante donde podrán disfrutar de un buen pescado fresco, "Bullit de Peix", Paella... También en Portinatx hay varios restaurantes y visita obligada es la playa de Cala Xuclar con su chiringuito donde también podrán comer y tomar uno de los mejores mojitos con unas maravillosas vistas.
Tipo de habitación
Casa/apto. entero
---
Tipo de propiedad
Casa
---
Capacidad
6
---
Dormitorios
Sant Joan de Labritja, Illes Balears, España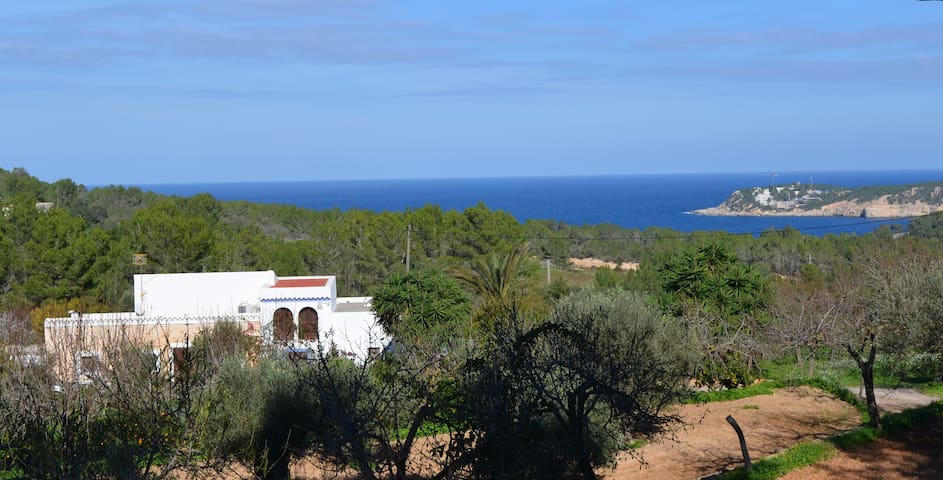 Villa only 500 mtrs from Cala den Serra Beach with Beautiful Garden, Pool, BBQ and pool table
This villa is a jewel in the countryside in the north area, next to the Sea !!. When you enter its beautiful surrounding stone walls and electric gates, you will be transported to a beautiful garden, with green lawns surrounding the sparking swimming pool area. Beside the pool you have a great covered terrace, a barbecue area, and a billiards table. Inside the living room, dining room and one double bedroom open to the covered terrace beside the pool and gardens. The kitchen also looks towards the garden. Upstairs you will find three bedrooms (2 doubles and one single) with views to the pool and one bathroom. Villa Portinatx will have internet installed for 2015 season. It is three minutes by car to the beach town of Portinatx, 8 minutes to Cala Xuclar and 500 meters to Cala den Serra. Villa Portinaxt can also be rented long term, the rate would be €3.300 per month with-out utilities. The Breakage deposit is €800 euros. All rates include local VAT. ET0667E
Tipo de habitación
Casa/apto. entero
---
Tipo de propiedad
Casa
---
Capacidad
7
---
Dormitorios
Sant Joan de Labritja, Illes Balears, España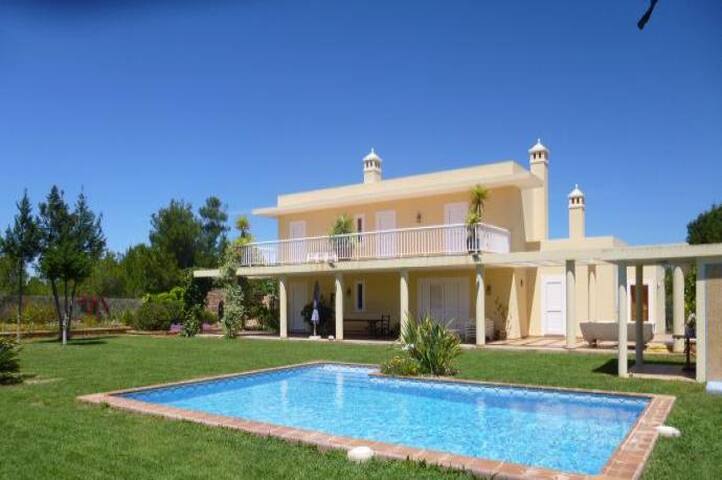 1

–

18

de

92 Alquileres de Casas
Introduce las fechas para ver el precio total. Ten en cuenta que se aplicarán tarifas adicionales y es posible que se añadan impuestos.