Un tranquilo, acogedor dormitorio y baño en la planta baja de una hermosa casa nueva, moderna en un amistoso barrio verde, el sudeste de Portland. saludo entusiasta de perro muy amable y gato viene de serie!
PLEASE READ THE ENTIRE LISTING BEFORE REQUESTING ACCOMMODATION. As a courtesy to our guests, our check-in time is 3:00 pm; however, as we both work weekdays, we cannot have the rooms ready until 5:00 or so. What this means is that our guests are welcome to make themselves at home in their living room or just drop their bags off and head out exploring, but they won't be able to rest their weary heads or hit the showers until we've had a chance to get home and tidy up. (PLEASE NOTE: This listing highlights the primary guest bedroom available, but for parties of 3 or 4 people, we do have a secondary bedroom that also features a queen-sized bed. All guests share the same bathroom, but the second bed shown on the listing is NOT in a common space, it is in its own private bedroom.) There is almost an entire floor available in our brand-new home smack-dab in the heart of fun, accessible Southeast Portland! This means that our guest(s) get not only their own quiet bedroom, but also a private full bathroom AND their own nicely-appointed living room (please note: the first-floor living room is NOT private, as it does not have a ceiling and is the way between the front door of the house and the stairs to the second floor). We are steps away from a frequent-service bus line, a terrific sandwich shop that's open for breakfast, lunch AND dinner, a pizza joint, a Starbucks, and, best of all, a Trader Joe's! The house is about two miles south of the trendy Hawthorne district, one mile south of nationally-recognized Division Street, and about four miles east of downtown Portland. The house itself is a beautiful, soaring Doug Fir- and hemlock-constructed dream home decorated with one-of-kind glass art pieces and potted succulents. Our guests have access to our fabulous kitchen in addition to their own first-floor amenities. We have a very friendly housecat you will likely meet during your stay, but the guest bedroom and guest bathroom doors are kept closed for the comfort of allergen-sensitive guests. We also have two friendly dogs who will greet you eagerly upon your arrival, but who otherwise spend their time hanging out with us and don't wander much to the guest floor. Lastly, to our guests during the colder months: the guest floor tends to be the coolest in the house, and we provide space heaters and afghans for your comfort, but we figure we should let you know ahead of time that if you run cold, ours may not be the ideal place for your stay.
Nuestro barrio es tan grande! Estamos muy cerca de varios centros fresco de Portland, pero estamos en un relativamente tranquila calle residencial, por lo que realmente tenemos el mejor de los mundos.
Great space close to lots of good eats. Becca was super helpful and courteous. Overall the experience was great and I absolutely loved portland, so there is a good chance I'll be back.
Stephen
2015-06-22T00:00:00Z
We absolutely loved staying at Brad & Becca's! It was so conveniently close to public transit (which we used almost every day). We also rented a car for part of our stay and finding parking was not a problem! They provided everything we needed (towels, toilette trees, blankets, pillows) and were always available if we needed to communicate with them. We only wish to have interacted with our hosts a little more because they really are great people! We highly recommend staying at this wonderful home!
Cristal
2016-12-19T00:00:00Z
Look no more! This is the perfect place in Portland. Our stay in the Urban Treehouse was great! Becca, Brad, Carlos and Diego (their dog and cat) were there to greet us upon our arrival. The neighborhood is very safe and quiet. The Treehouse is centrally located; we were able to get around town via public transportation/walking quite easily. Becca and Brad's home is architecturally beautiful and the decor is wonderfully artistic. We are looking forward to our return. Thank you Brad and Becca for hosting us in the Urban Treehouse!
Rebecca
2015-05-28T00:00:00Z
Brad and Becca were really friendly and made a few suggestions on where to go and what to eat. They also have a super friendly dog and sweet kitty who were just as welcoming. The room was as described. Ther weather was perfect. It was bright in the day with natural sunlight. You have your own private bathroom and it was clean. I had rented a car and had no problems finding street parking in front of the house. They live really close to a sandwich shop called Shut Up And Eat. They had tasty sandwiches and pickled veggies. It's within a quick walking distance across the street. Also, the house is situated really close to all the districts, except downtown which is 15 min away. Oh, I used the fridge to store drinks I had gotten at the nearby Trader Joe's and used the coffee maker daily, which was nice because I need coffee in the morning to function. The bed was pretty comfortable too.
Nancy
2014-09-04T00:00:00Z
We had a great time during our short stay with Brad & Becca. The place was just what we needed: affordable, comfortable, clean and close to good food and drink. Brad and Becca were very communicative and great hosts. Would definitely recommend staying here.
William
2016-07-04T00:00:00Z
What a beautiful spot!! This is an awesome location with a unique vibe. We felt truly at home. The teepee is romantic and we managed to stay dry and warm in spite of a night of heavy rain. Chris was great; sadly we only met Karen briefly but all in all it was a great experience!
Jacob
2014-09-26T00:00:00Z
Brad and Becca have a nice place, in a great Portland location. I booked at the last minute, and they were accommodating. The bed was comfortable, and there is a private bath as well. The "living room" would have made a nice place to sit and read, but there is no TV available in the private area. Actually, it's not really super private. The main entry to the home passes through the floor you are on, and the sitting area is opened on top with a high ceiling so they can look down and see you, and reminded me of the lion or bear enclosure at the zoo. Other than a very slight lack of privacy, the place is exactly as advertised. They seem like very nice people, and everything was super clean. I would recommend the place, but personally do prefer a more private arrangement.
Dave
2014-12-11T00:00:00Z
Nous avons passé un bon séjour dans la très belle maison de Brad et Becca. Nous avions notre intimité et une chambre agréable. Et un chat mignon et très câlin qui nous a rendu des visites.
Aurélia
2014-03-07T00:00:00Z
Tipo de habitación
Habitación privada
---
Tipo de propiedad
Casa
---
Capacidad
4
---
Dormitorios
Portland, Oregón, Estados Unidos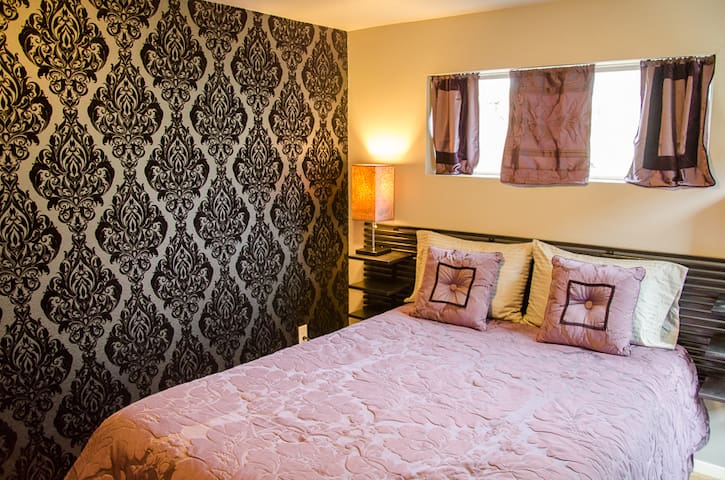 Ubicado en el patio privado de nuestra casa familiar, un centro de barrio. La ronda, rústico, MudHut romántica oculta en un jardín secreto con vistas al puente de San Juan y el río espumoso, cerca de la catedral Park, Forest Park, el centro de St. Johns, canoa y senderismo ... fogón, jardines de permacultura, bicicletas de préstamo, la comunidad la vida, la vista!
Nuestra cabaña estaba hechas a mano por la familia, amigos y la comunidad con gran amor y sirve como una casa de huéspedes, cabaña de educación en casa, la sauna y el santuario. Madera-climatizada y luz de las velas, que es un espacio para dormir tranquilo, rústico. Yo recomendaría alojarse dos noches para una experiencia de inmersión en la atmósfera relajante.
Estamos en St. Johns, de Portland más al norte, cerca de un pequeño pueblo de su propia con una fuerte identidad de la comunidad aquí. Muchas familias aquí tienen sus raíces de nuevo a James John, el fundador pionero de San Juan, que se conmemoró en todo el vecindario. El centro de St. Johns está a pocas cuadras de distancia, con un montón de restaurantes (tailandés, vegetariana, Soulfood, chino, pub, pizzas, deli, desayuno, café y helado), un antiguo cine y de compras (un montón de época). Parque de la catedral, a tres cuadras de distancia, es precioso y fotogénico con acceso al río Willamette y la presencia sobrecarga impresionante del gótico Puente de San Juan que se puede ver en la cabaña. También estamos cerca de una gran cantidad de áreas naturales para practicar el senderismo urbano y remar. Forest Park, lleno de senderos y bosques antiguos, es justo al otro lado del puente. Justo al norte de aquí es Kelley Point Park, la confluencia de los ríos de Willamette y de Columbia; Smith y Bybee Lagos, a los humedales para la observación de aves y remar; y Sauvie isla, con playas, parques, guarderías, senderismo, pesca, y observación de aves. Estamos en el camino migratorio mosca-Pacífico, por lo que un montón de acción de rapaces por aquí. águilas, halcones peregrinos y halcones redada de forma regular.
The experience of living in the mud hut is one of a kind. Everything about this place is wonderful. Firstly, I was so impressed by the way its been built and the unique character it exhibits. The fireplace and the candles surrounding the bed just made it so magical for me with the tiny little windows. Soaking into the hot tub with the view of the bridge and a glass of wine is something worth experiencing. I personally loved every moment and I wish could stay longer.
Preeti
2016-08-08T00:00:00Z
Ivy and Potato (the cat) were wonderful host. Loved the fire pit, hot tub, wood stove in the hut and the red towels. We arrived at night and couldn't see the pathway little solar lights would have helped, and the little tea lights are a lovely touch but we couldn't see in our luggage, and the train track noise on Friday night was quite alarming.
Robyn
2016-09-12T00:00:00Z
The mud hut and surrounding gardens felt like a world away from the bustle of downtown Portland, only a 20 minute drive. Ivy was out of town, but we had a great time exploring the place on our own. We cooled down by the water at Cathedral Park under the beautiful bridge at sunset and took some Tulip Pastry donuts over to Forest Park in the morning. For a unique, peaceful spot full of character, look no further!
Katie
2015-08-03T00:00:00Z
This was my best airbnb experience so far! Ivy was extremely welcoming and friendly, showed us around even though we arrived later in the evening. The hut was cozy and very serene. We needed a relaxing weekend free of worry, and we got that. Ivy even helped build a better fire when ours was struggling. Pretty sure I'll be back next time I need a good night sleep in Portland.
brian
2014-12-01T00:00:00Z
We had such a wonderful time staying in the Mudhut! Ivy was so kind and shared her jacuzzi and home-brew with us, and even helped us light the fire in the wood-burning stove. We felt so welcomed and enjoyed the simplicity and naturalness of the Mudhut and the land around us.
Anna
2016-01-19T00:00:00Z
My time at the mud hut was exactly what I needed and even better than I had envisioned. Ivy and her family are very friendly and accommodating. I loved getting to sit and watch her gather herbs and greens from her garden to make breakfast one of the mornings - everything was fresh and so flavorful. She really could make a living being a chef! Being away from my three cats was hard, so it was nice to have a kitty to pet a bit to remind me of them.
Melissa
2014-05-25T00:00:00Z
Ivy was a wonderful host! The mud hut was so cute, cozy, and comfy during a wide range of temperatures. We loved hanging out with the chickens in the raspberry and mint patch, and making coffee each morning in the outdoor kitchen area. Saint Johns is a very walkable neighborhood with great places to eat, awesome parks, and super friendly people. The bathroom is a little dingy, which was our only drawback, but all in all we had a wonderful week.
Ali
2016-06-12T00:00:00Z
This place is magical. It's exactly what is advertised and then some. I was looking for the next closest place on a very long bike tour, and Ivy waited up for me- five stars! Can't say enough nice things about this listing, highly recommended.
Douglas
2016-09-27T00:00:00Z
Tipo de habitación
Habitación privada
---
Tipo de propiedad
Casa cueva
---
Capacidad
2
---
Dormitorios
Portland, Oregón, Estados Unidos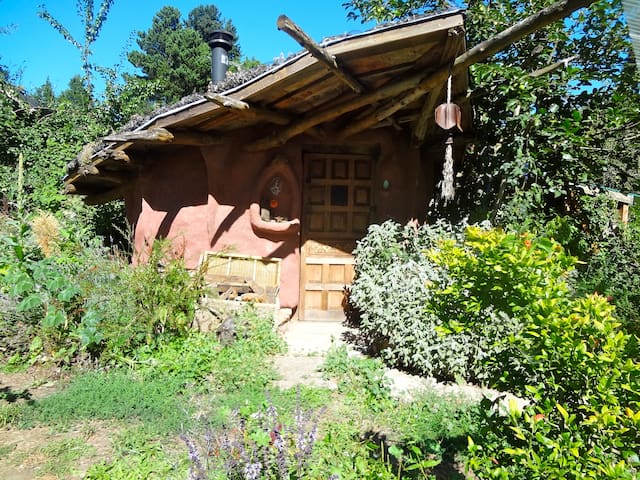 "Este es oficialmente el más fresco casa del árbol en el mundo" -Condé Nast Traveler Toda la suite de menor nivel de invitados con salón, dormitorio, baño privado, mini-cubiertas, y un sinfín de puntos de vista. Una búsqueda de la web "Este es oficialmente el más fresco casa del árbol en el mundo" lleva a un vídeo de corta duración de la residencia.
Located in SW hills, one mile from OHSU near Council Crest. Three miles from downtown Portland. Entire lower level guest suite including bedroom with queen bed, private bath, sitting room designed for lounging with comfy long sofa and bench table for placing ones feet or coffee upon, mini-decks, and shared laundry room.
House resides within 175 acre Marquam Nature Park with miles of trails for hiking or running. Three miles from downtown Portland.
Loved staying at Lance's! Adorable kitty, amazing views, and a friendly host. Everything was perfect and as described.
Kiran
2016-08-26T00:00:00Z
Couldn't have asked for a more beautiful and unique place to stay for our first visit to Portland. Beautiful neighborhood, fascinating house, and wonderful host. Thanks, Lance!
Benjamin
2016-06-21T00:00:00Z
We really enjoyed staying in Lance's treehouse! Beautiful city and mountain views! Lance was a cordial host- providing local recommendations and a history of the house.
Peter
2016-07-22T00:00:00Z
Great and unique house with a magnificient view. Clean and spacious room. Lance was easy to talk to.
Seulah Christina
2015-09-25T00:00:00Z
The place was a gem. It is located on the hills above the city, and you get an unobstructed view all the way to my. Helena and Hood. To be clear to those who rent, the rental is for the entire downstairs area and Lance lives on the second level. Lance was great about communicating and gave us our space to enjoy our stay. He also made coffee for us in the morning and made us feel very welcome! Would definitely recommend.
John
2015-11-28T00:00:00Z
Lance was a great host and the experience at the treehouse was like non other in Portland! We had great communication with Lance prior to our arrival and we had no problems checking in. He made us feel welcome right away like we were staying with a friend. We even had a chance to meet Barbie, his sweet 20 year old cat. Of course, the room was as described and the views were better than we expected. We only wish we could have stayed longer!
Cassie and Gilbert
2015-06-24T00:00:00Z
Best sunrise view! This place is an architectural gem. My husband and I found the room very comfortable and private. Lance and his adorable cat are fabulous hosts!
Vinessa
2016-08-29T00:00:00Z
This place is truly unique. It is nestled inside a dense forest of moss-covered trees with a stunning view of the city (and the sunrise!). It's like something out of a fairytale. We felt very safe and secure in the neighborhood. Lance is a wonderful host and went above and beyond to make sure we were comfortable. I hope to return here on my next trip to Portland!
Emily
2016-09-05T00:00:00Z
Tipo de habitación
Habitación privada
---
Tipo de propiedad
Casa
---
Capacidad
2
---
Dormitorios
Portland, Oregón, Estados Unidos
Cute little Tiny House! It used to be our boys' fort when they were young, now it is a comfortable little retreat for adventurers exploring Portland!
Cute little back yard "granny flat" cottage located near Mt Tabor park in very desirable neighborhood! The cottage is "Portland Style" construction with excellent insulation (R30), new windows, etc.. Great host, free internet, parking, furnished living space that is quite private.. I absolutely love to cook (growing up my parents owned a restaurant), and a made to order hot breakfast is included! Menu items range from homemade granola, homemade biscuits, Lisa's secret-recipe-fried potatoes, and much more! The cottage contains an upstairs bedroom & sitting area. Note: There are steep stairs, so please take that into account if you have joint pain, etc... The QUEEN size mattress is new and comfortable. Downstairs there is a small kitchen with stove, microwave and under the counter fridge. Also downstairs is a full bath with ceramic tile shower. Coffee maker and freshly ground coffee provided in the cottage. Guests are welcome to use washer/dryer in main house. Guests have use of the back yard with fruit trees and some berries when in season. Also the cottage is within walking distance of Division street shops, Pizzicato pizza, the 52nd & Foster street Food Carts and much more. The # 4 bus is just a block and a half away, which can take passengers west directly downtown. The "(URL HIDDEN) app or website is easy to use & can help you get you anywhere from the airport, to downtown, to Powells Books, The Chinese Garden, and so on.
South Tabor Neighborhood is a quiet eclectic little neighborhood with many avid gardners, friendly neighbors, and gobs of dog lovers. We have community get-togethers, work parties, and holiday celebrations! If you are used to neighborhoods where no one knows each other or even speaks to each other this is definitely NOT the neighborhood for you :-D
Lisa's cottage is cozy, clean, & everything you would want in a tiny house experience. The bed & pillows are very comfy. Make sure you eat the breakfast! Lisa is an amazing cook- my husband could not get over how delicious her biscuits & gravy is, I agree! She's an amazing cook & host! We will make sure to stay at the cottage when we come back to PDX.
Jessica
2016-08-21T00:00:00Z
Lisa's listing is pretty straight forward with everything, and her communication is fast as well. I wanted to confirm and ensure our circumstances for booking were ok, and she responded later that evening, and we were booked within less than 24 hours of our arrival. Everything in picture matched what we expected. A small, cozy cottage. Definitely something you can live in while visiting Portland for a day or two. The area is pet friendly, but the stairs to the bedroom are steep; so if you have low mobility it may be difficult (wasn't a problem for us). I don't recommend bringing your dog upstairs, unless you plan on escorting it up / down. Plus, it's carpeted, so I'm sure it's a pain for the host to have cleaned. There's a guest book to write about your trip, it's amazing how diverse (and many) people have stayed there. Lisa really has an awesome thing going for her. Everyone seems to speak glowingly of their experience. Some parts of the cottage are creaky, but noise isn't an issue. The neighborhood is extremely quiet. Careful on your way into the bathroom, there's a bit of a dip! Privacy is abundant, you can draw shades / curtains in almost every window to ensure you've achieved your level of comfort with the outside world. We didn't take advantage of the outdoor / fire pit area. Parking is also a bit tight, but they are open to you parking in the driveway, although we elected for street because we were out & about. The cost is well worth the stay for a night, and the breakfast is a must have. My only regret is not asking for the random breakfast, but I have a soft spot for eggs benedict, and was not disappointed (there's just something fun about being surprised with food).
Rhys
2016-04-03T00:00:00Z
Great stay, everything was exactly as described. Friendly host and awesome space.
Zack
2016-11-03T00:00:00Z
Lisa was so welcoming and helpful- we loved her immediately. The breakfast was absolutely delicious and we couldn't help but request it every single morning! It was like having restaurant breakfast delivered to your door each morning! The cottage is located in a great neighborhood and is very easy to get to - very near the Mt. Tabor park which is gorgeous and also near the eclectic SE Hawthorne area which we frequented. The cottage itself is exactly what you see in the listing - a "tiny house" of sorts with everything that you need right there. Perfect for 1-2 people. We loved it. The whole experience was perfect and we highly recommend it!
Kara
2015-03-09T00:00:00Z
We truly enjoyed our stay! Lisa was a very warm and accommodating host and we loved staying in her cozy cottage. Her home-cooked breakfasts were fantastic, and we appreciated the dog-friendly accommodations. We'll make sure to return next time we're in Portland!
Brendan
2016-11-26T00:00:00Z
We had a wonderful time staying at Lisa's place. It was cozy, clean and you can't beat the location. Lisa brought over breakfast in the morning and it was absolutely delicious! I would definitely stay here again.
Alischa
2016-07-21T00:00:00Z
Fantastic airbnb rental on every level! Great neighborhood, cute, clean and comfortable cottage (the bed/pillows are to die for!) and Lisa's extra special touch of gourmet breakfasts are worth the cost of admission! Thank You Lisa
teresa
2016-03-25T00:00:00Z
We enjoyed our stay. We slept better here than any place we have ever stayed! Breakfast was fantastic! Thanks Lisa!
Lisa
2016-06-27T00:00:00Z
Tipo de habitación
Casa/apto. entero
---
Tipo de propiedad
Bed & Breakfast
---
Capacidad
2
---
Dormitorios
Portland, Oregón, Estados Unidos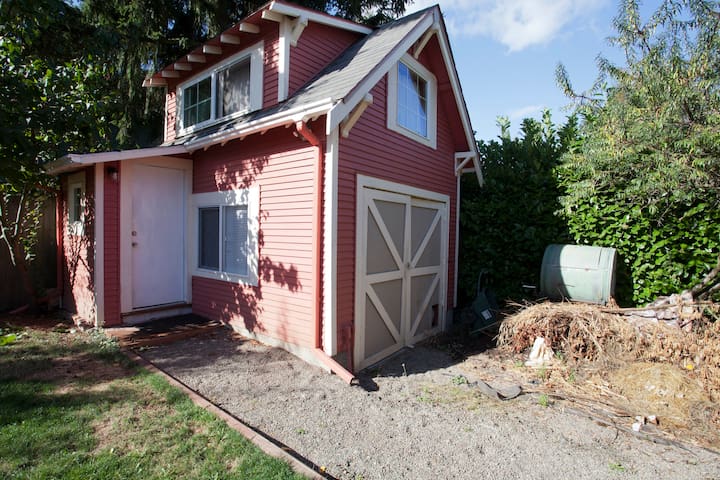 Bright, private studio-suite in beautiful Grant Park home. Excellent central location. 650 sq ft of private space. Queen-bed in main suite. Double-bed in adjoining dormer bedroom. Optional extra twin bed in the main suite to accommodate a fifth guest. Private, modern bathroom, bar, kitchenette, dinette and reading area.
The Funky Pad Suite has everything you need for convenience, privacy and comfort. - Main Room with Queen Bed, Sofa, Coffee Table and 40" HDTV with Cable (Digital Preferred/HBO/OnDemand). - Adorning dormer bedroom with full-size bed. - Kitchenette with small fridge, microwave-oven, traditional coffeemaker, french press and tea pot. - Foldout table and chairs for comfortable dining & work space. - Comfortable reading chair. Wet bar. - Bright, modern bathroom with skylight, vanity and shower. - Hotel quality towels - Hairdrier - Shampoo & bath gel - Iron & ironing board - Dinner & glassware - Portland destination media - Ample free parking right outside our door. - Main Room with Queen Bed, Sofa, Coffee Table and 40" HDTV with Cable (Digital Preferred/HBO/OnDemand). - Adorning dormer bedroom with full-size bed. - Kitchenette with small fridge, microwave-oven, traditional coffeemaker, french press and tea pot. - Foldout table and chairs for comfortable in-room dining / work space. - Comfortable reading chair. Wet bar. - Bright, modern bathroom with skylight, vanity and shower. -Hotel quality towels -Hairdrier -Shampoo & bath gel -Iron and ironing board -Dinner & glassware -Portland destination media -Free Parking right outside our door. I'm usually here if guests need me, and enjoy getting to know our guests. But I also offer complete privacy when that is preferred. The suite overlooks beautiful Grant Park, with outdoor swimming pool, tennis courts, play ground, walking paths and quarter mile track. There is a 24 hour QFC Supermarket just blocks away, and Whole Foods, Trader Joe's and New Seasons Market are all within minutes. There are many restaurants, bistros, bars and eateries within walking distance, including Shandong (Chinese), Sweet Basil (Thai), Nicholas (Lebanese), Cha Cha Cha (Mexican), Hale Pele (Tiki), and Pour Wine Bar & Bistro (Small Plates). Grant Park is situated in the middle of the outstanding NE neighborhoods of Irvington, Alameda, Beaumont, Hollywood and Laurelhurst. Alberta Arts, Oregon Convention Center and Downtown Portland are all just minutes away. Grant Park has a 98% walkability score. We offer Airport pick-up for $15 each way. (cab fare from our home ranges from $27-$36). Please make airport pick-up arrangements with us in advance. We offer bike rentals with helmets for $18 per day. There are bike paths that can get you to any part of the city from our Grant Park location. We have 4 bikes of varying sizes, which are all in perfect working order. We are right on the TriMet 77 & 70 Bus lines and a 15 minute walk to the Hollywood Light Rail Station. There are usually several Zip Cars throughout the neighborhood. Click on the Guidebook at the top of the page to see everything you can walk to in the neighborhood. We are looking forward to hosting you!
The suite overlooks beautiful Grant Park, with outdoor swimming pool, tennis courts, play ground, walking paths and quarter mile track. There is a 24 hour QFC Supermarket just blocks away, and Whole Foods, Trader Joe's and New Seasons Market are all within minutes. There are many restaurants, bistros, bars and eateries within walking distance, including Shandong (Chinese), Sweet Basil (Thai), Nicholas (Lebanese), Cha Cha Cha (Mexican), Hale Pele (Tiki), and Pour Wine Bar & Bistro (Small Plates). Grant Park is situated in the middle of the outstanding NE neighborhoods of Irvington, Alameda, Beaumont, Hollywood and Laurelhurst. Alberta Arts, Oregon Convention Center and Downtown Portland are all just minutes away. Grant Park has a 98% walkability score.
Paul greeted us and made us feel right at home. The place was comfortable, in a great location and had everything we needed for our stay.
Cindy
2016-07-01T00:00:00Z
Great place, clean and comfortable
Huaxin
2015-12-10T00:00:00Z
Paul was a wonderful host. He was so understanding when we checked in quite a bit later than originally planned because of a delayed flight. The Funky Pad was awesome; we couldn't have found a better place for our one night stay in Portland. We'd love to stay again, and would highly recommend to anyone coming to the area!
Krissy
2016-03-05T00:00:00Z
I stayed in Paul's Funky Pad for 3 days and absolutely loved it! The pad has everything you need plus little conveniences that make it feel more like home. For example, there were fluffy towels, shampoo, conditioner & body wash, speakers with a connecting cord for your phone, and more! Paul makes great efforts to keep the place clean and comfortable, which I really appreciated. He also made himself easy-to-reach in case there are any questions about Portland, getting around, or anything else. The neighborhood is right next to Grant park, a truly charming and welcoming neighborhood. It was also nice that Paul's place is located so close to a lot of things: excellent dining, a 24-hour supermarket, and all the shopping on Broadway, plus it wasn't a bad walk to get downtown at all. I feel like I was very lucky to get this booking, and I would definitely seek the Funky Pad for my next trip to Portland.
Lisa
2016-03-18T00:00:00Z
Had a lovely stay at this place in Portland, everything was clean and new! Paul was a great and thoughtful host who gave us useful recommendations and made us feel at home. Would stay again!
Nikolai
2015-12-11T00:00:00Z
The house was very clean and looked exactly as the pictures portray it. Paul was very friendly and gave us plenty of recommendations for food. The house is right across from a park and only a short walk from a lot of restaurants.
Jesse&Ashlie
2016-07-27T00:00:00Z
Very nice apartment, practical, complete and cozy furnished. Paul is the perfect host, very friendly and helpful. Pleasant and safe neighborhood. Highly recommended!
Anca
2014-09-29T00:00:00Z
Paul is an awesome host! You will never get this kind of service at a hotel. His advice Made this a great vacation. We only wished we would have brought the kids. The location is close to everything. It is clean and quite comfortable. You will love Portland.
cheryl
2015-03-15T00:00:00Z
Tipo de habitación
Casa/apto. entero
---
Tipo de propiedad
Apartamento
---
Capacidad
5
---
Dormitorios
Portland, Oregón, Estados Unidos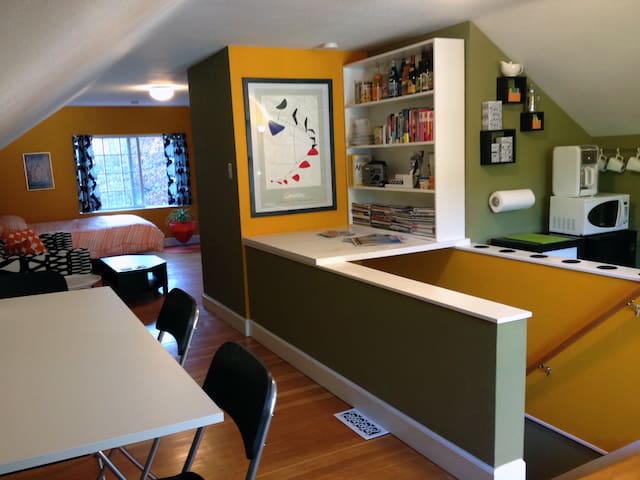 espacio de tranquilidad en un entorno de jardines. Este acogedor hotel dispone de una zona de cocina bien equipada y comedor, un relajante sofá en forma de L que se convierte fácilmente en una cama de tamaño completo. La ventana del baño se abre a su propio patio privado para cenar al aire libre o una tarde de ocio en la hamaca. Otras comodidades incluyen un televisor de pantalla plana con cable y Netflix, Wi-Fi, un doc iPod y equipo de música y una barbacoa de gas, por favor también ver nuestra lista para el estudio en el Garden Oasis. Venga a explorar fresco interior NE Portland, cerca del distrito de artes Alberta y Mississippi Ave, es un corto paseo a algunos de los mejores bares y restaurantes en Portland. 2 cuadras de mercado Whole Foods o Irving Park y una bicicleta o en autobús de 15 minutos al centro. A pesar de que usted tiene su propio patio del jardín es una zona común compartido con nosotros y el estudio. Estamos convenientemente ubicados en 2 líneas de autobús un paseo de 15 minutos al centro. El aeropuerto es accesible por tren o taxi máximo la luz (aproximadamente $ 25) alquiler de bicicletas disponibles unas pocas cuadras de distancia en todo el mundo, s alquiler de bicicletas y hay un montón de seguro aparcamiento en la calle.
We had such a wonderful time in this little garden oasis. We met Colin on our first day, he was really kind and welcoming, and the space was great, too! Clearly an eye toward efficiency and comfort, the small space was never crowded, we had everything we needed, and we made great use of the patio for picnics and morning quiet. Perfect way to celebrate turning 30, would love to come back and stay, again. Thanks!
Kirby
2016-04-06T00:00:00Z
What a cute little cabana! Colin has done an amazing job squeezing so much into this tiny space. We were warm and cozy despite rain all weekend.
Sarah
2012-12-03T00:00:00Z
We had a great experience for the duration of our stay. We only met Colin, but he was more than accommodating. It happened to be a record heat wave during our stay, but he checked in and offered a larger fan for our comfort. The studio itself is private, quiet, and clean. It has everything you need, with detailed instructions/helpful hints from the hosts. We enjoyed eating breakfast everyday outside in the little patio. The location is central to just about everything...including a Whole Foods around the block! We couldn't be more pleased (and relaxed) with our stay at Colin's studio!
Erica & Gino
2015-06-29T00:00:00Z
This was a great place to stay! I was traveling alone and appreciated the privacy of the backyard accommodations. It was especially nice to have a small kitchen where I could make breakfast before heading out for the day.
Ena
2015-10-11T00:00:00Z
We had an awesome stay at the Garden Oasis Guesthouse! We enjoyed breakfast and coffee in the mornings in the outdoor breakfast nook + quiet nights on a comfy bed! We will definitely be back. Colin and Medina were attentive and checked in with us to make sure we had everything we needed, but it also felt like we had the place to ourselves!
Dana
2016-04-10T00:00:00Z
Tiny space, but clean, comfortable and in a perfect location within walking distance to all the amenities you could want. Lovely hosts, quiet neighbourhood, highly recommended. Thanks Colin!
Laya
2015-07-13T00:00:00Z
Really enjoyed our stay here. Easy to get in and out. Walking distance to lots of interesting spots. Super cute space with a nice bathroom.
David
2016-03-10T00:00:00Z
Really great to spend the weekend in this cozy place. My wife and I loved the garden outside, and the house was just big enough to enjoy, but cozy enough to feel comfortable! Great stay.
Justin
2016-08-15T00:00:00Z
Tipo de habitación
Casa/apto. entero
---
Tipo de propiedad
Cabaña
---
Capacidad
2
---
Dormitorios
Portland, Oregón, Estados Unidos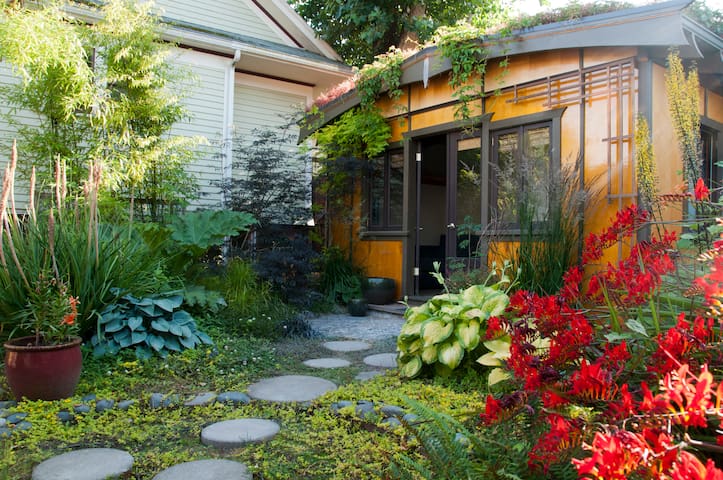 My house is close to light rail and bus lines in a quiet and secure area. Many restaurants, coffee houses and bars are within walking distance and there is a large grocery store nearby in case you need provisions. There are parks within walking distance as is the Adidas campus. My place is good for solo adventurers and business travelers. There is another bedroom that can sleep two and I have an air mattress available.
I didn't actually make it in to Portland due to weather and travel problems. Sheila was really kind and even offered to discount my stay when I rebook in the future. I thought that was a really kind and thoughtful gesture.
Anna
2017-01-13T00:00:00Z
Unfortunately I didn't arrive in Portland in time due to flight delays and wasn't able to stay at Sheilah's ,but she kindly offered that I could come take a shower and use the kitchen in the morning if I needed to which was appreciated.
Michele
2017-03-02T00:00:00Z
Shelia's place was fantastic! I could not have asked for a better value for what I got. Shelia is an amazing host, very down to earth and super accommodating. Though the house is not centrally located, Portland has great public transit, with a bus stop right by the house and a light rail stop within a 5-10 minute walk, both can get you downtown in around 20-30 minutes max. The airport is about an hour by public transit from the house. This is my third Airbnb and was by far the best. I would definitely recommend Shelia and when I return, will definitely stay again.
Alex
2017-03-12T00:00:00Z
Soon after my initial request to book a stay, Sheilah responded (with an accepted response). She also responded quickly after my arrival in Portland, when I asked about gaining official entry to her premises. Sheilah's residence is located on a quiet, tree and nature strewn strip, as advertised. At the end of her block, within maybe 50 or so yards from her place, however, there are three bar/restaurant/evening meeting spots, and also a bus stop. A five minute walk can bring one to a convenience store (Plaid Pantry) and a pretty decent pizza shop (Atomic Pizza); a ten minute walk can bring one to a nice indie coffee shop (Blend), a Thai restaurant, a sushi spot, etc. A ten minute walk in the other direction can bring one to a MAX light rail station for transport north, or for transport south into Portland City Center. The pictures Sheila provided for the room are accurate, for certain. The color palette is mostly tones of grey in between end points of white and black. To me, the room felt very crisp and clean, in the very best sense. The provided bed is a twin bed, meaning the room probably suits best the solo, independent traveler/solo, independent explorer. I can't, off the top my head, recall the nightly booking cost but I think it was VERY VERY reasonable for all that one gains in return. If one is looking for a reasonably priced stay in Portland, not in City Center but with very easy access to City Center, if one is looking for access to some amenities in easy walking distance, if one is looking to feel somewhat situated in nature (think mossy trees and squirrels and squabbling crows) but with 'city' features in easy grasp, well, look no further, you've found your spot!
Michael
2017-01-02T00:00:00Z
Sheilah's home is stunning, comfortable and close to downtown. About a 20 minute walk to the heart of downtown, close restaurants and bars but also a very quiet neighborhood. The house was very clean and she supplies everything I would need (shampoo, conditioner, hair dryer etc) and these are things I don't like to travel with. Sheilah was very respectable and polite during my stay. Would recommend to anyone on business or a personal trip. Thank you Sheilah!
Nicolette
2017-01-22T00:00:00Z
best choice for trip comfortable and convenient place!
Kyu Taek
2017-01-15T00:00:00Z
This was such a breeze! Such a bargin. Perfect spot, close to everything & Sheilah is a gem. Thanks for making my visit to Portland that much better!
Jake
2017-03-06T00:00:00Z
So convenient and comfortable!
hannah
2017-01-19T00:00:00Z
Tipo de habitación
Habitación privada
---
Tipo de propiedad
Casa
---
Capacidad
1
---
Dormitorios
Portland, Oregón, Estados Unidos
The Vic was built in 1896 and has a lot of old Portland charm. The room is very comfy and perfect for couples or solo adventurers. The Vic is located within walking distance of Coffee shops, boutiques, and restaurants. There is a bus stop 2 blocks away and downtown is only 5 minutes via car. Two small friendly dogs are occasionally in the common areas although never in AirBNB rooms. They are both low and no dander.
habitación amueblada con una cama cómoda, un pequeño sofá, escritorio, TV y ropa de cama limpia, en un edificio de apartamentos con encanto cerca del centro y en un par de calles de la popular avenida 23.
El alfabeto Distrito NW tiene todo tipo de tiendas y restaurantes. Hay un montón de ajetreo pasando aquí ...
Great place! The room was perfect, there were snacks in the kitchen, and extra toiletries in the bathroom. Perfect for a Portland getaway or a stay for families or business. Highly recommend! Quick uber or drive to any area in Portland.
Jillian
2016-12-27T00:00:00Z
Toney and Mimi were great hosts. Though we didn't see much of either of them, they definitely made us feel welcomed by providing a wonderful, clean room and a sweet note. Location was relatively close to everything, being right by the main freeway and the room is big and cozy. Such a comfortable environment and we would definitely recommend.
Laila
2017-02-20T00:00:00Z
So cozy and so lovely. I wish my trip was longer. Toney and Mimi even left a sweet handwritten thank you note. Snacks available, very tidy bathroom, super sweet place overall.
Sarinah
2017-01-06T00:00:00Z
Clean, hip, and quiet! Has essentials and very clear about house instructions. The location is close to a lot of restaurants.
Gayle
2016-12-26T00:00:00Z
Lovely room and great location. A few blocks away from Nob Hill, which has some great eateries including blue star donuts and bamboo sushi!
Sarah
2016-12-19T00:00:00Z
Great, ,even Tony's help MIMI help me to cart my srudd from car.
Shabih
2016-12-01T00:00:00Z
Toney and Mimi provide a very clean and cozy home to stay in. They are located very close to downtown and walking distance from the shops and restaurants on 23rd street. We really enjoyed our stay here and would recommend this place to anyone staying in the area.
Joanna
2017-04-03T00:00:00Z
My best Airbnb experience yet! Amazing hosts and great place. :)
Allison
2017-01-28T00:00:00Z
Tipo de habitación
Habitación privada
---
Tipo de propiedad
Apartamento
---
Capacidad
2
---
Dormitorios
Portland, Oregón, Estados Unidos
Estamos en el corazón de la ciudad en el barrio histórico de Portland Heights de Portland. Única zona tranquila que se encuentra a 5 minutos de la OHSU, Portland State, En el centro, la Avenida 23, y el distrito Pearl. Usted tiene su propia entrada privada y patio con la suite es amplia y ofrece muchas comodidades incluyendo baño privado, chimenea, Wi-Fi, TV con canales premium y desayuno continental. No se proporcionan cocina completa, pero microondas, horno tostador y hervidor eléctrico. Fácil aparcamiento.
Esta suite privada se accede a través de un patio directamente desde la calle.
Cerca de Oregon Health Sciences University y del Consejo Crest Park. El parque cuenta con excelentes vistas y senderos que conectan con el centro y el zoológico de Oregón. El centro y la Avenida 23 NW están a sólo 5 minutos en coche.
Beautiful house and neighborhood, thank you Elizabeth!
Caroline
2016-10-31T00:00:00Z
Staying at Beth's place was great! It was very clean and in a fantastic location. She had plenty of awesome recommendations for food and stuff to do around town. We were also offered complete privacy if we wanted it. Very smooth experience and highly recommended overall!
Pawel
2016-10-14T00:00:00Z
Great place and considerate host.
Chou
2016-11-18T00:00:00Z
Beth was fantastic! Such a sweetheart and really went above and beyond to make the space comfortable and welcoming! I can't say enough great things about the location and all the conveniences just down the hill. Overall, a truly lovely stay that felt like home.
caitlin
2016-10-24T00:00:00Z
Elizabeth's place was amazing! It was exactly like the pictures. It was cozy and private and she provided the essentials and more than what was expected. She also gave some recommendations for food and activities! All in all, 10 out of 10 would stay here again.
Amanda
2017-01-06T00:00:00Z
Elizabeth's place was such a great choice on many different aspects! It was only 5-15 minutes (depending on the time) away from the heart of Portland and in the middle of a quiet, beautiful neighborhood. Beth was kind enough to provide some goodies and a log to light in the fireplace during our stay, which we absolutely loved! Not to mention the bed was extremely comfortable! Thanks again Beth for sharing part of your home with us.
Tiffany
2017-03-17T00:00:00Z
Elizabeth's place is located up in the hills and is a great place to stay at if you're looking for a budget friendly and quality stay. Our place was extremely clean and had a very nice bathroom. As a California native, my boyfriend and I came to Portland for a vacation. Being snowed in, we found ourselves without any assistance from our rental car company, but Elizabeth was extremely helpful in our situation. Elizabeth made sure that we got to the airport on time by driving us and was there every step of the way when we needed assistance. All in all not only was the place extremely clean and nice, the neighborhood was extremely friendly. My boyfriend and I went around December and you can find kids sledding on the streets when everything is snowed in and kids making snowmen. Definitely a friendly vibe to the neighborhood.
Mimi
2016-12-15T00:00:00Z
The place was clean and delicately put together. We were excited to find 3 bagels, yogurts, and beers for each of us (there were 3 of us). There were 3 sets of towels and the single sofa has already been drawn out to make an extra bed for us. The bathroom was clean and well designed. Our host Beth also left fire logs for us (one for each night we stayed) and the room also had a wall heater that works very well with the space. Instructions were left for everything in the space, from coffee machines to the fireplace. Beth is a wonderful host and also left us a packet of menus and places to visit, since it's my parents' 30th anniversary. We loved her and really enjoyed our stay! Tip: Bring your own toothpaste if you mind using toothpaste from the previous renter.
Wendy
2016-11-11T00:00:00Z
Tipo de habitación
Casa/apto. entero
---
Tipo de propiedad
Casa
---
Capacidad
3
---
Dormitorios
Portland, Oregón, Estados Unidos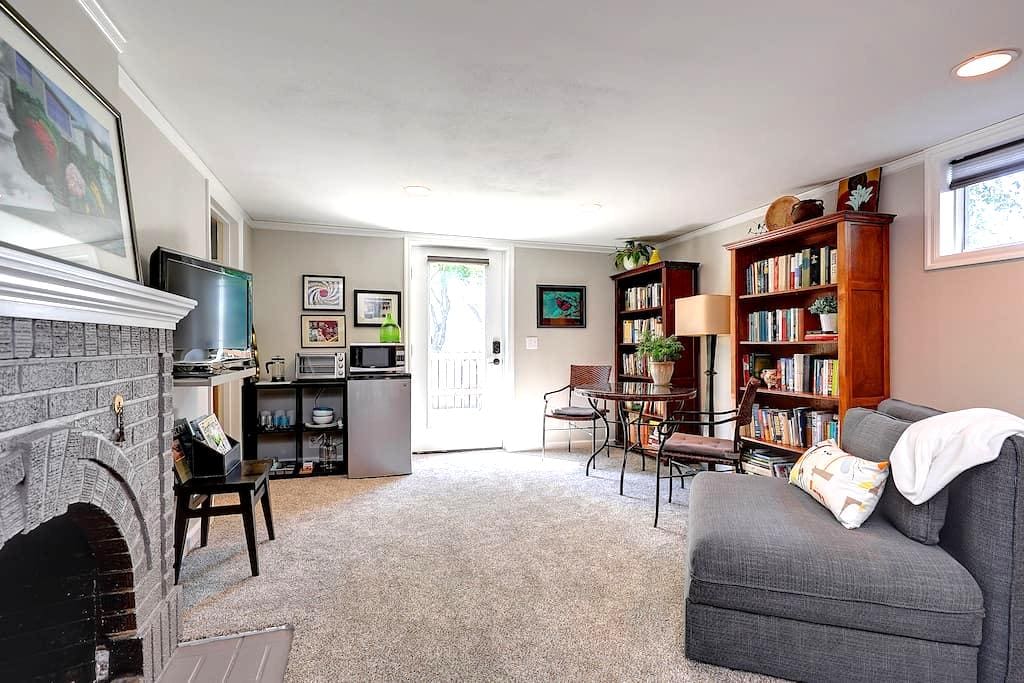 Our modern, bright loft is on the 2nd floor of a townhouse and has its own bathroom. You'll love the simple, homey feel and touches of Scandinavian design.
We live in this open modern townhouse with our dog and young son. After entering, you will be welcomed by a European, modern style space. The loft is upstairs on the 2nd floor and has a king bed, a convertible modern sofa, and a huge desk for your creative and business needs. We have two big closets and an ensuite bathroom with a tub and shower which has a dryer, shampoo and conditioner and all your bathroom essentials to allow yourself to relax. You have a coffee and tea kettle to start fresh in the day.
Kenton is a sweet little residential area nested between parks and still not far from I-5 and the City Center and the vibrant Streets of Northeast Portland. We are 1 minute walk from Kenton Park and 10 minute Walk from Columbia Park where you will find shaded picnic areas as well playgrounds that have water splash areas and off leash areas for your furry friends. Harper's Playground a playground which is on Saturdays the hotspots for all families is 15 minutes walk away. Do you need your morning coffee kick? Kenton has a small business district and two amazing cofffee hot spots. Prince Coffee PDX ( amazing coffee and stroopwaffels) Posies ( has the best almond latte and a playroom for kids) We have Walgreens, New Seasons, Green Zebra and Fred Meyers only a short five minute drive away. It is a great walkable neighborhood you can do a walk to Williamette Blvd and have even an secret overlook of the city.
Tipo de habitación
Habitación privada
---
Tipo de propiedad
Adosado
---
Capacidad
2
---
Dormitorios
Portland, Oregón, Estados Unidos
Two bedrooms in spacious old Portland House. 2.5 baths, finished basement, basketball hoop, great front porch, perfect for families. Walk to Hawthorne and Belmont neighborhoods. 3 blocks from Laurelhurst park and a longer walk to Mt. Tabor. Close to bus lines and MAX train. ASTR Permit # (PHONE NUMBER HIDDEN)HO
Spacious and comfortable old Portland craftsman, with a fabulous porch and a lovely backyard with gas grill. Two bedrooms upstairs w/queen beds, T.V. room, and full bath. Sectional couch, full bath and full kitchen. Close to downtown, walk to Hawthorne & Belmont neighborhoods. #14 & 15 buses to town very close, 10 min walk to Max. ASTR Permit # (PHONE NUMBER HIDDEN)HO
Walking distance to Hawthorne and Belmont neighborhoods as well easy biking or public transport into downtown portland. Nice hiking/running/walking on nearby Mount Tabor. Great restaurants and brew pubs within walking distance.
Kevin was very welcoming! Check in was easy. Home was in a great location! Close to everything!
Angela
2016-08-27T00:00:00Z
Kevin was helpful and informative.
Allison
2014-05-22T00:00:00Z
The house is beautifully furnished and spacious. It is obvious that Kevin and his family take great care and pride of their home. We loved the neighborhood and would love to come back. Kevin communicated very clearly and well in advance of our arrival, and was very helpful in preparing us for the unusual weather during our stay. Thank you for sharing your beautiful home with us!
Kris
2016-08-22T00:00:00Z
This house is a very cozy, spacious place to bring family. I can say enough positive about this place. Thank you to Kevin and your family for welcoming us into your home.
Dave
2016-11-26T00:00:00Z
Tipo de habitación
Casa/apto. entero
---
Tipo de propiedad
Casa
---
Capacidad
6
---
Dormitorios
Portland, Oregón, Estados Unidos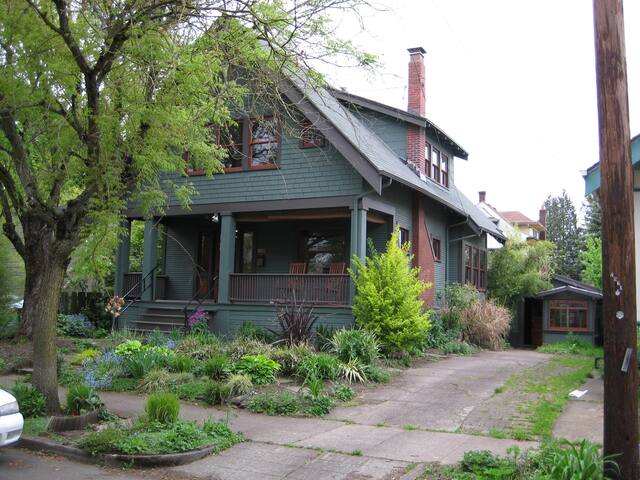 Enjoy the historic character of this 100 year old building with close proximity to parks, coffee shops, restaurants and bars. Situated in the vibrant NW 21st/23rd neighborhood and walking distance to the Pearl, Streetcar line and the MAX.
*Exposed brick wall and original hardwood floors throughout *Bright interior and large windows overlooking vibrant NW 21st *Historic character including large built-ins, crown molding and clawfoot tub
An abundance of restaurants, bars, boutiques and coffee shops are at your doorstep! A list of my favorite spots will be available upon booking.
The apartment is very stylish in a vintage building that has been very well kept up. My wife and I were there for 5 weeks and we managed very well. Maggie left us the dresser and a large closet so there was lots of storage and room for our suitcases. The kitchen was very well equipped. Full size fridge, oven, dishwasher. Good selection of dishes, cookware. The bed was very comfortable. We didn't notice in the pictures that there was no table and chairs but we adapted the desk to our dining table. The neighborhood is great. Restaurants, bars, walk to Trader Joe's and Fred Meyer, walk to downtown. We really enjoyed our view of 21st street - always people moving. we would recommend this condo for anyone wanting to come to Portland and stay in the middle of a great neighborhood.
Kent
2016-12-28T00:00:00Z
Maggie's unit a great choice for couples,independent kitchen/comfortable living room/free parking permit. Lots of restaurants and hot shops.Maggie is a good guide easygoing and warmhearted.
Avil Zhang
2016-11-20T00:00:00Z
Maggie was a wonderful host ! She was very helpful in every way. The place is lovely, clean and cozy it has everything you need , feels like home. Restaurants, shops and supermarkets are close by !!! I'll definitely come back !!! Love it .
sandra lorena
2016-01-11T00:00:00Z
We had a great time in Portland, Maggie could not have been more helpful, the accommodation was just as stated, Maggie took the time to go through all the amenities, and local places to visit. The apartment location was ideal. The beds was most comfortable, lovely crisp bedding. Coffee and other staples were very appreciated! We would not hesitate to return.
Heather
2015-11-09T00:00:00Z
Charming, classy & comfortable describe this conveniently located condo which looks exactly as portrayed in the pictures. It's in a perfect location near restaurants shops & the streetcar. Maggie, was very attentive & responded to my questions immediately. She went out of her way to make sure my stay was as enjoyable as possible. Maggie was a stellar host, it was my best Airbnb experience thus far! Thank you :)
Melanie
2016-10-20T00:00:00Z
Maggie's condo is the perfect Portland spot. It is in walking distance from all the amazing restaurants and shops on NW 23rd and only a 10-15 minute walk from the Pearl District. The condo has an amazing amount of charm. The high ceilings and wood floors make it warm and inviting. The kitchen is a good size and is equipped with all the basics. The layout of the apartment makes it seem much larger than it looks in photos. Maggie was extremely easy to communicate with and responded within minutes to any questions I had. I would recommend this wonderful place to anyone wanting to experience everything Portland has to offer. I had an amazing stay and would definitely return.
Brittany
2016-08-01T00:00:00Z
Tipo de habitación
Casa/apto. entero
---
Tipo de propiedad
Apto. en complejo residencial
---
Capacidad
3
---
Dormitorios
Portland, Oregón, Estados Unidos
An urban getaway with private entrance, bedroom, bathroom, and kitchen. Lots of windows that overlook patio and a spacious backyard with beautiful fruit trees. Quick access to I-205. Easy walk to downtown buses (30 minute ride).
A rare find! This cozy apartment has all the comforts of home. After you come through the side gate, you'll notice the covered patio welcoming you to your home away from home. A great place to relax outside. You'll access your apartment with a key-code lock (code given upon registration). Bedroom has queen bed (new mattress!), full closet with shelves for storage. Bathroom has shower with tub. We provide complimentary bath products and a hairdryer for your use. The eating area looks over the backyard. Kitchen amenities include full sized fridge, stove, sink, microwave, coffee maker, hotpot, and granite counter tops. There are plenty of pans for cooking and table service for four. We provide a few breakfast items to help you get started. We have had friends and family live in this unit for short visits and long stays - and either way they have felt at home and comfortable in this great space.
Just a few short step from the front yard is Essex Park, a lovely place for a short evening walk. We live on one of Portland's bike boulevards so you can bring your bike and easily get around Portland. Should you need to pick up a few amenities we are a four block walk from stores like Walgreens, Walmart and Fred Meyer (grocery store, about a 15 block walk). Many standard eateries are in this same area. A little farther afield, but still an easy walk is Portland Mercado with fun food carts and dining choices inside and out under the tent. The neighborhood is a great mix of family homes and conveniences. We love living here. The Foster-Powell neighborhood is an undiscovered gem - which means you save money and get the convenience you're looking for. We think you'll enjoy your stay here.
Elizabeth was very communicative upon our arrival and her directions for entrance were clear. Everything was ready and clean when we got there. She provided bathroom amenities and full kitchen dishes, etc so accommodated for moderate cooking. Loved staying here and only a 15 minute drive to downtown Portland!
Megan
2016-07-19T00:00:00Z
Timothy and family have a very simple attached bedroom/small kitchen which you enter from the side of the house. It made a decent one night stop for us. Amenities were great and we appreciated the breakfast food left for guests in the kitchen. The one down side was that it seemed the bedroom was located very close to the stair case and and directly below the homes other bedrooms. We were able to hear conversations and all noise going on in the home until around 2am. Not a problem if you are a heavy sleeper but otherwise would be an issue. Overall a decent stop for the price. Thanks!
Connor
2016-09-06T00:00:00Z
What a great place! It had everything we needed and then some. Upon arriving, it was very simple to get into the place and plenty of parking on the street. When you walk in, you enter the kitchen to get to the bedroom which then leads you to the bathroom. The place is clean and well-kept! She even provides milk, OJ, cereal, eggs, bagels, etc for you to have like a true B&B! It was a cute touch! She really goes out of her way to make you feel at home and comfortable and that is greatly appreciated!We are more private people when we travel so we opted to close the connecting door and only ran into Elizabeth once. It was great meeting her as she is very friendly though! For the price, the place just can't be beat if you're going to have a car anyways! It is about 20-30 minutes to the downtown and shopping areas, but well worth the distance! Very cozy!
Katie
2016-05-06T00:00:00Z
Host was just fine, friendly and helpful. Place was as advertised although smaller than expected.
Gary
2016-06-16T00:00:00Z
Tim and Elizabeth were very friendly and made us feel comfortable from the beginning of our stay. Great space and was perfect for our needs.
Kevin
2016-11-04T00:00:00Z
The host canceled this reservation 162 days before arrival. This is an automated posting.
Elizabeth
2016-10-04T00:00:00Z
The hosts were amazing!!! The location is great and the bed was super comfortable. You can tell they went out their way to make us comfortable. The fridge was stocked with milk and juice and other breakfast items. The apart. itself was equipped with a fridge, microwave, sink, and an eating area. You have a view of the backyard and it was so beautiful seeing the ice and snow in the morning. We had a little scare with the dog when we walked in one of the days , but didn't see him after. The entrance opens up with a code which was great bc we didn't have to worry about loosing any keys. Over all we had a great weekend and the price we paid was unbeatable for the commodity we got. Definitely give this place serios consideration. Thank you guys for opening up your home to us!!! :)
Cindy
2016-12-13T00:00:00Z
Great place to stay! Private entrance through the backyard with easy code entry. Elizabeth was very easy to communicate with- very responsive and flexible which I greatly appreciated. The space was very clean and cozy with everything that I could've needed. Would definitely stay here again in the future!
Marissa
2016-07-06T00:00:00Z
Tipo de habitación
Casa/apto. entero
---
Tipo de propiedad
Casa
---
Capacidad
2
---
Dormitorios
Portland, Oregón, Estados Unidos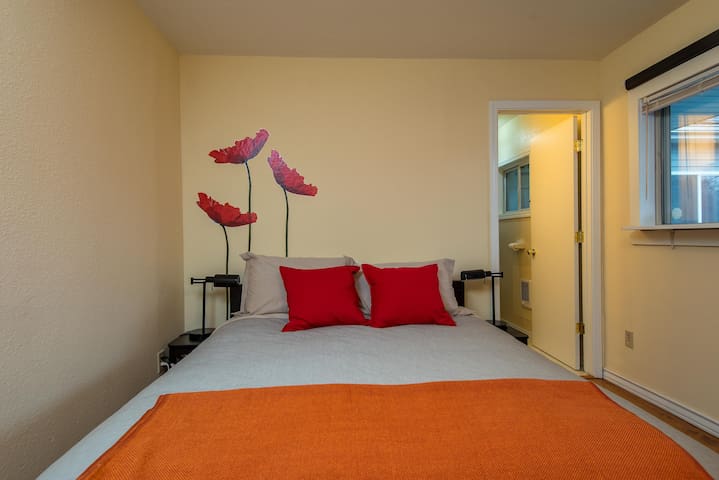 Take a trip back in time in a historic 1881 sailor's hotel! The bunk room is co-ed, with 8 triple bunk beds. Custom built, they include free ultra-high speed wi-fi, reading light and charging outlet, privacy curtain, and lockable built-in storage.
The bunk room has been created as a nod to the hotel's creation as a safe place for sailors. You'll find the same thing in this space with 18' ceilings- cozy, strong, and comfortable triple bunk beds. Each bed has a wide, sturdy ladder to access the bunk. Inside the bunk you'll find a storage locker to stow valuables (bring a lock with you), a charging station for electronics, and handy reading lamp. Thick canvas curtains provide privacy. 3 private baths in the mezzanine above the beds are available, as is a small kitchenette with fridge storage for leftovers, fresh cold and hot water, and a sink. There's a common area below to meet other travelers, and a bank of lockers for your bigger bags.
Old Town/Chinatown is the historic heart of Portland. It's our Ellis Island, where immigrants of all stripes first came ashore, just a few blocks away at the river. Now you'll find festivals, the Saturday Market, music shows and clubs, restaurants, art galleries, and shopping, all within a few blocks of our location.
This was my first Hostel style experience and I loved it! The bunk room is clean and tidy, the bathroom/showers are quite comfortably sized. The staff were all very courteous and cheerful with helpful advice for breakfast restaurants! And the rooftop lounge area is beautiful! Great spot for the sunrise! It is easy to find from the airport via MAX, the train stops just a block and a half away. I would definitely recommend this as an affordable, classy, convenient place to stay in Portland!
Joe
2016-01-10T00:00:00Z
This was a great place to stay! Quiet, clean and extremely comfortable, the staff was also very friendly and helpful. Would stay again no doubt!
Rémi
2016-07-27T00:00:00Z
I am comfortable in saying that I couldn't have gotten a better place to stay in Portland. The Society Hotel (Jonathan's place) is a blend of a hotel and a hostel. I stayed in one of the bunker beds, which had a much better mattress and linens that you usually get in hostels, and it felt very comfortable and private with the curtains. Plus, the staff was very nice, the coffee at the coffee shop is delicious, and the location was unbeatable. I'll definitely plan on staying there again next time I come to Portland.
Renan
2016-01-19T00:00:00Z
This is a great spot for anybody who wants to explore Portland. Really great location at an amazing value, friendly staff, and a professionally-run operation that pays a lot of attention to detail. Can't recommend highly enough!
Jonathan
2016-12-07T00:00:00Z
Very welcoming place. Loved my stay here at The Society Hotel!
Paul
2016-01-27T00:00:00Z
The society hotel is a great place to stay. I upgraded to single bed room with a shared bath. The room was small (just enough space for a queen bed and room to walk around) but was good enough as I was traveling by myself. The room was very tidy and had a small sink. The bath was right across the corridor from the room and really clean with all amenities. Location is great to walk around the downtown and also to the Pearl District. The hotel itself is in old china town which can be a little shady at times. Overall, Great place to stay in the DT if you are looking for a clean/conformtable/economical option.
Shamanth
2015-12-26T00:00:00Z
The place is nice and clean. It's a new hotel/hostel and this was the hostel section. Nonetheless, a nice environment, simple setup with everything you need. The only thing is it could be a little dodgy when coming back late at night as the Chinatown area has a lot of homeless people roaming the streets.
Aik Leong
2016-02-09T00:00:00Z
Impressive hostel. The bunks were very private and the private bathrooms and showers were great. The rooftop deck was lovely and the coffee shop/bar was perfect! I was in the top bunk on a warm day, and in the future I'd try a lower bunk to see if it would be cooler. Otherwise, a great stay!
Kristen
2016-05-08T00:00:00Z
Tipo de habitación
Habitación compartida
---
Tipo de propiedad
Otros
---
Capacidad
1
---
Dormitorios
Portland, Oregón, Estados Unidos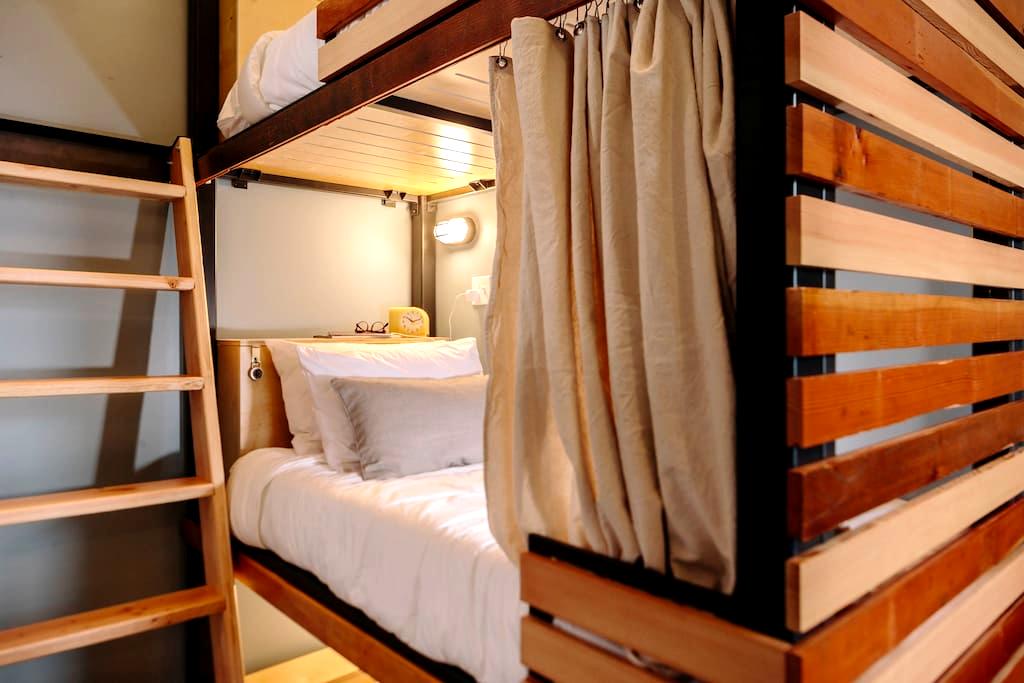 encanto del viejo mundo con instalaciones modernas. Cocina completa con lavavajillas y lavadora / secadora en la unidad. wifi gratuito para los clientes. Este apartamento se encuentra el punto muerto entre la Perla y Nob Hill. zona muy accesible, cerca de campo de Providence Park (anteriormente feild Jeld-Wen, tranvía y Max! Usted está a cinco minutos a pie de cualquier cosa en la Perla, el centro o NW 21 y 23 Ave. ir a un espectáculo? Crystal salón de baile está cerca. El ir a un juego de la Madera? El campo está a pocas cuadras de distancia. prefiere quedarse en? Whole Foods Market está a unas cuadras de distancia y tiene una cocina totalmente equipada! Hay una gran cantidad en una proximidad muy cercana a este lugar. Si usted tiene alguna pregunta le animo a que me envía un mensaje. ¡Esperamos verte pronto! Este lugar hace que las personas sienten que no tienen un hogar lejos de casa. POR FAVOR TOME NOTA: Estas son algunas de las preguntas más frecuentes, así que por favor tome el tiempo para revisarlos antes de solicitar una estancia. Q: ¿Está cerca de transporte público? R: Extremadamente. Si vas en avión, tomar la línea roja MAX desde el aeropuerto al campo de Jeld-Wen (sólo unas pocas cuadras de la vivienda). Visita el sitio web para obtener más información Trimet, tienen herramientas de planificación de viajes impresionantes. Q: ¿Hay estacionamiento? R: aparcar en la calle. Se regula el permiso, proporcionamos el permiso en el apartamento. Simplemente lo mostrará en la ventana trasera de su vehículo y se puede aparcar en la calle por unas horas o la duración de su estancia. Siempre se puede encontrar aparcamiento por lo general dentro de un par de manzanas, pero ser conscientes de bocas de riego, zonas de carga, etc. Q: ¿Hay transitables cafés, tiendas de comestibles, restaurantes y bares? R: Este apartamento se encuentra en el centro de una zona muy animada. Por favor, echa un vistazo a la pestaña de mapa en la parte superior de la lista de algunos de mis lugares recomendados en el barrio. Hay cientos más, sin embargo, a fin de comprobar Yelp también.
This is a cute little third floor apartment on the edge of the Pearl District within easy walking distance of the Max train, Powell's, Brew pubs, and a short drive from the Rose Garden (free!), the Hoyt Arboretum (free!) and the Japanese Garden in the western hills. The efficiency kitchen is perfect for short stays (note that there is NO coffee maker) and there's even a washer and dryer. Brad was responsive to our few concerns, and returned the deposit promptly. Note that while the listing says pets are welcome, the windows have no screens.
Debra
2012-08-11T00:00:00Z
A charming apartment conveniently located within walking distance of all attractions of the Pearl, Northwest and Downtown Districts. A perfect spot to call home for your visit to a fascinating city. The exceptional transportation system is only minutes away. Visit Portland soon. When you come, plan on staying here.
Ed / Margaret
2014-07-18T00:00:00Z
My husband and I stayed in Portland for a week and loved coming home to this studio every night. It had everything we needed and more! The space is very centrally located and was an easy walk east to downtown and the river or west to the hills every day. There were area magazines and maps in the desk that came in handy when finding restaurants and activities. The full kitchen was great when we wanted to cook and save money by not going out. It was very nice to have a washer and dryer to clean our clothes half way through our stay. We rented a car at Enterprise across the street and loved having an included parking pass to use overnight. The space had great light and felt very open and inviting. The decorating style made us feel like we were staying in someone's much-loved home. Brad was easy to communicate with and answered my questions in a very timely manner. We highly recommend this location for anyone visiting Portland.
Kelly
2014-08-27T00:00:00Z
We loved staying at Brad's! Perfect for 1-2 travelers who want to stay within walking distance of pretty much anywhere Downtown! It is close to bus and rail stops, and is also directly across the street from an Enterprise Rent-A-Car, which was tremendously convenient when we decided to rent a car for the day. The apt is cozy, but adorable with many thoughtful touches. Brad left a lot of great recommendations for restaurants/attractions, and there is no shortage of excellent places to explore within walking distance! I would absolutely recommend staying here , and hope to have the opportunity to return again, soon!
Rachel
2015-07-08T00:00:00Z
Loved everything about our stay in Portland! The studio offered everything we were looking for! Cute, Convenient, Clean! We were happy to walk to many local restaurants, bars, and shops. Since we were in town for a convention, the close proximity to public transportation was also a plus! Already looking for an excuse to go back! Cheers!
Susie
2015-04-18T00:00:00Z
Brad's place was probably the cutest one we've ever stayed in! It was perfectly located and had so much charm and style. It was an easy check in process and we would absolutely stay here again.
Roni
2016-03-23T00:00:00Z
the apt. was like a tiny jewel box! adorable. A major problem became SLEEP. the first night the tenant directly above me was moving (funny how the management didn't realize, especially with that lovely chandelier swinging about. (explained in a text) (or know when a tenant is leaving ) Again the first night which was monday the tenant made a great deal of noise. i waited until 1:30-i kept hoping that the tenant perhaps had scored a giant sofa at IKEA! with a drill.boots and round containers rolling this way and that. Tuesday and weds day were 24/7. thursday was the only night i slept for 11 hours. Friday there was a party until 2:30 am. same floor as mine this time. kids really . i text,emailed and attempted calling but perhaps the managers were too busy. i was told "old buildings make strange noises"-yes they do. i left 11 days early. to sleep.
Fran
2015-02-11T00:00:00Z
My wife and I really enjoyed our stay. We had our dog with us and really felt at home. We brought alone towels and blankets to cover the nicely appointed furniture in the studio a must for our four legged family member. The location is the best. We ate dinners in - which we bought at the Whole Foods down the street. I was a little confused with the check in - but Brad responded in seconds. I hope to visiting Portland again and hopefully can stay at Brad's wonderful home.
Allen
2014-02-14T00:00:00Z
Tipo de habitación
Casa/apto. entero
---
Tipo de propiedad
Apartamento
---
Capacidad
2
---
Dormitorios
Portland, Oregón, Estados Unidos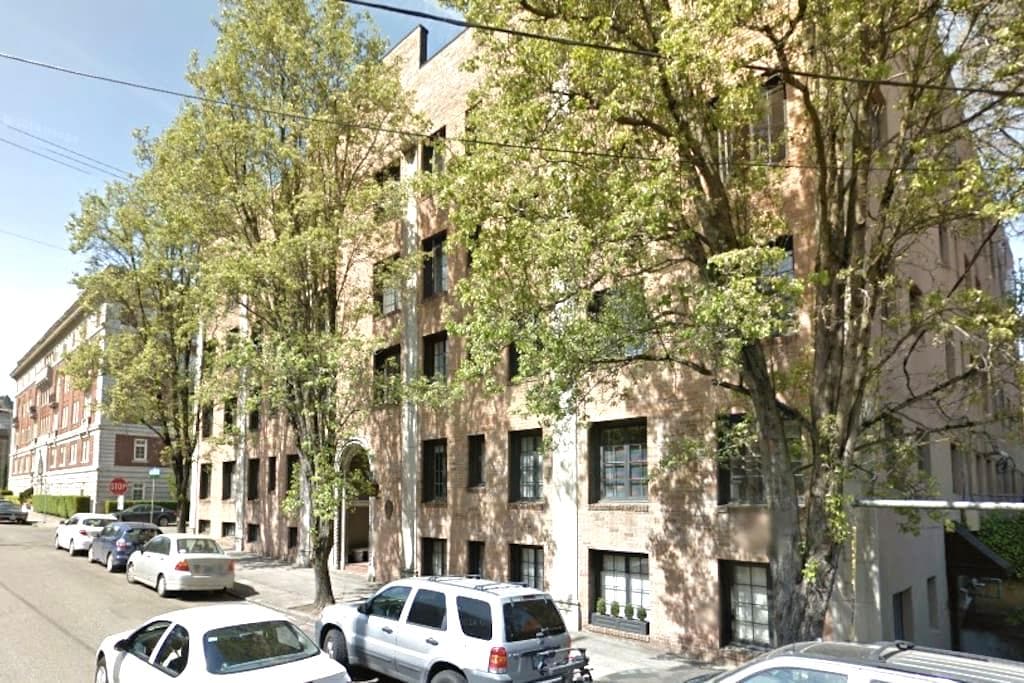 Stand alone mother-in-law apartment, brand new, bright and quiet. Close-in in Portland's Buckman neighborhood. Sleeps 2 comfortably. Amenities include free wi-fi, cable, w/d, full kitchen. Garden available to use. Near restaurants, wine bars, shops, bus line, Whole Foods. Portland at your doorstep!
Buckman is a close in SE Portland neighborhood which is an increasingly popular place to live. The apartment is at the eastern end of the neighborhood. There are parks, a picturesque cemetery, good restaurants, wine bars, craft brewing pubs and the Laurelhurst movie theater, all within walking distance. The #15 bus line runs to downtown on the other side of the cemetery (6 blocks). A little further afield (just over a mile) is the Hawthorne district where there are some off beat shops and more places to eat and drink. Downtown is 2 miles away. The apartment is part of a new build and is situated at the rear of the property next to the garden It is one story up (over the garage) and receives a lot of natural light. It is fully self-contained, all appliances are new which makes self-catering very easy. What it lacks in history it more than makes up for in convenience!
Buckman is pretty close to downtown while still having a residential flavor. It also contains a number of agreeable restaurants, wine bars and brewpubs. Everyday shopping needs such as grocery stores are also well served. Additionally it is pretty easy to get to the major freeways for travel purposes.
The cozy Portland studio apartment was one of the best AirBNB experiences I have ever had. The studio is even more spacious in real life than in the pictures. Everything was well decorated and extremely clean. The location couldn't have been better. Walking distance to amazing restaurants and wine shops. Thank you Cara for providing such a great place for us to stay. We will definitely be staying there again the next time we're in Portland.
(EMAIL HIDDEN)
2014-12-16T00:00:00Z
My sister and I really enjoyed our time in Cara's cozy studio in Portland! The studio was very nice and well-kept, and we really liked the location. It is on a quiet street, but it is only a few blocks away (definitely walking distance) from lots of restaurants, bars, and shopping. There is also easy street parking if you have a car, and it's pretty centrally located. I would definitely recommend this studio to anybody looking for a quiet, but centrally-located place in Portland.
Emma
2015-02-01T00:00:00Z
We loved our weekend at the Cozy Portland Studio Apartment. This studio, over the garage of a house on a quiet street in SE Portland, is clean, spacious and well maintained. The location is close to shopping, restaurants, parks and is in a perfect location for strolling idly in Portland's leafy splendor. We will keep this place in mind for future visits.
Kevin
2014-10-14T00:00:00Z
Cara's place was perfect for our stay in Portland. It was centrally located and walking distance to several restaurants, breweries, and bars. She had a ton of great information on what to do and see. We rented bikes, which was recommended by Cara, and had a wonderful time exploring Portland. Highly recommend you stay here.
Lori
2016-05-04T00:00:00Z
Cara and Roger are very thoughtful hosts and committed to providing their guests with the most comfortable accomodation possible. The room is spacious and well equipped with every imaginable need from cooking supplies (oils, spices) to laundry detergent for the washer and dryer. Cara was readily accessible by her cell phone and solved all our problems and answered every question. It was very clean with nice bedding and fluffy towels and good quality toilettries. There was even a welcome bottle of wine and delicious Stumptown coffee! The location was perfect for our needs: within easy walking distance of eclectic restaurants and coffee shops and a nice hike to Old Town and the Pearl district. We would highly recommend it!
Rita
2014-11-04T00:00:00Z
The cozy studio was great for us, close to everything and very comfortable. We enjoyed our stay.
Jean
2016-02-27T00:00:00Z
Really awesome location, on a beautiful street. The apartment is totally private, very clean and nice and bright. We enjoyed our stay here, and can't wait to return!
Elena
2014-11-10T00:00:00Z
Absolutely wonderful. We wish we were staying a few more days just because the apartment was so great!
Christopher
2015-08-14T00:00:00Z
Tipo de habitación
Casa/apto. entero
---
Tipo de propiedad
Apartamento
---
Capacidad
2
---
Dormitorios
Portland, Oregón, Estados Unidos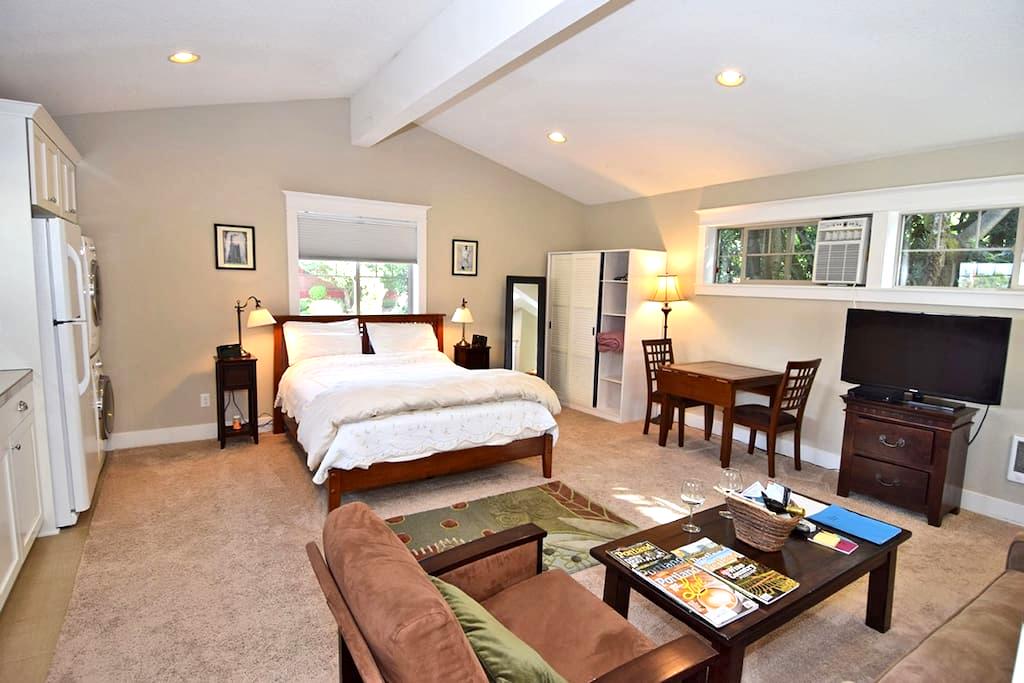 Privacy & space in NE PDX with many amenities, near Alberta & Dekum, convenient commute to metro area. Enjoy whole house/yard in a leafy residential street. Indicate how many beds - additional fees based on # of guests i.e. - 2 guests want 2 beds = +$10, 3rd bed for group less than 5 = +$10. House is full of items for sale - if this bothers you, please don't book. I will be out of town April 5-May19 - friend will take over housekeeping duty.
I lived here for 6 years but moved out and turned it into a guest house in order to keep up with the mortgage/bills as the house is almost 100 years old and needs constant attention. So it's not designed to be a fancy "vacation home" but rather like staying at my house while I'm away nearby ;) 4/20 friendly but no smoking inside! I've tried "the clear the air out before departure method" and did not work so absolutely no smoking inside please. Indicate if you'd like marijuana items to be removed before check in. Not best for children (old house) or TV lovers (no cable). 2 bedroom/1 bath, with 3 beds - bedrooms can be locked for additional privacy. Front (Yellow) Bedroom: queen bed with $$$ latex mattress, vanity dresser, full-length mirror, closet. This room may be a bit noisier in the warmer months. Rear (Green) Bedroom: queen memory foam mattress, dresser, full-length mirror, small closet and has an adjoined "SunRoom" that you can access for printing. Spacious common area with 32" smart wifi TV to access Netflix, YouTube, and more (No Cable but you get about a dozen antenna channels). The sofa can be converted to a full-size bed for additional $10 if your group is less than 5. Large dining table with 6 seats. Note: the fireplace is NOT operational. Kitchen: large fridge with filtered water/ice, electric stove, microwave, toaster oven, electric coffee maker (+ french press), coffee grinder, electric kettle, but NO dishwasher. Coffee and tea included and possibly more. All-tile bathroom with towels, shampoo, conditioner, soap, and hair dryers provided. Sorry there is no vent fan - it is very costly to install one due to being an old house and the way the vent system is laid out - leave door cracked open after showering. Unfinished basement - please only access to use HE washer/dryer. Soap included. Hardwood floor throughout and they do creek - DO NOT walk on them barefooted. The original kitchen cabinets/drawers can be sticky and may not shut all the way... experience original charm :)
Located on an ethnically diverse street with many old Portland homes - some parts can look a bit rough. During warmer months, kids are often playing outside and need to be careful to dodge their balls or driving through their basketball game. But it's safe and never had any guests report problems. One guest did make a racist's comment about the neighbors - please don't bother booking if you are not tolerant of all people.
Excelente casa, muy limpia y cálida. La zona muy tranquila y céntrica. Me gusto mucho.
Gisela
2015-06-03T00:00:00Z
Organized and adorable. Really appreciated the wine after a long drive. Within walking distance to a few really great restaurants and bars and only a 15 minute drive to the Pearl District. I'd definitely recommend it to friends looking for a place to stay in Portland.
Stephanie
2016-04-07T00:00:00Z
Beautiful home! Very clean and comfortable! We enjoyed it very much. Autumn, thank you for being an amazing host!
Nikki
2016-09-11T00:00:00Z
Really great house - felt lucky to find such a comfortable spot in a convenient NE Portland location ... reasonably close to Alberta District. House had everything needed for an easy stay and comfortable bed for a good sleep. Nice, clean and well equipped. Autumn communicated well about accessing house and made sure I had no questions. Would definitely stay here again.
RICH
2015-12-03T00:00:00Z
This was my first time doing Airbnb and did not know what to expect, but Autumn's place was super-clean, attractively decorated, and had comfy beds. Autumn leaves clear directions and the house was well-stocked with silverware, cooking utensils, crockery and all kinds of little knick knacks that you might need. Pretty tree-lined street within close driving distance to restaurants, shops and Whole Foods Market; you'd never guess it to be so convenient for the airport. Would certainly stay there again.
Lennox
2016-05-15T00:00:00Z
This was a great house. It was so clean and comfortable. The beds and linens were very acceptable! The welcome wine gift was thoughtful and delicious! Even though Autumn was out of the country she stayed in constant communication and accommodated us in checking in early.
Libba
2015-08-14T00:00:00Z
Great communication and seamless check in. The house was beautiful and spotless. Autumn left a bottle of wine, which was a nice touch.
Kathy
2015-09-20T00:00:00Z
This is a really top notch Airbnb. Spotlessly clean, no key hassle, comfy beds, lots of attention to detail, and a great location.
Leah
2015-06-29T00:00:00Z
Tipo de habitación
Casa/apto. entero
---
Tipo de propiedad
Casa
---
Capacidad
5
---
Dormitorios
Portland, Oregón, Estados Unidos
Stay in our quirky, cozy home in the historic Brooklyn Neighborhood! It's off the beaten path in a good way, but very close to downtown and right on the MAX Orange Line. We are a queer couple in our 20s plus an adorable dog and cat! Pot friendly.
This is a fun house with three other bedrooms besides yours, two of which are also listed on Airbnb. The room is on the second floor and is medium-sized. The bed is a very comfy queen size mattress on a platform bed plus four pillows, with mostly cotton linens. The room has a dresser, a closet with hangers, and a luggage rack for your clothes. There's also an upholstered chair and side tables, as well as a fan. There is a full bathroom on each of the two floors and you are welcome to use either one - towels, washcloths and hand towels are provided, as well as shampoo, conditioner, soap and body lotion. See our other listing to see many more host reviews! https://www.airbnb.com/rooms/6541045
Brooklyn is our favorite Portland neighborhood! It has a definite off-the-beaten-path feel while still being very close to downtown and other more trendy/crowded neighborhoods (like Division, Hawthorne and Sellwood). This neighborhood really is remarkably undeveloped and "undiscovered" for how close to downtown it is. It's mostly residential with lots of cute old houses and families, some small businesses, and, across the tracks, a commercial/industrial area.
The host canceled this reservation the day before arrival. This is an automated posting.
Stephanie
2015-10-30T00:00:00Z
Leah and David's place was beautiful and well-kept. The room was spacious and full of light. I found the bed to be very comfortable. Though I was only around briefly, when I did see Leah and David they were very friendly. I would recommend staying here.
Danielle
2016-06-04T00:00:00Z
Amazing. Bathroom was super nice. Bed had a fan and A/C and was very comfortable. Winston the dog is a boss. Leah and David were super chill and accommodating. Great people,great place.
Daniel
2016-07-13T00:00:00Z
Leah and David's place was perfect for our one night in Portland. With it being located right outside the Eastside, it was a short drive away from many wonderful restaurants, bars and coffee shops. Their were two other rooms occupied by Airbnb guests, but everyone kept to themselves. The house was clean, cool and comfortable. Lastly, getting welcomed by their dog Winston was a perk! I would highly recommend this place.
Vanessa
2016-07-27T00:00:00Z
Thank you Leah and Davie for being wonderful hosts on our mini weekend getaway! The space immediately felt like home as we were welcomed with keys ready for us with a note with instructions on how to check in but luckily we were greeted by the hosts themselves and their super cute dog - Winston. As promised our room was ready by 3 PM and it was very clean and the bed exceeded our expectations - it was super comfortable. Our belongings stayed safe and sound in our unlocked room and the wait for the shower wasn't an issue as they have two bathrooms. I appreciated the extra supplies that were provided as we packed light (hair dryer, q tips, lotion). We visited tons of restaurants and hit up 3 shopping centres and an outlet in Woodburn - the location was perfect. Thanks Leah and Davie! :)
Andrea
2016-11-15T00:00:00Z
The perfect Air BNB: comfortable room, clean bed, sheets, bathroom, and home. Leah and David are friendly and willing to share their knowledge of Portland, as are their polite roommates. The location is perfect; just a quick bus or train ride into the city. The pets are sweet and affectionate. It's also walking distance to coffee shops, bars, and the Aladdin Theater. Would love to stay here, again!
Jonathan
2015-09-17T00:00:00Z
I arrived at Leah & David's after a long flight. They gave me a quick tour and I went straight to bed. Their home was very clean and warm, and I had a wonderful nights sleep. Out early the next morning, after a brief hello. Overall very happy with the experience, and would definitely stay there again.
David
2016-01-17T00:00:00Z
Leah greeted us and showed us around the house. The hosts were super gracious and friendly. We were free to make our own schedule. Our private room upstairs was right next door to the spacious and clean bathroom -- couldn't have asked for anything better for a night's stay in Portland!
Valerie
2016-03-16T00:00:00Z
Tipo de habitación
Habitación privada
---
Tipo de propiedad
Casa
---
Capacidad
2
---
Dormitorios
Portland, Oregón, Estados Unidos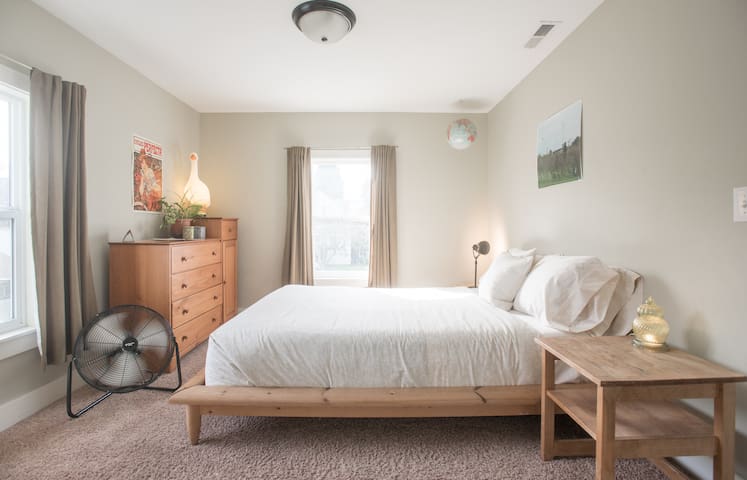 Portland - Airbnb
:
Una media de

5

estrellas de un total de

5

de

3552

evaluaciones de huéspedes
1

–

18

de

Más de 300 alquileres
Introduce las fechas para ver el precio total. Ten en cuenta que se aplicarán tarifas adicionales y es posible que se añadan impuestos.