apartment 60 mt sq.d,situated in the old barn 1° floor, two bedrooms, one double bedroom , one with two beds,kitchen with washdishes,microwawe etc,living,bathroom with shower and washing machine.All the apartment it was restyling now..vintage style. Fattoria La Lama it's composed by 3 houses; in one I live with my family, the old barn (where is situated the apartment at the 1st floor) and the big house of the old farmers (now divided in 4 apartments)
apartment 60 mt sq.d,situated in the old barn 1° floor, two bedrooms, one double bedroom , one with two beds,kitchen with washdishes,microwawe etc,living,bathroom with shower and washing machine.All the apartment it was restyling now..vintage style. Fattoria La Lama it's composed by 3 houses; in one I live with my family, the old barn (where is situated the apartment at the 1st floor) and the big house of the old farmers (now divided in 4 apartments)
Vicino alla città......che dista solo 5 minuti di macchina..... ma a contatto diretto con la natura..............immersa nel verde della campagna toscana...... In un triangolo d'oro!!!!Vicino alle città più belle d'Italia, immersi in un territorio ricco di cultura, arte e paesaggi mozzafiato..... Siamo a soli 8 km dall'Equestrian Center, in 7/8 minuti da qua siete arrivati!!!!!
Rita was the most gracious and friendly host we have had on our entire Italy trip. She went out of her way to make us feel like guests in her own home. The setting and accomodations were oustanding. Rita took care of all the small details... coffe and milk, fresh fruit, pastries and even supplied us with wine, honey and vegetables from her garden. The experience was nithibg short of amazing.
Cherie
2016-09-25T00:00:00Z
La Lama : petit coin de paradis en Toscane où nous avons fait la connaissance de très belles personnes. Rita et sa belle petite famille nous ont accueillis très chaleureusement et nous nous sommes tout de suite sentis "chez nous". Le cadre est tout simplement idyllique et l'appartement très fonctionnel est décoré avec beaucoup de goût. Rita est de très bons conseils pour tout ce qui est sorties, visites,restaurants et se montre d'une grande disponibilité et générosité. La Lama c'est aussi de belles soirées improvisées près du (URL HIDDEN) vita è bella alla Lama !
Sandrine
2016-08-18T00:00:00Z
Rita and family were the most delightful hosts and put on the best apartment we have stayed on this holiday. It was a stylish and well appointed pad, understandably so once you get to know Rita who is well travelled and full of interesting ideas and knowledge about the area. You are in the midst of a beautiful farm, rolling hills, rows of grape vines and clusters of olive trees. The Tuscany countryside at its best. A great experience and we will return if we plan another holiday to this area.
Mary
2016-04-15T00:00:00Z
Staying at this beautiful Place is like coming home and leaving is twice as hard. Rita is a great host and makes you feel welcome with every little detail. She is very helpful with everything from informations to daily little needs. Also she doesn't mind to invite you over to her private home for a evening full of italian delights and interesting talks together with her lovely family and other guests. The appartment and its surroundings were exactly as described and shown on the photos, but far more awesome in reality. All your needs are fullfiled and you'll even find some kindly prepared specialities. It's very good reachable from the motorway and only minutes away from Arezzo. All that while still remaining the picturesque tuscan escape in the midst of nature. After staying three days in Florence our relaxation started right by setting foot on the farms ground. It's a great base for starting trips to the surrounding tuscan towns and landscapes, nothing is too far away. I could not recommend more and hope to be back again one day.
Thomas
2016-06-09T00:00:00Z
Viva Italia! La Toscane comme on la rêve: un cadre magnifique, des appartements à la déco soignée et avec du caractère(c'est un ancien corps de ferme), appartement impeccable , les lits faits et une appétissante corbeille de fruits nous attendait. Une piscine très agréable pour se rafraîchir. On est pas loin de Florence , Sienne, Pérouse et Assise et Arezzo tout près est très jolie. Et Rita et son mari sont des hôtes charmants et très accueillants, on serait bien restés encore.... C'est sûr: on reviendra en Toscane!
Cécile
2015-08-01T00:00:00Z
The stay at Rita's were absolutly perfect! Rita and her family are lovely, the appartment and the place, the pool everything is even prettier than the picture shows. We have had two amazing weeks and would reccomend this place to everyone. The place is clean and you have everything you need in the appartment. The area is wonderful to explore and Rita is very helpful with advice on where to visit etc. Rita and her family made a fantastic dinner for us and all the guests one evening, a fantastic gesture we really apprecciated to be a part of that. Thanks alot, we hope to be back one day!
Kristin
2016-08-12T00:00:00Z
Obst, Wein und Gebäck waren ein netter Willkommensgruß. Die Unterkunft entsprach genau der Beschreibung. Ritas Farm liegt idyllisch zwischen Weinstöcken und Olivenbäumen, schöner Garten. Rita war sehr hilfsbereit und freundlich. Sie nahm sich sehr viel Zeit für uns. Am letzten Abend kochte sie fantastisch für uns. Sie schenkte uns ein Fläschchen ihres eigenen Olivenöls, welches wir sehr empfehlen können.
Harald
2016-10-29T00:00:00Z
Rita und auch ihr Mann sind sehr gute Gastgeber. Sie sind sehr Aufmerksam und immer für ihre Gäste zu sprechen. Die gesamte Wohnung ist sehr stylish und mit allem was man braucht eingerichtet. 2 mal gab es eine Wilkommensparty für alle Gäste mit wunderbarem Essen, Wein, .........wo man mit Gästen aus aller Welt nette Gespräche führen konnte. Das gesamte Areal insbesondere rund um den Pool ist eine Augenweide und lädt zum Verweilen ein.
Andre
2016-09-16T00:00:00Z
Tipo de habitación
Casa/apto. entero
---
Tipo de propiedad
Departamento
---
Capacidad
4
---
Dormitorios
Arezzo, Toscana, Italia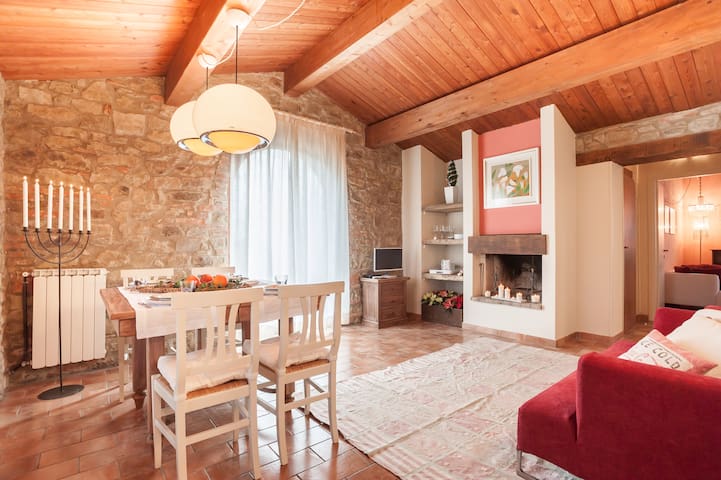 The annex Eden is one cottage nestled in the countryside of Arezzo. Despite being close to the city center, it is located in a beautiful and tranquil countryside. It is 10 minutes drive from the center of Arezzo, 10 minutes from the 'highway Florence / Rome and along the road to Siena. It is suitable for anyone willing, in the evening, to find serenity and peace.
L 'accommodation is one cottage consists of a lounge, kitchen, bedroom and bathroom. In the living room is a sofa bed for one and a half. The bathroom is accessed from the room.
Es muy atento, nos espero hasta muy tarde por un inconveniente que tuvimos, muy calida, y nos gusto hospedarnos alli. La casa es espaciosa, comoda, con dos aire acondicionado, y mucho lugar para aparcar. Zona muy tranquila, lindo para descansar. Recomiendo este lugar.
Gustavo
2016-08-24T00:00:00Z
Ottima location,con tutti i comfort,a pochi minuti da Arezzo. Federica è accogliente, disponibile e molto cortese. Nessuna nota negativa, CONSIGLIATISSIMA!!
Nick Francesco
2016-07-04T00:00:00Z
Ottima location , vicino al centro di Arezzo e uscita autostrada. Situata in campagna, con spazio per parcheggio auto. Persona disponibile ed accogliente. Consigliato ☺
Leonardo
2016-07-25T00:00:00Z
Federica非常友善,带伤亲自来接我们并热情地给我们介绍房子的一切包括如何取暖等,并为我们准备了牛奶、果汁、面包等早餐。房子的环境很托斯卡纳,住着很舒服、惬意,对于想体验托斯卡纳文化的住客,这里是最好的选择,强烈推荐!谢谢Federica!
yi
2017-02-04T00:00:00Z
La casa di Federica è molto bella, pulita e accogliente. Federica è molto gentile, disponibile ed ospitale
Ugo
2016-07-30T00:00:00Z
Posizione comoda e tranquilla, vicina ad Arezzo. La casa è molto accogliente e pulita, La famiglia è stata veramente gentile e disponibile a qualsiasi richiesta. Se volessi fare di nuovo una vacanza ad Arezzo, sicuramente chiederei la disponibilità a Federica.
Moira
2016-08-21T00:00:00Z
Federica and her family is wonderful! She is helpful what do you need. Place is amazing with great green garden and many nice plants. Apartment is TOP! absolutely where I was stayd in last time. Clean, big, modern, full kitchen to using, 2 air conditions, big double bed and comfortable, if you like evening sitting outside as me, can use chairs and table and tasting italian wine :-) To Arezzo is only 5 kilometers, with car is a few minutes. So, everything was perfect and I hope early come next time to meet with Federica`s family! Thank you very much!
Petr
2016-07-09T00:00:00Z
Io e mio padre ci siamo recati ad Arezzo per delle gare di Atletica Leggera e ci siamo trovati davvero alla grande. La depandance è esattamente come descritta, molto comoda e confortevole. È fornita di qualsiasi cosa si possa aver bisogno ed è situata in una zona tranquilla. Federica è stata gentilissima, accogliente e molto ospitale. Se dovessi tornare ad Arezzo so a chi rivolgermi! :)
Federica
2016-07-11T00:00:00Z
Tipo de habitación
Casa/apto. entero
---
Tipo de propiedad
Casa
---
Capacidad
3
---
Dormitorios
Indicatore, Toscana, Italia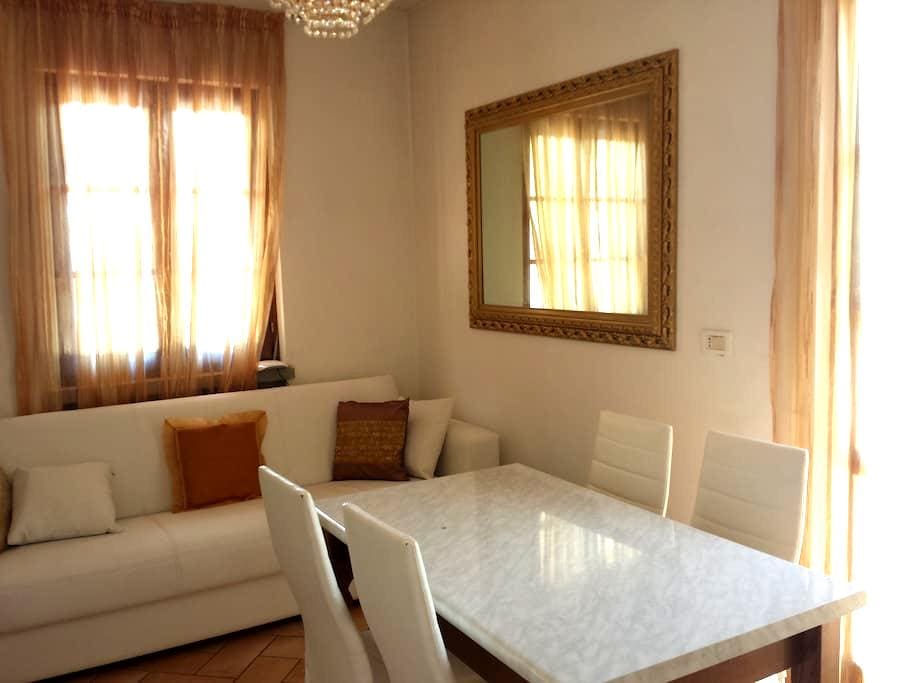 Apartamento en un estilo provenzal, rodeado de los viñedos y olivos. Podrá disfrutar de la tranquilidad del campo, a 10 km de la ciudad y de la 4. Estará encantado por el paisaje y fresco desayuno rico preparado por Sandra con productos agrícolas orgánicos. Nuestros animales no moleste pero si se desea se pueden acariciar a los burros, cabras, gallinas ornamentales. El canto del cuco arrendajos y será la banda sonora para alojarse mientras los ciervos pastan entre los olivos.
El alojamiento es una parte de una granja en el campo, con vistas a un viñedo de uvas de Chianti y rodeado de olivos y bosques. Gracias a la ubicación de la pendiente hacia el este el sol nos ilumina desde el amanecer hasta la tarde. Las horas de la mañana son los mejores para ver algunos ciervos, simplemente mirando por la ventana de la habitación. El interior, aunque en típico de la Toscana con una estructura de cubierta a dos aguas y grandes vigas de castaño, están decoradas en un provenzal o si prefieren el estilo shabby chic. Cada detalle es cuidado por el sabor de Sandra, de los pisos de terracota sin tratar que recuerdan la vida en el campo de la bañera de hierro fundido en el baño, de puertas recicladas de las granjas antiguas colchas de la Toscana en la ropa.
La ciudad de corriente es de aproximadamente 1 km y medio. Es suficiente para comprar el pan, una botella de vino o tomar el autobús. A 4 km, en San Giuliano, es también la carne, los medicamentos y se puede cortar el pelo o comer una pizza. Hacer otras 6 kilometros y Arezzo se encuentra todo, o casi, porque el mejor si te gusta el país se puede encontrar aquí.
Amazing place, great location ! Description absolutely accurate ... Sandra and Alessandro are fantastic !! Great Value, highly recommend !!!
Antonio
2016-12-09T00:00:00Z
가족여행시 꼭 추천합니다. .200% 로마가기전 중간쉼터로 매우 좋으며. . 가족분들이 매우 친절하고..집이 엄청 넓으며..따뜻한 나무난로. . 복층의 멋스러움..엄청난 조식. . .글을 읽으시는 행운아들은 무조건 방문하시길. . .
(EMAIL HIDDEN)
2017-01-11T00:00:00Z
Prenotare da Sandra non è stato solo "alloggiare a casa sua", è stata un'esperienza. Ci ha accolto e coccolato come se fossimo parte della famiglia, come se ci conoscessimo da sempre. L'appartamento romantico e arredato minuziosamente in ogni suo angolo e nicchia. Mi sono goduta la scenografica vasca facendo un lungo , caldo bagno e approfittando dello scrub corpo preparato da Sandra. L'amore e la passione che la proprietaria ci mette si respira in ogni dettaglio. Alla mattina dopo essere rimasta incantata a guardare i giochi di luce ed il panorama splendido sono rimasta sbalordita dalla ricchezza e dalla cura della gustosa colazione. Infine abbiamo fatto visita agli animali della fattoria per la gioia della mia piccola Eva. Questo è un posto perfetto per chiunque, coppie, famiglie. Qui troverete quiete e relax, ma sarete a due passi da Arezzo e da tante altre mete turistiche. Torneremo, spero presto!
Selene
2017-03-12T00:00:00Z
Soggiornare in questa casa è stata un'esperienza inattesa e meravigliosa. Noi abbiamo viaggiato molto e abbiamo standard piuttosto elevati, possiamo però dire che questo B&B è stato il migliore in assoluto, in Italia e all'estero. Sandra e Alessandro sono stati davvero gentili e disponibili, ci hanno accolto e fatto sentire a casa. Siamo arrivati di sera con i bambini piccoli, chiedendo se era possibile mangiare qualcosa senza dover uscire di nuovo. Pensavamo ad un pasto frugale, ma Sandra ci ha preparato una cena buonissima, persino l'impiattamento era speciale. La colazione poi è stata ricchissima, con delizie preparate con cura ed esperienza. Ogni stanza è poi arredata in maniera impeccabile ed è evidente la passione dei proprietari. Torneremo sicuramente, questo posto merita di soggiornare più di una sola notte
Piero
2017-03-20T00:00:00Z
Siamo arrivati alla casa di Sandra perchè eravamo di passaggio e quindi comoda dall'autostrada ma poi abbiamo scoperto un posto delizioso per future permanenze in campagna. La casa è impeccabile in ogni minimo dettaglio, e l'ospitalità preziosa e calda come dagli amici più cari, la colazione abbondante e buonissima, nel sole del mattino che riempie la cucina e scalda gli animi. Questo posto merita di stare per più giorni anche come avamposto per visitare le bellissime città della zona. Torneremo senz'altro appena possibile magari in primavera. grazie di cuore per tutto anche al tuo premuroso marito, un abbraccio al tuo figliolo.
GIANLUCA
2016-12-08T00:00:00Z
We enjoyed every minute we stayed in this wonderful house. The house itself is exactly how it was pictured: Shabby chic style with spacious, yet cozy rooms. The house is two floors with two bedrooms, a living room, a kitchen, and two bathrooms, one with a shower and the other with a bath. The kitchen is fully equipped and the living room has a working fireplace to make things cozy on cooler nights. Every room is beautifully decorated to create a charming, comfortable environment. The house is located outside the small town of Ruscello. To get there you drive through the town, and keep going until you leave all of the houses behind and are in the middle of forests and olive trees. The property has many different varieties of chickens, geese, and rabbits (and apparently donkeys as well). The owners live in an attached house, however, they gave us our privacy and we had a separate entrance on the other side of the house. The view from our room was a beautiful vineyard and quiet forest where we saw deer almost every morning. One of the most impressive parts of our stay was the amazing breakfast that was served every morning in our own kitchen. Fresh cookies and pastries, fresh juices, homemade breads, and many more specialties. Everything was delicious! The house is also very well situated to many of central Tuscany's main attractions and most of the sites could be reached by car within an 1 or 1.5 hour drive. The host family was very hospitable and we felt very welcome from the minute we got there. They even went out of there way to get a baby bed for our two year old in the second bedroom complete with stuffed animals and met us in the town when we had trouble finding the house. If you are looking for a quiet, charming place that is central to many of Tuscany's finest attractions, this is the place to stay. We will be back again:)
Lacy
2017-01-07T00:00:00Z
Diciamolo subito: Bed and Breakfast è troppo riduttivo. La casa è incredibile, bellissima, inserita in un paesaggio spettacolare con vista sulle vigne e sulla stupenda campagna. Ogni minimo dettaglio è curatissimo, con uno stile che ti avvolge ovunque, e ti fa sentire subito a casa. Andare via è difficile... Le colazioni di Sandra sono state superiori ai migliori buffet continentali: molto variegate, dolci e salati preparati quotidianamente, sicuramente più per passione che per dovere. Anche dalla tavola era difficile separarsi, e le colazioni diventavano brunch... Infine la simpatia e l incredibile premura di Ale e Sandra: sempre disponibili per ogni necessità, compreso ciò che in un B&B non sarebbe dovuto. Grazie loro abbiamo passato tre giorni stupendi; sicuramente ne seguiranno altri, e non vedo l'ora.
Andrea
2016-12-11T00:00:00Z
L'esperienza da Sandra è stata una sorpresa, nonostante già avevo letto le recensioni e visto il posto da internet. Che dire, a pochi minuti dall'autostrada si entra in un'oasi magica di natura, in una fattoria vera e propria. L'appartamento è indiscutibilmente meraviglioso: su due piani, tutto arredato con cura in stile shabby e provenzale. Letto comodissimo, due bagni, cucina attrezzata. Ma la meraviglia del posto la fanno i proprietari. Sandra ci ha deliziato prima con una cena da Masterchef, un'esperienza memorabile ed una cuoca bravissima, che mette passione in tutto quello che fa. E poi la colazione da re, che dire, senza parole! Quasi non vorrei che fosse conosciuta perché sono sicuro la prossima volta che vorremmo tornare sarà già prenotata! Ultima cosa da non trascurare: è una vera e propria esperienza di fattoria: c'è una bellissima vigna, degli asini, galline, conigli e orti in tanto spazio verde! Grazie!!!!
Gianluca
2017-02-20T00:00:00Z
Tipo de habitación
Casa/apto. entero
---
Tipo de propiedad
Bed & Breakfast
---
Capacidad
4
---
Dormitorios
Ruscello, Toscana, Italia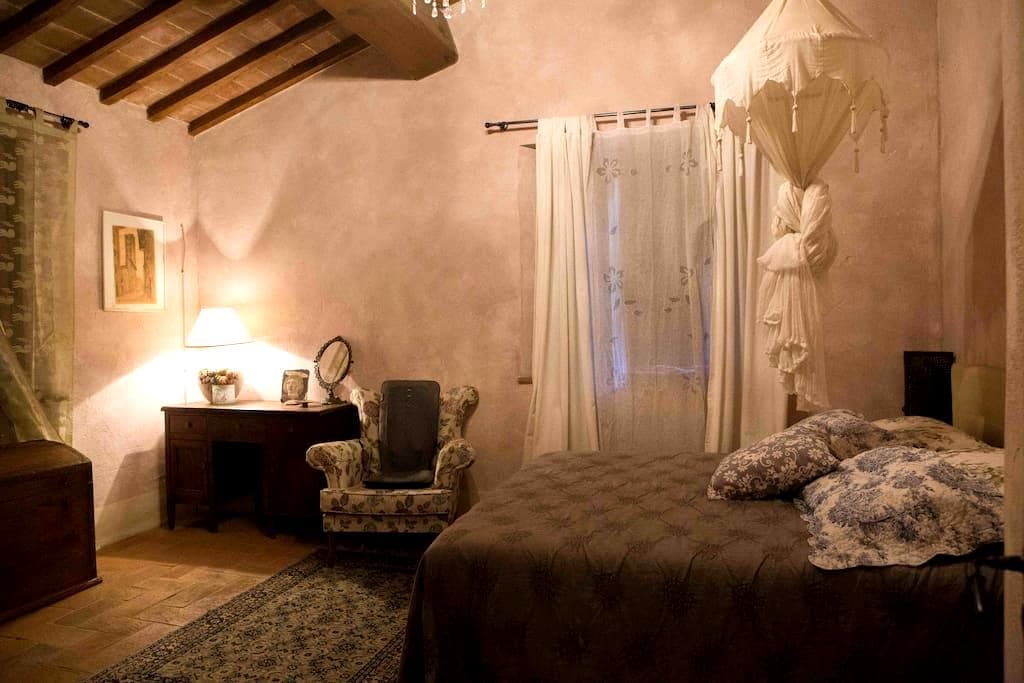 The house is brigth and comfortable, close to the city center and the station Fitted with a terrace, a small veranda and an outdoor garden. You can relax in the living room. Single bedroom available. Look at "host's directions" to found me exactly!
Arezzo is a lovely city in the middle of Tuscany. My appartament is near to the city center and to the station (20 min.wolking); 5min. By bus (n.6 and 4). I have also a bicycle ro rent. There is also free car parking in front of the house. I can host up to one person in a private bedroom. For a second friend asked me if it's possible. My apartment is a little jewel, fitted with a terrace, a small veranda and an outdoor garden. You can also relax in the living room. In my nest you can feel friends of mine. Look at "host's directions" if you want to know where I am !
Arezzo is A VERY BEAUTIFUL CITY, home town of Piero della francesca and Giorgio Vasari, with plenty of nice historic and artistic attractions. The city is quiet but there are frequent music festivals and cultural events. Every month, on the first week-end, in the old town centre is hosted an antiques fair. You can find a lot of good restaurants and very interesting museums. People are friendly, and the wether is fine in every season!! No traffic, no smog. And if you like... Many very elegant shops !! LOOK AT: (URL HIDDEN)
Chiara me hizo sentir como en casa. Muy simpática pude practicar con ella italiano. La casa muy acogedora, aunque un poco ruidosa por la cercanía a la carretera. Un poco alejada del casco urbano pero con todas las comodidades.
Marisa
2015-08-15T00:00:00Z
Chiara es muy cariñosa y atenta.yo he estado muy a gusto porque además su casa es muy acogedora. Chiara e molto carina e (URL HIDDEN) me ho sentito molto bene in la sua casa per ce inoltre la sua casa e molto bella. Chiara's Very friendly.i'm Very Well because your house 's Very beautiful too.
Maria
2014-10-30T00:00:00Z
Al enseñarme como funciona todo lo de la casa, ofrecer su ayuda en cualquier ambito, sea de la casa, del trabajo.
Alberto
2016-07-01T00:00:00Z
Ho trascorso 3 giorni meravigliosi ad Arezzo grazie anche a Chiara, una ragazza solare e molto disponibile! Mi ha dato anche dei consigli utilissimi! Mi sono sentita proprio a casa! Consiglio vivamente a chiunque voglia passare una o più giornate ad Arezzo, di soggiornare da Chiara.
Albena
2017-03-31T00:00:00Z
Die Wohnung ist hell und freundlich ausgestattet, sehr sauber und bis Mitte April gut geheizt. Die Geräusche der Ausfallstraße sind bei geschlossenem Fenster nicht zu hören, so dass ich immer gut geschlafen habe. Das Zimmer ist für einen längeren Aufenthalt gut ausgestattet, so dass ich alle meinen persönlichen Sachen ordentlich verstauen konnte. Es ist sowohl ein Schreibtisch als auch ein Buchregal vorhanden neben einem großen Schrank und einem Schuhregal. Die Innenstadt ist gut zu erreichen, sowohl zu Fuß, mit dem Fahrrad oder dem Bus. Mein 10-wöchiger Aufenthalt war angenehm und ich habe mich immer sehr wohl gefühlt.
Patricia-Silvia
2015-05-09T00:00:00Z
Chiara è una ragazza davvero gentile e la sua casa è molto accogliente. Mi sono trovata davvero molto bene, è stato un piacere conoscerla! :)
Giulia
2016-02-08T00:00:00Z
I had a wonderful week with Chiara and I did really like her very clean and lovely house. When I arrived, she picked me up from the station then welcomed me with her delicious pasta. During my stay with Chiara, she treated me like her friend and tried to make me feel as comfortable as she could! She also helped me a lot about places I could visit nearby Arezzo (when having questions, she always gave me good advices). If she had time away from work, she could spend time with me and we could hang around together too (of course bases on mutual agree and pleasure). For her house location, even though it's not in city center, it's convenient enough to walk about 20-25 minutes to the station and also city center. I don't mind to do that and I believe staying with her is one of the best decisions I have made and for sure, if I come back to Tuscany I will stay in Arezzo where is less crowded in term of tourists and the place I will choose, will be definitely her cozy house because I am really impressed with her kindness and warm hospitality.
Apple
2015-07-26T00:00:00Z
Ottima accoglienza... Chiara è molto disponibile. Io sono rimasto solo un giorno e non avevo necessità di informazioni particolari essendo ad Arezzo per lavoro. Buona posizione sia per il centro sia per altre strutture come supermercati e multisala cinema. La casa è spaziosa e confortevole.
MASSIMO
2015-11-01T00:00:00Z
Tipo de habitación
Habitación privada
---
Tipo de propiedad
Departamento
---
Capacidad
1
---
Dormitorios
Arezzo, Toscana, Italia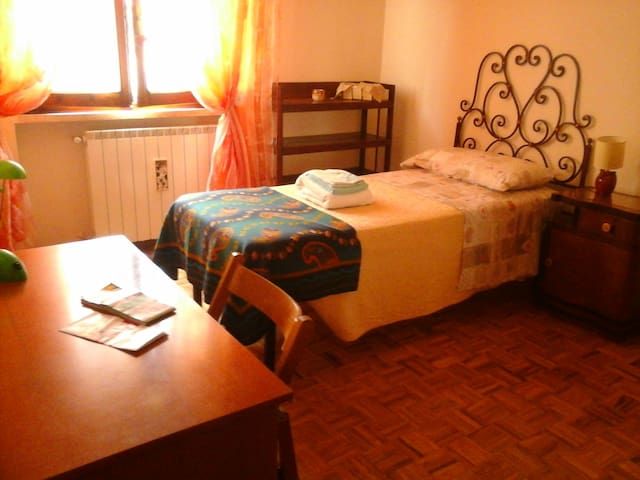 I prezzi sono riferiti all'intera casa in camera matrimoniale,compresa di gas, luce, acqua e pulizia finale. A vostra disposizione ci sarà la possibilità di fare la colazione con caffè, latte, tè, tisane, biscotti, fette biscottate confetture e cioccolate (su richiesta biscotti per celiaci). Il costo extra della camera singola è da aggiungere al prezzo esposto equivale a +10,00€.
Ottimo per persone d'affari a soli 7 km dal casello autostradale A1 Arezzo
L'appartamento non sorge nella strada principale ma in un interno insieme ad altri palazzi, questo garantisce una maggiore privacy e silenzio.
Tipo de habitación
Casa/apto. entero
---
Tipo de propiedad
Departamento
---
Capacidad
3
---
Dormitorios
Arezzo, Toscana, Italia
One double and one twin bedroom, two bathrooms, live in kitchen and a large living room with armchair, sofa, TV and Wi-Fi. Shops, bars and restaurants nearby. 15 min walk to central Arezzo train station, 20 min to town center. Hospital, University and Congress centre are at just 10 minutes walk. Close to parks and free parking space within the building.
The apartment is extremely bright with a wide view and has shutters on all windows. It is at the second floor of a two storey building with lift and staircase shared with 3 other apartments. Living room Large and bright, with one window and one French window leading to a small balcony. Fitted with one sofa, one armchair, dining table with chairs, writing table and bookshelves. Kitchen Fully equipped with fridge and freezer, electric oven, cooker, dishwasher, kettle, toaster and all essentials. You are also free to use the washing machine, iron and ironing board. Bedrooms Both bedrooms have french windows leading to a wide balcony. There are wardrobes and drawers with plenty of storage space. One of the bedrooms has one double bed and the other has two single beds. Both bedrooms are fitted with and independent air conditioning system. Balcony In the 7 metre wide balcony, facing south, you will find two chairs, one tray table and one deckchair. Bathrooms Both of them with washing basin, bidet, WC and air extractor. One of them is fitted with bath tub and shower. Unlimited WI-FI internet access is available on all rooms, including balconies. There is also an independent heating system with temperature control.
El piso es igual que las fotos, muy acogedor y cómodo!! Y Fabrizio es muy amable, siempre atento y dispuesto a ayudar con lo que ha podido!! Es un alojamiento que recomiendo al ser una zona también bastante tranquila
Alba
2016-06-22T00:00:00Z
Der Aufenthalt in Arezzo war toll! Fabrizio war ein sehr hilfsbereiter und netter Gastgeber. Das Apartment war sehr sauber und alles Nötige war vorhanden, wir haben uns sehr wohl gefühlt.
Petra
2016-07-19T00:00:00Z
Fabrizio è stato gentilissimo e disponibilissimo, la casa molto accogliente e in ottima posizione. Giudizio ottimo.
Eleonora
2016-07-22T00:00:00Z
Ottimo appartamento dotato di tutti i comforts, silenzioso e molto luminoso. Sig. Fabrizio gentilissimo Torneremo di sicuro
LORENZO
2016-11-21T00:00:00Z
Casa centrale, confortevole e Fabrizio ottimo host!
Sara
2016-07-16T00:00:00Z
Va estar tot fantàstic, Fabrizio és un noi molt atent i molt amable, durant els dies següents a la arrivada, em va a trucar per si necessitava alguna cosa. La casa estava molt neta, molt lluminosa i era tot tal qual les fotos. Molt a prop de tots els serveis i del centre. Totalment recomanable... Tante Grazie Fabrizio!!!
Gabriela
2016-08-27T00:00:00Z
We spent only one night but the apartment was perfectly equipped and clean. Fabrizio himself welcomed us and showed us the place. He was very kind and helpful.
Paula and Vincent + Gael!
2016-08-18T00:00:00Z
Totally brilliant host, understanding and helpful when I needed to cancel one night due to leaving to go to Venice earlier than planned. Lovely lovely apartment, its massive! Super clean, perfect! 5stars! Thankyou Fabrizio!
Cat
2016-05-09T00:00:00Z
Tipo de habitación
Casa/apto. entero
---
Tipo de propiedad
Departamento
---
Capacidad
4
---
Dormitorios
Arezzo, Toscana, Italia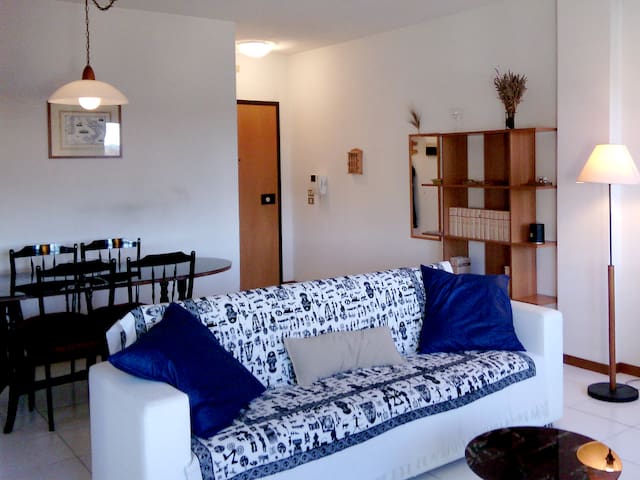 Private double room with balcony and large private bathroom in a big country house surrounded by a nice garden in a beautiful natural area. The house is located just outside Arezzo (5 Km). Wi-fi, breakfast and covered car parking included.
Private room and terrace with table and chairs, double bed and large private bathroom which includes both a shower cabin and bathtub. Quite and relaxing place, nice Tuscany countryside, with easy-going host, willing to make your stay very enjoyable. For families, possibility to host up to two sons in a second room. Of course, bed linen, blankets and towels are furnished. The house is located in Monte Sopra Rondine, a small and characteristic village 5 Km away from Arezzo and it is surrounded by a big garden in a beautiful countryside, making the place very nice and relaxing. Italian breakfast, private covered car parking and closed box for motorbikes, included.
The house is just in front of the Ponte Buriano, a stone seven-arch bridge. Built in 1277, it was used by Leonardo da Vinci in the lower-right quadrant of his painting Mona Lisa. At walking distance, is the Regional Natural Park of Ponte Buriano and Penna, which is ideal for bird watching. The park can be explored by walk or by bike. The village of Indicatore is just 1.5 Km from the house and there you can find restaurant/pizzeria, supermarket, bank and pharmacy. Just outside the village of Indicatore you can visit the Arezzo WWII British Commonwealth Memorial. The Germans made a stand in front of Arezzo early in July 1944 and there was fierce fighting before the town was taken on 16 July by the 6th British Armoured Division with the aid of the 2nd New Zealand Division. The site for this cemetery was selected in November 1944, and graves were brought into it from the surrounding area. Both the 4th and the 8th Indian Divisions were involved in the fighting in this region, and Plots VII-IX in the cemetery contain Indian graves. Arezzo War Cemetery contains 1,267 Commonwealth burials of the Second World War, 37 unknown: 787 British, 20 Canadian, 27 New Zealand, 50 South African, 387 Indians and 5 from other allied nations (one of which Soviet). The cemetery is permanently open and may be visited any time.
Perfecto Nicola, una persona excelente y un gran anfitrión. La casa es preciosa en medio de un gran jardín. La habitación muy limpia y cómoda. El baño muy grande y muy limpio. El desayuno muy completo con fruta, pan, café, queso y zumos. No puedo sino alabar a Nico por su amabilidad y agradable conversación. También es un buen conocedor de la zona y puede organizar excursiones por los alrededores.
Antonio
2016-06-13T00:00:00Z
Staying at Nicola's was a nice experience. Extremely friendly and well traveled host who can cook, play ping pong and take care of your every need (loaned me a bike for the day). A bit outside arrezzo, but in a beautiful countryside by olive groves and a bird park. Would definitely reccomend for travelers in this area, especially couples.
Mohit
2015-06-12T00:00:00Z
Nico was a super host. From the moment he accepted our request we could tell we were going to have a great stay and we were not disappointed. Great communication and directions, we were made to feel like we were at home. Top end hospitality, we spent had a great time getting to know Nico and his boys, learing about their life in Toscano and swapping geology stories. Arezzo is a beautiful town, nice and quiet and enjoyable to walk around.
Alex
2016-05-14T00:00:00Z
Der Aufenthalt bei Nicola war perfekt. Es hat alles gepasst, von den Zimmern (großes Schlafzimmer und Bad) bis zu der Gastfreundlichkeit von Nicola und seiner Familie. Ich habe mich sehr wohl gefühlt in seinem zu Hause und habe die Abende auf der Terrasse sehr genossen. Das Haus und die Gegend ist einfach nur traumhaft. Obwohl es etwas außerhalb von Arezzo liegt, erreicht man mit dem Bus alles. Vielen Dank für den tollen Aufenthalt bei euch - ich komme gerne wieder.
Anna
2016-07-27T00:00:00Z
Nicola made us feel welcomed the minute we arrived. He greeted us warmly and helped with our baggage. Our room, as well as the bathroom and the entire house was clean and spotless. Nicola had supplied all the bathroom necessities needed. The morning breakfast and coffee was a nice start to our day. Especially since Nicola joined us and we engaged in interesting conversation. He also helped us plan our day trips and gave much needed advice on the best locations to visit. Nicola was an outstanding host....we miss him, already.
Linda
2016-05-11T00:00:00Z
Nicola's home was perfect! He wasn't able to meet us for arrival but his girlfriend was more than welcoming and a wonderful host. Both gave us great tips for some Tuscany adventures and we definitely felt at home in their home.
Olivia
2016-07-23T00:00:00Z
Un séjour très agréable, un hôte très sympathique avec qui nous avons agréablement échangé. Un beau jardin, une grande terrasse, une maison très propre : un lieu de repos et un endroit idéal pour visiter l'est de la toscane en voiture - nous en avons même profité pour visiter Assise. Merci Nicola.
jean
2016-06-09T00:00:00Z
È stata la nostra prima esperienza e penso che meglio di così non potevamo chiedere. Nicola è stato fantastico, dal primo momento che ci è venuto in contro per accompagnarci all'alloggio fino alla cena con grigliata e vino preparata ad hoc da lui. La location è accanto ad una riserva naturale e garantisce tranquillità e silenzio. A pochi minuti di strada è possibile visitare la bellissima Arezzo. 10 e lode
Salvatore
2015-06-02T00:00:00Z
Tipo de habitación
Habitación privada
---
Tipo de propiedad
Casa
---
Capacidad
2
---
Dormitorios
Arezzo, Toscana, Italia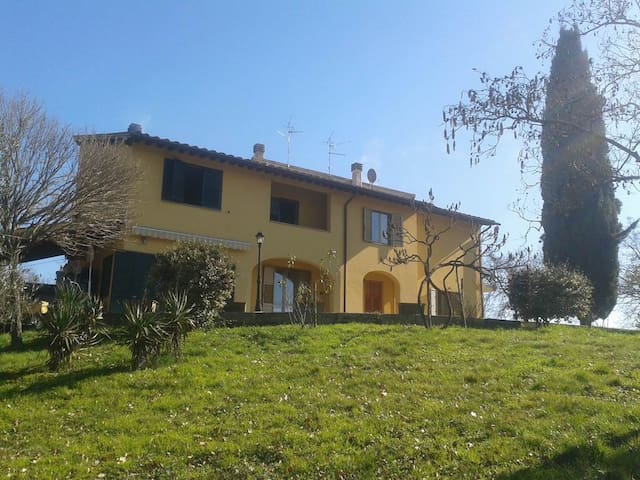 The estate Fattoria La Lama is situated nearby Arezzo, but in the open countryside in the middle of a farm. it's perfect located... 5 km from the middle of the town, 5 km from the Airways A1, 7 km from the Equestrian Center , 30 km from Cortona, ....
L'Arcere: amazing apartment 60 square meters about, located on the ground floor.Studied in detail as modern style shabby, maintaining the structure with the same characteristics of the old barn, consisting in a double bedroom with door/window that have direct access to the rear garden where are located two comfortable armchairs to read and admire the view in complete relaxation, one room with two beds, kitchen with all the accessories to cook and combioven (microwave and oven cooking normal) dishwasher, living-dining area with fireplace and sofa, bathroom with shower and washing machine. Possibility to eat outside under a gazebo. The apartment is equipped with air conditioning.
La Lama (our farm name) is situated at the center of the 4 Valleys of Arezzo town. (Casentino, Valdichiana, Valtiberina, Valdarno) rich in history, culture, art and stunning scenery, a 30 km.from Casentino (Poppi, La Verna, etc.), 30 km from Cortona (Valdichiana), 30 Km. from Monterchi (Val Tiberina), and easy to reach cities such as Florence 60 km, 65 km, Perugia (Gubbio, Assisi etc.) to 58 km, Siena (Pienza, Montepulciano, Montalcino etc ....) 2 hours driving ..... Rome.
Rita and her family are wonderful hosts making everyone feel at home in her beautiful property. The apartment is very nicely decorated, comfortable and very clean. The main bedroom gives onto a private terrace with great sunset views. Small but well equipped kitchen. WiFi throughout. The property is very well maintained offering plenty of outdoor space including a large swimming pool much appreciated by all. We had a truly lovely stay visiting the magnificent countryside and also taking advantage of the pool and the tranquility of the property. Rita is charming and very much available to answer any questions before arriving and on site. We hope to come again. Thank you Rita.
Alex
2015-08-15T00:00:00Z
Un séjour fantastique ! Dès notre arrivée, nous nous sommes sentis comme chez nous, Rita et sa famille nous ont accueilli très chaleureusement. Notre appartement était magnifique, encore plus joli que sur les photos ! Quel plaisir également de découvrir le vin, l'huile d'olive et le miel de la propriété ! Le lieu est idéalement placé pour visiter la Toscane (Arezzo, Florence, Sienne, Cortone et tous les villages typiques de la région). La piscine permet de se rafraîchir après une journée de découverte, bref la dolce vita ! Nous recommandons vraiment cet endroit, nous avons passé des vacances merveilleuses !!!
Isabelle
2016-08-21T00:00:00Z
The house and the place is beautiful .,,,more than it showed in site Rita was very kindly and always ready to attend us.... I want to go back with my all family the next time. I travel a lot but this is my first experience with Airbnb,and it was wonderful I'll repeat for sure.... Very nice
Maristela Mason
2015-05-10T00:00:00Z
Rita was great with communication leading up to our stay. The property was even more special than we expected - on beautiful grounds, peaceful and impeccably decorated interior. Chiani was a perfect base from which to explore Tuscany. Rita was very welcoming and had prepared some homegrown produce as a welcome present and listed recommended sights and restaurants which was very helpful. The gorgeous stone apartment was clean and had all the amenities a family could want and would also be perfect for a couple wanting a romantic escape. The pool looked inviting buy it wasn't warm enough to swim. We would highly recommend Rita's place and would love to visit again one day.
Myfanwy
2015-09-24T00:00:00Z
We stayed in Fattoria La lama a family of 2+2 for 9 nights. Rita- the host- was amazing all the way. Very nice and approachable when we needed her advice. She gave us many tips that made our trip the best! The apartment is lovely, modern and very clean. The kitchen is modern and fully equipped for cooking. When we arrived we were very pleased to find in the apartment many of the Tuscany delights: a bottle of Chianti, fruits, coffee and biscuits. Being close enough to A1 autostrada made our journey to Tuscany very easy- Firenze, Siena, Arezzo, Cortona, Chianti and more of Tuscany's spectacular places where less then a hour driving away. By evening time we could enjoy the quite and tranquility of nature surrounding the apartment. The wide lawn outside the apartment is perfect for the little ones to run and enjoy outdoor play. We only wish we could use the amazing swimming pool next to us but the weather did not allow it. We will definitely come back to this apartment when visit Tuscany again! Many thanks Rita(:
Ziv
2015-04-09T00:00:00Z
We had a pleasant and relax stay at this beautiful apartment in an typical Tuscany former farmhouse. Middle in an vineyard with a great view over the Tuscan hills. Closeby the city Arezzo with his many facilities. With Rita we had an superb host and she was very friendly and helpful if we had some questions. Also some great advice about the non touristic locations we wanted to see. Rita knows the details and makes you feel very welcome! Our compliments and we will come back another time! House was clean , tastefull interior and fine facilities!
Gert-Jan
2015-05-28T00:00:00Z
Waouh était notre premier mot à l' arrivée! Nous avons passé en famille une semaine merveilleuse dans un cadre splendide, encore plus joli que sur les photos. Nous avons été accuillis avec le sourire et la gentillesse typique des italiens, et ce malgré notre arrivé tard dans la soirée. Nous étions très agréglement surpris par l' attention de notre hôte qui avait mis à notre disposition une corbeille remplie de fruits, de noix, miel et d 'un délicieux vin et aussi plein de choses pour le petit déjeuner. De quoi ressentir dès notre arrivée ce qu'est la Dolce Vita! Le logement est très propre, soigné dans les moindres détails, décoré avec beaucoup de goût et de raffinement. Notre hôte avait préparé un magnifique lit bébé pour notre petite fille. Nous avons pu profiter des déjeuners en plein air, du calme et de la serennité du lieu. Nous avons énorment apprécié la très jolie piscine, car aucun produit chimique n'est rajouté pour le traitement de l' eau ( nous ne supportons pas le chlore). Un autre plus très appréciable, les portes-fenêtres de la chambre qui donnent sur grand espace vert avec de très confortables chaises-longues à l' arrière de l' habitation pour profiter de la très belle vue sur les vignes et la jolie campagne Toscane, en toute tranquillité. Notre hôte était toujours disponible et a toujours su bien nous conseiller. Nos enfants ont été aussi heureux que nous de ce séjour, et nous avons qu'une hâte c' est d' y retourner prochainnement!
Joseph
2015-06-07T00:00:00Z
Great place to stay, brilliant host who produces amazing wine. If you want to relax by a pool and just soak in the sun with the soundtrack of the Italian countryside then this is the place for you.
Oliver
2016-10-02T00:00:00Z
Tipo de habitación
Casa/apto. entero
---
Tipo de propiedad
Departamento
---
Capacidad
4
---
Dormitorios
arezzo, Toscana, Italia
The offer includes a double room, a private bathroom and a a room with cooking space in a classical Tuscan villa. They are inside the villa, but form an indipendent apartment. You can also freely use the garden.
Enjoy the best of Tuscan landscape: the armony of nature and culture. The skyline of Arezzo is the background of this peaceful place, made of olive trees, vineyards and fields. Soundtrack: cypresses in the wind and the swallows whistling.
The village of Ceciliano is small and calm, build on a hill with view on Arezzo and the Appennines. It's a good starting point for hikes on foot or by bike and, of course, to visit the city. There is a food store, which is also pizzeria and restaurant, and in the village at the foot of the hill, Case Nuove di Ceciliano, you can find all other kinds of shops.
Encantador lugar, con un gran parque donde poder caminar disfrutando de la quinta, las gallinas y el monte de olivos. Habitación muy cómoda con un espacio extra de comedor y cocina y un cómodo baño.
Francisco
2016-08-02T00:00:00Z
Aldo's place is a beautiful, peaceful place to enjoy nature and the beauty of Italy. The room is spacious and the view are breathtaking. Aldo was helpful and was patient with my attempts to speak in Italian, His olive oil from his own olive trees is the best! I would love to return.
Linda
2016-07-09T00:00:00Z
We found the place with Aldo's instructions with no problems. Pity he was not at home, but we met his neighbour Alina and friend Marina, both very nice :) The whole place was just amazing! Paradise! Exactly how you imagine Tuscany in its clasic way. And beautiful view from every window. Thank you, Aldo for everything.
Petra
2015-08-30T00:00:00Z
Un cadre réellement magnifique, dans une authentique villa Toscane sur une colline en face d'Arezzo. Le logement mis à disposition était spacieux et la décoration raffinée. Et l'environnement extérieur était superbe : dommage que nous soyons venus en saison froide (novembre) Autre avantage, la présence de l'épicerie/bar/Pizzeria Restaurant l'Orso Bruno à 50m dans le village, négoce authentique et chaleureux ou nous aavons diné et pris notre petit déjeuner (et acheté des savoureux produits typiques). Aldo a été un hote discret et attentif, et nous le remercions de nous avoir fait vivre cette expérience.
Patrick & Béa
2015-11-27T00:00:00Z
Es handelt sich um eine wunderschöne alte Toskana Villa, sowohl von innen und von außen. Der Blick aus der Villa ist fantastisch, man schaut in die Landschaft der Toskana und direkt auf Arezzo. Der Garten der Villa ist liebevoll hergerichtet und kann jederzeit benutzt werden. Bei dem Doppelzimmer handelt es sich mehr um ein sehr schönes zusammenhängendes Appartement mit einem Schlafzimmer, einer kleinen Küche und einem Badezimmer, alles ist sauber und stilvoll eingerichtet. Aldo selbst ist ein seh sympathischer und toller Gastgeber .mit perfekten Deutschkenntnissen. Ich würde diese Unterkunft jederzeit wieder buchen.
Mathias
2015-06-19T00:00:00Z
This villa is absolutely gorgeous!! We wish we could move there tomorrow. It is has a beautiful garden you can walk around. I was unfortunately sick when we arrived, but Aldo and his girlfriend helped my husband gather some herbs to make me tea to feel better. They were wonderful people and we wish we had gotten to talk to them more. The pizza place down the road is very good and there are wineries near by as well. Would definitely recommend having transportation so you can explore the area. We would love to go back some day. The pictures don't do it justice, it is even more beautiful in person.
Victoria
2016-06-25T00:00:00Z
I do recommend this place to anyone. Aldo has been a great host!
Tom
2016-06-30T00:00:00Z
La casa di Aldo si trova in una posizione fantastica, una vista della vallata e di Arezzo ti fa dominare il tutto! Bella e unica come nelle foto, accogliente e super comoda! Noi siamo stati per capodanno ma immagino che in estate il tutto sia ancora più bello potendo godere anche il bel giardino fuori. Aldo è stato super gentile sin dal momento della prenotazione dandomi tutte le indicazioni. La villa è a pochi minuti dal centro di Arezzo e nonostante sia anche vicino ad un centro abitato, la posizione ti fa sentire l'unico padrone del territorio. Consiglio vivamente se non va di andare in città, l'osteria dietro l'angolo, cucina semplice e tradizionale, piatti abbondanti e gustosi e prezzi ottimi. Aldo spero di tornare magari in estate!
Valentina
2017-01-02T00:00:00Z
Tipo de habitación
Habitación privada
---
Tipo de propiedad
Departamento
---
Capacidad
2
---
Dormitorios
Arezzo, Toscana, Italia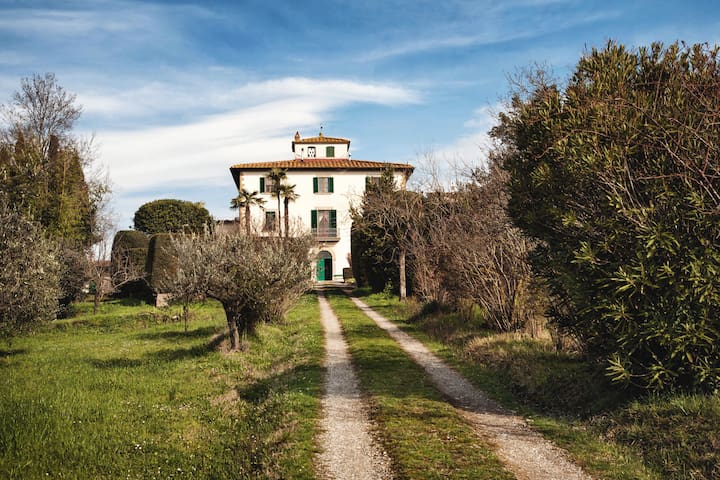 ===== Exterior ===== This is an old stone farmhouse that was completely restored during 2007 and 2008 to its true character and original architecture. During the restoration, natural materials were used to respect originality such as wood, lime plastering and handmade Tuscan terracotta floor tiles. The property is well looked after and has a large outdoor area. The farmhouse dates back to the end of the 1600s and beside it is a sweet chapel which belongs to the family of the owners. There is also an ancient olive-press. The farmhouse is subdivided into two private rental apartments, both comfortably furnished. The family who own the property are kind and welcoming and live on the first floor but do not use the garden and the pool that are available to guests. The setting of this rental offers a panoramic view stretching from the hills of Casentino as far as the city of Arezzo, about 5 km away. Just 200 metres from the property and you will find a bus stop for a bus that travels to Arezzo. From the train station in Arezzo, guests can easily travel to cities such as Florence, Siena, Orvieto and Rome. Distances: Pratantico Indicatore with a range of shops 2 km, Arezzo 5 km, Cortona 33 km, Montepulciano 50 km, Siena 65 km, Florence 80 km, Perugia 90 km. Available to guests: Large garden with furnished areas and swimming pool (1(URL HIDDEN)minimum depth 0,5 m – maximum depth 1,5 m) with private use by guests of the two apartments. Near the pool is a barbecue, a wood burning oven, a solar heated outdoor shower, a bathroom with a washing machine. Free WI-FI. Parking on the property. Extra Services: Two child's cots are available upon request, along with free use of four bicycles. ===== Interior ===== 80 m2 Ground floor: Entrance into living area (satellite TV) with fireplace and sofa bed (double size), twin bedroom with ensuite bathroom with shower, bathroom with shower and washing machine (without windows), dining area with kitchenette (oven, dishwasher, freezer, microwave, toaster, kettle, American coffee maker) and access to outside. 2 steps higher: Double bedroom. Private and furnished outdoor area. ===== Apartment Policies ===== Arrival between 17:00 and 20:00 Departure between 08:00 and 10:00 Pool open from 1 May to 30 September Not included in the rental price and to be paid on the spot: Final Cleaning (mandatory): 90.00€ Maid service (on request): 12.00€ per hour Refundable security deposit in cash (mandatory): 300.00€ Electricity (mandatory): 0.40€ per kWh Heating: 1.30€ per cubic meter Wood: according to consumption Pets (on request): 50.00€ per pet Included in the rental price: Internet Wifi Babycot (on request)
Tipo de habitación
Casa/apto. entero
---
Tipo de propiedad
Departamento
---
Capacidad
6
---
Dormitorios
Arezzo, Toscana, Italia
Stanza con bagno in villa toscana
Tipo de habitación
Habitación compartida
---
Tipo de propiedad
Casa
---
Capacidad
2
---
Dormitorios
Arezzo, Toscana, Italia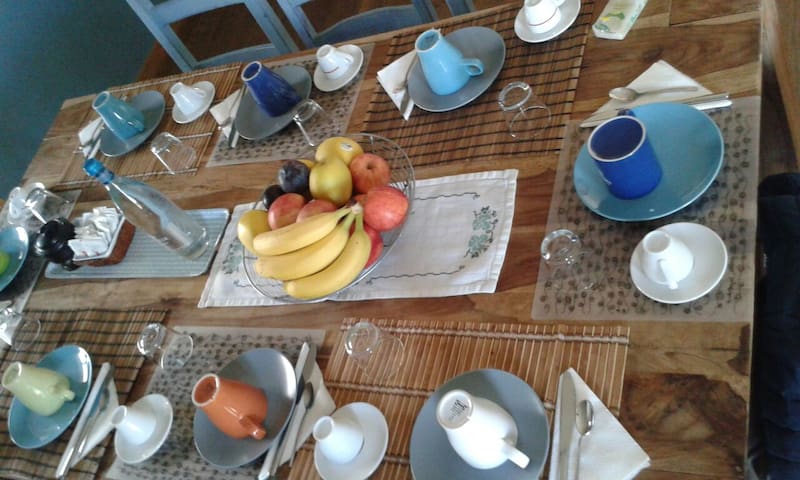 Appartamento immerso in un ambiente ideale per rilassarsi e staccare la mente. Parcheggio gratuito. Appartamento composto da due camere matrimoniali e una camera con due letti singoli separata a fianco dell'appartamento, tre bagni, cucina-soggiorno con divano, poltrone. Colazione su richiesta in casa fornita direttamente da un bar della zona, prezz(URL HIDDEN)per persona Vi aspetto!
this is a very special place and not far away from the scene area and is very convenient. The house is nice, tidy, comfort and fully equipped.
YU
2016-10-25T00:00:00Z
Giovanni is a great host. We had a problem find way to the house but Givanni picked up before market. Short guide: Crossed the bridge you get to "PRATANTICO" and after the short climb turn right after the house number 53. Continue 150 m and turn right into the entrance road with cypresses. House and garden is so beautiful, nice and clean pool. You can relax and enjoy the silence. Giovanni gave us some great tips for local trip (Saturnia spa, Fattoria La Vialla, Siena, Perigia). It was grat time which we spent in Giovanni appartment and we didn´t want go to home.
Jan
2016-10-01T00:00:00Z
Tipo de habitación
Casa/apto. entero
---
Tipo de propiedad
Departamento
---
Capacidad
6
---
Dormitorios
Pratantico, Toscana, Italia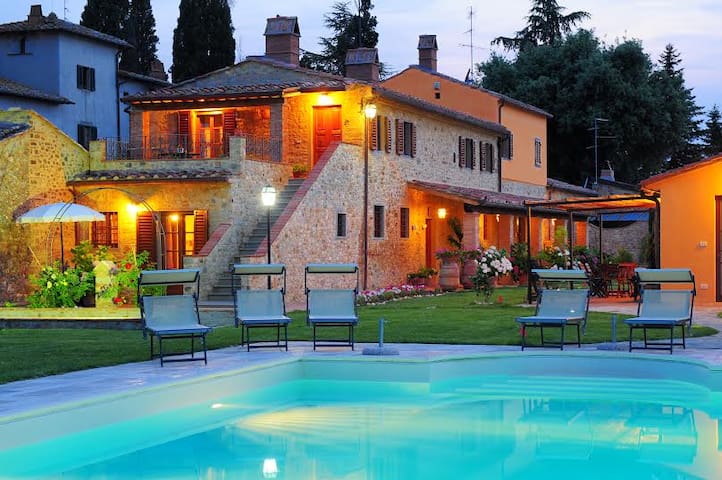 In casa in stile degli anni trenta alle porte di Arezzo, appartamento in stile al piano rialzato, con giardino e parcheggio gratuito. Ideale per gli amanti della tranquillità e delle arti.
In an old Villa built in the early 20th century in the countryside close to Arezzo, we rent this beautiful apartment, furnished with early twentieth century style, with 2 bright and spacious rooms a big kitchen and an old style bathroom. Cleaning room service every week. That's the perfect place to stay if you want to combine culture and relax in a peaceful country area. The house is located 5 km away from the ancient walls of Arezzo and only 1 hour drive to Florence. You can reach Florence also with a direct train from Arezzo, in 57 minutes with no intermediate stops! From there you can also easily start the ancient trail 'Il Sentiero della Bonifica', a 62km cycle and pedestrian trail which connects Arezzo to Chiusi. You can also easily reach Montepulciano, Cortona, Siena and many others beautiful towns.
The reservation was canceled the day before arrival. This is an automated posting.
ivana
2013-12-30T00:00:00Z
The place is in a good position if you want to reach Arezzo. The quality/ratio is good, the apartment is big and the kitchen is in good condition. Even if close to the street, it's not noisy.
Anna
2013-11-06T00:00:00Z
Tipo de habitación
Casa/apto. entero
---
Tipo de propiedad
Apartamento
---
Capacidad
4
---
Dormitorios
Pratantico, Arezzo, Toscana, Italia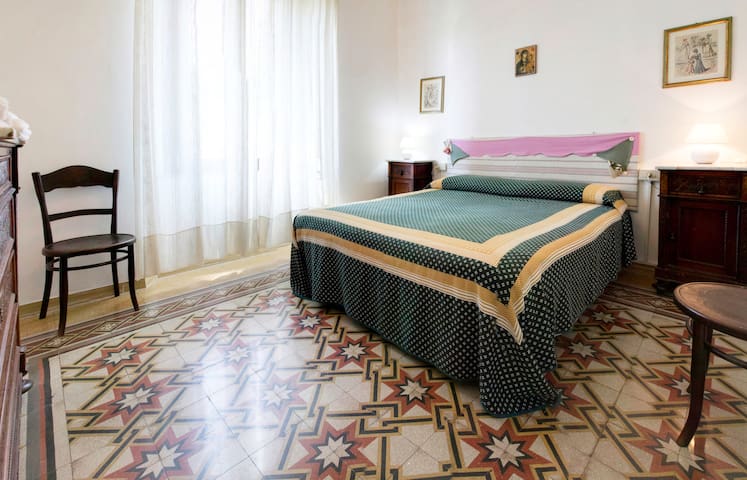 Our farm, has at its center, a small village consisting of three houses, 6 apartments in total and its Rita home, 4 apartments are for tourists and two are rented long term. We are very near the city of Arezzo and just 5 km from the highway A1. In the middle of a golden triangle, 60 km from Florence, 60 km from Siena 80 km from Perugia etc ... Surrounded by nature, among vineyards, olive groves and wheat fields, sunflowers, etc ..
apartment about 110 square meters. very nice furnishings dating from the early '900, situated first floor with balcony where you can dining outdoors enjoying the pine forest just in front. 3 bedrooms (5 beds), two of them with large wrought-iron beds and wash basin with running water as it was in use in old houses, kitchen with dishwasher, large living area with fireplace, dining area and bathroom with shower. Is equipped with a washing machine.
In a middle of a country with fantastique landscapes, but so near to the city...
Tipo de habitación
Casa/apto. entero
---
Tipo de propiedad
Departamento
---
Capacidad
5
---
Dormitorios
Arezzo, Toscana, Italia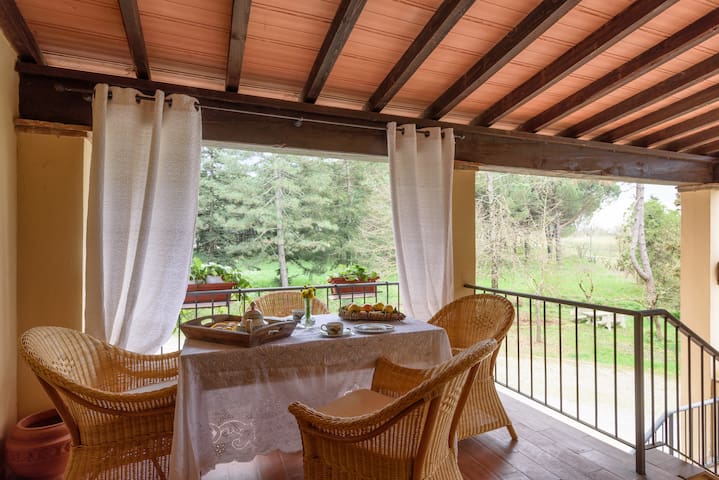 Dispone de aire acondicionado Wi-Fi gratuita y una terraza, se encuentra a 41 km de Siena. Hay un aparcamiento gratuito en el establecimiento. Cuenta con un lavavajillas, horno y microondas. Un piatto.Arezzo de pantalla plana se encuentra a 7 km y el Baño Vignoni es de 49 km. El aeropuerto de Florencia se encuentra a 62 km. Muy cerca se encuentra el caballo del centro ecuestre que alberga la Exposición Internacional "Toscanatour" 10 km se encuentra el puente de Buriano representado en la Mona Lisa de Leonardo da Vinci.
El barrio es muy tranquilo, el primer clásico barrio suburbano .... en una ciudad dormitorio pocas palabras!
Tipo de habitación
Casa/apto. entero
---
Tipo de propiedad
Departamento
---
Capacidad
4
---
Dormitorios
Battifolle, Toscana, Italia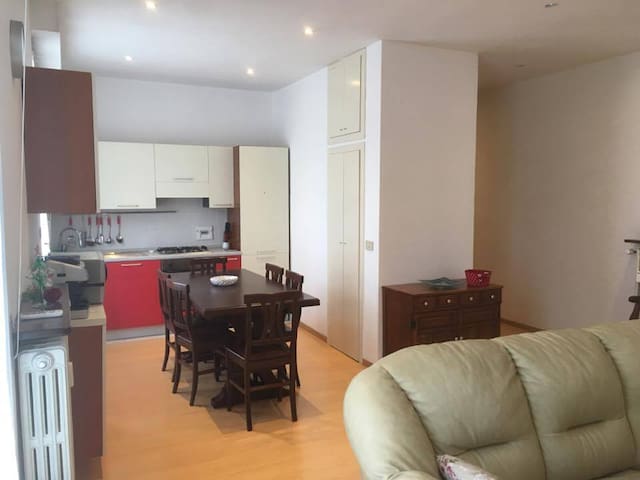 La casa vacanze,sorge all'interno di una zona tranquilla, è formata da due appartamenti recentemente ristrutturati dal design moderno ed elegante,con parcheggio privato e uso bicicletta gratuito,con 2 camere da letto matrimoniali e 2 doppie.
La Casa Vacanze Centro Fiere è ubicata a soli 100 metri da Arezzo Fiere e Congressi e a solo 1 km da Porta San Lorentino una della quattro porte di accesso al centro storico di Arezzo, adatto sia per il turista amante dell'arte, sia al viaggiatore imprenditore per esigenze di lavoro. I due appartamenti possono ospitare fino a 8 persone (2 per ogni camera) con bagni privati.
La casa vacanze, sorge all'interno di una zona tranquilla e silenziosa ed è formata da due appartamenti recentemente ristrutturati dal design moderno ed elegante, dotata di parcheggio privato e uso bicicletta gratuito, con 2 camere da letto matrimoniali e 2 camere doppie spaziose e luminose.
Siamo stati in questa struttura una sola notte e devo dire peccato.. Le camere sono pulitissime è perfettamente arredate con bagno privato. La cucina spaziosa e ben accessoriata. L' accoglienza della proprietaria di casa è stata impeccabile, ci ha perfino omaggiato di un prosecco per poter festeggiare l anno nuovo. Che dire se siete ad Arezzo venite ad alloggiare qua
Silvia
2016-01-02T00:00:00Z
L'appartamento di Mara si è rivelata un'ottima scelta! Abbiamo alloggiato in 4 in un appartamento con 2 grandi camere con arredi nuovi, letti comodissimi, pulizia impeccabile e temperatura regolabile con termostato!particolare menzione alla gentilezza di Mara! Grazie mille!!!
Marica
2015-11-14T00:00:00Z
Bel appartement entièrement remis à neuf avec stationnement. Très fonctionnel, extrêmement propre dans un quartier agréable et calme. A moins de 10 minutes de voiture du centre historique de cette superbe ville d'Arezzo. Très bon accueil de Mara qui nous indiqué les principaux sites à visiter, nous à conseillé le stationnement en ville ainsi que quelques restaurants de très bon rapport qualité/prix.
Christian
2015-05-27T00:00:00Z
Mio papà e mia sorella hanno soggiornato presso la struttura della signora Mara. Mi hanno chiamata più volte per ringraziarmi di aver trovato loro una struttura così piacevole, pulita e ben arredata, ma soprattutto per comunicarmi quanto sia stata gentile la proprietaria di casa. Hanno definito la sua gentilezza "al limite del possibile", sottolineando la sua grande raffinatezza. Si è perfino offerta di portarli in stazione alla fine del soggiorno!! Chi viaggia con AIRBNB sa che questo non succede quasi mai! Sono stati ad Arezzo per lavoro e penso che ogni volta che torneranno mi faranno prenotare da lei. Io ho parlato direttamente con la signora diverse volte e non posso che confermare le parole dei miei familiari.
Federica
2016-05-11T00:00:00Z
Tipo de habitación
Casa/apto. entero
---
Tipo de propiedad
Apartamento
---
Capacidad
4
---
Dormitorios
Arezzo, Toscana, Italia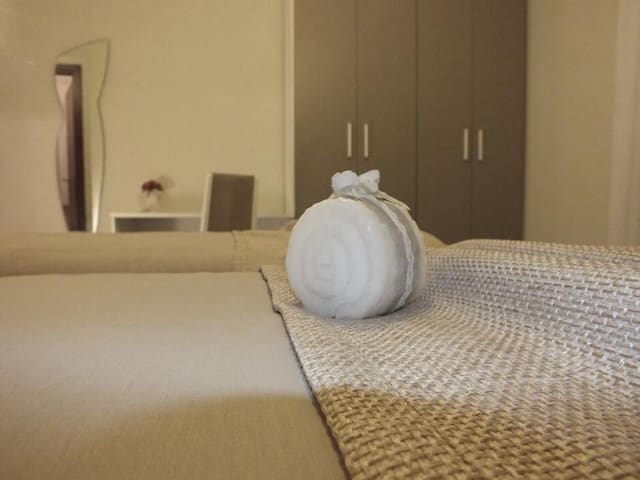 Appartamento con due stanze da letto (1 letto francese e 1 letto matrimoniale). Entrambi i bagni con doccia. A 10 minuti a piedi dalla stazione e dal centro della città. Non aspettatatevi il centro storico, scegliere questa zona significa scegliere la comodità del parcheggio e i servizi circostanti rimanendo appena fuori dal centro. Ottima posizione per raggiungere l'ospedale a 200 metri. Posto auto e ampia disponibilità di parcheggi liberi.
Appartamento di recente ristrutturazione dotato di aria condizionata e doppi vetri. Molto silenzioso e in posizione ottimale sia per visitare il centro di Arezzo che i dintorni, un posto auto riservato e possibilità di altri parcheggi liberi.
L'appartamento è comodissimo per chi dovesse raggiungere l'ospedale a piedi. E' inoltre molto comodo per il centro fiere e congressi di Arezzo. Nelle vicinanze si trovano inoltre la Stazione, l'università, il parco del Pionta e tutte le attività commerciali di cui si può avere bisogno (bar/supermarket/parrucchiere/estetista/edicola/ristoranti).
Posto accogliente e molto spazioso... Ci tornerò sicuramente dato che Laura e sua mamma Patrizia sono stage gentili e precise nelle comunicazioni!
Matteo
2016-10-23T00:00:00Z
Sono stato accolto puntualmente da Laura che mi ha gentilmente mostrato l'appartamento il quale si è rivelato esattamente come da descrizione. L'appartamento è al primo piano di un tranquillo condominio; è ben tenuto e arredato, confortevole e pulito. A disposizione asciugamani puliti, un phone e qualche bottiglia di acqua nel frigo. Il riscaldamento è autonomo. Il quartiere è abbastanza silenzioso e si trova circa 2/2.5km dal centro di Arezzo e dalla stazione, quindi meglio spostarsi con un mezzo. E' abbastanza facile trovare un parcheggio comodo e gratuito nei dintorni della casa se non nel condominio stesso. Laura si è mostrata gentile permettendomi flessibilità per quanto riguarda l'orario della riconsegna dell'appartamento. CONSIGLIATO!!
Davide
2016-02-10T00:00:00Z
Stayed here during our trip around Tuscany, what a great place! Very roomy, cold a/c, nice shower. No complaints, would come again!
Hector
2016-08-13T00:00:00Z
Buon rapporto qualità e prezzo, buon servizio e pulizia
patricia
2017-01-18T00:00:00Z
Appartamento iper confortevole. Spazioso, molto luminoso e molto caldo... ci siamo sentite come a casa fin da subito. Laura iper disponibile ad aiutarci con le nostre esigenze di check-in e check-out e ci ha consigliato un posticino per mangiare dietro casa davvero delizioso. Posto auto a disposizione proprio davanti il portone di casa... cosa chiedere di più! Grazie ancora infinitamente!
Federica
2017-02-17T00:00:00Z
The accommodation is really nice, and it's position is pretty close to the city, reachable in 5 minutes by car. The only drawback is due to the "shaking" glasses of the windows in the bedroom, especially during the night.
Roberto
2017-01-02T00:00:00Z
Appartamento confortevole e ben arredato. Purtroppo mancanza del Wi-Fi importante, cucina inutilizzabile in quanto molto sporca. Siamo arrivati in ritardo al check-in, ci siamo scusati e quant'altro, ci mancherebbe, ma le continue telefonate, ed essere giudicati come bugiardi, beh così non è carino, può succedere di avere degli imprevisti sulla tabella di marcia in una giornata lavorativa partiti da Torino.
Gianluca
2017-01-30T00:00:00Z
Il soggiorno nell'appartamento di Laura è stato confortevole, pulito, caldo, ben arredato corrispondente alle foto e la sig.ra Laurara e la sua Mamma sono state gentili e disponibili. Grazie di cuore
Gloria
2017-01-12T00:00:00Z
Tipo de habitación
Casa/apto. entero
---
Tipo de propiedad
Apartamento
---
Capacidad
4
---
Dormitorios
Arezzo, Toscana, Italia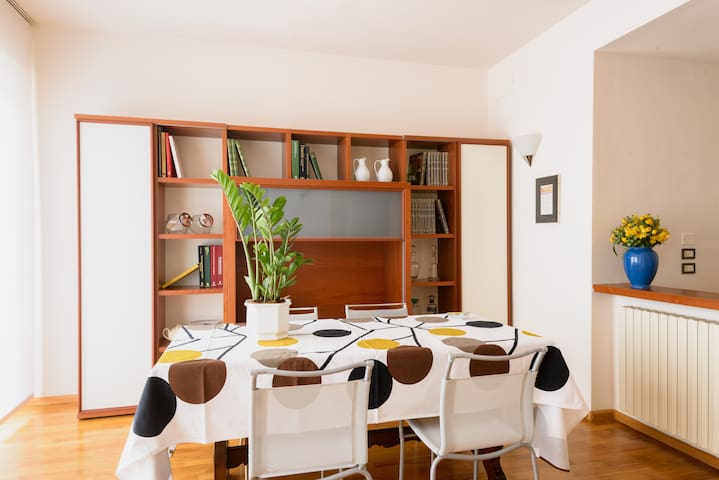 Fra ostello e albergo: una casa colonica dei primi del novecento, interamente ristrutturata, situata all'interno nella zona artigianale "I Pratacci" a 4 Km dal centro storico di Arezzo e dalla stazione FFSS, a 6 km dal casello "Arezzo"dell'autostrada
Tipo de habitación
Habitación privada
---
Tipo de propiedad
Otros
---
Capacidad
2
---
Dormitorios
Arezzo, Toscana, Italia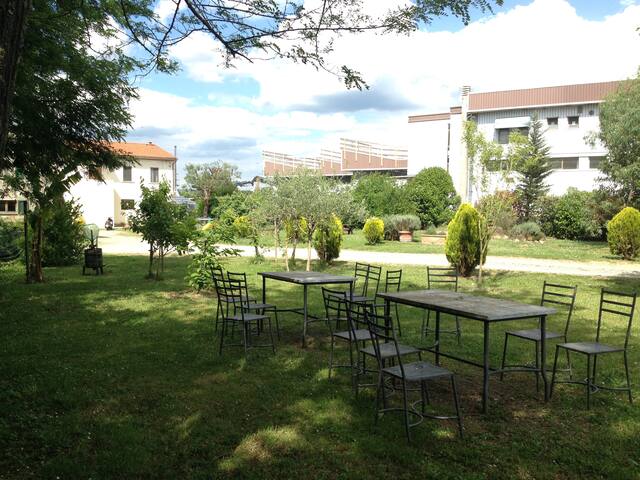 Pratantico - Airbnb
:
Una media de

4.78

estrellas de un total de

5

de

276

evaluaciones de huéspedes
1

–

18

de

Más de 300 alquileres
Introduce las fechas para ver el precio total. Ten en cuenta que se aplicarán tarifas adicionales y es posible que se añadan impuestos.