4 Alquileres de apartamentos
Va a ser relajante con suelo de tatami. Del estilo japonés sala primer piso y se puede relajar lentamente en el segundo piso de estilo japonés sala de una habitación. La otra habitación de arriba tiene 2 camas. De una habitación más dormitorio de la planta se encuentra en el segundo piso. Uno por cada uno de los dos conjuntos hay un futón y cama.
Las pinturas escritas por Nebuta pintor están decoradas en la habitación. pintor nebuta es la pintura que fue escrito por usted Sí para decorar la habitación. 네부타 화가 가 그린 그림 이 방 에 장식 되어 있습니다. ¿Por qué base 你 写 imagen Pintor de la somnolencia Shi RaiSo 饰 房 间.
Se encuentra en el lugar unos 10 minutos caminando al lugar donde se puede visitar casas antiguas y destilería de sake como la calle Komiji. (URL HIDDEN)出(URL HIDDEN)1(URL HIDDEN)場所 に 位(URL HIDDEN)す. Cómics y caminar hasta donde se puede visitar las antiguas casas y fábricas de cerveza de tal manera que la distancia se encuentra a una distancia de unos 10 minutos. 如 拥挤 的 街道 位于 地方 的 长途 步行 10 分钟 可达, 可 参观 的 地方 老 房子 和 酒窖.
AAA host. Great communicator and very kind. Highly recommend when you are around in this area.
Gosei
2017-03-05T00:00:00Z
The house was awsome guest owner also kind but the location is uncomfortable for traveling (take 30min by train to go to Hirosaki station)
Panya
2017-03-25T00:00:00Z
常に迅速にご対応いただき、快適に過ごすことができました!場所も静かで落ち着きました!
Tsuyoshi
2016-11-28T00:00:00Z
Tipo de habitación
Casa/apto. entero
---
Tipo de propiedad
Apartamento
---
Capacidad
5
---
Dormitorios
Kuroishi-shi, Aomori-ken, Japón
<> ・Inn is chartered. ・This inn is a self-check-in. ・It will not be going to pick. ・Accepts Guests question in the message. If you have the end approval , it will send an email a guide such as accommodation place to e-mail address of Airbnb your registration . House rules Non smoking Toothbrush , toothpaste , bath towels , towels bring Laundry detergent bring In order to avoid the trouble of neighborhood residents , the party ban.
There is a very nice place . It is close to the station. Convenience store , supermarket , pizzeria , etc. It is in the range of walk
コンビニ、スーパー、ピザ屋は徒歩圏内にあります。駅周辺にいけばお買い物にも便利です。
i receive the guide mail two days before, the mail really look like junk mail. and get the way with the guide mail not (SENSITIVE CONTENTS HIDDEN) map, (SENSITIVE CONTENTS HIDDEN) will lead you a wrong way. it is really worthier than normal hotel to live with the price and owner is very nice, but never met.
zhenzhong
2016-08-12T00:00:00Z
I really enjoyed my stay here :D cute, cozy house with all the essentials. cheap and great location. super close to the station and right next to a lawson and pizza hut!
Joanna
2016-10-15T00:00:00Z
直前の利用申し込みにとても親切に柔軟に対応していただけました。布団もふかふかで町中にも近く、コンビニも近いので何も不自由なく宿泊できました。部屋の照明なども個別にしてあり、細かな気遣いが感じとれました。本当にありがとうございました。
Moriyama
2016-10-09T00:00:00Z
屋主人很好,地方很近青森站!
Fy
2016-10-26T00:00:00Z
Room was very clean, and looked better than advertised. Getting there was easy with the provided instructions. I never met the host, but he was always fast to reply to any inquiries.
Luis
2016-10-16T00:00:00Z
位置稍微有点难找,连JR站较远,但房子非常棒,干净卫生,私密性好好
Sasa
2016-12-11T00:00:00Z
very nice and helpful! very comfortable!
Domie
2017-01-22T00:00:00Z
とても綺麗で整った部屋でした。駅から近くにあったので非常に便利でした。ありがとうございました。
Shino
2016-09-27T00:00:00Z
Tipo de habitación
Casa/apto. entero
---
Tipo de propiedad
Apartamento
---
Capacidad
4
---
Dormitorios
Aomori-shi, Aomori-ken, Japón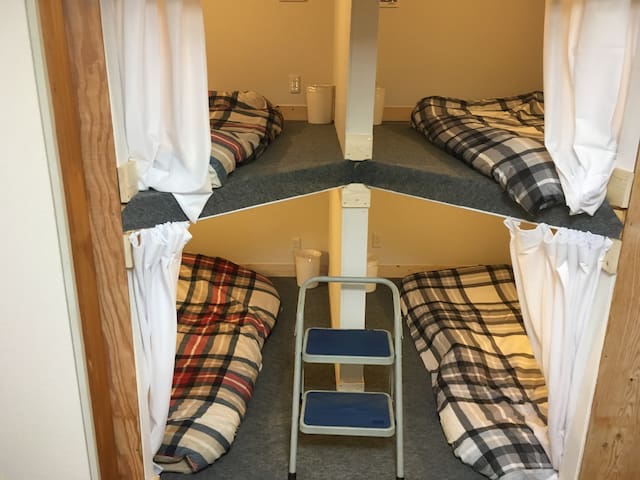 My place is located near two big department stores and a nice shopping area. There are lots of restaurants and shops if you want to have a relaxing day out. If you're feeling more adventurous there are plenty of outdoor activities for you to do accessible by public transport. Just a 15 minute bus ride from Aomori Station. There is so much to see in Aomori during every season. My place is good for couples and solo adventurers. Guests will be provided with comfortable futons to sleep on.
2 big department stores within 5 minutes walking. Lots of shops and restaurants nearby.
He was really friendly and helpful! Sebastian makes you feel at home, this is a great experience and he knows a lot of place where to go for sightseeing in Aomori and around! I will definitly recommand him!
Aala
2016-08-06T00:00:00Z
We had a great time in Aomori. Beautiful scenery and genuine people here. Sebastian and his family is an amazing host and very helpful. Highly recommend to stay here!
Keeta
2016-10-24T00:00:00Z
Sebastian was a great host. We arrived for the last day of the festival and he offered to pick up our backpacks at the station so we could continue to view the floats before the evening water parade. We were later than we expected and didnt take him up on it, but checked them in locker. However that was a nice gesture on his behalf and shows his willingness to accommodate. We met him later at 6pm and went with him and hos family to a location to see the water floats up close on the water. It was a great spot to view them. We enjoyed dinner after at a local eatery. If you want to experience Japanese style experience, stay with Sebastian.
Kim
2016-08-09T00:00:00Z
Best Airbnb experience I've ever had. Seb met me at the station, took me to dinner at a fantastic local restaurant, and then to a local bar for drinks. It was great to see that local side of things as a tourist. Room is clean and comfortable, and seb is a great host. Seb also took me for a day trip to a nearby wilderness and lake, which was beautiful and very fun. I would highly recommend this listing to anyone visiting Aomori!
Ryan
2016-08-14T00:00:00Z
Sebastian was so friendly and helpful for me and my cousin, really a pleasure to stay with. Great communicator who helped us look for bike rentals and booked a costume reservation for the nebuta festival. (which was totally awesome) The room provided was clean and the bedding mats were comfy. Bathroom and toilet were also in great order Would definitely stay again
Emil
2016-08-05T00:00:00Z
Tipo de habitación
Habitación compartida
---
Tipo de propiedad
Apartamento
---
Capacidad
2
---
Dormitorios
Aomori-shi, Aomori-ken, Japón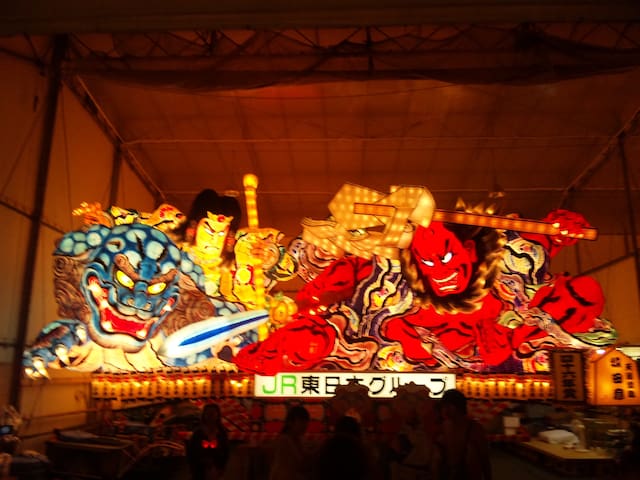 test
Tipo de habitación
Habitación compartida
---
Tipo de propiedad
Apartamento
---
Capacidad
2
---
Dormitorios
北津軽郡鶴田町, 青森県, Japón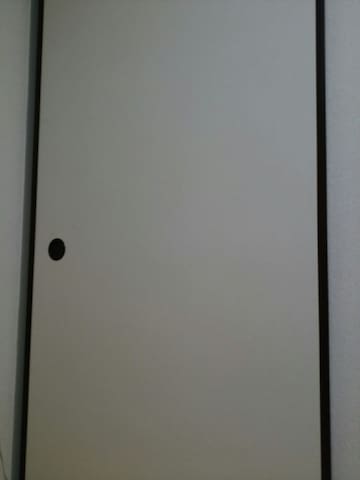 1

–

4

de

4 Alquileres de apartamentos
Introduce las fechas para ver el precio total. Ten en cuenta que se aplicarán tarifas adicionales y es posible que se añadan impuestos.