We live in an astonishingly beautiful village and have a 270 panoramic view of False Bay. Our rooms are well appointed, they are upstairs and private. The surroundings are tranquil and safe. Our beaches and whale watching opportunities are fantastic!
Great location. Lovey host. A true gem of a place.
Angie
2017-03-06T00:00:00Z
Wonderful views, very clean and great hospitality!
Gill
2017-03-26T00:00:00Z
A privilege to stay in Jenny's home. From booking to departure, Jenny was helpful, understanding and generous. Their home is perched overlooking the village of Pringle Bay with at least a 200° view of False Bay. The room upstairs also has an incredible ocean view, north facing, quiet, spotless, private and perfect for a couple - suitable a long or short stay. A great host, an incredible location.
Christopher
2016-09-11T00:00:00Z
Tipo de habitación
Habitación privada
---
Tipo de propiedad
Bed & Breakfast
---
Capacidad
2
---
Dormitorios
Pringle Bay, Provincia Occidental del Cabo, Sudáfrica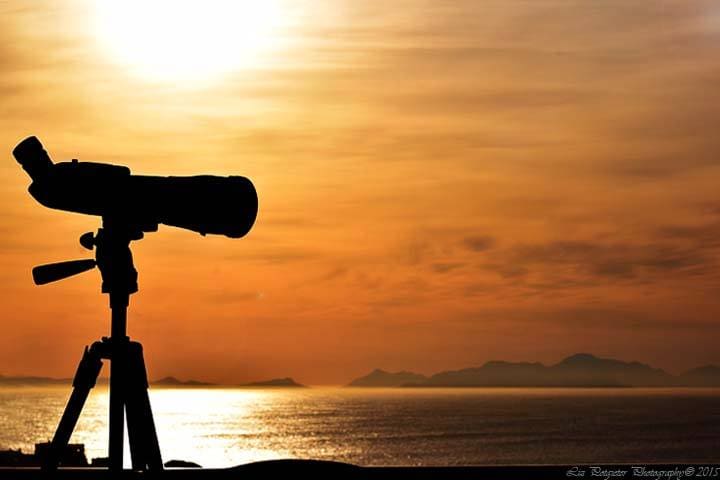 Whale Coast accommodation in the Kogelberg Biosphere, a UNESCO World Heritage Site(URL HIDDEN) Sea Villa Glen Craig 24 rooms luxury (Each en suite room sleeps 2) Accommodation.
Whale Coast accommodation in the Kogelberg Biosphere, a UNESCO World Heritage Site. Quaint Pringle Bay village is completely unspoilt, with natural beauty and a peaceful pace. No industry or high-rise buildings are allowed in this warm and friendly destination, making it ideal for leisure travel, business seminars, weddings or conferences. Sea Villa Glen Craig is only approximately one hour drive from Cape Town and the Winelands plus Pringle Bay is certainly one of the very safest villages in South Africa. Ringed by ancient mountains, the Cape Floristic Kingdom and the sea, this is an idyllic place in which to unwind. Sea Villa Glen Craig is a perfect blend of modern facilities with old world colonial charm, designed to work harmoniously with nature in the most eco-friendly way possible. Lovingly owner managed, Sea Villa Glen Craig exudes the tranquil relaxed atmosphere induced by its magnificent location on twenty six acres in what is Cape Nature Conservation's prettiest reserve with its exceptional quality of pristine fynbos. Sea Villa Glen Craig is ideal for groups to get together for training, seminars and 3 star conferences. A perfect place in Pringle Bay for those special private functions or weddings, guests awake to crisp clean sea and fynbos air, spectacular mountains and the ever-changing ocean. Personalised service by dedicated, enthusiastic and energetic permanent staff with their meticulous attention to detail is the essence of our philosophy, blending good traditional South African hospitality with high class international standards, making Sea Villa Glen Craig a perfect venue. Sea Villa Glen Craig luxury accommodation is approached from Cape Town with its world famous landmark Table Mountain by a coastal road called Clarence Drive (R44) carved out of the sea cliff, with breathtaking views of land and sea.
The nature.
The place was fantastic, the photos do not do it justice, the service was above and beyond what we were expecting , we were very well looked after
Alex
2015-01-11T00:00:00Z
Lovely accommodation in the very beautiful Pringle Bay. Staff couldn't have been more friendly and excellent value for money! Thanks
Richard
2015-12-31T00:00:00Z
Wonderful hosts! Beautiful location! The place to be for a quiet getaway. Highly recommended.
Vanessa
2017-01-09T00:00:00Z
the place is lovely located, room with a perfect view into the landscape. breakfast could be a bit more creative ;)
Kathrin
2015-01-07T00:00:00Z
This place was absolutely great. We were looked after so well. The setting is exquisite. They were also great with my little dog. Highly recommended!
Alexia
2015-05-17T00:00:00Z
Friendly staff!
Jade
2017-01-02T00:00:00Z
Tipo de habitación
Habitación privada
---
Tipo de propiedad
Bed & Breakfast
---
Capacidad
16
---
Dormitorios
Pringle Bay, Provincia Occidental del Cabo, Sudáfrica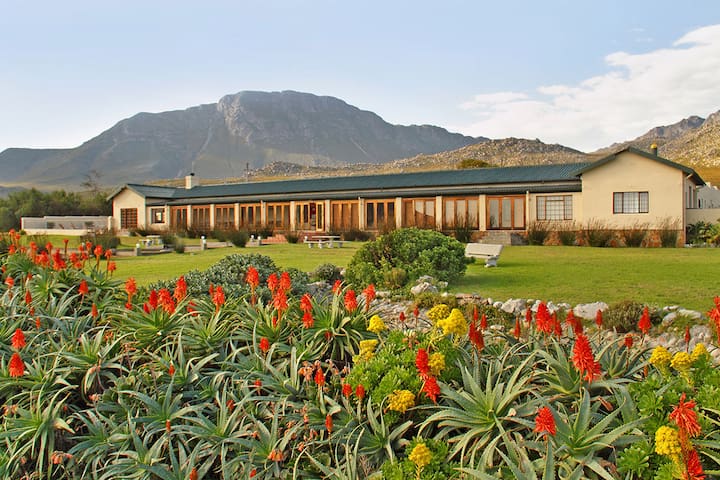 Soothing silence, fresh air, sweeping mountain views and plenty of fynbos – that's what staying at this new Dutch-owned guesthouse, just outside Pringle Bay(on the R44), will be. 3Flavours Guest House, at the foot of the Hangklip Mountains, is a place where time seems to stand still – as still as the quiet night air that separates you from the millions of bright stars overhead. All the luxurious conveniences you would expect of a 4-star guest house are part of the 3Flavours experience, but you'll never feel over-pampered. The rooms are extremely spacious, with earth coat floors and minimalist design, offering incredible views that make sleeping with the curtains open a great idea!
Perfect location to unwind and comfy room sur ! Thanks
Manuel
2016-02-24T00:00:00Z
Tipo de habitación
Habitación privada
---
Tipo de propiedad
Bed & Breakfast
---
Capacidad
16
---
Dormitorios
Pringle Bay, Provincia Occidental del Cabo, Sudáfrica

Bucaco Sud Guesthouse is a provençal style home with expansive ocean views, ambiance and attention to detail. Guests can indulge in a refreshing swim in the swimming pool, with picturesque mountain-scapes framing the scene.Fire places for winter days
PLEASE NOTE: This is a Bed and Breakfast / guest house. Rates are thus worked out by the number of rooms required ( 2 persons per room ). Best is to send us an enquiry and we work out the correct rates , It is available as the whole house, with or without ( self catering) full service STANDARD ROOMS RATES ARE FROM R 465 PER PERSON PER DAY AND THEY INCREASE UP TO R 550 PER PERSON PER DAY,SHARING DEPENDING ON ROOM CHOSEN, AND SEASON. STANDARD DOUBLES SEA FACING ARE R 930 PER NIGHT B&B TOP FLOOR QUEEN OR TWIN ROOM R 1000 PER NIGHT B&B TOP FLOOR SUPERIOR ROOMS R 1100 PER NIGHT B&B SINGLE OCCUPANCY IN A ROOM RATES , START AT R 630 PER NIGHT. EXTRA PERSON IN ROOM , SUCH AS A CHILD R 250 SURCHAGE. ( MAXIMUM 1 EXTRA CHILD PER ROOM ) DISCOUNTS FOR STAYS OF TWO NIGHTS OR LONGER , CONDITIONS APPLY. RATES VALID UNTIL END SEPTEMBER 2017 ONLY . SEE NOTE UNDER HOUSE RULES A Provencal style home, with great ambience and attention to detail. Set against the Kogelberg, with a swimming pool and towering mountain in the back garden. Individually decorated & comfortable rooms with percale cotton bedding and some of the most spectacular views of the coastline & sea, on the Western Cape's southern coast. Most, only with showers, one the "Southern Right "room with romantic Victorian bath. Other facilities include complimentary tea, coffee and heaters in all the bedrooms. Comprehensive tourist information, magazines and other reading material available. Situated in Betty's Bay on the scenic whale coast route between Cape Town and Hermanus. Being a part of Southern Africa's first internationally recognized UNESCO Biosphere Nature Reserve (The Kogelberg) the whole area is considered the heart of the Cape Floral Kingdom with some 1600 species. The Harold Porter National Botanical gardens with indigenous flowers, fynbos covered mountain slopes, waterfalls , streams and dark pools is within minutes walking from Buçaco Sud. There are superb unspoilt sandy beaches, fresh water lakes, a coastal marine reserve and a colony of African penguins at Stoney Point (one of only three on the African continent).
We only stayed 2 nights, but were welcomed hearlty by Beatie, who gave us some tips what to do in Betty's Bay and where to eat, a trip to the Botanical Garden and do the walk to the Leopards Waterfall is a must! Thank you Beatie for a wonderful stay.
Ann-Chris
2017-03-01T00:00:00Z
I booked Jean's place for a night as an anniversary gift for friends of mine. The communication and booking process was fantastic and Jean was great at helping me organise a wonderful getaway for my dear friends. My friends had a lovely stay and had nothing but positive things to say about their time at Bucaco Sud. I will definitely be visiting your beautiful place for myself next time!
Bianca
2016-11-27T00:00:00Z
We thoroughly enjoyed our stay at the B&B, Bettys Bay is a wonderful location, restful and very scenic. Lots to explore, hiking, swimming - lovely beaches and a chance to get up close to the penguins.
Jo
2016-12-20T00:00:00Z
Lovely house, friendly reception and a good breakfast!
Carolien
2017-02-02T00:00:00Z
We really enjoyed our stay at Bucaco Sud. Spectacular little place at the foot of the mountain. The host Beatie was very friendly and made us feel right at home from the minute we got there. Breakfast is great and we loved the variety to choose from. The area in general is very quiet and calm and is great for relaxing.
Tobias
2013-12-25T00:00:00Z
We stayed in a room at the first floor with a great view at the sea. The rooms are very clean and comfortable, we felt 'at home'. Beatie, our host, was very nice and gave us a very warm welcome! The house has a fireplace which we could use and a nice swimming pool which will be very nice in summertime!
Nieke
2015-10-04T00:00:00Z
Jean and Betty are very nice and generous people. They accepted us even though we arrived in a very short notice (and also very late). The rooms were so clean and cozy, but the most exciting thing was the wonderful home-made breakfast. Jean was helping us planning the rest of our day and drew an impressive map of the Cape town area.
Alon
2015-10-13T00:00:00Z
Nice place to stay. Mountains behind the house and a great walk in the botanical garden with a exentsion to a great waterfall.
Julian
2017-02-12T00:00:00Z
Tipo de habitación
Habitación privada
---
Tipo de propiedad
Bed & Breakfast
---
Capacidad
2
---
Dormitorios
Betty's Bay, Provincia Occidental del Cabo, Sudáfrica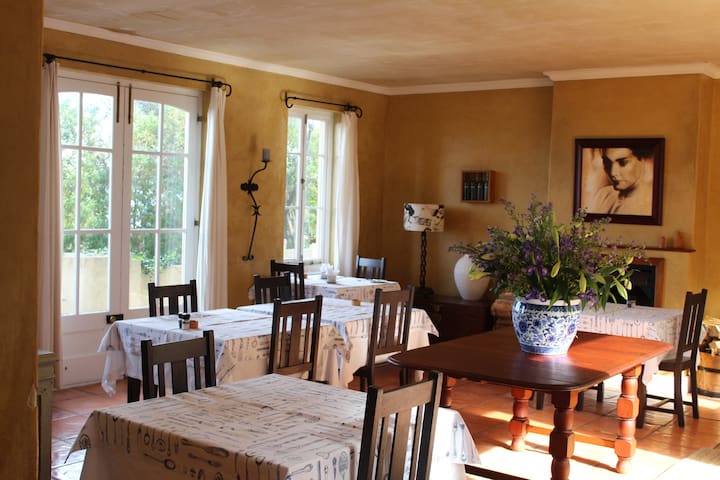 Soothing silence, fresh air, sweeping mountain views and plenty of fynbos – that's what staying at this Dutch-owned guesthouse, just outside Pringle Bay(on the R44), will be. 5 minutes to the beach and a lot of hiking trails just on the corner.
Location is perfect
Heather
2017-02-11T00:00:00Z
Great location, great view. Warm hospitality. Rooms wonderfully decorated. Carport right in front. Lovely guesthouse, Anita Derek and their team put their hearts in this place.
Alice
2016-12-27T00:00:00Z
The host canceled this reservation 19 days before arrival. This is an automated posting.
Bryna
2016-12-11T00:00:00Z
Set apart from Pringle main, this stand alone hotel boasts a pool-and-view combination that is hard to beat. The rooms are spacious, clean and tastefully decorated. Fresh fynbos is arranged in your room each day - adding a local touch that we really enjoyed. Getting to the beach is a little difficult (a drive, with a hairy turn on to a freeway), and you should not think of this as seaside accommodation. If you want to stay fairly static, and enjoy some downtime by pool with beer in hand, this is a lovely spot. If you're traveling to Pringle/Betty's/Rooi Els and want to experience the hike/bike/surf/botanical garden combination, then I think a spot closer to the sea would be better.
Nick
2016-12-17T00:00:00Z
The 3Flavours Guest House made us feel very welcome. They even accommodated us when we arrived before our scheduled check-in time. The place itself is very comfortable. The rooms are spacious with big, open-plan bathrooms. The views from 3Flavours are beyond description - absolutely breathtaking. Will definitely be back for a longer stay.
Thomas
2014-11-10T00:00:00Z
This was our first Airbnb experience and, after our stay at 3Flavors, we are more than sold on the whole concept. The room and facilities exceeded our expectations and Anita's attention to detail and decor were evident everywhere. Despite our late arrival we were well received. Our dietary requirements were well carried for. It is a pity that we could only stay the one night but our friends will certainly be convinced to stop over here.
Mustafa
2016-01-27T00:00:00Z
Can't quite say enough about how lovely our experience at 3Flavours was! Everything from the cleanliness, to the staff, owner, views and general vibe. 3Flavours stands apart from the rest in every way. Thank you again Anita and Derick for providing us with everything we needed during our 2 night stay. We will definitely be back!! Ciao and best wishes!
Andrew 'Fadi'
2016-12-29T00:00:00Z
Ein traumhaft schönes Gästehaus nicht weit von Kapstadt. Wir haben uns sehr wohl gefühlt und würden Anita und Derrick jederzeit weiterempfehlen... Das Frühstück ist super und die Zimmer wirklich sehr schön. Anita und Derrick sind sehr aufmerksam und helfen bei jedem Wunsch und Problem gerne weiter.
Elise QIAO
2015-02-24T00:00:00Z
Tipo de habitación
Habitación privada
---
Tipo de propiedad
Bed & Breakfast
---
Capacidad
2
---
Dormitorios
Betty's Bay, Provincia Occidental del Cabo, Sudáfrica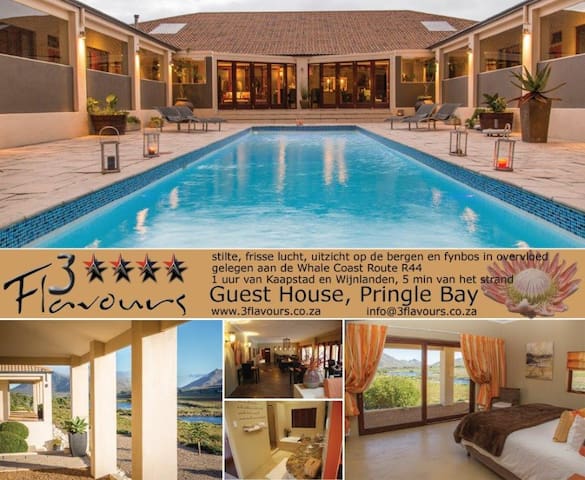 Stay at Friends", Betty's Bay, that kind of guest rooms in a house one can call "home away from home". A home that shouts space and lots of light. Helene's artistic decorative flair pulled off a rustic elegance creating a unique ambiance. Throw in Helene's bubbly, free spirited personality and you have a place to stay filled with love and friendship and good old fashioned country hospitality. Asking Helene's motto in life, she will say: Live life! And let live!
Accommodation for winter or summer. Breath taking views from your room and the lounge. The fire place make it a cozy stay over facility, to relax and to enrich your soul. The rooms are well equipped. Each room hasitsown bar refridgerator. The rooms are private. Bird lovers will love the location. Fauna and Flora at your door step. A spontaneous host. Stay at Friends is a refreshing space..
For the adventurous traveler the Blesberg dunes are on your door step. Stony point penguin colony, the third largest on land in South Africa. The Herald Porter Nature reserve 1.3 km away with Fauna and Flora to die for. Hiking trails... Mountain biking.
Wir hatten das Glück während unserer Garden Route eine Nacht in einem der wunderschönen Apartments bei Helene in Bettys Bay zu übernachten. Wir wurden herzlich in Empfang genommen, wunderbar verköstigt und konnten während des Sonnenuntergangs am nur wenige Meter entfernten Strand den Tag ausklingen lassen. Wir danken Helene für die herzliche Begegnung und würden diese Unterkunft jederzeit wieder buchen! Liebste Grüße, Felix und Linda
Linda
2016-11-06T00:00:00Z
We arrived in Bettys after check-in and by that time all the restaurants' kitchens were closed - but Helene opened her home, heart and kitchen by providing us with an array of delicious snacks and great conversation! She exemplifies the quote displayed outside the house: "Be so happy that when others look at you, they become happy too." The bedroom has everything you need and overlooks the pool area & beautiful garden. We would definitely recommend this spot and looking forward to visiting Helene again soon.
Melanie
2017-02-19T00:00:00Z
Tipo de habitación
Habitación privada
---
Tipo de propiedad
Bed & Breakfast
---
Capacidad
2
---
Dormitorios
Betty's Bay, Provincia Occidental del Cabo, Sudáfrica
Pringle Bay - Airbnb
:
Una media de

4.54

estrellas de un total de

5

de

39

evaluaciones de huéspedes
1

–

6

de

6 Bed & Breakfasts
Introduce las fechas para ver el precio total. Ten en cuenta que se aplicarán tarifas adicionales y es posible que se añadan impuestos.