Introduce las fechas para ver el precio total. Ten en cuenta que se aplicarán tarifas adicionales y es posible que se añadan impuestos.
4 Alquileres de Cabañas
· Pullman
4 Alquileres de Cabañas
· Pullman
My cabin is less than half mile from downtown Moscow, 5 minutes cycling or driving, 15 from UI campus. It sits on a southwest-facing, sunny hillside on half-acre of grass, trees, flowers, and garden. When it was built in 1940, it was surrounded by residences and open space. Now it is surrounded mostly by businesses, but West Morton is a dead-end dirt road. Nearby is a big grocery store, drug store, and a couple of new breweries and restaurants. Nothing is far.
Typical of a 2-story cabin, the upstairs is bedrooms and downstairs consists of the kitchen, eating area, living room (all connected), the guest bedroom, the bathroom, and a utility room. Heat is from a natural gas heater where the wood stove used to be. The guest bedroom is small but bright with natural light; it was the library and still has some books and family photos. It has a wood floor. Immediately adjacent is the bathroom, which is large. The tub is an iron clawfoot that was enclosed in the '50s. The shower was added above the tub in the '80s. If you have mobility issues, this is not the bathing system for you. The porch is used as another room in the summer. The east yard is shady and used as an eating area on hot days. The west side consists of two large grassy yards with bushes, trees, flowers, a big dog pen, and a shed. Behind everything is a hillside with trees, bushes, and garden areas. The house and property are not level or smooth or modern. The downstairs is all common area except for the guest bedroom. You can use the kitchen to prepare food. You can wash a load of clothes. I don't have a dryer. I work part-time at the Moscow Food Co-op, walk the dog and go to the gym regularly, have meetings and other commitments, but I'll be available to give you a tour of Moscow. I've lived in Moscow for over 41 years.
Neighbors include a 5-unit apartment house, a woodworking shop, an electrical contractor, a tractor repair shop, and a storage lot for a phone company. The storage lot is across from the cabin. Highway 95 is close, so during the day if you are outside, you hear traffic. But inside and during the night, it is quiet. There is little traffic on West Morton because it is a dead-end road. A bus stop is half a block from my house. The busses are free and there are two loops in Moscow, one that goes to the university. You can borrow one of my bikes for around town. Park in the driveway, not on the road, but not in front of the garage so I can come and go. The driveway is up an incline and gravel. The walk to the front porch is an inclined, flowerbed-lined path with uneven surfaces. It's a pain to drag heavy luggage. If you arrive at night, you'll want a flashlight. The porch light will be on and there is a string of red chile lights on the porch. If you have mobility issues, my house is not the best place for you. There are 2 cats; one is very friendly, Richard Lionheart, and wants to get in your lap. There is also a dog, an Australian shepherd named Baracka. If you want to sleep in one of the big bedrooms upstairs instead of the guest room, you may. There's no bathroom up there, so there's a tradeoff--a lot more space but a walk downstairs to the bathroom. A light breakfast is included (ingredients are generally organic): coffee (dark), fresh juice and/or smoothie, bread, fruit, hot or cold cereal. Let me know what you want. Or can't eat. I have prepared a guidebook to the area with maps and recommendations.
Diana is a lovely host. She had fresh apple juice for me when I arrived in town. We had great conversations and I learned a lot about the Moscow area, community and School. She is a local Gem!
Linda
November 2016
Diana left a key out for me....very thoughtful. I was warmly welcomed. Diana is a warm and sweet host. Loved being so close to town; Diana knows everything about Moscow and is so willing to share! Diana is a natural host....Her log cabin home has a lovely, warm feeling and is immaculately clean! It's just as she says..."simple and comfortable". It was everything I expected.... A real value for a budget minded traveler. I'll be staying again!
SUSAN
November 2016
More important than the low cost was the feeling of retreat and reprieve. I was in Moscow for a sad event and Diana's home was wonderful, such a kindly and interesting place, light years better that the sterility of a Best Western, et al.
Robin
December 2016
Diana was a fantastic host! Not only was she knowledgable about the town, she went out of her way to make sure I had a fantastic trip! Breakfast, dinner, coffee, she provided it all! Great conversation, a tour of the town, and a super cuddly cat. I would def stay again.
Kate
November 2016
Simple comfortable very clean. My second stay at Diana's. My go-to place whenever I'm traveling through Moscow Idaho. A real value; special sweet home. Nothing like coming off a long chilly road trip into a home with a pot of soup on the stove... A real treat.
SUSAN
January 2017
Tipo de habitación
Habitación privada
---
Tipo de propiedad
Cabaña
---
Capacidad
1
---
Dormitorios
1
Moscow
Sharing a lot with the main house, the guesthouse is its own separate cottage. It is a complete house with bathroom, full kitchen, bedroom and living room. It is on a tree-lined street in a friendly neighborhood just a few blocks from downtown Moscow. The house most comfortably accommodates a couple but will work for a group of 4.
Little Green Guesthouse offers complete privacy and relaxing nightly accommodations. There is a queen-sized bed in the bedroom and a full-sized sofa-sleeper in the living room. Downtown you will find a variety of restaurants, or if you'd rather prepare your own meal in the guesthouse's well-equipped kitchen, you can pick up some groceries at the local food co-op only a few blocks away. The guesthouse supplies the following: KITCHEN/COOKING * full-size refrigerator/freezer * 24" oven with cooktop stove * microwave * toaster *12-cup coffeemaker, regular and decaf coffee, half 'n half * variety of teas * dishes, pots, pans, utensils, tupperware, and lots more * cookbooks of 4 or less ingredients * charcoal BBQ grill * some food staples such as cooking oil, sugar, salt and pepper PERSONAL CARE * iron and ironing board * hair dryer * shampoo, conditioner, soap INTERNET, TV and OTHER ELECTRONIC STUFF * password-protected wifi * 32″ HDMI television * smart dvd player with Netflix * basic cable * surge-protected USB device-charger for your smartphones and tablets NON-ELECTRONIC ENTERTAINMENT and RELAXATION * books and games, featuring a custom-made Moscowopoly * 2 bathrobes for your use during your stay * candles * coupon for 1 free visit to North Idaho Athletic Club Little Green Guesthouse offers a green lodging alternative. Shampoo, conditioner, and lotion are supplied in non-disposable packaging, paper products are all 100% pcc, and recycling and composting are offered. The house is equipped with a water filter installed on the kitchen sink, eliminating the need for bottled water, an on-demand hot water heater, and a dual flush toilet. The guesthouse is its own separate cottage that shares the lot with the main house, where my son and I live. The backyard, while a work in progress, is available for use by the guests and is shared by both homes. I love visiting with my guests over coffee or a beer, but I also understand most people are coming to Moscow to visit family or friends or often have an existing agenda and are strapped for time. I'm available if needed but respect your privacy too.
The home is located in a residential neighborhood consisting of older, small homes. It's a short walk to downtown Moscow and the University of Idaho. Its proximity to the U of I allows you to avoid the nuisance of parking on campus mid-week. There's a free bus that picks riders up downtown and loops either through campus and to Winco or loops to the public pool and Safeway. However it only operates Monday through Friday. The whole town is quite bikeable although there are some hills. Bikes can be rented from Paradise Creek Bicycles. There are also quite a few taxi companies in town for those that don't arrive with a car. Uber doesn't have a presence on the Palouse yet, although ironically, I'm registered to drive for them :) Special event rates are charged for U of I and WSU Mom's and Dad's weekends, homecomings, and graduations. There is a 2-night minimum for these event weekends, and I only accept bookings for these special weekends directly through my website. For more information, please visit my website, or send me an e-mail.
What a beautiful house! Sharon was very kind and welcoming. I was able to check in late at night because of work. Fast internet, comfy bed, good sound system w/iPod included. Plenty of entertaining and useful things around the house. The neighborhood is quiet. Moscow has some delicious places to eat, and everything is close by. (check out CD's BBQ)
Dan
September 2014
We loved our stay! What an adorable little cottage. My 11 year old daughter and I had a relaxing time hanging out in the cottage. There are games there and the kitchen is great for fixing food. The neighborhood is lots of cute older homes and walking distance to downtown. We stopped at the Moscow food Coop for a yummy lunch. Love the robes, the decor, the bed was super comfy. Have nothing but great things to say. It was very clean too! Thanks Sharon!
Ange
October 2015
Cute, cozy, eco-friendly place to stay in Moscow, walkable to the food coop and other restaurants, Sharon is very helpful. Guest house had extra touches like games to play, coffee and pandora to stream music. We loved it.
rachel
December 2014
The Little Green Guesthouse was perfect! I stayed 2 nights with my daughter who attends the University of Idaho. The location was close to the school and downtown. The guesthouse was equipped with everything you could possibly need. Sharon was a terrific and accommodating host, with so much knowledge and information about the area and her own experiences. I would highly recommend staying at the Little Green Guesthouse!
Kathleen
April 2015
THE bestest little place to stay! Completely within walking distance to the little downtown area, great BBQ right across the street...and best yet, the MOST amazing, and welcoming host!! Sharon is neither the overbearing owner...nor is she the absent innkeeper that lets you fumble to find things. She is attentive, and oh so welcoming! The place was immaculate and the PERFECT size for a single traveler...or a couple visiting the area! Great linens...(always a plus)...and an awesome little kitchen if you don't want to eat out every night! I really couldn't hold this place in higher regard! Well worth the money...and will forever direct visiting family to stay at this little cottage!! 400 stars!!!
Meagan
September 2015
Sharon was great, and the little green guesthouse was perfect! Sharon was easy to get in touch with, made sure everything was set for check-in before we got there, and was very helpful with recommendations around town. the guesthouse was clean and comfortable and in a nice, quiet location. exactly what we needed.
Ben
May 2015
The Little Green Guesthouse was a delight to stay in. It was extremely clean and cozy. The owner made sure all details were attended to, including tea and delicious organic coffee for the weary traveler. There was even a recycling bin in the back! It really felt like home. Also, it is easy to check in and check out. There is ample street parking. And it is a short distance away from restaurants and bars - you wouldn't be forced to drive if you didn't want to. Cute quiet neighborhood too! The only drawback is that the space is small. Great for 2 people, but more than that would be a little tight. That's why it's the 'Little' Green Guesthouse. Adorable and highly recommended. Thank you for the stay!
Linda
September 2014
Sharon was terrific, great communications about the guesthouse and very warm and welcoming. We talked for a bit about my visit to the area and offered a lot of new local suggestions, since I moved away some time ago. The house was amazing, super tidy, cute, and very warm. It was nicely decorated, like a miniature bungalow! Will definitely stay here again if I'm in Moscow, very comfortable for 2 people.
Paul
October 2015
Tipo de habitación
Casa/apto. entero
---
Tipo de propiedad
Cabaña
---
Capacidad
4
---
Dormitorios
1
Moscow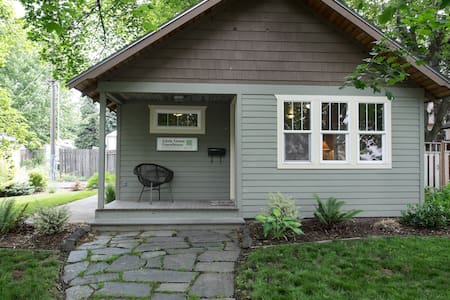 Feels like you are out on a farm, but really you are in town. Ride the bike trail 10 minutes to Downtown and 15 to Univ of Idaho. The "Barn" is an English design from the 1400s with posts joined by with wooden pegs, and furnished with antiques.
Peterson Barn has the character of a mountain hide-away with all the comforts of home. Peterson Barn is the perfect way to get away from it all without ever leaving town. In the tradition of English cruck frames, the Peterson Barn was built by hand in 1997 from curved timbers. We felled and milled the trees, cut the joinery by hand, and did a barn raising with about a hundred of our closest friends. Many of the timbers are rescued urban hardwoods and each has a story. And the barn is gathering its own stories... honeymoons, anniversaries, holiday dinners, and even a home birth. We know you'll enjoy your stay. Cyclists: From the end of our driveway you can go east 14 miles on the Latah Trail's paved railbed to Troy, ID or west 8 miles via Moscow's Paradise Path to the Chipman Trail's paved railbed to Pullman, WA. There is also off-road biking on Moscow Mountain. You are renting the main floor and sleeping loft of the Barn. We have a two car garage and greenhouse below which is private. We'll be around to greet you; we live in the 100 year-old original farmhouse next door.
We are located only a mile and a half from the University of Idaho, on the Latah Trail / Paradise Path bike trail. Ride or run 14 miles east to Troy Idaho, or west through the UI campus and 8 miles to Pullman WA and WSU. In addition to the trail, there is a city bus service with a stop near Blaine St & White Avenue, a couple blocks away. We provide one parking space for guests. Additional cars need to be parked on the street. The driveway is used by others, please be thoughtful.
Great location, great host! The barn was everything I hoped it would be and our host was always around if here was a question. I loved the fireplace - very warm and cozy.
Giuliana
February 2016
We loved the Peterson Barn! My Norwegian students felt right at home with the Scandinavian decor! It was a delight to stay there while we transitioned one into Moscow life. The property is a gorgeous Palouse oasis. Nils was helpful & friendly. Looking forward to future visits!
Jennifer
August 2015
Welcomed us and gave us a tour of the property.
Carrie
October 2016
The Peterson Barn Guesthouse is a gem - very comfortable, close to the University, with raspberries in the backyard and a lovely porch for nighttime sitting! It's close to a bike trail that winds through Moscow and out to Pullman, and it's a skip away from downtown, which has great restaurants and a wonderful book shop, Book People. Would definitely recommend, especially if visiting U of Idaho.
Emily
June 2015
Available to assist in whatever questions we had. Quiet neighborhood, quaint and charming ambience, a real hidden gem!
Cathy
December 2016
We had a wonderful time at the Peterson Barn (two adults, two children). The guesthouse is very spacious and has an abundance of natural light. The overall essence of the barn is right in line with the the culture one might be looking for if they were travelling to Moscow on vacation. Nils and Krista welcomed us to pick raspberries from the patch behind the building which made for a great treat.
Mike
June 2015
This was our favorite air bnb! The place was like a home away from home. Had everything we needed, was clean, comfy and had such a great feel to it. All of the directions were timely and made our late night arrival hassle free. Next time we are in Moscow we would love to stay here again. Again, such a wonderful stay. Thank you !
Tara
October 2016
A really nice, unique place to stay in Moscow. So close to a nice trail and amenties, and yet you feel like you are in a more remote setting. We loved the barn!
Robin
July 2016
Tipo de habitación
Casa/apto. entero
---
Tipo de propiedad
Cabaña
---
Capacidad
4
---
Dormitorios
1
Moscow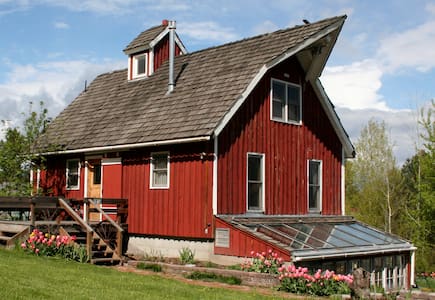 Our private little cabin is right on the Clearwater River with great views in all directions! You can just relax on the patio or spend time fishing and enjoying the property. It is great for couples who want to get away, solo adventurers, families (with kids), and perfect for short or long term fishing trips. From mid August to February the Steelhead fishing in the Clearwater River is excellent, with world class fly fishing for steelhead right out the door. "Hana Pa'a" or Fish on!!!
Or cabin is located right on the Clearwater river. This 400 sq ft cabin has a living room with a large and small couch and a separate bedroom with queen bed. It has all amenities including washer/dryer, shower, full kitchen, AC, outside grill, picnic table, etc. Great for a relaxing getaway or base for a week long fishing adventure on the Clearwater! We have river access and a private patio area with picnic table and an area to relax by the river.
Amazing river views with breathtaking sunsets. A quiet dead end road to walk or jog on. Please respect our neighbors privacy as well. Spalding park is located at the end of our road and includes a wonderful historical museum that is part of the Nez Perce Historical Park. We are 25 minutes from the Lewiston Airport, 10 minutes to Coulter Creek Winery, 15 minutes to Hardware Brewery, 5 minutes to Gibbs Eddy Boat Ramp and 25 minutes to Orofino
Had a great time at Ken and Jackie's cabin, it was a very nice place.
Eric
November 2016
This place was just as described and better in person, a lovely place to hang out and watch the river go by. Kitchen was well equipped, the bed was excellent, and the view from the porch was spectacular. The hosts were friendly and clear about everything. We loved it!
Carol
September 2016
Great location.
Ray
October 2016
This cabin is perfect! It's near the main road, making it easy to get anywhere in the area. At the same time, it's so peaceful and beautiful. It's the perfect place to get away! The cabin was clean and comfortable; it had everything we needed. Ken and Jackie were wonderful hosts. So much better than staying at a hotel!
Kirsten
October 2016
My husband and I absolutely loved the cute cabin! It was very clean and I wasn't able to spot a single spider inside the home. We didn't do any fishing or anything because we were in the area for family wedding, but was able to enjoy a full day at the cabin, just resting and cooking and drinking wine from a local winery. It was perfect!
Sharon
September 2016
AAAmazing!
Craig
August 2016
We had coffee with Jackie and Ken the morning after we arrived. They were gracious and welcoming and helped answer any questions we had about the surrounding area. They were always available when we had questions and checked in with us to make sure we had what we needed.
Deb
October 2016
My girlfriend, her sister, and I had just spent the entire day on the Snake River near Pullman and in the sun and we were exhausted. Ken and Jackie's cabin was the perfect place to recharge our batteries before heading further East the next day. The bed and couch was comfortable, the AC was nice and chilly, and waking up to the river was wonderful. Also, they left us this chocolate and huckleberry bar that was a great treat to enjoy with the cup of coffee. I hope to use the cabin again next year! :)
Miguel
August 2016
Tipo de habitación
Casa/apto. entero
---
Tipo de propiedad
Cabaña
---
Capacidad
4
---
Dormitorios
1
Juliaetta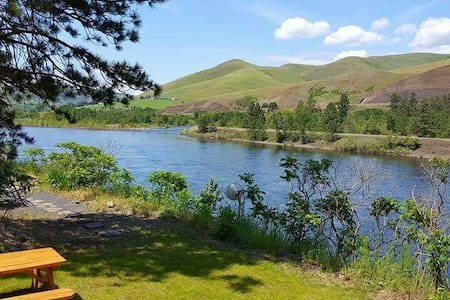 1

–

4

de

4 Alquileres de Cabañas