66 Alquileres de apartamentos
This newly renovated two-bedroom apartment is overlookinging the Peconic River. Within walking distance to the train station, aquarium, 3 local craft breweries and several restaurants. It includes a kitchenette with a refrigerator, Keurig Coffee maker and microwave in the living space, 3 smart" televisions and bathroom with double vanities, continental breakfast, and snacks included.
This apartment is convenient to many local attractions including Long Island Aquarium, Tanger outlet Mall, North Fork vineyards and local breweries. It is within walking distance of several restaurants. The Long Island railroad station is less than a mile. Wifi access is provided. The apartment is up one staircase, so may not be appropriate for people who cannot maneuver steps. Also, there is no babygate at the top of the stairs, so would not be appropriate for young children.
This apartment is convenient to many local attractions including Long Island Aquarium, Tanger outlet Mall, North Fork vineyards and local breweries. It is within walking distance of several restaurants. The Long Island railroad station is less than a mile. It is 10 minutes from the world-famous Hamptons!
Very nice, very clean and very nice host! Would recommend over a hotel stay.
Sharon
2016-10-31T00:00:00Z
Andrea's home was amazing! The home is completely renovated. It is beautiful and clean. The bathroom has 2 sinks so you never bump into each other. The bedrooms are large. The living room has a large couch that you can sit and night and watch a movie or show and fall asleep on! This was the best AirBNB experience I've ever had! She had fruits, cereal, juices, pellegrino, popcorn, etc waiting for us when we arrived. She is extremely friendly and responsive. There is nothing she can improve on!
John
2016-08-29T00:00:00Z
We had a great time. Andrea's place is very cute, very clean and very centrally located. Andrea provided us with a lovely assortment of food for breakfast. We enjoyed the nearby aquarium and outlet shopping on a rainy day and went pumpkin picking when the sun returned. We would definitely recommend staying here. As a bonus, the BBQ restaurant they own next door was delicious too.
Amy
2016-10-10T00:00:00Z
Andrea's place is lovely and her and Dennis are great hosts - they even left us food for breakfast. It's very spacious, clean, cosy and comfortable. Its just outside the centre of Riverhead town. Would recommend a stay for anyone who wants to explore the area.
Joanna
2016-11-02T00:00:00Z
Andrea was an amazing host. Apartment was beautiful and newly renovated. She was kind enough to let us check in early as well As taking our time checking out. She supplies us with snacks and drinks for our stay. Was very helpful in recommending places to see around the area. I would definitely recommend staying there and we will be back!!
nicole
2016-09-26T00:00:00Z
Andrea was available when we checked in and easily reached on the phone or text. Everything is new and clean in this apartment. We walked to a local restaurant on the River and ate at a picnic table on the bank. I was only there for one night but wished I could have seen more things. Thank you again Andrea :-)
Gary
2016-08-23T00:00:00Z
Andrea was the perfect host! The place was clean, stocked with everything we needed, and more. It was so thoughtful of her to provide snacks and fruit, too! We arrived to a full mini fridge, and a comfy place. Highly reccommend this!
Svetlana
2016-09-06T00:00:00Z
Andrea was swift to respond to all of my questions. She'd included a beautiful array of snacks which I really appreciated. She made sure I felt comfortable in the apartment, and made it clear that she was available if needed. I believe that she would have been quick to address any big issues, had any cropped up. The apartment is cheery, bright, and comfortable.
Allie
2016-09-18T00:00:00Z
Tipo de habitación
Casa/apto. entero
---
Tipo de propiedad
Apartamento
---
Capacidad
4
---
Dormitorios
Riverhead, Nueva York, Estados Unidos
Walk out to 50 by 30 foot pool with lounging and grilling areas, Plush property. Middle of Wineries, fresh vegetable stands, multiple Beaches, Splish Splash Amusement Park, Riverhead Aquarium, Shopping, Beirmeire Farms .25 mile, 25 min to Hamptons.
Apartment has a microwave/refridg, kitchenette , Lounge w/50in screen. Wi-Fi access with work station, 2 couches. Bathroom w/shower. Washer and dryer. Air conditioner. Connecting space - 1st Bdrm with King size bed, desk, dresser, and closet. 2nd Bdrm w/ King size daybed, desk and closet w/ adjoining library and futon .
Beautiful neighborhood filled with professionals, retirees and a few children. Very quiet street. It's less than 1/2 mile from Town Beaches. Long Island Sound at end of street but no public access.
the pool was great. very clean and enjoyable. the neighborhood was super quiet and the house quite tidy. the house rules were listed so it was very easy to determine what was what. location was close enough to things to do.
Joi
2016-07-06T00:00:00Z
Joanne's place was the ideal location for my wife and I who wanted to explore the North Fork of Long Island. Joanne was able to accommodate our late arrival (8pm). The rental space itself would easily house 4+ people as their are 2 rooms and a common living /dining area. The rooms were all nice and clean, as was the bathroom. As others have mentioned, plenty of movies and other local magazines and such are available. I have T-Mobile and had full bars--I believe wifi was available. The location is a short drive from the heart of Riverhead. If it was a little warmer, would have checked out the pool which appeared to be nicely maintained. We met Joanne on our second day, when we checked out, and she gave us some great tips on where to stop for various activities. If you're looking to stay in the N Fork, I would suggest checking out Joanne's place.
Israr
2016-09-11T00:00:00Z
Joanne's place was lovely to stay at for our autumn wine trip to North Fork! She was really easy to work with and amazingly flexible. Would definitely look her up again next time I'm in the area!
Kelly
2016-10-02T00:00:00Z
Joanne was great. She was always there to answer any questions. Very clean and comfortable. There is a washer and dryer, but no detergent so bring your own! We had an amazing stay and hope to stay again!
Sara
2016-08-21T00:00:00Z
The host canceled this reservation the day before arrival. This is an automated posting.
Lior
2016-07-05T00:00:00Z
This place was everything! It was spacious yet cozy. The private entrance and ample parking was so accommodating. Prior to arriving it was very easy to contact Joanne, and I appreciate that. Amazing pillows!
Elizabeth
2017-03-26T00:00:00Z
Everything was incredibly clean and comfortable. Stayed there with my family and we had a great time. Location is perfect, we drove everywhere in the Hamptons and it was a pleasant ride. Joanne was super kind even though we only saw her for a few minutes when we were leaving. Highly recommendable!
Nicolas
2016-08-29T00:00:00Z
Joanne was a wonderful and caring host! A lovely place just what we were looking for.
Louis M.
2016-06-27T00:00:00Z
Tipo de habitación
Casa/apto. entero
---
Tipo de propiedad
Apartamento
---
Capacidad
4
---
Dormitorios
Riverhead, Nueva York, Estados Unidos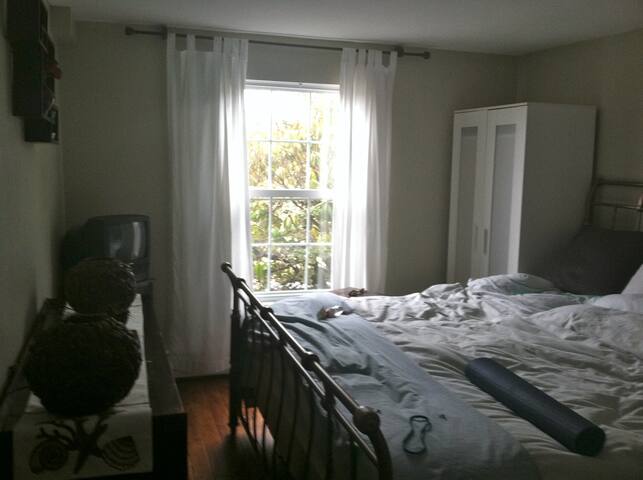 Spend a relaxing few days at our romantic vineyard & winery in our newly finished 650 sq. ft. luxury apartment in beautiful Jamesport. Perfect for a romantic getaway in the heart of wine country. Everything has been designed for your comfort. WINTER SPECIAL RATE: (2 night minimum) (Dec / Excludes Jan / start Feb 10 / March) Monday - Thursday (any 2 nights(URL HIDDEN)$275 Friday & Saturda(URL HIDDEN)$350
Our apartment is unique because it is on a beautiful vineyard and also near many other North Fork Wineries and local farm stands.
Our neighborhood is so peaceful and serene. You will feel like you are in paradise.
This place is a must visit. Maryanne and Sal were very nice and gracious hosts. Sal was able to recommend a few different places to go to which worked out perfectly. I honestly could have stayed at Diliberto winery because the wine and pizza was fantastic. The apartment was extremely nice and clean. 5 stars.
Mike
2016-09-19T00:00:00Z
We had a special anniversary weekend at the vineyard! Would go back in a heartbeat! The apt is perfect! Sat evening was magical -- wine and pizza on the patio overlooking the vineyard with piano music playing (even an Italian aria by Sal!!). What a relaxing getaway!
Catherine
2016-06-01T00:00:00Z
Maryann& Sal were awesome hosts, the apartment was clean, spacious, and had all the necessary amenities. The vineyard is great to look at, pizza and wine tasting was as good as ive ever had and I'm a NYC chef. This was definetely a great getaway for me and my wife and we will return sooner than later.
Jonathan
2015-07-01T00:00:00Z
The apartment is beautiful and spotless, very spacious and situated on a vineyard. We arrived late at midnight after the tennis US Open men's semifinals in New York. Maryann and Sal were absolutelty flexible with our late arrival and left the keys in a pre-defined place for us. They also described precisely where to find everything uppon arrival. The area is great for wine tastings. The hosts are wonderful. They will give you recommendations for vineyards and other places such as Love Lane in Mattituck (don't miss this cute breakfast place). Try the complementary delicious pizza and a glass of wine at Diliberto's, their wines are excellent. We had such a lovely stay and would come back anytime. We warmly recommend staying with Maryann and Sal.
Markus
2016-09-11T00:00:00Z
The apartment was charming and cozy. The location was excellent- close proximity to many vineyards.
Jill
2016-11-13T00:00:00Z
Our stay was great. The apartment was awesome, the complimentary meat and cheese plate were a pleasant surprise, and the complimentary pizza was the perfect touch. Sal was very helpful, and we couldn't have asked for more.
Katie
2016-09-27T00:00:00Z
Truly incredible place! Anyone looking for a unique experience right in the heart of wine country should book this place immediately. Hope we can stay here again in the future :)
Sean
2016-08-15T00:00:00Z
I can't say enough good things about this property! It was an amazing and unique experience to stay in a vineyard (the apartment is basically above the tasting room). The setting is absolutely beautiful. The apartment is exactly as represented, super spacious and comfortable, and very charming. Maryann and Sal were very welcoming, even leaving us a cheese plate and sparkling water so we could snack upon arrival after our long drive. The apartment was also stocked with wine from the vineyard, available at a discount, which was a nice surprise. The location is right in the heart of the North Fork (basically in Jamesport), with many vineyards within a short driving distance, and the nightly rate was more than fair for the location. We would definitely stay here again!
sona
2016-07-18T00:00:00Z
Tipo de habitación
Casa/apto. entero
---
Tipo de propiedad
Apartamento
---
Capacidad
2
---
Dormitorios
Riverhead, Nueva York, Estados Unidos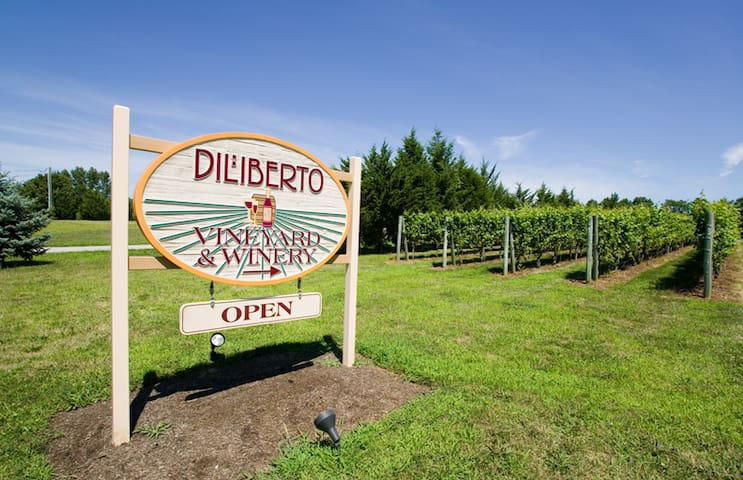 One specular suite by the water's edge, specially designed to bring the natural beauty of the Peconic River into a room full of comfort and leisure. Equipped with a kitchenette, dining area, and a pull out sofa sleeper in the living room.
Tipo de habitación
Habitación privada
---
Tipo de propiedad
Apartamento
---
Capacidad
4
---
Dormitorios
Riverhead, Nueva York, Estados Unidos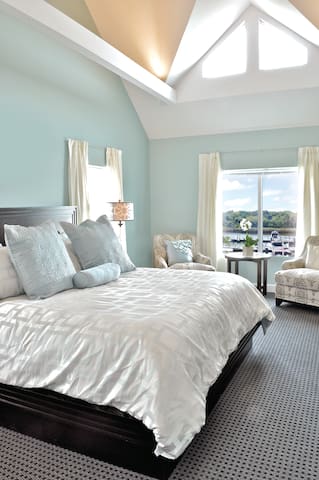 One bedroom, bath, fully stocked kitchen, dining room & living room. Room for the kids. Two TV's! Netflix and WiFi. PlayStation? Quiet neighborhood at the start of wine country this is an affordable way to enjoy the North Fork of Long Island. Separate entrance and driveway. Air conditioning and separate heat.
Owner lives on premise and enjoys to welcome all guests and offer advice on where to go and hots spots!
This neighborhood is private and quiet. All neighbors bought the properties together and all have become a tight knit family. We all welcome nice people who want to spend quality time in wine country. We are minutes from the Tanger Outlets and the restaurants are to Die For! Riverhead aquarium is just a few miles. Kayaking also near by. Kayaks can be rented from owner and launched free at the beach which is 3 miles away. Life is good here!
Very clean large space and well located in suburban neighborhood
Shari
2016-07-25T00:00:00Z
Jackie was a lovely host and welcomed us delicious homemade peanut butter cups! Her place had everything and anything you could need. Great value for the location.
Erica
2016-11-06T00:00:00Z
Jackie was beyond welcoming and accommodating to our trip - we were pretty much in and out but she made the apartment a great home away from home. She knew we were doing a triathlon in the area and left us great dinner recommendations, KIND Bars, filtered water and direction to the race. The welcome message by the front door was super cute as well! The neighborhood is very quiet and the apartment comfortably slept our group. I would definitely stay at Jackie's again if in I'm the area.
Tracy
2016-07-11T00:00:00Z
Perfect! We were in town for a wedding and Jackie's place was more than what we hoped for. She was so helpful and hospitable. The apartment is clean, quaint and perfect for a couple or a family. We were just looking for a place to lay our heads close to the Inn at East Wind and we got so much more. We can't wait to come back with our boys and explore the area. Jackie has so many recommendations for fun activities and great restaurants in the area any time of the year. We wish we could have stayed longer. Thank you Jackie! We will most definitely see you soon!
Jim
2016-11-12T00:00:00Z
we stayed there for one week for my son's baseball tournament. The room is very large and clean. and Jackie provided us everything we need. She even did laundry for us! The community is safe, quiet. We did not have to lock the door all the time! would like to come back for next year!!
Hiro
2016-08-01T00:00:00Z
Jackie was a great host. Her accommodation was very comfortable. The space was clean and relaxing. She provided access to online movies and music as well as DVDs and wireless internet. She was very friendly and responsive to our needs. The community was quiet, safe and beautiful. I would stay with Jackie again.
Daryll
2016-07-19T00:00:00Z
Jackie was a wonderful host! There were snacks and water waiting for us upon arrival. The space was warm and inviting. The apartment was clean, spacious and had everything needed for our stay. Would definitely stay there again. Highly recommend it for anyone headed to the area.
Kimberly
2016-08-29T00:00:00Z
I chose this rental based on the reviews and am happy to say they were right. Jackie is such a nice and welcoming person. She indeed have snacks waiting for us and a welcome sign. The apartment was clean and cozy.
Romina
2016-09-11T00:00:00Z
Tipo de habitación
Casa/apto. entero
---
Tipo de propiedad
Apartamento
---
Capacidad
4
---
Dormitorios
Wading River, Nueva York, Estados Unidos
Precioso estudio apartamento con entrada privada y aparcamiento en el centro de la granja Long Island vista country.Scenic Peconic río de nuestra amplia terraza con sombra. Situado junto a la LIExpressway (sin tráfico noche vie!) En la puerta de entrada al extremo este y conveniente tanto para los Hamptons y el Norte Tenedor. A los verdaderos amantes del jardín escapada con flores extensas, vegetales y frutas e incluso nuestro propio apiario proporcionan miel cruda local. Cerca de un montón de bodegas, restaurantes y 2 millas de la parte superior 5 evaluada Splish Splash Water Park centro comercial Tanger comercial y. .Adjacent al río Peconic para practicar el canotaje, kayak, la pesca o la observación de aves. Las tranquilas carreteras sinuosas a ambos lados del río son un destino favorito para caminar / footing, montar en bicicleta y motocicleta touring.Riverhead ciudad es un gran ubicación central y un disco fácil de la bahía y las playas del océano. La zona es todavía una gran zona agrícola rural y sibaritas deleite con muchas escoger sus propios campos, mercados de granjeros, puestos de granja, bodegas, caballos, búfalos, cabras y granjas e incluso un vodka de patata destilería y sala de degustación! Tenemos un acuario impresionante en la ciudad y un montón de pequeños restaurantes económicos estilo café para aquellos con un presupuesto. La estufa o el horno
Staying with Shirley and Everett was a pleasure. We came to kick off our spring break, and even though the April temperature was a little cool, both their home and neighborhood were warm and inviting. Shirley greeted us with a tour, maps and magazines for local areas, and breakfast supplies for OJ, bagels, cream cheese, fresh fruit, yogurt,coffee, tea, snacks, delicious homemade honey (Everett's handiwork) and jam (Shirley's!) and more. We enjoyed looking at the stars from their comfy wooden lounge lawn chairs at night and walking down to the riverside herb farm in the morning. In addition to their great recommendations (wine country and more!) and the famous Fire Island, we also discovered the oldest Long Island publc observatory is nearby, free, and open to the public on Saturdays (URL HIDDEN) And if you visit during November - April, try to get down to Montauk point to see the oldest lighthouse on Long Island and to catch the three-mile seal walk beach tour next door in the State Park (URL HIDDEN)
Kimberly
2015-04-07T00:00:00Z
The place was perfect. The location too. The price is good.
Jonathan
2014-06-25T00:00:00Z
Shirley was a wonderful host. She gave us a complete tour of the house and answered any questions we had. We will definitely stay there again when we return to that end of Long Island. The location was quite but very handy to the events we were attending. We saw many other attractions, wineries, farmers markets and such, that would have been fun to explore had we more time. The room was very clean and comfortable. It was full of sunlight and offered a little kitchenette with microwave and frig. We did not have the time to relax on the wonderful porch in the pictures but it looked as lovely as in the picture.
Sarah
2015-09-07T00:00:00Z
Shirley and Everett were welcoming, fun, kind and well organized. The studio apartment was lovely and they provided bagels and their own honey and jam in the kitchenette, as well as other breakfast items. The gardens are gorgeous, even at the end of the season, and a lovely back porch is available (see photo). The location is convenient for the north fork wineries and other activities.
Terry
2016-10-16T00:00:00Z
Shirley was wonderful and helpful. Her home is on a beautiful lot with bees, figs and plenty of other amazing things growing--be sure to try the jam and honey the Robinson's make in their home. Had a great time and would definitely stay again if I were in the area.
Jen
2014-11-06T00:00:00Z
Accurate description. Great communication.
Scott
2016-09-19T00:00:00Z
Shirley and Everett were great hosts! They were very warm and friendly. The neighborhood was quite and peaceful. Our favorite part was writing to sit on the back porch and eat our breakfast (which included the amazing jelly and honey made by our generous hosts!). Their property was super close to all the vineyards and not too far from the Hamptons Beaches either. We definitely can't wait to return!
Nisha
2014-06-02T00:00:00Z
Shirley and Everett were excellent hosts. Their property is beautiful and the studio we stayed was clean and nicely decorated. Their place is also located perfectly for visiting either fork. I would recommend this place to anyone.
Bal
2014-08-27T00:00:00Z
Tipo de habitación
Casa/apto. entero
---
Tipo de propiedad
Apartamento
---
Capacidad
2
---
Dormitorios
Calverton, Nueva York, Estados Unidos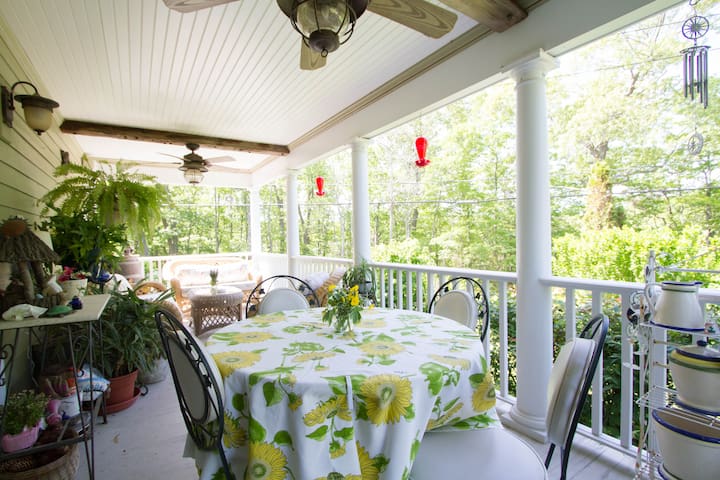 A private apartment in the relaxing woods in Southampton. You can actually hear the birds chirping in the morning! You'll love my place because of the location, the people, the ambiance, the outdoors space! . My place is good for couples, solo adventurers, business travelers, families (with kids), big groups, and furry friends (pets). So come out, unwind, and enjoy the Hamptons.
Living room has an incredibly comfortable couch! Relaxing hammock and charming little outdoor garden!
The proximity to the bay and the peace and quiet. Approximately 5/10 minute walk to the bay and 2 miles from the ocean.
Great stay! Conveniently located to everything we wanted.
Julia
2016-09-26T00:00:00Z
Beth was a great host! Very clean and tidy space with the promised complimentary drinks in the fridge.
Esther
2016-10-19T00:00:00Z
Beth's apartment was great! It was exactly as described and even more spacious then we expected! The apartment was well kept and the complimentary drinks were a nice touch. Beth was very helpful and accommodating through out our stay and even recommended a few restaurants for dinner. She was a great host. If you are looking to enjoy the Hamptons I highly recommend staying with Beth!
stuart
2016-09-18T00:00:00Z
Great host, quiet location, clean and nicely appointed little apartment. Would recommend. Thanks Beth!
Jennifer
2016-10-07T00:00:00Z
Very nice accommodations for my 1st experience with Air BNB. Beth's place is great and our communications made the stay enjoyable. Thanks for the hospitality!
Grace
2016-10-01T00:00:00Z
The apartment was the perfect size. I stayed for 2 nights and there was plenty to see in and around Southampton. The neighborhood was very cute and safe! Beth was an amazing host and had great recommendations for things to do in and around the area! Definitely would stay here again!
Emily
2016-11-13T00:00:00Z
Gorgeous self contained unit in the quiet woods of Southampton. The unit was surprisingly spacious. The shower unit is a little small and could use updating, but overall the place is clean and comfortable. The cold beverages in the fridge was a nice touch. I have already recommended the place to friends.
kate
2016-08-13T00:00:00Z
The place was spotless, nice decorated and good location.
Nathan
2016-07-22T00:00:00Z
Tipo de habitación
Casa/apto. entero
---
Tipo de propiedad
Apartamento
---
Capacidad
2
---
Dormitorios
Southampton, Nueva York, Estados Unidos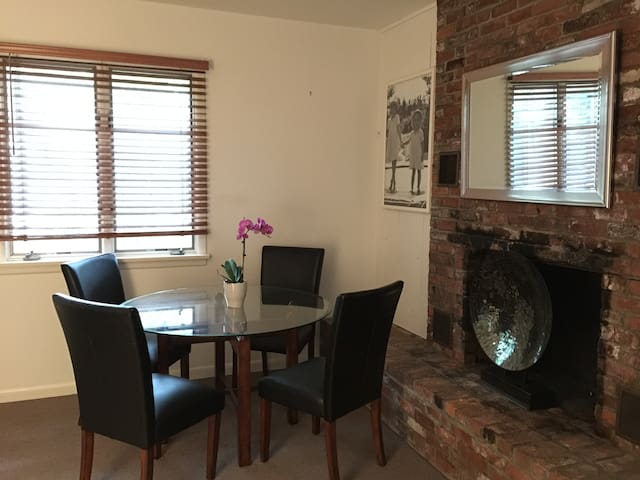 Quiet, cozy private apt in the Hamptons! Bordering a nature preserve with a pool on property, the apt is a perfect summer getaway for up to 4 people. This 1 BR in Southampton is close to bay and ocean beaches, Southampton Village and Sag Harbor.
The 400 sq ft apartment features 3 rooms bordering a nature preserve. The apt features a bedroom with a queen-size bed; living room with a queen sofa bed, a 45" television with cable; a kitchen with a full sized fridge, oven, microwave, toaster, coffee maker and cooking gear. The suite sleeps 4 comfortably, with two people in bedroom and two people on queen pull-out sofa in the living room. The apartment has fresh linens for all beds and fresh bath and beach towels. Guests are also encouraged to enjoy the pool and yard which spans approx. 1.6 acres and backs up to a nature preserve. The property is close to both ocean and bay beaches, hiking trails, the Parrish Art Museum and countless farm stands. Guests are encouraged to have a car (parking is available). Cabs are readily available.
The loft was great and a perfect size for a girl's weekend! The pool was a great addition, and having Rory at the main house was really helpful---he gave great advice on local spots we should try out. I'd definitely suggest this place for a weekend trip!
Miriam
2015-07-19T00:00:00Z
Great place. We would definitely return.
Caitlin
2015-09-21T00:00:00Z
We had an amazing trip! Nicole was extremely accommodating. The house is perfectly located, we would stay again!
Dara
2016-09-18T00:00:00Z
Great stay! The loft was exactly as advertised. Perfect amount of space for 3 of us. We were very comfortable and the loft was very accessible to town and the beach by car/Uber. One thing to note is that if you plan to cook at all, be prepared to bring your own cooking supplies (Spatulas, measuring cups, spices etc) although we did leave some behind for future guests. Great stay overall!
Anita
2016-06-16T00:00:00Z
Hi. We had a delightful couple of days in Southampton at The Loft. Nicole and her husband are truly gracious, considerate hosts who did their bests to anticipate any needs and offer suggestions. The space is great for a couple and it is situated on a nicely secluded piece of land backing up on a nature preserve and next to the host's house with a pool and patio that they share.
Adam
2015-06-30T00:00:00Z
My husband and I planned a last minute vacay to the Hamptons and booked at The Loft with Nicole and her fiancée. This was the perfect place for us: quiet, quaint, cozy and decorative. The Loft is located in Southampton but only 10-15 minutes from all the different towns. Nicole provided a list of restaurants in town and she and her fiancé were very accommodating to our every need. As the cherry on top, the Loft is decorated beautifully and has a coffee pot stocked with coffee, filters and sugar. That was a HUGE bonus for the hubby and me. We LOVE coffee. We would definitely stay at the Loft in the future. Thanks so much for being a part of the perfect getaway!
Michelle Huff
2015-05-19T00:00:00Z
Great location! Stayed here for work and it was a great home away from home
Kay
2016-09-25T00:00:00Z
the host made us felt welcome. the description to the house was accurate i would not mind staying at the loft again.
Meggie
2015-06-28T00:00:00Z
Tipo de habitación
Casa/apto. entero
---
Tipo de propiedad
Apartamento
---
Capacidad
5
---
Dormitorios
Southampton, Nueva York, Estados Unidos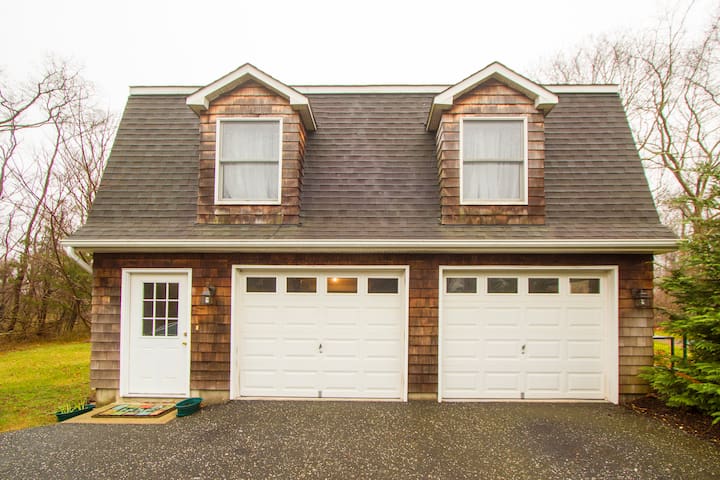 Ven a pasar un par de días / semanas en nuestro acogedor apartamento, situado en un acre arbolado en la planta baja de nuestra casa. Características 1 baño / dormitorio sala de estar / cocina. Patio cubierto de piedra, césped con vistas a una piscina sobre el terreno sin calefacción 18X36. Ven, estancia y disfrute!
Nuestro acogedor apartamento de la planta baja es espacioso y amueblado con muebles cómodos. Nuestros clientes nos dicen que tenemos la cama de matrimonio más cómodo que siempre se compone con las sábanas de lino de calidad más altos. También podemos proporcionar un colchón de aire de matrimonio para dos personas adicionales sino que debe ser informado cuando su reserva (URL ocultos) Va a encontrar dos televisores de pantalla plana en la sala de estar y dormitorio con más de 100 canales más. se proporciona una contraseña de acceso a Internet WIFI. Usted tiene su propia entrada privada flor bordeada a un patio de piedra cubierto, con vistas sobre el jardín trasero y el nuevo 18 X 36 en la piscina de tierra. Tenga en cuenta que su patio es su propia, pero la piscina es compartida con nosotros. Usted tiene acceso a una barbacoa, pozo de fuego y una hamaca para su disfrute. Su área es privada y tiene todo para ti. Es sólo un buen espacio de relax para disfrutar de su tiempo aquí en el Hampton es. La estación de tren de Southampton y el Hampton Jitney son ambos aproximadamente 1 milla de distancia y que están a pocos minutos (3 1/2 millas) de tanto el océano y las playas de la bahía. Si estás aquí para jugar al golf, estamos a pocos minutos de algunos de los más bellos y prestigiosos campos de golf. Shinnecock, El Nacional y el Atlántico sólo para nombrar unos pocos. Aparcamiento para su coche es justo delante de su entrada en la calzada. Sólo 1 1/2 millas a tiendas del pueblo y algunos de los mejores restaurantes en los Hamptons. Primer viaje al Sag Harbor (15 minutos) y Montauk está a sólo 45 minutos de distancia. Somos la gente que pasa, fáciles tranquilos, que sólo quieren disfrutar de su estancia en La vida es buena ... en Southampton.
Tenemos muy buenos vecinos, pero es probable que no los veremos. Nuestra casa se encuentra en un acre de propiedad arbolada y tiene un montón de espacio abierto que nos rodea.
Desiree was a wonderful host and we had a great time exploring the Hamptons! It was so nice to be 5 min from town and beaches, after running the Hamptons Half Marathon I couldn't wait to go back to the cozy apartment and relax!
Jennifer
2016-10-03T00:00:00Z
Just stayed had a great stay this past weekend. The place was spotless, and I am a germaphobe... Desiree was extremely welcoming and even had a bottle of wine waiting for us, to kick off our girls weekend. Main street is only about a mile and half away, so easy to go back and forth. The pool and grounds are a lovely view out the sliding doors - will be great to enjoy once it warms up a bit :)
Molly
2016-05-16T00:00:00Z
Desiree and her husband are wonderful hosts! The space was exactly as pictured, maybe better. Every piece of furniture was extremely comfortable, and well-adorned. Especially the bed!!! It had every little thing you could think of that you would want or need. Including your own private entrance and patio, a grill, a full bag of charcoal briquettes, shower things, and even a second set of bedding and a blow-up bed. The kitchen was stocked with coffee, tea, and other little treats. Since the weather was rainy during most of our stay, we were appreciative of the wifi and large TVs with lots of channels. Desiree was always available, accommodating, and respectful of our privacy. She went above and beyond as a host by providing an organized book of local establishments. Her home was located close to downtown and the beaches. We will definitely stay here again, and absolutely recommend this space.
Nicole
2015-09-11T00:00:00Z
Thoroughly enjoyed my stay. Desiree was very accommodating and helpful throughout my stay. Gorgeous place - 10 minutes or less to everything.
Tanya
2016-10-11T00:00:00Z
Great! Couldn't ask for better. Nice, clean, peaceful. Access to a beautiful pool, short drive to a wonderful beach. Desiree and Artie were very generous with their time, beach umbrella and bath towels! Hope to be back soon.
Anthony
2016-07-02T00:00:00Z
Cute apartment perfect for a weekend in the Hamptons. Everything was very clean and well-prepared for our stay. Desiree was very helpful with her recommendations, and I would definitely rent again next time I'm back in Southampton!
Zara
2015-09-07T00:00:00Z
A great stay at Life is Good! The place is very clean, pleasant and a true home feel. I look forward to being back there soon!
Denada
2015-08-11T00:00:00Z
Life is (URL HIDDEN) Southampton experience: Our host Desiree was very pleasant, my car broke down and we made it there at a much later time than expected, Desiree waited for us to greeted us, no complains. The place is clean, new and Desiree has two doggies that like to be pet. Also, her place is close to the beach and to the town.
BailarinaYo
2015-09-21T00:00:00Z
Tipo de habitación
Casa/apto. entero
---
Tipo de propiedad
Apartamento
---
Capacidad
5
---
Dormitorios
Southampton, Nueva York, Estados Unidos
this is a very light, bright & airy upstairs apt, open living room w skylight.Spotless, quiet, big lawn,Close 2 all, 2 miles to southampton village & beaches,jitney,train, 2miles bay beach.Close 2 deli & seafood market. Woods,trails,golf nearby.Sag Harbor, Sagaponack & Bridgehampton 15min. You are welcome to bring dogs if you speak to us about them first (we have dogs ourselves downstairs). You're welcome to use the backyard, either for dogs or for sitting but generally guests go to the beach.
this is a very relaxed area, large apartment, close to everything, if you need help with directions we're here to help with whatever you need. The apartment is gorgeous and spotless! new furniture, new bed, new kitchen, new windows and new wood floors. There are 2 flat screen tvs with cable boxes, wifi internet, hdmi cables so you can hook laptop/netflix into the tv's. large convection oven for cooking/baking/roasting, with microwave and 2 hot plates, plus fridge/freezer, blender, coffee pot. there is a good queen size air mattress for 2 extra guests if needed. Access to basic garage gym with assault bike, rowing machine, elliptical machine, weights, barbell, kettle bells, medicine ball, pullup bar & rings. Please NOTE _ in the cleaning fee there is also added a hotel TAX fee of $20 that we are being charged and have to submit to Suffolk County - there is no place to add it on airbnb so we add it to the cleaning fee, collect it and pass it on.
quiet area, 2 miles to beaches and natural woods, hiking and jogging trails. 2 miles to southampton village and fine dining, 15 mins to picturesque sag harbor village. Bridgehampton & Sagaponack. close to golf courses.
It was a perfect experience. the apartment was great, nice bathroom, nice kitchen , nice bedroom, everything was just like the pictures. lots of privacy and light. I highly recommend B's place, my husband and I loved it!!!
isabel
2016-03-18T00:00:00Z
What a spectacular place... It was a pleasure to stay at this house... Spacious with lots of light. Televisions in both the bedroom and living room. Very clean and well appointed. We were so taken with the place that we immediately booked another weekend there.
Erik
2016-06-06T00:00:00Z
The apartment was perfect! It is large, has everything you need, and is decorated beautifully. It was impeccably clean. The bed is very comfortable. The kitchen is fully equipped and the host left so many nice things for us. She left a cake, a bottle of wine, apples, fresh squeezed orange juice, milk, coffee, and not to mention everything else in the pantry. Also in the bathroom she had a nice basket with toiletries and even sunblock! I really had an amazing stay. The location is also great for exploring the Hamptons. It is close to the town and the beach. The hosts are a very nice couple. They are there if you need anything and there is a separate entrance to the apartment, so its very private. 100% recommend it!
milena
2015-09-07T00:00:00Z
We had a very nice stay in Southampton. We have a very young child and it was so nice to have a place that is essentially a 1 bedroom apartment with a nice kitchen and living room.
Evan
2016-07-19T00:00:00Z
This is one of the most charming and immaculate abodes I've come across in all of my global Airbnb sojourns. The decor is nirvana-inducing and the home stocked with thoughtful supplies in the bathroom and kitchen. B was extremely responsive and a delight to deal with. I can't wait to visit again!
Samina
2016-06-14T00:00:00Z
We absolutely loved our stay at B's place! From the moment we arrived to the time we left, the experience was beyond our expectations. The location was perfect for us as our reason for visiting was only a few miles up the street. The apartment itself was extremely comfortable and adorable. We had everything we needed. We hope that we'll be able to return to B's place year after year!
Crystal
2016-07-18T00:00:00Z
B & C were wonderful hosts. Apartment was cozy and extremely well appointed. We'd love to stay again for our next trip to SH.
Claudia
2016-08-15T00:00:00Z
B's place is exactly as described--tastefully furnished, spacious and comfortable, and close to Peconic Bay. It's easy to get into downtown Southampton or Sag Harbor from the apartment. There were things to eat and drink waiting for us, which was a nice touch. We were very happy to stay here, and will return. The only thing that surprised us was the area, which is zoned for residential and business. It wasn't a problem, just a surprise, since when you think Southampton, that isn't what comes to mind.
Kirtland
2016-07-02T00:00:00Z
Tipo de habitación
Casa/apto. entero
---
Tipo de propiedad
Apartamento
---
Capacidad
4
---
Dormitorios
Southampton, Nueva York, Estados Unidos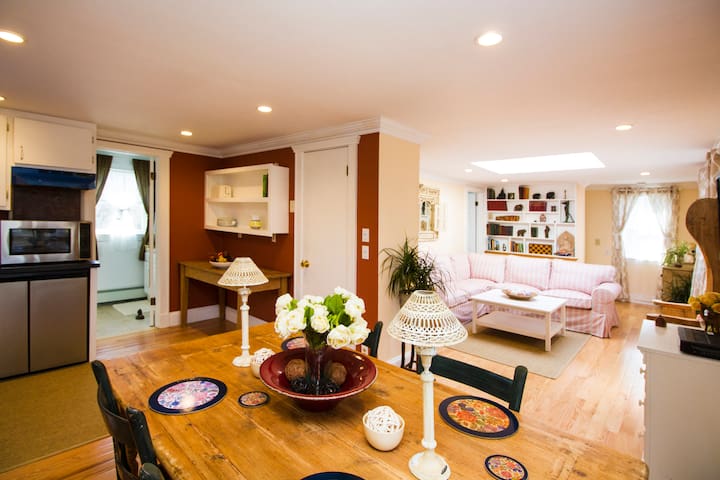 Hello fellow AirBnBers! We are offering a nice quiet private apartment in Southampton. We are a short 10min drive away from Southamptons Town and beautiful local beaches, or a 15min bike ride (We have bikes you are welcome to use) This apartment has access to our gunite pool, hot tub, and amazing outdoor shower. Full kitchen, full shower, laundry in apartment. Beautiful, newly renovated for 2016. Clean!
This spacious apartment attached to our home is located on a full-acre of property with its own private entrence. It is quiet, cozy, and above all clean! We want to make your stay in Southampton convenient, fun, and stress free. We provide many amenities to help you enjoy your stay. Gunite Pool 8 person Hot Tub Hammock Outdoor shower Private back yard Private entrance to apartment Bikes 42" LED Television Queen-sized bed Convertable couch turns into full-sized bed Iron + Ironing board Full Kitchen filled with pots, pans, and utensils Laundry in apartment Beach equipment (Towels/chairs/umbrella) Wi-Fi access ++Much more!
A short 10min drive to Southamptons beautiful beaches and town, a 5 minute walk to Peconic Bay, and a beautiful large freshwater pond called Big Fresh Pond is around the corner. This apartment is hidden away in a quiet neighborhood which allows for full privacy for your comfort and relaxation. A wooded backyard which provides the perfect balance of sun and shade for an unparalleled peaceful ambiance.
It was great!
Ani
2016-07-11T00:00:00Z
Dave and Carol were amazing hosts, going out of their way to make us feel comfortable, relaxed, and at home. They provided recommendations on things to do while we were there i.e. restaurants, beaches etc. The place is better than the pictures--the pool was a great way to start the day and the hot tub a relaxing way to finish it. The apartment had everything you need and was very clean. We live in NYC so we don't have a car, but that wasn't a problem. Town and the train station are close by and Cooper's Beach, which was amazing, is a short ride away too. You can bike or Uber places easily. Overall, my boyfriend and I had a great time and we'd recommend Dave and Carol's. We definitely would come back,too!
Julia
2016-08-21T00:00:00Z
We had a lovely night at Dave and Carol's beautiful home. Thank you!
Kerry
2016-09-11T00:00:00Z
All good
steven
2016-08-01T00:00:00Z
Excellent hosts! Dave and Carol are so warm, welcoming, and friendly. The apartment is newly renovated, clean, and spacious. They also have a gorgeous pool, hot tub, and outdoor shower. Great place and would certainly recommend it!
Purvi
2016-07-25T00:00:00Z
Had a fantastic time. The pool is awesome and the hot tub is the best I've ever been in. Convenient to town and the rest of the Hamptons. Dave and Carol were extremely helpful and nice. Great trip
Jana
2016-07-05T00:00:00Z
Carol and Dave's place is pure relaxation. The pool is beautiful and exactly the reason we booked a quick getaway from the city's summer heat. Carol and Dave welcomed us with local information and a run down of the amenities. Carol is a recent retiree that wants you to enjoy the many improvements they have made to their home. Dave is super friendly local and a great conversationalist. Even lighting up some charcoal so we could BBQ our dinner. While the price is on par with the Hampton area, it is steep. The local no thrills no frills hotel / motel is $650 a night! Therefore, in comparison, you are getting more bang for your buck.
Jeruschka
2016-07-28T00:00:00Z
The apartment was great and the hosts were very welcoming.
Katie
2016-09-10T00:00:00Z
Tipo de habitación
Casa/apto. entero
---
Tipo de propiedad
Apartamento
---
Capacidad
4
---
Dormitorios
Southampton, Nueva York, Estados Unidos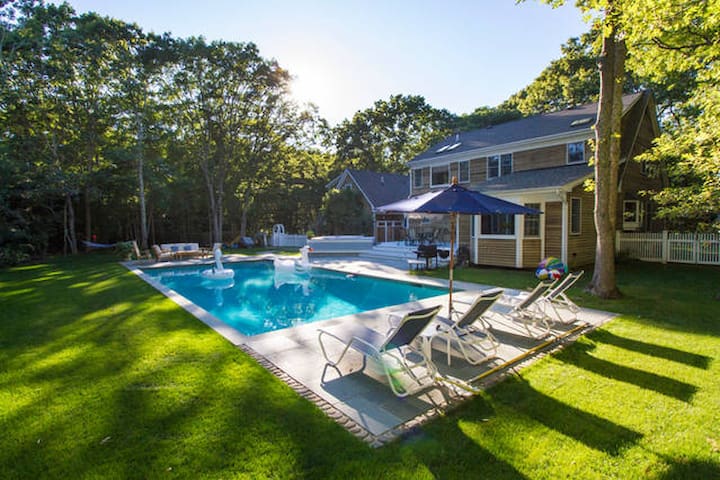 Perfect location for a getaway beach vacation. This is a homey space that will make you feel like you are a part of the community. Everything is walkable and bikeable. What it lacks in luxuries is made up for in charm and location.
Located in the charming Village of Southampton. The house is just 50 yards from Main Street so you can walk to everything. Grab your morning coffee at the famed Golden Pear, shop at one of the deluxe 50+ clothiers or 20+ shops for children, find hidden gems at the towns 8 antique shops, join the creative community in Agawam Park for concerts and art shows, "buy local" at the Sunday Farmer's Market, catch up on the latest films at the UA Southampton Movie Theater, visit any of the 10 museums and galleries, pick up a book at the local library, satisfy your sweet tooth at one of five local bakeries, or dine indoor or outdoor at the many wonderful restaurants in Southampton. Bike or stroll to the world's most beautiful beaches. Walk to train or a short drive to the Hampton Jitney. An easy ride to the South Fork's 4 vineyards, golf courses and dozens of attractions in the other beautiful Hampton towns. Our 125 year old house comes with character. This is not a quick, renovation-style designed for throngs of summer beach-goers. It's a quirky home away from home we have been retreating to with friends for over a decade. Its a summer house in the purest sense of the word. The decor, we like to call "estate sale chic", is very comfortable and cozy. It's on a quiet tree-lined street with a beautiful straight shot bike ride to the beach in 5 minutes. We have a dozen bikes of all shapes and sizes to use, kayaks, hammocks, a grill and everything you need for summer relaxation. • This is for the bottom main floor private apartment in the house. • Has living room, kitchen, full bath, 3 full bedrooms and a fireplace • Large quiet backyard • Outdoor dining on front porch and back deck • Bikes and kayaks for use • Street parking available • 150 steps to town • 5 minute bike ride to beach • 15 minute walk to train station Getting here: 90 miles east of Manhattan, arrive in less than 2 hours by car, on the Jitney or via comfortable train ride from NYC. Or ride the ferry from Connecticut to Orient Point. Convenient to Easthampton, Mac Arthur, Kennedy and LaGuardia airports.
The location is walking distance to everything. Ideal. Charming and convenient yet secluded feeling.
Very pleased with our stay at Michael's Southampton Home. The house was beautifully kept, giving us a relaxing and enjoyable stay. Would love to go back again.. Plenty of space for 10 people! Michael was great too, stayed in touch and had very helpful neighbors.
Jennifer
2013-05-20T00:00:00Z
Gina and Michael are fantastic hosts. Their home is lovely, beautifully maintained and perfect for three friends traveling together. It's a great location. They were super easy to communicate with and very accommodating.
suzanne
2014-09-22T00:00:00Z
Gina and Michaels house is small but warm and cozy and well equipped and you cannot beat the location. A short bike ride to the beach and a minute walk into town. The beds are comfortable and the block is very quiet so sleeping is not an issue. We had a great time and look forward to another wknd next summer.
Rebecca
2016-07-27T00:00:00Z
Michael and Gina have a beautiful home in a wonderful part of Southampton. They provided everything that we could have wanted and the house was in great working order. We had a lovely stay.
Scott
2016-07-18T00:00:00Z
Staying at Michael and Gina's home was wonderful. We went for my daughters wedding and were very pleased with the fact that the house was walking distance to the venue where we were having the reception. Our family of 6 fit comfortably in there cozy home. They are walking distance to all the restaurants and town shops. You could literally park the car and not use it your entire visit. We have been coming to this area for over 20 years, but this is the first time we have all been able to spend time together under one roof while we visit. Thanks Michael and Gina....we definitely want to stay again!
Isiah and Feith
2015-06-01T00:00:00Z
Great Time in a lovely home. Priceless tips to explore the island from Michael & Gina. Thank you!
Michael
2016-05-04T00:00:00Z
Everything was perfect in our little escape in the Hamptons. The place is gorgeous. We enjoyed sitting on the porch in the sun or at night, the beds were cozy and the house was clean. Everything we needed was right there - wine glasses, towels, hair dryer - the Landers left nothing to be desired. We can't wait to be back.
Maya
2012-08-23T00:00:00Z
We had a great experience at this comfortable, cozy house! We were three couples (and a baby) and all enjoyed the bedrooms + crib. Michael and Gina were great (and very responsive) hosts. They sent us a long list of recommendations in advance, but we chose to stay in most nights! The house is well-stocked; we used the grill and ate at the tables on the front and back porch. It is super convenient to town (maybe a 3 min walk to Main Street) and a 5 minute bike to the beach. One bathroom was tight for 6 people, but other than that, I would HIGHLY recommend this house for a long relaxing weekend out to the Hamptons.
erin
2015-08-09T00:00:00Z
Tipo de habitación
Casa/apto. entero
---
Tipo de propiedad
Apartamento
---
Capacidad
6
---
Dormitorios
Southampton, Nueva York, Estados Unidos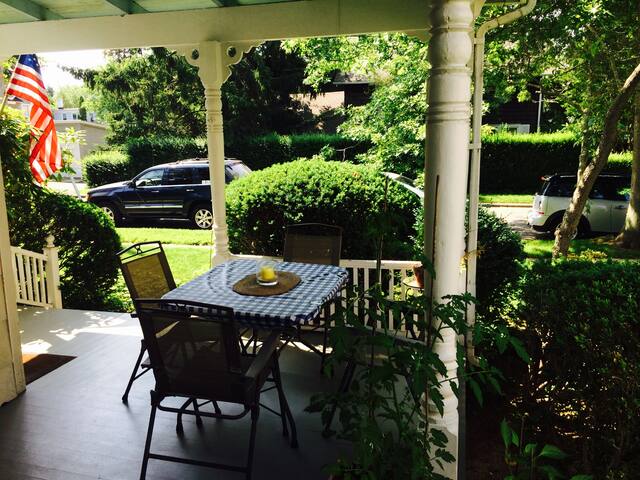 We are on a small peninsula called Nassau Point in the North Fork town of Cutchogue. Since we are surrounded on three sides by water, we get awesome water-view sunrises and sunsets! We are close to both the wineries and the farm stands.
Very short walk to the bay. Kayak and paddleboard rentals are available locally and can be stored on the beach for the duration of your stay. We also have a private outdoor shower for use when you return from the beach.
Park-like setting very close to beach well suited to healing and meditation. Also a great place to simply relax.
Tipo de habitación
Casa/apto. entero
---
Tipo de propiedad
Apartamento
---
Capacidad
2
---
Dormitorios
Cutchogue, Nueva York, Estados Unidos
We have a beautiful apartment in our home here in Southampton, NY. It is very cozy and private. We are very close to the town of Southampton and the beautiful beaches. (by car) We also have many wonderful restaurants to chose from.
We have a beautiful apartment with a private entrance. There is a kitchenette/living room with a pull out sofa, bedroom with a queen size bed, a full bath and a covered deck to sit outside . If needed, we have A/C, but we prefer not to use it . We love having the windows open, with the overhead fans running, so you can hear the birds singing in the morning. We are on a beautiful road that goes around the 2nd largest lake on Long Island. Around the block is Elliston Park, a beautiful park with a lovely beach, my Daughter was married there. Elliston Park is a nice walk (1 mile) you need a permitt to park there and you have to be a resident. If we are home, we can drop you off. Along the way to Elliston Park is 2 beautiful Nature Preserves. We are also 5-10 minuets away, by car, to the heart of Southampton Village, Restaurants, Golfing and the Atlantic Ocean Beaches. The Hampton Jitney and Train Station are 10 minuets away, there is Taxi service. Car rentals nearby, as well as bike rentals. . My husband John and I are just a phone call away or knock on the door if you need anything.
Immaculate. What a wonderful place to stay. We are already making plans to come back in the summer
Greg
2016-05-09T00:00:00Z
Everything was perfect. We greatly enjoyed meeting Susan & John. They are right nearby if you need anything, and won't impose if you don't. Can't wait to come back!
Max
2014-07-14T00:00:00Z
Susan and John were awesome. It was a great place to relax. Would love to stay again. Thanks to you both, Dave
dave
2014-08-24T00:00:00Z
This was my first Airbnb experience and I was a bit trepidatious. However, my concerns were completely unfounded. A Little Bit of Paradise was indeed that. Susan was phenomenal and the apartment was exactly as pictured but even better. The location is also perfect for anything that you wish to do in the area. Thank you, Susan, for making our first Airbnb adventure truly special.
Gwendolyn
2016-07-05T00:00:00Z
Susan and her husband are amazing. Their apartment is beautiful. The location is great.
Lauren
2016-10-02T00:00:00Z
Had a lovely, relaxing stay at Susan and John's. They could not have been friendlier. Nice size space. Full size bathroom and a kitchenette we made use of. Perfectly clean, bright and airy. Convenient location for getting to town or the beach. Everything you need! I highly recommended it!
Jill
2015-08-22T00:00:00Z
We had a wonderful stay! Great location and comfortable house. Would definitely recommend to others.
Tiana
2016-08-20T00:00:00Z
We had a great stay with Susan, super friendly and helpful! I can highly recommend her apartment.
Martin
2016-06-13T00:00:00Z
Tipo de habitación
Casa/apto. entero
---
Tipo de propiedad
Apartamento
---
Capacidad
4
---
Dormitorios
Southampton, Nueva York, Estados Unidos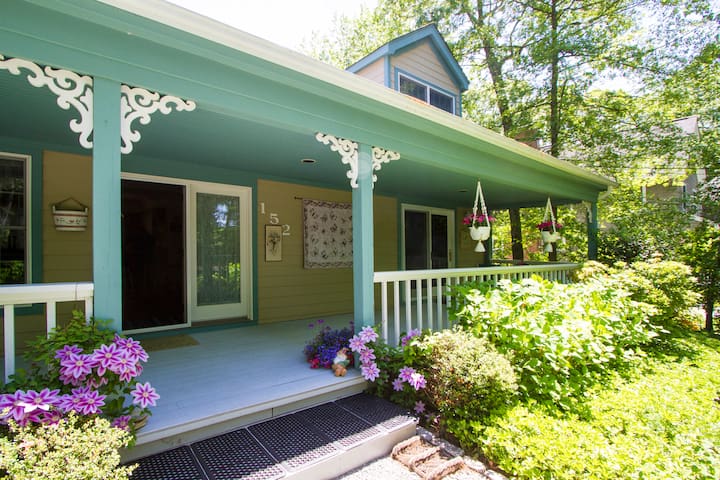 My place is close to Southampton. You'll love my place because of On the waterfront and 2 miles from town, 1 mile from the beach. My place is good for couples, solo adventurers, and business travelers.
Tipo de habitación
Casa/apto. entero
---
Tipo de propiedad
Apartamento
---
Capacidad
2
---
Dormitorios
Southampton, Nueva York, Estados Unidos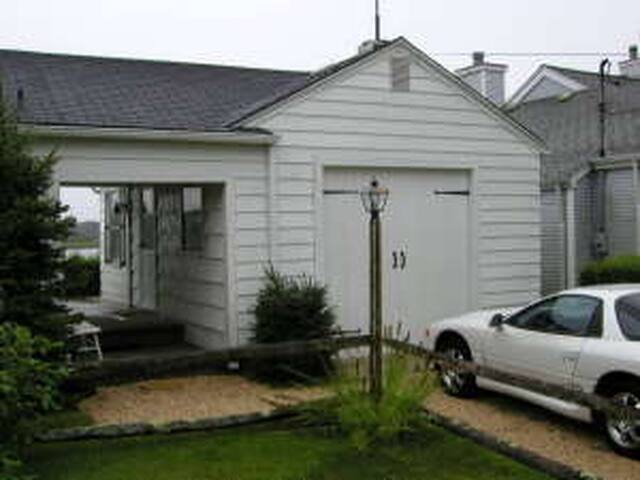 My place is close to restaurants and dining, vineyards and wineries, the beach (ocean, bay, and Long Island Sound all within 10 miles or less), farms and farm stands art and culture, great views, parks. You'll love my place because of the outdoors space, the light, the comfy bed, the kitchen, the neighborhood (or lack thereof ;)), the bathroom, and because the property is immersed in nature.
Amazing place! From the minute we arrived we felt relaxed and at home. Justin was so easygoing and let us check in a little early. The room feels like a private spa and has its own entrance. The private bathroom has an amazing shower and clean soft towels. It was close to the main road and we were able to take a day trip to Montauk and have dinner. The ducks are very cute to watch. Manu the husky is so sweet and we got to play with him. Highly recommend this space to a couple wanting a quiet romantic weekend away from the city with a really cool host and perfect location! Hope to come back sometime. Thank you Justin, you are an exceptional host!
Gina
2016-10-09T00:00:00Z
Tipo de habitación
Habitación privada
---
Tipo de propiedad
Apartamento
---
Capacidad
2
---
Dormitorios
Southampton, Nueva York, Estados Unidos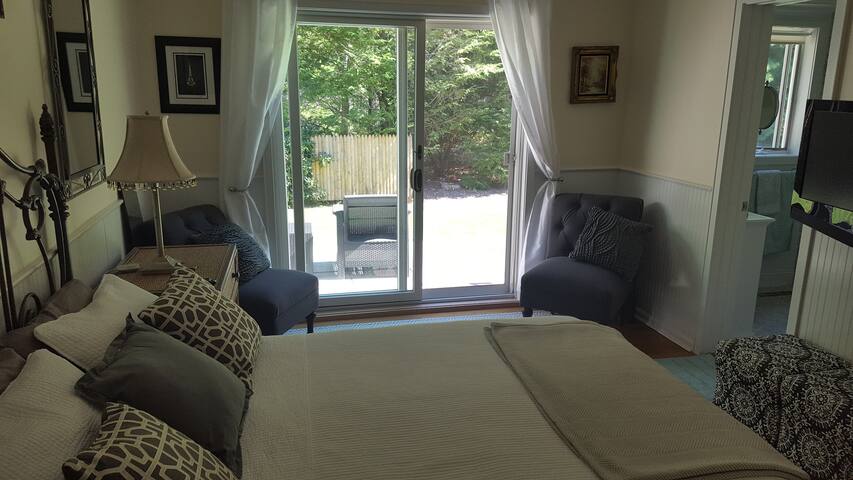 My place is close to the beach, family-friendly activities, nightlife, and public transport. You'll love my place because of walk to town and bike to beach. My place is good for couples, solo adventurers, and families (with kids).
A beautifully decorated 1br apt in the heart of southampton village. There is 1 king size bed in the bedroom and There is also a pull out couch.
Pamela was great to communicate with. Very responsive. The cottage is cute, colorful, and simple.
RIDDHIMA
2016-07-25T00:00:00Z
The host canceled this reservation 21 days before arrival. This is an automated posting.
Wendy
2016-06-12T00:00:00Z
Greeted us upon arrival/ showed us around/ was very friendly.
Zoe
2016-07-11T00:00:00Z
Pamela's apartment in Southampton village is charming, clean, and colorful, just as it appears in the pictures. Pamela was a great host, welcoming upon arrival and available over text, but not overbearing. Her family lives upstairs and next door to the apartment and has full use of the backyard just outside the bathroom and master bedroom, while the apartment has access to a cosy shared front porch. The full kitchen was stocked with coffee and sugar plus anything you might need to make (or reheat) a meal. There is wifi and a TV with cable, too.
Olivia
2016-06-28T00:00:00Z
Tipo de habitación
Casa/apto. entero
---
Tipo de propiedad
Apartamento
---
Capacidad
3
---
Dormitorios
Southampton, Nueva York, Estados Unidos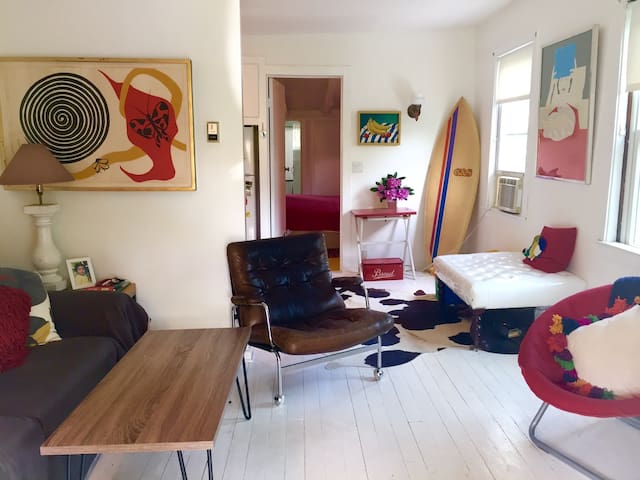 Features Two Rooms, Two Single, One Full Bed, Complete Kitchen, Bath, Outdoor Shower, Patio, Separate Entrance, TV, Wifi, CAC, Walk to Bay, 10 Min to Ocean, 10 Min to Southampton Village, and Hampton Bays, 25 Min to Outlet Mall, Near Restaurants.
Great place to stay. Quiet and peaceful. Monica was great!
Heather
2016-06-13T00:00:00Z
The host canceled this reservation 10 days before arrival. This is an automated posting.
Kacy
2016-06-07T00:00:00Z
Great place to stay! Clean. Convenient. Well appointed. And Monica is a great host. Definitely would stay here again.
Mark
2016-10-02T00:00:00Z
Tipo de habitación
Habitación privada
---
Tipo de propiedad
Apartamento
---
Capacidad
3
---
Dormitorios
Southampton, Nueva York, Estados Unidos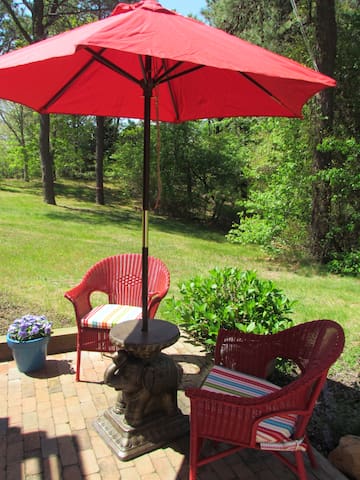 1

–

18

de

66 Alquileres de apartamentos
Introduce las fechas para ver el precio total. Ten en cuenta que se aplicarán tarifas adicionales y es posible que se añadan impuestos.