THIS BEDROOM HAS A DOUBLE BED WITH PRIVATE ENSUITE BATHROOM TEA COFFE MAKING FACILITIES. TV. EXCELLENT FREE WIFI.
Wonderful hospitality; a real family affair. Marie anticipated our every need and provided everything we could possibly have wanted. Breakfast is amazing! It is a lovely place in great location and we felt really at home. There are a number of ensuite rooms available and photo of only one of them. There is a large dining and lounge area which was very useful to us for meeting up with some of our family we hadn't previously met and who also were staying here. It's also nice to meet the other guests at breakfast etc. As a result we had a great time and thoroughly recommend.
Wendy
2016-09-28T00:00:00Z
Marie is truly the example of hospitality. She helped us in multiple ways, and her B&B was wonderful. The breakfast is to die for, not to mention the wonderful tea she served us. She's personable, kind, and she wants to make sure that you have a lovely stay. If you're going to be in the area, this is a good place to consider staying.
Timothy
2016-09-09T00:00:00Z
Tipo de habitación
Habitación privada
---
Tipo de propiedad
Bed & Breakfast
---
Capacidad
2
---
Dormitorios
Roscrea, Tipperary, Irlanda
Full batroom with all accessories towels etc.
Tipo de habitación
Habitación privada
---
Tipo de propiedad
Bed & Breakfast
---
Capacidad
4
---
Dormitorios
Roscrea, Tipperary, Irlanda
My place is close to parks, art and culture, restaurants and dining, and great views.
in a beautiful rural setting within three minutes of town
Tipo de habitación
Habitación privada
---
Tipo de propiedad
Bed & Breakfast
---
Capacidad
8
---
Dormitorios
Roscrea, County Tipperary, Irlanda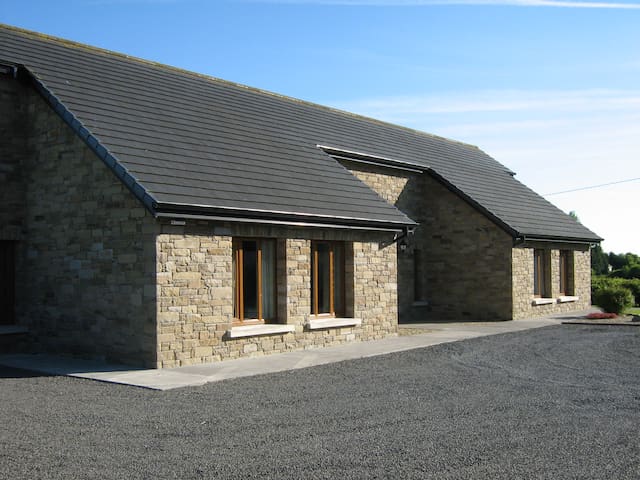 Private en suite bedroom in the coach house beside a stunning mill pond in the grounds of a Georgian House & Mill Complex, just across a small couryard from the main house . We are 4 kms from Durrow (and Castle Durrow) and from M8 and have gardens to enjoy, dogs to play with and interesting walks nearby. Handy for Castle Durrow, we can happily drop you down if you are attending a function at the Castle
A spacious double bedroom simply furnished with antique brass european king size bed, en suite bathroom totally tucked away in the coach house with only the sound of the mill race to disturb you, but adjacent to the main house and the other cottages where we live now and where a light breakfast is served and where you are welcome to join us if and when you want.
A quiet corner of hidden Ireland,in the middle of Ireland's Ancient East we are generally off the beaten tourist track, however only 30 minutes from Kilkenny, Portlaoise and close to Cashel and Roscrea and locally have lots to offer in terms of cycle tracks, pony treks, canoeing and other country sports.
Tara was a wonderful host and made my stay all the more enjoyable for this and could not have been more helpful. It felt as though I were visiting a friend. House is in a beautiful setting and it was a pleasure to wander around the area despite mixed weather.
John
2015-04-26T00:00:00Z
Had an absolutely lovely time in Tara's Millhouse. We had the private room. Really liked that they were separate from the main house so we didn't feel like we were disturbing anyone by coming in late. Ideal location for people attending weddings or events in Durrow Castle, 5 min drive away. Tara was so friendly and we had a gorgeous breakfast with the family. So homely and welcoming. Yes dogs galore, all super friendly and small and cute. We would definitely recommend.
Jocelyn
2016-07-11T00:00:00Z
Absolutely beautiful setting, solid local recommendations, and tasty breakfast here. Casual attitude combined with quite serious hospitality made for a great stay with Tara.
Julie
2014-05-20T00:00:00Z
Tara is so welcoming and knowledgable about the area. I honestly felt like we had been friends for a long time after our welcoming tea! Her place is beautiful, the village is so warm and pretty and I had the best nap and night's sleep of our trip. Treat yourself and stay here if you can work it out. We loved her dogs as well and breakfast was fantastic! Hope we can come back some day and stay longer.
Anne
2016-03-17T00:00:00Z
We only stayed for one night in Newtown House and Mills B&B before heading to Cork the day after and it was so worth booking this place. We arrived after 10pm and Tara and Anthony welcomed us warmly without any problem and ensured we were happy with our room before we went to sleep. They showed us how everything works which we found extremely helpful. Our room was lovely with a large, comfortable bed and was beautifully furbished in rustic style. We also had tea/coffee making facilities with fresh milk and biscuits- little touches that makes such a difference J The next morning Tara prepared us lovely breakfast (toast, ham, eggs, cereals, fruits, homemade jam and yogurts, anything you need for a good day start) and Anthony made us delicious cappuccino. The kitchen was huge and tastefully decorated; we loved every detail of it. We ate breakfast together and had a lovely chat with them and their kids. They are absolutely lovely people and were born to do hospitality. We only realized how big the estates was in the morning and Anthony kindly showed us around - the Georgian house, the historic mill, absolutely everything. It is such a unique place and so peaceful. If you are looking to get away and switch off for a few days, this is the right place for you. We would happily stay here again in the future. Marco & Eva
Matteo
2014-02-09T00:00:00Z
It may have been in the middle of Ireland but it almost felt like the crossroads of the world! Among the guests were a couple from Vancouver Island and another from Delaware as well as lots of other people coming and going. If you are a 'people person' like Tara and happy to go with the flow, you couldn't find a more fun place to stay. There's the old mill and a lovely millpond to sit by or sit around the huge kitchen table and yarn for hours... Tara could not have been more helpful and even had a garage for our open car.
Melanie
2016-08-28T00:00:00Z
We had an excellent stay with Tara - what a beautiful property and friendly host! The property itself is simply breathtaking when you arrive. Tara greeted us warmly and even upgraded us to her bigger space when she saw she had no one booked there for the evening. In addition, she offered her own living room for viewing of the World Cup matches on that evening. She was happy to share lots of information on the area and the home itself (great history - be sure to ask!). The space itself was well equipped, spacious, light, and the bed was very comfortable. Definitely a "thumbs up"!
Ross & Lindsay
2014-07-07T00:00:00Z
Tara was very accommodating and always on hand to suggest a nice place to eat or visit. She recommended Durrow Castle for a meal which was well worth it - great food and beautiful grounds!
Alex
2016-05-30T00:00:00Z
Tipo de habitación
Habitación privada
---
Tipo de propiedad
Bed & Breakfast
---
Capacidad
2
---
Dormitorios
Durrow, Laois, Irlanda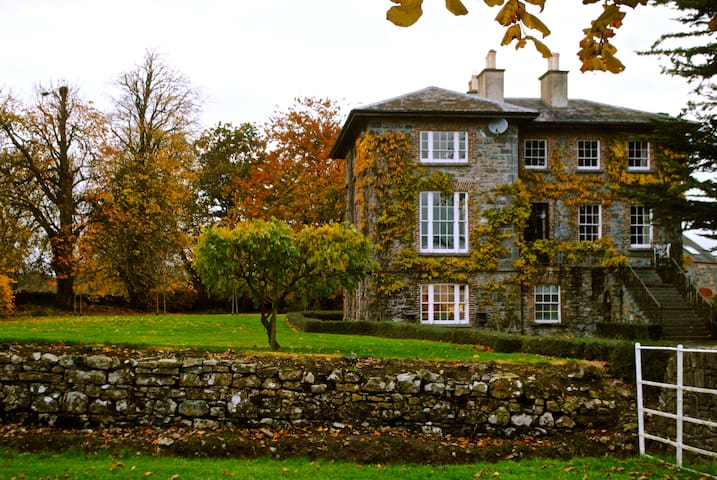 THIS ROOM CAN ACCOMMODATE 3 PERSONS SHARING . ONE DOUBLE BED AND TWO SINGLE BEDS
Tipo de habitación
Habitación privada
---
Tipo de propiedad
Bed & Breakfast
---
Capacidad
3
---
Dormitorios
Roscrea, Tipperary, Irlanda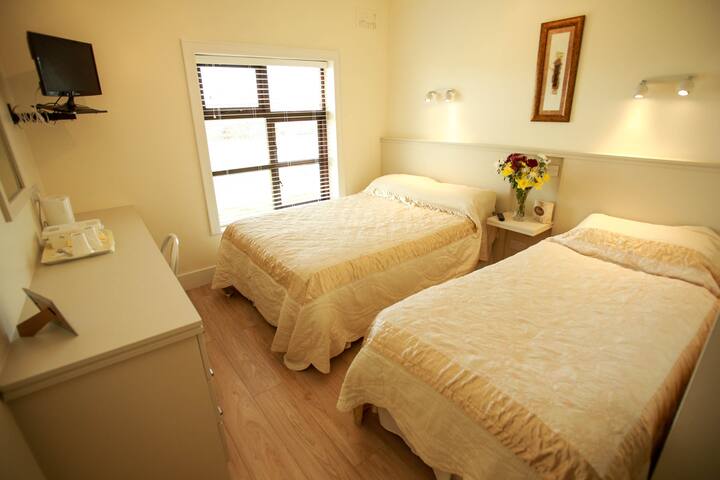 Centrally located to all the amenities the Midlands has to Offer. Golf, Pitch & Putt, Fishing, Nature & Walks, Distilleries, Pubs & Restaurants, Festivals, Castles, Parklands, Clonmacnoise, Shannon, Lakes and Rivers, Slieve Bloom Mts, Leisure Centers etc. Please ask for: * Multiple night DISCOUNTS * Local Guides * Breakfast & Dinner Menu * Equipment (Bikes, Fishing Equip, Golf Clubs etc) Free Tea/Coffee
We have 2 other listings: This Room: Double Bed and Single Bed with En-Suite. TV. Room 2: Double Bed with En-Suite. TV. Room 3: Double Room with access to Shared Bathroom. TV.
Bridget is a very friendly hostess and we had a pleasent stay in the midlands. On our way to Bridget we visited the clonmacnoise. We met her husband and the three lovely dog. The breakfast was ver good and I wished we had known That we could eat diner wit her for a good privé. Thx Bridget Aylin and Marietta
Marietta
2016-09-25T00:00:00Z
Bridget and her husband are excellent hosts who provided me with a wholesome fresh top quality dinner and desert. I had a fantastic breakfast and the house was warm and the room was very comfortable. I cannot express how highly recommended my stay was. I would absolutely stay with Bridget again and anyone who would stay would fully agree. Your a diamond
paudi
2016-10-14T00:00:00Z
Bridget is very generous With his guests, you feel like in a family
laurence
2016-08-19T00:00:00Z
Bridget was a great host, nice and kind we had a lovely stay in her house.
Kali
2016-08-21T00:00:00Z
Bridget made us feel like family. The room was perfect with comfy beds and Bridget was well versed in local history telling us the back story to local attractions. We can't wait to see her again.
Luna
2016-12-18T00:00:00Z
Unser Aufenthalt bei Bridget war absolut fantastisch! Wir wurden sofort sehr herzlich begrüßt. Parken konnten wir direkt vor der Haustür innerhalb des Geländes, was natürlich sehr praktisch war. Das Zimmer war sehr sauber, die Betten gemütlich und Dinge, wie Handtücher, Duschgel etc. wurden zur Verfügung gestellt. Bridget's Haus liegt sehr ländlich und sie und ihr Mann besitzen auch viele Tiere, wie Kühe und Hühner (frische Eier!) etc. und außerdem laufen bis zu 6 Hunde auf dem Gelände herum, die aber alle ganz lieb sind. Es darf aber nur einer davon ins Haus und das ist ein ganz kleiner, lieber, verschmuster. :) Bridget war sehr gesprächig und auch interessiert, was wir zu erzählen hatten und sie hatte jede Menge Tipps, was man in der Umgebung unternehmen kann. Unter anderem waren wir im fußläufig erreichbaren Dorfpub, wo es tolle Livemusik gab. Für den Weg durch die Dunkelheit hat sie uns extra mit Warnwesten ausgestattet. Bridget hat sich auch sehr um unser leibliches Wohl bemüht und so konnten wir einen frisch zubereiteten, hervorragenden Shepherds Pie und Irish Stew genießen. Neben dem Crumble mit hausgemachter Eiscreme, war das Frühstück ein Highlight. Einen Tag gab es Omlettes aus Eiern der eigenen Hühner und am zweiten Tag Pancakes mit selbstgemachtem Apfelkompott und dazu auch ordentlichen Kaffee. :) Das WLAN hat auch gut funktioniert. Wir können Bridgets Unterkunft absolut weiterempfehlen und würden uns freuen, hier wieder einmal unterkommen zu können. Herzlichen Dank, Bridget!
Sabine
2016-10-02T00:00:00Z
lovely place and fantastic people! you feel like one of the family at Bridgets place.we got a very warm irish welcome, nothing was too much trouble for our host. the location is ideal for exploring Irelands historic past. also good as base for day trips to almost anywhere as its right in the hart of Ireland. Beautiful location, very comfortable rooms and great people, what mre could you ask for?
Susanne
2017-02-19T00:00:00Z
Bridget is a wonderful host, energic, full of advices, always available to help and really nice. We can only recommand her and her house to explore the midlands but not only (you can go to dublin or galway and more) and spend some good time in this unknown part of ireland. See you next time Bridget and thank you for everythings. Chloé & Alexis
Chloé
2016-09-13T00:00:00Z
Tipo de habitación
Habitación privada
---
Tipo de propiedad
Bed & Breakfast
---
Capacidad
3
---
Dormitorios
Fivealley, County Offaly, Irlanda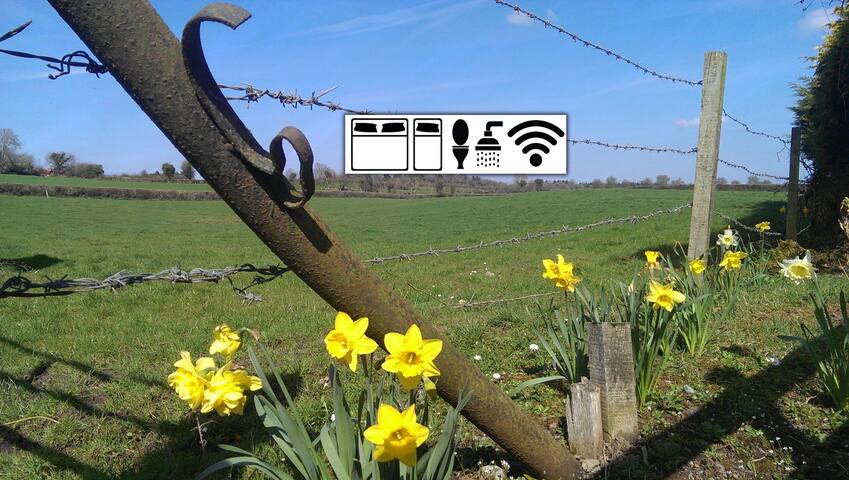 Nos comprometemos a hacer todo lo posible para proporcionar una auténtica bienvenida 'irlandés' durante su estancia en nuestra casa, una antigua granja que hemos ampliado y renovado. Siempre estamos aquí durante su estancia, por lo que estamos disponibles para asesorar y ofrecer recomendaciones de lugares para visitar y dónde comer. Podemos darle el conocimiento 'local' en nuestro hermoso barrio. Un buen descanso está garantizado, y si se opta por unirse a nosotros para la cena, que se preparará con buena comida casera orgánica que se produce principalmente aquí.
Muchos de nuestros clientes han llegado como extraños y fuimos como amigos .... esperamos que se sienten de la misma después de su visita a nuestra casa. La tranquilidad está garantizada, lejos del bullicio de la ciudad. Este es el lugar para venir a sentarse, relajarse y ver crecer la hierba, o contemplando las bonitas cielo nocturno sin contaminación lumínica echar a perder la vista. Nuestra casa es una antigua granja que hemos ampliado y renovado durante nuestro tiempo aquí .... de hecho, todavía hay mucho trabajo por hacer, sobre todo fuera. Nuestra base está en el extremo norte del condado de Tipperary, en Irlanda rural. Cada habitación tiene un doble aspecto con vistas sobre los campos verdes con el pastoreo de ganado u ovejas. Una cálida bienvenida y una noche de sueño reparador está garantizado. Su desayuno mientras se aloje en Oldfarm, consistirá siempre de los productos orgánicos en casa - nuestra propia granola, huevos frescos de nuestras gallinas, salchichas y tocino - todos por supuesto, sujeto a disponibilidad. También se incluyen caseros orgánicos pan, bollos, mermeladas y salsas picantes. El desayuno se sirve entre las 8 - 10 am, y está siempre preparado fresco ya la orden. Si decide quedarse con nosotros, están a poca distancia de muchas de las maravillosas atracciones de nuestro país tiene para ofrecer. Hay los destinos populares - Castillo de Birr, Roca de Cashel, Kilkenny City, Ciudad de Galway, los acantilados de Moher, Limerick City - todo dentro de una o dos horas de nuestra casa. Si usted quiere tomar un descanso de conducir hay un montón de joyas ocultas aquí en la región central, que son tan vale la pena mirar - Fancroft Mill and Gardens, Bellefield House, Lough Boora Zonas Verdes, Casa de trabajo irlandesa centro y del castillo de Portumna y forestales. Lough Derg, el lago más grande de Irlanda es a pocos minutos de nosotros, y los bonitos pueblos a lo largo de su línea de costa vale la pena explorar. Sin duda lo suficiente para divertir y entretener durante un par de días .... echar un vistazo a través de nuestro 'guía'. También estamos suerte de tener grandes palos de golf e instalaciones para montar a caballo en nuestra zona. Nuestro vecino, Bobby, es un gillie. Si sus intereses involucrar a la pesca o tiro, Bobby es su hombre. Si el senderismo es lo que te gusta hacer, estamos a sólo 20 minutos en coche de las montañas Slieve Bloom que ofrecen paseos de muchos grados diferentes. Estamos tan autosuficiente y sostenible posible. Crecemos todos nuestra propia fruta y verdura orgánica. Podemos producir la cena a partir de ingredientes que hemos crecido aquí en nuestra pequeña explotación. A veces sin embargo tenemos que subsidiar con alimentos de otras fuentes - pero una vez más vamos a ir de compras a los productores orgánicos locales. Medida que se basan en una zona rural bastante ofrecemos la opción de una comida de la noche, por un suplemento de 25,00 € por persona (2 cursos - elegir entre un plato y plato principal o plato principal y postre). A medida que crecemos la mayor parte de nuestra propia comida se le garantiza la calidad y la exquisitez! Háganos saber si le gustaría hacer uso de esta opción. Somos consumidores de vino y ofrecemos una pequeña selección de vinos a precio de coste, o si prefiere llevar su propio eso también está bien! Tenemos todo un repertorio de platos de comida irlandesa / europeo tradicional de platos de la India que ofrecemos invitados - (Casi famosos) hamburguesas de cerdo de Alfie, guisos de salchicha de Margaret o su larb cerdo. También podemos atender a los vegetarianos y Alfie hace unas pizzas vegetarianas bastante impresionantes entre otros platos. Si los animales son su cosa, estás de suerte. Compartimos nuestra pequeña explotación con un par de perros y un gato, gallinas, pollos, patos, pavos, abejas y rara raza cerdos y corderos Saddleback Zwartbles. De nada para ayudar, y su seguridad es siempre nuestra principal preocupación. Si desea traer a su perro a lo largo, por favor no dude en preguntarnos. Pediríamos que se utilizan para las gallinas y patos (nuestras aves deambulan libremente en la propiedad) y también que tienen hasta la fecha las vacunas - tanto para la seguridad y la nuestra de su perro. También llevamos a cabo cursos de cría de cerdos como parte de nuestro negocio aquí ... tal vez le gustaría aprender todo acerca de la cría de cerdos? No venir y quedarse. Encontrará detalles de nuestros cursos en nuestra página web empresarial: Oldfarm Algunos puntos a tener en cuenta: Desafortunadamente, no hay transporte público, por lo que su propio medio de transporte es esencial. Hay un montón de espacio de estacionamiento seguro en la propiedad. Esta es una casa antigua - las escaleras son empinadas para cualquier persona con problemas de movilidad o los que tienen niños pequeños. Sobre nosotros: Los antiguos habitantes de la ciudad de Dublín, llegamos a Tipperary Norte hace casi catorce años. Encontramos esta hermosa comunidad rural, que nos recibió con los brazos abiertos. Nuestra casa necesita mucho trabajo cuando llegamos (y, de hecho, sigue siendo un trabajo en progreso) pero hemos restaurado y reformado en los últimos años. Ahora corremos nuestro negocio de cerdo de corral de su casa, la venta de nuestra deliciosa carne de cerdo directamente al cliente. (Website hidden) Nos encanta, y creemos que también lo hará. Usted puede leer acerca de nuestra vida (y ver algunos de nuestras recetas) a través de nuestra ayearinredwood blog o si usted está en cerdos de corral, visita nuestra página web: Oldfarm Esperamos poder darle la bienvenida a nuestra auténtica casa irlandesa.
Nuestro barrio es una zona agrícola rural. Y, por supuesto, son muy bienvenidos para ver (o ayuda) con cerdos :)
Alfie and Margaret are the absolute best! I don't even have enough praise for the two of them and my stay with them! I only got to spend one night with them, but it was definitely one of the highlights of my whole trip to Ireland. Not only is their 100+ year old farm the most charming beautiful place, but Alfie and Margaret are the most amazing company and I thoroughly enjoyed talking to them about everything under the sun. They made me laugh so hard, taught me so much, walked me all around the farm (I got to hold a baby piglet!), and gave me an experience I will never forget. Their organic, natural food was so delicious (I had dinner and breakfast with them), and most of it was from their own farm, as fresh as can be! It was fun meeting all their sweet animal friends too. I love how welcoming, natural, serene, and down to earth life is at Old Farm. I feel it's the Ireland that everyone should experience. My room was so warm, cozy, and comfortable, which I really loved. I feel I have made new wonderful friends who are total gems! Thank you for everything, Alfie and Margaret! Until we meet again! Big hugs.
Rebecca
2015-05-01T00:00:00Z
We had a brilliant time staying with Margaret and Alfie. The two of them are amazingly welcoming and hospitable. The rooms were warm, very clean and bright and we did't miss anything. The food was fantastic, especially the home-baked sourdough bead and the sausages made from Alfies pigs. We would recommend to stay here to everybody. 5* stars!
Ben
2015-02-28T00:00:00Z
What a cosy farmhouse! Alfie and Margaret were wonderful hosts! So personable and friendly. The beds were comfortable! And the homemade breakfast was delicious!! Wish we could have stayed longer :) we would definitely like to stay at the farm again!
NIKKI
2015-09-12T00:00:00Z
Alfie and Margaret are absolutely wonderful. My boyfriend and I were so sad to leave and when we come back to Ireland we will plan to stay with them as long as they will have us. The food was wonderful and we would totally suggest that you join them for dinner as they are both great cooks. The conversation was so engaging that we easily could have stayed up all night. We would definitely recommend them to anybody who wants a great experience on a real farm with people who have a true passion for food and raising happy and healthy animals.
Kate
2015-01-02T00:00:00Z
Had a great stay with Alfie and Margaret. It was like home from home! Great craic and great food. The home made pizza was to die for. Picked up great ideas and they were both so generous with their knowledge. A pure pleasure!!
Heather
2016-07-03T00:00:00Z
From the beginning of our inquiry we had contact to Margaret and Alfie, so we already felt from the first contact on welcomed. And so it was: We were welcomed heartly and friendly in their lovely house. It was like coming home from a long journey. Our boys felt comfortable from the beginning - as we did. The dinner and the breakfast was always just awesome. The rooms were clean and cozy. Whatever you could need was there. Even Slippers. It is hard for us to write an Review: Words just can't fill out what those lovely two people have achieved. Our recommendation: Go there & make your own experience. Value and cherish what you receive.
Stephanie
2016-11-06T00:00:00Z
We stayed with Alfie and Margaret in their lovely home in the countryside. We were made to feel really at home, the food house etc are wonderful. However, most of all it is the friendliness that stands out.
mary
2015-07-26T00:00:00Z
There are no words to describe these wonderful human beings + their very lovable animals. Everything was fabulous, accommodation, location, company. Beautiful wood fire. The most wonderful breakfast + dinner oh my goodness im in heaven. Would have loved to stay forever. Not one fault
sherry
2015-07-20T00:00:00Z
Tipo de habitación
Habitación privada
---
Tipo de propiedad
Bed & Breakfast
---
Capacidad
4
---
Dormitorios
Nenagh, Tipperary, Irlanda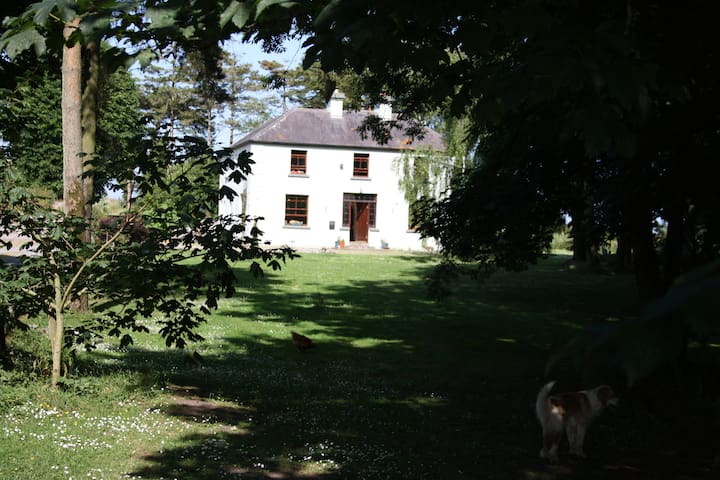 Bernie's guesthouse was a fantastic find. A short drive to Tullamore town and terrific value. A terrific host and I would highly recommend anyone to stay here.
Paul
2016-11-19T00:00:00Z
The stay at Killooley Lodge was a really nice experience. The rooms were tidy, comfortable and topped our expectations. Bernie is a very lovely host and I enjoyed the time in her accommodation! I can absolutely recommend this site when you are looking for a quiet and beautiful modern place just ten minutes outside of Tullamore!!!
Michael
2016-08-21T00:00:00Z
Bernie was an excellent host and very accommodating during our stay. The house is modern and very clean.
Catherine
2016-09-04T00:00:00Z
I had an amazing time at Bernie's place! It is located pretty much in the center of the country, and that makes it perfect to daily trips nearby. The room was spacious and very cozy! Continental breakfast was above and beyond any continental breakfasts I have ever tried! I was welcomed with the full energy of Irish hospitality! I highly recommend this place to anybody who happens to need a stay in Offaly Co.
Denis
2016-10-31T00:00:00Z
Fantastic spot, everything you could ask for. Highly recommended.
Shane
2017-01-07T00:00:00Z
Bernie was extremely accommodating and welcoming despite my late night arrival and she and her husband were very helpful with my spot of car trouble. Lovely room and house, friendly atmosphere, great price, highly recommended! I failed my driving test unfortunately but at least my stay was pleasant:)
Louise
2016-11-12T00:00:00Z
Super accueil de Bernie avec un grand sourire non feint. Super petit déjeuner !
frederic
2016-08-18T00:00:00Z
The host canceled this reservation 50 days before arrival. This is an automated posting.
Jana
2016-08-01T00:00:00Z
Tipo de habitación
Habitación privada
---
Tipo de propiedad
Bed & Breakfast
---
Capacidad
2
---
Dormitorios
Tullamore, Offaly, Irlanda
El Foxrock Inn es un Irish Inn típico que se encuentra en el corazón de la campiña irlandesa. Ubicado en el borde de las montañas Slieve Bloom, la zona es rica en belleza natural.
El Foxrock Inn Bed & Breakfast y del contiguo María abogados ofrecen paz y tranquilidad en un entorno de belleza intrínseca. Las habitaciones están decoradas exquisitamente con baño privado y una variedad de opciones de desayuno están fácilmente disponibles. La zona cuenta con numerosos magníficos campos de golf de 18 hoyos a 15 minutos de nuestras instalaciones, como por Rathdowney, Mountrath, Roscrea, Portarlington, y el Heath Portlaoise, por nombrar sólo unos pocos. El exclusivo Mount Juliet en Kilkenny es de 30 minutos y la "K" en el Club de Kildare se puede llegar en 45. Ambos grueso Pesca y Juego de pesca se encuentran dentro de los 5 minutos de la posada - y la lista de excelentes lugares es interminable: Grantstown Lago , Ballyfin Lago, Lago Templemore, Ballinakill lago, río Nore y el río Erkina y más. Las reservas de grupo están disponibles bajo petición, con un almuerzo y una cena para disfrutar.
El Foxrock Inn es un Irish Inn típico que se encuentra en el corazón de la campiña irlandesa. Ubicado en el borde de las montañas Slieve Bloom, la zona es rica en belleza natural. El Foxrock Inn Bed & Breakfast y del contiguo María abogados ofrecen paz y tranquilidad en un entorno de belleza intrínseca. Las habitaciones están decoradas exquisitamente con baño privado y una variedad de opciones de desayuno están fácilmente disponibles.
Had a very pleasant stay with Marion & Seán, was made to feel right at home from the minute I arrived. My room was spacious, comfortable and impeccably clean as was the rest of the house. A good night's sleep was had as well as a fine breakfast laid out in the morning. Highly recommended :))
Danny
2016-08-12T00:00:00Z
Simply Brilliant! I know it might be a bit off the major spots, but this place is worth it! The family even runs a local pub in the same house! Very friendly and helpful, I would recommend to anybody to stop by!
Jakub
2016-08-01T00:00:00Z
Very accommodating of my changing travel plans
Sarah
2016-04-07T00:00:00Z
Lovely location! Would recommend staying here as the hosts were lovely and very friendly!
Shonagh
2017-04-02T00:00:00Z
Tipo de habitación
Habitación privada
---
Tipo de propiedad
Bed & Breakfast
---
Capacidad
10
---
Dormitorios
Ballacolla, Laois, Irlanda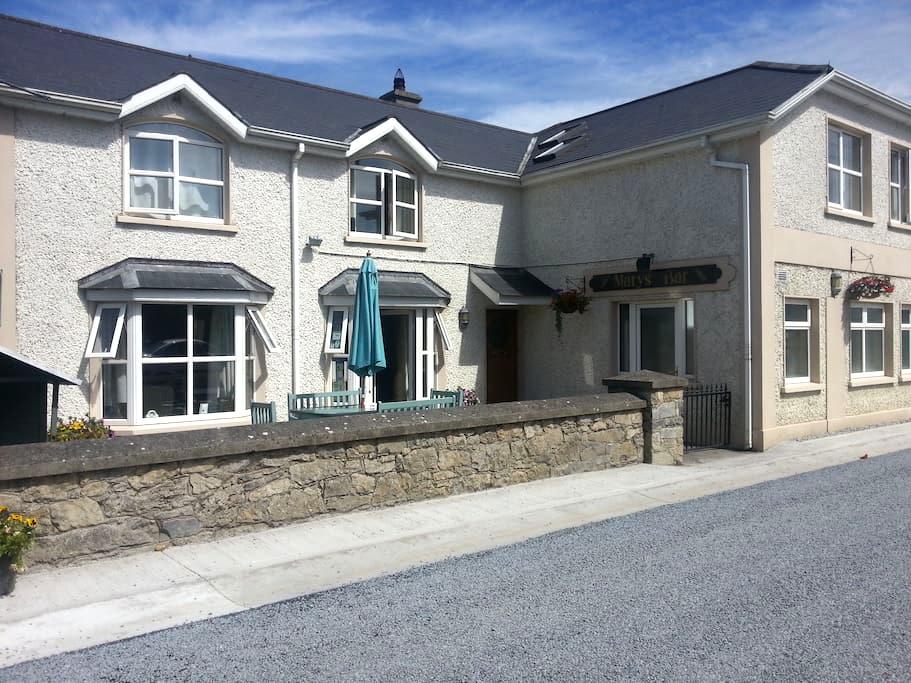 Willowbrook is a modern, comfortable B & B near Nenagh, Co.Tipperary. ITB 4 Star rated, we pride ourselves on our welcome and service to our guests. All rooms are ensuite, Free WiFi, Courtesy Tray, Sat TV, DVD player and DVD library. Prices include full breakfast which includes cereals, fresh fruit salad and natural yogurt. Cooked breakfast include Full Irish, Pancakes, French Toast, Scrambled, poached or Boiled eggs. All served with Tricia's homemade breads and preserves. Tea and coffee.
Willowbrook 4 Star Bed & Breakfast is set in rolling farmland 2km from Nenagh, Co.Tipperary, on the lakedrive road to Lough Derg. Visitors can choose to explore Walking & Cycling trails. Lough Derg is an anglers paradise with boats and gillies available on request to give you an extra edge. Go Scuba diving in Irelands only inland dive centre. Tour Nenagh's 13th Century Castle & Hertiage Centre and stop for coffee in one of our many coffee shops .Visit award winning pubs in the locality to relax with great food & friendly chats with the locals..The choice is yours. . Willowbrook offers its guests Tea/Coffee facilities, Free WiFi, Mulitchannel TV, DVD players and extensive Movie library Free for guest use. Landscaped gardens to relax in and enjoy beautiful views. Extensive breakfast menu and freshly cooked food served with home made breads and jams and not least your hosts, Tricia and Tom who will give you the warmest of welcomes to their home.
Willowbrook is located 2km from the bustling town of Nenagh. We are 7 miles from beautiful Lough Derg on the river Shannon. Breakfast can be enjoyed while watching garden birds feed and flowers in bloom. The Silvermines mountains and Keeper Hills are in the background. Its an ideal base for visitors wishing to see Adare village, Bunratty Castle & Folk Park, The Rock of Cashel, Holycross Abbey, Lough Derg drive, Nenagh Castle etc.
Best bed and breakfast we visited on our journey through Ireland. We made a last minute booking to stay with Tricia and we couldn't have made a better decision! The place was absolutely beautiful in a great location that was easy to access. The gardens were gorgeous and the rooms were wonderful. but above all, Tricia was the highlight. Such a kind woman with all the information you'll ever need! She gave us such a relaxing stay after a long day of driving and travelling. So happy we found you! Thanks for the hospitality! Xx
alyssa
2015-06-25T00:00:00Z
Wonderful b&b! Beautiful, clean and comfortable rooms. Lots of amenities offered, and very easy to find. Tricia was very helpful to me in finding activities for the evening and especially accommodating for my early departure. Would stay again.
Shelby
2015-07-17T00:00:00Z
We have stayed at quite a few Airbnb properties over the past several years and the Willowbrook B&B ranks right up there at the very top. Tricia is a superb host and made us feel welcome and special during our stay. This place is a real gem in every way!
Heidi
2016-10-09T00:00:00Z
Tricia and her husband Tom provide a fantastic B&B experience. My brother, fiance, and I were staying in the area to trace family roots and Tricia not only provided us with directions but even looked into our information a bit herself. Breakfast in the morning was delightful and the Tatched Cottage near by provided us with a convenient place to eat dinner. I would recommend highly.
Denise
2013-07-13T00:00:00Z
Tricia was a very welcoming and open host. The room was managed very well and accommodated my little sister and I nicely. We got lost on the way in and Tricia was there to help guide us as well as offering to warm up some food we brought with us, even if it wasn't a regular policy with them. Her husband and her managed to book us last minute and despite the late hour of our coming in, they were very understanding. The breakfast was wonderful and they were able to provide a gluten free option and a vegetarian option.
Mary Ann
2014-07-10T00:00:00Z
This is a great facility! It is clean and bright. I love that Tricia could accommodate our group of five. Breakfast was wonderful and the ambiance was restful. I give it high marks!
Narda
2014-05-16T00:00:00Z
Tricia was very welcoming and helpful and the room and breakfast were lovely.
Jennifer
2015-08-12T00:00:00Z
Staying with Tricia was so nice! She is such a kind and friendly person and makes you feel like home immediately. Everything is superclean and the breakfast is fantastic! I will definitely come back!
Barbara
2016-12-09T00:00:00Z
Tipo de habitación
Habitación privada
---
Tipo de propiedad
Bed & Breakfast
---
Capacidad
2
---
Dormitorios
North Tipperary, Tipperary, Irlanda
Luxe salle de bains privative donnant sur le lac. La nourriture est excellente, excellent vin et de grandes promenades à travers les 76 acres de forêts de hêtres. Birdwatching, bateau sur le lac, la pêche, la voile et le golf sur place.
76 acres de un sanctuaire de la vie sauvage - maison loin de la maison. Grande bonne source locale, grand vin. Asseyez-vous après le dîner par le feu à cœur ouvert dans la salle de dessin
la paix, les promenades en plein air. La vie sauvage est merveilleux car il y a plusieurs zones boisées à explorer. Beaucoup de historay.
The host canceled this reservation 3 days before arrival. This is an automated posting.
Merve
2016-10-05T00:00:00Z
We loved staying here. Food was excellent. We ended up with an additional room. Very friendly welcome and we loved the place.
Emma
2015-07-27T00:00:00Z
This was a beautiful stay! The house is so well kept and elegant, the staff is always helpful and kind, the owners are very attentive and the land is gorgeous and magical! Whether for long walks or meditation, the grounds are spectacular! I plan to return every year just to enjoy the beauty and the comfort of this place. Thank you so much for having this fantastic, luxurious b&b.
Rosario
2016-09-21T00:00:00Z
A very special experience for myself and my parents in this 18th century house and the surrounding land. We are offered two rooms: a massive room with nice chilling area and another of standard hotel room size. Both have very nice view of the lake, especially in the morning. We were amazed at the traces of history in the house and were basically wow-ing at every corner. Dinner and breakfast are delicious. Thanks for having us!
Ada
2016-10-18T00:00:00Z
The house was amazing, my brother were treated very well and the dinner was very tasty. Would recommend to anyone.
Chris
2016-02-22T00:00:00Z
Very pleasant lakeside country home
John
2016-04-07T00:00:00Z
The simple photo on the air BnB website did not prepare us for the grandeur of Ashley Hall.although extremely busy, Margaret welcomed us with coffee and we wandered the vast rooms of this magnificently restored property, overlooking the lake and 70 acres of grand old trees. We were served a delicious gourmet dinner in the dining room and our bedroom suite was comfortable with a great view.
John and Judi
2016-06-18T00:00:00Z
The host canceled this reservation 54 days before arrival. This is an automated posting.
Clyde
2016-06-27T00:00:00Z
Tipo de habitación
Casa/apto. entero
---
Tipo de propiedad
Bed & Breakfast
---
Capacidad
6
---
Dormitorios
Nenagh, Tipperary, Irlanda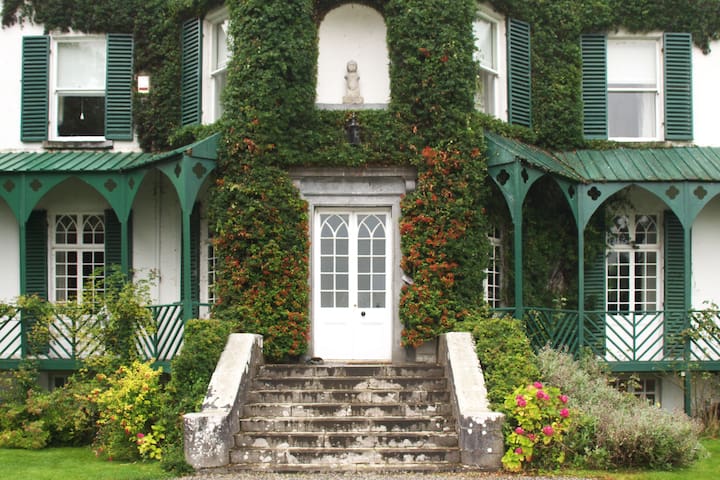 Abbeyview B & B es un lugar especialmente construid(URL HIDDEN)situado en Nenagh, Co.Tipperary sólo 3 minutos en coche de la M7 (salida 24) y aproximadamente a 1,2 km del centro de la ciudad, lo que hace que sea una buena marca a mitad de camino si viaja desde Dublín a Kerry o si querer hacer base en la región central. Nenagh es la segunda ciudad más grande de Tipperary construido por la familia Butler en el siglo 13 la ciudad tiene su propio centro de la herencia fascinante, Norman Castle y Convento Franciscano y está muy cerca de muchas atracciones turísticas. Ofrecemos alojamiento y pensión en un hogar agradable y espaciosa. El ambiente relajante y la cálida bienvenida se asegurará de que usted disfrute de su estancia. Todas las habitaciones disponen de baño con set de té / café, wi-fi, aparcamiento, y tiene unas vistas de Guardián Hill y en la parte delantera de la casa! Abbeyview Bed & Breakfast es una base ideal para explorar los muchos servicios de Lough Derg y la región de Shannon, además de las muchas atracciones en el medio y al sur-oeste de Irlanda Desayuno: El desayuno está incluido en el precio que puede tener un continental que se puede incluir fruta del jardín, pan casero, bollos y magdalenas y granola, queso local, yogures mermeladas orgánicas, etc, o puede tener la opción del desayuno caliente que puede incluir la completa , huevos escalfados irlandeses con bollos de salmón ahumado, etc, o para el vegetariano la puede tener el desayuno vegetariano o galletas hechas en casa con el jarabe de miel / arce y yogur natural. Si usted tiene cualquier petición especial en relación con los alimentos, házmelo saber y voy a tratar de facilitar usted! Lugares de interés: Castillo y Museo del Patrimonio nenagh Lough Derg Castillo de Bunratty y Folk Park Castillo de Birr clonmacnoise Roca de Cashel Castillo de Cahir y Swiss Cottage Castillo del Rey Juan Acantilados de Moher Adare Village Mountshannon_ Golden Eagle
Mi barrio es bastante, rural y seguro, pero im no muy lejos de la ciudad pero cerca de la ciudad. Si te gusta un poco de tiempo libre su son grandes rutas de senderismo y ciclismo bicicletas se pueden alquilar a nivel local en la ciudad o si lo prefiere un poco de pesca se puede pescar lucio en Lough Derg.
Loved my stay in Nenagh. It is the nicest B&B I have stayed in and the host could not have done any more. The rooms are so comfortable and breakfast was fantastic.
Gemma
2016-09-14T00:00:00Z
Had a 3 night stay here. In a great location takes only 5 mins drive into Nenagh but is just on the outskirts on main road but surpisingly quiet. I had a very stylish and impeccably clean (URL HIDDEN) rest of what I saw of Abbeyview looked just as classy. Great breakfast too.
Chris
2015-09-24T00:00:00Z
The room we stayed in was spacious and welcoming, and the beds were very comfy. She was very generous to let me wash my load of laundry, even though it was late at night. When I got up in the morning I was surprised to find that she had hung it up to dry overnight. We also had some fantastic homemade scones and black currant jam.
Diane
2016-09-13T00:00:00Z
Accueil très chaleureux, Abbeyview est très gentille, elle nous a mis à l'aise de suite.
Marie Ange
2016-08-18T00:00:00Z
Super étape entre Limerick et Dublin qui mérite une halte. J'ai passé un super séjour chez Siobhan qui est une hôte dont l'accueil fut excellent et l'attention portée à mon égard de tout premier plan. La chambre est au calme, propre, bien équipée. Le petit déjeuner est top. La ville de Nenagh situé à quelques minutes en voiture est mignonne. Thanks Siobhan for your welcoming and your hospitality.
Christophe
2016-09-17T00:00:00Z
Most amazing B&B! Wonderful host with a cozy, clean, and welcoming place! Loved everything about it! Breakfast was amazing, we were sad to leave!
Jess
2016-10-24T00:00:00Z
very nice b and b, very clean, informative and enjoyable host, highly recommend.
Scott
2016-09-07T00:00:00Z
Great clean accomodations with a very friendly and helpful host!
Ashley
2016-09-30T00:00:00Z
Tipo de habitación
Habitación privada
---
Tipo de propiedad
Bed & Breakfast
---
Capacidad
2
---
Dormitorios
Nenagh, Tipperary, Irlanda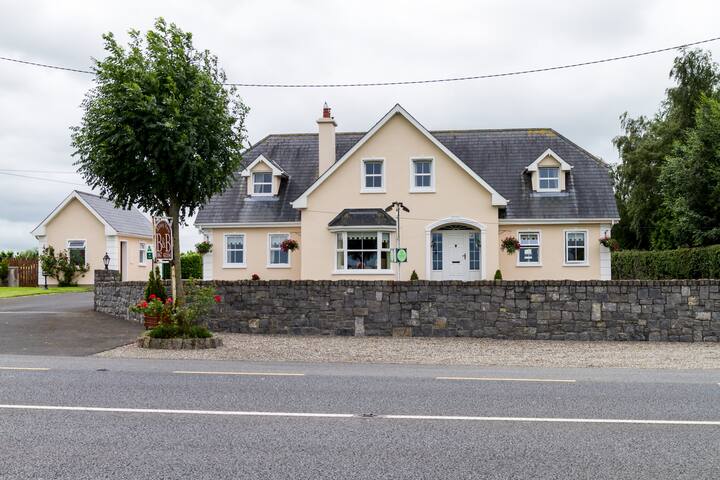 Hill view B&B is located in the heart of Ned of the hill country in Upperchurch, it is a self catering friendly, family run B&B.Nestling in the shadow of knockalough Upperchurch attracts many visitors each year with an array of outdoor activities to appeal to young and old.
Hill view B&B and Pa's bar is located in the heart of Ned of the hill country and nestling in the shadow of Knockalough Upperchurch attracts many visitors every year with an array of activities to appeal to all, both young and not so young.You can enjoy the simple pleasures of walking,hiking,cycling,fishing and indoor rock climbing.After the refreshing outdoors you can sample the famous hospitality Upperchurch has to offer the welcoming village of Upperchurch has three pubs with the renowned Jim o' the mills nearby.The famous Jim o' the mills has been selected as one of the top ten pubs in Ireland in 2015 by barfly.The views are incredible and the walks cater for all levels of fitness at the end make your way back to Pa's bar where a blazing fire will welcome you and make you feel at home this fantastic location in the heart of rural Ireland is home to a relaxed atmosphere where you can come in,take a seat at the bar and relax. If you want to venture further afield there are many attractions for tourists to sample including the rock of Cashel,Holycross abbey Semple Staduim the home of the GAA and local golf courses to name but a few there are many more .
A lovely experience right in the heart of Upperchurch! The rooms were comfortable and clean. The attached pub was a pleasant place to end our day.
Marci
2016-09-17T00:00:00Z
Anne was a Superb host. From the moment we arrived everything was fantastically organised. The house is beautifully furnished with ample space for a large cohort and Anne had the fridge stocked with supplies for a fry fit for an army. Anne and Pat were so welcoming and so helpful, organising taxis to local amenities and we had a fantastic time in Pa's pub ringing in the new year. Upperchurch is a beautiful village and i would highly recommend Anne and Pat as hosts in Hillview
Brid
2017-01-01T00:00:00Z
We loved our stay here! Just take notice that this is NOT LOCATED IN TIPPERARY CITY! Get directions to "Kennedys Pub and B&B".
Shawn
2016-12-28T00:00:00Z
We very much enjoyed our stay at Anne's Hill View B&B in Upperchurch. There are several walking trails which traverse the beautiful farms in the area, and the town is quaint and quiet. We stopped in to Pa's pub for a pint, which was fun. When we told Pa about our recent engagement, he had a bottle of champagne waiting by our room when we returned. That was so thoughtful! The room was very clean and comfortable. There was a full kitchen available and food in the refrigerator so we could help ourselves at our convenience.
Stephany
2016-07-01T00:00:00Z
Anne was very quick to reply when we requested a booking the same day we wanted to stay. She was very friendly when we arrived and gave me the name of someone to contact to help find our families old farm house. She accommodated all our needs and had the fridge stocked with breakfast foods in abundance. The room was clean and comfortable. I would definitely recommend staying with Anne.
Regina
2016-09-23T00:00:00Z
Anne was a wonderful host who warmly greeted us on arrival. Upperchurch is a quaint town with great little pubs. We stayed there to go to Jim O' the Mill on Thursday night which was brilliant. Anne helped sort many things out for us and made for a very memorable stay.
Bronwyn
2016-09-03T00:00:00Z
Lovely accommodation in a beautiful part of the countryside. Great hosts.
Swinford
2017-04-11T00:00:00Z
Great stay at Anne's. Perfect for a comfie stay, privacy and loved the serve yourself breakfast. Upperchurch is ideal location for a break away from it all, hill walking and enjoying fantastic local pubs.
Jeanne
2016-04-23T00:00:00Z
Tipo de habitación
Casa/apto. entero
---
Tipo de propiedad
Bed & Breakfast
---
Capacidad
12
---
Dormitorios
Upperchurch, Tipperary, Irlanda
Jeremy and his wife were really friendly and welcoming. They helped us whenever we had questions and gave good advice. The rooms were clean and tidy and the breakfast was delicious. We really had a great week!
Chris
2015-09-30T00:00:00Z
The host canceled this reservation 8 days before arrival. This is an automated posting.
Marietherese
2016-06-10T00:00:00Z
The host canceled this reservation 3 days before arrival. This is an automated posting.
Ken
2016-06-14T00:00:00Z
Jeremy was very helpful and organized. His home is in a lovely area and the location was perfect for our trip from Dublin to Killaeney. It is a quiet an peaceful area. Jeemy recommended a pub just up the street and the food is excellent.
Greg
2016-07-14T00:00:00Z
We enjoyed our stay with Jeremy.The accomodation wasexcellent and we were delighted to get a delicious breakfast.
Douglas
2016-08-10T00:00:00Z
It's very quiet and nice place. Jeremy was really friendly, hospitable and he knew how to threat visitors well. Room and bathroom were tidy. Beds were comfortable and warm. The breakfast was delicious and Jeremy had shared good trip advices with us. We would like to recommend this place to anyone seeking quiet and peaceful place (keep in mind that we traveled here in January) :-) Peter & Hany
Peter
2015-01-31T00:00:00Z
Nettes Ehepaar dass einem viel Freiheit lässt.
Mandy
2015-07-07T00:00:00Z
Merci jeremy!! La chambre était agréable, joli et votre petit déjeuner: "miam miam
Audrey
2016-08-31T00:00:00Z
Tipo de habitación
Habitación privada
---
Tipo de propiedad
Bed & Breakfast
---
Capacidad
2
---
Dormitorios
Nenagh, Tipperary, Irlanda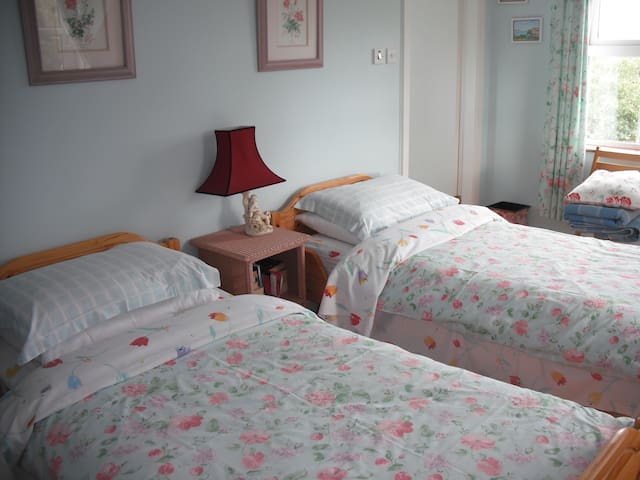 ¿Quieres experimentar una auténtica bienvenida irlandesa? Ven y únete a nosotros con su familia en el bungalow granja B y B, situado en una granja de carne de vacuno, ovino y equino de trabajo. Es un gran lugar para alojarse durante su visita a Kilkenny e Irlanda
Esta es una cama y desayuno, la mayoría de las habitaciones tienen una habitación doble y cama individual en cada habitación (URL HIDDEN) citada no incluye el desayuno, pero está disponible con un cargo adicional de 7 euros por persona. Se trata de una granja de trabajo y se puede obtener cerca de los animales
esto es una granja de trabajo y es muy tranquilo por la noche
Lugar de cuento donde estar. Greta encantadora desde el primer momento...
Rocío
2016-08-19T00:00:00Z
We spend one night at Gretta's who was welcoming. This B&B is well placed to go to Kilkenny and not so far from Dublin, as we can take our plane on time.
Perrine
2016-04-26T00:00:00Z
Our stay was very comfortable and our host was very accommodating. She even made a fresh pot of coffee for us after our long drive to the B&B. The hot breakfasts were a great way to start the day!
Ania
2016-08-03T00:00:00Z
Lovely stay with Gretta. Such a wonderful and helpful host. Just what we needed.
Paul
2016-07-04T00:00:00Z
Very welcoming and warm with a lovely pot of tea, coffee and homemade scones when we arrived late on a rainy Wednesday evening. The fresh fruit and cereal (with more coffee and tea) the next morning was a lovely compliment to the sun that broke out on the surrounding farm and horses.
Tadhg
2016-09-29T00:00:00Z
Average
Patrick
2016-07-24T00:00:00Z
The place was Lovely as we expected. The staff was very kind and we had great views from hour room. The bad points is that we didn't know that the rooms were with 2 beds one double and one single, they should mark this to know that you need to share the room.. The other bad point is that we thought that the breakfast was included and it wasn't so at least leave a note saying that we will need to pay for that ( we thought that it was included because it's a BED AND BREAKFAST)
Sergi
2014-08-05T00:00:00Z
If you are looking to get into the gorgeous countryside of Ireland, this is the place! Stunning green pastures surround this bed and breakfast. Gretta welcomed us with tea and breads and made us feel very welcome. There is a cozy common room that we were able to hang out in during the evening. The beds are heated and in the morning I just didn't want to leave the bed! But was then rewarded with a delicious breakfast!
Stephannie
2016-10-27T00:00:00Z
Tipo de habitación
Casa/apto. entero
---
Tipo de propiedad
Bed & Breakfast
---
Capacidad
10
---
Dormitorios
Clomantagh, Kilkenny, Irlanda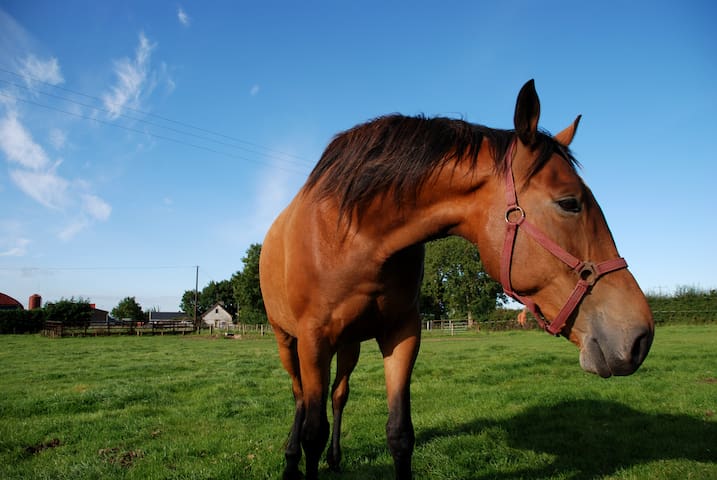 Birr es un encantador pueblo georgiano herencia, con la impresionante atracción de Birr Castle Gardens y Centro Histórico de la Ciencia. Hay algunas cafeterías muy agradables para sentarse y escribir o leer en, relación con los cafés o comidas. Un paseo tranquilo río, de la casa es muy agradable por las noches, o alquilar una bicicleta y recorrer. El pequeño teatro tiene un muy buen programa de temporada - echar un vistazo a la página web de Birr Teatro y Centro de Arte. (Por favor, observe el listado Brendan Casa y nuestro sitio web:. (URL HIDDEN) alguna información más detallada)
Rosalind and her home are both amazing, I felt like a princess. The accommodation is wonderfully bohemian and chic, Rosalind's cooking is exquisite and prepared with thoughtfulness and care. I spent many hours cozy in front of the fire in the drawing room with a cup of tea. The standout features for me were the conversations with Rosalind and how she made me feel truly cared about.
Breeze
2016-05-02T00:00:00Z
it was a little adventure sleeping in the art studio but in every way worth it! Rosalind is a very nice person and gave us good help :) Thank you!
Alicia
2016-06-28T00:00:00Z
Rosalind is a fantastic host. She is a great conversationalist and has many and varied interests. The bedroom was comfortable and airy, and looked exactly the same as in the photo on her Airbnb page. Rosalind's house is truly amazing, it is an old house and has much charm. It was easy to locate her house and it is on a quiet street but near to all that the town has to offer. The breakfast was amazing, I had cereal, many types of fruit including poached plums and beautifully cooked eggs with smoked salmon and trout. It was the most tasty breakfast ever.
DEIRDRE
2016-05-10T00:00:00Z
Unique place to stay. Breakfast fabulous!
Niamh
2016-12-10T00:00:00Z
Rosalind is a very nurturing host from the great communication before we arrived to little touches in the space itself..like candles up the stairs :) The breakfast was a culinary delight !!! We stayed in the art studio , which is an art studio ! with lots of paintings and the like . There is a sweet little cooking stove, good enough to heat up my husbands elaborate porridge. The only thing to be aware of that the beds in the art studio are very narrow and would not suit a larger person:)
Nicola
2016-07-20T00:00:00Z
Everything was great a most unique stay and a charming host.
angela
2016-08-30T00:00:00Z
Rosalind was super accommodating and flexible with our party of two. The art studio has a great atmosphere and the courtyard was lovely. The breakfast spread she prepared was delicious and thoughtful. I would recommend the spot and look forward to returning next year.
Katayoun
2015-08-16T00:00:00Z
Welcoming, great location and an enjoyable stay
Richard A
2016-09-22T00:00:00Z
Tipo de habitación
Habitación privada
---
Tipo de propiedad
Bed & Breakfast
---
Capacidad
2
---
Dormitorios
Birr, Offaly, Irlanda
Overall very happy with the experience with Clare. Clare was very accomodating and flexible with us (we were four). Her heating had unfortunately broken down the day we arrived, but Clare was well prepared with a good heater which made up for it :) The room is very big and friendly, and Clare even provided us with a separate room. The house is nice and quiet, in the countryside with plenty of horses around. Clare was very kind to let us use the kitchen to cook our own food.
Etienne
2015-11-09T00:00:00Z
Tipo de habitación
Habitación privada
---
Tipo de propiedad
Bed & Breakfast
---
Capacidad
6
---
Dormitorios
Borrisoleigh, Tipperary, Irlanda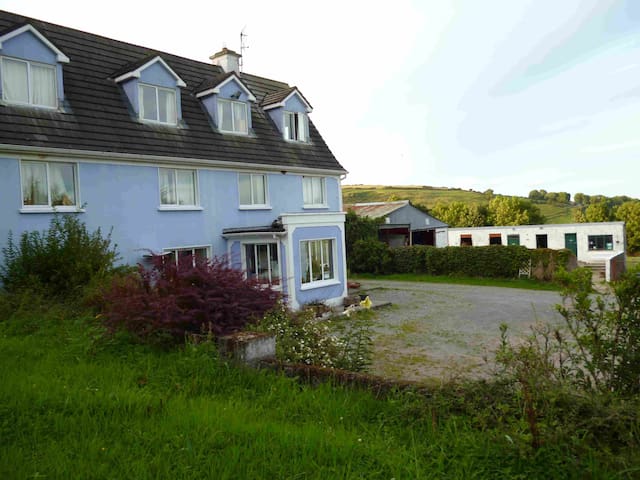 Emmet House ofrece a casa de un alojamiento agradable casa. Estamos ubicados en el centro de la ciudad Birr y un 5 minutos a pie del castillo de Birr. Ofrecemos todos los alimentos cocinados en casa fresca en el desayuno con nuestra carne de nuestro carnicero local, nuestros huevos de nuestra granja.
We had a lovely stay in Birr thanks to Maureen. She was easily contactable to coordinate our arrival- and flexible about the time. We received a warm welcome and got a great tip for dinner. The room was great- clean and comfy. The breakfast was delicious- Maureen makes a mean cup of tea too! I highly recommend Emmet House.
Kristy
2016-07-28T00:00:00Z
Initially difficult to locate, but very nice accommodation Maureen was excellent host.
David Williams
2016-05-25T00:00:00Z
Ideal location in the town. Room and en suite toilet/shower were very clean and perfect for my stay. Bed was very comfortable also.
Barry
2016-12-30T00:00:00Z
This has been the best Air B&B experience I have had! Maureen is a very warm, personable, and thoughtful host. She runs her place well, all with personal charm. Rooms are fantastic, and all is well thought out and planned. If you are in County Offaly, please consider Maureen -- a true super host!
Tim
2016-06-20T00:00:00Z
Great place. Lovely warm welcome and gorgeous breakfast in the morning!
Lauren
2016-10-30T00:00:00Z
Maureen is an excellent host. She has a lovely bed and breakfast, the house is beautiful! She was available to answer questions and very helpful in suggesting a restaurant for dinner. I would highly recommend staying with her if you're in the Birr area!
Theresa
2016-09-29T00:00:00Z
From the moment we arrived Maureen and Shirley couldn't have done more for us to make our mere one night's stay comfortable. We loved Emmet House - great location; our room - spotless and comfortable; our breakfast - cooked to perfection and generous. Thank you both of us for your perfect hospitality. Barbara and Monique
Barbara
2016-05-31T00:00:00Z
We only stayed for one night but we had a lovely stay. The bedroom was warm and cozy and the breakfast in the morning was so yummy. Definitely would stay here again.
Marleen
2015-10-31T00:00:00Z
Tipo de habitación
Casa/apto. entero
---
Tipo de propiedad
Bed & Breakfast
---
Capacidad
12
---
Dormitorios
Birr, Offaly, Irlanda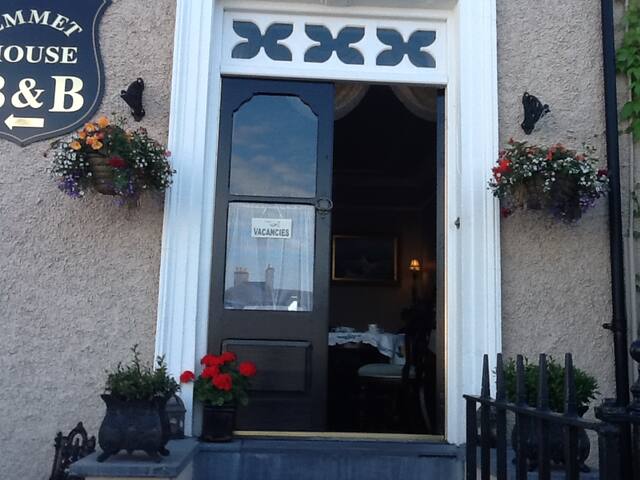 1

–

18

de

37 Bed & Breakfasts
Introduce las fechas para ver el precio total. Ten en cuenta que se aplicarán tarifas adicionales y es posible que se añadan impuestos.