Introduce la fecha de llegada en el formato dd/mm/aaaa
Introduce la fecha de salida en el formato dd/mm/aaaa
Anuncios que no requieren que el anfitrión acepte la solicitud.
Introduce las fechas para ver el precio total. Ten en cuenta que se aplicarán tarifas adicionales y es posible que se añadan impuestos.
En julio y agosto, podrás disfrutar de 100 de los alojamientos con las mejores valoraciones de Sonoma a precios muy diferentes y disfrutar de la cara más auténtica de la ciudad. Relájate y disfruta de tu estancia sabiendo que puedes hacer una reserva inmediata, llegar a cualquier hora y disfrutar del vino de la zona y de otros tentempiés.
A renovated air conditioned stylish loft apartment made in industrial style located in the old town of Bratislava. Overlooking the courtyard with a lovely roof view on the town and Bratislava Castle in background. Just 10 minutes walking distance from Central Bus station. A few minutes walking distance from the most important sightseeing in the heart of the old town. Shopping mall EUROVEA and a Danube river promenade. Paid parking place available in front of the House; comfortable for 4 persons.
This place is amazing, full renovated 120 y. old house, in middle of the town with very silent location, restaurants, shops, bars, monuments, just minutes of walk. Bus station is just behind the corner. Apartment is brand new, finished in august 2016. We have bought it from old painter who use it as atelier because of good light conditions and the location overlooking the courtyard, and renovated it carrefully as we would live here... :O) ...Great position, full eqiuped, with lift, big enough for 4 people, very stylish, very good sleep :O), washing machine with iron, aircondition, great roof view, 25 mbit internet and tv with 80 channels and Btth audio included, full equipped kitchen with Krups coffe maker - capsules included... The whole apartment is at your disposal. You can call me anytime you wish. I will do my best to help you out.
Great position, full eqiupped, big enough for 4 people, very stylish, very good sleep :O), washing machine with an iron, air-conditioned, great roof view, 25 mbit internet and cable tv with 100 channels and Btth audio included, full equipped kitchen with Krups coffe maker - free coffe and capuchino capsules included... Public transport is just 2-5 minutes walking distance any direction. Central Bus station is about 5 minutes away, Central train station no more then 5 minutes by Taxi, Bratislava airport is 10-20 minutes by taxi (taxi cost from 10-35 €, Uber cost 6€). Vienna airport is approx. 60 minutes by Bus (direct connection to Bratislava Central Bus station - 12€). Parking places are just in front of the House (paid parking from 8:00 to 16:00), after those hours its free of charge. It's Old Town Zone, so the price is a bit higher, around 1€ per 1 hour, but still much more better than in Florence :O)
Boris' apartment felt like a home away from home. If I am ever in Bratislava again I would stay here in a heartbeat! He was always quick to reply to our messages and helped us by preparing lots of maps of Bratislava and chatted with us about what to do/where to eat, etc, when we finally met. When we arrived, he was waiting for us outside. The flat is on the top floor but the lift works perfectly. As soon as we walked into the flat we were amazed at how beautiful the place was; a perfect mix of modern and old with the wood pillars and red brick exposed. From the windows you can see Bratislava castle. The flat is in a quiet neighborhood and about a 10 minute walk to old town. There are lots of coffee shops and restaurants on the walk to old town too. Its a loft style apartment which adds to the charm. Boris had also left a bottle of wine for us so we could have a little cheers before going to explore the city. Wine is always a nice touch ;) Overall, Boris' place was the best Airbnb experience we've had so far. The place is comfortable and perfect to relax after a long day of exploring, eating and drinking you way around Bratislava! Well done and thank you again for everything!
Julie-Anne
September 2016
Fabulous. Boris booked a taxi to meet us at the airport and then waited in the rain to meet us with an umbrella. He took time to give us lots of advice on what to see and where to eat as well as a really comprehensive tour of the apartment. This was immaculate and so well designed with all the mod cons you could possibly need, and yet retaining character, really cosy and welcoming. The music station is a nice touch, with our sort of music! To have the Mestianske Pivovary only a 5 minute walk away was ideal - all the food was delicious, but the pork crackling was the best we had ever tasted! We can't praise Boris and his apartment enough, one of the best places we have stayed!
Kate
November 2016
Amazing apartment, lovely layout and in walking distance to the beautiful old town of Bratislava. Boris was very helpful and could recommend some great places to eat and enjoy the city. We would definitely recommend this to fellow travellers.
Aidan
November 2016
Boris welcomed us in front of his apartment and he showed it in details. The rooms are very charming and clean. There are everything we needed for staying. We are 4 members of the family, included 2 boys. We asked Boris where we could visit for boys in Bratislava and he gave us a lots of suggestions. He always responded quickly before/ during our travel. We strongly recommend his apartment.
Naomi
October 2016
thank you!)) and Boris Michaela is very beautiful, well thought-out to the smallest detail Apartment with good location .we were the first guests and everything was totally new, the owners are very friendly and willing to help at any time and for any questions!)) great style and modern subdued trend is highly recommended, we received the pleasure of a stay in this apartment !! very convenient location from the bus station, allows you to travel freely in different directions:! in Prague and Vienna are very convenient and comfortable Bratislava city is not too big and interesting!
Толян
August 2016
In this little appartment Boris & Michaela have made great use of the limited amout of space. Everything you need is there. Boris gave a great personal check-in. He had make a hand-out with tip and the locations and locations of nice restaurants, shops and touristical sites. During our visit additional tips were sent. -Nice clean appartment. -Just big enough for 2 couples -Everything you need (great coffee machine!) -Near to the main bus station (tip: regioJet busses). -Near to the main Bratislava tourist attractions. -Near to bars and restaurants -Great host
Wouter
September 2016
Boris was an amazing host who waited for our late arrival on a Christmas day to give us tips to visit Bratislava and even surprised us with delicious homemade Christmas cookies. Best home we stayed in Airbnb. Five stars!
António
December 2016
Boris was very pleasant upon our arrival and was there to meet us to make the handover smooth.
allan
October 2016
Tipo de habitación
Casa/apto. entero
---
Tipo de propiedad
---
Capacidad
4
---
Dormitorios
1
Bratislava
WATCH VIDEO FROM OUR LOFT AT YOUTUBE: "The Loft 22m2" Enjoy your relaxation time in this newly renovated Loft apartment decorated with industrial character and new wooden furniture , close to the old town centres.
A unique experience for the person who loves industrial design and lofts living. The whole apartment is an exemplary demonstration of how to create a small space living of a young couple so that nothing was missing in the apartment. To less than 30 m2 you will find a living room, fully equipped kitchen with a dining table, a bedroom with a large bed, but also many artfully concocted storage space. What's more - a great idea is a large hammock designed for watching TV. Flat operates not only very modern but also airy and bright, thanks to the wide format windows from floor to ceiling, but also because of the idea, as was the entire living area planted into one compact and well-designed unit. Space is cleverly divided into daily section on the ground floor (kitchen with a dining table, living room and bathroom with toilet) and intimate night area on the top floor (room with a large double bed and a closet, hammock for lounging). The unique character of the apartment individual design details - by the rate generated by furnishing elements, through lighting, to the thoughtfully selected quality appliances. I will be available to help you with anything by phone call, iMessage/text email, What's App, etc.
It is here that created the perfect housing for those who love life in a city near you in music clubs, theaters, galleries, shops, restaurants and cafes ... to all the distractions that make up the urban lifestyle. Here you have the best of amenities right at hand: - Multifunctional spaces directly in an apartment building - beauty salon, restaurant - The house playground and public spaces with greenery - Tram stop 50 m away - Shopping center Slug 3 minutes walk - Shopping centers Polus and Centrals in walking distance - Historic city center a 5-minute direct bus service - Advantage is the excellent transport links with the center Check in / check out times are flexible. Just send me a message when you inquire about the dates.
Super cool modern place. The apartment (and hammock) was so comfortable we barely wanted to leave. The communication and check in was great. The breakfast food left for us was brilliant. If we could give it 6 or 7 stars we would.
James
November 2016
Matt as a Host was amazing , he was waiting at the place on my arrival , he was very friendly ,very sweet and extremely helpfull, he showed me around , the place is amazing , very cozy with great style , very clean , grear location, and with own home cinnema , the bed is so comfy , i can go on and on but i will say i enjoyed every minute of the stay in his place , i strongly recommend :) thank you Matt
Olga
November 2016
Das Loft war einfach großartig. Würde jederzeit wieder kommen
Christoph
December 2016
There is just one word I have for this apartment - AMAZING. The communication with Matt worked well. He waited at the apartment to give us the key and explained us everything (projector, wifi, music,...) There were films that we could watch in this amazing hammock. There was something in the fridge so we had something for breakfest (however the next supermarket ist not very far away). The hole apartment was very tidy. The tram station is also next to the apartment. Had a really great weekend in Bratislava.
Matthias
November 2016
The Loft is just beautifull. Everything you Need, you got. Matt is very helpfull and will do everything he can, to make you feel at home. definitely coming back! greetz Toni
Anton
December 2016
He was awesome he even went out of his way and got us eggs and bread so we could have a nice breakfast at home.
David
November 2016
Tipo de habitación
Casa/apto. entero
---
Tipo de propiedad
---
Capacidad
4
---
Dormitorios
1
Bratislava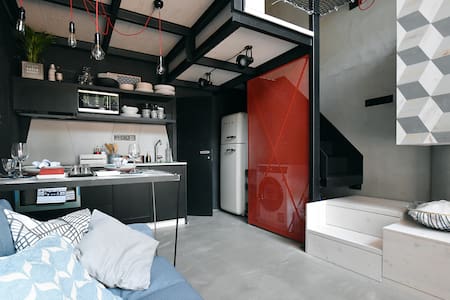 Martin is very courteous and helpful person, the apartment is located in an elegant building close to the center with 24 hour doorman. The apartment is really nice, really nice and comfortable place for, stay reccomending i
Lombardi
September 2016
Alloggio eccellente. Martin e´ stata una persona professionale e tempestiva nella comunicazione, e flessibile nel venire incontro alle nostre esigenze, in aggiunta al suo staff sempre presente e disponibile. L´appartamento e´ al centro di Bratislava e permette tutti i comfort per essere indipendenti, oltre ad acqua, caffe´ ed altri piccoli aiuti offerti a titolo gratuito. Altamente raccomandato. Excellent solution. Martin has demonstrated to be a very professional person, reliable on communication and flexible in meeting halfway to our needs, as well as his staff always available. The apartment is in the downtown of Bratislava and includes all comforts to be independent, plus water, coffe and other little stuff given for free. Totally recommended.
Rocco
November 2016
Everything was perfect, we really enjoyed this place! Martin's assistant was very kind and helpful. We recommend this one!
Anna
November 2016
Martin and his assistant made us feel very welcome on our arrival; they were really friendly and I could tell they really wanted to make our stay as comfortable as they could. We arrived quite early, but were pleased to find that the apartment was already ready for us and checking in early was no problem. The room was presented with the feel of a higher-end hotel suite. The fixtures were of high quality. The beds were very comfortable, and we enjoyed the whirlpool bath very much. The air conditioning was very much appreciated as the outdoor temperatures reached 35 °C at times. The building felt very safe, with a locked gate and front door, a receptionist during the day and a security guard at night, and it's clearly in an appealing part of the city, with many consulates nearby and a convenient trolley-bus stop right in front of the building. Most things were easily within walking distance, including the Bratislava Castle, the historic centre, and a convenience store (Tesco). I would not hesitate to recommend Martin and his apartment, and I look forward to returning in the future.
René
September 2016
Martin was a great host. He did everything to allow us enjoy the city during our trip. His appartment is very well located, calm and lovely. I recommand anyone to choose this one :)
harold
August 2016
Прекрасное расположение, номер чистый, тихий и очень уютный. Чувствуешь себя в полной безопасности. Хозяева очень внимательные и приветливые. В целом очень советую. Очень понравилось! Было бы не плохо, чтобы было побольше посуды. В остальном отдых удался! Спасибо!
Ekaterina
September 2016
very nice apartment. Very welcome. Martin is more accommodating. We recommend this apartment if you stay in Bratislava
Matilde
August 2016
Gute Unterkunft mit ein paar Schritten in der Altstadt. Unterkunft ist sehr gut eingerichtet
Manuel
October 2016
Tipo de habitación
Casa/apto. entero
---
Tipo de propiedad
---
Capacidad
2
---
Dormitorios
1
Bratislava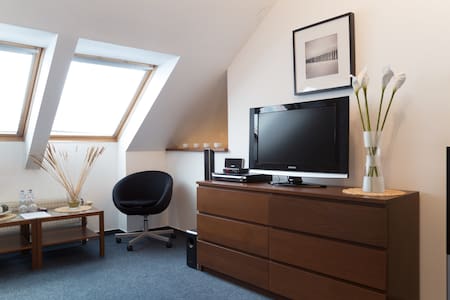 If you want to have the most of your stay in Bratislava u are at the right place :) I want to make sure you will enjoy your stay and your arrival to my place will be easy for you. You will love this Studio; the bed upstairs and the cozy atmosphere. Renovated; Entrance from the garden; Very good accessibility to the city center. Free parking in the garage. Take the chance to spend the best moments in Bratislava and book my place now! Looking forward to your visit :)
Your new place will be a Studio on the ground floor (what i love about it- basically no neighbors). You will enter your new home through the little garden :) Now I will take you inside of this cozy Studio to give you the idea of its unique style- There are stairs just near the entrance door which will lead you upstairs to the open space "balcony" where your bed is located. (double bed -for two:) There is also little night table and JBL speakers for you to use if you like to listen to the music or connect your computer to watch a movie with the best sound:)... I love Asian decoration, so I collected some statues and covers on my trip around Asia and placed it in this Studio. You can feel relaxed and peaceful. Lets come downstairs- There is bathroom with the toilet, shower, sink and washing machine. Fully equipped kitchen, table and Wardrobe. Help yourself and use the tea and coffee you find in the kitchen cabinet. The Studio is separately build near to a big family house. There are 3 families living in that big family house. You will be able to use the garden with a little bench. Write me the time you will arrive and where in Bratislava and I will write you exact direction how you come to the Studio. (please read more about it in LOCATION, once your booking is confirmed)
There are many shopping opportunities around your new home. Grocery stores- 5 min walking and shopping mall- 10 min (with the swimming pool, fitness center and everything what you can find in a big shopping mall) There are different coffee houses, bars and restaurants in this neighborhood. There is a Slovak ice-hockey stadium, National tennis center, nice lake with a running track if you enjoy running or bird watching, and typical marketplace ( I use to buy there fresh vegetables and fruits from the farmers). This is very popular area for living in the city of Bratislava. It is a great location with a lot of possibilities for public transport. It takes 10 min by bus to the city center. Buss leaves just from in front of the house. If you are by car you can use free parking possibility around the house or if you let me know you can park in garage just 2 min walking from the house. accessibility: if you go by bus: 10 min to the city center 10 min to the airport 10 min to the main bus station 10 min to the main train station 15 min forest if you like to walk: 5 min Slovak ice-hockey stadium, National tennis center, marketplace and running track, shopping mall, grocery store 25 min to the city center (i always use to walk to the city. I connect it with my health routine and it is just the distance you tell yourself you did something for your body and in the same time enjoyed it :) EQUIPMENT YOU CAN USE: double bed / bed for TWO people bedding will be ready for you and fresh speakers teapot kettle cooker fridge all dishes, pots, glass, wine+beer opener etc coffee and many kinds of tea hangers shower 2 sink towels toilet toilet paper hair dryer soap Also feel free to use anything you will find in kitchen (tee, spices etc...)...and please, feel like at home! :) map of the city- with a little handmade manual of the important spots for your pleasant orientation. if you don't find something you would like to use in this list just ask me if I can provide it...Maybe I just forgot to list it:)
Desde el primer momento Lucia estuvo pendiente de que llegasemos bien, nos dio indicaciones muy claras y precisas que se agradecen cuando no conoces una ciudad. Una vez llegamos a la casa teníamos preparada muchísima información sobre la ciudad, donde ir, que comer.... todo muy util.
isabel
May 2016
Thanks Lucia! We had a great time in Bratislava :) the studio was perfect, really cozy and everything we needed was provided. The area was nice with easy access to transport to the city centre. And great information about travelling around Bratislava :)
Emma
June 2016
Люсия оказалась очень гостеприимной хозяйкой. Она составила для нас такие подробные, чудесные инструкции. Они пригодились и в квартире и в самой Братиславе.Была карта города с уточнениями, что можно посмотреть, где в городе перекусить. Заселение прошло легко и гладко. В студии было чисто и уютно.Кухня полностью оборудована.Кровать сказочно удобная. Красивые полотенца. Достаточно посуды.Есть место для парковки. От студии минут за 20 можно дойти до старого города (исторической части Братиславы, где расположена огромная и очень приятная для прогулок пешеходная зона с лучшими магазинами и ресторанчиками).У студии Люсии есть небольшой уютный дворик.Собственный отдельный вход. Для двух путешественников прекрасно. Спасибо АЙРБНБ за знакомство с этим местом, а хозяйке за то, что всё было сделано во имя нашего удобства. С радостью вернулись бы ещё. Остались самые добрые впечатления. Желаем новых встреч!
Viktor
October 2016
Lucia's flat was perfect for our stay of 1 night in Bratislava. It was very clean, and she left a lot of information about the neighborhood and the city such as nice restaurants, touristic points, etc. Thank you for everything Lucía and totally recomended.
Gisel
September 2016
Výborná komunikácia, očarujúca atmosféra štúdia, pohodlná lokalita, odporúčam.
Tomáš
November 2016
Very nice property. Good communication with host. Provided information on public transport and the local area. Only minor let down was the strength of the wifi and the temperature within the property, it was very hot at night even with a fan.
Craig
July 2016
We stayed for just one night here but found the studio very comfortable with all the amenities we could need. Only a short 5 minute bus journey to the historic centre, and only 7 minutes from the main bus stop (the bus stops on the street just outside the house). Ideal place for a short break exploring Bratislava, would recommend!
Lara
August 2016
Cozy place and very clean! We had great time! Lucia also is a very good person and provides you with tips for the city and very good communication. I recommend this place.
Elias
December 2016
Tipo de habitación
Casa/apto. entero
---
Tipo de propiedad
---
Capacidad
2
---
Dormitorios
0
Bratislava
120m² Luxus Loft mit Garten und Pool Benutzung in Podersdorf, fünf Gehminuten vom Neuseidler See entfernt.
Anna was a great host, she and her family we very welcoming. We stayed at the loft for 5 days and had a really great time. The garden and the pool are perfect for relaxing after a day of surfing at the lake. I can highly recommend staying with Anna!
Christoph
August 2016
Anna und ihr Mann haben uns sehr herzlich empfangen und die ganze Woche mit Tipps versorgt. Sogar den Kräutergarten und die Feigenbäume durften wir plündern ;-) Das Loft und insgesamt das ganze Grundstück sind toll designed, sehr stylisch und mega-durchdacht. Der Pool ist super. Das Grundstück liegt nur 5 Minuten fußläufig vom See entfernt. Alles tipptopp. Klare Empfehlung.
Verena
September 2016
Ania und Roman sind die besten Gastgeber die es gibt! Wir hatten ein ganz tolles Wochenende voller Überraschungen :) und auch das Loft, der Pool und der Garten lassen keine Wünsche übrig. Ich freue mich wenn wir euch wiedersehen! Danke nochmal für alles!
Linda
May 2016
Wir hatten ein wunderschönes Wochenende an dem einfach alles gestimmt hat ! Anja ist eine zuvorkommende Gastgeberin die keine Wünsche offen lässt. Das Loft ist großzügig , die Betten bequem und die Küche bestens ausgestattet . Der Garten inkl. Swimmingpool einfach großartig. Wir kommen bestimmt wieder!!!
Veronika
October 2016
Anna was a truly wonderful host - she prepared everything for me and was ready to help or provide me with anything I need during all my stay. Except of that - the place is really amazing! I couldn't imagine being closer to Neusiedler See and having such a high standard of living! The loft is beautiful and fully equipped, the wi-fi connection is really good. The loft is located in a separate building so you can feel the privacy. I totally recommend it!
Mała
April 2016
Tipo de habitación
Casa/apto. entero
---
Tipo de propiedad
---
Capacidad
4
---
Dormitorios
1
Podersdorf am See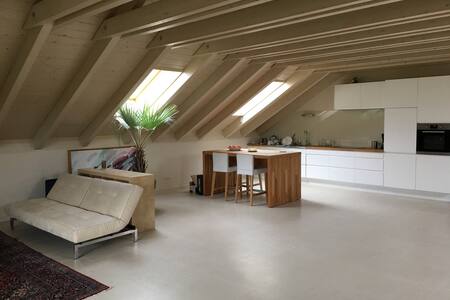 Mé ubytování je skvělé pro páry, sóloví cestovatelé a domácí mazlíčci (zvířata).
The apartment has excellent location in the old town in a very close distance to Bratislava Castle. All main sightseeings are in short walking distance. Cafés, pubs, restaurants and parks are just at doorstep. Lovely area of the courtyard ensures the quiet stay within the centre. Of a great advantage are two spacious living rooms -one private in attick next to the room with huge terrace and marvelous view on old town, the second one on the other floor with balcony and the same unforgotable view. Both avaliable for you anytime:-) ..Nothing is more beautiful than morning coffee and breakfast or lunch on terrace with this view :) You'll completely relax, and fell in love with this place. My place is good for couples, solo adventurers, business travelers. Our unique appartment consist of two separate floors. The room for you is on the second floor, offering large comfortable double bed, cabinet with coat hangers, small table with chair and wardrobe. Clean showers on the bed. There is a large private living room on the same floor for you as well!!! :-) - with sofa, two large tables (one for work, one for eating:-), book case, second toilette and a terrace you can see in a pictures below :-) Our place is special for its unique atmosphere and breathtaking view. On the first floor there is a large second livingroom with aircondition, 3 rooms, fully equipped kitchen at your disposal, shared bathroom with large corner bath-tub and shower cabinet, washing machine. Second toilette. There is a garden at the front of the house. We are three working artists living here, absolvents of Academy of fine arts in Bratislava. Our living here is very peaceful, we do not have parties inside the appartment, so expect the same from the guests - to be respectful and quite after 10pm, inside the house, the same on the terrace. You can park your car in the street in free of charge. You need to pass about 70 stairs to get to our place, but its fully companzated by its view ,-) There will always be someone in the house you can talk to, who could ansver your questions, and give good advices. Or at least - if i ll be travelling at this time, I will be in touch online.
There are two trolleibus stops: Partizánska (bus n.203, 207) and Kozia (208) just 100m from the house. Large bus stop - 200m from the house called Zochova (bus n.31, 39,80,83,84,94,147) You can park your car for free chagre in our street. If you are comming from mains train station - you can take bus n 93. If you are comming from main bus station Nivy - you can take bus n.208 (Kozia), 207(Partizanska) We do not smoke inside the house, but you can use our terrace or balcony. We also don't wear our shoes in the apartment. You can enjoy the rest of the apartment, make yourself at home, you can use the cooking pans, dishes, the fridge, two living rooms and of course the bathroom. As we are respectful to the hosts, please be respectfull to us and our rules. Enjoy your stay ! :-))) See you soon!
Tipo de habitación
Habitación privada
---
Tipo de propiedad
---
Capacidad
2
---
Dormitorios
1
Bratislava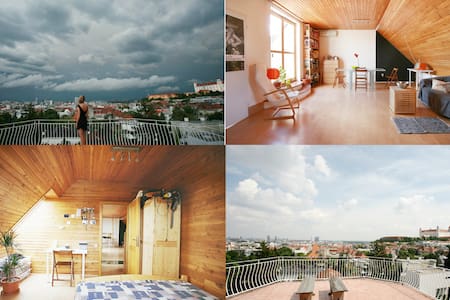 Meine Unterkunft ist in der Nähe von 1010 Wien, Stephansplatz, Schloss Belvedere, Prater, Donaukanal, Ungargasse 66, Authentisch Indisches Restaurant Demi Tass, Rennweg Bahnhst (Ungargasse). Du wirst meine Unterkunft lieben wegen Licht, komfortables Bett, Küche, Gemütlichkeit und Nachbarschaft. Meine Unterkunft ist gut für paare, alleinreisende abenteurer, geschäftsreisende, familien (mit kindern), große gruppen und pelzige freunde (haustiere).
Tipo de habitación
Casa/apto. entero
---
Tipo de propiedad
---
Capacidad
4
---
Dormitorios
1
Landstraße, Viena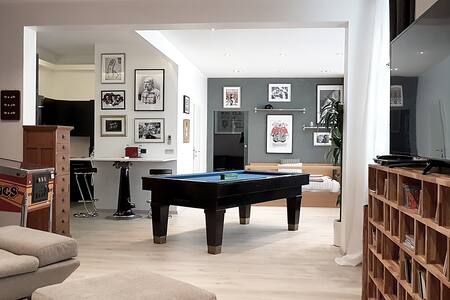 very quiet, bright attic loftflat with south view and balcony in a beautiful, cosy building with an extraordinary court and lovely neighbors. elevator, full equipped kitchen, woodstove, hi-fi system, laundry machine, wlan, spacy wardrobe for 2, a double bed in an extra sleepingroom and a comfortable couch in the livingroom (f.ex. as singlebed f. 3rd guest). the court sided sleepingroom, as well as the bathtub have windows above, where in clear nights you can look at the stars.
the flat is very bright and cozy. perfect for a holiday for a couple. I renovated the apartment myself in autumn 2014 so everything is new. The hole apartment is accessible for you during your stay. I am traveling a lot with my job so I either am in contact with you via internet or my friendly neighbors will be available for everything you need.
The third district is a residential area with nice gardens (Stadtpark, Arenbergpark, Belvedere and botanical) garden close by. You can get easily to the city centre by foot too. You can get walking to the U3 ROCHUSGASSE in 10 min. The closest station though is Rennweg you´ll get there by S-Bahn Bus 77A or tram 71 or 0. Landstraße Wien Mitte is quite close too.
Das Apartment von Serafin war super gemütlich und geschmackvoll eingerichtet. Es war alles da was wir gebraucht haben und die Kommunikation mit Serafin verlief wunderbar. Gerne kommen wir wieder wenn wir mal wieder in Wien sind. Ganz vielen Dank! -Bettina und Nicole
Sibille
October 2015
Superbe appartement au dernier étage donnant sur un parc, très calme. Très propre et pratique et très lumineux. Nous avons profité de la terrasse pour un apéritif au soleil. Des recommandations sur les commerces, transports et restaurants bien pratiques. Nous avons eu la chance de rencontrer Pulla le chat de l'immeuble qui est juste adorable! Nous recommandons sans hésitation ce logement avec un excellent rapport qualité/prix et pour la disponibilité et la gentillesse de Serafin .
Nicolas
May 2016
Although Serafin was away we were warmly welcomed. Communication was easy. The appartment is a fabulous space lots of room great cooking facilities, very bright and clean. Serafins suggestions of local resturants proved delicious. The location was close to transfort to and from the airport and within walking to many of vienna's attractions. A quiet area it was lovely to wake to the birds singing. Definitely reCommend.
Jen
September 2016
Gute Lage und Topwohnung. Auch die Kommunikation mit Serafin verlief super. Gerne wieder.
Barbera
May 2016
Really nice flat and location, high ceilings and balcony were really enjoyable especially during the summer
Gaspard
September 2016
Amazing apartment centrally located in vienna, the host was very helpful.
Peter
September 2016
A lovely home, we were greeted by Serafin's friend, she was ever so lovely and welcoming! The apartment is very clean, spacious, beautifully bright and we were greeted by the wonderful smell of fresh herbs growing in the bathroom. The neighbourhood is fairly quiet, bars, shops and cafes are withinn walking distance. It's a lovely 25ish minute walk to the centre of Vienna - or a very short walk to the nearest train station! Very easy to get to from the airport too.
Georgina
May 2016
The appartment just look like the pictures. It is bright new, spacious, quiet and full of light. It is well located in Vienna, near the Belvedere castle. Few nice restaurant around. We didn't meet with Serafin altough his sister was there to give us the keys and responding by sms to questions. You will find all necessary tools to live a full week (washingmachine, dishwasher, fridge, boiler, oven, etc...). A nice place to stop by...
cedric
September 2015
Tipo de habitación
Casa/apto. entero
---
Tipo de propiedad
---
Capacidad
3
---
Dormitorios
1
Landstraße, Viena
It was a workshop. With big windows and the entrance from the street. Now it is all-in-one hotel room in hostel price! Great value for your money.
Please see all of the pictures. It was a workshop on a ground floor. With its big windows and the entrance from the street. Now you get a compact hotel apartment on your own with all-in-one for hostel price! The space is small but very well organized. There is a cute kitchenette as part of the living room, separate bedroom and a bathroom with one toilet, sink, shower and washer here. The entrance to the place is from the street side. No smoking in the loft. Though there is a small niche outside where smoking for the guests is allowed. The place got new interior inside the workshop and is completely reorganized and refurbished. Bedroom with regular bed and thick mattress is located behind the wall next to the bathroom. There is one toilet in the bathroom and huge mirror behind it, so the image (no... no 2 toilets ;) . The shower entrance is to the left, in front of the toilet. Sink located on the top of the washing machine. The place is quick metro ride to the very city centre (5 min) or you can walk. It takes about 30 min. Sorry, there is no WiFi in the flat however one hot spot in the area plus the city centre is free WiFi zone. Loft is located near Kardinal-Nagl-Platz U3 Metro station and Rabenhof theatre. Walking distance to Ring and City Centre for the active tourists.
Sorry, there is no internet.
Debido al retraso de nuestro vuelo llegamos a casa de Katherina más tarde de lo previsto, pero no nos puso ningún problema. Es un apartamento limpio y acogedor y, a pesar de estar a pie de calle, no se oye nada de ruido. La zona es muy tranquila, cercana a una parada de metro y a una plaza donde se puede encontrar wifi. Nosotras lo recomendamos sin dudar.
Carmen
July 2016
El apartamento es muy moderno,agradable, nuevo y cómodo. Katharina nos dejó todo tipo de detalles para que nos sintiéramos cómodos y así fue. Llega la linea 3 de metro que se corresponde con la línea 1 por lo que está bastante bien situado. La zona es muy segura y tranquila. La cama es muy cómoda. Pasamos tres días estupendos. Katharina fue muy simpática y amable. Muy recomendable!!!!!
Susana
August 2016
El apartamento está muy cerca del metro y éste a dos paradas del mismo centro de Viena. Katharina nos recibió allí y nos explicó el funcionamiento de todo. Es ENCANTADORA y muy amable. El apartamento es extremadamente cuqui, acogedor e impecable. Cómodo y muy bien decorado. Nos encontramos allí como en casa y, desde luego, si vuelvo a Viena (que volveré), repetiré alojamiento sin siquiera mirar otro. Hay un HotSpot de wifi gratuito y supermercados a un paso. La zona es residencial y segura (se ven sobre todo familias con niños).
Maria
July 2016
Jolie petit studio, dans un quartier tranquille et proche du centre ville. Facilement accessible en transport publique (bus, train, métro). Katharina est très accueillante et prend le temps de discuter avec nous à notre arrivée et nous donne des conseils pour notre séjour. Mise à disposition de serviette de bain, gel douche et machine à laver. Nous recommandons vivement ce logement.
Emmanuel
October 2015
Absolutely perfect stay! Kate was wonderful. She gave us expect local advice, and even provided a map to help with orientation. Apartment is cosy, but we were very comfortable and had no issues cooking our own meals. I would definitely recommend staying here. Great location and easy to get to international bus stop and the international airport. No wifi, but kate gave us a pamphlet detailing nearby hot spots, and was nice to be off the grid so to speak. Would stay here again for sure
Carlie
October 2015
Katharina is very helpful and friendly host! She met us kindly and explained all the stuff in the apt and places nearby! The flat is tiny but very cozy and good equipped! It was very pleasant to stay there. Location is good,apt is rather close to the city center, you can reach the center by tram or bus, and even by walk. There are supermarkets and shops nearby. I think its the best place for short trip to Vienna!
Kirill
October 2016
Great host, fantastic flat ! Super clean, well equipped, very good location... I recommend it !
Mahaut
May 2016
thanks to the hospitality of Katharina and her wonderful little apartment, the spirit of Vienna did not leave us for a minute! excellent location, near apartment are parking (erdberg for example), but at the same time, very easy access to the center. We went everywhere on foot, but if you are busy, about 4-5 minutes from the house is the subway. The apartment is very clean, comfortable, has everything you need for living) is particularly pleased with the dishes, try to find the same in our country), we were delighted, I recommend!)
Elena
September 2015
Tipo de habitación
Casa/apto. entero
---
Tipo de propiedad
---
Capacidad
2
---
Dormitorios
1
Landstraße, Viena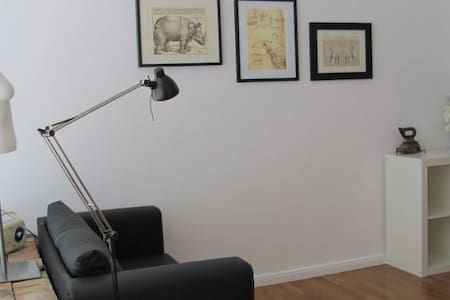 Spacious, modern and very bright thanks to all the skylights. Very well located but also quiet and private. The shower is great. We really enjoyed the place. Two big beds and a couch make it best for 5 or fewer. 6 might get a little snug. I'd definitely recommend the apartment and would stay again.
Philip
June 2016
Le loft incroyable très bien décoré, spacieux et pratique : un must ! Au coeur de Vienne, vous n'êtes qu'à 10 minutes à pieds du Prater. A deux pas, vous trouverez une superette (Billa) pour vos petites courses. Essayez également les pizzas du restaurant Italien qui fait face à l'immeuble. Merci Olivia et à bientôt,
Laurent
August 2016
The location is great, Olivia was responsive to our requests, and we had a very good time. Bring eyeshades if you are light sensitive; there is no way to shade the light that comes streaming in from the skylights at the crack of dawn. This is an unusual and quirky accomodation, good for people who get along well and don't require privacy.
Elaine
July 2016
Danke an Olivia, wir waren mit unseren 3 Kindern ( 2x4 Jahre und 1x6 Jahre) in dem Loft. War gemütlich, fein geheitzt, viel Platz zum spielen für die Kinder und große Betten. Alles in allem ein feiner Aufenthalt.
Patrick
October 2016
Great place with everything you'd need. Great area wth supermarket and chemist etc super close
Rowan
July 2016
excellent séjour dans un loft très spacieux, bien chauffé, bien équipé. Sa situation à l'intérieur d'un pâté de maison le rend très calme, et peu bruyant. seul petit inconvénient (provisoire) : une partie de l'immeuble est en travaux, et rend la traversée de la cour un peu inconfortable. Localisation très agréable : 10 minutes à pieds pour rejoindre le métro U4 Langstrasse, sinon , tram 1 à 50 mètres avec jonction avec le métro à Scwedengasse. Très facile et rapide!
Marie-Cécile
December 2016
Everything was perfect. Olivia was really friendly even if we were really late on checkin. I recommand
Grégory
December 2016
Spacious apartment with super location for our purposes. Nice and flexible hosts.
Hild
June 2016
Tipo de habitación
Casa/apto. entero
---
Tipo de propiedad
---
Capacidad
6
---
Dormitorios
2
Landstraße, Viena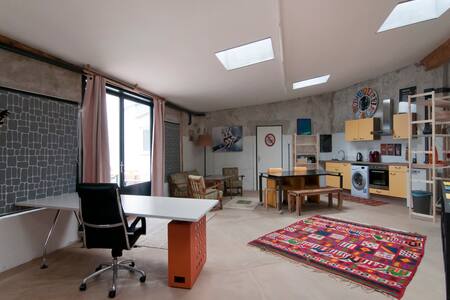 I am renting a cosy and bright/sunny Private room in a rooftop apartment/loft. It is located in a newly build residential area, very clean, and by a lake with surrounding parks. My place is close to public transport and outdoor activities - great for joggers and swimmers. :-) My place is good for solo travelers, business travelers, and furry friends (pets). The Metro-line U2 goes directly to the Center, stops at University of Vienna, and WU - University of Economics. Great for longterm.
Rooftop apartment with 22m2 terrace, horizon views, sunrise view, windows to east and south, All shared spaces; wifi I will be around in Vienna; but not always; this is my workspace/drawing studio apartment.
A brand new residential area at the east-end of Vienna, yet close to the city center with a direct Metro line; a lake, a lake park and lots of green areas give a summer/vacation feeling, great fresh air Metroline U2 passes Prater - University of Economics, University of Vienna, Museumsquarter (MQ) and stops at Karlsplatz. Public transport, including Buses are open all night long during the weekend and on holidays.
Natascha was extremely helpful and friendly. One of the most genuinly kind people I have met on my trips. The location was awesome, with a short walk to the U2 line. The room was very comfortable and the appartment was very quiet. I would not hesitate to book again.
Trevor
July 2016
Tipo de habitación
Habitación privada
---
Tipo de propiedad
---
Capacidad
1
---
Dormitorios
1
Donaustadt, Viena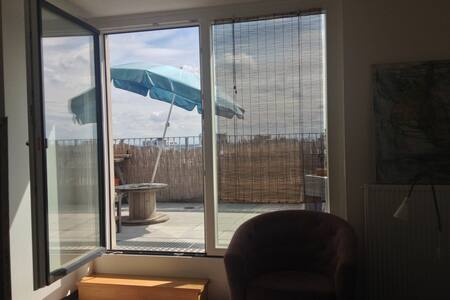 Quiet and colourful 2 bedroom loft in the authentic and non touristy district 'Favoriten' in Vienna. 15 min to city center. 35 min to ✈. I can host up to 6 people. Real apartment with everything you need. FREE PARKING in the neighboorhood.
Hallo! I'm renting my place to people who are searching for a private apartment which is affordable yet also has a good atmosphere to spend some time with friends and family. The flat is situated in the 10th district of Vienna, Favoriten, and is 15 min away from the city center (STEPHANSPLATZ). The apartment: ---------------------- There are two bedrooms with windows heading towards the court yard so it's very quiet and peaceful – you hear no neighbours or traffic noise at all. There is the masterbed room with a double bed (and an extra futon for person nr 6). The guest room is furnished with a double bed and an extra single bed. There is also room for one more futon for person nr 7. Person 8 can lay out the futon in the spacious living room. You can arrange the futons as you please (eg the three futons in the living room) – just let me know and I will prepare it for you. The kitchen-cum-living room with access to balkony offers a pretty and comfortable living room suite. The kitchen is fully equipped: washing machine, dish washer, dryer, induction stove, fridge, freezer, moka pot, coffee machine, coffee grinder, water cooker, pots and pans, dishes, ect … FOR KIDS AND BABIES: there is a TrippTrapp high chair for babies and small children. THE LOCATION: ------------------ The flat is located in a safe and friendly neighborhood. To go to CITY CENTER it takes about 15 min (2 stations with tram 6 , 5 steps with metro U1). To go to AIRPORT Schwechat it takes about 35 min. And to train station WIEN WESTBAHNHOF 25 min (just take the tram 6). To WIEN HAUPTBAHNHOF 15 min. THE NEIGHBORHOOD: -------------------------- Right next to the apartment is a supermarket (BILLA) which has open from mo-fr until 7:30 pm and on sa until 6 pm. It's not a discounter, but they also have super cheap food from their own label called 'clever'. So you have a good mixture of quality and cheap. There are also some very nice turkish grocery stores in the neighborhood which also have open longer than the ordinary super markets. Also very close by are two other supermarkets (another billa and a Zielpunkt) two bakerys (Felber and Anker), a drug store (BIPA), a pharmacy and a tobacconist's, a post office, a bank and a second hand store. There is one pretty pretty good kebap place on Quellenstraße: 'Diord@mo' (try the lamb kebap for 2 € - i think it's one of the best kepabs in vienna). There are also some nice 'Beisl' (viennese Restaurants) close by where you can meet a lot of viennese old hands and listen to the nice complaining quality of the viennese dialect. These places are also great for a drink or two (cheap drinking!) in the evening before diving into the nightlife of vienna. Try the viennese vines or the lighter versions 'Spritzer' - which is basically vine with sparkling water. It's ideal for the summer. 3 min by foot is the cultural center 'Anker Brotfabrik' with the museums 'OstLicht' (for photography) and 'Hilger BROTKunsthalle' (for contemporary arts) and a lot of galleries (most of them are free). The complex used to be a very charming brickstone bread factory. Now one half of the complex is still making bread (oh my gosh, the smell of doughnuts in the morning) and the other half is devoted to the arts. Realy lovely place. And from time to time there are really good parties or performances in the old factory. A very special place is just 15 min away by foot. It is called the 'Böhmischer Prater' (which means bohemian Prater). It's a super charming amusement park from the 1950s. It's the little sister so to say from the famous Prater. But so much cooler. You can eat very well there - Viennese food at it's best (and it's quite affordable). Hardly no one knows this place (also a lot of my friends did't know it) - but for me it's one of the nicest places in Vienna. It's super authentic (in it's best meaning) and a paradise for all photographers. From time to time there are special events also there: from medieval feast to oktoberfest to music festival. trashy but so charming. Amusementpark is open from march to november. But also in winter you can make a lovely walk through it and take pictures of the lonely rollercoster, teapot caroussel and the sweat tram. Only 2 tram stations away (or 10 min by foot) begins the very lively shopping street 'Favoritenstraße'. Next to the U1 metro station is one of viennas most exciting farmers markets (and definitly the one with the best prices). The farmers market is on 'Leibnitzgasse' but you will hear it immediately once you are close. You can hear the famous market criers from 3 blocks away. It has open from mo-fr from 5-12 am. Most of the food is from local farmers and it's super quality and a super price. I alway shop there for me and my flatmates. PARKING: ------------------- Parking is free in the neighborhood - it's one of the last inner districts that has no parking fees. FREE PARKING possibilities all around the flat (but NO reserved spot - you will have to searc...
The appartment is accessible for people with impairments (elevator in the court yard). FREE PARKING possibilities all around the flat, no parking fee! (but NO reserved spot - you will have to search for a spot). Safe neighborhood! Fast Wifi Internet included. Non smokers flat, but you can smoke on the balcony. On Friday and Saturday the Metro goes all night.
My friends and I had an amazing time at Mave's apartment in Vienna! She was so helpful by providing maps and information on things to do during our stay. The apartment is eclectic and beautifully decorated, and was a nice cozy space to come home to after touring Vienna. We really loved our time here. Mave even allows you to use kitchen basics, including coffee! :-) If you and friends are traveling to Vienna I would recommend staying here!!
Allie
March 2015
We stayed in Vienna for 3 nights, the apartment is very well decorated and has every little detail you could imagine. The rooms are big and so is the bathroom. Mave is a thoughtful host and it was really easy to arrange everything with her. The only thing you should have in mind is that the place is away from downtown Vienna. Anyway the neighborhood is safe and we didn't have any problems whatsoever.
Alvaro
July 2012
Mave's apartment was great. We were a group of 5 people staying there for 3 nights. The apartment was well-located, very comfortable, clean and well-decorated. We really enjoyed our stay there and suggest you to experience there if you are traveling to Vienna.
Sarah
June 2012
We stayed in the Mave's appartment for a short period of time, but we defenetly like staying there. It was very nice that you could feed the neighbours cats, play piano and guitar, even ride a skateboard! Very comfortable and clean, i would recommend this flat to everyone.
Alexey
June 2012
Very cosy and homey apartment. I had good sleep there :). Good location: 15 mins to City center, 45 mins to Airport by public transportation. The apartment has all the utensils for shorter and longer stay. Mave was responding promptly. A very good value for money. I definitely recommend!
Asso
March 2015
That was a great time in Vienna with this beautiful apartment. You can definitely stay at this apartment with thousands of great furnitures and figures:) thanks for everything.
Barış
July 2015
Mave's place is clean, spacious and very funky. It's not located in the heart of the tourist areas but it's very easy to get there with public transport. We liked staying in a chill neighborhood. She has a lock box up front which makes check in and check out a breeze. She was a great host and we would stay here again!
Dina
September 2012
L'appartement de Mave est parfait, propre, équipé de tout et est conforme aux photos. Il est très bien situé, dans un quartier calme, proche des commerces. Malheureusement, nous n'avons pas pu rencontrer Mave mais à travers nos échanges, nous pouvons juger que c'est une personne très gentille qui nous a toujours répondu très rapidement. Nous avons passé un excellent séjour. Je recommande vivement.
Asma
October 2012
Tipo de habitación
Casa/apto. entero
---
Tipo de propiedad
---
Capacidad
6
---
Dormitorios
2
Favoriten, Viena
Loft penthouse, prime location in great condition with lots of natural light, top floor, living space with large open, great view, 10 min by foot to center, private use or creative business welcome, suitable for single/couple or team.
Apartment with lots of natural light, 2 sides of windows east -- west, Top floor, great view, bright living space with large open. 10 min by foot to center, Less traffic, quiet. Parking place available. Embassy district Prime location in great condition, fully renovated 08, new thermopane windows, therm and kitchen. Gas heat, hardwood floors, fully wired for internet, cable tv, ready-furnished. Art Nouveau building with new elevator open. Located near public transportation.
Embassy district, University of Music and Performing Arts Located near public transportation and airport CAT train usable for yoga, dance classes / workshops too
Tipo de habitación
Casa/apto. entero
---
Tipo de propiedad
---
Capacidad
2
---
Dormitorios
1
Landstraße, Viena