5-10 minute walk to the beach, Korean Friendship Bell, Point Fermin Lighthouse, and also the Cabrillo Marine Aquarium! My place is close to Ports'O Call, Palos Verdes Estates. You'll love my place because of the neighborhood, the view, proximity to some touristic places. My place is good for couples, solo adventurers, and business travelers.
You'll be away from traffic but close to the city and close to the ocean! The bed is Queen Size and could host comfortably 2 people. Has a restroom entrance inside - you can directly access from the room. I provided the bedroom with a mini fridge so you could keep some stuff there. The place is 70s style. So you will have carpet (hence the "no shoes" rule) and 70s style window. Just so you know this is a Beach area, so it does get cold at night, with the marine layer. I will provide additional blankets if you need them, and will turn on the heater, but come prepared with that in mind - and warm pajamas always help.
Lots to do around here! Free Marine Aquarium, few musuems around, USS Iowa, Great Bike trails around, wind surfing is pretty big around here.
Very comfortable room with private bath; quiet; a nice view of the LA Harbor; the Host -- Gia -- was most welcoming and a delight to talk to. The Cabrillo Beach area is just a few blocks away by car. Definitely recommend this BnB.
Catherine
2017-03-19T00:00:00Z
Gia and Ave were very friendly and helpful hosts. They were great to get to know over our stay here!
Chandler
2017-03-14T00:00:00Z
Gia and Abe are both very friendly and warm hosts. Their home is very clean and comfortable. Gia went out of her way to accommodate me on very short notice and put together a cozy room for me. They are close to really good restaurants and right down the road to a great park , The Korean Friendship bell area. I would definitely return.
Cheryl
2017-03-16T00:00:00Z
Very friendly and clean place
Ryan
2017-04-08T00:00:00Z
Gia and her partner were the perfect hosts. The room and bathroom were very clean. I would stay again in a heartbeat!
Hayden
2017-03-15T00:00:00Z
Great host, that kind of people really try to taking care of you. They could be your friends.
Kraken
2017-03-22T00:00:00Z
Super nice host and the room was really clean and comfy.
April
2017-04-03T00:00:00Z
Gia is very easy to talk to, very friendly. The room has lots of furnitures painted by herself. Very special n neat place.
Ling
2017-03-05T00:00:00Z
Tipo de habitación
Habitación privada
---
Tipo de propiedad
Apartamento
---
Capacidad
2
---
Dormitorios
Los Ángeles, California, Estados Unidos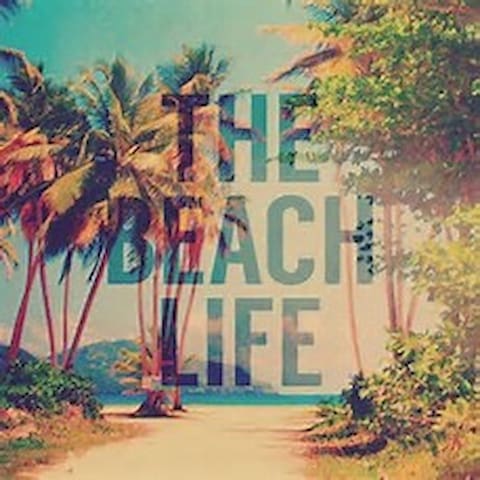 Al estar tan cerca de la playa es grande, pero durante los meses de verano la playa tiende a ser un poco ruidoso, de ahí! la tapones para los oídos en la mesita de noche o en el bar. No hay crímenes en la zona último que veían. Está situado en un pequeño rincón único de la costa de San Pedro llama Fermín del punto. Se dará cuenta, que conduce abajo del Pacífico, cómo cambia desde la zona del centro de la ciudad con playas final. Toneladas de películas y programas de televisión son filmadas en la zona. Sin duda la salida de mi guía que me pasaba horas en armar que tiene todos mis lugares preferidos para ir a la zona.
The waves and the amazing down filled pillows were the highlights to this place!
Naureen
2015-04-01T00:00:00Z
This place was absolutely fantastic! The view is amazing and the unit was clean, spacious, and very cozy. Would definitely recommend this place to a friend one thousand times over.
Jacob
2016-07-01T00:00:00Z
Caroline's apartment is very cozy with great views. I love to watch stunning ocean views on bed at sunrise. Everything needed is provided. A very thoughtful host!
Yuchin
2015-02-18T00:00:00Z
Great little spot for a relaxing getaway. Great views, right next to the beach. Plenty to walk around and check out in the area. Really enjoyed the peace and quiet and my girlfriend and I loved the comfy apartment too. Thank you.
Tim
2017-03-14T00:00:00Z
Caroline's place was just perfect! The decor was beautiful, the place was clean, check-in was super easy and the ocean was literally right outside the windows. We didn't get to stay long but we enjoyed every minute we were there!
Maha
2017-02-17T00:00:00Z
Loved the location and the view was amazing. Great place to stay, would definitely like to take another trip and stay for another visit.
Daniel
2016-08-20T00:00:00Z
Our host Caroline went to great lengths to make our first airbnb process fun and easy. Her place was a lovely apartment which she takes great pride in and keeps immaculate. The views across to Cabrillo beach and the sounds of the ocean were a rare treat. We really enjoyed this gem of a place and appreciate Caroline's careful attention and generous environment. Highly recommended for a tropical getaway!
Sophie
2015-03-09T00:00:00Z
Amazing location! Perfect for a couple's get away, Caroline was super cool too. Definitely planning another trip soon
Anissa
2015-06-19T00:00:00Z
Tipo de habitación
Casa/apto. entero
---
Tipo de propiedad
Apartamento
---
Capacidad
2
---
Dormitorios
San Pedro, California, Estados Unidos
Views span from downtown Los Angeles to the Vincent Thomas bridge to the Port of Los Angeles to the open ocean in our three-bed, two-bath home. Breakfast (and great coffee) included in the price!
You'll have private use of our guest bedroom. The queen bed has luxury linens and a down comforter. There's an air conditioner in the bedroom for the summer, and central heating for the winter. You'll also have your own dedicated private bathroom. Your space is in the back of the house and ours is in the front of the house, so there are no concerns about noise while sleeping, etc. Bathroom -- you'll have private use of the back bathroom, which is near the guest bedroom. It has a shower, toilet, and sink, and there will be space on a shelf for your toiletries. Second bedroom -- We have a second bedroom (den) that can be booked through our other listing if you have more than two people. Gym-- Wade and Krista are avid CrossFit-ers, and have turned the back yard into a gym area. We don't have cardio equipment (that's what the area hills are for), but we have tons of weight lifting stuff and related gear. Why San Pedro? -- Perhaps you're heading out for a cruise, in which case you need an alternative to the local hotels before you embark. Or perhaps you've heard about this adorable port town and want to check it out -- who wouldn't? The views are stunning in every direction, the wild peacocks roam about a mile away from the house, the Port and related museums offer access to LA's abundant history, the Korean friendship bell and Point Fermin park provide some of the most spectacular views in the entire county. We're minutes away from Long Beach, with its shopping, dining, and culture, and Palos Verdes, with one of the best drives in the United States and abundant golf!
We are in the Vista del Oro neighborhood of San Pedro, and the name means "view of gold" for a reason -- set atop the rolling hills, every view is more stunning than the next. The photos truly don't do it justice. The neighborhood is extremely quiet and safe, mostly families, old and established homes. We love it! That being said, this location is perfect for some and awful for others. AirBNB is all about full disclosure, so please read below to determine whether our home is right for you or not. Our home is RIGHT for you IF: 1. You have business, a conference, an event, etc., somewhere in the southern part of Los Angeles. We are extremely convenient to Torrance, Long Beach, Palos Verdes, the StubHub Center, etc. 2. You're coming for a while, you want to go south (Long Beach, Huntington, Disney, Orange County) AND north (Venice, Santa Monica, Beverly Hills, downtown, Hollywood, Universal), and you want to set up a home in one place for the duration. 3. You're going on a cruise -- the port is very close and easy to get to. 4. You want a quiet home in a beautiful neighborhood. Our home is NOT for you if: 1. You want to spend your entire vacation in the "heart" of Los Angeles -- Santa Monica, Venice, Beverly Hills, downtown, Hollywood, Universal -- this area is far, and with rush hour, it's brutally far. You will not be happy. 2. You want to be "in the mix" -- you want to walk to the hippest restaurants and bars in LA -- we're not your spot. We have some great ma and pa restaurants and cute little bars and breweries, but we're not near any of the hot spots. All of the above being said, we've found that people have a great time if they sleep in a little bit, get on the road after rush hour (around ten a.m.), and return after they eat dinner (so evening rush hour is clear). You can get to almost anywhere, north or south, in a half an hour if you plan to avoid rush hour.
Krista and Wade are amazing! Really nice people... Really nice bed and incredible hospitality!! Our breakfast was wonderfull!!!
Ricardo
2016-11-27T00:00:00Z
Krista and Wade are perfect hosts. Friendly, knowledgable, and easy going. Their place has an amazing view and Krista cooks a mean blueberry pancake. Plus, if you love the outdoors you'll have a ton in common. Bonus feature: the bed is as comfy as it gets. We lived staying here.
Kymmie
2016-06-26T00:00:00Z
Krista and Wade made me feel like I was staying with longtime family friends - so warm and open with their home, coffee pot, local tips. The room and bath are on the backside of the house, offering privacy but also helping me not feel that I was in their way. It has beautiful sunset views and scenic drives to notable beaches both north and south.
Kelle
2016-10-11T00:00:00Z
Our stay with Krista and Wade was extremely relaxing and easy. Their personal guest guidebook was a great resource (we visited Cabrillo Beach which was just 10 mins away), breakfast and coffee were ready when we woke up (it was delicious), and their house was clean, comfortable and had great views from both the picture window up front or the hot tub out back). While their house is beautiful and in a great location, we appreciated Krista and Wade's hospitality. Though we were only there for one night and we didn't see them for long, both were so friendly and made us feel very welcome.
Erica
2016-06-07T00:00:00Z
The place was clean and quiet, Krista's breakfasts were awesome, and she was a great person to chat with.
Katherine
2016-09-04T00:00:00Z
Wade and Krista were awesome! They were very welcoming and helped us out with ideas on places to eat and go while we were in town. Good neighborhood, and conveniently located to all the places we wanted to hit up while we were on vacation. I would definitely recommend them to others!
Tiesha
2016-07-26T00:00:00Z
Krista and Wade were excellent hosts, my two night stay was very restful and comfortable. The breakfast was delicious and hearty. The wifi works well and that is important as I needed to work each evening and communicate with clients. The view from their home very cool. I highly recommend their home especially if it is near your destination (I was in town for an event at the Port of LA).
Mark
2016-08-14T00:00:00Z
Krista and Wade were great hosts. The house was immaculate and breakfast was awesome! We had great conversations during breakfast and we exchanged some tips on cooking. I learned how to make a frittata, which I will be making at home. It was a great location for us while we waited to go on a cruise everything is so close in this area! Thank you Krista and Wade!!
Deborah
2016-12-05T00:00:00Z
Tipo de habitación
Habitación privada
---
Tipo de propiedad
Casa
---
Capacidad
2
---
Dormitorios
Los Ángeles, California, Estados Unidos
Brand new room Oct 2016! New queen mattress, linens, flooring, paint, decor, etc! Relaxing retreat within walking distance of: the beach, parks, ocean cliffs, 2 great restaurants, a corner market, fishing pier, Point Fermin Lighthouse, Cabrillo Marine Aquarium, the Korean Friendship Bell, Marine Mammal Center (seals!) Enjoy gorgeous sunrises, sunsets, and ocean/harbor views. A peaceful garden with a bistro table is outside your private entrance door. 3 miles from cruise ship terminal.
Great coastal location 40 minutes from LAX. 10 minutes (3 miles) from the cruise ship terminal. Close to beaches, parks and many beautiful view areas. The best weather in San Pedro! Feel the ocean breeze and often hear the waves. We are located on a steep hill (which gives us a great view!). You can park on our level driveway. There are several steps up to the room (see pictures). I have tried to give an accurate description of the room and provided lots of pictures so you have a very good idea of the space you will be staying in.
A very hilly neighborhood! Great views all around :-) 2 great restaurants and a small local market are 2 blocks away. The beach is a 5 minute (1/3 mile) stroll down the hill. Point Fermin Park and beautiful cliff views is about 1/2 mile walk. Korean Bell is a block away.
Linda is very organized, thinks of every detail, and communicates well. This place was exactly as represented: nicely renovated, very clean and close to beautiful coastline and vibrant sunsets over the Pacific. It was perfectly suited to our 1-week stay (visiting family and exploring the coast). Especially enjoyed having morning coffee on the front entry steps watching sunrise over the harbor with humingbirds. Linda and Cliff were fun to visit with and gave us many great tips on sites and great walking trails.
Eric Ruth
2016-11-08T00:00:00Z
Linda was an amazing host! The room was perfect and she truly put a lot of thought into providing a cozy space for any kind of traveler. She was even kind enough to offer suggestions for our drive down from Northern California which I think is above and beyond our expectations. I highly recommend stopping in for a stay at Linda's beach room!
Ashley
2016-11-20T00:00:00Z
Linda was on point at every step of my stay. She was very welcoming throughout my whole stay and made sure I was comfortable. The most impressive part was the fridge stocked with water and diet coke!!! My two favorite beverages!!! Her home is beautiful and the room I stayed in was better than most hotels I've stayed at. The view from her home is spectacular. The home is 5 minutes from the beach and there are a few eateries that are walking distance. The San Pedro Seafood Market is less than a 10 minute drive. I highly recommend staying at Linda's if you are spending a few days in Los Angeles!!!
Way
2017-04-07T00:00:00Z
Linda's place was beautifuly decorated and cozy. It is located in a very convenient and cute part of San Pedro. The room is very private with its own entrance and connected bathroom. We would definitely recommend Linda's place and stay here again ourselves.
Jasper
2016-12-16T00:00:00Z
Linda's suite is beautiful and very comfortable. The room is especially clean. It is so well-appointed with everything you need for a comfortable stay. There is a beautiful view of the water and ships from the large window in the room. Linda made certain that we had everything we needed. We even got to park in the driveway. We highly recommend this B&B!
Diane
2017-03-20T00:00:00Z
I loved it so much I stayed for another four days.
Peter
2016-10-30T00:00:00Z
Linda was a great host and offered great information about the surrounding area. Definitely would recommend for others.
Vikram
2017-03-25T00:00:00Z
This is the best single room airbnb in san pedro. There has been a lot of though care and attention to detail in the preparation of this room for renters. I especially appreciated Linda's help and insight with getting to know the best parts of the town. This was a very comfortable stay.
Gregory
2016-10-15T00:00:00Z
Tipo de habitación
Habitación privada
---
Tipo de propiedad
Casa
---
Capacidad
2
---
Dormitorios
Los Ángeles, California, Estados Unidos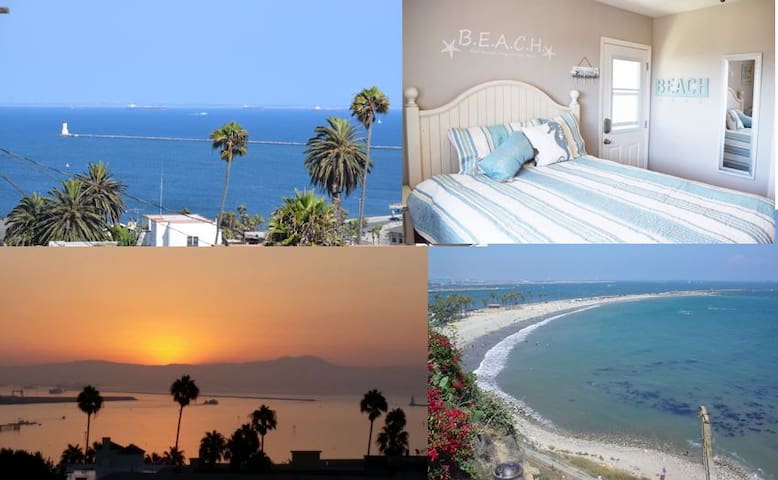 In walking distance to the Port of Los Angeles, Downtown San Pedro, many resturants & the Marina and freeway close to all LA has to offer. Charming Victoriana with modern updates... I think you'll love the artsy bohemian feel of my home. Craftsman bedroom with ensuite jacuzzi bath. It's a 4 bedroom house with lots of outdoor lounging areas, good for couples, solo adventurers, and business travelers. Small groups or families are also possible, ask me.
The charm of Victorian with a modern updated twist. You have a private bathroom with a jacuzzi tub and rainfall shower. The bed is craftsman style. You can also choose to lounge in the shared space of living room, dining room, kitchen or out door spaces. There are two other rooms that I rent out so you may see other visitors.
The neighborhood is working class and diverse. Most of my neighbors work in some port related work like seamen, longshore worker or a job that serves those industries. I am only a couple of blocks from the waterfront. I can walk through the marina or bike to the beach or walk 9 blocks to downtown San Pedro. I also like the street vendors in the area selling tamales and other treats, but if you can't wait for them, there is a little corner market two houses down.
Roxanne was a friendly host who took care of everything we needed. Waking up to the natural sunlight and eating office on the balcony was awesome! It gets cold in the room at night but she provided an extra blanket.
Sierra
2016-11-27T00:00:00Z
Beautiful cozy home with Roxanne as a very welcoming home. The room was great including the waterfall shower. It's an experience worth having in a home very old but very well kept. Note the toilet space was somewhat small if you're quite tall and no parking only in the street. Other than that all was great!
Lluvia
2017-03-04T00:00:00Z
Roxanne is such a great host :) very hospitable and her home is very quaint and tidy!
bernadette
2017-02-20T00:00:00Z
By far my favorite Airbnb! This place is absolutely beautiful and Roxanne is very warm and welcoming. She goes over an beyond to make your stay comfortable, even puts breakfast out to start your day
Mele
2016-07-31T00:00:00Z
Very Nice meeting Roxanne and her Beautiful house! The room was Nice with open bath and toilet (personally I don't like a toilet with no door but Some wouldn't mind). We had good Coffee, fruit and bagles in the morning. Parking is in the street.
Jorinda
2017-03-03T00:00:00Z
Very sweet and down to earth person. The house is full of good vibes and the location is on point. Definitely recommend!
Mercedes
2017-01-30T00:00:00Z
This is a great place to stay. Roxanne's home is clean, comfortable and conveniently located. Roxanne went out of her way to make sure I was confortable and any expectations I had were exceeded. The next time I am in the Long Beach/San Pedro area, I will be reserving a room here.
Jace
2017-03-08T00:00:00Z
Roxanne and her home are very welcoming!! She was an outstanding host. The rooms are impeccable and newly renovated. We loved her and her beautiful home. I highly recommend a stay with Roxanne, she made sure our stay was awesome and pointed us in the right directions. Can't wait to come back!! This is by far our best experience with a host she has a great personality and we enjoyed everything.
Tammy
2016-07-25T00:00:00Z
Tipo de habitación
Habitación privada
---
Tipo de propiedad
Casa
---
Capacidad
2
---
Dormitorios
Los Ángeles, California, Estados Unidos
Private modern studio near the historic Los Angeles waterfront and near other attractions in San Pedro. This is a very convenient location for the local attractions and the beach. This private studio has your own private access, fully outfitted kitchenette, jacuzzi, television, free wifi, lounge area & built in outdoor BBQ.
We are a short walk to the beach and have an extremely convenient location to local attractions. We are also close to the world famous Busy Bee deli and we highly recommend stopping by.
Hermoso departmento y barrio. Muy tranquilo y silencioso. Requisites las galletitas de bienvenida. La anfitriona muy amable y predispuesta a ayudar.
Sebastian
2016-03-11T00:00:00Z
We had such a great stay at this beautiful studio! My husband and I stayed here for over a month. The studio looks just as it does in the pictures- even better. It is beautifully decorated with a super comfortable couch&bed. The kitchen has everything you could need and the bathroom is a good size as well. The studio feels very private with it's own gate entrance at the back of the property and the house is in a cute, quiet neighborhood. Parking on the street was always available during our stay and close-by to the house. The outdoor area in between the house and the studio has a great&relaxing sitting area, grill, and hot tub. James&Renee were seriously the nicest hosts ever- very attentive to guests needs and give privacy while still making you feel very welcome at their place (they even had cookies and champagne waiting for us on arrival). I would definitely recommend this property.
Vanessa
2015-11-23T00:00:00Z
We were welcomed by James with a plate of cookies. James was accommodating and responded to our messages promptly. The area and the studio was just as described and was absolutely clean. We were welcomed in the morning by the sounds of wild peacocks, which (in my opinion) sound like large kittens - we saw one taking a stroll on the street! The location is about 5 minutes max to the beach driving. We didn't take the walk as my wife and I were travelling with our 4 year old. However, the locations of the beach we went to were amazing. It's also very close to grocery stores, shopping centers and gas stations if you need a refill. If you have an appetite for donuts (which the little did), check out Grandma's Donuts not too far from there. It's open 24 hours and they have an amazing lost list of donuts and pastries to choice from. Definitely adding this place to our favorites!
Gabriel
2016-10-27T00:00:00Z
Thank you James for your warm welcome. Your place was fresh updated very clean and well appointed. It was a great place for us to get some R and R for a couple of days. We liked the walk down to the waterfront area and seeing the old neighborhoods that were well kept with incredibly beautiful flowers!
Trina
2016-06-11T00:00:00Z
Excellent decision by us to rent from James and Renee! The place is cozy.. near shops and sights. I will definitely book again!!!
Michael
2017-02-26T00:00:00Z
They are GREAT! The place is very cozy and comfortable. Every single thing necessary for a comfortable stay is provided. James is a great communicator!!
Jonathan
2017-01-26T00:00:00Z
Its a really nice and clean place to stay. I was really comfortable there and recommand it to all.
Faezeh
2016-12-08T00:00:00Z
I didn't have the pleasure of meeting James or Renee but my boyfriend did and said they were very nice people. Wonderful hosts in my opinion and very communicative. They were very easy to get ahold of and responded promptly if we needed anything. Their place is beautiful, looks even better in person than in photos! Upon arrival we realized they left some champagne and fresh baked cookies on the counter. so thoughtful! Loved waking up to the sound of wild peacocks every morning (: & there's so much to do/see around the area!We stayed in San Pedro the first day of exploring and loved it. Such a beautiful place. Overall awesome for my first Airbnb experience.
elgina
2016-02-23T00:00:00Z
Tipo de habitación
Casa/apto. entero
---
Tipo de propiedad
Casa
---
Capacidad
2
---
Dormitorios
San Pedro, Los Angeles, California, Estados Unidos
Near Cruise Ship Terminal, Private suite in the lower level of our home; includes a queen size bed,bathroom,infrared sauna,large screen tv in a living room setting,private eating area including fridge,microwave & basic kitchen utensils, door to yard.
Approximately 400 sq feet of open living space that includes a private bathroom that has a sink, toilet and shower. The sleeping area has a queen sized bed, night stand and 2 person infrared sauna with cd/ipod player. There is also a cubby area with a house shared washer and dryer. A closet area with room for hanging of clothes and a dresser to unpack your clothes. Seperate to the sleeping area is a living room area with a large sofa with lounge, 56" tv, dvd player along with over 100 dvd's to choose from. In that same area is the refrigerator/freezer, as well as microwave, toaster oven, coffee make and basic dishware so that you could prepare a light meal or snack. There is a sliding glass door that leads into the backyard with tables and chairs and chaise lounges to enjoy relaxing in the quiet surroundings of the yard that has a avocado, lemon, kumquat, orange and grapefruit tree and a small garden. You can access the lower level of our home through the side gate of our house to ensure your privacy as you come and go. With special arrangement you can access through the garage and into the living space.
We are minutes away from the Cruise Ship Terminals of Los Angeles and Long Beach. San Pedro is a culturally diverse community. It started out as a pre 19th century trading hub ( referenced in the famous book, Two Years Before The Mast, by R.H. Dana Jr) and later grew into a fishing community with deep Italian, and Croatian roots that has since blended into a highly diverse California community. San Pedro is the home to the Port of Los Angeles. One of the largest ports in the world. We have giant container vessels and cruise ships coming and going as well as a pleasure boating community with a marina nearby. The SS Iowa is minutes away as are the Merchant Marine Museum. Cabrillo Beach is nearby which has great opportunities for windsurfing, swimming or enjoying the day at the beach. Also nearby is the Korean Bell and Angel's Gate Park. Other parks withing walking distance are Point Fermin and 22nd Street Landing Park. Sunken City is at Point Fermin Park. Other beaches that are just a short drive are: Trump (including the golf course), Royal Palms, Abalone Cove and other Palos Verdes Beaches. All of which offer excellent hiking trails and tidepooling. Marine Mammal Rescue, Bird Rescue and the Cabrillo Marine Aquarium are all nearby and can be walked to. These are either free or by donation so they are ideal for a family on a budget and require just a short amount of time to visit. Ports O' Call is another unique tourist area with an excellent opportunity to try the local favorite of "shrimp fajita's" and enjoy some mariachi music along with the opportunity to visit some unique shops. The Port of Los Angeles and Long Beach are great also to hop on a boat for a short tour and enjoy the harbor. The major tourist attractions in Orange County such as Disneyland and Knott's Berry Farm are not that far away and could easily be a day outing from our home. Downtown Los Angeles has gentrified into a world class city to visit and offers amongts other options the new Broad Museum at no charge. All attractions in Los Angeles County can easily be reached via car for a great day outing. Just ask us for distances and information and possible transportation options. We offer some guided tours for a nominal charge.
We loved staying at Vicki's place. Super clean, and she provided a perfect supply of snacks and beverages which hit the spot after traveling all day. Loved hanging out in the sunny garden in the morning. And Vicki let us park on her street while we took the ferry to Catalina. It was a very pleasant place to hang before heading to Catalina!
Alicia
2016-11-23T00:00:00Z
Great place! Great location! Wonderful hosts! It's a triple win. Vicki makes sure you feel like you're at home. She checked in everyday to make sure I had everything I wanted to feel comfortable. The views are amazing from the back yard you won't have a place and more convenient easy to get to location with views of the port and sea.
Kasandra
2016-12-26T00:00:00Z
She met us and carefully explained amenities.
(EMAIL HIDDEN)
2016-10-21T00:00:00Z
We stayed at Vicki's place the night before our cruise. Brad (Vicki's husband) offered a ride from LAX to the place at a lower rate than uber or other transportation, which was very convenient for us. The place was lovely that had a view of the ocean. It was clean and neat. Vicki and Brad were SO kind to ensure that our stay would be as comfortable as it could be. We walked around the neighborhood with no problem. It was a lovely town and certainly a lovely place to stay. Thank you so much for your great hospitality, Vicki and Brad!!
Sophie
2016-02-08T00:00:00Z
Vicki was a good hostess. I enjoyed my privacy and it had the comforts of home. I would stay again.
Anna Jean
2016-08-02T00:00:00Z
Vicki's place is exactly, if not better, than what we had expected. Her family gave us a warm welcoming and showed us around the place when we arrived. Vicki and her family left us with plenty of refreshments in the fridge and snacks as well. Hands down most tended Airbnb my boyfriend and I have experienced. We would love to stay again!
Brianna
2016-01-25T00:00:00Z
We had a great time. Vicky and Brad have been so helpful, generous with us. Their place is amazing. Thank you so much. We hope to come back soon.
Davide
2016-02-01T00:00:00Z
Vicki and Brad could not have provided a better first time experience with Airbnb! The quiet, tranquil space was comfortable and provided a needed respite from the holiday craziness. We appreciated the basket of breakfast goodies, the fridge stocked with beverages, and Vicki's flexibility and attention to our needs and wants. The bed was comfortable and we found the space to be just as it was portrayed. Unfortunately, we did not have time to use the sauna, but look forward to it next time we are in San Pedro. I highly recommend staying with Vicki and Brad. They were wonderful hosts and have a comfortable, clean, and safe environment to share.
denice
2015-12-29T00:00:00Z
Tipo de habitación
Habitación privada
---
Tipo de propiedad
Casa
---
Capacidad
2
---
Dormitorios
Los Ángeles, California, Estados Unidos
Come stay at this NEWLY REMODELED condo in San Pedro, CA. Our unit features 1 bedroom & bathroom, a living room, kitchen, and dining area. The entire unit has been remodeled thoroughly with new floors, fixtures, paint, & appliances. Our property is only a 5-10 min walk to Cabrillo Beach, 25 min beachside drive to Malaga Cove, 25 min to DTLA, 30 min to Torrance & Manhattan Beaches, 34 min to Redondo Beach & Pier. OR visit the San Pedro Fish Market for lunch & hop on the Ferry to Catalina Island!
***NOTE: This unit has just undergone a thorough interior remodel and was completed on February 2nd, 2017. We ask that you kindly take your shoes off inside. -1 Bedroom w/ a Queen Sized Bed -1 Full Bathroom w/ BRAND NEW Fixtures -Brand New Kitchen -Living Room w/ Pull Out Sofa -TV Available w/ Chromecast and HDMI Cable (Cable TV not provided) -Laundry Room In-Unit for your convenience -Clean Linens and Towels Provided -Part of a 4-Unit Building. Please DO NOT Disturb Other Tenants -Street Parking Only
Our building is located just a few minutes from Cabrillo Beach and many restaurants and grocery stores
Nice n cozy home. Living room very nicely decorated.
maggie
2017-03-05T00:00:00Z
Well appointed apartment that was visually pleasing and a very comfortable space with laundry and kitchen that allowed us to live our normal lifestyle. A few of the nice surpises were the very comfortable bed, the smart tv and WFI (that worked well!) We were able to access all of our own channels and stuff on our phones and IPad which made it just like home! We loved being able to walk to point Fermin, the Koren Bell, and many of our favorite resturants and local haunts. It was an excellent location And we really enjoyed our stay.
SteveandSallyJo
2017-03-02T00:00:00Z
Everything was neat and clean. Would definitely recommend.
Julie
2017-03-09T00:00:00Z
We were just in and out, but we did have some issues with amenities. Namely the bed wasn't made when we arrived and was missing sheets, and there were no available towels. However the apartment was spacious and in a nice location, so you take the good with the needs improvement.
Austin
2017-02-17T00:00:00Z
My stay was mainly going out to hikes, and sight seeing, coming back to this was just lovely. Staying in and cooking made it feel very home like.
Xenia
2017-02-15T00:00:00Z
The place was extremely nice on the inside and very comfortable! We could tell we were the first guests to stay in the place so there were some problems with using the appliances that were claimed to be available. The host is very accommodating and extremely nice. Once everything is set-up properly, this would be a fantastic place to stay at. Thank you!
Nate
2017-02-12T00:00:00Z
Tipo de habitación
Casa/apto. entero
---
Tipo de propiedad
Apartamento
---
Capacidad
4
---
Dormitorios
Los Ángeles, California, Estados Unidos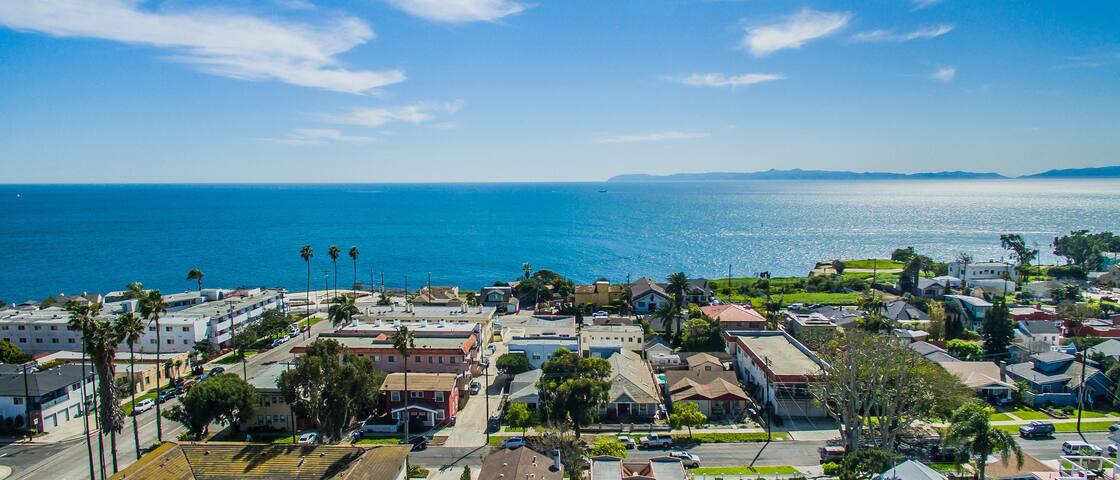 Close to the beach, freeways, 30 min from LAX, close to downtown San Pedro and Palos Verdes. Cozy, nice view, quiet and clean. My place is good for couples, solo adventurers, and business travelers. Five minute drive to the Port of LA Cruise Terminal. 15-20 Minutes to Terranea Resort. There are tons of shops and restaurants within a five minute walk from my complex. Freeway close to the 110 (Harbor Freeway), and 405 freeways to get to downtown LA and all the major tourist destinations.
The complex is gated. Please note: The space is a 2-Story Townhouse style condo with the bedroom upstairs. There are 6 steps up to the front door. Once in the front door you will see the living room, kitchen, and dining area. In the kitchen is a sliding door which leads to a balcony/patio, the laundry room is also out there. Next to the dining area there is a small hallway that leads to a half-bath. The stairs (15) then go up to a landing with my "office" and then my bedroom and the guest room are off of the office. Both bedrooms have private bathrooms. I offer free Wi-fi, towels, bedding, soap and toilet paper. I will try to make your stay as comfortable as possible. I have central heating and A/C which is set at 72-74 degrees year-round. There is an AC unit and a heater in the room if you need it warmer/cooler. The bedroom has a 32" television hooked to a BluRay Player which also has streaming Netflix and Hulu. There is private parking in front of the building.
There are plenty of restaurants, shops and stores in the immediate area. Within a five minute walk you have: In-N-Out, Marie Callender's, Yogurtland, Del Taco, Chipotle, Pick Up Stix, McDonald's, Flame Broiler, Subway and Jack in the Box to name a few. There is also a Ralph's Grocery across the street and a Trader Joe's and a movie theater right around the corner.
Excellent host. Jim has a great home and is very welcoming. Amenities were perfect and good location. Highly recommend!
stephen
2017-03-30T00:00:00Z
Great location and very clean , had to come back and stayed there again .. thank you James !!
Leilani
2017-02-07T00:00:00Z
The room was perfect. Clean, quiet, great location, and a great value.
Joseph
2017-02-19T00:00:00Z
Oh my goodness! This was my partner and I's first time using airbnb. And my oh my was it an amazing experience. James was a lovely host but unfortunately we didn't get to cross paths. However we are so grateful to have had his lovely home opened up to us! Everything was spotless and we were well taken care of. The bed was honestly one of the most comfortable beds we have ever slept in. I am gonna have to ask James what type of mattress it is! Also having a hottub on site was a huge bonus!! We both couldn't of asked for anything else to make this experience more magical. If we are back in the area in the future we are definitely coming back to James house!!
Sierra
2017-02-12T00:00:00Z
I've stayed here a couple of times with my boyfriend and we love everything about it. It's a very quiet and peaceful place to stay. Jim has great communication and is always available when we need him. We don't always run into him during our stay but it's always a pleasure to speak to him. The location is very convenient with restaurants and shops in walking distance.
Maria
2017-03-12T00:00:00Z
The host canceled this reservation the day before arrival. This is an automated posting.
Francis
2017-02-12T00:00:00Z
Great location and host. Room and bath were comfortable and private.
Todd
2017-01-27T00:00:00Z
James ist ein super Gastgeber!! Check-in verlief prima, die Wohnung ist sehr geräumig und charmant mit vielen Disney Accessoires eingerichtet. Super sauber alles! Bei James komme ich gerne wieder :)
Tobias
2017-03-15T00:00:00Z
Tipo de habitación
Habitación privada
---
Tipo de propiedad
Apto. en complejo residencial
---
Capacidad
2
---
Dormitorios
Los Ángeles, California, Estados Unidos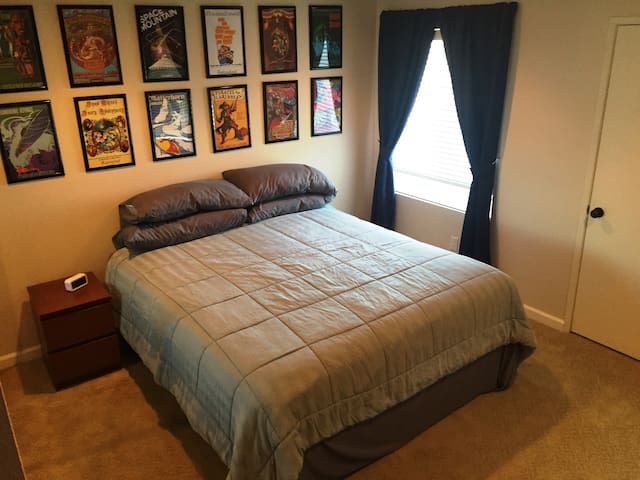 One of two rooms available. Just 0.3 mile from best beaches in San Pedro. Other room is "Harbor Lights and Beach Walks, too". Great restaurants. Close to all. Let us help you plan your stay here in our brand new home. LAX is about 23 minutes drive. Just in: On 3/28/17 we upgraded from a comfortable full size bed to a brand new queen-sized platform bed with hybrid mattress with medium firm memory foam (not the hot type). Pure comfort.
We have just completed our first full year in our new house. We have 2 AirBnb rooms available just 0.3 miles from where the LA Harbor breakwater meets the shore, with a protected swimming beach behind the breakwater and an easy walk to a "surfing" beach on the outside of the breakwater. We can hear the large breakers, sea lions, bouys, fog horns and even a haunting version of "Taps" most nights at 9 PM from Fort MacArthur--only a few blocks away. Guests enjoy the soft fountain from Yumi's Japanese garden that inspired one of our guests from France to do a beautiful water color. Several guests agree with us that the Sunday buffet at Ports o' Call Restaurant is the best buffet they have ever had anywhere (live music, dining in or outside, private rooms available, sushi, carving meat stations, "your style" pasta station,taco station, omelette station, crab leg station, cappuccino station, fresh bakery goods and desserts, huge salad bar, endless champagne or mimosas, AND A FREE 2 HOUR HARBOR CRUISE (1 hour also available) all for just $40 per person) ---all while watching the ships guided by tug boats, fire boats, barges, party cruise boats, and naval ships (during LAFleetweek), glide up and down the bay viewed from your table. Cabrillo Aquarium is about a 5 block walk (free admission) and they host night grunion hunts when they are running (usually May - Aug). You can grab breakfast at The Lighthouse Restaurant, or Pacific Diner, or wonderful Rex's Cafe, then take a free tour of the Point Fermin Lighthouse 1 o 4 PM six days a week. We can see the Angels Gate Lighthouse at the end of the breakwater from our living room. You can sip a drink and watch from our upper deck the largest ships in the world as they glide in and out of the largest port in the US on their way to and from the farthest corners of the world. There is a boat launching ramp nearby, and group fishing or whale watching trips available. Ports O'Call Village is close by with shops and crafts and harbor cruises. You can select from choice seafood and have it cooked your way dockside, sipping sangria while mariachi bands play. There are water fountains timed to music spouting off at regular intervals, near the Catalina Island Terminal and a terminal serving huge passenger liners, on their way to Hawaii, Mexico, and who knows where. There are numerous museums, the USS Iowa (a battleship that is now a museum), Merchant Mariners Museum, the SS Lane Victory (pre-WWII floating museum), Japanese fishing village memorial, the Korean Friendship Bell, Wayfarers Glass Chapel and many other sights to see. We are less than 15 minutes from the Long Beach Convention Center, and have easy access to the 110, 405, and 710 Freeways (which puts us easy driving distance to LAX (23 mins.), Disneyland, Knotts Berry Farm, the Getty Museums, Hollywood, Beverly Hills, Universal Studios, west facing beaches like Santa Monica and Malibu and south facing beaches such as Laguna, Newport, and Dana Point. Let us help you plan a hotel or camping trip to beautiful Catalina island with the best diving in California, great restaurants, marlin fishing, glass bottom boats, a new zipline, golfing, wild pigs and a herd of bison--and a rich history of Native Americans, a Civil War cavalry post, smugglers, pirates, and even ghost stories. There is a new craft center on 22nd St. with a new brewery about to open, a place to buy fantastic seafood EARLY Saturday mornings, and a Farmers Market on Fridays. Note: We put in all new, powerful central air conditioning this summer--(but, frankly, we seldom need it because of constant ocean breezes).
San Pedro is on a peninsula pointing south towards Catalina Island. In the morning you can take a cup of coffee to the roof deck and watch the sun come up. We look across the bay due east, and can see one of the largest ports in the world on the left, the open ocean to the right, and often see the sun come up from behind a mountain. There are history circles describing San Pedro's rich history along a walkway down by the fountains. San Pedro has always been an important working port, and sometimes known for sailors letting off some steam--the men were tough and the women tougher. Nowadays it's a bit more civilized with "Lobster Fests" and family grunion hunts--but there are still vestiges of the old days here and there. Located in historic San Pedro - LA County's own harbor beach town. There are tons of fun activities and things to do in this little gem of a town! A 5-minute drive to: -Ports O'Call for some delicious seafood, live entertainment and fun -Crafted Marketplace: a year round craft marketplace featuring handmade goods and crafts -San Pedro Harbor which offers waterfront dining, whale watching, and excursions to Catalina Island -The USS Iowa battleship -LA Maritime Museum -SS Lane Victory -Korean Bell -Pt. Fermin Lighthouse Several minutes walk/drive to several hiking trails and beaches (Cabrillo Aquarium and breakwater, Sunken City, White Point County Beach ($10), Trump Golf Course (parking and trails are free), Abalone Cove ($12 all day--free for seniors), Pt. San Vicente Lighthouse and Discovery Center (free)--this is where they count the Gray Whales as they migrate by. A 20-minute drive to: -Long Beach Aquarium -Queen Mary -Long Beach Air Port --Long Beach clubs (dueling pianos, Laugh Factory, great restaurants) --Long Beach Convention Center --Long Beach Formula Race (spring)
It was wonderful time to live and talk with Yumi and Bill. Nice house ,picturesque scenery and accessible distance to beach, These all are the reason why I want to stay in there. But most importantly, Yumi and Bill's kindness and hospitality are the main reason for me to recommend this house. I am sure that if you stay here, you definitely will love it. At the same time, I want to mention that I really appreciate that Yumi taught me how to speak Japanese correctly and Yumi showed me around some beautiful scenery near the house. It was one of the best hosts and accommodation I ever met. I would like to visit it again in future.
Jiansong
2016-05-22T00:00:00Z
A quiet neighbourhood near Cabrillo beach, the nearby pier is a great place to jog with awesome views. Yumi and Bill were very welcoming, often inviting us to join them for meals. Fresh kale juice prepared by Yumi was very good. Having a chat with Yumi and Bill over breakfast was a nice way to start the day. They were also spot on with their recommendations on the sights to visit around the area. The Ryoma room was cozy, clean and thoughtful furnished with ornaments from Japan. Highly recommend!
Terence
2015-12-27T00:00:00Z
Bill & Yumi, The greatest host ever! They welcome you with open arms. I brought some fresh cought Yellowtale and lobster tale, and Yumi was so happy to cook it up. I had a great dinner with them. During my time their some other guest came for a stay. Turns out this is there forth time staying. But, they were more than just clients, they were now like best friends. Very open, very easy going! Loved it!
Rodger
2016-08-26T00:00:00Z
Yumi and Bill were the perfect hosts. There home is beautiful and the location was perfect for me. The guest room was private and comfortable and I had all of the amenities that I needed. Yumi added a special touch by leaving coffee and fruit for me every morning even though may days started at 5 AM. I only wish that I had more time to visit with Yumi and Bill!
Kelly
2016-04-07T00:00:00Z
Comfortable clean room in a beautiful home. I was in town for a wedding and had extra time to explore, and Bill took me on a driving tour of the area. If you want a private room but also pleasant conversation and interaction with your hosts, this is the place.
Moriah L
2017-04-09T00:00:00Z
It was a great time, staying with Yumi & Bill. Great hospitality . Great conversations, Bill and Yumi took me around to show the places. Thank them for a great time!
Anand
2016-05-03T00:00:00Z
I had one of the best vacation in my life and I spent 5 of those days in a very comfortable beautiful decorated Japanese style room the living room balcony has a wonderful view and Yumi and Bill made it so welcoming and very enjoyable also she made us a very delicious healthy green smoothie.
Yeny
2016-02-06T00:00:00Z
We liked the way the house was set up and felt like we had privacy on our floor. Hosts were very professional and warm. Many thanks for hosting my son and myself.
M'Lissa
2016-03-23T00:00:00Z
Tipo de habitación
Habitación privada
---
Tipo de propiedad
Casa
---
Capacidad
2
---
Dormitorios
Los Ángeles, California, Estados Unidos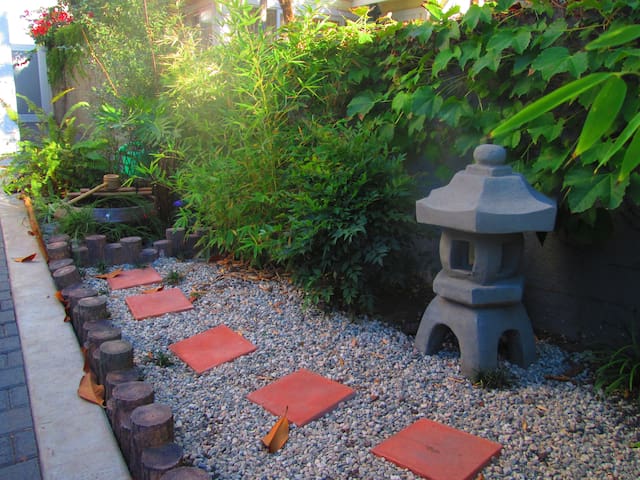 Come relax in a peaceful oasis. We are artists, yogis, and students of the world. We welcome you!
Our cozy and bright guest bedroom has a comfy king size bed and a closet with drawers. The TV has over 100 cable channels including HBO, Showtime and Cinemax. Blu Ray player included. Wifi is also included. Backyard patio is available for your enjoyment. Community veggie garden available for harvesting. Kitchen includes the following amenities: microwave, toaster, coffee maker, blender, ice maker, washer and dryer. All linens and towels are provided. Street parking is free and unrestricted seven days a week. Kitchen and bathrooms are shared. We are an easy walk to The World Cruise Center, which hosts the Disney, Princess, Carnival, and Radisson Seven Seas just to name a few. The Catalina Air-Sea Terminal is nearby as well, should you want to explore the beauty of this charming island. The Ports O' Call Village is our local marketplace where you can enjoy dining, shopping, and deep-sea fishing at your leisure. Long Beach is a short drive away. Downtown LA is a half hour drive. No smoking or drug use please. Dogs are okay to bring but no cats.
Easy access to public transportation!
Didn't get a chance to meet the hosts, but communication was prompt, clear, and accommodating on short notice! Room was clean as described with a large bed.
Kasturi
2015-02-15T00:00:00Z
My stay with Gregory was a fantastic experience. He is a super cool guy and we became instant friends. I felt right at home in his sweet little house in San Pedro. He was a generous host, offered me free range of his kitchen and lent me a yoga mat, bike helmet and lock when I misplaced mine..;) We had some great conversations but he also gave me space. I am so glad I chose to stay with him. I rented the guest room and it was comfy and clean. I didn't get to meet Christina but she was super friendly and responsive over emails. Five stars..:)
emily
2014-11-09T00:00:00Z
I could find the house easily and I enjoyed the conversation with Greg and staff lady very much. I thanks a lot for his advice which helped my travel. The interior is unique and I like the atmosphere.
Junko
2015-10-14T00:00:00Z
I had a lovely time staying with Christina and Gregory. Christina was very patient and helpful when I got lost on the way to their home. After arriving, I met Gregory, who is very sweet. He made me feel right at home. They are both very generous, inviting me to treat their home as my own and offering to share whatever I needed. The house is very pretty and my room had a big, comfortable bed which I nicknamed "Gigantor". Although it was warm, there was an air conditioner, which I used to cool down the room and then was able to turn off and sleep without any problem. I spent some time in the backyard which was lovely and peaceful. I was attending a film festival at the Warner Grand Theater and their home is less than 1/2 mile away. It was very convenient and the neighborhood is nice. I walked to and fro with no issues. I had a wonderful visit and would not hesitate to stay there again!
Julie
2014-09-29T00:00:00Z
The room was as described and Gregory was very nice. Prior to arrival Gregory sent a lengthy message detailing how to get in and other house things. All the instructions were very clear. Gregory allowed me to park on the street in front of his house for four days while I backpacked, even though I only stayed for a night. Gregory even drove me to the ferry terminal the next morning. All in all, a very nice host and a very nice house. I have nothing to complain about and would stay here again.
Joman
2015-02-11T00:00:00Z
Great home, wonderful accommodations, polite, nice location! They were so kind as to let me use their garage as well! I would def love to stay again.
Rachel
2016-01-27T00:00:00Z
Wonderful garden, check in was easy. Location was ok, decent but not the best. The room was clean and the communication was great. However due to the dogs in the back yard barking all night my husband and I were not able to get a good nights sleep. Although I know its not the hosts fault, the other tenants were also a bit too loud in the kitchen in the middle of the night. Overall it was great and if you are used to dogs then it's perfectly fine and cozy :)
Josefina
2017-03-19T00:00:00Z
The reservation was canceled the day before arrival. This is an automated posting.
Stephen & Lauren
2014-08-01T00:00:00Z
Tipo de habitación
Habitación privada
---
Tipo de propiedad
Casa
---
Capacidad
2
---
Dormitorios
Los Ángeles, California, Estados Unidos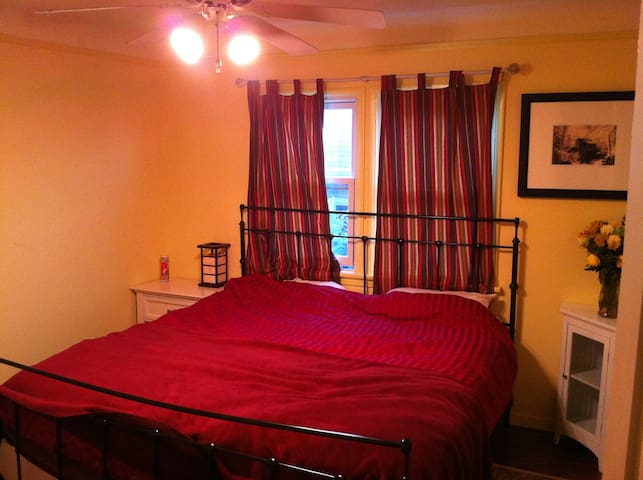 hermosa habitación privada con sala de estar y acceso a la cocina en la parte más hermosa de San Pedro. Es limítrofe Palos Verdes, ya que comparte frontera con la ciudad de Rancho Palos Verdes. Se trata de una distancia a pie desde el océano Pacífico y un montón de rutas de senderismo. Si te gusta el golf o simplemente gusta caminar, también es una distancia a pie del club de golf nacional del triunfo con su campo de 7.242 yardas. Esta es una comunidad cerrada con piscina limpia, instalaciones de lavandería en el lugar y un amplio aparcamiento en la calle.
アパートメントには、清潔なプール、敷地内のランドリー施設、十分な路上駐車とゲートコミュニティです。なお、第2のレベルです。 アパートは家具付きで、お部屋はすでに快適な睡眠のためのメモリ泡トッパーを持っているマットレスとクイーンサイズのベッドを持っています。リビングルームには快適なソファと愛座席のセットと、ディレク、HBO、NetflixのやAmazonプライムテレビ付きの60インチのビジオのスマートテレビが備わっています。ユニット全体で無線LANアクセスの高速インターネットもあります。 これは非常に単純にリゾートスタイルの価格を支払うことなく生活スタイルのリゾートです。それはパロスバーデスの美しいテラネアリゾートへわずか数分のドライブです。
この場所の美しさは、いくら強調してもしすぎることはできません。あなただけの美しい海洋ビューのパロスベルデスドライブに沿って運転できます。 あなたはゴルフ愛好家ならトランプナショナルゴルフクラブは、離れて、徒歩で、あなただけのハイキングと海を楽しみたい場合オーシャン風光明媚なハイキングコースのマイルがあります。美しいテラネアリゾートは、わずか数マイル離れもあります。 ポイントビセンテ・ライトハウス、アワビコーブショアラインパーク&生態保護区、およびディーンダナ友好公園ネイチャーセンターも訪問し、あなたがアクティブなライフスタイルを楽しんだり、ただリラックスして景色を楽しむことがあれば楽しむためにいくつかの他の偉大な屋外の場所です。 これは非常に単純にリゾートスタイルの価格を支払うことなく生活スタイルのリゾートです。
Beautiful location. Comfy stay. Responsive host.
Midnight
2017-01-27T00:00:00Z
Great Location in Pedro close to great hikes and a wonderful view of Catalina. It is on a road that is a bit busy so if you are sensitive to sound at night when sleeping -- you may want to bring your ear plugs. I am sensitive and carry a supply of earplugs with me at all times. Had room in the fridge for my food and had access to kitchen and dishes. A great value especially with a private bath!! If you need a great place in Pedro -- try Femi's place.
Martella
2017-03-19T00:00:00Z
Femi is a great host! Everything was exactly as promised and he did a great job making me feel welcome
Benjamin
2017-03-29T00:00:00Z
Der Aufenthalt bei Femi war super. Sehr gastfreundlich. Würde sofort wieder bei ihm wohnen.
Joel
2017-02-16T00:00:00Z
Great cozy spot in Palos Verdes/San Pedro area. Femi is a great host, very social but knows how to give you your privacy. Bed is extremely comfortable and the apartment is very clean.
Joe
2017-01-22T00:00:00Z
Friendly host. Nice room. Strongly recommend this.
Florian
2017-03-12T00:00:00Z
Femi was a great host! I'd totally stay with him again! Very friendly, very responsive and a great home. Loved being there, thanks again for having me!:)
Alexandra
2017-02-25T00:00:00Z
Clean and nice. He is really helpful! Nice view, neat room.
Jin Young
2017-04-09T00:00:00Z
Tipo de habitación
Habitación privada
---
Tipo de propiedad
Apartamento
---
Capacidad
2
---
Dormitorios
San Pedro, California, Estados Unidos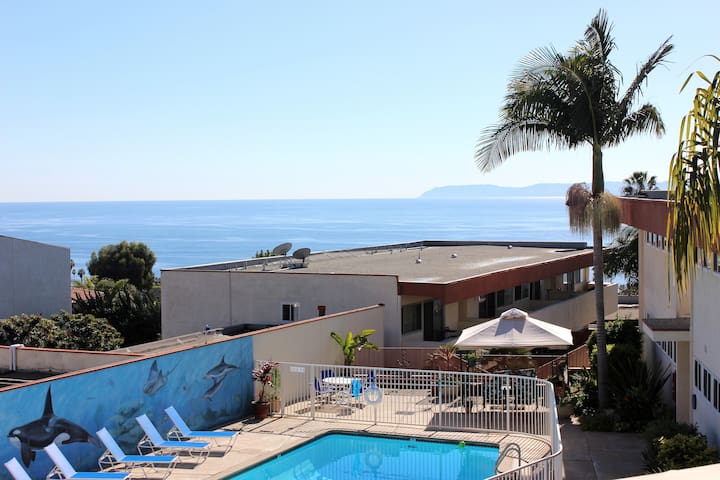 This 50' luxury motor yacht is spacious and comfortable with 3 staterooms and 2 full bathrooms. She resides in the Port of Los Angeles adjacent to the Battle Ship Iowa and the Cruise Terminal for all the Cruise Ships that visit Los Angeles and provides quite a view of commercial ship traffic in the main channel. Our home is Ports O Call Village with attractions art galleries with more than a dozen Restaurants within easy walking distance in front of our dock food are within walking distance.
Waterfront view offers hours of sightseeing RIGHT from the flybridge, enjoy our weather while tanning on the sundeck or go out for a night in san pedro for fine dining, entertainment and shopping all within walking distance from the dock.
Many local shops, beaches, restaurants, boat rentals, maritime museum, free aquarium, catalina express and other attractions are within a 10 minute walk, offering Points of interest for all ages. USE INSTANT BOOKING TO MAKE A IMMEDIATE RESERVATION IF ITS OPEN ON THE AIR BNB Calendar you can book it right now.
This is definitely a very unique experience! My friends and I enjoyed the yacht so much! Would recommend to everyone :)
Mona
2016-04-24T00:00:00Z
Great host, greet us as soon as we arrive. Help with bunch suggestions etc. The only thing is, the yacht can get a bit cold in the night, there is a heater, but not one for each room. Overall it is a new and great exp for all of us
Eric
2015-11-27T00:00:00Z
I loved staying on the boat. I was working near by and it was so much better than staying in a hotel. Its right in the harbor so I could walk to food. My bedroom was a good size for a 50ft boat as well. Overall a great experience.
Karen
2016-02-26T00:00:00Z
The boat was really nice the host was awesome very friendly and helpful my family loved it I will definitely be renting out with them again!!
Amber
2016-05-10T00:00:00Z
My profuse apologies for not posting a review sooner, I've been slammed with work since our staycation on Dustin's yacht. First, I will start by saying that my boyfriend and I had a FANTASTIC stay on the yacht; it's beautiful and the location couldn't be more convenient with tons of restaurants and shops within walking distance. My only critique is that the yacht was not up to Airbnb cleanliness standards, and the photos are not an exact representation of the yacht. The photos give the impression that the yacht is all hardwood floors with an area rug at the entrance, but the first floor and bedroom quarters are fully carpeted with a very dingy carpet. I know keeping a boat clean can be a challenge, but I refused to walk barefoot! The leather sofa pictured in the ad is not what you get, the sofa is actually a grimy fabric sofa; frankly, I wasn't comfortable relaxing into it. The kitchen counters were sticky and had a ton of crumbs. The refrigerator was empty but filthy! We took it upon ourselves to clean the kitchen and refrigerator, so after that, everything was fine. The bedding seemed clean but the comforter and throw pillows on the bed were pretty questionable. There were fresh stains on the comforter, possibly food, but it was hard to tell. To Dustin's credit, both bathrooms were clean, however the shampoo provided was an almost empty tiny shampoo sample, perhaps a dime-size amount for 2 adults on a two night stay. The bath towels were brand new and super clean, so that was great! Knowing what to expect now, we would definitely rent this yacht again, it was worth it! We never met Dustin but his concierge, "Bud", was very kind and helpful.
Selene & Adam
2015-09-20T00:00:00Z
Great experience for anyone wanting to stay at a yacht for a night or two. Yacht seemed a bit more updated than the listed photos. We didn't use the shower because it was really small and we almost got locked out in one of the large statement rooms (doorknob was broken?). We also couldn't get the DVD player to work in the living room. Other than that, it was a pleasant experience and most of the basic necessities was there.
Mary
2016-11-20T00:00:00Z
I would definitely recommend Dustins place! Good location and great views of passing boats. Boat could use a little attention and few upgrades such as the music connections, but other than that it was great. I needed an early check in and Dustin was very accommodating and let me do an early check in. If you get a chance to stay here I would say do it!
Letty
2017-02-04T00:00:00Z
The check-in process was very good. Dustin and Susan were very responsible. But the photos are very unreal. It's quite an old boat. The master bedroom has a weird odor. It takes 50 to one hour drive from Santa monica beach and other LA sightseeings. If you decide to book, I would recommend to book one day and see if you like it. Cancellation is very strict and you can't have your money back if you decide to leave. We booked two days and still decided to leave. In my opinion, you don't get what you pay for. Another words, It's over priced.
Ganbat
2017-03-09T00:00:00Z
Tipo de habitación
Casa/apto. entero
---
Tipo de propiedad
Barco
---
Capacidad
8
---
Dormitorios
San Pedro , California, Estados Unidos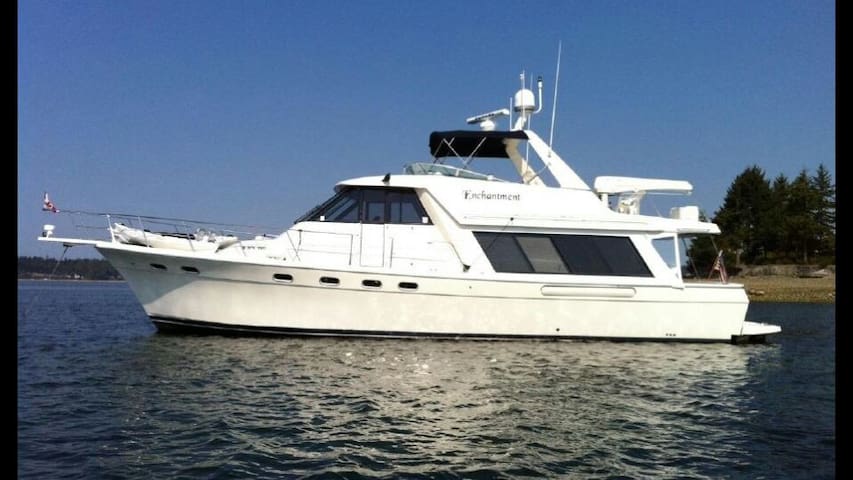 Special PRICE -->READ DESCRIPTION CAREFULLY CANCELLATION AFTER CHECK IN NOT ACCEPTED ANYMORE. 25 min to LAX- Free parking in carport. The apt is very quiet, peaceful and comfortable. It can sleep 4 people. The Beach is 5 min drive or 15 min walk.
Peaceful and quiet, accommodate 4 people, with the couch transforming in a queen bed. Flat screen and blue ray and cable to enjoy a movie night. We updated the unit with AC . - there is carpet, allergic stay away. - the place is in an older building by the beach, it's is not new and fancy but has been remodeled and painted recently - which is why you get a low price. - some basic food and goodies are available to all the guests helping our budget family's and late check ins out. - very cute and practical place to stay for family and couples. - Easy parking and easy access to apt on ground level - pretty quiet and safe neighborhood close to Palos Verdes and Port of LosAngeles. - easy access to freeways by only 1 street from the apt. NO CANCELLATIONS ACCEPTED AFTER CHECK IN.
Easy access, quiet street and convenient location. Vons is couple blocks up, we have 2 amazing daily well known in LA, 1 is 2 min walk. Great restaurants and fast food places. The Famous fish market is only a few minutes away. Amazing hikes in Palos Verdes are just next door to you as well as the Ocean and the Friendship Korean Bell, where you can picnic with an incredible view. This apt is an amazing gateway with plenty of things around with easy access. DTLA 20-30 min by 110 Santa Monica 30-40 min away through 405 Disneyland 45-1h through 405 south or 91 Long beach 10 min away LAX 20-30 min away Take the boat to Catalina Island from San Pedro port. This location is actually great to avoid some traffic from home to places than if you stay in DTLA or HOLLYWOOD, and save you money plus parking tickets.
Es un lugar muy básico, para salir temprano en la mañana y regresar tarde, sólo a dormir, ya que por el ruido que hacen los vecinos del piso superior, no podrás quedarte todo un día tranquilo Es importante tener en cuenta que le faltan temas de aseo, sobre todo en el baño y la ducha. La llegada fue traumática, ya que llevábamos muchas horas de viaje y al llegar las llaves no estaban en su lugar y debimos esperar una hora más para que el anfitrión llegara a abrirnos. La calefacción está en la sala y en días muy fríos no alcanza a llegar al cuarto, a la alfombra le falta más limpieza.
Susana
2017-02-04T00:00:00Z
Good place to stay. Clean and spacious for the most part. Some food and drink items remained from previous tenants but it was not a problem. Only issue was finding the keys to get into the apartment upon check in. Parking was very convenient and very close to places to get food.
Jordan
2017-03-03T00:00:00Z
Nice place ... clean and smells amazing. Pro: cozy, clean , great host, location Cons: slow net, no closet. Over all nice deal. Ideal for 2 people. Little small but manageable for more.
RESHANT
2016-05-25T00:00:00Z
This was a great little place to stay for a few days. Some of the reviews have made it seem like the house was pretty dirty, we didn't have that problem, there were a few stains here and there, but I didn't notice any glaring cleanliness issues. The host was responsive even when I messaged her late at night, which was a huge plus. She was very friendly. The description of the place being quiet is accurate in terms of traffic, but the walls are very thin so be prepared for noisy neighbors with a rambunctious child upstairs. We had some difficulties with oven heating, wifi, and tv connectivity issues, but overall I'd recommend it for someone looking for a cheaper place prepared for a bit of a drive each day to get where they want to go.
Larissa
2017-03-24T00:00:00Z
Good host! Renovated and cleaned before we got there. Could have been cleaner but we were pleased with our stay.
Nick
2016-08-21T00:00:00Z
I saw her cozy apartment as a little getaway for my best friend and I. The apartment is great for 2 people and would definitely recommend if you're looking for a place to stay! Check in was simple. Maylenn does a great job of texting back in a reasonable manner and tells you the full details. She also answers questions back fast. The apartment is really cute and definitely looks like the pictures. There was plenty of room to lounge around and basic amenities were at the apartment already. Laundry machine and dryer are located within the building but you need quarters to work it. The kitchen is fully functional and there are utensils you can use with some random bits of ingredients in the cabinets. Parking is easy and a mini van can easily fit between the space. One main point I would like to mention is that the walls are paper thin. The neighbors are not an issue in any way, but you can hear them snoring if you're really quiet. Just like to mention that incase no one else did! Otherwise, this was a very nice stay and I would definitely come back again!!
Ashley
2017-01-20T00:00:00Z
The place was in a good location, close to shops and walking distance to the beach, it was easy to navigate around the area. The host was very helpful with answering questions. Only issue is the traffic when traveling to other areas of LA though I think that's just LA in general.
Glen
2016-05-09T00:00:00Z
Great location and Easy parking.
Keith
2016-03-03T00:00:00Z
Tipo de habitación
Casa/apto. entero
---
Tipo de propiedad
Apartamento
---
Capacidad
4
---
Dormitorios
Los Ángeles, California, Estados Unidos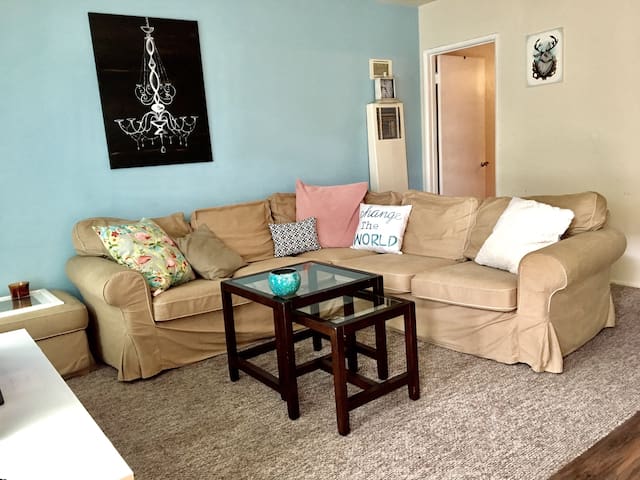 This cute studio home has phenomenal views of the Port of Los Angeles and ocean. It is close to the beach, marina, aquarium, restaurants and dining, bars, parks, and family-friendly activities. You'll love my place because of the views and the location. My place is good for couples, solo adventurers, and business travelers. It's a quick trip over two bridges to Long Beach, or straight up the 110 freeway to downtown Los Angeles.
The studio has everything you need, complete kitchen, queen sized bed, closet, shower, t.v, and your own large raised patio with spectacular views. The floor in the main area is bamboo hardwood.
The studio is located in the Point Fermin area of San Pedro. It is pretty hilly and although densely populated, everyone is friendly and respects each others' privacy.
You should definitely consider a stay here, and it's more than the ad describes. Top notch! Great view and area.
Keith
2017-01-29T00:00:00Z
Patti's place is a perfect getaway. The studio has no shared walls, has a view of the ocean, and everything you could possibly need. Patti was very accompanying and made sure we were comfortable with our stay. We will definitely stay here again if we come back to the San Pedro area.
Elyce
2017-02-20T00:00:00Z
Such a nice place to stay at. Definitely recommend !
Deziree
2017-03-12T00:00:00Z
Patti's place is amazing not only a great view but also quiet and away but not too far from everything. She responded quickly and her place was clean, comfortable and we were satisfied with everything! Thanks again Patti
Karla
2017-02-12T00:00:00Z
The host canceled this reservation the day before arrival. This is an automated posting.
Albrecht
2017-03-26T00:00:00Z
This place is AMAZING! We used to live in San Pedro so being back at Patti's was truly like being home! The space is cute and comfortable and the view is tremendous. Our only regret is that we didn't stay longer!
Andy
2017-02-28T00:00:00Z
The best Airbnb experience we ever had. Would recommend it to anyone!
Anthony
2017-03-19T00:00:00Z
Very clean place. Lots of towels provided. Kitchen is equipped with Expresso machine and is fully stocked with kitchenware for cooking although all we did was warm up leftovers. Nice view of the ocean. Quiet neighborhood. My husband and I traveled for a wedding and stayed 5 nights. We rented a car and there was always parking on the street. Would definitely recommend to others traveling without children. There are quite a few stairs to go up which I imagine can be challenging if traveling with small children and strollers. All in all, great place to stay. Especially if you don't want to be bothered and are looking for some R&R.
Sophia
2017-04-04T00:00:00Z
Tipo de habitación
Casa/apto. entero
---
Tipo de propiedad
Casa de huéspedes
---
Capacidad
2
---
Dormitorios
Los Ángeles, California, Estados Unidos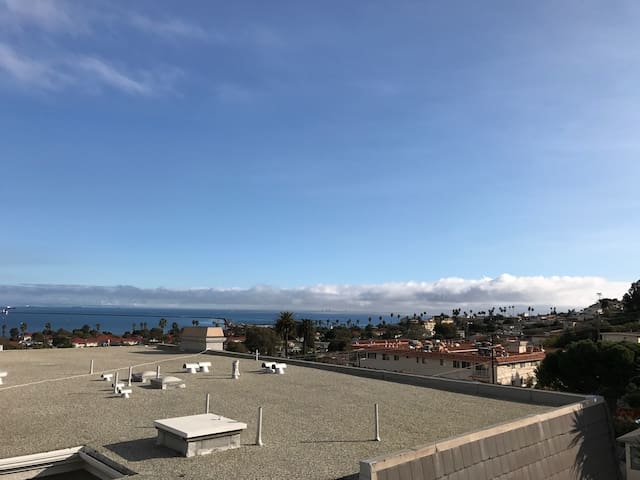 Es ist Magie! Verjüngen in Ihrem schön eingerichtete 2-Zimmer-Suite. Dies ist in den Gästetrakt. Der Pool-Weg führt zu Ihrem Ozean Terrasse, Meilen von atemberaubenden Blick auf das Meer und Catalina Blick. Hallo Speed Internet, Direct TV, Kitchenette, einen beheizten Pool und Jacuzzi. Sie erhalten auch einen zweiten Nebenraum mit einem kleinen Sofa, Beistelltischen und einem großen TV-Bildschirm. Es ist perfekt, erhalten Sie mehr als ein Einzelzimmer und einige Zimmer, um sich auszubreiten. wir redid nur ein paar kleine Dinge besser, die ganze Einheit zu machen.
Dies ist die Südseite des Palos Verdes.We sind nur eine kurze Entfernung von der Weltklasse Terranea Resort. Der Raum ist sehr schön eingerichtet, die Einrichtung ist Zen und sehr entspannend mit einem schönen Gefühl. Das Schlafzimmer hat ein Queen-Size-Bett, ein Schreibtisch, an dem Sie Ihren Computer setzen können einen Flachbildschirm-TV zu arbeiten und ein eigenes Bad. Auch hier ist der zweite Raum angrenzenden und hat eine Couch und TV, wie ein Wohnzimmer. Es gibt auch eine kleine Küchenzeile mit Kühlschrank, Mikrowelle, Kaffeemaschine und Geschirr. Es gibt viel Grillen im Freien auch und weitere Utensilien sind auf Anfrage jederzeit zur Verfügung. Bitte beachten: Die Zimmer zum Hof ist ausgeschaltet. Es gibt keine wirkliche Aussicht aus dem Zimmer direkt. Sie tun, um Ihre eigenen schönen Sitzbereich im Freien haben, die auf einer Klippe hoch oben schaut direkt über dem Meer. Es ist erstaunlich!
Sie sind nur eine kurze Entfernung von der Weltklasse-e Resort. Sie befinden sich am südlichen Ufer des Palos Verdes, in der Nähe zu den großen Ozean Wandern, Natur bewahrt und vieles mehr. Auch dies ist der hintere Flügel des Hauses, für die Gäste getrennt und sehr schön.
En offered us a very cousy, warm and clean room for our stay. If you want to have a relaxing and calm vacation, this is the place to come to. Ron and his wife are very respectful about your privacy and comfort. If tou have any questions, they will always assist you.
Jekaterina
2016-06-17T00:00:00Z
We had booked the guest room at Ron's place and a wonderful and relaxed stay, chilling at the terrace, watching the ocean, enjoying BBQ and the fire pit. It's an open property, though privacy is kept. The Jacuzzi is amazing. Everything else has already been said, nothing to add. Thanks for the hospitality!
Anne
2016-06-03T00:00:00Z
Beautiful view. Very safe, quiet neighborhood.
Steve
2017-02-23T00:00:00Z
Very easy and clear texted directions to get access to the space. Hosts were friendly and welcoming, and the location is unbeatable. Comfortable, quiet, private room and the pool and hot tub were a fabulous treat!
Rebecca
2016-06-24T00:00:00Z
Ron is a great host, everything went smoothly and was always around if we'd need anything! Best of all, of course, is the great location right at the ocean! Thx Ron!
Christian
2016-11-27T00:00:00Z
Nous recommandons cette adresse. Un peu loin du centre mais vue imprenable sur l'océan et grand calme. Hôtes très accueillants et agréables. Chambre confortable et propre
Philippe
2016-04-23T00:00:00Z
Wow this was a nice find in a quiet neighborhood. The hosts were super friendly and made me feel welcome. I enjoyed the accusations and especially the jacuzzi after very long days working in San Pedro. Thanks Ron!
Russ
2016-05-01T00:00:00Z
Ron prepared everything to make sure my stay was comfortable. He was very quick to respond to my requests and questions. The place is such a great place right in front of Pacific Ocean. I definitely recommend this quiet and private space for everyone who wants to have a relaxed time.
Kentaro
2016-12-11T00:00:00Z
Tipo de habitación
Habitación privada
---
Tipo de propiedad
Casa de huéspedes
---
Capacidad
3
---
Dormitorios
San Pedro, California, Estados Unidos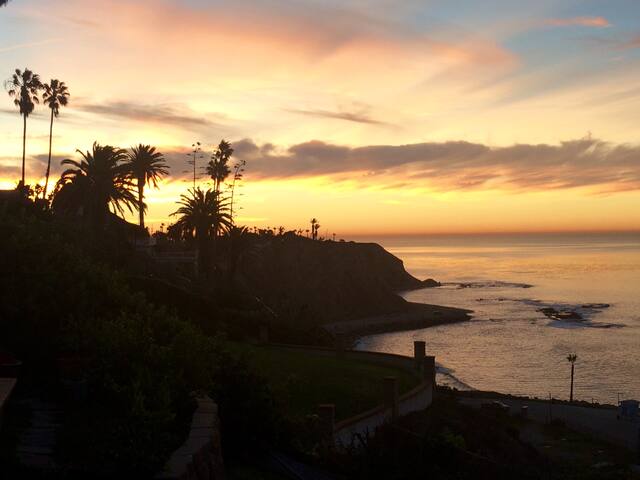 Quiet 1 bedroom 1 bath in beautiful Point Fermin, newly remodeled and fully furnished. Wifi and satellite tv. Just blocks from the ocean.
This is a newly remodeled one bedroom one bath duplex, just blocks away from the ocean. It has one queen bed and one twin sofa sleeper. With a full kitchen, granite countertops, refrigerator, microwave, professional gas range and coffee maker. The living room has a gas fireplace and travertine floors throughout. Wifi and satellite tv. Very quite and relaxing. Beautiful outdoor area in front with a covered patio/porch, perfect for enjoying your morning coffee or evening BBQs.
Located on the southern end of the Palos Verdes Peninsula, Point Fermin is one of the most picturesque and historical regions in Los Angeles. Walking distance to Cabrillo Beach & Marine Aquarium, Point Fermin Park & Lighthouse, Korean Bell of Friendship, Fort McCarthur Museum & Marine Mammal Center. There are 3 diners and a corner store just 2 blocks away. 5 minutes away is Ports O'Call Village with restaurants, souvenir & gift shops, fish market and harbor cruises. Los Angeles Maritime Museum Port of Los Angeles- World Cruise Terminal, whale watching, sport fishing trips and excursions to Catalina Island. The USS Iowa Battleship Tour Crafted at the Port of Los Angeles is a marketplace in a World War II ear warehouse, with a variety of unique and handmade goods. Brouwerij West, an eco friendly brewery and tasting room is right next door. Warner Grand Theater- Showing classic, family and foreign films as well as live performances. And there are a number of art galleries located near by. 20 minutes over the famous Vincent Thomas Bridge, is Long Beach, with an array of activities and dinning. Long Beach Aquarium, Queen Mary, Shoreline Village and Long Beach Convention & Entertainment Center. 20 minutes north is Palos Verdes Peninsula with scenic drives along the coast. Point Vicente Lighthouse, Terranea Resort, Trump National Golf Club, Wayfarers Glass Chapel, Botanic Gardens and hiking trails. 35 minutes to LAX 50 minutes to Downtown Los Angeles Conveniently located to Disneyland, Knott's Berry Farm, Universal Studios, Venice Beach, Santa Monica, Hollywood, Beverly Hills and Pasadena. We are also close by to some of the best beaches in Southern California. Hermosa and Redondo Beach to the north and Huntington and Seal Beach to the south.
This was our first Airbnb stay and this wonderful hostess has us hooked. This was a delightful place to stay, well appointed, secure, charming and quiet. We grew up in the Area and felt so at home. You can venture out on foot from here to the beach or bluff views which we love. We were in Point Fermin for a Family gathering and will plan to stay here the next time we are in town.
Albert
2016-12-11T00:00:00Z
The house was beautiful, clean, and Theresa was an excellent host. I would highly recommend staying here if you're visiting Point Fermin.
Krisan
2016-10-15T00:00:00Z
Beautiful home and great location close to the beach and marina!
Jennifer
2016-10-09T00:00:00Z
Theresa's apartment was very special. It was clean, beautifully decorated and had everything we needed. I loved the location. It was a five minute walk to a lovely beach. There are two great diners about two blocks away, with great food and menu. Point Fermin Park was also a five minute walk. Communication with Theresa was excellent. She was very friendly and recommended some fun things to do, such as a production of Othello at Shakespeare By the Sea. I highly recommend Theresa's apartment and look forward to returning soon.
Jeanne
2016-07-11T00:00:00Z
Very great place to stay. I have stayed for three nights with my partner. You just got everything in the house and you cannot ask for more, believe me. Theresa and Joe are so nice and thoughtful. The house is the most beautiful one in the neighborhood, trust us on this. The area is a little bit far from down town so you must have a car. If you want to go out for shopping or going to beach swim, you have to drive. All in all, everything is so great. Just cannot ask for more.
Daniel
2016-08-11T00:00:00Z
Theresa has thought of everything and more, she is a wonderful host and we couldn't have asked for more in our first experience using airbnb. The pictures don't do her guest home justice. There is a little cafe down the street that is a must if you come. So much to walk around and explore while you're here.
Brandie
2016-08-06T00:00:00Z
This home is amazing! Theresa was a great host, and was very welcoming on my arrival. Would recommend this home to anyone that is looking for calm and quiet space to recharge from their day to day lifestyles.
Ernest
2016-11-07T00:00:00Z
We loved the apartment-it is beautiful, well appointed and very clean. The bed is very comfortable and long enough for 2 tall people! The area is quiet and there are lots of things to do just within walking distance. Theresa is very nice and easy to communicate with. I hope we can return soon! I would have liked to spend a few more days here.
Lyn
2016-09-05T00:00:00Z
Tipo de habitación
Casa/apto. entero
---
Tipo de propiedad
Otros
---
Capacidad
2
---
Dormitorios
Los Ángeles, California, Estados Unidos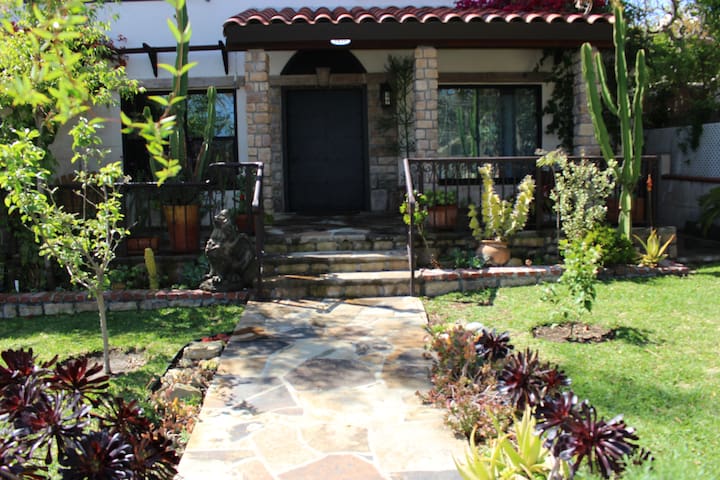 Hi! I am Dorcy and wish to welcome you to the unique port town of San Pedro! Located mid-way between Los Angeles and Disneyland. San Pedro is the main departure point for several cruise lines. If you're attending a wedding, we are 3.5 miles from Trump, close to Terranea, Wayfarer's Chapel, La Venta Inn, and Pt Vicente. From our secluded, quiet home you have access to the beach, beautiful cliff top walks, ocean trails & world class golf. The accommodation is totally self-contained and secure.
800 sq ft of private space with a dedicated parking spot behind the gate. Harbor views, quite, perfect for two couples, business travelers looking for a home away from home. The cottage is separate from the main house, has a bedroom with a queen bed and the living room sofa converts into a queen bed making it a comfortable space for two couples. There is space for an additional queen air mattress to ultimately sleep 6. The cottage has a full kitchen, a full bathroom and plenty of space for a family wanting to vacation in Los Angeles area close to the beach.
We are a quite and quaint neighborhood Vista Del Oro one of the most sought after neighborhood in San Pedro, one block from the famous Averil Park, a popular location for weddings and parties. We are in walking distance of a couple of local cute places to eat.
Pluses: Spacious, well-equiped, comfortable bed, quiet neighborhood. Minus: location quite a distance from some tourist sights, but overall an excellent location since you need a car in LA anyway.
liz
2016-12-31T00:00:00Z
Details provided by host is accurate. Exceptional host, especially since this was our first time using Air BNB, we will now be using from here on out! Dorcy is def a wonderful host. I will def look up her place and if avail stay at her place again if I'm in that area again .
Maria
2016-11-13T00:00:00Z
Dorcy was very accommodating and considerate of our needs. The place was perfect for what we needed.
Conrad
2016-09-27T00:00:00Z
Cute cottage perfect little place for a getaway and close to many places to visit in the LA area
Geraldine
2016-11-30T00:00:00Z
Dorcy and her wonderful private cottage/ guesthouse were absolutely perfect! I couldn't have imagined it any better then it was. Dorcy was incredibly sweet and kind , she even had fresh home made lemonade set out for us when we arrived. She was so pleasant and helpful as well and made herself very available. Her place is very spacious beautifully decorated and well stocked with everything you could need. From snacks and coffee to beach towels and personal items she had so many thoughtful things made available. We thoroughly enjoyed our visit to Dorcy's place. Look forward to a future stay!
Connie
2016-08-23T00:00:00Z
My stay at Dorcy's place was amazing! The home is beautifully located in San Pedro overlooking breathtaking views of the marina. Very clean & well appointed. Dorcy even made sure parking was simple with a space in her driveway. The place overall has a peaceful feel with easy access to checkout Long Beach & LA. Such a great Airbnb for a great price! Thank you! Definitely will stay again if I'm back in LA area. :)
Bobbie
2016-09-24T00:00:00Z
This is such a private space in an awesome location, and affordable priced over a holiday as well! The hospitality overflowed. :)
Angie
2016-11-24T00:00:00Z
Dorcy is a wonderful host. We were welcomed with cupcakes and fresh lemonade. She communicated frequently with us about our needs, such as supplies, etc. The home is clean, quiet and comfortable, which was perfect when traveling with small children. I recommend Dorcy's place without reservation!
Sharon
2017-03-29T00:00:00Z
Tipo de habitación
Casa/apto. entero
---
Tipo de propiedad
Casa de huéspedes
---
Capacidad
6
---
Dormitorios
Los Ángeles, California, Estados Unidos
Introduce las fechas para ver el precio total. Ten en cuenta que se aplicarán tarifas adicionales y es posible que se añadan impuestos.