Introduce la fecha de llegada en el formato dd/mm/aaaa
Introduce la fecha de salida en el formato dd/mm/aaaa
Anuncios que no requieren que el anfitrión acepte la solicitud.
6 Alquileres de Cabañas
· Serfaus
6 Alquileres de Cabañas
· Serfaus
Introduce las fechas para ver el precio total. Ten en cuenta que se aplicarán tarifas adicionales y es posible que se añadan impuestos.
En julio y agosto, podrás disfrutar de 100 de los alojamientos con las mejores valoraciones de Sonoma a precios muy diferentes y disfrutar de la cara más auténtica de la ciudad. Relájate y disfruta de tu estancia sabiendo que puedes hacer una reserva inmediata, llegar a cualquier hora y disfrutar del vino de la zona y de otros tentempiés.
A newly built cottage (oct 15) fully equiped with 2 bed room, 2 bathrooms and an fully equiped kitchen with owen, micro and dishwasher. Living room looking over the alps with two extra beds. O-nly 4 km or 10 minutes by bus from St Anton
One of the bathrooms is situated in a separate building, one meter away from the main entrance. The reception at the Arlberg camping is taken care of all the practial matter in order to give an as pleasant holiday stay as possible.
Bed linen and towels are not included in the price and you need to bring them yourself. Only a few hundred meters from the cottage there is fully equiped wellness SPA. The Commune of Arlberg charges all guest over the age of 15 a daily tourist fee of Euro 2.60.
The host canceled this reservation 123 days before arrival. This is an automated posting.
Fani
Super schnelle Kommunikation mit Patrik. Cottage ist gemütlich eingerichtet und sehr sauber. Die Bilder in der Beschreibung sehr detailgetreu. Tolle Anbindung ans Ski Gebiet mit einem kostenlosen Bus. Auch das Campingplatz-Team war sehr freundlich und zuvorkommend.
Stefanie
January 2016
We were the first guests in this newly build and modern cabin and very much enjoyed our stay. It has two separate bedrooms with two beds each, a small kitchen, shower, and living room. It is all in all rather small but sufficient. Please note that it is located at a campsite and the final gate closes past 10pm (you can park in front of the gate and walk 200M to the cabin). The skiing resort is a 10 min drive and easy to reach. We didn't meet Patrick but he was very responsive and tried to support us with all questions. Recommendable.
Elmar
December 2015
We had a fantastic week in St. Anton at Patrik's cottage. The cottage was very easy to find and Patrik was extremely helpful before, during and after our arrival, answering all questions very quickly. The cottage itself had everything we needed, was very clean and very well organised, warm and welcoming. It was also very easy and fast to take the bus every morning to go skiing. Couldn't have had a better week!
Ana
January 2016
very clean, nice and cozy place. the skibus stops right outside the camping area so it's very easy to get to the slopes of st. anton. we liked it very much.
Andy
February 2016
Nice base for a week long ski trip, enough room for the five of us but six would have been a squeeze with two in the lounge. Direct skibus connection to the lifts in only 10-15mins, bring earplugs though as it was impossible for me to sleep in the room next to the noisy water heater without them :)
Karl
March 2016
De cottage ligt op een kampeerterrein even buiten Pettneu, 10 min. rijden van Sankt Anton. Wij verbleven met 4 volwassenen voor 2 nichtjes in de cottage. Heerlijke bedden, 2 douches.Uitstekend. Een zeer uitgebreide keuken met diverse pannen en servies. Ook de WiFi werkte uitstekend. Het enige was dat we de footage zeer moeilijk op het terrein konden vinden omdat er niet veel logica in de nummers zat. Overall een prima slaapplekje
Bernadette
February 2016
Great place to stay with a family 2+2. Very comfortable, with kitchen and all what you need there. You should love camping - we do, so in this case it was awesome :) Very friendly camping staff, quiet place. We were going by skibus (St Anton West) or by own car (to Lech). There is swiming pool with saunas very close, there is a bar as well. If you look for a night life this place may be too far away from city center. For us with kids was awesome!
Anna
February 2016
Tipo de habitación
Casa/apto. entero
---
Tipo de propiedad
---
Capacidad
4
---
Dormitorios
2
Pettneu am Arlberg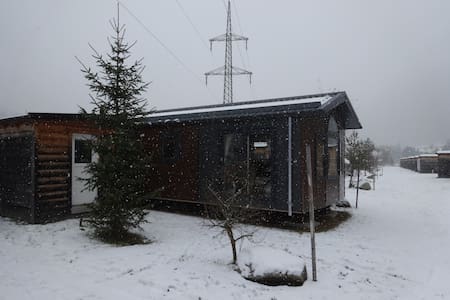 The wooden camping pods at Innside Adventure Cabins & Camping are cosy, comfortable and exciting - something really different and fun for families to overnight in. A typical Austrian restaurant is on-site and several bicycles are available for free to tour the adjoining riverside pathway
The camping pods are cute! It's a location with good view, great hiking paths all around, and we even have wifi in the pods! If you don't drive ( like we did) then you'll have to walk a bit from the railway station(about 10 min. Depends on fast you walk) , but the great view was totally worth the walk!
Ju-In
July 2016
Stay at John's place was very cool, pod houses have good atmosphere, ideal for over night stay. I recommend the breakfast or any other meal from restaurant they were really tasty.
Rasťo
August 2016
Sehr nett aber ein bisschen kalt in der Nacht
Liu
December 2016
Descrizione dell'annuncio precisa, un bel posto. John è stato fin da subito gentile e disponibile. Consigliato
Gabriele
September 2016
Op de doorreis naar italie in een chalet overnacht met 2 volwassenen en 3 kinderen. Hiervoor zeer geschikt en leuk. Goede prijs.
Tamara
August 2016
Excellent place to stay, very clean and John was very helpful. One night was not long enough
Jean-Paul
August 2016
nice and clean location in a quiet and beautiful neighborhood + a good breakfast
Charly
September 2016
The place is basic and the cabins are small, with hard beds, but clean (and new). The door openings in the cabin are constructed very small: I kept on kicking my head, even though I'm not tall at all. The food is ok, although somewhat junkfood-like. The view on the surrounding mountains is beautiful and the staff is very friendly and helpful. And of course the fact that it's e few steps away from outdoor events like rafting is very convenient!
Marc
August 2016
Tipo de habitación
Habitación privada
---
Tipo de propiedad
---
Capacidad
5
---
Dormitorios
1
Haiming
We enjoyed the place. We like Stuben in the middle of the mountains. We loved the breakfest and dinner. Sandra gives us a warm welcome.
Martin
July 2016
Was prima!
Nicole
August 2016
Wir haben den Aufenthalt sehr genossen. Die Lage ist sehr schön und einfach zu finden. Auch haben wir ein paar tolle Tips zur Umgebung erhalten!
Christiane
August 2016
Die Unterkunft war so, wie auf den Fotos zu sehen. Einfach, aber sauber und gemütlich. Wir würden wiederkommen!
Mark
August 2016
Nous avons été très bien accueillies.
mireille
July 2016
Wir wurden sehr herzlich empfangen und man bemühte sich das Zimmer so schnell wie möglich bereit zu stellen. Ebenso erhielten wir sehr gute Wandertipps welche wir auch nutzten.
Denise
October 2016
L'host ci ha accolti benissimo e ci ha aspettati fino a sera tarda. È un posto da sogno, immerso tra le montagne austriache. Un'esperienza incredibile, uno chalet come quello di heidi con tutte le comodità. Un'esperienza da fare una volta nella vita!
Fausto
August 2016
The host canceled this reservation 234 days before arrival. This is an automated posting.
Boris
Tipo de habitación
Habitación privada
---
Tipo de propiedad
---
Capacidad
16
---
Dormitorios
1
Stuben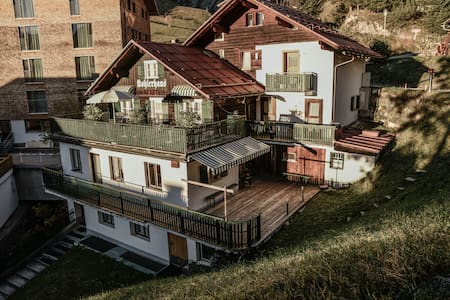 Close to the ski resort Motta Naluns, to the thermal baths and SPA of Scuol, to stunning hiking paths and to many of the most interesting villages in Engadin...this traditional house is the right place to experience everything the Swiss Alps have to offer. Welcome to Chasa Lansel!
Chase Lansel is a lovely place to enjoy your holidays in the Swiss Alps. This is a unique property owned by our family since the beginning of 1800, when the house was build. In 2006 it has been completely renovated and it now offers: - A cozy, bright and very spacious living room (including a dining table accommodating up to 12 people, a double sofa and TV) - A fully equipped kitchen (washing machine, oven, microwave oven, a big larder, coffee machine and raclette set included) - Four bedrooms (each with two single beds or queen beds) - Two bathrooms (one with a cozy bathtub, one with shower) - A cute little sunny balcony - A "Stuva" (the most typical room of the traditional houses of Engadin, completely made of wood. It is like a second living room with a dining table and a cozy sofa... great to read or play cards when it snows outside) - A tiny little extra room which we call the "Hobbit" room :-) Available for you also a private parking spot, a ski room where to stock all of your sport material, a washing machine and a dryer. Guests will have access to the whole house. You will be welcomed by Raffaella, who will give you the keys and show you around. For any question, issue, or even if you just wish to get some tips on what to do in Engadin, you can always contact us directly and we will be happy to give all the support you need!
Chase Lansel is at the heart of Sent. The Ski resort Motta Naluns as well as the thermal SPA in Scuol are reachable within 5-10 minutes driving. Shops (grocery store, sport rentals) and restaurants are within a 2 minutes walk. Bus stop located 50 meters from the house. In winter, the "bus da sport da Scuol" will bring you for free, within a 10 minutes drive, to the ski resort of Scuol. Everything around Sent is easily reachable by car, by bus or by train. The cleaning fee is not included in the Airbnb price and we kindly ask our guests to pay it cash upon arrival. It amounts of 150CHF. Thank you :-) In Sent time seems to have stopped. There is no WiFi available at our home. Enjoy the nature, take a break! Because of the old wood floor we advise our guests to bring slippers for everyone. This is a chalet and walls and floors are made of wood: expect some noise when walking around and poor sound isolation between the rooms. That's part of the charme!
The old Engadiner house is very lovely. It's a huge place (even bigger than it looks on the pictures) with comfy bed rooms, fully equipped kitched and beautifully selected old furniture, espacially in the ols study room. Location is great, close to the "central plaza" of Sent and the supermarket. The village is quite picturesque with great hiking spots closeby. Thanks a lot to Martina & Ladina!
Elena
October 2014
Terrific house! There was nothing we missed. The house has the perfect mix of rural and modern. A real beauty. Very kind hosts.
Mark
March 2016
Tipo de habitación
Casa/apto. entero
---
Tipo de propiedad
---
Capacidad
8
---
Dormitorios
4
Sent
Die Hütte ist total urig und echt riesig. Wir hatten eine tolle Zeit da das Freizeitangebot in der Gegend sehr groß ist. Es wäre toll wenn es ein Sofa im Gastraum gäbe.
Kathrin
October 2016
Wir hatten das Kohlerhaus für ein Wochenende mit 9 Erwachsenen und 3 Kindern/Babys. Es war ausreichend Platz auch für mehr Personen. Wir waren als Selbstversorger da, haben alles selbst gekocht, hatten auch unseren eigenen Grill dabei, was kein Problem war. Besonders zu erwähnen ist die fantastische Sonnenterrasse mit einer perfekten Abendsonne und Blick bis zum Schluss. Der Aufenthaltsraum bietet zusätzlich zur Heizung einen sehr gemütlichen Holzhofen, alles gut ausgestattet, auch für Kinder ein kleines Abenteuerhaus mit vielen Winkeln und Räumen. Sandra und Ihr Team haben uns herzlich empfangen und uns gute Tips zum Wandern gegeben, auch mit Kindern sehr empfehlenswerte Umgebung. Wer Luxus möchte ist hier falsch, aber eine urige, gemütliche authentische Hütte/Haus genau richtig. Wir würden jederzeit wieder kommen und können es definitiv empfehlen!!!
Andreas
September 2015
Der Aufenthalt kam letzen Endes leider nicht zu Stande, da es in unserer Gruppe mehrere Krankheitsfälle gab. Die Gastgeberin hat sich aber absolut kulant gezeigt bezüglich Verschiebung des Termins. Auch im Vorfeld bis zur Buchung war alles top. Stets schnelle Rückmeldung auch trotz diverser Fragen. Freue mich schon auf den Ersatztermin:-)
Anand
July 2016
Der Aufenthalt im Kohler Haus war sehr urig wir haben uns sehr wohl gefühlt auch Gerda unsere Ansprechpartnerin war sehr hilfsbereit und sehr freundlich. Das einzige worüber ich mich das nächste mal freuen würde wären die sanitären Anlagen sprich die Bäder ,die mal in einen neueren Zustand zu renovieren... Sonst jeder Zeit wieder dies zu meinem Anlass meinen Geburtstag oder ähnliche Veranstaltungen zu feiern... Vielen Dank für alles Claudia
Claudia
September 2016
Sandra hat uns sehr gastfreundlich willkommen geheißen. Die Hütte ist schön "urig" und hat einen großen und gemütlichen Aufenthaltsraum. Die 9 Zimmer waren sehr saueber und haben uns 10 Teilnehmern viel Platz geboten. Auch die Betten waren bequem. Für unsrer Motorräder gab es sogar die Möglichkeit, diese in der Tiefgarage des Ortes unterzustellen. Das Frühstück war sehr lecker. Wir würden jederzeit gerne wieder kommen.
Ioannis
July 2016
Die Hütte liegt versteckt mitten in Stuben und ist prima mit dem Auto erreichbar. Nach dem Ausladen parkten wir die Fahrzeuge am Haupthaus welches zu Fuß 5 Minuten entfernt ist. Das Kohlerhus ist traumhaft und einzigartig, wir haben erst einmal 2 Stunden damit verbracht die Hütte zu entdeckten. Sie ist verwinkelt und sehr gemütlich und urig. Dennoch ist tip top sauber und vollständig eingerichtet (außer einer Kaffeekanne :-) ). In der Früh den Sonnenaufgang von den unzähligen Balkonen zu beobachten ist herrlich. Vom Kohlerhus kann man auch direkt Loswandern, nach dem anstrengenden Marsch ist die Saune im Keller genau das richtige!! Einfach genial!! Sandra hatte uns im voraus alles beschrieben und tipps gegeben. Vielen vielen Dank - auch dafür dass wir etwas länger als der ursprüngliche Check-out Zeit bleiben durften.
Eva
October 2016
Es war ein tolles Wochenende mit der ganzen Familie (9 Erwachsene und 6 Kinder) in Stuben im Kohlerhaus. Sandra ist sehr freundlich und hilfsbereit in allen Belangen. Das Kohlerhaus, eine Hütte mit Charme und Atmosphäre. Urig, gemütlich und sauber. So stellt man sich eine Hütte für ein tolles Wochenende in den Bergen vor.
Wolfgang
July 2016
Wir waren alle voll und ganz zufrieden! Alles sehr schön und annehmlich!
Anco
September 2016
Tipo de habitación
Casa/apto. entero
---
Tipo de propiedad
---
Capacidad
16
---
Dormitorios
9
Stuben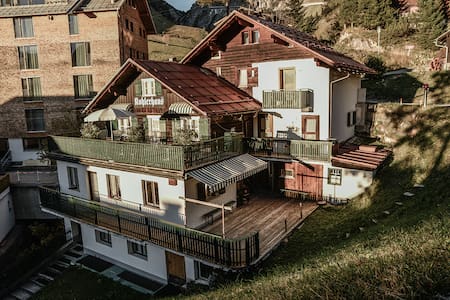 1

–

6

de

6 Alquileres de Cabañas