The Surrey Room at Blooming Dales Farm offers elegant farm-Victorian accommodations in a rural setting. Views of the Cascade and Coast ranges in Oregon's wine country. Easy access from Portland or Salem and 40 minutes from the Pacific Ocean.
The Surrey Room in the Carriage House at Blooming Dales Farm has a beautiful queen-size solid Mahogany bed with matching wood night stands and Tiffany-style glass lamps, wool rugs and hardwood flooring. It has its own thermostat for your convenience as well as TV and wireless internet. The private bathroom is well appointed with a beautiful granite wash stand and porcelain tub with shower. Guests can also share the conveniences of the great-room space including kitchenette with refrigerator, coffee maker and microwave, decorative cast iron gas fireplace and library. Breakfast is served on Saturday and Sunday mornings. Breakfast is not available on weekdays. Note that the Carriage House does not have a cooking stove or oven.
Blooming Dales Farm is a working farm, situated on top of a ridge overlooking the western part of the Willamette valley. We have a panoramic view of the surrounding farmland that extends to the foothills of the Coast and Cascade mountains. Six Cascade peaks are visible from the farm. We are also just minutes away from the many vineyards and wineries of Polk and Yamhill Counties and a short 40 minute drive from the Oregon Coast.
The Carriage House was beautiful. We had one of two rooms, both had their own bathroom. It is very well appointed, the hardware, the wood work and molding, the flooring and fixtures, everything was very beautiful. Most of all, it was quiet. Very quiet. Our friends stayed in the other room but we never even heard their voices or steps. The bed was comfortable and the breakfast in the morning was excellent. We will recommend this place to anyone going to the area.
Mark
2014-10-19T00:00:00Z
Stephen and Marian were wonderful hosts and the accommodations were great. The room was just as advertised, comfortable, and clean. Breakfast was provided Saturday and Sunday, and it was delicious and generous. Stephen and Marian were very friendly and it was great getting to hear about their farm and ponies while we relaxed in the countryside.
Matthew
2015-07-05T00:00:00Z
My boyfriend and I had such a great visit, we loved staying there! The carriage house is incredible, so cute, so much detail, very clean, and had everything we could have possibly needed. The shower had great water pressure too (showers are often a let down for me at hotels.) It is in SUCH a beautiful area and we were struck by just how quiet it is out there all while being an easy 15 minute drive to McMinnville. Stephen and Marian were so nice we ended up talking to them for probably two hours after breakfast one day! The common area is very big and can easily accommodate two parties. This was our first time staying at a Bed and Breakfast and we would absolutely come back!
Tiffany
2016-05-16T00:00:00Z
This was my second multi-day stay in Steve and Marian's Carriage House. It's a very quiet, country location with gorgeous views of Christmas tree farms and hay fields -- perfect, in other words. Upon each arrival, I was immediately greeted by the owners and shown to the Carriage House. It's spotless and everything feels new and attractive. If you're lucky, the Eggs Benedict will be on the menu. They make the world's best Hollandaise Sauce. I'll definitely return.
Claudia
2016-05-22T00:00:00Z
We had a brief but lovely visit. We enjoyed our stay in the "Carriage House" very much. The room is clean and large, the bed was soft and comfortable. The bathroom was also large and attractive. Because we stayed on the weekend, our hosts made us breakfast, and delivered it to the Carriage House (quiche and warm coffee cake and fresh fruit!). The place has a panoramic view of the surrounding countryside. Really nice!
Toby and Jan
2015-08-16T00:00:00Z
Stephen and Marian were wonderful hosts. The accommodations were spacious and well appointed. Large modern bathrooms as well. In short, very impressive.
Steve
2016-07-11T00:00:00Z
Lovely space - spotless, bright, and airy. Our room and bathroom were large, extremely comfortable, and even better than they look in the pictures. The 2nd room was not occupied while we were there, so we had the living area/kitchenette to ourselves - but it was a very large space with two seating areas, so would have been fine to share as well. Steve and Marian were very prompt to answer email questions prior to the visit; met us when we arrived, very friendly. They were also very nice about letting us check in early (we were attending a wedding at a nearby vineyard and wanted to change there instead of driving down in our wedding duds). The space is very private but also only a minute walk from their main house, so easy to access if we had had any questions or needed anything. Great value, too - especially compared to McMinnville-area hotels. All in all a great find for a wine country stay, we will happily stay there again and recommend to others!
Anne
2015-08-23T00:00:00Z
Marian & Steve were great hosts. Marian introduced their beautiful horses to us. Accommodations were very clean and comfortable. Breakfast on Sunday was delicious and they kindly accommodated our vegetarian diet. Beautiful location, 1,000's of stars at night, very quiet.
Judith
2016-06-13T00:00:00Z
Tipo de habitación
Habitación privada
---
Tipo de propiedad
Casa
---
Capacidad
2
---
Dormitorios
Sheridan, Oregón, Estados Unidos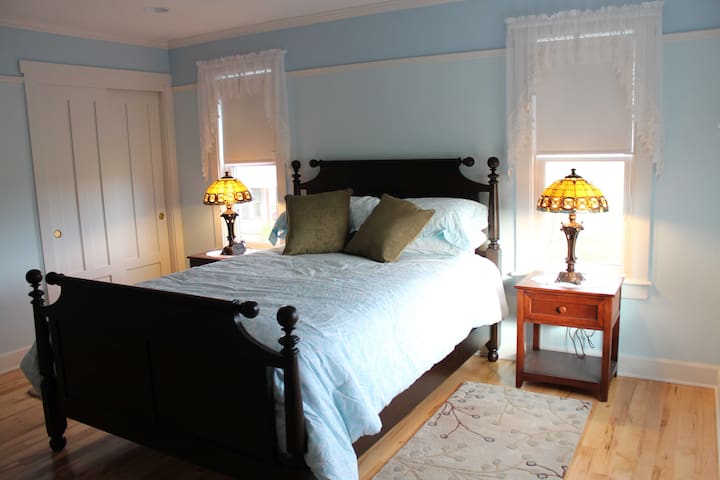 An hour's drive out of Portland, in the heart of the Willamette Valley's Eola Amity AVA, sits AtTheJoy and the Anahata vineyard. Our beautiful Eola Amity Hills await you at this magnificent 30-acre estate. AtTheJoy sits in the middle of the Anahata vineyard where you can enjoy panoramic views of the Van Duzer Corridor to the west and Temperance Hill to the east. Spend peaceful days around the patio where you can bask in the sun, swim in the pool or relax in cozy lounge areas.
The lovely 6,500sq ft estate has a main house and attached bungalows. The main house is airy and bright, courtesy of numerous large windows and sliding glass doors. The living room and family room both feature contemporary furnishings; the former containing soft, rounded furniture and the later, a sleek collection of chairs and tables. The great room runs into the chef's kitchen, a room that will make your mouth water both in anticipation of the meals to be prepared and the state-of-the-art equipment you'll get to work with. Savor every bite around the elegant dining table that seats eight. The home is wired with high-end electronics and sound system, so enjoy your meal inside or out while enjoying music of your choice. The bungalows are well appointed peaceful retreats with views of the vineyard and pool area. The vaulted ceilings, French doors, a spa like space and sitting area make these bungalows a relaxing option from the main house activities. You'll enjoy peaceful sleeps in our 6 well-appointed bedrooms … 3 in the main house and 3 bungalow suites alongside the pool. In the main house … the master suite features a king size bed that looks out to the Anahata vineyard. It contains a walk-in double closet, plus a spa-inspired en-suite with dual-vanities, shower and a soaking tub. The remaining guest bedrooms are two queen bedrooms that share an elegant bathroom with shower and tub. The 3 bungalows are 550ft each and sit alongside the pool. They each have a king size bed with a floating wall separating the bedroom from a sitting area. Peaceful views of the vineyard and pool await you. All the bungalows have their own bathroom, shower and walk in closet. Note: In the downstairs / gameroom area there is a pull out couch with a double bed as well as 2 twin beds in a separate bedroom … these optional beds share a bathroom and shower in the downstairs area. This area also provides a private conference room with a table that seats 6-8 for those retreats that have a little work involved.
AtTheJoy is surrounded by vineyards and forest land. You will not see or hear your neighbors
Had the greatest stay here! The home was absolutely lovely and incredibly cozy. Tim was easy to reach for questions--a terrific host. We didn't want to leave!!
Stacey
2017-01-12T00:00:00Z
Tipo de habitación
Casa/apto. entero
---
Tipo de propiedad
Casa
---
Capacidad
14
---
Dormitorios
Salem, Oregón, Estados Unidos
Nestled in the heart of Oregon wine country, our home provides the perfect respite for your trip to the Willamette Valley. Built in 1893, this historic house is located a short walk from many of McMinnville's finest restaurants and tasting rooms.
Historically a bed and breakfast, our home is both romantic and relaxing. With a working wood fire place, and access to the entire top floor, including a library and sun room, we encourage our guests to take full advantage of the cozy corners of the space in full privacy. A newly renovated master bathroom, complete with skylights, is a fabulous addition to our home. We look forward to welcoming you and are eager to show you the best of the Pacific Northwest.
Quiet older neighborhood with historic charm four blocks from mainstreet.
5 Star Experience! Literally couldn't be better. A fantastic home with a gorgeously remodeled bathroom only a few blocks from downtown McMinnville. With it's perfect location, we just parked our car and spent the weekend walking to charming shops and restaurants safe in our knowledge that we'd be heading back to our terrific room. We'll stay here again.
Matt
2012-05-21T00:00:00Z
We had a wonderful time staying in Paula and Martin's home! Jack, the dog, was incredibly sweet and loves to be petted. The pictures of the room and bathroom are a spot on match. We loved the natural lighting in the bathroom and the gigantic shower and tub. The neighborhood is super quiet and a short easy walk to 3rd st. Such a blast!
Alex & Jasmine
2012-08-13T00:00:00Z
We had an awesome stay with Paula and Martin! They were super responsive and the accommodations were beautiful and charming. It was the perfect setting for a day and night in McMinnville. It was a very close walk to all of the attractions in town. Martin had great suggestions of wineries to visit plus tons of other brochures and literature neatly organized with additional ideas of wineries and attractions. He even gave us tasting vouchers to a couple of wineries that ended up being our favorite stops - Brooks winery was excellent for wine and atmosphere. Thanks for making our stay excellent!!
Polly
2016-07-10T00:00:00Z
This was my first experience with Airbnb, and Paula has made it a great one! She made us feel welcome, toured us around our rooms, and gave us a little history on her home. We had a lovely room, a sitting room, a reading nook, and the BEST bathroom and tub anywhere. The bed was extremely comfy and we slept very well. A lovely experience and highly recommended!
Kerry
2015-07-08T00:00:00Z
My partner and I really enjoyed our stay with Paula. It was great staying in a well-maintained classic house that still has its original charms. The bathroom - albeit not very traditional - was just as amazing as it looks. Highly recommended!
Eugene
2015-11-13T00:00:00Z
Had a really nice couple of week here while working on my flying at McMinnville airport. Marty and Paula were excellent, accommodating hosts; the house is a short walk from 3rd Street with its collection of restaurants and bars, but is still in a very quiet neighborhood. The space on offer is enormous. I've stayed in a couple of places in McMinnville before: McMenamins is central and quirky but noisy, and whichever of the motels a bit up 99 I stayed in is a little far out of town to walk in and bland, but is at least quiet. Here you get the best of all worlds.
David
2011-04-15T00:00:00Z
Paula and Martin were very accommodating of our slightly changing schedule. Their home is beautiful and spacious with tons of natural lighting and private spaces, like a library and reading nook, as well as a beautifully renovated bathroom. Paula was very helpful with directions and restaurants/wineries to visit. Wonderful place for a quick stopover.
Anna
2012-07-10T00:00:00Z
We had an absolutely fantastic stay with Paula and Martin! They were so accommodating and hospitable from the moment we arrived yet we had total privacy, as their home is beautifully set up for guests. Additionally, the location is wonderful...just a few minutes walk to the lovely downtown area of McMinnevile and right in the middle of Pinot Noir country. Would definitely stay there again!
Nancy
2012-07-31T00:00:00Z
Tipo de habitación
Habitación privada
---
Tipo de propiedad
Casa
---
Capacidad
2
---
Dormitorios
Mc Minnville, Oregón, Estados Unidos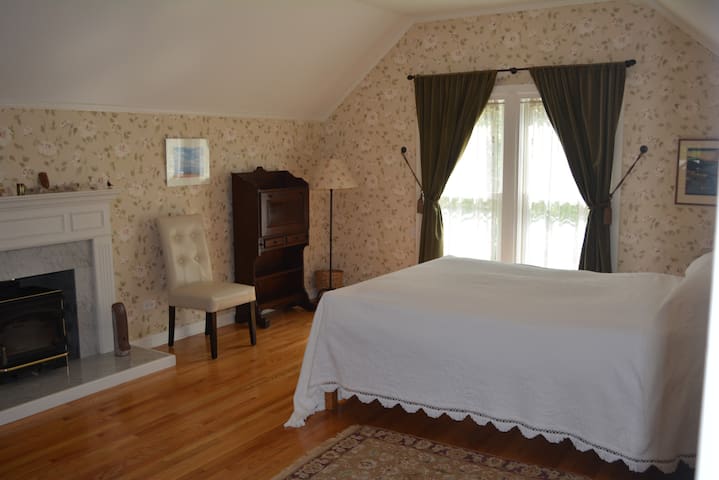 Stay in our Victorian home in McMinnville and enjoy an abundance of living space, updated amenities, and a great central location. You'll have the restaurants and shops of downtown McMinnville nearby, plus endless vineyards to visit in the surrounding wine country just outside of town. Inside this two-story home, beautiful woodwork and traditional furnishings create a classic, inviting feel. Includes a full kitchen, laundry, Wifi, cable TV, and A/C.
This victorian house can accommodate up to 10 people when both units are available. Please check both units A and B for availability and book together. Make sure to let us know if you book both units so that the door that separates the 2 units can be opened.
This building is in the heart of downtown.
Tipo de habitación
Casa/apto. entero
---
Tipo de propiedad
Casa
---
Capacidad
5
---
Dormitorios
McMinnville, Oregón, Estados Unidos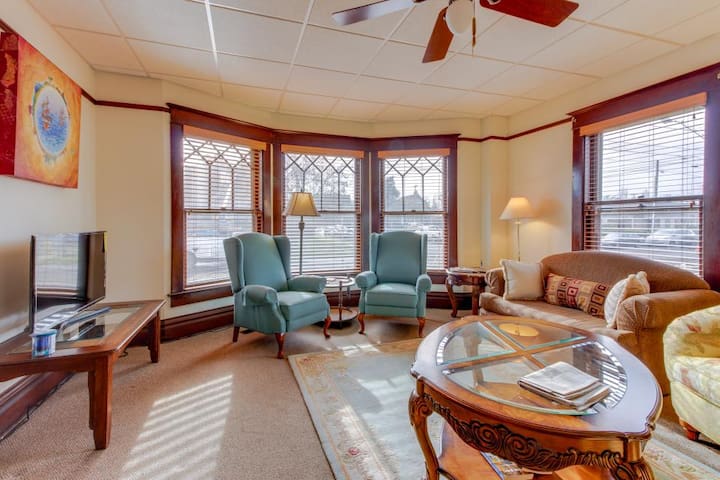 Esta impresionante costumbre francesa del país cabaña de jardín inspirado está situado en un viñedo de trabajo en el país del vino Eola-Amity Hills AVA. El interior cuenta con techos abovedados, un salón abierto con puertas de vidrio que dan a la terraza privada.
Esta impresionante casa de encargo está situado en un viñedo de trabajo en el país del vino Eola-Amity Hills AVA. El interior cuenta con techos abovedados con tragaluces, un salón abierto con puertas de vidrio que dan a la terraza privada con vistas al viñedo. Diseñado por un chef de repostería formado en Francia, la cocina de flujo libre está ricamente equipada para cualquier ocasión gastronomía y cuenta con electrodomésticos de lujo; inducción, cocina de gas superior, y utensilios de cocina Le Creuset. El jardín de la cabaña es el refugio perfecto de un día de degustación de vinos en Dundee, Carlton y Amistad. La casa es fresco y limpio, y ofrece una vida de lujo. Después de aventuras del día, se hunden en la cama Heavenly tamaño king. Estamos ubicados en el centro ya pocos minutos de las bodegas y restaurantes más populares. Vienen a unirse a nosotros y disfrutar de paz, tranquilidad y vistas ofrece calma y tranquilidad.
This cottage is in the heart of Eola-Amity hills wine county. With the finest touches, we were right at home, and greatly appreciated the stocked fridge, fresh baked bread, and chilled wine from our hosts! We'll revisit them soon!
Jaclyn
2017-03-29T00:00:00Z
I can sum up our amazing stay and experience at Vivid in two words 'first class.' Thank you Angelica and Bruce!
Shari
2016-07-13T00:00:00Z
If you are traveling to Willamette Valley, please treat yourself by staying at this cottage owned by Bruce & Angelica. The property is simply gorgeous - the detail and decor is stunning, yet completely homey. The kitchen is fully stocked, and the welcome basket was extremely generous. We enjoyed coffee and wine on the cedar deck every single day - I cannot put into words how thrilled we were with this little escape. Bruce and Angelica gave us privacy but also immediately answered any requests or questions (ie: packing tape and sharpie for our case of wine please??). :) :) I would recommend this to family, friends and anyone else that will listen... it was perfect!!
sarah
2016-10-27T00:00:00Z
We very much enjoyed our stay here, as this is a very unique property that basically gives you much more enjoyment and flexibility than your average hotel room. The property is filled with interesting decor that we enjoyed discussing throughout our stay. As our visit coincided with a cold and wet spell, we discovered that the heat works very well, as does the word-burning stove. The fridge was nicely stocked with basics, fresh breads were on the counter, and wine and cheese were awaiting our arrival. Privacy and quiet were both quite good, even with the proximity to the main house. The bath setup is very unique, but comfortable (including a large heat lamp and great bath products). All-in-one washer/dryer was an extra bonus to clean a few clothes. We cooked several meals and the kitchen pretty much has what you need. The host was always communicative without being intrusive. Our Airbnb experiences are still limited, but I suspect this will spoil us for future stays!
Karyn
2016-11-23T00:00:00Z
This beauty is everything you could hope for, and more! It's bright, open, comfortable, and luxurious. Hang out on the deck, enjoy some coffee and the stunning valley view. Would highly recommend for anyone seeking that special touch for a romantic weekend. Thanks Angelica & Bruce for opening up your place!
Carolina
2016-06-20T00:00:00Z
Angelica and Bruce went above and beyond to make our stay exceptional, stocking our refrigerator with wine, cheese and cracker platter, eggs and other groceries as well as baking a loaf of banana bread and offering us amazing food and vineyard recommendations! It was our best stay at an Airbnb thus far!
Amanda
2016-08-04T00:00:00Z
Angelica's cottage was a very unique place and stay and has a beautiful view of their gorgeous vineyard. Amenities were great! There was fresh homemade bread (delicious!), a cheese board and a bottle of nice Willamette Valley Pinot waiting for us when we arrived. The wood burning fireplace was great during our stay and made the open concept cottage nice and cozy. The WiFi was a little slow, but who needs devices when your in such beautiful country. Thank you so much Angelica, great place and a great host!
Blake
2016-12-18T00:00:00Z
it was a great set up and beautifully appointed.
Rosie
2016-08-22T00:00:00Z
Tipo de habitación
Casa/apto. entero
---
Tipo de propiedad
Casa
---
Capacidad
2
---
Dormitorios
Amity, Oregón, Estados Unidos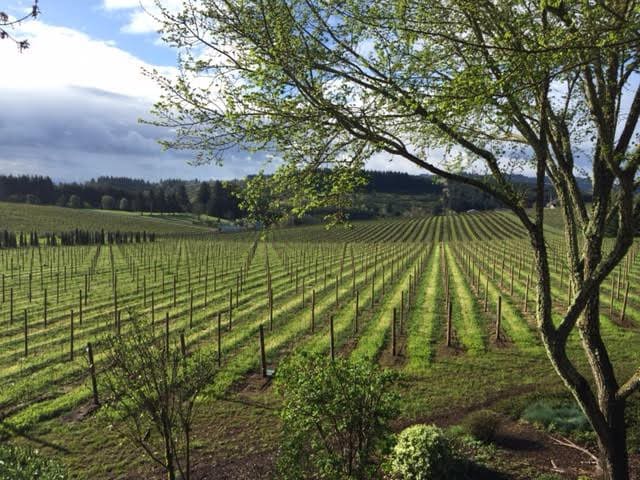 Enjoy world class Oregon wine in this charming 1926 2+ bedroom, 1 bath home. Beautiful wood floors throughout and sun filled rooms compliment this unique classic beauty. Just a 5 minute walk to historic and quaint downtown McMinnville with fabulous restaurants, shops, tasting rooms and events. Close to Lindfield College and the IPNC (International Pinot Conference). Sip coffee in the morning or wine into the evenings on the front porch or enjoy a good book by the fire on chilly nights
The house is a short 5 block walk to the historic downtown
Such a great house in a central location with lots of wineries, restaurants and shops nearby. The house was clean and comfy, which worked out great with us having our 8-month old and 2 year old golden retriever with us. Would love to stay there again in the future. Highly recommend!
Zoe
2017-01-16T00:00:00Z
Amazing location just a couple of quick blocks away from the tasting rooms, restaurants, coffee shops, etc of McMinnville! We stayed at MAC house for a weekend of wine tasting and hiking around the valley and it was absolutely the perfect home base. The house is adorable and comfortably fit both couples, and we loved it so much that we brought a bottle of wine home and spent one early evening sitting around the outdoor fire pit instead of going out to more tasting rooms! We enjoyed every minute and highly recommend MAC house to anyone visiting willamette valley!
Annie
2017-03-13T00:00:00Z
The Mac House was simply sublime - warm and welcoming, well located, impeccably decorated, comfortable and spacious, with a wonderful backyard fire pit perfect for sipping Oregon pinot noir under the stars. Leah was an ideal host, very communicative and gracious. I honestly cannot wait to return and stay there again on my next trip to Willamette Valley wine country.
Tom
2016-09-22T00:00:00Z
The neighborhood was close proximity to the gas station and Safeway, which came in handy since we needed some last minute Thanksgiving supplies and everyone was able to get Gas before heading out of town and back home. The home looks just likes the photos. It was a cute little place, older characteristics, but with modern touches. Leah was awesome in letting us use the home with short notice and with an early check in time. We were very grateful.
Camila
2016-11-25T00:00:00Z
We had a wonderful stay at Leah's house in McMinville. It is beautifully furnished and restored. Everything you could possibly need is thoughtfully provided. The comfort of her guests seems to be Leah's primary goal. She even emailed after our stay, offering to send a forgotten item.
Joan
2016-08-23T00:00:00Z
My wife and I stayed here Septemb(PHONE NUMBER HIDDEN), as our home base for three days of visiting with several wine makers in Willamette Valley with the assistance of Cellar Door Wine Tours, and we had a great time. The picture of the front of this house drew us to it immediately, and our experience sitting on that porch in gorgeous sunshine did not disappoint. This house is extremely comfortable and we enjoyed our stay immensely. We particularly enjoyed (i) the way natural light enhanced the interior spaces, very special, (ii) the way Leah decorated the front and back bedrooms differently, so my wife and I were able to choose which suited us better (it was just the two of us), (iii) the location, (iv) the way the house is decorated, (v) the overall comfort of the furnishings, (v) the convenience of the kitchen layout and the comfy breakfast nook, (vi) Leah's restaurant recommendations; and on and on. We would definitely stay here again, and certainly hope to do so.
Bob
2016-09-16T00:00:00Z
This was my second time staying at Leah's house for business travel. The house was clean and comfortable and will continue to be my go-to for all trips to McMinnville. Thank you, Leah!
Megan
2017-02-23T00:00:00Z
Beautiful old world charm house. The click on fireplace made the room cozy. Very spacious and had all the amenities. Very close to downtown and neighboring wineries. Definitely would stay here again.
Susan
2017-02-13T00:00:00Z
Tipo de habitación
Casa/apto. entero
---
Tipo de propiedad
Casa
---
Capacidad
5
---
Dormitorios
McMinnville, Oregón, Estados Unidos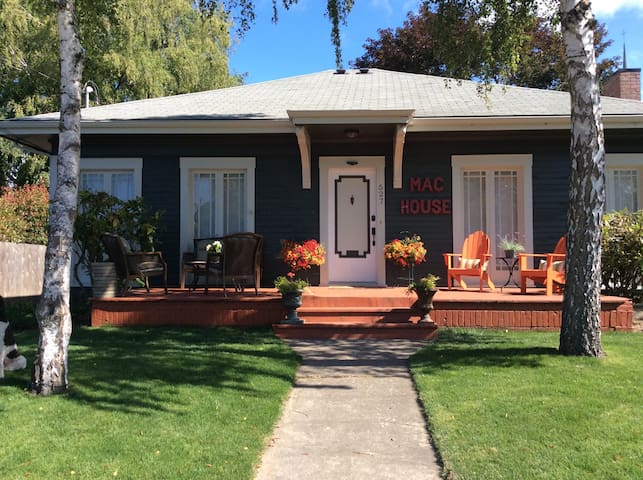 Beautiful, remodeled cottage in the heart of the Willamette Valley wine country. The cottage is minutes from downtown McMinnville, less than an hour from Portland and the Coast and surrounded by the valley's 500 wineries. McMinnville was voted America's 2nd Best Main Street with 34 restaurants, 17 wineries and 7 breweries.
The cottage is perfect for a romantic weekend or a week exploring the Valley. It is perfect for two, but will accommodate a family of three.
The cottage is within walking distance of downtown McMinnville, one hour from Portland and the Oregon Coast. Best of all, the cottage is within minutes of many of the 500+ Willamette Valley wineries.
Great little college close to downtown McMinnville. Cute neighborhood, very walkable to downtown restaurants and Granary District wineries. House is in great condition and the host is very communicative. This is a great place to stay.
Derek
2017-03-14T00:00:00Z
The house is cozy and adorably set up. So many details done to make it feel warm and inviting. Kevin was hospitable and takes pride in his place. We will definitely come again.
Judy
2017-03-04T00:00:00Z
Cozy house. Beautifully done. Great location to wineries and food!
Brooke
2017-03-24T00:00:00Z
The cottage was spotless and comfortable. We never saw anyone, but the printed directions pretty much covered everything. Kevin recommended a few local restaurants which we tried and liked, particularly Nick's Italian café! Nice place to stay in Mc Minnville.
chris
2017-03-27T00:00:00Z
A very warm comfy and romantic setting. Thank you for your hospitality in opening your home. We would absolutely recommend a stay.
Steve
2017-04-09T00:00:00Z
Tipo de habitación
Casa/apto. entero
---
Tipo de propiedad
Casa
---
Capacidad
2
---
Dormitorios
McMinnville, Oregón, Estados Unidos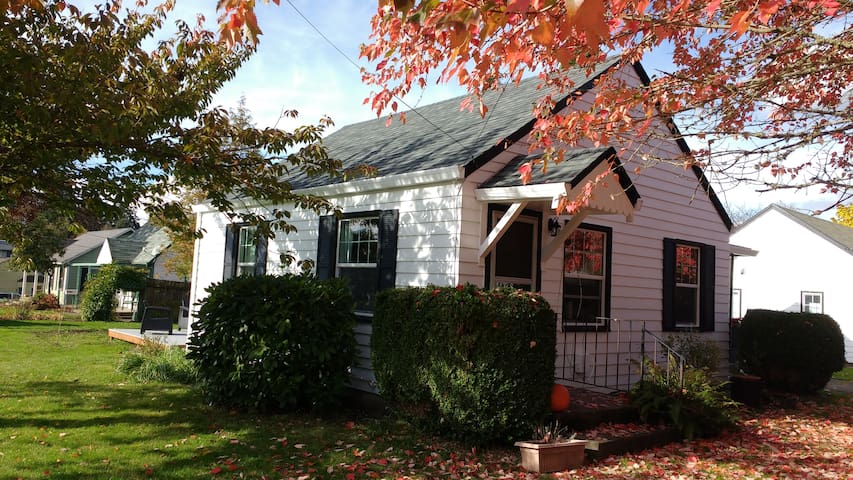 This house has all the character of a 110 year old house with many charming comforts to make your stay in wine country lovely and memorable.
We are a young family bringing back the charm of our lovely 1909 craftsman home. Located only two blocks off of main street in one of the oldest neighborhoods in McMinnville, our three bedroom and two full bathroom home is perfect for a family vacation (the largest playground in town is just across the street) or for a couple's getaway (you can easily walk to some of the best restaurants and bars in the whole valley). Our house sleeps 6 people in real beds and 6 more in unconventional beds. We have 3 bedrooms: The large upstairs bedroom has one queen size bed with a full size click-clack sofa bed. The sofa clicks down into a firm sleeping surface the size of a full size bed. Great for two smaller people or one person. The smaller upstairs bedroom has one full size bed and another click clack sofa that fold down to a firm double bed size sleeping surface. The downstairs bedroom has one queen size bed and a small table and chair. We have a queen size Aerobed air mattress that we can set up in the living room to make enough beds for 2 more. The house sleeps 10 easily but 12 if you don't mind being a little cozy. The kitchen has a Bosch electric range and is fully stocked. We have two bathrooms. The main bathroom has a walk in shower with two shower heads. The upstairs bathroom has a claw foot tub and a short shower head. We provide linens, soap, shampoo and conditioner. We have a Smart TV that can access Netflix. A few things that we don't have are TV stations/cable and a landline phone. I'm sorry for the inconvenience, but we don't seem to miss them. It makes for a quiet and relaxing home! We do have internet access for our guests. We do charge a $30 additional fee per dog. Please let me know if you plan to bring your furry friend and I'll put the dog bed out:) The back yard has a large koi pond, lovely maple trees, a small garden, and fire pit. There is a Weber gas grill and a large table for outdoor meals. It's the perfect backyard for a summer evening. Off street parking available for two cars. Our home is centrally located in McMinnville. We are across the street from the McMinnville Chamber of Commerce and two blocks from our treasured downtown on 3rd st. 3rd st has a large variety of great restaurants and some nice nooks for a drink. The Bitter Monk is a tastefully done taproom on 3rd and Cowls that has an extensive beer list. Nick's Backroom is a great place to stop in for a glass of wine and a small plate. Access to Nick's Backroom is down the alley off of Evans st. between 4th and 3rd. It is part of Nicks Italian Cafe. The Library, aquatic center, and City Park are just across a parking lot from us. 10-15 minute walk to Linfield's campus and location for IPNC (International Pinot Noir Celebration). `
Our favorite thing about the neighborhood is how close we are to downtown. We often stroll downtown after dinner for a late night cocktail at Thistle or a scoop of icecream at Serendipity.
Great experience. The home was inviting and warm. We had an amazing time. Thank you!!!
Adam
2015-07-14T00:00:00Z
We really loved being within walking distance of all the downtown shops and restaurants. The home was comfortable, cool and spacious.
harriett
2015-09-21T00:00:00Z
Amazing place!!!! Couldn't have asked for a better place!
whitney
2016-06-19T00:00:00Z
Brielle's home was absolutely adorable and very well-located near downtown McMinnville. Easy walk to 3rd Street for restaurants and short drive to many local wineries! The house was very spacious and comfortable for 5 people (2 queen beds and a double). Furniture and décor were super eclectic and incredibly charming. The backyard is a delightful private retreat and we ate breakfast outside every morning, near the pond. Kitchen was well appointed with everything we needed – and a huge bonus to have access to a washer/dryer. She was even so thoughtful as to leave a bottle of local wine for us to enjoy on the night we arrived!
Beth
2015-08-07T00:00:00Z
We were very excited to stay there based on the photos and location. When we arrived it was even better than we expected. It was filled with vintage charm and all of the modern conveniences you need. It reminded us a lot of our home and was clean and comfortable. They had everything we needed to cook meals at the house. The location can't be beat if you're looking for something in town. It's very quiet for being so close to a busy street and in the heart of McMinnville. On our last night we realized there was a very nice community center with an indoor pool just across the street - great if you have kids. There is also a beautiful park less than a block away that we didn't get a chance to explore. This is only one reason to book our next stay. The fenced backyard was great for our dog. The only negative some people may find is that there isn't cable. I loved it! I don't know why anyone would want to stay in and watch TV when you can explore McMinnville, discovery great wine, and play games or visit with friends or family in the open living room/dining room area. We are definitely come back!
Larisa
2014-11-23T00:00:00Z
Perfect place for us! My boyfriend and I stayed at Brielle's place for a long weekend of wine touring. Most wineries close at 5 so we really took advantage of the backyard and the short walks to downtown McMinnville. Recommend community plate for breakfast and thistle for dinner. Brielle also has lots of great recs, esp her car service contact! Highly recommend staying here. Easy in and out... And the spiced rum is great too! We owe you a few shots Brielle. :)
CRISTINA
2014-10-12T00:00:00Z
We just spent 4 great days staying at The Maple and Thorn. Brielle was great to work with - communication before and during our stay was timely and complete. The house was so sweet - every room had charming furnishings, the kitchen was fully decked out, and 5 adults were comfortably housed. The downstairs walk-in shower was especially helpful for the person in our party with mobility challenges. Looking forward to staying here again during any future visits to McMinnville.
Scott
2016-02-07T00:00:00Z
The Maple & Thorne was a wonderful place for my good friend Debby and I to relax, shop, taste great wine and enjoy delicious food. Mornings and evenings were often spent on back deck watching the fish in the pond, chatting, sipping coffee or a glass of wine - and soaking up the peaceful environment. We used the gaming console to play some movies - which we rented from a really cool place nearby called Movietime Video. I loved having the Dutch Cup espresso stand just across the road, and the small grocery store on the corner - so convenient! Best of all, we parked the car and walked nearly everywhere - from Hotel Oregon to antiques stores, wine tasting rooms and great shops. Had an excellent burger at Blue Moon Tavern, tasty appetizers dining alfresco at the Rooftop Bar and on the sidewalk outside the pub at Hotel Oregon. The bed and living room couch were so comfortable! The kitchen was great, we made coffee, breakfasts and evening snacks. The cool vintage furniture and beautiful antiques, objects de art, collectibles and decor give this home an intriguing vibe, and are a tribute to the care and restoration efforts of the owners. We enjoyed our stay in this clean and inviting home, and look forward to returning for another visit. Brielle was a wonderful host - and made us feel right at home. Thank you! Brenda
Brenda
2014-05-26T00:00:00Z
Tipo de habitación
Casa/apto. entero
---
Tipo de propiedad
Casa
---
Capacidad
12
---
Dormitorios
McMinnville, Oregón, Estados Unidos
Located in a quiet neighborhood in the heart of wine country, a mile from downtown McMinnville & shops, close to galleries, wineries, great restaurants, Linfield College, George Fox University, Evergreen Space Museum, and Bayou Golf Course.
Bedroom, bathroom, dining/living/kitchen
This was a quiet and clean place to stay. You have your own bath and entrance, which I prefer. Joanne saw me off when I left and was very pleasant to visit with. There isn't a desk to work at if you're a business traveler. Not a problem, just worth noting for those of us who get the laptop out on every stay. I recommend this place.
Joe
2017-03-13T00:00:00Z
The room was beautiful, cozy wonderful neighborhood. Joanne welcomed us and made us feel right at home.
Kyra
2016-10-23T00:00:00Z
Joanne greeted us warmly and showed us to her lovely suite. The room has a private bath and separate entrance. Joanne was very accommodating and easy to work with. There was also helpful local info in the room. We will stay with her again for sure!
Yvonne
2016-05-02T00:00:00Z
Needed a quiet place while attending a course, stayed at Joannes for a month. This is a great place, nice and quiet, close to amenities. Definitely recommend to anyone staying in McMinnville!
CHRISTOPHER
2016-09-06T00:00:00Z
Our stay at Joanne's was wonderful! The room fit the description and was immaculate when we checked in. The neighborhood was pleasant and quiet. Everything was, in a word, perfect, and we'll will definitely stay with her again!
john
2016-05-09T00:00:00Z
Joanne made us feel welcome from our first communication and continued to do so through out our stay. She communicated well and answered all of our questions in a timely manner. We also appreciated the fact that she was willing to work around our late arrival time very graciously. The location is wonderful near downtown Mcminnville and the home is located on a quiet street. Joanne provided us with a lovely intoduction to our first encounter with Airbnb.
Margaret
2015-10-18T00:00:00Z
The bedroom was just as pictured in the listing. This is a bedroom, bath and closet in a separate section of Joanne's house with a private entrance. I only saw Joanne once - when I checked in and she gave me a key. She said she was always available by text or phone, and she was on the one instance when I texted her. The room was very clean and inviting. I would certainly stay here again.
Carol
2016-10-12T00:00:00Z
We were in town for the UFO Festival and decided on this little place. The pictures looked great and I booked the room. Joanne wound up messaging me and letting me know where the keys would be and upon our arrival the room was immaculate when we walked in. It was very clean and welcoming. We had the most restful and best time. I would highly recommend this place, and we will definitely be staying there again for sure!!! Thank you, Joanne for a great stay! ;o)
Dean
2016-05-15T00:00:00Z
Tipo de habitación
Habitación privada
---
Tipo de propiedad
Casa
---
Capacidad
2
---
Dormitorios
McMinnville, Oregón, Estados Unidos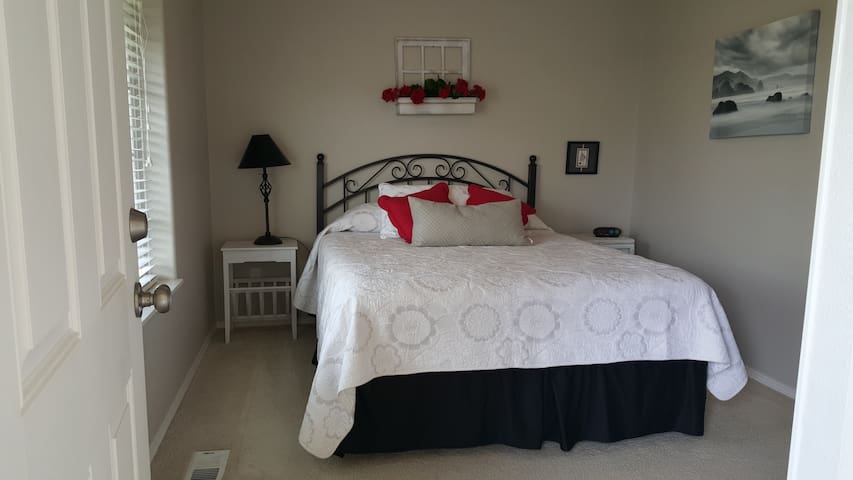 Welcome to Galloway Place. One bedroom upstairs apartment in the heart of Oregon wine country. Fully equipped kitchen, sitting parlor with tv/wi-fi, separate reading room, full bath in a charming turn of century craftsman style home.
Galloway Place Apartment is only 2 blocks from charming downtown McMinnville. Close to shopping, wine tasting, resturants and entertainment. Hop in your car, and explore the many vinyards in the area.
Centrally located in the charming small town of McMinnville, you'll have restaurants, wineries, shops, and more close by in the downtown area and historic Granary District. There are also endless wineries and vineyards in the surrounding valley.
Charming old house with wood floors and a lot of space for a couple to spread out. Kitchen and entrance are downstairs while the bathroom, bedroom, and two sitting areas are upstairs. The bathroom had bath gel, shampoo, and conditioner, plus a hair dryer. The bath towels were really soft and smelled nice; it was nice to have towels without that bleachy smell. Bedroom has a queen bed, closet, and chair. Sitting areas had chairs and couches. I'm not a Roku user, but was able to fairly easy to figure out how to use it. We loved being close to downtown McMinnville so we could walk to all of the restaurants and tasting rooms. Easy street parking in front of the house. Adam left us a plate of cookies and had the heat on when we arrived. He also had a big container of water upstairs so we didn't have to go downstairs or use the bathroom sink for drinking water. The kitchen had coffee and tea, even a container of half and half for coffee! Wi-fi worked great. We also loved the lock for the door as we didn't need to carry a key with us. Adam was quick to reply to texts and had several recommendations for us. We even ran into him a few times in town, which made us feel more like locals. I'm sure we were a little bit noisy a few times, but he didn't complain. :) This was our first Airbnb experience and we look forward to our next one!
Nancy
2015-10-31T00:00:00Z
Wonderful historical space in a great town. Adam was incredibly gracious and helpful.
Andy
2016-09-27T00:00:00Z
Had a great night here after a day of wine tasting in the surrounding area. The location is only 1 block from downtown. An assortment of welcoming touches were delightful: complimentary wine tasting cards; fresh made cookies; wine glasses and bottle opener; brochures on the region. The backyard is great. We enjoyed a small fire in the fire pit.
Karel
2016-04-23T00:00:00Z
We loved our stay in the apartment. Very convenient to many tasting rooms and restaurants. Location was quiet and comfortable. Great spot for a weekend wine tasting! Adam sent us a code to get in, which was convenient since we didn't know what time we'd arrive.
Marisa
2016-11-20T00:00:00Z
Adam's place was adorable and quaint, perfect for a wine country stay. The water in the fridge and pumpkin roll were nice touches that made us feel right at home. Thanks for a great vacation!
Lauren
2016-09-16T00:00:00Z
Adams home is perfectly located for a wonderful trip to Pinot land. Adam was the perfect host and his recommendations were spot on. We had an all too short stay
Robert
2016-06-12T00:00:00Z
Adam was very welcoming and helpful for my nephew and his partner while staying in McMinnville. They enjoyed his conversation and appreciated Adam's helpfulness and congeniality.
Danna
2015-05-17T00:00:00Z
Beautiful place, great location! Comfortable with lots of the little touches that make it incredibly welcoming. The bed is extremely comfortable too. 5 min walk to downtown, If I go to McMinnville again I will definitely stay here! Highly recommended!!
Lexie
2016-05-15T00:00:00Z
Tipo de habitación
Casa/apto. entero
---
Tipo de propiedad
Casa
---
Capacidad
2
---
Dormitorios
McMinnville, Oregón, Estados Unidos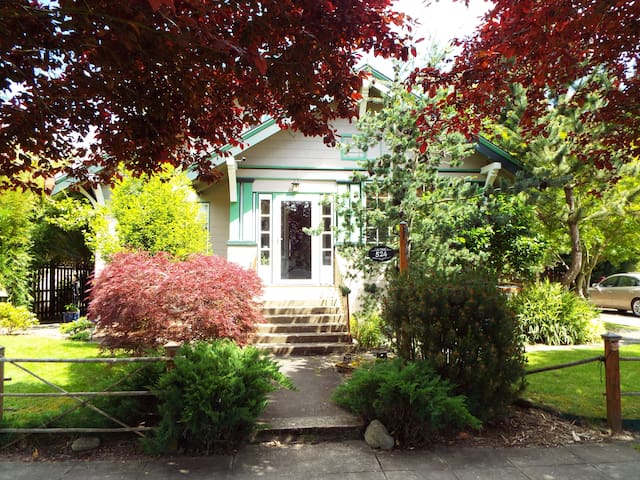 My place is close to Hiking, Trails, 40 miles from Ocean Beach, Mountains, Parks, Shopping, Universities and much more. You'll love my place because it is Unique, Cozy, New Amenities, Comforts of Home, Safe Surroundings & near Police, Coffee shop walking distance, Old fashion theater, Small Town yet close to so much to explore.. My place is good for couples, solo adventurers, and business travelers. Not child friendly and not suitable for anyone with stair challenges.
Testimony: Was not able to post so here it is from Emily & Seith. Hey! That's awesome! Glad she found you guys! :) Sorry for the delay with the review!! Here it is: We stayed at Ron and Margi's place for 3 months while working on a contract in Dallas. The location couldn't have been more convenient. The house has really nice appliances for kitchen and laundry, big windows that let in lots of light, and a fireplace that keeps it warm and cozy. The bed was really comfortable, too! Ron and Margi are extremely friendly and welcoming. They made sure we were enjoying our stay and were always looking for ways to improve the experience. We are grateful to have found them and their house! Hope everything's going well with you two and your family. Happy Thanksgiving! :) Emily
Not only is the house absolutely adorable and perfect in every way, Margi and Ron are respectful and wonderful! The house is the perfect fit for a couple or single person. It has a lovely front porch and backyard area. There are electric heating units that you can individually control, but better yet there was a beautiful gas fireplace that kept me toasty and comfy through the cold nights. The decor of the house is stunning and you'll have everything you need to stay for a night or even a few months! Margi and Ron are so pleasant. They respect your privacy, but are available at any time you may need. I am a traveling ultrasound technologist and being far from home for long periods of time can be very difficult. Margi made that much easier for me as she has really gone out of her way to make me feel at home even though I am so far from mine. Dallas is the cutest little town. It is quiet and safe, but there are many things (coffee shops, movie theater, bars, restaurants) that you can walk right too. Another huge thing for me was as a traveling tech is I work where I stay. The hospital I was assigned to (West Valley Hospital) is a 5min walk from the house. It is also only about a 20-30min drive (depending on traffic) to Salem, Oregon and 1-1.5hrs from Portland. It's a great central location if you are looking to explore Oregon. My fiancé and I went to Mt. Hood, The Oregon coast, and up to Washington state. I am so incredibly pleased with my stay, and highly recommend you check it out if you find yourself in or around Dallas, Oregon!
Madeline
2016-12-21T00:00:00Z
The host canceled this reservation the day before arrival. This is an automated posting.
Kiele
2016-06-30T00:00:00Z
Tipo de habitación
Casa/apto. entero
---
Tipo de propiedad
Casa
---
Capacidad
2
---
Dormitorios
Dallas, Oregón, Estados Unidos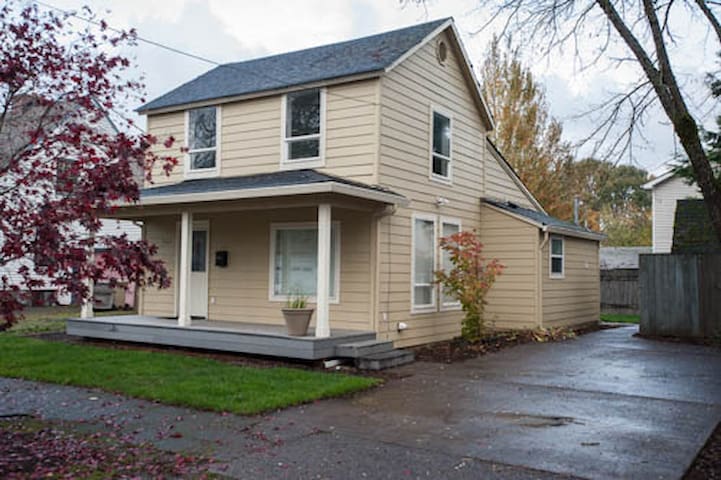 Relax. unplug, and experience the tranquility of nature while you explore our 149 acre farm. We are located minutes outside of McMinnville on Oldsville Road off Hwy. 18. Explore our Redwoods, Oak Savannah, Prairie, and all of the nearby wineries.
The main house sleeps six. The Bunkhouse has 3 beds and a full sized sofa sleeper. You can go bird watching without leaving the house as you gaze out over the meadow and seasonal pond. You can watch the stars from the master bedroom as you go to sleep and listen to the coyotes. You can enjoy a fire in the fireplace insert or just enjoy our ductless heat pump.
We are in the midst of wine country. Our neighbor to the NE is Yamhill Valley Vineyards and Maysara Vineyards is just over the hill (about a three-four mile drive around to Muddy Valley). We live in Pinot heaven so if you enjoy wine this is a great place to visit.
This was the perfect spot for a night in the wine country. The hosts were amazing and really looked after us. Leaving fresh farm eggs, milk and some wine for us to enjoy over our stay. We would highly recommend anyone to stay here. Thank you
Ed
2016-09-25T00:00:00Z
This was one of the best horse show trips we have ever been on. It is difficult to get a large group of folks to agree on much but we did. We all felt the same! It was great to get back to " the cabin " and relax after a long rough day. The quiet was soothing, the view wonderful. We all would like to make it home base whenever we get back to an event at the Yamhill Fairgrounds . We are even thinking of a year end weekend trip Sleepy Hollow House to relax and celebrate.
Tony
2016-08-28T00:00:00Z
Me and my friends were satisfied and had a very fun time at the Sleepy Hallow. It was a big and spacey home. The outside of the house was pretty cool that's what I think. It was a 149 acre land. There was a pond and a fire pit to the side of the house. U can actually go for a hike around the house. The hosts are veery friendly. I would definitely go back there again.
RanDii
2016-04-11T00:00:00Z
We had a wonderful time at the little ranch house in wine country. It was peaceful and private, and we *so* appreciated the fresh eggs, milk, local wine and honey, and other groceries, plus the kitchen outfitted with a cook's sensibility. Also loved the fire pit, gently sloping hillside, and birding opportunities. Really a nice place!
Jennifer
2016-08-08T00:00:00Z
Good scenery,good service
Yan
2017-03-25T00:00:00Z
It was a great little getaway with beautiful views of grand old oak trees and nature. The fire pit was a nice perk and we all enjoyed getting out to the country for a night.
Jamie
2016-07-11T00:00:00Z
The photos don't do the countryside justice. Even the winding roads leading to the home featured rolling hills and vibrant vineyards, allowing for a very pleasant drive. The hosts themselves were very accommodating and made sure everything we could ask for was well within reach, be it drinks, snacks, wood for the fireplace and/or fire pit, of which my friends and I extensively used as we admired the nightscape. I'm glad I found this listing because I would sure love to visit again.
Edward
2016-09-21T00:00:00Z
This was a perfect getaway for a big group of ours. The house was very well equipped with everything we needed. Would have loved to stay longer. We somehow ended up at Yamhill vineyards from (SENSITIVE CONTENTS HIDDEN) directions at around 4 am and Cynthia was kind enough to pick up our phone call and help us navigate to Sleepy Hollow which was half a mile away from where we were. She was also very responsive whenever we had any question through Airbnb chat. The house has many many beds, enough for 12 people, and three bathrooms which is necessary when you have a big group. We also got a pleasant surprise with complimentary wine from Cynthia :) . The location is really good (lot of birds/flowers/greenery and all the good stuff you miss in a city :) ) and I would deftly recommend this place.
Anirudha
2016-07-05T00:00:00Z
Tipo de habitación
Casa/apto. entero
---
Tipo de propiedad
Casa
---
Capacidad
12
---
Dormitorios
McMinnville, Oregón, Estados Unidos
Introducing McMinnvilleManor, historic victorian beauty in the heart of Oregon wine country. This brand new listing is stunningly designed, renovated, furnished & managed by the LiveLikeItsYours team; from house to grounds, no detail left untouched.
Introducing McMinnvilleManor, a historic victorian beauty in the heart of Oregon wine country. This brand new listing is stunningly designed, renovated, furnished & managed by the LiveLikeItsYours team; you'll discover that every square inch from the house to the grounds have been meticulously updated & restored. This historic victorian house built in 1892 is truly a unique gem in the great city of McMinnville. You'll find McMinnvilleManor is ideally located just blocks from the best tasting rooms, restaurants, parks, grocery stores, coffee shops & boutique shopping available in the whole of Oregon wine country. Linfield College is just minutes away by foot or car & the Air & Space Museum & water park is less than 4 miles away. You'll be greeted by warm finishes & furnishings, cheerful colors, modern amenities, 7 crystal chandeliers, custom dim-able lighting & over 14 pieces of original art commissioned specifically for this one of a kind house. McMinnvilleManor has 3 bedrooms, 3 bathrooms & a convertible parlor room for additional accommodations. It's hallmark attributes are soaring high ceilings & grand open spaces for living, dining, cooking & entertaining. Every modern amenity you'd expect, AC/Heating system with Nest thermostats, super high speed wifi internet, bluetooth music players, and 2 42" slim LED tv's with Blueray DVD players. The large open kitchen has been designed & stocked for extravagant cooking events & quick meals alike. Whether you're making a Thanksgiving dinner or re-heating leftovers, you'll have everything you need with the gas range, stainless fridge, direct vent hood, & large stainless farm sink. What's a wine country accommodation without proper stemware! McMinnvilleManor has stemware for every occasion (champagne, white wine, red wine, cordials, cocktail glasses & tumblers). Take your entertaining (& cooking) outdoors with a massive & lushly landscaped private patio space. The patio features fruit trees, an herb garden (peas, tomatoes, & many varieties of herbs), custom lighting, bluetooth music system, a large stainless gas grill & furnishings for outdoor dining. Just off the kitchen is a cafe style casual dining area with two white marble bistro tables & chairs (seating for 6). The grand open dining & living room can accommodate groups up to 8 (seated at the table or living room) & the large flat screen tv/dvd/cable system will entertain for hours. You'll have access to HBO, movies on demand, a huge channel line up, Netflix, Hulu+ & more! Fancy board games? We've got them. Want to entertain on an original out of tune piano? We've got it ;) In each bedroom you'll discover a deluxe queen bed, chair/s, ipod/music player, closet & dresser as well as gorgeous lighting to enjoy relaxing evening. Each bathroom has it's own stand alone "walk in" custom built marble shower & one of the bedrooms features an en suite bath with luxurious refinished original claw foot tub. The parlor by day is a bonus room with sitting area, with a 42" LED flatscreen, DVD player but by night converts into an extra sleeping space. Utilize the comfortable "automatic" queen air bed to accommodate up to 8 guests comfortably. Make McMinnvilleManor your next unforgettable Oregon escape… go ahead, LiveLikeItsYours!
Walk 5 minutes in any direction & you'll be at a park, wine tasting room, coffee shop, award winning restaurant, amazing shopping, & farm fresh local grocery stores.
Beautiful home in a convenient location. Highly recommended! Spotlessly clean.
Sarah
2016-10-19T00:00:00Z
Our stay at McMinnville Manor was absolute bliss. An artfully inspired home that fully enveloped us, serving as the perfect place for my colleague and I to launch into our business retreat. Just a quick stroll away from the heart of charming McMinnville kept everything within our reach and left us wanting for nothing during our stay. I for one am already looking forward to a return trip!
Johnna
2016-07-01T00:00:00Z
This was an amazing house that we absolutely loved staying at. The house was clean, the decor was very impressive and the neighborhood was very quiet. This home is within walking distance to restaurants, coffee shops, shopping etc. you will love everything about this house.
Lori
2015-10-19T00:00:00Z
We had all the information we needed (EMAIL HIDDEN)munication with David was perfect. The house was great! Very nicely furnished and had everything you could want. The location was perfect, easy walk into McMinnville which is a very cute, quaint town. The house was clean and had all the amenities as described. We were excited that there were 3 bedrooms and 3 bath as there would be 3 couples staying. When we arrived we found that one bathroom was downstairs and the bedrooms all upstairs. Not a huge problem but just not was expected. I highly recommend staying at McMinnville Manor if you are coming to McMinnville.
Marguerite
2015-06-16T00:00:00Z
The house is AMAZING! Plenty of space. Beautifully restored. REALLY, REALLY nicely done. Stocked with everything you can think of from shampoo to ziplock bags to a pasta maker. It's nice and new and old at the same time. Has a reasonably big front and back yard, a giant kitchen and lots of sitting room. The location was great! Right downtown. Unfortunately, we didn't have time to explore, but you can walk to lots of restaurants and shops. It was quiet on the weekend, even though there was a UFO festival. I would definitely stay here again. It's almost worth a trip to McMinnville just to stay in this house.
Jill
2014-05-19T00:00:00Z
We were in complete awe over this beautiful house! The attention to detail and the beyond beautiful decor brought sunshine and happiness to all of us! Everything was sparkling clean and very homey!! Thank you for sharing this beautiful home!
Wendy
2016-08-01T00:00:00Z
Beautiful eclectic house in a quaint town .
Emma
2016-04-11T00:00:00Z
Absolutely beautiful home. Every single detail was well appreciated by everyone in our party. The kitchen has everything that you could possible desire. House was incredibly clean with fresh towels and bedding in each room. Backyard patio was super fun to enjoy happy hour after our days at the wineries. Don't forget the bug spray though. It got very buggy at night. Hard to say goodbye to such a wonderful house with amazing character. Perfect little house! Nowhere better to stay in McMinnville!!! We loved every second.
Kelly
2015-06-07T00:00:00Z
Tipo de habitación
Casa/apto. entero
---
Tipo de propiedad
Casa
---
Capacidad
8
---
Dormitorios
McMinnville, Oregón, Estados Unidos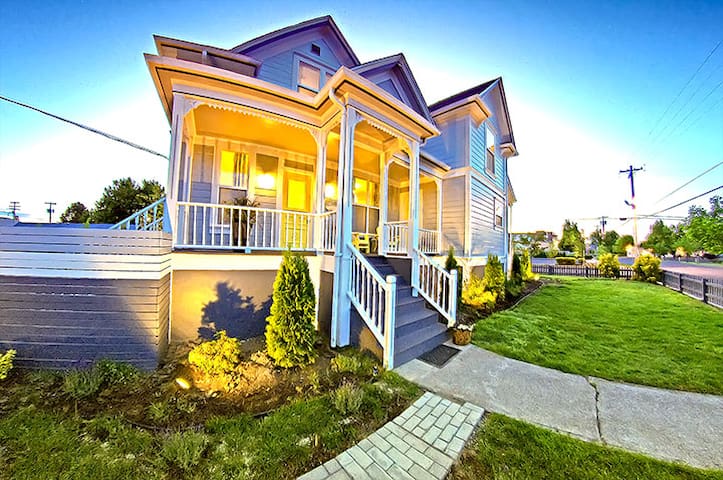 Home is located at end of cul-de-sac in a quiet suburban neighborhood, but within walking distance of grocery store, etc. Lawn is fully fenced in and a hot tub is available for your enjoyment. Host shares home w/guests
House is three bedrooms with two queens and a bedroom with a double bed is located in a room not attached to the house. There is bathroom, kitchen, living room, two car garage(small cars), carport, patio w/gas barbecue, and hot-tub. There are two other rooms in the house I prefer guests do not use. Also available for use is the washer and dryer located in the utility room. The pantry area I prefer guests not use or the refrigerator in the kitchen. There is a refrigerator on the patio for guest use.
Neighborhood is quiet cul-de-sac, but a short walk finds you close to Safeway, Walmart, Starbucks, restaurants, banks, tire dealer, etc.
The Fritz home was well organized with large screen TV in the living room. It was nice to have snacks when we arrived, the peanuts and freshly picked grapes were great! The home is located in a nice neighborhood.
Leyla
2015-09-27T00:00:00Z
We had a lovely time in Dallas. This home had a hot tub which I did not remember the listing saying so it was a nice surprise. The kids had a blast.
Megan
2016-06-26T00:00:00Z
We live in Portland and booked a reservation for close friends from Chicago. They wanted a central location near the wine country, Salem, Silver Falls Park, the Oregon Gardens, Corvallis and the Evergreen Aviation and Space Museum in McMinnville. Dallas, Oregon was within an easy drive of them all. The house was large, clean and comfortable. Maurice was friendly, well organized and had good suggestions. Our friends enjoyed the fruit and nuts he left out on the counter and made good use of the fridge in the garage which they stocked from the nearby Safeway. They enjoyed movies on Netflix. I believe our friends were Maurice's first airbnb guests and I am sure he will have many more. Our friends said they would be glad to return. Also, Maurice's home was a terrific value.
Steven
2015-08-30T00:00:00Z
The home was nice and clean. Maurice (Dennis) was very accommodating. Quiet neighborhood. No worries!
Bill
2015-12-01T00:00:00Z
He was there to greet us and responded quickly to all our needs. Love this place, works well for us when we come to Dallas. Host is fabulous?
Jacie
2016-07-26T00:00:00Z
He was very patient when we were 2.5 hours late on arrival. He has prepared a guide book, which tells us clearly the dos and don'ts while we were staying as well as leaving his house. The guide book also provides instructions of TV, nearby restaurants and tour information. A neat house and a thoughtful host! (We love his M&M dispenser!)
ANGELA
2016-09-21T00:00:00Z
We were in the area to ride Black Rock Mountain Bike Park. The location is great lots of safe storage for bikes in the garage and the hot tub is real nice after a day of ridding. Maurice is a great host and went above and beyond his responsibilities to get my pillow back to me that I left behind.
Steve
2016-07-13T00:00:00Z
I want to thank Dennis for the use of his home. Seven of us came to Salem for my daughter's graduation. The home fit our needs to a tee. The location is about 20 minutes from downtown Salem. The drive is fast and beautiful with views of fertile farmland. The house itself is in a quiet neighborhood close to stores and supermarkets. Check-in and check-out were smooth and effortless. Our host was helpful. Our experience was excellent and I would recommend this lodging for anyone visiting the Salem area.
Jerry
2016-05-17T00:00:00Z
Tipo de habitación
Casa/apto. entero
---
Tipo de propiedad
Casa
---
Capacidad
6
---
Dormitorios
Dallas, Oregón, Estados Unidos
Just a mile drive from downtown 3rd Street, one of Oregon's trendiest neighborhoods with its variety of restaurants, wine tasting rooms, boutiques and rooftop bars. You'll love our clean, rustic farm house with antiques, reading nooks, and comfy couches. Time to drink tea and relax. Welcome to Granny's House!
The home was easy to find and in a great location within the town. This is a beautiful home that one could see that this family has put lots of care and attention to making it a lovely home. It was spotless. Alyssa was friendly and made sure that I had everything I needed to make my stay comfortable. I'd definitely stay there again.
Judith
2016-09-11T00:00:00Z
Alyssa was very communicative with us before we arrived, and clearly devoted a lot of care and energy into making our stay comfortable and pleasant. She provided us with clear instructions about everything and even left us a welcome gift basket, including tomatoes from the garden. The house is clearly well loved and very well kept, a true gem. We were extremely pleased with the whole delightful experience and definitely recommend Alyssa!
Becky
2016-09-05T00:00:00Z
This farmhouse room was every bit as advertised. Clean, safe, and comfortable with a whole lot to offer I wish I could have stayed longer. The house was very nicely kept, updated and maintained its traditional charm. The bed was very comfortable and cozy. I would definitely stay here again on my next trip to wine country.
Jana
2016-09-27T00:00:00Z
A sweet little spot in McMinnville. Alyssa was great, even checking with me to make sure I was able to get in ok since I arrived pretty late. I felt very welcomed and taken care of. The bed was quite comfortable and cozy. Lots of nice little touches like a handwritten note to welcome me and a basket of snacks waiting in the room. The garden is beautiful and I was sad that I didn't have the time to enjoy it this trip. Overall a lovely experience!
Amy
2016-09-18T00:00:00Z
There were great signs and notes to and in our room and a welcome basket. Location was great. It was just as we thought it would be.
Wendy
2016-10-02T00:00:00Z
This is a wonderful place to stay. It's a 1920s two-story house that's been completely updated very comfortable. Alyssa was great to work with, communicated well and was a gracious host. I would definitely recommend this for anyone staying in McMinnville.
Robert
2016-09-22T00:00:00Z
I ran into some problems with the lock and alarm system and Alyssa was immediately responsive to me. She left personalized notes in the home for me and coffee and tea. Her home is very clean and comfortable. I would definitely recommend it when in visiting McMinnville.
Lauren
2016-09-26T00:00:00Z
The hosts were lovely people and very friendly. Their home is adorable, BUT they are NOT ready to be hosts in airbnb. No one was there when we arrived, but we were given the code. It wasn't clear at first which room was ours. We asked for a private bath, and were told ours would have two pieces, but the shower was in the shared bath. However, the two piece was on the main floor and the bedroom on the second. They said we could use the upstairs, but they ended up using it everyday. We had to wait until they left for work to use it. For a cleaning fee, no garbage was emptied ( our room or bath), we made our own bed and used the same towels all week. The bedroom door doesn't have a lock and no TV. The bathroom is shared with the hosts and also has no lock. We left a day early after my husband walked in on the host on the toilet. We were told they'd be gone by 8am. As a side note, we weren't informed of the shared bath until our money was accepted and we were confirmed. The second 'b' was skimpy at best. There were a couple of packs of instant oatmeal and fruit in our welcome basket. We were told we could help ourselves to anything in the fridge, but there was no regular milk, no cream for coffee etc. The wall between their room and ours was so thin that we had to listen to his snoring. And with no tv to muffle the sound, we found we came in very late and didn't see little time there as possible. They would do well to address these issues before renting again. Thanks Rosemary Thiessen
Rosemary
2016-10-07T00:00:00Z
Tipo de habitación
Habitación privada
---
Tipo de propiedad
Casa
---
Capacidad
3
---
Dormitorios
McMinnville, Oregón, Estados Unidos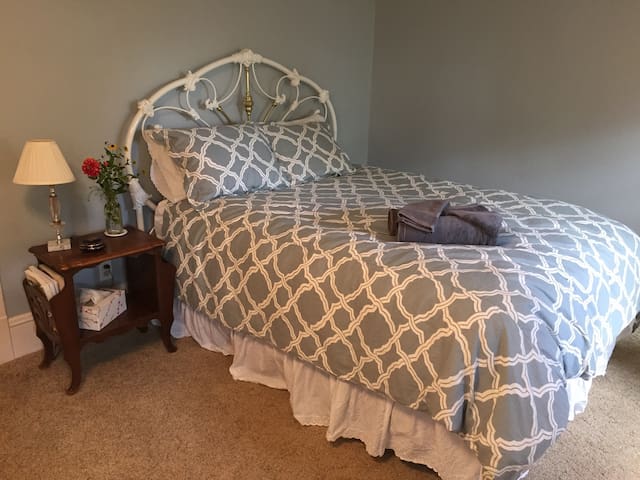 1 block to city park and downtown. You'll love my place because of the ambiance, the light, the neighborhood, and the outdoors space. Enjoy sitting outside on the patio on a nice day or inside in two different living spaces.
Private bedroom and bath. Home includes a beautiful back yard full of fruit trees, berries, and garden dependent on time of year. Outdoor fireplace, fire pit and BBQ for your use. Indoor sauna also available. Optional private entrance to bedroom and bath or enter the main house and use kitchen and living areas.
1 block from the city park. View of coast range. Quite neighbors.
Debbie's home is beautiful, spacious and clean. She accommodated my late arrival with kindness and was a perfect host. I will certainly stay here again next time I'm in town.
Jonathan
2017-02-20T00:00:00Z
Staying in Dallas OR. you will be greeted with a view of an older American Agriculture and Wood mill industry. The town is quiet, and you will find alot of the an earlier American agriculture type Architure. There is still some remants of the old Willamette Forestry industry that a lot of the town was built around, including supporting Agriculture as well. The old Town Hall still stands that an old B/W photo shows when you (SENSITIVE CONTENTS HIDDEN) the town of Dallas Or. We where fortunate enough to come across Debbie's listing on Air BnB, She is a most EXCELLENT host, and has a very clean and organized home with plenty of room and her creative touches to her decor is great, as described in her posting. I would also like to mention two GREEN thumbs up for Debbie as she loves to garden and it shows. As you will discover in her very large back yard. Her breakfast was great as well, thick Peppered BACON! fresh backed Cinnamon buns and home made Banana Bread loaf, complimented with her home made Strawberry jam. We will so be coming back to stay here again!
John
2017-02-25T00:00:00Z
Tipo de habitación
Habitación privada
---
Tipo de propiedad
Casa
---
Capacidad
4
---
Dormitorios
Dallas, Oregón, Estados Unidos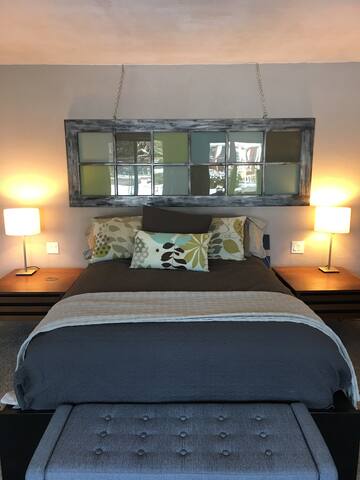 Our cozy studio cottage offers an affordable comfort in a great neighborhood within walking distance to historic Third Street in McMinnville. The cottage overlooks a large private yard and garden with BBQ, fire pit and plenty of room to relax.
Our cottage is located in a quiet neighborhood in McMinnville. It takes 10 minutes to walk into town, pool, library, or city park. It comfortably sleeps two people. The cottage faces into a large private backyard.
We live in an older neighborhood in McMinnville. It is a good place to have children, close to school and town.
Very pleasant accommodations and hosts. The cottage is small (motel room size), but cute and inviting, and was perfect for me and my dog. It has everything one might need, and more. The yard is FANTASTIC: lush green grass, sitting areas, shade and sun, privacy. For my dog, the yard alone was almost worth the rental price. And the neighborhood is very walkable and peaceful. I will definitely stay again if in McMinnville.
Susan
2016-09-27T00:00:00Z
The cottage is cozy and wonderful! Plus Connie and Mark's back yard is like a little oasis including a bonfire pit! Everything was clean and up to par!
Rachel
2015-10-26T00:00:00Z
Connie is an incredibly gracious host. She warmly welcomed me to McMinnville and allowed me the peace and quiet to enjoy the town.
Kellie
2015-04-20T00:00:00Z
The cottage was just as described. It was a great fit for our mother/daughter weekend.
Jenny
2016-10-09T00:00:00Z
I had a great time at the garden cottage. It was a private, peaceful retreat for me during my stay. I sat outside in the sun, slept so well on the comfy bed and enjoyed the perfectly appointed cottage. Would certainly stay again and highly recommend it!
Anne
2015-04-07T00:00:00Z
The cottage was perfect! Great location and it had everything we needed for our too-short stay. We especially loved being adjacent to Connie's beautiful back yard. We absolutely loved the cottage and are already trying to plan a return visit. I would recommend Connie and her cute cottage to any couple looking for a place to stay in McMinnville. It's walking distance to the city's historic district and easy to find.
Deb
2014-08-20T00:00:00Z
This was our second stay at the cottage. It was even more enjoyable than the first as we were able to take advantage of the wonderful outside area on a warm summer day. Definitely our go to lodging option when we visit McMinnville due to location and cost. Looking forward to our next stay.
Scott
2016-08-02T00:00:00Z
The cottage was great, had all the furnishings we could want, was very cozy even in the freezing weather, and was convenient walking distance to restaurants and other attractions.
Angela
2015-11-29T00:00:00Z
Tipo de habitación
Casa/apto. entero
---
Tipo de propiedad
Casa
---
Capacidad
2
---
Dormitorios
McMinnville, Oregón, Estados Unidos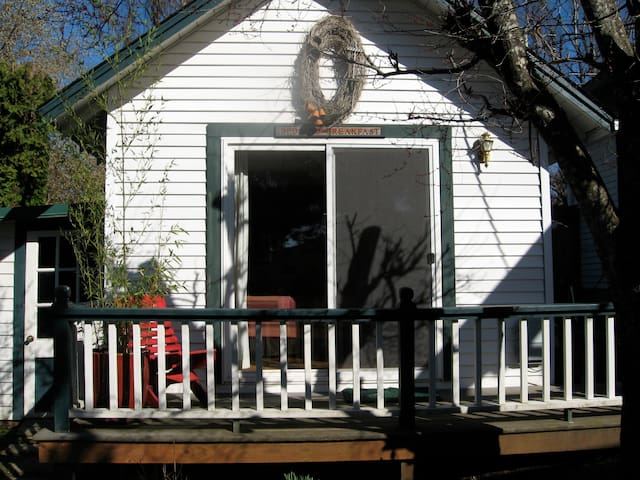 We are in the heart of the willamette valley vineyards with views of the fields and rolling hills. located on 25 picturesque acres next to baskett slough wildlife refuge perfect for hiking and photography.
Tipo de habitación
Habitación privada
---
Tipo de propiedad
Casa
---
Capacidad
2
---
Dormitorios
Dallas, Oregón, Estados Unidos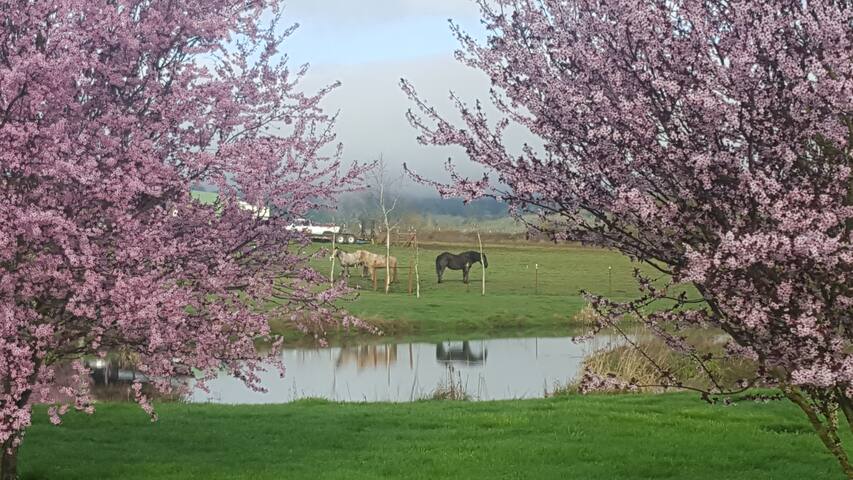 1

–

18

de

40 Alquileres de Casas
Introduce las fechas para ver el precio total. Ten en cuenta que se aplicarán tarifas adicionales y es posible que se añadan impuestos.