Deer Valley Inn, nestled in the heart of the Willamette Valley wine country, is surrounded by more than 50 wineries and vineyards in Sherwood, Dundee and Newberg yet only 25 miles from downtown Portland, Oregon. Perfect place to stay on wine tasting weekends! Pinot Noir room has comfortable bed with luxury linens, mini-fridge, Keurig coffee maker and patio. Bathroom has tub, shower and heated tile floor. Great for couples, solo adventurers, and business travelers. Gourmet breakfasts. Free WiFi.
My place is located in the country surrounded by vineyards, farms, private estates and equestrian centers. That's our neighborhood ... And it's pretty special.
Tipo de habitación
Habitación privada
---
Tipo de propiedad
Bed & Breakfast
---
Capacidad
2
---
Dormitorios
Sherwood, Oregón, Estados Unidos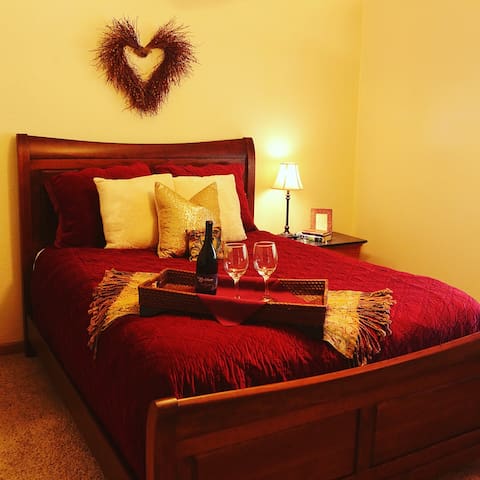 Stay on Bull Mountain and enjoy the close proximity to downtown Portland and wine country. You will have the entire Lower Level to yourself and there will be fresh baked bread and homemade marmalade served each morning :)
You will have the Lower Level to yourself - it includes one Bedroom with a little seating area and a queen bed (memory foam madras), a Living Area where we can add a pull-out bed (two separate madrases) if you are traveling with kids, a TV, PlayStation, Apple TV including Netflix & HBO, table + 4 chairs, kitchenette with a small fridge, electric water kettle, mini oven, cups and cutlery, plates, bowls.
Bull Mountain in Tigard is only a few minutes away from Progress Ridge where you find a New Seasons (think Whole Foods meets Portland), Cinetopia (think cool cinema that serves alcohol and food) and a number of eateries and shops. You also have Bridgeport app. 10 minutes away which offers a numbers of shops and restaurants. Bull Mountain is pretty much half way between Portland downtown and Wine Country.
Amazing stay. Above all expectations. Clean well decorated space, thoughtful details, amazing breakfast, super nice family. Nothing but great things to say! A top tier AirBnb place for sure!!
Josh
2016-08-01T00:00:00Z
Our stay with Toke and Nicole was wonderful. We spent most of a week in town apartment hunting, and waking up each morning in a comfortable bed and having a delicious homemade breakfast got us energized for a few days of searching. We had a bedroom, large living space, bathroom, and kitchenette to ourselves, and the space was clean and stylish. We also got some great suggestions for both food and fun, and now have a list of things to check out once we make our move up to Portland. We felt so welcomed in their home, and would recommend staying here to anyone who needs a place to stay while in the Portland area.
Michael
2016-04-26T00:00:00Z
Toke and his family were exceptional hosts. Very warm, friendly, and fun to talk to. The accommodations were fabulous. Huge amount of personal space which included a large living area, bedroom, private bath, and kitchenette. Impeccably decorated, clean, and well stocked. Beautiful, safe neighborhood with easy access to surrounding areas. They included breakfast which included warm bread, cheese, fruit, and other tastt treats.
Judi
2016-02-21T00:00:00Z
This was a perfect place for my husband and me to stay while we were visiting family nearby. The accommodations are clean and bright; the bed is comfortable; good continental breakfasts; charming hosts. I would be happy to stay there again.
Meredith
2017-03-28T00:00:00Z
Toke and his wife, Nicole were so friendly and accommodating, and so helpful with suggesting things to do and see. They gave me a tour as soon as I got there and were super welcoming. The space was beautiful and really spacious, clean and modern. The fireplace was so cool, the bed and linens were so comfy, and you could make yourself coffee every morning right in the room (they also have a fridge). Nicole was so sweet and made breakfast every morning, which she placed on a pretty little wooden tray on the stair steps and texted when it was ready. The place and family (they have 3 cute kiddos) made the stay so homey and comfortable. It definitely felt like a home away from home, and they are such kind people! :)
Jessica
2016-03-11T00:00:00Z
Toke and Nicole were absolutely fantastic hosts, the apartment is superb, and every wish catered for. We are only sorry we could not spend more time in the apartment. The breakfast was fantastic, the area was great, nice and quiet, but with restaurants etc within a few minutes drive. We can recommend the Drive-in Movie theatre about 20mins away. All in all a great place to stay with very welcoming hosts, we cannot recommend highly enough. Kim and Gordon Harding
gordon
2016-08-15T00:00:00Z
Beautiful area and home. Hosts were very friendly/ welcoming. Our place was private, clean and comfortable. A lovely breakfast tray was delivered in the morning. Everything was as described, including darling little children who were, indeed quiet by early evening and very much awake in the morning (but not real early). We would highly recommend!
Cammy
2016-04-18T00:00:00Z
Hosts were very friendly, easy to communicate with, and flexible! Amazing breakfast, great private downstairs area, very clean and comfortable.
Jon
2016-05-23T00:00:00Z
Tipo de habitación
Habitación privada
---
Tipo de propiedad
Bed & Breakfast
---
Capacidad
2
---
Dormitorios
Tigard, Oregón, Estados Unidos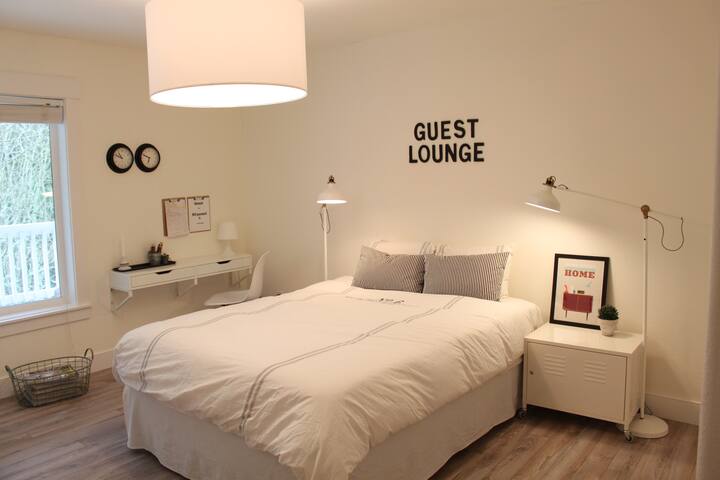 Our home is nestled in a park space high in the trees. We love the peaceful nature of our space, conveniently located to I-5 and public transportation. Our happy home is located 20 minutes from downtown Portland. There many walking trails in park settings. And great shopping is within walking distance as well as Whole Foods, coffee shops, and a variety of restaurants. There is a private sink and vanity in the room. The toilet and shower are shared with another room.
The bedrooms have been completely renovated with new carpet, windows and furniture. The bathroom is also completely new, with all new fixtures, flooring and lighting. Our home is nestled in trees but with large skylights, you feel feel all natural light coming into our home.
We are called the Hobbit neighborhood as many of the streets are named after the places in the Hobbit. Many types of beautiful trees, shrubs and flowers abound in our quiet neighborhood. Whole Foods, REI, and a large movie theater are all within walking distance.
Susan and Paul are wonderful hosts. I very much had a sense that I was welcomed into a home. The room was quiet and detached and yet I was able to share the common space without feeling that I was intruding. A particular gem was the deck that overlooked Padific Northwest parkland. There are trails three minutes away which I explored twice on my bicycle including on one occasion seeing a deer. I felt it was a sanctuary, especially as I was in Portland to attend a conferecee where all of the meetings were hosted in rooms in a downtown hotel where there were no windows. I was able to drive into downtown Portland everyday in 15 to 20 minutes. I have been using AirBnb for about 4 years in four different countries and Susan's home ranks wiht another as the best expeirence. I came this time on my own fora conference; I look forward to when my wife and I come ot this home on a holiday.
Oleh
2016-09-19T00:00:00Z
Quiet and beautiful place a short drive (if no traffic) from downtown Portland. The room was just renovated - very cozy and comfortable. If you've ever wanted to experience living in a real American suburban home with friendly hosts this is the place for it! There is also a nice mall a short walk away.
Matti
2016-07-16T00:00:00Z
Susan had the warmest smile to welcome us. It was a bit of a long drive from Vancouver, Canada as traffic was bad that day but Susan got us all settled in. The house is great; natural light, high ceilings. The room had amenities like a hotel suite; everything was new and clean. The room is spacious, lots of storage; bed was comfortable. Huge windows surround you. It's a nice neighborhood and the shops are all close by. I could hear the train nearby but we drove so traveling to downtown was a breeze. We were out for most part of the day but we enjoyed their deck in the evening and the hubby got to play pool while I drank my cold beer. :-) Susan and Paul are a lovely couple. They offered us breakfast and made us coffee. I also received flowers as it was my birthday weekend. Susan's very sweet. I enjoyed my first visit to Portland and I would definitely stay here again in my next visit. Thank you, Susan and Paul for having us! Till we meet again. Take care for now.
Michelle
2016-08-16T00:00:00Z
This has probably been the best Airbnb experience we've ever had! The gorgeous house is nestled in the woods in a quiet cul de sac. It's a 5 min walk to Durham City Park and a 20 min walk or 5 min drive to Bridgeport Village (get the waffles!). The house is clean and airy with a lovely deck, and the bedroom has the same feeling. You get a private sink/vanity as well as a full bathroom adjoining with other Airbnb guests next door (unless there's no one staying there, then it's all yours!). Take advantage of the included breakfast, as English muffins, bagels, bread, jams, butter, eggs, juice, protein shakes, cereals, and fresh fruit and veggies were provided in the morning for you to cook/eat. Susan and Paul were so nice and accommodating and never once made us fell like we were in the way. The cat is SUPER friendly (as in never scratches or hisses, and likes a good snuggle), but keeps to herself. I'm allergic to cats and the house was so clean that I didn't react. We definitely recommend staying with them!
Emily
2016-07-29T00:00:00Z
Very accommodating , beautiful place , large room with big ceiling fan , a sitting area with desk . Just wonderful . Very friendly hosts . Will definitely recommend
Linda
2016-08-07T00:00:00Z
My girlfriend and I stayed here two nights to spend the weekend exploring the Portland area. Susan and Paul were both exceptionally kind, offering suggestions for restaurants and places to walk nearby. Their house was very clean and beautiful with a comfortable atmosphere. I suspect anyone choosing to stay here would not regret it.
Eli
2017-02-12T00:00:00Z
Susan has a beautiful home, with bright skylights, a piano, and breakfast provided. We felt very at-home in this quaint forest cul-de-sac. Although we didn't find time to enjoy the park, the nearby mall was a great quiet place to spend the evenings after the hustle of downtown Portland. Susan also has a very friendly cat, which for us was a real bonus. We shared a bathroom with another AirB&B'er, and had no issues.
Thomas
2017-03-13T00:00:00Z
This was my second time staying here at Susan's. All was just as great this time as last. I came in late and left early both days.
Leslie
2016-09-29T00:00:00Z
Tipo de habitación
Habitación privada
---
Tipo de propiedad
Bed & Breakfast
---
Capacidad
2
---
Dormitorios
Portland, Oregón, Estados Unidos
Only six miles from I-5 at the southern end of Portland with easy access to either downtown or the wonderful Yamhill co. wineries. A 3 year old custom home by the owners with great detail. Enjoy a huge kitchen and wonderful view.
Peaceful living on 5 acres, Farm animals, such as mini horses, cows, sheep, chickens and if your timing is right a couple of farm fresh eggs with your breakfast
Great location for our wine tasting weekend! Randy is a great host and chef - the huevos rancheros might be the best I've ever eaten.
Nancy
2015-08-25T00:00:00Z
Randy and wife were amazing! He showed us around the property and was helpful with anything we asked. The house and room were very nice and clean. I highly recommend this listing!!! The breakfast was excellent!!!
Garett
2015-07-06T00:00:00Z
Randy was a fantastic host - he has that rare ability to make you feel completely at home almost immediately. He built the house, and his skill shines through in every detail of the place. The bathroom and bedroom feel like a 5 star hotel. He's a great cook, too! Breakfast was fantastic. We're so glad we stayed, and we'll definitely be back.
Jake
2015-07-20T00:00:00Z
Randy and Erin were incredible to stay with at their magical family country farm. It really is upscale and a country treasure. Watch out, Randy makes *the best* huevos rancheros and both breakfasts were feasts not to be missed. I was treated like family and got to spend time being introduced to the family farm animals and their beautiful landscape. If you love the country, wonderful hospitality, good conversation and amazing food, this place is for you! I certainly didn't want to leave and will be back for another visit just to stay with them and be back on the farm. I hope you enjoy it like I did!
renee
2015-05-26T00:00:00Z
Randy was very welcoming. There is not a lot of privacy (no shades on bedroom windows and bathroom is down the hall). It is a very pretty drive, but you will need GPS to find it.
Lisa
2015-11-10T00:00:00Z
Gorgeous house, wonderful host and delicious breakfast!! I'm a wedding photographer from Southern Oregon who needed a place to stay near Newberg for a wedding. Randy made me feel right at home. It was so comfortable and he was so helpful. I will definitely be staying at his home again next time I'm in the area. Thank you Randy!! -Nikita
Nikita
2015-08-17T00:00:00Z
In a word: relaxing. Randy did a superb job hosting our small family of 2 adults and 2 dogs. This was a last-minute trip and the instant book option was super convenient. As a former Bed & Breakfast Innkeeper, I tend to be choosy and was not disappointed! We stayed for a couple of nights and loved how private and well appointed our bedroom and bathroom were. Location was easy to find, and once we got there we really didn't want to leave! We wound up staying local, enjoyed a couple of day hikes and visited Deception Brewing in Dundee, OR, about 10 miles away. Randy was very helpful and made excellent suggestions for places to explore in the area. The bedroom window faces a hillside where cattle graze, which was such a beautiful view to wake up to! Our dogs enjoyed exploring and running around, the property is fenced on +3 acres. Breakfasts were yummy and Randy checked with us on dietary restrictions ahead of time, very attentive. He prepared cheese blintzes with fresh black/marionberry jam from the farm on day one. On day 2 (a Monday) he made sure we had fresh cantaloupe, coffee, and bagels/cream cheese and OJ available. I really enjoyed savoring the last hours there and the late Noon checkout. Thanks again for the excellent hospitality and awesome conversations, Randy. We loved our stay and hope to visit again soon.
Carmen
2016-08-15T00:00:00Z
Beautiful home in the quiet countryside. Breakfasts are fantastic and Randy made me feel very welcome and comfortable.
karen
2015-08-03T00:00:00Z
Tipo de habitación
Habitación privada
---
Tipo de propiedad
Bed & Breakfast
---
Capacidad
2
---
Dormitorios
Newberg, Oregón, Estados Unidos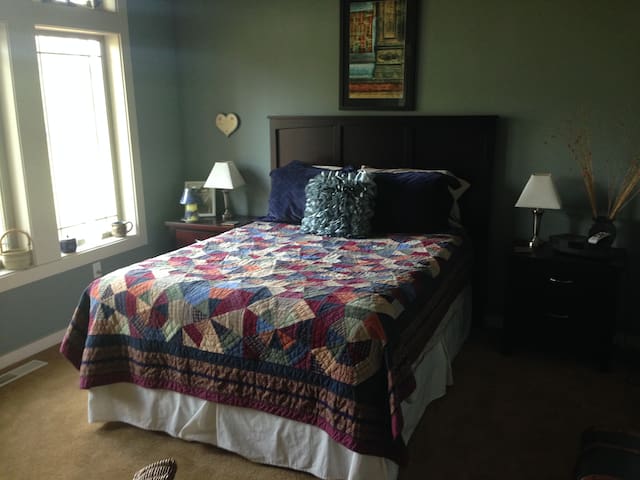 Sherwood - Airbnb
:
Una media de

5

estrellas de un total de

5

de

62

evaluaciones de huéspedes
1

–

4

de

4 Bed & Breakfasts
Introduce las fechas para ver el precio total. Ten en cuenta que se aplicarán tarifas adicionales y es posible que se añadan impuestos.