Located just minutes from Center City; Easy access to transportation; rehabbed late 1800s home; full bath; queen size bed; TV; free WIFI; off street parking; perfect for a couple or individual; non-smoking inside
Comfortably fits 2 people; cozy industrial, modern loft-style space offering views of the city
Very diverse neighborhood; historical area; convenient to shopping, restaurants and entertainment
Tipo de habitación
Habitación privada
---
Tipo de propiedad
Loft
---
Capacidad
2
---
Dormitorios
Philadelphia, Pensilvania, Estados Unidos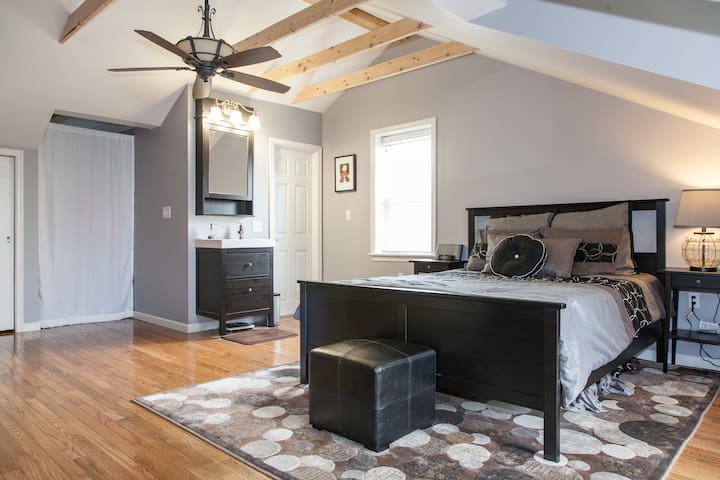 Was on hiatus but am back! Old City, near exciting Reading Terminal Market, Penna. Convention Ctr, National Constitution Ctr, and cafes. Close to just the fun and vital stuff. You will love my place because of the free parking, views, location, ambiance, etc. It's good for couples, solos, biz travelers, families (with kids), big groups, and furry friends (pets). Can pretty much guarantee NO ONE else gives you total exclusive privacy (whole place to yourself), OR free parking. Checkin flexible.
Crib for you for babies/toddlers!
My neighbor, Dr. Franklin, had a lot of pithy sayings. Ask me for some! (But i'm not sure if he originated the saying "God protects widows and orphans and idiots.") He, George, Martha, and others whose names I guarantee you know, went to church a couple blocks from our apt.
Great location. I wish we had stayed there longer.
Maury
2016-12-18T00:00:00Z
Nice place
Cristhian
2017-01-15T00:00:00Z
Jay is a great host; thoughtful and full of tips about the area. Check in and check out were really easy, and Jay was very understanding about a late arrival, as we had hit a lot of traffic on our way into Philadelphia. He personally delivered us to the parking spot for the place. The city is very walkable and the immediate area is great, so we just parked our car and left it for the time that we were in the city, without any hitches. The apartment is spacious with a lot of light, and a very nice view. Our bed was comfortable. Note: Jay had burnt a lot of incense in the apartment just before we had arrived, so check with him about that sort of thing if anyone in your party has sensitivities to stuff like that. The kitchen (and apartment in general) are somewhat under-furnished. There was no tea kettle, no sharp knives, no colander, etc, and only one love seat, as far as comfortable seating goes. The dining table was a cafe table with three chairs. It wouldn't really be suitable for our family of four for more than a night or two. The apartment has no private wifi, and although there was supposed to be public wifi available, we were not able to ever connect to it. I had some work that I needed to finish over our weekend for which I needed to get online, so this was a problem for me. Still, other reviewers have said that they didn't have a problem accessing the public wifi, so I am not sure why we did or if it is just a temporary thing.
Gabrielle
2017-03-05T00:00:00Z
We had a great time at Jay's place. The location is perfect, the views astonishing, especially at the sunrise. Jay was very courteous.
Alessandra
2016-12-04T00:00:00Z
Jay was an excellent host. Communication leading up to and throughout our stay was timely and informative. The reserved parking spot less than three blocks away was a huge plus as it allowed us the flexibility to explore the city without having to worry about finding parking. The apartment itself was very spacious with a great view. Thanks again to Jay for a great stay!
Yvonne
2017-02-19T00:00:00Z
This apartment, wonderfully located in the heart of Philadelphia's Old City, is quite spacious and has amazing views. And Jay is a very warm and friendly host!
Nicholas
2017-01-08T00:00:00Z
The location was fantastic. I had my dog with me and I was so surprised to see so many dog walkers. People were great. Loved the museums, food, and quaint shops.
rini
2017-03-03T00:00:00Z
The place was exactly as advertised. Jay was super flexible with our arrival time. Location excellent!
Ellen
2016-10-11T00:00:00Z
Tipo de habitación
Casa/apto. entero
---
Tipo de propiedad
Loft
---
Capacidad
6
---
Dormitorios
Philadelphia, Pensilvania, Estados Unidos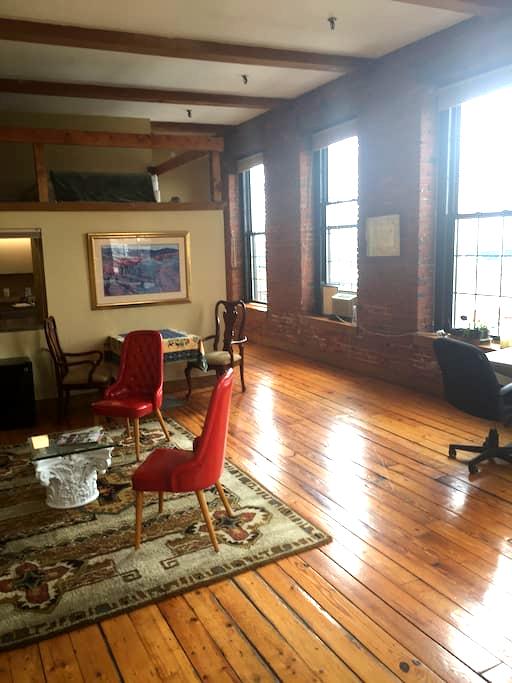 Truly a one of a kind loft in Frankford, Philadelphia. Open floor plan, unique antiques, projector screen, central air, exposed bricks, large windows and Juliet Blacony. Oh, and a swing.. In the house!!
It's just a great space. We're listing specifically for the Pope's visit and know that you'll be torn between hanging out in the loft and experiencing the chaos in Center City.
Frankford is a peaceful neighborhood filled with kids playing, locals chatting and a slightly annoying ice cream truck. We've lived here for a while and have absolutely no complaints.
Tipo de habitación
Casa/apto. entero
---
Tipo de propiedad
Loft
---
Capacidad
4
---
Dormitorios
Philadelphia, Pensilvania, Estados Unidos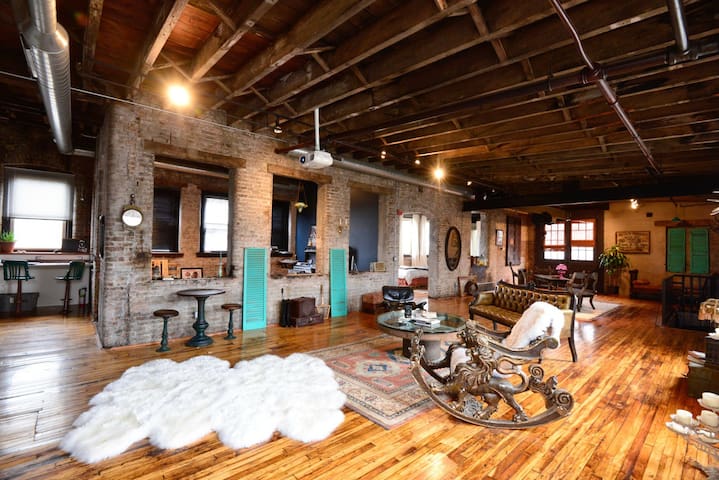 NOTE: The entire apt is avail May 26-30 as I will be away. Large, clean, and stylish place with very easy access to public transportation. Located in Fishtown where there are tons of great places to eat, drink & socialize. Guests that visit my place have access to everything inside, from cookware and laundry machine, to the various musical instruments I keep! It's a fun stay in a fun city. Great for solo adventurers but just as good for couples too.
This is a unique "rustic" warehouse loft. Although large at 2,000 sq ft., it still feels warm and comfy. I'm currently in the process of upgrading the sleeping area to a suspended loft platform, which gives some added privacy to guests. **5 people are able to share between a total of two queen beds and one single bed, plus two small couches if need be** Another nice feature is the huge private roof deck - great for BBQ and social events in the summer. Although the warehouse itself is an older one with mixed-use spaces, my unit has brand-new hardware and does not feel out-dated or unkept.
The apartment is on the northern end of Fishtown, bordering Kensington. It is a safe area, no major crimes reported, but as with anywhere in Philadelphia, caution should be taken when traveling alone or in small groups at night. There is free parking on my street (Hope St.) usually available. There is a variety of new restaurants, bars and shops within walking distance.
Frank made me feel welcome from the moment I arrived. He offered me a beverage, gave me a tour, and told me I could use anything in his shower. He's very easy going, generous, accommodating and the perfect host. I felt at home and would gladly recommend this listing as it exceeded my expectations. Frank is very knowledgable and answered any questions I had about Philadelphia. Great value, safe neighborhood, spacious and very clean. Perfect for artists.
Erica
2016-10-02T00:00:00Z
My friend and I stayed at Frank's place for a weekend. He was a great host (probably one of the best I've had so far) and was very welcoming to us for the entirety of our stay. His place was beautiful and we really have no complaints.
Aditi
2017-03-26T00:00:00Z
Our stay at Frank's was great. It was so nice to have three beds, one for each of us. The loft and bathroom are overall clean. A little issue with the key for the door being a little difficult but other than that our stay was great. Frank was so cool and nice, and offered a lot for us to do during our stay.
Angeline
2017-04-01T00:00:00Z
We had an awesome time staying at Frank's place for the weekend! He has a beautiful space that is true to the photos was very well kept and clean. Frank went above and beyond to make us feel welcome in his home! Our stay here was a big part of what made our trip to Philadelphia so lovely.
Brianna
2016-10-23T00:00:00Z
Me and two of my friends (all architecture students) traveled to Philly for a Saturday night concert (the venue was nearby, one of the top reasons I picked this place). We checked in at Frank's place at about 3 p.m. The neighborhood is hip and has an industrial aesthetics about it which we liked. You can easily find parking and it's also very close to the SEPTA station, and going to old city only took us few minutes. The house itself is an old one, but Frank has turned it into a beautiful piece of work through the renovations he's done. The house is spacious, and filled with lots of interesting and cool features. He is a very nice guy himself and we enjoyed our time talking to him. He provided us with an extra inflatable air bed, coffee and snacks and gave us useful info about places to hang out, eat etc. Overall we all had an amazing time and I would definitely recommend it! You would be meeting him, and his cute dog named Ninja!
Sadra
2017-02-19T00:00:00Z
He's really easy going, generous, and accommodating. He made sure we felt welcome and at home. Offering up coffee as soon as we arrived and let us know where to find everything. I would gladly recommend this listing, it exceeded all of my expectations. Great value, safe neighborhood, spacious and very clean. Great decor. Perfect for artists.
Kaya
2017-03-18T00:00:00Z
I love Frank!! He was the epitome of an all around great host. Even though I was not able to stay my whole visit. He made it his duty to accommodate my needs and made me and my sister feel very much at home. Will I be back? Most definitely! Especially to play with the jumbo Jinga and get some more of that home made coffee!
Chelsea
2017-04-02T00:00:00Z
This was the best place I have ever rented from Airbnb. If you are ever in the Philadelphia area this is where you want to be.
omar
2017-02-12T00:00:00Z
Tipo de habitación
Habitación compartida
---
Tipo de propiedad
Loft
---
Capacidad
5
---
Dormitorios
Philadelphia, Pensilvania, Estados Unidos
Hello. You can stay in a cozy room in the Berks warehouse. The Berks warehouse is a bohemian building right in the heart of fishtown and south Kenso. We have a brand new loft with Central air and AC and tuns of other amenities. We are a 2 minute walk from the train and an indie go Bike rental. We are a five minute walk from Frankford Hall Pizzeria Beddia Johny Brendas Barcade the El Bar the Filmore and more... Your room has a brand new full size bed a large TV with, Apple TV, and the Internets
This is a 3rd floor walk up 2500 sq ft loft. There are 3 bedrooms a brand new kitchen, a brand new bathroom, a photo studio, a movie theater, a library, and a bar.
Literally 5 minute walk to over 3 dozen bars/ restaurants. at least 5 live music venues with in walking distance.
The host canceled this reservation 2 days before arrival. This is an automated posting.
Adir
2017-01-02T00:00:00Z
Very cool location. Dan's a very easy-going host, although I never met him in person. Overall, the stay was very chill and pleasant.
Corinne
2017-01-02T00:00:00Z
Cool artsy loft & very laid back. Dan was a very nice host & communication was easy. Our stay was pretty short but I would definitely come back. Loved all the fur babies too!
Amanda
2017-02-20T00:00:00Z
This is a super cool loft apartment. The bedroom is not fully enclosed so if privacy is your thing there's that, but it's really not a big deal. Huge open space with a small balcony to climb out onto. The pets are an added bonus. The train is right around the corner, food/drinks are a 10 minute walk. Great experience if you're looking for a charming and low key place to crash at night
Taylor
2017-01-18T00:00:00Z
Was our very first airbnb experience, was not disappointed at all. Dan was actually super cool and hospitable and his house is dope! I loved his pets. Thank you Dan! Stay awesome!
Naliya
2017-03-29T00:00:00Z
Nice spot. I would stay again.
Amanda
2017-01-16T00:00:00Z
Great host! Amazing pets, and excellent location.
Jordon
2017-03-22T00:00:00Z
Though I was only in Dan's space for but a night, it was quite the enjoyable experience. The space itself was exceptionally large, filled with amazing artwork, and came with some awesome pets that were quite friendly. The sleeping area was comfortable, with a nice sized bed, TV, plenty of outlets to charge phones and other devices, and some shelving units that added a nice touch. I definitely recommend staying here if you have the opportunity.
Omar
2017-02-12T00:00:00Z
Tipo de habitación
Habitación privada
---
Tipo de propiedad
Loft
---
Capacidad
2
---
Dormitorios
Philadelphia, Pensilvania, Estados Unidos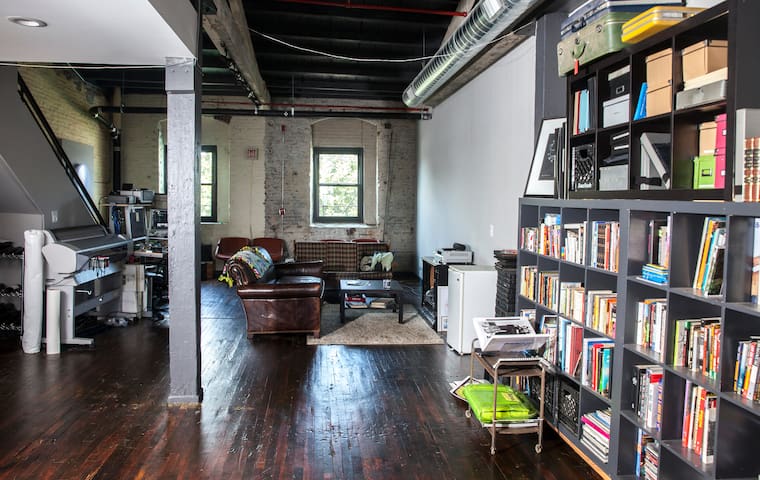 Featured on Youtube - Lowes Home Improvement show: The Weekender "Air Brick-n-Beam" (episode 5). Update: The bedroom on top is now my son's "Tree-House". main bedroom is cozier and more private now! The world zen loft is warm, beautiful and inspiring with massive windows and lots of light.
This is a very beautiful, artistic & light filled eclectic loft, new construction and new appliances. There is literally a mini Jungle Gym in the living room so you can work out during your stay. The master bedroom has a very comfortable memory foam mattress from Brookstone. The other room is an open plan "Tree-house" loft that can fit 2 more people with two twin mattresses, possible 3 kids with the third sleeping in the "living room" of the Tree-House. When booking I will need to know how many people/kids will be staying at the Tree-house. I prepare the mattresses and sheets accordingly. If it's just one person, the twin mattresses will be on top of each other and sheets will be made for one person. I am an artist so the place constantly changes, I change a lot so does the place, so you might find the place different then the pictures each time you stay here. The bathroom and kitchen are perfect for what a family needs while staying in town. This is the perfect mix between a real cozy condo and an artistic loft. Very clean and safe for children. I am trying to be family friendly as I know some Airbnb's don't allow children and I know that traveling with a family can be hard and a hotel room with small children can be difficult (we know!), but even a single person can stay here. Please note that this is our home and not just another rental property. That means that our personal things are around. This is not a clean slate hotel room/vacation home. I feel like some people forgot what Airbnb is all about because they end up in spots that are run by realtors. I prefer short bookings at 4 night maximum in a row. In the past I have allowed longer stays but I feel like it doesn't work for me anymore. I ask you kindly to not make special requests to remove cleaning free or ask for discounts.
Keren's place is exactly as described and pictured -- amazing! I didn't get to meet Keren unfortunately, but she was always available to offer help and answer any questions. Great communication made my arrival, stay and departure flawless. Hope to stay here again in the future!
Tyler
2015-10-12T00:00:00Z
Great unique loft - spacious and clean. Keren was great to work with.
Ralph
2016-12-19T00:00:00Z
Keren was awesome and a pleasure to deal w/, and her home was a direct reflection that. Very cool space/location.
Tazz
2016-12-11T00:00:00Z
This was a lovely place to stay for a weekend. The apartment is quirky and engaging with fun decor and furnishings. The host was responsive to our communication about arrival time, etc. It is clearly the host's home so it has lots of character and a cozy vibe- but lacks the "blank slate" feel of some Air Bnbs that are clearly just rental properties. A great option if you are looking for a place to stay in a neighborhood of Philadelphia without any nearby hotels.
Daniel
2017-01-01T00:00:00Z
Nice home, fun stay, will certainly consider staying again
Christopher
2016-11-26T00:00:00Z
The loft is truly amazing! Just as described! Keren was easy to communicate with as well.
Kristen
2016-11-06T00:00:00Z
We had a great time here. The loft was an amazing place with everything we needed. More than enough room for four people. Keren was very kind and helpful. I would definitely stay here again.
Zach
2014-04-14T00:00:00Z
keren's loft is AWESOME - very well decorated with amazing light and huge windows in a cool area in philly. it was a nice walk from la colombe and frankford hall and some other fun places. we were in town for a wedding and loved having this space to come home to, and keren was very accommodating with our dogs we ended up having to bring on the trip. the loft was equipped with everything you might need, and keren was a fantastic communicator. thanks, keren!
Lauren
2016-01-01T00:00:00Z
Tipo de habitación
Casa/apto. entero
---
Tipo de propiedad
Loft
---
Capacidad
4
---
Dormitorios
Philadelphia, Pensilvania, Estados Unidos
Our Modern open Loft Unit has everything you need to stay a night or a month. Centrally located in the upbeat, never boring "Gayborhood" of Washington Square West and Mid-Town Village. Surrounded by the best restaurants, bars and nightclubs in the city. Just blocks from the historic Old City and the Liberty Bell. Close to City Hall and all of the Judicial buildings and the Convention Center.
As you walk up a quick flight of steps you will arrive at your amazing getaway which sits above a beautiful Cigar and Hookah Lounge on the first floor. (Just a fare warning, occasionally smoke can be smelled in the building from the cigar lounge downstairs.) But, there are extra large windows throughout the unit along with several fans and an air conditioning unit for those hot summer nights. This beautifully remodeled Open Loft style Apartment was once an old shoe factory back in the early 1920's. Now, it boasts 12 foot high ceilings, hardwood floors, extra large windows and an amazing LOFT bed that sits 7 feet up in the air which is accessible by a fixed ladder. (Please take this into consideration when you are booking with us.) This provides an amazingly ample amount of open space for an extra guest or even two to stay over very comfortably on our extra large, extra comfortable couch. The bathroom was finished with classic white subway tile. The shower is a walk in stone and mosaic tiled shower with 4 shower heads allowing for 2 people to shower with plenty of space and enjoyment. We provide bathing towels, wash cloths and some basic toiletries. But, please remember to bring your own special items because we may not have what you are using at home. The kitchen is equipped with everything you need to create, cook and serve some great meals. All you need to supply is the food and spices. There is a Keurig coffee machine and lots of coffee and teas for you to use. We have servingware and dish ware for you to use. There is even a dishwasher, so please remember to wash what you use. Cleaning supplies are provided so if you chose to tidy up or you have a spill, you may clean up. There is a washer and dryer in the loft as well for those that are staying over for a longer period of time. We also provide a small Ironing Board and Iron. There is a very large open closet to hang and or fold your clothing and other belongings while you stay. Xfinity Cable and WIFI are available as well. The wifi password will be provided at check in. There are several convenience stores, a CVS, Walgreens and Grocery store all located within a short walking distance for all your essentials, toiletries and food supplies. The front door entrance has a buzzer system you can either use to buzz guests in or turn it off depending on your level of privacy you would like while staying over.
If you know anything about Center City Philadelphia then you already know that there is never a dull moment. The Loft is perfectly and centrally located in the heart of the Gayborhood part of Washington Square West. A neighborhood that boasts some of the area's most vibrant and well know Restaurants, Bars, Nightclubs, and Retail stores in Center City. The Loft is located in an upbeat neighborhood and on the weekend there is always something great going on. Get out and check it out! The Loft is also located 1 block from All Septa trains and Bus routes including the Patco Train which goes right into New Jersey's Camden Station and further north into New Jersey. Parking is a little bit of a challenge in Center City but there is of street parking available and several large multi Level Parking Lots all within a very short walk from the Loft.
Matt's place is great - clean, centrally-located, and really convenient for quick trips to Philly! It's roomy enough for two or three people to hang out comfortably, and Matt was very communicative and accomodating throughout our stay. I highly recommend it here! Also, his shower is awesome. Just saying.
Louis
2016-12-18T00:00:00Z
Matt was very friendly and responsive, great host. The loft is clean and spacious, it can easily accommodate 3-4 people. The location is very convenient too: less than 10 mins walk to subway, 3 mins walk to do shopping on Walnut Street, and walkable to a lot of tourist spots in city center.
HungKit
2016-11-17T00:00:00Z
Had a great stay at Matt's place. The apartment was really nice, and in a great location. The apartment was very clean, the Internet was fast, and Matt was a great host. I would recommend Matt's place to anyone going to Philadelphia.
Awni
2017-03-10T00:00:00Z
Apartment is cozy and well decorated. Clean kitchen and bathroom. Plenty of space for up to four people. Good WiFi and TV, but where this place really wins is location. Location is superb for checking out the city's night life and historical sites. Close to everything you'd want to see in Philly. Altogether a great stay! If you are a light sleeper, there is a club very close that you will hear noise from on the weekends, but that is literally the only negative I can think of!
Matthew
2016-11-20T00:00:00Z
The place was beautiful!!! Such a cute little loft in the middle of everything. Parking right out front, or close by at the hotel parking garage. The bathroom very clean with fresh towels!!! The bed was great and so fun to climb. Great internet, again and great location. Mathew was an amazing host. So friendly and helpful. We loved it and recommend it.
lizbeth
2016-12-11T00:00:00Z
Matt was incredibly hospitable and his home was perfect for a weekend getaway.
Brittany
2017-02-13T00:00:00Z
Really cute place that is in the perfect location for the gayborhood. We would definitely stay again!
Katie
2017-01-01T00:00:00Z
This was a fantastic, fun place to stay. The owner was extremely accommodating, adjusting to our needs. He was excellent at communication. The apartment is well equipped with everything you need throughout your stay and very comfortable. The smoke-smell from the cigar lounge was a bit stronger than anticipated, parking was expensive and then night life can be a bit loud but none of these were unexpected considering the location. The area is very close to many restaurants and activities and the owner was great at offering tips to the enjoy the local surroundings. The apartment felt safe and in a secure building. We greatly enjoyed our time here and would look to use these amentities should they be needed in the future
David
2017-02-17T00:00:00Z
Tipo de habitación
Casa/apto. entero
---
Tipo de propiedad
Loft
---
Capacidad
4
---
Dormitorios
Philadelphia, Pensilvania, Estados Unidos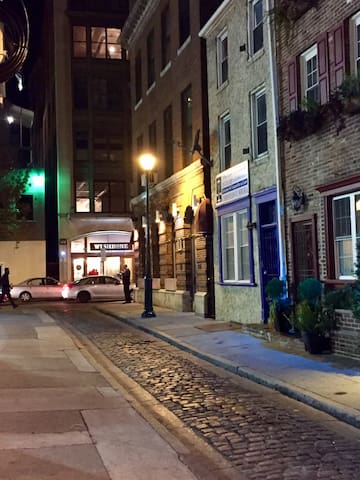 The loft is spacious and open with huge windows, and well appointed in your room and common areas. Fishtown and Northern Liberties offer lots to do within a 1-10min walk, while the subway is only a 3min walk and gets you everywhere else in Philly.
The luxury single level loft is found in a newly renovated historical building, offering modern amenities with some vintage charm. Elevator whisks you and your luggage to an upper floor with a view of Fishtown. Relax in the great room on the comfy sofa at the end of the day, bar with ample glassware (liquor store within 2 blocks), entertainment center with Roku (Netflix subscription), Xbox360 and N64. The large kitchen is stocked with coffee and tea and has an adjoining dining area. Washer and dryer are conveniently located within the unit as well as iron and ironing board. The lovely suite for two contains a spacious queen bed with quality linens and plush blankets. Private bath with amenities such as hair dryer, soaps, shampoo and conditioner are included. The closet includes hangers and storage organizer. Plenty of privacy is available as the guest's and host's suites are situated on opposite sides of the loft. Warm heating in the winter, air conditioning in the summer, a useful ceiling fan/light all year round. A basic gym with treadmills and weights is located in the basement of the building for your usage.
The building is in a prime section of Fishtown bordering Northern Liberties. Both neighborhoods are home to some of the city's best cafes, eateries and bars. Live music is easy to find with both Johnny Brenda's and The Fillmore within a block. Yoga, spinning and other fitness studios are plentiful in the neighborhood. The immediate area is becoming the latest art gallery and eclectic shopping district with creative coffee/tea/brunch hang outs as well as inviting bars and limitless restaurant choices. There's something for everyone! Directly across the street is Barcade, offering craft beers and retro arcade games. Who can't resist Pacman? Food trucks set up just down the block on Friday and Saturday nights are open past bar closing time for when you need an easy meal on your way home. Gourmet markets are within a short walking distance. A large grocery store is less than two blocks away. Endless take-out options are available for pickup and delivery. Drop-off laundry is around the corner and pick-up/drop-off service is also available. Directly across the street is Barcade, offering craft beers and retro arcade games. Who can't resist Pacman? Food trucks set up just down the block on Friday and Saturday nights and are open past bar closing time for when you need an easy meal on your way home.
Louis was an amazing host and his loft space is beautiful. It's obvious that he really cares about the comfort of his guests which is wonderful! The bedroom was the perfect size, the bed was amazing and the view of the neighborhood was pretty fun. There were plenty of extra blankets and towels available and an ample supply of pillows available for use. The location was incredible too. It was a brisk walk to the train station and there are tons of restaurants within walking distance. He had everything that you could need available. It was a real pleasure meeting Louis.
nicole
2016-03-15T00:00:00Z
Louis and Carli were very cool, friendly, and helpful hosts and very prompt in responding to messages. I had a great time hanging out and talking with them. Check-in went smoothly, Louis was there to check-me in and show me around his beautiful, clean, open spaced place. The location of the place is perfect, it is a very short-walk to the train and bus-stop, very convenient. There are plenty of places to eat and/or drink around the area. I like the neighborhood very much. The place is open but I felt like I had a lot of privacy since the bedroom and bathroom are on the other end of the loft from the hosts. I also used their gym in the basement, it is basic and just as I needed. The room/bathroom was stocked, with extra blankets, space heater, towels, toiletries and hair dryer among other things. I would recommend this place to anyone. It's the best bang for the buck in my opinion. I was very happy with my stay.
Bay
2016-04-12T00:00:00Z
Louis was very helpful and friendly. He was always available if I had any questions and checked in with me often. I felt welcomed. The location was super convenient and probably one of my favorite things about it. Super comfy bed and clean space , better than staying in a hotel. I hope its available the next time Im in town :)
Ashlee
2016-06-06T00:00:00Z
My boyfriend and I went to USA for a road trip and stayed at Louis's place for a week - we just loved it! It is a big loft in a very nice new young area. Although we didn't have the chance to meet him in person he was always very easy to reach and very helpful. Thank you Louis for hosting us! Alessandra & Maurizio
Alessandra
2016-06-26T00:00:00Z
Louis is a great host! He communicates very fast which was super helpful in our case because our flight got delayed and we had to reschedule our arrival. His place was very spacious and we found everything we needed. It was great to meet him and exchange some thoughts about travel experiences. We highly recommend his place!
Richard
2016-07-29T00:00:00Z
Louis is a very careful host. From the moment we arrived (he welcomed us on the front door of his apartment's building and helped us with parking and luggage), through all our staying in his place he was always there to help us when we needed and he was very careful of our privacy. I won't spoil everything but the house is even better than you would immagine watching the pictures. Every room was super clean and tidy and we had no kind of problem. The neighbourhood is not far from the city center (you won't need a car unless you want to drive outside the city but if you have one you will find lots of parkings near the house) and is clean, safe and plenty of bars and shops. I wish we spent more time together but still we arranged a dinner with him and talked and we found in Louis a great person. In Philadelphia we had a great time and that was also thanks to Louis.
didier naim
2016-04-26T00:00:00Z
Louis and his place are excellent! The bed was comfy, the apartment luxurious and well lit, and the host friendly and accommodating. I stayed with Louis for a month and he let me integrate into his life -- we hung out, we got meals, we played board games. I'd definitely recommend staying here, it was easily one of my top Airbnb experiences.
Adam
2016-06-01T00:00:00Z
Louis was very nice, the room and the bathroom were really clean, and the place is really close to the metro station. I will recommend this place to everybody.
Magdalena
2016-04-14T00:00:00Z
Tipo de habitación
Habitación privada
---
Tipo de propiedad
Loft
---
Capacidad
2
---
Dormitorios
Philadelphia, Pensilvania, Estados Unidos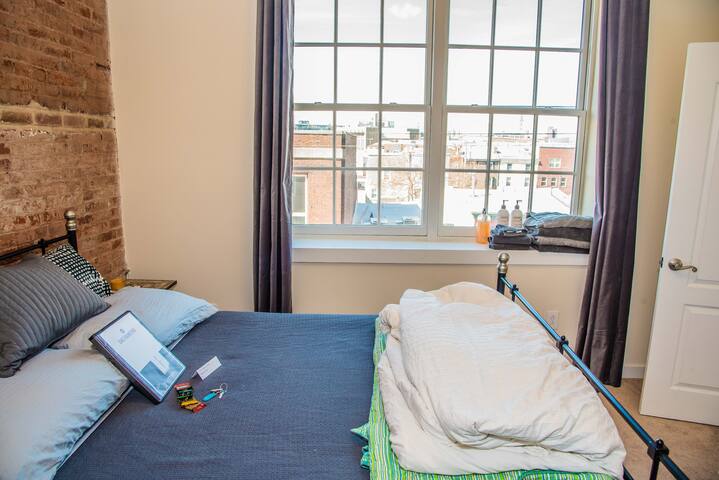 Trenton Ribbon Factory Lofts are industrial urban spaces located in the emerging Frankford arts corridor. Their signature bedrooms and contemporary kitchens are accompanied by sleek modern finishes. The architecture features elevated ceilings, hardwood floors, and exposed brick and beams which add to these lofts' stylized rustic look. Each immaculately renovated unit includes parking and is just steps away from public transportation.
High ceilings with exposed timber wood beams, brick walls, spiral ductwork, all new stainless steel appliances (refrigerator, stove, microwave, dishwasher), granite countertops, etc. The L-shaped kitchen has plenty of counter & cabinet space. The kitchen overlooks the living room for easy entertaining. High, arched windows throughout that let in tons of light. King size bed and cable television in master bedroom. Full bathroom with a tub/shower. There is a stackable washer/dryer in the full bathroom for added convenience.
Fishtown is a northern residential neighborhood next to the Delaware River. The river ward has changed dramatically in recent years with its proximity to Northern Liberties and has drawn many students and artists to its small, triangular territory of rowhomes. The Market-Frankford line borders the neighborhood on one side, with the river bounding it on the other side. Penn Treaty Park is one of the largest community spaces here. Johnny Brendas is a popular bar and music venue that is notable throughout the country. Girard Avenue has experienced strong growth in local businesses and dining establishments. On the other side of the neighborhood, the Frankford Arts Corridor is home to many galleries and small businesses.
Tipo de habitación
Casa/apto. entero
---
Tipo de propiedad
Loft
---
Capacidad
4
---
Dormitorios
Philadelphia, Pensilvania, Estados Unidos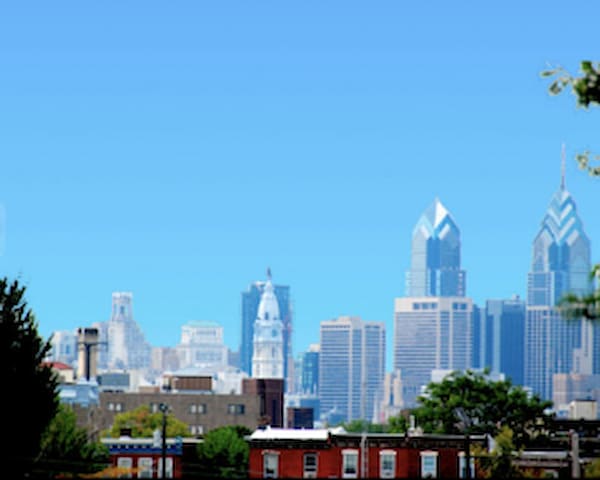 Beautiful duplex loft in former rope factory building in the heart of Old City with vistas that include the Delaware river, the Ben Franklin bridge, and historic Christ Church. Gorgeous marble master bath with separate shower and deep-soak bathtub. Cook's kitchen, spacious high ceilings, 2 fireplaces, and artwork throughout.
The loft is comfortable, spacious, well-equipped for relaxing and/or working, in a great location. Please note that this is a third floor walk-up, and there is no elevator in the building. If you like your smoothie in the morning you are set. Small kitchen machines available for your use include a Blendtec Blender, Cuisinart Food Processor, Dualit Toaster (sized for bagels), Zojirushi water heater for tea, Krups coffee grinder & Cusinart Coffee maker. Organic coffee, a miscellaneous selection of teas, a wide selection of spices, olive oil, vinegar---most everything you might need for cooking is available for your use and convenience. The bed has a new queen size tempurpedic mattress. There is a good sound system, ready for easy plug in of i-pod/phone. Premium cable includes HBO. Wifi included and two desks, one with monitor for easy plug in for your laptop. There is a wireless color printer and scanner. Depending on our mutual schedules, we may or may not actually meet in person. I will certainly be available by phone or text. Old City is where Philadelphia began. When Ben Franklin arrived from Boston, his first steps were down what is now Market Street, less than two blocks away. In addition to myriad of important nearby historical landmarks and artifacts, including Independence National Mall with the Liberty Bell, ruins from the first Presidential residence, the First Congress Building, First Bank, etc, there are countless excellent restaurants and art galleries as well as several charming and delicious BYOB's in the neighborhood. Perfectly situated for public transportation, the subway station is two blocks away, and a nine-minute subway ride to the central train station, where you can easily connect to the airport. Philadelphia is terrific city for walking and it is a great way to get around and see the city.
Old City is where Philadelphia began. When Ben Franklin arrived from Boston, his first steps were down what is now Market Street, less than two blocks away. In addition to myriad of important nearby historical landmarks and artifacts, including Independence National Mall with the Liberty Bell, ruins from the first Presidential residence, the First Congress Building, First Bank, etc, there are countless excellent restaurants, coffee houses, and bars, as well as several charming and delicious BYOB's in the neighborhood. Some of the cities finest restaurants are only a few blocks away. Cobblestone-lined streets and an abundance of art galleries, boutique shops, bakeries, and cafes make old city on of the most beautiful neighborhoods in Philadelphia.
This place is pretty amazing. Historic building, very classy decorations, great views, modern amenities, fantastic location. Wow.
Ed
2016-06-14T00:00:00Z
Susan's apartment was fantastic! Even better than the photos. Susan was very responsive and made everything simple. The apartment is a great spot for exploring the Old City. I would 100% stay there again!
Heather
2016-05-23T00:00:00Z
Susan was great. Very available and helpful. I'd also highly recommend the loft and location in Old City.
Peter
2016-06-30T00:00:00Z
Susan's home is exceptional! We were blown away by her warm, airy, artful home. Views of the Benjamin Franklin Bridge from one window, Christ Church from another. The location was perfect for exploring Old Town and Society Hill on foot, Fishtown just two stops away on the metro. Susan was an excellent host, and cared for us every step of the way. A great experience.
Thomas
2016-05-04T00:00:00Z
Susan's loft was perfect for our weekend retreat. The space was eclectically beautiful, situated a block from overnight parking, and within walking distance of Old City dining and sightseeing. Thanks for a great experience and sharing your home with us!
Vincent
2016-02-15T00:00:00Z
Had a great time in Philly at Susan's place. The apartment is immaculate and located very conveniently in the Old City. Everything was arranged exactly as agreed, and communication was excellent. Would definitely recommend.
Nour
2014-08-06T00:00:00Z
I recently stayed at this delightful loft during my visit to Philly for a work event. The location could not possibly be more perfect: a gorgeous view of the bridge and waterfront, walking distance to Old City's bars and restaurants, and easy access to the city's best sites. This loft has every amenity you could possibly need - including a gorgeous claw foot tub! I will most definitely stay here again during my next trip to Philly.
Christine
2016-09-18T00:00:00Z
Susan's place is amazing. Her loft is a perfect place to stay when visiting Philadelphia. The location is central to some of the city's best restaurants and bars. You are located steps from some of the most historic sites in the country. The loft itself is an old rope factory! Very cool! Susan was very helpful and accommodating. Enjoy your stay!
Aaron
2016-04-29T00:00:00Z
Tipo de habitación
Casa/apto. entero
---
Tipo de propiedad
Loft
---
Capacidad
3
---
Dormitorios
Philadelphia, Pensilvania, Estados Unidos
Stay just Minuets away from Center city! We're located in the middle of everything there's to do in Philadelphia. Just blocks away from the excitement of Northern Liberties, Chinatown, Franklin Square, Reading Terminal Market, Center City and more. We try to offer our visitors the best experience and show you the city as if you're a local. We offer free rides from the airport and train station to make sure you arrive fast and get on with exploring this wonderful city that is Philadelphia!
Loft is less than a 2 mins. drive from City Hall. Can even walk or bike, with a lot near by to eat. Loft is very spacious with access to the entire house, including the back yard and roof deck with views of the entire city. . Guests have access to two bathrooms. one on the first and other on the second.
Neighborhood is great. Just seconds from a lot of places to eat, Breweries, and Bars. We live right up the street from the Institute Bar. So you can use that address as a reference to see how long it'll take you to get from our place to your destination.
Our time at Monique's place could have been better. I would not recommend staying with this host unless your willing to be shuffled around from location to location, checked in late (11:45pm for a scheduled 8pm time), not dealing with her personally, and having your phone calls ignored. Our entire trip was focused on getting settled into our Airbnb when we were there for more important things. Although she ended up cutting us a deal on the price at the end of the trip it was not worth the hassle.
Kayla
2017-04-02T00:00:00Z
Walking distance to Chinatown, Independence Hall/Liberty Bell and Reading Terminal Market. Free parking which is crucial in Philly since parking garages are $30 per night and extremely difficult to find street parking. Monique and Melvin are welcoming hosts. Very clean! Rooftop deck offered beautiful views on the skyline.
Kelly
2017-02-04T00:00:00Z
Clean, spacious and in a decent neighborhood and not far from the city centre. If you like walking as well then you have another reason to stay.
Andreas
2017-03-02T00:00:00Z
Everything is very clean, and the bed is very large ! They took the time to install Netflix on the TV and to help us to use the washing machine. I recommend these hosts !
Sébastien
2017-01-03T00:00:00Z
Great location, good people, extremely clean
Sam
2017-02-16T00:00:00Z
We were upgraded to a bigger room with a private bath. It was beautiful and comfortable. The included parking was such a lifesaver because the area's parking is so expensive everywhere. Luckily the apartment was walkable to all of the attractions we wanted to see. We never met Monique but her friend hosted us and was great with communication. Wonderful stay!!
Jennifer
2017-03-26T00:00:00Z
This was a great place to stay! Very clean, organized, and spacious. Monique and Melvin were great, friendly hosts
Jim
2017-01-17T00:00:00Z
Location was great! Only 10 minutes from center city and it's a beautiful place to stay in!
Nadia
2017-01-01T00:00:00Z
Tipo de habitación
Habitación privada
---
Tipo de propiedad
Loft
---
Capacidad
2
---
Dormitorios
Philadelphia, Pensilvania, Estados Unidos
My Old City loft is in a prime location for tourist attractions. Convienant Free Garge Parking This private loft w/river views is near Independence Hall, The Liberty Bell, next to The Irish Memorial, Penns Landing,Ben Franklin Museum, Betsy Ross's house, Elfreths Alley, Independence Visitor Center, Museum of American Revolution. You'll love my place because of the coziness,the location, bridge views, the high ceilings, the light, exposed brick, Comast cable - Flat screen TV ,and the comfy bed.
You will have your own loft during your stay and my parking pass. Great views! The desk is a nice working space with extra outlets for your computer & cell. I also have a refridgerator, microwave,washer,-dryer,cable tv & hair dryer for your use.
"Famous as the birthplace of life, liberty and the pursuit of happiness, Philadelphia offers much more than cobblestone streets and historical landmarks. Cultural, culinary, artistic and ethnic treasures abound in this city and its surrounding countryside. What makes Philadelphia so memorable is its unique blend of experiences that you have to discover in person. By day, explore four centuries of history and architecture, beautiful neighborhoods, remarkable museum collections and endless shopping. After the sun sets, the city heats up with acclaimed performing arts, amazing dining and vibrant nightlife." -Visit Philly
This was our first trip to Philadelphia and we could not have chosen a better location. Just a short walk to the middle of the historical landmarks allowing us to pack a lot in our short trip. A bunch of places to eat and drink within minutes of walking out of the front door! Our host, Bill was also great. He was very responsive and went out of his way to make sure we had the information we needed to make the most of our short stay. Thanks Bill for helping make our first trip to Philly a very memorable one!
Peter
2016-10-28T00:00:00Z
Will is an awesome host and his property is in an unbeatable location
Brian
2017-01-15T00:00:00Z
The place was clean, easy to find and access and having parking is a big plus. We would stay again if we have the opportunity.
Valentina&Daniel
2017-02-24T00:00:00Z
Great space in a really awesome part of Philly! Everything we cared to do was within walking distance. Would definitely love to return when its warmer out! : )
Lindsey
2017-02-12T00:00:00Z
William's communication was superb and he went out of his way to give many suggestions for places to eat,drink etc. We came in very late and he made sure that all was good. It was really nice to be welcomed and put at ease in a new city.The loft is in one of the bar districts- not for those who are looking for quiet time on a weekend. lol We felt very safe and as if we had just moved into the neighborhood. All historic sites were within walking distance which was a real treat. The Ben Franklin Museum is just around the corner-don't miss it!
Kim
2016-10-26T00:00:00Z
Will's loft has a great vibe. It has everything you would need for a short stay, and the location is excellent to take advantage of all the bars, restaurants, art, and shopping in Old City. Will was very communicative and made check in/out easy, even with our late arrival/departure times. Thank you Will, we love Philadelphia and look forward to coming back!
whitnie
2016-10-09T00:00:00Z
William's place is very nice and freshly renovated. William was very quick to respond when I had a question. His instructions for getting into the building were perfect. We were very comfortable and would choose this place again.
Genevieve
2016-10-31T00:00:00Z
William's place is amazing. It's surrounded by outstanding bars and restaurants and within a quick walk to Independence Hall and the Liberty Bell. Accommodating and helpful, William was reachable at all points throughout our stay, he provided invaluable insight and suggestions for us to fully enjoy our stay. Would definitely recommend William's place for any small group of people looking to experience Philadelphia.
George
2017-01-22T00:00:00Z
Tipo de habitación
Casa/apto. entero
---
Tipo de propiedad
Loft
---
Capacidad
3
---
Dormitorios
Philadelphia, Pensilvania, Estados Unidos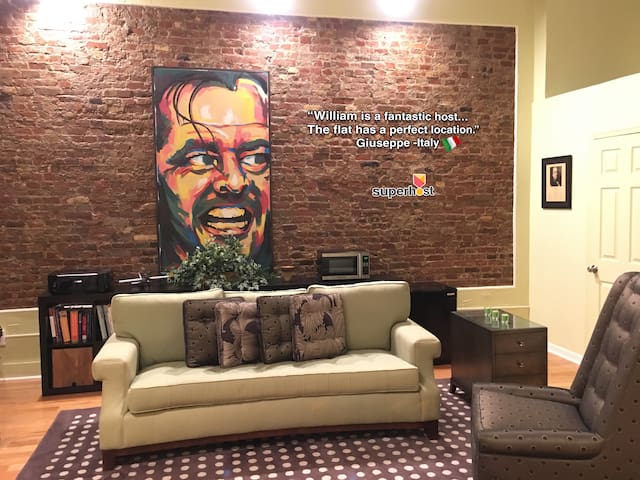 Located in the heart of Philadelphia's Center City and just off of Rittenhouse square, this is a spacious (2 story) apartment with amazing views of the city skyline. Within walking distance from plenty of restaurants, bars, historical landmarks and shopping areas.
This is a 2 story (bi-level) loft apartment. The apartment is located in the heart of downtown Philadelphia, just off of Rittenhouse Square. The apartment has 1 queen size bed, 2 couches, giant bean bag, 2 futons; full of amenities.
Space was dirty and dingy in person, complete with hole in the bathroom wall. In the listing the space looks sparse but clean. Good location and Patrick was communicative but would not recommend.
Ariana
2015-07-13T00:00:00Z
The host canceled this reservation 125 days before arrival. This is an automated posting.
Blaine
2016-01-09T00:00:00Z
The apartment was not clean upon our arrival, and looked like it was not well cared for. Reminded me of walking into a college fraternity house. To his credit, Patrick did have the space cleaned after our arrival and it was livable through our stay. But I would rate it as a typical Philadelphia apartment with a few too many bruises to be considered "character". This was not up to par with the other places I've stayed at with AirBnB and it's a shame because this could be a very nice space if some work was put into it.
Stephen
2015-06-19T00:00:00Z
Patrick was a fantastic host. I needed extra space for my team of reporter covering the DNC and he was always available to answer questions before, during and after our stay. The apartment is in an ideal location - just steps from Rittenhouse Square and an easy walk everywhere. Its a great space - with a big comfortable living area and an upstairs bedroom...beautiful bay window and even a foosball table! I can't think of a better place to stay in Philadelphia.
Ellen
2016-07-30T00:00:00Z
Great experience. Location location location. So easy to deal with., thanks again
Joseph
2016-01-01T00:00:00Z
Patrick did a great job of responding to messages and questions in a timely fashion. He was easy going as well.
Carrie
2016-04-25T00:00:00Z
The location is fantastic and the size is humongous! We loved our experience. Definitely recommend!
Jinny
2015-12-13T00:00:00Z
Wonderful neighborhood! Everything we needed was within walking distance. Patrick was very accommodating of our late arrival and early departure times, and the apartment was as pictured. We had a great experience in Philly!
Jessa
2015-04-26T00:00:00Z
Tipo de habitación
Casa/apto. entero
---
Tipo de propiedad
Loft
---
Capacidad
6
---
Dormitorios
Philadelphia, Pensilvania, Estados Unidos
This is a 3 bedroom warehouse loft that can comfortably sleep 6. 3 large couches & extra queen futon mattress to sleep 11 total. Features Pool table, hammock, working vending machine & dinning table, seats 14. 1 block from a subway/bus stop.
3 Queen size beds. There are 3 large couches and one queen futon mattress for extra guests. $100 per extra guest after 6.
This is in the Kensington area of Philadelphia, right next door to the hipster haven Fishtown.
Tipo de habitación
Casa/apto. entero
---
Tipo de propiedad
Loft
---
Capacidad
6
---
Dormitorios
Philadelphia, Pensilvania, Estados Unidos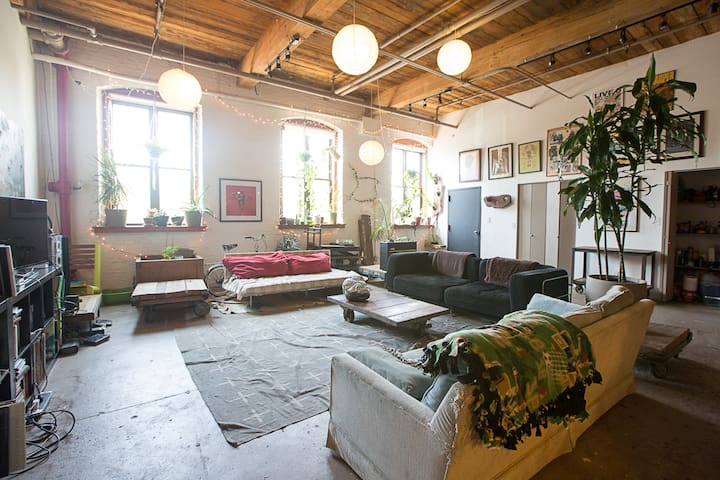 This bright loft offers a master bedroom with a king size bed and high ceilings. Downstairs is a leather couch that folds down to fit two average weight individuals. An inflatable mattress is also available in the closet. The loft has multiple windows including a ceiling window that provides a lot of light. A desk faces Spruce street for a city view and inspiration.This loft has WIFI that will be given to you. It is 4 blocks from Washington Square park, 7min walk to walnut stores,& popular bars!
This space is unique since it is capable of accommodating 5 guests comfortably.
I personally LOVE how everything is in walking distance. Anything from fantastic restaurants, famous bars, shopping stores, parks, theaters, and etc. Also love how nice the people in the city are.
Pamelas home was so sweet, clean and comfortable. We loved the area, honestly so much was within walking distance that we didn't use our car once. Pamela was accessible, friendly and we absolutely would consider returning. Thank you Pamela!
Juliana
2017-04-02T00:00:00Z
Absolutely fantastic location, lovely clean place, very lovely hosts. Would definitely stay here again!
Fran
2017-03-19T00:00:00Z
Tipo de habitación
Casa/apto. entero
---
Tipo de propiedad
Loft
---
Capacidad
5
---
Dormitorios
Philadelphia, Pensilvania, Estados Unidos
Large (850sq feet) sunny 1BR loft apartment in Center City (23rd&Market st) 5' walk to train, bus station and Rittenhouse Sq 15' walk from Drexel and UPenn Above Trader Joe's supermarket Bus,trolley,bike share and parking right in front No pets
Demetra was a great host. Her place was easy to find and perfectly located to explore the city. If you are coming in by train, it could not be a better location - just a 5 minute walk from the station and you are there. The unit is very spacious and fit the four of us perfectly. She left us some nice treats upon checking in, and had all the beds ready and towels out for us. I would not hesitate to stay here again. Thank you!
Aisling
2015-05-12T00:00:00Z
Demetra's apartment is centrally located to shopping, dining, and general hanging out. It has many conveniences- a trader joe's and subway stop just outside the building; CVS, Starbucks, wine stores and the 30th St. Amtrak station 1-2 blocks away. The apartment was spacious and stylish. Demetra herself was easy to communicate with, and was available for any questions. I highly recommend this listing.
Sruthi
2017-01-22T00:00:00Z
The host canceled this reservation 3 days before arrival. This is an automated posting.
Dave
2016-06-01T00:00:00Z
Great location. Good set-up for a family of four. And Demetra was great to work and communicate with! Highly recommend this option when in Philly.
Kurt
2015-05-26T00:00:00Z
Great location, Trader Joe's right down the building, Starbucks and shopping (everything) are within walking distance. Beautiful and spacious loft. Great communication with host. I'll definitely be back. Thanks again Demetra!
Candy
2016-12-27T00:00:00Z
This place is convenient to get around, nice space overall.
Lalit
2017-01-01T00:00:00Z
Great location. Clean apartment. Good value.
Katherine
2015-09-21T00:00:00Z
Demetra had everything we needed. Great location. She was very accommodating/flexible on our arrival time.
Lindsay
2015-09-30T00:00:00Z
Tipo de habitación
Casa/apto. entero
---
Tipo de propiedad
Loft
---
Capacidad
4
---
Dormitorios
Philadelphia, Pensilvania, Estados Unidos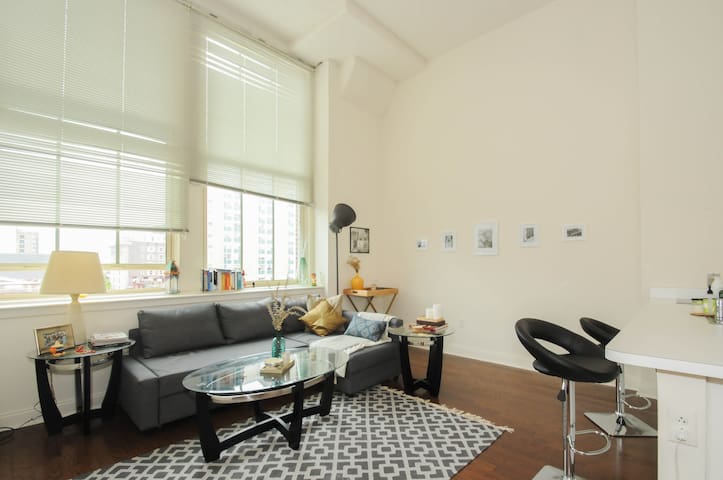 The enormous 4400 sq. ft loft has a mindblowing executive kitchen & 16 ft ceilings. The loft is great for organizations and families. There is a music studio and large floor to ceiling chalkboard wall for organizing. It has been used in print, video, and film shoots!
The recording studio and projector which projects a 144 inch screen size. The large oak table, pool table, and ping pong table are lots of fun! The kitchen is huge with two stoves, 2 sinks, a grill (in the kitchen) + a 12x4 foot island!
The Fishtown/ Northern Liberties/ Kensington area is currently quite trendy. It has a Brooklyn vibe; hip places are close by and super cool but you need to walk southeast to Front St. and Frankford Ave. (rather than west).
Absolutely amazing place to stay in north philly. Ronald has taken great care of the spot and it feels like home while maintaining the industrial loft type charm.
Chris
2016-12-02T00:00:00Z
Look no further if you're planning a Philly trip with a sizable group of friends. TONS of space, comfortably sleeps everyone, and an absolute pleasure on the eyes. Place is incredible!
Eric
2017-03-12T00:00:00Z
This Loft is huge! Really beautiful space. We had a wonderful video shoot in this space and Ronald was accommodating in every way. Great spot!
Christopher
2016-12-22T00:00:00Z
Tipo de habitación
Casa/apto. entero
---
Tipo de propiedad
Loft
---
Capacidad
16
---
Dormitorios
Philadelphia, Pensilvania, Estados Unidos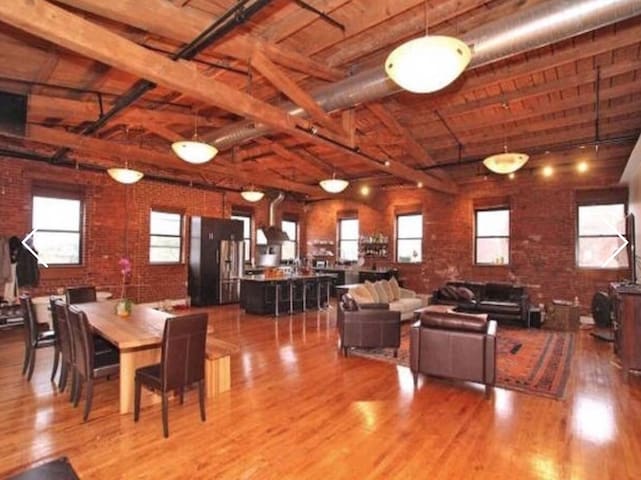 True NY-style loft in the heart of Northern Liberties, Philadelphia. 30 minute walk to the Art Museum. 4 beds (1 Queen, 2 Twins, 1 Extra-Long Twin), 2 bathroom loft with one garage parking spot. There is no better location for the Papal Visit!
Ideal for the Papal Visit, this true New York-style loft (1,300+ sq. ft.) in the heart of Northern Liberties is 100% for you to unpack your bags. Hallmark loft elements like soaring ceilings and exposed brick, ducts and beams are complemented by custom details throughout. The wide-open kitchen features a granite-topped center island with breakfast bar, Samsung and Whirpool Gold stainless steel appliances, and an additional bank of maple cabinets with wine fridge that the owners installed to increase storage and entertainment space. This room flows into the main living area, whose focal point is a dramatic, two-story high custom stained and leaded glass window, and which easily accommodates a dedicated dining area. Also on the main floor are a large coat closet, laundry closet and marble tiled full bath. Up the wide spirals are two dedicated sleeping areas separated by the bathroom walls, which have been fitted out with clever overhead storage. The upper bath also features marble tile plus a deep soaking tub.
The commingling of likeminded residents and entrepreneurs begat a quirky network of bars, restaurants, and boutiques within neighborhood limits (Girard Avenue and Callowhill Street north and south, the Delaware River and Sixth Street east and west). Already a hotbed of enviro-friendly construction, Norhern Liberties' value was further boosted by the additions of Liberties Walk and the Piazza at Schmidts, ambitious mixed-use complexes that reimagined overlooked industrial bones. Long established as a force, NoLibs has become an economic and cultural influence on the neighborhoods around it.
Tipo de habitación
Casa/apto. entero
---
Tipo de propiedad
Loft
---
Capacidad
5
---
Dormitorios
Philadelphia, Pensilvania, Estados Unidos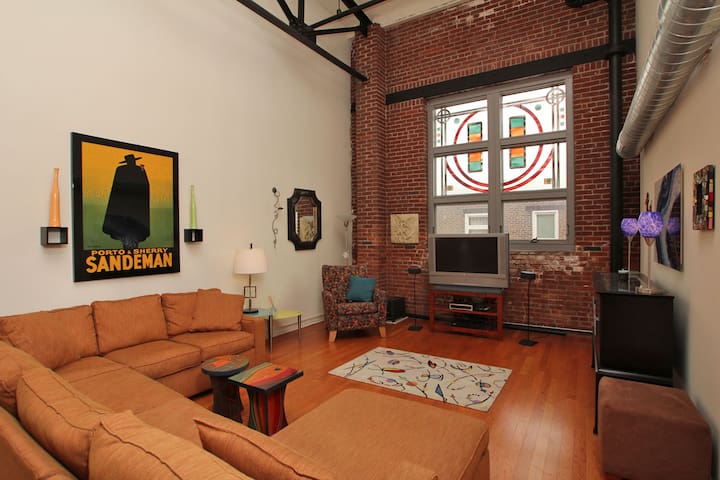 Introduce las fechas para ver el precio total. Ten en cuenta que se aplicarán tarifas adicionales y es posible que se añadan impuestos.