I have a private room in the first floor of my house. It has its own attached bathroom. I will provide you with a key. I live on the second floor so you would have privacy. I am five minutes from the beach and close to public transportation.
Its the guest bedroom in the house I grew up in. Blue title with a Queen sized bed on the bottom floor. It is carpeted with two fans and an air conditioning. There is a bathroom attached to the bedroom. It is located on the main floor of my house.I will provide you with a key. I just re did the bathroom and bedroom. It looking better than ever
The are restaurants, and bars. The beach is in walking distance and the Post Office is one street away with Public transportation accessible from there.
Nesha met me at the airport and made me feel most welcome. I only stayed one night as I was in transit. The apartment was quite comfortable and as well the bed. The fan kept things cool enough at night. The internet was a little spotty, however, Nesha, let me finish my work at her place which had a stronger signal and was just across the way. I had a very nice stay at her home and would recommend it.
M
2015-05-04T00:00:00Z
You can't beat it for the price! Clean, comfortable, convenient. It's only a short stroll down a few blocks to the Frederiksted waterfront, and only a little further to the beach. The bed is very comfortable, and the connected private bathroom is large and luxurious. Conveniently, there's a large refrigerator/freezer just outside of the bedroom door. The location is not only good for exploring the west coast, but is also near the road to Christiansted, which you can make it to in roughly 30 minutes from the house. So this is a good launching point from which to explore the whole island. As for myself, I found it difficult to pull myself away from the beautiful beaches near Frederiksted.
Wes
2017-01-18T00:00:00Z
This was by far the best vacation I have had! Nesha was very hospitable and the house is a short walk from the restaurants and beaches. Nesha was so knowledgeable about places to go that I was never without something to do!
LaMara
2016-01-21T00:00:00Z
Great room. Great location. Great host.
Eva Joanna
2017-03-30T00:00:00Z
Nesha is as genuinely warm and welcoming as a relative would be. Her home is walking distance to the legendary Fredericksted Pier, local food and souvenir shops. The room is simple yet sufficient - an excellent remote controlled air conditioner, enclosed full bath with consistent hot water, queen bed, locking door, and ample closet space. Also, there is a fridge to store cold drinks right outside the bedroom door. Overall, I am really happy that I booked with Nesha.
Shawna
2016-04-19T00:00:00Z
Nesha was an amazing host and very responsive before and during our stay. Her family was great as we got to meet both her mom and dad in the process. The accomodations are simple but sufficient and clean. It was similar to an unfinished basement you'd find in the states. The bathroom was large! As big as the bedroom, actually! It was also clean and stocked with shampoo, towels, etc. The AC and internet worked excellent. A couple downfalls. The town of Fredericksted was more run down than I expected. As two women traveling, we didnt feel like we could be out after dusk. The door to the room we stayed in didnt lock or close actually, which made us a little uncomfortable while sleeping someplace new. There was also an outdoor dog that seemed to be sleeping directly outside of the window by the bed. He barked about hourly through the night, waking us each time. I think he also must have knocked over the trash and gotten into something because we woke up to some loud rustling at about 3 am as well. I booked this spot for three nights thinking I'd be traveling alone and wanting to be affordable. But my mom decided to join me at the last minute, so we decided to splurge for a resort after the first night, which was more affordable once I had her to split it with me! This place is definitely clean, one of the most affordable, and Nesha goes above and beyond to help you in any way she can. Just bring some earplugs :)
Loren
2016-01-25T00:00:00Z
Nesha was a fabulous host! If I needed anything she went out of her way to accommodate me. She made me feel very welcome on the island and even included me in her evening plans when I had none on Saturday night. I could not have asked for a better host and I would not hesitate to return to Nesha's house for my next visit to St Croix!
Elizabeth
2016-10-30T00:00:00Z
Great location if you want to be close to downtown and beaches. Nesha and her brother Marcus were extremely helpful- Marcus met us at the airport and led us to the Airbnb--we had a great time!
Juanita
2017-03-11T00:00:00Z
Tipo de habitación
Habitación privada
---
Tipo de propiedad
Casa
---
Capacidad
2
---
Dormitorios
Frederiksted, Virgin Islands, US, Islas Vírgenes de los Estados Unidos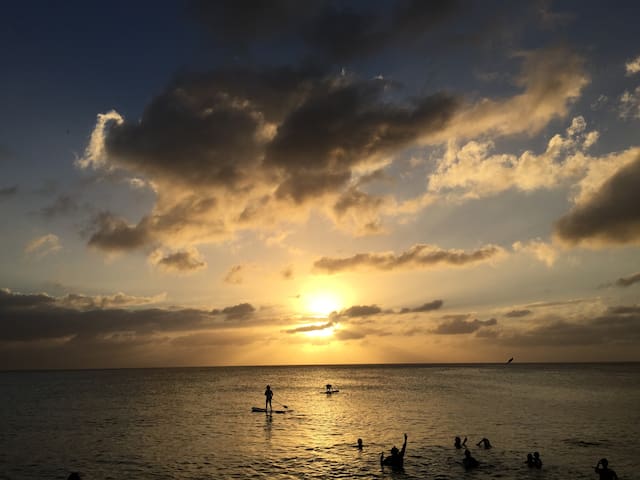 Mi lugar es bueno para los aventureros en solitario, pequeñas familias, grupos, amigos y viajeros de negocios. Coger el transporte privado y público en el momento. Sunny Isles principal centro comercial es un paseo de 8 minutos donde encontrará Kmart, Wendy, KFC, McDonald, Office Max, Campos, metro, etc paseo de 3 min a una panadería pan caliente, restaurante local y tienda de comestibles. Te va a encantar mi lugar debido a la ubicación conveniente seguro, paredes sólidas, buena cobertura de telefonía celular y amable, zona tranquila. Es su hogar lejos de casa.
It's a small, cool, cozy room, with a great twin & full size memory foam topper bunk bed for a good night rest. This den was turned into a comfortable bedroom. It had no closet, so I included a clothing rack to accommodate your clothing. The full size bed doubles into a seating area. Sit back, watch TV with your friends and family, or use your laptop in this space. This room has a large window with lots of light that gives you an open feeling. It is one of three bedrooms on the first floor of a two-story home. The second story is partially completed. You'll appreciate the cement poured ceiling, solid concrete walls for extra privacy, and outdoor feeling in this room. Enjoy nature's natural Caribbean breeze with ceiling fan to enhance it. A generous amount of cable and movie channels are available with digital antenna, and a basket of things people forget. Kick up your feet and relax at the ending of the day in the Catnapper it's considered to be America's most comfortable recliner. Your outdoor space now includes your own private table. It's a pleasure to provide you with a quick self help complementary bagel, tea, and instant coffee breakfast you can enjoy outdoor. You're also welcome to try our island bush tea I make weekly; it's a very good immune booster for many ailments. It knocks the flu out in 2 days from my personal experience. This room is your own space and privacy while you are here. Note: As we move closer to the summer months remember to wear insect repellent outdoor especially at night. I provide this in your basket of things people tend to forget. Mosquitos are common on these Islands in the Caribbean because they're attracted to tropical climates. I can't control your experience outdoor, but windows and doors are screened to protect you indoor.
It is located in a safe, family friendly neighborhood. Talk to the people around you and feel at home. The neighborhood people are helpful, and people look out for people here. People helping people is what makes this neighborhood unique, and the US Virgin Islands is considered to be one of the best places to raise a family. Our roads are newly paved in the neighborhood and it's so wonderful. You'll be driving on smooth roads in this neighborhood but not everywhere. Note: This neighborhood is often quite, but from time to time a neighbor may have a going home celebration to grieve for their love ones, although parties in the neighborhood seldom occur. This is a part of our culture here on island, and we just ask that visitors respect this tradition when it occurs although it may seem a bit loud. Thanks for your understanding.
We a Danish couple had a perfect stay in Hildas home for 2 weeks.We enjoyed the balcony.The bed was very good .There were everthing we need, she even support with toilet things as shampoo, toothbrush if you have forgotten.Also a small breakfast . It is perfect to stay here to explore the hole island. The distances is small to get from one end to the other and by car. it was a friendly neigborhood where you feel safe. She helped with all informations we needed .
Birthe
2017-03-24T00:00:00Z
Staying with Hilda was amazing! She is so kind and thoughtful and made sure we did not need anything. Easily the best Air B and B host I have had!
Mallory
2017-02-27T00:00:00Z
Hilda offered good directions over the phone to her place. Check-in was easy. Place was clean and quiet. Floors carpeted and concrete walls. Some breakfast and bottles water offered daily. Fresh towels, rags daily. My room was the bunk bed room which has a dresser to store a few things, a television and chair to relax in the room. Met my needs which was a clean, affordable, room in a good location.
Shane
2017-03-08T00:00:00Z
Hilda's place was great! Just what I was looking for. Although not at the beach, it was quiet, private, very clean, and host was very hospitable. As I said. Just what I was looking for.
Antonia
2017-04-01T00:00:00Z
Hilda is a great host, does everything in order to make you feel comfortable. Gives good information about things to do on the island
David
2017-03-01T00:00:00Z
I love this place! When you come here you will be in the midst of so many great adventures St Croix has to offer. More importantly, you are investing in a wonderful business woman and helping scale this business up. Hilda is the first person I am recommending to anyone I know going to St. Croix. Her personal touches were exceptional, descriptions were spot on, and the breakfast in the morning got me through many uphill bike rides. I cannot thank Hilda enough!
Levi
2017-03-14T00:00:00Z
Tipo de habitación
Habitación privada
---
Tipo de propiedad
Casa
---
Capacidad
3
---
Dormitorios
Christiansted, St. Croix, Islas Vírgenes de los Estados Unidos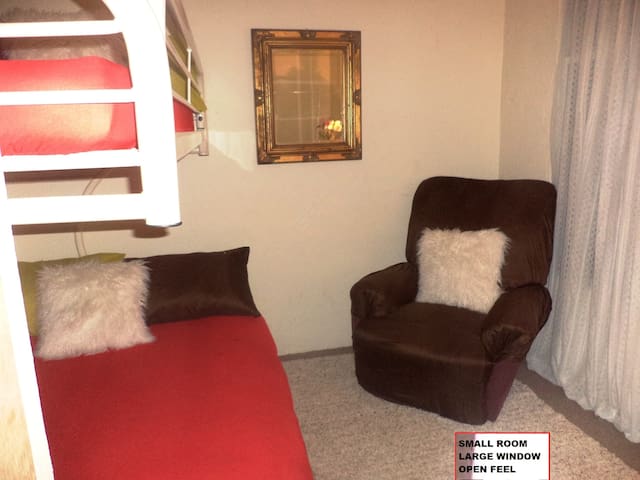 Located in the lush hills above Frederiksted, the Garden House, designed by world renowned architect John Randal McDonald, offers the most beautiful grounds, comfortable accommodations, and privacy. 5 minutes drive from town and the beach!
New: - Wireless Internet throughout house. Great for family and business travelers. - Roku-ready flatscreen TV. Access Netflix and thousands of other movie, music, and other streaming services. - Guest rewards program. Returning guests get 10% off all future bookings. Coming Up: - Construction of a new, separate ground-floor living quarters with bedroom, bathroom, kitchen. 5 minute drive from downtown Frederiksted, this Caribbean Shangri-La, designed by world renowned architect, John Randal McDonald, is situated in an affluent neighborhood in the green hills above. Features: - 2 bedrooms: Master bedroom with queen-size bed; Guest bedroom with set of twin beds. Each bedroom has a private bathroom and patio. - Very spacious cathedral-ceiling great room furnished with couches, bookshelves, tables, TV/DVD/Internet, Caribbean artwork, and other furniture. - Six seat covered dining area. - Kitchen, fully furnished. - Ceiling fans in all rooms. - Downstairs sheltered patio. - Large expanse of lawn with 100 ft. fruit, vegetable, and herb garden. - 3 acres of grounds including lush plantings, ground covers, and surrounded by jungle and privacy. - Full gated driveway with locking gate. Maid/Housekeeping is available at extra charge to guests. A mandatory $80 cleaning fee is required for cleaning in between guest stays, but extra housekeeping/maid service is available for additional charges during a guest's stay if so desired. If you are curious about the house's architect, John Randal McDonald, and his long and prominent career, look him up on the web. Plenty of information.
House is in the La Grange neighborhood above Frederiksted, which is known for its privacy and sizable estates. Frederiksted: The only main port of call on St. Croix. Bustling when a cruise ship is in port, every other day Frederiksted is a sleepy island town. Head to Frederiksted and the West End to catch a spectacular sunset, splash in the tranquil waters and meet some friendly locals. Dive the wrecks and Frederiksted Pier and look for some of the many seahorses and pufferfish that call the pier home. Rent jet skis, try your skills at stand up paddle boarding or enjoy a casual meal, a cocktail and some live music at one of the many West End beach bars. If you are looking to enjoy something inland, visit the Botanical Gardens, take an ATV tour of the rainforest, tour the Cruzan Rum distillery or visit one of the historical landmark museums. And don't miss Sandy Point, the longest stretch beach in the U.S. Virgin Islands, with pristine white sand and picturesque turquoise water. If you are looking to really slow down and enjoy the postcard worthy beaches of St. Croix, head to the West End!
The experience was wonderful! Arrival went smoothly, as we met the groundskeeper, and were given a thorough tour of the house and premises. Everything was exactly as described. The main room is very spacious, and we loved having two separate balconies on which to chat. We were surprised that the plumbing worked so well given that the house is situated on a hill surrounded by jungle. The environment is spectacular. One truly feels ensconced in nature, while still being able to access most of the conveniences of modern life without difficulty. The drive to and from town is a breeze once you get the hang of the roads. Overall I would highly recommend The Garden House, and look forward to visiting again!
Ethan
2015-04-19T00:00:00Z
The house was exactly as described, no surprises. It has an artsy, tree-house feel, with a cool spiral staircase leading up to the front door. John replied to inquires very quickly, and was always available to answer questions. He provided a House Manuel, with lots of practical information. The house has ample privacy, and is a 5 min drive from Fredriksted, about 30 min drive from Christensted. It's a great option if you like to cook, and want to feel more at home, then as a guest. The is a grounds keeper who is always close by if you require any help.
Courtney
2015-03-13T00:00:00Z
John was a fantastic host. The photos & description were very accurate, and his house was a wonderful getaway. The location was perfect for us. It was close to town & beaches, but a bit off the beaten path and with an atmosphere of seclusion and privacy. Before we left, John was in touch to give us all the details we needed to know about the place and the area. We just got home last night, and we already want to come back! The house was perfect, and it made a great base for us to explore the beaches, gardens, and culture of this special island.
Sam
2015-06-07T00:00:00Z
Tipo de habitación
Casa/apto. entero
---
Tipo de propiedad
Casa
---
Capacidad
5
---
Dormitorios
Northwest, St. Croix, Islas Vírgenes de los Estados Unidos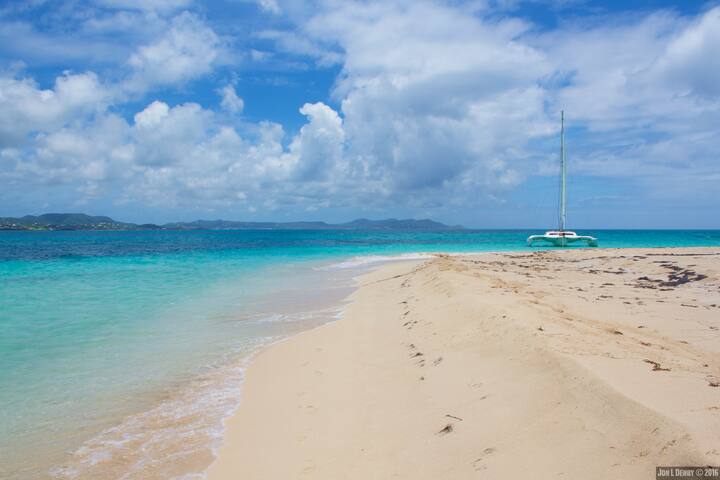 Authentic Caribbean retreat. Recently updated former working ranch house on the rural south shore with open vistas, ocean view and tranquil country setting. Three bedroom, three bath Main House with spacious kitchen, large living/dining area and a magnificent front porch. Adjacent one bedroom Studio Cottage may be rented separately or together for larger groups. Easy access to beaches and towns. History, agriculture, art, biking, birding, sports and cultural opportunities abound. Life at nature's pace - simply elegant.
Cruzan Classic is a lovely cottage overlooking a stunning view of rolling pastures, with the ocean just beyond. The place is super comfy, with a wonderful bed, full kitchen, and nice outdoor dining area. Extra special touches are an outdoor shower, fresh basil, and amazing views of the night sky. Barb was very easy to work with, and gave excellent suggestions for local dining and beaches worth visiting. The cottage is stocked with gorgeous artwork, perhaps because she and Mike have their own art gallery. We give this cottage a 5 star rating - everything was relaxing and easy, and we plan to return! :-) Doug+Jessica
Doug + Jessica
2015-02-08T00:00:00Z
Tipo de habitación
Casa/apto. entero
---
Tipo de propiedad
Casa
---
Capacidad
8
---
Dormitorios
Anna's Hope Village, St Croix, Islas Vírgenes de los Estados Unidos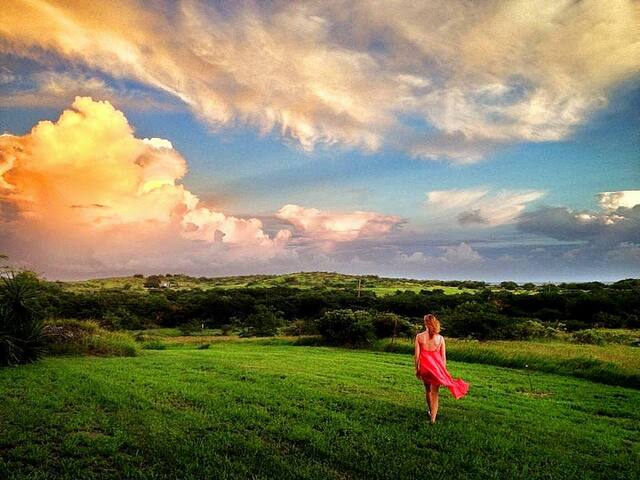 It is a spacious bedroom with seating area. it is 3 minutes walk to the beach with amazing sunset and the location is perfect to reach most attractions and fine dining within 15 minutes. We are in a safe gated community, so come on down and relax, have a drink and enjoy your adventure. The house is surrounded of beautiful orchids, royal palms, Japanese tulip, Coconut trees and lots of fruit trees.
My place is great for responsible adults wishing to have a great time in a wonderful setting. This immaculate, inviting and spacious Air conditioning bedrooms with a sitting area it is elegantly decorated. The bed is cover with luxury linen and so are the bath towels. We will provide all the bathroom amenities and beach towels.
This house is located in a safe and well kept private gated community, located a mile from the airport and 5 minutes from Kmart shopping center.
Reginald is a terrific host and everything in the description is accurate. It's an amazing house, with several private rooms and a separate apartment as well. You will need a car to get around.
Ben
2017-02-24T00:00:00Z
Great place to stay! All the pics are accurate. The orchid retreat and orchid hospital that brings them back to life is awesome. It is amazing to watch Jo work her magic. The beach also includes a cliff with an awesome sunset. Would stay there again!
Valda
2017-03-14T00:00:00Z
Tranquil. Refreshing. Peaceful. Breathtaking. These are just a few words I would to describe my experience at Mr. Reggie and Mrs. Yoki's Orchid Retreat. When I drove up to their home, I was immediately in awe. It was 9 o'clock at night, but the beauty of their home shined brightly like the hundreds of stars easily visible in the night sky, welcoming me after a long day of travel. I couldn't put my things down fast enough before a welcome cocktail was placed in my hand and Mr. Reggie, and his wife Mrs. Yoki, took me on the grand tour. The pictures are amazing, but in no way do it justice. With its marble floors (I think it's marble but it's probably BETTER than marble!), oversized, meticulously decorated rooms, four - no FIVE - outdoor sitting areas (& they are building another), extraordinary gardens (yes, as in more than one) with plants, flowers and fruit of nearly every variety I was amazed that I could afford to step foot inside, let alone sleep there! But what I couldn't see upon my late night arrival, was the beautiful PRIVATE beach just a stones throw away! And though I couldnt see it, its sounds and breeze lulled me to sleep that night. The next morning, I saw what I missed just hours before - the beautiful ocean with shades of celeste, cyan, sapphire, turquoise, zaffre blue. And it was all for me! Not another soul in sight. The home is so clean you can eat off the floors (even outside!!!). Lol The bed was so soft and comfy, I didn't want to get out of it in the mornings. But as absolutely wonderful as this place is, it is Mr. Reggie and Mrs. Yoki who made my stay unforgettable! They were so kind, and loving, and intent on making my trip wonderful. Mrs. Yoki even arranged a fishing charter for me - where I caught a 35 lb wahoo!! This is definitely a top 3 vacation experience for me and I'm already planning my trip back "home". I rented a room, but stayed in a palace. Thank you so much for everything!
Jamila
2017-02-20T00:00:00Z
So happy I was lucky enough to snag the best deal in St. Croix! So thankful for all the kindness and generosity the entire time I was there. I felt like part of the family. Will definitely be back soon!
Hannah
2017-01-22T00:00:00Z
Tipo de habitación
Habitación privada
---
Tipo de propiedad
Casa
---
Capacidad
2
---
Dormitorios
Frederiksted, St. Croix, Islas Vírgenes de los Estados Unidos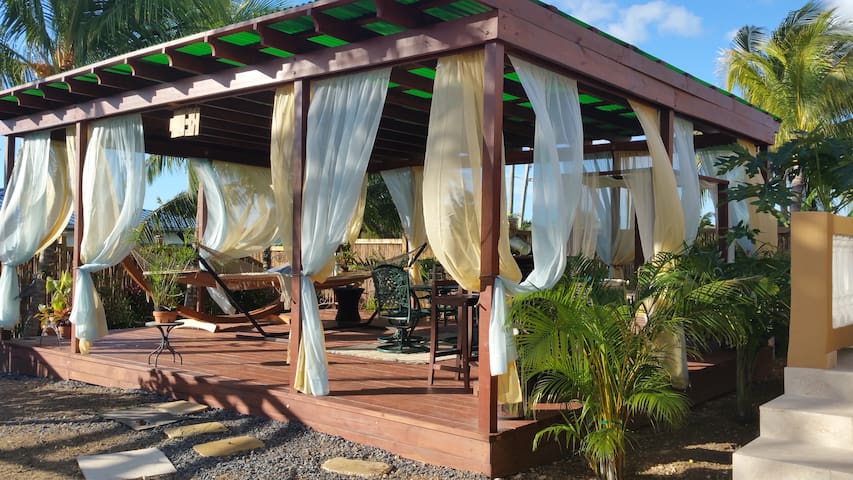 This room has it all, king size bed, shower big enough for two. Best part is the deck, drink coffee in the morning, watch the cruise ships come in or watch the sunset. Also the beach is just across the street and town is within walking distance.
The Master Suite is locates on the second floor. The Suite has a king size bed, a large bathroom with two vanities and a shower for two. The galley has a small refrigerator, microwave and a K-cup brewer to make coffee and tea. Your door opens onto the deck where you can see the blue green water. There is free WiFi and the TV is set up for streaming via Apple TV. (no cable) The room has A/C so the place is quiet and comfortable. We installed Smoke/CO detector and have a first-aid kit. You will also have access to a full kitchen and living area downstairs.
We live on a small street with a variety of neighbors. One of them is a local artist and another is a dive instructor. On the island chickens and iguanas roam free. You may hear a rooster crow in the morning or a dog bark at night. With the windows closed and the A/C on the Suite is quiet.
Lori was very good at communicating and was very accommodating including picking me up 1/2 and 1/2 for my coffee. She took the time to explain the area and her house. It was clean but the common kitchen area would've been a problem if other guests would've been there. We stayed in the upstairs room with the balcony and it was nice but no place to sit other then the bed or outside. The AC and WiFi worked great. The major issue was there wasn't a door to the bathroom so no privacy for your private business. Also, the hot water is supposedly solar so at best it was luke warm and actually chilly a couple of days. The biggest draw back is Lori and her husband were at the house everyday cooking dinner even though they live 15 minutes away. This really encroached on our privacy.
Yvonne
2016-03-12T00:00:00Z
Had an amazing time on vacation with my girlfriend. Lori was an amazing host who was unbelievably accommodating and had an extensive knowledge of the island to share with us. Would certainly recommend booking a stay here!
Bryan
2016-07-11T00:00:00Z
Staying at the beach house was a great experience and definitely a driving reason we had such a great vacation. Lori and Eric were very welcoming, from the first day when they picked us up from the airport, all the way to the end when we left. It was also really cool to get to experience a bit of the local life and food. The location is fantastic. The house is 40 yards from a nice beach and a 5 minute or so walk into town. The house and the room was comfortable and very clean. It was also a huge plus to have access to all of the outdoor gear. When we return to the island to restock on Cruzan, we will make sure to stay here again.
Adolfo
2016-11-21T00:00:00Z
First of all, my experience was fantastic! Lori and her husband were so welcoming and made us feel instantly at ease when we arrived. They were so so helpful in informing us of activities and restaurants and beaches nearby. They really made us feel like family while we were there. Any concerns we had, they addressed and fixed them right away. The house was very clean and inviting. Our room was fantastic and very comfortable. Really we just had an A+ experience and if you want a real feel of the island, stay at the Drunken Parrot.
Julie
2016-03-27T00:00:00Z
Thank you for such a wonderful stay! We greatly enjoyed our time in Frederiksted. After diving in the morning, it was wonderful to be able to have a relaxing place to rest and watch the sunset over the ocean. Everything was very lovely and you both made us feel right at home, including joining in at the local's karaoke bar!
Katie
2016-02-19T00:00:00Z
Lori and Eric were fantastic hosts. Even prior to our trip they were in constant communication with us, answering questions and helping us since this was our 1st trip to St. Croix. They offered to pick us up at the airport but we rented a car and I would highly recommend so that you can explore the Island. We were greeted upon arrival and Lori gave us the tour of the suite and common areas, showed us all the bikes, kayaks, beach chairs, snorkeling equipment that was at our disposal. Let me say we were blown away by the location of the house and view of the water. You are literally steps away from a beautiful uncrowded beach, in fact you just come out of the house and walk across the street to the gorgeous beach. The Master Suite had a very comfortable king bed which overlooks views of the ocean, windows wrap the room and loved waking in the morning and just gazing out at the water. Nice kitchen area with everything you need. The bathroom was very large and the tiled shower was huge. Suite was very clean. Deck right off the suite was plenty big with many chairs and a large table and great views. Great A/C. The common areas downstairs were very spacious, kitchen/Dining/Living room and had all the amenities. Lori provided us with a printout map and all kinds of suggestions for the town and area, restaurants, points of interest, beaches, great snorkeling spots etc.. All the info was very accurate. We explored not only the immediate area but many days went out across the Island and all the help in directing us was awesome. Our experience on the vacation was one we will never forget and we definitely will return, but what really made the trip special was Lori and Eric, they helped us but never got in the way, they definitely gave us space but were just a text or call away. Lori & Eric THANK YOU so much, we will keep in touch and see you soon!!
Raymond
2017-02-12T00:00:00Z
I had a great stay. Lori was very helpful w local recommendations. The room and deck had a beautiful view overlooking the beach
John
2016-12-14T00:00:00Z
We truly are grateful to have found you and your Air B and B (the Drunken Parrot) for our stay in Fredericksted. We felt comfortable and at home from the moment we arrived. The balcony room was extra special in color and design and of course, the view was spectacular! We also appreciated access to such a variety of amenities, both inside and out (swimming and snorkeling across the street, restaurants a short walk in either direction, ships at the Pier and merchants our to sell their wears.) We enjoyed the range of cultural activities and experiencing remnants of St Croix's history. We certainly plan to contact you once again when next we visit the Island. Thank you, thank you, Lori and Eric. Most sincerely, Tony and Carol
Carol
2017-01-13T00:00:00Z
Tipo de habitación
Habitación privada
---
Tipo de propiedad
Casa
---
Capacidad
2
---
Dormitorios
Frederiksted, St. Croix, Islas Vírgenes de los Estados Unidos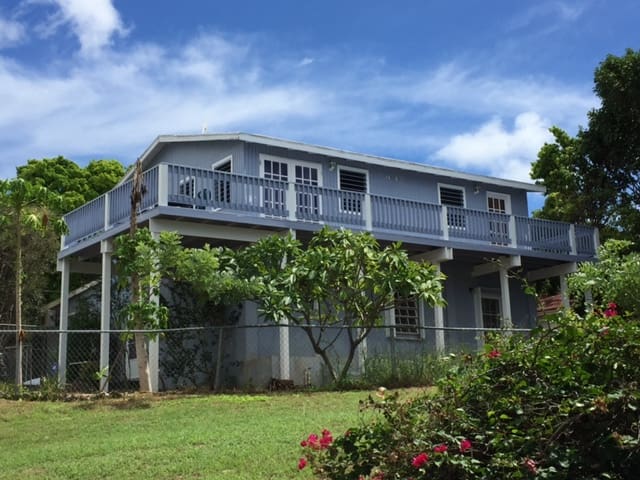 From our spacious downstairs one bedroom and bath you will have easy access to world class diving and snorkeling, a Robert Trent Jones golf course, hiking trails, kayak excursions, excellent restaurants and spectacular views. Kitchen not available. Price includes hotel room tax. Taxis don't like to drive here so you will need to rent a car.
Our location above Cane Bay is prime for people that love the ocean and want easy access. The room has a queen sized bed and two twins. It opens onto a patio with a path to the pool. There is 430sq. feet of space and loads of outdoor areas to spread out.
Our neighborhood has some of the most spectacular views on this island. It is private and cool(temp. wise) but close to beautiful beaches, great restaurants, and excellent golf and hiking. You can get to C'sted or F'sted in the same amount of time and shopping is just over the hill.
DUEÑOS MUY AMABLES Y ATENTOS. CONOCEN BIEN EL LUGAR Y DAN RECOMENDACIONES.
Jose
2017-01-27T00:00:00Z
Beautiful, comfortable space, exactly as advertised. We spent seven nights in Sheelagh's gorgeous home and had a wonderful time. We woke up every morning to birds chirping and a view of the sea! Additionally, their house is on top of a hill, so the breezes kept our room cool. The bed is comfortable and the space is clean and nicely decorated, we felt like we were home. Sheelagh and her husband are very friendly and gave us great advice about restaurants and things to do in St. Croix - they even lent us snorkeling equipment! We definitely plan on staying with them again.
Zina
2016-02-01T00:00:00Z
This place is exactly as advertised, although the view is even more spectacular in person. It's extremely clean and comfortable, and the hosts were wonderful. It's located in a very cool area, just up the hill from Cane Bay. I would definitely recommend to anyone that doesn't want to stay in town.
Mark
2017-01-23T00:00:00Z
The most beautiful view on the island I have seen! Remarkable stay!
Spruce Up Nashville
2017-01-31T00:00:00Z
As a well-traveled individual, St. Croix was a little tricky in finding the "right" accommodations. Sheelagh's gem was exactly what I wanted and needed for my trip! The views were stunning, she was extremely knowledgeable about the natural environment, hikes, swims etc which was great for me as an adventure enthusiast! Her and her husband were very welcoming and their communication was effective and helpful. I highly suggest staying with Sheelagh!
Casey
2017-02-24T00:00:00Z
Amazing location and Sheelagh and her husband were extremely informative about where to go on the island. I've spent a lot of time here and she was pointed out places I've never been too (Tide pools and Isaacs preserve). Coffee provided by Sheelagh in the morning was the perfect start to the day. I'd highly recommend to anyone looking for a champagne view for kool aid price :).
Casey
2017-03-19T00:00:00Z
If you're looking for a quiet retreat where you have plenty of privacy and a stellar view, this is your place! The property is surrounded by beautiful plants, trees and blooms, but the view from the hill of the Caribbean Sea and Cane Bay is breathtaking! We would certainly stay here again!
JOEL & LISA
2017-01-02T00:00:00Z
If you like being in a quiet area with beautiful views, a wonderful private patio to enjoy the warm, evening breezes, and the best hosts on the island, this is the best place to stay on St. Croix! Sheelagh and Art are the perfect hosts. We had some great conversations and they know all the best places to see on the island since they have been living there for many years. Sheelagh always had a pot of coffee waiting for us in the morning on our patio. The room was very clean and spacious, no kitchen but there was a fridge and that's all we needed. We are looking forward to going back!
Kris
2016-03-02T00:00:00Z
Tipo de habitación
Habitación privada
---
Tipo de propiedad
Casa
---
Capacidad
4
---
Dormitorios
Christiansted, St. Croix, Islas Vírgenes de los Estados Unidos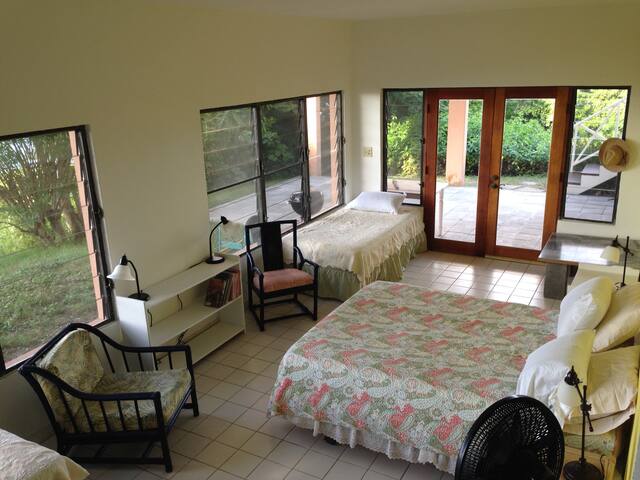 Private home on family estate Plush landscaping and local fruit trees 3 minutes drive time to the beach (10-15 minutes walking) Quiet neighborhood
Guests can enjoy a private home to themselves in a quiet neighborhood. Bed break down is as follows: Room 1: Queen bed Room 2: Queen bed Room 3: Queen bed and full size bed Guests also have use of a futon and L-shaped couch for extra sleeping space if needed.
Tipo de habitación
Casa/apto. entero
---
Tipo de propiedad
Casa
---
Capacidad
6
---
Dormitorios
Frederiksted, St. Croix, Islas Vírgenes de los Estados Unidos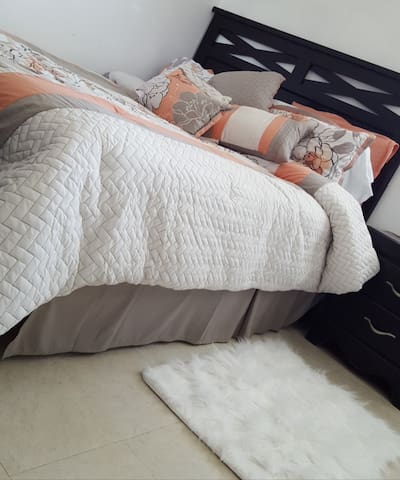 Una casa muy privada situada en una finca privada de 11 acres. CERCA DE LA PLAYA Y el mejor buceo en el Caribe. Exuberante vegetación y una piscina privada. LOCALIZADO centro de la isla cerca de tiendas y MEDIO CAMINO ENTRE CHRISTIANSTED Y Fredericksted.
Es una casa muy privada situada en una propiedad privada de 11 acres. El paisaje es muy exuberante y hermosa. Hay una piscina privada y wifi. También cuenta con una parrilla de barbacoa y todo lo necesario para hacer que las vacaciones perfectas!
Es totalmente privado y muy exuberante.
This trip was our first time trying out Air B&B... and things couldn't have gone smoother on St. Croix with Win. She gave us very accurate directions to find the house and we very much appreciated her "insider" tips on things to do around the island. We were there to see the three National Park Service units (Buck Island, Christianstead, and Salt River) and she had plenty of brochures and maps available to compliment our already planned out itinerary. We very much appreciated the upgrade we got to a larger house on the property that was not being used during our stay. This was not expected, but much appreciated... we had so much extra room. Win's property is a MUST STAY on St. Croix. The "towns" (Christianstead and Frederickstead) seemed a little run down -- this location was just out right amazing and where you want to overnight without a doubt!! You are basically in the jungle and can hear tree frogs singing outside your house all night long (so peaceful)... and the way to go in our opinion versus staying in the cities somewhere. Really nice pool and property to walk around. We would definitely stay here again on our next trip to St. Croix.
Robert & Kandace
2016-12-31T00:00:00Z
Win's place is great and so is she! Great cottage on a private piece of land with a great pool and excellent hiking trails. Close to cane bay and not far from C-sted and F-sted. Really wonderful location! The place was great - big, well provisioned, and awesome outdoor shower! Definitely will stay again when we go back to St. Croix.
Martin
2016-05-31T00:00:00Z
Our stay was magical. Win is a awesome host. We stayed here on our house honeymoon. The property is set in a tropical rainforest. Extremely beautiful. Lots of flowers and plants with papaya and banana trees right out the door. Do bring your hiking get shoes as you will want to. We will be coming back.
Joel
2016-09-20T00:00:00Z
Beautiful getaway into the woods but centrally located with easy access to all points on the island. Win is a wonderful host who made sure we had everything we needed including information on where to go on the island (be sure to reserve a rental car) or taking a hike on miles of trials throughout the surrounding hills or relaxing in the heated pool. I only wish we could've stayed longer.
Rick
2016-12-07T00:00:00Z
My fiancée and I had an amazing time because of Win and her hospitality. This place is fun bungalow deep in the forest. We enjoyed a five mile mountain hike one morning to a gorgeous view of the coast, cooked most of our meals in the kitchen, and drove up and down the coast. The place is simple, yet all you ever need. I also love that the energy for the cottage is 100% solar!
Chase
2016-05-25T00:00:00Z
Couldn't ask for a better experience if I tried. Win greeted us with a warm smile and wealth of information for all the who's, what's, where's, when's, and how's of island life in St. Croix. The cottage is nestled in a beautifully landscaped tropical wonderland. Fully furnished cabins (with AC!), outdoor grills, heated pool, walk out your door and take a 5 mile hike to the island's highest point. Grab a mountain bike and get lost exploring the trails around the old dairy farm. Get some snorkel gear and explore Cane Bay. Life simply doesn't get better than this! Stop reading this and go!!
shannon
2016-08-19T00:00:00Z
Win was a great host. She responded promptly prior to booming and prior to our arrival. She arranged to have a pack and play for our daughter which was a huge relief. She greeted us once we got there and was happy to answer or questions while we were there. The cottage is very well maintained, clean, and has nice finishes. I was very impressed with the cottage and loved the outdoor shower. The air conditioner is located in the living room so keeping the bedroom door open at night was a must. The property the unit is on is absolutely gorgeous and maintained very well. We didn't want to leave! The next time we're in St. Croix we will be staying with Win again I'm sure!
Laurel
2015-11-01T00:00:00Z
Win u were great loved the house that we stayed in... going to the Virgin islands again and would so recommend staying here
shannon
2015-10-20T00:00:00Z
Tipo de habitación
Casa/apto. entero
---
Tipo de propiedad
Casa
---
Capacidad
2
---
Dormitorios
Christiansted, St. Croix, Islas Vírgenes de los Estados Unidos
Please note that cleaning fee charged covers stay with in 1st month stay. Any long term guest more than a month will be charged additional cleaning fee for each additional month stayed. I have compiled a book with loads of information about things to do in St. Croix. I have included beaches, restaurants, transportation, stores and much more. Beach towels, towels, linens, small toiletries and many appliances provided.
Come and relax in this home style retreat close all of the excitement in beautiful Frederiksted, St. Croix. Located on historic King Street, and only 2 blocks from miles of beautiful pristine beaches, shopping,restaurants and the historical pier. This location is a perfect balance of relaxation and fun. This is a PRIME location for it all! Please note that though the house is in a historic area and house is in excellent condition, however renovation to some of the surrounding houses are progressing but slowly. Please also note that King street is a main street in town with traffic and can sometimes be noisy. If you are into scuba diving there is a dive shop close-by and I hear that the dive at the pier is awesome. Stay among the friendly locals, shop the small shops full of colorful and cultural items, and enjoy the tasty traditional food. The home has one bedroom with 2 double beds, an eat-in living room, full service kitchen with new appliances (microwave, oven, fridge, coffee maker). This 1 bedroom apt is on the 1st level of the house and is fully air conditioned. (upstairs is 2 BR; Relaxing Caribbean Getaway II) Cable TV, internet and local phone service available. There is a coin operated washer located on the outdoor patio that also has a full dining set. There is public transportation and private owned inexpensive vans that can bring you around Island. If you rent a car, there is street parking available. Sorry no pets.
House is located in town in historic area in Frederiksted. House is in excellent condition,however renovations to the surrounding houses are progressing slowly. Please also note that King street is a main street in town with traffic and can sometimes be noisy.
Everything was nice and easy. I got a text when I got to the island asking when I wanted to check-in and Ibo was there right when he said he would be. Check-out was just as easy. This place is great! Right near the middle of town so you can walk anywhere. Really started to feel like a local by the end of my week. Thanks again!
James
2016-06-23T00:00:00Z
Simple clean home in a great location for diving! Looking forward to staying again next year!
Jayson
2015-12-07T00:00:00Z
The property had everything you could imagine, down to beach chairs, ice chest, etc. The street was a bit noisy, but that's nothing the host can do anything about. We would have loved to open the windows and enjoy the breeze, but the traffic noise was too much. It was very close to things of interest. There are several beaches in walking distance. We arrived early a.m. because we had made plans for the day; however, those plans fell through and Samuel tried his best to get to us early and let us in prior to our 5:00 p.m. check-in. Adrienne and Sam responded quickly when there were a few things we needed replenished.
Deidre
2016-07-24T00:00:00Z
This place was truly a relaxing Caribbean home! My partner and I had moved to St. Croix to enjoy our off-season of work and avoid the cold Pacific northwest winter. We loved this spot we chose in Frederiksted. The apartment is extremely at the heart of the small quiet and friendly town. It took about ten minutes to walk to our favorite beaches and restaurants. The Lost Dog pub became a regular hang out spot where we made cherished local friends. The duplex itself is very cute and quaint. We moved in just in time for the Three Kings Parade which took place on our street so we had front row center seats! The local caretaker, Ibo, is very friendly and accommodating. He made sure that our requests were met and our concerns were addressed. Our three month stay was made extremely comfortable as the place was well-stocked with necessary supplies for day-to-day living. Kitchen is complete with pots, pans, utensils, spices, etc. We've also met great neighboring tenants as the upper duplex was frequently rented out by other vacationing guests. One thing that could have bettered our stay was to not have experienced so much major home improvement projects. Although we made do with the noise of workers and the installation of the cement patio, we would have much preferred to have done without it. Saving home improvement projects for the summer and an empty house would have been best! Overall, experience had given us great memories. Thank you!
Michelle
2014-03-01T00:00:00Z
The apartment is completely equipped with everything needed for a great experience. Beach towels, folding beach chairs, beach carry bags, sunscreen, wide-brimmed beach hats--all were available. For a quiet night there is cable TV, a dvd player and a good assortment of movies. The bedroom had plenty of storage. The bathroom was clean and well equipped. A food store was a one-minute walk. The whole town of Fredericksted was walkable. There are four dive shops in town. After talking with each, I selected Adventures in Diving, STX. Snorkeling at the Pier is a delightful experience. It's all about location and Adrienne's place is close to perfect. Doug Gould, President, Adventure Unlimited, New Jersey USA
Doug
2017-01-31T00:00:00Z
This was our third year at Adrienne's place and we enjoyed our stay once again. A huge plus is the proximity to beaches and being in town and able to walk everywhere. The town has put some effort into cleaning the streets and public areas this year which we appreciated. Ibo was helpful as always on the minor items that popped up and is always a pleasure. Sunsets on the West End are the best. Snorkeling the pier is exceptional. We'll be back.
Tom
2017-03-08T00:00:00Z
Perfect is the only word to describe my stay! The apartment was clean, fully equipped and secure. EVERYTHING I needed was within walking distance as promised, including the beach which is one street over behind the apartment. I plan on returning this summer and hope Adrienne has dates available. I HIGHLY recommend this unit.
Wendy
2015-04-17T00:00:00Z
My girlfriend and I stayed here for 3 nights in August 2013. We really enjoyed our stay and would highly recommend it! On the experience: We coordinated our arrangements with Jessica and Adrienne, who proactively ensured our stay was arranged and that we were picked up immediately from the airport. Ibo, our host on our island, picked us up from the airport and drove us to the house, pointing out attractions, restaurants, and things to do in Frederiksted. He indicated that he was available to answer questions throughout the visit, although we did not need to contact him for anything. He was even kind enough to stop by to bring us some local fruit that we had seen on our drive into the island! Ibo's advice to us was especially helpful on our ride to the place. On the house: The house is divided into a top and bottom floor suite; we stayed in the bottom floor. Our bottom suite included a kitchen (including fridge, microwave, stove, oven, sink, and cookware/cutlery), a living area with a couch and a tube tv with cable, a bedroom with two queen-size (I think) beds, and a bathroom with shower, sink, and toilet. The apartment includes one AC unit in the main area and one in the bedroom; and wifi is also available in the apartment. The apartment is also quite secure with two door locks and a chain lock on the white fence door, although it didn't seem like it was necessary in Frederiksted. On the location and St. Croix in general: The apartment is centrally located on the King St, the main street of Frederiksted. Beaches are available to the north and south of the main Frederiksted pier, no more than 5 minutes' walk from the house. In Frederiksted, there are a good number of restaurants, and a convenience store on the same block as the apartment (in case you wanted to cook meals like we did). Island life in general is very slow, which was ideal for relaxation along the beach. A couple things that surprised us about Frederiksted: 1. Food is relatively expensive, due to needing to be shipped into the island. For eating out, you can expect to spend $12-$15 for an average meal in Frederiksted (for cheap and tasty meals, we liked Turtles' Deli and Franka's). This is true of the entire island. 2. Frederiksted is a pretty poor area, and the town is very quiet. We tried exploring at night, but the lack of people and lighting on the street made it eerie to walk about, and we opted to spend most of our evenings inside. We visited Christiansted for a day trip (hailing a local taxi van costs $2.50/person and takes ~50 minutes), and although it had a lot more options, it was still quiet. Perhaps there's more traffic when cruise ships come through. Overall, we really enjoyed our St. Croix experiences and the relaxed lifestyle, and would definitely recommend staying at this apartment!
Daniel
2013-08-21T00:00:00Z
Tipo de habitación
Casa/apto. entero
---
Tipo de propiedad
Casa
---
Capacidad
2
---
Dormitorios
Frederiksted, St. Croix, Islas Vírgenes de los Estados Unidos
This modern and newly furnished oceanfront oasis with two-wing main house, guest house, oversized freshwater pool and a 7,000 square foot furnished patio will take your breath away! Seascape is the perfect get away for utmost privacy and relaxation.
The house is truly spectacular! Custom built you will find 19 feet ceilings throughout and sliding glass doors to allow maximum views and breezes. Newly furnished and outfitted with new linens and towels, this is a lovely place to get away from it all!
On the island we say "West is Best". This is so true, since the West has so much to offer! A short walk from our villa is the neighborhood beach with the old Carlton Hotel ruin still on it. Very private and simply gorgeous! All other beaches are just a short drive away from Seascape, just park and swim wherever you want!
Olivia, was a great hostess even though she was not actually on site! She made sure to stay in contact with me before & during my family's stay. Although in the beginning a little hard to find. After we found our way no problem! The grounds and the house were beautiful, but the view absolutely amazing, magnificent and all that! Everything was just as Olivia preped us for! Pool, guest house, atrium, fantastic!!
Clydia
2016-08-17T00:00:00Z
Seascape is truly a unique getaway on the beautiful island of St. Croix. The proximity to the ocean is amazing and you feel like you are the only one around. We loved the open air concept of the house with the natural sea breezes and waves rolling up to the cliffs providing a relaxing background for our vacation. It is basically like you are living outdoors and indoors at the same time. You can spend your entire time at the house by the pool and have a great vacation, but you can also easily access some of St. Croix's West End beaches and sights. Christiansted is also only a short drive away for more activities and dining options.
Adam
2017-02-05T00:00:00Z
This is likely the best AirBnB on Island. We are from California and love the beach. Hawaii and Mexico are closer but we wanted a fresh experience so we looked at the USVI. We checked hotels first and then thought of AirBnB as we started to try to figure out how to manage our four teenagers sharing hotel room(s). Finding SeaScape Villa online caused immediate excitement because the property is large enough for everyone to get their own room... As parents we opted for the guest house! As we contacted Olivia, navigated the booking, and travel days approached communication was timely and professionally executed. From emails and text messages to a wonderful pre-trip welcome package with brochures on St. Croix excursions and restaurants and a couple of local favors. We took a red-eye from San Francisco, transferred planes in Miami and arrived in St. Croix ready to vacation. Olivia has a local host that met us at the airport where we rented a car and followed him back to SeaScape for a little orientation. We were a little nervous to be honest because our hopes were high on expectations that the house would be as described and pictured. As we drove up and entered the gate to the interior courtyard... through the large sliding glass doors of the kitchen and to the pool we loved what we found. Mind you the kids were trying to claim one room over the other for two weeks prior so we had a plan to pick from a hat to avoid a fight. Little did we know that the home doesnt have a bad room in it and the selection process became anticlimactic... The bedrooms are spacious and feel like individual hotel rooms. The local host graciously showed us a map of the island and proceeded to point out where the various excursions were located, preferred vendors by name and identified differentiators between them so we could find a good fit for us. He then identified places to eat near each of the excursion locations so we didnt struggle once hungry after an event to find great food. That 20 minute conversation is the difference that someone like Olivia makes and truly positions people like us for a successful vacation. It's the attention to detail. It's the understanding that it can be a little overwhelming trying to get two parents and four kids to decide on one thing or another. You see her perfection in her communication, in the preparation of the property, and in her desire to do the right thing right. The property will not disappoint you. It has an extremely private back yard with an amazing large crystal clear pool. Patio furniture was great and well thought out. You can hear the waves from every room and see the ocean from almost every room. Kitchen supplies, towels, linens were abundant and fresh. We even met several of the neighbors (retirees mostly from the mainland). Our plan is to return next summer.
Mark
2016-07-04T00:00:00Z
This place is a magical dream! I decided to come to St Croix on a last minute vision quest. I was blown away with this house. It is hands down the most beautiful place I have ever seen. I ended up staying a extra week. It was fully stocked with all the luxury's. The house was so crisp and clean. I felt like i was in my own private castle. Olivia, Thank you for being a gracious host! I will be back soon.
Brannon
2016-06-14T00:00:00Z
My family and another couple stayed here for a week in mid January. It was spectacular and we would easily stay here again. You won't believe the amazing space and feel of the house. And the beauty of the water and surrounding landscape are just incredible. Our son is just 3 and he had a blast. You have to be aware of the cliff beyond the home's exterior, but he never ventured nearby it so it wasn't a major issue but just something to be aware of if you bring little ones. He loved the pool and the house feels very secure, as it's more like a compound with every other side (besides the oceanfront) walled in. Olivia is a wonderful host, and whenever we needed something was very accessible. We rented a car and were able to get to everywhere we wanted to go easily from this location. The layout of the house is great - we ended up cooking most meals and eating outside on the massive patio by the pool. The pool and patio area look like something you'd see in Architectural Digest. Great value considering all of the amenities. We will be back!
Trista
2017-01-21T00:00:00Z
This will be our fourth year travelling to the Caribbean with our family and friends and we have never rented a home that was as well equipped and comfortable as Seascape. There were plentiful linens and towels and we had never been provided with paper goods, dishwashing and laundry soap or toiletries in any of the other locations we have stayed. There was so much beautiful space in the house and the open air concept that we were nervous about before arrival turned out to be one of our favorite things. The pool was clean, large and refreshing. The view was breathtaking. While the location was a bit away from things, we enjoyed the quiet and never felt far away from our excursions. Olivia was in touch prior to our arrival and available for questions as well while we were there. We felt very well taken care of. Checking out was a breeze. We had the best time and would absolutely recommend this home to others. Thank you for a beautiful trip!
Emily
2017-02-28T00:00:00Z
Tipo de habitación
Casa/apto. entero
---
Tipo de propiedad
Casa
---
Capacidad
12
---
Dormitorios
Grove Place, St. Croix, Islas Vírgenes de los Estados Unidos
Imagínese experimentar la vida cerca de las nubes, mirando lejos en el horizonte, sintiendo la suave brisa del Caribe, escuchando las olas del océano. Aquí el tiempo se ralentiza lo suficiente como para que usted pueda disfrutar de la vida un poco más.
Las fantásticas vistas del extremo oriental de la isla de St Croix y Buck Island hace que este espacio de 1.760 pies cuadrados situada en la isla. Además, el huésped es una empresa de catering de sushi y los huéspedes llegar a disfrutar de su sushi durante su estancia.
What a cool place to stay! When we got to St Croix Jin met us at the casino to show us to his house. The drive was beautiful and the house is stunning. The photos don't do it justice. He let us try fresh sushi our first night. He was super helpful and accomodating. He even took us to the grocery store our first night so we could buy a few things. He told us where all the best beaches were and gave us a lot of cool suggestions. Our last day there he took us on a boat to go snorkeling at Buck Island. It was amazing we got to see eagle rays, turtles, barracuda, and a ton of fish. He has amazing snorkeling videos too. The house is so beautiful and every view is stunning. Such a gorgeous house we could've spent a lot more time there but we really only used it as a place to sleep and tried to see as much as possible during the day. Renting a Jeep was the best choice and once you've driven to his house a couple times it's actually really easy to remember and find again. If you have a family or are 2 couples, rent out the lower half of the house! He showed it to us and wow, so stunning. I loved the view of the Bulgarian castle on the neighboring hill.
dakota
2016-08-04T00:00:00Z
Jin's place is fantastic. The view is unparalleled anywhere on the island. It's private and quiet and Jin is an excellent host. We went snorkeling with him and he told us all the local spots to check out. It's a view of St. Croix you won't get at a hotel, for sure. Regarding the ONE negative review of his place, there's no way a house in the tropics is not going to have some insects. You have to deal. The gorgeous leather furniture is covered with towels because it's a beach house, and people generally have wet, sandy clothes. But it's a very nice place, we have no complaints or issues. We will most definitely be back.
Jason
2017-03-20T00:00:00Z
If you are visiting Saint Croix, I would highly recommend you stay with Jin. He does all he can to make your trip to the island excellent and unforgettable. He has one of the best views you can find on the east end, with a deck that is complete with lawn chairs and lounge chairs. I would recommend that you ask him to show you some of his magic tricks when you have some down time at the home!
Eric
2016-10-29T00:00:00Z
Jin was a great Host. He made me feel welcome at his home as if we were old friends...He opened up his home, his refrigerator (great sushi) and let me borrow some equipments that I needed to do a job around the neighborhood. His house has some of the best view of Buck Island, the Yacht club and most Northern part of St-Croix...Beautiful relaxing breezes and the sound of waves crashing on the shore even way up where the house is located.
Wilner
2015-02-13T00:00:00Z
Jin was a phenomenal host! Our flight home from St. Croix was postponed and we needed somewhere to go ASAP. Jin replied promptly and was incredibly accommodating of our last minute need for a place to stay. He went out of his way to make this possible. There are no words to describe Jin's home, location and view. It is high up and you have the luxury of a beautiful balcony with a jaw dropping view of the ocean. If you're a sushi lover, you're in luck! Jin is a sushi chef and made sure we had our daily helping of sushi. He also happens to be an avid scuba diver and lobster catcher! He offered to take us out but unfortunately we did not have any of the appropriate equipment with us. Jin was great with giving us our privacy as well as entertaining us with puzzles, magic tricks, and stories of his adventures. There are a couple of adorable cats that hang around outside but do not come into the home. If you love cats, your heart will melt. If you don't, they won't bother you. We will definitely stay with Jin again if the opportunity arises. This is definitely the place to go -- a beautiful home in a gorgeous location with a wonderful host. Thanks for everything, Jin!
Thomas
2016-01-27T00:00:00Z
Jin met us at the casino to follow him to his place since it is not on GPS. We arrived at night so didn't see the amazing view of Buck Island from his house on the hill until the next morning, and it was spectacular! Worth every penny just for the view itself. Jin fed us and showed us the beaches that were conveniently located from his house, as well as gave us information about the entire island. Something you won't get at a resort. The downstairs suite is worth it if you want a private entrance, a full kitchen and air conditioning. We will go back and stay there next time with our kids. You can buy groceries and keep them in Jin's spare refrigerator which is what we did. We also found a little coffee/breakfast place 2 miles from Jin's house and went there a few times. It's called "TLC", open Tuesday-Saturday. Restaurants to go to include "Duggan's" (on the water); "Toast" in town and is great for breakfast or lunch (also get a Bloody Mary there), and "Zion Modern Kitchen" for dinner also in town. Jin also took us out to Buck Island on his friend's boat. We were the only ones on the entire island! It was gorgeous and we also went snorkeling with Jin who showed us a great place to snorkel on the other side of Buck Island. The cost to go was 1/2 of what we would have paid if we hired someone and it was on our schedule, not rushed. There were four cats who live outside and hang out around the house. They were adorable and friendly. Overall I would highly recommend staying at Jin's place! We will definitely be going back.
Corinne
2016-11-20T00:00:00Z
Everything about this experience was the best. Here's why Jin was the best. When we arrived, Jin met us on his scooter to help us find his house. Its located on a hilltop on a twisty road, so the guidance was very helpful. I mentioned that we had a flight delay which caused us to miss lunch, and Jin - he is a sushi chef - immediately offered us some sushi. After we ate, he insisted on giving us a tour of his house and his corner of the island. We went out to Point Udall - the easternmost point in the US! - and Jin snapped pictures for us in this beautiful spot. I told Jin that i was very into snorkeling, and he pointed out all the best snorkeling spots. Several nights, when we got home after dinner, Jin would hang out to chat. He posed a puzzle to me, and because i love puzzles he challenged me with puzzle after puzzle for a while. So Jin is the best. Here's why the house is the best. Its on a hilltop, so you can see the ocean to the north and to the south. having a private bath was absolutely essential, i always book whole apartments on AirBnB, but this place was too good to pass up. The wrap-around balcony, the large deck (there is a pool that is not filled). The living room is enormous, so there is plenty of space and you dont feel squeezed in at all. so thats why the house is the best.
jason
2015-10-13T00:00:00Z
Jin was a great host and the accommodations were great. The views are amazing. I returned home to St. Croix for a short visit so my time was limited. Jin offered sushi and made his home available to me. He also invited me to snorkel for lobsters. Unfortunately, I am allergic. On Saturday I had a family gathering at Cramer's Park Beach and I invited Jin. He definitely showed up and brought sushi for my family. He hung out with us for a few hours. Definitely recommend the space. I stayed on the top floor so the guest room is on opposite end of Jin's room. The room is spacious and great tropical breezes. He was very respectful of privacy yet available to assist. I also saw the lower level space which is bigger and great views too. The top floor's balcony is amazing. I will visit again and Jin's place will be my top pick. Also, rent a car --- you will need it to get around.
Bruce
2014-09-08T00:00:00Z
Tipo de habitación
Habitación privada
---
Tipo de propiedad
Casa
---
Capacidad
2
---
Dormitorios
Christiansted, St. Croix, Islas Vírgenes de los Estados Unidos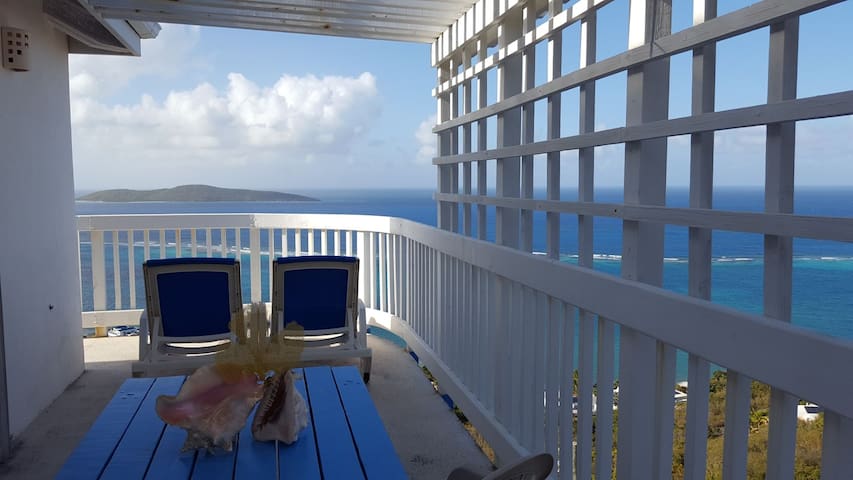 Please note that cleaning fee charged covers stay with in 1st month stay. Any long term guest more than a month will be charged additional cleaning fee for each additional month stayed. I have compiled a book with loads of information about things to do in St. Croix. I have included beaches, restaurants, transportation, stores and much more. Beach towels, towels, linens, small toiletries and many appliances provided.
Furnished 2 bedroom apartment in historic Danish style house upstairs from "Relaxing Caribbean Getaway Home I" (1 bedroom)apartment which is featured in St. Croix USVI airbnb listed by Adrienne R. Minimum 3 night stay required. House is located on a main street in town in the historic area in town. Please note that though the house is in a historic area. House is in excellent condition, however renovations to the surrounding houses are progressing but slowly. Please also note that King Street is a main street in town with traffic and can sometimes be noisy. Apartment has 2 bedrooms with 2 new full size beds. There is also a full sized pull out couch in living room. Apartment has air conditioning and ceiling fans in each room. Kitchen has all the amenities of home, coffee maker, microwave, full size refrigerator and oven. Living room has a new and comfortable full size memory foam mattress sofa bed, flat screen TV, and DVD and internet. Telephone available for local calls.Towels and linen provided. Downstairs patio accessible. Coin operated washer also available with clothes line in backyard . House is located in town 2 blocks from the pier. There are 2 beaches within walking distance and restaurants. Street parking is available. There are also taxi vans that run frequently from Frederiksted to Christiansted and back for $2.50 each way. There are also private cabs. I have listed a cab company for your convenience if needed under extra details on this listing. If you want the real feel of living among the locals, then this is the place for you! Sorry no pets please.
Adrienne was very communicative before our trip. Ibo, the contact person on the island was friendly and helpful in getting settled. The place itself was nice. Just a block from the beautiful water. The kitchen was well stocked in terms of dishes and utensils. Frederiksted is a small and quiet town and most places seemed like they were closed most of the time, but maybe that's just because we were there at very the end of the summer. Anyone staying here should definitely go snorkeling though. We saw some amazing fish, even just swimming a few feet out from the beach.
Benjamin
2014-09-02T00:00:00Z
This place is very close to some neat beaches which you can enjoy by yourself, along with some locals. The beach by Sand Castle hotel is the one we preferred. There is a mini-mart two buildings away, and it stocks groceries and most things you'd want, including an umbrella we bought. That was very important as we cooked meals in the cozy kitchen every day. There is also a fish market 5 minutes walk, but it's timings are dependent on when the boats come in - we did buy some local fish, much better than eating expensive tuna and mahi mahi (coming from mainland) in restaurants. The VItran transit bus (a rare species) passes right in front of the house, if you care. And most of all, Adrienne is very helpful, and goes out of her way to make your trip smoother (she made me aware that the ferries from St Croix to St Thomas had been indefinitely cancelled, so I booked the seaplane from Christiansted harbor 2 weeks in advance!). And the on-site manager Ibo is very friendly and met us when we arrived with a some local fruits. We decided not to take a car-seat with us, and the St. Croix taxi drivers provided one, so that was cool. All in all, I would definitely come back, and explore more of the island, because it was too short of a stay.
P
2013-10-10T00:00:00Z
Vi var meget glade for opholdet og der var alt hvad vi skulle bruge. Adrienne og Ibo gav en fantastisk service. Man for værdi for pengene og vi kan virkelig anbefale stedet.
Peter
2017-03-17T00:00:00Z
I really enjoyed this house it was perfect! Great location and completely safe. I will always stay here when I visit Fredricksted!! Thank you Adrienne!!
Mikaila
2016-06-16T00:00:00Z
We want to be their guests again soon!
Gene
2015-01-01T00:00:00Z
Was just what we were looking for! Well kept and pleasant upper floor of a house right down town with the best view of the parades! Two blocks to Rose's, market on the corner, a block to the ocean. But the assistance of Adrienne and the manager, Ibo, was what made everything even better. We ended up staying an extra week! Couldn't be better.
harrison
2014-01-07T00:00:00Z
We loved staying here in St Croix. The neighborhood seemed rough. But everything was quiet by 9pm. The house is a cosy historical place. Everything is very clean. The ac in the bedrooms made a big difference. Adrienne is extremely responsive and so is Ibo the island host.
Jean-Marie
2016-08-24T00:00:00Z
We arrived in St Croix late in the evening. We called our host and said we were on the way. After getting used to driving on the left side of the road we were met at the house by Ibo. It was very nice to be greeted by someone who knows the island and could share so much history and information. We loved Frederiksted once we got used to seeing the devastation caused by Hurricane Hugo alongside the Danish period businesses and homes lovingly cared for. The home was just right for us with everything we needed for comfort and as a base for exploring the whole island. The local folks were friendly and helpful any time we had a question. We enjoyed having beaches all to ourselves, especially at sunset. The snorkeling was moderately good at a few westside beaches. The water was wonderfully clear and warm. Do not try take seashells home with you! Sea glass is okay to take. We used the well-stocked kitchen to prepare almost every meal at home. There are nice bakeries, little stores, restaurants and bars nearby. We prefered to spend our time at historical sites, botanical gardens, beaches and learning about how rum is made. Chickens are everywhere. Kept in check by the mongoose population. A broody hen was sitting on 10 eggs at the house. They have probaby hatched by now. If you are into history and the ocean, this a very nice place to stay, with excellent hosts.
Jan
2016-05-07T00:00:00Z
Tipo de habitación
Casa/apto. entero
---
Tipo de propiedad
Casa
---
Capacidad
4
---
Dormitorios
Frederiksted, St. Croix, Islas Vírgenes de los Estados Unidos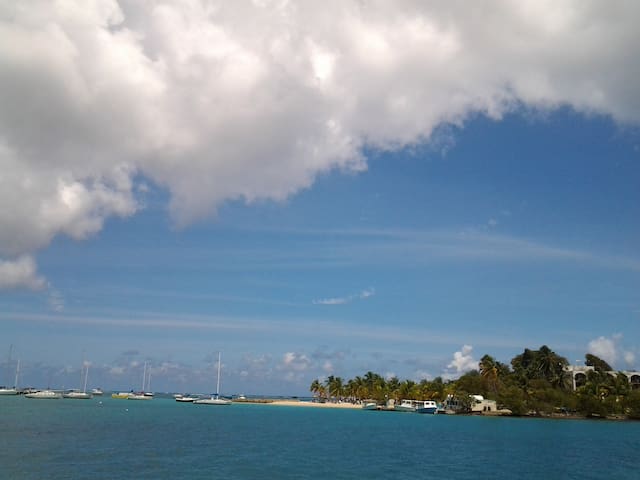 Ideal for 1 to 3 people. Within 1 minute walk is a beach we have adopted and beautified. See estate La Vallee on the map. Local cuisine can prepared by request reasonably priced, porch or beach side. Great master bathroom with double sink vanity. Extra Twin bed is available.
We are happy to provide information to help you enjoy the island your way. The room, bathroom and hall, have been walled off from the rest of the house, giving you access to your area through the french doors to the porch. You don't have to enter the host area to get to your room. We grow many fruits and vegetables on the land. There is a kitchen area with a 2 eye burner, and refrigerator. A table to eat or work. Also pots and some cups and dishes and other supplies for light cooking are available. The location is off the beaten path but close to many activities. And 6 restaurants within 1-1/2 miles including our own Beach Stand.
LaVallee on North Shore Road, Route 80 West is a quite neighborhood. At night the sound of the ocean waves is like music. The area has an interesting mix of old local families, snow birds, mainland transitioners, and re-tirees.
If you rent a car (like we did) it's a good base for seeing the wonderful Island. And Carmelita and Bernard are very nice hosts.
Jørgen
2017-01-05T00:00:00Z
The host canceled this reservation 2 days before arrival. This is an automated posting.
Åwet
2016-08-30T00:00:00Z
This place is amazing and the view is spectacular! Bernard is hands down the coolest guy on the island!
Corban
2016-11-16T00:00:00Z
We loved staying with Carmelita and Bernard (and George)! After our first Airbnb accommodations fell through when we arrived in St. Croix, we booked with Carmelita and Bernard, and we're so glad we did. They were so warm and welcoming, and they were very responsive and accommodating hosts. I can't say enough good things about these two - I'd book this place just for the hosts alone. The listing says they are located in Christiansted, but it's important to note that they are actually in La Vallee, which is on the north shore and more rural. We unfortunately didn't have a rental car during our stay, but Carmelita was very helpful and talked to our taxi driver over the phone to give him directions to their house. I would definitely recommend getting a rental car if you choose to stay here because it's not super close to things to do, but if you don't have one you'll still get by. Cane Bay is a little over a mile away, but it's definitely walkable if you don't have a car. There are restaurants within walking distance as well, but most are down by Cane Bay, which is a little over a mile away like I said before. The neighborhood is very quiet, and their dog George is just the sweetest thing. We felt very relaxed during our stay, and we would certainly book here again!
Beth
2017-01-10T00:00:00Z
Carmilita and Benard are fabulous! The view is amazing! Enjoyed ever minuet of it!!!!
Kristin
2017-02-22T00:00:00Z
Carmelita and Bernard were AMAZING hosts! I stayed here with my 4month old daughter and they treated us as family from the very first day. They are both very warm and loving with great energy. Even George, the large loving dog, would come over to my door to check on my daughter whenever she cried. In fact, he slept outside of our door in a protective manner almost every night, which was very sweet. The sounds of the ocean and the scenery from the room were calming and serene. The room was clean and has its own shower and tub, which was nice. The home is on the north shore, about 25 mins from Christensted and 30 from Frederiksted but it has nightlife, restaurants, and personality on its own. The road to the home is a little rocky, as SEVERAL roads are in St Croix, but our old Corolla (rental) did just fine. And Bernard's soursop lemonade is freaking delicious!! He was even nice enough to get me a few sour oranges from a tree in their yard. Overall, I was a little sad to leave at the end of my trip. Their airbnb felt like home.
Naomi
2017-03-27T00:00:00Z
If you want local atmosphere and holiday at a work site this place has both .... good internet and a friendly dog
Uffe
2016-11-08T00:00:00Z
Great place to disconnect from the fast-pace world and relax in a local environment where you can listen to the wind and the waves at night. Bernard and Carmelita are great hosts. The place is very clean and the bed is comfortable. You will also be greeted by George, the sweetest big dog in the world.
Ali
2016-12-30T00:00:00Z
Tipo de habitación
Habitación privada
---
Tipo de propiedad
Casa
---
Capacidad
3
---
Dormitorios
La Vallee, St. Croix, Islas Vírgenes de los Estados Unidos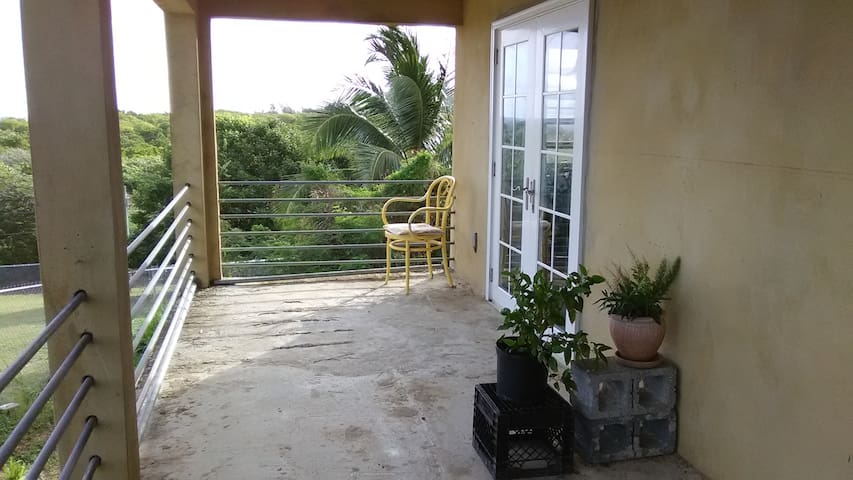 Esta una habitación a / c cabaña privada bien equipada está al lado de la bañera de hidromasaje y vistas a la piscina con vistas panorámicas al mar. La casa tiene una cama de matrimonio muy cómoda, 3 pc privado. baño y cocina con nevera, microondas y cocina de gas.
Esta casa bien equipada eficiencia tiene una pequeña cocina totalmente equipada con nevera, cocina a gas y microondas. La cama muy cómoda de tamaño king es el lugar perfecto para relajarse después de un día completo de explorar la isla o simplemente Limin 'en la piscina o bañera de hidromasaje que son pasos de su puerta. Para el entretenimiento y la información no es una en la pared 33 "LCD TV con DISH Network y WIFI se proporcionan. La zona de noche se separa con una pantalla de privacidad. Fuera de su puerta es un patio área de descanso para disfrutar de una taza de café o hermosa puesta de sol . las puertas francesas se abren a la vista a la piscina de cócteles y vistas panorámicas de la costa sur y gran estanque. es el tipo de lugar de vacaciones sueños están hechos.
Situado en las tranquilas colinas de Unión y Mt. Washington este pequeño barrio está en el extremo del Parque Marino del Este cuya playa está a poca distancia. Estamos a 10 minutos de varios centros turísticos populares y playas, incluyendo The Buccaneer ya menos de 15 minutos a Christiansted (excursiones, restaurantes, tiendas). El fácil acceso a la autopista que le llevará por Sunny Isles centro comercial del aeropuerto y las dos fábricas de ron en su camino a Fredriksted y las maravillosas playas de West End y más tiendas y restaurantes,!
At first I can say that our stay at Mikes and Debbies Cottage was the best experience I've ever had on Airbnb. The cottage is cute and just perfect for two people. The ocean view is just beautiful and the pool is great if you need a little bit cooling after being in the sun the whole day! For a relaxed afternoon, you can jump into the hot tub and enjoy the exquisite starry sky. Since me and my friend are under 25 years old, we would've been very lost in St. Croix, because we couldn't rent a car. Mike and Debbie took us to the resorts or in the city whenever we wanted and told us about the cruzan life and good ways to spend our days there. Thanks to them, we were able to see almost the whole island. When we arrived, they picked us up from the airport and on our first weekend, they took us on a roadtrip and spent a great Sunday Funday with us. Through the kindness of Mike and Debbie, we had two wonderful weeks, full of adventures in St. Croix and we were finally able to get away from our stressful days in Germany. I can recommend the cottage to everyone who wants to see the real cruzan life and is planning to spend a few days in paradise!
Justine
2016-04-09T00:00:00Z
Mike and Debbie were amazing hosts! The little cottage was quaint with an amazing view! They picked us up from the aiport(even though our flights kept delaying) and gave us wonderful tips about getting around town, and wonderful recommendations on food and adventures around town! The cottage was equipped with a mini kitchen, perfect for a vacation stay, and utensils to cook, and the bathroom perfectly equipped for the two of us! With only a few minute drive to Christenstead, the cottage is perfectly located with just the right amount of privacy! Can't wait to be back!
Shini
2016-05-23T00:00:00Z
We could not have had a much better time during our stay in St. Croix with Mike and Debbie! They were very knowledgeable about what to do on the island and we loved their 5 little dogs! The cottage was cozy and cute, and was a wonderful bargain. Thank you for such a terrific vacation!
Caroline
2017-03-11T00:00:00Z
Chose to try Airbnb for the first time and, from start to finish, Debbie and Mike went beyond our expectations as a host couple. To begin with, one of them will meet you at the airport to make sure you get to the cottage - we got a bit of sight seeing through this trek! Then, either one can provide a wealth of knowledge about things to do or favorite places to eat! In addition, upon finding out that we were going to a beach w/o a dive shop, they offered us the use of snorkeling equipment. I feel that our first Airbnb experience has spoiled us for future hosts! :)
Christine
2016-08-05T00:00:00Z
We loved it thank u!
celeste
2017-02-28T00:00:00Z
The other glowing reviews were right on and our stay at the cottage was wonderful. The view is inspiring, the cottage is well appointed and a perfect oasis when exploring this beautiful island. It is bright, very comfortable and has all one could need for a St. Croix adventure. Just as remarkable was the welcoming spirit of our hosts Michael and Debbie. They are fun, helpful, caring and sensitive enough to give as much or little as you need to make your stay memorable. They can soon feel like fast friends and their generosity and knowledge of the island was much appreciated. Thanks!
Bob and Wendy
2017-02-12T00:00:00Z
A nice comfortable cabin set on a hillside behind hosts house; if you can't climb a short hill probably not for you. Had a nice view of ocean. Very comfortable King size bed. Outside of Christianstead a few miles. Very helpful Hosts. We didn't use the AC but left the windows open at night for the air. Good size cabin with small kitchen, Bathroom with a shower. They also have a hot tub and small pool witch we didn't use because we were so busy enjoying the Island. Beach Towels to use.
Litton
2017-01-21T00:00:00Z
What a wonderful stay! Michael could not have been more nice and accommodating. This was the perfect place to stay and take in the beautiful island. I highly recommend it!
Kim
2016-09-09T00:00:00Z
Tipo de habitación
Casa/apto. entero
---
Tipo de propiedad
Casa
---
Capacidad
2
---
Dormitorios
Christiansted, St. Croix, Islas Vírgenes de los Estados Unidos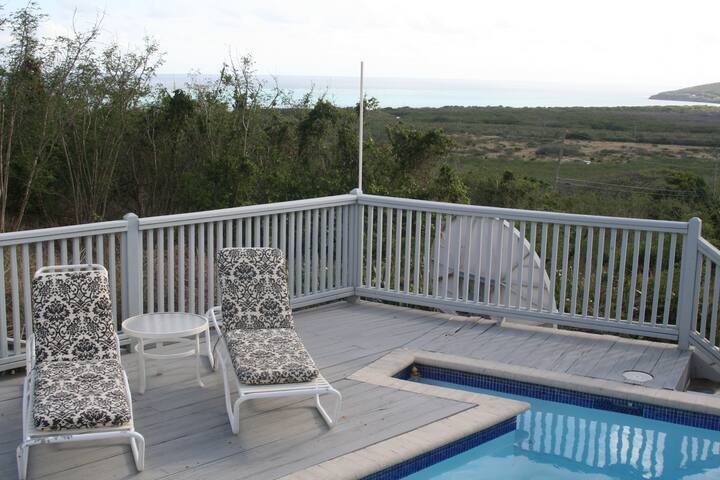 1B/1B oceanfront cottage with a full kitchen sits in a gated community on St. Croix's north shore. Featured on HGTV's House Hunters International. 50 steps to the beach.
This 1B/1B oceanfront cottage with a full kitchen sits in a gated community on St. Croix's north shore. Sit and watch the surfers, windsurfers, kite surfers, kayakers, and pelicans cruise through the water from the cottage deck or walk the 25 yards down to the beach for an even closer look. Walk/run/bike the 8 miles of private roads within the safe gated community. Great central location for exploring all that St. Croix has to offer. 4 miles to downtown Christiansted. The property was shown on an episode of HGTV's House Hunter's International (Caribbean Quandary). Check it out at the end of the show. St. Croix is the largest of the US Virgin Islands, but it remains a well-kept secret in comparison to St. Thomas and St. John. St. Croix is much quieter and more laid-back. The island offers water sports in abundance, such as scuba diving, snorkeling, fishing, sailing, kayaking, surfing, and kite-surfing, with numerous beaches to explore. St. Croix has two small towns (Christiansted and Frederiksted) that have duty-free shopping and historic architecture. St. Croix offers something for everyone. Come relax on this wonderful island. No passports needed for US citizens. St. Croix isn't just the largest of the U.S. Virgin Islands, but it also boasts the Caribbean's largest living reef. And it is the only spot in the region where you can dive a wall that drops more than 13,000 feet. Rates are $1,300/wk in the summer and $1,650/wk in the winter + 12.5% hotel tax. 4 night minimum unless booking gaps exist. Find us on (SENSITIVE CONTENTS HIDDEN) (stcroixcottage). Use search engine and listing title to find other reviews.
Quiet and gated oceanfront subdivision with great walking and running roads. See leather-back sea turtles nest steps from the cottage during the summer.
Great place, better hosts, tastefully decorated perfectly equipped, just bring a book and forget about about the world, I would recommended anytime.
Victor
2016-12-26T00:00:00Z
Chad and Emily's guesthouse was the perfect place to stay on St. Croix. Not only were the views spectacular, but the guesthouse had literally everything you could ever need to explore and enjoy the island. If we come back I wouldn't want to stay anywhere else!
Matthew
2015-10-09T00:00:00Z
Tipo de habitación
Casa/apto. entero
---
Tipo de propiedad
Casa
---
Capacidad
2
---
Dormitorios
Christiansted, St. Croix, Islas Vírgenes de los Estados Unidos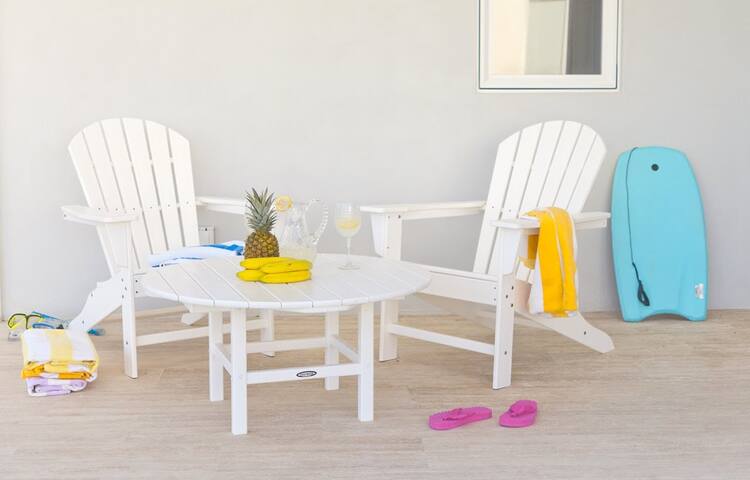 Mi lugar es bueno para todas las parejas, aventureros en solitario, viajeros de negocios, familias (con (URL HIDDEN) un lugar donde los niños pueden salir en el patio y jugar a juegos, disfrutar de lo que son las frutas de temporada. Usted puede disfrutar de las gallinas y pollos, también un huevo fresco o dos. Tengo recuerdos divertidos de mi barrio como siendo una plantación de caña de azúcar. Recuerdo que cuando era un niño que crece a trabajar en el campo con mis padres y también lo hicieron todos los otros niños.
pequeño comedor 2 porches sol el tamaño medio de la sala de estar 2 baños 3 dormitorios patio trasero con mango, plátano, ciruelos
www.gotostcroix
The host canceled this reservation 10 days before arrival. This is an automated posting.
Evelyn
2017-01-07T00:00:00Z
Tipo de habitación
Casa/apto. entero
---
Tipo de propiedad
Casa
---
Capacidad
4
---
Dormitorios
Frederiksted, St. Croix, Islas Vírgenes de los Estados Unidos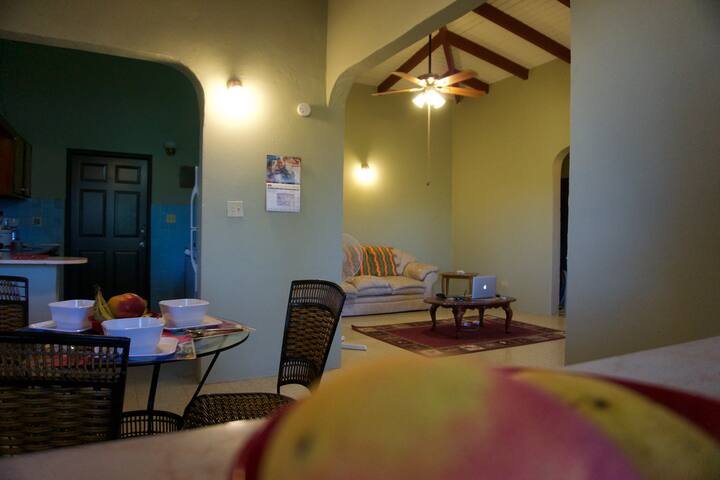 This airy one bedroom cottage boasts a large covered front porch, a full kitchen, living room, and bathroom. It's name comes from a Taino word meaning "Water", and the subtle blues and ocean decor will make you feel at one with the sea. This cottage is especially great for couples traveling together.
Ni is a historical cottage with a fully stocked kitchen, one bathroom, living room, bedroom, and two porches (the front is screened). This cute cottage is very comfortable for solo travelers or couples. In the living room is a single bed for travelers with a kid.
The best part about Discovery Grove is the unique grounds and the surrounding forest. We are at the base of Blue Mountain, second tallest mountain on St. Croix. The property used to be a farm and now has an abundance of mangoes, guava berries, velvet apples, September plums, bananas, plantains, coconuts, and wild herbs. We are centrally located on the island and can access everything quickly while being secluded in the forest. The beach, grocery store, and towns are all close by.
Tipo de habitación
Casa/apto. entero
---
Tipo de propiedad
Casa
---
Capacidad
3
---
Dormitorios
Christiansted, St. Croix, Islas Vírgenes de los Estados Unidos
1

–

18

de

72 Alquileres de Casas
Introduce las fechas para ver el precio total. Ten en cuenta que se aplicarán tarifas adicionales y es posible que se añadan impuestos.