The Dolphins Cove time share, which this is, does charge a $50 CLEANING FEE WHICH THEY REQUIRE UPON CHECK IN In addition to the fee you pay airbnb, you will be required to pay the cleaning fee directly to them. It is a one time $50 fee for the entire
The Dolphins Cove time share, which this is, does charge a $50 CLEANING FEE WHICH THEY REQUIRE UPON CHECK IN In addition to the fee you pay airbnb, you will be required to pay the cleaning fee directly to them. It is a one time $50 fee for the entire DESCPRIPTION OF ROOMS We are owners, not someone trying to sell timeshares. Look it up on the internet. It is a Wyndham Vacation Resort Timeshare. If you have been to timeshares, you know how nice they are. All resort rules MUST be followed. This unit sleeps 6 with: * 1 king size bed (bedroom 1) * 2 twin size beds (bedroom 2) * 1 queen size pull out sofa (in living room) * Balcony or Patio RESORT AMENITIES • Outdoor Swimming Pool • Outdoor Children's Pool • "Get Out & Play" Activities Program • Exercise Equipment/Fitness Center • Outdoor Hot Tub • Game Room • Picnic/BBQ Area • Putting Green • Laundry Facilities • Daily Activities • Grocery Store Nearby • Late Check-ins • Movie Rentals • Sorry, no pets With timeshares, just bring your clothes and food and you're pretty much set. Everything you pretty much need is there to use. Kitchen has pots and pans, utensils, dishes, glasses cups and many more items. Just bring your food or purchase at nearby grocery stores. It is only a 2 story resort. This place has beds for six adults, maybe more, if you have small children. Keep in mind that this is a small family friendly cozy time share resort. Not the 5 star high rise timeshare resorts you may have visited before and that come with the high price tag as well. Another hint is that we like to get a room just down the hall from the rec room oe. RIGHT NEXT DOOR TO A DENNY'S. One More thing. If you look at the street view of the property, you wiil notice a driveway, which is ours to the left and behind it is an orange building next door that is on Harbor Blvd, same street at Disneyland. That Orange Building is Denny's. We would go for breakfast with their $2,$4,$6, $8 menu and then head to Disneyland. Cheap Breakfast for the Disneyland area and it is practically on your doorstep. Just another helpful tip. I can't control it if they change their menu though. DAILY EVENTS CALENDAR (ADULT AND KID FUN) Dolphins Cove has an event calendar they will give you for social events they have for the week when you arrive. Look up the resort to see more. FREE LAUNDROMAT AT THE RESORT & COMPLIMENTARY DETERGENT IN YOUR ROOM. RESORT AMENITIES • Outdoor Swimming Pool • Outdoor Children's Pool • "Get Out & Play" Activities Program • Exercise Equipment/Fitness Center • Free WiFi • Outdoor Hot Tub • Game Room • Picnic/BBQ Area • Putting Green • Laundry Facilities • Daily Activities • Grocery Store Nearby • Late Check-ins • Movie Rentals • Sorry, no pets • BBQ near swimming area/Ice machine • Complimentary Wine & cheese on Saturdays I am not at the property here, but only a phone call away and available anytime a need arises no matter the time if day or night. Many restaurants within walking distance. The convention center is too. Getting around The reservations desk will help yo with your needs and questions while you are there. I know when I was there I asked where the big grocery store was and COSTCO and they have maps they had made up just for that purpose. Can't guarantee this is what will happen when you are there, but just shows how helpful they are. Public transport to Disney or 15 minute walk
Many restaurants within walking distance. The convention center is too. Getting around The reservations desk will help yo with your needs and questions while you are there. I know when I was there I asked where the big grocery store was and COSTCO and they have maps they had made up just for that purpose. Can't guarantee this is what will happen when you are there, but just shows how helpful they are.
The reservation was canceled the day before arrival. This is an automated posting.
Heidi
2014-09-12T00:00:00Z
Tipo de habitación
Habitación privada
---
Tipo de propiedad
Villa
---
Capacidad
6
---
Dormitorios
Anaheim, California, Estados Unidos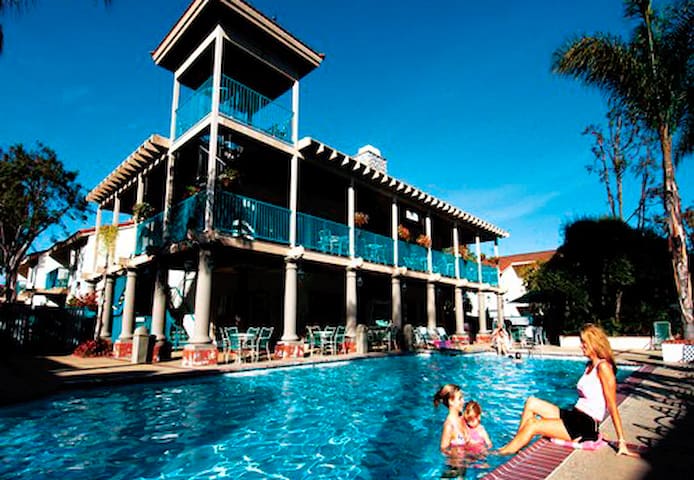 You will be surrounded by the Disney fairy tale here. Memory Mattress&Jacuzzi. 3 bed rooms and 1 toy room. High speed free Wifi. Mermaid Pool. Birthday Party&Wedding Anniversary allowed. More Surprise. You are the princess and the prince meet here.
*We will charge 15% Tax of City of Anaheim when you check in. * *Pool heating fee is $50 per day. More than 3 days $35 per day* (shown house prices do not include the taxes and the pool heating fee,it may save Airbnb service fee for you.) Welcome to the distinguished guest-stay 'Perfect Life Disney Theme Princess house'!!! In our vacation house, you will be surrounded by the Disney fairy tale world and enjoy the most authentic American resort living, experience the most romantic princess trip. Our holiday home is decorated with high quality hotel standard; everything is brand new for you and your family to enjoy. The whole place is furnished with up-scale bed mattresses, feather quilt, and climate control system, allowing you to enjoy the most comfortable night's sleep. We also have swimming pool, whole house water softener system, high-end Kohler bathroom, and high-speed Wifi Internet installed, to guarantee you a perfect holiday experience. We have living room, dining room and kitchen with Disney layout, furthermore, a unique theme is designed for each of our bedrooms: King room, Princess room, Car room, Micky Paradise room and Toy Story activity room! We have also prepared an exciting surprise for your kids: Disney characters' costumes, and a Disney-theme wall for photo shooting! Why are you still waiting?! Come and join us for the magical trip in Disneyland! This is truly the place where beautiful princess and the prince meets!!! Upstairs: 1 king master bedroom with private bathroom: 1 marble Continental Deluxe California king bed, 60-inch LCD TV. Jacuzzi, glass shower room, chaise langue, electronic scales, hair dryer. 1 Romantic princess room: a queen bed, a 55-inch LCD TV,2 crystal lamps,1 TV cabinet, Princess curtain 1 Car bed room: 1 car bed, 1 bunk beds. 1 Toy Story play house: a marine ball hut, a tool holder, a parking lot of toys, games sensory wall, wall pictures of Disney characters, Disney characters dress up clothes. All the bathrooms have been recently remodeled with new tile, showers and sinks. All bathrooms provide shower body wash, shampoo, paper towels, Disney hand towels, and shower towels, Disney mugs for brush teeth. Downstairs: Living room 1: luxury leather sofas, high-fidelity music player Living room 2: the fireplace, the sofa bed,(sleep 2 people),60 inch LCD TV Kitchen:Home Crest Cabinetry kitchen furniture, Disney porcelain tableware, Disney Mickey cookware ,Disney cups. Electricity Cooker, fridge (with straight drink machine and ice maker), microwave, oven, dishwasher, cooker, coffee maker, kettle, Mickey toaster, pool garbage disposal. 2 dining rooms: (1 Minnie small round table, a European princess large long table) Garage: (two cars can be parked inside, two cars can be parked outside). Laundry room: Whirlpool washing machines, Whirlpool dryer Others: crib, stroller, baby car seat, baby hig chair. Outdoor: Swimming pool: outdoor swimming pool with warm salt water, massage pond. water depth 2.5 meters, diving springboard. The pool temperature is about 78 to 86 Fahrenheit by heated. (needs to heat the pool in spring, fall and winter, please tell us if you need to heat it in advance and pay $50.) BBQ grill. The pool deck chairs.
Our neighborhood is very clean and quiet. Our house is very bright, beautiful, up-scaled, and surrounded with living facilities. Surrounded by two parks with Baseball field,children's play area, library. Fresh air and sunshine. Turn two blocks to get to shopping malls, life is very convenient.
Helena was a gracious host. She was really nice in accommodating all our requests. The kids really loved the Disney theme and they were amazed with the house arrangement. They would rather stay at home than going to the Disneyland. My in-laws from Australia were astonished with Helena's house. Overall, our stay was extraordinary. Also, Andres was one text away, he promptly responded to our concern. He made sure we are comfortable and settled. I will sure recommend this property not only because it's beautiful, but due to the great people who own and manage this house.
ariel
2016-10-03T00:00:00Z
Great stay for my family. This was a family vacation with my children and grandchildren. The kids loved the pool and the playroom. It was so nice to be able to spend time together as a family in a home as opposed to a hotel. I would stay here again.
Darlla
2016-11-19T00:00:00Z
We're disappointed with the house. This house does not provide room service,which is fine with us, however, if you're going to give us a mop, please provide bucket and detergent. - Floors sticky to start with (why do we have to pay approximately $300 for cleaning fees?0 -No extra Kleenex boxes provided -Shower door in master bedroom doesn't stay close -Pooh bear room door doesn't close -Kids can fit through stair railing (safety hazard) -Pots have no handle (are we suppose to use our hands since no mitten provided either) -Cockroach found in Pooh bear room -Claim to have 5 rooms, but only have 4 (PS. play room doesn't count) -extremely hard to pull out toilet paper -expect us to do and ttake out garbage, but does not provide us with garbage bags -Sticky and moist carpets (definitely need new replacement) -dirty towels (stained) -a chuck of poop found on master bed room bed (or something that looked like poop) -Dirty pool with lots of garbage in it (claim to clean twice a week), and no cleaning tools provided to scoop out the garbage from pool. Also no railing around the pool to provide smaller kids from going to the pool. (Safety hazard) -Kitchen sink was clogged with dirty water when we check in (again, why am I being charged for cleaning fee if that is what i get??, what do you do with the cleaning fee you charged your guests?) - Kitchen faucet handle is not centered (doesn't know if water is hot or cold) - Dining room chair covers dirty (The pink Minnie mouse ones) -Stains on Curtains (Gross) -There should be two layer of bed sheet per bed, one for the bed and one for the blanket so that both sheet can be washer after each guest check out, however, there is only one sheet per bed (sanitizing issue) -no paper towel provided - no baking utensils provide (cooking sheets, spatulas, baking pan, etc.) -stain on carpet -master bedroom bed frame is sharp and hard (many people in our family bumped into it, PAINFUL) -no instruction manuals on how to use kitchen appliances - I do enjoy the convenience of the location. Thank you(URL HIDDEN)
Will
2014-07-24T00:00:00Z
What can I say. From the Disney themed rooms, to the private pool. This was one of the best air bnb rentals i have done. The house was large. A play room for the kids with costumes and games. Netflix with Disney movies loaded. It was a great vacation
Michael
2016-05-26T00:00:00Z
The house is really combining beauty fun and comfort.
AlEid
2016-08-07T00:00:00Z
Helena and Andres (the property managers) are professional, kind, and seem to enjoy what they do. They are quick to answer all communication, and to help with any needs. I highly recommend their service. The house is perfect, even bigger than advertised. It is easy to drive to Disneyland. A lot of thought went into making the house special for kids. The house is perfect for a Disney vacation!
Andre
2017-01-14T00:00:00Z
We really enjoyed our stay here! Place was perfect! Kids loved the house. Location is very good too and neighborhood is nice. We recommend this place for everybody!
Sini
2016-04-07T00:00:00Z
This house was gorgeous and the kids were so excited. Everything you can even think of was available in that house. All you have to do is bring food for the fridge and make sure to clean up after yourself before you leave. The house is elegant and very roomy. Our family made so many memories that we will never forget. Hopefully, we'll be back soon because it's only minutes from Disneyland! The home owner Helena and the caretaker Mr. Charlie made all the logistics and communication smooth. Choose this home for an amazing overall Disney experience! It's so worth it!!!
Camille
2014-07-12T00:00:00Z
Tipo de habitación
Casa/apto. entero
---
Tipo de propiedad
Villa
---
Capacidad
9
---
Dormitorios
Anaheim, California, Estados Unidos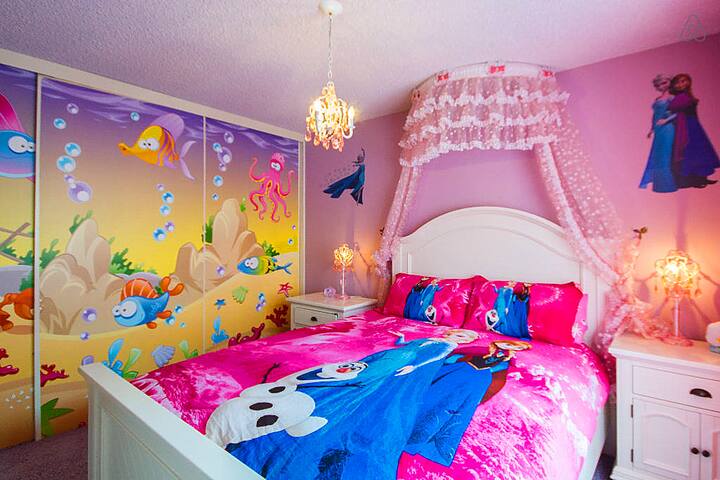 Quiet neighborhood, close to freeways. Large lot - 3/4 acre - private and safe. Single owner, retired. Gated, private driveway and parking. 2600 sq. ft. home, cape cod style. A/C in room. Private adjacent bath (not shared). Separate frig available.
Tipo de habitación
Habitación privada
---
Tipo de propiedad
Villa
---
Capacidad
2
---
Dormitorios
Anaheim, California, Estados Unidos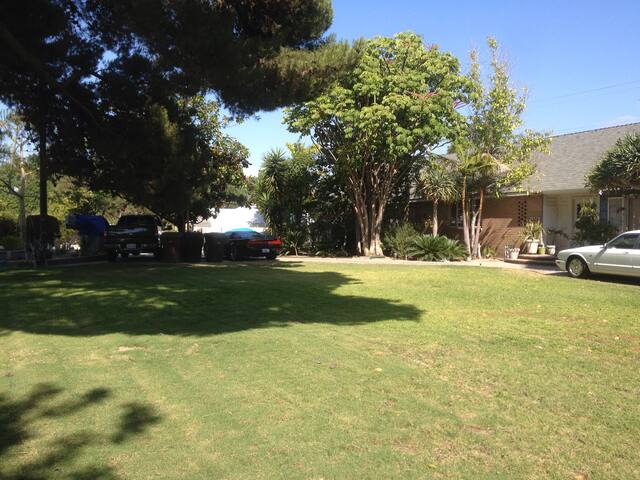 3d habitaciones 2bath sala de 15 minutos de Disneyland, 15 minutos de larga playa de 25 minutos desde el aeropuerto. 30 minutos al centro de Los Ángeles Wifi sevicio. lavado en seco y la Televisión 2car o área de empaque para 4 coches, cocinando cocina. Es muy bueno para una familia vivir
sala de 3bed en el 2 ° piso
Es el área de la casa muy conveniente y bueno. Hay uno, dos, arriba escuela superior en toda ronda de California. Hay muchos natación parque objetivo cesta de piscina de bolas Walmart Best Buy. mercado de Asia a poca distancia a 1 milla
房东非常热情,房间很漂亮,舒适,干净,特别推荐给大家!谢谢!
GONGXIANG
2017-02-24T00:00:00Z
Very nice home. Other than the noise from the freeway at night, everything was perfect.
Eva
2017-03-04T00:00:00Z
Tipo de habitación
Habitación privada
---
Tipo de propiedad
Villa
---
Capacidad
6
---
Dormitorios
Cerritos, California, Estados Unidos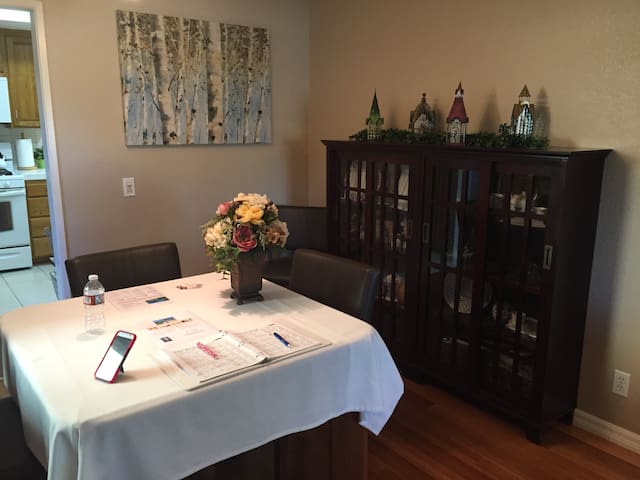 1

–

4

de

4 Alquileres de Villas
Introduce las fechas para ver el precio total. Ten en cuenta que se aplicarán tarifas adicionales y es posible que se añadan impuestos.