Introduce la fecha de llegada en el formato dd/mm/aaaa
Introduce la fecha de salida en el formato dd/mm/aaaa
Anuncios que no requieren que el anfitrión acepte la solicitud.
8 Alquileres de Villas
· Tadley
8 Alquileres de Villas
· Tadley
Introduce las fechas para ver el precio total. Ten en cuenta que se aplicarán tarifas adicionales y es posible que se añadan impuestos.
En julio y agosto, podrás disfrutar de 100 de los alojamientos con las mejores valoraciones de Sonoma a precios muy diferentes y disfrutar de la cara más auténtica de la ciudad. Relájate y disfruta de tu estancia sabiendo que puedes hacer una reserva inmediata, llegar a cualquier hora y disfrutar del vino de la zona y de otros tentempiés.
Min stay 3 nights. Surrey cottage, end street with large back garden fronting a nursery. Five minutes walk to the bus and Gordon's School, 15 minutes drive to Woking, 25 minutes by train to Waterloo and excellent value for money. The House is well equippted. Enjoy!
Kind and Helpful Very good location Kind and Helpful Very good location
Kind and Helpful Very good location
A lovely, very comfortable house. There was ample room for six of us and the area is beautiful! We had some lovely walks right on the doorstep. The house has every amenity you could hope for and was lovely and warm on a cold Autumn night.
Catherine
October 2016
Perfect, very clean. Lovely soft towels and soft beds.
Rhenny
August 2016
The host canceled this reservation 32 days before arrival. This is an automated posting.
Sahar
Really great place to stay and very welcoming housekeeper
Helen
October 2016
Excellent communication throughout the process. On arrival we were treated to champagne, cheese and fruit in the fridge, and a kitchen stocked with tea and coffee, which was a lovely surprise. Couldn't fault one thing about the house or the process. Thoroughly recommended.
Thomas
September 2016
Lovely place in quiet part of Woking. Lots of space inside and out. Flexible sleeping arrangements. A little difficult to get to in terms of public transport (Woking station can be 15 or 40 minutes away depending on traffic) but all in all just perfect for our needs.
Viviene
August 2016
Tipo de habitación
Casa/apto. entero
---
Tipo de propiedad
---
Capacidad
6
---
Dormitorios
4
West End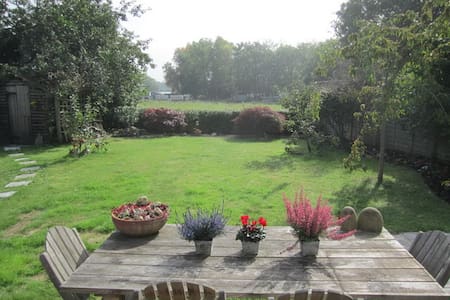 Newly completed modern, self contained Poolhouse with bespoke kitchen, beautiful wet room shower room, and 4 poster super king wrought iron bed. Underfloor heating with italian stone flooring and vaulted ceilings. Stunning views of farm land. The Wifi is only available in the main farmhouse currently and the TV is used for DVDs only. There is a DVD library but do bring own. As the property is in a rural location please use Google Maps for an accurate GPS location as SatNav is not as reliable
Modern, chic, light and airy with neutral tones. All private spaces for own use. The main farmhouse which is nearby to the poolhouse also offers Airbnb accommodation and we are always available for assistance.
Use of heated swimming pool is a lovely added bonus
We loved our stay at the Poolhouse; the setting is amazing, the actual accommodation was clean and comfortable and the pool was great as the weather was lovely during our stay. I would highly recommend this place if you want to relax.
Danica
August 2016
Incredible location and a warm friendly welcome, the pool house was a stunning room to stay in. Annie was a lovely host and we wish her the best of luck with her future plans for the farm. Hopefully we will return one day .
Felix
June 2016
We had a really lovely stay at the Poolhouse which is very calm and restful place to be. The Poolhouse is just like the pictures and very clean and welcoming with great shower and lovely comfy bed. We didn't meet Annie and her family but Alison was great and lent us maps and recommended we visit Roche Court Sculpture Garden and places to go on the coast for a day by the sea (only a 70min drive to the beach). The Poolhouse is adjacent to the main house where two small friendly dogs live - one of which likes to visit the Poolhouse and hangout. There are two sets of french doors which open out onto the terrace in front and the pool with a meadow and woodland beyond. We saw wild deer grazing in the meadow everyday and watching dozens of swifts (or were they swallows?) flying over the pool 2-3x's a day was mesmerizing. The pool itself is 6ft from the front of the Poolhouse and both sets of doors open up onto this area. The main farmhouse has B&B rooms and those residents have access to the pool too. We were lucky as no one else was staying whilst we were there so we had exclusive use of the pool and lots of privacy. We expect privacy could be compromised with other people using the pool. We had no phone signal (either of us - different providers) and there is no wifi in the Poolhouse either so it's a proper breakaway from everything... which for us was great. We would love to return to the Poolhouse - we had a perfect, restful break away.
Victoria
August 2016
A perfect place to completely unwind and relax with a stunning view. The pool house is beautifully presented and the heated swimming pool is an amazing addition which we absolutely loved.
Maria
August 2016
Lovely poolhouse with all you amenities you need. Definitely worth it as a stop if you are planning a visit to the coast, like we did ourselves. A very peaceful and quiet area that allows you to unwind almost immediately. Couldn't ask for a better weekend break!
Jack
July 2016
The 3 of us had a lovely 1 night stay here. The place was spacious but cosy while the wind was howling outside. Gorgeous setting and surprisingly easy to find. Hoping to book again next year.
Jenny
November 2016
A delightful few days in a beautifully secluded and quiet setting - the accommodation was all that could have been asked for, and Annie was the perfect host - welcoming and helpful
Matt
October 2016
Annie was very welcoming and everything was there that we needed. It is a lovely peaceful setting. We enjoyed the frequent friendly visits from the 2 dogs. Thanks for your hospitality and lovely farm!
Claire
September 2016
Tipo de habitación
Casa/apto. entero
---
Tipo de propiedad
---
Capacidad
3
---
Dormitorios
1
West Tytherley
We call it the green room because the walls are green and it looks onto the back garden, so the whole feel of the place is peaceful. The room has a desk a wardrobe and a couple of small chests + there is plenty of room for personal items like suitcases etc. We're both linked to the university: my husband is now retired but I still work there. We're renting out our 2 grown-up children's rooms. This is a family home with 3 bedrooms, 2 bathrooms, 2 studies, a large dining area and living room.
I really enjoyed my stay with Paola and David. They made me feel very welcome. I recommend
Roger
September 2015
Paola is absolutely a wonderful host, as she is very welcoming and talkative. I love the decorations in her house and the garden is very cute. I will highly recommend young people to stay at her place when they visit Southampton.
Cara
September 2016
Paola is a fabulous host, she made me feel welcome straight away in her lovely home. The bedroom is just as described, lovely, clean and bed is very comfortable, there is a desk for work. The kitchen is brilliant and I felt totally at home!
Alison
September 2015
Accueil chaleureux. Chambre propre et spacieuse. Située à proximité de l'Université de Southampton Highfield (en voiture) et du quartier de Portswood.
R Mark
October 2015
Paola was a great host and made me feel very welcome!The house is superb. Location is great too.It is an opportunity to see a part of Southampton not awashed with tourists and students. I would definitely recommend this accomodation!
Damir
September 2015
What a genuine couple Dave & Paola are!! I stayed with them in Southampton and it has been an absolute pleasure. I really enjoyed both of them. You feel free with them but at home at the same time. House is brilliant; clean, spacious and very close to everything. There are supermarkets and shops at walking distance within the area. You can take a bus from there which leaves you in the city center in no more than 15 minutes. To sum up; 10 out of 10. Thoroughly recommended hosts! I would stay there again definetely.
Guille
August 2016
Very nice stay with David and Paola!
Hao
September 2015
I had a wonderful stay at Paola and David's place. I didn't stay at the room that was shown in the pictures, but it was an even nicer room (with a really comfortable double bed :)) and Paola messaged me before my arrival to make sure that I'm okay with it. She also gave me details about how to arrive at the house, which is really helpful. I was mostly out of the house, but I really enjoyed the few conversations I had with Paola and David. They are every hospitable and nice. Would definitely recommend it!
Min
August 2016
Tipo de habitación
Habitación privada
---
Tipo de propiedad
---
Capacidad
1
---
Dormitorios
1
Southampton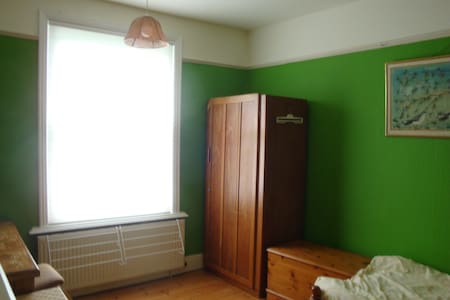 Large warm beautiful house in stunning woodland. Near Goodwood. Perfect spot for events such as Festival of Speed, the Revival, and horse racing events. Ideal for exploring Chichester and South Downs countryside. Equipped kitchen, dining room, large sitting TV room, conservatory with views across garden pond down to the sea.
Walk out the back door through the woods up to the top of the Downs and the South Downs Way - walks of 1 to 10 miles without passing a house. Only ten minutes drive to Goodwood House, or airfield, and Goodwood racecourse. Almost all the house is available. Fitted kitchen, dining room, large TV sitting room, conservatory, two double bedrooms, single beds (more suitable for children) in a loft up a spiral staircase. Garden house with sofa bed, with its own toilet and washbasin. The very helpful lady neighbour is available to hand over keys, show the house and answer any questions and handle any problems.
Only two neighbouring houses, neither of which overlook the garden. The bridle path leading to the cottage continues through the woods up the South Downs, eventually reaching the South Downs Way. You can walk for several miles without seeing any houses, and only passing walkers, cyclists and deer. Parking next to the cottage for several cars. 7 miles from Chichester, 7 miles from Petworth, 3 miles from Goodwood. The house has an alarm which we would prefer you to set when you are out.
Great house full of character! The Garden room/house is a fantastic bonus. Karen was extremely helpful on arrival and it was a very comfortable and enjoyable stay. Thank you!
Vicki
June 2016
Great cottage with plenty of space and a convenient location.
David
September 2016
Tipo de habitación
Casa/apto. entero
---
Tipo de propiedad
---
Capacidad
6
---
Dormitorios
4
Petworth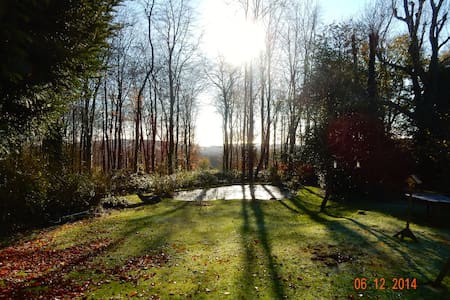 Charbury is a lovely Cotswold town, and our house is hidden in the middle. The little wooden cottage has a totally modernised interior. Open plan living space with kitchen (all mod cons), Sky TV (inc sport & movies), decked balcony & the bedroom is ensuite.
The Cottage is in the garden and it will be all yours to enjoy, we live just across the garden which your veranda overlooks. Local pubs are less than 5 minutes walk if you want to get out and about. I will always try to greet guests and having lived in the area for over 25 years I know all the best local pubs, restaurants, walks and days out you can take which I will be happy to share. I am very happy to stock the fridge in advance if required, the station is a short walk but if your bags are heavy i can always help you on your way.
Charlbury is that rare thing - an unspoilt Cotswold town. Off the beaten track, yet easy to reach; sought after, but down to earth too. Sequestered down winding B roads, Charlbury nestles on the Oxfordshire edge of the Cotswolds Area of Outstanding Natural Beauty. A town centre in characteristic local stone is joined by an attractive tangle of more modern developments, attractively perched on the side of the Evenlode valley. There's always something going in Charlbury, as the crowded noticeboards demonstrate. Talks in the Corner House, live music at the Shed and the Rose & Crown, guided walks, bustling churches, summer festivals, cricket and Morris teams - and that's just to scratch the surface. The charming Brunel station has direct trains to Oxford and London; the shops include a well-stocked and perpetually busy Co-op supermarket. Come for the weekend, and prepare to be enchanted by our friendly little town. By train Charlbury has an outstanding railway service for this size of town. Its Brunel-designed station, in the Evenlode Valley below the town, is situated on the newly upgraded Cotswold Line. Trains run on a generally hourly basis to Oxford, Reading and London Paddington, and in the other direction to Worcester and Great Malvern. Most services are operated by comfortable Inter-City trains. Travel time is around 1hr30 from London and 20mins from Oxford. The Network Railcard gives a 33% discount on off-peak travel to Charlbury. Connections from the Midlands and North are available at Oxford and Worcester. Charlbury is at the junction of several B-roads - making it easy to access but without crippling through traffic. Use the postcode OX7 3PJ for your satnav By bus Hourly buses run from Oxford (Stagecoach service S3), Witney and Chipping Norton (Stagecoach service X9). Note that half the S3 buses (and almost all evening services) run to Chipping Norton, not Charlbury - make sure you catch the right one. By bike Get cycling directions to Charlbury at cycle.travel, and find out about the new Cotswold Line Cycle Route through the town. Alternatively, from National Cycle Network Route 5 between Oxford and Banbury, leave at this crossroads and head through Kiddington. Cross the main A44 and follow a minor road, veering left before the entrance to Ditchley Park. When you emerge on the B road at the edge of a wood, turn right towards Charlbury. From overseas If arriving at Heathrow Airport, take the RailAir bus to Reading, the Heathrow Express train to London Paddington, or the coach to Oxford; then a train to Charlbury (its destination will be Worcester, Great Malvern or Hereford). From Gatwick, take the train to Reading, or the coach to Oxford, and change. From Birmingham airport, take the train to Oxford and change. The Witney Shuttle provides a daily, timetabled minibus service direct from Heathrow and Gatwick to any address in Charlbury: www.witneyshuttle.com, 08000 434633/01993 705993.
Charming self contained accommodation set within the lovely grounds of their home. The place was perfect for our overnight stay, and would have loved to stay longer. The place is really clean and has all mod cons, and if you need anything the host Helena is on hand. We could use the vast garden to play with our baby daughter, and at night t is so quiet and peaceful. Check in and out was easy and can be done without needing to see the host with a key deposit box which was very handy. We would not hesitate in returning, or recommending to friends.
Tom
August 2016
Everything was perfect. Ideal location for Wilderness and gorgeous little town. The barn was spot on and I have no complaints at all. Would definitely come back
Jonny
August 2016
Helena was very welcoming. Cabin was comfy and cosy and Charlbury was charming. Would recommend to friends.
Bridget
October 2016
Just what we were looking for this weekend. A warm welcome from the family. Clean, comfortable and well equipped. Would recommend!
Laura
October 2016
The cottage was exactly as described and perfect for our needs. Helena warmly greeted us when we arrived and showed us around the cottage and the grounds. Later, Martin kindly brought a high chair around for our daughter. The cottage was spotless. We will definitely be back for more weekends away from London. A wonderful hidden retreat.
Marc
June 2016
Nice place to stay. Plenty of space. Clean and comfortable, it felt homely. Everything we needed.
Emily
August 2015
The cottage is perfect for a self-sufficient break from the bustle of every day life. The setting is as idyllic as you could ask for, with a beautifully kept garden outside your door, a lovely old English village a short walk away and the quietest night's sleep you could wish for. Helena and family are lovely and made us feel very welcome. Highly recommended.
Robert
May 2016
Charming little town. Very nice space to stay. Recommended.
Tim
May 2016
Tipo de habitación
Casa/apto. entero
---
Tipo de propiedad
---
Capacidad
2
---
Dormitorios
1
Charlbury
6 min to tube station ,25-40 min to city central. Birght, quiet, safety space, there are two tube stations 5-6 and 10-12 minute-walk to Metropolitan Line, Bakeloo Line, Overground and train to city center . easy reach to Wembley stadium, north wickpark hospital and the University of Westminster
Big double room, quiet and safety. 这里是一个小镇,是伦敦60多个小镇的一部分, 步行十分钟左右,你就可以至镇上的商场、电影院、餐钦等。回到家里,这里又极其安静。 哈罗镇的治安在伦敦名列前矛,前两年曾被BBC排名至伦敦第二安全的地方。 Kitchen, wash machine, internet.
Very quiet and safety street and very nice neighborhood. 5-6 minutes walking or 10-12 minutes walking, you can arrive tube Harrow and Wealstone station or Harrow on the Hill station, you can take Bakeloo and Metropolitan line (subway) and overground line, you can take train to London as well.
They had great communication with us via AirBnB. They also accommodated us with our luggage issue which was such a big help. The room was good size and clean. The location of the room is right next to the kitchen area. The kitchen was a little messy and it was hard to find what you needed. The bathroom is also in the walkway so it wasn't as private as I expected. Overall our experience was okay, especially for the price.
Renae
October 2015
Friendly and polite family Large room and bed is very comfortable 12 mins walk to Harrow Wealdstone station which goes to city and about the same walk to Tesco. 15 Minutes to shopping centre and Harrow-on-the-Hill station which also brings you to London
Conrad
November 2015
This time we couldn't use the dryer,but she made a place for hanging our laundry.And they allowed us to use heating because I forgot bringing thick clothes. Thank you Honing!I stayed in Harrow last year (URL HIDDEN) a nice,safe and quiet area.Of course including her place. Shower and toilet are tiny,but concidering the price it 's okay for us. At that time only expensive hotel's room were available.
Sumie
October 2015
I had a very comfortable stay here. Hongling and her family were very approachable and helpful. The rooms and amenities were exactly as shown in the pics / mentioned in airbnb. The neighborhood was safe and peaceful. A number of restaurants + supermarket (Tesco) near Harrow station road which is just 10-12 mins walk. Also, the closet train stations are within walking distance: Harrow and Wealdstone (10 mins) and Harrow on the Hill (15 mins). Will definitely recommend!!
Sudhir
July 2016
Great place with nice view. Hong Ling and her husband are very helpful to provide everything I need. Great host ~
Sze Kye
November 2016
The host was very friendly. They made us very comfortable. They did not have a toaster however when we asked they got a new one. The locality is very safe and quite and a number of restaurants are around 5-7 mins walk from the house. Thank you Yan family.
ambreen
December 2015
We had a great time staying in a quiet and safe environment. The room is clean and tidy, like a hotel room. Hong's family is polite and hospitable. They respond to every request. We enjoy staying with them. Thank you so much for the warm welcome:)!
Hiu Yee
June 2016
everything was perfect, nice and clean room, very nice and friendly people
Arnas
September 2015
Tipo de habitación
Habitación privada
---
Tipo de propiedad
---
Capacidad
2
---
Dormitorios
1
Harrow
This lovely, spacious, newly-built four-bedroom house offers the perfect accommodation solution for a family visiting Oxford for a few days or weeks. The house is fully equipped with everything that you would expect in a home, and offers very spacious rooms and a large number of bathrooms. The property also benefits from two parking spaces.
The Luxurious Mansion offers a perfect setting for groups of up to 11 people. It provides 4 bedrooms (3 double beds, 3 single beds, 1 double sofa bed, 1 toddler cot); 1 family bathroom, 2 en-suite bathrooms, and an additional ground floor toilet; 3 parking spaces and a nice back yard with a large apple tree and a herb garden. We provide hotel quality linen and towels and weekly cleaning. We also provide hair dryers and basic toiletries. Additional housekeeping can be arranged for an extra fee. The living area consists of an open plan kitchen/dining area with ample seating space for up to 12 people. The living area has a flat-screen TV with Sky channels and free, high-speed Wi-Fi. The kitchen is fully equipped with cooking utensils, appliances (including a dishwasher), cutlery and crockery, with a more personal touch being offered by the Nespresso coffee machine provided. There is also a well-lit study on the ground floor with an all-in-one printer/scanner/photocopier that can be used as an office for those who may need to work from home, and a separate games room for families with children. The property is kitted out with smoke and carbon monoxide detectors, a first aid kit, a fire extinguisher and a fire blanket. A utility room offers a separate sink, a washer/dryer and an iron with an ironing board. At Peymans we strive to offer an excellent customer service. We will be at hand via email and phone to deal with any queries that you might have prior to and during your stay and look forward to welcoming you soon.
Is located right next to a bus stop, thus offering easy access into the city centre. It is perfect for families, couples, academic visitors and groups of friends coming to visit. It is located within easy access of Oxford University, Summertown shops and schools, a child-friendly local park, Oxford Parkway Station and the John Radcliffe Hospital. The Luxurious Mansion is the perfect home from home for families wishing to visit their children at local boarding schools as it is less than 1 mile away from Summertown. The Cutteslowe Park, located a mere 1.5 miles from the property, offers an excellent setting for daily walks. For those wishing to undertake a day trip in the close proximity, Blenheim Palace can be reached by car in about 10 minutes. Other day excursions could be undertaken to visit the National History Museum (2.4 miles) or the Bodleian Library (2.7 miles). The house is around the corner from the A40 ring road at a distance of only 0.2 miles, yet sufficiently set back from the road so as not to have any noise disturbance from the traffic. The nearest airport is London Heathrow Airport (47.7 miles). For medics and researchers visiting the John Radcliffe Hospital in Headington, this means they can reach it in just 7 minutes by car. Other things to note are that high-speed free Wi-Fi is available for all guests free of charge. Guests may check in any time after 3pm on the day of arrival and may check out any time before 11am on the day of departure. Guests wishing to check-out after 11am without arranging later check-out in advance will be subjected to an additional fee of 40GBP per hour for every hour, or pro rata for part of an hour. If a late check-out is approved by Peymans at the time of booking, the cost is 20GBP per hour. Check-ins before 3pm and after 8pm are subject to an additional charge of 30GBP. We have a travel cot that can be set up for a toddler, in addition to the advertised number of guests that can stay in the flat. We only accept bookings from guests over 23 years of age at the time of booking. Bookings will be cancelled without refund for anyone booking who is under the age of 23 or who fails to provide valid photo ID. Please note that pricing may vary at the point of reservation depending on a number of factors, such as day of the week, number of nights, number of people staying and season. Standard house rules apply and include being respectful of the property and neighbours, being tidy and minding noise levels outside of social hours. No parties are allowed. No noise between 11pm and 9am. Please note that this is a residential area and we take the comfort of our long-term neighbours extremely seriously. Our neighbours are very sensitive to noise made by our guests, so if you are planning on a party or a rowdy evening out we would like to kindly ask you to consider other accommodation options. Only the persons who have been taken account for upon booking are allowed to stay at and access the property. Not complying with these terms and conditions will result in the full or partial loss of the security deposit. A security deposit is required upon arrival for incidentals, and is released subject to a damage inspection of accommodation. The security deposit may be kept for violation of house rules or damage to the property. The security deposit is kept in the form of a pre-authorisation of funds on your card, as opposed to a charge. Please note that it can take up to 10 working days for the deposit to reach your bank following release of the funds. If this listing is unavailable on your preferred dates, you may also wish to take a look at the other properties that we manage - labelled (Peymans).
Big and clean place. Facilities are great!!
Hector
December 2016
Tipo de habitación
Casa/apto. entero
---
Tipo de propiedad
---
Capacidad
11
---
Dormitorios
4
Oxford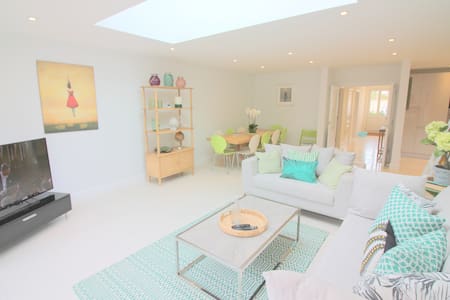 We are so fortunate to be the custodians of Bowmore Lodge - a luxury lakeside home in the heart of the Cotswolds - that we feel it is too beautiful to keep just to ourselves. It's our family's holiday home, that we rent out occasionally.
OUR HOME AND THE LAKES We are so fortunate to be the custodians of Bowmore Lodge - a luxury country home in the heart of the Cotswolds - that we feel it is too beautiful to keep just to ourselves. As it is our family's holiday home, the Lodge is only rented out occasionally. Our clients are not visitors, they are welcomed guests to our countryside family home. Bowmore Lodge is equipped with everything a family needs - board games, logs for a roaring fire and outdoor furniture to curl up on and enjoy the view. Bowmore Lodge is situated at the exclusive Lakes by yoo second home estate. Founded by property developer John Hitchcox, The Lakes was created to be a special place for families. Jade Jagger, Kelly Hoppen and Elle MacPherson have designed homes here and enjoyed secluded breaks at the Lakes. The House The Lakes is built on six clear water lakes. Bowmore Lodge is built on the edge of the estate's largest lake, Bowmore. South-facing, the open-plan home is bathed in natural light all year around. Because it is our family holiday home, Bowmore Lodge is designed and furnished to a very high level. We want our guests to feel as at home at Bowmore Lodge as we do. Bowmore Lodge, which is 3,500 sq ft, offers a wide range of amenities. For the children we provide: travel cot, high chair, booster chairs, stair gates, potty, children's table and four chairs and a wide range of board games to keep everyone entertained. The lodge includes a two-person steam room, claw bath tub, Sonos music system (Napster and LastFM), a wood-burning fireplace with logs supplied, two kayaks and life vests which can be used late spring and throughout the summer) and an extensive DVD collection. The kitchen is fully equipped but if you wish to relax, the Lakes concierge service is happy to arrange bespoke catering from breakfast hampers to a chef for a special dinner party. Guests can have access to all the facilities at the Lakes, including tennis courts, boating fishing (Spring and Summer months), zip wire, play ground Spa and Gym (between the hours of 2-5pm). All guests require an Induction to the Spa and an addition cost of £50 for each group is charged by The Lakes Management We have a wonderful caretaker called Pauline who's on hand to help with anything, plus the Lakes Concierge Service with a range of 5 star services
Enjoy the privacy, seclusion and pure indulgence of one of our exclusive use homes at The Lakes by Yoo. Each property boasts award winning design coupled with breathtaking views and a truly idyllic setting. Lakes by Yoo is set in the heart of the Cotswolds, between Lechlade on Thames and Fairford. The Cotswolds region is famous for its beautiful quintessentially English countryside and villages, charming local pubs, antiques fairs and village fetes. The estate provides access to a simpler rural life, with weekends spent browsing local farmers markets and farm shops replacing the supermarket run, and fresh produce can be delivered directly, probably by the butcher or cheese maker themselves. The Lakes are ideally located to explore the Cotswolds, designated an area of outstanding natural beauty, with close proximity to many renowned Cotswold towns such as Bourton on the Water (the Venice of the Cotswolds), Burford, Stow on the Wold, Moreton in Marsh and Chipping Camden. The larger spa towns of Bath (a World Heritage Site) and Cheltenham (famed for it's beautiful Regency architecture) or Oxford (the city of dreaming spires) are all within easy reach. Local pubs within walking distance include The Swan at Southrop, a beautiful country inn and local celebrity haunt. Look out for Richard and Emma Keene's Cotswold Premium Lager, sold by the keg to a handful of local pubs. Other nearby pubs include The Bell at Sapperton, The Falcon Inn near Fairford, and The Plough at Kingham. There are a variety of restaurants to suit all tastes within easy reach, whether you are looking for Italian, Indian, traditional British cuisine or fine dining.
Excellent hosts.
Amit
July 2016
Tipo de habitación
Casa/apto. entero
---
Tipo de propiedad
---
Capacidad
11
---
Dormitorios
5
Lechlade-on-Thames
1

–

8

de

8 Alquileres de Villas