Nuestra casa de huéspedes es perfecto para una sola persona o una pareja. Es el lugar ideal para alojarse si estás de visita en Los Ángeles y quiere un lugar lejos del ajetreo y el bullicio de la ciudad. Esta será su espacio privado con su propia entrada, separada de la casa principal. Barrio es tranquilo y seguro. Totalmente amueblado, casa de huéspedes privada. cocina completa con nevera, microondas, estufa / horno. cama de matrimonio en el loft. Wi-Fi, televisión de 40 pulgadas, y el cable. Aire acondicionado / calefacción por lo que se siente cómodo, no importa cómo inusualmente caliente o frío que hace! La casa de huéspedes recientemente reformado dispone de tuberías nuevas y nueva ducha y WC. También tiene una hamaca y un sofá de cuero con 2 sofás de dos plazas. ¡Muy limpio! limpieza de una sola vez de la de $ 75.00. Un depósito de seguridad $ 250 se aplica a estancias de más de 2 meses. Será devuelto en su totalidad si el espacio se ha mantenido y no haya sufrido daños. Hay un Bulldog Inglés en la propiedad y es un valioso miembro de nuestra familia. Nunca ha estado en la casa de huéspedes, pero si usted es muy alérgico usted debe ser consciente de esto. ubicación conveniente para; - Centros Comerciales Autopistas & Grocery Stores (1-3 millas), - Universidad Estatal de California Los Ángeles (3 millas), - El centro de Los Ángeles, China Town, Little Tokyo, Walt Disney Concert Hall (8-10 millas, 15 minutos). - Hollywood (16 millas, 30 minutos) - Disneyland (34 millas, 45 minutos) - Santa Mónica (23 millas, 40 minutos) - Venice Beach (27 millas, 45 minutos) - Malibu (47 millas, 60 minutos) A poca distancia de transporte público. Gracias y nos gustaría verle pronto :)
Our stay in the guest house was great! My family and I spent Christmas weekend there and everything was exactly as we expected and more. The guest house is very nicely remodeled with conveniences such as a stove to cook with, heater that kept us warm as the weather wasn't the best during our stay, and a spacious bathroom. Felt very welcomed with the little snacks that Alex and Patty left for us. Alex and Patty were great hosts and we felt right at home throughout our stay. Thanks, would love to stay with you guys again! We grew found of your dog Nut by the end :-)
Wenjie
2012-12-27T00:00:00Z
We got the best sleep we've had in a long time at this hideaway guest house in Alhambra. Very cozy and QUIET! Lots of toys in the backyard for our daughter to play with. Thank you Alejandro and Patty!
Jay
2012-10-15T00:00:00Z
Alex and Patty provided a private cozy guesthouse for my classmate and me to stay. They were really aware of our privacy, extremely considerate, and helped us with everything. Alex even brought us cakes while we were working at night. They were also flexible and willing to help. If you are lucky enough, you will be able to be part of their family, bathing in the sunshine, listing to the light music, feeling the breeze on your face, seeing kids playing with their lovely dog "Nut"… Alex and Patty's place will be definitely beyond your expectations. You will be easy and free there.
Yuan-Hao
2014-04-17T00:00:00Z
Alex and his wife Patty couldn't have made the experience any better. We were made to feel incredibly welcome, didn't once feel intrusive for walking through their garden to the apartment. Nut the dog is gorgeous and friendly and we wouldn't really have known there were children in the house.
Jacqui
2016-09-12T00:00:00Z
I stayed at Alex and Patty's home with my dad for a month. The place was great, it is very modern and has everything you need. In addition, the area is very nice and we always felt safe. Alex and Patty are also great hosts! They were extremely friendly and helpful. They made us feel extremely comfortable. On top of that, they own the cutest, most loving little dog! I absolutely fell in love with Nut. I would definitely recommend Alex and Patty's apartment to anyone.
Damaris
2015-01-27T00:00:00Z
Alex and Patty are great hosts and always there if something is needed. The guest house was perfect for me and my girlfriend. Located in a safe quiet neighborhood. The little dog was charming, everything worked super smooth and we'd love to come back during next year. Thanks for a great stay!
Sebastian
2013-02-02T00:00:00Z
Alex and Patty made me feel comfortable and at home! They were extremely friendly and gave me my privacy, but were there when something needed to be fixed or solved. Their three children and Nut were adorable. Their place is in a very safe and quiet neighborhood, which was a definite plus. I would definitely stay here again if I come back to LA.
Jamie
2015-06-27T00:00:00Z
I had never done AirBnB before and was a bit apprhensive. Alex and Patty, however, were a pleasure to deal with and have made me want to deal with AirBnB bookings in the future. I booked last minute and Alex and Patty were very gracious in getting the guesthouse cleaned for me ASAP. They were also exceptionally quick to respond to my inquiry and booking. The listing was exactly as described and is well-located in Alhambra. I needed to commute to both downtown LA and to Pasadena, and the guesthouse was only about 20 minutes away from both. Beyond that, Alex and Patty were very conscientious about texting me to see if I needed anything, but to also give me my space so that the guesthouse truly felt like my own. Alex and Patty responded quickly to my texts and were the perfect hosts. Their dog, Nut, was a side-benefit -- super cute and friendly!
Melissa
2014-06-16T00:00:00Z
Tipo de habitación
Casa/apto. entero
---
Tipo de propiedad
Loft
---
Capacidad
2
---
Dormitorios
Alhambra, California, Estados Unidos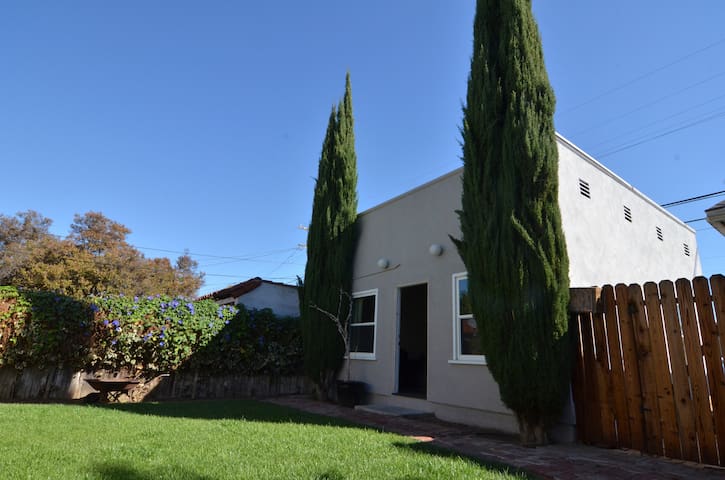 Walk to everything from this sparkling 2-story top-floor Old Town loft - Pasadena Convention Center, restaurants, bars, cafés, shopping, theaters, museums, groceries and more! Metro Gold Line 'Del Mar' station across the street, next to Stone Brewery. 1.5 blocks to the Colorado for the Rose Parade. Local shuttle to the Rose Bowl. King bed & full bath upstairs, 2nd full bath downstairs. Additional single bed in living room. Parking included.
This 1360 ft² (126 m²) modern top-floor loft is flooded with natural light from 2-story windows. Upstairs features a king bed and bathroom. Downstairs features polished concrete floors, a fully-loaded kitchen, dining room, living room and full bathroom. There is also a twin bed in the living room for additional guest. The loft also features instant hot water, keyless entry, and a washer and dryer. An assigned parking space is located in the gated underground garage. PLEASE NOTE: This is an open *loft*; the upstairs bedroom is surrounded by a short wall, but is not fully enclosed. Consequently, this space is not suitable for young children.
Old Pasadena, or "Old Town," is a charming town with a long history and a strong sense of community. The neighborhood is clean and safe, with lush trees and mountain views. Colorado Blvd and the surrounding streets are filled with an eclectic collection of establishments, from darkened gastropubs and hipster cafés to dusty music stores and colorful quilting shops, all tucked into vintage and quirky old storefronts. The Levitt Pavilion hosts free, daily live music events throughout the summer. Performers and musicians are also tucked down the alleys around Colorado Blvd. Farmers Market is held every Sunday from 9 AM - 2 PM. The museums, Rose Parade, Rose Bowl and surrounding state parks make Pasadena a perfect place to stay visit, and an even better place to live. ☺️
We spend three weeks here and it was a fantastic experience here. The apartment is super clean and organized. We really love the decoration here as well, the place is just the same as the picture. The environment here is quiet and very convenient. Decent restaurants and whole foods market is right down the street. The host is very friendly and patient, loving to help us solve problems.
Sherry
2017-03-11T00:00:00Z
All that's advertised is delivered, here. Great hosts too.
Ike
2017-02-20T00:00:00Z
We stayed at this beautifull place and it was great! This place offers private parking, that directly leads to a elevator. We were greeted as planned and got a personal explanation. This place offers everything privacy, comfort and more. Even the little things were thought off;-)
Antoine
2017-02-05T00:00:00Z
What you see in the photos and what is written by Tate is totally accurate. Communication was very easy and having a inside parking spot very handy.
Jeffrey
2017-03-21T00:00:00Z
I visited Pasadena for the Rose Bowl. The apartment is just superb and was an ideal place to stay. The decor and furnishings are quite beautiful. It felt like something out of a magazine. The location is great also. Maybe 4-5 minutes walk to Colorado St. and probably 40-45 minutes to the stadium itself. Much easier and more fun to walk there and back rather than bothering with the shuttle. It was also impressively quiet at night, considering how close to everything the apartment was. The wifi is fast and the upstairs shower is amazing. Wonderful experience all round!
Craig
2017-01-04T00:00:00Z
Tipo de habitación
Casa/apto. entero
---
Tipo de propiedad
Loft
---
Capacidad
3
---
Dormitorios
Pasadena, California, Estados Unidos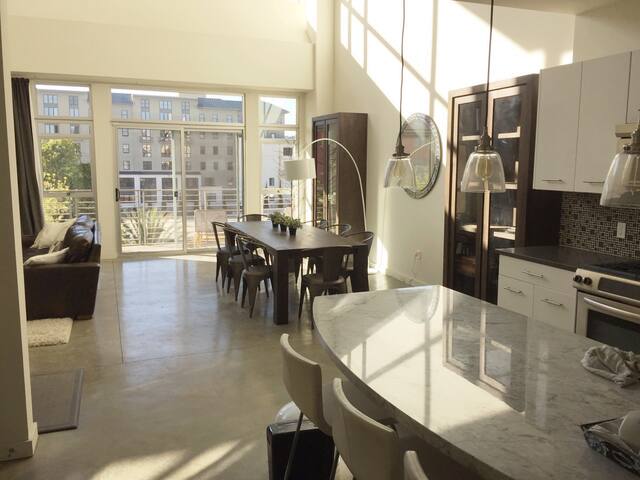 Enter through the driveway towards the casita at the back, washer/dryer located at a separate room. Close to Eaton Canyon Park for hiking, quiet neighborhood. Close to Pasadena Rose Bowl, Cafes, Shopping and Museum.
Surrounded by tree lined neighborhood and the San Gabriel Mountain. Five minutes from Eaton Canyon Park, minutes from Café's and shopping Center, original hardwood floor. This home is ready to welcome you.
This home is located in a very quiet neighborhood surrounded by the son Gabriel Mountains. Walking distance to the Eaton Canyon reservoir.
Ms Dorothy was super great at my trip. She was pending at all times there was very good communication. The house is quite spacious, clean and easy to get to it. Thank you very much Ms Dorothy. Also thanks for the food.
Ted
2016-10-29T00:00:00Z
Dorothy was a very accommodating and responsive host. She had stocked the house with snacks and fruit and provided everything we requested. We needed to extend our stay and she quickly responded and accommodated our request. We would definitely stay here again!!
Cheri
2016-05-27T00:00:00Z
There are nice things to say – it was clean, there was breakfast cereal, milk, oranges from the tree outside, coffee maker, microwave, plus the kitchen is well equipped – hard to say whose frozen food was in the freezer – previous tenants? The bed was comfortable and there were enough blankets. It is a quiet location and probably quite nice in in warmer weather. And it is very near my daughter's home. We booked a week's stay over New Year's. Now the nitty-gritty: Text messages were the only way to communicate with Dorothy Yu. We never met her or anyone else from the real estate company that owns this property. The adjacent house has two rental apartments in it. Our apartment is a converted garage at the rear of the property. There is a 5" threshold between the bedroom and the room leading to the bathroom. I complained about the threshold and Dorothy disavowed any knowledge of it: "This is the first time I heard about this issue." This plus other problems prompted an offer of one night's credit to make up for this. It took almost 2 weeks for the check to be processed. The apartment is not centrally heated and it was cold outside. A space heater with an exposed element was the only source of heat and it made such ominous buzzing and fizzling noises when plugged in that I unplugged it. After informing Dorothy about this, a new space heater was delivered the next day. Also, the first day there was no hot water. The bathroom sink plug does not work – it's bent out of shape. The hot water faucet in the tub works backwards! On January 2 – the day of the Rose Bowl Parade - Dorothy Yu offered to let us move to one of the units in the main house for the next 2 nights, but since our stay was almost over, we decided to stay put. Although we did not have a car, parking could be a problem. Street parking seemed the norm for the neighborhood. Sharing a driveway with the other Airbnb folks could be problematic.
Cynthia
2017-01-04T00:00:00Z
There were many things to love about this listing. The space is just like the photos on the website. The neighborhood is so picturesque as it sits at the base of the mountains and is close to a canyon park. My mom and I stayed here in order to attend the Rose Parade, and the proximity to Pasadena was perfect - and for a fantastic price! My mother found the bed quite comfortable, and the couch (which I slept on) was very comfortable as well. Dorothy was very responsive to any requests we had, and she left an incredible supply of food that could have easily fed us for the entire trip! On the other hand, it's important to note that heat in this unit is limited. I imagine this unit would be very comfortable in the spring, summer, and fall, but evening temperatures in late December during our visit reached into the 30s. Although heat is listed as an amenity, there was NO heat in the unit. Electronic space heaters were provided, but it was not until after we requested them that first night and we had to wait until the next day to receive them. In addition, hot water is limited. The shower could be scalding (with weak water pressure from the shower head), but the bathroom and kitchen sinks rarely provided warm water (even when we tried different faucets in case they were reverse plumbed). Overall, this was a great stay, but being aware of the items above will help you plan your trip accordingly.
Adam
2016-01-03T00:00:00Z
Dorothy's studio is great in so many ways! I stayed there for six weeks - moved to Pasadena for a new job and needed a furnished place to call home until I found a long term rental. The studio is on a beautiful street - the view takes your breath away every morning when you walk to your car. It is quiet and peaceful, but close to everything - less than 15 minutes to Old Town Pasadena. The studio is well equipped (microwave, large fridge, coffee machine, etc), very clean, the linens and towels were soft, and Dorothy went out of her way to make my arrival pleasant with a fruit basket, snacks and water in the fridge, toiletries, etc. There is a bigger house in the front which shares the yard with the studio, but it's still very private. Eaton Canyon is super close. There are citrus trees and roses in the garden, it makes for a very pretty setting. I really enjoyed my stay.
Adrienne
2016-04-11T00:00:00Z
Our stay at Dorothy's house was comfortable. Dorothy is an excellent host and always answered promptly to any concerns or issues. Her house is very clean and in a very good neighborhood. Our stay at her place will be a very memorable experience.
Charvi
2016-08-21T00:00:00Z
I have stayed in another one of Dorothy's properties and again I was pleased. The location is almost an hour from LA with traffic if heading that way but nonetheless, a great space to stay. View of mountains outside your door. Fenced in for security. Great amenities. Decent parking. Beautiful neighborhood. And private! Thanks again !!
Veka
2016-02-22T00:00:00Z
This is a wonderful place, fully equipped, very quiet and I was able to park in the driveway. Dorothy and her colleague were very welcoming and I was so impressed with all the food that was provided for my 4 night stay. I was attending a conference and loved being able to explore the area outside of the "hotel" experience. Also, it came in very handy to be able to do a load of laundry before the second leg of my journey. Oh, and the bed is super comfy!
Cathy
2015-11-10T00:00:00Z
Tipo de habitación
Casa/apto. entero
---
Tipo de propiedad
Loft
---
Capacidad
3
---
Dormitorios
Altadena, California, Estados Unidos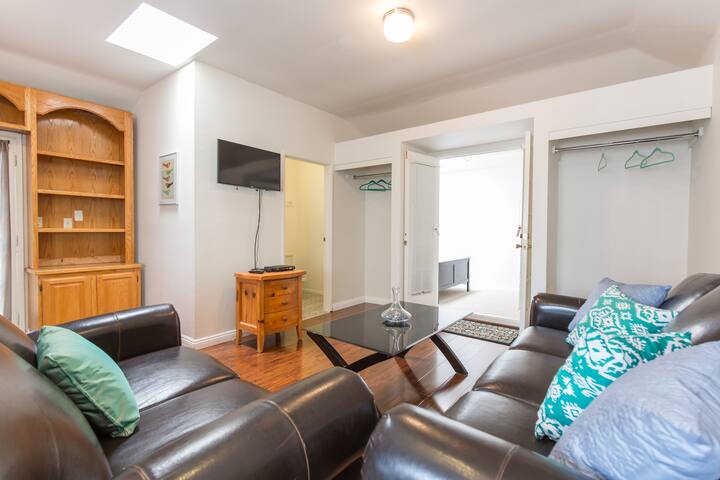 Incredibly well located in an urban oasis minutes away from the city, you will love this peaceful and spacious loft with its great fully equipped contemporary kitchen, the comfortable king size bed, the terrasses and the amazing organic garden with more than 140 trees. the kitchen comes with all the spices you may need. Master bedroom with private terrace is 20x30 feet, and the kitchen is 20 x 25 feet. View all of our listings https://www.airbnb.com/s?host_id=23820061&s_tag=hY7CIbqX
It is a perfect loft for up to 4 with a comfortable king size bed in the huge master bedroom and a full sofa in a spacious nook , one full bathroom. The wide and bright kitchen fully equipped has a oven, a dishwasher, a duality toaster, advance cookware, coffee and tea along with essentials as olive oil, vinegar, salt and pepper and multitude of spices, a great place to cook while enjoying guests company! you will have enough to make yourself a meal if you arrive late your first night and cannot shop.You will find either a couple beers in the fridge or a bottle of wine for you , complimentary of course. We provide linens and towels for all guests. If you are staying longer than 10 days there is a mandatory maid service , including housekeeping, sheets, towels, cleaning and supplies ,we are providing these services for an additional charge of $120.00 per intervention ( twice a month ) . However, this additional service is payable in CASH, directly to the technician. The great outdoor space has 2 private dining areas, seats six easily. Plenty of yoga space indoors or outdoors. Parking is in front of house , 2 spaces . A. loves to garden and grows fruits and vegetables maybe because we are french we love to cook and you may have the chance to enjoy some of our jams or soups if season allows!
This is Highland Park, we are in the very quiet and safe part of the neighborhood, with a tennis and racket club, Arroyo Secco golf course, San Pascual stables, soccer and base ball fields at walking distance. San Pascual park is literaly across the street, as well as the lower Arroyo secco park great for running and hiking ( also archery range ) Minutes away from South Pasadena's local shops and restaurants, close to downtown L.A and very accessible to surrounding areas. Perfect place to stay to enjoy the January 1st Rose Parade (walking distance to Orange grove and Madeline at the beginning of the float). Our location is also minutes away to the Art Center College of Design, Caltec, Occidental College,Nasa- Jpl, the Huntington gardens, Glendale and Burbank. The Hip spots of Figueroa, York and 51st, are both minutes away .
Exceptional space with all the amenities and a very gracious host. Great location for me, across from a park. Definitely will stay there again.
Craig
2017-02-24T00:00:00Z
I booked Florence and Alain's loft for a weekend getaway for my girlfriend and I. I had not shown her the reservation because I did want to surprise her. While she very pleasantly surprised, I would have to say I was almost just as positively surprised, even though I knew very well about the reservation I was getting into. Quality of the Host: Florence and Alain were very attentive to inquiries before and after I confirmed my reservation in a way that made me feel like they cared about how much I enjoyed my stay at their loft. During our conversations, they not only provided the necessary instructions for the loft, but also seasoned their communication with the history of their property. In addition to the physical copy of the manual that was left in the house for the amenities and technical aspects of the loft, Florence and Alain also provided me an electronic copy of the manual. I found this to be very handy because I could quickly search for things as I encountered them in the loft. In a brief phone conversation with Alain, I found that he was very polite, friendly, and primarily concerned with the quality of my stay. The Feel: The handcrafted loft was nothing short of unique. The skylights and strategic windows provided ample natural lighting until sundown while providing the utmost privacy. The lighting in the house was just as impressive after sundown. Day or night you could practically shoot a film there. The layout and choice of decorations/furnishings actively shaped my taste in what I want out of the next place I live. I did have two friends visit to play games and have a couple of drinks, and again they were just as impressed as we were. While we did want to try as much Pasadena cuisine during our stay as possible, our guilty pleasure quickly became ordering quality takeout and eating at the loft because it was so hard to leave! Amenities: The California King was extremely comfortable. The heating/cooling aggressively adapted to the temperature it was set to. However it was rarely used because the loft is so well insulated. The kitchen was fully stocked. The bath/shower quickly heated and provided comfortable pressure. There was also a washer/dryer available. Parking for the loft was in front of the loft, but safely behind a gate, off the street. The Property: The loft is naturally hidden from the street by a multitude of trees. You can essentially have every window open in the house and feel confident that you have the utmost privacy. There was a park literally across the street and plenty of fun things to do within a 5 minute drive from the loft. When we left the loft, we definitely had the "I wish we could stay just one more day feeling." Merci Florence and Alain!
Max
2016-10-09T00:00:00Z
This was a "find." I was just looking for a place near my son's apartment and stumbled on to this gem. It could not have been nicer. Lovely, quiet, place and very cool and helpful hosts. Highly recommended.
Joseph
2017-02-14T00:00:00Z
This is a beautiful, serene property in a lovely setting, yet close to everything. We stayed for 10 days and were sad to leave. The kitchen and dining area is fabulous and great for entertaining our local family members. The bedroom with sitting area is very comfortable and clean, and we loved having breakfast in the private garden area off the bedroom. The hosts are charming and welcoming, answering all questions promptly and even leaving us oranges and grapefruit from their own extensive gardens. The location is close to public transportation, the freeway and Pasadena shopping and farmer's markets, yet is very quiet. We hope to return many times in the future.
Marianna
2017-03-11T00:00:00Z
This house is in a very nice neighborhood. The drive to the house featured beautiful properties. I felt like I was driving into old Hollywood. Entry into the house was very easy. The only thing I didn't pay attention to in the pictures were the lack of curtains on all windows in the kitchen area. The loft sits next to the hosts other Airbnb properties. If you want complete privacy this may not be the place for you. I could not see into any other houses but the expansive open windows may be off putting to some. The kitchen had everything I needed to feel right at home. The house is gorgeous! So quiet, which is what I was looking for. The layout is beautiful and the backyard transports you to the wilderness. The bed was comfortable. If you want to sleep in you will need to close the black out curtains over the skylights. However there are no curtains that cover the other windows in the bedroom so if you want to sleep in you will need to bring an eye mask. All of this is displayed in the beautiful pictures of the property but for some reason I overlooked it. All in all it was a beautiful quiet retreat.
Cassandra
2017-01-14T00:00:00Z
We loved this Airbnb property! The loft itself is beautiful, comfortable, and spacious, with a wonderful kitchen/eating area as it's core. Add to that a huge bedroom with a lovely king-sized bed plus fab bathroom! Then, the sun/window-filled modern/artistic/hand-made space surrounded by extraordinary outdoor spaces = a delight! There are several Airbnb options which share the spectacular garden area within the confines of Alain's property, which reduces privacy slightly but at the same time makes it a magical place. We found the loft to be very clean and well-equipped, and Alain to be both responsive to queries as well as a delightful host in person. Would love to stay again!
Lynne
2017-03-14T00:00:00Z
The loft is spacious and cozy at once, a great gathering place for guests around the table in the huge kitchen. The back yard is truly a retreat, where you can rest in privacy surrounded by fruit trees and rustic fountains. The huge San Pascual park across the street is a lively hub, very community-oriented with family picnics, soccer fields, pickup basketball, baseball games, horses, joggers and dog-walkers. Yet never a nuisance for the loft in any way re noise, parking, etc. This is a great community and a great place to stay and enjoy the many cultural hotspots of Pasadena.
Jenifer
2016-11-27T00:00:00Z
If you are thinking of choosing this property, please do yourself a favor and book it immediately. By far my best airbnb experience. Super comfortable bed, great shower and kitchen, super clean and comfortable. This house had everything we were looking for and more. Plus Alain is basically the coolest guy ever so yeah, stay here if you can.
Daniel
2017-02-20T00:00:00Z
Tipo de habitación
Casa/apto. entero
---
Tipo de propiedad
Loft
---
Capacidad
4
---
Dormitorios
Los Ángeles, California, Estados Unidos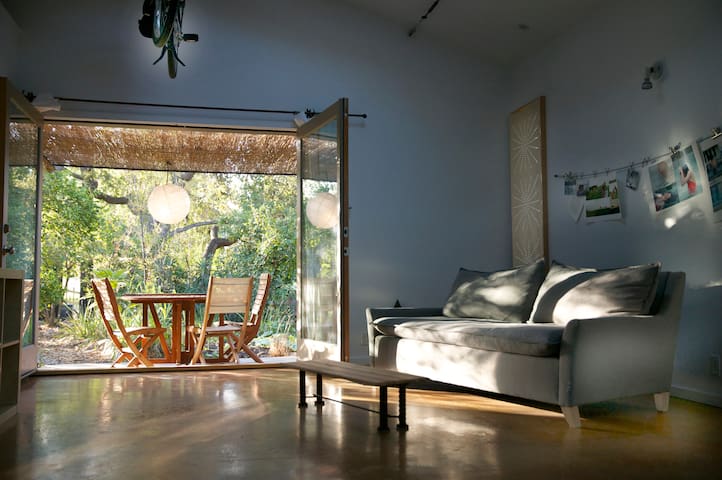 My place is heavenly. It is in Old Town Pasadena and close to The Rose Bowl, South Pasadena Farmer's Market, The Park and Trader Joes. Walk to the parade or view from outside on the balcony of your own home. You'll love my place because of the light, the kitchen, the outdoors space, and the neighborhood. My place is good for couples, solo adventurers, business travelers, and families (with kids).
The host canceled this reservation 3 days before arrival. This is an automated posting.
Steve
2016-12-23T00:00:00Z
Tipo de habitación
Casa/apto. entero
---
Tipo de propiedad
Loft
---
Capacidad
2
---
Dormitorios
Pasadena, California, Estados Unidos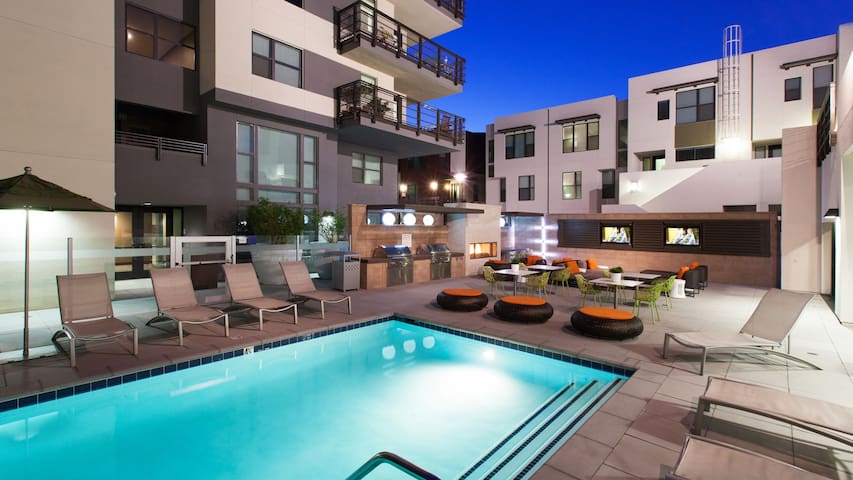 Big Beautiful Modern Loft. In the heart of Pasadena; near Historic Old Town, Dining, Shopping, Night Life. Very close to the Rose bowl parade and stadium. 2 balconies, 2 bars, 9ft pool table, BBQ grill, en suite laundry. secure underground parking.
I stayed at Shawn's loft Dec 31-Jan 2 for the Rose Bowl. This was the first time Shawn had rented out his loft. Upon check-in, the place had not been cleaned. This was a major issue, as the bathrooms were filthy. Hopefully Shawn learned his lesson from this experience and has the place ready to go for check-in. He was able to get a cleaning crew there on the 2nd day of my stay and I did receive a credit from Airbnb for the inconvenience. The loft itself was very nice and quite spacious. It is within walking distance to both the parade route (0.9 miles) and stadium (1.7 miles). Please note that there are no private bedrooms. One of the beds is upstairs in the loft and the other is downstairs in the corner of the main living area. It would be great for a group of guys/girls or a family, but not necessarily for two couples as there is little privacy. The cleanliness at check-in is the only reason for my 3 star review. If the place had been cleaned prior to my arrival, I would have given it 5 stars.
Brandon
2016-01-03T00:00:00Z
Tipo de habitación
Casa/apto. entero
---
Tipo de propiedad
Loft
---
Capacidad
4
---
Dormitorios
Pasadena, California, Estados Unidos
Temple City - Airbnb
:
Una media de

4.82

estrellas de un total de

5

de

74

evaluaciones de huéspedes
Introduce las fechas para ver el precio total. Ten en cuenta que se aplicarán tarifas adicionales y es posible que se añadan impuestos.