Sólo un 5 minutos en taxi desde la estación local de Amtrak, es nuestra buhardilla cómodo, justo en el corazón de Rhinebeck. excelentes restaurantes, tiendas interesantes, Moviehouse indie, tienda de alimentos saludables y estudios de yoga son un momento a pie de distancia. 15 minutos a Omega Institute.
Romántica iluminada habitación principal tiene cama confortable con luces de lectura y los puertos USB, dos sofás, TV con Roku, gran mesa de comedor, oficina, armarios w perchas y espejos de cuerpo entero. cocina está equipada con suministros de café y té, y un baño bien iluminado con artículos de aseo y secador de pelo. Paraguas y hierro allí también!
Nuestra lista es la más céntrica del centro de Rhinebeck de todos los listados disponibles en la zona. A pie de todos los restaurantes y tiendas en 1-2 minutos (literalmente) A una manzana, hay una cerveza artesanal y cafetería charcutería (no dude en rellenar nuestro Growler si lo desea), vino y tapas bar, sala de cine indy, shoppe del vino , nostálgico de cinco y diez centavos (un montón de diversión para niños y adultos por igual), la pizzería de leña, a ras de la elaboración del estudio, impresionante mercado del agricultor, farmacia, tienda de conveniencia, y también muchos restaurantes para nombrarlos a todos. Además, todos estos destinos se encuentran dentro de 15-30 minutos en coche: Olana, la biblioteca Roosevelt, Mansión Vanderbilt, Mills Mansion, Ferncliff Bosque, Old Rhinebeck aeródromo (6 millas), paseo de los poetas, Thompson-Mazzarella Park, Hamburguesa Hill Park (fabuloso 360 vistas), el Instituto culinario de América, el Instituto Omega, (en verano) la tienda Spiegel en el Bard College, teatro Bardavon en Poughkeepsie, además de la pasarela sobre el Hudson en Poughkeepsie.
Dara was a wonderful host. When I asked about an early check-in following a long flight, she immediately suggested that I text her when we landed so that she could meet us at the apartment, which she did. She showed us around, explained details of the space, and made suggestions. The space was exactly as pictured, charming and clean, and is in an ideal spot for exploring Rhinebeck. This is one of the few spaces I've stayed in where I have really not wanted to leave; surely there is an alternate life that I could live in this lovely apartment. I'll hope to return in the future.
Anna
2016-09-19T00:00:00Z
My wife and I visited Rhinebeck for our anniversary and had a wonderful stay at Dara's place. The apartment is lovely and very spacious, just as the pictures depict it. Would highly recommend this to anyone visiting Rhinebeck!
Sharat
2016-08-23T00:00:00Z
The space is a great and spacious loft and enjoys wonderful natural light in the heart of the village. Just what we were looking for, it was nice to be able to walk to everything, and a quick drive to The River Connection in Hyde Park (kayaking on the Hudson!) and the Harlem Valley Rail Trail (biking and walking) in Millerton. Dara is an excellent communicator and gracious host, meeting us upon arrival and taking the time to help us feel settled. The kitchen was generously stocked with high quality provisions. We enjoyed the trees outside our front windows, enjoyed the views of E Market Street, and slept well in this quiet and comfortable spot. Highly recommended, we expect to return!
Edward
2016-08-01T00:00:00Z
The loft is indeed cozy and romantic, very clean, fully equipped, and centrally located in town. I highly recommend staying here!
Kevin
2017-01-16T00:00:00Z
The host was very responsive and had provided many suggestions of places to eat. And also things to do.
David
2016-08-13T00:00:00Z
Dara's studio apartment was lovely. It was in the center of the village but high off the street so very quiet. We had everything we needed from comfy bed, to outfitted kitchen and spacious living room. Data was attentive if we had questions, a seamless stay!
Nancy
2016-10-17T00:00:00Z
Dara's place is beautiful, right in the center of everything, and felt so comfortable and cozy. Truly a beautiful stay. And Dara herself was super communicative with easy instructions for checkin/checkout.
Michael
2017-01-08T00:00:00Z
My wife and I stayed at this lovely loft for my birthday weekend and I have to say for our first Airbnb experience it was fantastic! It was cozy, quiet, and very charming. The location is perfect. You can walk to everything and she has everything you need in the kitchen and around the loft. Dara was very nice to also include some small notes on how to work things around the loft and gave great recommendations on places to eat and things to do around town. We will definitely be back and I would highly recommend!
Sita Philion Cooke
2016-11-06T00:00:00Z
Tipo de habitación
Casa/apto. entero
---
Tipo de propiedad
Loft
---
Capacidad
2
---
Dormitorios
Rhinebeck, Nueva York, Estados Unidos
Saugerties Plumbers Union Warehouse converted over time into a warm rustic industrial chic living space for nightly and weekly rentals in the middle of historic Saugerties. Walk & explore our lovely village, shop, indulge & dine
Roomy 800 square foot newly refurbished open space with an attention to detail, a deep soaking tub, repurposed plumbing pipe fixtures throughout & ambient lighting as well as modern amenities to make your stay clean, convenient & comfortable. Peaceful & quiet location yet within steps of fun, food & friends. Read our reviews and come enjoy The Warehouse in upstate NY!!
Small Town USA, good food, good spirits & good people. Movie house, HITS, golf, hiking, swimming holes, Hudson River Lighthouse - boating & fishing, Woodstock, Mtn Jam, Hunter Mtn skiing & festivals, Saugerties Garlic Festival, Sawyer Motors Car Show and First Friday's in the Village
Our experience--from start to finish--could not have been better. The property was exactly as described. We felt welcome and appreciated all the personal touches our hosts brought to our stay. For example, Sherri knew we were here celebrating my boyfriend's birthday, so she left a basket of fresh veggies and a bottle of wine on the doorstep. It doesn't get more thoughtful than that. We can't wait to stay here again!
Nancy
2016-09-03T00:00:00Z
We thoroughly enjoyed our stay at The Warehouse. Sherri made us feel welcome, leaving fresh food in the fridge and making sure we got settled in. Though directly off one of the main roads in town, this spacious loft-like environment provided ample privacy and was surprisingly quiet. It was great to have restaurants and shops within walking distance, and hiking and beautiful scenery just a short drive away. The space itself is beautifully designed, extremely comfortable, and was impeccably clean.
Jennifer
2015-08-10T00:00:00Z
The Warehouse was in a great location, walkable to shops, bars and restaurants. It is just a short drive to hiking as well. The space itself was very cute and well laid out. The hosts were very nice and easy to arrange check in/out. All in all, it was a great experience. The only not great thing was that we had a couple friends stay with us one night (so we paid the extra $50), but there were no linens on the pullout couch, so I didn't quite understand the extra charge. They don't charge a cleaning fee (which is nice), so I just attributed it as that. Also, they're pet friendly, which was a big consideration in me booking.
Leah
2016-09-08T00:00:00Z
On a bit of a last minute whim, we booked The Warehouse for an overnight getaway from the city in a small town we love. Sherri and Frank have created a beautiful space with a magical vibe, right in the center of every little shop we wanted to visit! Creative decor and attention to small details made it a very homey stay. I actually got a couple home decor ideas! Charming and convenient for local town exploring or nearby town adventures. We can't wait to come back for longer stay.
Elizabeth
2016-05-22T00:00:00Z
This was the perfect location for a quick get away from NYC. Sherri was quick to respond and even agreed to meet us on thanksgiving to check us in. The warehouse was cozy and modern and the neighborhood was warm and welcoming. Great location for hikes, dinner and relaxing.
Jackie
2016-11-26T00:00:00Z
We stayed at The Warehouse Loft for just one night for a quick midweek get away. We booked last minute and Sherri connected with us by text immediately even giving us restaurant suggestions. The space was peaceful and beautiful and very convenient to town. The bed was super comfortable and the little electric fireplace was on when we arrived along with one of our favorite Pandora stations! AND they left us drinks in frig! Could not have been a better stay!
Robin
2016-05-19T00:00:00Z
We loved our getaway weekend at The Warehouse! Great space, interesting and fun decor. Clean and inviting. Perfect location in Saugerties near restaurants and shops. Our favorite nearby restaurants were Miss Lucy's Kitchen (dinner) and Love Bites (breakfast). The food at 'Cue was also very good. Highly recommend. Read on if you will have a young child with you... We brought our 17-month-old son with us. There was plenty of room to set up his travel crib. Curtains were sufficient to darken the room enough for him to get a good afternoon nap. The place isn't child-proofed, of course, so we kept close tabs on him when he wasn't in the crib. In the area... We took our little guy to play at Lions Club playground at Cantine sports complex, in walking distance of the WH. There's a little-kid public pool there that is open only on weekdays. We went to Falling Waters Preserve, and we took a "hike" (a short trail that went by a mini-waterfall and down to a body of water) with him in the baby carrier. We visited the Saugerties Lighthouse. We let him cool off in shallow water at Saugerties Village Beach in Esopus Creek. We visited Catskills Animal Sanctuary and saw pigs, roosters, and ducks up close. (CAS is open weekends, April to October. Tours 11am-2:30pm every half hour.) It was a fun weekend for our young son and his parents!
Bridget
2016-07-16T00:00:00Z
Sherri was a terrific host. She responded very quickly to all my messages and even left us some treats to eat throughout the weekend. The listing was very accurate both in terms of the unit and neighborhood. The unit was very quiet and comfortable, but within footsteps of all the great places in town to visit. This was the perfect place for a weekend get away. I can't wait to come back to Saugerties.
Alexander
2015-11-02T00:00:00Z
Tipo de habitación
Casa/apto. entero
---
Tipo de propiedad
Loft
---
Capacidad
4
---
Dormitorios
Saugerties, Nueva York, Estados Unidos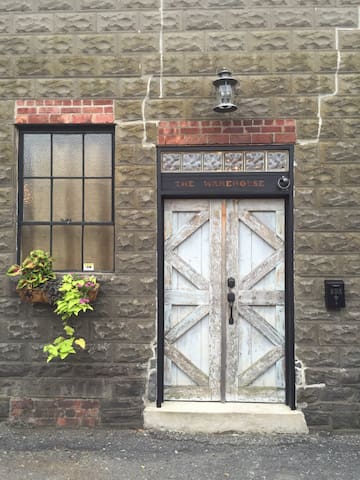 Sun filled loft with a beautiful private roof garden. A retreat right in the middle of the village. Acessable to everything. Cozy yet sleeps 6 good friends or family comfortably- because there are several different cool areas to hang out & relax.
A large beautiful loft apartment above one of the main streets in the designated historic area of charming Saugerties Village. The 1600 sq foot open space has one private bedroom, one sleeping loft with a double mattress and a couch which makes up into a queen size bed. There is also a sleepable couch for one. (there are actually enough sleeping places for 7) The loft boasts a large living room,a ping pong/air hockey table, wireless network, Flat screen internet TV & DVD player, a modern kitchen, dining room, washer & dryer,Large bathroom with deep tub & towel warmer, another sitting area with a gas fireplace, as well as a large outdoor deck, covered dining area & private roof garden. Air Conditioned. If you have a car, the Municipal Parking Lot is free and located just behind our building.Overnight parking is permitted in designated areas- trust me- you won't need your car, so park and forget it! The village is filled with cute and quirky shops, a great health food store, a gluten free bakery, a regular bakery, bookstores, galleries, a movie theatre, restaurants & bars, all within walking distance. The apartment is above Lucky Chocolates, Chocolate shop in the back ( it's below the roof garden)and on the Partition street side above Rosie's Vintage Mercantile- a cute quirky vintage shop. You can check in and out with Rosie. A well behaved dog would be allowed- and there is a dog door to the fully fenced second story roof garden for small dogs. ($25 per dog for extra cleaning when we have dog guests- payable when you check in). It's a good town for dogs and in summer there are one or 2 outdoor restaurants where you can eat outside with your dog, and many stores allow dogs and have outdoor water stations. Saugerties is a great little village just 90 miles from Manhattan and 6.5 miles from Woodstock, NY. There are plenty of hiking and biking areas nearbye. (Bicycles are available for rental around the corner at Revolution Bicycles.) The Saugerties Lighthouse, a short bike ride (1.5 miles) away, is at the convergance of the Hudson River & the Esopus Creek. Also a great place to walk dogs (on lead). Swimming & kayaking too. Great place to watch birds and a nice nature trail. The Village of Saugerties has several buses a day from NYC (Adirondack Trailways). Busses to Kingston, NY are almost hourly. You can get a taxi from the bus (Stagecoach Taxi). Once in the village everything is walkable and cab rides within the village are $5. It's a great place to stay- The village is really sweet & fun,with lots to do- and though you are just a moment away from everything, the apartment is quiet and private- even on the outside deck! You will fall in love with this town!
lots of cute and quirky shops, great places to hike & swim. 2 bookstores, health food store, galleries, antique & junk stores library and restaurants all within a few blocks.
Rae's place is amazing! Very clean and spacious and fun! Great record selection and lots of comfy lounging areas. Loved the stay, we had the best time!
Beth
2017-02-20T00:00:00Z
Immaculate. If I had one word to describe my experience with Rae. Her home was well appointed and amenities thoughtfully selected including welcome treats, an orthopaedic dog bed, bathroom soap. The kitchen is well equipped with fully usable knives, pots, pans, cookie sheets -- well-maintained. You have a choice of indoors dining with the open kitchen dining room or the deck with a dining table/outdoor living room overlooking a tranquil rooftop garden. We had breakfast in everyday outside. The bed's very comfortable and the living room, with its ping pong table even more comfortable. We didn't want to leave. Rae is also very hospitable providing full knowledge of the area, contextualizing it for our young family. High recommend
Roxanne
2015-08-26T00:00:00Z
Rae's loft is stunning, stylish, and the perfect place for a family break. It is, frankly, more cool than we are. Depending on who you talk to in our family, we can't decide whether we loved the record player more than the mini ping pong table. But we all loved the town - not least, Rae's chocolate shop - as well as the bookstores and great eateries. Within easy driving distance of skiing and NYC, it was a wonderful short break for us. The loft is roomy (with plenty of bedding for a large group like ours), clean, and above all fun.
Richard
2016-01-02T00:00:00Z
Rae's apartment was divine. Meeting her at the chocolate shop downstairs was convenient and easy! She is super friendly and gave us a quick tour of the place with lots of suggestions of how to spend the weekend. I was one of four guests and we all loved it. Can't wait to come back and spend another weekend here. A perfect getaway!
Andrew
2014-11-29T00:00:00Z
Rae was a great host - key pickup and drop off was easy and the apartment is a great space. We had a wonderful relaxing weekend.
Alex
2014-10-27T00:00:00Z
We loved our stay at Rae's place! The loft was beautiful, open, and airy. Our family had the best time in Saugerties - the little shops and restaurants were great. We loved walking around and relaxing in the town. Highly recommend!! The chocolates Rae left for us were delicious!!
Serafina
2016-05-26T00:00:00Z
Rae'e place is amazing! The loft is spacious, well designed, well equipped, private and at the same time, right in the center of town. Its a great place to hole up and spend some time away from the city. The crowning jewel was the beautiful outdoor deck.... complete with barbecue and even a grass patch for the dog ;) We loved staying here and would like to rent this place regularly to get away. I imagine the deck would only get better as the seasons get warmer! The host was incredibly kind, even left an *phenomenal* box of chocolates from the store downstairs as a welcome. Overall, couldn't have been a better experience.
tanya
2017-02-23T00:00:00Z
Everything about Rae's loft was as described but better! The town is awesome. We went to drop my daughter off at Bard College which is only 20 minutes away. It was so worth the drive! Great town. Great loft. Great chocolate shop. Really helpful owner. Her recommendations were great! We will certainly be back.
Julie
2015-08-11T00:00:00Z
Tipo de habitación
Casa/apto. entero
---
Tipo de propiedad
Loft
---
Capacidad
6
---
Dormitorios
Saugerties, Nueva York, Estados Unidos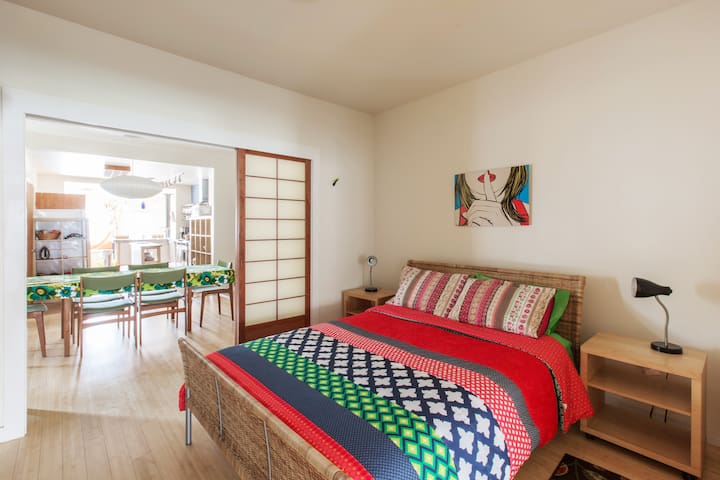 Large, comfortable room available in spacious art loft downtown Saugerties on Main St, walking distance to organic market, great pizza, bookstore, coffee shops, many dining options...,the loft is filled with colorful contemporary art, high ceilings. Feels like a Tribeca loft. Shared bath, queen & single bed, red velvet couch, desk, Wifi, TV, DVD, A/C,fan, kitchen access. Convenient location. The bed in this room is AMAZINGLY comfortable.
This unique loft is 3,500 square feet is home to a collection of contemporary art as well as a clothing design studio. We will hook you up with a comfortable room and, if you like, give you a personal tour of the art studio. Laid back casual atmosphere. Children are welcome. Very comfortable. Almost all art in the loft is available for purchase so if you have interest please inquire.
Right downtown on Main Street, above an antique center. Second floor. Almost everything you need is right out the door. Quiet at night.
Great location, great big room, and a comfy bed. Thank you for hosting me during my stay in Saugerties!
Nathan
2016-07-28T00:00:00Z
Exceeded expectations! Apartment was amazing and host was incredibly nice and responsive. Would definitely stay here again.
Pettus
2015-11-02T00:00:00Z
Kelli was an excellent hostess and her place is unique and inspiring. I was in town for one night to attend a gallery opening for a show I had a piece in. The gallery was literally right downstairs in a neighboring building, and coupled with Kelli's amazing loft, it made for a great stay. Great restaurants and bars in the neighborhood, two great bookstores, at least one other gallery...what a great town. Kelli had a well-equipped kitchen and bath to share, and even showed me her impressive studio. I hope to return soon!
Brad
2016-11-05T00:00:00Z
Not only is the space lovely, but Kelli's welcome is warm and the neighborhood great.
nina
2016-10-30T00:00:00Z
I really enjoyed staying at Kelli's for two weeks in September 2015. I was attending a horse show and I needed a place close to HITS . This was perfect. 1 mile from the show grounds and literally right next to all the nice restaurants in Saugerties. It was very quiet and "homey" . Kelli is a lovely person and a wonderful artist.
Mikala
2015-10-01T00:00:00Z
Kelli is super nice and staying at her place was very seamless and pleasant. Her art is incredible and it goes throughout the whole place. A lovely experience.
Jana
2016-10-23T00:00:00Z
We had a great stay in Saugerties. Kelli was accessible and responsive and made our stay extremely pleasant. Her loft is located right in Saugerties, walking distance to all the restaurants and bars downtown. Our room was huge, clean and we had access to the entire loft. It was a great upstate getaway for us.
Eric
2016-10-02T00:00:00Z
Very cool space, great host, perfect location for exploring town. Thanks Kelli!
Seth
2016-07-24T00:00:00Z
Tipo de habitación
Habitación privada
---
Tipo de propiedad
Loft
---
Capacidad
4
---
Dormitorios
Saugerties, Nueva York, Estados Unidos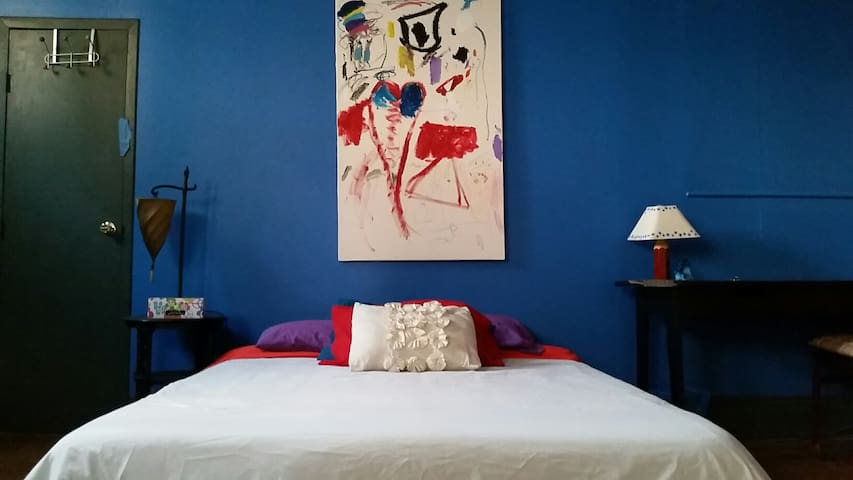 Large room in spacious art loft downtown Saugerties on Main Street with walking distance to all amenities...organic market, shops, delis, restaurants, coffee shops, and the BEST bookstore and antique shops all around. The loft is filled with colorful Contemporary Art from local artists. Shared bath, full bed, comfortable couch, desk, Wifi, TV, A/C, fan, kitchen access. Convenient, cozy, comfortable. There are also fencing classes upstairs Wed. nights & Sunday mornings if you are interested.
This room is located right downtown close to all of the action but is on the back of the building so it is quiet and cozy. The loft is full of creative energy and the room is comfortable for the weary traveler. Second floor.
Right downtown on Main Street, above an antique center. Second floor. Almost everything you need is right out the door. Quiet at night.
The experience me and my wife both had while our stay at Kelly's loft was something you would remember for the rest of your life and it also could serve as a perfect example of what Airbnb was created for: connect people, help them to explore the world and themselfes, enjoy the moment, share happiness and see that getting all of these things all together is still possible! Thank you very much Kelly and Isabella! Stay warm and be happy!
Ilya
2016-01-21T00:00:00Z
Kelli's place is located right in the heart of Saugerties along Main Street, which is perfect walking distance to many local shops and artisans. She wasted no time making my husband and I feel at home. Kelli's place is perfect for those who want a quiet space for themselves and don't mind sharing common areas with other travelers. Would definitely recommend.
Sarah
2016-06-06T00:00:00Z
Upon entering Kelli's place, I immediately felt at home. The room was comfortable, spacious, bright, clean, and beautiful. It was exactly as described and was in a perfect location, central to all restaurants and shops. Kelli was incredibly accommodating, kind, and welcoming. Overall, it was a fun and positive experience and I have no complaints- I would highly recommend staying with Kelli to explore the surrounding area!
Vivian
2016-07-04T00:00:00Z
What a lovely weekend! The hostess was extremely kind and gracious, and the room was large, clean and very comfortable for the three of us. We look forward to returning!
Leigh
2016-03-09T00:00:00Z
This was our first time using air bnb and Kelli had the honor of being our first host! Kelli had a warm and sage energy about her. She and her daughter Izzy instantly made me and my kids feel like family. Our room was spacious. The location was centrally located with easy access to shops and restaurants. For someone like myself on a budget, this was a nice way of being able to get away for a few days.
Susie
2016-05-04T00:00:00Z
Lovely family and very inviting. Unfortunately we arrived late and left early in the morning. Great location!
Maleni
2016-09-03T00:00:00Z
Kelli is a wonderful host, she made us feel very much at home.
Linda
2016-07-10T00:00:00Z
The place was perfect and was the best location possible in town. Very sweet host who was very helpful.
William
2016-09-09T00:00:00Z
Tipo de habitación
Habitación privada
---
Tipo de propiedad
Loft
---
Capacidad
3
---
Dormitorios
Saugerties, Nueva York, Estados Unidos
A 7 minute walk to Warren St. this 4 room schoolhouse erected in 1900 has been renovated into 750 sq.ft.lofts and is located in the midst of one of the most gorgeous historic cemeteries in all of America.
Erected in 1900 this Craftsmen's 4 room School House is located in the midst of one of the most gorgeous historic cemeteries in all of America, and a short 7 minute walk into town. Tailored after the cemeteries in Europe, it was created as a park to entice visitors. Many Hudson River School Painters made this their final resting place as well as famous inventors and titans of Industry. It is verily like walking through a 3 D history lesson.
I love that this place is a haven, a quiet place for contemplation, writing or artful pursuits and that it is 3 mere blocks downhill (7 minutes) to Warren street and all its delights!!! This place is also IDEAL for the athletic. There are miles of winding paths everywhere.... My favorite restaurant is Taste of The Caribbean, right down the hill on the Square next to the St Charles. It's the best bang for your buck. $11 for a plate of food you'll be finishing the next morning with your eggs ..Curry Goat, pulled or Barbequed chicken and Oxtail (URL HIDDEN) SO good
Loved staying here and would definitely return! Loft space is gorgeous and Hudson is a gem. Laura Ann was an incredibly helpful and thoughtful host.
Kristina
2015-09-20T00:00:00Z
Enjoyed the cemetery setting! Hudson is a gem of a town! Thanks for having us
audrey
2017-02-28T00:00:00Z
Lovely and accommodating host with unique artsy space. We had a wonderful time and would gladly go back!
Nicole
2017-02-12T00:00:00Z
My boyfriend and I had a wonderful stay at Laura Ann's loft! The place was clean, bright and unique! Laura Ann provided everything we needed and more! The pastry every morning was a great touch!
Victoria
2015-10-13T00:00:00Z
Laura was extremely accommodating for my short stay. HUGE loft with lots of sunlight, full kitchen, private bathroom. Even though the location is very close to Warren St. where all the main attractions are, I ended up staying mostly in the loft, cooking, reading, practicing, and enjoying the sunlight. Highly recommend to anyone heading to Hudson.
Cem
2015-09-05T00:00:00Z
What a great first AirBnB experience! We had a great time staying with Laura Ann, who was so friendly and accommodating! The room was wonderful—huge, bright, and clean, and furnished with everything we could have possibly needed—and Laura Ann thought of every little detail, down to the face masks next to the bed to ensure the light wouldn't wake us up too early. She even left a snack for us the next morning so we wouldn't have to hit the road hungry, which was such a thoughtful (and greatly appreciated!) gesture. I only wished we'd been able to stay longer! The next time we stay in Hudson we'll definitely stay with Laura Ann and Tico, the coolest bird ever.
Erin
2015-10-05T00:00:00Z
Had a wonderful time in Hudson at the school house. The location is very cool and the room itself was great. If you aren't an early riser make sure to use the provided sleeping masks. The sun comes in STRONG in the morning. We came up on the train and Laura Ann was kind enough to pick us up from the train station. While we had plenty to do without our own car I think next time I would bring one to take advantage of the hiking and such in the area. Overall this was a great quiet getaway that we would definitely consider again!
Peter
2016-07-06T00:00:00Z
A wonderful loft apartment in a terrific building in Hudson. Clean and sunny, the apartment is quiet and conveniently located to all the shops, boutiques, restaurants and antique stores in town. Such a pleasure to stay at a place with real character rather than the cookie-cutter hotels in town. And Laura and Robert could not have been better hosts. Lovely, interesting people. I've already begun spreading the word among my friends who love visiting Hudson!
Joseph
2016-06-22T00:00:00Z
Tipo de habitación
Casa/apto. entero
---
Tipo de propiedad
Loft
---
Capacidad
3
---
Dormitorios
Hudson, Nueva York, Estados Unidos
COZY HUDSON is not available for bookings at this time. We are taking a break from hosting - but want to thank all of our wonderful guests (some who've become friends!) for the amazing experience we've had meeting all kinds of people from all over the world. Happy Summer!
We live in a turn of the century building with unusually high ceilings and great light. Our AirBnb is stylishly furnished with an eclectic mix of mid-century vintage, industrial and contemporary furnishings and artwork from local artists. The bedroom has a very comfortable full sized bed and a compact vintage desk. The Airbnb bedroom and adjacent area are private and in a separate area from the front of the loft where we live. The carpeted bedroom is quiet and cozy, with lovely Northern light and the nearby "Butler's Pantry" is stocked with fresh fruit, snacks, filtered water, books and a small refrigerator. The semi-private bathroom is appointed with natural shampoo, conditioner and body wash. Guests come and go from a separate, 2nd floor outside stair. This private entrance opens onto a small deck and guests come and go at their leisure. Our guests love this feature!
Historic Hudson is 2.2 Sq miles and is located on the Hudson River. Settled in 1662, Warren Street- the main street- is 1 mile long and is packed with art galleries, cafes, design shops and antique stores. We live on the 2nd floor in the heart of historic Hudson. Our apt is a short 15-20 minute walk from the Amtrak station and is near to both street and municipal parking. We love living and working in one of the most diverse blocks on Warren Street- right in the middle of town. In our block you'll find everything you need- from artisanal cheeses at Old Hudson to craft beer+cider at Spotty Dog Books & Ale (yes! books+beer) to vintage vinyl at John Doe Records. We also have 2 delicious, casual dining options in our block- Nolita Cafe and The Cascades. This block has a terrific assortment of retail shops right outside our door including TK Home & Garden, Les Indiennes, Country Home, White Whale Antiques, Hudson Clothier, Face Stockholm Cosmetics and TradeWinds- among others. Our block has a fine sampling of the many stylish antique, design and clothing stores throughout Hudson. To top it off, Club Helsinki is just a short walk from our back door….!
My husband and I had a wonderful experience staying at Sherry and Pauline's house. Both Sherry and Pauline are very lovely and charming hosts. We only stayed for one night, but it was enough to make us want to come back, if we ever get an opportunity. The location is as central as it gets and there was a private parking space in the back, which was a major bonus for us. The room was very clean, cozy, quiet and the bed extremely comfortable. The bathroom was very nice as well (great shower pressure!). Sherry told us everything we needed to know for our one evening in Hudson and her recommendations were fantastic. Definitely a gem for an authentic Hudson experience.
Olya
2015-09-21T00:00:00Z
We stayed at Sherry and Pauline's space a second time! We are of course very happy repeat customers. They are incredibly cordial and accommodating, the space is just great, and the small added touches of fresh water, fruit and treats are greatly appreciated. Sitting on the back porch (with flowers and tomatoes about nearly ripe), reading the Sunday times was sublime. We love you guys!
Clark
2014-07-07T00:00:00Z
Sherry greeted us when we arrived and super friendly and welcoming. I'm originally from the area and its great to see how much its changed (for the better) and how excited Sherry was to tell me about how cool this little town has become. Thanks for sharing your space with us.
John
2015-07-13T00:00:00Z
We had an incredible time at Sherry and Pauline's! Sherry was as kind, generous and welcoming as could be, and had plenty of helpful information about Hudson (she had even helped create one of the pamphlets on hand). There was a station full of maps and materials about activities to do and place to eat, as well as a mini-fridge and fresh produce! The room itself was cozy, clean, fresh-smelling, and well-organized, with little elements of zen. They really paid attention to the details, and to make their guests feel welcome without intruding. We ran into them at a cafe on our way out, and Pauline is a wonderful person too! So grateful to this warm-hearted, creative and thoughtful couple for helping us make our first venture to Hudson a memorable one.
Elijah
2015-09-08T00:00:00Z
Really lovely. Pauline and Sherry are fantastic hosts; generous with their time and ideas, and deeply knowledgeable about Hudson. The room is in the middle of town yet really quiet and peaceful.
Andrew
2016-07-18T00:00:00Z
Sherry and Pauline could not have been more accommodating. Lovely people, lovely space, an incredibly pleasant stay. You will love it.
Clark
2014-05-26T00:00:00Z
We had such a good time in Hudson, thanks to Sherry (+ Pauline) ! The room is lovely and comfortable and Sherry gave us lots of nice advises about place to visit/eat/drink. The apartment is in the main street and everything is very close ! Only disappointment : not having shared a beer at SPOTTY DOG ;) Next time for sure xx Jon+Arthur
Jonathan
2014-10-26T00:00:00Z
We felt welcomed even before we arrived with the detailed messages about where to park, etc. Sherry met us promptly at the entrance upon our arrival, and showed us around the space, answering all our questions. We never met Pauline, but we found Sherry to be both very enthusiastic and knowledgable about her town. (We loved our dinner at Ca'Mea and our Sunday breakfast at La Perche, too.) We found the photos and description of the private room completely accurate, and the neighborhood -- right in the heart of the town -- a perfect place to spend the night on a weekend getaway. We look forward to returning sometime soon!
Julia
2016-04-18T00:00:00Z
Tipo de habitación
Habitación privada
---
Tipo de propiedad
Loft
---
Capacidad
2
---
Dormitorios
Hudson, Nueva York, Estados Unidos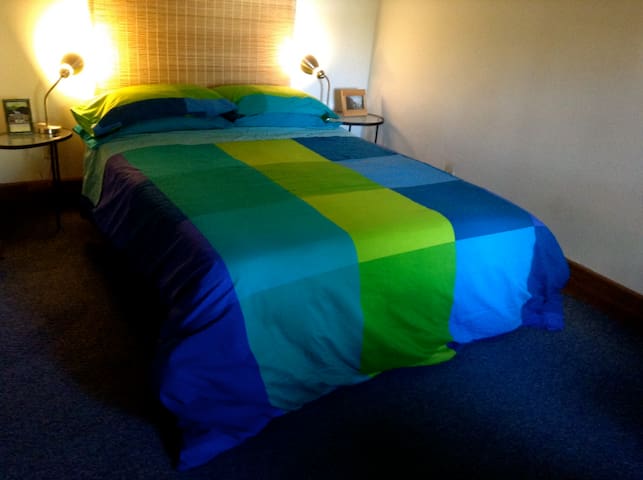 Eccentric space for the out of the ordinary experience. The Pink Ballroom is the ultimate creative space for photo or video shoots...available for DAY USE ONLY. Raw space in an old building perfect for the non-perfectionist who likes to live large on a budget. This room has a street view with three large windows, ceilings fan to keep the air flowing. We have a light grid, bar and stage for your 'thing'...great for fashion shows, comedy shows, video and film shoots & much more. Find us on (SENSITIVE CONTENTS HIDDEN)!
This is the original ballroom in the Odd Fellows Temple building...third floor available for your creative pursuits. If you need sleeping arrangements please contact us...we have two air bnb rooms downstairs for sleeping available separately. The ballroom is for day use only...available 9 am to 10pm. We can go later depending on your needs as long as it isn't too loud or invasive to the other tenants in the building.
Downtown Saugerties...the loft is on Main Street with easy access to all amenities. Eclectic restaurants, a brew pub, organic food market, great pizza, fabulous book store / coffee shop on the corner. Lots to keep you entertained within walking distance to everything.
We booked the the place for a photo shoot and it was perfect ! Kelli was a great host and really had an understanding for what we were after as she is a true supporter of fashion and art.
Katrin
2016-04-19T00:00:00Z
Kelli's loft is really fun to stay at. It's an old building with a lot of character and there are interesting events going on like aerial yoga. It's full of art. The location is fantastic. The building has deferred maintenance and it shows, but it was totally adequate and we loved it.
Ingrid
2016-07-27T00:00:00Z
Kelli was the most gracious host, my family and I felt at ease and had so much fun in this extraordinary space! The bed and room comfy ( great sheets!) and had this cozy old fashioned cool look. There was a big awesome room where the kids ran,jumped and spun around . It was so fun. Everything had this bright , artistic, peaceful, and simultaneously modern and antique feel. A magical space. Down the stairs, our host was easily available but we felt a sense of private sanctuary in what felt like a artist colony utopia. We could see Saugerties from a birds eye view and loved walking around the town like tourists. What a friendly, relaxing experience! Thank you, Kelli . You are by far the best!
emmallyea
2016-03-07T00:00:00Z
This is a wonderful and truly unique experIence. Kelli has created a mecca that you can't help but feel content in. The decor, the colors, the art, all combine perfectly. Plus the rooms are private and quiet. Then on the practical side the location is literally the main part of town, just steps from great restaurants, bars, and the coolest bookstore I've ever been in, among other things. The town itself is perfect, small and friendly yet hip and has more than enough to not get bored. As for Kelli herself, she is completely friendly, kind, and welcoming. She respects your privacy but is around if you need her. She really values the type of atmosphere she's curating there so you are guaranteed a lovely stay.
Lee
2016-02-15T00:00:00Z
Kelli was a generous host, who was uresponsive and kind. As long as you don't mind the co-op nature of the building (i.e. events that may happen in the ballroom, people coming and going in the shared kitchen, sharing bathroom), it is a lovely place to stay. Thank you Kelli!
Jinah
2016-07-03T00:00:00Z
Really great space for use in video/film/or performance art. The price is a bargain for what you'll be getting, and the space is HUGE. We only utilized a small portion of it, but there's so much to it, it really is one of a kind.
Brian
2016-08-20T00:00:00Z
Tipo de habitación
Habitación compartida
---
Tipo de propiedad
Loft
---
Capacidad
16
---
Dormitorios
Saugerties, Nueva York, Estados Unidos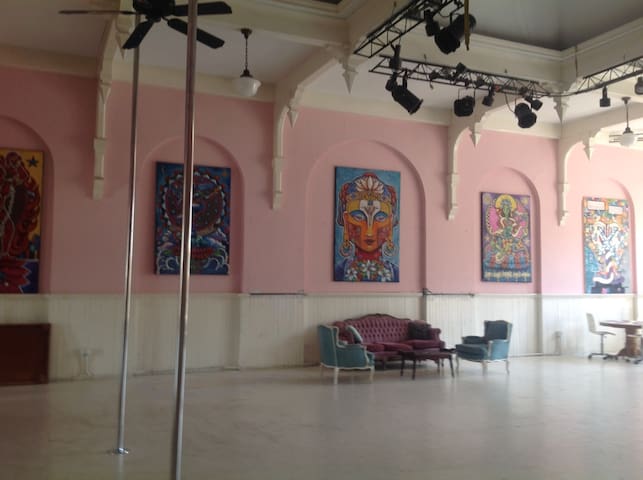 A 7 minute walk to Warren St. this 4 room schoolhouse erected in 1900 has been renovated into 750 sq.ft.lofts and is located in the midst of one of the most gorgeous historic cemeteries in all of America.
This is a no shoe room and we ask guests to respect the space accordingly. Built in 1900 this Craftsmen's 4 room School House is located in the midst of one of the most gorgeous historic cemeteries in all of America, and a short 7 minute walk into town. Tailored after the cemeteries in Europe, it was created as a park to entice visitors. Many Hudson River School Painters made this their final resting place as well as famous inventors and titans of Industry. It is verily like walking through a 3 D history lesson. This particular room is our pride & joy. Built around a 18th century Opium Wedding bed, it is an artistic blend of Asian and contemporary design. We made the bathroom & kitchen out of steel & frosted glass. We feel it is truly a spiritual space in complete harmony with the natural beauty of the surrounding park/cemetery.
I love that this place is a haven, a quiet place for contemplation, writing or artful pursuits and that it is 3 mere blocks downhill (7 minutes) to Warren street and all its delights!!! This place is also IDEAL for the athletic. There are miles of winding paths everywhere.... My favorite restaurant is Taste of The Caribbean, right down the hill on the Square next to the St Charles. It's the best bang for your buck. $11 for a plate of food you'll be finishing the next morning with your eggs ..Curry Goat, pulled or Barbecued chicken and Oxtail (URL HIDDEN) SO good. Le Gamin is wonderful for breakfast and lunch and sitting outside. There is one more place if you like Indian... but it is in Greenport, so you'd have to drive or cab it.. but its only minutes away .
Fantastic. Really we got treated like royalty. The schoolhouse is charming and just the quickest jaunt into town. The cemetery was peaceful and sparkly at night with colorful lights. A historic building with loads of character and rooms so smartly designed with nice bath and kitchenette. All in a beautiful setting.
Deborah
2016-05-23T00:00:00Z
Great host, very comfortable and nicely decorated room.
Lev
2016-11-14T00:00:00Z
They were very kind, warm & accommodating.
Gina
2016-10-04T00:00:00Z
Hands down, this was the best Airbnb experience I've ever had. Laura & Robert (and Laura's best friend) we're amazing and beautiful and hospitable, as were their feathered friends! Location is great. Within walking distance of Warren Street, although secluded just enough to be peaceful. Great energy. Room was extremely clean, and the bathroom is fantastic. We enjoyed the room so much that (unfortunately) we didn't even take time to explore the cemetery. We will definitely be back! Book this room (and these people (and birds))!!
Amanda
2016-08-01T00:00:00Z
Everything in the description is super accurate. The room was lovely, spacious, with tons of natural light and open spaces. The design aesthetic was superb and it felt simultaneously curated and homey The town and local amenities were also perfect for a quick weekend away, and the local galleries, shops and coffeehouses were fun and well appointed. Great trip. Great home Great hosts
Stephen
2017-02-20T00:00:00Z
Laura Ann's home is so perfectly curated and beautiful. I loved the natural light and furnishings. It is nestled in the middle of a cemetery- very peaceful and serene. She was nothing but helpful and accommodating since the day I booked with her. Thank you so much for sharing your home with us!
PRIYA
2017-02-19T00:00:00Z
One of our best Airbnb experiences ever! Laura was a perfect host! On our arrival she greeted us as if we were old friends, and we were made to feel right at home! She took us to our room, showed us around, and introduced us to tiko, her pet cockatoo, who made himself right at home on my husbands shoulder!! The space is one in a million! The room was even more beautiful in person. It is filled with some of the most beautiful furniture I've ever seen, as well as some beautiful art pieces created by our wonderfully talented host. You can just tell how much love and care went into making this a very unique and tranquil space. laura is very accessible should you need anything. She responds within minutes and will also check with you to make sure you have everything you need. The schoolhouse is perfectly located... Walking distance to warren street for cool shops and great food. Places of interest, hiking, etc are all just a very short drive. The only thing lacking for us was time - We only stayed one night. We do hope to come back again soon to truly enjoy all that this great town has to offer!!
christine
2016-09-11T00:00:00Z
The bed was more than comfortable and I am 5'10. Great stay.
Rebecca
2016-12-04T00:00:00Z
Tipo de habitación
Casa/apto. entero
---
Tipo de propiedad
Loft
---
Capacidad
2
---
Dormitorios
Hudson, Nueva York, Estados Unidos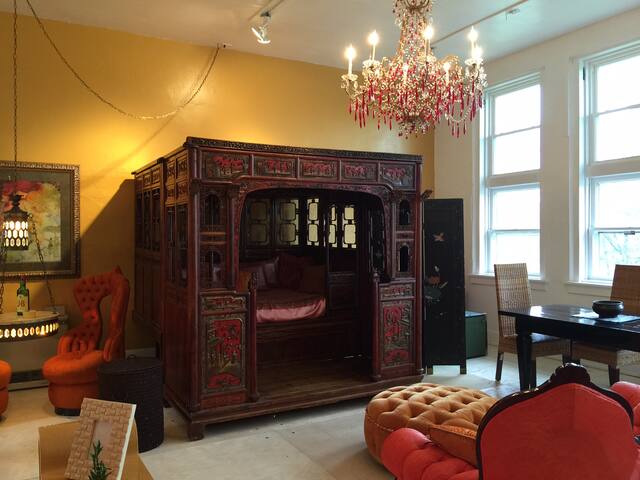 Cherry Alley Studio offers comfort, style, privacy and unbeatable location. We remodeled the hayloft of our 1870 carriage house into a self-contained studio apartment. You have your own entrance on a charming alley just off lively Warren Street.
The bright, vaulted, space has a queen-size bed with Tempurpedic mattress, a comfortable carpeted sitting area, a kitchenette and dining area, and a writing table. There's a blue-tooth music dock, and a whole-house surge protector to keep your devices safe. There's a whole-house water filter, too. You'll appreciate the great cross ventilation, but there's air conditioning, too. The kitchenette has refrigerator, sink, microwave and cooktop. You'll find what you need for making coffee and tea, plus something for your first breakfast sourced from our wonderful local producers. Cherry Alley Studio is just steps from all of Hudson's shops, restaurants and clubs, and a ten minute walk from the Amtrak station.
Hudson is an amazing destination, two hours from New York City by car or train (with 12 trains each way every day). It's a walkable miniature city of historic architecture, antiques, art and design galleries, performance events both sophisticated and edgy, and great food. The town overlooks the magnificent Hudson River and Catskill Mountains, and is surrounded by the bucolic landscapes of Columbia County. Historic house museums, country walks and charming villages are all within a few minutes' drive.
Great place to stay in Hudson--Peter and Jonathan's studio is newly renovated, beautifully decorated, and centrally located. They were flexible with check-in time (we had to arrive a bit early to get to a wedding) and provided info about where to go in town. I'd recommend staying here to anyone!
Erin
2014-06-30T00:00:00Z
We had an amazing time! The place is cute, clean, very private, and right near a lot of great stuff. Our hosts were fantastic.
Brendan
2016-02-16T00:00:00Z
One of our best Airbnb experiences! We enjoyed everything about our stay: all communication was clear and concise; the apartment is cozy, clean, well equipped and tastefully decorated. The location is as described—literally steps to everything Hudson has to offer. Thank you for a lovely stay—we will heartily recommend your spot to friends.
Maurice and Leslie
2016-12-11T00:00:00Z
Peter and Jonathan's place was the perfect location from which to explore downtown Hudson and the Hudson Valley. It was private and quiet despite it's central location off of an alley parallel to Warren Street, the main commercial street in Hudson. The small compact and uncluttered space is bigger than it seems in the photos - everything is within reach yet with room to breathe, stretch, meditate or do yoga. The kitchenette was super smart with complementary coffee, milk, granola, and a fresh bowl of raspberries! It was impeccably clean and I appreciated Peter's friendly welcome and escort to the space. Their restaurant recommendation was easily the best meal of our Hudson River Valley trip. Thanks Peter and Jonathan!
Steve
2016-07-25T00:00:00Z
We had a great stay at Peter and Jonathan's place! Very private since it has its own entrance on the alley. Super cute, GREAT location (minutes away from Warren Street), they even had some pears and granola for us when we arrived. We loved our stay in Hudson and Peter and Jonathan's place made it even better.
Josh
2016-11-06T00:00:00Z
Such a charming space and excellent location! I loved looking out on the little alley, and totally enjoyed the design and aesthetics of the studio.
Rebecca
2017-03-19T00:00:00Z
We had such a wonderful weekend in Hudson. The house was private, beautifully decorated, and close to the main street. Peter was a great host, he was very responsive and organized, he left us granola and local hudson valley milk and coffee for breakfast, and he even sent us a list of events happening in town.
Logan
2015-11-02T00:00:00Z
Peter and John are really great hosts. The carriage house studio is incredibly charming, tastefully appointed, and more open and airy than the photos might suggest actually. It's really the perfect weekend or weeklong getaway, with a central location in Hudson, nestled on a quaint alley between Warren and Union Streets. I definitely hope to return soon!
James
2014-08-25T00:00:00Z
Tipo de habitación
Casa/apto. entero
---
Tipo de propiedad
Loft
---
Capacidad
2
---
Dormitorios
Hudson, Nueva York, Estados Unidos
USTED se alojarán en una cochera HERMOSA construido en 1931 y restaurado recientemente. Situado en una finca privada en el borde de la ciudad se siente transportado a otro lugar, posiblemente el campo inglés.
Precioso loft PRIVADO APT. EN CASA DE TRANSPORTE Tudor inglés. Una cálida y acogedora decoración con atención al detalle. COCINA TOTALMENTE EQUIPADA COCINA, cama de tamaño queen, HERMOSA sala de estar con sofá de cuero y TV de pantalla plana, y todas las comodidades que cabe esperar en un alquiler de calidad VACACIONES. Excelente ubicación privado, pero a minutos de todas las QUÉ KINGSTON y las ciudades vecinas tienen que ofrecer. Incluye cable, INTERNET Y ESTACIONAMIENTO 2 Anfitriones geniales contestar todas las preguntas y sugerir los mejores lugares para ir a ver. Una Perfecta escapada sólo 2 horas de Nueva York nos están situados junto a una granja de caballos Y CAMPO DE GOLF HOLE 8 así que nuestra vista es increíble. Caballos en el campo y las montañas. Una vista impagable de una propiedad HERMOSA.
Nos encontramos en la ciudad, pero está en un callejón sin salida CON VISTAS DE caballos en el campo, jugadores de golf en la distancia y unas vistas increíbles de las montañas. Es un lugar muy privado.
Angelo was a great host who kept communication and privacy to a perfect amount. He accommodated my every need and his space was a small and cozy place.
Ryan
2016-11-17T00:00:00Z
Angelo was a most gracious and welcoming host making my mother and I immediately feel at ease. Angelo met us upon arrival and walked us thru the property and left a nice bottle of wine and biscotti for us to indulge during our stay. My rating did not do his property justice- everything was even better than the listing online portrayed and was well worth 10 stars. A peaceful and serene setting with the backdrop of Catskill mountains and well appointed accommodations made this a very memorable stay. We look forward to returning for a stay in either the loft or stables (also a very authentic and uniquely appointed unit).
Angela
2016-09-11T00:00:00Z
Our stay at Angelo's place was fantastic. Angelo was a great host and provided a list of local markets and restaurants. Angelo also gave us a history and tour of the carriage house. The house was very well decorated and clean with all the essentials. The pictures and descriptions are accurate. It was a pleasure staying at Angelo's place. During our stay, we hiked at Minnewaska State Park and Sam's Point which was about a 40 min drive, which was very scenic so it was not bad at all.
Henry
2015-09-22T00:00:00Z
Great place, great hosts and great times! The Carriage house that Angelo and Tony renovated and designed was beautiful....felt like we were in the pages of Architectural Digest. My wife and I decided last minute on a Friday to hear upstate and within 30 minutes of reaching out to the owners, we had a response, a confirmation and a plan! Highly recommended!
Mark
2012-03-13T00:00:00Z
Angelo's carriage house was like staying in a luxury hotel suite! The views are incredible, and the place looks like it was torn from a Town and Country magazine. Angelo and Tony are a great couple, and they have exquisite taste. I hope to be back upstate soon!
Gigi
2013-12-01T00:00:00Z
The property is beautiful and the interior itself is spacious and comfortable. Angelo was a really accommodating and friendly host---we appreciated the bottle of wine and the box of biscotti waiting for us when we arrived. One thing to note: the carriage house is split into two apartments, an upstairs and a downstairs. We stayed in the upstairs one, and there was still plenty of privacy from our downstairs neighbors.
Alex
2015-10-05T00:00:00Z
Our hosts were lovely and easygoing, and the space was perfect for a weekend getaway!
Rebecca
2015-07-26T00:00:00Z
Wonderful weekend retreat! Angelo was very helpful and accommodating. The loft is very well maintained. It is in a good location with easy access to most attractions in the area. We look forward to returning soon.
Michael
2014-10-13T00:00:00Z
Tipo de habitación
Casa/apto. entero
---
Tipo de propiedad
Loft
---
Capacidad
2
---
Dormitorios
Kingston, Nueva York, Estados Unidos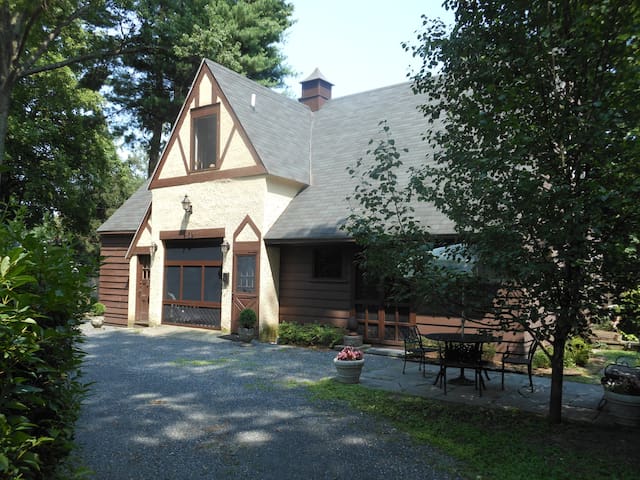 hermoso estudio de 500 cuadrado del artista pie, completo con cocina, baño completo, y enormes ventanas con vistas a patio privado. Situado al lado de Nyquist-Harcourt santuario de fauna y ruta de ferrocarril; pocos pasos de museos históricos y centro del pueblo.
500 Estudio hermosa plaza del artista pie, de pie por separado y aparte de la casa principal. Disponen de cocina, baño completo, y enormes ventanas con vistas a patio privado. Tenga en cuenta que los muebles reales difieren de los que se muestran en las fotos. lista actualizada en curso.
La combinación perfecta de la naturaleza, la historia y la conveniencia. Estudio está situado en la calle de Nyquist-Harcourt Wildlife Sanctuary y rutas de senderismo, a pocas cuadras de las casas museo de histórico hugonote la calle (3 minutos a pie), y al lado del valle de Wallkill rastro del carril, lo que conduce al corazón de New Paltz ( 10 minutos andando de la calle principal).
Hi! Brendan's home is awesome. I stayed in the artist's loft, which is opposite the main house. The loft is a studio, but it's very spacious, in part thanks to the tall ceiling (twice the height of an average ceiling). The windows are very dramatic. Everything is clean. The bathroom is simple, but has all new appliances and is, once again, clean. Brendan provided towels, sheets, a blanket (btw the bed is comfortable), hand soap, shampoo, conditioner, body wash, dish soap, toilet paper, paper towel... He was quite prepared. Thank you! I would recommend to a friend to stay in Brendan's loft.
Carla
2016-02-18T00:00:00Z
The studio is located maybe a five minute walk from town and right across the street from a beautiful trail. We had a great time staying here and watching the sunset. It was great being able to open up all the windows each morning- the natural light the studio gets is out of this world. Brendan was super easy to work with and we already want to go back!
Becca
2016-03-10T00:00:00Z
This place is really sweet and as described. Right near great hiking, restaurants and shops.
Joe
2017-02-05T00:00:00Z
We showed up at around noon and he seemed surprised that we were early. I mentioned that the airbnb site stated check in time was flexible . We went for a walk around for an hour or so while he readied the apt . No big deal
Michael
2016-10-14T00:00:00Z
This Airbnb was ok. The host, Brendan, was very responsive with organizing arrival and parking. That was appreciated. The studio itself, while fine, was not quite as nice as advertised. It did the job (hosting our couple day get away), but had its issues. The studio floor and bathroom were a bit dirty on our arrival. The studio also seems to double as a quasi-storage unit for the host's belongings. While not an issue, it was awkward that all of the closets with his things had no doors, etc. In general, the studio seemed to be in the construction phase. There were no curtains to protect light from waking us up at dawn. Privacy was a bit of an issue, with big windows looking directly onto the host's porch (again, highlighted by the lack of curtains). We would likely not stay again.
Chris
2017-02-19T00:00:00Z
Perfect stay a block from the rail trail. Host responded quickly to a last minute booking request. Thumbs up.
Tony
2016-11-11T00:00:00Z
Brendan's studio was perfect! It's spacious, it's clean, and it's centrally located. However, it's also secluded and feels like your own private oasis. I thoroughly enjoyed my brief stay and wholeheartedly recommend it to others.
Alevtina
2016-10-28T00:00:00Z
This is a great spot in a beautiful and historic area . The full bed was a little cozy for myself at 5'10 and my boyfriend at 6'3 .Also the kitchen could use a hand towel. The walking trails were a great asset and Main Street was no more than a 10 minute walk.
Moriah
2016-11-22T00:00:00Z
Tipo de habitación
Casa/apto. entero
---
Tipo de propiedad
Loft
---
Capacidad
4
---
Dormitorios
New Paltz, Nueva York, Estados Unidos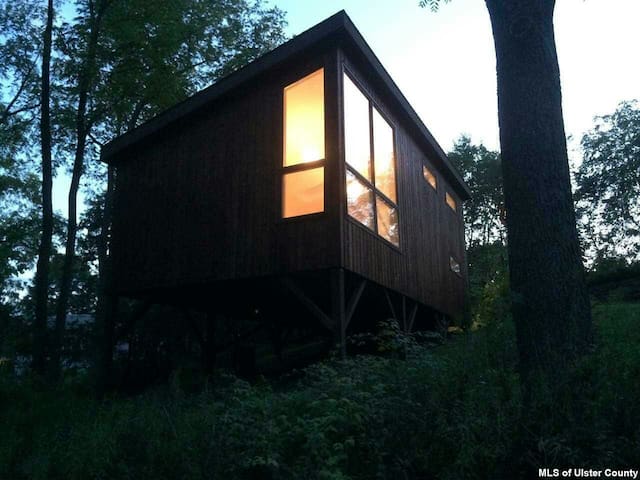 A 7 minute walk to Warren St. this 4 room schoolhouse erected in 1900 has been renovated into 700 Sq. Ft. lofts and is located in the midst of one of the most gorgeous historic cemeteries in all of America.
Erected in 1900 this Craftsmen's 4 room School House is located in the midst of one of the most gorgeous historic cemeteries in all of America, and a short 7 minute walk into town. Tailored after the cemeteries in Europe, it was created as a park to entice visitors. Many Hudson River School Painters made this their final resting place as well as famous inventors and titans of Industry. It is verily like walking through a 3 D history lesson.
I love that this place is a haven, a quiet place for contemplation, writing or artful pursuits and that it is 3 mere blocks downhill (7 minutes) to Warren street and all its delights!!! This place is also IDEAL for the athletic. There are miles of winding paths everywhere....
Laura Ann is an amazing host. She is warm, inviting, and extremely helpful. Conversations with her were an absolute pleasure. The cockatoo's were so much fun to interact with! Laura was willing to bring them down, they are beautiful. The room was EXACTLY as it appeared on the ad. The room was clean and very comfortable. The gas fireplace certainly added wonderful ambiance. The appliances made our stay very comfortable. The atmosphere was bright and inspiring. You can't look in any direction with out seeing hand made art. We will absolutely be looking to book here again. A+
Francis
2015-12-01T00:00:00Z
Great, funky space pretty close to the main drag of Hudson (about a 20 minute walk).
Erin
2016-10-22T00:00:00Z
I had a great time at Laura Ann's Schoolhouse loft. It was the perfect place for me to get my writing done and I really loved walking around the graveyard! It was calm and relaxing, while still being close enough to great places to eat and walk. I highly recommend it.
Daniel
2016-12-30T00:00:00Z
A quiet location for a relaxing retreat!
Ally
2017-04-02T00:00:00Z
This is a fantastic, eclectic, artistic space that makes you want to think about life and will inspire you to go embark on your own creative projects. L-O-V-E-D it.
George
2017-01-27T00:00:00Z
Laura was extremely responsive. Thank you for an easy stay.
Priya
2016-08-13T00:00:00Z
Amazing space. Great art on the walls.
Ryan-O'Neil
2017-01-01T00:00:00Z
Laura Ann's place was amazing! She was easy to communicate with and was incredibly accommodating. We showed up late Friday night and she was there to greet us at the front door and show us around. Once we settled in, we explored the grounds, despite the fact that it was pitch black outside, we still had a great time. The place itself was clean, bright, and inviting. We woke up early and took a long stroll around the two cemetaries which were beautiful and peaceful. We had a very short visit, but Laura was so kind and sweet and even left us a piece of pound cake to have with our morning coffee before we hit the road! We wish we could have stayed longer!
Chelsey
2016-05-29T00:00:00Z
Tipo de habitación
Casa/apto. entero
---
Tipo de propiedad
Loft
---
Capacidad
4
---
Dormitorios
Hudson, Nueva York, Estados Unidos
Ideally located adjacent to the Mohonk Foothills, this private oasis allows easy access to some of Hudson Valleys finest Hiking, biking, climbing, skydiving, orchards, wineries and restaurants. Relax in the airy, bright and smartly appointed loft style carriage house situated on one of Ulster County's most photographed roads.
Warm, inviting, comfortable, stylish and quiet. Recline in comfort on the queen sized cherry sleigh-bed and enjoy the 50" Plasma TV accessible from your smart phone or tablet. An MP3 speaker is also ready for connection via your bluetooth enabled devices. The bathroom is outfitted with a hair dryer, hair products and plush towels. You'll find complimentary coffee and tea in the kitchenette along with a mini fridge stocked with cream and water. Other sundries may be provided on request.
Nestled in the Mohonk foothills, we are ideally situated for a variety of bucolic country strolls as well as a numerous selection of 1/2 - full day hikes into the Shawangunk Mountain's. Miles of scenic country road as well as some easy to moderate trail bicycling begin out your front door.
We thoroughly enjoyed staying in Todd's guest house! The location was extremely convenient to downtown New Paltz but also very private. The apartment was clean and modern and had everything we needed. Todd was a great host. He was accessible and responsive when the internet went out and made sure we were comfortable. One thing to note in case you need to cook (we didn't), there is no kitchen. Just a mini fridge and coffee/tea. Overall we loved the experience and look forward to our next trip to New Paltz!
Corin
2016-01-03T00:00:00Z
All of the 5 star reviews were true!!! This was one of our absolute best airbnb experiences we have ever had. Please read the 20+ glowing 5 star reviews. Every good thing that everyone says is true!!! Thank you, Todd!
Alex
2016-08-28T00:00:00Z
Todd was an amazing host. Extremely responsive and inviting. He went the extra mile to not only ensure that everything with the apartment was perfect, but also to assist with any needs we had (like setting up a fire for us on short notice). Apartment was clean, organized, and very comfortable. We are already talking about going back. Great experience overall!
Brent
2016-03-28T00:00:00Z
The Carriage House was fantastic! Location: perfectly situated between great hiking spots and New Paltz. The property itself was magical and peaceful. Amenities: so much thought has been put into everything! Bathroom: shampoo and soaps, toothpaste, hairdryer, lovely towels Kitchenette: plates, utensils, mugs, glasses, gallon of water, yogurts, coffee, honey, tea, bananas Main Space: feather pillows, comfortable bed, huge tv, gorgeous views Todd: very thorough and attentive. Check in was a breeze. Todd sent emails before and during our stay to be sure everything was going well. Overall: I'll definitely return here the next time I need a place in New Paltz. I felt like I was in my own home- it was clean, safe, quiet and happy! Thank You!
Kate
2016-09-11T00:00:00Z
This is a perfect location for a weekend getaway. The Carriage House is a great balance between having the convenience of your host nearby which eases check-in and any questions you may have with also offering total privacy in the upstairs suite. Their home is very central to the region allowing for a 30 minute drive to get just about anywhere you are trying to go whether it is hiking, dining or general exploring. Thanks again to Todd and family for the great weekend!
Kirk
2016-08-08T00:00:00Z
Todd's place was beautiful and in a beautiful setting. Very quite and relaxing. When we asked about using the fire pit he set it all up for us. It was an overall great experience.
Lucio
2016-11-13T00:00:00Z
Todd and Beth goes above and beyond to make sure the apartment was clean, comfortable, and welcoming. The apartment was very private yet Todd was also very accessible whenever we had questions and/or needed suggestions on what to do in the area. The location is also perfect. Very close to downtown New Paltz as well as the Mohonk reserve and the Minnewaska state park. It was a perfect getaway from the city and we will certainly return. The amenities were exactly what we needed and more! A very comfortable bed, WIFI, large TV with easy chromecast setup process, fruits, water, trail maps, and a binder with all the must-dos and places to eat in the area. It was our first time in New Paltz and we loved it! We attribute the incredible experience largely to the place we stayed at. Once again, excellent place and we would come back again. Highly recommend this to anyone who wants a perfect getaway from the city!
Hank
2016-03-13T00:00:00Z
Cozy, comfortable, elegant and clean! We loved our stay at the Carriage House.
Maya
2016-06-27T00:00:00Z
Tipo de habitación
Casa/apto. entero
---
Tipo de propiedad
Loft
---
Capacidad
2
---
Dormitorios
New Paltz, Nueva York, Estados Unidos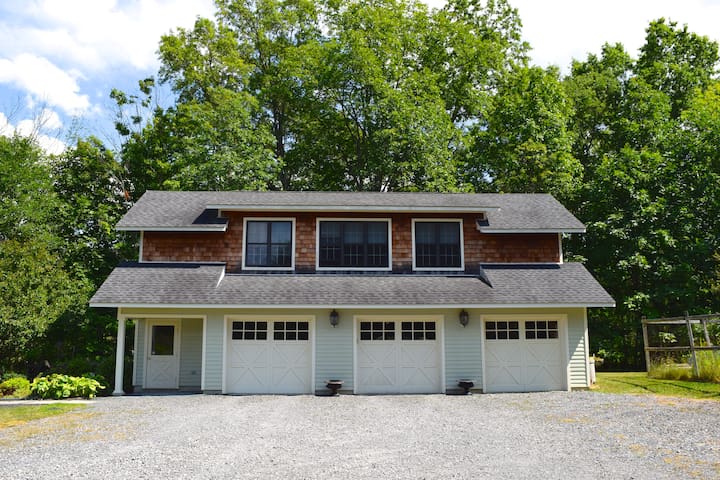 Amazingly beautiful loft house with deck overlooking a large pond with waterfall on 30 acres of land, artists space, relax, play, create or just be, heal, meditate and dream. This is a very special place for you to come into balance within yourself.
For the creative spirit or one that appreciates artistic expression. A healing space. An artist dream loft is filled with light and shapes, color and patterns, -overlooking a beautiful pond with a waterfall. The loft is a large open space with high ceilings, wood floors. A perfect space to explore, dance, yoga or just enjoy the open flow of light reflected from the pond below on my fabric sculptures. It is a very uplifting space and filled with good energy. Facing east there is a large window wall for the morning sunrise and in the west, for the sunset, 3 sets of French doors and 2 windows. The 3 French doors open to a wraparound deck with lounge chair and teak dinning table, chairs and gas grill, overlooking a beautiful pond with a waterfall. There are benches and swings on the land to sit, close to the pond and a bridge over s small stream. There are 2 tables to create, draw, sculpt or write. The house has Wi-Fi, air conditioning and heating. You will find yoga mats and pillows for meditation and many blankets in one of the closets. There is no TV, only nature channel. There are 2 queen size beds, one directly in the open space and one accessible with a ladder as a loft bed above the bathroom. You have to be skilled on ladders to feel comfortable. The bathroom has a large shower. Most of the cleaning supplies are environmentally friendly, the soaps organic and I left you some treats here and there. There is coffee maker, toaster, espresso maker, mixer, all you could need for dishes or cookware, the cookware is stainless steel, I tried to think of everything to make your stay meaningful and comfortable and if I forgot something please let me know! The mattresses and linens are super comfortable. The electricity is all solar. The artist dream loft is part of 3 buildings on 30 acres of land with 2 ponds, you can hike through the forest to a totally secluded second pond with a dock for swimming access. This pond has an island. The land is beautiful. I am a beekeeper so there will be honeybees. There is a small orchard in front of the studio with fruit trees. You can park in front of the house. You are just between New Paltz and Kingston, a very central location not far from Woodstock or Rhinebeck. Hiking, swimming, playing and resting, or just being, creating a new project, or healing from a crazy life, it's a good space for all of it. I make my own remedies from plants in my garden, I have put some of them in the loft for you, my hope is that you take advantage of the healing potential that the space has to offer. I live in one of the 3 buildings the first one, painted orange, the second building is a green barn that I store my art work in and then last, is the dream loft. The loft is about 1300 square feet in size.
very well located between new Paltz and Kingston not far from Woodstock, and Rhinebeck, this area has so much to offer from amazing restaurants to hiking, performances ....
My husband and I had a wonderful stay at Gisela's place! It was quiet, peaceful and very relaxing. The perfect escape from the city that the were hoping for. Gisela was attentive and respectful of our privacy. The perfect host.
Anita
2016-07-31T00:00:00Z
Gisela's home was truly something out of a fairytale. Everything from her space, the pond and private fire area was absolutely perfect. She was very accommodating and friendly as well. Will definitely be back!
Jessica
2016-08-29T00:00:00Z
Gisela was so helpful - we came later at night and had a bit of a snafu with our GPS, but Gisela was totally understanding and very welcoming and made us feel perfectly at home. We LOVED the space and plan to come back again!
Sarah
2016-10-16T00:00:00Z
Gisela was an incredible host who has done a fabulous job decorating this space. Great energy, amazing natural light, a really beautiful open space that both my mom and I really enjoyed. Highly recommend to anyone looking to stay in the area!
Matthew
2016-07-25T00:00:00Z
Tipo de habitación
Casa/apto. entero
---
Tipo de propiedad
Loft
---
Capacidad
3
---
Dormitorios
Ulster Park, Nueva York, Estados Unidos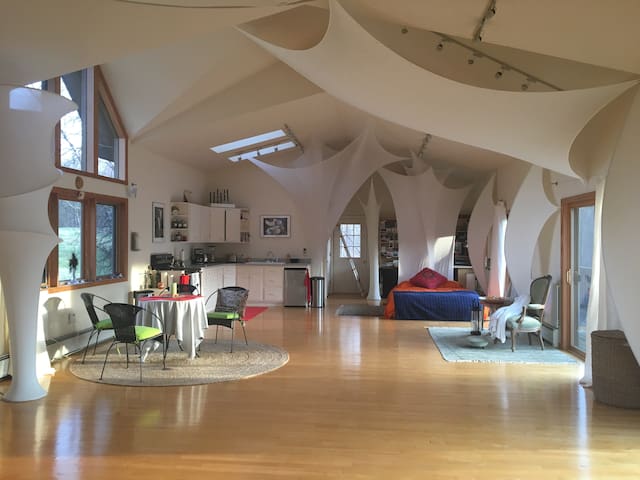 Located in the heart of the Hudson Valley, just off the Taconic Parkway. We have a studio loft nestled in the rolling hills of Columbia County. 20 minutes from Hudson New York, 20mins from the Berkshires, and 10mins from Bash-Bish Falls. The loft is located atop Betzie's art studio. With stunning views and tons of privacy its a great space for anyone looking to get away. Extremely quiet, surrounded by beautiful gardens.
As of April 2017 we have added a new 12' x 16' deck off the north end of the loft ...and it's just for the loft guests!!!!!!!
Super cute cabin-like room. It felt really private, and practically as if we were in the woods. The landscaping is really beautiful around the cabin, and I think it would be amazing to see in the spring/summer when things are in bloom. Great location on winding country roads, and not too far from Hudson and apple orchard farms. Good escape from the city. Has all the amenities of a house, while still having a cozy cabin in the woods feel to it.
Sarah
2016-10-16T00:00:00Z
Betzie is the best, I had such an amazing time. i would stay hear again 100%!
Tyler
2016-10-23T00:00:00Z
This place was amazing! The loft is cozy and the perfect woodsy getaway for my me and my friends. It is definitely the right place to stay to get away from all the hustle and bustle of everyday life. The loft is private in the back of the property with the ability to cook food and take a shower. I stayed with friends and our favorite part of the stay was the property! There are gardens everywhere with beautiful flowers and great places to sit and unwind. We had the time of our lives just taking pictures all over the property (great Instagram opportunities). At night we sat on the hood of my car and just watched the stars. During the day we went to a near by state park and hiked up to see a waterfall. Our whole trip was calming and a great way for us to take a step back from life and just enjoy each other. Definitely recommend staying here and I know I will be back in the future.
SiSi
2016-09-25T00:00:00Z
The loft is awesome! It is very private, occupying an isolated part of their expansive property. It sits atop an artist's studio and was nicely appointed with everything we needed. Betzie and Keith were wonderful hosts, getting us set up and checking in periodically to make sure we were doing well. We would undoubtedly stay here again!
Jeff
2016-10-09T00:00:00Z
Tipo de habitación
Habitación privada
---
Tipo de propiedad
Loft
---
Capacidad
3
---
Dormitorios
Ancram, Nueva York, Estados Unidos
Located in the heart of the Hudson Valley, my brightly lit loft is situated in Downtown Poughkeepsie. Walking distance to the Metro North, the Walkway over the Hudson and just a few moments drive to the CIA, VASSAR and MARIST college.
Located on a quiet historic street, my apartment is a two level loft with six large windows that line the apartment providing all the natural light you could ask for. The living space and full kitchen are located on the first level where you also find a private and peaceful balcony surrounded by beautiful trees that keep it nice and cool on those warmer days. Feel free to enjoy your morning coffee, afternoon lunch or even get your creative juices flowing as I sometimes do out there! The bathroom and the bedroom are both located on the second level and give a great view of the entire space. With two windows overlooking the bedroom, you can get a glimpse of the Walkway Over the Hudson right from the bed! The bedroom features a great queen size bed and I also have a super comfy queen size blow up mattress if extra sleeping space is needed. Hardwood floors throughout the entire space and a full kitchen with all the cooking utensils you need, including a coffee pot and a waffle maker. Please be advised There are two friendly sphynx kitties that will keep you company.
My loft is very centrally located, walking distance to the Poughkeepsie waterfront as well as plenty of hip restaurants, brewery's and bars. The walkway over the Hudson is also a short walk away, as is the Poughkeepsie train station(10 minutes) where you are just two stops away from Beacon where you'll find a huge selection of great restaurants and bars or even Mount Beacon, if hiking is your thing. The Historic Hyde Park is also just a short drive away where you find the Roosevelt Mansion, the Vanderbilt mansion and The Eleanor Roosevelt mansion. We also two drive in theaters, plenty of places to hike or ride bikes including the Rail Trail! If the Arts are your thing, we are only a 15 minute drive to New Paltz!
Jamie's great - very accommodating - and the place is bright and clean and very cute!
Robin
2017-04-08T00:00:00Z
The host canceled this reservation 5 days before arrival. This is an automated posting.
Pawel
2016-08-01T00:00:00Z
2 cats here! Quiet place!
Nora
2017-03-12T00:00:00Z
Jamie was sweet and accommodating. Her home was quaint and inviting. A perfect getaway in a quiet town that has more to offer than you'd think.
Chris
2017-02-19T00:00:00Z
Jaimie was a great host and the loft was great. However, the cats would not leave us alone and woke us up early in the morning.
Daniel
2017-04-02T00:00:00Z
Jamie's place was lovely and she was a great host. It's on a beautiful side street near the metro north station near some local bars and food. Would definitely stay there again next time I'm in Poughkeepsie.
Nina
2016-08-01T00:00:00Z
Jamie was a great host. The loft is very comfortable, and close to the train station and riverbank. Some amenities like wifi or cable are not available, but if you can live without Jamie offers an excellent stay.
Amro
2017-03-26T00:00:00Z
The host canceled this reservation 10 days before arrival. This is an automated posting.
Stephen
2016-08-01T00:00:00Z
Tipo de habitación
Casa/apto. entero
---
Tipo de propiedad
Loft
---
Capacidad
4
---
Dormitorios
Poughkeepsie, Nueva York, Estados Unidos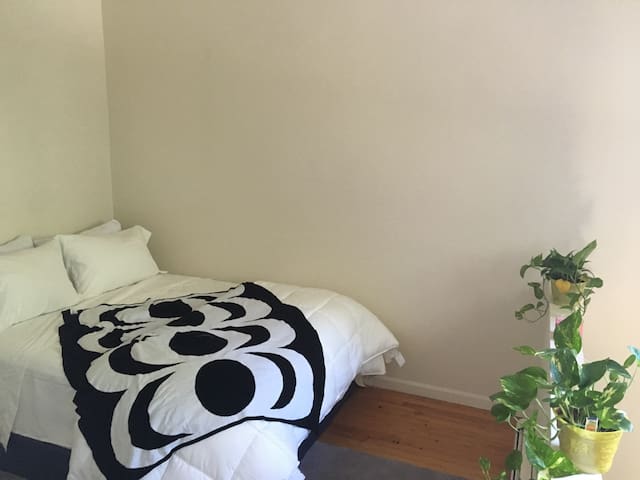 This contemporary 1900 sq ft. loft is the original viewing room to the indoor riding arena on a 70 acre equestrian property located in the heart of Millbrook hunt country. The loft has been recently renovated and suited for those who desire a spacious modern atmosphere, yet want to enjoy the outdoors. There is a partial kitchen with a refrigerator, coffee maker and toaster to help start the day. The property is situated on a bucolic dirt road and is great for a variety of outdoor activities.
The loft was recently completed so pictures do not adequately reflect what it will ultimately look like. The space is new, clean and spacious and will have a warm, but minimalist feel. There is only a partial kitchen for now but we do have a fridge and coffee maker and the essentials to start your morning.
We are situated on one of the most historic roads in Dutchess county which allows guests to enjoy beautiful undisturbed walks, bike or horse rides and in the winter cross country skiing. This is a place to reconnect and recharge especially if coming from a city environment.
We had an absolutely fantastic stay at John's beautiful home. The house is located on an idyllic property with views of horses grazing in virtually every direction. The space is a brand new renovation, beautiful and comfortably appointed. John and his wonderful family are excellent hosts and give great recommendations on what to see and where to eat in the area. Our weekend was incredibly relaxing and comfortable and we will definitely be back!
Zachary
2016-09-05T00:00:00Z
John was very welcoming and engaged in our arrival for a smooth beginning to our vacation. Unit was large, clean, and located on a beautiful horse training property. My three sons appreciated the pool and wifi, while the location for me was most suitable. No issues on our stay and the hosts were available should we have needed anything. The unit is a brand new remodel with a very spacious main room on a beautiful country road.
Joe
2016-08-19T00:00:00Z
My Husband & I absolutely loved loved John's loft! Not only was it exactly how we expected it from the photos & description, but John's hospitality and welcome was wonderful. He was extremely helpful with everything from directions & tips to easy communication & sincere kindness. THE BEST part of our stay was the beautiful grand piano that was the centerpiece of this airy super clean beautiful space amongst acres of sprawling fields filled with horses & everything equestrian! As a pianist, I loved every minute I played and was happy to be able to practice amongst such beautiful surroundings. We definitely would love to go back & highly recommend this very special place. Thank you John! :)
Allison
2016-10-16T00:00:00Z
Tipo de habitación
Casa/apto. entero
---
Tipo de propiedad
Loft
---
Capacidad
6
---
Dormitorios
Millbrook, Nueva York, Estados Unidos
Tivoli - Airbnb
:
Una media de

4.95

estrellas de un total de

5

de

880

evaluaciones de huéspedes
Introduce las fechas para ver el precio total. Ten en cuenta que se aplicarán tarifas adicionales y es posible que se añadan impuestos.