Cabina en Cream Ridge NJ. 1 dormitorio, 1 altillo con cama, 1 cuarto de baño, cocina y sala de estar. Sala de estar incluye 1 sofá y una silla. Televisores en altillo dormitorio y sala de estar. Ollas, sartenes y utensilios incluidos. Favor de traer sus propias sábanas y almohadas.
I stayed here for two nights and had a wonderful time. The place was easy to find, and the community was very pretty. I didn't get a chance to personally meet Charels but the staff at the leasing center were a delight to work with. I stayed here mostly because of the proximity to six flags and because they are pet friendly. My puppies enjoyed their time there too. I would definitely come back again!
Jonathan
2016-09-26T00:00:00Z
Great communication. Clean, quiet, comfortable.
L
2017-02-21T00:00:00Z
Everything was great. My kids loved sleeping in the loft and treated it as a tiny house experience. For the cost of a motel we were able to have space and cook meals if we wanted. Best of all was that the place is only 2 miles from Six Flags in the opposit direction of all the traffic. I would definitely stay again.
Jennifer
2016-04-19T00:00:00Z
Stayed for an entire month. Found it to be a Very nice place. It was exactly as pictured and described. They even supplied an outdoor grill, gazebo, and a fire pit. The grounds were quiet and clean and the other renters were very friendly. Charles and the grounds staff were very pleasant available and answered any questions I had. I would definitely like to stay there again.
lisa
2016-07-30T00:00:00Z
The cabin was perfect. Actually the entire experience perfect. After our tournament we were able to relax and enjoy ourselves at the cabin. Check in and check out was simple. No complaints at all
Nicholas
2016-08-01T00:00:00Z
I was with my boyfriend and my cousin and her boyfriend for the weekend. The cabin was nice and small, but just enough room. The neighbors weren't a bother at all. We loved the space and the location. The only problem we had was checking in and out. We couldn't get into contact with anyone in the office for about 10-15 minutes checking in and checking out. Overrall, we had a great time and loved the cabin. We would definitely come back.
Alicia
2016-05-23T00:00:00Z
Tipo de habitación
Casa/apto. entero
---
Tipo de propiedad
Cabaña
---
Capacidad
4
---
Dormitorios
cream ridge , Nueva Jersey, Estados Unidos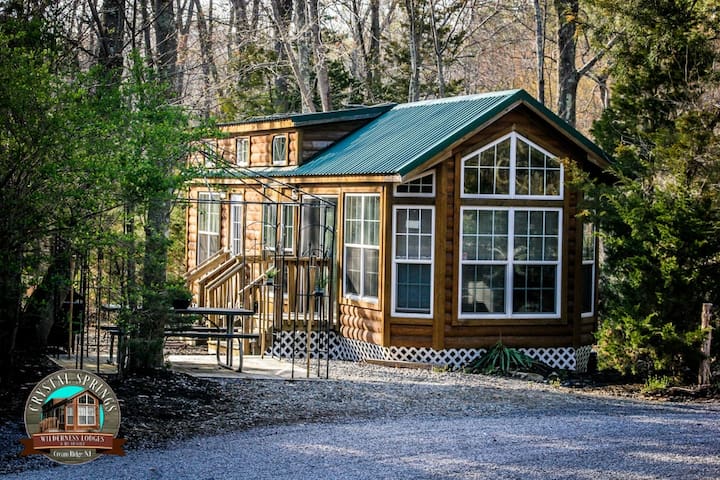 Rustic, shabby chic cabin on flower filled property. Short walk to shops and restaurants in Frenchtown. Quiet creek and hilltop hike right from the backyard. Note: there is a toilet but no shower or running water.
Tipo de habitación
Casa/apto. entero
---
Tipo de propiedad
Cabaña
---
Capacidad
2
---
Dormitorios
Frenchtown, Nueva Jersey, Estados Unidos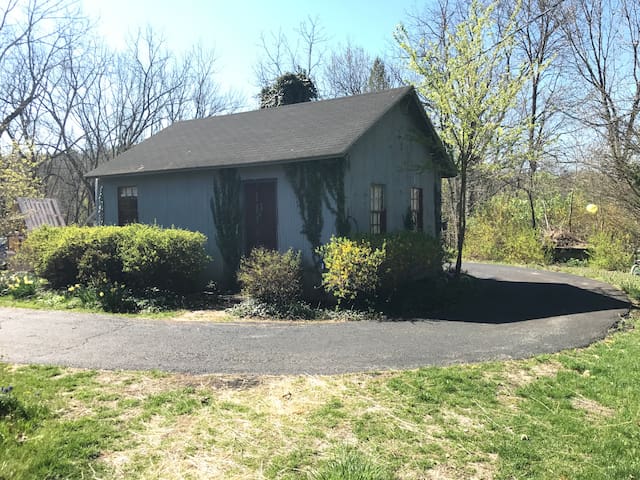 This luxury lodge is in a gate resort and less than 4 minutes from Six Flags in Jackson, NJ. The lodge can sleep up to six people. It has a full kitchen and great room equipped with a surround sound. The property has all season outdoor living area.
This luxury lodge is in a gate resort and less than 4 minutes from Six Flags in Jackson, NJ. The lodge can sleep up to six people. It has a full kitchen and great room equipped with a surround sound. The property also has all season outdoor living area, in a beautiful natural setting with fire pit and a gazebo deck equipped with a grill and a table for six. Please be advised that linens are not provided. There are one queen size bed in the bedroom, two mattress tops on the second level which is a crawl space, and two sofa beds in the living room. Electricity is an additional charge for stays longer than two weeks.
The host canceled this reservation 23 days before arrival. This is an automated posting.
Josh
2016-08-10T00:00:00Z
This is a cute trailer park and the trailer is a faux cabin with a cozy and clean space that slept the 6 of us fine. There's a propane bbq and a fire pit in the small yard area. All the neighbor's are very close so there is no privacy unless you close the curtains. It is a very quiet trailer park with lots of American flags. At night you can here the symphony of crickets and watch the stars because there are no lights. It felt safe and the trailer park was very clean. The apt has a dvd player and we watch movies and ate bbq and then went to 6 Flags the next day which is five minutes away. We left a nice tip for the cleaning person.
Katherine
2016-08-08T00:00:00Z
Lodge is exactly as described. It's small, but we had six people plus a baby and were comfortable. Michael was very reachable and helpful. Great value for money.
Natsuko & Carlos
2015-07-20T00:00:00Z
I arrived late so didn't get the chance to meet with Michael or David (who owns the key.) A great place to stay if you wanna visit Six Flags. It's really close to the park. The only downsides are that the hot water lasted only about 25 mins, only the first three of us had hot water (we have 6 people). Also, the water has a metallic odor. Not many food choices around the place.
Chieh Yuan
2016-04-18T00:00:00Z
The place is cozy and nice to stay. I had some technical problem with the speakers and water running cold after a long shower but I loved the rest of the house. Bedroom is nice and cozy and overall the place is really clean and neat. It was a really nice getaway from the city for the break.
Hyewon
2015-03-16T00:00:00Z
We had a wonderful time, thank you Michael! The cabin was the perfect size for all 6 of us, and the kids loved the loft! We were very conveniently located to Six Flags and we were also able to do day trips to Philly and NYC during our week stay. The kitchen was the perfect size to throw together quick meals and the fire pit was a hit each night we roasted marshmallows! Thanks again, we plan to return soon!
Brynn
2016-07-24T00:00:00Z
Tipo de habitación
Casa/apto. entero
---
Tipo de propiedad
Cabaña
---
Capacidad
6
---
Dormitorios
Cream Ridge, Nueva Jersey, Estados Unidos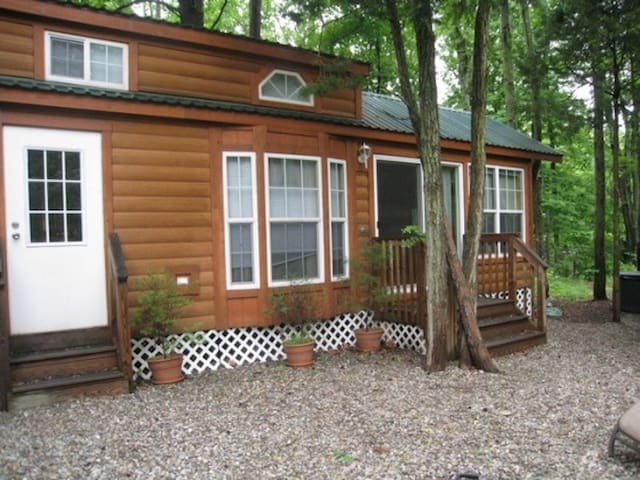 Our resort is gated for the security of our guests. Our cabins are cozy, and each cabin has a fire pit, gazebo and a gas grill for the convenience of our guests. Our cabins are fully equipped with all the amenities you need.
Great little cabin. Ivona was easy to reach and quick to respond with any questions. Will definetly stay there again.
Becky
2016-06-27T00:00:00Z
Tipo de habitación
Casa/apto. entero
---
Tipo de propiedad
Cabaña
---
Capacidad
6
---
Dormitorios
Cream Ridge, Nueva Jersey, Estados Unidos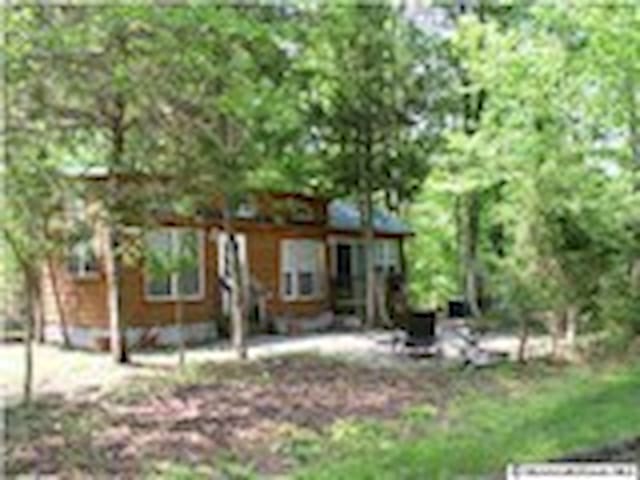 The cozy yet spacious Carriage House has been newly renovated, open floor plan with fireplace, exposed beams, natural lighting, a beautiful one bedroom with pasture views, upstairs has four twin beds. Full bathroom and kitchen stocked with supplies. Perfect venue for a weekend getaway a retreat or even a wedding!
Welcome House Farm is situated on a quiet back road in Bucks County. The main house from the 1700s, as well as the carriage house, a renovated bank barn from the 1830s, are situated on 16 acres of fenced and open pastures as well as woods and is located a hundred feet from the main house. We encourage guests to help themselves to the vegetable garden and fresh eggs from our free range chickens. The pool is accessible to guests and is surrounded by forest on three sides providing a very tranquil backdrop to pool side relaxation. The barn is on the other side of the stream at the back of the property and is home to three horses, chickens, and a few barn cats . we have two dogs as well. The carriage house is huge, about 2,300 square feet, not including the mudroom, and has three floors. The bottom floor is an entry way and mudroom, at the top of the stairs are supplies (broom, dyson vacuum, ironing board etc.) with an entrance at the top of the stairs into the kitchen on the main floor,and the third floor is brand new and has twin bedrooms. The main part of the carriage house has several large windows with wonderful views, great lighting, high ceilings, and an open living and dining room area. There is a pull out couch adjacent to the fire place (with a comfortable pillow topper on the mattress). There are board games, an electric piano, and 2 armoires for extra clothing storage for longer term guests. The carriage house bedroom has a spacious closet, book case with cubby spaces, large windows with views of the pastures and woods. We splurged for the feather bed topper, bamboo sheets, and tempurpedic pillow option which allows for a very enjoyable night's sleep. The closet is fully stocked with several fresh towels, a change of linens, extra blankets, and a wide variety of toiletry supplies in case you might have forgotten anything. The kitchen has several new appliances and all the kitchenware you could want including a kitchenaid mixer, for those who love to bake etc. There is a variety of tea and a nespresso machine for those that are coffee lovers (there are French presses for regular coffee as well). There are 4 twin beds upstairs in the newly furnished top floor for additional guests. Overall, it is a very peaceful place surrounded by nature. We are around the corner from a dairy farm with fresh milk and a wonderful local orchard that has a deli and makes fresh baked goods. Additionally, we are down the road from Lake Galena which offers great trails for walking as well.
What can I say? I didn't want to leave! Bess and Christian are fantastic people, responsive, generous, and set the standard for hospitality 'best practices'.
Tim
2015-11-16T00:00:00Z
The carriage house is really comfortable and super cute. It has everything you need and Bess is super friendly and helpful. It is very roomy and the property is stunning. We had a lovely time and would come back in a heartbeat!
Nicole
2016-08-09T00:00:00Z
Our host Bess made us feel very welcome and she was so helpful. I was able to communicate with her before my trip and she answered any questions that I had. There were no surprises when we arrived. The house was very charming and it was very quiet at night. It was a nice balance to be out in the country but close enough to little shops/restaurants and Doylestown. We loved it!
Melissa
2016-05-30T00:00:00Z
We loved our stay at Bess and Christian's place. They were super welcoming and kindly provided a wonderful selection of local food and drink, which was all delicious. The Carriage House is beautifully converted and extremely comfortable and well equipped. The grounds were gorgeous - I particularly enjoyed reading in the hammock under the pines. And the local neighbourhood has everything you need and some great lakes and nature trails. Provided you're OK with dogs, this is the perfect place for a relaxing break.
Lindsay and Patrick
2016-08-30T00:00:00Z
Truly a beautiful experience. We booked this as a getaway from the city. The setting is a picturesque farm. Bess and her husband are truly wonderful hosts. Always making sure you're having the best experience possible. They provide you farm fresh eggs and delicious treats from local bakeries and a local dairy. Book for an idyllic farm experience.
Kelcey
2017-03-19T00:00:00Z
This was a wonderful place to stay and so peaceful and quiet. The carriage house is charming and well furnished/decorated. Upon our entering the house, my son said," I could stay here the whole time." We used the house as our central place around which we went to family activities in New Jersey and Pennsylvania and then slept in and enjoyed the carriage house. It has the most family/group-friendly atmosphere in the large living room with comfy couches and chairs, flat screen TV and fireplace. The host allows you to stroll the acreage locations and see the horses and barn. Upon our arrival, our host brought us farm fresh eggs, a local loaf of bread, and a sweet treat. The hosts were very nice, accommodating, considerate in giving us our privacy, and very receptive to anything we wanted. I would recommend this place for a quiet, peaceful place away from big cities.
Donna
2016-10-05T00:00:00Z
Gracious and accommodating hosts. Serene environs.
Lezley
2017-02-18T00:00:00Z
Had a great stay in the carriage house. Private - can see the horses from the bedroom window as you wake up. I was able to go anywhere on the property and Bess and Christian treated me like one of their friends. I really enjoyed my time there.
Cody
2017-03-31T00:00:00Z
Tipo de habitación
Casa/apto. entero
---
Tipo de propiedad
Cabaña
---
Capacidad
8
---
Dormitorios
Perkasie, Pensilvania, Estados Unidos
We are a licensed B&B, voted best in the county two years in a row! Lovely English Country inspired cottage within walking distance to downtown Frenchtown. Private patio garden, 80 gallon jacuzzi for 2, seasonal fireplace. Kitchenette with mini fridge, coffee maker, microwave & toaster. Period antiques throughout. Self catering.
Charming English country inspired cottage featuring fine antiques, luxury linens & upscale amenities combined to create a unique, relaxing and private getaway. Children and well behaved dogs may be accommodated. Pet security and pre screening required
Frenchtown is a lovely, small Riverside community along the Delaware. We are a short walk to shopping, dining, bike paths & river sports
We loved our trip to the cottage! Our host was wonderful and was willing to assist us with anything we needed. Would go back again!!!
Tara
2016-10-09T00:00:00Z
Tipo de habitación
Casa/apto. entero
---
Tipo de propiedad
Cabaña
---
Capacidad
2
---
Dormitorios
Frenchtown, Nueva Jersey, Estados Unidos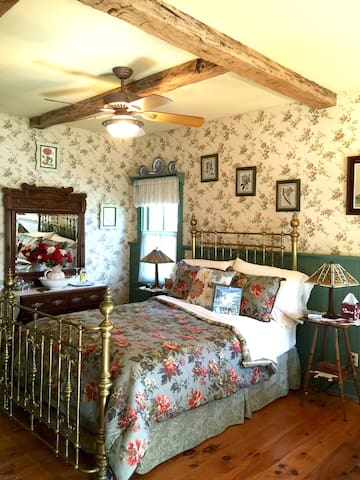 1

–

6

de

6 Alquileres de Cabañas
Introduce las fechas para ver el precio total. Ten en cuenta que se aplicarán tarifas adicionales y es posible que se añadan impuestos.