Somos una cama y desayuno VERDADERO! El pase de entrada GCNP $ 30, la compra por separado en la puerta, es bueno para toda la semana, así, consideran quedarse más de una noche. El pase parque también es bueno para la Cuenca del Norte también. Nota: El "Skywalk" que no forma parte de la Cuenca del ~ del Sur, que es donde estamos. Utilice su motor de búsqueda favorito para obtener más información sobre SkyWalk. Ahora, dicho esto, aquí vamos ..! ________________ FELIZ FELIZ JOY JOY es de estilo europe(URL HIDDEN)el B & B más cerca de la GRAND CANYONS BORDE DEL SUR! Estamos a sólo 20 minutos de las puertas de entrada GCNP! Estancias de más de $ 159 incluyen el desayuno. (Véase más abajo para más detalles.) Tenemos 20 acres de paz, tranquilidad y serenidad con un acceso muy fácil y directo de encendido / apagado HWY AZ 64 (a Gran Cañón), con aparcamiento gratuito justo en frente! Una fuente de agua de la parte trasera dibuja alces, ciervos, ovejas berrendo (también conocido como antílope), diversas rapaces, pájaros cantores, colibríes, conejos, coyotes y fauna nativa demasiado diferentes para mencionar. Somos un hábitat de vida silvestre certificada con la Federación Nacional de Vida Silvestre. También, en realidad se puede ver a las estrellas y el horizonte a horizonte, especialmente en noches de luna nueva vía láctea! Sin embargo, las noches de luna llena son algo de experiencia también. Estas son sólo algunas cualidades especiales que experimentará aquí, oh-tan de cerca, en el Gran Cañón. NOTA: Las habitaciones tienen capacidad para dos personas SOLO. Ofrecido es la sala de colibrí. Después de un gran día en el Gran Cañón, hay una cama super-queen pillow-top para su visita agradables y cómodas de ensueño-tierra de los sueños. Hay un cuarto de baño completo COMPARTIDA-w / la cabina del piloto. Si muestra el calendario completos, y que realmente les gustaría quedarse con nosotros, me deja caer una línea / consulta y que puede ser capaz de ayudar. **** **** ESPECÍFICOS DE DESAYUNO -Una Estancia de una noche incluye nuestra SUR DEL BORDE desayuno de picnic (lleno "para ir ~"). -Dos Noches incluye nuestro borde del sur de desayuno de picnic y nuestra pausado, de brazos caídos delicioso-para-su-PANZA desayuno estilo del suroeste. O si usted está realmente en movimiento y no tiene tiempo para un buen desayuno (servido entre las 8: 30 a-9a) del picnic está disponible las mañanas. -A Tres noches retiro incluye dos días de campo y una sentada. O tres días de campo, si lo desea. -Cuatro Noches + ... vamos a hablar! Fuera de temporada PRECIOS MENOS DE $ 159 incluye el café / té o jugo Y PAN casero de banana. Si su tasa es inferior a la normal y que le gustaría-desayuno completo que me haga saber, ya que hay maneras de manejar esto .. Somos flexibles hasta aquí forma el Gran Cañón. Así que, por favor, si usted tiene más preguntas o peticiones especiales enviarlos en una y vamos a ver qué se puede hacer. Esperamos hablar w / usted pronto. Que sea mascotas conocidos en la propiedad. Por lo tanto, si usted tiene alergias a llevar consigo la medicación adecuada, si es necesario, o una aversión al pelo de animales, por favor, no quedarse con nosotros. Galleta-Monster, nuestra gran mezcla del laboratorio de tamaño mediano es un trabajo en progreso (un rescate w / disminuir la confianza emite gracias a la amabilidad de los huéspedes anteriores). Ella tiene dos gatos. LoverBoy y alarde publicitario. LB nació debajo de la casa. RD es nuestra última adición. Él ama a la gente, se dirigirá a tope y se ronronear ruidosamente. No se sorprenda si viene visitará en su habitación, así, mantener la puerta cerrada si no desea una visita gatito. Los gatos pueden o no pueden estar aquí, ya que viven en Prescott ahora y vienen a visitar a menudo. ________________ Las tarifas están sujetas a cambios hasta que usted es un invitado confirmado.
20 acres de amplio espacio abierto en el enebro escasa ~ campo piñón de pino.
Ella siempre fue muy amable amigable y respetuosa. Te aconseja como si fuera guía de turistas. El costo en relación a lo que ofrece es adecuado. Te hace Sentirte en tu propia casa. Hay limpieza y comodidad, siempre preguntando si algo más te puede ofrecer que no se haya mencionado en el anuncio. Te toma 10 a 15 min llegar a la entrada del Parque Nacional del Gran Cañón Quizá el lunchbox se podría mejorar con Sándwich en lugar de Bagels pues no se ponen tan duros
MARÍA ELENA BEATRIZ
2016-09-01T00:00:00Z
Sally was extremely helpful in all of her recommendations of activities and tactics for surviving the Grand Canyon. She helped to make our trip memorable and one of kind.
Morgan
2016-10-16T00:00:00Z
Vi var rigtig glade for at bo hos Sally. Vi var hos hende 2 dage, og hun fortalte meget om Grand Canyon, så vi havde et godt udgangspunkt for at opleve området. Huset ligger smukt og der er gjort meget ud af at indrette det så der er en god stemning. Hun lavede nogle dejlige picnic kurve, så vi kunne nyde maden med udsigt over Grand Canyon.
Jens
2015-09-19T00:00:00Z
The stay at Sally's place was very nice. Location was perfect distance to get out of the crowded areas and still be within a short distance to drive to the Park. The bed was very comfortable, and the bathroom was very clean. Sally was exceptionally hospitable and helpful with directions and planning. Comfortable experience. Would recommend staying there.
Thuy-Van Tina
2015-03-23T00:00:00Z
Great hosts, felt like we could do whatever we wanted and be ourselves. Great breakfast too!
Lucas And Layla
2012-04-05T00:00:00Z
Sally was a very great and friendly host. :) talking to her is really fun and enjoyable. Her home was lovely and the bedroom was very comfortable. The space around her property is definitely very relaxing and something that most of the other places near e Grand Canyon cannot offer. The location was good too, and definitely nearer to drive to the Grand Canyon than from Flagstaff or Williams.
Melissa
2013-12-19T00:00:00Z
Sally was an incredible host! She knows how to treat her guests with very thoughtful touches including but not limited to bottled water and chocolate in your room when you return for the evening. The bed and room was VERY comfortable and I slept so well! We had a wonderful stay and the departing breakfast so we could make the arranged helicopter ride was Very good including homemade banana nut bread. (URL HIDDEN) included so many items that anyone would appreciate any one or several items in a beautiful breakfast bag! She arranged our helicopter ride through the Canyon for us and gave us the BEST tips on things to do while in the area. Amazing how lovely Sally made our trip! Don't miss this wonderful opportunity while visiting the Grand Canyon!
Janet
2014-03-27T00:00:00Z
Sally was a great host and the place was cute and homey! I had a great time hanging out with Sally, we even watched a movie together after my day at the canyon! You can also see the most beautiful stars from her place. I would definitely recommend staying here.
Alana
2014-04-04T00:00:00Z
Tipo de habitación
Habitación privada
---
Tipo de propiedad
Casa
---
Capacidad
2
---
Dormitorios
Grand Canyon, Arizona, Estados Unidos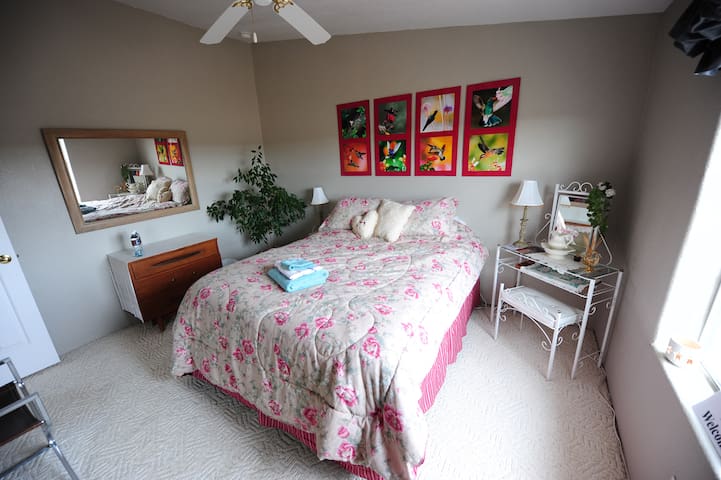 Convenientemente ubicado a 30 minutos de la entrada del Gran Cañón del Extremo Sur ya 30 minutos de Williams, AZ. Tenemos pórticos dobles para disfrutar de su mañana y por la noche; perfecto para la salida del sol y las estrellas. Busque Gran Cañón Escape II en Sedona.
Este espacio se encuentra en una zona rural y no en Williams, AZ. Se encuentra en 3 acres y tiene tanto un porche delantero y trasero para relajarse antes o después de ir al parque. servicios de Internet y televisión por satélite son, ya que es fuera de la red excepto para la electricidad. Va a ver la vida silvestre. (Los anfitriones también ofrecen alojamiento en Sedona, AZ - el espacio más pequeño, pero se aplica múltiple de reserva de descuento - póngase en contacto con los anfitriones.
Este es remota. Todas las viviendas son de 1-2 acre y es muy privada. Barrio es muy amable, pero es probable que no quiere ver a nadie.
A welcome basket w/snacks and water--very nicely done. A very interesting locale--a little hard to locate for an out of towner but not insurmountable.
John
2016-10-28T00:00:00Z
We rented the cabin for some quiet time on a long road trip (from Houston, Tx, to LA, CA): after all those noisy hotel rooms, the cabin was fantastic - it is SO quiet and peaceful. Very well maintained and good taken care off, spacious and generous. A detail we loved was the clothesline along the porch to dry the laundry, if you don't want to use the dryer. The cabin is close enough to the park (we came here driving through the park and didn't even go back but (EMAIL HIDDEN)munication with Tamara was easy and very efficient. Thanks, this has been exactly what we needed and envisioned.
matthias
2016-04-06T00:00:00Z
Fantastic experience here! Our family of 6 (2 adults and 4 children including 3 teenagers) had a great time, as everyone got their own bed. Tons of room for everyone. Dishes for any meals we needed. Warm welcoming gift as well. I really enjoyed being away from the congestion of the Tusayan hotels, and it's just 20 minutes south of there (30 minutes from the canyon). Make sure you download directions before you get on the road-- our cell phones had spotty coverage on the way (Sprint). Internet service at the house is slow. Overall, we loved it!
Syler
2016-03-22T00:00:00Z
There was a well filled Welcome basket and wine, lots of pamphlets and maps. We played board games each evening which was fun.
Cynthia
2016-09-27T00:00:00Z
We arrived to an adorable cabin with plenty of room and a nice welcome basket. We had a little trouble with the WiFi one evening and Tamara responded immediately by offering to drive to the house right away and solve the problem. She is more then accommodating and this cabin is highly recommended!
Jen
2016-02-20T00:00:00Z
Host is really friendly but the wifi is too slow that takes five minutes to load a page.
Jiamo
2016-01-07T00:00:00Z
The house is really nice and in a convenient location, not too far from Grand Canyon. Spacious, and clean. We all love it!
Lisa
2016-06-14T00:00:00Z
Very friendly hosts,great house,amazing view outside the house
Haoyang
2016-01-18T00:00:00Z
Tipo de habitación
Casa/apto. entero
---
Tipo de propiedad
Casa
---
Capacidad
8
---
Dormitorios
Williams, Arizona, Estados Unidos
Visitar el Gran Cañón y Williams, una preciosa ciudad de la ruta 66, con comodidad y estilo. Esta histórica casa recientemente reformado dispone de tres dormitorios (una cama doble en cada uno), dos baños, una cocina completa y un patio trasero para asar al aire libre. Es a pocos pasos de la estación de ferrocarril del Gran Cañón y un paseo muy corto a los restaurantes y tiendas.
Ubicación, ubicación, ubicación! Aparcar el coche y relajarse en esta amplia, limpia y cómoda de tres dormitorios, dos baños casa a pocos pasos de la famosa estación de ferrocarril del Gran Cañón, donde salen los trenes para el Parque Nacional del Gran Cañón y, durante la temporada de vacaciones de invierno, el Polo Norte a través ¡Expreso Polar! El centro histórico de Williams, pintorescas tiendas, restaurantes, bares y entretenimiento son un rápido paseo de 10 minutos de la puerta principal. Mi casa es perfecta para las vacaciones familiares y para adultos. Tiene capacidad para un máximo de ocho, si se pone a dos personas en los cómodos sofás. cocina completa, chimenea de gas acogedor, unidades de aire acondicionado de ventana en dormitorios, sala de televisión independiente, distinta de dormir y sala de estar, patio trasero con una mesa de picnic y parrilla de gas para cenar al fresco. Williams es un refugio perfecto pequeña ciudad. Tiendas de comestibles, cafeterías, restaurantes y entretenimiento están a sólo un corto paseo. Las temperaturas de verano son suaves, los días de invierno a menudo tienen tanto la nieve y el sol. Williams es una ciudad "cielo oscuro", por lo que las estrellas brillantes y galaxias parece lo suficientemente cerca como para tocar!
La tienda de comestibles de la ciudad está bien equipada con lo básico y, comida saludable fresca. Tiene una farmacia, una tienda de delicatessen y la única Starbucks en la ciudad! Es un rápido paseo o en coche desde mi casa. (URL HIDDEN) 637 W. Route 66, Williams, AZ 86046, Tel: (PHONE NUMBER HIDDEN) Horas: 5 am - medianoche Mis lugares favoritos en la ciudad (todos a pocos pasos de la casa): Desayuno: Cafe 326- No en Starbucks? Esta tienda local puede ayudar con su dosis de cafeína. 326 West Route 66, Williams, AZ (PHONE NUMBER HIDDEN) Red Garter Inn- Anna sirve un buen desayuno en este antiguo burdel! (URL HIDDEN) 137 W Railroad Ave, Williams, AZ (PHONE NUMBER HIDDEN) Pine Country Restaurant- Juevos grandes rancheros y pasteles gigantes! (URL HIDDEN) 107 N Grand Canyon Blvd, Williams, AZ (PHONE NUMBER HIDDEN) Almuerzo cena: Red Raven - (URL HIDDEN) Dave es el dueño, la comida es deliciosa. 135 histórica de la ruta 66, Williams, AZ (PHONE NUMBER HIDDEN) Dara Thai - (URL HIDDEN) , Alimentos sólidos tailandesa agradable, informal. Apple y su madre dirige el lugar. Es el favorito de nuestra familia y una mejor ganador carreteras de Arizona restaurante. Gran Cañón del hotel, 145 histórica de la ruta 66, Williams, AZ (PHONE NUMBER HIDDEN) Estación 66 Italian Bistro - (URL HIDDEN) uno de los nuevos lugares de la ciudad deliciosas pizzas y otros alimentos, un montón de fantástica cerveza local. 144 W Rt 66, Williams, AZ (PHONE NUMBER HIDDEN) cruceros Un montón de comida frita comodidad y el hogar del Gran Cañón cervecería! entretenimiento en vivo y barbacoa casera. Asientos al aire libre (URL HIDDEN) 233 histórica de la ruta 66, Williams, AZ (PHONE NUMBER HIDDEN) Churrasquería de varilla - una institución Williams - excelentes filetes. Dicen Stella y Larry le envié ;-) Ahí trabajé en la escuela secundaria. (URL HIDDEN) 301 East Route 66, Williams, AZ (PHONE NUMBER HIDDEN) Pub de Spenser, Grand Canyon Railway Hotel Buena comida, un servicio amable, echa un vistazo a la chimenea gigante en el vestíbulo. Para llegar allí caminar en línea recta hacia fuera mi puerta! (URL HIDDEN) (URL HIDDEN) "La vida nocturna": Sultana Bar Si le gusta relajarse en un bar - La "famosa" Sultana Bar ha existido siempre y siempre es un puntazo. Llevar cuartas partes de la mesa de billar y máquina de discos. Relajarse y disfrutar del "color local". (URL HIDDEN) W Rt 66, Williams, AZ (PHONE NUMBER HIDDEN) Canyon club Otra institución Williams, patio al aire libre 126 W Railroad Ave, Williams, AZ (PHONE NUMBER HIDDEN) Gran Cañón bodega sala de degustación Fantástica nueva adición al centro de Williams. Una cerveza y vino de la tierra, inconformista camisetas (URL HIDDEN) 138 West Route 66, Williams AZ, (PHONE NUMBER HIDDEN) de Spenser bar en el Gran Cañón del hotel (URL HIDDEN) Salir de la puerta principal, cruce de calles y estacionamiento, a la izquierda del vestíbulo
Lisa's house is warm and nice. We really love the design and decoration in different bedrooms and the living room. It make us feel so comfortable and relaxed after a long trip. And Lisa is also a very nice host, we will definitely choose to live at this house if we travel to Grand Canyon next time!
美融
2016-03-24T00:00:00Z
My friends and I went on a mini road trip for my 30th and we stayed at Lisa's house. It was everything we could have wished for even games of which we spent the evening playing. It has everything you needed for a group of 8 people and it even had a Tipi which I could resist and had to sleep in it. The house is within walking distance to the all stores and town. We wish we could have stayed longer.
Daniella
2016-09-06T00:00:00Z
This little house is perfect for a group looking to stay in a cool Route 66 town on the way to the Grand Canyon. Lisa was a great host and did everything to help make our stay memorable and fun. She even gave us some excellent restaurant and coffee recommendations. The house is just a short walk to town, which is great because we we're pretty tired after a long road trip from Tucson. It was especially nice to have a house (not a hotel) to kick back, sit by the fire, play some cards, and drink french press coffee in the morning (Thanks, Lisa). We all had a great time and I'd recommend this cool little house to anyone.
Adam
2014-12-29T00:00:00Z
Lisa was the best she answer any question I had promptly. we didn't personally meet her but her home was the perfect fit for our family. traveling with toddlers is never easy, but she truly made the polar express experience easy. her home is kid friendly, and her location is perfect. the house is right across the train station, near by groceries and restaurants. it was equipped with everything we needed (COFFEE!! YAY!!). we didn't even had to go out, we had dinner and breakfast at home. her house was clean (loved the décor) with a cozy fire place and board games and the cutest little teeppee. we got lucky and got some snow! we would definitely stay here again. thank you so much Lisa.
ANA
2015-12-20T00:00:00Z
The house is simply great. It has everything you could need and even more (we found even coffee, jams, tea...), the pictures you see is what you will get. We did not meet the host personnally, but communicating with her was easy, quick and we received all the info we needed on time. We can only recommend this house: great place to stay if you are planning to visit the Grand Canyon and Sedona.
Nadia
2015-08-22T00:00:00Z
Really cute home, convenient to Route 66 shops and restaurants as well as train to Grand Canyon. Lisa has anticipated every need. Home tidy and we'll set up. Very much enjoyed our stay.
Marilois
2015-04-25T00:00:00Z
We thoroughly enjoyed our stay at Lisa's home in Williams! The house is beautiful, comfortable and really close to everything! We could not have been happier there. Thanks for the hospitality!
Jessica
2015-10-15T00:00:00Z
We absolutely loved staying at Lisa's home in Williams. We went to see the Grand Canyon via the train. The home was across the street and within walking distance to many cute restaurants. The home was very clean and roomy. We had everything we needed and more.
Loren
2015-06-11T00:00:00Z
Tipo de habitación
Casa/apto. entero
---
Tipo de propiedad
Casa
---
Capacidad
8
---
Dormitorios
Williams, Arizona, Estados Unidos
My place is close to The Grand Canyon and Williams, AZ. You'll love my place because of the views, the location, and the ambiance. My place is good for couples, solo adventurers, and business travelers, Family and Friends. You will love the "Western Town " on the property. Fully equipped kitchen with newer appliances including fridge with filtered water and ice dispenser in the fridge door. Electric oven has convection oven feature.
"Old West" is a vacation on its' own. This 4 bedroom, 2 bath home also has a Western Town on this 10 acre property featuring a Bird Cage Theater, Saloon, Jail House, Café, Livery Stable and much more. The views off the two covered decks of the starry nights and South Rim of the Grand Canyon are just amazing. Multi colored sun rises and sets are breath taking. Enjoy the outdoor BBQ/Smoker Grill, fire pit and outdoor games located on the property as well. Hiking, site seeing in this area is great. The wonderful town of Williams is just 22 miles and the South Rim of the Grand Canyon is about 35 miles.
The neighborhood is very well designed. Each property is at least 10 acres so you have plenty of privacy. The roads are maintained. You are within 1/2 mile to HWY 64.
A fantastic place to stay! We were greeted with a lovely welcome basket. This was a clean, cosy, quiet spot to enjoy all the great places to explore nearby. Enjoyed seeing the bunnies and cows who wandered by the yard. Loved the old west town in the backyard especially during the unexpected snowstorm one evening! Great place!
Theresa
2017-04-05T00:00:00Z
What a unique property & delightful experience! The host was very thoughtful & communication was excellent. House was clean, a very secluded & quiet location. I'd definitely stay here again when visiting grand Canyon, which is about 40 minutes away.
Gina
2017-03-20T00:00:00Z
Connie was very responsive and helpful through the booking process! We loved staying at her home which was very clean and comfortable. The town of Williams was just down the road and offered plenty to explore. It was a quick drive to the Grand Canyon and after a long day exploring we enjoyed BBQing and relaxing at the house.
April
2017-01-16T00:00:00Z
The host canceled this reservation 133 days before arrival. This is an automated posting.
Teena
2017-01-08T00:00:00Z
Tipo de habitación
Casa/apto. entero
---
Tipo de propiedad
Casa
---
Capacidad
10
---
Dormitorios
Williams, Arizona, Estados Unidos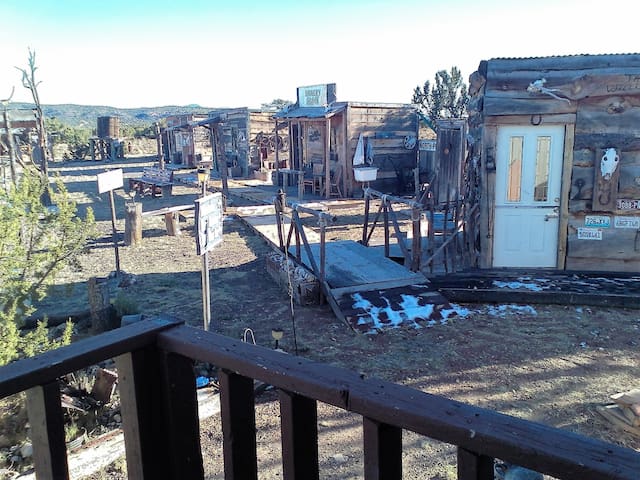 With the canyon just a five minute walk from the house with all the major resteraunts also within walking distance, this place is to nice not to share. All I ask is to treat it the same as you would your place
Inside Grand Canyon national park
Historic homes and quiet neighborhood
Sam and his family were great host! They were super friendly, very well located and gave us a lot of advice on how to visit the Grand Canyon. We watched a nice movie together and had great conversations. Sam even lent us a warm coat, since my husband didn't bring one that was warm enough. I highly recommend staying with Sam and his beautiful family!
Vanesa
2017-02-24T00:00:00Z
Sam's place was great! Very convenient for a trip to the Canyon, great location and a cute room. They were very accommodating hosts, would love to stay again!
Mia
2017-02-22T00:00:00Z
Sam and his family are great hosts; very courteous and friendly . Their place is really clean and their location is perfect for hiking and physical activities. I would definitely stay here again.
Yesi
2017-01-19T00:00:00Z
Tipo de habitación
Habitación privada
---
Tipo de propiedad
Casa
---
Capacidad
4
---
Dormitorios
Grand Canyon Village, Arizona, Estados Unidos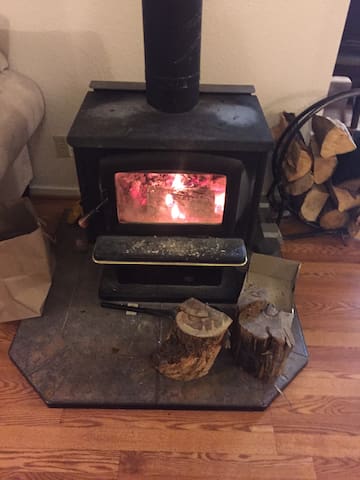 Tusayan - Airbnb
:
Una media de

4.95

estrellas de un total de

5

de

467

evaluaciones de huéspedes
1

–

5

de

5 Alquileres de Casas
Introduce las fechas para ver el precio total. Ten en cuenta que se aplicarán tarifas adicionales y es posible que se añadan impuestos.