Más de 300 apartamentos en alquiler
Self contained flat/annex/apartment with all comforts of home surrounded by native bush just perfect for relaxing escape. Plenty of space to unwind and relax and totally self contained with your own entrance way and deck.
Private entrance and front deck just perfect for an early evening glass of wine. Close to numerous golf courses, Bush walks and Cycle tracks makes this an ideal base to explore the Hutt Valley and Wellington is only 35 minutes away if you want to explore the cultural heart of the capital. Plus Rugby at its best Train from Silverstream takes you directly to Westpac Stadium
Several Golf courses in the area Walking in reserve directly behind the house and many great walks throughout the Hutt Valley Just a short drive over Rimutakas to the Waiarappa and wonderful wine country.
Wonderful place to stay, very homely and Graham and Nancy are great hosts - ensuring I had all I needed and making me feel welcome. I visit Wellington once a month and will be returning on a regular basis... You can't get better than this!
Lois
2017-03-09T00:00:00Z
A really lovely self contained unit,well equipped,comfy bed and quiet location,hosts are super friendly and very acomadating.Highly recommend this unit.
Mark
2017-03-15T00:00:00Z
Beautiful setting lovely host went the extra mile to welcome
Debbie
2017-03-24T00:00:00Z
I recommend this accommodation, Graham and Nancy are lovely, the accommodation is very clean and quiet!
Stéphanie
2017-04-08T00:00:00Z
Graham's & Nancy's place is a wonderful cosy and very complete house for two (or three if you're travelling with a little one). It has a spacious living room, comfortable bed, nice deck and last but not least: a romantic wood stove. The hosts are super nice, made us feel very welcome, breakfast in the fridge, fire allready burning... very recommendable!
Iris
2017-03-13T00:00:00Z
Graham and Nancy were wonderful hosts; friendly helpful kind generous and communicative. Their flat was well presented and appointed, impeccably clean very comfortable. The bed was great and the shower excellent. The location was quiet and peaceful yet only 25 minutes of easy driving to central Wellington. New World supermarket was a ten minute walk away and Pak n Save in Upper Hutt a 10 minute drive. Graham and Nancy had provided us with tea, coffee, milk, orange juice, bread, jam and much, much more. Even a cold beer for me. Check in and check out times were most generous. They are new hosts to Airbnb and I'm sure they will do very well. We wish them both all the best for the future.
Pete
2017-03-12T00:00:00Z
Could not really fault Graham & Nacy's place. They were very welcoming and the place had everything I could possibly need including breakfast food and drinks. Was surprised how spacious the area was. I had a short walk in a nice neighbourhood to get to the bus stop each morning.
James
2017-03-30T00:00:00Z
Tipo de habitación
Casa/apto. entero
---
Tipo de propiedad
Apartamento
---
Capacidad
2
---
Dormitorios
Upper Hutt, Wellington, Nueva Zelanda
Private, quiet accommodation with own entrance, 10 mins drive north of Upper Hutt City, 40 mins from Wellington. Large bedroom with lovely view over paddocks towards hills. Queen bed and set of bunk beds. Pse note top bunk has no safety rail. Separate lounge with couches, table & chairs, and small kitchenette - fridge, tea & coffee making facilities, microwave (no stove, oven or kitchen sink). Tea, coffee, milk provided. The bathroom is located in between the lounge room and bedroom.
Maymorn es una zona rural tranquila y pintoresca, cerca de numerosas rutas de senderismo y ciclismo, incluyendo el Rimutaka ruta ciclismo. La casa está en un bloque de estilo de vida con unos pocos animales - gallinas, una vaca y algunas ovejas - además de nuestro perro amigable Baxter y un gato tímido Maxie. Hay una lechería y Stonestead Devonshire Tea House a unos 2 minutos en coche (o 20 minutos a pie si tiene que trabajar fuera de la crema de los bollos!), Y el Club de Golf Marua Te y el carretera. Maymorn carretera es parte de la ruta ciclista de Rimutaka - perfecto para una parada como parte de la Ruta.
Maymorn carretera es parte de la popular Trail Incline Rimutaka, y cerca de la zona del túnel Gully recreativas, Kaitoke Regional Park (Señor de los Anillos sitio), Stonestead Devonshire Tea House, Cabalgatas, Hutt River, Campo de golf.
房東夫Llinda和Chris 人很好,態度親切,有足夠私人空間給住客,有問題時會盡最快幫忙解決,跟Linda說wifi信號不好,第二天她馬上找了一個IT人為房間安裝了一個路由器,相當貼心,她們亦邀請我們出席活動但可惜我們沒有時間出席相當抱歉,租住這裡是一次相當滿意的經驗
Jeff
2016-11-02T00:00:00Z
We appreciated this place cause very quiet and not so far from Wellington (40 minutes by car). We thank Linda for her good welcome. Manu
Emmanuel
2016-12-17T00:00:00Z
If you want to feel at home, some where else, this is the right place!
Niko
2017-03-10T00:00:00Z
Great family to deal with.
Shane
2017-01-18T00:00:00Z
This was a secluded space that was unbelievably nice. The hosts allowed us a large amount of space in a wing of their home and it's absolutely an amazing place to stay. We actually had to stay inside due to the inclement weather and we could not have picked a better place to stay. Highly, highly recommended!
Daniel
2016-11-10T00:00:00Z
Staying with Linda was Amazing! Not only was her accommodation on top form but her hospitality was one of the best experiences with Airbnb to date. The accommodation was a great size, had a great wash room with a powerfull shower, we had a area were we chilled out in most evenings and the best thing was it was private! I will be staying with Linda in the future and would advise anyone heading down to wellington to check this out!
Sam
2016-09-12T00:00:00Z
Lovely space, a perfect stop off for the Rimutaka Rail trail. The place was as described, with basic kitchen facilities but it matched our needs perfectly. Very clean and tidy. We'd definitely recommend it!
Claire
2017-02-04T00:00:00Z
Wonderful, unique location! Very comfortable! Loved having the animals all around us! Great location to be near the national parks and trails! About 45 mins to Wellington though! Great host and animals!
Daria
2016-12-04T00:00:00Z
Tipo de habitación
Casa/apto. entero
---
Tipo de propiedad
Apartamento
---
Capacidad
4
---
Dormitorios
Upper Hutt, Wellington, Nueva Zelanda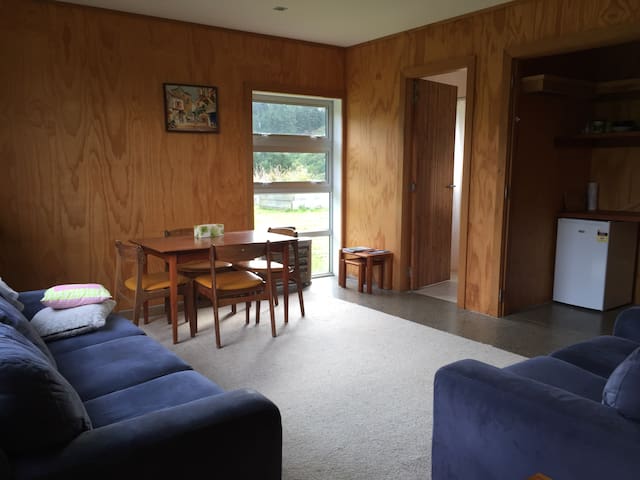 La serenidad y la comodidad +++ Cerca de transporte, a 5 minutos a pie de un enlace de Wellington de la ciudad / aeropuerto directa folleto autobús o tren. (Coche tarda 40 minutos al aeropuerto) La propiedad limita con Royal Wellington Campo de golf (juegos con cita previa) Memorial Park Trentham y Hutt River. Grandes paseos, vistas, ideal para el ciclismo (bicicletas de alquiler) pesca excelente (varillas de alquiler, licencia req). Gatehouse Studio Apt está en un premio jardín, pájaros nativos maravillosos y grandes árboles de ganar.
The self contained studio was very comfortable, cosy and welcoming. The tea, coffee, shortbread and eggs were much appreciated. The studio was spotlessly clean and the bed very comfortable. Johanna accommodated and communicated with us at very short notice for which we were most grateful. This is a peaceful place with beautiful gardens, walking distance to Trentham station (direct line to Wellington). We would highly recommend.
Claire
2016-12-03T00:00:00Z
A great spot. I was here for a conference down the road, but would have loved to explore more. Lovely studio, amazing grounds and super friendly hosts!
Thomas
2017-02-26T00:00:00Z
Johanna's place was so relaxing. The gardens were beautiful. There were nice walking trails nearby and a wonderful coffee shop called Fig Leaf within walking distance. Johanna and Andrew were wonderful hosts.
Wayne
2017-02-16T00:00:00Z
Tipo de habitación
Casa/apto. entero
---
Tipo de propiedad
Apartamento
---
Capacidad
2
---
Dormitorios
Upper Hutt, Wellington, Nueva Zelanda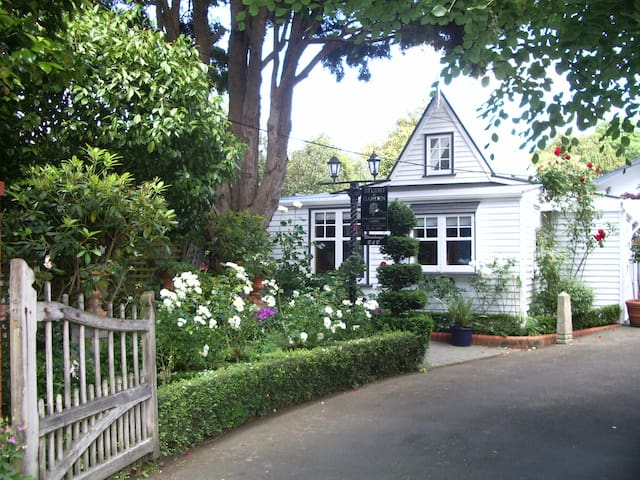 Tiwai Waka Retreat is a fully self contained apartment situated in the prestigious Chatsworth Road of Silverstream. Watch the amazing birdlife while enjoying your complimentary wine. An abundance of recreational facilities, shopping, restaurants are all within close proximity. Wellington (Capital City) 30 min drive, airport 45min drive.
For the discerning golfer, you have a choice of Manor Park, Trentham, Te Marua and the exclusive Royal Wellington Golf club, all of which are within a 15 min drive...all within easy reach. If you need a set of clubs, you can dust the cob webs off my set and use them. If you are looking for Arts & Crafts, Expressions Theater/Arts Center is a 5 min drive away in the City of Upper Hutt and offers the following attractions: - Maidstone Max Outdoor Facility - H20 Extreme Indoor swimming pool - Number of quality cafeteria - Upper Hutt Cosmopolitan Club (free shuttles) - Local shopping centre Akatawara Valley & Staglands Animal Park offer you an experience you will not forget and is a short drive from central Upper Hutt. The Hutt River is one of the best rivers in the North Island for fishing, so give it a try!! For the wine lover, the Wairarapa is only a 45 min drive over the Rimutaka Hill or take the train from the Silverstream station and really enjoy the wine trails that Martinborough has to offer. 15 mins drive south and you will find yourself in Lower Hutt and the Queensgate Shopping Center, beaches at Petone and Eastbourne offer up a selection of cafes and bars as well as the chance to catch / harvest your own seafood from its shores. We offer you the ideal short stay for that relaxing long weekend break or a longer holiday retreat if here on business or here to soak up the atmosphere of a game of Rugby, Soccer or a concert at the Westpac Stadium
Chatsworth Road is in the exclusive area of Silverstream. The neighbourhood is safe, secure and most of all, your accommodation is well off the road therefore is very private.
We had a good stay. The location is just what we were looking for - quiet. It is a little quirky going through the master bedroom and bathroom to get into the kitchen and lounge from outside. The kitchen has lovely supplies for breakfast. The space inside and outside is nicely relaxed. There is some noise from upstairs (not deliberate - just thin ceilings) so if going to bed early earplugs are advised. Internet is fast :) Supermarket is nearby in town and the Silver Spoon restaurant is much better than it looks - we went twice. Donna was lovely, communicated well throughout the process.
Joff
2017-02-24T00:00:00Z
Donna's place was clean modern and extremely well equipped. The house is elevated so you're at the height of the forest canopy & also the Hutt valley mountains as you look out further which makes for spectacular views! Donna has obviously done this a number of times and it shows in the attention to detail. We arrived in late from our flight and had a fruit basket, with jams bread, muslie, and a fresh litre of milk in the fridge waiting for us on arrival. The thermal properties of the home are great & with the gas heating we were kept toasty the whole time. Donna also has games, magazines, BBQ, good wifi, TV with surround sound, Netflix and an Apple TV at her guests disposal. Donna was a great communicator getting back to us often within he hour. When we mentioned we were bringing our 7 month old baby there was a portacot made up with very comfortable mattress & beautiful/warm bedding as well as a high chair. There was a lot of privacy, the neighbourhood felt very safe & there were lots of restaurants & shops close by. overall this was in my opinion top quality accomodation.
Terrence
2017-01-19T00:00:00Z
Donna's place is located in a lovely redidential bush setting not too far from anything but just far enough to be relaxing and Donna herself is a lovely host.
Heather
2017-01-29T00:00:00Z
Positives: Lovely setting, beautiful bush views, spacious modern accommodation and very private. Also, Donna was a gracious and flexible host - meeting us at the door & showing us round, even when we arrived later than expected (at 11pm). She also left a fabulous breakfast basket with everything you could want (crumpets, bread, fruit, gourmet yoghurt, eggs etc) Negatives: Not a lot of soundproofing between the floors (I could hear the hosts walking round first thing in the morning - not ideal when you're a light sleeper & want to sleep in). Bed linen could be better - bit stained & smelt a bit musty. Also, it depends how much of a clean freak you are (I am), but it could be a bit cleaner - just small things like shelf in kitchen cupboard needs a wipe down, light fitting in bathroom needs a clean etc. Overall though, it was great value for money and very good hosts.
Michelle
2014-12-13T00:00:00Z
Fabulous view and peaceful setting. Loved being able to use Netflix. Donna is a welcoming host. Thanks for a great stay.
Kate
2017-02-17T00:00:00Z
Beautiful place. We had a great time and had everything we needed.
Rosemma
2017-03-05T00:00:00Z
The host canceled this reservation 21 days before arrival. This is an automated posting.
Yok Siong
2017-01-12T00:00:00Z
Fantastic stay! Donna and JJ were fantastic hosts. The home was perfect and surprisingly large with a deck that made you want to stay there and forget about seeing the local sights. We were so grateful for the breakfast/snack basket. The location was private, and yet only a 5 minute drive to the train station or amenities. The only downside was that our vacation was ending and we had to leave. I highly recommend staying here. If were are ever in the area again, we would likely re-arrange our trip dates if needed just to stay here!
Tami
2014-03-26T00:00:00Z
Tipo de habitación
Casa/apto. entero
---
Tipo de propiedad
Apartamento
---
Capacidad
5
---
Dormitorios
Upper Hutt, Wellington, Nueva Zelanda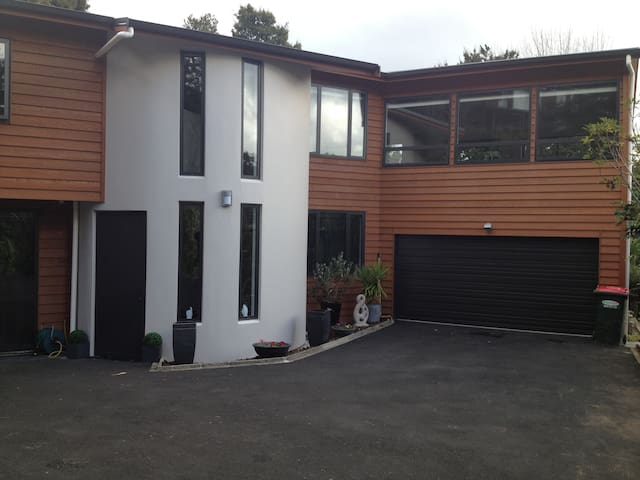 Our modern and well equipped flat is situated behind our family home in a vibrant village community 30-40 mins north of Wellington.There is a double garage between our home and the flat but the flat has a separate entrance and private outdoor area.
Modern, bright, fully equipped and private
Silverstream has excellent rail and bus networks into Wellington (30-35mins) and Lower Hutt (15-20 mins). The Hutt Valley River Trail is walking distance from our home. This is a lovely walking or cycling track stretching south to Petone and north over the Rimutaka Rail trail to the Wairarapa. Silverstream has a village feel to it, with excellent cafes, good local shops and takeaways, and an excellent supermarket. There are also excellent local parks, spa facilities and swimming pool within a few kilometres of our home, all accessible on local transport.
Grand stay at Nic and Eds, accommodation was excellent, clean, tidy and well equipped, they couldn't do enough for us. Would highly recommend, thanks.
Katharine
2016-12-02T00:00:00Z
Absolutely enjoyed my stay at Nicola and Ed's little family flat. The accommodation was clean, comfortable and close to shops and public transport to get around. The hospitality was the best and the hosts are very friendly. Would most definitely recommend this little apartment to anyone.
Cobus
2016-10-29T00:00:00Z
Tipo de habitación
Casa/apto. entero
---
Tipo de propiedad
Apartamento
---
Capacidad
4
---
Dormitorios
Upper Hutt, Wellington, Nueva Zelanda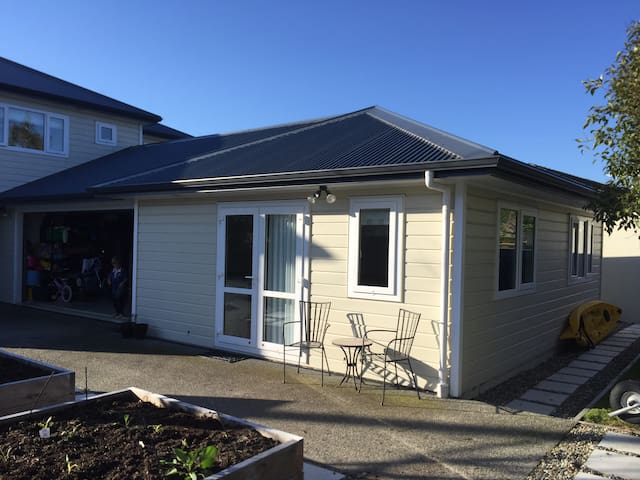 Quiet and secluded, yet close to all Wellington attractions - 15min walk to Te Papa, Courtenay Place, waterfront, Lambton Quay, etc. Light and airy with morning sun. Access to rooftop garden with 360º views of this beautiful city.
4th floor apartment with lift (elevator) and stairs. Queen size real bed that sleeps 2 comfortably. Unlimited free Nespresso coffee and wifi. Basic cooking facilities and utensils. Combo washer/dryer and dishwasher. Hot water (incl shower) is free to use on the building's gas-heated supply.
Cuba Street is the trendy quarter of Wellington with many excellent restaurants and off-beat shops.
A great spot at the top of Cuba Street, perfect for one or two people with everything in reach. Highly recommended.
David
2017-02-01T00:00:00Z
Stanley's apartment is a super central accomodation in Welly walking distance to everything. It contains full facility for a nice weekend stay,especially comfy bed and nice coffee. We will definitely come back next time!
Helen
2017-04-02T00:00:00Z
Stanley's appartments is in a great location very close to Cuba street. The apartment was accurately described and it had everything we needed for our two night stay - Stanley had even provided us with the welcoming addition of coffee and milk. We didn't meet Stanley but the pick up and drop off of the keys was a straightforward process. Would definitely recommend as a great value option in an ideal location. Thanks very much!
Madeline
2017-02-13T00:00:00Z
Great stay! Central location, very comfortable bed, excellent host communication and check in. Very good value for money and the Nespresso machine was a great homely touch! Would definitely stay again and recommend to all!
Stacey
2017-03-04T00:00:00Z
I had a lovely time at Stanleys place. I couldn't have asked for a better location. Super close to Cuba street, which is home to lots of great bars, cafes and restaurants. Stanley was very easy to communicate with - prompt and incredibly accommodating - allowing me to make a last minute change to my booking. He wasnt there to meet me at check in but had arranged for an simple and straight-forward key pickup and drop off with the lovely Sophie. Would defintely stay here again.
Nataly
2017-01-07T00:00:00Z
Stanley's place is comfortable and spacious, as advertised. Seconds away from Cuba street and the Aro Valley, it's the perfect base for exploring all of the culture and night life that Wellington has to offer. The washer/dryer was extremely useful and having a full kitchen at your disposable is great for longer stays. Having access to the building's rooftop terrace was a wonderful bonus, offering views of Wellington rivalled only by the summit of Mount Victoria. The shower isn't exactly designed for taller people but it's a small quibble in an otherwise brilliant place to stay.
Jesse & Mac
2017-01-04T00:00:00Z
Accurately described. Easy walk to excellent range of local eateries and bars (Cuba Street is amazing); waterfront and main shops also a short walk. Comfortable stay: thanks, Stanley.
Robin
2017-01-28T00:00:00Z
Stanley is a great host, the flat is perfectly located and the city is lovely! We highly recommend his accommodation.
Luis
2016-12-19T00:00:00Z
Tipo de habitación
Casa/apto. entero
---
Tipo de propiedad
Apartamento
---
Capacidad
2
---
Dormitorios
Wellington, Wellington, Nueva Zelanda

Enjoy this amazing apartment with jaw-dropping ocean views. Great vibes & toasty warm. Perfect spot for both businesspeople and travellers. Airport is a 5 min taxi ride away & there is a bus outside the door to the centre of town. Off-street parking. All the artwork in this Airbnb is from the local artists. See something special that captured you that will remind you of your trip? Last minute shopping present for someone back at home? Everything is for sale, so please look at the art portfolio
Enjoy Wellington at its best! This is the perfect spot if you are a traveller looking for a memorable and comfortable place to stay, or if you are in Wellington on business and need a quiet spot to call home for a few days. Need to do work once you return "home" - no problem as there is wireless internet and a desk - no more awkward working off your lap on the couch! Once you are off duty, just sit on the couch and soak up the view! Enjoy this artist's retreat where you will be truly inspired by the stunning 180-degree view of the ocean, harbour and hills. Literally, count dolphins from your couch, admire the evening sky, check out the water sports activity of the day, survey the comings and goings in the harbour or do a bit of plane spotting. You will never ever tire of looking at this view - no wonder it is called View Road! Cook up a storm in the spacious and well-equipped kitchen and then savour the delights looking out to sea. In the morning lift your head off the pillow and enjoy your hot drink with views over the ocean all the way out to the horizon. The apartment itself is very bright, spacious and homely. A true home away from home. Keep toasty warm even on those chilly nights thanks to double glazing, insulation and heavy duty heaters. The deck overlooking the wave is a great spot for keeping tabs on what water sport is the flavour of the day. The location is fantastic. There is a bus stop outside the door which takes you straight into the centre of town, the train station and the Bluebridge ferry terminal. Easy as pie for commuters to the city. If you are catching a plane in the morning, there is no better place to be. Just jump in a cab and you are there in 5 minutes. Walk to Lyall Bay in under 10 minutes, your closest sandy beach and Wellington's surfing hub. Remember to drop into Maranui café, which is a true institution in Wellington - the perfect brunch spot. There are a few other great restaurants in walking distance. Aside from the many coastal walks outside your doorstep, there is also an array of wind-protected bush walks. You will love this quiet spot, which is sure to provide you with heaps of inspiration. Come and enjoy. The place comes with a guarantee that you will find it hard to leave!
Houghton Bay is a very safe and quiet residential area with a real seaside feel to it. Plenty of cool and quirky cafés and restaurants (Spruce Goose, Diamond Deli, Maranui, Elements) in walking distance. Spectacular bush and coastal walks just outside the door. The View Getting excited about your trip? Check out the weather and view from the webcam by searching for White Cloud Kiteboarding website and click on Wind Report.
Brian was very friendly on our arrival. He was great with communication and ensured things were just right for our stay.
Pip
2016-06-27T00:00:00Z
Great location with one of the best views in Wellington. Good accommodation, exactly as described. Was excellent for our family of 2 adults and 4 teenagers. Nice with no TV. House was clean and tidy. I would highly recommend this accommodation to other families visiting Wellington. Brian was a great host, good communication and a no hassle weekend.
Luke
2016-06-07T00:00:00Z
Great place. A lot of space. Clean. Great view. Brian answered us quickly with clear indications. I recommand!
Christopher
2016-06-29T00:00:00Z
An absolute gem! This will be our place of preference on our return trips. Brian picked us up from the airport and is a lovely and friendly and interesting guy. The property has the MOST INCREDIBLE views. It is spacious, well equipped, warm and a 15 minute Uber to the centre of Wellington.
Carolyn
2016-06-10T00:00:00Z
We really enjoyed staying here! The views were breath-taking, and the apartment was quite luxurious. Especially the bathroom... there were thick, soft towels off a heated towel rack, plus a bathroom heater for those cold autumn-morning showers. Brian came out to greet us when we arrived, which ended up being really helpful since I managed to get our rental vehicle stuck in the driveway. Brian rescued us in the rain, though, and don't worry, the parking is easy-access and off-street.
Renee
2016-05-15T00:00:00Z
This place is a true gem. It is all about the stunning view of the bay. 180° view, spectactular experience waking up seeing the ocean. And yes, we were lucky and saw dolphins. Kitchen and bath has been newly renovated. The overall apartment has got a charming vintage touch. Would definitely go back.
Katja Ahlskog
2016-12-26T00:00:00Z
We stayed at here for two nights and it was great. The view and the house was perfect. Brian was really easy to communicate with. The proximity of shops and the city was not bad and we also tried one of Brian's recommended cafe called Maranui and it was worth it. Wouldn't mind staying in this neighbourhood again
Mishal
2017-01-05T00:00:00Z
Just to reiterate, the view was amazing and we loved it especially in the mornings. It was an easy walk to the wonderful Maranui cafe. We used the bus and Uber to get in and out of town. The location was nice and quiet too. We'll be back!
Jo
2017-01-29T00:00:00Z
Tipo de habitación
Casa/apto. entero
---
Tipo de propiedad
Apartamento
---
Capacidad
7
---
Dormitorios
Wellington, Wellington, Nueva Zelanda
Awake to the smell of artisan coffee in this sunny lounge&bedroom with ensuite, just 1 minute stroll from leading Kiwi restaurants and cafes, you will find yourself in the theatre/cinema district near the waterfront.
This space is large, 45 square meters, very sunny, and although close to Courtenay Place, is in a quiet street. The lounge area is separate from the bedroom.
The area is central Wellington's best, incredibly close to all the theatres, cinemas, restaurants, cafes and a short walk to Oriental Bay where there is an indoor heated pool.
Jan nuestra anfitriona es increíble. El tiempo previo a nuestra llegada estuvo pendiente de todos los detalles para facilitar nuestro alojamiento. Durante los casi dos meses que duró nuestra estadía respondió inmediatamente a nuestras consultas. Es una anfitriona excelente!! La casa es preciosa y está perfectamente bien ubicada!! a una cuadra de Courtenay Place que es la zona de bares y restaurantes de Wellington. Está cerca del supermercado, de los museos, de las paradas de ómnibus. En fin, la ubicación ideal, no podía ser mejor. La casa dispone de todo lo necesario para estar cómodo y tranquilo, es muy confortable y muy segura. Volvería sin dudarlo y la recomiendo sin dudar
Graciela
2016-12-06T00:00:00Z
Jan is a great host and she responded immediately whenever I had a request. Jan's place is in a fantastic location and is the perfect base to explore Wellington from. Close to museum, Wellington Zoo an Zelandia. Great bed, tv and wifi making it a lovely comfortable space to be in. Thanks Jan for letting us stay there :-)
Trygve Johan
2017-01-01T00:00:00Z
Location is everything! Less than 5 Mins on foot to the harbour, beach, center city, grocery, foot of Mt. Victoria and trails, and more! We could not ask for a better place to spend over a month in gorgeous Wellington! Can't wait to be back again next month! Host Jan was super responsive to all our queries and questions. Thanks so much for a truly great stay!
Emeline
2017-03-31T00:00:00Z
Jan was an amazing host. She responded quickly to every message, and made us feel right at home. The place was immaculate, and as backpackers - Jans place was a real treat in comparison to the hostels that were used to! The location was absolutely amazing. It was so close to the hustle and bustle of Wellington, but in a nice quiet street only about 5/10 minutes walk from Cuba St. The bed is comfortable, and had an electric mattress which I was ecstatic with! The room was always cosy which made it feel very homely. The kitchenette was good enough for our needs, with a portable electric stove. There's plenty of places to eat out which are right on the doorstep as well if you don't fancy cooking. The living area is really big and it was lovely to eat our dinner looking out of the big window! When there was an issue with hot water I messaged Jan and she was at hand straight away. She was so friendly and helpful, offering to send out a plumber and even compensate our troubles with some sort of refund. After a few minutes it started working, but still I was impressed and reassured with how Jan dealt with it! If it were possible to stay in Jans place any longer we would have. I can see why she's all booked up for the next few months. Thank you so much for having us! Sali and Alun
Sali
2016-09-14T00:00:00Z
I stayed at this flat for 8 nights at pretty short notice and Jan managed to get the place turned around from the last tenants in record time to make it lovely and clean for my arrival. It's so close to everything you need and has all the basics you could want for a short stay. Food and bars literally on your doorstep - if you are staying here check out Slim Daveys and Five Boroughs on the corner of the street. Jan was excellent with communication. I can't fault my time staying here and would (and most likely will) stay here again! Awesome value for money!
Matt
2016-10-15T00:00:00Z
Jan has been absolutely wonderful. My sister and I have been here for over 3months and have even extended our stay now for another two. Everything was very clean and tidy when we arrived and she even got Wi-Fi for us (we pay monthly) and it was set up before we arrived. She has been an absolute gem and the actual apartment and location is perfect. I would 100% recommend this to anyone I know.
Natalie
2016-02-02T00:00:00Z
Jan's place is in a fantastic location and is the perfect base to explore Wellington from. Great bed, tv and wifi making it a lovely comfortable space to be in.
Liz
2016-10-09T00:00:00Z
Had a very pleasant stay in this lovely apartment. The central location is ideal to explore all Wellington has to offer. Jan is extremely helpful, although she is based in Sydney she has friends locally to help should you need anything, and is easily available on the phone should there be any problems. Nice clean apartment, with added bonus of a piano and electric blankets! and also provides a nice selection of teas!:) as stated, there is no full kitchen, but the basics are there to manage for a short period without any problem. would recommend highly.
Kirsty
2015-08-22T00:00:00Z
Tipo de habitación
Casa/apto. entero
---
Tipo de propiedad
Apartamento
---
Capacidad
2
---
Dormitorios
Wellington, Wellington, Nueva Zelanda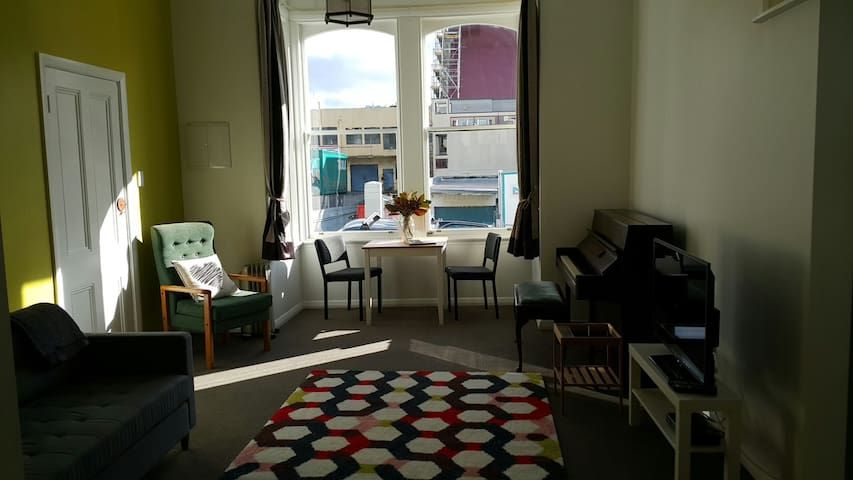 Looking for a quiet comfortable place in the centre of the action in Wellington? Our one bedroom apartment is just off Courtenay Place, where you'll find the best restaurants, bars, and theatres. Te Papa, the national museum, is two blocks away; and you're just a few steps from the waterfront. The apartment is newly renovated, it is stylish as well as comfortable and homey. You'll be amazed how quiet it is given the proximity to the heart of the entertainment district.
You'll feel totally at home in our one bedroom apartment. It is extremely quiet, comfortable, and provides all the amenities you'll need to make for a memorable trip to Wellington. The apartment is situated just off Courtney Place, there is even a keyed gate straight onto Courtenay to make access easy. The apartment is situated on the first level. It's a loft style flat, and has heaps of character. The sloped ceilings have skylights in the bedroom and lounge to make for lovely natural light. The window panes are extremely thick, keeping the nightlife hustle and bustle where it belongs. You are right in the heart of the heart of the action, but snug and safe in your cozy apartment.
You'll love Te Aro for its eclectic style and proximity to absolutely everything!
Tipo de habitación
Casa/apto. entero
---
Tipo de propiedad
Apartamento
---
Capacidad
2
---
Dormitorios
Wellington, Wellington, Nueva Zelanda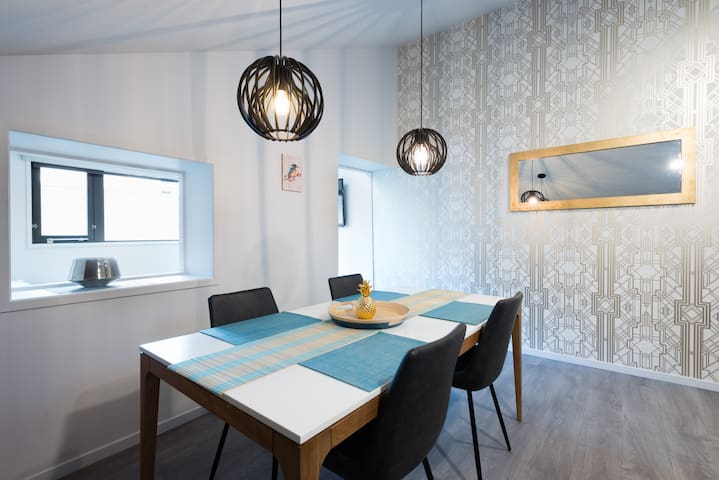 Located in the heart of Wellington city, a skip and jump away from the waterfront, City Gallery, Te Papa museum, and some of our best restaurants and cafes. Great shopping spots on Lambton Quay and the eclectic hub that is Cuba Street are all in walking distance. This apartment gives you the best of being in the Capital! This bedroom with a double bed is spacious enough for couples or solo travellers. Most importantly, you will have your own clean bathroom.
Great spot if you wish to have easy access to locations like Te Papa or Courtenay Place.
Pier
2017-03-30T00:00:00Z
Great apartment, great location and friendly hosts :)
Helen
2017-04-05T00:00:00Z
Great place. Cozy but with great access to city. Neerti is easy to talk to and extremely helpful :)
Claire
2017-04-01T00:00:00Z
Great place to stay with a wonderful host
Christy
2017-04-06T00:00:00Z
Tipo de habitación
Habitación privada
---
Tipo de propiedad
Apartamento
---
Capacidad
2
---
Dormitorios
Wellington, Wellington, Nueva Zelanda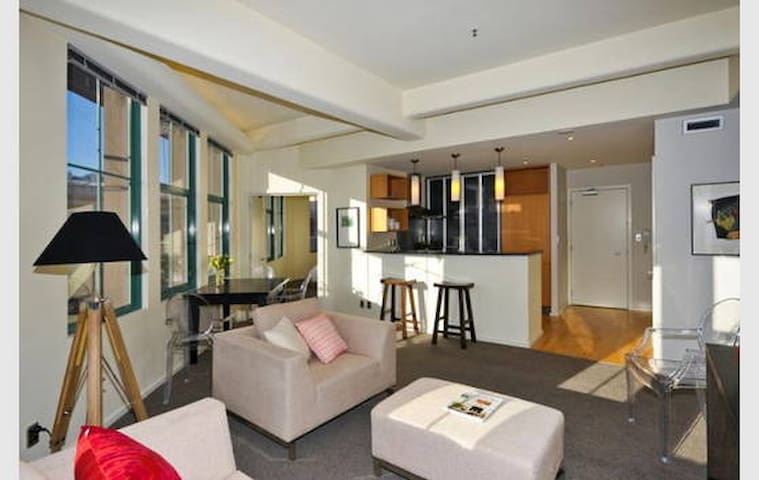 Light, sunny apartment in a duplex, overlooking garden. It has two bedrooms, a generous living/dining area, galley kitchen and a shower over a bath in the bathroom. There is a pleasant walk to town, and a bus stop down the road. There are two cafes in the area and some excellent takeaways. Parking on the street.
Wadestown is a leafy neighbourhood close to the central city with good transport to and from and within easy walking distance. There are many good walking tracks on the adjacent hills and in Otari Wiltons Bush nearby. Le Maquis is a cafe at Highland Park on the bus route to and from the city. It is open around 8 am with food and often has night-time entertainment. Also at Highland Park near the bus stop is an award winning fish and chip shop. There is a Burger Wisconsin and a good Indian takeaway in the small group of Wadestown shops up the road.
Tipo de habitación
Casa/apto. entero
---
Tipo de propiedad
Apartamento
---
Capacidad
4
---
Dormitorios
Wellington, Wellington, Nueva Zelanda
Modern, contemporary apartment in the heart of central Wellington. Perfect for a short stay in the city. Fully self-contained and well equipped with Sky, Apple TV and free wifi and all the comforts of a hotel stay.
We like your apartment ! Thanks Yarnie !!!
Teranui
2016-11-09T00:00:00Z
Very central location with good facilities. A relatively modern flat compared to most of the places we stayed in in New Zealand.
Mikey
2017-01-03T00:00:00Z
Strategic location in the city centre.
Avinash
2016-12-28T00:00:00Z
A+
Chalese
2017-03-04T00:00:00Z
Our stay at Yarnie's was perfect! Well appointed apartment, right in the the city and close to all amenities. Highly recommended
Shannon
2017-01-21T00:00:00Z
Loved the apartment, it's central and walking distance to everything. Quick response from Yarnie when we had a question.
Anne-Wil
2017-01-01T00:00:00Z
We didn't have to talk to Yarnie much as his instructions were very good and we had no problems, but when we did message he was very quick to respond. Yarnie's place has a really great location not far from the sights and sounds of Wellington, the bars/cafes and te papa museum etc. The apartment was very well appointed with everything we needed: kettle, hairdryer, towels etc. It was a little dusty in places but the bathroom and kitchen were very clean. I'd recommend this place and would stay here again if I am back in town.
Emma
2016-11-18T00:00:00Z
The apartment was very central and close to all the main attractions in the city. Yarnie was a attentive and answered all of our questions quickly.
Karina
2016-12-26T00:00:00Z
Tipo de habitación
Casa/apto. entero
---
Tipo de propiedad
Apartamento
---
Capacidad
4
---
Dormitorios
Wellington, Wellington, Nueva Zelanda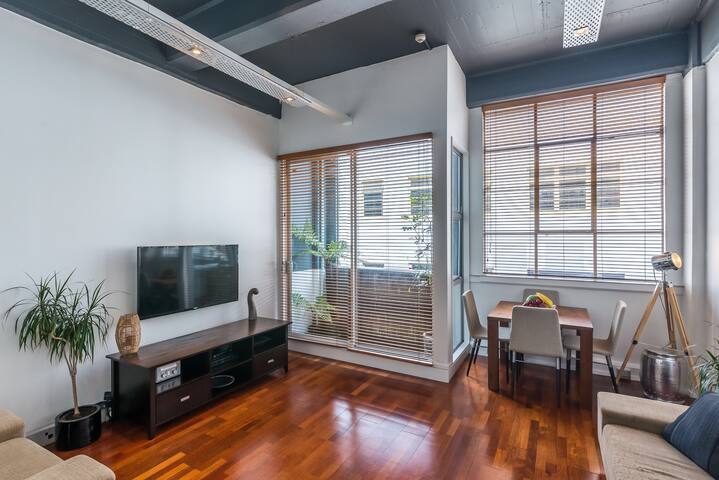 Amplio apartamento de dos dormitorios en edificio de lujo en Wellington. Dos amplios dormitorios, con capacidad para 4 adultos en total, con acceso al gimnasio, piscina y pista de tenis. El apartamento está totalmente amueblado con TV, wi-fi y todo el equipo de cocina esencial. Estás metros de distancia de los mejores restaurantes, bares, y actividades que Wellington tiene para ofrecer. O un paseo fuera de la oficina o reunión de negocios.
La piscina, gimnasio y spa son fabulosos y están disponibles para su uso por los residentes 24/7). La pista de tenis está disponible para su uso por los residentes durante las horas diurnas. El salón de su apartamento se ve sobre bellos jardines, piscina y pista de tenis.
Usted está en el medio de Wellington. prefabricada de café al final de la calle, la calle Cuba a 3 minutos a pie, que está lleno de restaurantes y bares y un paseo a la preciosa costa y Museo Nacional Te Papa.
We loved the location in the heart of the city yet it was quiet and easy to sleep at night. The pool was a great added bonus. We would stay again for sure!
Christine
2017-03-18T00:00:00Z
A nice modern apartment in a great location. Olly is an excellent host who communicates well.
Simon
2017-01-31T00:00:00Z
Top notch apartment and location. Oliver was excellent to deal with and I'll have no hesitation in staying there again.
Dempsey
2017-03-05T00:00:00Z
The apartment was fantastic. Very well appointed, clean and comfortable. The owners were very efficient with their communication, and helpful. The location incredibly central. My family had a great stay in central Wellington. Thanks so much
Mosey
2017-02-16T00:00:00Z
Nice flat, very close to the center
Karin
2017-04-02T00:00:00Z
Tipo de habitación
Casa/apto. entero
---
Tipo de propiedad
Apartamento
---
Capacidad
4
---
Dormitorios
Wellington, Wellington, Nueva Zelanda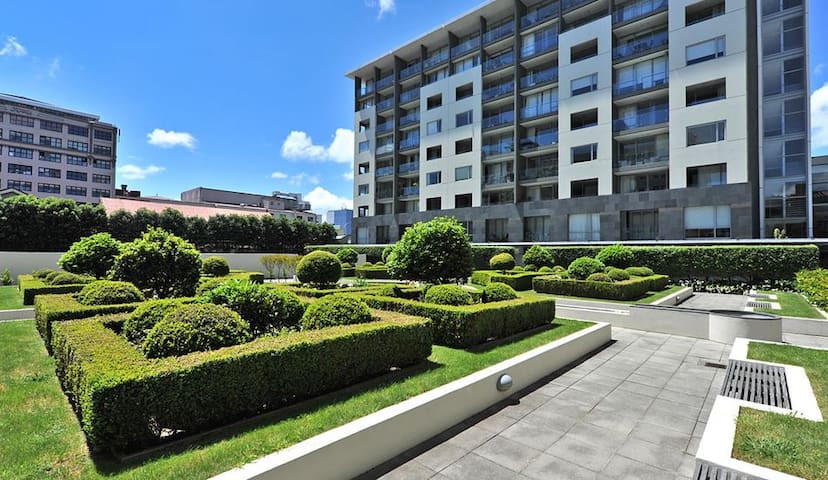 Situated in the heart of Wellington's film industry and 7km from the city, you'll enjoy this modern, warm, and quiet upper-level apartment with two bedrooms available. It's a short walk to Miramar village, Weta, local cafes/restaurants, Roxy cinema, and the bus with beaches close by. Two friendly cats live at this property so cat-lovers a must! You'll love my place because of the comfy beds, the colours and the kitchen. My place is good for couples and females, including business travellers.
Mine is a colourful and spacious, modern place (built in 2012). It is 100 square metres in size. There's plenty of room in the fridge and pantry for you to store your own food items if you wish. There's a gas hob for cooking (plus electric oven) and gas hot water so there's always a lovely hot shower. The shower temperature will be affected if you run other taps in the house, or the dishwasher or the washing machine at the same time as the shower. For continual hot water, I recommend you don't shower when the dishwasher or washing machine is on. These can be paused to enable you to have a shower. I also have Sky TV as well as unlimited wifi. You'll also be sharing the apartment with two cats but they'll stay out of your rooms unless you leave your door open!
Nearby is Weta Cave and Weta Workshop, the Roxy Cinema, many good cafes and restaurants and some walks with stunning views. There's also beaches nearby and the famous Chocolate Fish cafe where you can sample crayfish sandwiches and lounge on the outdoor beanbags. This is a SUBURB, it is not in the middle of the city. It is near the airport so you will hear planes from time to time. The house is double-glazed though. It's about 7km from the city. I enjoy living here - it's an average everyday middle class suburb, with eclectic and diverse people from a range of demographics. While my place is modern, the surrounding houses aren't, they are a mix of old villas and some modern places. Some neighbours don't look after their houses very well, while others do. Just like anywhere! It's just as safe, if not more so, than any other Wellington suburb, but take normal safety precautions when you are out at night.
Charlotte was amazing more then helpful and a fantastic host. She went the extra mile at times to help out. The house was clean and tidy, and the bed felt good to me (especially after my long days going into the city)
Christian
2016-11-24T00:00:00Z
Very helpful host and immaculately clean room and facilities. Charlotte's communication and welcome were fantastic. Highly recommended.
Vikki
2016-10-16T00:00:00Z
My stay at Charlotte's home was excellent in all respects. The house was spacious and spotlessly clean, my bed was extremely comfortable, with beautiful linen. Everything was accurately described and with lots of extra touches. Charlotte was very welcoming and even picked me up from the airport. I really enjoyed meeting her. The location is fantastic. It is in a quirky area of Wellington close to Wetacave and The Thunderbirds workshop. There are lots of great restaurants and takeaways within 5 minutes walk, as well as The Roxy Cinema, a supermarket and second hand shops. It is on a good bus route into the city centre, with frequent buses. It was a lovely stay and excellent value. I felt very comfortable there.
Caz
2016-10-06T00:00:00Z
Friendly, welcoming host. Made us feel comfortable and at home in her lovely warm house. Room was warm and cosy- perfect during a typical Wellington storm! Cats gave it a homely touch :)
Dario
2016-09-17T00:00:00Z
I have a great time in Charlotte's house.she is very kind and nice.give me a lot of useful tips for Wellington.her lovely two cats are really warm my day.Love them so much.I'd really like go visit she again❤️
Hong
2016-09-26T00:00:00Z
We spent an amazing time with Charlotte. It Was our first experience of airbnb and we will definitly do it again! The House is quiet and warm, the bedroom is perfect and the welcoming is amazing. Charlotte Knows how to make you feel at home. Thanks a lot for everything!
Solenn
2016-09-13T00:00:00Z
We only stayed for one night but everything was great. Charlotte is very friendly and kind and gave us a lot of information for our trip.
Rodrigo
2017-01-08T00:00:00Z
2nd review as stayed 1 night then booked another. Absolutely fab, really comfortable room with lovely chocolates to curl up with in bed. Fab folder of things to do/ see/ map. Breakfast included. Would absolutely recommend!
Katharine
2017-01-15T00:00:00Z
Tipo de habitación
Casa/apto. entero
---
Tipo de propiedad
Apartamento
---
Capacidad
4
---
Dormitorios
Wellington, Wellington, Nueva Zelanda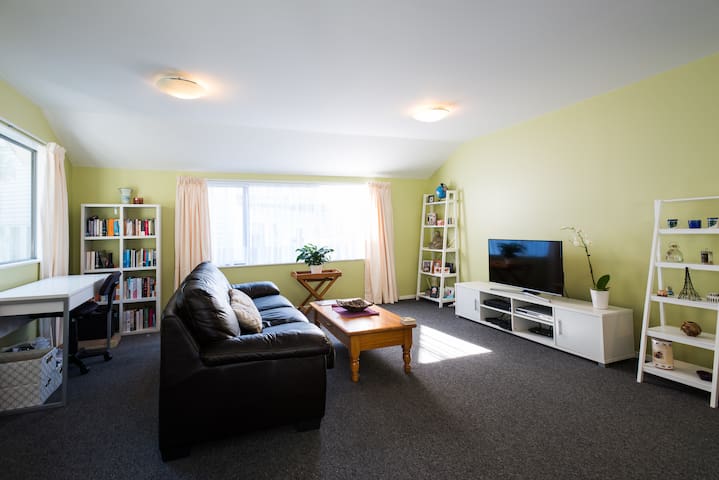 Disfrutar de la vista increíble en este lindo, piso 1 dormitorio. Relajarse en la cama, o en el sofá muy cómodo, tomar un baño caliente o cocinar una comida en la cocina totalmente equipada. Estamos muy cerca de las cosas interesantes también: (CDB sólo una corta distancia, Oriental Bay está a sólo 10 minutos a pie) hay una parada de autobús junto a la casa (# 20, va sólo laborables)! retiro de sus parejas un perfecto 'o una sede de negocios por su parte de trabajo en la ciudad. Hay un WiFi ADSL muy rápida y ilimitado para su disfrute! Muy fácil de aparcar, así!
Bonito, agradable y confortable piso de 1 dormitorio. Recientemente renovado baño con bañera cómoda, marca nueva lavadora y lava-tubo. La cocina se actualiza con instalaciones completamente nuevo horno y cocina. Además, todos los muebles son nuevos, una buena cama de matrimonio con colchón nuevo que le permite relajarse y sentirse como en casa. Ofrecemos WiFi gratuito, y ilimitado, perfecto si usted necesita para trabajar desde casa. El piso es un lugar en donde dormir ideales por su parte trabajan en la ciudad, o utilizarlo como una base si se viaja alrededor de Nueva Zelanda o visitar Wellington para un breve descanso!
Roseneath se considera una ubicación de primera, uno de los lugares más bonitos y más elegantes de Wellington, con vistas a la Bahía Oriental y muy cerca de Courtenay Place y el centro (principalmente en coche o autobús). Tenemos puntos de vista sorprendentes, más o menos la misma vista de 180 grados que le correspondería si estuviera en la cima de la Victoria ¡Cuidado! Se puede caminar hasta allí en unos 10 minutos. La zona es muy segura, se siente libre para caminar alrededor, pero hay que tener en cuenta que algunas de las calles son bastante empinada.
Our host was not polite to us when we emailed her concerning a few minor issues, even stating that we could leave if we wanted to. This made us feel not wekcome for our entire stay. Never, ever have my husband n I experienced this rudeness with previous hosts with air b n b before.
margaret
2016-12-16T00:00:00Z
Beautiful view over Wellington. Be aware if you are driving, that the road is narrow and winding and on street parking in the driving lane. Very useful having the use of a washer with washing powder provided. Lower floor unit with host and family upstairs ---young child whom you will hear running overhead during daytime hours. Good internet service.
Robert
2017-03-16T00:00:00Z
Everyone has their different requirements for accommodation. So, I'll just state points of interest that go beyond their very accurate listing details, and you can make up your own mind if this place is right for you. 1. Beautiful view from lounge room. Quite spacious first level flat, plenty of room for 2 people. 2. Bed and pillows I found extremely comfortable! Bed is soft but supportive enough, pillows are extremely soft but complimented my slightly higher & firmer pillow I travelled with. 3. Very quiet between 8pm-7am. BUT can be VERY loud and noisy at times during day. The family living directly above have young child who, as children do, runs and plays through their flat. He sounds very happy. The problem is noise insulation between the flats is poor. The reverberation effect makes his tiny footsteps sound like instead they have a 120Kg All Black forward doing training drills. Deep thuds. BUT.. if you're spending most of day between 7am-8pm out and about, then this is less a concern. 4. Driving. If you're on holiday and thinking of a hire car. Don't. Just don't. The streets are very narrow in places. Combine this with street parking and you'll often find yourself driving around blind corners on the wrong side of the road!! You'll also find yourself at times having to reverse up/down hill and pull onto footpaths to let other traffic pass. TAKE THE BUS. #20 is literally right out front but last service is around 6pm'ish so if you plan to go out at night (entertainment, dinner etc) learn #14 route ! 5. No tissue box provided. No wash cloth / face cloth (so bathing/showering with hands). Will need to bring your own. 6. Good sized kitchen with plenty of bench space. Stove, oven etc. With kitchen knife set provided (though quite blunt at time of writing, carving knife struggled to cut a capsicum. Could not find a sharpening implement. Easily fixable though). 7. A washing machine is provided however drying is only by outside clothes line. Being Wellington, it does rain a fair bit so this may prove challenging!
Jason
2016-10-16T00:00:00Z
A great place to stay in Wellington; wonderful appartment, clean, cosy and complete. Good location, great views. Highly recommendable!
Arnold
2016-07-25T00:00:00Z
the apartment offers a stunning view of the city. Georgina is a very warm and welcoming host. Bus stop just outside. Super clean and cosy. Very much recommended
Neville
2016-09-19T00:00:00Z
We received several text messages which were very friendly, informative and helpful. When the wi fi connection would not connect as we only had th password not the address, Peter promptly attended to it even though it was 8.30 pm. The location was ideal with pleasant walking tracks nearby and fantastic views from the apartment. The apartment was well appointed, comfortable, clean and met our needs well. The Weta Workshop tour was a bonus and conveniently located for us as family lived nearby.
Sandy
2016-05-01T00:00:00Z
Great apartment, spacious and affordable with million dollar views. Absolutely nothing else I can say it was just perfect, great area, loved the walk up to Mt Victoria. We were blessed with fabulous weather which is always a plus.
Janette
2016-02-09T00:00:00Z
It was a wonderful experience staying at Georgina's flat in Wellington. The view alone made it worth every penny! Although we didn't get the opportunity to meet, Georgina stayed in contact with me throughout and made sure we had everything we needed. I definitely recommend this place to anyone looking to stay in the Wellington area.
Devin
2016-09-08T00:00:00Z
Tipo de habitación
Casa/apto. entero
---
Tipo de propiedad
Apartamento
---
Capacidad
2
---
Dormitorios
Wellington, Wellington, Nueva Zelanda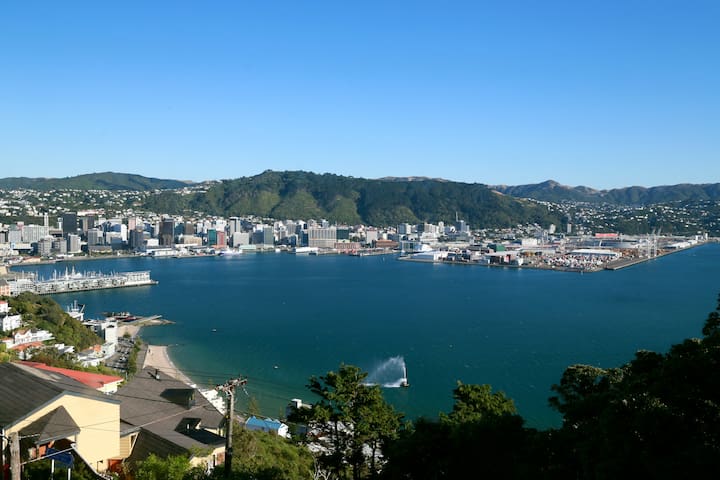 My place is close to restaurants and dining, the beach, family-friendly activities, nightlife, and public transport. You'll love my place because of the coziness, the views, and the location.
The host canceled this reservation 92 days before arrival. This is an automated posting.
Marc
2016-10-21T00:00:00Z
The apartment was amazing. We really enjoyed to be in this cosy apartment with this beautiful view. Andre and Helen was very nice with us. That was a pleasure to meet them. :) Everything was perfect!
Garance
2016-12-03T00:00:00Z
Tipo de habitación
Casa/apto. entero
---
Tipo de propiedad
Apartamento
---
Capacidad
3
---
Dormitorios
Wellington, Wellington, Nueva Zelanda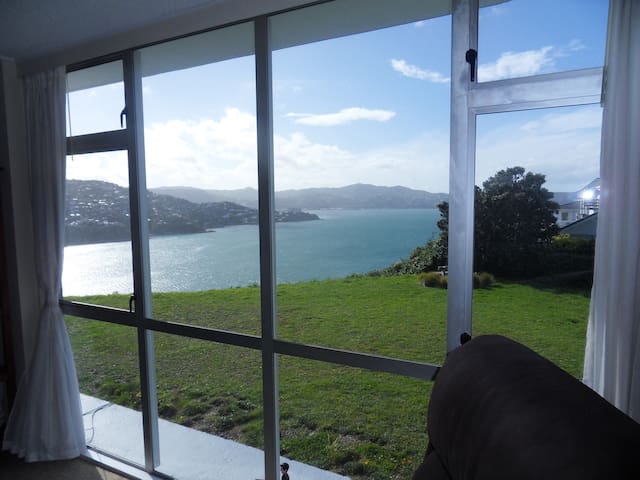 Welcome to our place. Start, finish or indulge your New Zealand trip with a luxury break at our modern apartment in one of Christchurch's most loved hill suburbs, Redcliffs.
Tipo de habitación
Casa/apto. entero
---
Tipo de propiedad
Apartamento
---
Capacidad
6
---
Dormitorios
Wellington, Wellington, Nueva Zelanda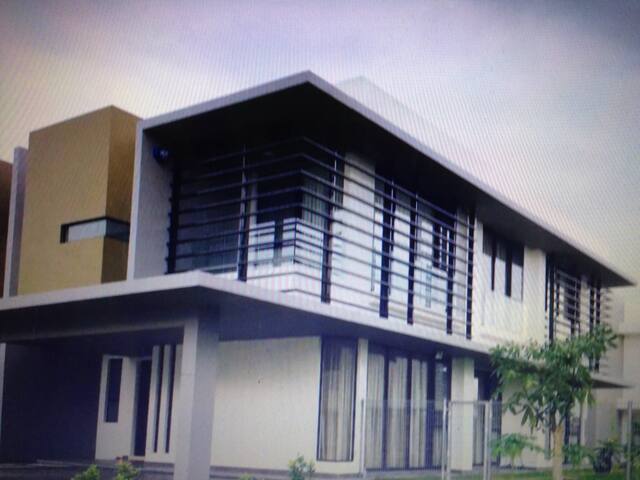 Light, clean, and compact terraced house in the heart of Wellington. Around the corner from some of the city's best eateries and across the road from famed food store Moore Wilsons -- you won't go hungry here. Close to public transport but also the ideal launching pad for exploring the city by foot.
With an open-plan kitchen and living area, one main bedroom and another with a pull-out double bed, there is enough space for two or three people to sleep comfortably. Note: the bedrooms are sunny but small. There is limited storage space for long-term stays. There is one bathroom (just a shower, no bath, sorry), and an in-house washing machine and dryer.
You couldn't find a better location: this is a safe, leafy street the heart of Wellington. You'll be within walking distance of the best shops, cafes and restaurants the city has to offer. You'll also be just a short walk from Wellington Harbour.
Tipo de habitación
Casa/apto. entero
---
Tipo de propiedad
Apartamento
---
Capacidad
2
---
Dormitorios
Wellington, Wellington, Nueva Zelanda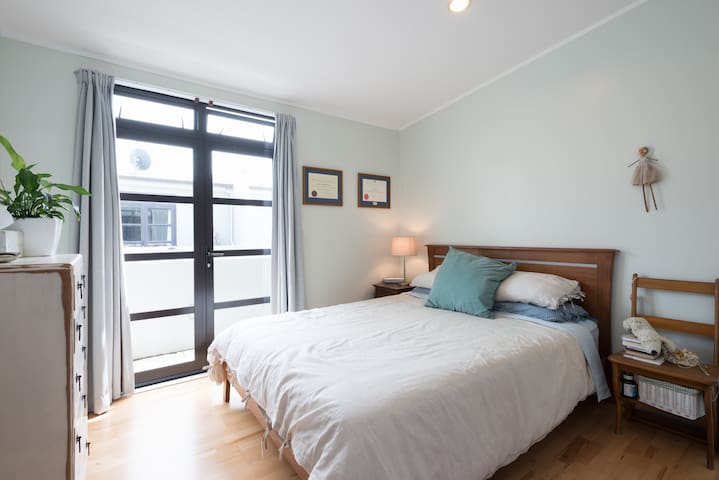 1

–

18

de

Más de 300 apartamentos en alquiler
Introduce las fechas para ver el precio total. Ten en cuenta que se aplicarán tarifas adicionales y es posible que se añadan impuestos.