Central Living at Mälarens Shore, ca 20 min gang fra byen og 20 meter fra bredden af Mälaren 10 min gang til "Kokpunkten" Sveriges nyeste action Bad med Spa og Relax facilitets. 5 min gang til nerests restaurang
Nice place to stay. Great location! Neighborhood was peaceful. Terrace was a nice place to spend hot summer evenings. Håkan was a helpful host.
Esa
2016-07-26T00:00:00Z
Villa Notudden is a charming house located just next to the water, with stunning views over Lake Mälaren. The house is clean and has everything you need, Håkan is a great host, so everything was just perfect. We stayed for two nights and definitely want to come back again!
Huseyin
2016-04-18T00:00:00Z
Håkan welcomed us in his beautiful house. The first thing you notice is the stunning view over the lake, it doesn't get any better than that. The house very clean and equipped with everything you would possibly need. Håkan was always available for our questions. Another big plus was the enormous water park (Kokpunkten) at walking distance, which is one of the biggest in Sweden. We would definitely stay here again. Thank you again Håkan!
Bouke
2016-03-28T00:00:00Z
Stort härligt hus med gott om plats och fantastisk utsikt över vattnet. Bra med två stora badrum med sammalagt 3 duschar och bastu då vi var 6 pesoner
(SENSITIVE CONTENTS HIDDEN)
2016-10-16T00:00:00Z
Grymt läge vid Mälaren och kanon hus med flera sov rum. Och Håkan tog i mot oss med öppna armar och vi har känner oss som hemma.. Perfekt då vi körde cykel SM, väljer detta alla dagar i vecka framför hotell !!!
Tobias
2016-06-27T00:00:00Z
Håkan was a great host and very helpful with telling us about what was available nearby. The house is located in a wonderful location right on the lake. It was nice to be able to walk down to the nearby restaurants.
Anna
2016-09-09T00:00:00Z
This is a very nice old style house which is nicely renovated with modern standard. The location is great, central enough to be walking distance to some restaurants but still located directly by the water with a great view of Mälaren. The host Håkan is very friendly and he made sure to help us whenever needed and was easy to communicate with.
Baltsar
2016-05-09T00:00:00Z
Hasan is a lovely and at tentative host! His house has beautiful views of Lake Malaren and is conveniently located near the city center. It's quite charming and you'll definitely feel like you're home away from home. When Hasan wasn't available, he made sure that his son was a available if needed. Great host, great home!
Brandi
2016-04-29T00:00:00Z
Tipo de habitación
Casa/apto. entero
---
Tipo de propiedad
Villa
---
Capacidad
9
---
Dormitorios
Västerås, Västmanland County, Suecia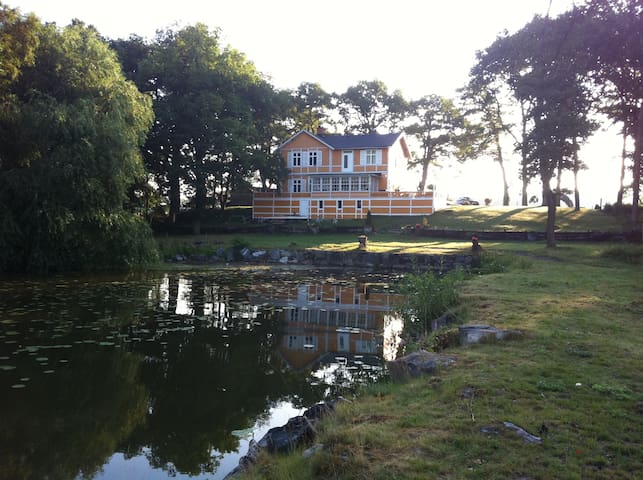 Ein Zimmer mit Bad in einem charmanten Scheune (rot), die aus dem Wohnhaus (gelb) getrennt ist. Das Zimmer hat einen romantischen Touch. Die "Scheune" wurde während 2015 und befindet sich 1 km vom Stadtzentrum und dem Bahnhof renoveted. Ruhige Nachbarschaft.
Die Liegenschaft befindet sich im westlichen Teil von Västerås mit einem grossery Speicher (ICA) entfernt
Die Liegenschaft befindet sich im westlichen Teil von Västerås entfernt. Ein Lebensmittelgeschäft ist nicht mehr als 5 Minuten zu Fuß entfernt und es ist auch in der Nähe zum See Mälaren, 10 Minuten zu Fuß. Zum Bahnhof ist es nur 10-15 Minuten zu Fuß und von dort Züge alle 30 Minuten nach Stockholm gehen. Es gibt auch einige Restaurants zu Fuß erreichbar, max 5 Minuten.
Thank you for hosting us, the room is very nice and cosy . A real love nest and we got a perfect breakfast for starting the day. Joakim and his wife are very nice and welcoming people. They were very reactiv as we ask for the room in a very very very short notice. We are very greatfull to be the first guests in the room. And wish you all the best for next. Cerise & Arthur
Cerise
2015-11-20T00:00:00Z
Tipo de habitación
Habitación privada
---
Tipo de propiedad
Villa
---
Capacidad
2
---
Dormitorios
Västerås, Västmanlands län, Suecia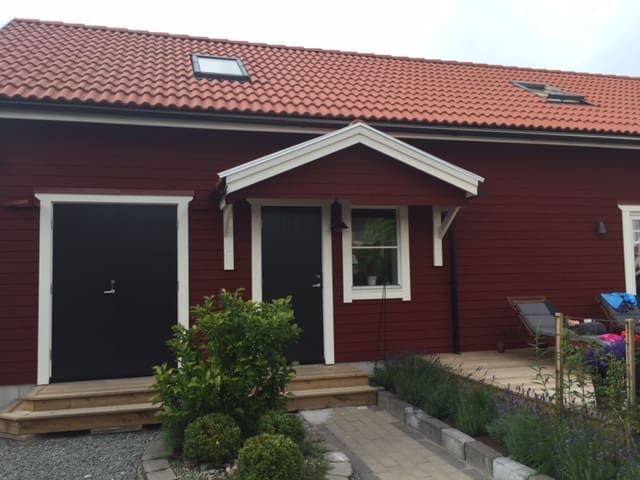 Willkommen in meinem Zuhause! Vor einem Jahr verkaufte ich meine Stockholm Wohnung und zog in die Landschaft. Ich fand die perfekte peacful Platz für das Singen zu üben und spielen Instrumente. Die Gäste sind immer willkommen. Sie schätzen die ruhige Atmosphäre, stilvoll, aber dennoch ursprüngliche Heimat und die grüne Umgebung. In nächster Nähe geht die Spur Sörmlandsleden und ich kann Ihnen zu den schönsten Waldseen in der Nähe führen. Kostenlose Abholung am Bahnhof und optional organisch / traditionelles Frühstück.
Große, helle Zimmer mit Blick auf Süd-West. Ein Kachelofen heizt den Raum mit ihm ruhig Feuer ist. Zwei große Fenster mit friedlicher Natur draußen. Die Veranda ist ein wunderbarer Ort, um Ihr Frühstück oder eine Tasse Tee am Nachmittag zu haben. Wir teilen die Küche und manchmal habe ich auch eine Tasse Tee auf der Veranda. Sie haben Ihr eigenes Bad.
Natur!
We spent three amazing days in Matti's place, thanks to his great hospitality and attitude. His place is located right next to tranquillising nature, and it was some kind of a mental ablution to stay away from the hectic pace of city life. The house is very nicely decorated, and you will be staying in two spacious rooms. The added benefit is to have the presence of a mighty old fire place in one of these rooms. If you are not coming with car, you can take a long (but peaceful) walk to lakes around, or might as well enjoy a bicycle ride around. Your host, Matti, will kindly help you getting there and kindly share his knowledge of the area, positive worldview, notes coming from his piano and super efficient coffee machine with you. Do stay in this amazing house, and you will not be disappointed.
Emre
2016-08-13T00:00:00Z
Jättebra upplevelse! Matti är en jättebussig kille som är mån om att man som gäst känner sig hemma. Och det gör man. Jätterent och behagligt. Kommer definitivt åka tillbaka!
Houman
2016-11-07T00:00:00Z
Úžasné místo! Kdybych mohl, dávám 10 hvězd..
Vašek
2016-09-16T00:00:00Z
Matti is a wonderful host, he was very attentive to all my needs to make sure I was comfortable and having a good time at his place, he was very helpful and available at all times, provided excellent information, directions and tips about the surrounding areas. It was a real pleasure meeting him, definitely recommended if you want to have a great peaceful stay in the middle of the nature, the house is as described and had a beautiful fireplace perfect for those cold nights and super cozy to be around, super clean bathroom and very nice kitchen with everything you need, very comfortable. Close by for hikes to the forest and nature. Really excellent place overall and and great price, definitely recommended. Thank you Matti!!!
Jairo
2017-01-01T00:00:00Z
Matti is a very easy going guy he is helpful and hospitable... this house and its surroundings is definitely worth visiting it's the kind of place you want to go to get away from town a have peace.. Matti is a very interesting person to talk to and is the kind of guy you really want to spend time with.. the room was very good and the breakfast too. I want to go back to Mattis place with my family and take some long walks around the area... I definitely recommend Mattis place for anybody who are looking for a quiet place to to recharge the batteries...
Jonas
2016-10-18T00:00:00Z
Matti was helpful and friendly. Offered us all help we needed. All were clean and quite. We enjoyed our breakfast in here kitchen and in his quite garden. His girlfriend was very friendly, as well. It was nice to met her, too.
Mario
2016-07-26T00:00:00Z
Our host was very welcoming and hospitable. We enjoyed our stay very much. The description on the page was accurate and their home is located in such a nice part of Sweden.
Martin
2016-08-06T00:00:00Z
Matti is very nice man, caring host. House is very nice!! We would like to come back again!!!!!!!! :)
Petra
2016-11-15T00:00:00Z
Tipo de habitación
Habitación privada
---
Tipo de propiedad
Villa
---
Capacidad
4
---
Dormitorios
Flen NV, Södermanlands län, Suecia
Dormitorio en una mansión en el lago Mälaren aprox. A 1 km del centro de la ciudad. 25 m de un lago Usted alquila un dormitorio La casa tiene dos cuartos de baño con souna, baño de burbujas, etc. Está tiene siete chimeneas
Viven en el lago Mälaren uno de un tipo muy céntrica (Probly la casa central de la mayoría en el lago en la ciudad)
Unic casa en la orilla Mälaren, probly el más céntrico de la ciudad.
This is a very big house with great facilities on a beautiful spot. We didn't see the owner much, but he's very kind and helpful.
Edwin
2016-10-22T00:00:00Z
My stay here in Sweden was absolutely amazing! To start off, I had trouble finding the house and Hakan drove to find me and guide me back. Throughout the stay, Hakan was always there if I needed help and was such a welcoming and caring host. I highly recommend staying with him and I hope I'll be able to return in the future!
Ashley
2016-05-15T00:00:00Z
Underbar villa, superbra läge och trevlig bemötande. Jag är mycket nöjd. Jag kommer säkert tillbaka! ;)
Clara
2016-11-11T00:00:00Z
Välkomnande värd med ett fantastiskt hus i Västerås precis vid vattnet. En 20 min promenad längs vattnet tar dig in till city.
Moa
2016-04-06T00:00:00Z
Værten Håkon bød os velkommen og var meget venlig og hjælpsom
Wivi
2016-07-11T00:00:00Z
Jag kände mig varmt välkommen i Håkans hem, där jag togs emot väl av hans son. Hade en fin vistelse och löptur precis vid Mälaren.
Erik
2016-05-13T00:00:00Z
Tipo de habitación
Habitación privada
---
Tipo de propiedad
Villa
---
Capacidad
2
---
Dormitorios
Västerås, Västmanlands län, Suecia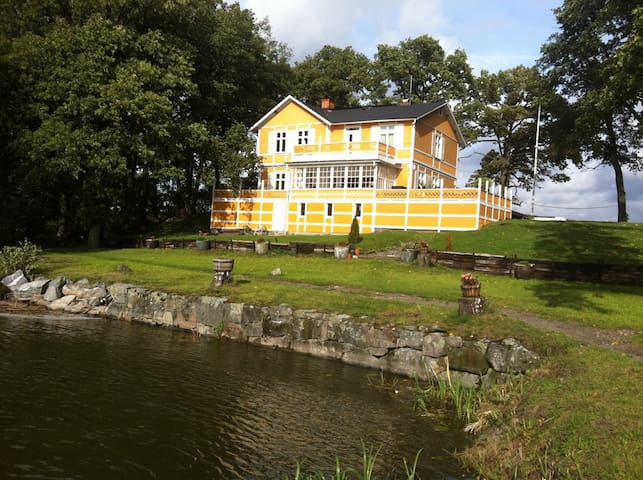 Full house for 1-2 families. 9 beds and 2 bathrooms, one with a wood-fired sauna. The house is located on a hill in a rural setting near Stockholm (about 40 minutes by car). Bathing and boating facilities within walking distance from the house and about 15 minutes drive to the nearest supermarket. Lovely lounge with dining area for 8-10 people outdoors. Barbecue available. Great site that invites you to lazy days in the sun or various activities. Kayaks are available to borrow as well as two bic
Tipo de habitación
Casa/apto. entero
---
Tipo de propiedad
Villa
---
Capacidad
9
---
Dormitorios
Enköping Ö, Uppsala län, Suecia
Nice villa in Balsta, close to supermarkets (5-10 min walk), 2 km to the commuter train station that goes to downtown Stockholm was 30 minutes (about 40 minutes) Bathing 5-6 km.
Villa i Balsta is fantastic house for a big family visiting the Stockholm area. Easily located just above wonderful Stockholm in a nice and quiet village with all you need for a great stay. The house is so convenient, cozy and has lots of space. The garden is relaxed and the neighborhood friendly. Excellent contact with the owner before our visit. Johan made a map with detailed information and instruction of all the equipment in house. So easy. All the contact was smooth and easy with the owners, Very friendful and helpful. They even offered us to rent their car and explained us how to get easily to Stockholm city centre, and I was able to use their Nespresso :-). Villa I Balsta just made our summerholiday in Sweden a wonderful experience! Thank you so much Johan and family. We certainly consider returning to Sweden and this place and strongly recommend it for any family visiting the Stockholm area, Michel Mol
Michel
2015-08-04T00:00:00Z
Tipo de habitación
Casa/apto. entero
---
Tipo de propiedad
Villa
---
Capacidad
6
---
Dormitorios
Bålsta, Uppsala län, Suecia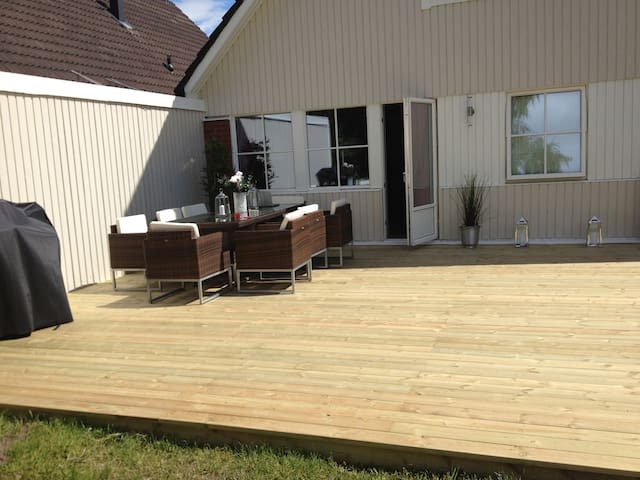 Västerås - Airbnb
:
Una media de

4.28

estrellas de un total de

5

de

29

evaluaciones de huéspedes
1

–

6

de

6 Alquileres de Villas
Introduce las fechas para ver el precio total. Ten en cuenta que se aplicarán tarifas adicionales y es posible que se añadan impuestos.