4 apartamentos en alquiler
Wir sind neue Hosts, so dass wir unsere Preise für eine begrenzte Zeit reduziert haben. Unsere geräumige offene Wohnung befindet sich im zweiten Stock mit vielen Fenstern und Sonne. Wir sind umgeben von Bäumen. Wir sind direkt neben einem Park mit Wanderwegen in der Nähe. Ein Spaziergang über die Straße zu einem Lebensmittelgeschäft und Starbucks. Ein paar Blöcke mehr und der Outdoor-Mall erwartet eine Vielzahl von Restaurants, Bars und Einkaufsmöglichkeiten.
Wir sind auf der zweiten Ebene, so gibt es Treppen zu steigen und eine Veranda an der Spitze. Wir haben zwei Mountainbikes und viele Radwege (paseos) in der Nähe. Sie sind willkommen, die Küche zu benutzen, wenn Sie reinigen auch schön :)
Ich liebe die Tatsache, dass wir eine Zugfahrt weg von der Hektik in der Hektik der Innenstadt von Los Angeles und und der Leichtigkeit des Gehens zu den Geschäften sind. Unser Mall Außenterrasse hat viele wunderbare Stelle am Feuer zu sitzen. Ich bin ein gebürtiges Los Angeles können Ihnen so hilft, mit wenig bekannten Stellen in unserer örtlichen Gemeinschaft und der größeren LA-Bereich.
Tipo de habitación
Habitación privada
---
Tipo de propiedad
Apto. en complejo residencial
---
Capacidad
2
---
Dormitorios
Santa Clarita, California, Estados Unidos
Tipo de habitación
Casa/apto. entero
---
Tipo de propiedad
Apto. en complejo residencial
---
Capacidad
7
---
Dormitorios
Santa Clarita, California, Estados Unidos
Walking distance to shops and restaurants, hilltop parks with hikes and great views, Six Flags at Magic Mountain, 20 minutes from Burbank, and 10 minutes from Lake Castiac! My location is excellent for those looking for great hospitality and convenience whether you are just passing through or relocating to the area. I am on the top floor with a huge balcony so anywhere you would want to go can be seen from my place mountain/canyon views as well as gorgeous sunrises and evening city lights. .
There is a pool, bbq and hot tub are right building our building that does no require a key to get in. Pool area opens at 8 am and closes at 11 pm. There is also a seating area complete with leisure chairs for tanning. The gym is located beside the main office and requires the sports key hanging on the key ring beside our door. This area also has a poll, BBQ area, couches, spa and bonfire seating area. However, you will have to have the same sports key to access this area too. There is a really nice lookout point near the leasing office that also have a couple of trails around it along with a playground for small children. The Volleyball court is set a bit below the leasing office in the direction of SE.
Stevenson Ranch is in Los Angeles County, California. The community is located in the Santa Clarita Valley, 20 minutes north of Hollywood. Stevenson Ranch encompasses about 6.4 square miles. About 1,000 acres are set aside as parks, recreation areas, and open space. Stevenson Ranch is set in the foothills of the Santa Susana Mountains and lies west of Interstate 5. This area backs up to the historic, oil-mining town of Mentryville, founded in 1875. A master-planned community, it was approved by the county in 1987. The population was 17,557 at the time of the 2010 census.The Valencia Marketplace and Stevenson Ranch Shopping Center are popular shopping areas in the community. Stevenson Ranch Elementary, Pico Canyon Elementary, Rancho Pico Junior High, and West Ranch High School are all award-winning schools. Six Flags Magic Mountain, an amusement park, is located about three miles north of the community.The names of many streets located in Stevenson Ranch are those of famous authors (e.g., (URL HIDDEN) is also the filming location of several film and television productions, including the television show Weeds, a Showtime original series, as well as the feature film Pleasantville. Its master-planned nature is at the heart of the suburban commentary of Weeds, such as the "Little Boxes" song and sprawling development portrayed in the opening of the show.
After a long day at six flags. Niki was very understanding and let us settled down very soon. We enjoyed our night at her place very much. Def will stay at her place when we come back.
Yufei
2016-10-02T00:00:00Z
Niki was great ! The room was very clean, the bed was super comfortable, there was plenty of parking. Niki was very nice and welcoming
Erica
2016-10-05T00:00:00Z
This place was perfect! Exactly as described! If you are ever in the area and need a place to stay I would highly recommend this one. Nikki is an amazing host. Very friendly, very accommodating, and very helpful! We should have just booked her place for our entire trip. Next time we are in the area we definitely will!
Zachary
2017-03-30T00:00:00Z
Nous avons réservé tres tard, et Niki a fait son maximum pour nous, il n'y a pas eu de soucis malgré notre anglais moyen. tout s'est tres bien passé. la chambre est superbe.
julian
2016-09-23T00:00:00Z
It was my best experience on Airbnb ever. Perfect room with private bathroom and very kind host Lea. Would like to stay there again if will be in the area. Thanks for hosting us!
Amit
2016-09-30T00:00:00Z
We had a great stay, bed is very comfy, room was lovely - just as pictured. Niki was super friendly and helpful, and her dog is so cute!
Nicole
2016-10-04T00:00:00Z
Niki and her place were so great. We arrived late but she was up to greet us and had even turned the bed down for us. The apartment and room were very clean and smelled wonderful. We Loved having our own bathroom. The bed was very comfortable. Her dog is the cutest, smallest dog I've ever seen. We chated for a bit before going to sleep. We were gone most of the next day at 6 flags and didn't see her after the first night but we had everything we needed. She was prompt in her communication. Everything was perfect. Thanks!
Audrina
2016-09-25T00:00:00Z
Lovely room, clean, quiet, comfortable, and Niki is a wonderful host.
Terri
2017-03-25T00:00:00Z
Tipo de habitación
Habitación privada
---
Tipo de propiedad
Apto. en complejo residencial
---
Capacidad
2
---
Dormitorios
Stevenson Ranch, California, Estados Unidos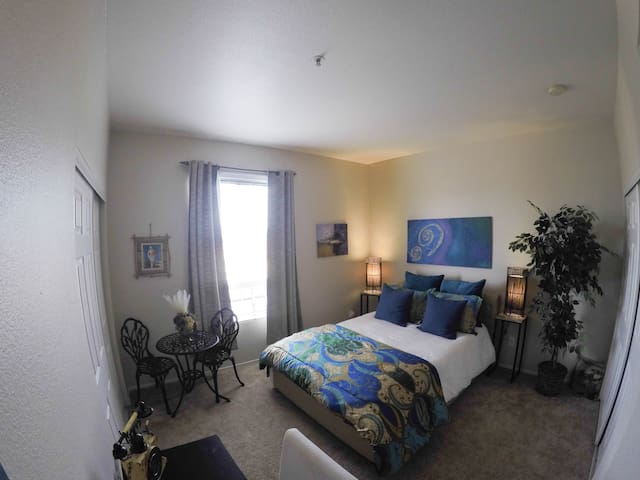 This is a hilltop house with a fantastic view.We have a two bedroom 'condo style unit' located at the rear of our has it's own entrance. Magic Mountain is less than 10 minutes away. Valencia Golf course is less than 15 minutes away
Tipo de habitación
Casa/apto. entero
---
Tipo de propiedad
Apto. en complejo residencial
---
Capacidad
4
---
Dormitorios
Castaic, California, Estados Unidos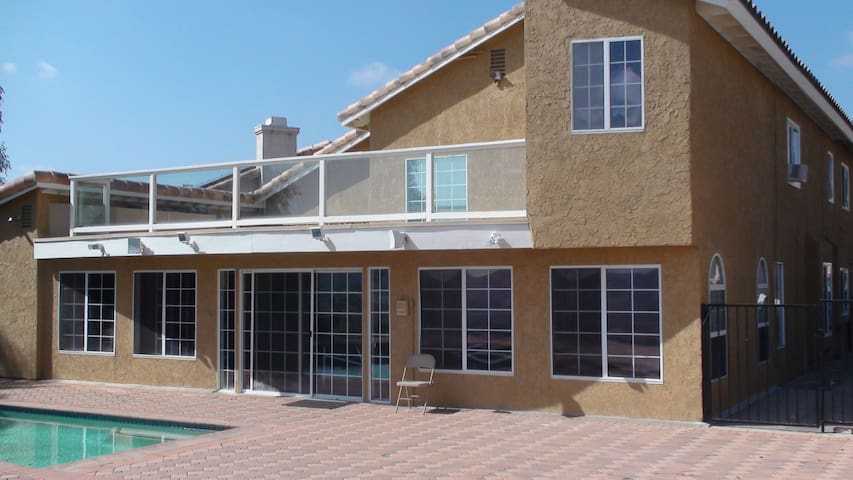 1

–

4

de

4 apartamentos en alquiler
Introduce las fechas para ver el precio total. Ten en cuenta que se aplicarán tarifas adicionales y es posible que se añadan impuestos.