Central OC, 5 minutes to CHOC and Old Towne Orange, near 5, 22, and 55 freeways. Chapman U, UCI Medical, Disneyland (10 min), Knott's Berry Farm (20 min). 1 bedroom, private bath, private living/dining room. Share kitchen/laundry. 1 Queen + 1 full mattress. Busy street so bring ear plugs.
We offer private access to the full front half of the house, including 1 bedroom with a queen bed, a large hall bathroom, living room with full bed, and dining room. The kitchen and laundry room are shared. Safe parking in backyard. Fast wifi. Television for Netflix and Hulu. In the summer we provide air conditioning. Wood floors. Please no visitors or entertaining. There is street noise so bring earplugs if you are a light sleeper.
This is a residential neighborhood on a busy street, within walking distance of a grocery store and fast food.
I was surprised by the amount of space that was available for us. I definitely got homely vibes which was nice. The bed was great! That was the main thing my mother kept mentioning, how comfy the bed was!
Natalia
2017-04-04T00:00:00Z
I had a wonderful experience staying with Judy .They were awesome host and they had a beautiful home! I would recommend to anyone I know to stay with them :)
Harpal
2016-03-06T00:00:00Z
Clean, comfortable place. They let my 2 friends and I occupy half the house (2 bedrooms, a bathroom, and the living room) quite privately and offered us breakfast in the morning.
Will
2015-12-04T00:00:00Z
This place was so convenient and nice to stay in! We were shown so much hospitality & were very accomadating to our early morning check-in. Very sweet couple & look forward to staying there again when in the area!
Gianluca
2017-01-22T00:00:00Z
Great People!!!
Humberto Gaeta
2017-03-28T00:00:00Z
Just and Gene were great. Very welcoming and accommodating.
Darcie
2015-08-26T00:00:00Z
I loved it here. My daughter and I were here for a 3 day volleyball tournament and I'm so glad we stayed here. It was perfect after a long stressful day. It was so spacious and quite here. Thank you Judy for all the notes you left to help us with any questions we had.
Dolores
2016-03-13T00:00:00Z
Gene and Judy were phenomenal. They were able to accommodate my friend and my late arrival and stay. The house was beautiful, comfortable, and safe. I am happy I chose to stay here for my first airbnb experience.
Julyssa
2016-02-14T00:00:00Z
Tipo de habitación
Habitación privada
---
Tipo de propiedad
Bed & Breakfast
---
Capacidad
4
---
Dormitorios
Santa Ana, California, Estados Unidos
A queen size bed in private room in quiet, calm upscale North Tustin neighborhood, minutes from Disneyland, John Wayne Airport, the beach, Anaheim Convention Center and all that the OC has to offer.
Fantastic centrally located B&B in calm, quiet upscale neighborhood. Minutes from Disneyland, Anaheim Convention Center, OC Airport, the beach, South Coast Plaza, Newport Beach, Corona del Mar and the OC.
Quiet calm upscale neighborhood, centrally located, freeway access only minutes away.
I did not nee the host which wasn't an issue for me at all but what I did have issue with was the condition and cleanliness of the home. There were lots of cob webs throughout the house especially in the bathroom. The bathroom was very, very dirty and completely put me off from this place. The room was fine, strange having plastic sheets but it was good enough. The kitchen was clean as well but I did not spend much time in there.
Kyle
2016-07-01T00:00:00Z
The house was nice and quiet, had everything I needed to be comfortable during my stay. Directions for entry were straightforward and the company was welcoming.
Paul
2016-06-17T00:00:00Z
The host had not told me he wouldn't be there. Instead his elderly mother and her caretaker were there. The caretaker was no help. The next morning she told me Ray would be out of town until next month. During an historic heatwave, the house air conditioning did not work. The heat in the house was unbearable.
Carol
2016-06-24T00:00:00Z
As advertised and expected. The house is very clean and quiet. Nice neighborhood and convenient location. Overall a very pleasant stay. Definitely recommend it!
Tram
2016-08-18T00:00:00Z
Quiet neighborhood. Everything was great.
gillianspice
2015-07-27T00:00:00Z
I booked for my cousin who had a great time at Ray's place. Ray' was kind and understanding enough to accommodate and work around my cousin who couldn't make it on time we scheduled.
Annie
2015-08-25T00:00:00Z
I arrived at Ray's place at 3 AM in the morning. The host did not mind bugging him at such odd time in the morning. I really appreciate Ray for his kind help. The room was clean and bed was quite comfortable. Breakfast was also available and one can sel-serve. I enjoyed my time at Ray's home. Thank you Ray!
Dhirendra Mani
2016-08-10T00:00:00Z
it was a nice place to stay. getting to have breakfast was really nice here.
Takashi
2017-03-26T00:00:00Z
Tipo de habitación
Habitación privada
---
Tipo de propiedad
Bed & Breakfast
---
Capacidad
3
---
Dormitorios
Santa Ana, California, Estados Unidos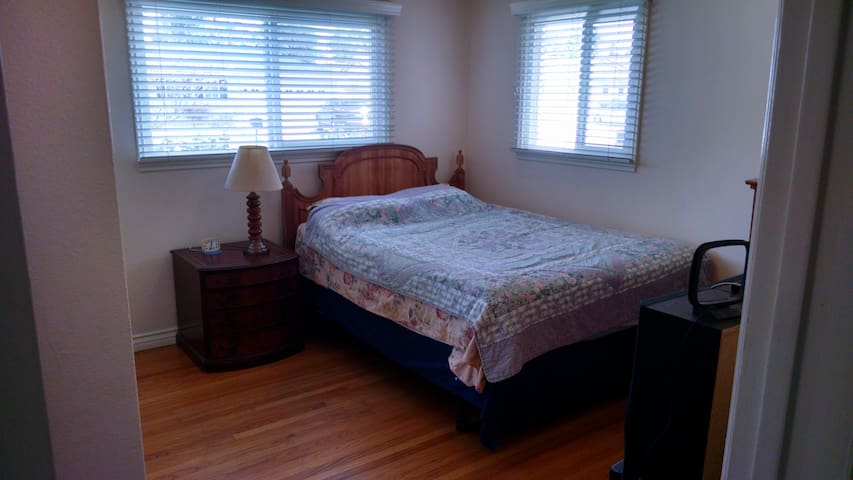 When visiting Disney or any adjacent stadiums, arenas, festivals you can have it all. We are minutes from Disney, The Anaheim convention center, Angel stadium and we are the ideal location for the outdoor enthusiast. Although a paradise for hiking, biking and outdoor sports we are minutes away from shopping, grocery store, fast food, movies, and farmers market. We are close to all that ORANGE COUNTY offers. We are located 650 feet from Peters Canyon and other great trails are within walking and driving distances. Our quiet little street sits nestled in santiago canyons. Prices reflect noninclusive and all inclusive. Before booking please message me the specific accommodations you are choosing, so accurate pricing can be applied. Example message: I am wanting all inclusive pricing for two people upstairs where i can take advantage of the Disney ticket. Or I am wanting noninclusive pricing for one person downstairs?
The advertised price reflects an all inclusive stay with car/ personal chauffer service plus ONE FREE DISNEY TICKET WILL BE GIVEN IF YOU BOOK A FOUR DAY STAY AT FULL PRICING RATES (no exceptions will be made) in addition to all other services we offer. Please ask for the ticket beforehand, so it will be ready upon your arrival. Before booking please message me the specific accommodations you are choosing, the number of guestso accurate pricing can be applied. In example: I am wanting all inclusive pricing for two adults and one child, a queen bed setup upstairs where i can take advantage of the Disney ticket.  Or I am wanting all inclusive pricing for 1 adult and 2 children, a king bed set up in the garden room. If the pricing and services are a bit much for your budget We have two other listings where one is lower in price and noninclusive. This accommodation is ideal for the traveler who will explore majority of their meals away from the home and also who already have set or planned transportation. Upon arrival to Southern Ca within a 50 mile radius or Orange County, Ca we will pick you up from the plane (airport), train or bus station then deliver you straight away to our home...  upon departure we will deliver you within a 50 mile radius to the local plane (airport), train or bus stations. This sets us apart. We believe in worry free travel arrangements.  THAT IS WHY WE ALSO PROVIDE BREAKFEAST AND A SNACK OR LIGHT LUNCH. DINNER UPON REQUEST FOR ADDITIONAL FEE. WE ARE 7 MINUTES FROM OLD TOWN ORANGE/CHAPMAN UNIVERSITY WHERE ANTIQUE SHOPPING IS ABUNDANT, 15 MINUTES FROM DISNEYLAND, 20 MINUTES FROM THE BEACH, 20 MINUTES FROM KNOTTS, 45 MINUTES FROM LOS ANGELES, 1 1/2 HOURS FROM BIG BEAR, 45 MINUTES FROM TEMECULA, AND 1 1/2 HR FROM SAN DIEGO Olafs Organic Garden is located smack dab in the middle of the Anaheim Wilderness Area. We are centrally located to following trails, parks, nature runs and canyons IDEAL FOR BIKING, RUNNING, HIKING, WALKING, FISHING, AND BACK ROADING: Back Bay Loop Trail Black Star Canyon Bommer Canyon Coal Canyon Ecological Reserve Crystal Cove State Park Fremont Canyon Wilderness Area Irvine Lake Irvine Regional Park Laguna Coast Wilderness Park Limestone Canyon Wilderness Area Loma Ridge Mason Regional Park Mountains to Sea TrailOrchard Hills Peters Canyon Regional Park Quail Hill San Joaquin Wildlife Sanctuary Santiago Canyon Upper Newport Bay Weir Canyon Wilderness Area We are a perfect place to stay if you are looking for all that nature and ORANGE COUNTY has to offer without sacrificing the option to enjoy all the near by beaches, museums, theme parks, malls and shopping (fashion island mall, south coast plaza mall, Newport art scene and shopping). We are ten minutes from the train station and and 25 minutes from the airport. We provide an eight hour car service. We will escort you to all of your destinations providing curb side service to and from.  WITH OUT CAR SERVICE WE HAVE THREE LISTINGS TO CHOOSE FROM. RANGING IN PRICE FROM $25 A NIGHT TO $175 NIGHT. OUR GARDEN ROOM  SITS OFF THE STAIRCASE ON THE BOTTOM LEVEL  IT HAS YOUR CHOICE OF: QUEEN/FULL BED SINGLE$115  DOUBLE$130  KING BED  SINGLE$130 DOUBLE$150 SUNSET ROOM LOCATED ON THE SECOND LEVEL OF THE HOME FACES WEST AND RECEIVES FULL AFTERNOON SUN. YOU HAVE THE FOLLOWING CHOICES: TWO TWIN BEDS +PULLOUT/ROLL AWAY BEDS  AND A SLEEPING BAG$140  THERE WILL BE AN ADDITIONAL CHARGE PER GUEST AFTER THE TWO GUEST LIMIT THIS ROOM CAN SLEEP UP TO 3-6 PERSONS QUEEN/FULL BED SINGLE $125 DOUBLE $150 DORM STYLE TWIN BED (some one you may not know will sleep across from you)   SINGLE $65 DOUBLE $85 SINGLE ROOM DOUBLE OCCUPANCY TWIN BED SINGLE  (YOU AND ANOTHER PERSON ARE WILLING TO SHARE A TWIN BED) THE COUCH OR MURPHY BED THIS BED IS LOCATED ON THE FIRST LEVEL IN THE COMMON AREA AND MUST BE PICKED UP AND STOWED AWAY BY 6:45 AM EACH MORNING IN ORDER TO HAVE A PROPERLY PREPARED BREAKFAST SERVICE AREA. THIS $25 ACCOMMODATION DOESN'T  INCLUDE BREAKFAST IN THE PRICE, HOWEVER TEA AND COFFEE ARE AVAILABLE FOR NO ADDITIONAL CHARGE. PRICING WITH PERSONAL CAR/ PERSONAL CHAUFFER SERVICE OUR GARDEN ROOM  SITS OFF THE STAIRCASE ON THE BOTTOM LEVEL  IT HAS YOUR CHOICE OF: QUEEN BED 5hr car/personal chauffer service SINGLE$155 DOUBLE$175 KING BED  5hr car/personal chauffer service SINGLE$150 DOUBLE$185 SUNSET ROOM LOCATED ON THE SECOND LEVEL OF THE HOME FACES WEST AND RECEIVES FULL AFTERNOON SUN. YOUR CHOICE OF QUEEN BED OR TWO TWIN BEDS THIS ROOM CAN SLEEP UP TO 3-5 PERSONS QUEEN BED 2 hr car/personal chauffer service SINGLE $160 DOUBLE $175 DORM STYLE TWIN BED (some one you may not know will sleep across from you)   SINGLE $90 DOUBLE$105 I CANT WAIT TO MEET AND SERVE YOU!
Our neighbor hood is quiet, but lacks nothing. Newly built homes line the street with manicured lawns except our home. It's beautiful here and when driving up it feels, looks and seems as though your miles away from everything yet we are minutes away from everything.
Price, location, and convenience were all great! The weekly rate is what caused me to book there in the first place ... major savings over a hotel. I loved being right across the street from Peters Canyon for morning hikes (since my brain was still on East Coast time, it was nice to have something to do when I was up at 5:30am!), and right up the hill from both Orange and Tustin (great dining and shopping). I spent almost NO time in the house, but when I was home the bed was comfortable, my room was tidy and pretty and well-equipped (with closet space and tabletops to keep my stuff handy), and I had my own bathroom (no one else was staying there, and the hosts have a separate bathroom). And they have the best-behaved dog in the world ... MoMo was very friendly and happy to see me, but never ever came in my room or bothered me in any way, she just sat still and waited for me to come over and pet her. This house would be fine even for people who do not particularly like dogs. I would most definitely stay here again.
Lisa
2013-11-09T00:00:00Z
Tipo de habitación
Habitación privada
---
Tipo de propiedad
Bed & Breakfast
---
Capacidad
6
---
Dormitorios
Orange, California, Estados Unidos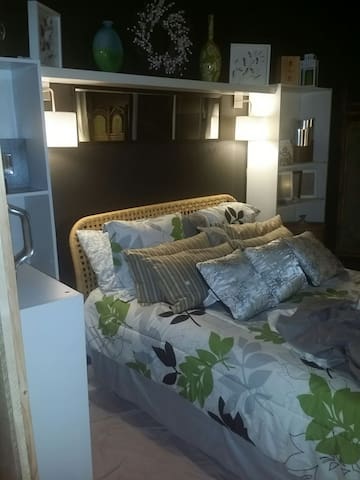 Villa Park - Airbnb
:
Una media de

4.56

estrellas de un total de

5

de

55

evaluaciones de huéspedes
1

–

3

de

3 Bed & Breakfasts
Introduce las fechas para ver el precio total. Ten en cuenta que se aplicarán tarifas adicionales y es posible que se añadan impuestos.