Místní architektura styl apt je naše rodina dědictví, nejstarší vodní mlýn ve středních Čechách, obklopen tiché krajině (soukromý rybník a tenisový kurt), který se nachází 20 minut jízdy od centra Prahy. Ideální pro relaxaci -families nebo podnikatele.
Tento útulný byt se pohodlně vejde pro 4 nebo 5 osob, se nachází v rekreační oblasti v malebném údolí města Mnichovice, kde najdete bublající potok hned za dveřmi, z oken je výhled náš rybník (v současné době je zde revitalizace děje tak, že jakmile je dokončena rybáři jsou vítány) a hustý les za vodní mlýn. Všechno, aby Váš pobyt nikdy-k-být-zapomenutý je na dosah. Praha centrum města, historické a kulturní zajímavosti, lahodný HORECA, rozšířený jízda na kole a pěší trasy, pohodlné veřejné dopravy a 5 minut chůze na náměstí s místních obchodech. Kromě toho existuje několik dobrých restaurací a hospod v okolí. Ložní prádlo a ručníky a klíče od bytu jsou k dispozici. Kojenci a děti do 3 let neplatí. Děkuji za Váš zájem o naše půvabné 17. století, vodního mlýnu. Vítáme hosty, aby přišli a zkušenosti naší jedinečné historické rodinné dědictví.
Vodní mlýn a jeho vlastnosti byly Zitta rodinné dědictví od 18. století. V současné době je součástí mikroregionu Josefa Lady, v oblasti mezi Prahou a řekou Sázavou pojmenovaný po jednom z nejvýznamnějších osobností české kultury. Návštěvníci této pohádkové kopcovité oblasti mohou vybrat z celé řady kulturních, historických a přírodních zajímavostí. Tyto lokality jsou vzájemně propojeny sítí dobře značených turistických a cyklistických stezek o celkové délce 140 km. Milovníci sportu se mohou těšit na golf, tenis, squash nebo vodní sporty. Blízkost a snadná dostupnost do hlavního města a dalších velkých lokalit, jako je Kutná Hora a zámek Konopiště, aby tento romantický regionu vynikající výchozí bod pro vaši aktivní dovolenou a objevování toho, co naše země nabízí. My vám poskytne mapy města a dalších užitečných knih pro návštěvníka.
With a family of 4, it has been a true pleasure to stay at the Water Mill. On the pictures it looked really nice, but upon arrival, the space and comfort really surprised us. While we were looking to find the house number in the street, Michaela's mother came over to show us where to go after only a few seconds. She welcomed us, showed us the apartment and gave us the keys. The service was really good and the apartment very clean. Even though we arrived very late, our kids could not resist to enjoy the big jacuzzi right after our arrival. The apartment is situated in beautiful natural surroundings, on the edge of a village. It is quite amazing to stay in a place like this. All the wood used comes from their own forest, Michaela's father spend many years restoring this Water Mill to its current state. We stayed in this apartment, which exists of one big room for 4 people and its own bathroom for 3 nights. We stayed here because we visited Czech Republic to attend a wedding. Michaela has kindly showed us around in one of the other apartments. If you want to visit Prague, but enjoy breathing fresh air and natural surroundings, we would highly recommend Michaela's apartment. It was perfect for us and we hope to visit again for a longer stay.
Tim
2015-08-10T00:00:00Z
This loft apartment was just perfect for our family of five. Warm, aesthetically pleasing, a perfectly modern bathroom, plenty of space, exceptionally clean, not to mention the wonderful hospitality of the owners. We had freshly picked apples, local beer in the fridge, flowers on the coffee table, and delicious raspberries given to us. The train was a beautiful, relaxing ride into Prague (about 40 mins at a cost of around 5 dollars/5 people). We loved having both the country experience and the city experience. The train station is at the top of a pretty serious hill but there is parking available so one doesn't have to walk. I can fully recommend this apartment as a wonderful, cozy place to stay; a fantastic value. You'll be very glad you chose this as part of your Prague experience.
Andrea
2015-09-26T00:00:00Z
Es war sehr schön, vielen Dank! Ein toller Ort, liebevoll hergerichtet und mit viel Persönlichkeit. Wir fühlten uns direkt wohl, es fehlte uns an nichts und wir kommen gern wieder. Die Kommunikation mit Michaela lief jederzeit problemlos und wir erhielten immer eine schnelle Antwort. Uns erwartete eine toll wiederhergestellte Wassermühle, die nicht in Betrieb ist und daher eine fantastisch ruhige Atmosphäre bot. Wir bekamen gleich eine kleine Führung und wurden u.a. mit leckerem, selbstgemachten Apfelsaft begrüßt. In unserer kurzen Zeit konnten wir Tischtennis spielen und hätten sogar grillen können. Der kleine Spielplatz auf der Wiese am Haus hat den Kindern sehr gefallen und der liebe Hund auf dem Nachbarhof war von Anfang an sehr zutraulich. Die sorgsam vorbereitete Unterkunft mit einer Vielzahl an bereitgelegten Flyern zu Ausflugsmöglichkeiten in der nahen und fernen Gegend war fantastisch ... übrigens sah auch die andere Gästewohnung sehr schön aus!
Christian
2016-05-09T00:00:00Z
I highly recommend this listing. It was beautiful and comfortable. The water mill is amazing. We really enjoyed talking to Michaela's parents and aunt. Thank you so much for your hospitality. The mill is peaceful and a wonderful place to relax.
Monika
2015-08-03T00:00:00Z
Vše bylo nachystáno na příjezd dokonce dříve. Hostitelé byli na telefonu, mohla jsem se kdykoliv na cokoliv optat. Vřelé uvítání spojené s ubytováním. Výklad o historii domu, nabídka výletů po okolí....všude čisto a útulno...příjemné prostředí i atmosféra...krásné okolí a spousty zajímavostí poblíž místa.Byli jsme velmi spokojeni. Vřele všem doporučujeme!!!
Renata
2016-10-02T00:00:00Z
The apartment was great. Everything new, clean and rustic. The perfect location allows you to fully relax and enjoy the silence and nature. Michaela is very friendly person. She gives a lot of useful information about the history of the house and around Attractions. I would like to come back.
Michael
2015-10-06T00:00:00Z
We had a great stay-- thank you so much! The apartment was clean and cozy, the surroundings were beautiful, and the host, Michaela, was excellent. Answered all our questions promptly and provided great information on the area. Would definitely stay again!!
Becky
2016-05-18T00:00:00Z
We zijn prettig welkom geheten door de familie van Michaela. Ze waren erg behulpzaam en gastvrij. Michaela had allerlei info voor ons klaar gelegd en was telefonisch bereikbaar. We hebben genoten van n fijne (fiets) vakantie op een bijzondere locatie. Lekker gebarbecued in de tuin en n keer getennist op t privé terrein.
Marees
2016-08-24T00:00:00Z
Tipo de habitación
Casa/apto. entero
---
Tipo de propiedad
Loft
---
Capacidad
5
---
Dormitorios
Mnichovice, Central Bohemian Region, República Checa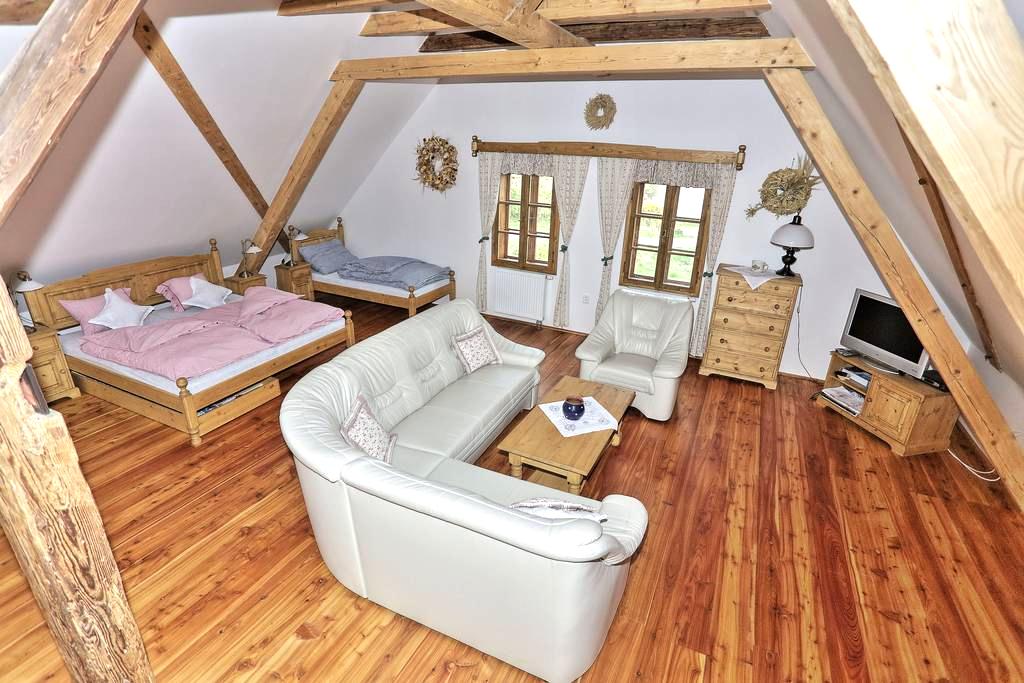 Je to ode mě blízko do Humpolce. Lokalita na půli cesty z Brna do Prahy.. U mě si to zamilujete, protože lze realizovat pěší turistiku a cyklovýlety v malebném kraji Vysočina.. Mé ubytování je skvělé pro páry, sóloví cestovatelé, služební cesty a velké skupiny. Po předchozím objednání lze připravit saunu, společenskou místnost, elektrokola za poplatek. Parkování a uskladnění kol je zdarma.
Tipo de habitación
Habitación privada
---
Tipo de propiedad
Loft
---
Capacidad
2
---
Dormitorios
Humpolec, Región de Vysocina, República Checa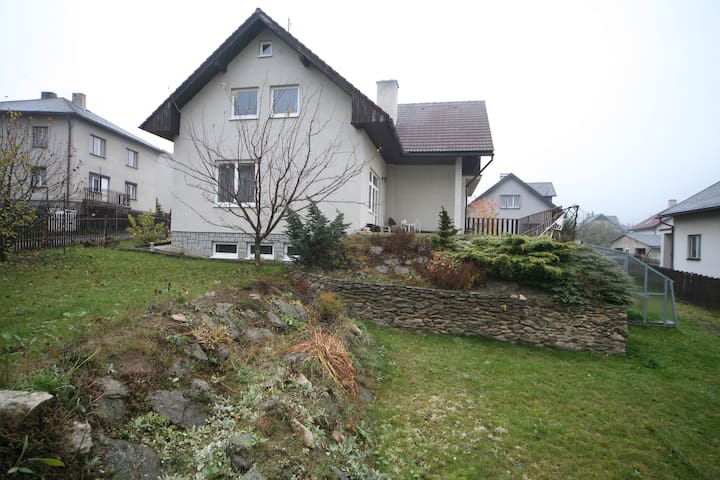 We live in our house from 2007. We love the house and the area. Because we live here alone we decided to rent the 1st floor. We like to meet new people and are welcome to visitors from all over the world. We live on site as well so you can enjoy full service and support during your stay.
Here it is very calm and private. On the other hand it is close area to city centre via comfortable speedway. If you prefer comfortable accommodation, free parking, modern kitchen, quiet place for sleeping, barbecue party and garden relax - come to us. Kids will be excited here - pool, garden games, aqua park nearby, forest and river very close. Safe and comfortable.
Our area is very calm and safe. Around there is a lot of fun, sport, good meal and culture sites. See details at (URL HIDDEN)
Tipo de habitación
Habitación privada
---
Tipo de propiedad
Loft
---
Capacidad
7
---
Dormitorios
Psáry, Central Bohemian Region, República Checa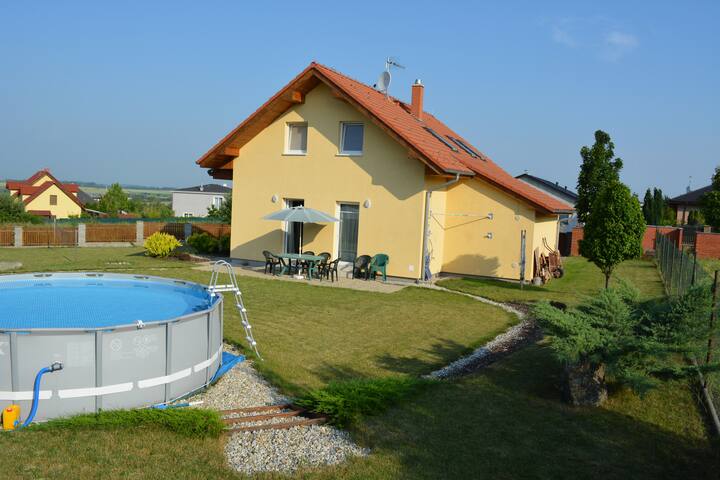 Casa está situada en el pueblo de las afueras de Praga al sur. Dos habitaciones privadas con tres camas y cuarto de baño está disponible. Otro espacio es compartido. El aparcamiento está situado en el interior del jardín. El transporte público de Praga es compatible. El desayuno está disponible a un costo de 4E
在一个安静的小镇,适合自驾游,挺不错的
Zhehao
2016-08-17T00:00:00Z
Ačkoli jsme zde spali pouze jednu noc, bylo to velmi příjemné. Dolní Břežany jsou skělé a klidné místo. Lubomir je hodný a ochotný, dal nám tipy na restaurace a další informace o městě. Ráno nám dokonce donesl SKVĚLÉ kafe. Rozhodně doporučuji tohoto hosta. We stayed there just for 1 night, but it was very nice. Dolni Brezany is cool and calm place. Lubomir is nice and kind guy. He gave us many tips about restaurants and village overall. In the morning he brought us VERY NICE coffee! I really recommend this host.
Marek
2016-05-30T00:00:00Z
We stayed at Lubomir's House with a group of three people for three nights and were more than content. Lubormir and his partner received us hearty and were overall great hosts and though English is not their native language the communication went pretty well. During our stay we had 2 bedrooms and a private bathroom for our own in their house and our hosts made us feel very comfortable there. Though the house is located a bit outside of Prague, we had no problems commuting to Prague and back. It takes you some 10 minutes to the next Park and Ride station, where parking for a whole day costs next to nothing, and then some 20 minutes to the city centre by public transport. And therefore you get to stay in a very quite and restful neighbourhood. The house itself is picturesquely located at a small lake within a pretty quite area of single-family houses. The whole house and guest rooms are lovingly furnished, it is clean and everything you need is right at hand. The garden with its large table and plenty of green invites you to relax; we had breakfast here every day. Lubomir and his partner served various regional specialities for breakfast every day, neatly arranged in the kitchen, which we could use for preparing meals also. Altogether Lubomir and his partner were excellent hosts and we fully enjoyed our stay at their house. When we come to visit Prague or the region again, we will definitely opt for their accommodation again. Thanks for some great days!
Claudia
2016-05-09T00:00:00Z
Nous avons passez un très bon séjour. Lubomir est très flexible. Il a su s adapter à notre timing tant pour notre arrivée que pour notre départ. Lubomir s est également montré discret nous laissant bénéficier de l entièreté du logement. Merci pour votre accueil.
Rino
2016-08-15T00:00:00Z
Moc hezka lokalita, vse odpovidalo popisu, navic prijemny hostitel, co vic si prat! ;) Urcite doporucuji!
Libor
2016-07-28T00:00:00Z
房间整体不错,不过离老城区和城堡略远,如果可以的话,房东能来接。
Jasmin
2016-05-16T00:00:00Z
Lubomir was a great host.
Branislav
2016-11-06T00:00:00Z
Мы с семьёй (я, жена и дочка 8 лет) провели прекрасную неделю в гостях у Любомира и его жены. У нас были: две спальни, отдельная ванная комната, ну а кухню мы делили с нашими чудесными хозяевами. Стоит отметить, что это был наш первый опыт с airbnb - и он определённо удался! Хозяева гостеприимные, общительные, очень интересные люди. При этом очень тактичные, и никаких неудобств во время нашего проживания у нас не возникало. Сами Dolni Brezany - очень уютное местечко с прекрасной центральной площадью, детскими площадками, местами для прогулок. Много зелени, цветов. Дом Любомира стоит на самом берегу небольшого пруда, где живут утки, гуси, и даже что-то вроде нутрий ))) Любомир варит чудесный кофе, а ещё в доме обитает рыжий кот, дающий почесать себя за ушком. Мы очень полюбили этот дом и его хозяев, жалко было уезжать. Огромное спасибо Любомиру и Владе за наш сказочный отпуск! Тёплые впечатления останутся с нами на всю жизнь.
Evgeny
2016-06-26T00:00:00Z
Tipo de habitación
Habitación privada
---
Tipo de propiedad
Loft
---
Capacidad
3
---
Dormitorios
Dolní Břežany, Central Bohemian Region, República Checa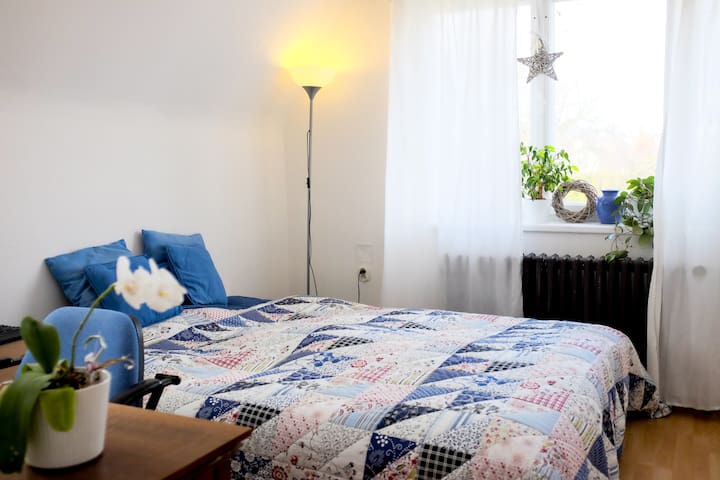 Es mi cerca de las actividades adecuadas para las familias. Para mí, que les encantará debido a la ubicación, la gente y los lugares fuera.
The best value/price ratio. Jiri is a great host, very attentive and offered solution for any needs. The small workshop and the garden is attractive for children. Recommended.
Balazs
2016-10-30T00:00:00Z
Ubytování bylo skvělé, vyhovovalo našim požadavkům, ještě jednou moc děkujeme, byli jsme spokojeni!!! S velkým pozdravem JS
Jitka
2016-10-29T00:00:00Z
Vše proběhlo v naprostém pořádku. Doporučuji.
David
2016-10-06T00:00:00Z
It was our second stay in Jiri's house. We appreciated again his personnality, and his willingness to show the local values (including the wonderful church next to the house). We recommend the cottage for everyone who likes the silence and the really peaceful rural area, and families with children (large garden with facilities).
Balazs
2016-11-05T00:00:00Z
Jiri was incredibly friendly and helpful throughout our stay and even allowed me to have a package sent from home to his house before my arrival which was really nice :) he went and above and beyond to make sure we had everything we needed and were comfortable during our stay. The town is very peaceful and he recommended a fabulous restaurant to eat at which was only 30 minutes to walk to.
Dave
2016-08-23T00:00:00Z
Tipo de habitación
Habitación compartida
---
Tipo de propiedad
Loft
---
Capacidad
2
---
Dormitorios
Český Brod, Central Bohemian Region, República Checa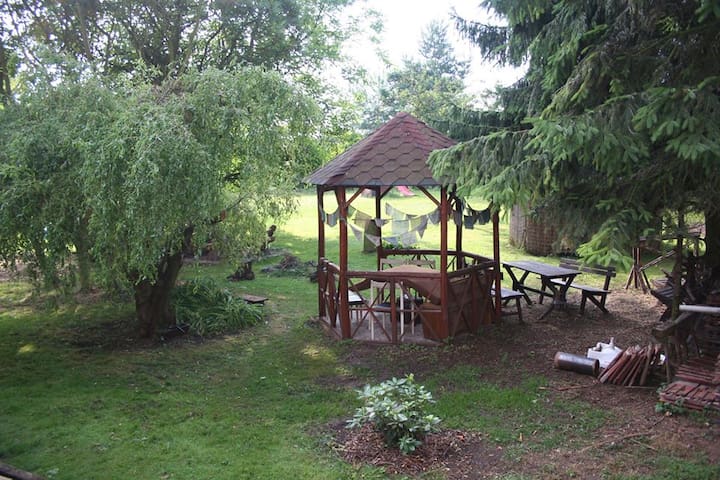 Beautiful place near subway. Quiet location in a residential area with garden. Direct line to the city center, bus station FLORENC or TRAIN CENTRAL STATION. 20 min to the center! Many shops, restaurants, safety area.
Lovely and comfortable modern big house with two teraces and garden.
Near the house you can find many restaurants, cinema, gym, grocerys, supermarket, wine shops. In the next street from house there favourite restaurant with typical czech meals, disco and good beer :) House is located near metro station Háje (line C). It is direct line to the Václavské square, center, BUS STATION FLORENS or TRAIN CENTRAL STATION. Thera are many bus stations too.
Great place to stay for a low price and very friendly host.
Ali
2017-02-12T00:00:00Z
Tipo de habitación
Casa/apto. entero
---
Tipo de propiedad
Loft
---
Capacidad
6
---
Dormitorios
Praga, República Checa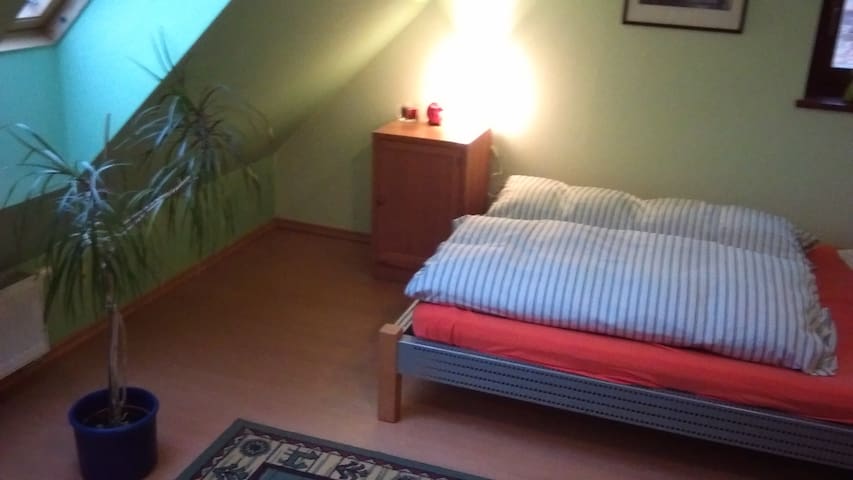 Introduce las fechas para ver el precio total. Ten en cuenta que se aplicarán tarifas adicionales y es posible que se añadan impuestos.