Welcome to our newly renovated Loft Apartment, the perfect getaway for couples. We are situated in a prime location, only 400 metres from the gorgeous Whites Beach, and walking distance to many of the amazing attractions.
At Golden Beach Retreat we aim to provide total comfort and privacy. This gorgeous one bedroom loft, can comfortably sleep 2 - 5 people. The master bedroom has its own toilet and robes, with a Queen size bed and single bed. The bright, spacious family room is the perfect place to kick back and relax, with two large comfy couches, a Queen size bed and dining table. The Kitchenette has all you need, with a 4 burner gas stove, oven, mini fridge, kettle, toaster and cooking equipment. The recently renovated bathroom and second toilet is situated down stairs. The Loft is a fabulous base to explore all this amazing area has to offer.
This is a fabulous location and Neighborhood, with so much to offer: - Located in a quiet street only, 400 metres from the gorgeous Whites Beach. - 400 metres to The Sands Golf Club and Peppers Restaurant. - 1.2km to The Wyndham, where you can indulge in a spa treatment or dine at the Ocean View Restaurant. -Enjoy a 2 km walk along the gorgeous beach side walking track to the heart of Torquay, where there is an abundance of gorgeous cafes, restaurants, bars and boutique stores. - Or take a short 10minute drive to the famous Bells Beach.
The loft was lovely and exactly as pictured. Very clean and great for a small family like ourselves.Jodie was very fast and welcoming in all communication before,during and after our travel.
Dorien
2016-01-06T00:00:00Z
The loft is absolutely beautiful with amazing furniture and decoration. It has a really personal atmosphere, so we felt at home almost immediately! The kitchen is equipped with everything you need. The loft is really big and absolutely perfect for four to five people. It is also really close to the beautiful beach. Jodie is a lovely host and extrardinarily welcoming. She was super helpful and we had a great time in Torquay! I would always book the Golden Beach Retreat again when coming back to Torquay!
Marlien
2015-04-17T00:00:00Z
Staying at the Golden Beach Retreat was an absolute treat! Short walk to the beach, comfortable, convenient, and offered everything we needed. The host, Jodie, was warm and welcoming, and ensured we had privacy through being just a phone call/email away for assistance (not that we needed it as everything was perfect!)
Catherine
2016-11-06T00:00:00Z
Jodie was a lovely host. She was very accomodating and helpful when I had to make changes to my reservation. The apartment was larger than what I thought it would be and fit 4 adults comfortably. It was very clean, charming and a short walk to the beach. It was perfect for a girls' weeknd away! This place would also suit couples and families.
Samantha
2014-11-10T00:00:00Z
nice stay. The loft is good. It's very quiet in the neighborhood. The only problem is that all the restaurants in the center close very early. We arrived at about 8pm, but were told their kitchens are closed.
Olivia
2015-10-06T00:00:00Z
Jodie's little loft was perfect for my zen weekend away. The loft has been done up beautifully and is very private. Jodie is lovely, very accommodating and a great host. The loft itself could fit a couple or young family very comfortably, and is minutes walk from the beach. Like I've said, it's been decorated and furnished beaufitully and feels like a little home.
pravina
2014-10-06T00:00:00Z
We absolutely loved our stay in this spacious and light-filled loft - it was the perfect retreat for a few days at the beach! Our hosts were responsive and welcoming, and the place was spotlessly clean, quiet and had everything we needed. It was a lovely space to spend time in, and was also an easy walk to the beach and the local shopping/café areas. We can't recommend this place highly enough!
Nick
2016-10-09T00:00:00Z
Jodie was really helpful and quick to respond to any queries. The property was lovely - absolutely spotless and a really good size. It was perfect for us (couple and 2 year old), and Jodie set up a baby gate for the stairs and even provided some toys! The walk in to town along the beach is gorgeous, and we are already planning on booking to go again soon. Highly recommend.
Alex
2015-06-22T00:00:00Z
Tipo de habitación
Casa/apto. entero
---
Tipo de propiedad
Loft
---
Capacidad
5
---
Dormitorios
Torquay, Victoria, Australia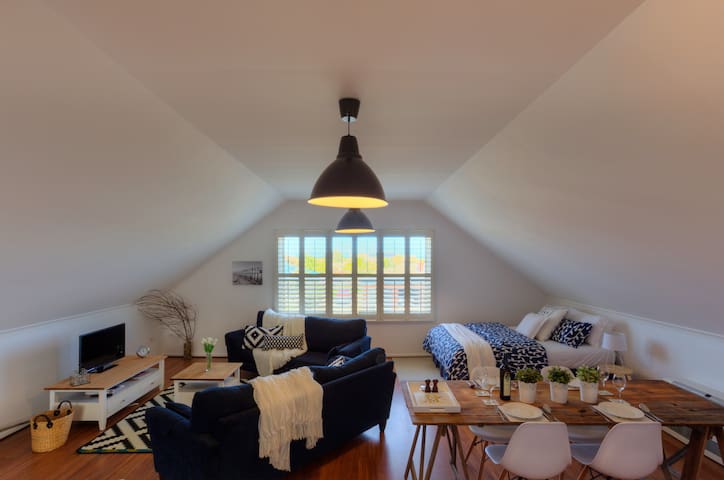 6 Stay total King Size memory foam bed & 2 bunk beds to share up to 4 From the wide, ocean views to the quality craftsmanship throughout, and the rare 2 acres of land, 3 separate balcony's for full privacy bathroom double shower 2 toilets living bar lounge area as pics
Upstairs floor penthouse 3 separate private balconies and shared space downstairs lounge kitchen dining with permanent guests
La casa es preciosa, todas las camas eran comodisimas. Nos ha encantado todo, altamente recomendable. Si volvemos a la zona nos quedaremos aquí seguro!
Marta
2017-03-30T00:00:00Z
Jason was really good and welcoming. The place was way better than what we have expected. I'll highly recommend this place for anyone who is travelling to Great ocean road. I can bet you won't complain about the place and the host.
Akash
2016-11-04T00:00:00Z
It's awesome place.
Chloe
2016-11-25T00:00:00Z
Amazing stay at this place. The best part was the view of the stars in the clear sky. It was absolutely break taking! Jason is very accommodating, he left the keys for us as we reached really late. The house is beautiful with modern furniture and an electric fire place and three balconies. The upstairs penthouse is spacious.
Shivangi
2016-11-19T00:00:00Z
My husband, our two young children and I spent 3 great days at the Torquay penthouse. The property has amazing views and the in ground trampoline was a massive hit with my kids. The penthouse is very well presented and tidy in a quiet part of Torquay. The living area has a very comfortable sofa with two balconies which allow a wonderful breeze to come in. The bedroom has a firm king size bed with a roomy ensuite and a balcony. Even though we didn't meet Jason in person, he was always in touch with us to ensure we were ok. We thoroughly enjoyed our stay and look forward to returning.
Liz
2016-01-08T00:00:00Z
Jason was very welcoming and helpful, lovely place had a beautiful stay. Would definately recommend for quiet weekend getaway
Johnny
2016-03-16T00:00:00Z
Staying at the listing was slightly disappointing if I am completely honest.. While the listing was as advertised I feel as though the penthouse/upstairs area should be self contained as to make things more comfortable. With no door at the end of the stairs I tended to feel quite uncomfortable and could hear every person coming and going which isn't ideal if you are looking for a decent sleep, which i feel like 99% of the visitors will be as it will be a break/getaway for visitors. I tried to use BBQ which didn't work (the host did message me a few hours later instructing me there was a trick to try get it working but it should be self explanatory TBH). We had a small kid come upstairs while we were sitting watching TV which was extremely unprofessional to be in a position to let this happen. While the 2 permanent guests are lovely and made us feel comfortable it brings me back to my point of closing off the upstairs with a door rather than just having it as an open area of the house than anybody can wander up and around whenever they like... The room itself (upstairs) had heaps of Mosquitoes and we received several bites each which was extremely annoying considering this wouldn't be an issue with a $20 plug in repellent.For $300 a night I expected something a little more professional to be fair and I think Jason needs to improve the set up a bit to avoid reviews which border on the negative like this one. Him and his wife were lovely and welcoming but when we arrived himself and family were there having lunch, which is fine because i understand it could be the family house but if it's going to be advertised as a guest house on this site i don't think that's acceptable, we felt very out of place/uncomfortable walking around. As I said the overall stay wasn't great.
Peter
2016-01-11T00:00:00Z
Nice and Quiet place
Alvin
2017-03-15T00:00:00Z
Tipo de habitación
Habitación privada
---
Tipo de propiedad
Loft
---
Capacidad
6
---
Dormitorios
Torquay, Victoria, Australia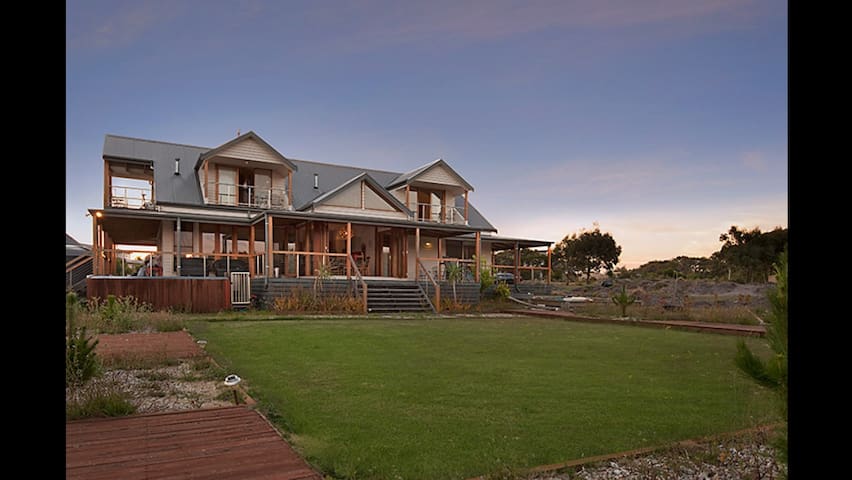 For those looking for romance, relaxation or fun, in the heart of town and metres from the beach, shops and hospitality. Leave the car parked, wander down the lane and the pristine beach lifestyle of Barwon Heads is right there.
Fantastic loft apartment in a great location. Better than the photos show. Loved the little extra touches that made the stay even more amazing. Will be back for sure.
Paul
2016-02-14T00:00:00Z
Gorgeous apartment. Super clean and well appointed. Fabulous location. Highly recommend. Better than photos!
Kate
2016-01-13T00:00:00Z
We really enjoyed our stay at the Loft. The room was very clean, well appointed and had plenty of space for us to relax in. Ange kept in touch with us and we had no problems at all. I would recommend anybody to stay here if they are looking for accommodation in the area. Thankyou and we hope to come back again. Chris and Susan
Chris
2016-04-11T00:00:00Z
place was lovely. bit tricky to find. an additional number on the building might be helpful also a note as to where to park the car
anna
2016-12-03T00:00:00Z
Gorgeous loft, ver clean & welcoming!
Gillian
2016-02-21T00:00:00Z
Beautiful space for a beach getaway and the place was immaculately presented. Check in and out was easy and made for a great trip. Will hopefully be back and will definitely recommend to friends. Thanks Ange!
David
2015-12-14T00:00:00Z
Our host ange made us feel so welcome with her clean and fresh loft and extra treats. The loft was just as it was described and perfect for us!
Danielle
2016-02-15T00:00:00Z
A lovely loft that I would recommend to anyone! The host was also lovely!! Thanks Ange! I will stay here again next time I'm in town!!
Brenton
2016-01-11T00:00:00Z
Tipo de habitación
Casa/apto. entero
---
Tipo de propiedad
Loft
---
Capacidad
3
---
Dormitorios
Barwon Heads, Victoria, Australia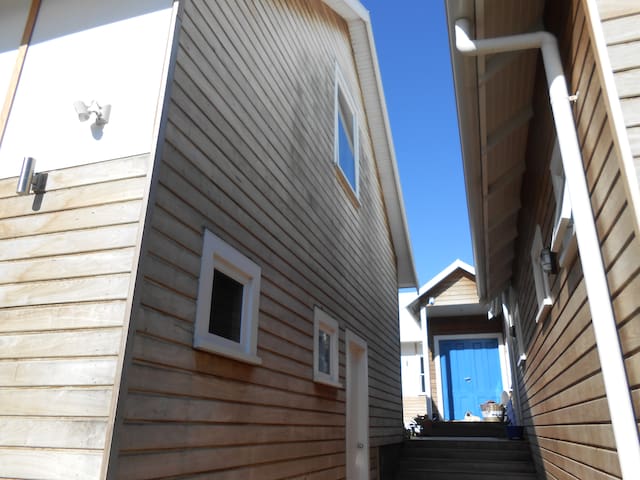 Close to our beautiful Foreshore of Geelong, 10min walk. We offer a 1 bedroom self contained studio/Loft. The accommodation offers a queen size bed, split system for heating and cooling. Self serve continental breakfast or enjoy the local cafes, stroll down to Kilgour Street Cafe, or to Garden Street precinct in East Geelong. 10min walk to train South Geelong Station, Simonds Stadium and Geelong Hospital, 15min walk to Geelong Waterfront, Eastern Beach. Single trundle bed is also available.
The Upstairs Loft is an open plan area, comfortable with natural light, perfect retreat to get away, walk down to the Geelong foreshore or just have a cuppa in the garden. If you require extra bed we can sleep up to 3 with a trundle bed, porta bed/cot
Lovely quite neighbourhood, within walking distance we have the Elephant and Castle great for a pub meal or a social drink with locals, they also have live music. Then looking for brunch if you like pop on up to Kilgour Street Grocer & Café.
Yvonne was a very flexible and accommodating host for my stay. The loft was exactly as described and I enjoyed my stay. The only thing I would add is that the loft is above their family garage so when they are coming and going you hear it all from the apartment. Her place was very close to the South Geelong train station and a bit further to the waterfront but still doable. The only thing I didn't expect was how dark the street was when coming home alone at night, but the neighborhood was generally quiet and safe. I would definitely stay with Yvonne and her family again!
Nicole
2016-10-01T00:00:00Z
Beautiful, spacious apartment in a great location. Had a very homely feel. The hosts were thoughtful and accommodating.
Rebecca
2016-08-17T00:00:00Z
Highly recommend Yvonne's place. Hers was the fourth Airbnb place we stayed on our 2week road trip. We stayed 25-27Dec. It was clean, cosy, comfortable, large and quiet. Everything was as pictured. Toilet was extremely modern and new. Kitchen was very well equipped and plenty of breakfast options (the best of all the Airbnb places we've stayed!). As we travelled with two toddlers (2.5 and 1yo), Yvonne included toys, high chair and an extra inflatable bed for the kids which was a very sweet surprise. Our kids enjoyed their stay. There's ample free parking right outside the house, check-in was very easy, and communication was prompt. As it was the holiday season, we also had the pleasure of getting to know Yvonne and her family who were very hospitable people. Her place is very central and near to main attractions in Geelong like the Eastern Beach, Carousel, Bollards, Little Creatures Brewery, Stadium, etc. We'lol be back to stay again should we visit Geelong.
Mel
2016-12-27T00:00:00Z
The Loft was quite simply perfect. The overall space was large and well set out. The kitchen facilities were all new and everything you could think of was there. Great touches of snacks and treats in both the fridge and cupboards. The hosts couldn't be more helpful but also kept there distance unless you fancied having a few wines with them in the down stairs garden area ( which I did a lot!) Their two kids, Hugh and Paris were very friendly, respectful and helpful also. i couldn't recommend this apartment enough to anyone interested in the Geelong and Surf Coast area. Thanks Guys
bryan
2017-01-30T00:00:00Z
Tipo de habitación
Casa/apto. entero
---
Tipo de propiedad
Loft
---
Capacidad
2
---
Dormitorios
Geelong, Victoria, Australia
This is a large room with large double shower, toilet and kitchen. The room is comfortable and private and perfect for a quiet get away. Only a short walk to the beach and other attractions in a peaceful quiet little town.
The self contained room is in a quiet suburban neighborhood within easy walking distance to town, nature reserves and beach. It is intended as a quiet romantic getaway or medium term accommodation for those seeking a temporary base on the Bellarine Peninsular. Whilst celebrations of all kinds are encouraged and supported, is not a loud or raucous party house.
The neighborhood is quiet and suburban, only a short walk to reserves, a small but comprehensive shopping street, cafes, take away and eat in eateries, a pub, beach, boat ramp, fishing wharf. Plenty of room to park a boat trailer on or off road.
Big thanks to Clive for a wonderful time! A great clean little space that is perfect for that beach get away on a budget. The single trundle bed for our little man was nice and sturdy and felt very comfortable. The place was very clean and had all the things you need for a quick getaway. Clive was very easy to deal with and a genuinely nice host. Wifi was a really pleasant surprise and helped out heaps. Will stay again when in St Leonard's.
Aaron
2016-12-04T00:00:00Z
Clive kindly accepted our last request, we just stayed 1 night without issue. The apartment was clean, a bit warm but that's January in Victoria.
Tim
2017-01-08T00:00:00Z
Clive is an excellent host, goes out of his way to make you feel welcome and to ensure you have all that you need. Very happy with this accommodation and found it to be a good base to visit the surf beaches and the more mild bay beaches.
Bronwyn
2017-01-06T00:00:00Z
Clive was a very accommodating host. The studio apartment was perfect for our little family getaway and would stay again if in the area. Big comfy bed for a good nights rest. Supplied us with all the essentials including breakfast cereals which our 7 year old daughter was very happy with. Thanks again Clive.
Simon
2016-10-08T00:00:00Z
Thanks Clive for having us on short notice and right on Xmas day. Clive was very friendly and also recommended some surf beaches to go too. We stayed for one night and the studio was very comfortable and clean. It was equipped with everything you needed. Only down side was no aircon but had fans.
Marjorie
2016-12-26T00:00:00Z
I had a lovely stay in Clive's loft apartment with my 2 children. The communication was excellent and a box of toys was even provided to keep the kids amused. The space is just as described and was cosy and comfortable for our 2 night stay.
Tanya
2016-04-02T00:00:00Z
It was a fantastic location with nice views and close to all the amenities of st leonards. Clive was more than welcoming and met all requests and was a pleasure to meet and made our stay fantastic. The room was very clean and well kept and the fully stocked kitchen appliances made cooking a breeze. Highly recommended!
Joel
2016-09-14T00:00:00Z
Clive & his partner made us feel most welcome & checked via txt that everything was up to standard once we'd arrived. Their directions were very clear & concise. The apartment was exactly as described in the listing and was neat, clean, tidy and well stocked with linen, crockery & cutlery, plus a good firm mattress well suited for a bad back. We will definitely keep them in mind for future trips to the Bellerine Peninsular.
Trevor
2016-06-14T00:00:00Z
Tipo de habitación
Habitación privada
---
Tipo de propiedad
Loft
---
Capacidad
3
---
Dormitorios
Saint Leonards, Victoria, Australia
The Bora. Bora studio was designed for the ultimate relaxation experience in your unforgettable getaway. The upstairs self contained studio sleeps up to 4 people with 1 x king bed and 1 x double fold out couch. Only steps from the beautiful Lorne Beach!!
We felt beautifully welcomed by Melissa. She's done such a great job with the rooms at Lorne - as comfortable and inviting as they look in the pics. I wish we could have stayed longer.
Julie
2016-07-03T00:00:00Z
房东人恨热情, 介绍了房子的设施还有给我们推荐了好吃的海鲜餐厅
Ying
2016-11-06T00:00:00Z
If you want a place in town, neat and tidy, well you have found it.
Damian
2016-11-21T00:00:00Z
Mélissa and ben was really incredibke so quick and helpful Because we just made the reservation 5 minutes before check in They even offer us wine :)
vithoune
2016-10-22T00:00:00Z
The apartment was perfect, really good location and the hosts we really welcoming! Would definitely recommend to friends
Fiona
2016-11-03T00:00:00Z
A very friendly and easy going host. Perfect quiet location in town a minute walk from the beach. Fabulous comfy room, with balcony. All amenities thought of! Would definitely stay again!
Jennifer
2017-01-17T00:00:00Z
Great location - very warm welcome. Highly recommend.
Hugo
2017-02-27T00:00:00Z
Great hosts and a very good location
Brian
2017-03-30T00:00:00Z
Tipo de habitación
Casa/apto. entero
---
Tipo de propiedad
Loft
---
Capacidad
4
---
Dormitorios
Lorne, Victoria, Australia
Introduce las fechas para ver el precio total. Ten en cuenta que se aplicarán tarifas adicionales y es posible que se añadan impuestos.