My place is close to Golfing, fishing,hiking,bike trail, restaurants and dining, great views. You'll love my place because of the people, the ambiance, and the outdoors space.
We had a very good experience at Chuck's lake house. It was very clean and spacious. It had everything we needed. I would definitely recommend it.
Joshua
2016-08-07T00:00:00Z
Great cabin. The pontoon was a plus.
Matthew
2016-09-06T00:00:00Z
Chuck's cabin was awesome. We had 7 people and had PLENTY of room. Cabin was very nicely decorated and had everything we could have asked for. Chuck was great to work with. I would highly recommend this rental for anyone looking in the Iola, WI area. Will definitely stay here again on our next trip there! Thanks Chuch - we had a great 4 days at your place.
Sue
2016-07-25T00:00:00Z
Beautiful place on a quiet lake. Chuck's place had it all for a nice long weekend getaway. Four of us stayed very comfortably with room for a few more.
Mark
2016-10-16T00:00:00Z
The host canceled this reservation 368 days before arrival. This is an automated posting.
Thomas
2016-07-02T00:00:00Z
Had a great time the cabin was wonderful. I will probably be back!
Charles
2016-08-23T00:00:00Z
Great place!
Joey
2016-07-29T00:00:00Z
Tipo de habitación
Casa/apto. entero
---
Tipo de propiedad
Cabaña
---
Capacidad
6
---
Dormitorios
Iola, Wisconsin, Estados Unidos
I recently purchased this property from a family that owned it since the l940's. Little has changed. Think Leopold-Thoreou. 2 acres- 300 feet of lake frontage on a very clean lake. Very private. Nature provides the surround sound and your shower.
The cottage is only two hours north of Madison and yet it feels like you are way up north. The lake is very clear and clean with great swimming and fishing. Electricity has been updated and new appliances added. There are skylights in the main room. This great place however is not for everyone. It is very primitive. The cabin is unfinished and the bathroom is an outhouse. There is no shower. Please bring your own towels and sheets (full size beds). Bring your own drinking water. There is non-potable water from a pump by the cabin that can be used for cleaning, not drinking. Drinking water is available at Lake Helen County Park by Morning Wood Bar & Grill. Leave the cabin as you found it; we do not live nearby and are not around to clean up after every guest.
The lake is very quiet morning and evening. No wake lake between 4pm and 10am strictly enforced.
We had the most wonderful time by the lake. It was so peaceful and beautiful with glorious sun rises and sun sets. The set up is very simple but with everything you could need. Arranging the stay was very straightforward and Richard seems very relaxed. We'd love to return if were ever in the area again.
Paloma
2016-06-20T00:00:00Z
Staying here for 4 nights was a great way to decompress after a busy school year. My 8 year old loved swimming, paddling around in the canoe, and building campfires in the evening. The lake is beautiful and quiet - we felt like we had it to ourselves on the weekdays. The cottage is as described, simple, rustic and comfortable. We hope to come back and see the new improvements Richard is making.
Annabelle
2016-06-30T00:00:00Z
This small cottage put a big smile on my face. The cottage is rustic which was what I was looking for and staying there just after Labor Day meant most of the lake was quiet except a few neighbors we met on walks around the lake and heard laughing while zipping past while tubing. The lake was a nice size to canoe across and swing on the playground (there's also a bar/restaurant next door to the playground). There's a nice fire pit area outside and wood burning stove inside which warmed our cool evenings. Its quite obvious a lot of love and dedication is going into the improvements and upkeep of the building. New windows, a neat wood stove, and warm wooden interior foreshadow what this place will become in future years. Nearby buildings on one side, but if you're looking for a quiet retreat to a neat corner of Wisconsin (nice and close to Steven's Point Brewery) and don't mind heading outside for your water, this would be a wonderful place to try.
Matt
2015-09-14T00:00:00Z
We loved our stay at Lake Helen. Rustic and peaceful. The cabin was cozy and it was great to use the canoe. The lake is shallow which made it fun for our daughter to play in the water. I would highly recommend!
Liza
2016-08-22T00:00:00Z
RUSTIC, Relaxing family get away! Shallow small lake great for kids swimming and easy to catch pan fishing. Nice, quiet 1.8 walk around the lake. Sandy Beach directly across lake, easy enough for our 10 year old grandkids to kayak/ canoe to. Plenty of nature friends; geese, loons, and squirrels. The kiddos LOVED frog catching from the little creek on property! Cabin loft for kids was like a Fort just for them! Cabin has nice screened windows to allow breeze to flow through to keep it cool on hot summer nights. FUN outdoor swing chair, even for adults if you can get a turn... Great Rustic Cabin Retreat!
Dean F.
2016-09-02T00:00:00Z
We had a lovely time in the cabin on a warm April weekend--we spent far more time outside than in. Richard was very easy to connect with prior to our trip. We enjoyed dining al fresco, paddling the canoe (my son only fell in once), relaxing in the hammock chair and lakeside adirondacks, and staring at our bonfire. The cabin was cozy and Richard and his family have many improvements in the works. Thanks for a gorgeous spot to wind down!
Katie
2016-04-18T00:00:00Z
Our stay at this cabin was a wonderful experience, quiet, rustic, surprised by the bald eagle above us, enchanted by the milky way at night, enjoyed the boat rides on the lake. Even with less than perfect weather, the inside was very comfy with the wood burning stove, and plenty of firewood available. I got to meet Richard as we were leaving. He is a very generous and accommodating host. We will look to stay here in the future
Paul
2015-08-22T00:00:00Z
Beautiful sand bottom lake. Very peaceful. We had a great time!
Steph
2016-08-01T00:00:00Z
Tipo de habitación
Casa/apto. entero
---
Tipo de propiedad
Cabaña
---
Capacidad
4
---
Dormitorios
Rosholt, Wisconsin, Estados Unidos
Two bedroom cabin perfect for recreational purposes or just relaxing. Cabin borders thousands of acres of Lincoln County forest with many snowmobile and ATV trails in Harrison Hills which also connect to many northern Wisconsin trails. Recreational fishing and swimming within minutes Restaurants, bar and grills are near the cabin and also accessible from the trails. Fully furnished, full bathroom with towels and linens.
This beautiful cabin is right by the woods and gives you plenty of opportunity to shut it in and be in a quiet non invasive environment or you can get out on the trails and get a little wild.
Things you can find to do in the Northwoods areas include Fishing/ice fishing, snowmobiling, x-country skiing, snowshoeing, hiking, biking, boating, swimming, kayaking, canoeing, 4wheeling and more. If you like being outdoors, you'll love the Northwoods so stay and play or just sit and enjoy the scenery.
The owner, Dee, came by with a new box of tea for the cabin and introduced herself. We had a good chat and as she and Mike lived next door we were told to let them know of anything we needed, otherwise they would observe our privacy. Their home was barely visible through the woods and we could not see or hear them. However, the cabin was stocked beyond expectations and we lacked for nothing. The locations is great if you are looking for a safe, quite get-a-way in the woods!
Robert
2016-10-05T00:00:00Z
This home is exactly what you want if you're looking to experience the feel of up north. I was pleasantly surprised with how cozy it was and how it still even had the wood cabin smell. There's still plenty of space, a nice kitchen, and two big beds. On top of that, Michael was extremely helpful and willing to accommodate us as best as he could to make us feel most at home. Another huge perk of this property is all the trails and water all around. Walk right outside the house at night and you will see an abundance of stars and even the Milky Way. Highly recommend staying here!
Ilya
2016-09-04T00:00:00Z
The host canceled this reservation the day before arrival. This is an automated posting.
Justyna
2016-12-30T00:00:00Z
Perfect Up North cottage for 4 travelers looking for snowshoeing adventures. The owners knew we planned to snowshoe so they were kind enough to have various local trail brochures and maps ready for us! Cottage was clean and rustic with woodsy theme decor. Loved that our dog was welcome and we much appreciated the Dead End road, so no traffic to worry about. We'll definitely keep this place in mind for future trips.
Robin
2017-01-08T00:00:00Z
My husband and I decided to stay here for a little weekend getaway. We brought our snowmobiles so the location was perfect. The trails are located right off the property. The cabin is cute, clean and perfect for a couple or family. It had everything we needed and the hosts were friendly and flexible. Highly recommend! We hope to return someday soon!
Maddi
2017-02-12T00:00:00Z
Dee and Michael made me feel very welcome during my stay. They were available if needed but yet provided a nice private relaxing setting. The cabin is very clean and has everything you need for your stay. It is set in a beautiful part of the woods, with easy access to stores and restaurants within a few miles.
Jean
2017-02-26T00:00:00Z
Great retreat. Highly recommend.
Chris
2017-04-02T00:00:00Z
This was my first Air BnB experience, and it was even better than I hoped! The cabin was fantastic, and the host very helpful and hospitable. Communication was prompt and helpful. We will be back!
Dianne
2016-10-02T00:00:00Z
Tipo de habitación
Casa/apto. entero
---
Tipo de propiedad
Cabaña
---
Capacidad
4
---
Dormitorios
Tomahawk , Wisconsin, Estados Unidos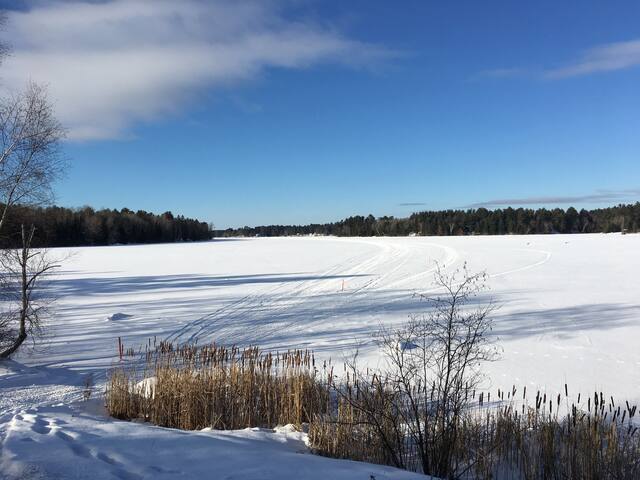 Fish Rock Cabin on Lake Jacqueline Our rustic cabin is on a no wake, electric motor only lake. It has electricity, but no indoor plumbing. A porta-potty, fire pit and a water pump (potable) are just some of the amenities. All of this is located on 2 acres with 100 ft of lake frontage. A very private lake get away. We pride our selves on the cleanliness of our cabin despite its rustic nature. There are also numerous other lakes and rivers nearby for additional recreation opportunities.
Rent the Northern Wisconsin Cabin you remember from your youth. The rustic cabin has electricity, but no indoor plumbing. A new porta potty (has replaced our outhouse), fire pit and a water pump is onsite to provide drinking water and round out the amenities. All of this is located on 2 acres with 100 ft of fishing frontage. This vacation get-a-way is specifically for those looking for a quiet camping experience, without having to worry about the discomforts of using a tent and noisy campgrounds. It is a simple 2 room cottage that is exceptionally well kept. It includes a futon, roll-a-way bed and 2 cots for sleeping. It also has a small refrigerator and microwave. The kitchen nook is perfect for meals and there are a number of cabinets that may be used for storage space. Enjoy Lake Jacqueline on the pier or in a boat (a paddle boat, 2 kayaks and a 14' rowboat are available for use free of charge during your stay. Lake Jacqueline is a clear, no wake, electric motor only lake that is perfect for fishing, kayaking, wildlife viewing and other silent sports. Fish Rock Cabin is located on the sparsely populated North end of the Lake, near the Portage County Lake Jacqueline Nature Preserve. Come enjoy our comfortable family friendly camping cabin.
Our cabin has a neighbor on one side, but we have a vegetative buffer that will provide you significant privacy. Our property will offer more privacy then you can get at almost all campgrounds.
We had a wonderful time relaxing over the Memorial Day weekend. Andrew was a wonderful host and available for any questions. We'd definitely love to come back in the summer to enjoy the property and lake more! I highly recommend this as a quiet getaway and I am glad I found it on Airbnb.
Maciek
2016-05-31T00:00:00Z
I had a wonderful time at fish rock cabin. I was looking for a quiet weekend getaway with some good fishing and I was very glad to have discovered this little gem. Andrew was there soon after I arrived to show me the cabin and answer any questions I had. I purchased extra firewood for a great price from Andrew, and I certainly would have paid twice the amount from other local vendors. The boat was in excellent condition and I decided to rent the electric motor as well. Lake Jaqueline is such a beautiful and quiet lake. Birds, frogs, squirrels and chipmunks are everywhere. I even saw a hawk 10 meters away swoop down for dinner. I thought beforehand that misquotes might be an issue but they were not a problem at all. The cabin itself was very clean and comfortable. the toilet outside was in excellent condition and quite clean as well. I had an incredible time at this cabin and Andrew was a wonderful host. I will certainly be back to enjoy some more peace and quiet and good fishing.
Conal
2016-07-19T00:00:00Z
Tipo de habitación
Casa/apto. entero
---
Tipo de propiedad
Cabaña
---
Capacidad
5
---
Dormitorios
Custer, Wisconsin, Estados Unidos
This breathtaking 3-bedroom plus loft, 3-bathroom Gleason vacation rental home is the perfect destination for your next vacation! With all the amenities of a modern home, this rustic cabin is situated on 40 acres of wooded land, has sleeping space for 11 guests and is within minutes of many nearby activities and attractions the area has to offer.
You'll be amazed the moment you enter this bright and spacious home, boasting plenty of windows, an open 3,200 square foot floor plan, and a tall vaulted ceiling. The large, fully-equipped kitchen provides the perfect space to prepare a home-cooked meal. With granite countertops, stainless steel appliances, and a farmhouse sink, you'll be cooking in style! The kitchen opens up to an adjacent eating area and sizable living room, with a plush sectional sofa where you can enjoy the incredible views. You and your guests can enjoy additional amenities in this home by heading down to the additional living area downstairs, where you can find a foosball table, TV with DVD player and dart board. The perfect size and layout for several families or friends traveling together, this home guarantees great privacy without sacrificing relaxation and comfort. If the weather is nice, fire up the deluxe gas grill and enjoy the incredible scenery from the large deck, where you'll be able to view the surrounding woodlands and the private 3-acre pond only 100 yards from the cabin. When you're ready for rest, you can find a bedroom and bathroom on each floor of the cabin, providing privacy for you and your guests. All the other essential comforts of home are provided, such as a laundry room with washer and dryer, plenty of pots and pans for the kitchen, wireless internet, and even a pack-and-play for your little one.
It's hard to beat this property's fantastic location! For the adventurers of the group, there are many options to suit your desires. Within walking distance of the Underdowns Recreational Area, you'll find 8,000 acres of public land with miles of hiking, mountain biking, snowshoeing, groomed cross-country skiing, horseback riding, snowmobiling and ATV trails. In the winter months, use 'Copper Lodge' as your base camp for downhill skiing at Granite Peak Ski Area on Rib Mountain, which is only a short 30 minute drive south. If you're looking to sample local cuisine, head over to the nearby supper clubs for a Friday fish-fry and Saturday prime rib, or try some new brews at the Sawmill Brewery in Merrill. Once you choose to book this stunning vacation rental cabin, you will find plenty of options sure to please everyone in your group!
The cabin was as described. Very comfortable. My friends and I had a great time.
Ryan
2017-02-12T00:00:00Z
Luxury cabin with great trails nearby that somehow has both a 'wow' big open space factor as well as a cozy atmosphere. Huge bathtub, foosball downstairs, and an open layout so you can cook and enjoy the fireplace / view of the pond. Will be back for sure!
Robert
2017-03-24T00:00:00Z
Tipo de habitación
Casa/apto. entero
---
Tipo de propiedad
Cabaña
---
Capacidad
11
---
Dormitorios
Gleason, Wisconsin, Estados Unidos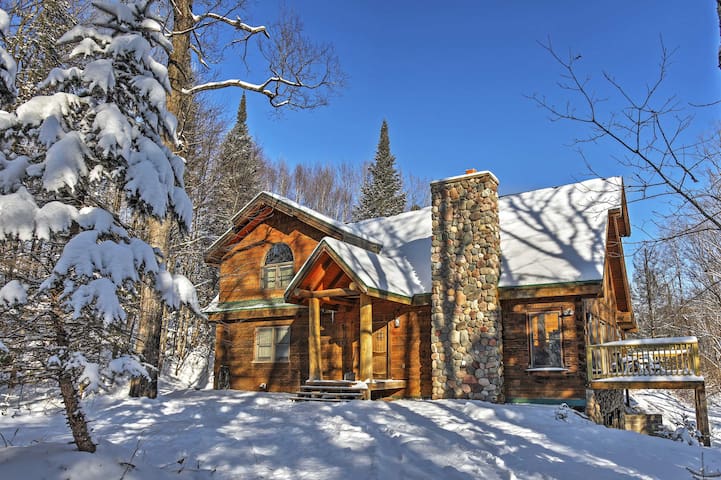 1

–

5

de

5 Alquileres de Cabañas
Introduce las fechas para ver el precio total. Ten en cuenta que se aplicarán tarifas adicionales y es posible que se añadan impuestos.