Más de 300 alojamientos en alquiler
Disfrutar de nuestra habitación doble con cuarto de baño en una casa de campo característico. Situado en el cinturón verde a sólo 4 millas del centro de Bath. Este es un lugar ideal para parejas que buscan escapar al país y que buscan explorar la histórica ciudad.
Esta ha sido nuestra casa familiar durante más de treinta años. Usted será muy bienvenido y cómodo.
Combe Hay es un pueblo único e histórico se menciona en el Libro del Juicio Final. Tenemos un fantástico pub en el pueblo (URL HIDDEN) Combe Hay no tiene una tienda del pueblo, recuerde de traer todos los elementos esenciales personales con usted.
Todo fue muy bien! Una experiencia increíble! Totalmente recomendable! Lugar increíble. Janet una señora muy cálida!
Maria Laura
2016-08-27T00:00:00Z
Antes de que llegáramos nos ofreció reservar una mesa en el pub del lugar. Fuimos y fue excelente. Al llegar nos invitó a tomar una taza de té. Nos atendía permanentemente en el desayuno, vimos televisión con ella, charlamos de mil cosas...realmente nos trató como invitados. El lugar es como se anuncia, muy pero muy lindo.
Pablo
2016-10-10T00:00:00Z
Janet has a beautiful house set in a lovely village just 6 minutes from Bath. The room is beautiful and clean with a nice view. She was such a good host providing us local information, warm homely place to stay and very comfy bed. We couldn't have asked for more. Janet made us feel extremely welcomed and special on our honeymoon, she even had a bottle of champagne at our bedside table! She had a delicious breakfast ready for us, and did everything possible to make our stay the best. We would highly recommend you staying here if you are to visit Bath.
Clare
2014-12-08T00:00:00Z
Janet 的房子坐落在一个环境非常优美安静的小山村,到处布满了鲜花和树木,早晨起来充满了鲜花与芳草味道,是一个世外桃源。 这房子有四百多年历史,非常有味道。Janet 人很和善并且善谈,早晨还为我们做了早歺。非常好的一个住处。
东哲
2016-07-01T00:00:00Z
We stayed at Croft Cottage for one night and had an absolutely wonderful time in Janet's beautiful home. The GPS coordinates she gave us took us right to her front gate, no trouble at all and was only a few minutes out of Bath! Janet was ever so welcoming and we felt right at home in our clean and well decorated room with en suit. Breakfast was delicious and we can't thank Janet enough for the kindness she showed us during our stay. This cottage is a must stay when visiting Bath!
Beka
2015-08-02T00:00:00Z
Janet and her home are absolutely lovely! We only stayed one night and wished we had stayed longer! Her home is away from the hustle and bustle of the main area of Bath and we really appreciated the tranquil space she provided. she also has an incredible garden we didn't get a chance to spend time in, which we did regret! We also loved her recommendation to get supper at the local pub, a mere 4 minutes walk (unless you stopped to admire the gardens like we did) I would highly recommend you stay with Janet, as she is a wonderful person and we couldn't feel more welcomed in her home :)
Kate
2016-08-10T00:00:00Z
Janet is an absolutely charming hostess and goes out of her way to help and advise in any way she can making ones stay a real pleasure ! A more diligent, kind and generous lady would be hard to find! Her cottage is a spick and span delight and her village ,picture postcard perfect. What more could one want? We thoroughly recommend her and are hugely grateful to her for all that she did to make our visit so enchanting.
Tarquin de F.
2016-06-11T00:00:00Z
We thoroughly enjoyed our stay at Croft cottage. Janet made us feel extremely welcome in her beautiful home. The cottage is within easy access in to Bath and only a short stroll to the local pub which offers exceptional food. We would definitely recommend a stay at Croft cottage if you love a unique country setting yet want to be within easy access to Bath's attractions. We would definitely love to revist Janet!
Stewart
2016-02-16T00:00:00Z
Tipo de habitación
Habitación privada
---
Tipo de propiedad
Casa
---
Capacidad
2
---
Dormitorios
Bath, Reino Unido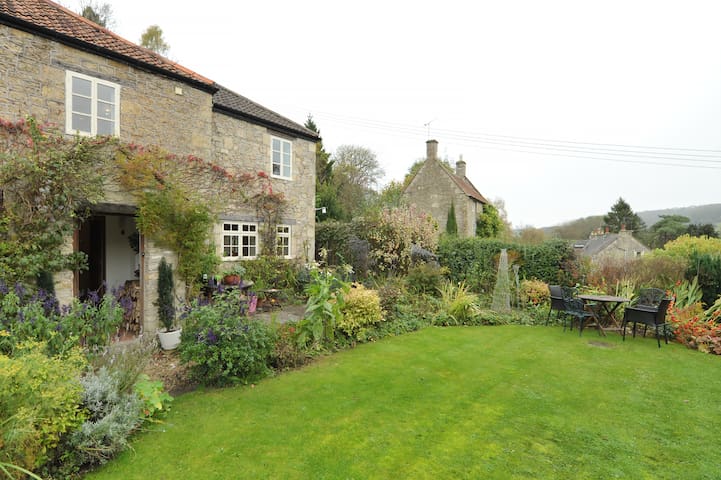 An idyllic 17th century farmhouse (Grade II listed), only 15 minutes drive from the centre of Bath, situated in the picturesque valley on the outskirts of Combe Hay, large garden.
3 miles from the historic city of Bath. Surrounded by a beautiful rolling Somerset countryside. Large garden where you can enjoy your breakfast on a nice summer's day.
We are on the outskirts of the historic village of Combe Hay. Lovely gastro pub in the village - highly recommended.
Edith nos hizo sentir super cómodos! La casa y la habitación eran muy lindos, y limpios. El desayuno muy rico. En resumen un lugar muy recomendable para visitar bath.
Julio
2016-05-01T00:00:00Z
Edith was very welcoming her home is beautiful and warm in every sense of the word. It's easy to get into town using the park and ride and in the evening a taxi home was only £12. We woke in the morning to the sound of bird song from outside our window and then had a lovely relaxed breakfast. A wonderful stay!
Charlie
2016-03-15T00:00:00Z
We stayed one night at Combe Hay rather than staying in Bath itself. Great decision to stay in beautiful countryside with Bath only a stones throw away. Edith and Gordon were very welcoming and all our needs were catered for. The farmhouse is clean and comfortable. We will definitely stay again.
Michael
2016-05-16T00:00:00Z
Pleasant stay for an overnight stop, everything we could have asked for.
Neil
2016-11-19T00:00:00Z
Fortnight Farm was a pleasant surprise from the start, being exactly as it appears on the picture: a beautiful 17th century farmhouse. The interior furnishings were stylish and in keeping with the building. Our room was comfortable and we enjoyed a good night's sleep, to be followed by an excellent English breakfast served in Edith's beautiful conservatory/sunroom, with views over the well-kept garden and countryside beyond. Edith and her husband are charming people who show a real interest in their guests making one's stay relaxing and memorable.
Jennifer
2016-05-09T00:00:00Z
This is the second occasion we have stayed with Edith and Gordon. If you want somewhere peaceful, Tranquill, and a guaranteed beautiful night's sleep, stay here! Don't be fooled though, you are literally a short drive into the centre of Bath. Indulge in the view while you have a shower – the secret is out!
Simon
2016-09-04T00:00:00Z
My girlfriend and I stayed with Edith for a long weekend whilst visiting Bath. The photos looked lovely and we were not disappointed on arrival. Beautiful location and house and only a short drive to Bath. Warm and comfortable room, with nice views. Edith was a welcoming, friendly and attentive host who always made us feel very welcome. And makes top notch sausages for breakfast. We would highly recommend a visit!
Matt
2016-10-31T00:00:00Z
We had a good stay with Edith, her house is lovely and she has taken care of minutest thing to make it more beautiful and elegant. The countryside is beautiful and the village of Combe hay is just a short walk. She even picked us from Bath bus stand and took us to her place.
Priyank
2016-07-16T00:00:00Z
Tipo de habitación
Habitación privada
---
Tipo de propiedad
Casa
---
Capacidad
2
---
Dormitorios
Combe Hay, Bath, Reino Unido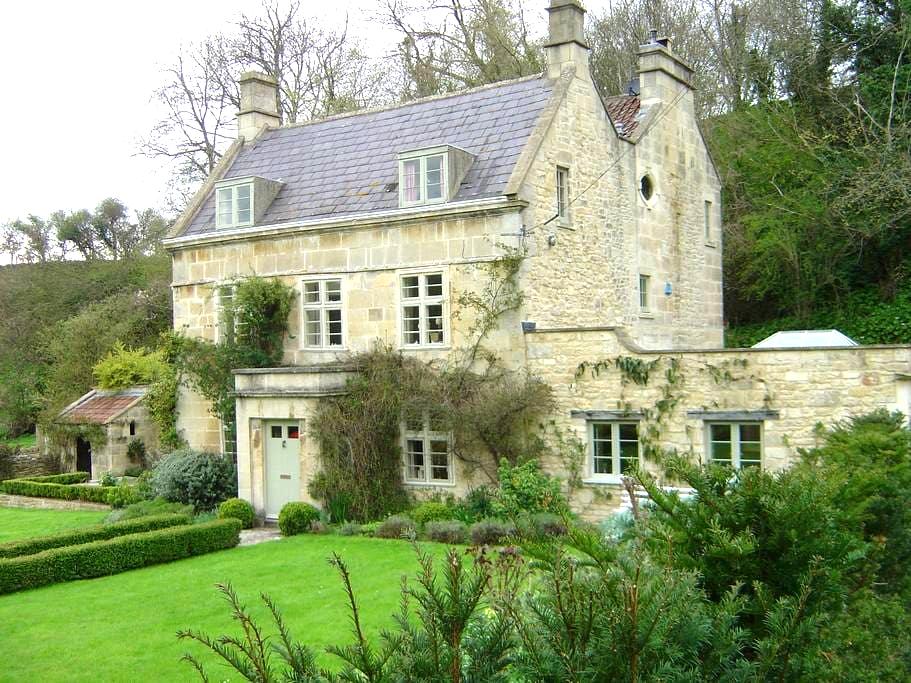 Our converted Hayloft is situated in Wellow, one of Britain's most desirable villages. This delightfully cosy cottage offers you a chance to escape and enjoy the countryside whilst still being only a 15 minute drive from the beautiful city of Bath.
Situated in the grounds of Greenhayes, a Grade II listed Georgian house is the beautifully & recently renovated Hayloft. With exposed beams, oak flooring, complete with underfloor heating through out, it's the perfect place to escape to, and unwind. The Hayloft has a small well equipped kitchen, electric oven and hob, microwave, dishwasher, fridge freezer, kettle and toaster. There is a breakfast bar plus a separate table for dining with seating for 4. You can relax and chill out in the sitting area complete with comfy sofa, coffee tables, TV, and Wifi. The Hayloft has a luxurious double bed, with pocket sprung mattress for a great night's sleep, next to the ensuite shower room. There is also an airbed , and the opportunity for a cot to be included. Outside the front door is a bench & welly store. There is also a bbq and seating area for sitting out on warm evenings. On a clear night you can gaze up at the stars. One well behaved pet is welcome A welcome basket will be here for your arrival containing teas, coffee, milk and something a little stronger to ease you into your stay!
Wellow is situated on the southernmost boundary of the Cotswolds area of Outstanding Natural Beauty. The area is recognised as having special architectural and historic interest. Wellow has a vibrant and welcoming community and even boasts it's own village shop (1 min walk away), and an award winning pub, The Fox and Badger, a short walk down the lane. Set within great walking country, there are many walks to and from The Hayloft, including one along the meandering Wellow Brook. Many of the walks are graced by fantastic gastropubs such as The Wheatsheaf at Combe Hay, Wheelwright's Arms at Monkton Coombe, & The (email hidden) Philip. There are maps in the Hayloft for you to plan your route! We are also perfectly located to visit the historic Stoney Littleton Long Barrow, one of the finest accessible examples of a Neolithic chambered tomb. For keen cyclists we are based on the Sustrans Cycle Network (Route 24) with links to Bath, Bristol & Frome. You can venture on to the iconic Bath Two Tunnels Circuit; which is the UK's, and possibly Europe's longest cycling/walking tunnel. There is also relatively easy cycling further afield to Frome and Mells. Once again there are several great pubs along the way e.g The Talbot at Mells and the Hope & Anchor at Midford. For the more adventurous mud monsters there is also great off road/byway cycling to be found in the area. Based just outside the village is Wellow Trekking Centre which offers both beginners and experienced riders the opportunity to take a lesson or hack through picturesque countryside. Not forgetting that we are just 15 mins to the World Heritage City of Bath, where you will find wonderful Georgian architecture e.g The Roman Baths, The Circus & The Royal Crescent. You could also visit the Rec to watch Bath Rugby in action, or enjoy the fantastic shops, great restaurants and of course the renowned Thermae Spa, where you can soak up the famous waters' of Bath.
We were made very welcome and the self-contained unit was perfect for the two of us. Everything was immaculate: kitchen and bedroom studio with a separate wet room. Wellow is great. A chance to experience village life with a lovely pub. Beautiful scenery with plenty oh hills! Also very convenient for Bath.
Philip
2016-06-05T00:00:00Z
My boyfriend and I stayed at the Hayloft for two nights. Cath was extremely helpful in guiding us there as we drove from London. When arriving, Cath greeted us and took us to the hayloft. We were pleasantly surprised with how lovely it was, and how it looks exactly like the pictures. Very modern, clean and it has everything you would need. Only a 15 minute drive into Bath town center, but the Hayloft is situated in a beautiful village which we would recommend to have a look round as well. Cath even had a gift basket ready for us which was a lovely addition to our stay. I would definitely recommend staying here, and we would love to visit again.
Ryan
2015-09-14T00:00:00Z
A lovely relaxing break, a perfect peaceful location. I would highly recommend to anyone wanting a mini break away x
EMILY
2017-03-12T00:00:00Z
Unfortunately, we did not meet Cath during our stay, but upon our booking she contacted us by phone and answered all questions and provided loads of info about Wellow and Bath. The Hayeloft was lovely and cosy, with bubbly in the fridge when we arrived, a perfect little getaway cottage! All the amenities needed and a lovely comfy bed and great shower room. The village of Wellow is tiny and quaint in the country, but very close to Bath too so it was perfect for our weekend.
Andy
2016-02-01T00:00:00Z
Lovely cosy place, very clean and well-equipped. Cath was very friendly and quick to respond to queries, as was the housekeeper Donna who kindly provided us with a DVD player on request and dropped off a mini heater after we struggled to get to grip with the underfloor heating controls (our failing, not the cottage's!) Location was lovely - we went on some lovely walks and had a couple of great pub lunches. Recommended!
Shannon
2016-12-29T00:00:00Z
We had a really lovely two nights at the Hayloft Cottage. Cath was on hand when we arrived to talk us through the facilities, even though it was late into the evening. The cottage was perfect and right up there with a hotel standard we thought, comfy bed, great shower and flat screen television. A tray of treats for breakfast and even some Prosecco in the fridge. Cath had suggested that we pop to the local pub for food which we did and it was very nice and the locals were more than friendly. The village was quiet and really beautiful with amazing houses and gorgeous surroundings. We spent the whole of the next day in Bath and visited the Thermal Baths, did some shopping, drank cocktails and had dinner at Opa a Greek restaurant which was fun especially when the dancing and plate smashing started. Cath was very kind in letting us check out a little later as we wanted to sleep in a little before the mad dash back to London. Beautiful weekend and highly recommended village and cottage. Thanks for everything Cath.
Jodie
2015-06-01T00:00:00Z
What a wonderful place and a perfect host! If we could have stayed longer we would. A warm homely comfy cottage in a charming village. Our best airbnb experience. Two thumbs up! Totally recommend it. Oh and the pub in walking distance has amazing food. Thanks for a wonderful stay. Thoroughly recommended. Sorry, just realized we forgot to sign your guest book!
Nathan
2017-02-03T00:00:00Z
We could not have found more generous or hospitable hosts in Cath and Alistair! Their Hayloft conversion was bigger than it looked in the pictures and extremely well equipped with everything you could think you would need and more. On top of all that it is situated in the most beautiful village of Wellow with spectacular views of the valley and only 15mins by car to the centre of Bath. We brought along our dog for the stay and he loved all the walking in the area and an extremely dog friendly and busy pub at the centre of Wellow. We would highly recommend it to anyone looking to stay in the area, just wish we could have stayed longer! Hopefully we can come back again!
Milly
2016-02-23T00:00:00Z
Tipo de habitación
Casa/apto. entero
---
Tipo de propiedad
Casa
---
Capacidad
3
---
Dormitorios
Wellow, Reino Unido
Nuestra casa unifamiliar de nueva construcción es ideal para una couple.Located con fácil acceso al centro de la ciudad de Bath con aparcamiento y un buen transporte links.All modernas instalaciones que incluyen en suite con el dormitorio amplio. El área abierta de estar de planta con cocina.
We had enjoyable stay in Tony's apartment. Location is good, very convenient for the city center, so do not need a car. Apartment is clean and beautifully designed with the access to small patio, so our dog could get some fresh air.
Kate and Robert
2015-07-04T00:00:00Z
Beautiful home (very appropriately called Marina Cottage) outside Bath city centre (only a 10 minute bus ride). Very modern and newly renovated by the looks of it. All the amenities were there and Tony was an excellent host. He was very easy to communicate with and flexible with regard to our check-in/check-out. Highly recommend it to anyone travelling to Bath. Definitely one of our favourite stops during our 3-week honeymoon around Ireland and the UK. Would definitely stay there again! Cheers
Kevin
2015-08-13T00:00:00Z
The property is located to the south of Bath, roughly a 35 minute downhill walk to town. There's also a direct bus available which takes around 7-10 minutes and stops off right outside the property. Tony was very welcoming and friendly. He welcomed and showed us around the property and also let us know of all the local amenities. The property itself was great and very spacious. The bedroom and bathroom being on the ground floor and the living area and kitchen on the first floor. IT had everything we needed and was the perfect place for us to stay whilst we visited bath.
davin
2016-06-25T00:00:00Z
Tony made us feel very welcome. The house was very clean and modern. It was exactly as we were expecting based on the listing.
Mackenzie
2016-10-10T00:00:00Z
Tony was a great host who gave us a warm welcome to his lovely contemporary cottage. It was very comfortable, beautifully decorated with lots of useful gadgets. We had a lovely, if brief stay. We would definitely recommend it if you are visiting Bath
Jenny
2015-06-07T00:00:00Z
Tony made us feel very welcome and settled in immediately. We were unlucky with the weather in torrential rain all day so the under floor heating was a huge plus for drying wet boots! Anything you could need for a stay in this warm clean modern apartment with all mod cons. The flat is situated behind their family home in its own seperate location (detached) and very private. In a little residential side street, nice and quiet at night. Only 10mins drive to centre of Bath so nice and convenient. Would definately encourage anyone to stay in this lovely place.
Claire
2016-02-07T00:00:00Z
Tony met us when we arrived and took us to the Apartment and showed us all the things we needed to know. Very well equipped, and modern, and fresh and clean. It's close to a Supermarket, so we were able to buy food for dinner, and do some washing. Very comfortable bed and well equipped kitchen. Highly recommend - thanks Tony.
Brent
2016-09-21T00:00:00Z
We had an amazing stay at Tony's cottage - the place was so beautiful and clean, with the location also being fantastic. We would definitely stay again and Tony was so helpful on arrival!
Charlotte
2016-11-14T00:00:00Z
Tipo de habitación
Casa/apto. entero
---
Tipo de propiedad
Casa
---
Capacidad
2
---
Dormitorios
Bath, Bath and North East Somerset, Reino Unido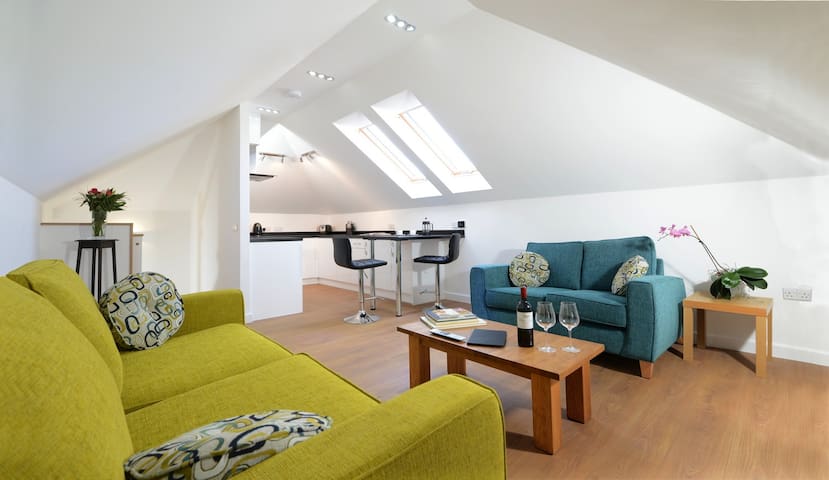 Country Cottage Shoscombe Valley Bath
Perfect for a romantic break or a holiday for a small family, this beautiful Victorian workman's cottage is set in the picturesque rural area of Shoscombe Valley. Just a 15 minute drive into the UNESCO World Heritage City of Bath where you will find endless options of things to see and do. Willow Tree Cottage truly is a haven of peace and tranquillity. It oozes with character and original features such as a cosy log burning stove and a picturesque summer house (with electricity) which provides panoramic views across the valley. It is decorated very tastefully and to an extremely high spec providing the perfect home away from home. The river Wellow brook runs at the bottom of the valley and there are copious scenic walks through the hills and countryside to enjoy. What is in Willow Tree Cottage Double bedroom Single bedroom Shower room Living / Dining room with table for 6 Kitchen Rear garden Summer house with panoramic views across the valley Small outdoor table and chairs at front of cottage Driveway with parking for one car (plenty of additional parking at the end of Single Hill) The cottage is heated by a large log burner in the living / dining room with electric heaters provided for the bedrooms.
Wonderful little cottage in a quiet area of rural Somerset. Great views. Well equipped. Cosy. Very nice stay. Highly recommended. Very helpful host.
Philip
2017-03-12T00:00:00Z
We loved our stay in this dear little cottage, in its beautiful tranquil setting. Lovely walks. It was compact but met all our needs. Tasteful decor. Kitchen worked well, the beds were comfortable, an excellent shower and sunny spots in garden for sitting. Near Bath which we enjoyed exploring.
Trina
2017-04-03T00:00:00Z
Tipo de habitación
Casa/apto. entero
---
Tipo de propiedad
Casa
---
Capacidad
3
---
Dormitorios
Bath, Inglaterra, Reino Unido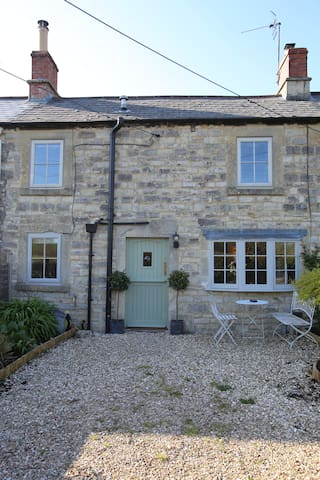 My home is a mix of urban and rural, being close to the City centre yet right next to beautiful countryside and also not far from the Uni, with easy access by bus. Enjoy the gorgeous southerly views from the patio, the ease of access to Bath and the sense of space (and free off-street parking!). The large double room has its own ensuite & a continental breakfast is provided too. We welcome couples, solo adventurers, business travellers, & families (can put kids' beds in the room too if needed).
This spacious room with kingsize bed and ensuite shower room is perfect to relax and unwind in after a busy day sightseeing in the beautiful City of Bath. Or step out the back and take in the 20 mile southerly views from the patio. The room can accommodate children too and I can put up to 2 single beds in the room for your children - just message me to enquire!
This house really is on the southern edge of the City in an area called Combe Down. We enjoy fantastic southerly views across the Midford Valley from the back of the house. It's such a contrast and combines the best of urban life and a country feel. Just a short walk away there are a couple of pubs, a Co-Op, post office, bakery and bank.
Sue made us feel so welcome, and her home is the perfect base for exploring Bath. The setting is beautiful and Sue immediately made us feel at ease and welcome. The room was lovely, clean and modern, and extremely spacious. It is so easy to get into bath on the Number 3 bus at the end of the road and the off street parking here is perfect when arriving by car. We can't wait to return!
Katie
2016-12-03T00:00:00Z
Sue was very helpful and welcoming in sharing her home.
Richard & Karen
2016-12-02T00:00:00Z
Sue's room is a lovely place to stay,beautifully dressed and spotlessly clean,quality bed clothes and a great shower, Sue is thoughtful, informative and helpful as well as a pleasure to speak to,nothing seemed "to much trouble" she was able to give details of the city and places to eat prior to our arrival,thus, making our stay effortlessly smooth
Paul
2016-11-26T00:00:00Z
What a fantastic place! In the past we have always booked "entire place" with Airbnb and so was slightly nervous at booking to stay in "private room" - but we were so glad we did - Sue made us feel so welcome, very friendly and helpful and we felt at ease immediately. All communication was great beforehand too. The actual room was even better than the photos, very spacious, extremely comfortable bed with big fluffy duvet, coat stand and a nice ensuite with shower; all of which was very clean and felt new. Just outside the bedroom door is a huge landing with breakfast table which had everything we could have wanted and more! Croissants, jams, muesli, milk, juice, cereals, fruit, tea, coffee and more. We were astounded. Also a lovely little breakfast table to eat and relax at. We took a taxi into Bath (5-10mins) and few times and also bought the £4 day bus ticket and also used that option as stops very close by. Great location for shopping, eating out and sightseeing. Would definitely recommend staying at Sue's place, we had a really wonderful time! Thank you Sue x
C
2016-11-13T00:00:00Z
Had such a lovely stay!! Very close to the city centre! 5 mins by taxi/car! The room was lovely and clean and so peaceful! Lovely views. The bed was extremely comfy!! Would defo stay again!
ELISHA
2016-12-04T00:00:00Z
Sue var en underbar värd och gjorde allt för att vi skulle vara nöjda. Uppskattade särskild det lilla extra, som att hon hade satt in friska blommor. Inga problem med att vi bad om en extra säng. Vi var mycket nöjda med vår vistelse och vill rekommendera på det varmaste.
Eva
2016-11-05T00:00:00Z
My boyfriend and I really enjoyed staying with Sue! The room was as pictured, large and nicely decorated with fresh flowers. The bed was very comfortable and the room was clean. The breakfast station was filled with fruit, cereals, croissants, bread and more! We sat and ate breakfast at the little table outside the room, which is private and comfortable. We could hear Sue and her family pottering around downstairs, which we didn't mind! When staying with a family it is to be expected. The family were lovely and overall it was a really nice stay. We would both recommend staying with Sue! Thanks for having us!
Maisie
2016-10-16T00:00:00Z
Lovely and relaxed night, bed sleeps well! Great accommodation overall and with just a short distance to town excellent for a city break.
Tjiwolt
2016-10-23T00:00:00Z
Tipo de habitación
Habitación privada
---
Tipo de propiedad
Casa
---
Capacidad
2
---
Dormitorios
Bath, Inglaterra, Reino Unido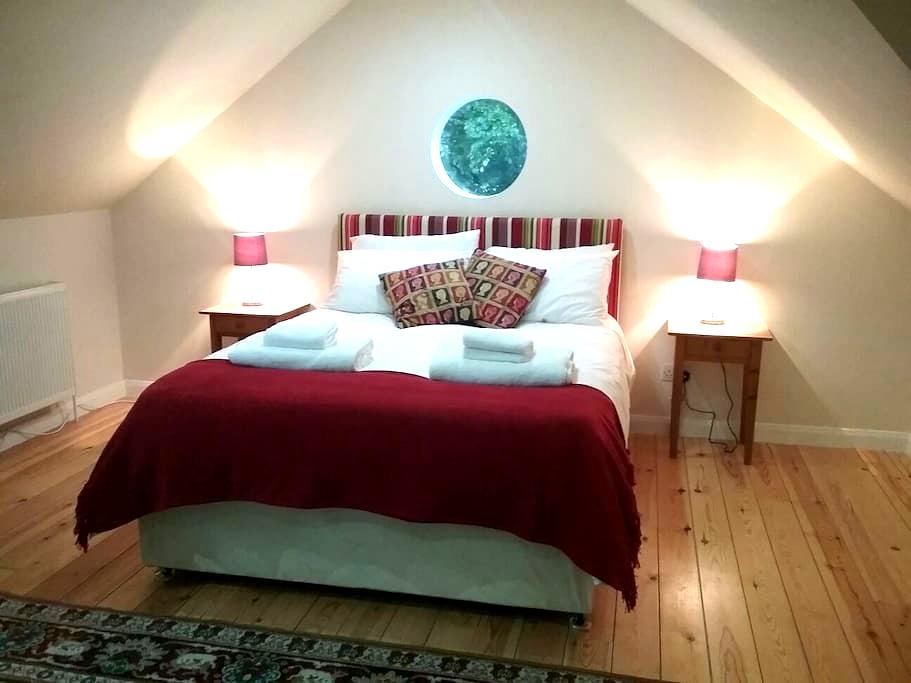 An idyllic farmhouse (Grade II listed), only 15 minutes drive from the centre of Bath, situated in the picturesque valley on the outskirts of Combe Hay with a large garden.
3 miles from the historic city of Bath. Surrouded by beautiful rolling Somerset countryside. Large garden where you can enjoy your breakfast on a nice summer's day. Private bathroom, wifi, ample parking We will be there, as we are working from home, and we are happy to offer advice and recommendations about all the tourist attractions on offer. We are at the outskirts of the historic village of Combe Hay. Lovely Gastro pub in the village - highly recomended. The local Park and Ride sevice, Odd Down, is only a short drive away. Buses run into Bath every 15 minutes. Taxis from Bath to Combe Hay are approx. £ 15. Rate includes continental breakfast in our orangery Private bathroom, wifi, ample parking We will be there, as we are working from home, and we are happy to offer advice and recommendations about all the tourist attractions on offer. We are at the outskirts of the historic village of Combe Hay. Lovely Gastro pub in the village - highly recomended. The local Park and Ride sevice, Odd Down, is only a short drive away. Buses run into Bath every 15 minutes. Taxis from Bath to Combe Hay are approx. £ 15. Rate includes continental breakfast in our orangery
We are at the outskirts of the historic village of Combe Hay. Lovely Gastro pub in the village - highly recomended.
This was a lovely stay for us - the room was delightful and 5 star in every way. Edith was the perfect host and was knowledgable about the area and provided the most wonderful breakfast in the orangery.
marcel
2017-02-26T00:00:00Z
My wife and I enjoyed a wonderful stay again with Edith at Combe Hay. We went up to Bath for dinner and the theatre. Combs Hay is ideally situated, a wonderful historic building and welcoming ambience. Edith offered us tea when we arrived, and next day cooked us both a fabulous breakfast. We will be back to stay again. Highly recommended. Thank you
Martin
2017-01-22T00:00:00Z
Edith and her husband were extremely hospitable and very keen to make our stay as enjoyable as possible. The farmhouse was in an idyllic setting if a little difficult to find, very peaceful and everything in the room was very comfortable indeed. We could not have asked for more.
David
2015-08-03T00:00:00Z
Edith and Gordon made us feel so welcome when we stayed. Very easy going with the place and us coming and going but made sure we had everything we needed. The house was beautiful and immaculately kept. Really nice surroundings, a little off the beaten track but serene and still very convenient for getting into Bath. Breakfast was lovely and they were helpful with directions etc. Would definitely recommend!
Andrew
2015-07-15T00:00:00Z
Edith, her husband and her dog, were wonderfully welcoming hosts. The farm house was fabulous, the breakfast brilliant and the facilities first class. We had a really lovely weekend. Edith was so friendly and considerate; she worked extremely hard to ensure that we would want for nothing. Moreover, she provided us with information about the local area and places to seek out. We would love to visit again.
Gayle
2016-04-06T00:00:00Z
What an amazing place to stay So warm welcoming and homely. It was such a lovely place and the hosts were such kind lovely friendly people. Id recommend this place to anyone & I will definitely be visiting again!
Helene
2016-07-03T00:00:00Z
Great host beautiful house fabulous breakfast couldn't fault. Edith is the perfect host
Lee
2017-03-19T00:00:00Z
A great stay and pefect for our needs.
Stefan
2017-01-29T00:00:00Z
Tipo de habitación
Habitación privada
---
Tipo de propiedad
Casa
---
Capacidad
2
---
Dormitorios
Combe Hay, Bath, Somerset, Reino Unido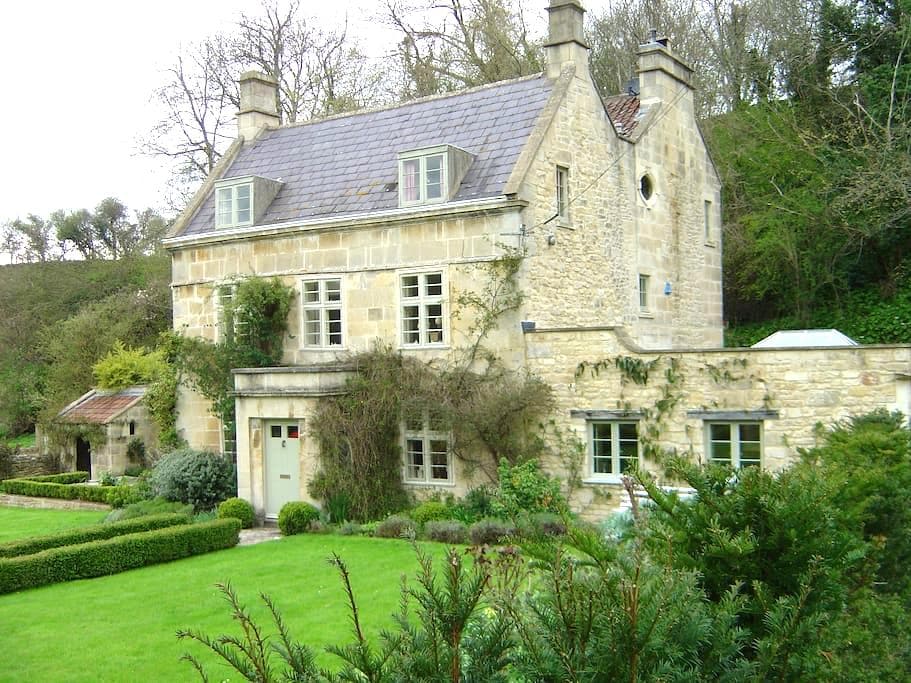 The views from our house are amazing - we're in the countryside, but a short drive/bus ride from all the facilities of Bath and a few minutes walk from a pub that does fantastic food. Our loft room has a comfy bed, hot drink-making facilities and en-suite shower room. We have excellent wi-fi and free parking. We can offer an earlier check-in on request. Help yourselves to breakfast of toast/eggs/cereals/tea/coffee. Main pic is taken from our front door (not the room).
Light-filled loft bedroom with big views over farmland - the room is in our house and up a paddle-staircase and has it's own en-suite shower room for convenience. The room is equipped with a wardrobe and memory foam double bed and the en-suite is stocked with towels and toiletries for the shower. Our neighbours run a dairy farm, and we buy our eggs from their son.
Our lovely, quiet village environment - great for relaxing and sleeping well. There are a few walking paths that come near the house, and one can easily walk to Priston in around 20 mins or so. The King William pub does excellent food and is around 7 mins walk. On the High Street in Tunley there is a phone box which is now a library - feel free to swap your books or donate them here. Timsbury is nearest place for picking up groceries - they have a chippy/pub/post office/co-operative/coffee shop/farm shop.
Lovely spot for a couple nights stay, out of the way, quiet and a great morning view. Adrienne was very helpful and nice. Would definitely stay here again. If you drive a big car then the parking can take a little maneuvering, but nothing I would rate negatively for, having a designated space was more then appreciated. Its a quick 10-15 minute drive into bath center.
Janu
2017-02-02T00:00:00Z
Adrienne's place is really nice. The room was clean, warm and it had a beautiful view to the countryside. It's close to Bath which is very beautiful. The breakfast was also very good. I definitely recommend Adrienne's place.
João
2016-11-12T00:00:00Z
Lovely room, and amazing hosting! I had to change my arrival time a couple of times and Adrienne was incredibly accommodating with great responses times. The room is lovely and the shower is fantastic!!
Lore
2016-05-20T00:00:00Z
It was so wonderful to stay with Adrienne. The room is beautiful and the view extraordinary. This place is a real gem, peaceful, in a rural environment, time stands still. Truly superb. Thank you!
Mimi
2016-05-17T00:00:00Z
Great room with beautiful views. Adirenne was a really helpul and considerate host!!
Dal
2016-12-18T00:00:00Z
Another great stay! Will definitely keep coming back.
joseph
2017-01-15T00:00:00Z
I had lived in so many five stars hotels in the world,but I would like to say,Adrienne's home is the most natural,peaceful,beautiful place in the world.Can you imagine?There are so many goats outside your window when you wake up in the morning,we lived on a mountain,near to the fram.When you are tired of city life,just come here
霄
2017-02-07T00:00:00Z
Adrienne and her lovely family live in a beautiful country setting, not far from Bath. The room was perfect and we enjoyed our stay very much. Thanks for having us in your beautiful home, it was great meeting you!
Hannah
2017-02-05T00:00:00Z
Tipo de habitación
Habitación privada
---
Tipo de propiedad
Casa
---
Capacidad
2
---
Dormitorios
Tunley, Bath, Bath and North East Somerset, Reino Unido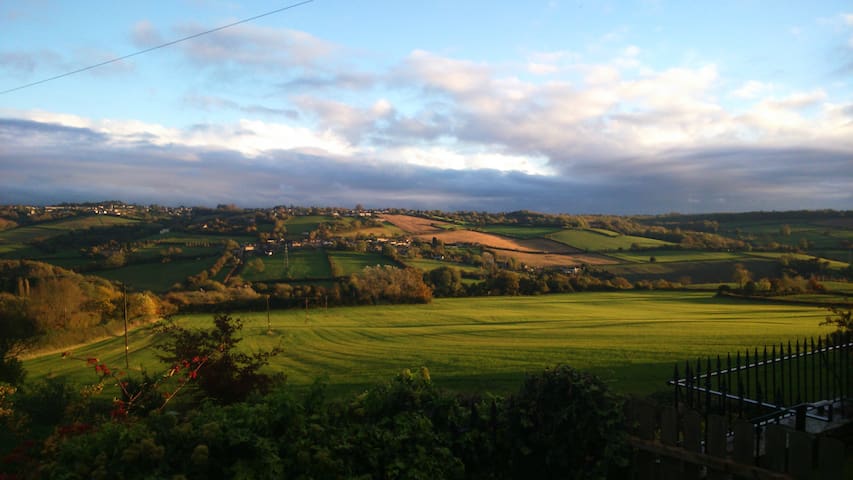 Welcome to our family home. Bedroom with view to the garden, kingsized bed (or two single beds) and private bathroom. Desirable village with excellent pub, perfect for walkers and cyclists. 15 mins to city of Bath world heritage site attractions. Own transport is essential. Light breakfast included.
Large detached country house surrounded by a pleasant garden in a peaceful and very attractive village just outside Bath. The house is furnished with taste and is full of paintings, books and curiosities. Nearby you will be able to explore a myriad of footpaths and a national cycle route, the Kennet and Avon canal and historic sites such as a long barrow and castle. The village has a pub, community shop, ford, tennis courts and a pony trekking centre.
Desirable Cotswold village very close to Bath designated as an area of outstanding natural beauty. Off road parking and garage for bike storage.
This was our first time using airbnb and because of this we were sceptical about what to expect. Chris and Sue have a beautiful home, the pictures really do not show the full beauty of this. We had our own spacious bedroom with the comfiest mattress and fluffy bedding. The room was equipped with everything we needrd for our stay. Use of the bathroom with a choice of either a powerful shower or nice deep bath. Sue kindly left out a selection of cereal for us for breakfast for our early start and allowed us to help ourself to tea and coffee. I would most definitely stay again if we enter the Bath half next year, we didn't want to leave this time! As soon as the booking was confirmed Sue was fantastic making sure we had all the information we needed for the journey up and where to eat nearby etc. Thank you so much.
Naomi
2017-03-12T00:00:00Z
Tipo de habitación
Habitación privada
---
Tipo de propiedad
Casa
---
Capacidad
2
---
Dormitorios
Bath, Somerset, Reino Unido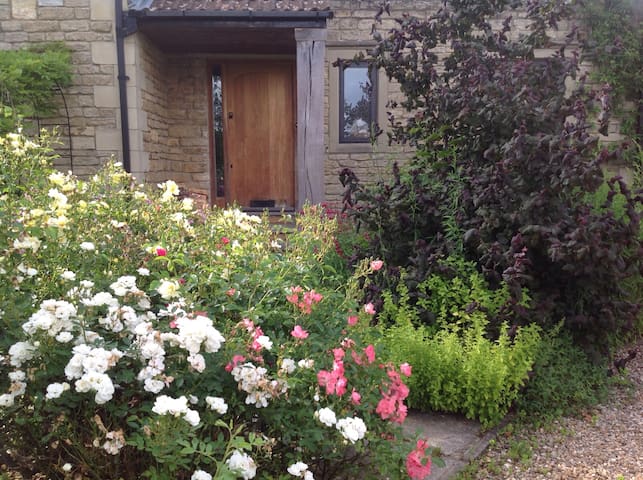 Een eigenschap handig om Bath en Engeland een bezoek aan het zuiden en westen. Ons huisje heeft een woonkamer, eetkamer en open keuken zeer goed. Op de eerste verdieping twee grote slaapkamers. De toegangsweg is prive met eigen parkeerplaats.
We offer you a warm welcome to our pretty holiday home in the beautiful World Heritage City of Bath. It is historic (listed Grade II) and very cute. It has a large open-plan living/dining/kitchen area and a utility room with dishwasher, washing machine and dryer downstairs. There are two good sized bedrooms, one with a standard double bed, the other with the option of a super-king double bed or two single beds. A baby/toddler cot and bedding is available (fits in double room). The bathroom has a bathtub with a strong shower. Your beds will be made and towels in place - and a welcome pack in the fridge. It is cool in summer and warm in winter. Bath Spa railway station has fast links to London and Bristol. Combe Down village is 2 miles south of the centre of Bath – it doesn't feel very far because most of the journey is through open country owned by the National Trust. The bus runs every 20 minutes from the bus/railway station and takes less than 10 minutes on the journey uphill to the village. It stops 200m from the lane. A taxi to or from the city centre costs between £8 and £10. A new Airbus Service A4 runs from Bristol Airport to Bath bus station (£11), a taxi transfer costs £45+. You reach the cottage along a 75m private lane which is surprisingly secluded. It has a lovely sunny garden (south facing) and there is parking for your car right here in front of the garage. Our own home is opposite the start of the lane – we are well positioned to meet you when you arrive, and to give advice or help when needed. Combe Down village (the area of Bath in which the house is located) is notable for a history of stone mining, particularly during the Georgian period. Bath's fine houses and many prominent buildings in London were built using stone from the nearby Byfield mine. The house is in a terrace of 5 cottages built around the entrance to the mine around 1810 to provide homes for the miners and their families. It was completely renovated in 2003. Although it has a historic feel it has modern kitchen facilities, a safe staircase and new heating and plumbing! There are Freeview enabled TVs and free wifi. Combe Down village has excellent local facilities – a convenience store (Coop - open 8am until 10pm every day), a pharmacy and the award winning 'Darling Deli Kitchen' which serves breakfast and light lunches. There are three pubs – the Forester and Flower (10 minutes walk) serves meals in the evening and Sunday lunch. And we even have a traditional Fish & Chip shop! If it is sunny why not have a BBQ in the garden? You can walk down to the city centre by a variety of routes, one of which uses the Bath Skyline Walk. It takes about 35 minutes (easy downhill walk). There are also lovely walks from the house into the Cotswold Area of Outstanding Natural Beauty (AONB) and some great country pubs. The mile-long former Combe Down Railway Tunnel has been opened for cyclists and walkers - an exciting multi-user trail. You can hire bikes nearby at Dundas, close to the Kennet & Avon Canal cycleway. We ask you to book a minimum stay of 3 nights. There is a discount for a week's stay. The signatory must be 23 years or older. The house is suitable for well behaved children, but care must be taken with very young children in the open plan kitchen. We regret that we cannot accommodate pets.
Martin and Jenny were absolute wonderful hosts! Such an amazing cottage and perfectly located to Bath. Hop on the bus for a quick ride into Bath. Bills is a great little restaurant in Bath. The shops and pubs are endless in the centre. Combe down was beautiful to walk around. Co-op very close to cottage and a great little deli for coffee, breakfast and pastries. Loved the forester and flower for drinks and games. We couldn't have asked for a better place to stay!!!! We will defiantly be back!
Victoria
2016-10-24T00:00:00Z
Martin & Jenny were very helpful and informative and recommended places to visit and also the best places to eat. The accommodation was as advertised and was extremely comfortable. I would like to thank Martin & Jenny for all the little "extras" that were on hand for our convenience. We would recommend this accommodation and would certainly return should we visit again.
Christine
2015-10-01T00:00:00Z
Absolutely lovely cottage and hosts. Martin and Jenny have thought of everything for cosy cottage- every time we thought that it would be lovely to have a 'insert all the things you might need- spare towels, hot water bottles, fold out coffee table'. we found one! Well-equipped and very clean too. We were even invited to a local exhibition launch which was fun. Thank you Martin and Jenny!
Steph
2015-12-01T00:00:00Z
We love, love, loved this place! So welcoming and cozy. Martin and Jenny are just so nice and helpful. Really easy to get down the hill to town-bus, taxi or beautiful walk. We stopped on our walk at Prior garden and had tea. So nice. We'll have to go back!
Ingrid
2016-07-01T00:00:00Z
Beautiful cottage! Myself and my family had a lovely stay, it was really well located to reach Bath town centre, but without the city traffic. Martin and Jenny were fantastic hosts, with a through check in. The cottage was really well equipped. We have only used Air BnB a few times, but this was by far the best!
jenny
2016-04-25T00:00:00Z
This is a wonderful place to stay and the hosts (Jenny & Martin) do an outstanding job in every respect. Just glad it was our last stay as the others would have struggled to measure up. The garden is lovely.
Kay
2016-05-29T00:00:00Z
Our whole stay at cute cottage was wonderful. Our hosts were friendly, helpful and accommodating. The cottage was beautiful and clean and our host even had some breakfast supplies and a bottle of wine for us as we arrived late in the evening. Cannot recommend enough! A comfortable and stress free experience.
Aoife
2016-03-30T00:00:00Z
lovely stay in a beautiful cottage, location was perfect and close to all amenities! Martin and Jenny were lovely hosts very accomodating and full of knowledge of the local area!
Ben
2014-07-15T00:00:00Z
Tipo de habitación
Casa/apto. entero
---
Tipo de propiedad
Casa
---
Capacidad
4
---
Dormitorios
Bath, Reino Unido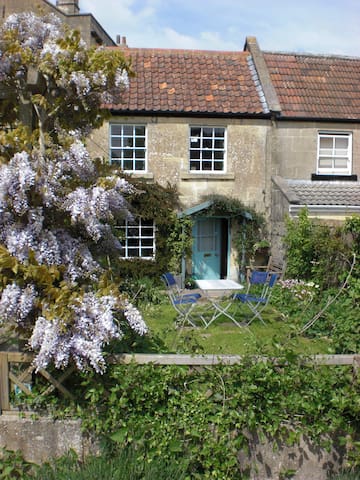 Located between Bath and Longleat, Norton St Philip is a lovely village with not just one but two good pubs within a few minutes walk. Honeywood is a light bright house with flexible bedroom accommodation [see below]. There is parking for 1 car and a private patio garden. The village also offers a play park for the children, a well stocked co-op shop and a bus service. It's about 20 mins into Bath by bus or car and there's also the option of a park & ride 10 mins away.
Is ideal for small groups and couples, particularly those attending weddings at Wick Farm [5 minutes drive] or the George pub [5 mins walk]. And/or those visiting Longleat, Bath and surrounding area. We have a choice of rooms depending on your group. There is a large room with king bed & a small twin room on the first floor which are ideal for families. For couples we offer our ground floor room with king bed and shut the twin room. We are happy to consider requests for all 3 rooms at a small additional cost. Similarly we can sometimes free up dates that are closed so please ask!
Norton St Philip is an attractive, historic village with two good pubs, a well stocked co-op shop and regular bus service between Bath and Frome. There's also a lovely farm shop and cafe a few minutes drive away and Longleat is 20/25 mins by car. There are great walks in and around the village and a large garden terrace at George which over looks the quintessentially English view of rolling hills, village church, play park and village mead cum cricket pitch. (URL HIDDEN) (URL HIDDEN)
This house is located in an ideal position for a visit to Bath. We left our car in the drive & took the bus which was easy and very convenient. The P&R isn't far either. The village itself is lovely, with a great pub, log fires, good food etc. The house had everything we needed, large bedrooms, good shower, well equipped kitchen etc. There is also a sweet little courtyard, lovely in the warmer weather. Michelle was very helpful & quick to respond to any queries we had.
Carol
2017-03-26T00:00:00Z
Tipo de habitación
Casa/apto. entero
---
Tipo de propiedad
Casa
---
Capacidad
4
---
Dormitorios
Norton Saint Philip, Inglaterra, Reino Unido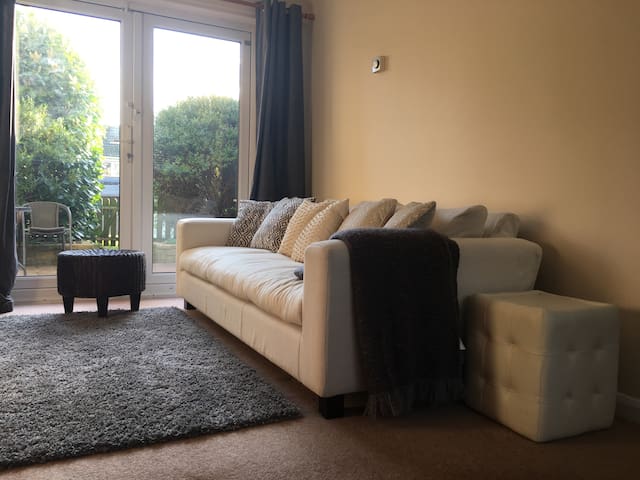 Clean, tidy and bright single room. Very comfortable new memory foam bed! Use of shared bathroom & kitchen. 2 minutes walk to bus stop - 15 mins bus ride into town. Countryside on your doorstep with spectacular views, local shops around the corner. Quiet house with friendly landlord - happy to chat and offer tips and advice of where to visit.
Tipo de habitación
Habitación privada
---
Tipo de propiedad
Casa
---
Capacidad
1
---
Dormitorios
Bath, Inglaterra, Reino Unido
The Stables is a gorgeous cottage in the wonderful village of Wellow 5 miles to south of Bath & a 15 min easy drive to all the art, culture, restaurants, bars & spas it has to offer. We have glorious views & are a few walking minutes from one of the best pubs in the area, a fantastic horse trekking centre, access to the iconic two tunnels cycle path & more walks than you can throw a stick for. We welcome couples, solo adventurers, families & furry friends.
The Stables is a cosy & contemporary cottage recently renovated & very comfortable with all the amenities we (or our kids!) would want ourselves. Welcome hamper, woodburning stove, Nespresso machine, WiFi, Xbox, DAB Radio, iPod station. On a more practical level - all linen & towels are provided & a cot & highchair are available if needed as well as extra pillows & blankets.
Wellow is a vibrant & welcoming community which bustles along very happily - a village school, hall & church as well as its close proximity to Bath means that it is one of the most popular villages in the area. An excellent food offering at the local Fox & Badger pub & a well stocked village shop means you never go hungry & the recreation area with playground, football pitch, outdoor gym, running track & tennis courts, the famous Wellow trekking centre, access to Sustrans Cycle Network & endless walks means you will never be bored especially with so many architectural & historic things to note along your way - a neolithic long barrow, a medieval bridge, a Saxon church.....& that's just Wellow! Bath & the surrounding villages give endless options of gastro pubs, restaurants, bars, spas, theatres, festivals, markets, National Trust properties, sporting stuff & just general Georgian gorgeousness. Babbington House, Longleat & Glastonbury are all in striking distance too.
Tipo de habitación
Casa/apto. entero
---
Tipo de propiedad
Casa
---
Capacidad
4
---
Dormitorios
Wellow, Inglaterra, Reino Unido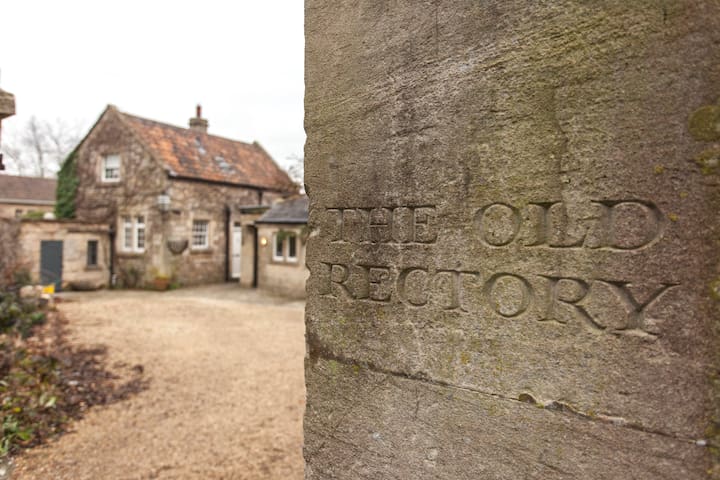 Private estate in a small village surrounded by undulating countryside, and a Ten-minute drive to the city centre of Bath. The room is a double bedroom with built in wardrobe's, heated with a real bed and in good decor order. The property is in keeping with fire regulations under the European / British law.
The room is heated and has a comfortable with ample storage for clothes.
The estate is private and quiet after 10:00 hrs. The village nearby boasts of a Post Office, Supermarkets, Tea Shop, Dr Surgery, Vet's, Pharmacy, Petrol Station, Garages, an Indian Restaurant, fast food takeaways, Hairdresser's, including, the best Fish & Chip Shop on the planet. There are also a few Inns near to the village that provides good food, with a country pub feel.
A lovely place to stay in a lovely area too. Was a comfortable and warm night sleep would definitely recommend Sidney. Not only a great place but a great host there too!
joseph
2017-01-02T00:00:00Z
We arrived later than originally planned due to slow service in a restaurant in Bath and then extremely misty roads around Peasedown. Sidney made us welcome. His house was tidy and clean. Bedroom and bathroom had everything required.
Neil
2016-12-18T00:00:00Z
Excellent value for money & a warm welcome. Perfect striking distance for Bath
Naomi
2017-03-12T00:00:00Z
Sidney was waiting for us when we arrived at about 4/5 in the afternoon, we had a very friendly chat, and he was extremely welcoming, showed us to our room with our own private bathroom. In the mornings be made us tea and toast and sat with us at the table with another lovely chat, and told us we were welcome back anytime! Was a lovely stay :)
Rosie
2016-12-04T00:00:00Z
We only stayed 1 night but Sid made us feel very welcome. He recommended a pub in Wellow for dinner "Fox and Badger", the food is incredible and we would also highly recommend this, it's only a short drive from Sid's place. The room was warm and comfortable and we wouldn't hesitate recommending Sid's airbnb as a place to stay.
Danielle
2016-09-12T00:00:00Z
I'm a young woman and was travelling quite far and on my own, Sidney made me feel so welcome and at ease. He was so friendly and kind, made me feel at home and was caring. Already recommended to my family who want to stay in Bath too!
Katie
2016-12-11T00:00:00Z
Everything perfect! Thank you!
Fabrizia
2016-08-29T00:00:00Z
Sid is a very very lovely person,some who is open to talk and has wonderful stories to tell,is a pure english guy who know many things about england and in general.very nice charisma and after a few minutes he made us feel like we were visiting a very good old friend.hi is very generous, his place is nice,clean and quiet.
Alex
2017-01-18T00:00:00Z
Tipo de habitación
Habitación privada
---
Tipo de propiedad
Casa
---
Capacidad
2
---
Dormitorios
Peasedown Saint John, Reino Unido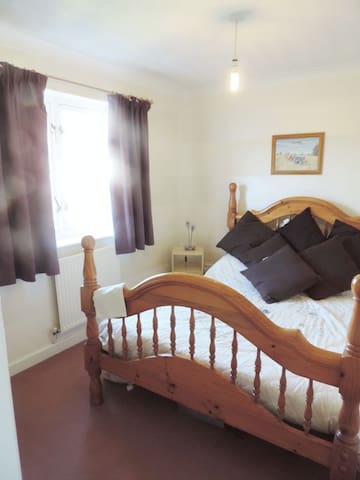 Stunning contemporary space set in a private large garden. Perfect place to experience the gorgeous countryside on your doorstop and only a short drive into historical Bath. Recently redecorated with brand new furniture throughout.
Tastefully decorated with oak floors and doors, contemporary kitchen and ensuite bathroom. Good size bedroom with a double bed. Sofa bed in living room. Views from both rooms overlooking a very pretty garden. Parking for two cars. French doors off the bedroom and concertina doors off the kitchen and living room onto a private patio with patio furniture for you to enjoy.
The stables is in the grounds of another Airbnb property. Our home which we also rent out from time to time. We are positioned in a stunning valley surrounded by gorgeous countryside with lovely walks and good pubs nearby.
The Stables is a perfect place to stay for a weekend escape. Everything was perfect, from the cleanliness of the rooms to the location. The interior is very modern and cosy. Nancy was so welcoming, friendly and very helpful. I highly recommend staying here.
Georgina
2016-11-27T00:00:00Z
It was an absolute relaxed stay at Nancy's property. The host Nancy is amazing. She is very thoughtful and have everything you may need while at the cottage. We were pleasantly surprised with a welcome bottle of Prosecco, mince pies and some chocolates . The cottage was spic and spanny. It's perfect for a family of 4. It's a modern cottage with dishwasher, washer dryer and oven included. Absolutely stunning interiors! I must say that the beds and the sofa bed both were very comfortable. There were enough quilts and pillows for a family of four. There were baby board games and we enjoyed playing them as a family. We are definitely going to come back and stay here again! Nancy is a great hosts, she checked on us a multiple times to make sure we are all comfortable. We would highly recommend this property. Thanks Nancy.
Nandeesh
2016-12-28T00:00:00Z
What a perfect stay. The Stable's were just perfect very clean, with great personal touches fresh tiger bread eggs and beautiful Daffodils. Am hoping to return in May17.
Sarah
2017-02-13T00:00:00Z
We booked the stables on boxing day as a late new year treat for ourselves and our adult son. Nancy's responses were very prompt, welcoming and helpful. The directions and advice to get there were great, and it was lovely to find the stables across the lawn all lit up and looking beautiful and welcoming when we arrived in the dark after a lovely afternoon in Bath. There were even Christmas decorations, fairy lights, flowers prosecco and chocolates, wifi, ipod docking bose sound system. Plus fresh coffee as well. What a new year's welcome! The stables are beautifully done out and very comfortable - even in the depths of winter. They would be an even nicer place to stay in the summer with the outside terrace to sit out on and a garden for kids to play in...
Peter
2017-01-02T00:00:00Z
What can I say, a fantastic trip. Nancy and her husband welcomed up with huge smiles after a bad journey down and made us feel right at home. Nancy makes you feel part of the family straight away and has thought of all the little extras which were so gratefully received. The stables were fantastically equipped and were finished to a very high standard, even things like towels were of a high quality nothing has been skimped. We wouldn't have changed anything, other than next time staying for a week rather than just a weekend. Thank you Nancy, stay in touch x
Thomas
2016-11-20T00:00:00Z
Nancy greeted us herself and was so heartwarmingly accommodating in settling us in. Her property is spotlessly clean and has a breathtaking private lawn that complements the modern converted stables with a sense of grandeur and luxury. Great property. I highly recommend it.
Nolan
2016-12-31T00:00:00Z
Very accommodating with our check in requested and went that extra mile by adding a person touch.
Paul
2016-12-11T00:00:00Z
Wonderful place just as described, spotlessly clean and in a great location for days in Bath. Nancy and her husband are excellent hosts and communication couldn't be better.
Adam
2017-02-27T00:00:00Z
Tipo de habitación
Casa/apto. entero
---
Tipo de propiedad
Casa
---
Capacidad
4
---
Dormitorios
Bath, BANES, Reino Unido
Enjoying an excellent location, this comfortable 1930s semi detached house is ideally located for easy access to, and within minutes of, the centre of the delightful Georgian heritage city of Bath. On a direct bus route into town, or on foot, a pleas
Was as described on the website. The accommodation was canceled mdortable and close to buses for transport to the city centre. Don't visit the Red Lion for fear of food poisoning. Tony was welcoming and we felt comfortable speaking to him.
Tracey
2016-10-05T00:00:00Z
Great house, very clean, would recommend to anyone.
Richard
2016-06-05T00:00:00Z
Thank you tony for a lovely house which my in-laws enjoyed a lot. The house was clean and well furnished and in a. Great location close to bath
Holly and Florian
2015-06-22T00:00:00Z
The home was lovely with a beautiful garden! Highly recommend for a stay in Bath. It well accommodated four people with room to spare!
Jennifer
2015-07-16T00:00:00Z
Tony has a lovely home. Very cozy, clean, and pretty. We had a great time. A really good stay in Bath with close friends and family. Thank you for the generous hospitality :)
Aayushi
2015-08-29T00:00:00Z
Tony was a flexible and accommodating host! Thank you!
Geoff
2016-05-26T00:00:00Z
The house was newly redecorated, everything is bright and new,the rooms are warm and comfortable,the kitchen have everything we need. Tony turned on heating before we arrived,very appreciate for that. The only problem is due to the redecoration, the smell of painting is quite strong, we have to open the windows to keep it airy even when we sleep.
Yuki
2015-02-12T00:00:00Z
We had a great time at Tony's. The house was so comfortable and clean. Shops are nearby and we had everything we needed. I would def recommend
Patricia
2015-02-06T00:00:00Z
Tipo de habitación
Casa/apto. entero
---
Tipo de propiedad
Casa
---
Capacidad
7
---
Dormitorios
Bath, Reino Unido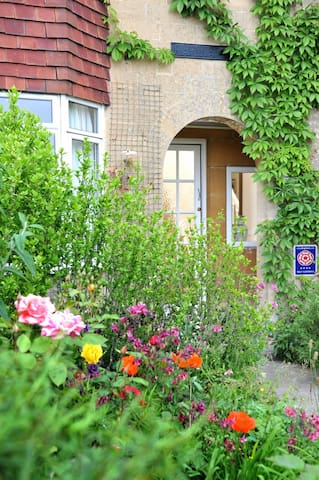 Comfortable ensuite double bedroom with many period features in our family home in the picturesque village of Combe Hay. Enjoy the peace of the countryside and visit the world heritage city of Bath, just 4 miles away. Parking and station pick up.
Double bedroom on the first floor with garden views. Period features include exposed stone walls and oak beams. Flat screen television and broadband access. Ample off street parking. We are also happy to offer pick up and drop off at Bath Spa train station or to the nearby park and ride.
Tranquil English country village, just 15 minutes from the centre of the bustling city of Bath.
Beautiful property and location. Easy to drive into Bath and the local Wheatshef is an excellent pub. Fantastic host - really the best experience, I regularly stay in 4*-5* hotels with work, but this was better experience
Matt
2015-06-29T00:00:00Z
We really enjoyed staying with you Lynn. Thanks for spoiling the kids and making us feel so welcome!!! Coombe Hay is a gorgeous village.
Lana
2015-07-07T00:00:00Z
Fantastic stay, fantastic hosts, fantastic setting. A stay akin to a boutique hotel but with a personal service from the lovely, accommodating Lynn and Frank. Highly recommended and will be re-visiting ourselves!
Richard
2014-10-25T00:00:00Z
Lynn and Frank are really lovely people who did everything to make us feel welcome. They have a beautiful house and the guest room was extremely comfortable. Great location near to Bath and the perfect place to stay if you want to visit the city.
Alison
2014-08-28T00:00:00Z
Lynn & Frank are fantastic hosts! They have a beautiful country house only a few miles outside bath. The room was lovely, really clean & bright. When we arrived Lynn greeted us with some lovely homemade cake & biscuits out by her front her garden while we soaked up the sunshine. The next day we had a really nice continental breakfast before heading into bath to do some tours. Lynn & Frank were very helpful, they printed out maps of the town & told us the best spots to go to. I'll definitely be back again, it was a really relaxing break staying there.
Sharon
2015-08-10T00:00:00Z
Lynn was so friendly and nothing was too much trouble. Extremely welcoming and was concerned that everything was okay. The house is beautiful and decorated very tastefully and felt very relaxing. The area is extremely quiet with a wonderful gastro pub within walking distance that serves amazing food. Breakfast was a choice of continental or cooked. Muesli fresh fruit warm croissants and perfect coffee. Will definitely use again. Thank you Lynn.
Lee
2014-06-16T00:00:00Z
My partner and I enjoyed a fantastic overnight stay with Lynn and her husband Frank in their beautiful home. The house is really beautiful and real highlights are the modern sculptures and paintings designed by their son. We had cycled from Bath and they let us keep our bikes in their garden room for extra security. The atmosphere was super homey and the village is lovely and quiet with a great gastropub that Frank recommended to us. We were offered a luxury breakfast on Sunday morning and we are glad we chose Combe Hay for our weekend away.
Anne
2014-12-08T00:00:00Z
Such a lovely host, Lynn made us feel very welcome! She couldn't do more for us. We felt like we'd know her for years! We had a lovely stay and would highly recommend it. The room was exceptionally clean and a reasonable size. The bed was extremely comfortable. Breakfast was a wonderful selection of cereals, fruit and croissants in a relaxed family style. All in all a wonderful experience.
Caroline
2015-10-19T00:00:00Z
Tipo de habitación
Habitación privada
---
Tipo de propiedad
Casa
---
Capacidad
2
---
Dormitorios
Bath, Inglaterra, Reino Unido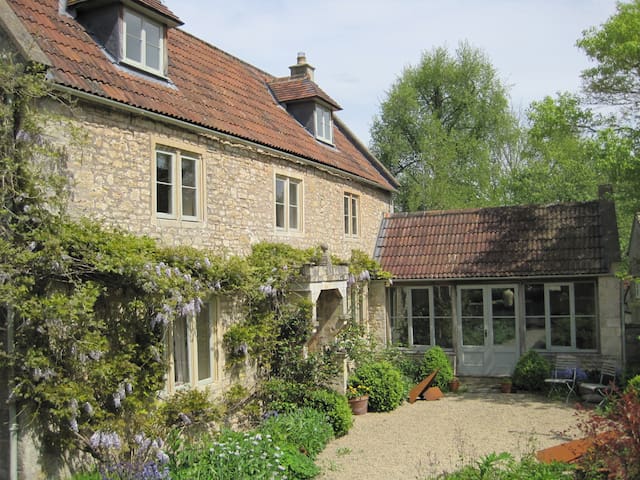 Lovely sunny room in period cottage along quiet and pretty village lane. Freshford is close to Bath with its own train station, bus service, country walks and many other attractions nearby.
Lovely sunny bedroom with large window, comfortable double bed and fitted wardrobe. Shared bathroom (good shower but no bath).
Freshford is a delightful village on the river Frome, with beautiful views and walks all around. It has a lively community shop and café, a pub, church and a primary school.
Loulou was very sweet and the home is so cute. Only complaint would be that the home is very very lived in, not very clean or organized. location is adorable and very close to bath but still an adorable country feel. Loulou was so helpful and sweet and overall my stay was very postitive.
Evelyn Nicole
2017-03-11T00:00:00Z
We had a wonderful stay at Loulou's cottage! The cottage was just as it is shown in the pictures, and the surrounding village was so picturesque. Loulou was around when we needed to ask questions but she also gave us our space! We lit the fire in the evening and enjoyed a quiet evening - it was lovely! The village pub also had really tasty food. Perfect if you want a quiet getaway and want to visit bath in the daytime too! I would definitely come back again, thank you so much for a lovely stay.
Anisha
2017-04-02T00:00:00Z
I was lucky enough to stay with Loulou for a couple of nights on a business and pleasure trip to Bath. Loulou was very welcoming and made me feel at home at once, I was made to feel as though I was staying with a friend. The cottage is a truly special place with fantastic views over a valley and is the perfect place for resting the soul. The cottage is peaceful and is just a short walk (10 minutes) to Freshford train station. Thank you for a lovely, memorable stay.
Shelley
2016-03-11T00:00:00Z
Lovely host, lovely house. Ideal if you want to get away from the mainstream, Loulou's house is a characterful gem hidden away in an old village reached via small lanes. We were made very welcome there.
Matthew
2016-04-06T00:00:00Z
Loulou was a very friendly and helpful host, being very accommodating where she could. Small touches, such as a jug of water and fresh flowers in the room made us feel very welcome. She was happy to chat with us and gave us some good tips on things we could do in the local area. She had also collected a drawer full of travel brochures to help with deciding what to do. The room was clean and tastefully decorated. The bed was comfy and the bathroom (like the bedroom) was clean. Breakfast consisted of a choice of cereals, bread for toasts and jam. There was coffee and tea available at all times. Freshford is stunningly beautiful, but still easily accessible to major towns and cities, such as Bath. We really loved that we felt close enough to the tourist attractions but when we returned to the room could step back away from the hustle and bustle of towns. We found a couple of good pubs for food just a short drive away, as apparently the local one has now stopped serving food! The local residents were generally friendly and welcoming. One family stopped us on our evening walk and asked us to join in their game of cricket (which we did). Parking can be a little difficult as there is no off road parking and the roads are a little narrow, but this is what is expected in an area such as this. Overall we had a wonderful time and have left with wonderful memories of Rose Cottage, Freshford and the surrounding areas!
Lois
2016-06-08T00:00:00Z
Loulou's place is wonderful, peaceful and quiet, perfect if you are looking for some place to rest. Loulou is so welcoming! She made us feel like home. We definetely reccomend it!
Raul
2015-10-18T00:00:00Z
Charming village cottage in beautiful village of Freshford. Quiet location with excellent transport links and good pub. good base for walkers.
John
2017-03-06T00:00:00Z
Bij aankomst direct thee en informatie.
Joannes
2016-07-29T00:00:00Z
Tipo de habitación
Habitación privada
---
Tipo de propiedad
Casa
---
Capacidad
2
---
Dormitorios
Freshford, Bath, Reino Unido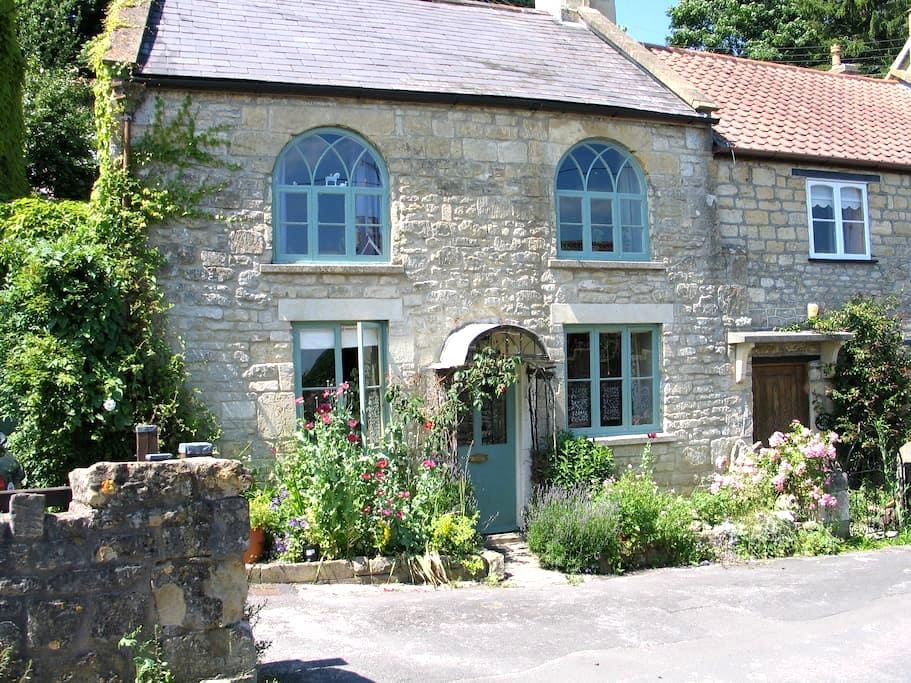 Wellow - Airbnb
:
Una media de

4.98

estrellas de un total de

5

de

1379

evaluaciones de huéspedes
1

–

18

de

Más de 300 alojamientos en alquiler
Introduce las fechas para ver el precio total. Ten en cuenta que se aplicarán tarifas adicionales y es posible que se añadan impuestos.