To explore Philadelphia and NYC, my place is a good starting point. Bryn Mawr is a small, upscale College Town, a great place to relax without getting bored. Easy access to the large Metropolitan areas.
You will be able to walk everywhere, to stores, restaurants, banks, post office, library and train stations. There is a WAWA convenience store just down the block, where you can get breakfast and hot food 24 hours a day.
Bryn Mawr is a very lively town, full of students, due to the many Colleges around. During Summer break it is very quiet here.
If you need a comfortable bed, a hot shower, a quiet environment and all at a very reasonable price in the heart of Bryn Mawr this is the place! I was only there for 12 hrs and was comfortably asleep most of that time. Served my purpose well!
Roderick
2016-05-07T00:00:00Z
Deva is so kind and considerate! I did a last minute booking and Deva kindly received me. I found everything I would possibly need here and my stay is the most pleasant. Thank you so much for the wonderful time!
Yilin
2017-01-15T00:00:00Z
Deva was home when I showed up in the evening, showed me to my room which was very clean and cozy, told me a few things about the room, the bathroom, and the following morning, and then she went to bed. My stay was great. No complaints, no issues. Deva thought of everything, and my stay went very smoothly. I highly recommend her as an AirBnB host.
Dan
2016-11-14T00:00:00Z
Deva was a fine host - very clean, simple and quaint accommodations in a quiet neighborhood. Location was close to my particular activity and within walking distance to food and restaurants.
Richard
2016-10-01T00:00:00Z
Deva was great host. She was trying to make me comfortable. And she also helped me to find my places. Her house is old one but she is maintaining clean
명주
2016-06-16T00:00:00Z
Deva was a very welcoming and kind host!
rahul
2016-05-06T00:00:00Z
Deva was very welcoming. The room was spacious and neat, with a comfortable narrow futon bed. This allowed me to be close to the college and the town for easy visiting with my college student thru my multi-day stay- just what I needed.
Heidi
2016-02-24T00:00:00Z
Everything was as advertised. Deva was kind and considerate. I would stay again.
James
2016-03-09T00:00:00Z
Tipo de habitación
Habitación privada
---
Tipo de propiedad
Casa
---
Capacidad
1
---
Dormitorios
Bryn Mawr, Pensilvania, Estados Unidos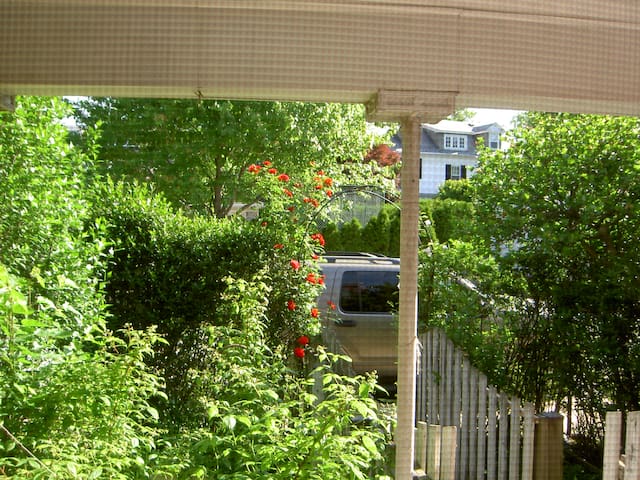 1er piso habitaciones con encanto en 1830 escuela cerca de colegios línea principal!
Dormitorios en 1ª planta. Jack y Jill baño. Techos de 12 pies!
Tipo de habitación
Habitación privada
---
Tipo de propiedad
Casa
---
Capacidad
4
---
Dormitorios
Bryn Mawr, Pensilvania, Estados Unidos
My place is a good starting point to explore Philadelphia and NYC. Bryn Mawr is a small, upscale College Town, a great place to relax without getting bored. Easy access to the large Metropolitan areas. I have a 2nd room listed here as well.
My house is the most affordable acommodation in an upscale area.
The house and room are very small, but the location is super convenient. Especially a traveler, who does not have a car, will appreciate the Convenience Store just a block away, which is open 24 hours/day.
I had a wonderful stay at Deva's house. I had a cozy and comfortable room that was well ventilated. The bathroom was very very clean, which is all I really ask for from an AirBnB! Deva is really friendly and helpful. Thanks Deva!
Jennifer
2016-08-31T00:00:00Z
Deva was a very accommodating and kind host. She welcomed me when I had to make very last minute arrangements. I would definitely stay again!
Sarah
2015-09-03T00:00:00Z
Clean quiet place efficient for working and sleeping. Deva was helpful and accommodating.
James
2016-07-11T00:00:00Z
Lovely, quiet, and comfortable room. Deva was very welcoming.
Brenda
2015-10-28T00:00:00Z
Deva is always reliable and flexible! Happy to have a place to stay when I come to Bryn Mawr for work!
Justinne
2016-11-08T00:00:00Z
Deva was friendly, quiet, and kind. After a long day of work, I arrived exhausted and she was welcoming. When I asked if I can make tea, she was kind enough to make tea for us and we enjoyed a nice chat. The room was clean and tidy. It's a good experience.
Muhammad
2016-05-14T00:00:00Z
My hose stayed in touch with me and was easy to reach and accommodating.
Amy
2015-08-22T00:00:00Z
The stay at Deva's was very comfortable. Deva was welcoming, prompt and helpful, and the room is clean and well lit. The neighborhood is quiet and safe, and there are many places to eat nearby.
Dianne
2015-04-15T00:00:00Z
Tipo de habitación
Habitación privada
---
Tipo de propiedad
Casa
---
Capacidad
1
---
Dormitorios
Bryn Mawr, Pensilvania, Estados Unidos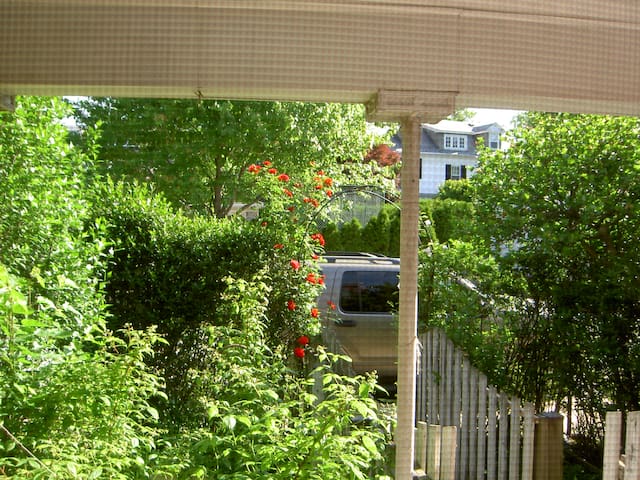 3rd floor suite with private bath available . Queen size bed, futon and space for air mattresses. Perfect for visiting a student, and suitable for family with children. Easy access to Paoli Septa line which is a 20 minute ride to Center City and also walking distance to shops/food.
Queen size bed and futon in 500 square feet of living space. The room has a private bathroom and shower. You are welcome to share basic kitchen access and off street parking. Please note this is on the third floor so there are stairs.
Easy walking distance to train (SEPTA- Bryn Mawr stop) and high speed rail. Center City Philadelphia is a 15-20 min train ride away. Walking distance to Lancaster Ave which shops, restaurants and bars. Walking distance to Bryn Mawr Film Institute, Ludington Library, Bryn Mawr Hospital. Less than one mile from Villanova and Bryn Mawr College, both are also within walking distance. Restaurants nearby include Cerisse, Biga Pizza, Mediterranean Grille, Ekta, EL Limon, Sushiland, Xolo, Mrs. Marty's Deli, The Grog, Kelly's Taphouse, Qdoba, Bagel Factory, La Colombe Coffee all are walking distance. This location is very central to many highways,easy access the train and perfect location for getting into the city via Septa or a quick drive to the sights of Valley Forge or the King of Prussia Mall.
Alles super. Top Host!
Florian
2016-08-10T00:00:00Z
Martha was great! My parents stayed at her place and loved it.
Alayna
2016-05-13T00:00:00Z
As a first timer to Airbnb, Martha far exceeded my expectations and I was tremendously impressed by her hospitality. The living space (bedroom with sitting area and bathroom) and furnishings were clean and well done. I was in town while my wife was at the Bryn Mawr Hospital for an extended stay and this was the perfect solution as it was a five minute walk to the Warden Lobby entrance. This was a fantastic experience.
curt
2016-05-01T00:00:00Z
Martha was very accommodating. Her space is exactly as described and very spacious and clean. Easy to find and she was easy to reach and super responsive.
Rhian
2016-03-31T00:00:00Z
Location is good. Very close to the Bryn Mawr Station and KUMON. We had a great time. We would like to come back next year. Thanks.
Shingo
2016-08-08T00:00:00Z
We had a comfortable, easy stay at Martha's home. It was well located , within a block of shops and restaurants and train. We found everything to our liking and would go again without reserve. Thank you, Martha , for your kindness and hospitality . We appreciate all you did to make our stay a delight.
Ambika
2016-10-01T00:00:00Z
Martha was warm and welcoming. The room is lovely--clean, spacious and nicely furnished--and the bed is super-comfortable! The house is close to restaurants etc on Lancaster Ave and very close to Haverford College, so it was a great place for us to stay while visiting our son there!
Jessica
2016-10-30T00:00:00Z
Another great stay at Martha's. We were only there for a brief overnight stay but it was a welcoming and relaxing environment just like before. It is a lovely, clean and updated space that provides a lot of privacy. Looking forward to the next opportunity we have to stay at Martha's home.
Kristin
2016-07-12T00:00:00Z
Tipo de habitación
Habitación privada
---
Tipo de propiedad
Casa
---
Capacidad
4
---
Dormitorios
Bryn Mawr, Pensilvania, Estados Unidos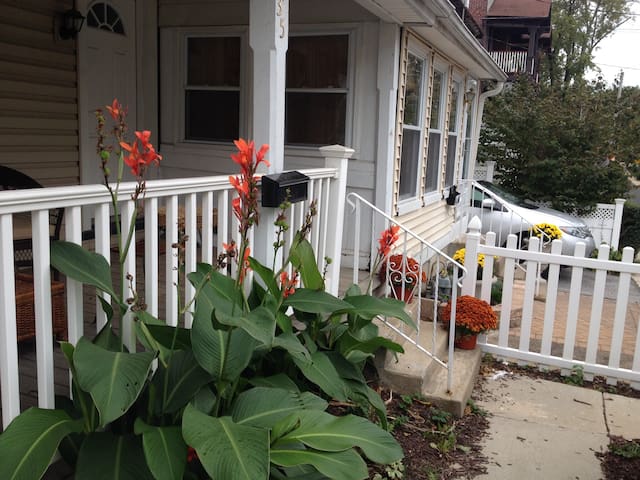 This comfy and charming house is close to the heart of the small town of Bryn Mawr on a quiet residential street. There are a multitude of fine shops, restaurants, personal services providers, yoga studios and a movie theater all within a comfortable walking distance. There's a Mom's Organic Market, home-made ice-cream store and a pizza shop close by. Two train lines and bus service a few mins from the house will get you around easily - Philadelphia is 27 mins away by train, 12 mls by car.
Located in the heart of Bryn Mawr, this 3-bedroom twin home is within walking distance of shops, coffee shops, train stations, restaurants, movie theaters, yoga studios and parks. Built in 1900 it features many of the original architectural details from the period. Enjoy our oak hardwood floors, front porch w/swinging bench & back deck overlooking the rear garden. Comfortable queen size bed in the rear bedroom, and also a queen-sized bed in the larger front bedroom. There's another queen size bed in the renovated 3rd floor attic. All 3 bedrooms are air-conditioned (remote-controlled modern window units). Main floor is cooled by a larger window unit. Three of the a/c's units are new and quiet. Remote-controlled ceiling fan in kitchen and front bedroom. Flat-screen TV in living-room and WI-FI throughout the house. New user-friendly thermostat for heating! Guest Access - Front door is keyless entry (lock operated via a 4 digit code). Also a latch lock on the inside for extra security at night. Remember to leave unlatched when you go out for the day! You will have the privacy of this home all to yourself. Interaction with Guests We are available by mobile phone any time during your stay. We'd love to share what we know about the neighborhood: good food, coffee shops, shopping, parks, gardens, etc. The Neighborhood Bryn Mawr is located on The Main Line, an older suburb of Philadelphia. Our house is on a quiet street, close to the center of Bryn Mawr, with numerous shops, restaurants and all the usual amenities within walking distance. Center city Philadelphia is approx 12 miles away, by car or SEPTA train. Close to several colleges and universities: Villanova, Haverford, Bryn Mawr, St Joseph's, Harcum Jr, Cabrini, Eastern, Rosemont, Swarthmore, Immaculata, Gwynedd-Mercy, Arcadia, Penn, Drexel, Phila Univ, La Salle...
Everything you may need is probably within a 15 mins walk...even an ice-cream store! BYOB's restaurants are very popular in PA due to state alcohol sales regulations. There is a state liquor store 5 mins walk from the house with a high quality selection of wines - grab some vino and head off to one of many popular BYOB's restaurants in the area. I recommend the following: Sola, Lourdas, Fraschetta, Cerise. These are all BYOB's and not necessarily listed in order of my preference but Sola is reservation only! Hothouse Coffee - one of my favorite coffee shop right next to the Bryn Mawr Movie Theater (entrance and foyer restored to its former Art Deco glory). Gryphon coffee shop on the way to Rosemont train station (it has a yoga studio on upper floor) is another favorite. Pub grub: Gulliftys, the local sports bar. Mexican: Qdobo right around the corner. Snap Custom Pizza across the street from Qdobo. Bryn Mawr Farmers Market (open Saturdays 9 to 1 in the summer), located across from the Post Office and train station. Acme Supermarket (newly renovated) is 0.6 mls away eastward on Lancaster Ave. The King of Prussia Mall is 20 mins drive from the house. Bryn Mawr Hospital 1/2 mile away. Valley Forge National Park is a 20 mns drive.
我们到的很晚,一直在等我们,服务非常好,耐心回答我们的问题。真的像家一样,还会再来。推荐。
XIAOHANG
2016-07-23T00:00:00Z
Rod was accommodating and responsive to our inquiries ahead of our trip, responding the same the day to several questions we had. His home was clean, spacious, well-stocked and well-located for access to stores and restaurants. The lack of air conditioning in common areas left the home warm during the day given the summertime heat, but the window A/C units upstairs kept the sleeping areas cool enough for us. When we needed parking clarified for us and even after we left a backpack behind, Rod's assistant, Sarah, was very helpful in responding and went above and beyond to mail the backpack to us overnight. Her assistance was a big bonus to what was a pleasant stay for our family.
David
2016-06-08T00:00:00Z
We loved this house - the location is great and the communication with the owner was spot on. Despite the warnings about parking, it actually wasn't hard to find a place to park overnight on the street (a great option for us since we were moving the car before the hourly parking restrictions began). The full bathroom is modern and spacious, and the first floor living areas all have a great feel. The bedrooms were comfortable as well. We would definitely stay here again when we are next in Bryn Mawr / Philadelphia. Thanks!
Jacob
2016-11-26T00:00:00Z
First time using Airbnb, great experience!thanks Rod for everything
Effie
2016-10-15T00:00:00Z
Roderick's place was great. Our arrival was organized and welcoming, and the keypad locking system was very convenient. The neighborhood was quiet but was still an easy walk to some great places to eat, and a short drive to our local collage visits. Roderick's assistant had stocked the kitchen with drinks, fruit, breakfast supplies, and treats. The house clean and comfortable, with plenty of room for our party of 3. We will definitely be staying here again if our daughters decide to go to an area college.
Justin
2016-02-16T00:00:00Z
We loved the location! And plenty of space in the house! Thank you Roderick for the breakfast items, a nice added warming touch! We would love to come back again! Thank you for making your home available to us! Enjoyed watching the squirrels in the back yard!
Kathryn
2016-04-01T00:00:00Z
We really enjoyed staying in your house. It was very spacious and had everything we needed. Plus it was extremely clean. The decor was very appealing and comfortable. It was an easy walk from the house to restaurants and an ice cream shop. We hope to stay here again sometime!
Marci
2016-07-14T00:00:00Z
Rod's place was amazing, clean, and beautiful! He went out of his way to make sure we knew where to park, how to use the heater and all house amenities. We felt safe and well cared for- there was no end to his hospitality (we were truly amazed). I can't wait to visit again with my family.
Connie
2016-04-18T00:00:00Z
Tipo de habitación
Casa/apto. entero
---
Tipo de propiedad
Casa
---
Capacidad
4
---
Dormitorios
Bryn Mawr, Pensilvania, Estados Unidos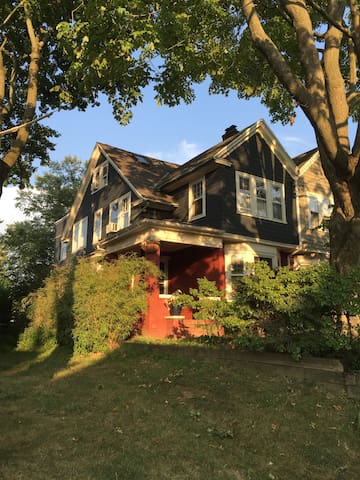 Originally 15 bedrooms. Now completely renovated we have 7 bedroom. There are 6 ensuite. We also have 3 more "bedrooms" that have been turned into offices, sewing rooms art studios. We have 1 twin bed in the attic if you need more beds in a room too.
Beautifully furnished 1880 mansion. It has been completely restored. 6 fireplaces, wood burning pizza oven. 1,000 sq ft custom eat in kitchen with Viking range Subzero refrigerator and freezer. Library, Living room 35'x28' with solid Brazilian walnut paneling, leaded glass windows.. The best natural light of any home I have ever been in, beautiful antique chandeliers, museum quality art, 10,000 square feet of living space, beautiful grounds, 220/40amp charger for Electric car (ours is a Tesla) located in Philadelphia's famous Main Line. 13 miles from Philadelphia, PA. A happy beautiful, but comfortable at the same time home.
The best neighborhood in Philadelphia and the main line. Wonderful shopping, restaurants, and surrounding homes.
This is a beautiful historic home in a gorgeous neighborhood. Fun shops near by. Our host was hands off during our stay which suited us fine. She did offer to come over and meet us but we told her we'd call her if we had questions. It was fun exploring all the unique spaces of the mansion. If walls could (URL HIDDEN) felt almost like home as there were only a few "notes" or instructions which made us feel relaxed and at ease. It was a great place to host a family reunion with each bedroom having its' own bathroom.
Dennis
2016-10-23T00:00:00Z
My family stayed here for one week and I can say for a fact that the Willow Bank estate truly is beautiful. Everything, from the picturesque garden to the captivating artwork that adorns the walls, contributes to the house's unique aesthetic. Although built in 1880, the house is far from antiquated. In fact, Willow Bank is the perfect mix between new and old, having all the modern conveniences one could expect and then some while still retaining its historic charm. Our booking was last minute and slightly unconventional (first time using Airbnb) but Shelli was very welcoming and accomadating. I'd 10/10 recommend.
Vera
2016-08-10T00:00:00Z
My extended family stayed in Shelli's lovely home for the weekend of my brother's wedding, which was in Havertown. We had 16 people total (incl 1 infant, 3 toddlers). We are incredibly grateful for the number of rooms and bathrooms, and the amount of space we had to enjoy each others' company without being too crowded. It was much more comfortable and affordable than any hotel could have been. Shelli was an excellent hostess. She met with my mother on a separate trip to the area about a month before our reservation so that my mother felt comfortable with the space. The house was clean and ready for us on arrival without issue. Shelli responded immediately to all questions we had during our stay. We couldn't have had a better time. We will not hesitate to contact Shelli again for future trips to the area! Thank you, Shelli!!
Meghann
2016-11-20T00:00:00Z
Had a lovely time in the Willow Bank Estate! So much history in the home - it was like going back in time. Neighborhood could not be better. For those looking for an adventure, look no further!
Robert
2016-10-06T00:00:00Z
The house was everything we expected and more! It was magnificent and everything was in great condition. Kitchen was fully stocked with every amenity and there was more than enough room for everyone in the house. Shelli was responsive to any request or question we had. We enjoyed simply touring around the house to see the older features (carved staircase, fireplaces, huge rooms) as well as the beautiful renovations that the owner has completed. Many surprisingly fun features (heated toilet seats, mosaic tiled bathroom floors, awesome patio) and beautiful artwork! Backyard is perfect for outdoor games and location is quiet but very close to everything. A very comfortable, elegant, and breathtaking home. Patio is perfect for an outdoor breakfast and you couldn't get us out of the huge living room sofas. Would rent again in a heartbeat!
Marie
2016-05-16T00:00:00Z
Shelli was a great host and this space is an excellent mix of old and new. The open spaces are both bright and charming; they are perfect gathering spaces for family and friends. If you like to cook, this kitchen is very inviting! Shelli was extremely responsive during our stay and in the preceding days. The creative touches to the home and innate history make this space cozy despite its size.
SteveJr&Alison
2016-10-17T00:00:00Z
The house is amazing! It is huge and was a great place for my team of 8 to stay for the DNC. Shelli was available and very helpful. The kitchen is beautiful and inspired some of us to cook even though we were on a business trip. This was a great airbnb experience.
Mark
2016-07-30T00:00:00Z
The host canceled this reservation 34 days before arrival. This is an automated posting.
Jessica
2017-02-10T00:00:00Z
Tipo de habitación
Casa/apto. entero
---
Tipo de propiedad
Casa
---
Capacidad
11
---
Dormitorios
Bryn Mawr, Pensilvania, Estados Unidos
Escape a este encantador de línea principal de Inicio a sólo 1 milla de la estación de tren de Rosemont y un paseo de 15 minutos hasta el centro de Filadelfia cuando las visitas papales para Encuentro Mundial de las Familias. Disfrutar de la experiencia, mientras que escapar del ruido y el tráfico de la ciudad.
Relajarse en la paz y tranquilidad en el porche con una copa de vino o un café después de pasar el día en la ciudad durante la semana mundial de las familias. Esta encantadora casa ofrece un gran dormitorio principal, salón con chimenea de leña, televisión de pantalla plana, dos baños completos, cocina, terraza y vivir. Los artículos específicos de comestibles para ser almacenados en la nevera disponibles bajo petición. Sólo una caminata de una milla o en coche a la estación de tren de Rosemont se conseguirá en el centro de Filadelfia en 15 minutos. Hay una entrada para el estacionamiento.
Tipo de habitación
Casa/apto. entero
---
Tipo de propiedad
Casa
---
Capacidad
4
---
Dormitorios
Bryn Mawr, Pensilvania, Estados Unidos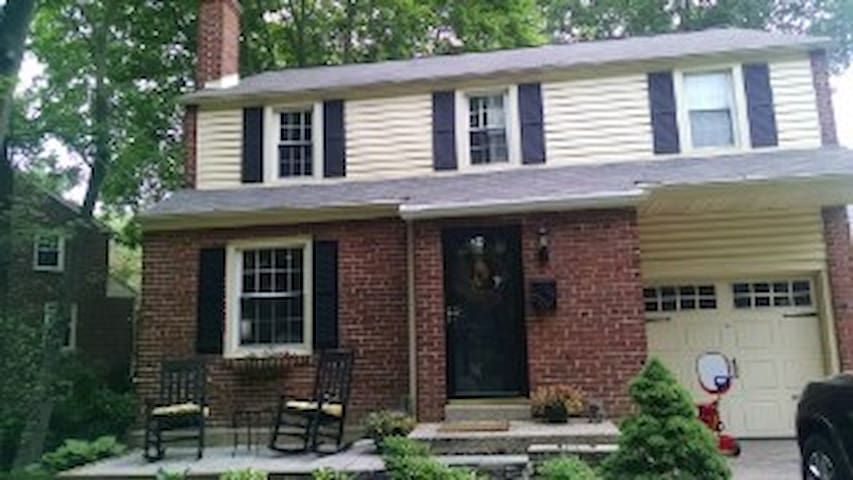 There are 3 bedrooms available.The largest bedroom with Queen bed and a separate hall bathroom . Two other bedrooms with, one twin bed & 2 singles, linked with a Jack & Jill Full bath room. Perfect for a family.
The setting is unique. Close to city but very private. The entire house is also available to rent but price varies and is negotiable, depending on season.
Our neighborhood is very quiet. We are 2 miles from the center of Bryn Mawr with its many restaurants and shops. There is also a commuter train from Bryn Mawr into Center City Philadelphia.
Estuve con mi familia en la casa de June y Robert. Fue una experiencia excelente. La casa es preciosa, amplia y acogedora. Los huéspedes se portaron de maravilla. En una de las salas hay un piano que mis hijos disfrutaron mucho. Recomiendo ampliamente este lugar.
Julio
2016-05-08T00:00:00Z
My wife, 15 year old daughter, and 17 year old son spent a long weekend at the home of June and Dr. Fisher and had an absolutely wonderful visit to the area. My son had an ice hockey tournament in the Philadelphia suburbs, and the Fisher's home was the perfect place for the family to unwind and relax in a beautiful setting in-between games. This home is spacious and exquisitely maintained. My wife and I shared a large room with queen sized bed, and my son and daughter both had their own rooms with adjoining jack/jill bathroom. June had fresh fruit and juices, pressed coffee, and other yummies prepared for us each morning. The neighborhood is quiet and private, yet within minutes of major highways, fantastic restaurants, Villanova University, and a huge shopping mall at King of Prussia. There is very little traffic in the neighborhood, but for those who want to jog in a well lit environment, there is a quarter mile running track around a high school football field about 1/2 mile away. June, Rob, and Max - their delightful and friendly Jack Russel Terrier, made our stay easy and welcoming. We will definitely return when we have the opportunity to visit the Philadelphia area.
Harry
2014-10-14T00:00:00Z
Our weekend stay in June's home is my most impressive and greatest Airbnb experience by far. We are two families coming to attend the commencement of Valley Forge Military Academy. June's home is exactly what we need, only 10 minutes drive to the school, and moreover, also 10 minutes drive to King of Prussia Mall, which has everything we need there. It is also a good choice if you prefer a quite and great neighborhood from downtown Philadelphia. June's home is newly renovated with everything in great condition. We've had time enjoyed her fantastic backyard with the swimming pool, and also three big bedrooms. She provided pretty enough supplies for us as well, from utensils to bath towels. The communication with June also went pretty well. She explained everything very clearly upon our arrival. She recommended different restaurants nearby for us, so that we had the chance to try few in nearby towns. Also, the most impressive one is June made breakfast for all of us with various choices from Frech press coffee to strawberry muffin with local fruit jam. Even though both the two parents in our party cannot speak English, she was still patient enough to host them and chat with them. All in all, it's the most satisfied Airbnb experience in my Airbnb journey. I definitely recommend June as a great Airbnb host to everyone.
Haotian
2015-06-08T00:00:00Z
The only thing better than June and Bob's lovely home was the hosts themselves. Two wonderful, gracious, and warm souls who exceeded my expectations on so many levels. They not only define what it is to be excellent hosts, they define what it means to be kind, selfless, and wonderful human beings. June went out of her way time and time again to help us prepare for our visit and our birthday plans for the weekend. I would have been lost without her assistance. Their home and backyard is a little piece of heaven and they share it openly. They gave us just the right amount of space and time to ourselves and great conversation and company during our stay. June made a wonderful breakfast each morning which was included in the cost. Always fresh and delicious. Bob was kind enough to buy fresh bagels as well. The house was super clean and comfortable. The bathrooms were recently redone with great splendor. The backyard was a true oasis with outstanding landscaping, a gorgeous pool, comfortable chairs, and nature all around. We were welcomed warmly and left as friends. Highly recommended.
Brad
2016-06-13T00:00:00Z
Staying with June was like a visit with family. She was so accomodating to our family of 6 - little ones included. It was a lovely, easy stay, for a nearby family wedding.
Debra
2016-10-03T00:00:00Z
June had a very nice and tidy house in a very good location. Because our flight delayed. We came at late night in the first day. She were waiting us and show us everything. We felt very warn to have June as host far away from home. Wehafv great time in there. She is a great host always help us in need. Many thanks for the breakfast she prepared. If I have a chance, I will definitely stay there again if I have chance in the future.
Cheng
2016-09-13T00:00:00Z
June and Rob were excellent hosts! We spent a great weekend at their house, had a great time swimming in their pool and sunbathing in their hammock. The space is very clean, very relaxing, very spacious, and just a short drive from downtown philly. There's a grand piano in the living room, a fantastic backyard surrounded by trees and great amenities. Communication was great, which made for an easy check-in. June and Rob are a really nice and friendly couple with great stories.
Nikola & Nicolas
2015-07-06T00:00:00Z
We had an amazing experience at June and Rob´s house. We spent 4 days there to attend Villanova University´s college graduation. June and Rob are incredibly warm and supportive hosts… (as I had forgotten to bring my ties for the ceremonies, Rob kindly shared his beautiful and classy ties…!). We felt very comfortable living in the house with a lot of independence and privacy, despite the fact that the hosts remained living in the house during our stay. Their presence was not intrusive and very pleasant when we did chose to engage with them, such as a during nice conversation over a late breakfast where they shared great tips on the area and stories of their lives. The house works so nicely for a family wanting to enjoy the area. Baths have been recently redone, in a very modern and classy style. Everything was absolutely clean and bed/bath linens were very soft. The breakfast area overseeing their garden and pool provides just a memorable experience with the sunny days we had. Given our hectic schedule, we couldn't benefit more from the ample garden and the inviting pool. We will definitively consider coming back to their house to visit and enjoy the area on a more fully vacation time. Its location is perfect, given how well connected it is to the quaint surrounding suburban areas like Ardmore and Bryn Mawr as well as to Philadelphia by a 21 minute train ride. Many thanks for your warm hosting and support during our stay! Carmen and Jorge Becerra
MARIA del CARMEN
2016-05-17T00:00:00Z
Tipo de habitación
Casa/apto. entero
---
Tipo de propiedad
Casa
---
Capacidad
6
---
Dormitorios
Bryn Mawr, Pensilvania, Estados Unidos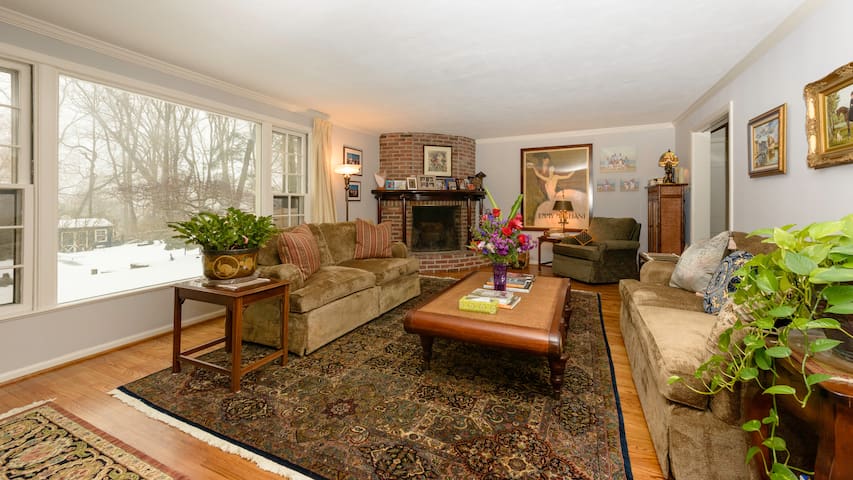 3-story home is right across the street (walking distance) from the Bryn Mawr train station. Septa train will take you right into downtown Philly in approx 20 min. Conviently located near numerous shops and restaurants. House has 3 parking spots.
Tipo de habitación
Casa/apto. entero
---
Tipo de propiedad
Casa
---
Capacidad
4
---
Dormitorios
Bryn Mawr, Pensilvania, Estados Unidos
My place is right around the corner from Lancaster Ave, close to Ludington Library, Bryn Mawr Film Institute, Bryn Mawr College, Kelly's Bar and Restaurant, Tiffin, Pizzi's Pizza, Bryn Mawr Train Station, The Play Cafe, Norristown High Speed Rail Line. It's a prime location in the heart of Bryn Mawr-- It's a great neighborhood. The room has fantastic natural light, a comfy bed, a nice workspace, etc. My place is good for couples, solo adventurers, business travelers, and families.
The description needed more pictures . The parking is difficult the location was great and the host allowed to use the whole house
sumana
2016-07-31T00:00:00Z
Great location, very walkable. Nice spacious room, comfortable bed. Sunny was a great host, very responsive. Only one con, for me at least, was the typical late-night College Kid noise by all the college kid neighbors going to and returning from the bars on Lancaster Ave. All in all I had a great experience.
Joe
2016-09-17T00:00:00Z
Room is located in Bryn Mawr and the location was super cute and not far from the center city at all, about a 30 mins train ride. There are restaurants and shops as well. The room was presented just as the pictures showed it to be. Towels and bed were clean and there was plenty of room for my friend and I. Sunny was very nice and responded quickly when I had any questions.
Brooke
2016-09-06T00:00:00Z
Second time staying here-- Sunny is a reliable and considerate host, and the listing is perfect for a single person or a couple. Comfortable and spacious accommodations. Great access to neighborhood eats and easy access to Philadelphia via train. Would definitely stay again!
Justinne
2016-09-30T00:00:00Z
The host was inviting and responsive, very friendly. The room was very spacious and clean. A great location if you are traveling by train and need to access Philadelphia City Center, Bryn Mawr, etc via SEPTA Regional Rail or the Norristown High Speed Line. I did not have a car, so this was very convenient for me. Also very close and convenient to Bryn Mawr College and the Shipley School.
Justinne
2016-09-14T00:00:00Z
Tipo de habitación
Habitación privada
---
Tipo de propiedad
Casa
---
Capacidad
2
---
Dormitorios
Bryn Mawr, Pensilvania, Estados Unidos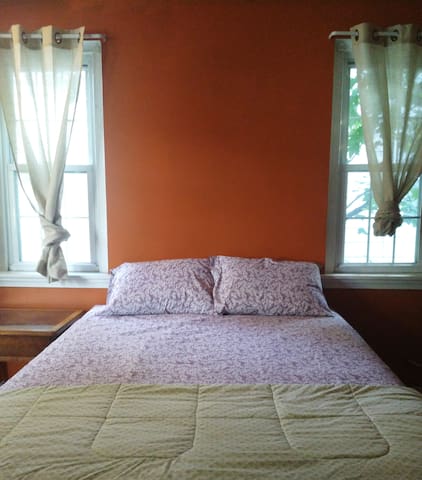 Este precioso, actualizado el hogar Bryn Mawr es el lugar perfecto para experimentar Filadelfia para la próxima visita del Papa! A cinco minutos a pie se llega a las tiendas, y restaurantes, junto con el tren que le llevará en un paseo fácil de 18 minutos para ver al Papa!
3 habitaciones disponibles: 1 king size, TV w / ROKU y cable 1 cama, TV w / ROKU 1 completa 1.5 baños Abrir la cocina / sala de estar / comedor con "TV 55 y un montón de asientos. Patio y parrilla.
Bryn Mawr está en el corazón de la línea principal de Filadelfia - una hermosa franja de barrios al oeste de Filadelfia conocido por la cultura, la educación, la minorista local, excelentes restaurantes, y la conveniencia de la ciudad! Un paseo 0,2 millas para poder llegar a la Ruta 30, donde tendrá su elección de restaurantes, tiendas, una sala de cine con encanto, y otros espacios públicos maravillosos.
Tipo de habitación
Casa/apto. entero
---
Tipo de propiedad
Casa
---
Capacidad
6
---
Dormitorios
Bryn Mawr, Pensilvania, Estados Unidos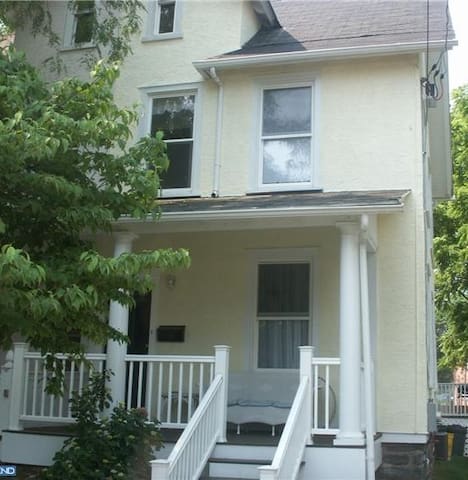 Available for college graduation! Family home of area Bryn Mawr College grad, our 4 bedroom Dutch Colonial is situated midway between Bryn Mawr and Haverford college campuses and is a 15 minute walk from each. Newly renovated with hardwood floors, central air, and working fireplace. Acme supermarket is across the street. We are a 7 minute walk to the Bryn Mawr SEPTA regional rail station, and the trip to center city takes 20 minutes. **Contact us to ask about availability for dates not listed.**
Four spacious bedrooms on second floor with full bath. First floor includes half bath, kitchen, dining room, and living room opening to large front porch. Basement access with washer and dryer. Large backyard.
The neighborhood is friendly and includes college professors, lawyers, various types of civil servants, etc. We are walking distance to the public library, hospital, and downtown Bryn Mawr and Haverford. A supermarket, pizza place, bakery, pharmacy, doughnut shop, bar, church, bicycle repair shop, gas station, and auto mechanic are all located within about a block of the house.
Tipo de habitación
Casa/apto. entero
---
Tipo de propiedad
Casa
---
Capacidad
8
---
Dormitorios
Bryn Mawr, Pensilvania, Estados Unidos
Beautiful rooms (2) and yard available for short term rentals for travelers or visitors to local colleges. Lots of light and space. absolutely NO SMOKERS. There is a dog onsite, non shedding, non barking shih tsu.
Gorgeous House on quiet dead end street. Beautiful light and outdoor spaces. WIFI available
The train station is .5 miles away. It is a .5 mile walk to many BYOBs, independant film movie house and lots of beautiful boutiques and shops. Running trails and park just down the road.
Tipo de habitación
Habitación privada
---
Tipo de propiedad
Casa
---
Capacidad
4
---
Dormitorios
Bryn Mawr, Pensilvania, Estados Unidos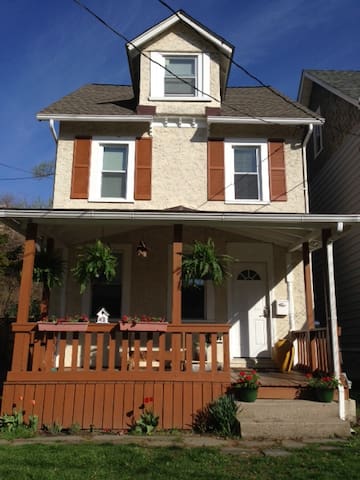 Private guest house on 5 acre private estate. House comfortably fits 8 visitors, with space for 2 additional cots to hold up to 10 adults. Easy access to the center of Philadelphia by train or car.
Tipo de habitación
Casa/apto. entero
---
Tipo de propiedad
Casa
---
Capacidad
8
---
Dormitorios
Bryn Mawr, Pensilvania, Estados Unidos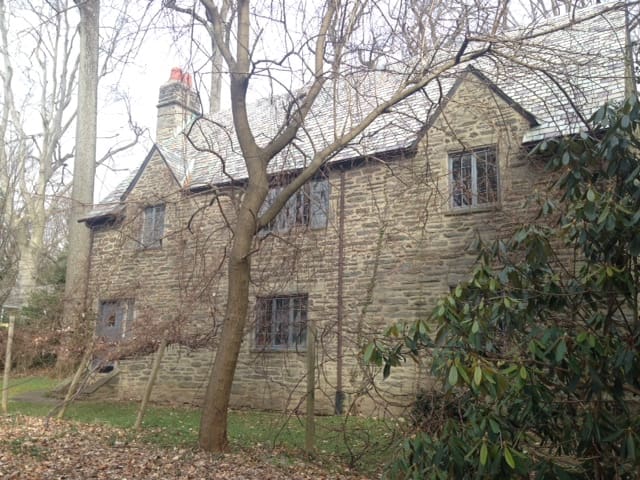 Spend a night in a historic Schoolhouse, built in 1874. Big loft Bedroom with full bath in private setting. Great location near Colleges on the Main Line.
We have 2 rescued dogs who are very friendly. This is a non-smoking environment. BedRoom with 4K UHD TV including access to Netflix and Amazon Prime.
Harriet was a superb and attentive host... a beautiful home in a suburban setting!
Ted
2017-03-24T00:00:00Z
Outstanding hospitality, exceptional accommodations! You will thoroughly enjoy your time; be sure to ask about how this phenomenal home started as an 1800s single-room schoolhouse!
Beth
2017-03-02T00:00:00Z
Beautiful location and quiet, comfortable and spacious loft...with all the comforts of home. Harriet is a fantastic host and an amazing cook. Take her up on offers to join the family for dinner! You won't regret it! I enjoyed every second of my interaction with Harriet. She's a superb communicator. Will be traveling to Philly frequently, and most certainly will make this my first-choice for all future stays. Thank you!
Kelly
2017-04-08T00:00:00Z
The host canceled this reservation 3 days before arrival. This is an automated posting.
may
2017-02-16T00:00:00Z
Tipo de habitación
Habitación privada
---
Tipo de propiedad
Casa
---
Capacidad
2
---
Dormitorios
Bryn Mawr, Pensilvania, Estados Unidos
Perfect for the tired traveler, who wants to get a good night sleep and move on. 1 guest $45. Bryn Mawr has many nice restaurants and a movie theater. My guests can walk to the train station for a sight seeing trip into Philadelphia or New York.
As described.
Dillon
2016-10-22T00:00:00Z
We reserved the room for two nights to be within walking distance of Bryn Mawr College and the train. The location was great, but the room is in a very cluttered old house. We left after the first night since another friend joined us. I needed to move on regardless since the 2 air fresheners and very strongly scented products used for the linens were headache-inducing.
Deborah
2016-04-20T00:00:00Z
We just needed a place to sleep, and didn't interact with Deva all that much, but everything was totally fine!
Maya
2016-11-07T00:00:00Z
In the Main Line area, where there are few lodging options, I was delighted to find this convenient and affordable place to stay. Dewa was a pleasant and thoughtful hostess, who welcomed us upon arrival and explained all we needed to know about the house and area. We were able to park on the street a few steps from the house (until 10AM weekdays). The room, while compact, was warm and bright. Communication was smooth and easy, and everything we needed was provided, including shower soap and shampoo. Proximity to a convenience store (Wawa), train station and excellent public library was a big plus. If you need a simple place to stay In this area, and don't need a lot of space or frills, this listing offers fine value.
Albert
2016-11-27T00:00:00Z
Deva was a great host and her cozy space was exactly what we needed. It was conveniently located with lots of shops and restaurants nearby.
Rob
2016-12-16T00:00:00Z
Due to great traffic and construction en-route, Deva was most hospitable at our arrival.
Nancy
2016-09-25T00:00:00Z
Deva was in touch ahead of time and very kindly offered to help me park out front or as close to the house as possible. (I was traveling with a car load of stuff and was not sure how safe it would be on the street). She was there to meet me and showed me around and answered some questions I had; she was always available- and promptly- by text as well. The house is in a great location- easy to walk to nearby restaurants, yet quiet and sort of a back street (one way, neighborhood feel). My room was in the front; it was very comfortable and super clean. Bathroom was very clean too and down the hall, easy to get to. Though the kitchen area was not set up for cooking, Deva made sure I had some room in the fridge for food I had brought. Another guest was there but the house is quiet and serene. It was perfect for me for the one night I was in town.
Catherine
2016-05-04T00:00:00Z
Host was welcoming and room was clean and very comfortable.
phoebe
2016-10-28T00:00:00Z
Tipo de habitación
Habitación privada
---
Tipo de propiedad
Casa
---
Capacidad
2
---
Dormitorios
Bryn Mawr, Pensilvania, Estados Unidos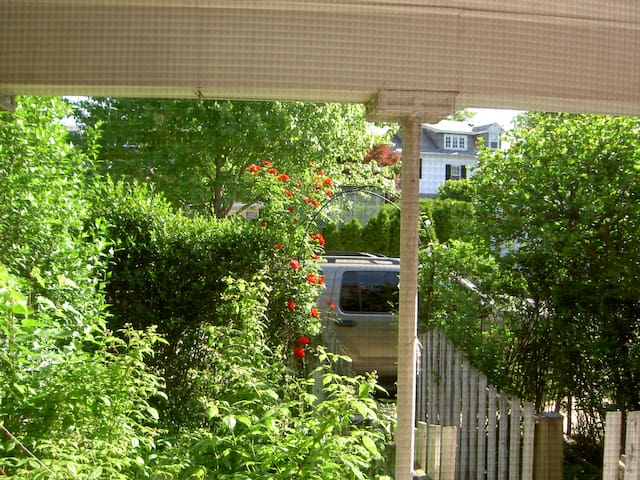 Neighborhood located a block from the Garrett Hill train station and two blocks from Villanova campus. 30 minutes to Center City. Inside of our home is 1 year old. Brand new plumbing, electric, hardwood floors, kitchen, bathrooms, and bedrooms.
Our home is different than others on the block because everything inside is brand new. We bought this house a year ago and renovated the entire home's first and second floors.
Quiet street that is in walking distance to villanova' campus and easy access to everything on the main line.
Matt was a terrific host and the home was beautiful. It was extremely clean and looks even better in person than it does in pictures. Matt was very responsive and helpful in making sure we were able to get into the home and answering all the questions we had. I highly recommend Matt as a host. If I find myself in the area again, I just hope Matt's home is available to rent as it would be a no-brainer for me to repeat my stay. A+
Michael
2015-06-01T00:00:00Z
The place was absolutely lovely, we really enjoyed our stay here. Nice, quiet, safe neighbourhood.
Gavin
2015-10-27T00:00:00Z
We loved Matt place. The place was just remodelled and everything was beautiful. Our son loved that there were two flat screen tvs.It was the most convenient place to stay for any event at villanova. We would definitely stay again. Thanks Matt
Tom
2016-05-16T00:00:00Z
Beautiful home, less than 5-minute walk to Villanova's campus. Matt was very helpful in making sure we were well taken care (EMAIL HIDDEN)fortably sleeps 5. Would recommend this as a great place to stay if you are looking for a spot near campus.
Kristen
2015-06-08T00:00:00Z
Matt has a wonderful home that was recently renovated. If you are looking to spend any time at Villanova University (dropping off, picking up, or graduation) Matt's place is quite the find. Walk to graduation ceremonies and return to a wonderful home in a wonderful neighborhood with a host that is an exceptional communicator and committed to your comfortable stay..
Mike
2015-05-18T00:00:00Z
My family and I had a wonderful stay. The house was lovely inside, huge kitchen and an amazing couch in the living room to take a nice nap (especially after thanksgiving dinner). The home has a great location and neighborhood. Matt was terrific host.
Aimee
2015-11-29T00:00:00Z
Tipo de habitación
Casa/apto. entero
---
Tipo de propiedad
Casa
---
Capacidad
5
---
Dormitorios
Bryn Mawr, Pensilvania, Estados Unidos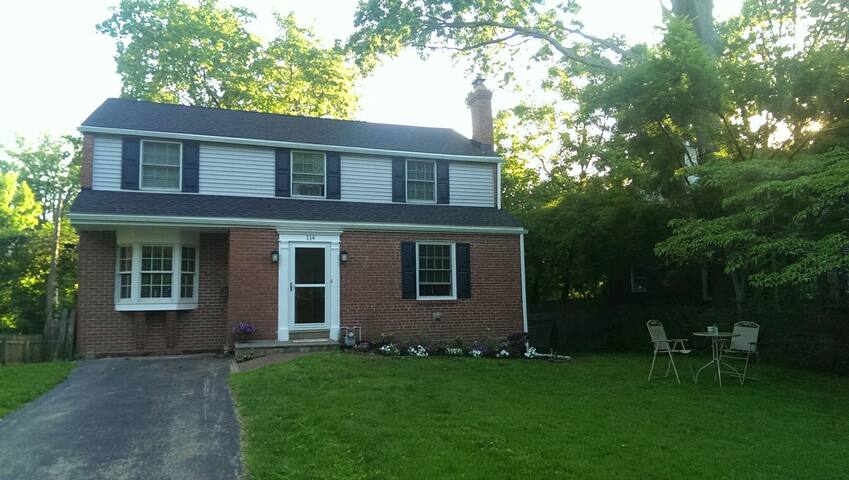 Private bedroom and bath with your own entrance. Part of larger renovated carriage house on 2 1/2 acres in the heart of the Main Line. Rustic setting with barn, gardens, and off-street parking, all a short walk from trains, shops, and restaurants.
This bright, spacious room has a queen-sized bed with a firm mattress, sofa, coffee table, and writing alcove. There is a large wardrobe for hanging clothes and a dresser with several drawers; big south and west windows; hardwood floors; wifi (no TV); a mini-refrigerator, toaster oven, and plates, bowls, glasses, and utensils (including bottle opener). The bathroom has a shower (no tub), soap, clean towels, and a hair dryer. There are extra pillows and blankets in the room. An iron and ironing board can be brought into the room upon request. If you wish to have a third person in the room, there is an additional charge of $15 per night and a single, inflatable mattress can be provided (know that this will make for a tight fit). We ask that guests not sleep on the sofa. You have your own private entrance and off-street parking. Please read the rest of the details in the listing so you are not surprised by anything -- our overly friendly dog, for instance, the sound the heating pipes make when they are heating up, or our commitment to conservation of natural resources.
This is a quiet suburban neighborhood with easy access to everything. You can leave your car in the gravel parking space part way up the driveway and walk to anything you could want: the Wynnewood Shopping Center, with its many restaurants, a supermarket, and retail shops; the borough of Narberth, with its cheese shop, French bakery, Thai restaurant, numerous pubs, Amish market, and movie theater; Suburban Square, with specialty shops, large department store, Farmers Market, and coffee house. Or, if you want to jump on the train, you are 20 minutes from the city of Philadelphia and, in the other direction, 20 minutes from the Devon Horse Show.
Alison's retreat is the perfect place for any guest. She was wonderfully accommodating to my mom's stay. My mom is older and has a disability and she worked everything out so my mom would have no difficulties. My mom especially loved the tea and the heater in the bathroom! If you're looking for a quiet easy stay close to Philadelphia, look no further!
Leslie
2015-11-01T00:00:00Z
Another great stay at Alison's peaceful suburban retreat. Love this place on almost all counts of spacious room, quiet, great bed, great location, faultless wifi, cost and hostess. I actually saw her this time !Our 1st choice when visiting our daughter in nearby Narberth.
Joseph
2015-12-01T00:00:00Z
We loved loved loved the setting of this carriage house stay for our long weekend family gathering. We loved walking to the Wynnewood station and riding the train downtown (easier than we thought this would be to learn!) We loved walking to Sabrina's cafe for a decadently fabulous breakfast. And we loved simply walking around the neighborhood, which was full of gorgeous historic homes still decked out with holiday lights. Alison was a very gracious and helpful host. When we (timidly) texted her that we had a rough first night's sleep because of the hardness of the bed (it's a futon-type hardness of mattress), she wonderfully and graciously helped us problem-solve...and ended up whipping up a foam topper for us from the main house. Heavenly solution!! We felt extremely safe staying in this neighborhood and in this home...and enjoyed the exuberant antics of her dog, who makes you laugh out loud when you meet her :) The shower was hot and yummy on these cold days, and the space heated up nicely with her small space heater. We tried using the wall thermostat heat the first night...but found that the historic charm of this home ends at the heating system...too many creaks and cracks as the heat cycled on and off to sleep through...the space heater is the way to go for cozy warm sleep...and being tucked under her down comforter/duvet added to the coziness. Thank you, Alison, for all the warm hospitality as we whirled around to our family gathering events. We loved having such a quiet space to rest up between each leg of family fun.
Karen
2016-01-17T00:00:00Z
The pictures do not show half of it. Believe it ir not its much more beautiful and comfy that what i had in mind. The minute I checked in I was sad it was such a short stay. Magical retreat, extremely clean and organized. Scott - Alison's husband - was there to welcome us and was extremely helpful and courteous. Home away from home. Will definitely go back and spread the word among good friends.
Tayla
2014-09-01T00:00:00Z
Alison provided a wonderful self contained room adjacent to her family home in beautiful Wynnewood. Everything was as described and the location was perfect for visiting Philadelphia. We enjoyed our stay and would certainly use this listing again.
Keith
2014-10-22T00:00:00Z
"Peaceful suburban retreat" is exactly what this is. A lovely, spacious, sunny room, high ceiling, big windows. Colorful decor and everything you need for comfort and convenience. Alison is a thoughtful but unobtrusive hostess who made everything easy.
Jane
2014-04-16T00:00:00Z
Everything was exactly as described. Very quiet and convenient location in a beautiful neighborhood and setting.
susan
2015-09-21T00:00:00Z
We had a wonderful mini - get away. The Space was lovely!! The neighborhood charming. We appreciated the binder of information for locations to walk to and visit. We enjoyed a wonderful hike, great food, and fun during our stay. We will definitely be visiting again when we return to this area.
Nancy
2016-01-31T00:00:00Z
Tipo de habitación
Habitación privada
---
Tipo de propiedad
Casa
---
Capacidad
3
---
Dormitorios
Wynnewood, Pensilvania, Estados Unidos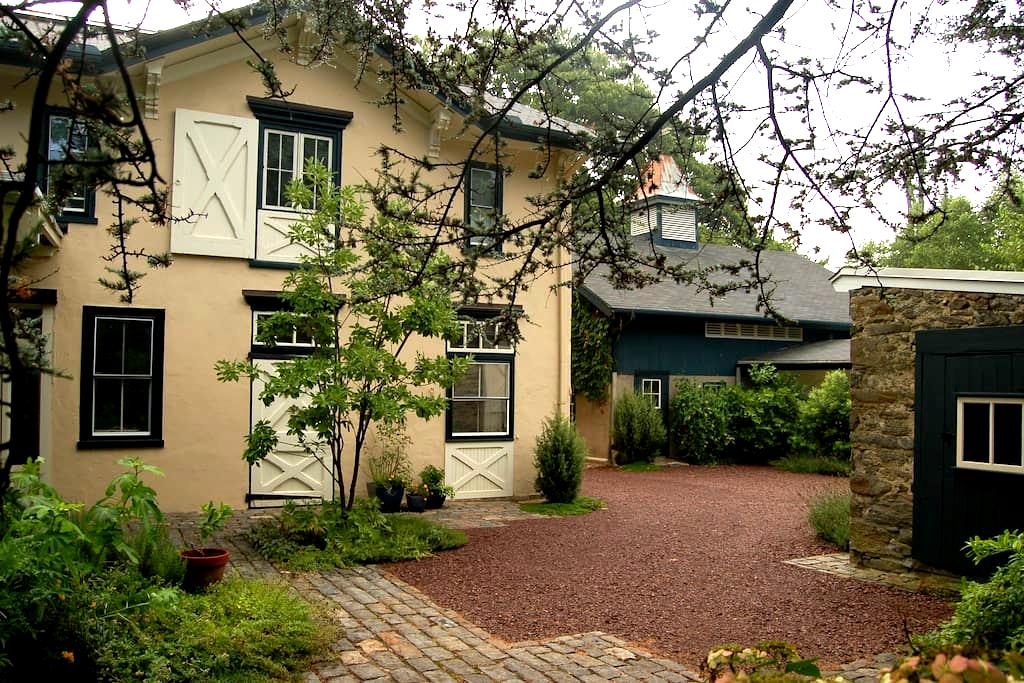 1

–

18

de

181 Alquileres de Casas
Introduce las fechas para ver el precio total. Ten en cuenta que se aplicarán tarifas adicionales y es posible que se añadan impuestos.