The place was really cute and clean. Shane made sure we had everything we needed. Would definitely stay here again. It was a perfect location.
Roger
2016-06-13T00:00:00Z
Our guests really enjoyed staying in your place! Thanks again for making the arrangements.
Matthew
2016-05-31T00:00:00Z
Shane had great communication. I booked his place very last minute and he was quick on the messages to get me booked and checked in. Very comfortable room! It's a little studio apartment, cozy and super comfortable. The neighborhood is gorgeous too.
Geoffrey
2016-07-01T00:00:00Z
Great place, great location. Thanks again.
John
2015-10-20T00:00:00Z
Awesome place and a great host! Very accommodating to our needs. We had a nice time staying at The Villa for the evening. It is cozy, so I wouldn't recommend it for more than two people or those needing a full kitchen. Overall, a beautiful property and location. I would definitely refer my friends and family here.
Petra
2015-04-09T00:00:00Z
The room was exactly what we needed: a place to stay for the night after attending a show up the street. The space was decent size with a well equipped kitchen. We enjoyed the overhead shower also. The neighborhood was clean, safe, and quiet. We had no trouble finding parking and were easily able to catch a bus to and from the show.
John
2015-02-19T00:00:00Z
The apt. was clean, kitchen was nice, good shower. It was quieter than I thought it would be considering the street. Nice neighborhood, house is well back and up from street level. I think the bed is too small for a couple but was comfortable for single person. Need to put extra blankets in room in case its needed.
Kelly
2015-02-10T00:00:00Z
DO NOT RENT FROM THE OWNER. 1st. I booked the room in the afternoon, had him ask my expected arrival time. I said sometime after dinner this evening. I was harassed 3 times within a couple hours about me arriving, saying he knocked on the door? When the ad clearly states this is supposed to be PRIVATE 2nd. The room we were put in was not the room we booked. 3rd. The room has dirty towels and a moldly shower curtain. 4th. When I messaged the host to ask how we could resolve these issues, they responded they would leave some clean linens outside the door in a message, but when they came to the door knocked once, then forcefully entered before we were able to even get dressed, began aggressively harassing us and threatening us to sign a document we hadnt even read or leave. We were forced after less than 30 mins there, at 1130 pm to pack everything and run out of the house, calling the police for assistance. He avoided contact from the police when we sent an officer to the door. When I called to request a refund the next day he hung up on me and said we would not be receiving one. I filed a complaint with Airbnb, and hopefully this predator will be shut down. The scariest part was that I am a female, and he was unaware I had another person with me, and I feel like something really bad would have happened if my partner wasn't there. This person needs to be stopped and I would advice avoiding him until Airbnb reviews the case. We have video evidence and all of the messages.
Meow
2015-10-08T00:00:00Z
Tipo de habitación
Casa/apto. entero
---
Tipo de propiedad
Villa
---
Capacidad
2
---
Dormitorios
Portland, Oregón, Estados Unidos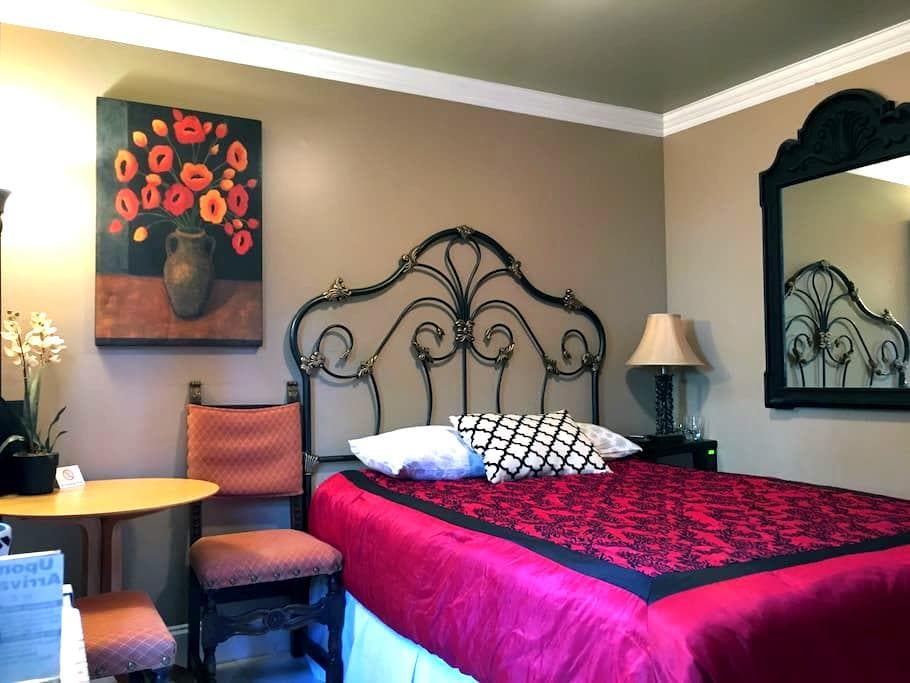 The host canceled this reservation 6 days before arrival. This is an automated posting.
Emily
2016-08-21T00:00:00Z
My wife and I had a great time staying here on our honeymoon. The Urban Zen Retreat is very spacious and relaxing. It's also located in a great neighborhood where everything you need is in walking distance. Parking is very easy as well which was a huge plus. We highly recommend Christina's place if you want a unique stay in Portland. Thank you again Christina!
Glenn
2014-06-09T00:00:00Z
Christina made us feel super welcome. She had incense lit for us to greet us into the gate, and she her family were very warm and accommodating. The space was so great, well curated and relaxing. Great place to stay and take in Portland for a day or two. Christina is also really fun to talk to about where to go/what to see. Great vibe. Thank you!
Corigan
2016-07-03T00:00:00Z
Very Friendly warm host! Cute little retreat in Chris' backyard! I fell in love with this little neighborhood and the shops and cafes surrounding it. Very relaxing space with a great bathroom. The host did a great job and paying attention to the details of creating an inviting space. Great vibes :)
Destiny
2016-08-05T00:00:00Z
The apartment was great and we really enjoyed our stay. After a long day of exploring Portland and sightseeing the retreat was a perfect way to end our day. Thanks again!
Erick
2014-05-24T00:00:00Z
We had a wonderful time staying with Christina. The zen retreat is a charming space behind Christina's main house that was super cozy and relaxing. The bed is up in a loft that you access by climbing up this cool welded ladder and the bathroom walls are painted with chalkboard paint, covered with messages from Christina's massage clients. The furry carpets, candles, and decor give the whole thing a funky spa vibe that was ideal for a weekend getaway. Christina was an amazing host. She left us a bowl with fresh fruit and snacks, a welcome card and note, and even a box of mints on a pillow. She was extremely responsive and communicative the whole time we were there and gave us great recommendations for stuff to do. The Airbnb is located between Hawthorne and Division in SE Portland. The neighborhood has so many bars, restaurants, and music venues, and so her recommendations of where to go were greatly appreciated. All in all one of our best Airbnb experiences yet! Highly recommended.
Cullen & Bekah
2014-05-05T00:00:00Z
I loved staying at the Urban Zen Retreat. Chris was an amazing host who was extremely responsive and helpful. The place was so great and I felt very comfortable staying there. There are so many charming details (the welcome note with my name on the chalkboard was so sweet!) and the location is amazing. Chris was great to let me drop my bag off prior to check in to I could explore Portland. The neighborhood is great with lots of coffee shops and restaurants within walking distance. I would recommend the Urban Zen Retreat to anyone visiting Portland! Thanks again for the great experience Chris!
Megan
2016-07-19T00:00:00Z
Absolute perfection. Location is perfect. Homeowners perfect. Place is beautiful. Stay here.
Adam
2016-07-21T00:00:00Z
Tipo de habitación
Casa/apto. entero
---
Tipo de propiedad
Villa
---
Capacidad
3
---
Dormitorios
Portland, Oregón, Estados Unidos
ポートランドのウォーターフロントに直接私たちのウィラメットリバーフロントシャトーのプライベートペントハウススイートで3BR / 2BAをお楽しみください。巨大なドック、水辺の座席、Wi-Fi、無料駐車場、室内洗濯機/乾燥機、簡易キッチン、壮大な景色を望む専用スイート。
ウィラメット川沿いに右にとどまります。 8.5マイルポートランドのダウンタウンの中心部から、我々はこの豪華な3BR / 2BAのウォーターフロントペントハウススイートを提供しています。 PDXアンカーハウスシャトーでのペントハウススイートで、独自のリビングルーム、キッチン、ラナイ(バルコニー)デッキ付き専用3BR / 2BAスイートをお楽しみください。贅沢は無線LAN、ネットフリックス、室内洗濯機/乾燥機、エアコン、花崗岩のカウンタートップ、固体の桜の床、カスタムの桜のキャビネットが含まれています。 ペントハウススイートは快適に6名様を収容します。 •真鍮キングベッド付マスターB / R、リバーフロント(2名様)。バスタブ/シャワー付きの専用浴室を添付。 •真鍮キングベッド(2名様)とのベッドルーム#2。バスタブ/シャワー付きのバスルーム#2は、廊下を横切っています。 •2真鍮フルベッド(2名様)とのベッドルーム#3。浴室の#2は8フィート廊下です。 一台の車のための便利な敷地内の駐車場が含まれています。複数の車のための駐車場を必要とする場合、詳細はお問い合わせください。
デッドエンドストリートに静かな小さな飛び地に位置し、我々はポートランドの中心部から数分です。ここでは、その著しく安らか:私たちは夏に開いているウィンドウと一緒に寝やアヒルやガチョウは最も騒々しい住民になる傾向があります。
The penthouse has spacious rooms, beautiful views of the Willamette River, and everything is clean and well organized. My mother and I greatly enjoyed our stay.
Heather
2014-07-20T00:00:00Z
We loved the new, fresh feeling of this rental -- super clean, organized, lots of space to put things away, lots of floor space. Beds and bedrooms are extremely comfortable. Bathrooms are spacious. Beautiful location on the river, peaceful views, honking geese, a squawking heron, ducks galore, and osprey. The hosts are superb, helpful and welcoming. We had no trouble finding places to eat out nearby, finding the grocery store, and the drugstore. Just what we needed for a home base during a week of World Disc Golf Championships.
Kelly
2014-08-18T00:00:00Z
The lovely home is comfortable for six and the setting was very scenic. Our hosts were accommodating with our arrival and departure time and were not bothered by our questions. They checked in to make sure we were fine and were friendly and helpful during our stay. Thanks for a wonderful weekend!
Peggy
2016-05-31T00:00:00Z
Amazing expirience in an amazing place! I stayed 5 days with my colleagues and we all had great time. We were in Portland for business and this place is amazing for relaxing and recover from the intense day meetings.
Vitor
2016-05-02T00:00:00Z
The house is lovely and clean. The beds were extremely comfortable! We had a great time staying here and would definitely stay here again.
Sarah
2016-05-25T00:00:00Z
Tipo de habitación
Casa/apto. entero
---
Tipo de propiedad
Villa
---
Capacidad
6
---
Dormitorios
Portland, Oregón, Estados Unidos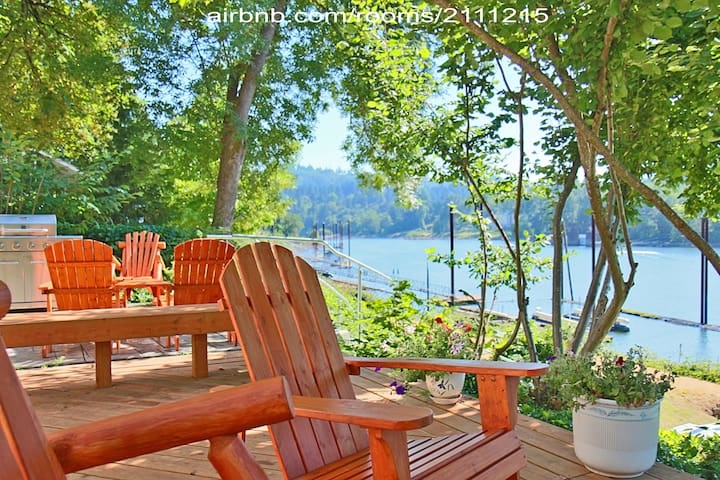 Kelly and King were great hosts. The place was clean and well maintained. I would recommend the place to any family.
Mark
2015-02-26T00:00:00Z
Tipo de habitación
Casa/apto. entero
---
Tipo de propiedad
Villa
---
Capacidad
6
---
Dormitorios
Portland, Oregón, Estados Unidos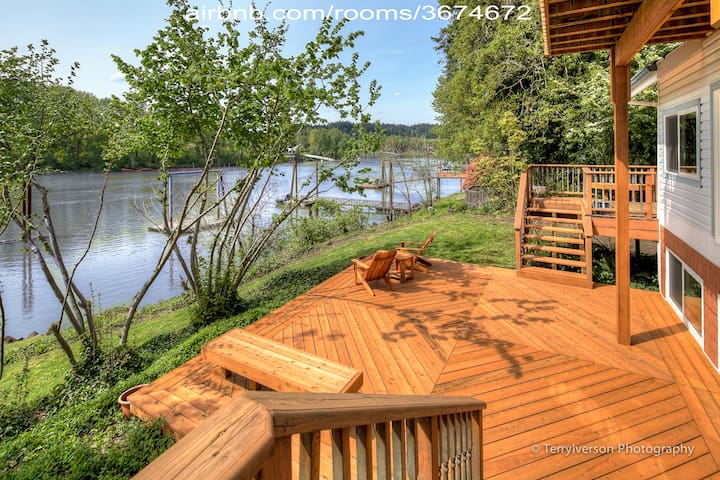 West Linn - Airbnb
:
Una media de

4.55

estrellas de un total de

5

de

120

evaluaciones de huéspedes
1

–

4

de

4 Alquileres de Villas
Introduce las fechas para ver el precio total. Ten en cuenta que se aplicarán tarifas adicionales y es posible que se añadan impuestos.