4 Alquileres de apartamentos
Our bright and sunny second floor self contained studio apartment overlooks beautiful Lake Clear. Perfect for a couple looking to relax in a beautiful, quiet, country setting. You may enjoy just sitting by the dock with a book, or for fun, use the canoe or paddle boat.Swim in a clear, spring fed lake and then lounge by the shoreline as you watch the boaters pass by. There is a small sandy beach area if you prefer to wade into the water or launch your own small boat. For shade, try our gazebo.
Beautiful, bright, clean, self contained studio apartment overlooking Lake Clear on second floor. Wooded areas on three sides, lake in front. If you like your bedroom really dark in the morning, this is not the place for you, as there are many windows on all sides and you may catch the sunrise as you look toward the lake. On summer nights, sit by the dock or campfire and watch the clear night sky as you listen to loons calling. Algonquin Park is only 1.5 hours away or Bon Echo Park 1 hour away, if you enjoy hiking. In winter, Calabogie Ski Hills are 40 minutes drive.
We are on a lake with over 17 islands and the swimming and fishing is exceptional. Lake Clear comes by its name because it is a beautiful clear, spring fed lake and we are surrounded by hills and woods if you enjoy hiking. There is a small beach area if you have your own kayak. If you are looking for a quiet country setting on a lake to decompress, this is the place. We have high speed internet and Wifi, however cell service is not available. We have Netflix and a DVD player. The town of Eganville is a twenty minute drive away. Renfrew and Pembroke are both 45 minutes away. Central Ottawa is two hours by car. Calabogie ski hills are about 40 minutes from here. Algonquin Park is 1.5 hours away and Bon Echo Park is about 1 hour from here.
Elizabeth and David were wonderful hosts, they were extremely friendly and helpful. They made sure my stay with my girlfriend was as comfortable as possible! Their place is beautiful, peaceful and lovely. If you want to be 10 metres away from a beautiful calm lake and under a sky full of bright stars, then you should definitely stay here! Thank you! Peter
Peter
2016-09-25T00:00:00Z
Just a great great airbnb experience. We looked for a calm place to stay after our stop in Toronto and we definetly found it at Elizabeth and Davids place. Such a beautiful apartment directly at the lake. Everything was like announced. The hospitality was great too! We definetly recommend a stay at their place.
Theres
2016-09-18T00:00:00Z
Elizabeth and David welcomed us warmly and gave us a quick review of how everything worked. They were very eager to please and quite accommodating. We felt at home almost immediately.
Claude
2016-10-15T00:00:00Z
We stayed with Elizabeth and David 4 days and it was just amazing. We couldn't have been in luckier with the the location and the hosts. They are kind, helpful and like to share. We had a nice barbecue with very interesting conversations with Elizabeth, David and Blair. They introduced us to the Canadian way of life and showed us how to make "S'mores" and let us borrow their canoe. It's a very special place they have and we hope to come back as soon as possible! Thank you very much for making our stay so comfortable and relaxing. Mareike and Patrick
Mareike
2016-09-22T00:00:00Z
We stayed at Elizabeth & David's home for two nights and had an amazing time. The property is stunning. It is situated on a beautiful, clean lake, in a peaceful and quiet setting. Elizabeth & David are such kind people who will open their doors and welcome you like family. They let us bring our four-legged friend Pixie. Even she couldn't stop talking about how much fun she had! If you are looking for a quiet, relaxing getaway that immerses you into what the countryside is all about- this is it. We would definitely return. Happy renting! Your friends, Chloee Kevin and Pixie :)
Kevin
2016-08-20T00:00:00Z
We were very pleased with the clear and timely communication from host Elizabeth. The reception was warm and gracious as well as being thoughtful and informative as to the logistics of the apartment. This is a beautiful property that provides guests with a unique opportunity to fully enjoy some of the
Joanne
2016-11-09T00:00:00Z
We had a great time (EMAIL HIDDEN)munication was responsive and helpful. They greet us very warmly when we arrive even it was later in the night. Their place has an amazing view of the lake and things are kept very organized and clean. They even went the extra mile by providing some drinks, light breakfast and home baked goods (which are delicious). Overall, a great experience for us and I recommend this place for sure!
Leon
2016-11-13T00:00:00Z
Elizabeth and David were the most welcoming people! We had an amazing time at their place. It was more breathtakingly beautiful than can ever be described! They had breakfast items as an added bonus. The room itself is just gorgeous, with ceiling to floor windows for the perfect view of the lake. I definitely cannot wait to go back!
Spandana
2016-08-22T00:00:00Z
Tipo de habitación
Casa/apto. entero
---
Tipo de propiedad
Apartamento
---
Capacidad
2
---
Dormitorios
Eganville, Ontario, Canadá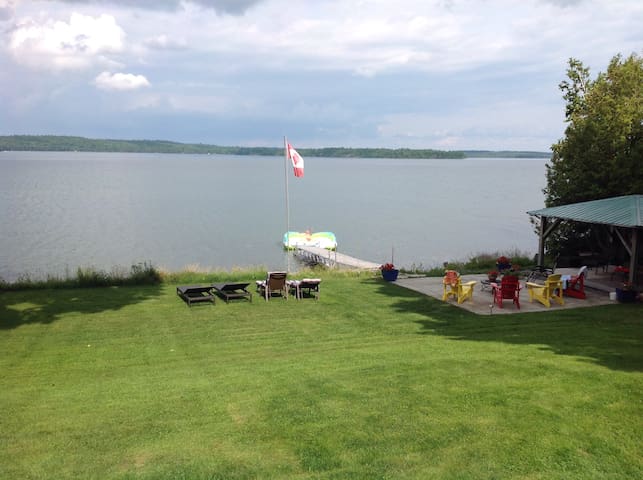 Tipo de habitación
Casa/apto. entero
---
Tipo de propiedad
Apartamento
---
Capacidad
6
---
Dormitorios
Cormac, Ontario, Canadá
Wir sind nur 10 Minuten vom Eingang Osttor des Algonquin Provincial Park. Die Wohnung befindet sich im Erdgeschoss (weiße Doppeltüren) mit Ihrem eigenen Eingang und Parkplatz. Völlig privat mit einer voll ausgestatteten Küche und eigenem Bad.
Privat-Wohnung mit Parkplatz und eigenem Eingang. Voll ausgestattete Küche mit Kaffeemaschine und Wasserkocher ausgestattet, keine Mikrowelle und ein Badezimmer mit Badewanne. Es gibt ein Doppelbett und ein ausziehbares Sofa zur Verfügung. Bettwäsche, Decken und Handtücher sind für das Bett nur zur Verfügung gestellt. Bitte bringen Sie Ihre eigene Bettwäsche für das Schlafsofa. Die Wohnung bietet Platz für 2 bis 4 Personen oder Familien mit Kindern, alle sind verhandelbar. Wir leben im Obergeschoss auf der Hauptetage.
Die Unterkunft liegt gut zum Algonquin Park. Wir haben von Kirk gute Tipps für Trails und Unternehmungen bekommen. Die Gastgeber waren sehr hilfsbereit, zuvorkommend und unkompliziert.
Klaus
2016-08-03T00:00:00Z
The apartment was exactly as described by Mariska and Kirk. Very clean and spacious for two people with a fully equipped kitchen. We enjoyed the great location as well - it is located very close to the east entrance of the park. I will definitely consider staying there again for my next trip to Algonquin.
Jacqueline
2016-05-09T00:00:00Z
I think this was our fourth stay with Kirk and Mariska (I've lost track). Kirk met us again when we arrived. They are excellent hosts and even started a fire for us in the firepit after we met Kirk on the Algonquin trails and mentioned we thought we would go out when we got back to the cabin. This is a great place if you are interested in exploring the park in winter and Kirk and Mariska are very knowledgeable about this. Would recommend this stay and will be back again.
Carol
2017-02-13T00:00:00Z
Mariska and Kirk's place is exactly what we wanted. Beautiful place in the middle of the woods. Fresh snow on the trees every morning. Just gorgeous. Easy and cozy and relaxing.
Mary Elizabeth
2017-01-08T00:00:00Z
Warm and friendly hosts. Comfortable and cozy place. Very positive experience overall and great choice for nature escape! Thanks a lot for all your help!
Asta
2016-12-09T00:00:00Z
We really enjoyed our stay with Mariska and Kirk and will definitely be back! They are fantastic, knowledgeable hosts and we will miss our daily chats with them. Their place is situated on a beautiful plot of land, and is well-appointed, cozy, clean and comfortable. It is also conveniently located, being close to Algonquin Park and other amenities in Whitney. Can't wait to visit again!!
Lydia
2017-02-20T00:00:00Z
This place is incredible for any budding adventurer! So close to the east entrance of the park and the cabin feels so secluded in the woodland. The space was a great size, really clean and comfortable. Mariska and Kirk were so friendly and welcoming and we were so sad to leave! Hoping we can return very soon as this place was amazing.
Ione
2016-06-05T00:00:00Z
It was a very nice stay at Mariska and Kirk's house.. Its a hidden gem. Quite,clean and well maintained.. Though our stay was very short,just one night but we thoroughly enjoyed our stay.. Mariska was very welcoming and guided us with the whereabouts of the park as this was our first time there.. We highly recommend this place to unwind from the busy city life.. We will surely come back for a longer stay in future.. Kirk also told us quite a few interesting things in a short chit chat as we were pressed for time.. Overall amazing place and good hosts..
Anshu & Amit
2016-06-19T00:00:00Z
Tipo de habitación
Casa/apto. entero
---
Tipo de propiedad
Apartamento
---
Capacidad
4
---
Dormitorios
Whitney, Ontario, Canadá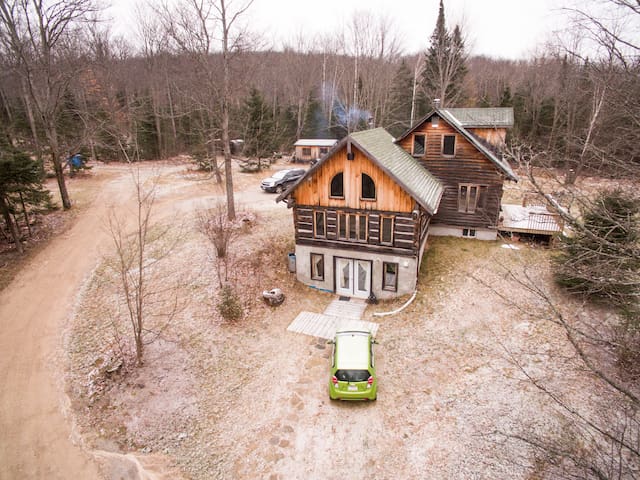 Private and quiet 2 bedroom apartment with ample parking, large wooden deck with furniture and BBQ, laundry, facing gardens, fire-pit, and trees, located on a main highway on edge of Bancroft, 1 hour from Algonquin Park, 20 min from Silent Lake Park.
This is an attached but private fully furnished 2 bedroom apartment with living room, fully equipped kitchen, and 3 piece bathroom. All linens are supplied and included in the price. One bedroom has a queen bed, the other a double bed, and the living room couch pulls out into a double bed. There is also a fold-up cot for use. We are 5 km from the town of Bancroft, Ontario on a main highway, Hwy 28S. Bancroft is one hour south of Algonquin Park and 20 minutes north of Silent Lake Provincial Park. A BBQ and fire-pit are also available for use. Wireless internet is available for use. Pricing is per double occupancy per night. Ask about bringing pets.
We have easy access to town, are within one hour of Algonquin Provincial Park, and 20 minutes of Silent Lake Provincial Park. There are several lakes, hiking spots and rivers in the area.
Great place and perfect stay. It is a very functional place, like having your own apartment. Everything you need to cook and live. Will stay there again next time I need a place near Bancroft.
Dan
2015-08-20T00:00:00Z
Located just outside Bancroft; host gave good directions & was very accommodating re: several changes in # of guests. Suite was as described & was clean & comfortable. Easy ample parking. Very helpful document with wifi password & other info about where to find things, etc.
Rachel
2016-02-29T00:00:00Z
A very cozy and clean place! Very nice people! I definitely recommend them to anyone visiting Bancroft.
Javier
2016-05-23T00:00:00Z
Great location. Good house (can be done up a bit better) all necessities provided for. All in all we had a good stay despite some initial obstacles
Ananth
2016-09-06T00:00:00Z
The croisants, yogurt andfruit were a great touch!
Cam
2016-08-23T00:00:00Z
A "home away from home" indeed! Very comfortable and everything we could possibly have needed was supplied. Carolyn knew that we would be arriving late and kindly provided the makings of breakfast which was a very pleasant surprise. Having internet service available was a nice addition, but don't expect to be able to stream video or anything. It is certainly more than adequate for email and web surfing. Location was very convenient but a little hard to find in the dark the first time - luckily Carolyn's instructions were very clear. We would definitely look to stay again if in the area.
Jon
2015-08-05T00:00:00Z
Extremely caring host. Great location and well maintained property.
Sunil
2015-10-12T00:00:00Z
房源比图片上的还要漂亮!屋子非常干净,装修风格很典雅,设施也很齐全,房东还很贴心的留了很多食品和生活用品。房子的位置很好,就在brancroft小镇旁边,秋天的时候周围的景色很美,能看到湖和大片的枫树。非常满意的入住!
katherine
2016-10-10T00:00:00Z
Tipo de habitación
Casa/apto. entero
---
Tipo de propiedad
Apartamento
---
Capacidad
6
---
Dormitorios
Bancroft, Ontario, Canadá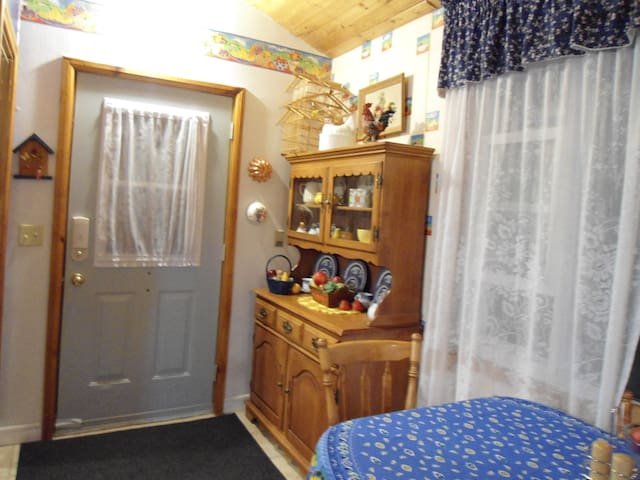 Wilno - Airbnb
:
Una media de

4.91

estrellas de un total de

5

de

123

evaluaciones de huéspedes