We stayed at Brian's place over the NYE holiday and loved it. Fantastic house and perfect communication. Couldn't have been better. Highly recommend. We'll be back!
Kim
2017-01-02T00:00:00Z
Brian was an excellent host! There if we needed him, but not intrusive on our visit in any way. He also accommodated us last-minute after Hurricane Matthew ruined our planned vacation, and I'm so grateful that we were able to make this work as an amazing alternative. The house is beautiful and of course is surrounded by acres of gorgeous VA landscape. More than enough room for the six of us to cook, relax, and drink Brian's wonderful wine, which he was kind enough to share with us. We would definitely come back here!
Kelsey
2016-10-11T00:00:00Z
Where do we start? Brian was very thoughtful and welcoming, giving us a personalized welcome packet. We brought three dogs and they absolutely loved the 4 acre fenced backyard. The view from every room of the house overlooks pastures, valley, and mountains. Combine that with all the walking trails, horse pastures and alpacas, the giant fireplace at the absolutely gorgeous (and delicious) winery on the property, the easy drive to unique restaurants and historic sites - and you've got a real gem. We are already planning our return.
Agata
2016-12-17T00:00:00Z
Wonderful place to stay with amazing views! Very convenient to Great Meadow, The Plains, & Middleburg. Loved the kitchen so much we stayed in and cooked every night. Beds were very comfortable!
Denise
2016-11-06T00:00:00Z
Great house with incredible views. The pictures don't do it justice. Comfortable beds and lots of space for our group of 10. Was so nice to be on the vineyard property. Really a great getaway - and even llamas and horses on the property. Brian welcomed us at the house and showed us around. He was very accommodating for our large group.
Sara
2017-03-12T00:00:00Z
Pretty house that has a great layout in a very scenic location. We had a great time overall -- we cooked breakfast at the house and hung out in the beautiful backyard. The winery is walking distance. Our dogs may have had an even better time running around the large fenced backyard. Towels and linens were great. I stayed in the master bathroom, which was nice. However, my guests that stayed in the room with two beds complained about a strong odor and the shower in that room did not work. Otherwise, the house was great.
Jarrod
2017-02-26T00:00:00Z
Beautiful views looking down on Barrel Oak Winery and the local scenery. Easy drive from DC. The house was well equipped with everything we needed and then some. Our dogs loved the property and enjoyed running the fence with Brian's dog, and barking at the local animals. We had young kids with us and it worked well for us, but note it's not "kid proofed" nor is it advertised as such. Our 15 month old and 2.5 year old did great despite this. Brian was there during our stay, but we only saw him at check-in, and it otherwise had no impact on our stay. We'd recommend it and would consider it again.
Eric
2017-02-19T00:00:00Z
Fantastic house in a truly beautiful setting. Easy walk, amid horses, puppies and alpacas, to Barrel Oak Winery. Very comfortable beds, large gourmet kitchen and perfectly set up for your dog too.
Clay
2016-10-16T00:00:00Z
Tipo de habitación
Casa/apto. entero
---
Tipo de propiedad
Villa
---
Capacidad
14
---
Dormitorios
Delaplane, Virginia, Estados Unidos
Cette nouvelle marque maison de style lodge 10,000sf offre la retraite privée de luxe ultime pour les réunions de famille, les réunions d'entreprise hors site, et les grands événements de toutes sortes. Il est construit des matériaux les plus nobles de la pierre locale et de feuillus. Profitez de notre table de poker, billard et table de billard, piano, bibliothèque de DVD. * Bain à remous géant * Salle de jeux avec table de billard, téléviseur HD, d'autres équipements de jeu * Coin salon avec TV HD * TV par satellite, wifi gratuit * Barbecue extérieur * Foyer extérieur et des sièges
Grande salle de jeux avec table de billard, téléviseur HD, d'autres équipements de jeu salon de style cathédrale avec la TVHD Grande cuisine gastronomique à l'étage cuisine style cuisine en bas
This place was amazing. Unbelievable amount of space to easily accommodate our group with plenty of room left over. The house was beautiful, the amenities were great, and Paul as extremely responsive and helpful. The house provided plenty of entertainment options in the event you get sick of your group. It was also very secluded so no worries about being too loud. I would definitely recommend and also plan to book again during the summer.
AARON
2016-02-01T00:00:00Z
We had a wonderful trip here celebrating my boyfriend's 30th birthday! The house was absolutely beautiful, had all the amenities you could want, and lived up to everyone's expectations! We would highly recommended the home for family gatherings, celebrations, or retreats!
Ashley
2015-02-02T00:00:00Z
房子是个很适合度假的房子,宽大的让人难以置信,配套设施很完备,儿童游乐场、烧烤场、篝火场,2个超级大的厨房,非常大的活动室,很多娱乐设施,风景美丽的户外休息间,8间房,包括1楼4间上下铺房,每间房可以睡8个人,楼上3间双人床房,其中一间套房能睡6个人,这个房子能轻松容纳40个人活动。设施很完备,在这里做饭和度假是种享受,最好能住3天以上,附近的河流有很多户外活动,注意3点就会结束营业了,梅花鹿和野兔也是这里的常客,早上会很容易碰到他们,晚上的篝火活动绝对会让你终身难忘。但很可惜,相比较让人着迷的房子,这里的房东让人失望。很显然这是一个公司经营的旅馆,工作人员在与房客的沟通中,很生硬也很商业化,没有人情味,处理问题也显得冷漠和无情,缺乏沟通与交流。垃圾要住客自行带到步行3分钟以上的路口处理,否则就要收取一袋5美金的费用,而我们就没发现有垃圾桶,而且这些不合理的要求是在住客入住之后才提出来,也没有通过AIRBNB官网沟通,而是通过发送很长的邮件进行沟通,让人很不能接受,也不能理解。在发生损害时,也没有与住户进行充分的沟通协商,就提出扣款要求,让人很不舒服。保证金条款需要认真的考虑,房东并没有调查取证和执法的权利,最好能及时充分的友好交流和沟通。房东安排维修工人到住所修理了一天的围栏,也不提前跟住客沟通,让人感觉没有安全感。房东需要提供更人性化的服务和友善的态度,发生问题要保持沟通和协商,这家旅馆的房东是我们这次旅程最不满意的一家。
Flylwb
2016-08-23T00:00:00Z
This house is simply perfect for a large group looking for a getaway in the mountains! It is so spacious and had everything we could possibly need! Both kitchens were updated and had an abundance of cookware (pots, pans, etc) for use to prepare meals (not something I usually see with airbnb rentals!). The bedrooms were big and there were enough beds for a small army! The lounge spaces were super comfortable and there were multiple places where people could hang out and relax. The fire pit was awesome and made for a really fun activity/hangout for the group. Most importantly, the communication between the renters was superb and covered every detail you could think of. Additionally, any issues that we brought to their attention were immediately addressed and taken care of. We will definitely be back for another stay!
Kerry
2017-01-08T00:00:00Z
The Westcott House was perfect for our annual reunion trip. Paul was very communicative through the whole process. We had a family emergency right before the trip and Paul worked with us to update our reservation accordingly and was very understanding. The house itself was perfect. All the towels and linens were very clean and there is signage all over the house letting you know where everything is. The space is huge and nicely furnished. My personal favorite space was the basement rec room which had its own kitchen. 10/10 would come back again.
Mike
2016-02-22T00:00:00Z
This house was perfect for us. We rented for a group of 16 adults to celebrate a 30th birthday. The house is huge - there was more than enough room for everyone - and it looks even better in person. The pictures don't do it justice. The was plenty of space in the yard for us to play games, and the fire pit was an awesome perk for nighttime. You should know this really is in the middle of nowhere. If that is what you are looking for, then this is perfect. Communication with Paul & Emily was quick and easy - the directions/instructions they provided were clear and detailed. We will definitely be back!
Carly
2017-02-19T00:00:00Z
We loved this house. The directions were very clear and easy to get to. The house was spacious and fit all of us comfortably. Towels/Linens and bedding were very comfortable. We had an issue with some outlets in the kitchen and the fireplace wasn't working. Called Paul and was instantly helpful! You should know that the house doesn't have salt/pepper and oil in the kitchen. Took us by surprise. Also, bring cash to tip the housekeepers or if you want them to take out the trash. We definitely didn't plan ahead. Parents with babies should note that the King bedrooms don't have any curtains/shades. Great stay though.
Diana
2015-03-16T00:00:00Z
Tipo de habitación
Casa/apto. entero
---
Tipo de propiedad
Villa
---
Capacidad
16
---
Dormitorios
Luray, Virginia, Estados Unidos
The host canceled this reservation 9 days before arrival. This is an automated posting.
David
2016-11-16T00:00:00Z
This place is so spacious (3 bedrooms, but it can sleep 8) and is situated in a great location with gorgeous views of the blue ridge mountains! Lynn was a wonderful host who showed us all of the bells and whistles of her property (amazing speaker system, outside dining, fishing pond). We loved how every room had access to outside and the views. I am definitely going to rent this place again with a group of friends so we can check out the local vineyards and breweries. Oh- and if you're a dog lover, Finn and Tilly are the best dogs and will make it even harder to say good-bye to the place when you leave. The only thing I'd emphasize is Lynn's flag about not being suitable for young children. She has very nice artwork and fragile pieces throughout the house so watch them carefully or plan to play outside!
Amanda
2017-03-26T00:00:00Z
Tipo de habitación
Casa/apto. entero
---
Tipo de propiedad
Villa
---
Capacidad
8
---
Dormitorios
Washington, Virginia, Estados Unidos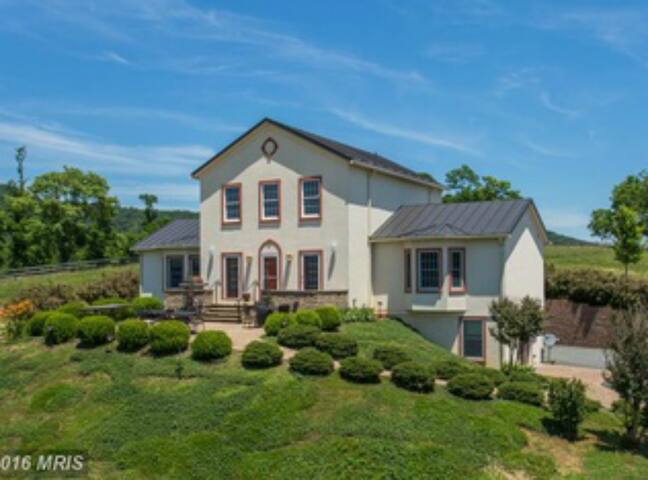 Woodstock - Airbnb
:
Una media de

4.13

estrellas de un total de

5

de

24

evaluaciones de huéspedes
1

–

3

de

3 Alquileres de Villas
Introduce las fechas para ver el precio total. Ten en cuenta que se aplicarán tarifas adicionales y es posible que se añadan impuestos.