Cavelands es un lugar en la selva con cabañas de estilo maya 3 3 capacidad para 2 pers con una cama doble y con baño compartido. No hemos otro llamado a la bruja de baño cuarto de baño adjunto y dieron con una cama doble y 2 individuales cauche capacidad para 5 personas $ 85
El lugar está ubicado en la selva por lo que cada Cabana tiene un jardín a su alrededor con una gran cantidad fuera space.There privada son walkpaths en la propiedad donde se puede hacer la observación de aves durante su estancia. El lugar tiene un cenote privado.
Llegamos alrededor de Cavelands un bonito pueblo con mucho encanto maya Chemuyil con algunos pequeños restaurantes y una cantina a tomar algo, se dieron pequeñas tiendas para comprar sus primeras necesidades. Cavelands es Muy cerca de la famosa Xcacelbeach donde la raza tortugas, y hay un bonito cenotes alrededor.
Son cabañas en selva.
Sofia
2016-12-25T00:00:00Z
We had a great stay. We were worried it would be difficult to find but it wasn't. Marinus greeted is and was very friendly. There are shared showers and toilets but they were well maintained, adequately private, and the water was fantastically hot. Showers were awesome. There is a shared kitchen. Dogs are on the premesis but only barked in entry. They were friendly after. The beach is a five minute drive away . The village is a five minute walk away. We had a good stay. We were the only ones there but had a great time.
Sonja
2017-03-23T00:00:00Z
Super adorable grounds and facilities. Just watch out for the dogs if you're on a scooter.
Tiffane
2016-12-28T00:00:00Z
Wonderful little jungle cabana - certainly very rustic! Not often you'll find a property with cabanas, a tipi, an RV, and simple tent camping sites all in one place, so you can choose what level of rustic you're comfortable with. I was happy to have the electricity of the cabana! And A/C wasn't necessary at all, it was nice and cool in the evening, at least in January, and not too buggy. Also as Renzo said, "best shower in Mexico". Easy to find and get to driving (about 15-20 minutes from Tulum town), or you can take the local collectivo bus and Renzo is willing to pick you up (otherwise it's a 20+ minute walk on a dirt road). We explored on our last morning and took a dip in the cenote, never got to the beach though or the village, which had 1 or 2 restaurants. The cabana was our base to explore the rest of the area so I couldn't imagine not having a car while staying here, but others managed without. You can tell that Renzo put his heart into building the place, and was a very accommodating host. A unique guy, and unique experience!
Yana
2016-01-05T00:00:00Z
Marinus (aka Renzo) was a welcoming, kind and gracious host. He made us feel right at home and encouraged us to explore the property, cook in the kitchen, and make a fire in the fire pit. The cabana we stayed in had a comfortable bed, plenty of fans to keep cool and misquito nets. We had complimentary Nescafe on our little porch each morning and relaxed in hammocks in the afternoon. His place is about a 2 mile walk from the beach but he also has bikes to rent. The public beach is gorgeous, the water is crystal clear, and not very busy. We had the place mostly to ourselves and found a great shady spot to hang the hammocks that we brought from home. Renzo also had snorkels for us to use and there is a gorgeous reef there just off the beach, Its also easy to get around the area, visit tulum, and get to the airport. The little town of Chemuyil is charming and has a fine little restaurant that has wifi ( There isn't any at Renzo, but he has electricity to charge things up). We were happy to get off the grid a bit. I really recommend stopping here to relax, soak up the Mexican lifestyle, and get away from it all.
Amanda
2016-04-27T00:00:00Z
My partner and I traveled all over Yutacan and Quintana Roo; traveling in multiple types of class structures-amongst the rich, middle class and the poor. The Cavelands was absolutely a delight and a highlight of our trip. We could not recommend this place more to all travelers. It is situated close to a quaint and charming town called Chemuyil, beautiful beaches and cenotas. Upon arrival we stayed in a clean and airy cabana that had its own fans, refrigerator, chest of drawers, towels, bed, hammock, electricity, etc. The man who owns Cavelands is a rustic world traveler from Holland that has many years of experience and expertise. I hope anyone who reads this decides to stay here!
Katherine
2017-02-08T00:00:00Z
We were welcomed with open arms and made to feel right at home. As far as the neighborhood was concerned we stayed in a hut in the jungle as was expected, it was what we were looking for. The hut was clean and spacious. The grounds themselves were clean, litter free, and lit well enough. Renzo is a wonderful host that will make sure you have everything you need to make your stay enjoyable.
Mike
2016-02-10T00:00:00Z
Tipo de habitación
Habitación privada
---
Tipo de propiedad
Bed & Breakfast
---
Capacidad
2
---
Dormitorios
Chemuyil, Quintana Roo, México
Disfrutar de su propio pequeño rincón de paraíso en la hermosa Bahía de Soliman, uno de los lugares más pintorescos de la península de Yucatán. playa de arena blanca, palmeras y se encuentra de coco, "Tarzán y Jane" ducha y baño al aire libre son todos muy respetuoso del medio ambiente.
La rusticidad de los edificios y los bienes dejados como siempre lo ha sido en el hermoso Caribe Mexicano.
bahía protegida con casas residenciales y un pequeño hotel.
La mejor opción sin lugar a dudas: - Ubicación inmejorable, no se puede vivir la playa con mayor intensidad, descalzo sobre la arena para ir al baño o la cocina, todo lo necesario (kayaks, hamacas, pies de pato ...), increíble bucear junto a tortugas o mantas, amaneceres estremecedores, románticos paseos por la playa,.... - Trato exquisito: Sandy y David siempre encantadores y atentos pero, a la vez, extremadamente discretos y respetuosos. - Nuestra cabaña romántica: Vista al mar espectacular, Con todo lo necesario, limpia, cama amplia y cómoda. - Muy fácil acceso desde la autovia y a solo ocho minutos del pueblo de Tulum en coche. - Control de acceso y servicio de seguridad privada en la playa, perfecto. ¡¡¡EXPERIENCIA INOLVIDABLE, VOLVEREMOS!!!
Alicia
2016-02-14T00:00:00Z
Mejor lugar para hospedaje en Tulum. La baia es increible! Si quieres tranquilidad y naturaleza, es la mejor opcion. Una pieza de playa todavia no tomada por resorts! En transporte público puedes ir a Cenotes y al centro de Tulum, caminando cerca de 15 minutos. David y Sandy san mucho gentiles. Recomendo muchíssimo!
Larissa
2016-05-07T00:00:00Z
I can't even describe in words how great this place made us feel. I stayed here with my girlfriend for five days and I've never been happier. Not only is the location and housing amazing, the hosts David and Sandy feel like your cool aunt and uncle that you haven't seen in way too long. They were very easy to communicate with and were so warm and friendly upon our arrival after a long rainy night drive. I couldn't imagine going to Tulum and not staying here. We're not huge fans of touristy spots and big hotels/resorts with tons of people. This place was perfect. We had every breakfast on the beach with their super cute little dog and cat hanging around. They had a couple kayaks with snorkel gear we'd take out in the bay which was protected from waves and crowding. It's one of the few places I've ever been to where I thought "This looks even BETTER than the photos!" as we are all so used to being deceived by images of a location. The Last Resort is a must if you are looking for a true getaway where you aren't surrounded by tons of other tourists in a cookie cut hotel. Despite being on the beach, they keep everything remarkably clean and the room interiors are very very cozy. We were so sad to leave and can't wait to go back already.
Julian
2015-08-10T00:00:00Z
Couldn't of had a more relaxed, enjoyable few days here. The location is beautiful and the whole set up is pretty fab. Particular highlights included taking the kayak out and snorkelling in the bay and the fish served at the nearby eats on the beach was top notch. Sandy and David were lovely hosts and were on hand with tips and nice chats. Thanks would love to return!
Helen
2015-12-27T00:00:00Z
This place was simply amazing. A piece of paradise. Not only are you steps away from the ocean, but can go snorkeling right from the beach. We took the kayaks out to the buoys and saw hundreds of beautiful fish. Our room was clean, we had an amazing view of the water, and the ocean breeze came in through our windows all night. There are two restaurants nearby and a small market for snacks and drinks right down the road. The area is safe, and everyone that we met in the community was friendly. The Last Resort is peaceful and away from the busy hustle and bustle of the more tourist-crowded areas. Yet, you can easily catch a colectivo to the cenotes, Tulum or the ruins for 40 pesos or less. We enjoyed our time with Sandy and David, two truly great people. And their pets are equally as amazing (we loved Moky). There is no better way to experience the Yucatan.
Carmen
2015-12-18T00:00:00Z
We had a wonderful week with David and Sandy. There was everything we needed in a very private and peaceful atmosphere. We hired a car and took day trips, coming "home" to the beach every day: a perfect mix of chilling out and activity. Sleeping so close to the ocean with the sound of the waves was wonderful. David and Sandy are very kind, helpful and attentive. We felt we had the best deal in Tulum!
Terri
2016-01-05T00:00:00Z
Our stay with David & Sandy was one of best holiday experiences. The Last Resort (name of their place) is set in paradise, a beautiful bay with palm trees and sandy beach. Their place is set on the beach and is a hidden gem, with some of the best food we've had both at their weekend restaurant (Sat & Sun) and another restaurant just a few hundred metres up the beach. David & Sandy are wonderful hosts, and it really felt like a second home. We can't wait to go back :)
Howard
2015-02-22T00:00:00Z
This is an amazing place to stay. It is like having your own nearly private beach to stay on with palm trees for shade, kayaks for going out in the water, lounge chairs for hanging out, a full kitchen to make your own meals (or margaritas!), and so much more. We absolutely loved our time there. David and Sandy are wonderful hosts as well. It was a perfect vacation!
Heather
2015-12-02T00:00:00Z
Tipo de habitación
Habitación privada
---
Tipo de propiedad
Bed & Breakfast
---
Capacidad
2
---
Dormitorios
Playa del Carmen, Quintana Roo, México
Disfrutar de su propio pequeño rincón de paraíso en la hermosa Bahía de Soliman, uno de los lugares más pintorescos de la península de Yucatán. playa de arena blanca, palmeras y se encuentra de coco, "Tarzán y Jane" ducha y baño al aire libre son todos muy respetuoso del medio ambiente.
La rusticidad de los edificios y los bienes dejados como siempre lo ha sido en el hermoso Caribe Mexicano.
bahía protegida con casas residenciales y un pequeño hotel
Muy buen lugar.....muy buena gente.....recomendable
Martin
2015-05-12T00:00:00Z
Me encantó la estancia y la atención de los anfitriones son muy amables y el lugar es increíble para descansar y alejarse del estrés de la vida cotidiana :) saludos!
Tania
2015-02-16T00:00:00Z
We had an incredible time staying at David and Sandy's place! They were very welcoming and easy to communicate with. We got there pretty late but they still showed us the place and made sure we had everything we needed. Sandy even got us some pesto and pasta in case we hadn't had time to get dinner and indeed we were starving ;-) The place is simple and rustic but absolutely wonderful. The location is perfect; we woke up to the most beautiful bird songs each morning and the Mexican Caribbean including the amazing coral reef are right in front of the doorstep! We saw turtles and sting rays on multiple occasions while snorkeling just a few meters from the shore. Their two dogs and the cat are adorable and especially Mimi, the friendliest Lab mix, was great company and joined us for our walks along the beach. Thanks for sharing your little paradise with us, we would love to come back!
Sean
2016-03-06T00:00:00Z
First of all Sandy and David are the best possible hosts and second there little paradise is by far the nicest place I have seen so far on the Riviera Maya. The Soliman Bay is still laid back and the mass tourism has not hit it yet. But even within the Soliman Bay "the last resort" is still something very special because of its unique layout. The palapas are spacious and very clean. The big plus is the well equipped kitchen and the wonderful hot outdoor shower we enjoyed a lot after a long day of diving. Another great point is that the property offers only 3 rooms. That way the beach feels very private because usually there are not more than two other couples staying at the resort. The beach is anyway a real secret treasure. Exactly what one expects from a stay at a Caribbean beach - hammock, nice breeze, corral reef right in front of you. To enjoy the beach and sea even more Sandy and David offer kayaks and snorkel gear (everything in fantastic shape). To get around you don't even need a car. It is a 10 minute walk to the highway where you can easily catch a collectivo that brings you in 15 min. to Tulum. For us it was especially perfect to stay somewhere close to the Cenotes which are a must see on a trip to Quintana Roo. All in all one of the best vacations we have had (and we have travelled the planet a lot). Thanks Sandy and David for sharing your beautiful home with us. We will never forget you two plus Mimmi, Mokey and Boots. We hope to be back soon.
Isabel
2015-12-26T00:00:00Z
We had a lovely stay at the last resort - this is truely a small piece of paradise! Please, never change anything ;) Thank you so much David and Sandy for the warm welcome on arrival and for being so helpfull with all our needs :) ... and especially thank you Mimi (dog) for being a great companion when enjoying the lovely breakfast and chilling on the beach. Hope to see you again soon :)
Louise
2016-05-11T00:00:00Z
This was without a doubt the best B&B we have ever stayed at. David and Sandy are such warm and welcoming hosts. They even drove us to town to buy groceries. The place is located at, I would say, the best spot of the entire bay. Almost no sea weed and a nice small beach. There is a five-star hotel at the entrance of the bay. David and Sandys place is much better located. The fascilities were always clean and nice. Kitchen is very well equipped for cooking. The bay has very shallow water and is great for snorkeling. We took the kayaks out to the coral reef every day to snorkel. Its like swimming in a aquarium. You can mount the kayaks out by the reef so they don't drift away. We will definetly be back next time we are in Tulum!
Daniel
2015-03-23T00:00:00Z
It was a Nice place and we had some nice and relaxed days here. The host was very nice and helpsom, and there was great breakfast with fresh juice.
Gabriele
2015-11-06T00:00:00Z
We booked only two nights, but should have booked more! David and Sandy are ideal hosts. Truly opened their hearts in addition to their home. There place is a private paradise. They let me and my girlfriend borrow their snorkeling gear and kayaks to go explore the bay. The two dogs and a cat on the property give it a feeling of home. Fantastic outdoor shower and kitchen. I'm sorry I ever left!
Eric
2015-06-26T00:00:00Z
Tipo de habitación
Habitación privada
---
Tipo de propiedad
Bed & Breakfast
---
Capacidad
2
---
Dormitorios
Tulum, Quintana Roo, México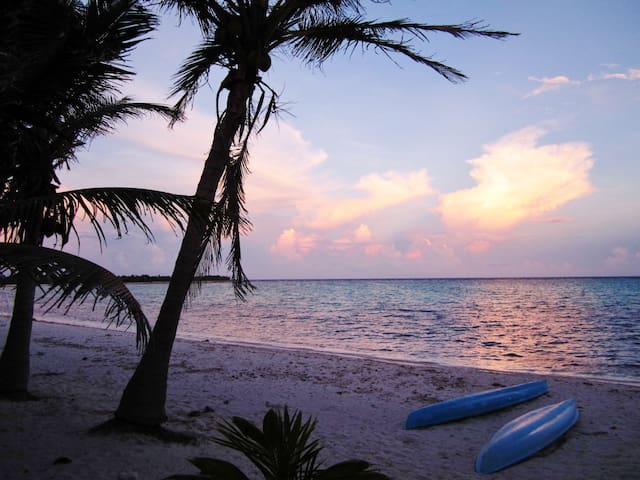 1

–

3

de

3 Bed & Breakfasts
Introduce las fechas para ver el precio total. Ten en cuenta que se aplicarán tarifas adicionales y es posible que se añadan impuestos.