The boathouse is a self contained deep waterfront timber cabin sleeping two upstairs in the loft and two downstairs in the giant day bed. Pitched ceilings and roaring fires. Waterskiing, reading and snoozing. Only an hour by car from the harbour bridge. And a five minute boat ride from Brooklyn.
Set on the beautiful Hawkesbury River, this is not just a 'river view'. The boathouse is literally on the riverbank. Tastefully decorated with a cosy wood burning fire, own bathroom and small kitchenette, bring whatever you need to eat and drink and settle in to get away from it all. We have cosy blankets, great books, games, wine glasses and everything you need for a romantic getaway or some family time. The River House, set above the boat house, is also available to rent with space for four adults, four children and a baby.
Milsons Passage is a lovely quiet community a short boat ride from Brooklyn and the Mooney Mooney boat ramp at Deerubbun Reserve. Stock up on supplies at Brooklyn as there are no shops or restaurants in Milsons Passage. The beautiful Estuary Restaurant is a short trip up the river and Peats Bite will send their own boat to pick you up and drop you back again after your amazing degustation lunch. There are tiny beaches dotted along the river and a shipwreck, waterfall and the remains of a church and cemetery can be found by those with an adventurous spirit. Milsons Passage is a small, quiet community of permanent residents and weekenders. It is not a resort style atmosphere. Loud music and disrespectful behaviour will not be tolerated by us our neighbours. BOAT ONLY ACCESS
The Boat House is pretty much as described with lots of character, right on the waterfront, and the 'highway' right out front, with its traffic of a different sort! As its the first stop, 5 minutes upriver from Mooney Mooney all the boats go past here and it makes for a diverting passing parade, with most observing the 'go slow' signs for this stretch of the river. For the 2 of us, a parent with his teenage son, the sleeping arrangements were fine, with the 2 beds, up and down. 2 adults on the day-bed downstairs would be pushing it though. It would be all right, if a bit squishy for a couple with 2 smaller children or better, just a couple. The upstairs loft is a lovely place to sleep but the mattress could definitely do with an upgrade. The highlight for us was the access to the 2 person kayak, a great way to explore the river if you are fit and a bit adventurous. The kitchen could be better equipped given you will be preparing all your meals at home. I would recommend it for anyone wanting a quick escape from Sydney, and having your own tinny would be the way to go.
Grant
2016-10-04T00:00:00Z
My children and I had a wonderful couple of days relaxing at milsons passage. The facilities were really comfortable and all the extras of hammocks, kayaks and outdoor chairs .etc. made it easier to enjoy the beautiful surroundings and weather. All the information that the host gave us was very helpful and accurate and Rob who transported us to the accomodation was on time and friendly and communicated well for our return transfers. We will definitely be coming back with my partner to share the beauty and feeling of the boathouse. My kids want to move there! Thank you.
Anthea
2016-09-29T00:00:00Z
We had a fantastic stay at Susan's boathouse. The location was unbeatable, metres from the river and easy to find by water taxi. Communication with Susan was great and a small issue with the toilet was fixed as soon as it was raised. The new 2.5 person kayak was great as we're all other facilities. If you're scared of heights the ladder to the bed is a little precarious to get down to the bathroom in the middle if the night but for us it was fine. Highly recommend as a great relaxing getaway.
Emma
2016-09-26T00:00:00Z
Awesome place, lovely hosts.
julien
2016-07-23T00:00:00Z
One couldn't find a better view in all of the Hawkesbury River. The boat house was well equipped, clean and tastefully decorated. The nights were a little chilly and the fireplace worked a treat! Susan was the perfect host. She communicated well answering our questions. We had a last minute change of plans which she was able to work around. It represents very good value for money. There was lots to see and do boating wise.
Mandy
2016-10-23T00:00:00Z
An amazing property that was perfect in every sense. The river boat house is in a tranquil and idyllic setting, with views we never tired of looking at. Our hosts were extremely helpful ensuring that we got the most out of our stay. Both our children enjoyed the trails and surroundings, it was lovely to see them minus their Ipads and actually enjoying nature. If you want a beautifully maintained accommodation with fantastic surroundings look no further. We will be back, if you'll have us!
Claire
2016-07-05T00:00:00Z
Upon arriving Dan and susan helped us with boat transfer and settled us in!! The place is absolutely stunning and has everything you need to escape reality for a few days! The games,books and DVDs are welcome additions! We cannot wait to return here!! Definitely be back if they will have us!
Lisa
2016-08-27T00:00:00Z
Had the most amazing 3 day stay at the Boat house! Perfect place to unwind from the stress of the city and was only 40 min from home. We were very lucky to have such warm weather in September (22-23 degrees everyday) so we spent most of our days sitting on deck chairs out on the jetty (Got a lovely tan too!) We caught a huge bream while fishing off the jetty and cooked it in the fire place for lunch. Delish! We came prepared and brought a few things to marinate the fish. We caught two jewfish while we were there but were undersized unfortunately, and after a few run in's with catfish, we gave up on the fishing. Perfect place for those who love to fish!! We woke up to watch the sunrise at 6am every morning. The mist over the water in the morning is so beautiful and worth the early wake! We watched a DVD from their large collection every night. In the evening we lit a fire in the fire pit and sat out watching the sun go down. It was the perfect getaway - we are already planning our next visit when we return from overseas!!
Brenda
2016-09-07T00:00:00Z
Tipo de habitación
Casa/apto. entero
---
Tipo de propiedad
Loft
---
Capacidad
4
---
Dormitorios
Milsons Passage, Nueva Gales del Sur, Australia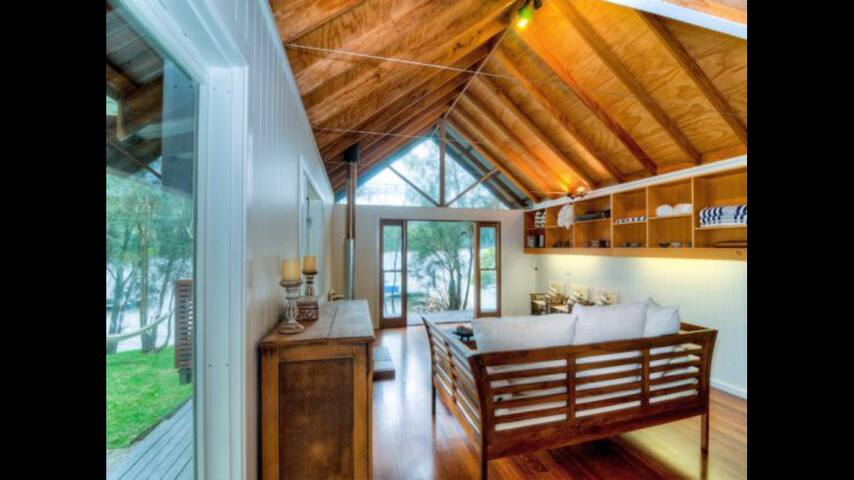 The Luxury WoodHouse loft Hunter Valley in the heart of Cessnock. This charming 1920s heritage 2 bedroom self contained loft is minutes to pubs, clubs, cafés, vineyards and concerts. Front and rear entertaining areas enclosed with hardwood balustrade.Industrial modern interior with high ceilings and exposed beams Enjoy like we do!
The space is perfect for business or pleasure. The location is perfect getting around town. We are close to supermarkets, restaurants, cafes and gift shops. Huge open plan living kitchen and dining filled with natural light from the four meter arched window. Exposed structural beams and meter high ceilings really opening the room up. Beautiful front and rear verandahs for BBQs and relaxing. Private bedrooms both with built in robes. Super comfortable sofa bed for kids or more friends.
We are in the heart of the Hunter Valley Wine area. We have the most unbelievable wineries, wines, cafes, restaurants and concerts.
Very spacious place at the heart of Cessnock.
Sandy
2016-04-26T00:00:00Z
Checkin process was smooth and Luke gave us very good suggestions on where to go and places to do. The board games were a nice touch. We enjoyed our stay very much! Thank you Luke!
En
2016-11-01T00:00:00Z
Luke's place was great. It is a very spacious and neat place, with a great location (only a 4-5 minute walk to Coles). It has all the facilities that we required and has a secured parking location. It's an extremely easy place to relax and really enjoy yourself.
Tom
2016-10-04T00:00:00Z
The loft is a perfect stepping off point to the vineyards and we loved the spacious volume and very functional furnishings of the loft. Luke got all the details right... Every condiment needed, well stock plates, glasses etc and a clean and empty fridge space to stick lots of groceries. Really enjoyed being able to BBQ and sit outdoors on the deck having given up outdoor space for years in Hong Kong so a treat. Plenty of separate seating areas and a very comfortable modular sofa at the TV and electronics made for great sharing wine and listening time. Only challenge is line drying of clothes if staying for an extended period of time, especially in winter. Overall, we will definitely stay here again when in Hunter Valley!
Betsy
2016-09-04T00:00:00Z
We had such a lovely time, the place was beautiful, clean, spacious and had everything we needed. It was also close to the shops which was very handy. Luke was a very helpful host, he made the entire process very easy. Would definitely come back and highly recommend.
Grace
2015-12-26T00:00:00Z
We really enjoyed our stay at The Woodhouse in Cessnock. The unit was large and very spacious. The bathroom and kitchen looks newly renovated in a modern, contemporary style to suit the loft syle apartment.
Amber
2015-11-16T00:00:00Z
Such an amazing stay. Perfect in every way. Luke was very accommodating and the facilities were 10 out of 10. Would definiteky stay there again.
Bridget
2016-10-06T00:00:00Z
Luke has a really awesome loft in this. This accommodation is in the heart of Cessnock and it was renovated & furnished in a simplistic way. The place is super spacious, loved how each piece of furniture was arranged and how the lights were installed too. With a private car park space just behind what I loved most about the place is there are two fantastic hangout place, the entrance and a balcony. Luke was very helpful in explaining some basic instructions as well as a few info on the town itself. Would love to visit this place again if I ever go to the area of Hunter Valley again!
JOSHUA
2016-03-15T00:00:00Z
Tipo de habitación
Casa/apto. entero
---
Tipo de propiedad
Loft
---
Capacidad
6
---
Dormitorios
Cessnock, Nueva Gales del Sur, Australia
Introduce las fechas para ver el precio total. Ten en cuenta que se aplicarán tarifas adicionales y es posible que se añadan impuestos.