Introduce las fechas para ver el precio total. Ten en cuenta que se aplicarán tarifas adicionales y es posible que se añadan impuestos.
2 Bed & Breakfasts
· Vale de Lobos
2 Bed & Breakfasts
· Vale de Lobos
In a quiet and beautiful place, in direct contact with Nature... Cozy suite in Belas Clube de Campo resort – Belas. Ideal for golf lovers, a comfortable suite with private bath, in a modern T2 apartment, inserted in the pleasant Belas Clube de Campo resort, only 17 kms and 15 minutes away from Lisbon. Available facilities: golf courts, swimming pool, healthclub, coffee shop, restaurant, laundry, health care at home, free parking. Security services 24h/day all year around. Living in Belas Clube de Campo is, above all, the privilege of living in direct contact with tranquillity. Surrounded by great natural richness and strong historic tradition, the site is situated in a privileged area, a triangle between Lisbon (capital), Sintra (history) and Cascais (beach), providing views of rare landscape beauty such as Cape Espichel and Palácio da Pena in the distance. Every detail was involved in adapting architectural excellence into the surrounding landscape, inviting you to an area of relaxation and leisure where time lingers and every moment can be savoured in a most unique way. Participating in outdoor activities and playing an invigorating game of golf with friends makes Belas Clube de Campo a special place where you will want to live. GPS coordinates: 38º48'30.00" N / 9º16'26.96" W - www.belasclubedecampo.pt
Tipo de habitación
Habitación privada
---
Tipo de propiedad
---
Capacidad
2
---
Dormitorios
1
Belas Clube de Campo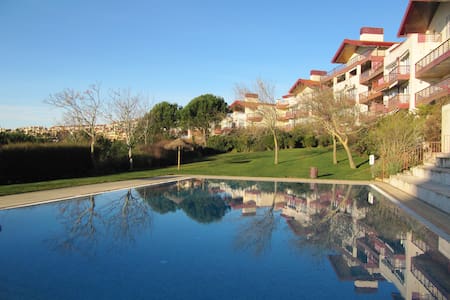 Conveniently Located, 25 km from Lisbon center and 7 km from Sintra, it can be easily reached by train in 30 minutes (the station is one block away) or by highway is about 15 minutes. Easy access and parking. Close to the historic center and parks, monuments and beaches of Sintra and Cascais. Comfortable clean, is a private room for one with a antique bed. The bathroom is shared with the host. Rio de Mouro is a city of 50 000 people and provides an opportunity to experience low money like Portuguese live. Neighborhood shopping is around the corner. And there are many restaurants, cafes and supermarkets. the host is friendly and easy-going and know much about the sites and history of the country and can give helpful tips or enjoying the area.
Manuel is very kind and helped me so much. And I know much more about Portugal through him. He even have a small museum for a lot of interesting things. His flat is very close to the railway station, very convenient, clean and silent. Highly recommend Manuel and his apartment.
Yong
October 2014
Sintra est l'âme du Portugal, me dit Manuel. Et sa maison en est une autre. Elle est riche et vivante, d'histoire et d'histoires, de sa famille et de ses amis. Des meubles de bois, beaux et solides, ont traversé des générations. Des azueljos de plus de trois siècles côtoient des photos de fêtes ou de tendresse. Chez Manuel, on dirait que les objets ont décidé eux-mêmes de leur place, tant ils y semblent bien posés et s'y reposer. Harmonie qui n'empêche pas leur fantaisie : un vieux frigo repeint s'est reconverti en garde-chaussures. Mais pas la moindre poussière sur les vieilles choses, l'intérieur est clair, net, agréable, on y respire bien. J'y ai passé mes trois meilleurs nuits de ce voyage jusqu'à présent. Manuel est venu me chercher à la gare toute proche, à l'heure convenue, il était là quand je suis arrivé. Par la suite, il m'a reconduit jusqu'à un arrêt de bus de correspondance à Benfica, interrompant son propre voyage à Lisboa pour cela. C'est un hôte raffiné, animé, délicat. On sent en lui une grande ouverture d'esprit mais aussi un socle de valeurs solides, de savoir-vivre et du coeur. Il a une grande connaissance de Sintra (à 10' en train, où je suis allé trois jours de suite) où il passa une partie de son enfance. Enfin, il nous prépara, pour un prix très modique, un excellent dîner d'une bacalhau maison, entre autres. Une amie que j'avais invitée, elle aussi voyageuse, me dit que c'est le meilleur repas qu'elle fit en deux semaines au Portugal. Je suis d'accord. Je retournerai très probablement chez Manuel - si Trump ou Poutine ou les deux n'ont pas fait la guerre à l'Europe avant, soit dit en passant. C'est une adresse à ne partager qu'avec vos meilleurs amis ou amies. Cher Manuel, comme je te l'ai dit, mais je le redis avec plaisir, c'était un vrai plaisir de te rencontrer et d'être ton hôte pendant trois jours. J'espère que tu viendras bientôt à Paris. Bien amicalement, Philippe.
Philippe
November 2016
Tipo de habitación
Habitación privada
---
Tipo de propiedad
---
Capacidad
1
---
Dormitorios
1
Rio de Mouro
1

–

2

de

2 Bed & Breakfasts